Amman is the capital city of Jordan and spans almost 700 kilometers squared. It's feasible to explore the historical center on a free walking tour in Amman, despite seeming impossible to cover the large city on foot.
Known for its heritage, tasty Middle Eastern cuisine and dazzling souks, Amman has different tours to suit a variety of interests.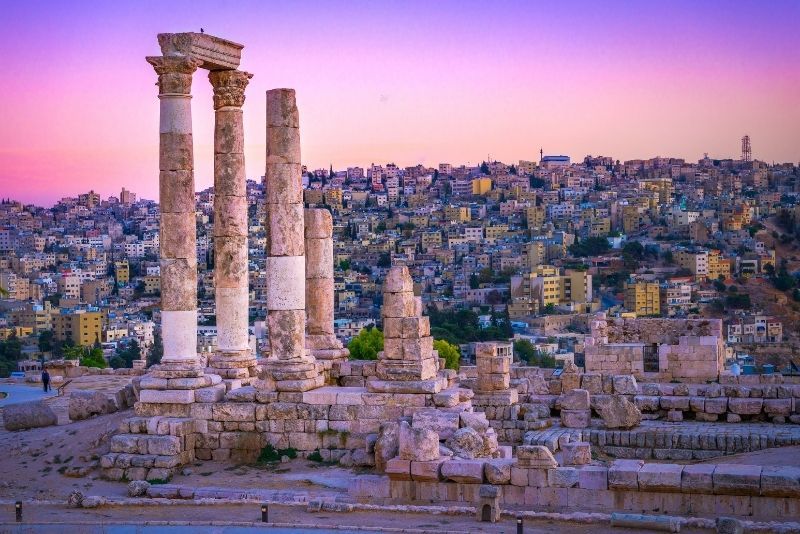 How do free walking tours in Amman work?
A free walking tour enables you to see the most notable points of Amman through a local's eyes. Guides are professional and well-informed, and give you a greater insight into the city than you would find on your own.
You will weave through the streets listening to fascinating stories and snippets of information that only an insider would know. At the end of the tour, you decide the worth of the tour and tip your guide accordingly.
How much should you tip for a free walking tour in Amman?
You are free to choose how much to tip your guide. You should take into consideration how much you enjoyed the tour, how long it lasted and how well informed the guide was.
Most tourists tip between US$10 and US$15 per person, although some will tip up to US$50 and others will tip just US$5.
Jordan uses the Jordanian Dinar (JOD) which US$10 equates to around JOD7, while US$15 is approximately JOD11. Ensure you bring cash with you on your free walking tour in Amman.
What are the best free walking tours in Amman?
Free food tours
Free food tours allow you to explore Jordan through its culinary delights. The country is known for its typical Middle Eastern diet, including hummus and falafel. There are also dozens of authentic and delicious Jordanian dishes to sample in Amman.
Itinerary
Meeting at the Mazaj coffee shop, the first port of call is the oldest bakery in Amman and the vegetable market. At the market, you'll learn about the local cuisine and which fruit and vegetables a typical Jordanian household use in their dishes.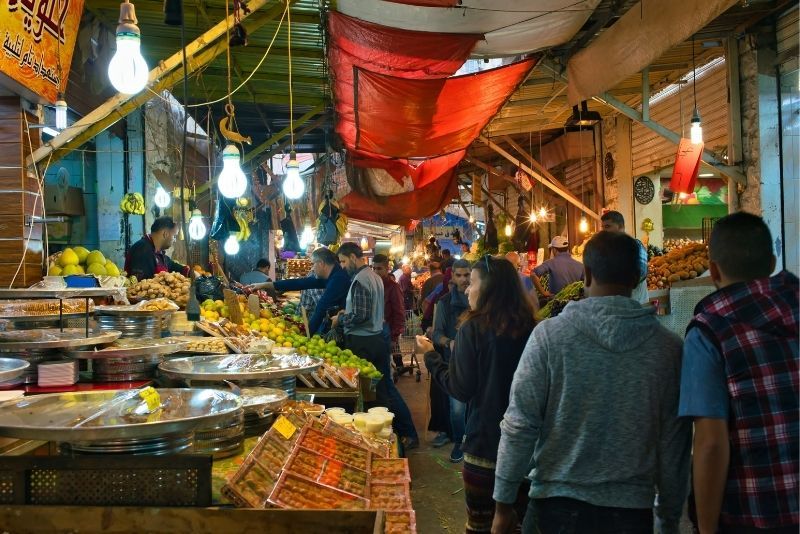 You'll make stops at the sugar market, meat and fish market and the old spice market to learn more about Jordanian cooking. Continuing on the free walking tour in Amman, you'll visit a well-renowned restaurant to try falafel and hummus before learning about the national dish, Mansaf.
Finishing up the tour with sweets, you'll learn about the popular treat — Knafeh, try handmade ice cream and drink sugar cane juice.
Free nightlife walking tours
Amman is known for its vibrant nightlife and on this tour, you can get an insider's guide to the best spots in the city.
Itinerary
The bar crawl meets at Amman Pasha Hotel and takes you on a whirlwind tour of the local hangouts. The first stop is at the Jordan River wine shop, followed by Local Beer Petra and Carackale, where you can enjoy the local tipple and mingle with the residents of Amman.
There is also the option to extend the tour and discover Amman's party scene.
Free history and culture walking tours
Another of the free tours in Amman investigates the plethora of historic and cultural sites dotted about the city. On this tour, you'll be able to tick off several Roman landmarks as well as other points of interest as you pass by on foot.
Itinerary
Starting at the Amman Pasha hotel, you'll first head to the roof to experience a panoramic view of the old city. You'll learn more about significant past events that helped shape the city into what you see today.
Sauntering through the oldest street in Amman to the food market, you'll make a quick detour at the Roman baths. You'll pass by Amman's oldest mosque where you're free to look inside if you're dressed appropriately. The tour ends by viewing some of the oldest architecture in the city and learning about the artsy neighborhoods nearby.
Free motorbike tours
Swap your feet for wheels with a motorbike tour of the city, covering a vast number of sites around Amman.
Itinerary
Once you've met your guide in the plaza of the Roman Theater, you'll be given an accelerated version of Amman's history. Afterward, rev your engine and start driving to your first location – Kanafeh, roaring through lively streets and magical souks.
At Amman's oldest building, you'll have the chance to look at pictures of the city from the past. The tour takes you from the east to the west of Amman and during the ride, you'll see several different neighborhoods. Each of these offers a different taste of the city – from its business district to its thriving arts scene.
You'll end the tour in the early evening with a memorable view of the blazing sun setting over the city.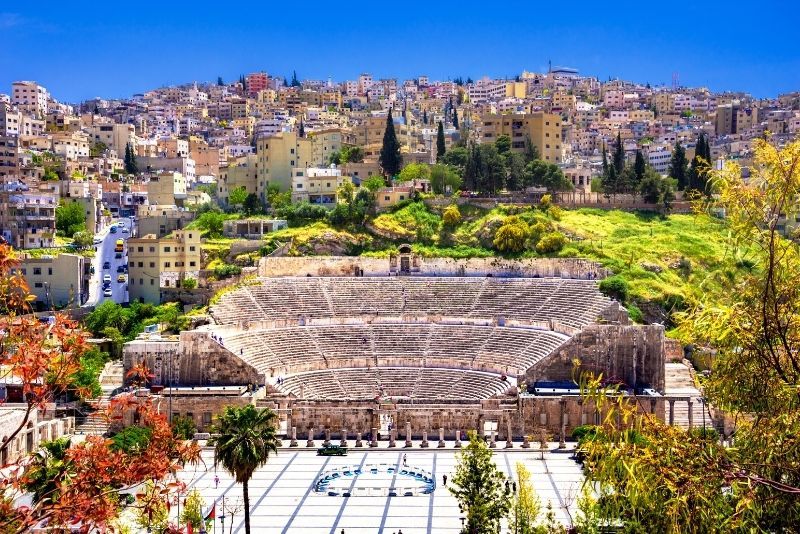 In which languages are free walking tours in Amman operated?
Free tours in Amman are always available in English. Most tours only offer English as a language, but others include multilingual guides and offer a wider range. French is the most popular language on offer after English, followed by Spanish and Italian. Occasionally tours are also offered in Arabic.
Where do free walking tours in Amman start?
Free walking tours begin at a central point in the city, often outside the Amman Pasha Hotel. The hotel is opposite the Roman amphitheater on Al-Shabsough Street.
Another popular meeting point is the Mazaj coffee shop, just off of Taher Ad-Dabbas street.
Wherever your free walking tour in Amman begins, you will have access to the address beforehand with a map.
How long do free walking tours in Amman last?
Walking tours typically last between two and three hours, and visit a variety of hot spots, depending on the topic of the tour.
When is the best time to join a free walking tour in Amman?
Tours are offered in different languages at different times of the day. English walking tours start multiple times a day, often around 10 AM and 3 PM, while other language schedules are scattered sporadically in between. Some also offer evening tours.
Amman regularly sees highs of 40 degrees Celsius, and choosing an evening tour if it's available will avoid the scorching hours of the day, allowing you to enjoy the itinerary without melting.
Should Amman free walking tours be booked online?
It's advisable to book any of the free walking tours in Amman in advance. Spaces are limited and you can read reviews to decide which one is the most suitable for you.
It is free to reserve a place on a walking tour online and will help you to plan out your visit. If your time in Amman is limited, you'll want to book online to save yourself time trying to find a reputable tour in the city.
By booking online, you'll receive the details including the meeting point in advance, and be able to check out the itinerary.