Journey back in time on a day trip to Petra from Amman. Petra is a UNESCO World Heritage Site south of Amman in Jordan. Carved from the rock over 2,000 years ago, Petra is filled with ancient relics and breathtaking architecture.
Immerse yourself in this bygone civilization and uncover the history of the Nabataeans.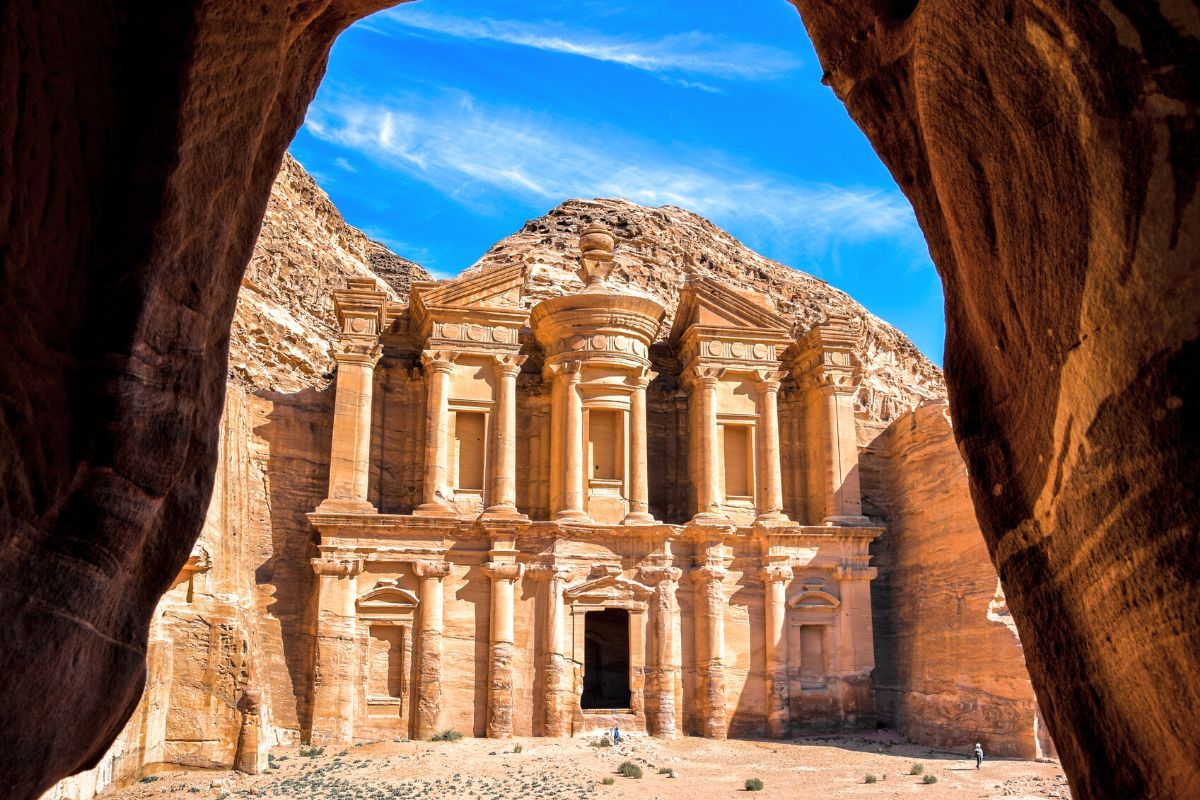 Here's everything you need to know about visiting the famous historical site, Petra, one of the most exciting day trips from Amman.
How to get to Petra from Amman?
Petra is located over 200 kilometers south of Amman and only accessible by land.
From Amman to Petra by car
You can rent a car in Amman and drive to Petra. The trip takes approximately 3 hours along Highway 15, also known as the Desert Highway. You can add an extra hour to your trip if you choose to take the scenic King's Highway.
From Amman to Petra by public transport
A cheaper option than renting a car would be to use the public transport available in Jordan. Daily JETT buses run from Amman to Petra and back, costing JD10 (US$14) either way. There are also public minibuses that operate every day.
Guided tours to Petra from Amman
For ease of travel, most tours to Petra from Amman include pickup and drop-off at your accommodation in air-conditioned vehicles. Knowledgeable drivers will be able to provide more information about your journey and answer any questions.
How much does the entrance ticket to Petra cost?
To access the myriad attractions at Petra, you will have to pay an entrance fee at the Visitor Center, and you will need to present a valid ID or passport.
The price is dependent on how many days you plan on visiting there and if you have accommodation for at least one night in Jordan.
Single-day entry to Petra:
Adult: JD50 (US$70)
Children (under the age of 12): free
Multi-day tickets for adults:
2-day entry: JD55 (US$77)
3-day entry: JD60 (US$84)
If you do not have accommodation in Jordan, the cost is JD90 (US$126).
What is the typical itinerary?
On a day trip to Petra, you will journey through the spectacular desert landscape from Amman. Most tours will pick you up from your accommodation in a comfortable vehicle and embark upon the 3-hour drive.
If you are not able to purchase entrance through your tour, you may pay your entrance fees upon arrival at the Petra Visitor Center. From there, you will have the freedom to explore the ancient city.
There are numerous hiking trails in Petra that vary in intensity and lead to different attractions, giving you ample choice. If you would rather not hike, there are also options to take a camel, horse or donkey ride.
Along the way, you will encounter famous monuments such as the Siq, Treasury, and Great Temple. The Nabataeans carved their city directly from sandstone in a feat of architecture unique to their civilization.
Known as the "Rose City," Petra transforms color throughout the day. You can witness this especially in the mornings and evenings as the light intensifies.
With a legacy spanning over 2,000 years, the history and culture of Petra can be best understood through a local guide whom you may hire through a tour or upon arrival.
If you are extending your trip beyond Petra over a couple of days, you may go floating in the salty Dead Sea or explore the expanse of Wadi Rum before spending the night in a Bedouin tent.
What kinds of tours are available to go to Petra?
There are numerous options for tours to Petra from Amman, ranging from private day trips that immerse you within the city to multi-day excursions that will take you on an epic journey through Jordan.
Private tours to Petra from Amman
On a private day trip to Petra from Amman, you can be picked up from and dropped off at your accommodation in Amman in a comfortable vehicle. The entire trip may be completed in approximately 10-12 hours.
While in Petra, you'll have the ability to explore the ancient city and soak in the spectacular sights.
Given the extensive history of Petra, it may be worthwhile to include a guide through your tour of choice or hire one at the Visitor Center for a few hours.
As you jaunt through the historic ruins, a guide will be able to provide insight into some of the attractions such as the Treasury, High Place of Sacrifice, and the Siq. `

Tours are available in English and some in French and Spanish. You will also have time to explore Petra on your own. Return to your accommodation at the end of the day having experienced an ancient civilization unlike any other.
Multi-day trips to Petra from Amman
While Petra is abundant in attractions, you also have the opportunity to explore the incredible locations surrounding it.
On a 2-day tour, you have options to not only visit Petra, but stay the night at Wadi Rum. Relish an evening under the stars in a Bedouin tent, before heading to the Dead Sea the next day to savor a bouyant swim in its waters.
To extend your trip even further, consider a 3-day tour that will take you to locations such as the Dana Nature Reserve and Little Petra. There are also 4-day tours that include the ancient city of Jerash, and sites such as Bethany and Mount Nebo.

These tours will provide a comprehensive experience of the region from Amman to Petra and back. Along with a small group, you will be fully immersed in the desert landscape.
How much does a day trip to Petra from Amman cost?
Private day trips to Petra cost from US$50 dollars per person for a group of seven, and about US$200 per person for a group of two, which includes fees and taxes.
Multi-day trips to Petra from Amman cost from US$250 per person for a 2-day tour. The prices for a 3-day private tour range from US$280 per person for a group of seven people to US$480 per person for a group of two people.
The cost of a 4-day tour to Petra from Amman can start at US$405 per person for a group of seven people and increases to US$685 per person for a group of two people.
What will you see and do?
Petra spans over 260-square kilometers, with tombs, temples and remnants of an advanced water system. It was a major trade hub before being destroyed in an earthquake.
Hundreds of years later, Petra and its extraordinary legacy were rediscovered. Today, it's one of the New Seven World Wonders, with numerous sights to behold.
The Siq
Upon entering Petra, you will walk through the Siq, a natural rock canal that was extended by the Nabataeans. Over 1.2 kilometers in length, it's a breathtaking introduction to the sites ahead.
Along the walls of the Siq is evidence of the Nabataeans' water channels, which they used to draw in water to the desert region and sustain the city.
The Dam
Further evidence of the Nabataeans' engineering prowess can be seen at the Dam, which lies at the start of the Siq. The Dam protected the city from flooding and was later renovated by the government to its exact form.
The Treasury
Outside of the Siq awaits Al Khazneh, or the Treasury, one of the most famous features of Petra. Carved out of sandstone, it once served as a tomb. Three times a week, there is a unique opportunity to attend Petra by Night, when the area is lit by over 1,500 candles.
Royal Tombs
More tombs are scattered throughout the area, including the Urn, Palace, Silk and Corinthian Tombs. Each was built hundreds of years ago as places of burial, but the Silk Tomb stands out for the vivid colors of its sandstone.
High Place of Sacrifice
For a sense of the Nabataeans' way of life, you can take a steep walk to the High Place of Sacrifice. Here, 7-meter tall obelisks were carved from stone in dedication to the gods Dushara and Al-Uzza.
The climb to the sacred summit takes approximately 45 minutes and provides panoramic views of Petra.
The Great Temple
A sprawling complex of the Nabataean Kingdom, the Great Temple has proven a fruitful archeological site in recent years. Colonnades of this architectural feat still stand, towering over the area where friezes and artifacts have been uncovered.
The Monastery
The Monastery may look similar to the Treasury, but stands taller at about 50 meters high. This monument gained its name from the carved crosses found in the interior, a relic of the time it was once used as a chapel.
Hiking
Numerous trails dot Petra, giving visitors a variety of options to explore. Routes traverse different locations in Petra and range from easy to difficult. The shortest trails take 2.5 hours to complete, while longer trails can take up to 8 hours.
Camel riding
Should walking be too strenuous, opt for a camel ride instead. You can find ride operators within Petra, and travel the area in the tradition of Bedouins.
Petra Museum
For more detailed information about the ancient city, you can visit the Petra Museum. Housing over 200 artifacts, it offers a glimpse into how the Nabataeans once lived.
Wadi Rum excursion
If you are extending your trip beyond Petra, you can familiarize yourself with local culture with a stay-over in Bedouin tents in Wadi Rum. You can also go on a jeep safari to explore the sandstone valley.
Dead Sea excursion
With enough time on your hands, after a trip to Petra you can head to the Dead Sea. This salt lake is famous for its buoyancy, and rather than swim you can float on its calming waters.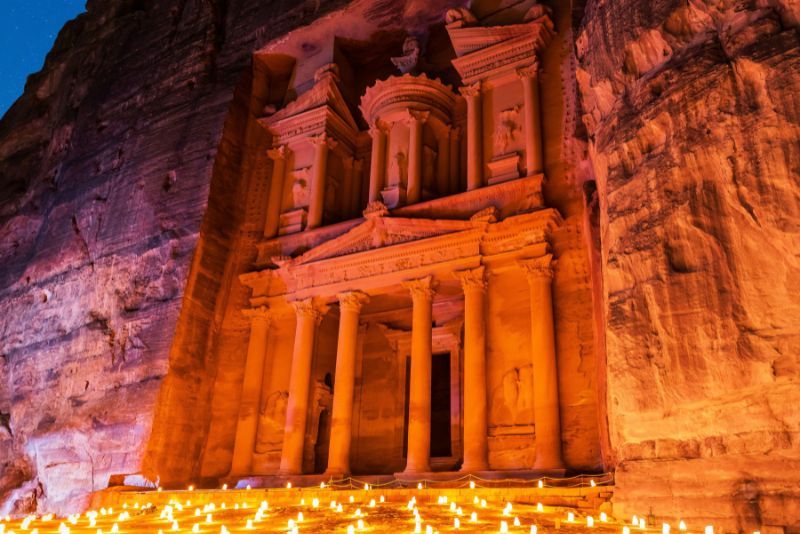 What are the opening times?
Petra is accessible every day. It is open from 6 AM to 6 PM except in winter from November to April, when it is open from 6 AM to 4 PM.
When is the best time to visit Petra?
Given the high temperatures in summer, it is best to visit Petra in the spring months between March and May or autumn months between September and November.
Are there any tours to Petra from other cities in Jordan?
Yes, there are tours departing from another city in Jordan:
Travel tips
Ensure you pack your passport and ID, as you will need these to purchase entrance into Petra.
Wear comfortable shoes as you may walk relatively far to explore the full expanse of Petra.
Put on your sunscreen and hat to protect yourself from the desert sun.
Pack extra layers of clothing for chilly mornings and evenings.