Travel to the lowest point on Earth and immerse yourself in the Dead Sea. Formed over millions of years, this salt lake is located 400 meters below sea level in the Jordan Rift Valley.
While it's known for its high saline levels that cause swimmers to float, it's also a site of spiritual significance and adventure. Take a day trip to the Dead Sea from Amman and bathe in its beauty.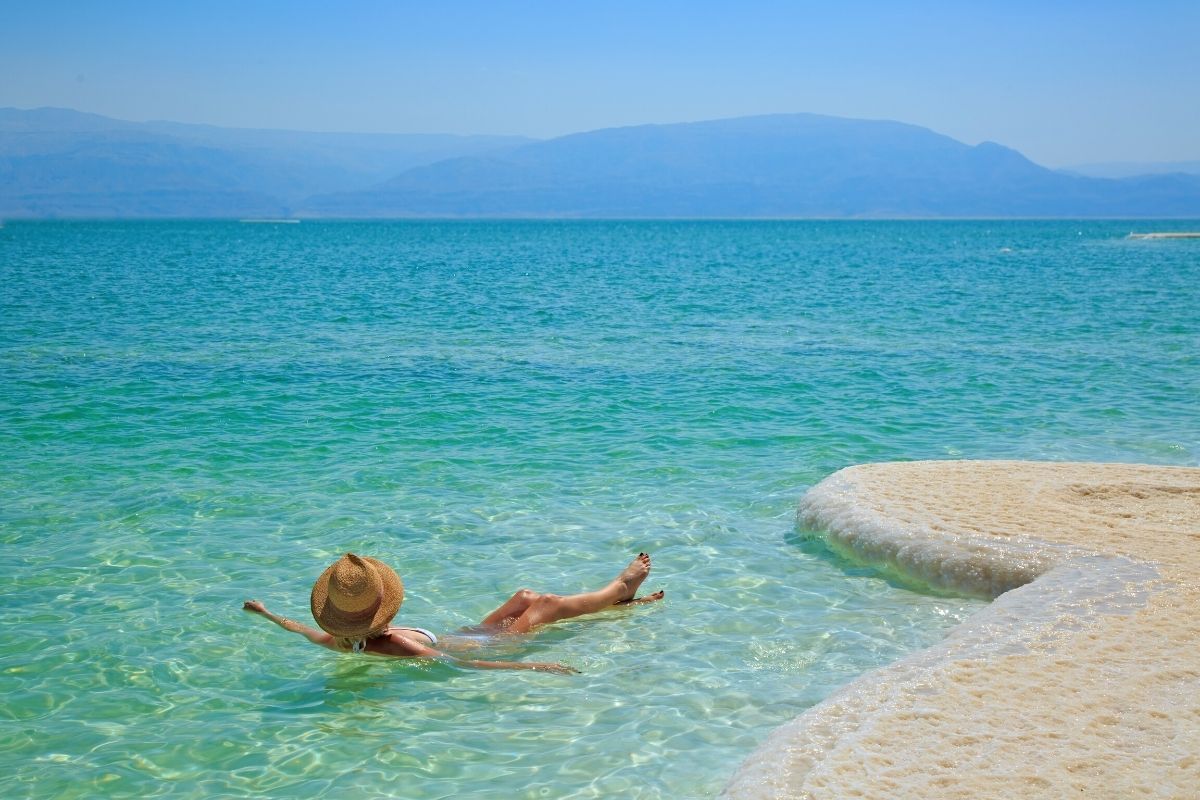 ​​Here's all you need to know about visiting the Dead Sea, one of the most exciting day trips from Amman.
How to get to the Dead Sea from Amman?
Located over 50 kilometers southwest of Amman, the Dead Sea is an easy and popular day trip only accessible by land.
From Amman to the Dead Sea by car
The Dead Sea is approximately just under an hour's drive from Amman if you're heading for one of the main beaches. Rent a car in the city and take a leisurely ride along Highway 65, also known as the Dead Sea Highway.
From Amman to the Dead Sea by bus
Public transport using JETT buses provides a cheaper alternative to driving. Daily buses are available between Amman and the Dead Sea, and trips last approximately 45 minutes.
Private tour to the Dead Sea from Amman
One of the easiest ways to travel to the Dead Sea from Amman is to join a private tour. These excursions will offer comfortable, air-conditioned transport, with pickup and drop-off at your accommodation.
On many day tours, drivers can take you to multiple destinations near the Dead Sea.
What is the typical itinerary?
A day trip to the Dead Sea from Amman will typically involve pickup from your accommodation to begin the relatively short journey.
Depending on your tour option, you may head straight to the Dead Sea for a day immersed in the sun and salty water. However, don't expect to swim — due to the high salinity levels of the Dead Sea, you can happily float while reading a book or soaking up some rays.
After relaxing in the water, you can have lunch at one of the hotels if you choose to include it in your tour. Enjoy your meal while overlooking the calm lake.
You may even choose a luxurious spa appointment. Otherwise, you can cover yourself in mud for on-site treatment. The salt and mud of the Dead Sea are thought to have beneficial properties, and may have even been used by the likes of Cleopatra.
Some tours offer the opportunity to visit neighboring sites such as Madaba, known as the "City of Mosaics." Alternatively, gain a panoramic view of Jordan on a stop at Mount Nebo, or join a tour to Jerash, where you can roam among ancient Roman ruins.
Return to your accommodation at the end of the day, refreshed and rejuvenated by your time spent in the Dead Sea.
What kinds of tours are available to go to the Dead Sea?
Most tours to the Dead Sea from Amman range from half-day tours to private day trips encompassing multiple stops and multi-day excursions across areas of Jordan.
Private tour to the Dead Sea from Amman
On a private day trip from Amman to the Dead Sea, you can expect to be picked up from and dropped off at your accommodation in a comfortable car or minivan.
Many full-day tours last approximately 10 hours and include stops at significant locations near the Dead Sea. Between soaking in the salt lake, you can join tours that journey to Madaba, Jerash or Mount Nebo.
On a half-day tour lasting approximately 5 hours, there is still ample time to relax on the shores of the Dead Sea. Some tour options include entrance to beaches and a lunch or spa treatment at one of the hotels.
Multi-day tours to the Dead Sea from Amman
If you're feeling adventurous, you can embark on a multi-day tour with options ranging from 2 days to 6 days. On these private tours, a driver will enable you to reach some of Jordan's most famous locations.
On a 2-day tour, include your stop at the Dead Sea along with a jaunt to the ancient city of Petra and a night stay in Wadi Rum.
Build upon these attractions on a 3- or 4-day tour, and visit locations such as Jerash and Mount Nebo. Some tours even allow you to choose your accommodation and activities based on your budget.
A 6-day tour will provide a comprehensive journey through Jordan, taking you from Amman to the Dead Sea and beyond, with the option to choose your standard of accommodation.
How much does a day trip to the Dead Sea from Amman cost?
The cost of a private day tour to the Dead Sea from Amman starts at US$60 per person for a group of two.
Half-day tours can cost at US$80 per person for a group of two, and include lunch.
Multi-day trips start at US$250 per person for a group of two on a 2-day tour. Prices increase to US$500 on a 3-day tour and US$520 on a 4-day tour per person for a group of two.
On a 6-day tour, prices start at US$1,000 per person for a group of two.
While the Dead Sea is an open area and there is one free beach, there are multiple beaches that offer amenities such as fresh showers. These can be accessed through hotels and facilities located along the shore at a price.
One of the more popular public locales, Amman Beach, comes with an entrance fee to access chairs, umbrellas, showers, swimming pools, and a restaurant among other amenities.
Amman Beach entrance:
Children: JD15 (US$21)
Adults: JD25 (US$35)
What will you see and do?
While you may spend most of your trip on the shores of the Dead Sea and floating in its waters, there are numerous fascinating locales to visit nearby as well.
Amman Beach
This affordable public beach is suitable for the whole family to enjoy. Beyond providing umbrellas and chairs for relaxing on the shores of the Dead Sea, there are also showers, swimming pools and recreational grounds to use.
Panorama Dead Sea Complex
This complex houses the Dead Sea Museum, which offers insight into the geological and cultural history of the famous salt lake.
At the complex, you can enjoy lunch overlooking the Dead Sea or take a leisurely stroll along the Zara Cliff Walk.
Al-Maghtas
North of the Dead Sea is Al-Maghtas, also known as the Baptism Site "Bethany beyond the Jordan." Al-Maghtas is believed to be the baptism site of Jesus and pilgrims journey here yearly.
A UNESCO World Heritage Site, you can visit see the pools and various churches that make up this sacred space.
Wadi Mujib
Explore the Wadi Mujib gorge that leads directly into the Dead Sea. From the Mujib Biosphere Reserve, you can access a variety of hiking trails and swimming spots. Here you can find over 300 plant species and numerous species of birds.
Mount Nebo
For a unique perspective of the Dead Sea, journey to Mount Nebo, where Moses was said to view the Holy Land. You can drive to the base of the mountain and, from there, walk to the top of the approximately 800-meter-high peak.
Madaba
Known as the "City of Mosaics," Madaba is a market town home to significant cultural artifacts. You can discover ancient mosaics and relics from various eras at Madaba Archeological Park.
Jerash
Step back in time to the city of Jerash, home to Roman ruins, including theaters and cathedrals. This is considered one of Jordan's famous historical sites after Petra and reflects the impact of the various communities who once lived here.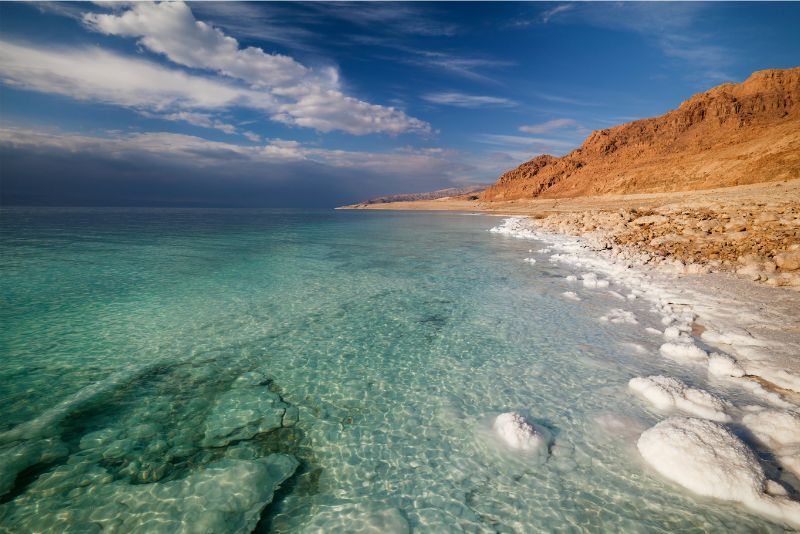 What are the opening times?
Opening times at the Dead Sea will be dependent on which beach you decide to visit. The public Amman Beach is open from 7:30 AM and closes at 6:30 PM.
When is the best time to visit the Dead Sea?
Ideal times to visit the Dead Sea would be between March and June in spring (March to May) and in autumn (September to November).
Temperatures will be moderate to high, and the waters of the Dead Sea seldom drop below 20 degrees Celsius, providing an enjoyable experience.
Are there any tours to the Dead Sea from other cities in Jordan?
Yes, there are tours departing from other cities in Jordan:
Travel tips
Ensure you don't have any scratches or open wounds ahead of swimming in the Dead Sea, as it will sting. Shaving close to the time is also advised against.
Avoid putting your head underwater to protect your eyes from the salt.
Do not wear jewelry while you swim, as the salt will damage it.
Consider wearing sandals or water shoes, as the salt crystals can be sharp.
Wear old or dark-colored swimwear, as it may get damaged from the salt.