Discover ancient Roman history and find abundant attractions on a day trip to Jerash from Amman.
Rich in archeological heritage, Jerash is a city in Jordan regarded as one of the best-preserved Roman sites, dating back thousands of years. Once named Gerasa, it formed part of the Decapolis, a group of cities in the Roman Empire.
Since excavations started decades ago, Jerash has become a top tourist destination.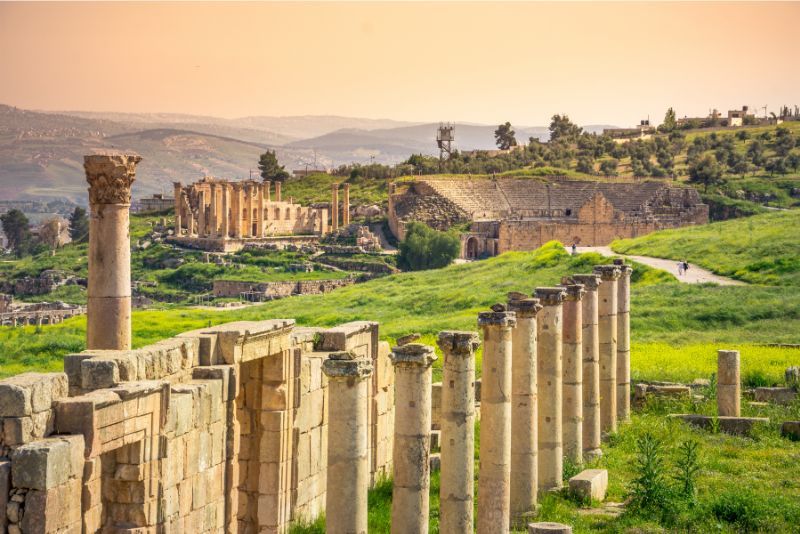 Here's all you need to know about Jerash, one of the most enthralling day trips from Amman.
How to get to Jerash from Amman?
Jerash is located 50 kilometers from Amman, and can only be accessed overland from the Jordanian capital.
From Amman to Jerash by car
The drive from Amman to Jerash takes approximately 45 minutes along Route 35. You can rent a car in Amman at an affordable cost to complete the trip.
Guided tour to Jerash from Amman
An easy way of getting to Jerash from Amman is to join a guided tour. These tours often include the option of pickup and drop-off at your accommodation in a comfortable and air-conditioned vehicle.
How much does the entrance ticket to Jerash cost?
To experience Jerash, you will have to purchase an entrance ticket. This can be done at the visitor center or through your selected tour. The cost to enter Jerash includes entrance to the archeological museum.
Jordanians: JD0.5 (US$0.7)
International visitors: JD10 (US$14)
What is the typical itinerary?
A day trip to Jerash will begin with pickup from your accommodation in Amman in a comfortable vehicle. During the 45-minute drive, your driver will be able to answer any questions you may have about the trip.
If embarking on a half-day tour, expect to cover Jerash within a matter of hours. A guide can accompany you as you explore the Roman ruins, which include Hadrian's Arch, the Oval Plaza and Hippodrome, among many more monuments.
Encounter these archeological sites and more on a full-day trip. Depending on which tour you select, you can go beyond a visit to Jerash and stop at other notable locations, such as Ajloun Castle, Umm Qais and the Dead Sea.
Having gained insight into Jordan's ancient history at the end of the day, you'll be dropped back off at your accommodation.
For an all-encompassing experience, you can opt to join a multi-day tour lasting anywhere from 3 to 7 days. These will take you to locations across Jordan and give you a greater appreciation for the country's cultural legacy.
What kinds of tours are available to go to Jerash?
Most tours available to Jerash from Amman cater to private groups. Ranging from half-day to multi-day trips, these tours are a valuable and eye-opening way of discovering Jerash and its surroundings.
Private tour to Jerash from Amman
On a private day tour to Jerash, you can be picked up from and dropped off at your accommodation in Amman in an air-conditioned vehicle.
During a full-day tour, you can expand your itinerary to include other attractions.
Many tours include the option to also visit Ajloun Castle, located just half an hour away. You can even head to the Dead Sea for a dip or stopover in Umm Qais to delve further into history.
If you're short on time but eager to explore Jerash's Roman ruins, a half-day tour will give you the opportunity to explore the site within a matter of hours.
Some tours may include an English-speaking tour guide who will take you through the various monuments.
Multi-day tours to Jerash from Amman
On a multi-day tour, expect a thrilling excursion across Jordan.
You can opt to join a small group 3-day tour and visit locations from Jerash to Ajloun, Wadi Rum, Petra and the Dead Sea. For a more personal experience, you can also choose a private tour.
A range of 4- to 5-day tours will offer an expansive journey through the history of Jordan, including locations such as Karak Castle and Mount Nebo.
Take your travels even further on a 6- to 7-day tour. Visit Madaba or stay the night in Wadi Rum, and immerse yourself in the extensive history of Jordan.
Some tours will give you the option of choosing your standard of accommodation, allowing you to explore on a budget.
How much does a day trip to Jerash from Amman cost?
A private full-day tour to Jerash from Amman can start at US$60 per person for a group of two.
The cost of private half-day tours comes in higher, typically starting at about US$100 per person for a group of two.
To join a small group 3-day tour, the cost starts at about US$250 per person for a group of seven.
A 4-day private tour starts at US$380 per person for a group of seven, while 5-day tours start at US$420 per person for a group of seven.
A 6-day tour can start at US$520 per person for a group of seven, and a 7-day tour increases to US$890 per person for a group of nine.
What will you see and do?
The ancient city of Jerash is filled with some of world's the best-preserved Roman ruins. Jaunt through this site to discover them or explore nearby archeological wonders.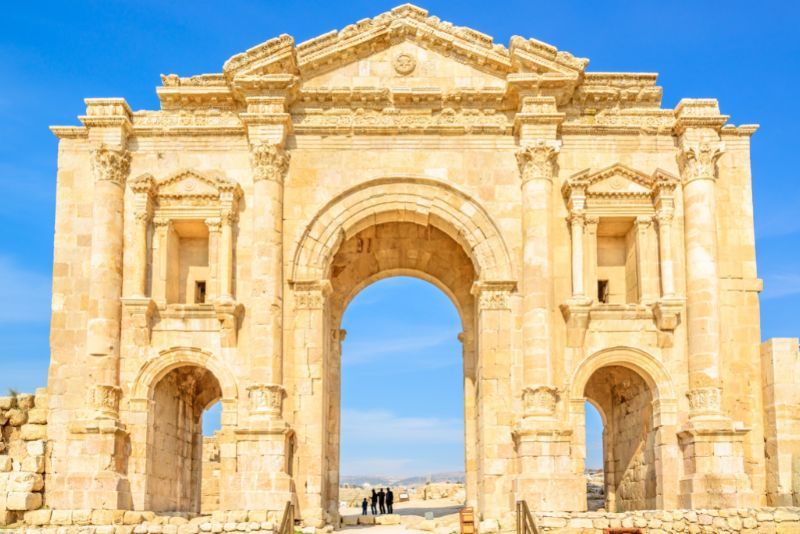 Jerash Archaeological Museum
Safeguarding artifacts from numerous eras, the Jerash Archeological Museum allows visitors to discover the fascinating objects found in Jerash, as well as their significance.
Hadrian's Arch
Enter Jerash through the monumental Hadrian's Arch. It was built in honor of Emperor Hadrian's visit to Jerash between 129-130 A.D.
Hippodrome
Witness a chariot race as the Romans once did in the Hippodrome. This arena could once hold up to 15,000 spectators, and today you can watch re-enactments of these epic events.
Oval Plaza
The Oval Plaza is a stunning and expansive forum surrounded by towering columns that date back to 1 A.D. Stand at its center or admire it from a higher vantage for an appreciation of Roman architecture.
Ajloun Castle
Overlooking Jordan, Ajloun Castle is located approximately 20 kilometers from Jerash. This Muslim castle has played a strategic role in the region and has been carefully restored in the past years.
Umm Qais
The ruins of another Decapolis city can be found at Umm Qais. Once known as Gadara, this site has views over not just Jordan, but Israel, Syria and Palestine.
What are the opening times?
The Jerash archeological site and museum are open at the following times during the year:
Summer (June to October): 8 AM to 6:30 PM
Winter (November to April): 8 AM to 4 PM
April and May: 8 AM to 5:30 PM
Holy month of Ramadan: 8:30 AM to 6 PM
When is the best time to visit Jerash?
While Jerash is enjoyable throughout the year, spring (March to May) is considered one of the best times to visit due to the moderate temperatures and picturesque arrival of flowers.
Travel tips
Make sure you wear a hat and sunscreen, as you will often be exposed to the sun while exploring the Roman ruins.
Bring along your passport and ID.
Take a camera to capture and preserve the incredible sight and memories of your jaunt to Jerash.