Follow in the footsteps of Moses on a day trip to Mount Nebo from Amman. This summit is said to be the place where Moses looked upon the Promised Land before his death, and even where he died.
Today, Mount Nebo remains a site of spiritual significance with pilgrims frequently journeying to its peak.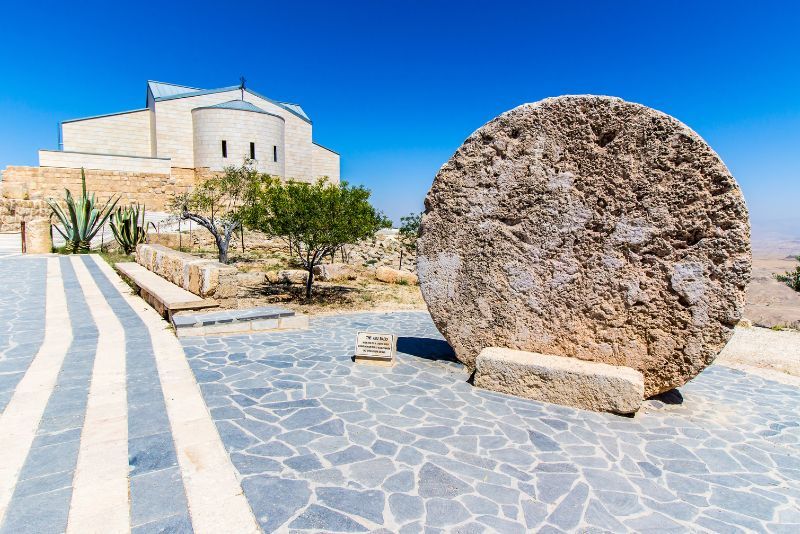 Here's all you need to know about Mount Nebo, one of the most noteworthy day trips from Amman.
How to get to Mount Nebo from Amman?
Mount Nebo is located approximately 30 kilometers from Amman and can only be accessed over land.
From Amman to Mount Nebo by car
The most straightforward way of getting to Mount Nebo from Amman is by car. The drive takes approximately 50 minutes along the R35, and you have options to either rent a car or hire a taxi.
Guided tour to Mount Nebo from Amman
A more convenient option would be to join a guided tour to Mount Nebo from Amman. This will often include private transportation with pickup and drop-off at your accommodation.
How much does the entrance ticket to Mount Nebo cost?
To explore Mount Nebo, you will have to pay for an entrance ticket at the center.
International visitors: JD3 (US$4)
Jordanians: JD0.5 (US$0.7)
What is the typical itinerary?
On a typical day trip from Amman to Mount Nebo, you can expect your day to start off with pickup from your accommodation before embarking on the drive.
Your driver should be able to provide you with valuable insight into Mount Nebo and what you can expect.

Upon arrival, you will have to pay an entrance fee if it is not included in your tour of choice. From the entrance, it is a short walk to the top and the Moses Memorial Church.
At the summit at approximately 800 meters high, you will have views across Jordan, including the Dead Sea, and perhaps even as far as Bethlehem in Israel.
Stop at the Moses Memorial Church, which is home to carefully preserved mosaics. You can also admire the impressive Brazen Serpent sculpture that towers above the ground.
Depending on your tour option, you may extend your day trip to include a visit to Madaba to delve into its cultural history or travel to the Dead Sea located approximately half an hour away.
You can also discover deeper spiritual history by visiting the Bethany baptism site.
What kinds of tours are available to go to Mount Nebo?
The majority of tours going from Amman to Mount Nebo range from private half- and full-day tours to multi-day trips.
Private tour to Mount Nebo from Amman
A private day tour will offer you comfort and a personalized experience. Expect to be picked up and dropped off at your accommodation in an air-conditioned vehicle with a knowledgeable driver.
Given Mount Nebo's close proximity Amman, it's possible to visit the site on a half-day tour. Within a couple of hours, you will be able to head to the top of Mount Nebo and immerse yourself in the historic site.

Many half-day tours include the option of stopping at Madaba, known as the "City of Mosaics." This is also included on many full-day tours, often alongside options to visit the Dead Sea or the Bethany baptism site.
Multi-day tour to Mount Nebo from Amman
With so many attractions near Mount Nebo, you also have the option of going on a multi-day trip. Whether joining a small-group tour or private tour, you can select to travel between 2 and 5 days.
On a 2-day tour, you have options to explore surrounding attractions and even stay the night near the ancient city of Petra before visiting it the next day.
Increase your itinerary on a 3-day tour that includes stopovers in Wadi Rum and a visit to the Red Sea. On a 4- to 5-day tour, add to your locations further with a visit to the Roman ruins of Jerash or Ajloun Castle.
How much does a day trip to Mount Nebo from Amman cost?
The cost of a half-day private tour to Mount Nebo from Amman starts at US$50 per person. A full-day private tour can start at US$70 per person.
For a 2-day private tour, costs start at US$200 per person for a group of two.
A 3-day private tour costs about US$280 per person for a group of seven.
On a 4-day tour, costs start at US$380 per person for a group of seven.
Alternatively, a 5-day tour can cost US$410 per person for a group of seven.
What will you see and do?
While Mount Nebo is an important religious site with iconic attractions, visiting significant surrounding locations will also add to its richness.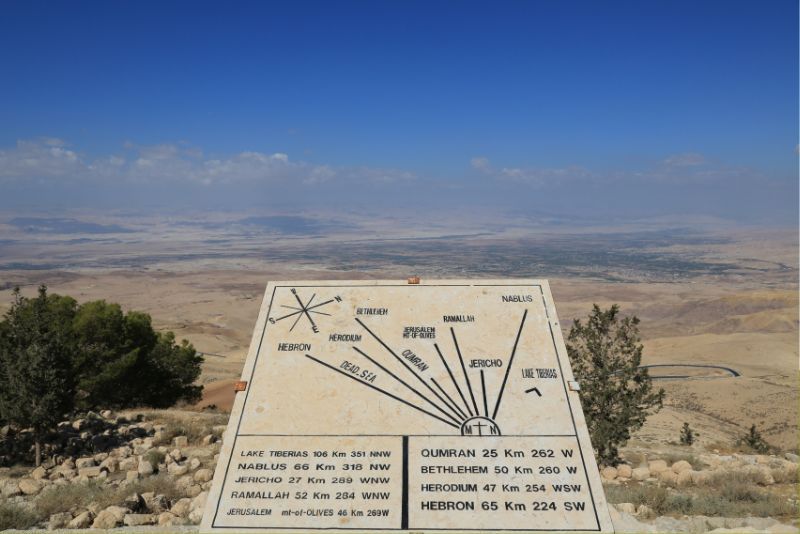 Moses Memorial Church
At the summit of Mount Nebo, the Moses Memorial Church was first built in the fourth century. Here, admire mosaics dating back thousands of years that depict a variety of animals.
Brazen Serpent
This unique sculpture was created by Italian artist Giovanni Fantoni and symbolizes the bronze serpent Moses created, as well as the cross Jesus died on.
Madaba
Located just a 15-minute drive from Mount Nebo, Madaba is home to famous mosaics, including the Madaba Map on the floor of St George's Church.
Dead Sea
While the Dead Sea is famous for its high saline levels, it has also featured prominently in biblical accounts.
Bethany
The Bethany baptism site is also a significant religious site in Jordan and is believed to be the place where Jesus was baptized.
When is the best time to visit Mount Nebo?
It's recommended to make the trip to Mount Nebo in the early morning to avoid the heat. While it's possible to visit the summit throughout the year, temperatures are pleasant during the spring (March to May) and autumn (September to November).
Are there any tours to Mount Nebo from other cities in Jordan?
Yes, there are tours departing from another city in Jordan:
Travel tips
Pack a hat and sunscreen, as you will be exposed to the sun atop Mount Nebo.
Dress respectfully and cover your shoulders, as Mount Nebo is considered an important religious site.
Take a camera to capture the views across Jordan all the way to Israel.