The ancient Jordanian city of Petra has been described as one of one of the world's most significant and precious cultural heritage sites. Also known as the Rose City, Petra is located north of the coastal city of Aqaba.
The scale and splendor of the ancient city has to be seen to be fully appreciated. A day trip or excursion from Aqaba to Petra is one of the best ways to explore this prominent historical treasure.
Your knowledgeable guide will tell you more about the history of Jordan, and about the unique natural mountain and desert landscapes you pass on your way to Petra.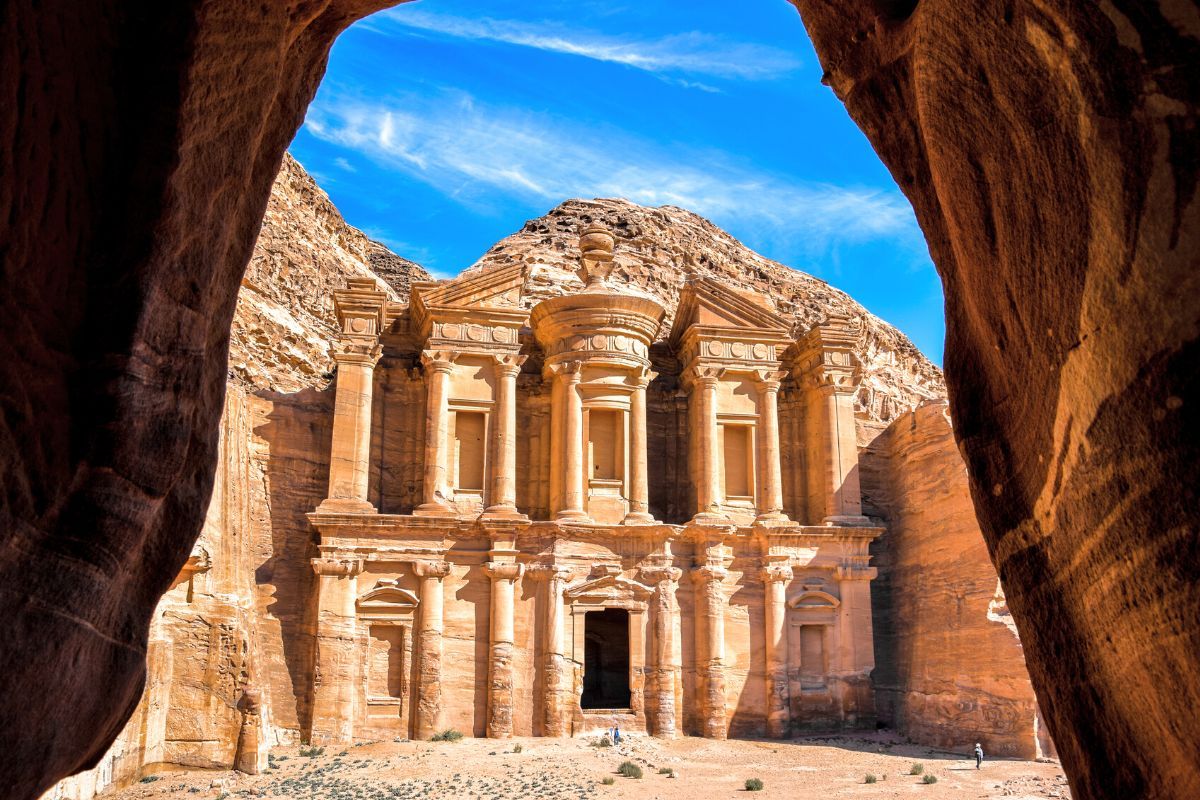 Here's all you need to know about Petra, one of the most exciting day trips from Aqaba.
How to get to Petra from Aqaba?
While guided tours from Aqaba offer a hassle-free way of visiting Petra, you can choose to travel by bus, car or private transfer.
Cruise ship shore excursions from Aqaba to Petra
Most cruise ships docking at the Aqaba Port offer shore excursions to Petra. These tours collect visitors directly from the port for the coach tour to Petra.
From Aqaba to Petra by bus
An excellent network of buses connects visitors from Aqaba and Amman to Petra. A daily bus service departs Aqaba at 8:30 AM and returns from Petra at 4:00 PM. The two hour, one-way trip is affordable and runs to schedule.
From Aqaba to Petra by car
Self-driving in Jordan is popular and several car hire companies operate from the major centers. The road trip takes around 2 hours along the Desert Highway and Kings Highway before turning off to Petra at Wadi Musa.
Guided tour to Petra from Aqaba
A group or private guided tour to Petra is the most convenient way to see this awe-inspiring tribute to ancient architecture. Full-day tours from Aqaba take anywhere between 7 and 12 hours, and multi-day tours range in length from 2 to 4 days.
On a guided tour, you are typically collected from your hotel in Aqaba and travel in a small group or on a private basis, depending on your preference.
Your guide will share their extensive knowledge of the cultural and historical significance of this important ancient trade hub with you.
Private transfer from Aqaba to Petra
If you prefer to explore without a guide, but do not want to drive, you can opt for a private transfer between Aqaba and Petra.
What is the typical itinerary of a day tour to Petra from Aqaba?
Tours to Petra typically depart early in the morning.
The 2-hour journey north offers unspoiled views of Jordan's landscapes. On arrival at Petra, you can freshen up before walking along the narrow 1,2 kilometer Siq canyon that serves as the entryway to the city.
The most well preserved structure in Petra, Al-Khazneh (TheTreasury), is the first sight you glimpse as you emerge from the surrounding mountainsides.
Other memorable attractions in Petra are Ad-Deir, the theatre, Royal Tombs, colonnaded Roman ruins and Byzantine churches. Each tour may place emphasis on different sites in Petra and what you see will depend on the time available.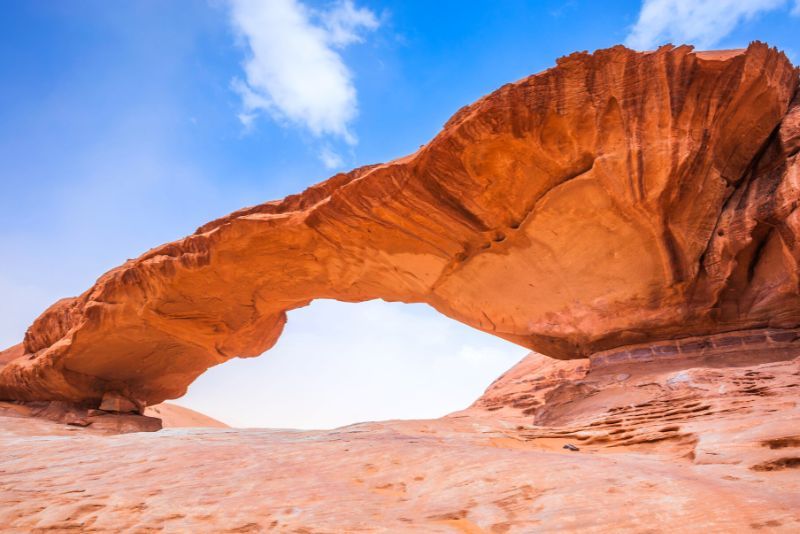 Some day trips from Aqaba to Petra include a visit to the desolate Mars-like landscape of Wadi Rum.
Your return journey to Aqaba takes place in the late afternoon.
What kinds of tours are available to go to Petra?
There are various day trips and multi-day tours from Aqaba to Petra. Here are some of the most popular trips on offer:
Guided shore excursions to Petra from Aqaba Dock
On a shore excursion from Aqaba, you are collected at the cruise ship terminal and transferred to Petra via Wadi Rum for a guided tour of the city's top attractions. After lunch you will have some time to explore on your own before returning to your ship.
Private return transfer without guide to Petra from Aqaba
Your professional driver will collect you from your hotel and drive you to Petra where you will have 3-4 hours to explore the destination at your leisure before returning to Aqaba.
Small group day trips to Petra from Aqaba
Small-group guided tours include transport in an air-conditioned minivan from Aqaba to Petra. Your guide will join you as you tour the monoliths, tombs, caves and temples of the city. After lunch at a local restaurant, you will head back to your hotel.
Private tour to Petra from Aqaba
On a private tour from Aqaba to Petra, you have the benefit of your own vehicle for the return transfer and the undivided attention of your expert guide.
Although you will be one of the many other visitors in Petra, your guide will ensure that you see the city from the best perspectives. With their experience and knowledge they will enlighten you about the history and significance of Petra and the surrounding region.
To experience Petra after hours, reserve your place on a private tour of Petra by night.
Multi-day tours to Petra plus Wadi Rum from Aqaba
For a more relaxed visit to the area, a multi-day tour from Aqaba that includes Petra and Wadi Rum is ideal. On a 2, 3 or 4 day trip, you will visit Petra, take a jeep tour in Wadi Rum and spend some time climbing, hiking and exploring the diverse desert area.
Typically, a multi-day tour will include at least one night at a desert Bedouin Camp.
How much does a tour to Petra from Aqaba cost?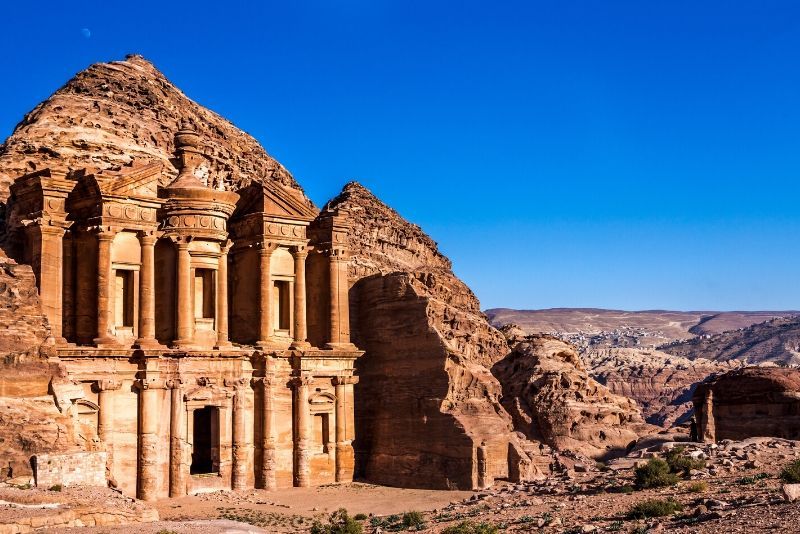 Guided shore excursions to Petra from Aqaba Dock cost between US$160 and US$380 per person. The lower rate is exclusive of entrance fees and lunch while the higher price includes these costs.
A private return transfer without guide to Petra from Aqaba starts at US$80 per person for a minimum of two travelers.
The average per person price on a small-group day trip to Petra from Aqaba is US$200. This price includes entrance fees and lunch but excludes drinks.
Private day trips to Petra from Aqaba for a minimum of two people cost between US$250 and US$300 per person. If the tour includes Wadi Rum, the tour prices increases to between US$300 and US$350 per person.
Multi-day tours to Petra plus Wadi Rum from Aqaba are operated on a small group and private basis. You can expect to pay anywhere between US$300 and US$1,000 depending on the type and length of your itinerary.
What will you see and do on a Petra day trip from Aqaba?
There are many sights and landmarks in Petra and you will be spoiled for choice when deciding what to see. You should consider your fitness level and the time available when choosing the attractions you would like to visit.
Here are some of Petra's top attractions:
Al-Khazneh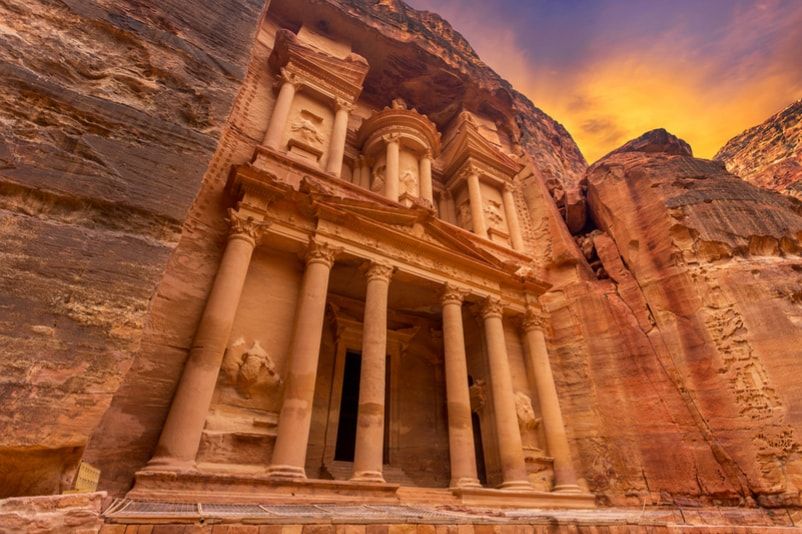 The towering Al-Khazneh is Petra's treasury building and one of the city's most well preserved sites. It is the dominant focus of the city as you enter through the narrow Siq.
Ad-Deir
The Nabatean style Ad-Deir monastery is Petra's most popular attraction. You do need a moderate level of fitness to reach this building as you need to climb 800 steps to get there!
Winged Lions
The Roman Empire's presence in Petra can be witnessed at the ancient columns of the Temple of Winged Lions. From the temple site, you have sweeping views of the buildings and ruins below.
Siq
The 1.2 kilometer long gorge that connects Petra to the outside world is known as Siq. Walking along this route gives you a taste of the pink sandstone mountains from which the city itself is carved
What are the opening times?
Petra is open to visitors throughout the year.
Access to Petra is available daily from 6 AM to 6 PM in the summer months and 6AM to 4 PM in winter. The opening hours are strictly enforced.
For security and operational reasons, it is forbidden to remain in the city after sundown unless you have booked a guided night tour.
When is the best time to visit Petra?
Petra is located in the mountains and temperatures can be extreme. Spring and Autumn are the best times to visit. Summer days can get very hot, while in the winter, day and night-time temperatures can fluctuate wildly.
Are there any tours to Petra from other cities in Jordan?
Yes, there are tours departing from other cities in Jordan:
Travel tips
Wear comfortable walking shoes and clothing that protects you from the elements.
A wide-angle camera lens is great for capturing landscapes and large landmarks.
Pack water to drink while you are exploring the city.
Remember to use the bathroom facilities before entering Petra.
Bring your passport to show when purchasing tickets.