Wadi Rum or the "Valley of the Moon" is among the earth's most spectacular desert landscapes. The dramatic rock formations, red sands, and unearthly plains define this "wadi" or dry river bed in Jordan.
Although it is home to the nomadic Bedouin, the region remains mostly uninhabited. Rock paintings, petroglyphs and inscriptions serve as a reminder that there has been a human presence in this remote area since prehistoric times.
Day trips to Wadi Rum from Aqaba are an ideal way to explore this surreal natural wonder. Expert local guides are best equipped to maximize your time in this wild expanse.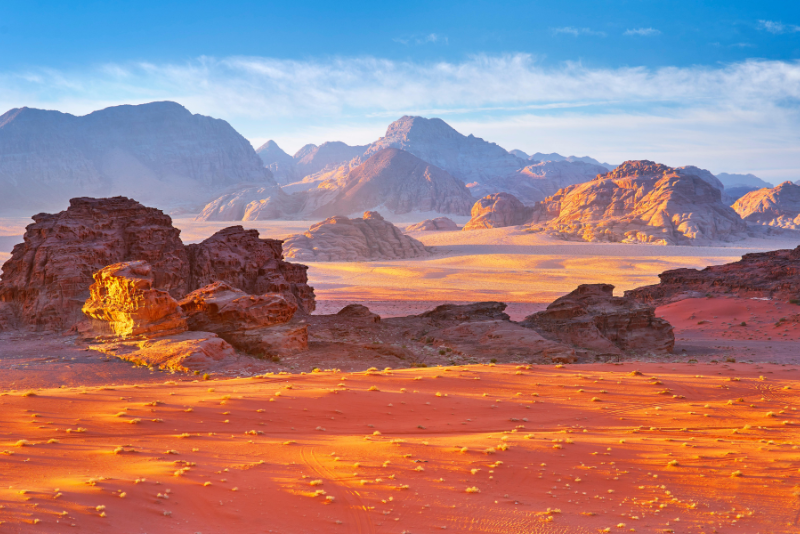 Here's all you need to know about Wadi Rum, one of the astonishing day trips from Aqaba.
How to get to Wadi Rum from Aqaba?
Located about 60 kilometers northeast of Aqaba, Wadi Rum is over an hour's drive northeast of Aqaba. You can drive there yourself, or travel by bus or private transfer to the visitor's center located at the reserve entrance.
From Aqaba to Wadi Rum by bus
It is possible to get to Wadi Rum by bus. A daily bus service departs Aqaba at 8:00 AM and returns later in the day. Local buses are also available, but are less reliable.
Buses stop at the reserve entrance and you can join a pre-booked 4x4 tour of the reserve.
From Aqaba to Wadi Rum by car
If you travel to Wadi Rum by car you will need to leave it parked at the visitors center and join a guided tour, unless it is a 4x4 vehicle. The entrance to Wadi Rum is situated 30 kilometers off the highway between Aqaba and Amman.
Guided tour to Wadi Rum from Aqaba
Guided tours from Aqaba are by far the best way to access Wadi Rum. Not only will you have the expertise of a local guide, but you can rest assured that a 4x4 vehicle is reserved to take you into the desert.
If you have made your own way to Wadi Rum, tours from the visitors center can be as short as 2 hours.
If your cruise ship docks at Aqaba Port you can book a shore excursion to Wadi Rum. These trips include return transfers directly from the port.
Private transfer from Aqaba to Wadi Rum
If you do not want to drive, you can also book a private transfer between Aqaba and Wadi Rum.
What is the typical itinerary of a day tour to Wadi Rum from Aqaba?
Tours to Wadi Rum usually leave Aqaba in the morning. You can choose between a small group or private excursion to Wadi Rum.
If you travel by coach, minibus or two-wheel drive vehicle, you will transfer across to a 4x4 before heading into the reserve.
A half-day trip into Wadi Rum takes up to 5.5 hours and full-day tours average 7 to 8 hours.
On a half-day tour, a local Bedouin guide escorts you to attractions like Lawrence Spring, Red Sand Dune, Khazali Canyon and Umm Fruth Rock Bridge.
Full-day trips usually include lunch at a traditional Bedouin Camp and may visit White Desert, Mushroom rock and Burdah Rock Bridge.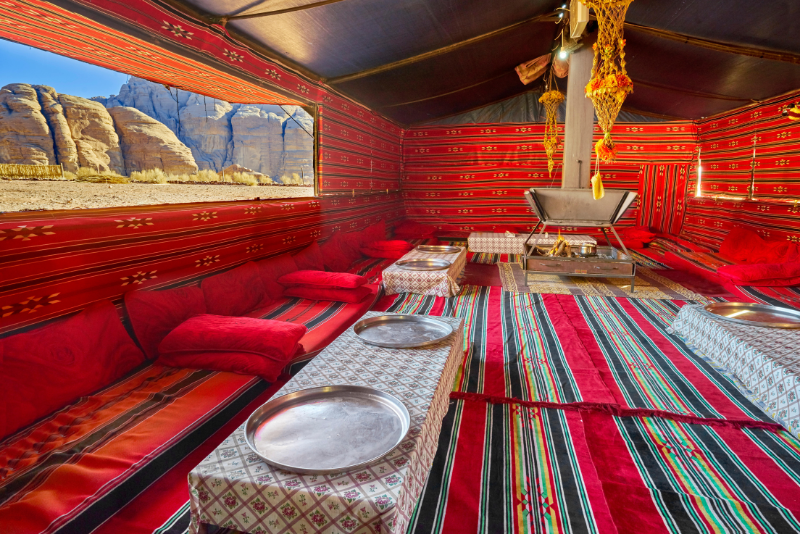 Some hiking or trekking might be necessary to reach some of the sites.
After the magnificence of a desert sunset on a full-day tour, you return to the entrance of the reserve for your transfer back to Aqaba.
What kinds of tours are available to go to Wadi Rum?
There are various day trips and multi-day tours to Wadi Rum from Aqaba. Here are some of the most popular trips on offer.
Small group day trips to Wadi Rum from Aqaba
Your guide will join you on a small-group tour of Wadi Rum. Their local knowledge ensures that you see all the top attractions in the reserve.
Small-group guided tours include transport by minivan from Aqaba to the reserve entrance followed by 4x4 transport within the reserve.
Private tour to Wadi Rum from Aqaba
On private tours to Wadi Rum from Aqaba you are taken care of by seasoned local guides. You are able to tailor your sightseeing to some extent – depending on time constraints – and will have a vehicle to yourself.
If included in your tour, you might experience a camel ride during your excursion.
Some day tours include private transfers from Aqaba, but a small-group experience within the reserve.
Private return transfer without guide to Wadi Rum from Aqaba
A chauffeur will collect you in Aqaba drive you to Wadi Rum to join a 4x4 tour of the area. The driver waits until you return for the journey back to Aqaba.
Guided shore excursions to Wadi Rum from Aqaba Dock
Shore excursions from Aqaba include stops at Wadi Rum and Petra. You are collected at the cruise ship terminal and head directly to Wadi Rum.
At Petra, will enjoy lunch and have an afternoon to explore on your own before returning to your ship.
Multi-day tours to Wadi Rum from Aqaba
To experience the wonder of the desert at night or to traverse some of the trails and climbing routes in the reserve, you can book a multi-day tour from Aqaba to Wadi Rum.
Guides on these tours call the reserve home and are experienced mountaineers and trekking guides.
In Wadi Rum, you will have time to cross the desert landscape and enjoy the hospitality of the Bedouin people.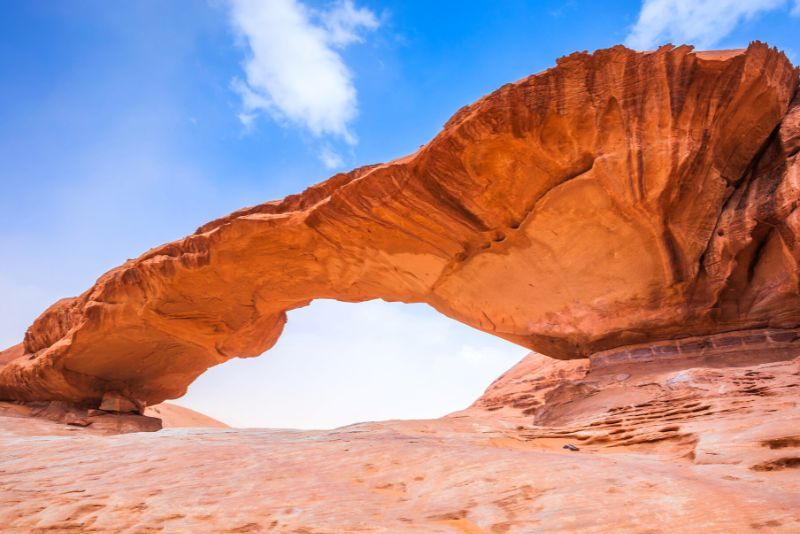 How much does a tour to Wadi Rum from Aqaba cost?
Half-day small-group day trips to Wadi Rum from Aqaba cost from US$80 per person, while full-day tours including lunch start at US$180 per person.
Private tours to Wadi Rum vary in price from US$80 per person for a return transfer from Aqaba plus a 2-hour 4x4 tour of Wadi Rum, to US$200 per person for a full day tour including lunch.
Private return transfers without a guide to Wadi Rum from Aqaba start at US$80 per person for two or more people.
A guided shore excursion from Aqaba dock to Wadi Rum that includes a visit to Petra costs from US$380 per person.
The price of multi-day tours to Wadi Rum from Aqaba vary according to length and itinerary. Overnight 2-day tours start from US$150 per person and 4-day trips cost up to US$900 per person.
What will you see and do on a Wadi Rum day trip from Aqaba?
Wadi Rum is full of breath-taking scenic landmarks and it is best to allow a local guide to show you some of the top attractions. Here are just a few of Wadi Rum's most popular sights.
Lawrence Spring
This spring has been in use since Nabatean times. It is named after the movie "Lawrence of Arabia" which popularized the destination after filming here in 1966.
Khazali Canyon
Khazali Canyon is a narrow canyon reminiscent of Siq near Petra. Inscriptions dating back to 350 B.C. can be seen at the entrance to the opposing cliff faces.
White Valley
A small stretch of white sand formed by broken rocks at the top of Jebel Anfeshiya, White Valley provides a striking contrast to the red-sand valley.
Burdah Arch
This spectacular rock arch is the largest in Wadi Rum. The arch is visible from all vantage points in the valley below.
Mushroom Stone
An extraordinary rock formation that demonstrates the effects of weather and exposure to the sandstone in the region.
Umm Fruth Rock Bridge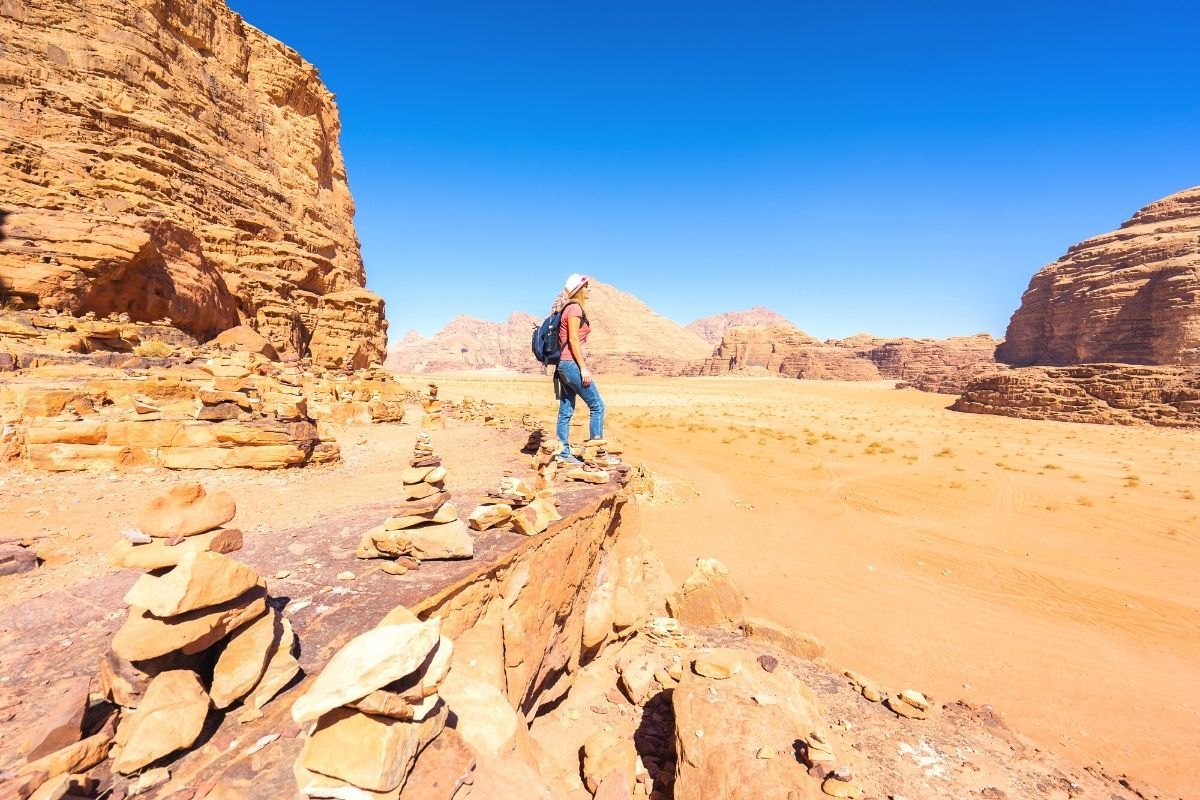 This rock arch is the most visited in the reserve on hiking tours in Aqaba. A short hike will take you to the top of this picturesque landmark.
What are the opening times?
Wadi Rum is a designated nature reserve and is accessible to visitors throughout the year.
The Wadi Rum visitors center is open from 8 AM to 4 PM daily. Once in the reserve, access to landmarks is not restricted, but it is easy to get lost in this vast expanse.
If you have your own 4x4, you can enter unaccompanied. If you don't, you will need to join a guided jeep tours in Aqaba.
When is the best time to visit Wadi Rum?
Wadi Rum can be visited throughout the year. The weather is most moderate in spring and autumn and these are peak tourist periods.
In the spring, the desert comes alive with wildflowers, and new-born camels and goats join the Bedouin herds.
If you are a hiker or climber, October to April is the best time to visit.
Are there any tours to Wadi Rum from other cities in Jordan?
Yes, there are tours departing from other cities in Jordan:
Travel tips
Wear clothes that offer some protection from the elements and comfortable walking shoes.
Bring plenty of water along, especially in summer.
Leave any non-essential valuables at your hotel.
Reapply sunscreen regularly.