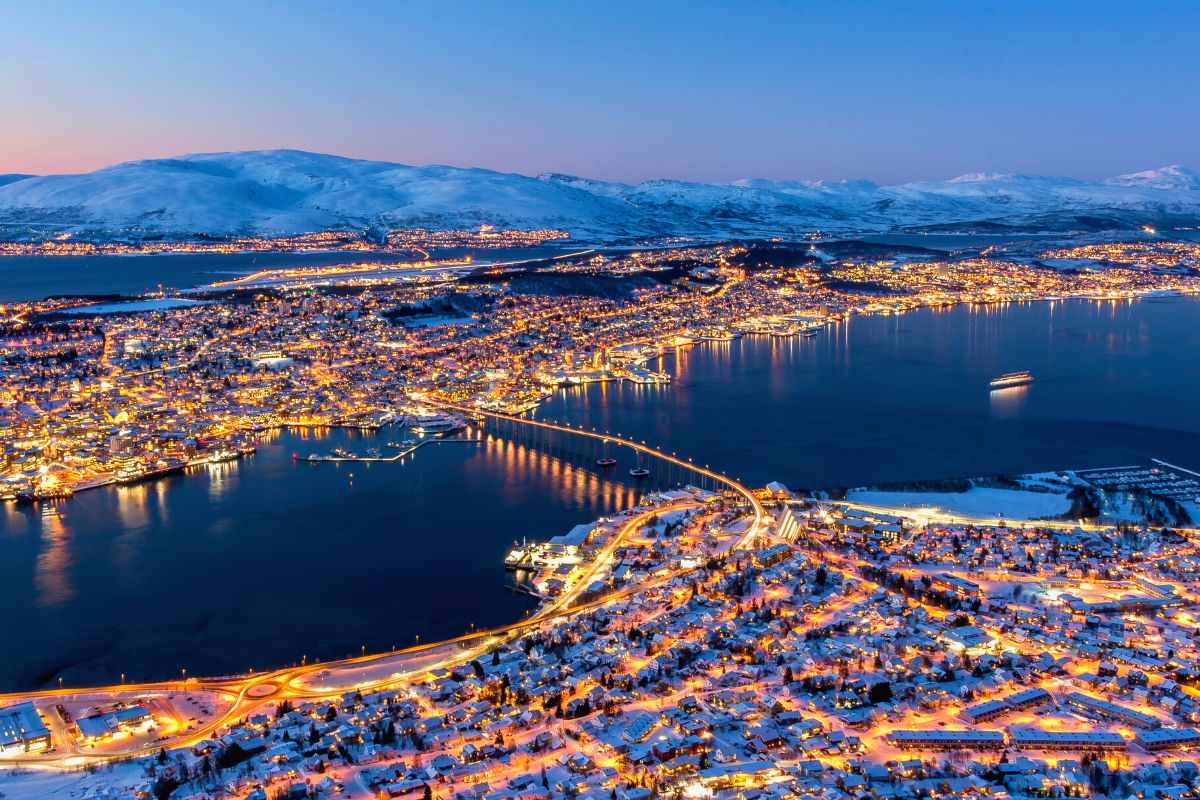 Tromso, Norway is the sort of place that evokes immediate images of a "winter wonderland" – a world of snow and ice, where skiing and dogsleds are normal modes of transportation.
And while you can find all of those things here, you may also come across some unexpected offerings: beaches, ambitious science experiments, kayaking… and trolls?
This dynamic town, located in the northern part of the country, is a true Arctic stronghold, packed with plenty of unique wonders for every season.
So bundle up and get ready for fun, as we explore some of the coolest (pun slightly intended) things to do in Tromso.
1 – Enjoy one of nature's most dazzling displays on a Northern Lights tour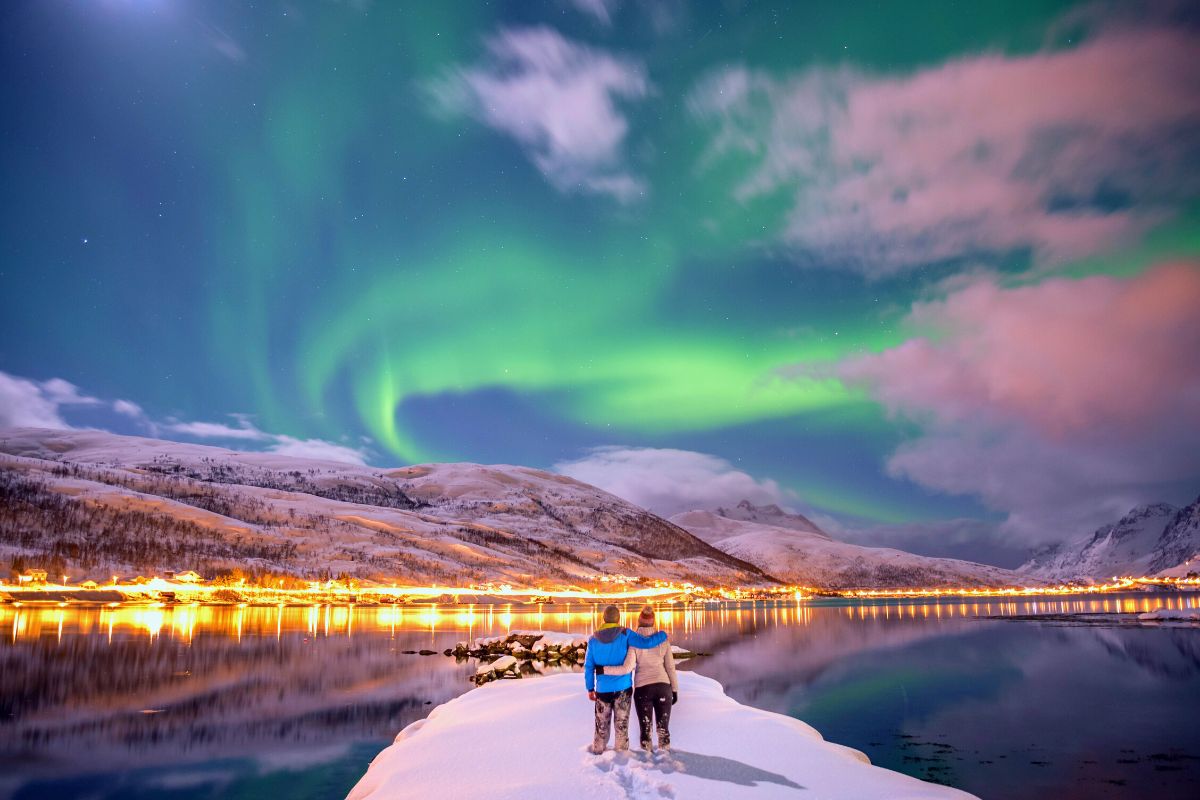 While Tromso has several notable attractions, it is probably best known as one of the best gateways to view the Northern Lights.
More formally known as aurora borealis, these beautiful displays of colorful lights frequently ripple through the night sky, creating a spectacular natural show that draws visitors from all over the world.
If you want to enjoy this incredible sight for yourself, there are tons of excellent tour options available.
Book a cruise and sail under the dazzling night sky, enjoying glimpses of striking nocturnal sea life to complement the beauty above you.
Or hop aboard a bus and journey out into the rural lands beyond the city, keeping an eye out for the flashy display as you roll through the wilderness.
Whichever option you choose, you'll be treated to great information, plenty of photo opportunities, and, of course, a stunning phenomenon unlike anything else on Earth.
2 – See a polar spin on religion at the Arctic Cathedral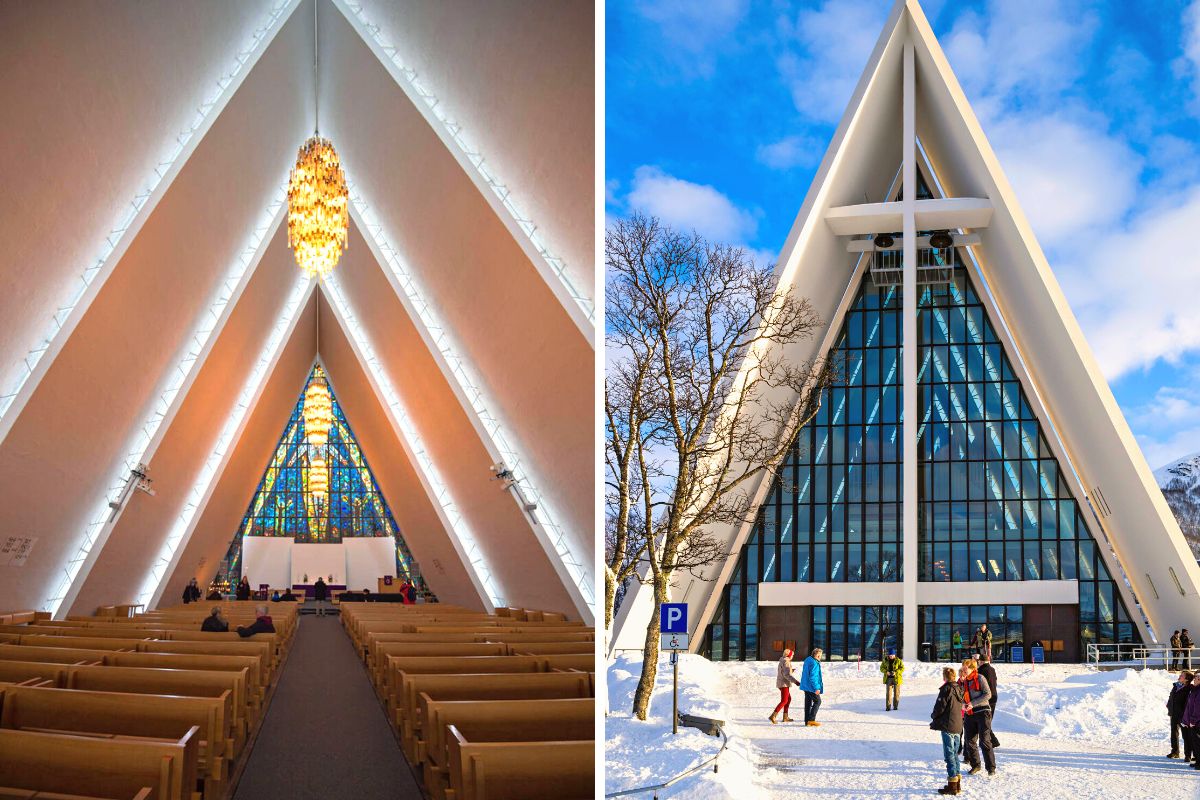 With its distinctive pyramid shape (made from eleven massive interconnected panels, the Arctic Cathedral is an architectural triumph and spiritual refuge all in one.
The building itself is a gorgeous piece of work; it can be seen from all over town – and even from the air.
Along with its innovative exterior, it's known for its magnificent church organ, which boasts some distinctively regional designs; after all, it's not every musical instrument that's built with reindeer hide!
There are also some terrific glass pieces throughout the space, depicting various religious themes. It's a magnificent modernist tribute to the local culture!
3 – Ride like a local with some reindeer sledding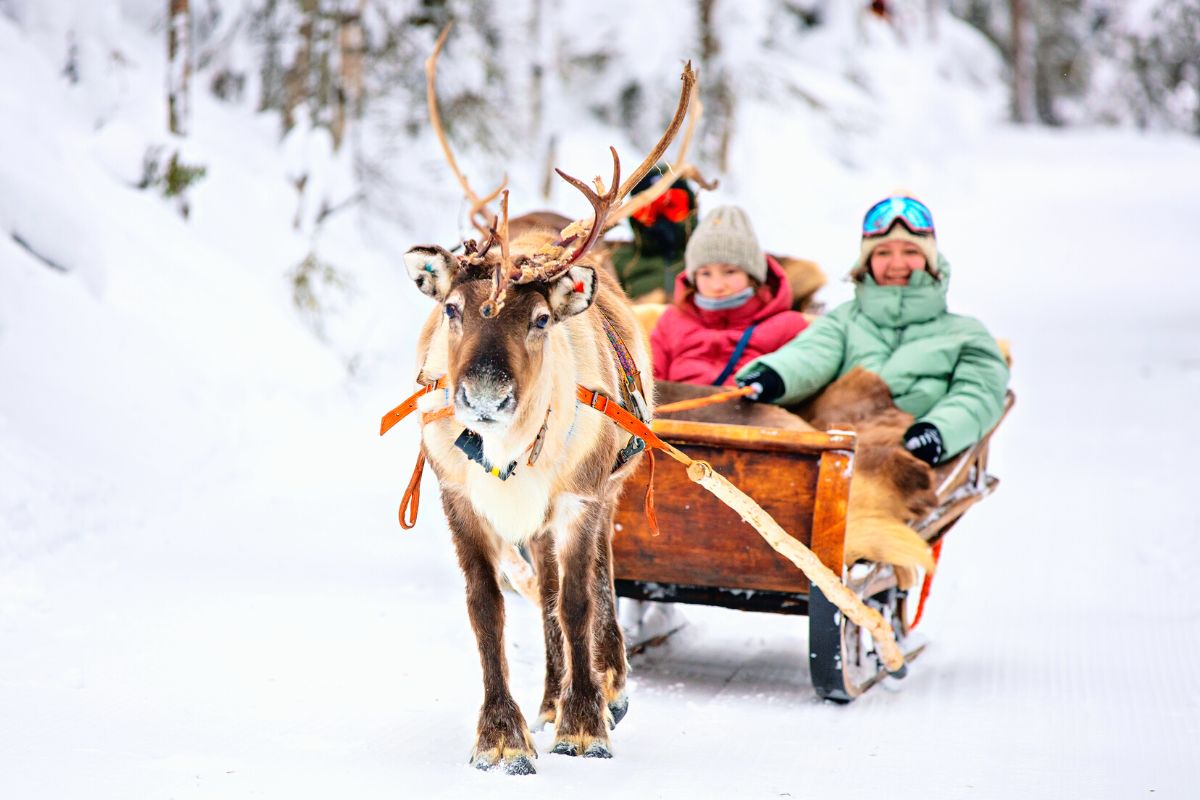 You may not quite be at the North Pole, but you can still feel like you're there as you try some reindeer sledding! Meet these dynamic, hearty creatures, and learn all about their unique behaviors. You'll even get a chance to feed them!
Then it's time to hop in the sled, and enjoy a scenic, fun-filled ride through the landscape, just as the locals have for millennia. Many tours also include chances to learn about the Indigenous Sami culture, who have herded these fantastic animals for generations.
Along with fascinating insights into the interactions between humans and animals, you'll get to enjoy some traditional meals and folk songs, as well as plenty of stories that highlight the uniqueness of the culture.
And if you really want to take your experience to the next level, some tours also offer excursions to see the Northern Lights. Don't miss this awesome adventure with Santa's best friends!
4 – Learn about famous explorers at the Polar Museum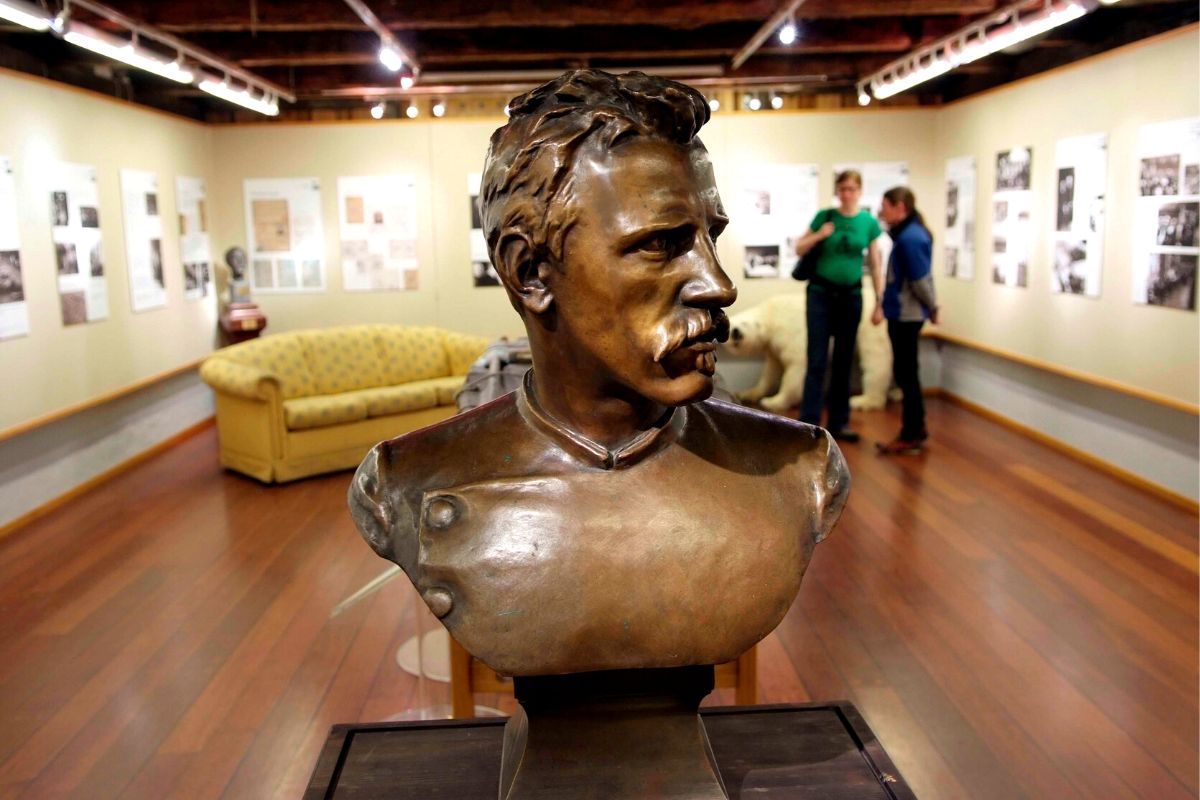 If you want to further explore the rich cultural traditions of the area, be sure to stop by the Polar Museum. Explore the fascinating stories of the area's seal-hunting industry, as well as the many expeditions that launched from the town.
Learn how such iconic figures as Roald Amundsen and Fridtjof Nansen prepared for their groundbreaking journeys through the Arctic, or how local trappers navigated the terrain in pursuit of food and furs.
There are also plenty of other amazing artifacts from across the town's history, including antique furniture and unique clothing built to withstand the harsh northern temperatures.
It's the perfect place to delve into the adventurous lifestyles that have long characterized the region.
5 – Cruise through the Tromso Fjords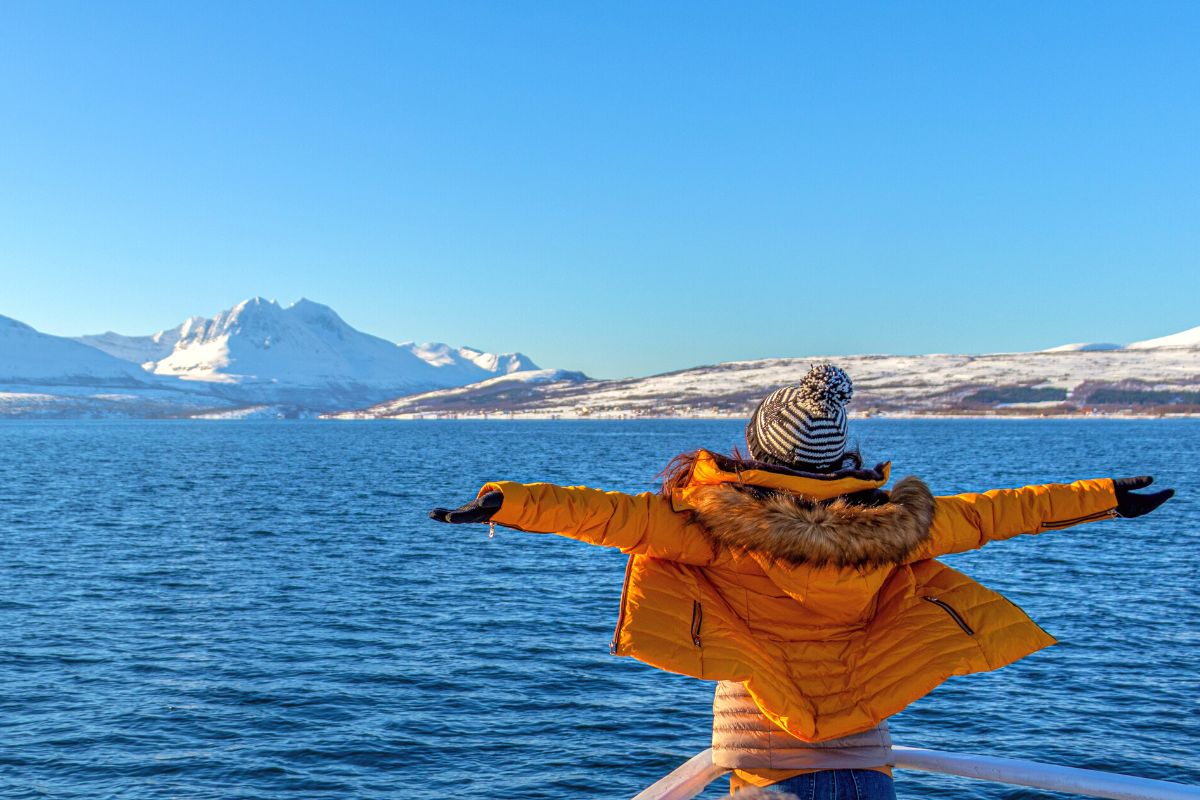 With towering peaks and cliffs framed by crystal-clear waterways, the Tromso Fjords make a vivid first impression. And the longer you linger, the more you'll fall in love!
There are plenty of boat tours that offer you time to drink in the gorgeous scenery, while keeping an eye out for seals, whales, and other wildlife. If you want to kick things up a notch, hop aboard a jet boat and see the sights at top speed, enjoying the fresh air as you zoom along.
And fans of the avian world will love the wildlife bird cruise, where an onboard guide will teach you the ecology and history of the region as you search for cormorants, sea eagles, puffins, and other residents of this monumental landscape.
6 – Visit incredible animals and delve into ecology at Polaria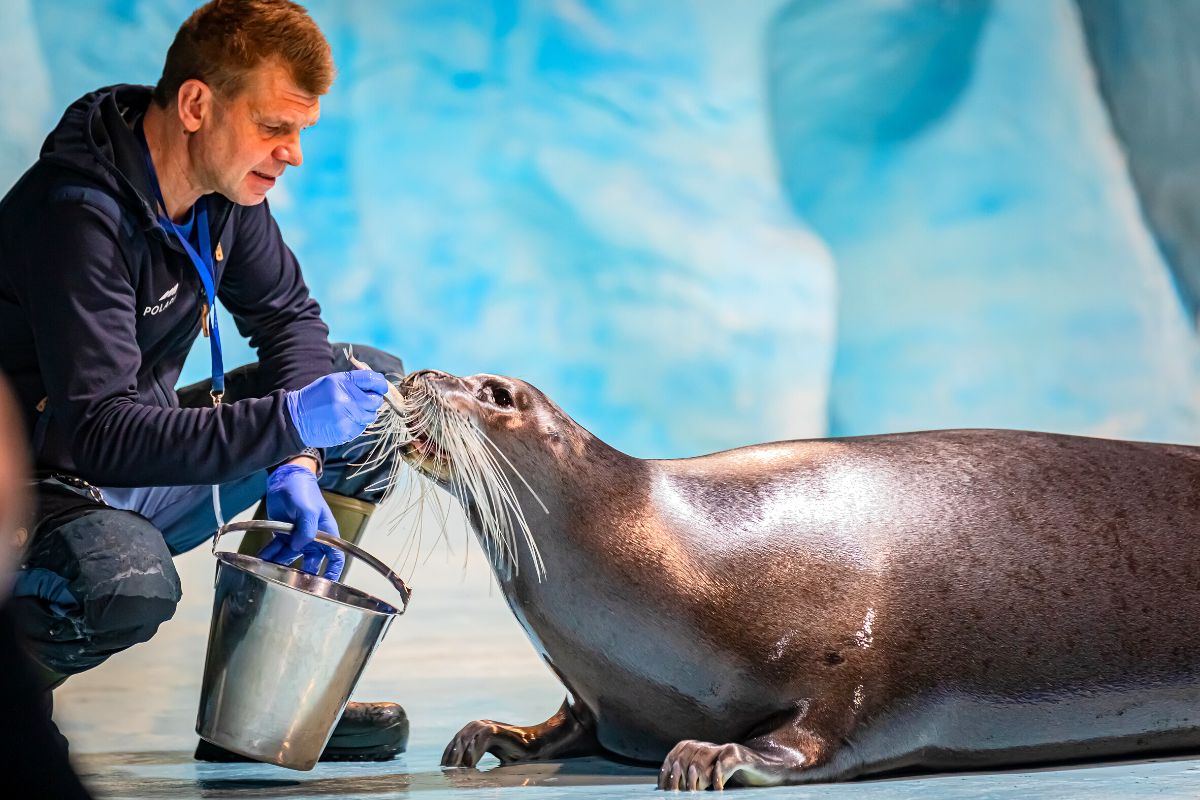 See some cutting-edge scientific research up close. Sit in awe as some of the wildest landscapes on Earth play out in panoramic form all around you.
Visit some of the beautiful, intriguing animals that live in the nearby waters – and maybe even touch some! At Polaria, the possibilities for discovery are endless.
This world-class environmental institute focuses on the ecology and wildlife of the Arctic, and offers visitors a chance to engage with the research that they conduct. After catching a glimpse of the scientists' latest works, head over to the aquarium area to meet some of the amazing creatures that they seek to protect.
Watch the resident seals cavorting around the tank as they work with their trainers, then head over to the aquarium section for an up-close view of crabs, halibut, wolffish, and other local species.
You can even touch some of the specimens! Whether you're diving into the mechanics of science or getting some quality time with sea cucumbers, you'll be able to see your natural surroundings in a whole new way!
7 – Glide through the Lyngen Alps by snowmobile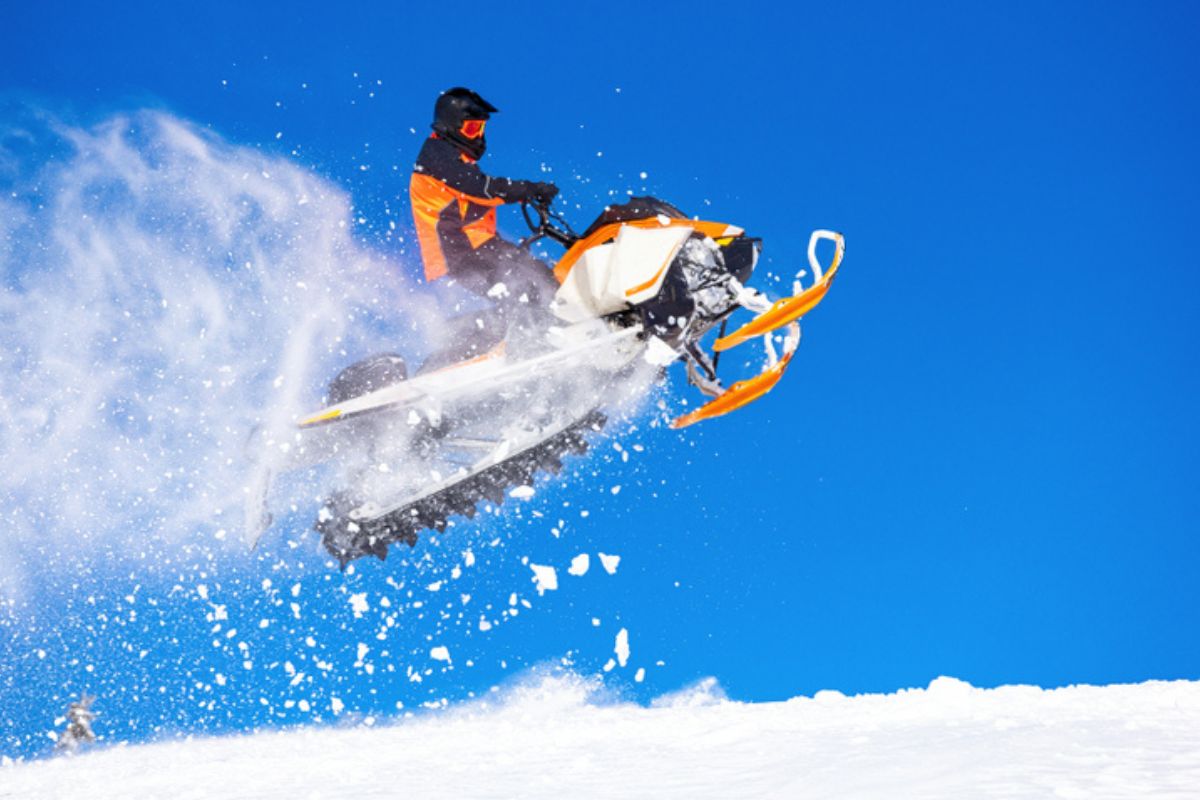 When you're ready for some more mountainous landscapes, make your way over to the Lyngen Alps. Much like their famous cousins, they're known for their gorgeous peaks and abundant winter sports options.
They're especially great for snowmobile tours; zipping through the thick blankets of snow and drinking in spectacular mountain views is one of the most beautiful things to do in Tromso!
As you ride along, you'll be treated to a whole variety of terrain, from scenic valleys to vast, open tundras. For a particularly vivid experience, try booking a night tour, where the already gorgeous landscapes take on a new form by moonlight.
If you're looking for a truly memorable experience in the wildest wintry lands, a trip to this spectacular range is a must.
8 – Hit the water (or the woods) at Tromso southern beach (Telegrafbukta Beach)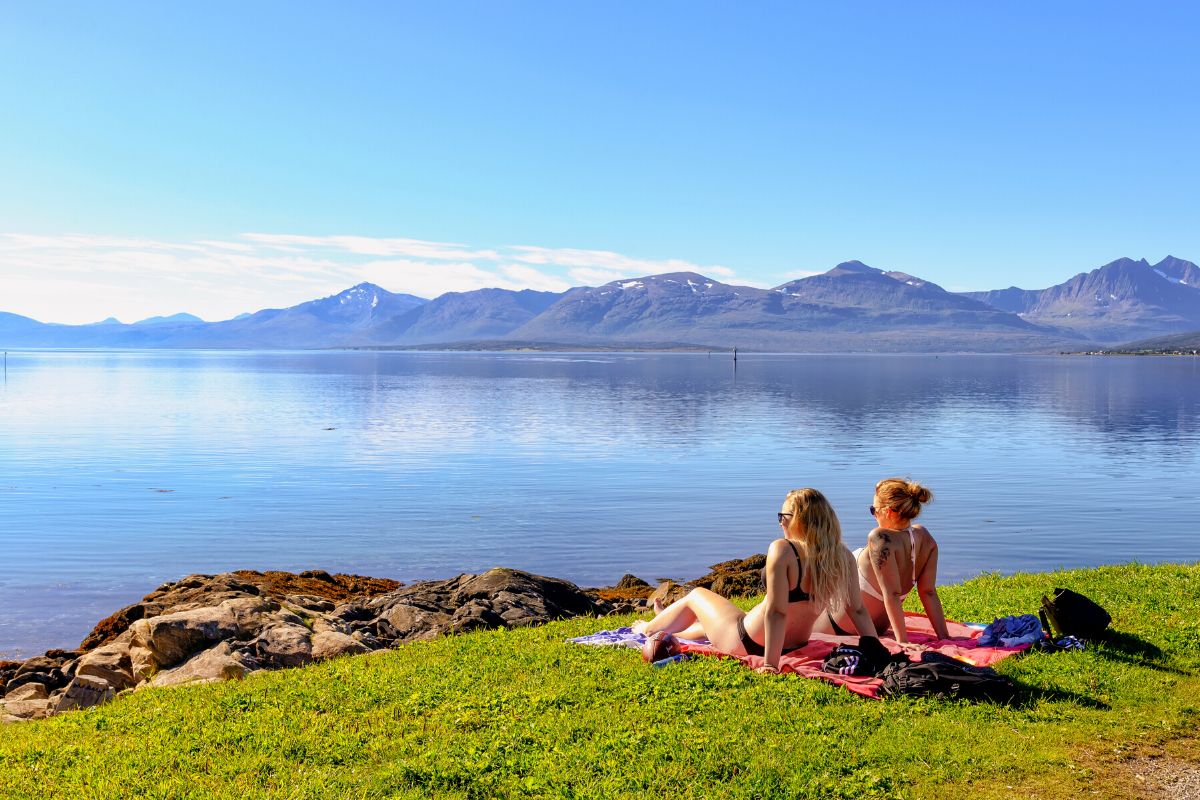 Norway may not be the first place you think of for a beach vacation… but the beautiful, versatile Telegrafbukta Beach may just change your mind!
Yes, this beloved area is a good place for some sun and sand in the summer, with beach volleyball, playgrounds, and plenty of other amenities available, along with some excellent swimming areas.
But it's also hugely possible in colder seasons, as a great spot to see the Northern Lights conveniently close to town. If you want a fun local experience, stop by on a Friday, when the Ishud bathing club stops by for a dip – even in the middle of winter!
You can also visit nearby Folkeparken, a splendid forested area with excellent hiking paths, ski trails, and a wonderful open-air museum that celebrates the role of women in the fishing industry.
It's also home to the Friluftsmuseum, an impressive collection of historical buildings from around the area. Check out boathouses, farm buildings, and the former residences of everyday citizens, each with their own unique stories that showcase the town's fascinating past.
9 – Find a new favorite flower at the Arctic–Alpine Botanic Garden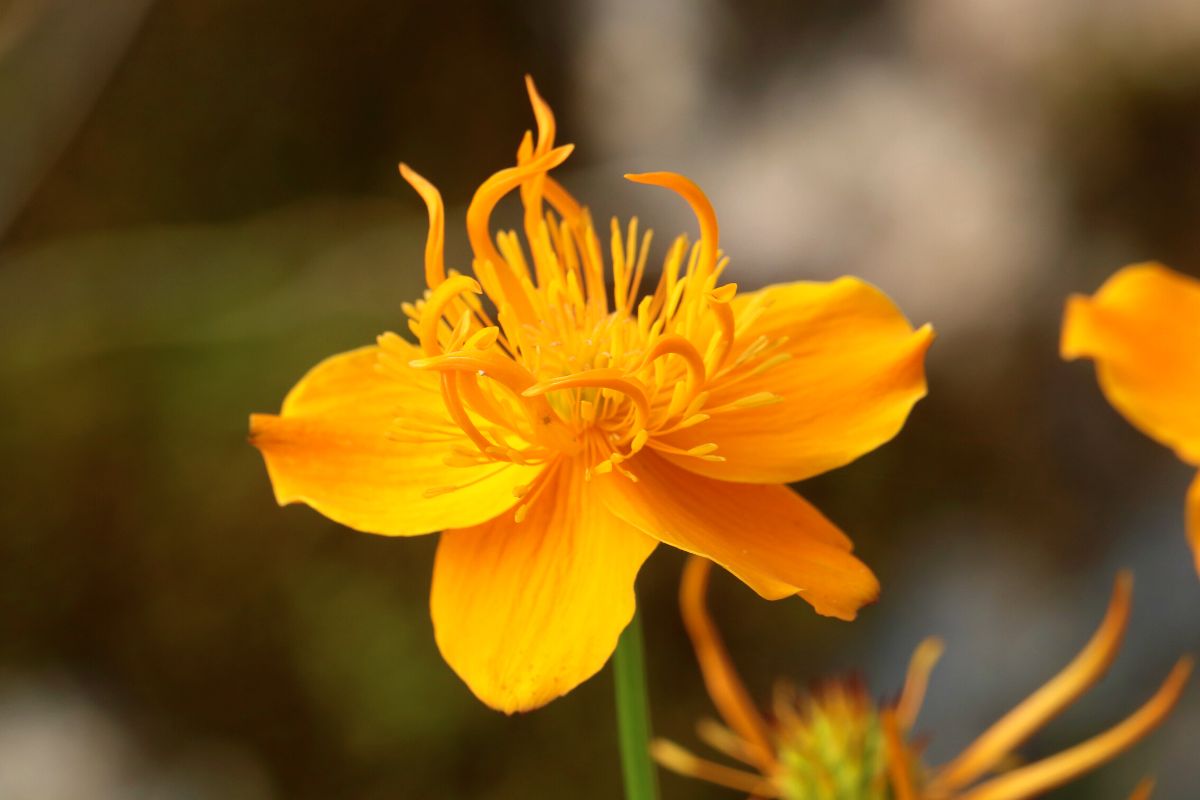 While the northern realms may not be the place where you'd normally imagine flowers, there's some truly remarkable plant life to see here.
Take a stroll through the Arctic-Alpine Botanic Garden, and you can enjoy some truly phenomenal flora – all found naturally in colder climates. As the world's northernmost plant collection, this remarkable space features tons of terrific specimens from the alpine and Arctic habitats.
There are even some collections from Antarctica! You can also enjoy nearly 700 Norwegian plants, showcasing the breadth and depth of botanicals in this remarkable country.
While the scenery is particularly vivid during the flowering season (usually May-October), it's also a splendid sight in the winter, when evergreens and other hearty plants perfectly pair with the fields of snow.
Whether you're visiting it as part of a city tour or simply exploring on your own, the vibrant colors and unique traits of these dynamic plants will surely capture your heart.
10 – Indulge your intellectual side at the Arctic University Museum of Norway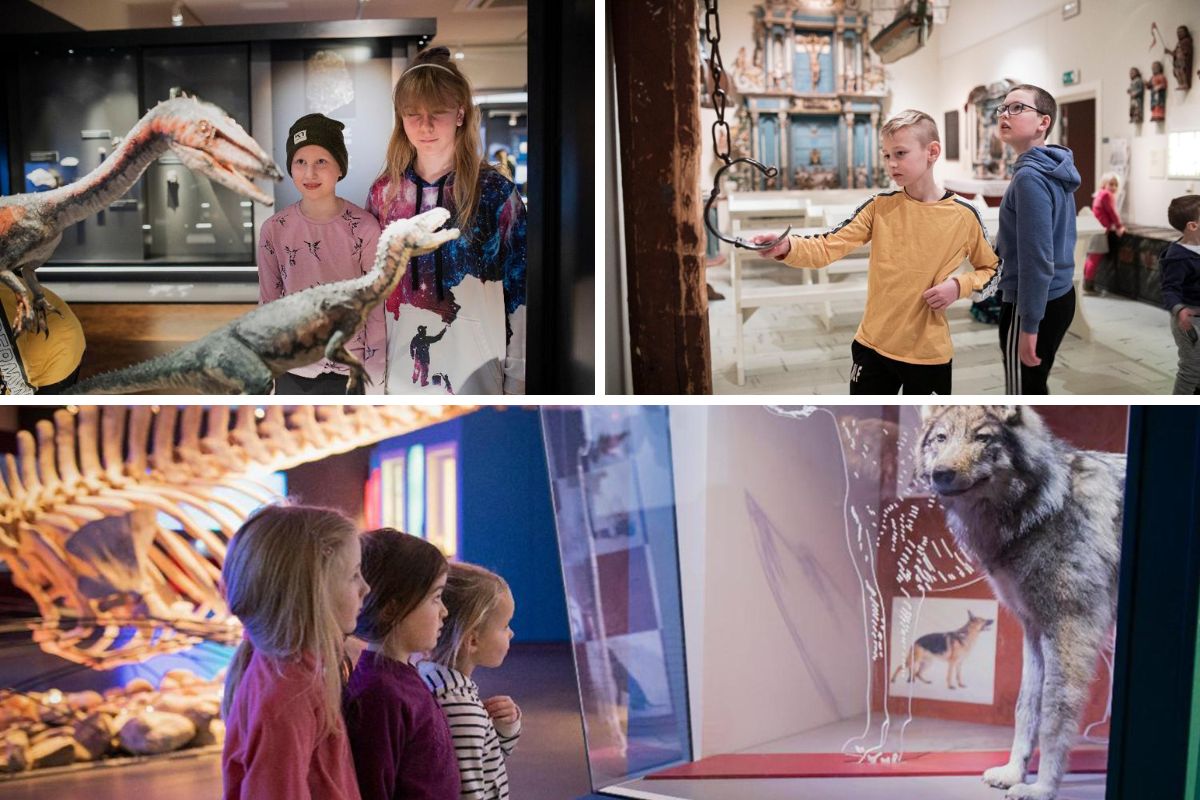 For another great opportunity to interact with the region's cultures, ecosystems, and ideas, check out the remarkable collections at the Arctic University Museum of Norway.
Their fantastic exhibits explore the complicated issues facing the region today, including climate change and Indigenous rights. They also feature some more traditional museum exhibits, showcasing everything from natural history to religious art.
See how the town looked roughly 500 million years ago as you trace the geologic wonders of "TellUs – From Stardust to Modern Technology". Or explore the beauty and diversity of medieval religious pieces and Lutheran works in the "Ecclastastical Art" section.
Trace the trajectory of Sami society from its nomadic roots to its rich musical and herding traditions (all shown in the "Sami Culture" exhibit), all the way to the political and social structures of the present day (found in the "Sapmi – Becoming A Nation" exhibit).
And for a truly memorable interactive experience, explore the personal narratives in "Who Are You In A World On Fire?", a sobering and fascinating look into the lives of average Norwegians during wartime.
These nuanced displays will make the region's history come alive in a whole new fashion!
11 – Go whale watching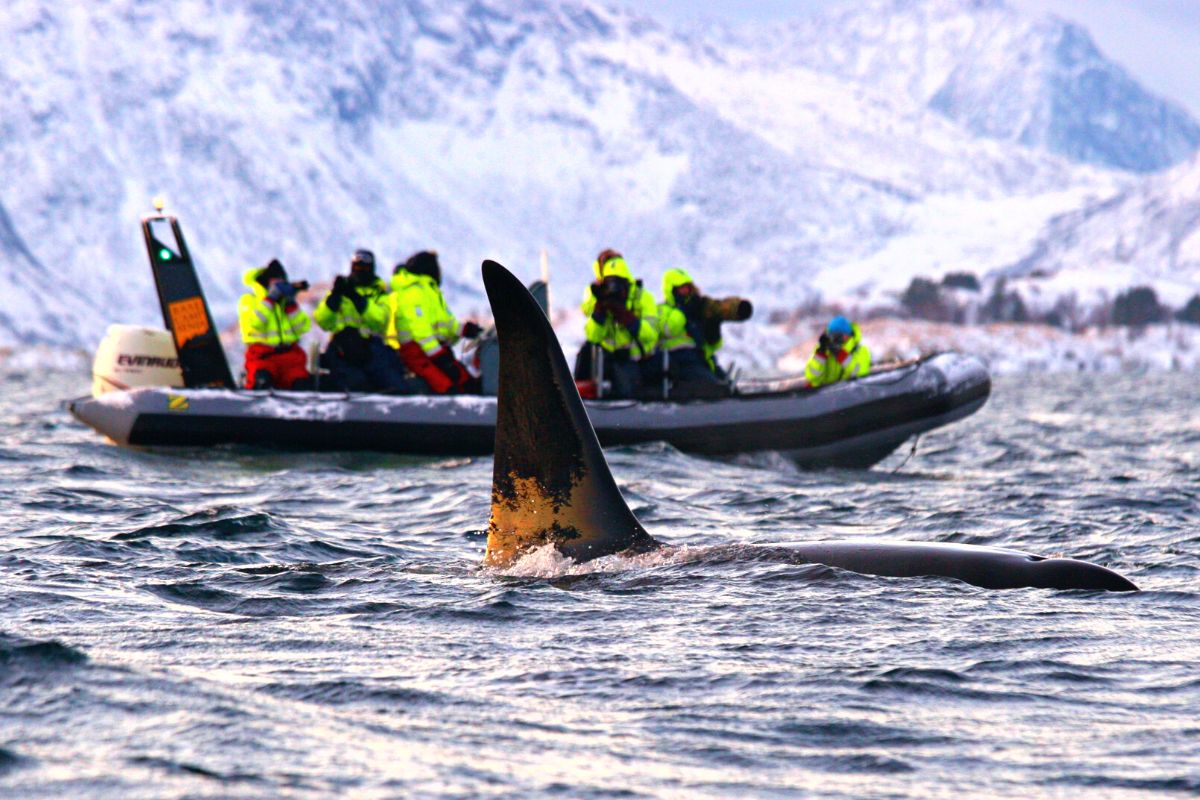 As you sail through the gorgeous open areas off the coast, you just may spot a tail or fin poking above the water. And better yet, you may even see an entire whale!
Whale watching is certainly one of the most exciting things to do in Tromso, offering a fantastic chance to spot some of the massive marine mammals in their natural habitat.
Humpbacks and orcas frequently cross through the sea in search of herring; and with their massive size and stunning markings, they make for an unforgettable sight. For a unique and environmentally friendly experience, try booking a silent cruise.
These innovative tour vessels use a specially modified noiseless engine to get close to the whales without disturbing them, offering the opportunity for unforgettable up-close sightings.
Don't miss the chance to see these amazing animals in their natural habitat!
12 – Practice your empathy at the Perspective Museum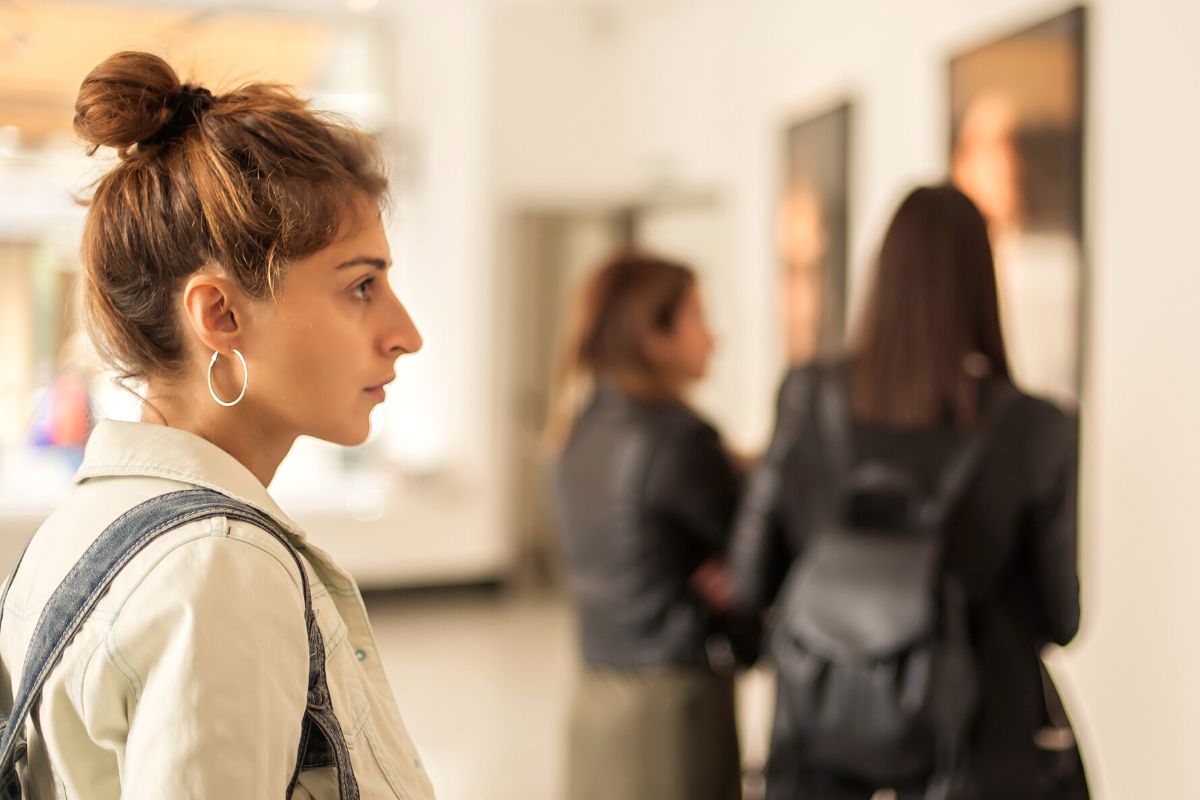 Many museums strive to expose visitors to different ideas and cultures, but it's rare to find one that focuses on this concept of empathy itself. At the Perspective Museum, you'll get a unique chance to explore one of the most universal and complicated of concepts: the viewpoints of others!
Delve into interactive exhibits that showcase the social and environmental shifts facing Arctic communities today, and an incredible array of documents and photos that provide intimate glimpses into the lives of locals over the past 350 years.
You can also check out the personal collections of local novelist and painter Cora Sandel, who grew up in Tromso; along with documents and sketches, you can even see the house where she once lived.
This fascinating space strives to take public history to the next level, encouraging guests to explore not just the stories of past and present citizens, but also their ideas and emotions. It's a unique museum-going experience and a great cultural lesson, all in one.
13 – Snowshoe through some marvelous scenery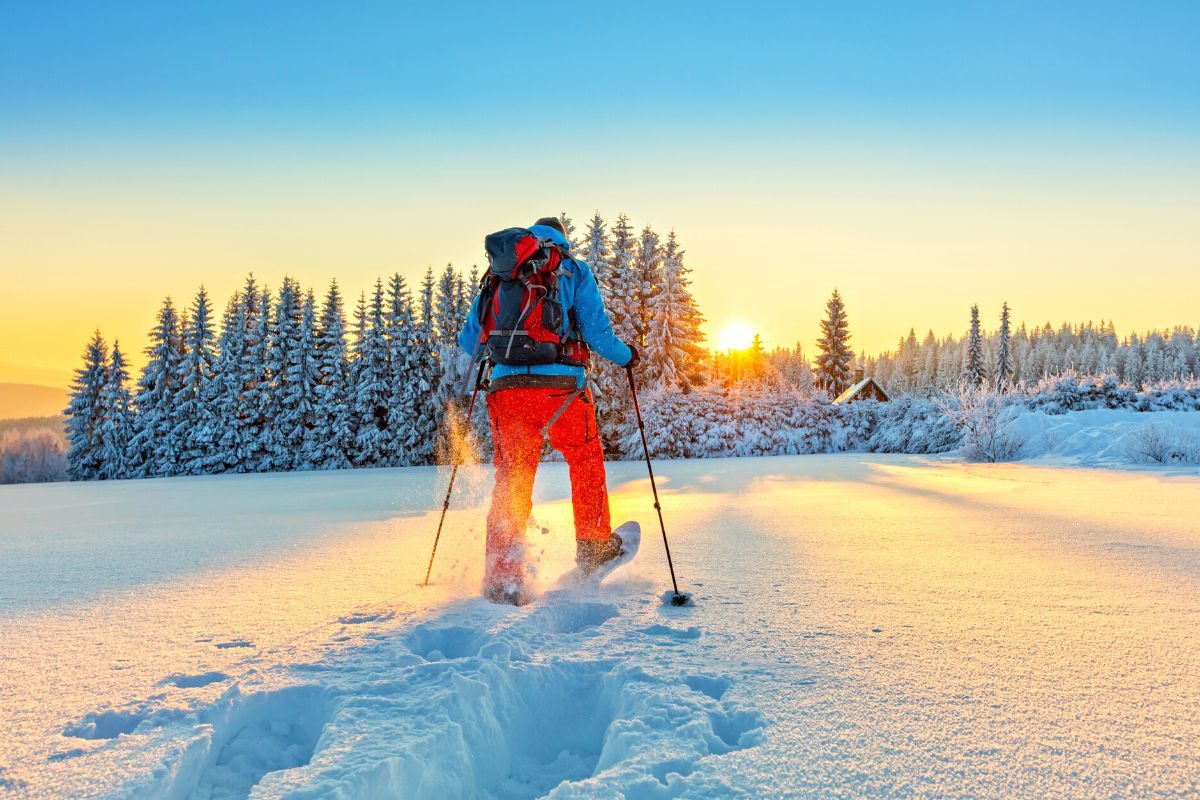 For a simultaneously peaceful and invigorating winter activity, you can't beat snowshoeing!
This magnificent excursion is a great way to see the pristine wilderness outside of town, with tours that will unleash your inner explorer.
Scale small mountain summits, gaze out over glittering fjords, and shuffle through vast, hushed forests of evergreens perfectly framing the snow. You may even get to stop by a husky camp to meet some adorable sled dogs!
You'll see the rural areas in a whole new way, and get some amazing exercise!
14 – Visit the Tromsø Cathedral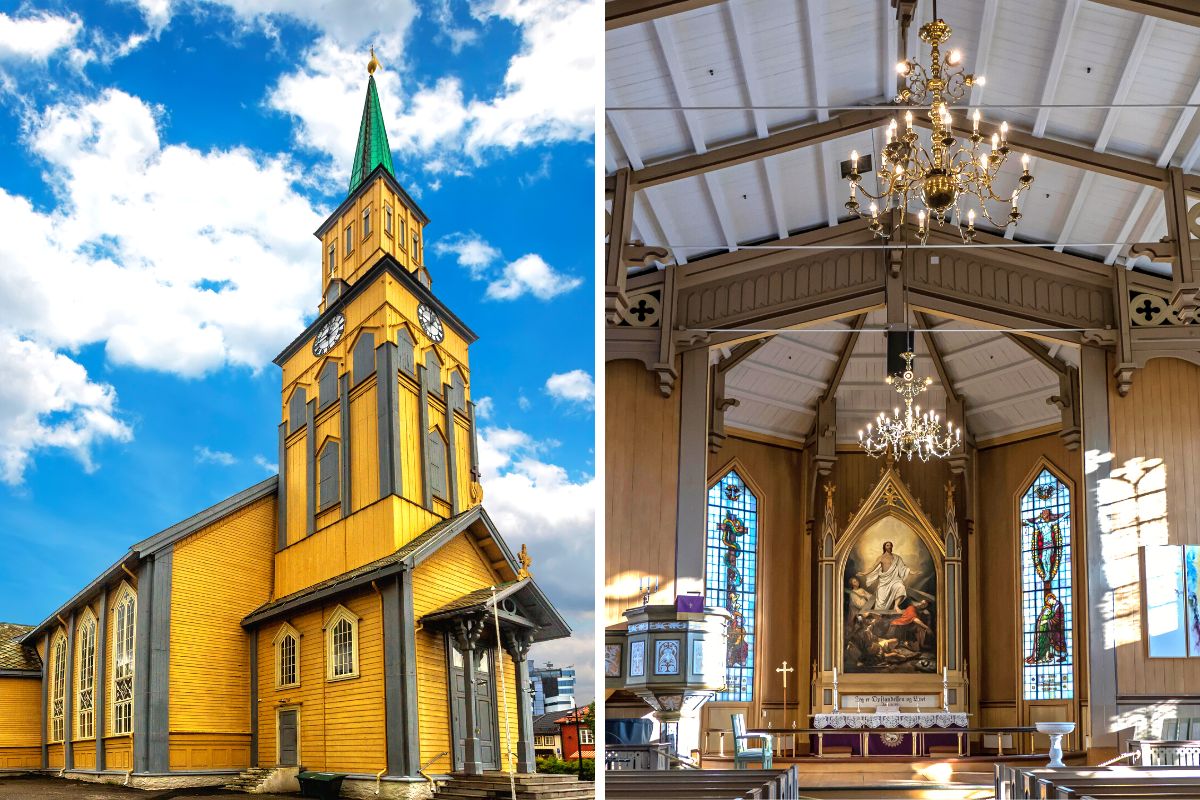 Another jewel in the city's architectural crown, the Tromso Cathedral has long been a fixture of local religious life, serving as the episcopal seat of the Church of Norway's Diocese of Nord-Hålogaland.
This magnificent building, which was constructed in 1861, is also the only cathedral in the country built of wood. Its charming yellow exterior is only matched by its beautiful interiors, including some lovely stained glass windows and paintings that showcase the story of the Resurrection.
Stop by to explore this beautiful space for yourself, and learn all about its centuries-long role as a place of worship.
15 – Go on a dog sledding adventure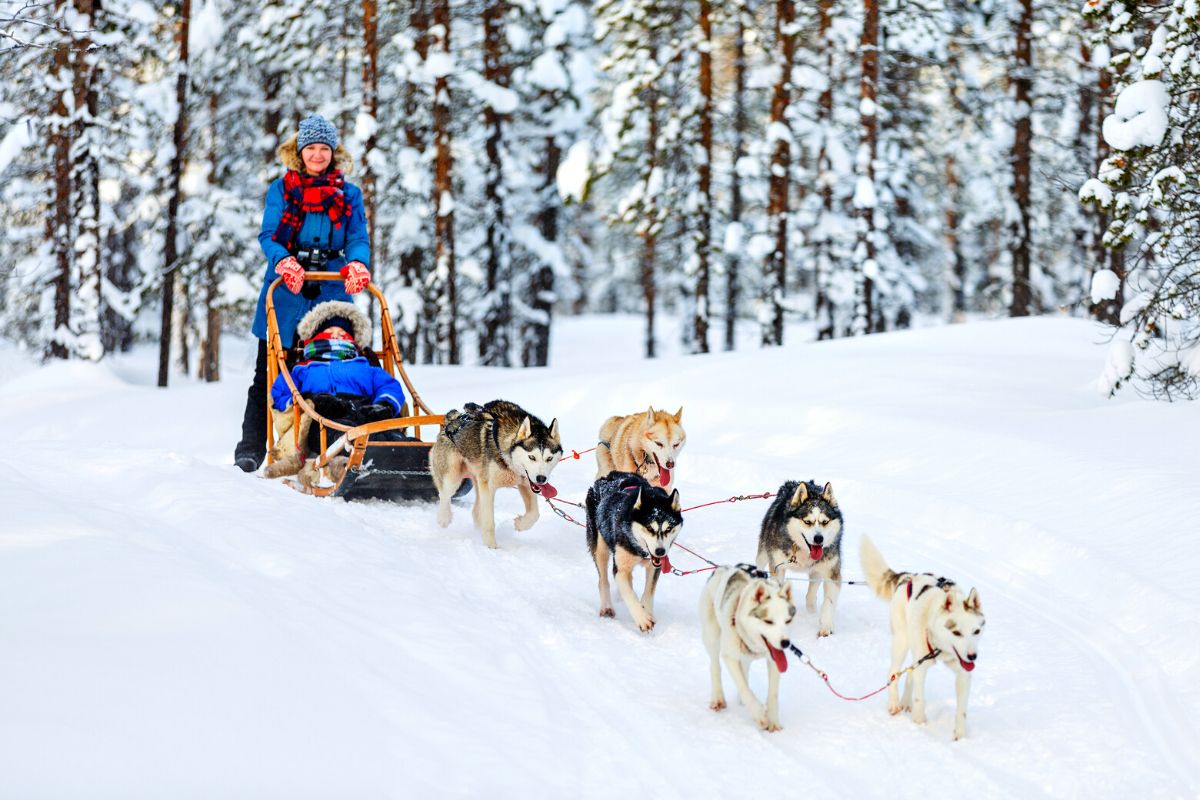 What's the one thing that can compare with reindeer sledding? Dog sledding, of course! Huskies have been used for generations as transportation in northern climates, and during your visit, you can participate firsthand in this awesome experience.
Your adventure begins when you meet the dogs themselves; with a wonderful blend of intelligence, athleticism, and friendliness, it's little wonder that the breed remains so popular!
After getting acquainted with your temporary canine companions, it's time to gear up for a thrilling ride through the wilderness, experiencing the speed and precision of these wonderful animals.
Best of all, you'll get the chance to switch between driving and sitting in the passenger seat, so you can alternate between the thrill of guiding and the joy of watching the pristine Arctic scenery passing by.
Afterwards, unwind with some warm beverages and treats around the fire before heading back to town. Like the reindeer excursions, you can also pair your dog sledding excursion with other tours, such as trips to the Tromso Ice Domes and overnight camping options.
And if you really fall in love with the sport, you can even book a multi-day trek, where you can camp, ice fish, and delve deep into the wilderness, all while learning the finer points of mushing and animal care.
Cool dogs, gorgeous views, and some awesome opportunities to learn new skills… it doesn't get any better than that!
16 – Enjoy the art at Nordnorsk Kunstmuseum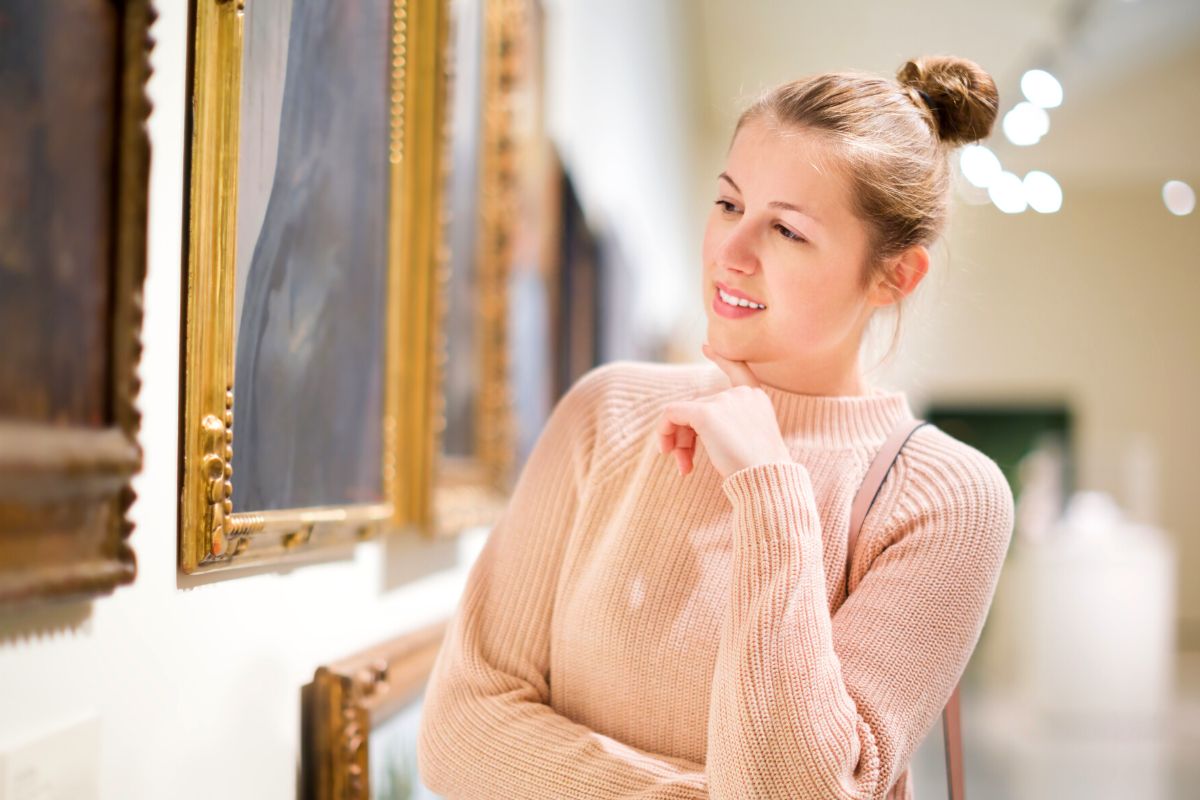 From 18th-century masterpieces to avant-garde pieces of visual art, Nordnorsk Kunstmuseum is filled to the bursting with art for the masses.
Opened in 1985, this renowned space is known for its ambitious and innovative creative collections, which showcase the diverse mediums and perspectives of creative movements in northern Norway.
With a broad range of works spanning from the 1700s to the present, the museum celebrates the movements that have shaped the country's artistic attitudes. Its collections also include many pieces by international artists, offering unique perspectives on the region that pair perfectly with those of Norwegian creators.
Stop by to admire works by Anna-Eva Bergman, Adelsteen Normann, and other acclaimed national artists, and explore the diverse offerings of the latest exhibitions. With its blend of intellect and creativity, this is the perfect place to engage with the country through the lens of art.
17 – Have a truly "chill" evening in the Tromso Ice Domes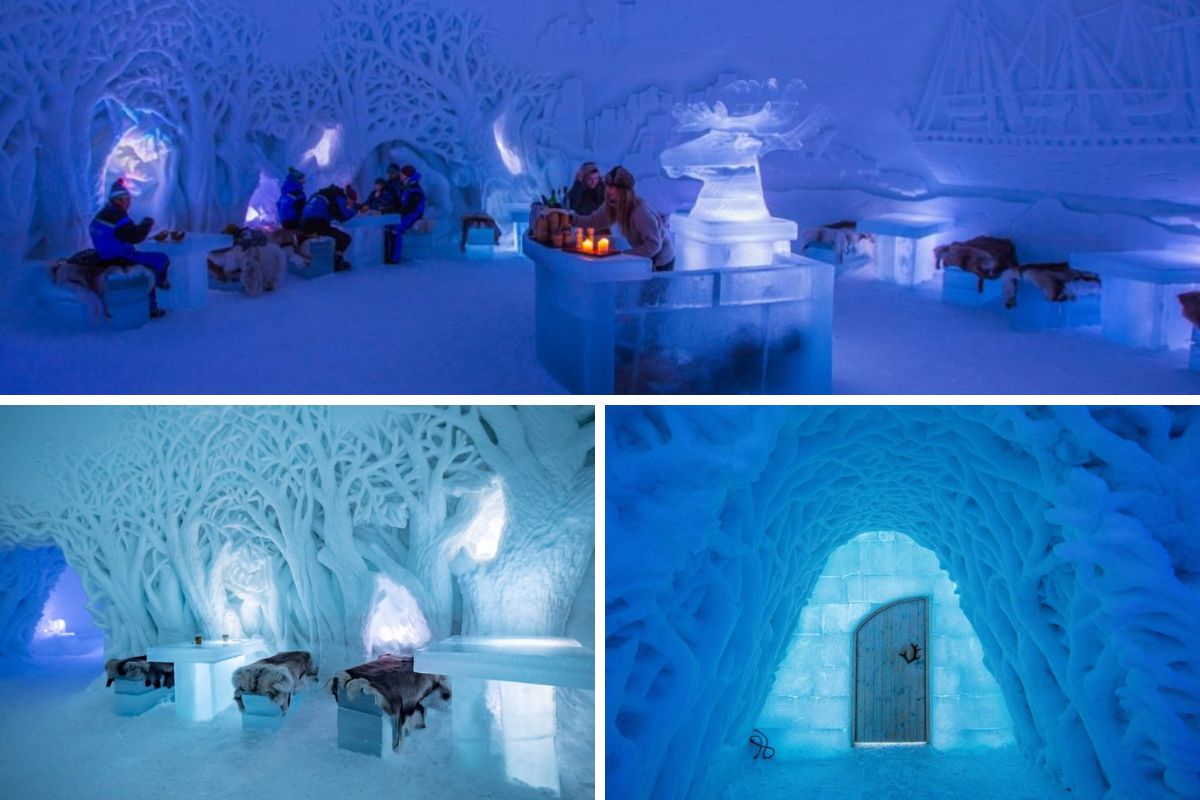 When you step inside the Tromso Ice Domes, you'd be forgiven for thinking that you've stepped onto an alien planet. But this place is totally real, and best of all, you can spend the night there!
The domes are part of an elaborate hotel and bar complex, all built entirely out of ice and snow. With gorgeous sculptures, intricately carved interior designs, and even a bar made entirely of ice (glasses included), it's one of the "coolest" things to do in Tromso.
If you really feel like splurging, book an overnight stay, and see what this wonderful winter playground really has to offer.
Between snowshoeing, dog-sledding, and trekking out to search for the Northern Lights, you'll almost be too busy adventuring to hang out in your room – but of course, when that room is made out of ice, spending time there is half the fun!
Take some time to kick back and enjoy this unique tribute to one of the country's greatest elemental assets!
18 – Catch a football match at Alfheim Stadium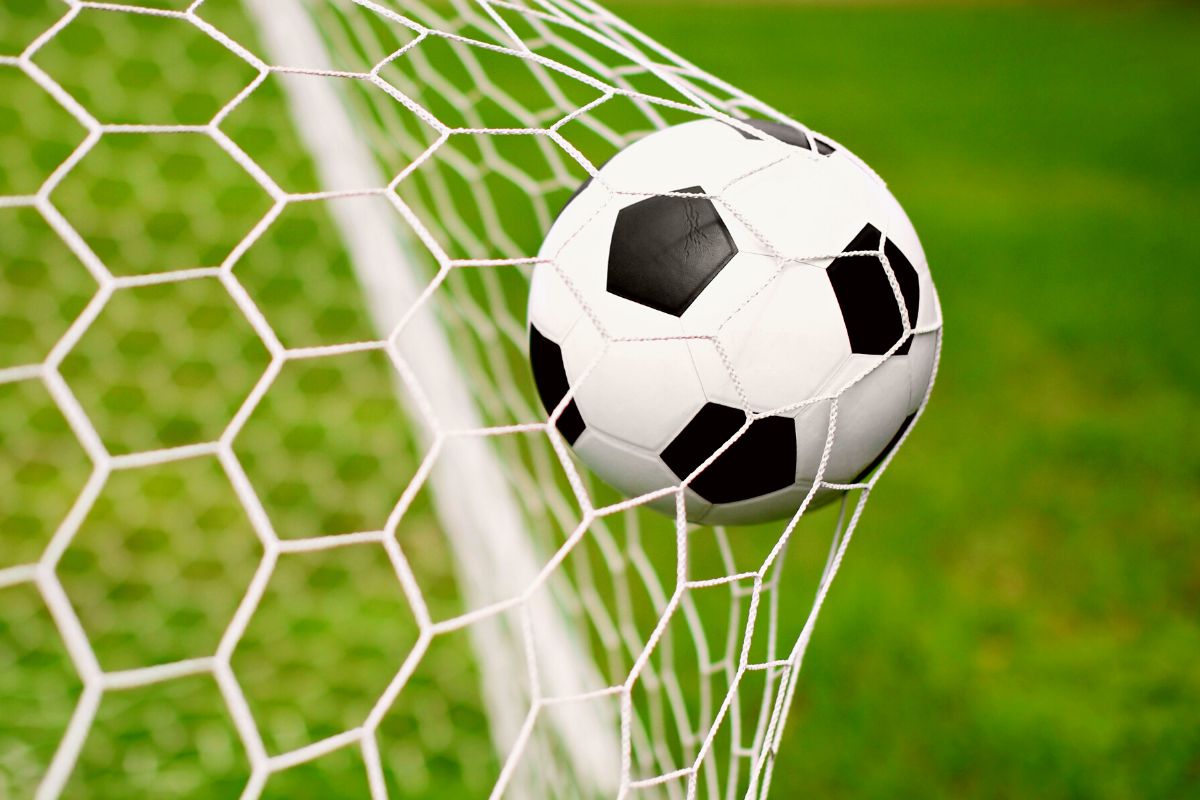 Are you a football fanatic? Then swing by Alfheim Stadium during your trip to catch some exciting matches.
This 6,700-seat space is home to Tromsø IL, the local team; their many wins have earned the venue the nickname, "Fort Alfheim" – a reference to its role as a sports stronghold.
It's also the second-most northern football stadium in Europe, so watching a match here will get you some pretty unique bragging rights – just make sure to dress warmly!
Whether you're a diehard fan or not, it's a terrific place to get into the spirit of the game.
19 – Take a day trip to Kvaløya Island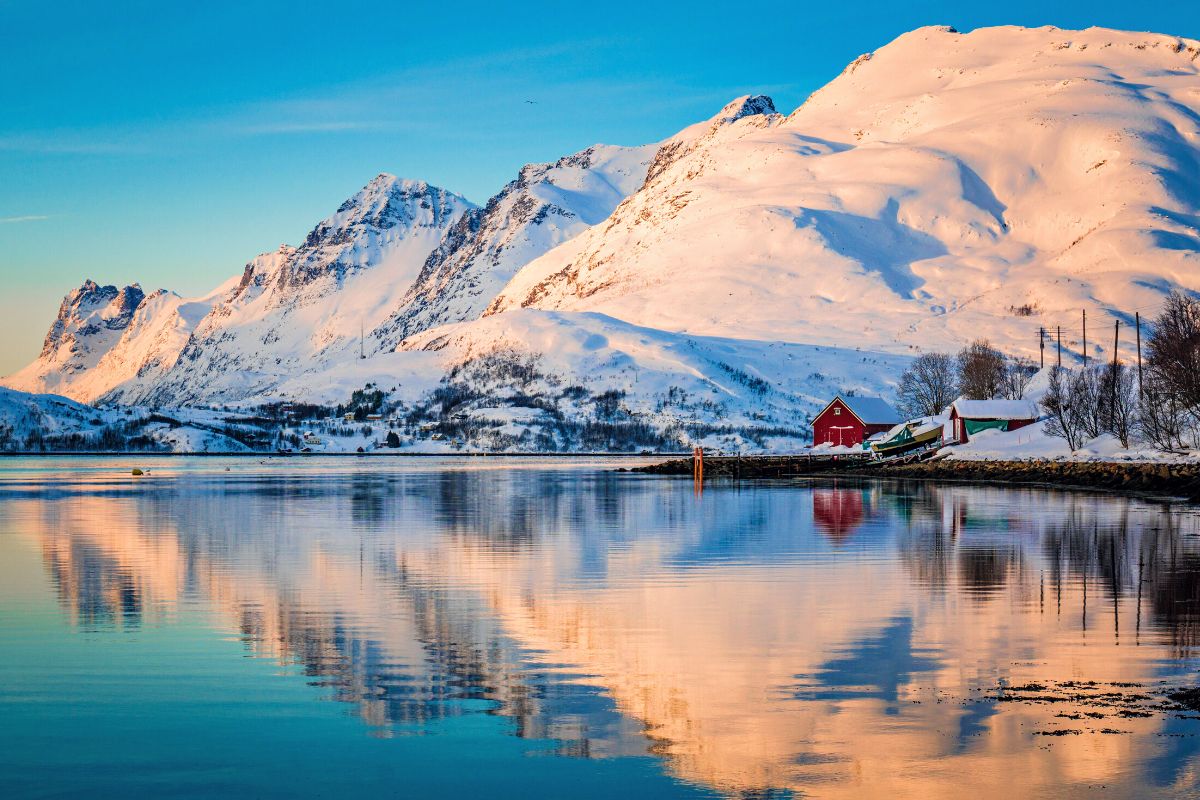 Charming littlel villages, incredible natural vistas, and wild moose… there's no shortage of adventures at Kvaløya Island!
Even by the high standards of the area, the scenery on this isle – which is the fifth-largest in Norway – is truly spectacular; it's interspersed with stunning fjords, and framed by towering mountains, some nearly 3,500 feet high.
Your trip will take you through a collage of Norwegian ecology, moving from forests and mountainous areas to the stark beauty of the sea.
It's also a great place for some wildlife-spotting; along with the aforementioned moose, you might see otters, birds, and, of course, moose. You may even catch a glimpse of wild reindeer or dolphins!
Along the way, you'll also pass by some small traditional fishing settlements, and get some insight into how the residents live their daily lives. With its incredible biodiversity and peaceful atmosphere, Kvaløya is a true piece of paradise!
20 – Go for a dip (or a dive, or a soak) at Tromsøbadet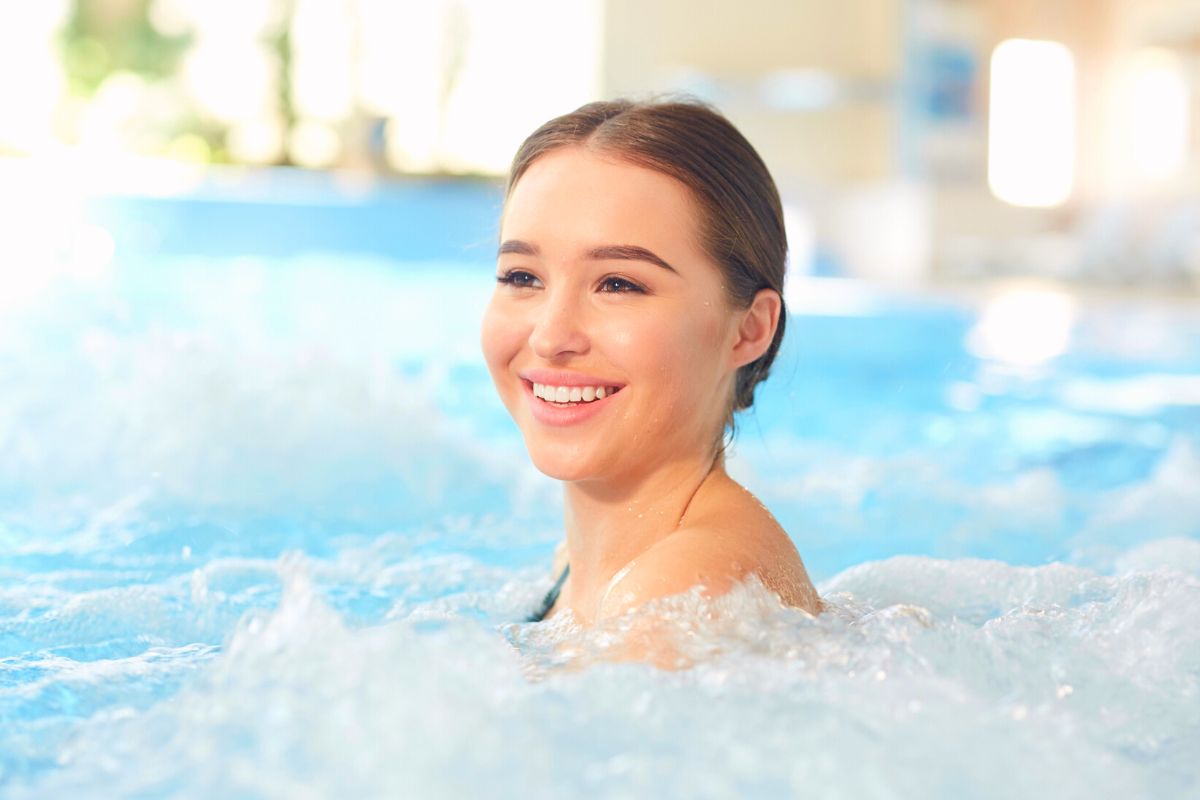 If the ocean doesn't appeal to you as a swimming spot, try the fun-filled waters of Tromsøbadet! This public swimming area is packed with great swimming options for everybody, including an Olympic-sized pool, diving boards, waterslides, and even a wave pool.
It's also a great place to try some traditional Nordic wellness rituals, such as saunas, steam baths, and hot and cold pools. For an invigorating experience, take alternating dips in the different temperatures; it's a thrilling reboot for the senses!
With a nice mixture of relaxing areas and athletic venues, this complex offers some watery fun for the whole family to enjoy.
21 – Meet some mythical creatures at the Tromso Troll Museum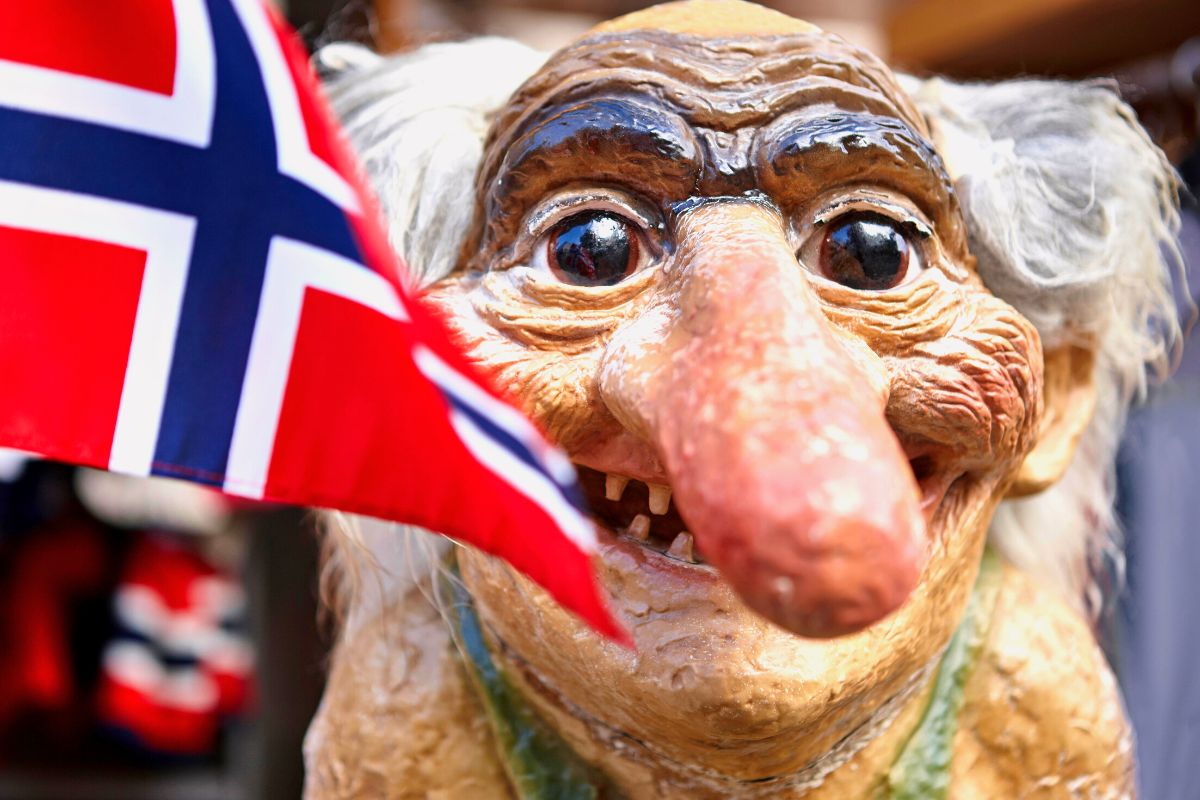 Have you ever wanted to know more about those strange, mythical figures that are said to live under bridges? Then stop by the Tromso Troll Museum, the first institution of its kind in the world.
This fun-filled and fascinating space is devoted to the lore and cultural history of everyone's favorite funky fantasy figures.
Using a mixture of traditional exhibits, Augmented Reality (AR) programs, and cutting-edge art, you'll be able to explore the fascinating stories of trolls and their relationship to human society.
Whether you're diving into the nuances of ancient folktales, learning how to identify trolls in the wild, or playing some themed interactive games with the kids, you'll find plenty to enjoy in this lovely little space.
The AR elements add an extra bit of fun to the visit; using the museum's complementary tablets, you can fill your real-world surroundings with animated depictions of trolls, bringing these fantastical beings to life in a whole new way.
Let your imagination run wild as you meet some of Norway's most beloved storybook figures!
22 – Try the ski runs at Tromsø Alpinpark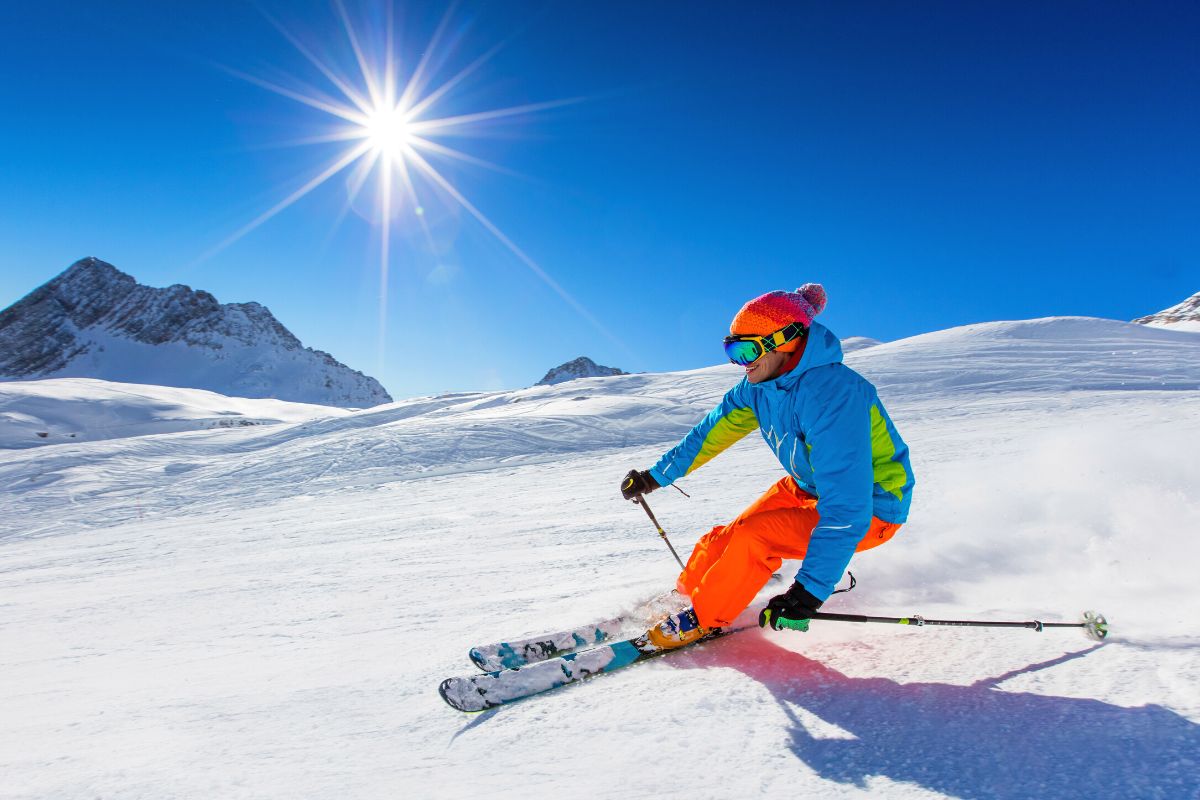 When it's time to hit the slopes, Tromso Alpinpark has got you covered! This world-class facility offers five trails of varying difficulty, and plenty of slopes to satisfy everyone from first-timers to veteran ski bums.
You can also rent all of the gear you'll need for skiing or snowboarding, and even get some lessons from top-notch professionals.
It also offers two evening skiing opportunities that are distinctly Norwegian: a trip down the slopes under the shine of the midnight sun, or a ride under the glow of the Northern Lights.
Best of all, this athlete's paradise is a mere ten minutes from the airport and the town center, making it easy to fit into a busy vacation schedule.
So grab some gear and hit the powder!
23 – Enjoy a tranquil trip to Sommarøy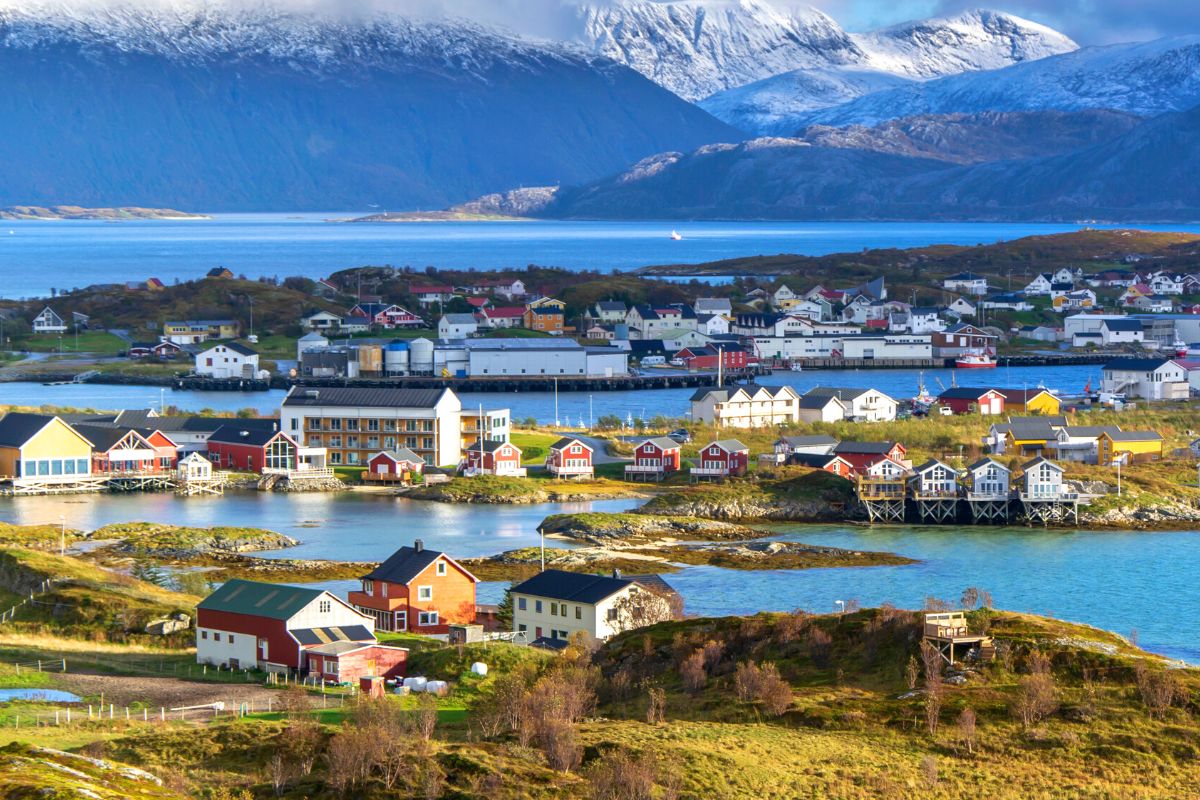 Tucked between the soaring mountains and the beautiful ocean waves, Sommarøy is another scenic marvel that's well worth a day of exploration.
This quaint little fishing village, which only has about 300 residents, is also the ideal place to take in some culture, with plenty of opportunities to learn about the history of the industry.
And if you feel like time has stopped in this tranquil town, you're not alone; with 69 days of nonstop sunshine in the summer, and nearly two months of total darkness in the winter, it's the perfect representation of the region's extreme seasons.
Whether you're relaxing by the pristine beaches, enjoying a delicious picnic full of regional treats, or simply savoring the silence, this getaway is sure to relax the mind and the body.
Keep an eye out for sea eagles soaring overhead, or look out to the water for a glimpse of seals passing by. For an authentic taste of Arctic life, this little burg can't be beaten!
24 – Ride the Fjellheisen Cable Car up Storsteinen Mountain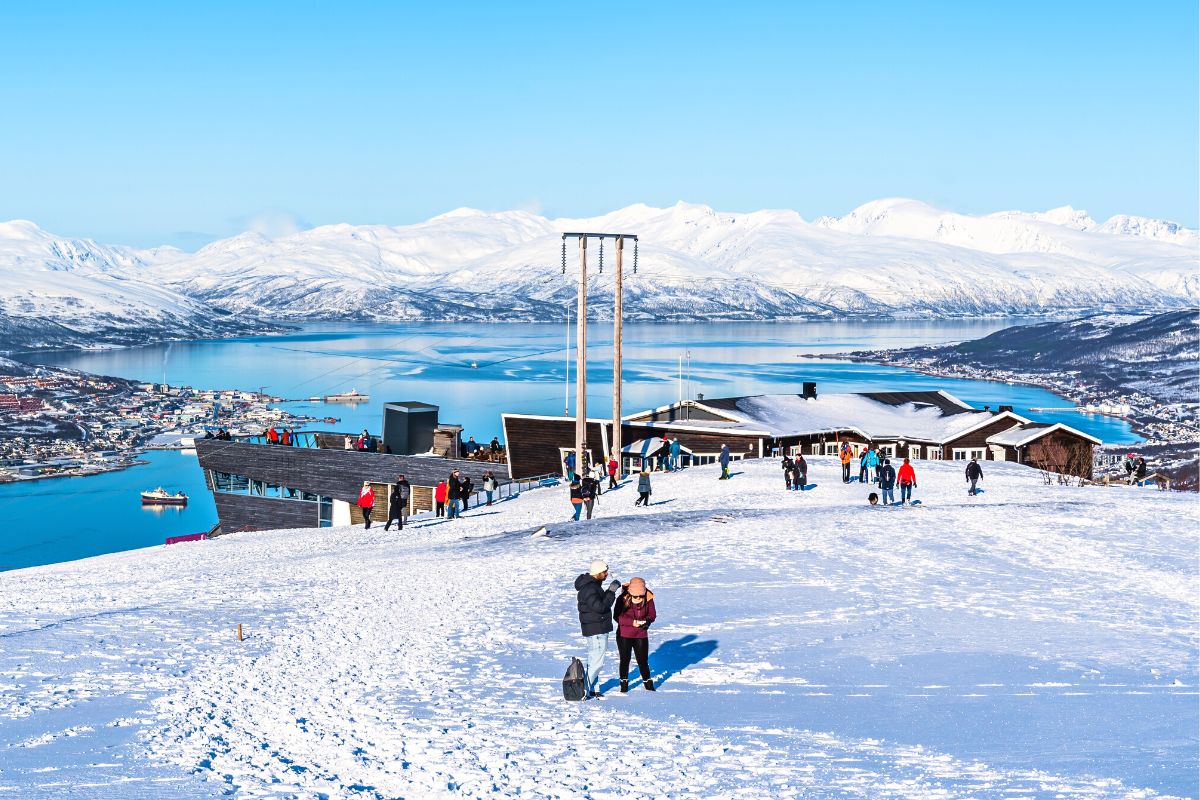 Sometimes, the ride to a spectacular view is half the fun, and that's definitely the case with the Fjellheisen Cable Car!
This delightful sightseeing fleet is made up of two gondolas that take guests on a memorable trip up Storsteinen Mountain. Glide 1,381 feet above sea level in just four minutes, then disembark to enjoy some unbelievable views of the surrounding area.
For some excellent photo opportunities, head over to Tromsø Utkikkspunkt, a marvelous observation deck that offers sweeping panoramas of the city and the surrounding natural areas.
It's an especially compelling sight during the summer, when you can observe the landscape illuminated by the midnight sun; or during the winter, when the Northern Lights ripple through the darkened sky.
You can also enjoy a drink and a meal at the nearby cafe, hike along the picturesque trails, or just sit back and enjoy what many consider to be the best vista in town.
25 – Hike some incredible trails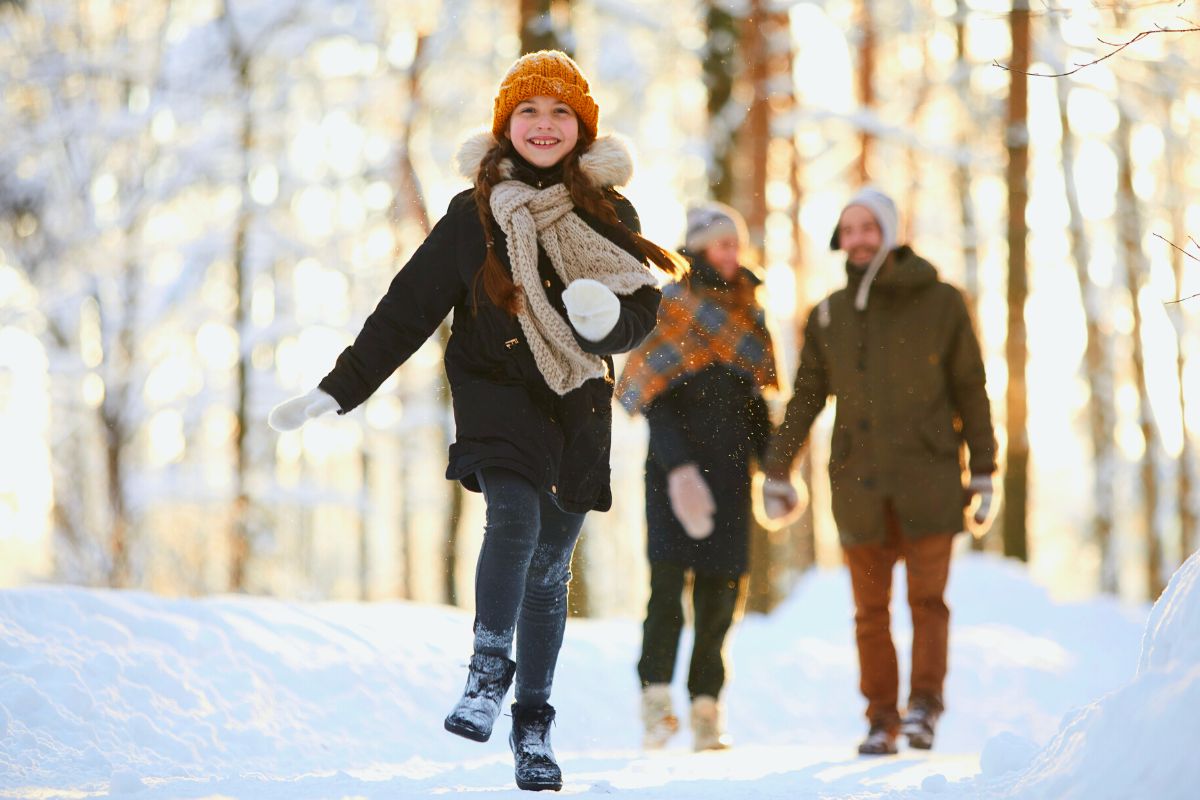 With so much spectacular scenery and great wild areas, it's no surprise that hiking is one of the most beloved things to do in Tromso!
Sherpatrappa offers striking scenery and a nice bit of exertion, with 1,200 stone steps leading up a steep and scenic path with incredible views at the top. The stairs themselves have a fascinating history; they were actually built by Nepalese sherpas as part of an ongoing collaboration with the country of Norway.
Or you can hit the trails of Tromsdalstinden, a magnificent peak with several summit options that are popular with runners and hikers. At a stately 4,062 feet high, this soaring mountain is a local favorite due to its close proximity to town and its excellent variety of trails.
Fløya is another wonderful option, whose rocky peaks look out over the town of Svolvaer and the surrounding regions. In addition to some more Sherpa-built stairs, it offers some fantastic sights along the trails, including Djevelporten, a massive rock perfectly wedged between two mountains.
There are also tons of great tours that you can take if you'd explore these scenic vistas with a group, while learning plenty about the local ecology along the way.
One adventurous and unique option is the Nature Bow excursion, where you can learn some basic archery techniques before heading out for a walk in the woods, practicing your skills by shooting fake animal targets.
You'll get all the fun of getting out in nature and learning new things – without hurting any actual animals, of course! There's nothing like an invigorating day out in nature, and the sights around here are some of the best!
26 – Play in the snow at Charlottenlund Recreational Park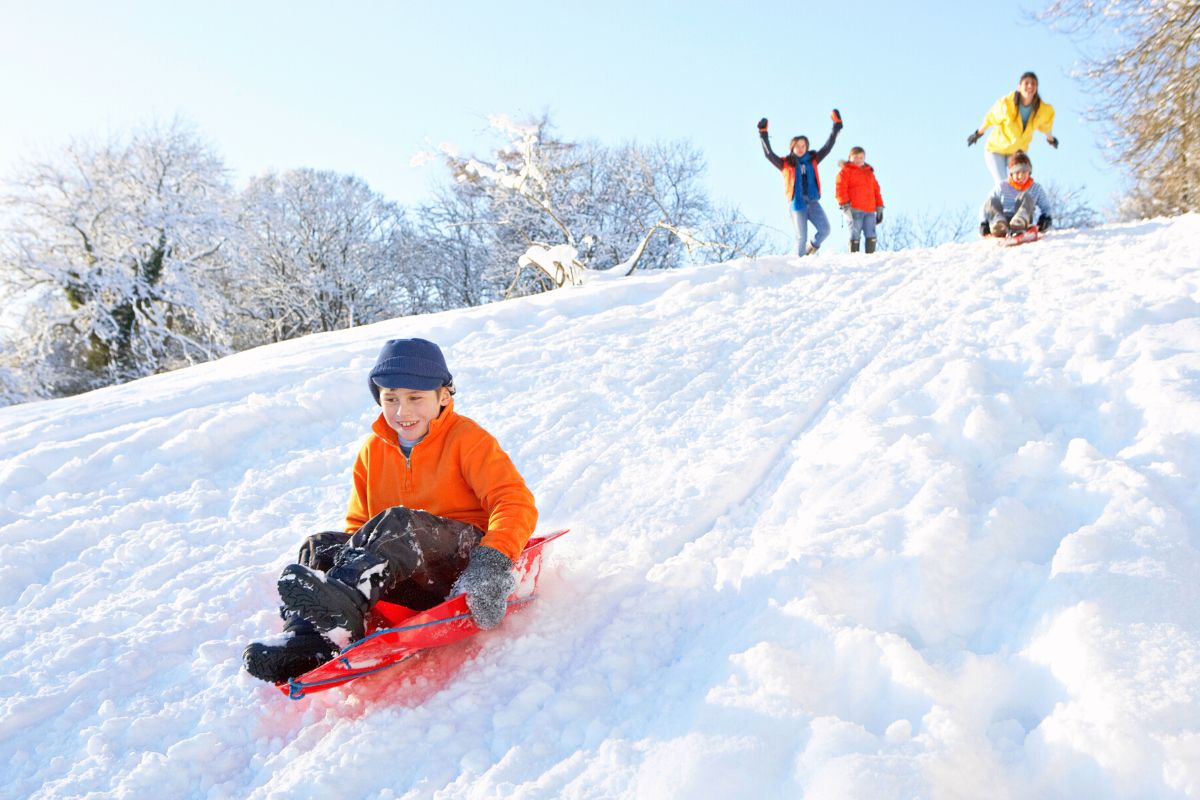 When you're ready to dive into some of the area's best cold-weather activities, dress in your best layered clothes and head over to Charlottenlund Recreational Park.
This charming outdoor area is perfect for all of the classic winter sports, from cross-country skiing to skating and sledding. And if you happen to be visiting in the summer, never fear; there are still plenty of awesome activities to try, including soccer fields, outdoor gyms, and climbing structures.
There are few better places to experience the winter fun like the locals do, so bundle up and get ready to feel like a kid again!
27 – See the rugged side of things with some Jeep tours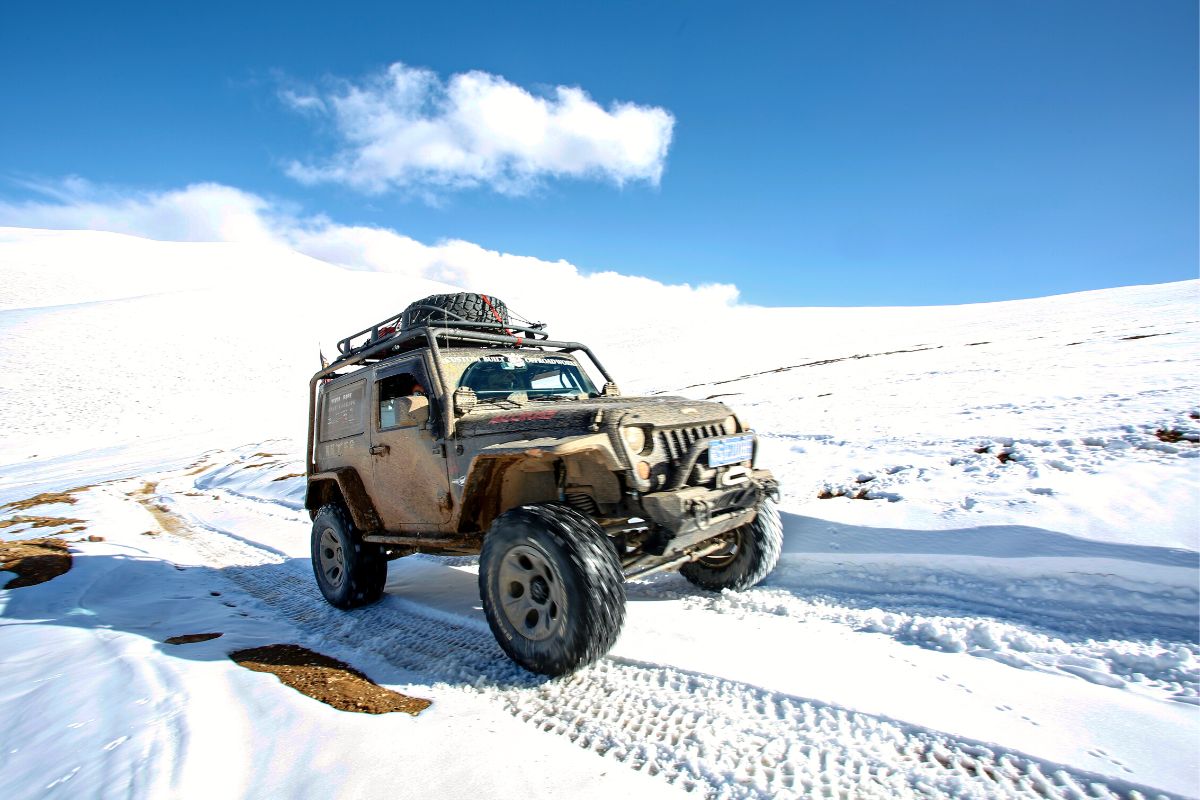 Given the wildness of the areas surrounding the town, it's well worth taking a spin on some jeep tours!
Whether you want to see the very best views of the Northern Lights – and learn to photograph them! – on a night tour, bounce past the scenic fjords, or take an old-fashioned road trip through the stunning tundra, you'll be treated to some amazing scenery as you ride along.
Join a small group tour to experience these thrilling adventures alongside like-minded travelers, or book a private experience for you and your party to enjoy a more intimate trip with more opportunities for customization.
Either option will come with an experienced guide ready to provide fun facts and context about the amazing sights that you'll be seeing – and, of course, a great driver to make sure that the trip goes smoothly.
Hop in and enjoy a memorable ride, the off-roading way!
28 – Enjoy a movie or an event at Verdensteatret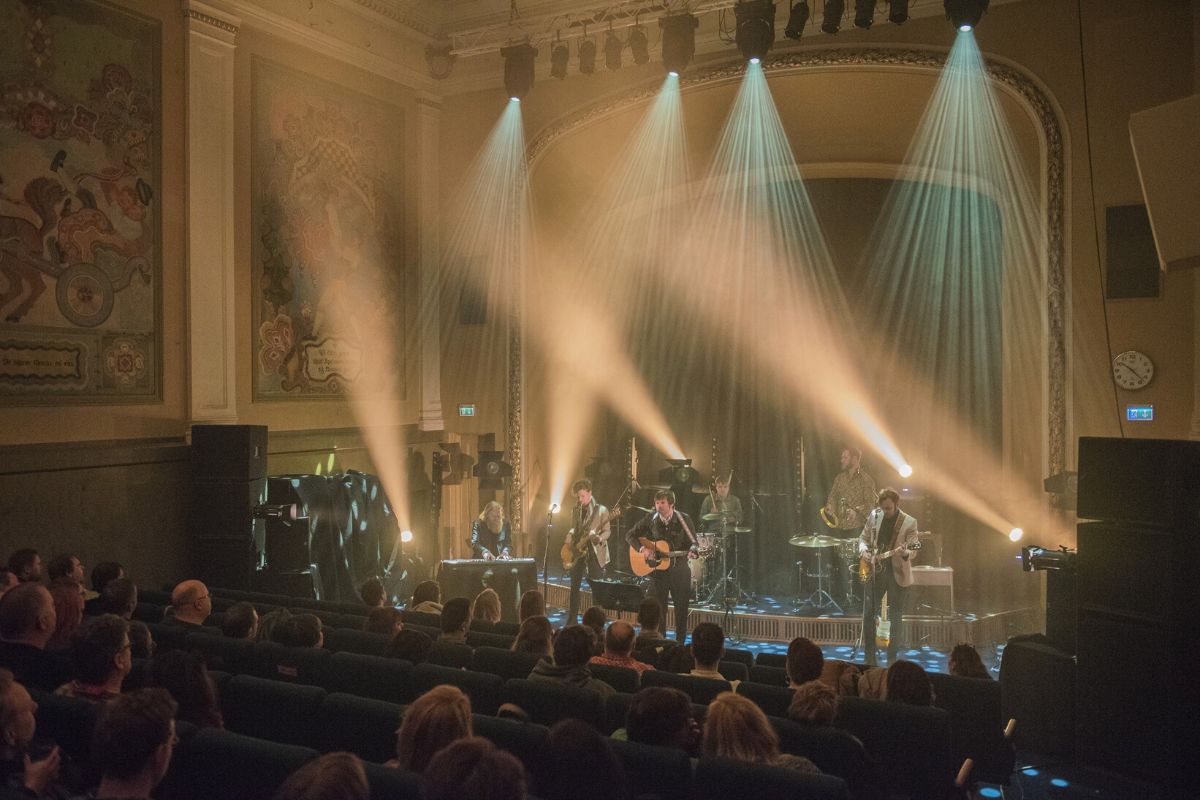 In between all of the outdoorsy things to do in Tromso, soak up some culture and enjoy the films at Verdensteatret, the oldest theater in Northern Europe.
This gorgeous cinema plays a diverse rotation of films from various eras, from cutting-edge documentaries to classic Hollywood movies and more contemporary Norwegian films.
There are also plenty of great films for kids, including plenty of excellent animation programs. It all takes place in a stunning building dating back to the 1910s, which still features many of the ornate design details from its heyday, including stunning murals in the seating area.
Check the schedule during your visit, and see what sort of phenomenal viewing experiences might be in store!
29 – Walk, bike, or boat at Prestvannet Lake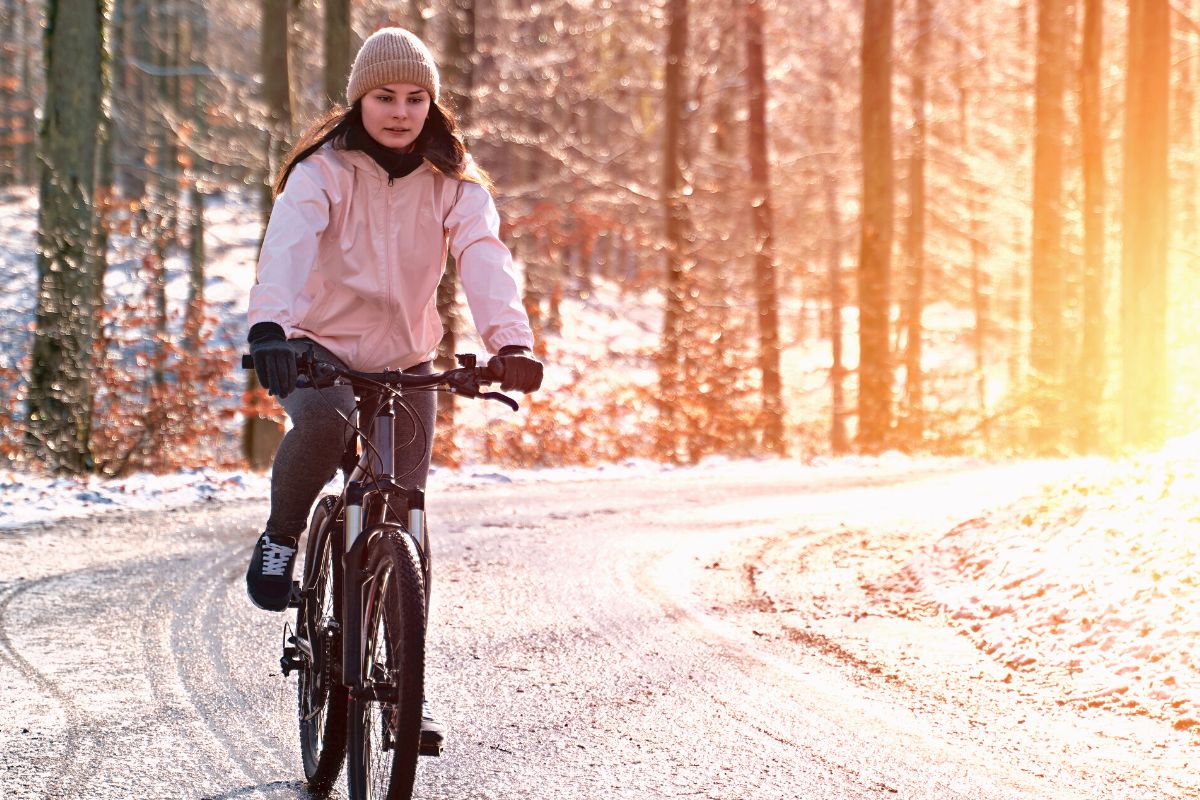 Seeking a more contemplative excursion? The shimmering waters of Prestvannet Lake are a perfect place to relax and unwind after a busy day of travel.
The beautiful surrounding forests make a great refuge for local birds, and there are plenty of excellent paths for strolling around. Enjoy a scenic hike while keeping an eye out for gulls and ducks, as well as more unique species such as the red-throated diver.
If watersports are more your scene, you can take a canoe or a kayak out for a spin, or cast a line and do some fishing.
It's also the perfect setting for some bike tours; take a spin through the 75 lush acres of the surrounding area and enjoy the lake's remarkable ecosystem from a whole different vantage point.
Whether you spend a whole day there or just a few hours, you'll be able to enjoy a truly special piece of nature, right in the middle of town.
30 – Shop and stroll on Storgata Street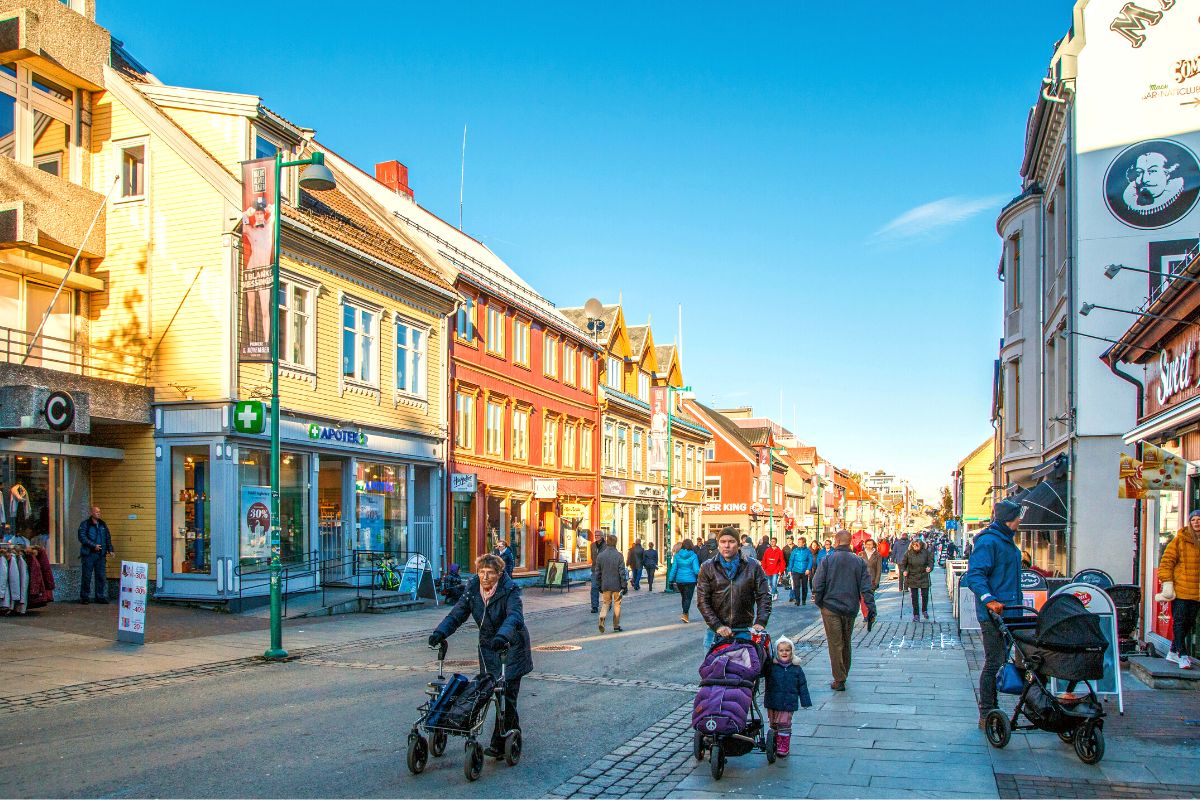 Although Tromso is known more for its landmarks and natural wonders, it does have a pretty popular commercial avenue: Storgata Street.
This pedestrian-friendly avenue is the perfect place to grab a bite, shop for keepsakes, and enjoy some lovely traditional architecture. And because this is one of the main thoroughfares in town, you can also count on quality people-watching all year round.
If you're more of a party animal, there are also plenty of bars to visit during the city's famously lively weekends. Between the excellent views, great shopping options, and great cafes, this is one road that you'll want to linger on!
31 – Unleash your inner explorer with some kayaking and Arctic camping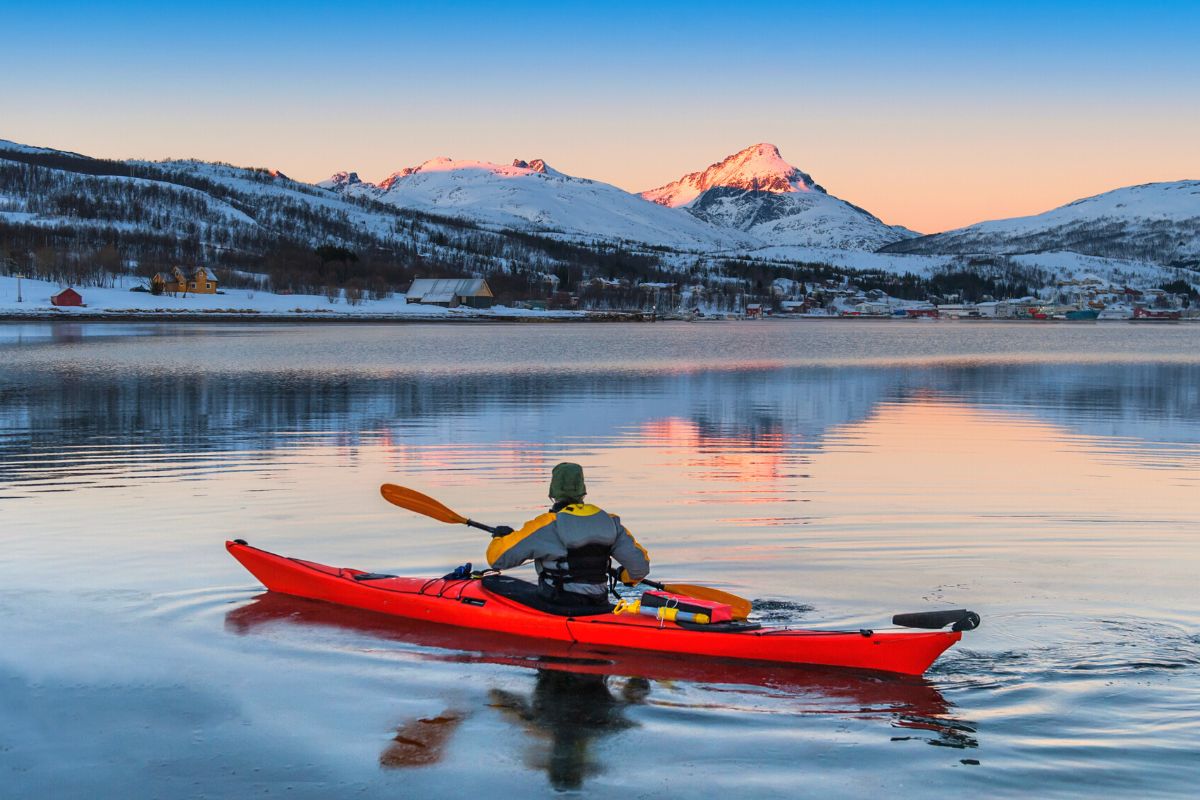 Want a wonderfully unique outdoor experience? Then it's time to pitch a tent and do some camping… north of the Arctic Circle!
This incredible experience involves kayaking to the breathtaking area around Rebbenesøya, a secluded island known for its marvelous wildlife preserves. As you paddle and camp, you will get to experience true off-the-grid living, with some of the world's best northern scenery as a backdrop.
Whether you're hauling your own water, paddling from one gorgeous spot to the next, or bedding down for the night in a traditional yurt, you'll get to experience the wonders of the natural world up close and personal.
This magnificent experience comes in two different forms, depending on the time of year.
In the summer, you can enjoy the constant sunlight and the vivid greenery of the hills, and crystal-clear water below you. In the winter, you'll see stunning snowy landscapes and dramatic ice floes.
And all year-round, you'll be treated to plenty of wildlife sightings, as well as the greatest gift of all: unspoiled wilderness.
32 – See some unique canvases at Magic Ice Bar Tromsø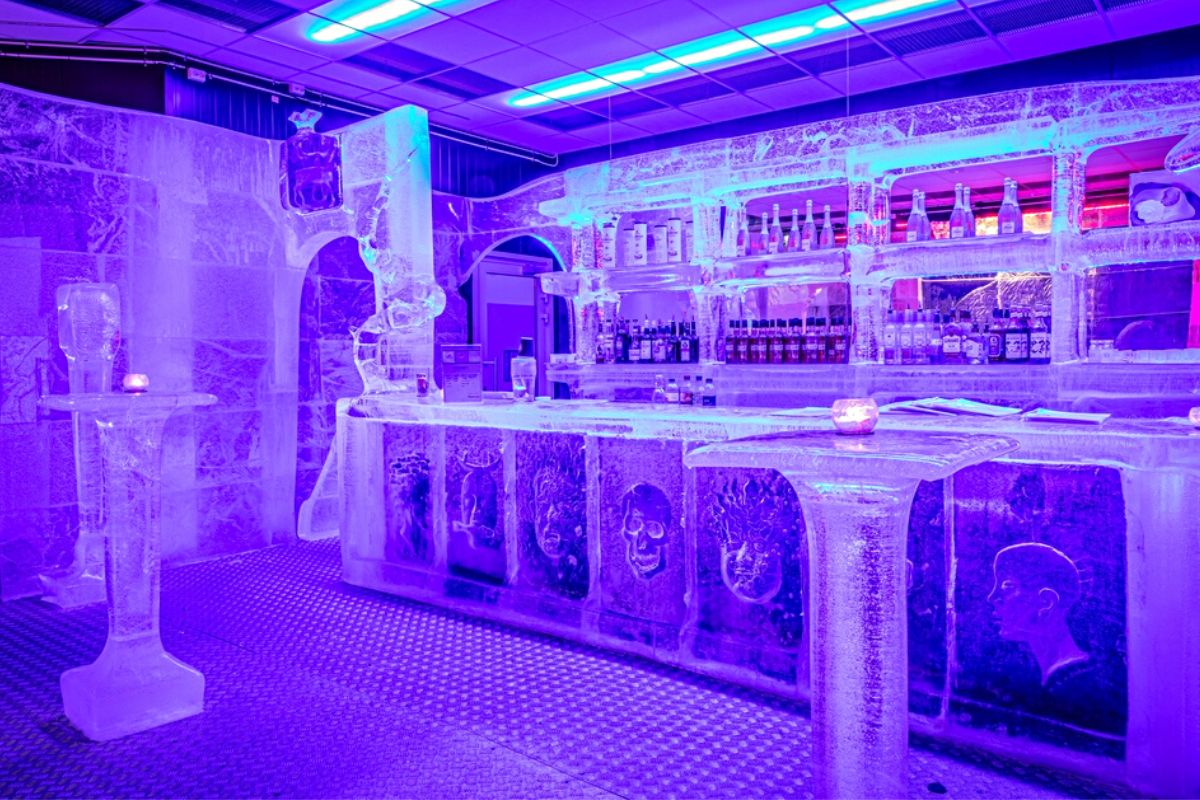 The only thing more fun than enjoying some beautiful art? Enjoying beautiful art in a palace of ice! Magic Ice is part of a chain of galleries scattered throughout the Nordic world, and it takes a unique approach to the gallery concept.
Everything in this fascinating complex – from the building and the bar to the works themselves – is crafted entirely out of snow and striking blue ice, creating a beautiful and otherworldly effect.
Enjoy a tasty cocktail as you admire the incredibly detailed scenes depicting local life, as well as sculptures of prehistoric creatures and some renowned Arctic explorers of the past.
There's plenty to look at here, and some great photo opportunities as well; after all, it's not every day that you can hang out with the frigid likenesses of famous figures and wild creatures.
Cool and creative in every sense of the world, this is well worth getting a parka for!
33 – Amble around Tromso Harbour & Tromso Downtown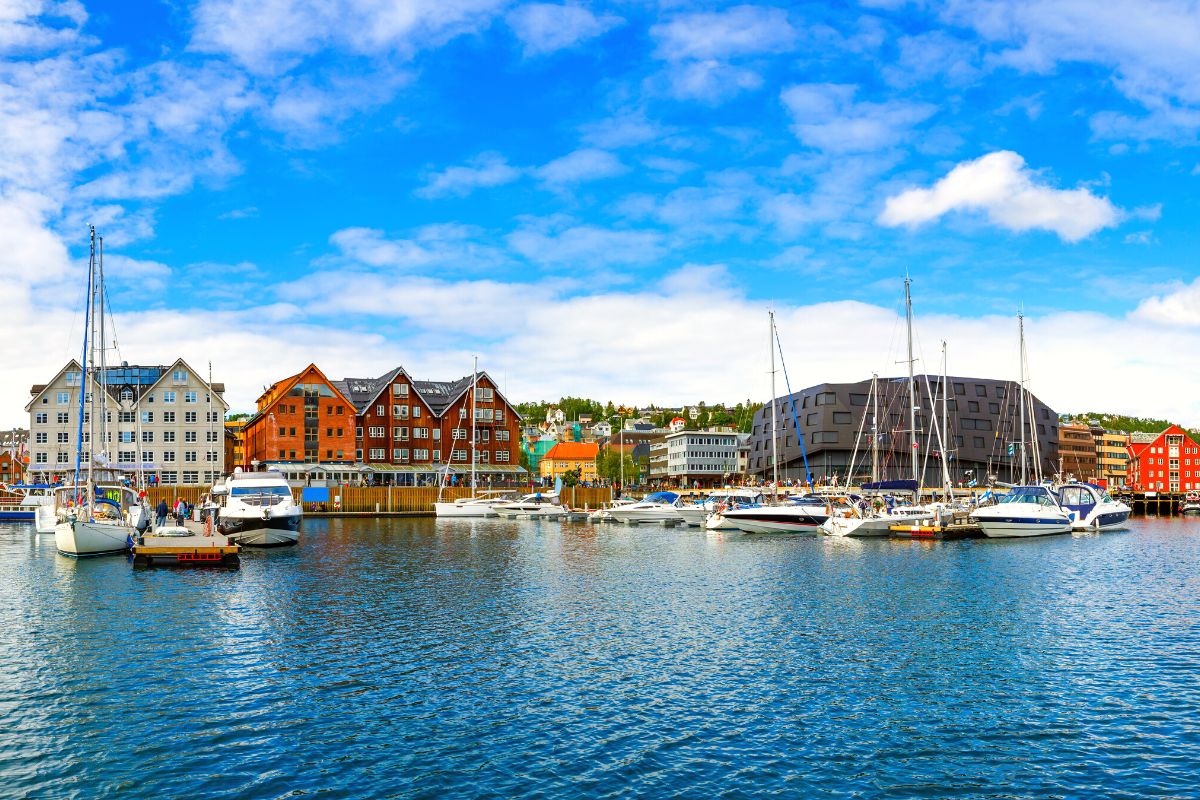 Tromso's fascinating nautical history is best explored at the Tromso Harbour, where there are plenty of excellent shops and museums to complement the gorgeous, traditional waterfront.
This area is also a fascinating cross-section of commerce in the city, with a steady stream of cruise ships, fishing boats, and other watercraft arriving and departing throughout the day.
It's also adjacent to downtown, making it perfect for additional sightseeing.
Stroll past the charming classic wooden buildings, with their distinctively bold colors; grab some delicious food at the many eateries in the area; or just wander around and browse through the many souvenir shops in the area for the perfect gift to take home.
If you want to learn even more about these areas, there are some excellent walking tours that will help you see both of these fantastic spots, plus many other exciting parts of town.
34 – Try a little bit of everything at the Northern Norwegian Science Center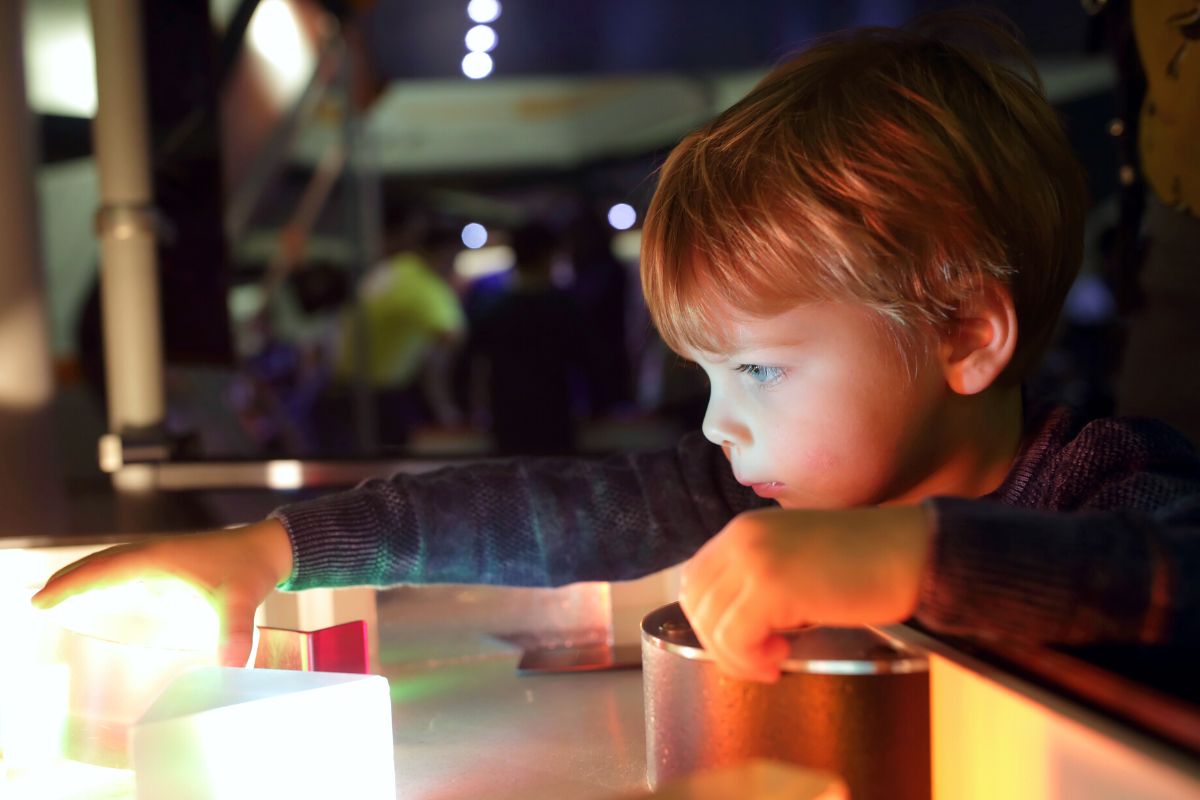 Are you a fiend for facts? Love to learn, even when you're on vacation? Then be sure to visit the earthly and cosmic delights of the Northern Norwegian Science Center!
This magnificent institution can be found on the Arctic University of Norway campus, and is home to nearly 100 attractions that foster curiosity and answer some burning questions about the scientific world.
It's probably best known for its Northern Lights Planetarium, where you can enjoy a daily presentation that perfectly simulates the vivid colors and movements of Aurora borealis.
But there are tons of other excellent exhibits in the space, offering first-hand engagement in subjects ranging from physics and weather patterns to the nuances of climate and the wonders of the human body.
Generate energy on a human-sized hamster wheel, exercise your mind with some mathematical puzzles, or explore the unique environmental conditions of the world just outside the museum's doors.
And don't miss the labs and makerspaces, where you can watch some awesome scientific demonstrations, or dabble in such diverse mediums as coding, sewing, 3D printing, and carpentry.
These fascinating and fun-filled displays are perfect for science students of every age!
35 – Sample some tasty beers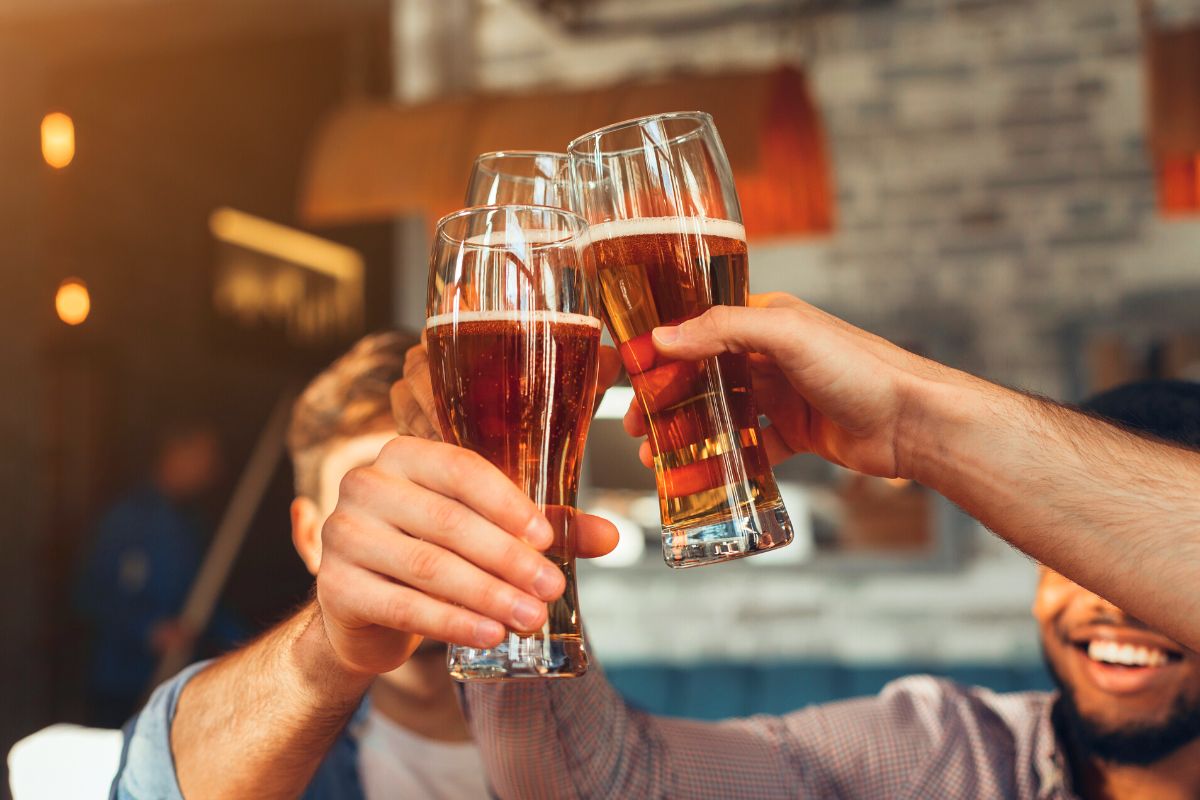 If you're looking for some more laidback things to do in Tromso, nothing will warm you up and lift your spirits quite like a beer tasting.
With an active pub scene and some truly delicious brews, a sipping expedition is truly one of the best things to do in Tromso. Don't miss the hallowed halls of Ølhallen, a vibrant and friendly space that boasts a couple of unique distinctions.
Not only is it the oldest pub in town, but it also serves selections from Mack, which is the world's northernmost brewery; all in all, a pretty awesome spot for a night out! With 72 different products to try, you could easily make a whole tour just out of the drinks at this renowned establishment.
But if you really want to dive into the local pub culture, you can also embark on a "beer safari," a three hour adventure through some of the city's best bars.
Along with your drinks, you'll get some pretty unique snacks, such as salmon and reindeer! It's all par for the course in one of the Arctic's liveliest towns!
How to get to Tromso?
Tromso Airport offers plenty of great connections to destinations throughout Europe. And with an airport transfer, you can easily commute between there and town.
Where to stay in Tromso?
Just off of Storgata Street, Quality Hotel Saga boasts stunning vistas of the town and the mountains, a perfect view while you're enjoying your free waffles and coffee.
At Clarion Hotel, you can gaze out at the sea or the Arctic Cathedral while enjoying a terrific buffet meal, then head out to nearby attractions such as the botanic garden and the Polar Museum, before ending your night in the on-site sauna.
Green-minded guests will love the eco-friendly Comfort Hotel Xpress Tromso, with its contemporary designs and easy access to shopping.
And at Smarthotel Tromso, you can relax in chic, contemporary settings before heading to the aquarium or the Polar Museum – both of which are practically right outside the door!
Where to go next?
Just five hours to the south in the neighboring country of Sweden, you'll find plenty of fun and fascinating things to do in Kiruna. This traditional mining town is still well-known for its massive iron ore mine, but it also features some great museums, and oodles of outdoor activities, such as skiing and hiking.
It's also a great place for science enthusiasts, with a thriving space research industry and plenty of opportunities to view the Northern Lights.
If you'd prefer to stick to Norway, its capital beckons, offering many things to do in Oslo, including a spectacular mix of nature and culture to explore, plenty of amazing restaurants and art galleries, as well as some fascinating architecture dating back to the Viking era.
It's also a great place for families, with zoos, amusement parks, and amazing museums covering everything from skiing and polar exploration to 18th-century farm life and contemporary art.
And on top of all of that, it still provides many of the spectacular natural wonders that that country is known for, including towering fjords and great hiking trails. From scenic cruises and ice skating to pub crawls and traditional sauna experiences, you'll have no shortage of options in this dynamic city!
And if you'd like to explore more of the gorgeous areas near Tromso, there are some fantastic multi-day trips to try. Stay in a traditional Sami camp, or kick back and stargaze from the comfort of a glass lavvo dome.
These longer trips will also give you plenty of time to try some of the region's best activities, from whale-watching to fjord cruises. So take a little bit of extra time to explore – you won't regret it!
Final thoughts
There's no shortage of amazing outdoorsy things to do in Tromso, but you'll be amazed just how many indoor activities there are as well! When you're not enjoying the charming shops and cultural centers in town, you can lose yourself in the splendor of a snowy night, a wild mountaintop, or the open sea.
Alternate between bustling bars and vast, meditative spaces, where the wildlife is every bit as interesting as the townsfolk. With so many natural and cultural amenities, it's the ideal place to get a taste of the true polar way of life – past, present, and future.
So grab a warm sweater, keep an eye out for trolls, and get ready to be dazzled, because this little northern city has some big treats in store for you!
Happy travels!