Tromsø is a Norwegian city located in the Arctic Circle, which is well-known for its magnificent snow-capped mountains and pristine glaciers. In recent years, the city has become a popular destination for snowmobilers from all over the world.
Snowmobile tours in Tromsø are a great way to explore the surrounding wilderness and get an up-close look at some of the most breathtaking scenery in Norway. If you're looking to experience an arctic winter in all of its glory, a snowmobile excursion is for you.
You will find below everything you need to know about snowmobile tours, one of the most adventurous outdoor experiences in Tromsø.
What are the best snowmobile tours in Tromsø?
Snowmobile safari in the Lyngen Alps
This snowmobile tour takes you away from the noise of the city to the peaceful serenity of the Lyngen Alps. As you whizz by on your snowmobile, you'll witness the enchanting fjords that Norway is famed for, as well as mountainscapes that belong on a postcard.
Once you've sped through the countryside, you'll enjoy a warming meal with your group, which allows you the opportunity to bond over your experience.
Full-day snowmobile adventure to the 3-country border
If you want to claim that you visited Norway, Sweden and Finland on your travels, choose a tour that crosses the border of all three. You'll drive through the stunning countryside to the Finnish village of Kilpisjärvi, which is surrounded by a colossal lake and boasts just over 100 residents.
From there, you'll participate in a breathtaking snowmobile excursion over the frozen Finnish tundra to the border that connects the three Nordic countries. Once you return to the village, you'll gather around a fire to warm your toes and devour a local meal, before heading back to Tromsø.
Tromsø evening snowmobile tour
If you want to see the landscape of Norway at its most spectacular, take a snowmobile tour in Tromsø once the sun has set. You'll travel to Camp Tamok, just outside the city. From there, your nighttime adventure through this snowy, mountainous region of Norway begins.
You'll drive up to a frozen lake where you'll have plenty of time to throw snowballs and take photos. You'll take turns racing the vehicle across the snowy terrain with your partner and may get to see the bewitching sight of the Northern Lights.
Once your snowmobile adventure ends, you'll warm up with a traditional meal served around a roaring fire.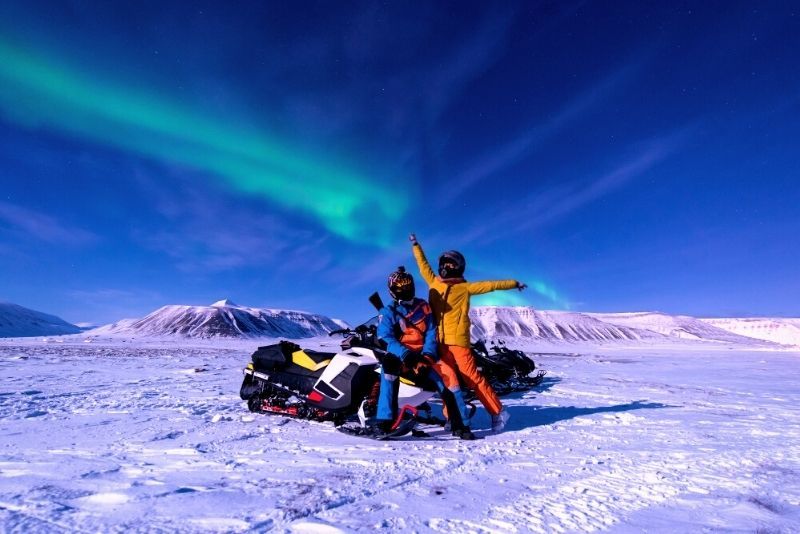 How much do snowmobile tours in Tromsø cost?
Most snowmobile tours in Tromsø cost between US$200 and US$330 per person. The price is determined by the length of the tour and those on the lower end of this range last around five hours.
If you wish to experience a combination tour, you'll pay approximately US$500 for an excursion with multiple activities and an overnight stay.
What is included in a snowmobile tour in Tromsø?
Snowmobile tours in Tromsø include all the equipment needed for your trip, such as a snowmobile and helmet. You'll also be provided with a snowsuit, boots and a face mask for protection from the cold.
You'll have a guide on hand to lead you through the snowy environment, and some tours also provide you with photos from your trip, afterward.
Most tours include a traditional Norwegian meal after your snowmobile excursion.
If you take a combination snowmobile and camping tour, you'll be provided with meals, accommodation in a crystal lavvo, protective snowmobile gear, and photography equipment.
Where do snowmobile tours in Tromsø start?
Snowmobile tours in Tromsø begin at a variety of locations around the city. These spots are central and easy to reach. You'll be alerted to your meeting point upon booking so that you can plan your journey there ahead of time.
How long do snowmobile tours in Tromsø last?
Most snowmobile tours in Tromsø last approximately seven hours. This includes driving time to reach your destination and a hot meal after your activity. You'll usually spend around two hours driving the snowmobile itself.
When is the best time for a snowmobile tour in Tromsø?
Snowmobile tours in Tromsø run between December and April when the landscape is covered in a thick frosting of snow.
If you wish to see the spectacular Northern Lights, take a nighttime tour between November and February — the peak season for Aurora Borealis viewings. Although you are never guaranteed a glimpse of the watercolor painting that fills the sky, you'll have a good chance of catching the Northern Lights at this time.
Are there any combo available with snowmobile tours in Tromsø?
Crystal lavvo camping with snowmobile and aurora tour
If you want to experience the thrills of Nordic living, this is the tour for you. You'll race a snowmobile through the frosty countryside, participate in snowshoeing and have the opportunity to ski cross-country.
As well as these exciting activities, you'll also experience the mesmerizing sight of the Aurora Borealis and learn how to capture it through a camera lens. To top it all off, you'll stay overnight in a glass-roofed hut (a crystal lavvo) to continue enjoying the natural wonder.
Is it safe to take a snowmobile tour in Tromsø?
Snowmobile tours in Tromsø are a safe and fun activity for most people. However, there are some advisories in place to protect those with health conditions.
You are not advised to participate in snowmobiling if you are pregnant, or have heart or back issues. Those with mobility issues, vertigo, epilepsy or claustrophobia are also recommended to refrain from participating in this activity.
Are children allowed on a snowmobile tour in Tromsø?
Some snowmobile excursions in Tromsø allow children to sit on the back of their parent or guardian's vehicle, provided they are 7 years or older. However, others prohibit children under the age of 16 from participating. You should check the individual rules of your tour before booking.
Do I need a driving license to take a snowmobile tour in Tromsø?
Most tours require you to hold a driver's license in order to drive a snowmobile. A regular driving license for cars is acceptable, as is a motorbike license.
What happens in case of bad weather?
While Tromsø snowmobile trips take place in the winter, they do not run in harsh conditions, such as blizzards. If the weather is poor, your tour will be rebooked for a different day or you'll be offered a full refund.
What other snow experiences are available in Tromsø?
Travel tips
Remember to take your driver's license with you on a snowmobile trip, as your tour provider will need to see it.
Most tours include a meal. If you have any dietary requirements, let your provider know upon booking.
While you'll be provided with a snowsuit for protection on all snowmobile excursions, you should also wear woolen layers to keep you warm.