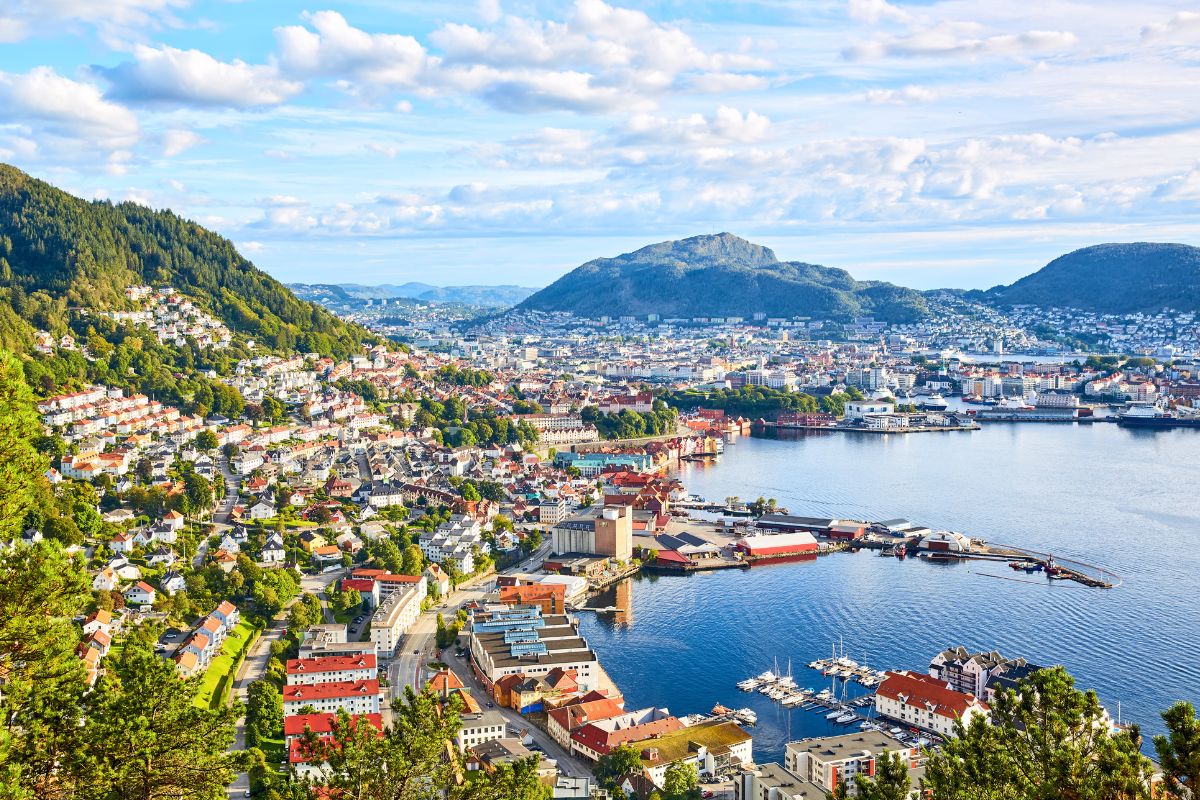 Jutting out into the water, surrounded by fjords and a famous family of seven mountains that soar upwards as if constructed by some ancient Norse gods, Bergen is one town where you'll never run out of great visuals.
But of course, there's more to do than just stare at all the scenery!
For starters, you can get out into some of those beautiful spots, whether you're biking, sailing, or strolling around.
And if the weather's not fitting your fancy, you can always head inside, and enjoy your pick of restaurants, museums, and bars – including one made entirely of ice!
But no matter the season, you'll find such amazing things to do in Bergen that you'll never want to leave this Norwegian treasure… so let's get started!
1 – Take a look around Bryggen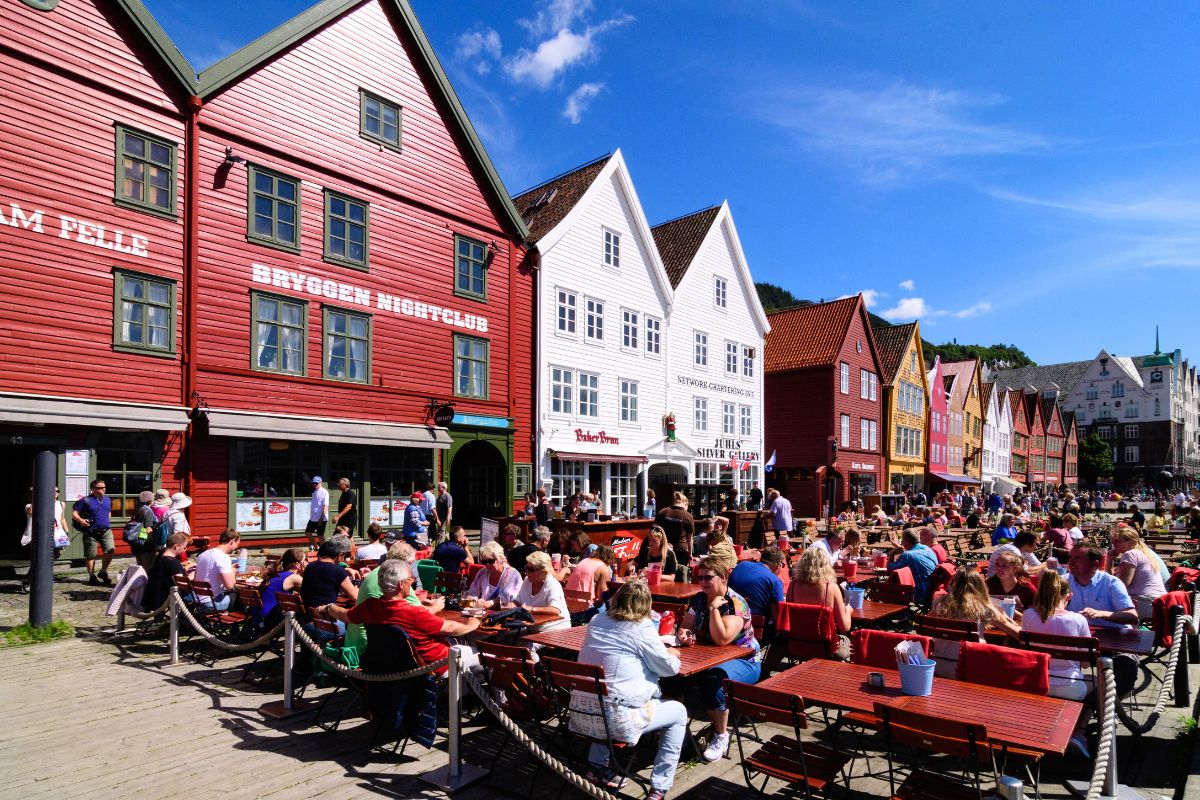 First and foremost, this is a shipping town; it was once among the biggest shipping ports in Northern Europe!
And it only takes a short stroll to this historic harborside neighborhood – or better yet, a walking tour – to see the impact of this industry.
Row after row of colorful houses beckon visitors to explore showing off a proud history of life and business that has been going strong for nearly 1,000 years.
This was once the main commercial hub of town, with piers and shops filled with merchants busily developing a major fishing trade.
Ironically, this watery spot has suffered through several fires; and while most of the buildings today have been reconstructed after various infernos, the beauty and cheery charm is the same!
2 – Hang out with the creatures of the deep at the Bergen Aquarium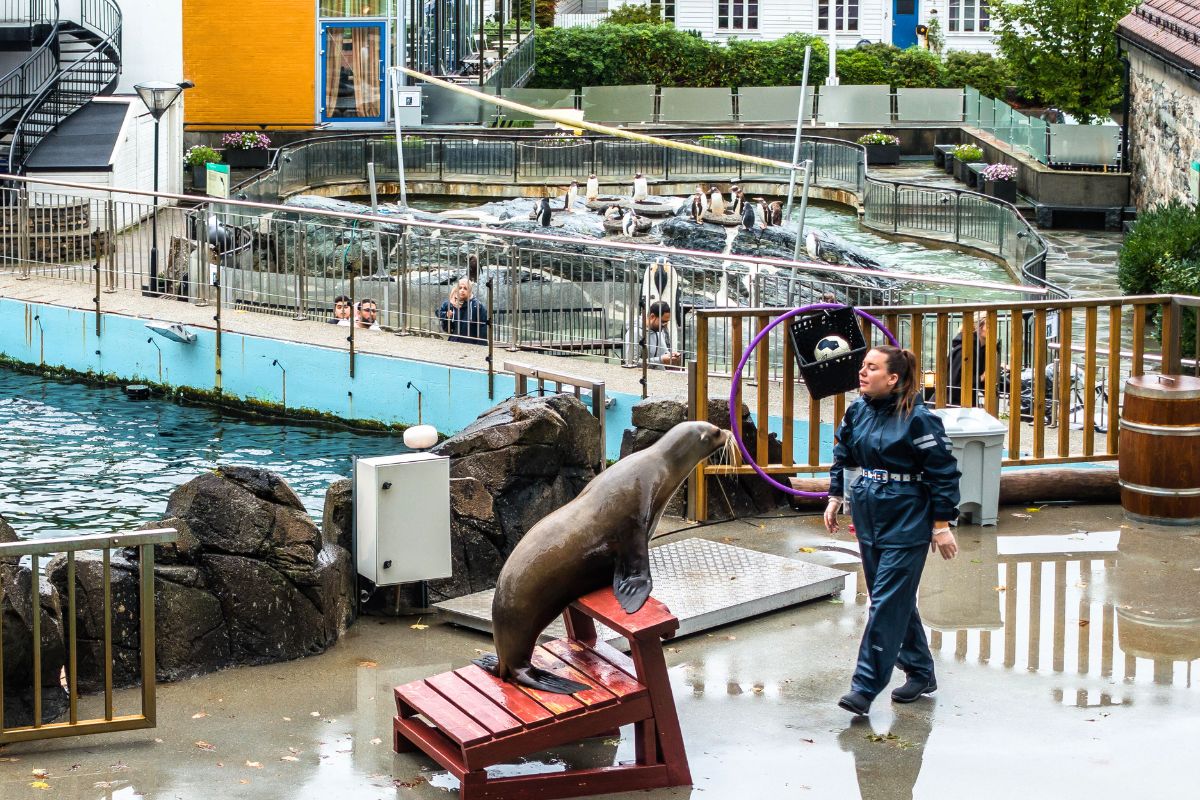 Now that you've gotten acquainted with the main part of the sea, come and meet some of the creatures that live in it… here and around the world!
Tropical treasures and awesome Antarctic animals await you at the Bergen Aquarium, where more than 400 species show off the miraculous details of underwater life.
Gaze at the explosion of color and life in the expansive tropical section, where vivid fish can be seen alongside some of their insect and reptile neighbors, from spiders to crocodiles.
Then wander outside for a glimpse of penguins and sea lions lounging about in the open air… and maybe performing a trick or two!
You won't need to hold your breath to see these aquatic delights… but they might take your breath away!
3 – Get an equal dose of war and peace at Bergenhus Fortress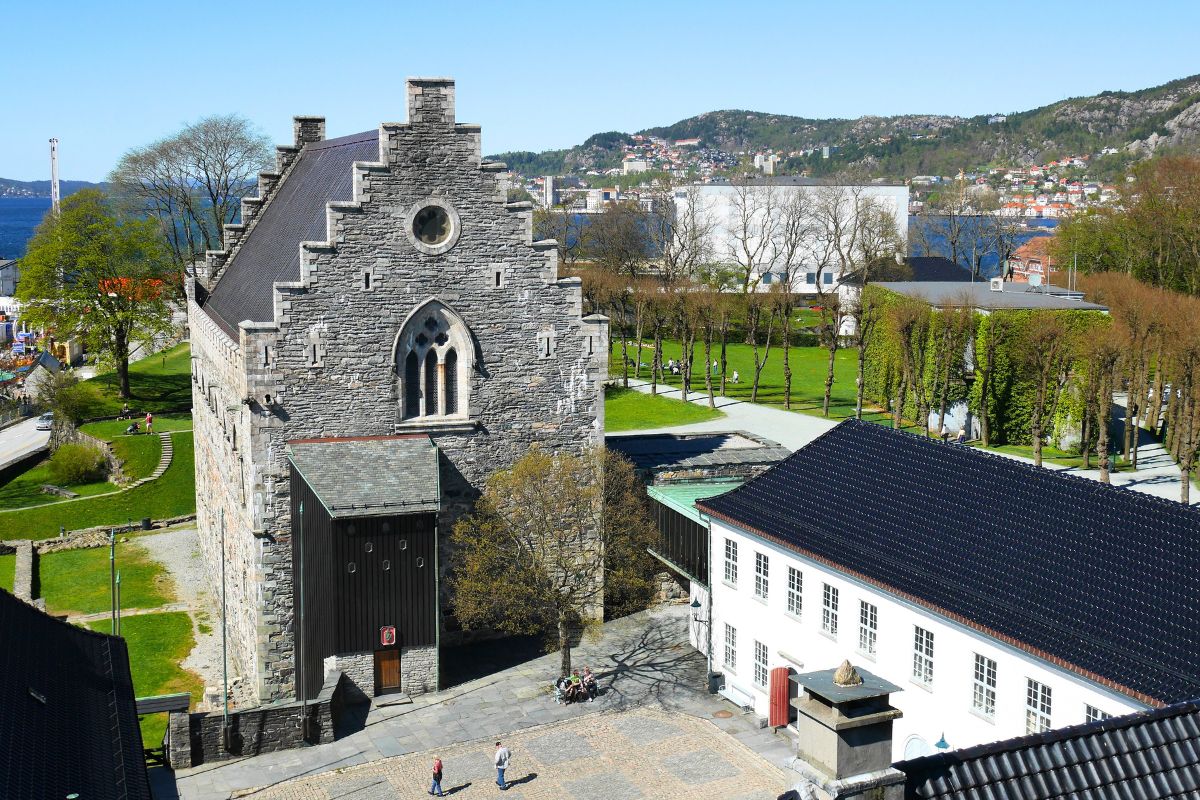 Despite its relatively simple facade, this was once a major defensive structure in the city – although it only got put to use a couple of times!
While it was developed in the 1500s, it wasn't until 1665 that it received its first attack in the form of a Dutch naval fleet.
Centuries later, it was called back into action during World War II, this time as a base for invading German forces.
And to this day, it still serves as an active office for the local military and civilians alike, as well as a point of interest with commanding views.
It's also undergone another evolution, becoming a popular venue for concerts and festivals; and whether you're here for a show or just to take in the rich history of the place, you're sure to be dazzled!
4 – Admire every aspect of Rosenkrantz Tower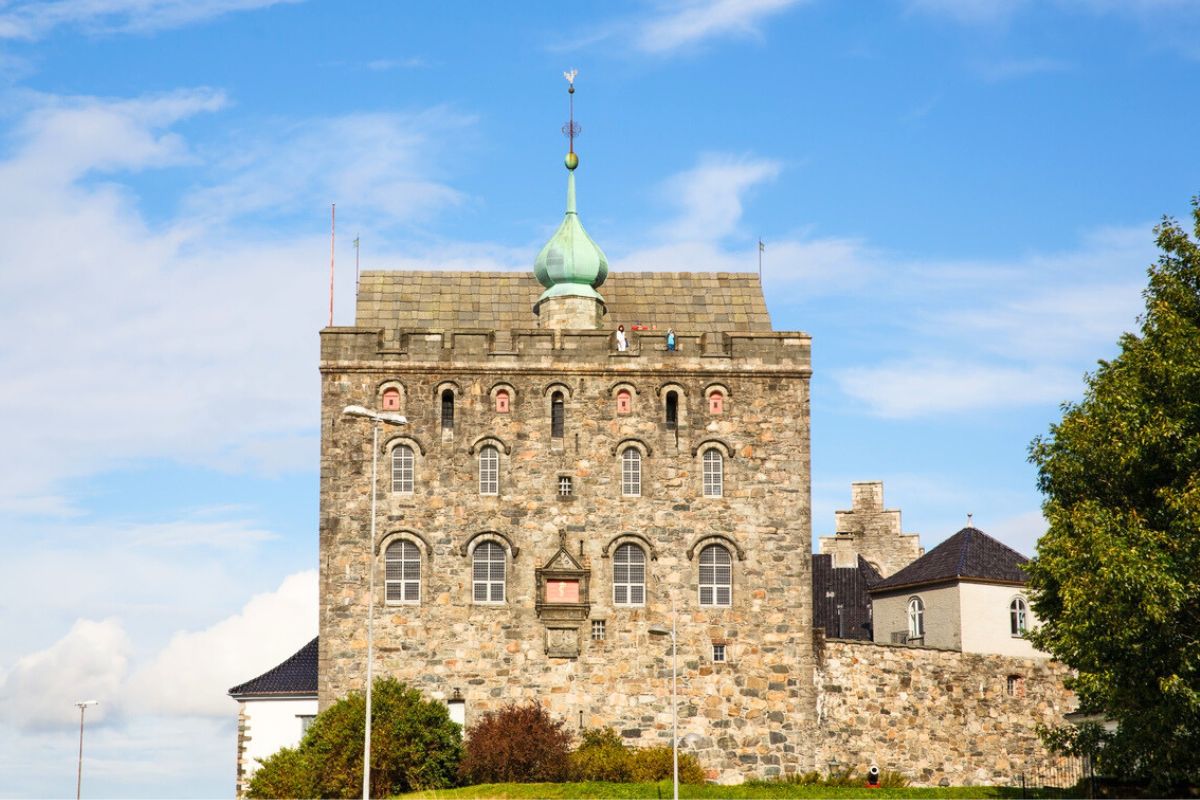 And going even further back in time, there's this marvelous Renaissance relic, where you can step straight into the days of yore.
In the 1270s, King Magnus the Lawmender had the fortified structure built as his private residence, and you can still visit the original chapel and bedroom from his time there.
But it's also been rebuilt several times over the years, as various nobles used it for defensive and political purposes.
And today, you can still see all of the key points of a hip and happening castle, including cannons, royal halls, and even a dungeon for rowdy guests!
But of course, the tower is still the main attraction, and a striking testament to the societal shifts of the city, from political battles to a brief period of Danish rule.
5 – Ride the Fløibanen Funicular up to explore Mount Fløyen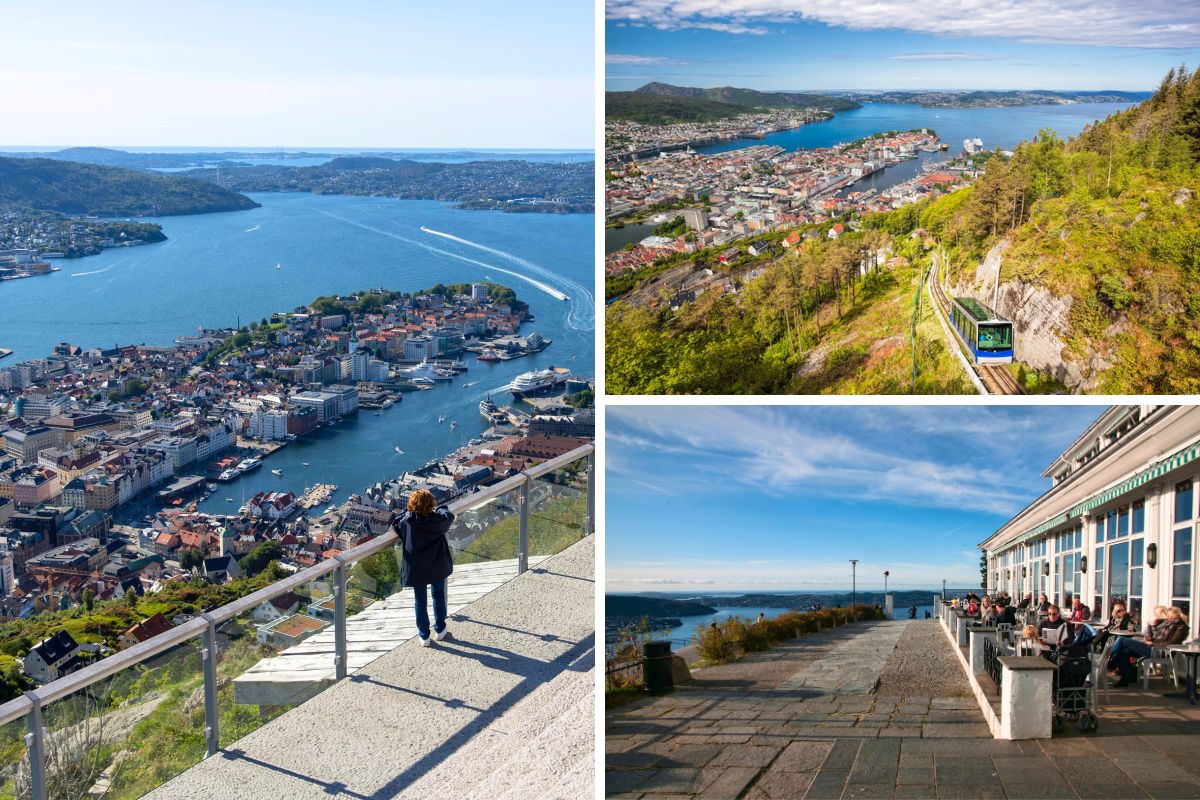 The only thing better than a nice view is an adventure to the top… especially if you can take an unusual vehicle to get there!
Mount Fløyen is one of the closest peaks to town, with some spectacular views and a series of trails perfect for an invigorating hike in the fresh air.
But if you want to save your legs (or just try an iconic attraction), you can take a load off your feet with a ride on Fløibanen, the popular funicular that cruises right up the side of the slope.
Ever since it opened in 1918, this charming mode of transit has carried millions of adventurers up to the peak in a lovely, leisurely fashion, where you can slowly watch the views shift from outside your window.
And once you've enjoyed all of the trekking, downtime in the cafe, or taken a peek at the resident goats , you can see the gorgeous terrain in reverse with an equally lovely ride back down!
6 – Take in the town in an unusual form with some segway tours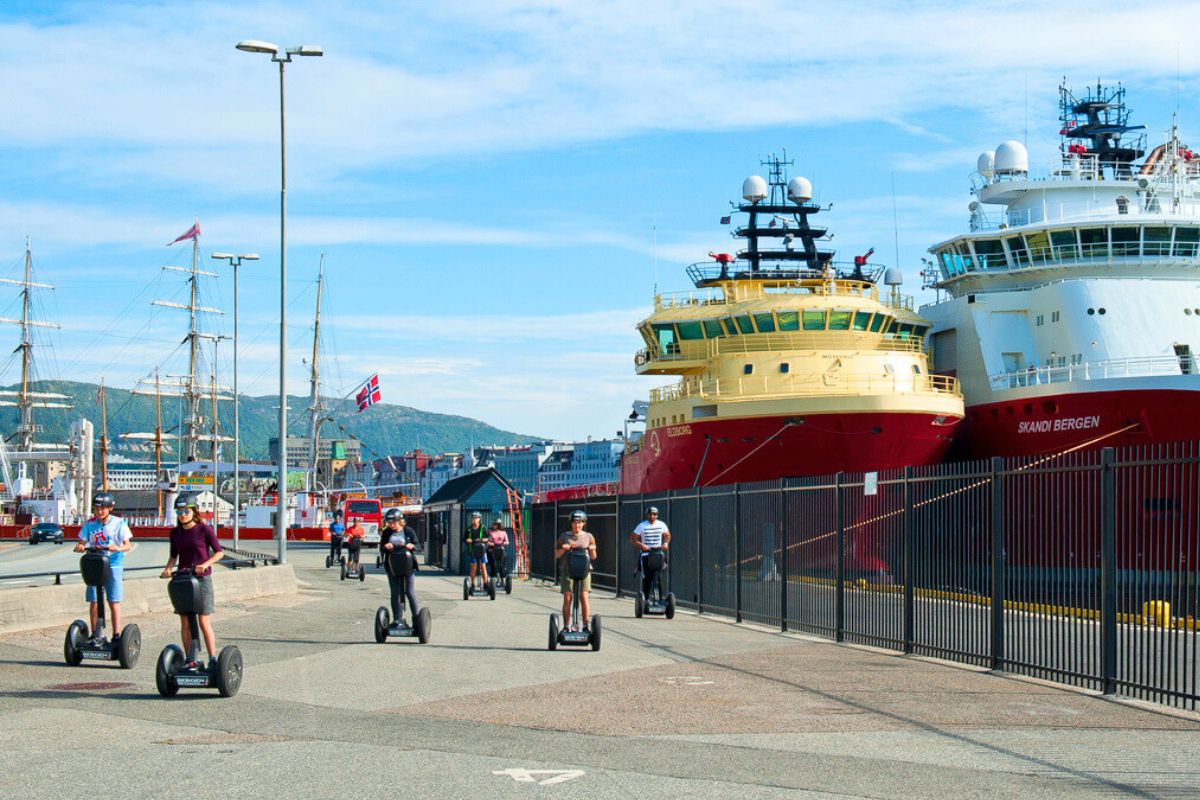 At any hour of the day, you can enjoy the thrills of a segway tour… all you need is a sense of balance and a sense of adventure!
These zippy vehicles will make it easier than ever to explore all the coolest corners of town; one minute you'll be nibbling on the unusual offerings of the fish market (see #7), and the next, you'll be puttering past the harbor or traversing old, winding streets.
And if you want to really make the most of your time in town, you can even take on an evening excursion, and watch the lingering colors of dusk and nighttime shift the whole perspective of the town!
7 – Shop around at the Fish Market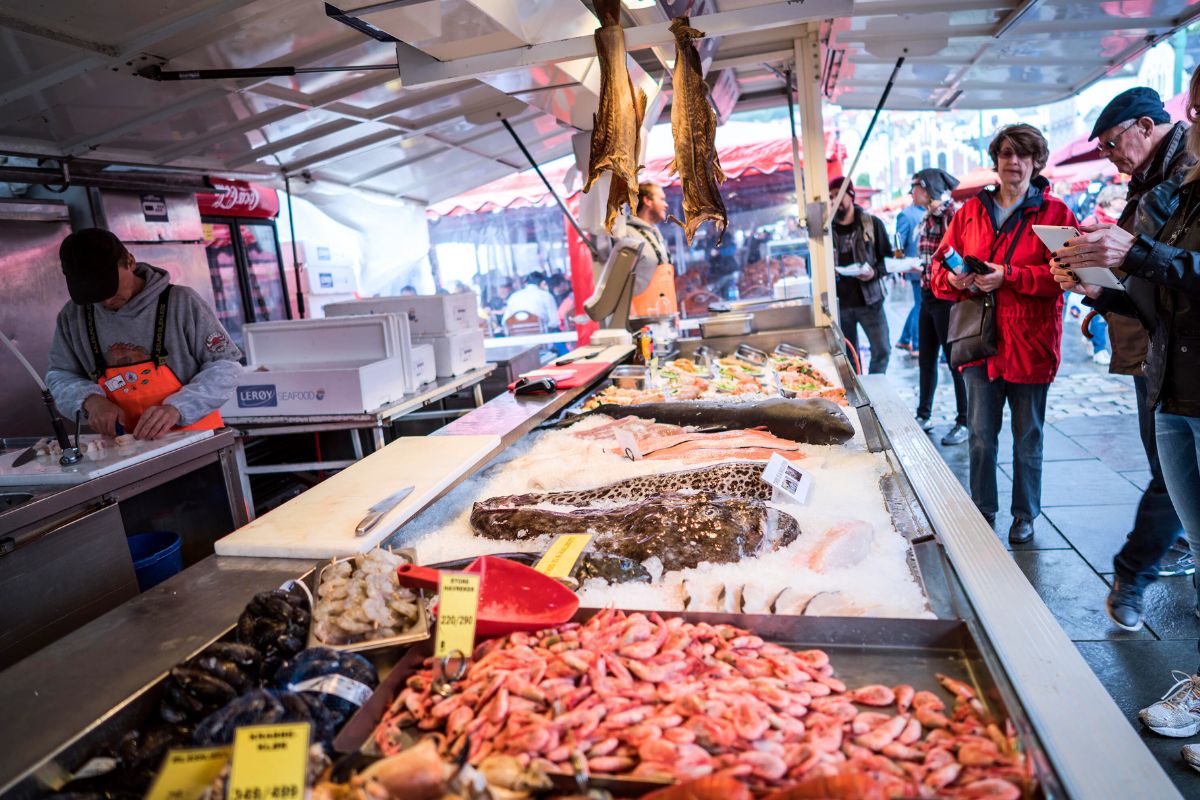 You may smell this place before you see it… but just wait until you taste what's in store!
After all, a visit to this bustling hub of fresh seafood is one of the most beloved things to do in Bergen for a reason; it's got some of the best snacks in town!
For roughly 800 years, this has been the place to go to evaluate the best specimens pulled from the sea; and it only takes a short stroll between the stalls to get caught up in the excitement!
Amidst the joyful clamor of vendors and fishers hawking their wares, you can try classics like lobster, crab legs, and fish cakes, plus some more unusual offerings like cod tongue.
And if you want to savor the experience a little more, settle in at one of the nearby restaurants and work your way through some of the expertly prepared dishes.
This is one place that's a little fishy in the best possible way!
8 – Enjoy the visuals of St. Mary's Church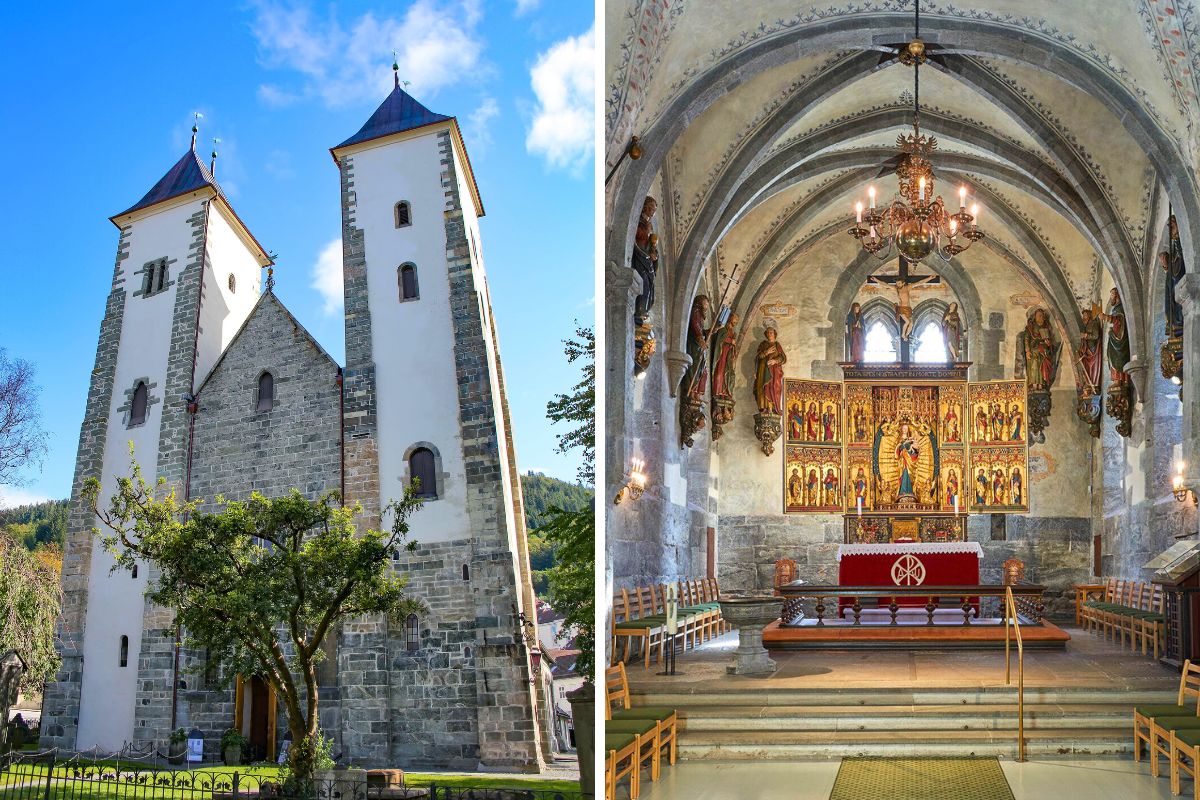 As both the city's oldest building and one of its most beautiful, the church has long been a place of reflection and worship… and even some excitement!
It was built some time in the early 1100s, and stayed a stalwart house of worship through fires, refurbishments, and more, with its massive basilica and stunning altar showing off hundreds of years of artwork.
Along with its impressive age, there are tons of little details that reward the curious traveler; check out the lovingly preserved gravestones of clergy and sailors that once lived here, or the impressive sculpted figures of Moses, Paul, John the Baptist, and the Twelve Disciples.
And when the notes start bellowing from the resident organ, you'll feel as though you're transported to another realm entirely!
9 – Make the world your laboratory at VilVite – Bergen Science Center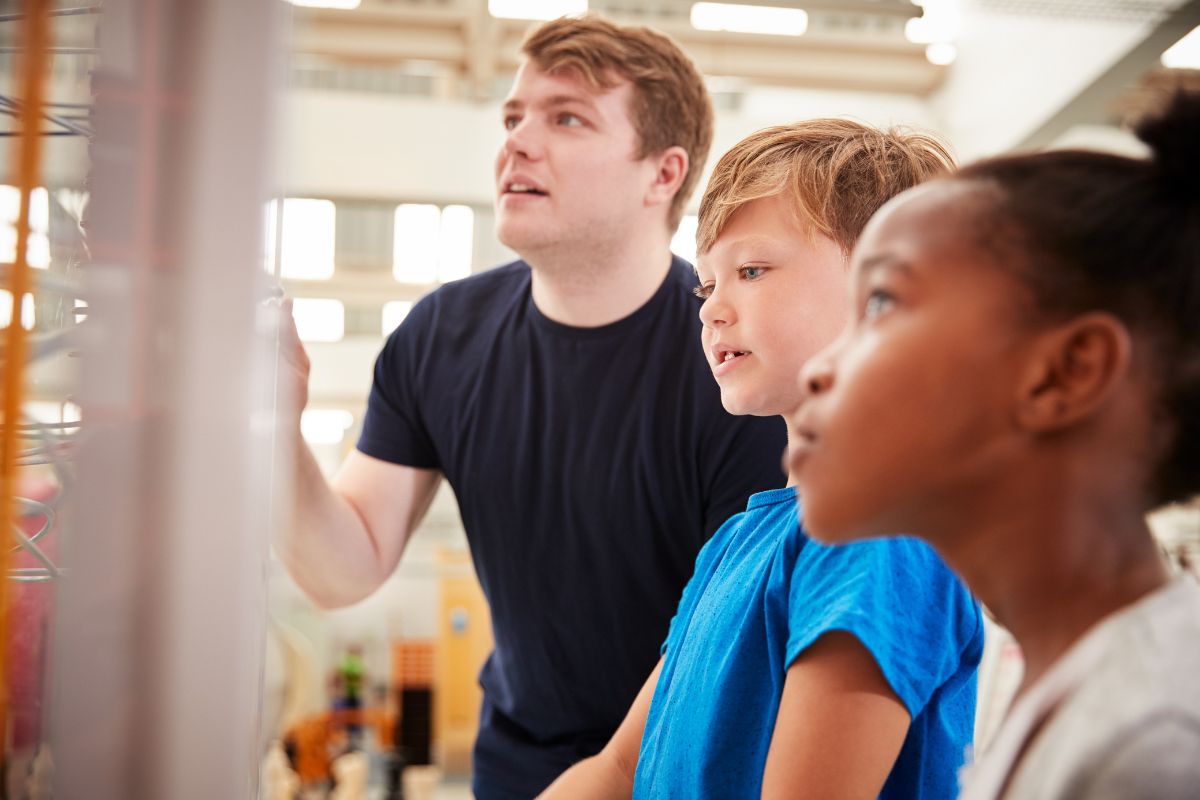 Bring out your sense of wonder, and tell your curious spirit to come along – you'll need them both at VilVite!
In this amazing, hyper-interactive museum, you'll find endlessly fascinating exhibits covering all the excitement of the universe, from the depths of the sea and the natural riches of the planet to the ever-changing wonders of energy and technology.
Explore the wonderful weirdness of the human body, tinker with the different parts of various ecosystems, or play engineer and try out small-scale versions of hydroelectric power.
And throughout your visit, you'll be encouraged to touch, pull, push, and fully explore every exhibit… that's half the fun!
10 – Soak up endless artistic goodies at the KODE Museums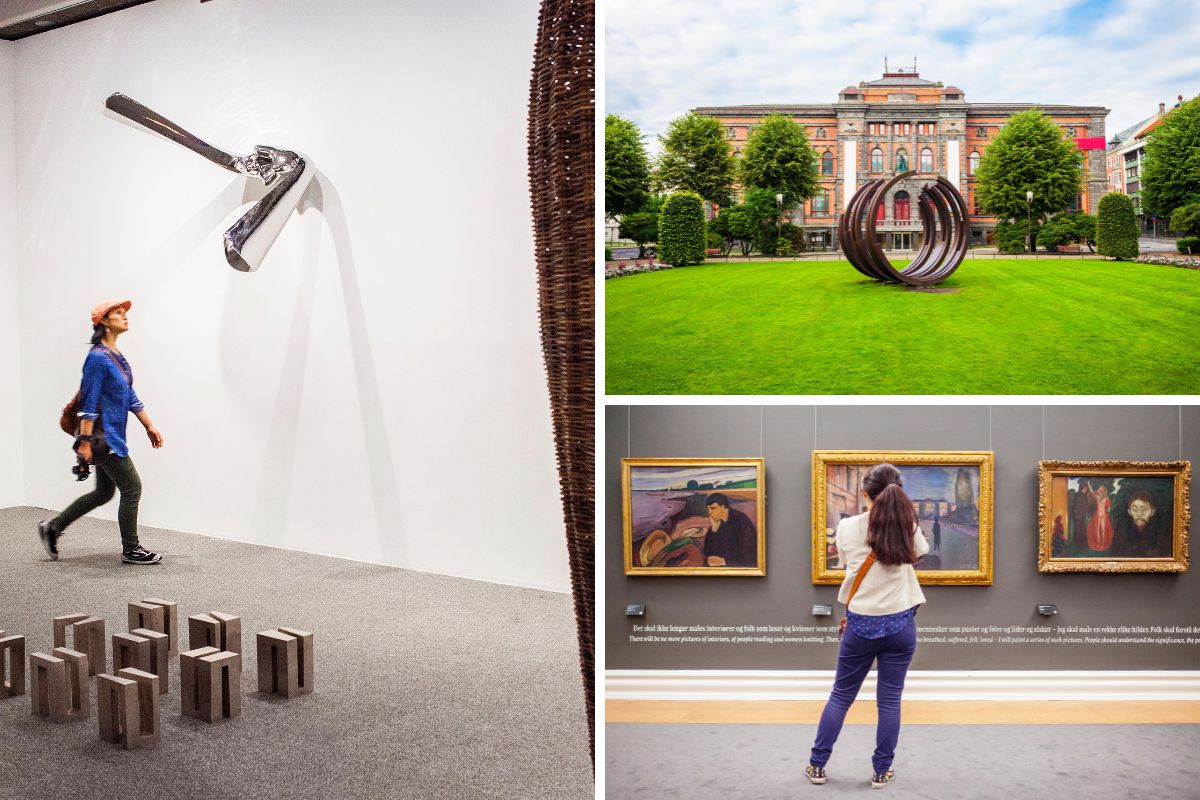 Creativity is very much a part of the city's infrastructure – after all, this is the birthplace of the composer Edvard Grieg, and the home of many other geniuses of art and music.
And at the KODE Museums, you can really experience this legacy in-depth…. and at length!
This magnificent complex is made up of three composer's homes and four unique art galleries, providing an amazing insight into both the minds of geniuses and the works they produce.
Step into the minds of Harald Sæverud and Edvard Grieg as you explore the rooms in which they lived and worked, then step into the art galleries and admire paintings, fine crafts, and even pieces of furniture.
From the portraits of Edvard Munch and an astounding collection of silver pieces, it's a wonderful celebration of culture in all its forms!
11 – Meet the man behind the tunes at Troldhaugen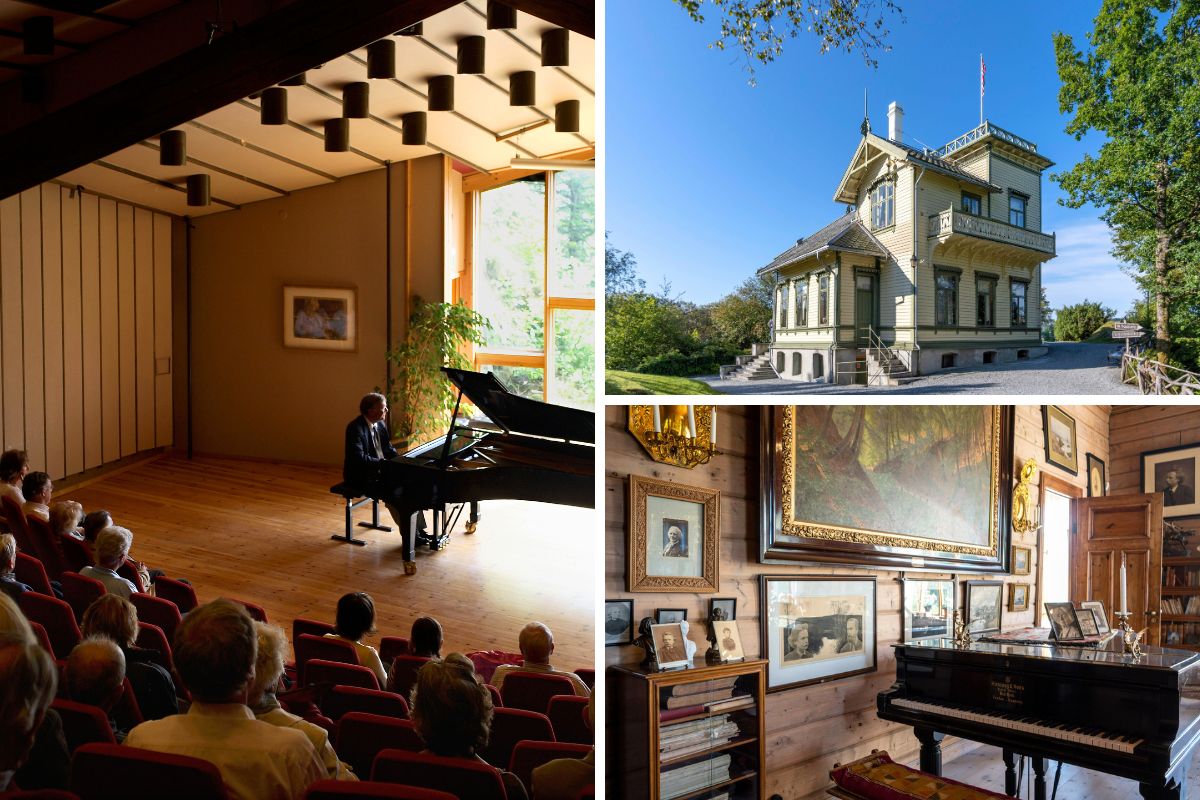 And if you want to focus more on Grieg specifically, spend some time exploring his house at length – and his musical legacy!
For 22 years, this lovely residence was where the musician lived and worked, producing many of his greatest hits, including "In The Hall Of The Mountain King" and several concertos.
And during your visit, you won't just get to see the simple hut and walk in the footsteps of a genius… you might get to hear some of his works!
In a fitting tribute to this musical mastermind, the on-site concert hall frequently hosts productions of his greatest pieces… and there's nothing quite like hearing them live!
12 – See the city your own way with some hop on hop off bus tours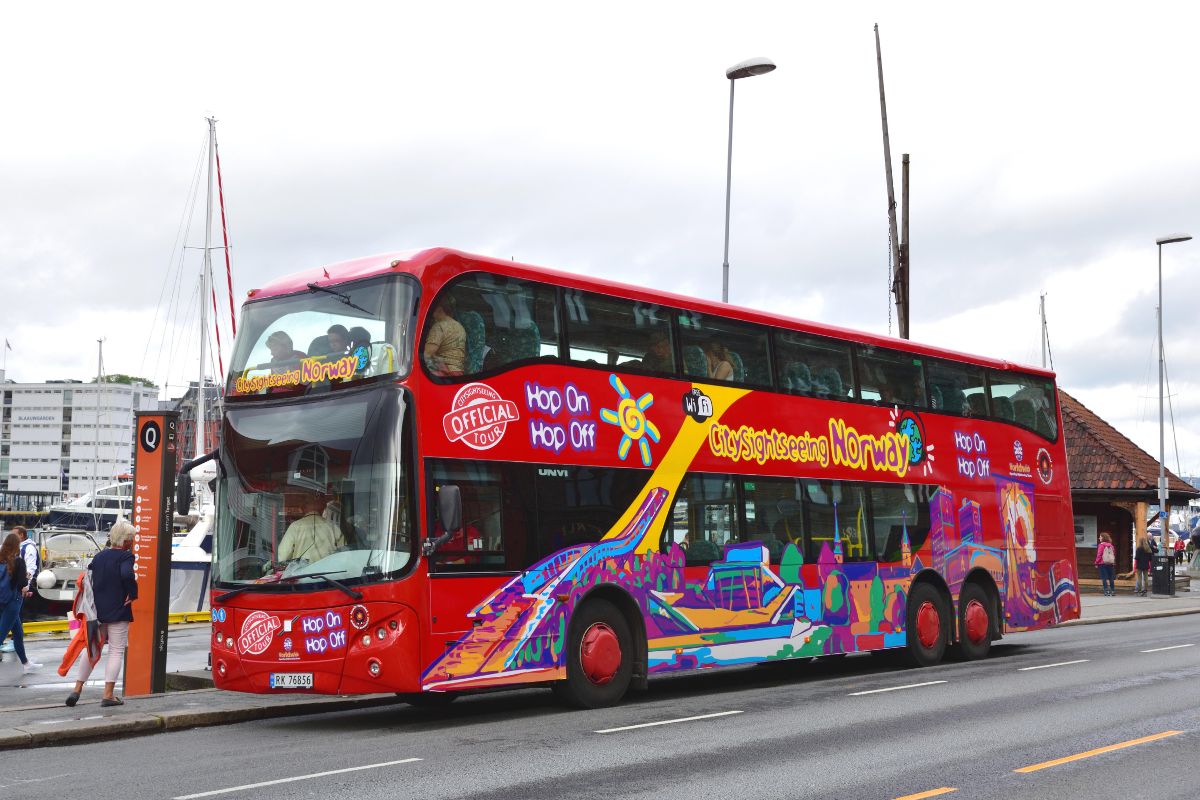 This is certainly a city that doesn't skimp on the beauty, and there's nothing like a bus tour to see it all… especially one where you can choose which stops to linger at! NOPE
As you putter past all of the best museums and scenic spots, you can disembark at any stops that appeal to you, explore at length, and then catch the next bus that comes by.
With guided commentary on-board and flexible schedules, you can always count on a great excursion!
13 – Take another memorable mountain trip aboard the Ulriken cablecar….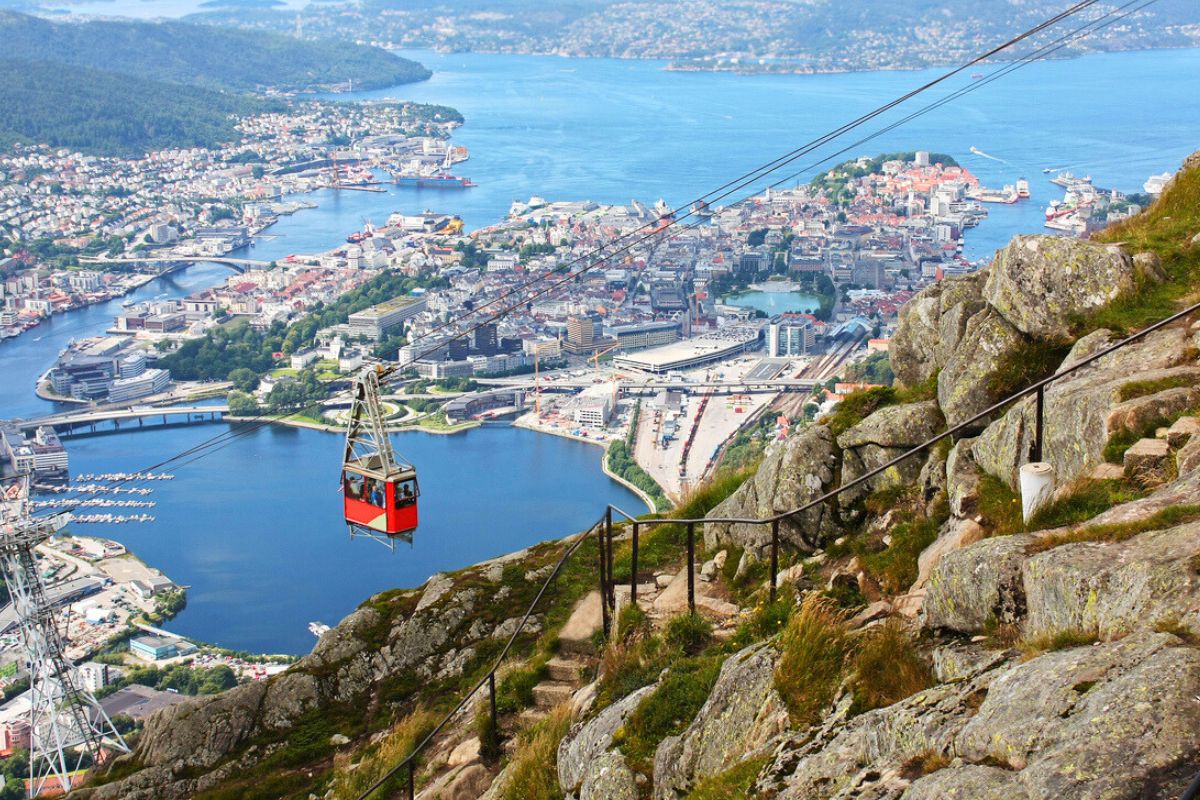 There's more than one way to reach the top… and that's a literal statement in this town!
Much like the funicular (see #5), the Ulriken cable car takes you on a scenic ride up a peak – in this case, the picturesque Mount Ulriken.
But you'll get to go even higher this time, because rather than running upwards on the ground, your vehicle will soar through the air – 643 meters (2,109 feet) in the air, in fact!
See the terrain evolving below you, then disembark on the top and do a bit of hiking or eating – and spend plenty of time looking out at the world below!
14 – … Or stick to the water with some boat tours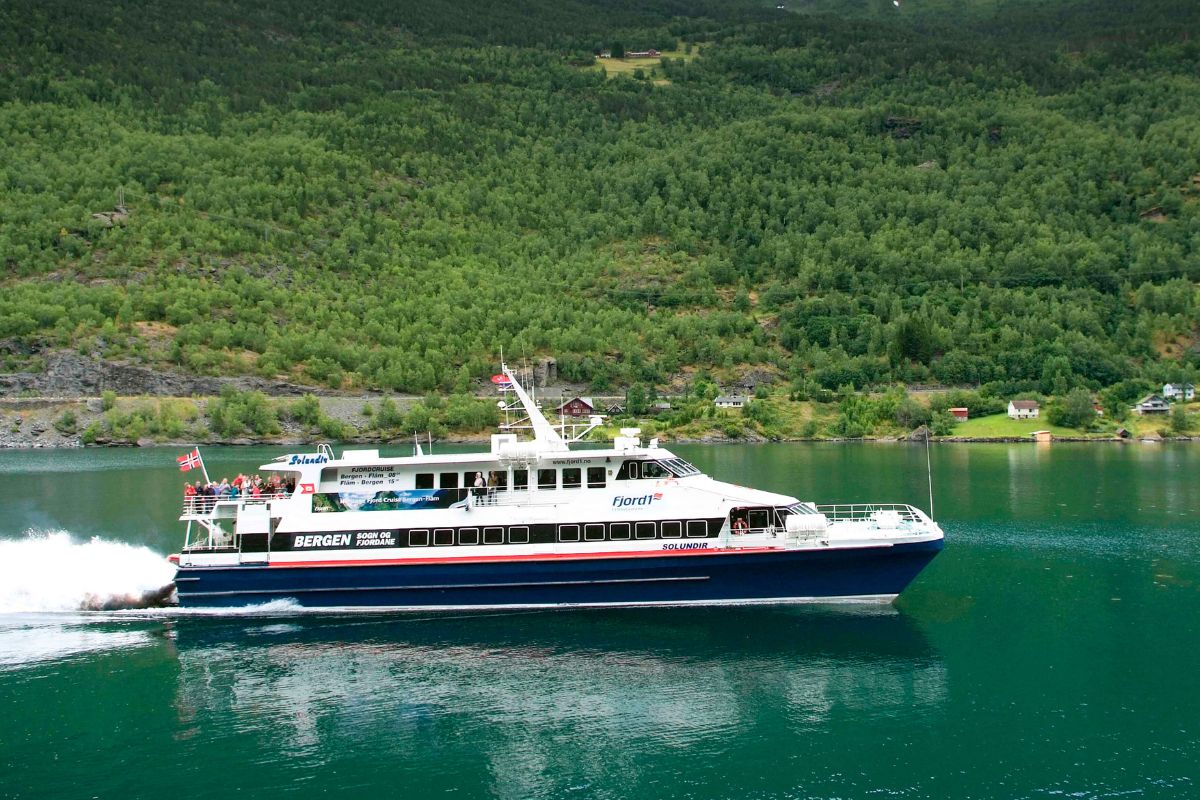 In a town as water-loving as this one, you'll want to get out and explore the nautical way – and there are certainly plenty of boat tours to get you started!
Sail through the breathtaking Mostraumen Fjord (see #16), surrounded on every side by mountains and cascading waterfalls.
Or stay closer to town with a quirky historical cruise, where you'll climb aboard a traditional-style sailing vessel and enjoy a scenic tour of the harbor… and a taste of Viking life!
You can even up the adrenaline with some jet boat tours, where you'll bounce through the fjords at top speed… and still see lots!
These are especially fun options for getting out into the wilderness, as you whoosh through the rugged, watery paths of the fjords, and enjoy a real up-close experience of the land around you.
15 – Savor the legacy of the Fantoft Stave Church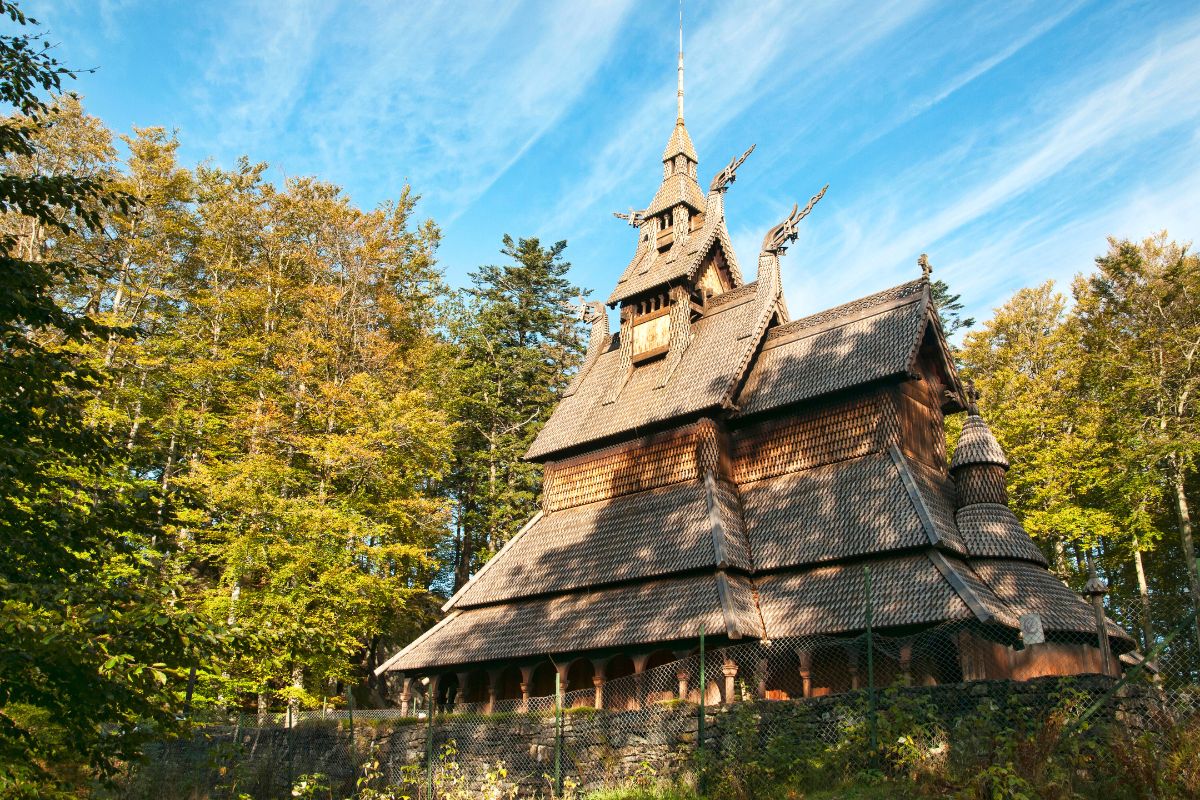 With a distinctive style and a perfect dose of Nordic charm, this church is more than just a religious site… it's a vibrant piece of a past world!
Stave churches were one of the earliest architectural methods, and this intricately layered building, which was originally created in 1170, is a prime example.
For centuries, it served both as a religious institution and a relic of one of the oldest eras of construction in the region; but unfortunately, it also fell victim to the same fate as many of the other wooden buildings in town, when it burned to the ground in 1992.
This loving reconstruction pays exact homage to the original, offering the chance to see how some of the area's earliest worshippers created their refuges.
16 – Marvel at the Mostraumen Fjord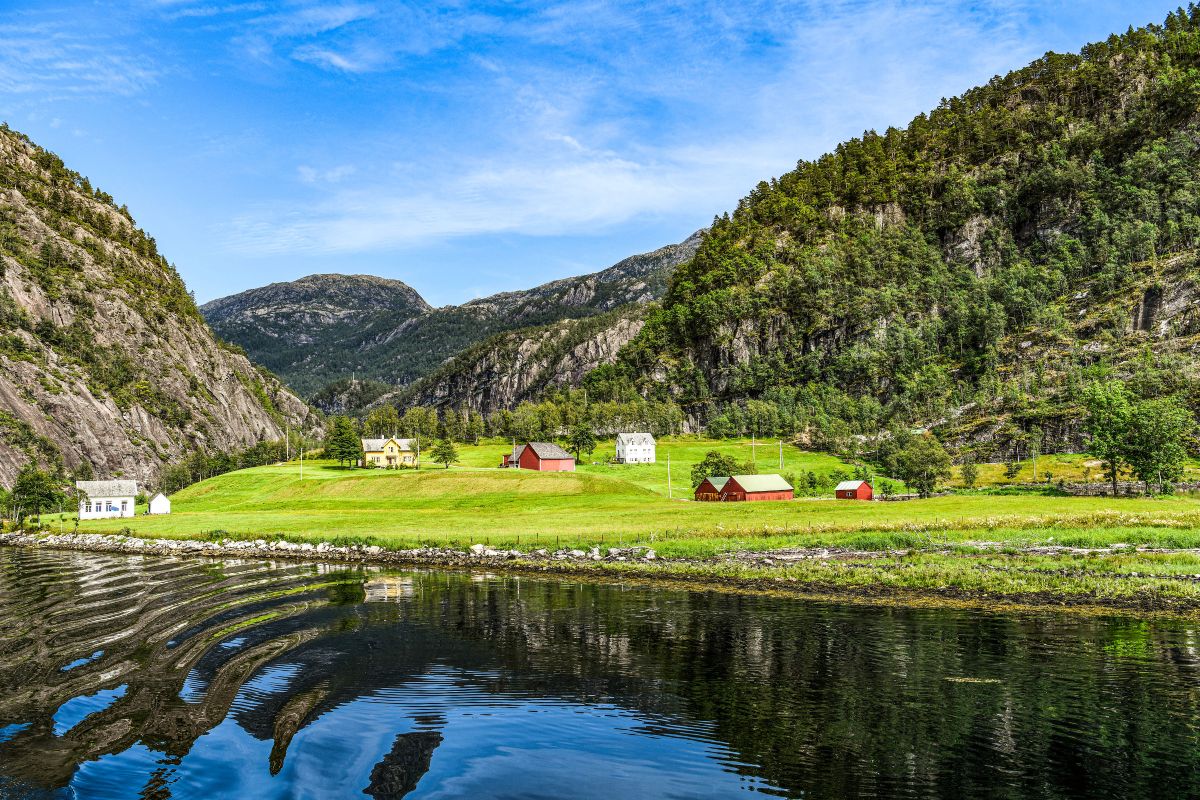 And speaking of those natural wonders….
Mostraumen Fjord is one of the most spectacular natural sights in town – and that's saying something!
Just a short boat ride from town, it's the perfect spot for a scenic cruise, and every second of that trip is defined by the stark beauty of nature… even before you reach the fjord itself!
Wind your way through stunning cliffs, watching the scenery shift around you, one dazzling view at a time.
And at the end, you'll get a particularly memorable souvenir: a blast of refreshing Arctic water from the nearby falls!
17 – Get a taste of the sailor's world at the Bergen Maritime Museum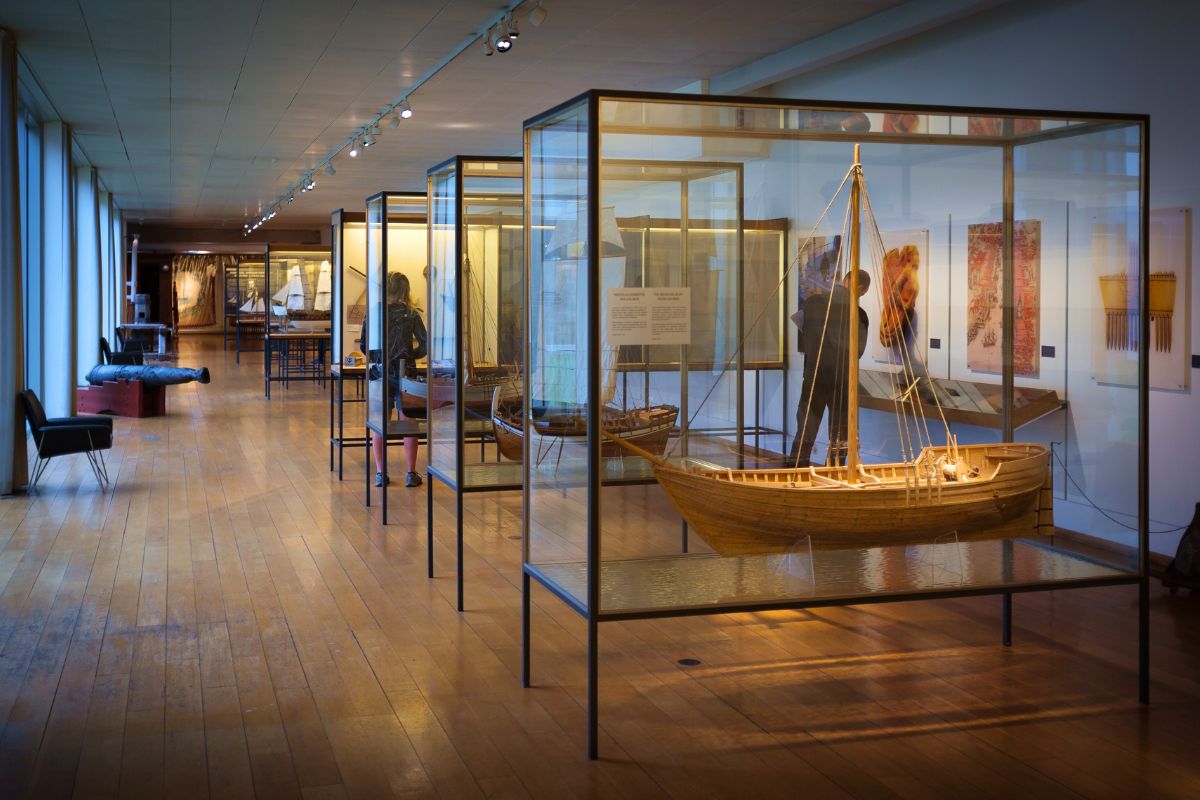 Getting back to seafaring life, we have the boats, battles, and businesses of the Bergen Maritime Museum… not to mention the stories of the sailors that plied these waters!
For two thousand years, the waters around town have been the home of triumph and tragedy, with all the major economic moments of human history mapped out on their waves.
Watch a reenactment of a Viking burial, admire every angle of an ancient Oseberg ship, and enjoy the intricacy of several little models… then stroll through some larger versions of the cabins!
You'll also get plenty of opportunities to celebrate the many sailors that ran these vessels, including deep dives into LGBTQ identities and other marginalized groups that made a life on the sea.
18 – Nosh to your heart's content on some food tours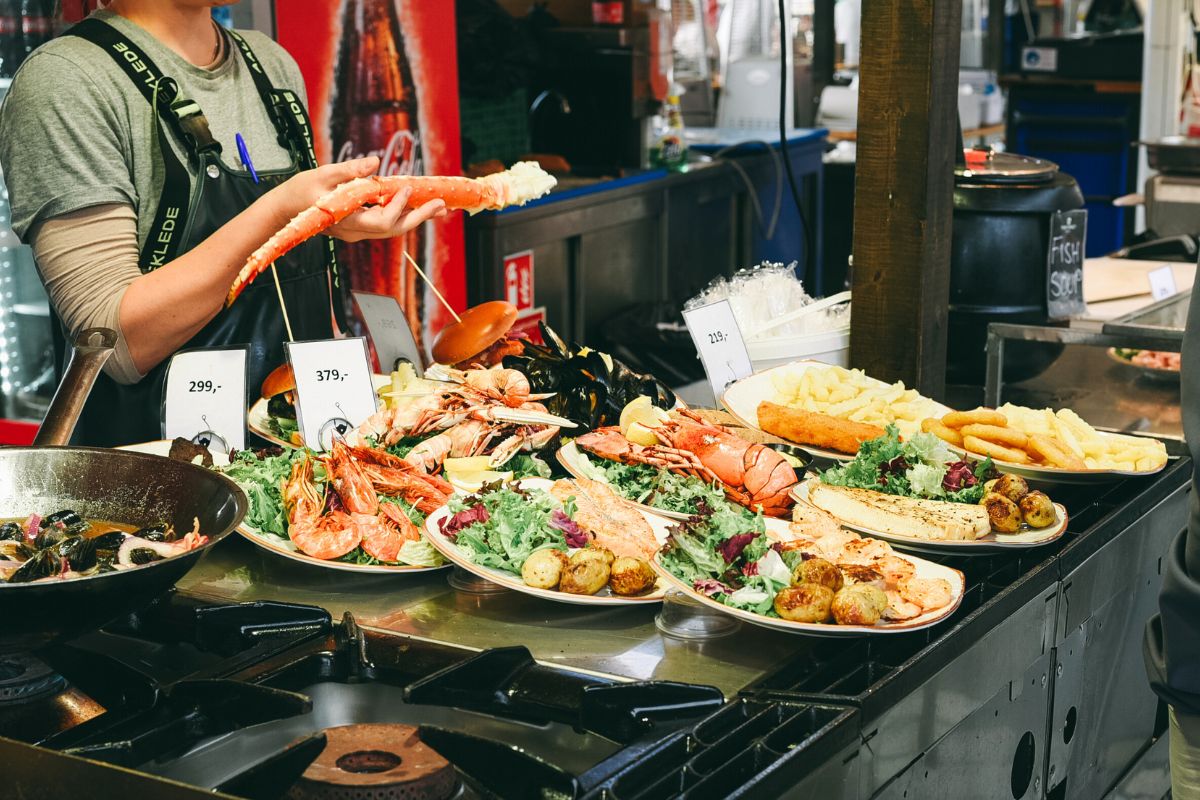 Norwegian cuisine may not be as commonly known, but you'll certainly be singing its praises after a few food tours!
Nutrition and culture go hand in hand here, and each jaunt offers a different perspective into both – but all of them are equally delicious!
Of course, seafood is the big excitement here; whether you're getting it fresh from the stalls at the fish market (see #7) or trying out one of the many little restaurants around town, you'll get a heaping helping of oceanic treats.
But there are all sorts of other delicacies to try, from scrumptious goat cheese to mouthwatering desserts.
The hardest part will be leaving room for it all!
19 – Enjoy a historic hangout at the Hanseatic Museum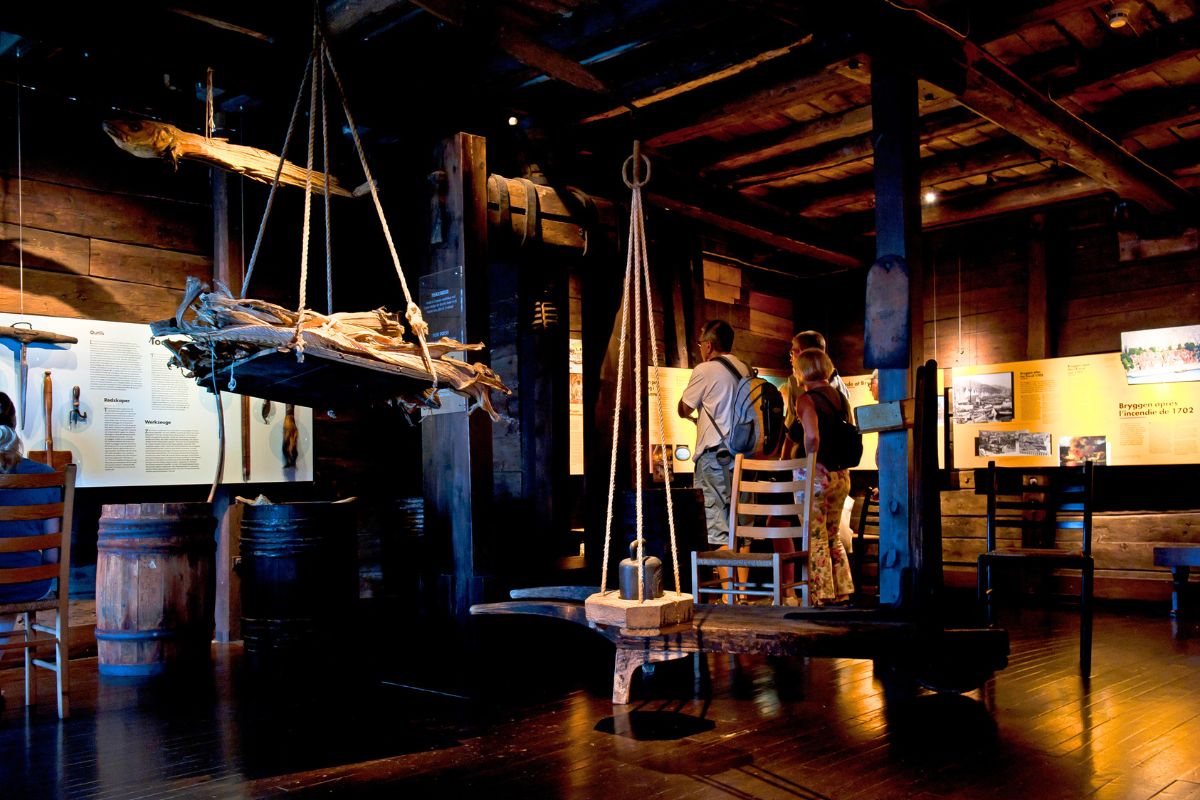 When we talk about "old town" here, we mean really old!
After all, people have been doing business here for hundreds of years, and at the Hanseatic Museum, you'll get to see that process that up close!
The streets that you're strolling here may look a little unusual, but that's probably because they're a perfect reconstruction of the trading quarter of town, where much of the commerce took place from the 1300s to the 1700s.
This was the heyday of the Hanseatic League, a prominent group of German traders who ran the show when it came to shipping goods.
As you wander into various buildings, you can see exactly how merchants ran their businesses, trading fish, grains, and other goods in the rapidly growing economy of Northern Europe.
There are few better ways to enjoy an immersive look at the past!
20 – Stroll around Festplassen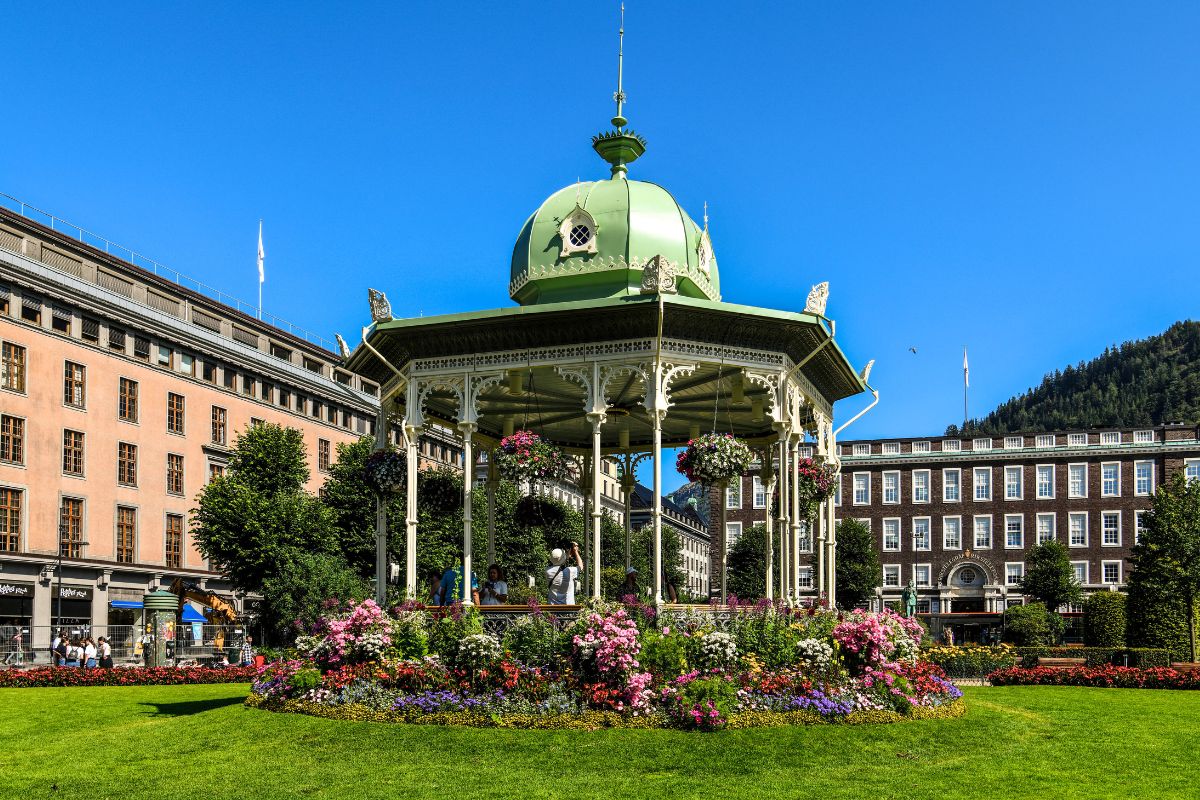 This is a town that certainly knows how to party… in the traditional way, that is!
Right in the middle of town, this cheery public square is best known as one of the main forums for festivals, celebrations, and all sorts of events throughout the year; you never know when you'll catch a beautiful public art project or an energetic concert filling the air with tunes!
And even if you arrive between major events, you can always count on this place to offer up some fun; from shows in the marvelous outdoor theater to gorgeous views of the nearby lake, this is a public venue for the masses.
21 – Go kayaking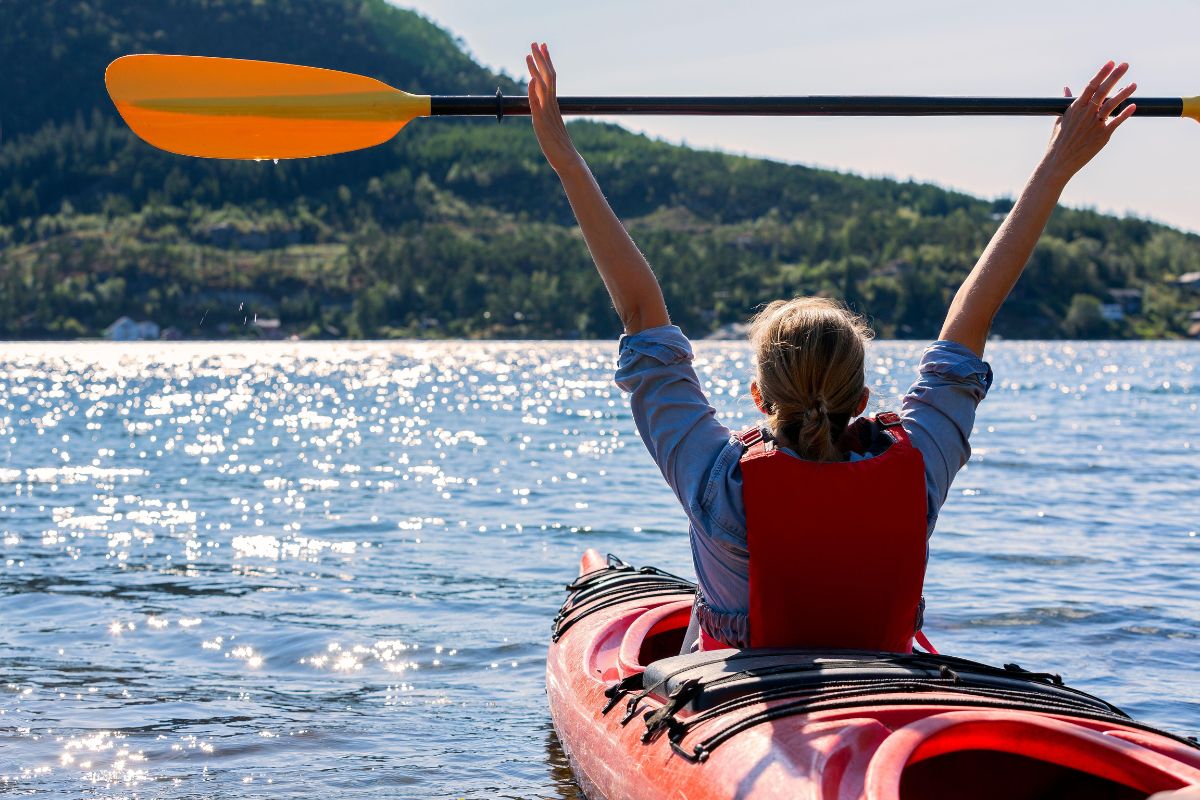 Let's face it: many of the best things to do in Bergen involve the water. So why not take the reins yourself…. Or rather, the paddle?
If you want to get even more into the wilderness and get to know the water along the way, then kayaking tours are the way to go!
Float along on the open sea, visiting little islands and enjoying new perspectives on the dazzling mountains. Or swap out the waves for some whitewater, and bounce along winding river currents, adding a bit of adrenaline to your journey.
This is one excursion that really makes a "splash"!
22 – Frolic in Flåm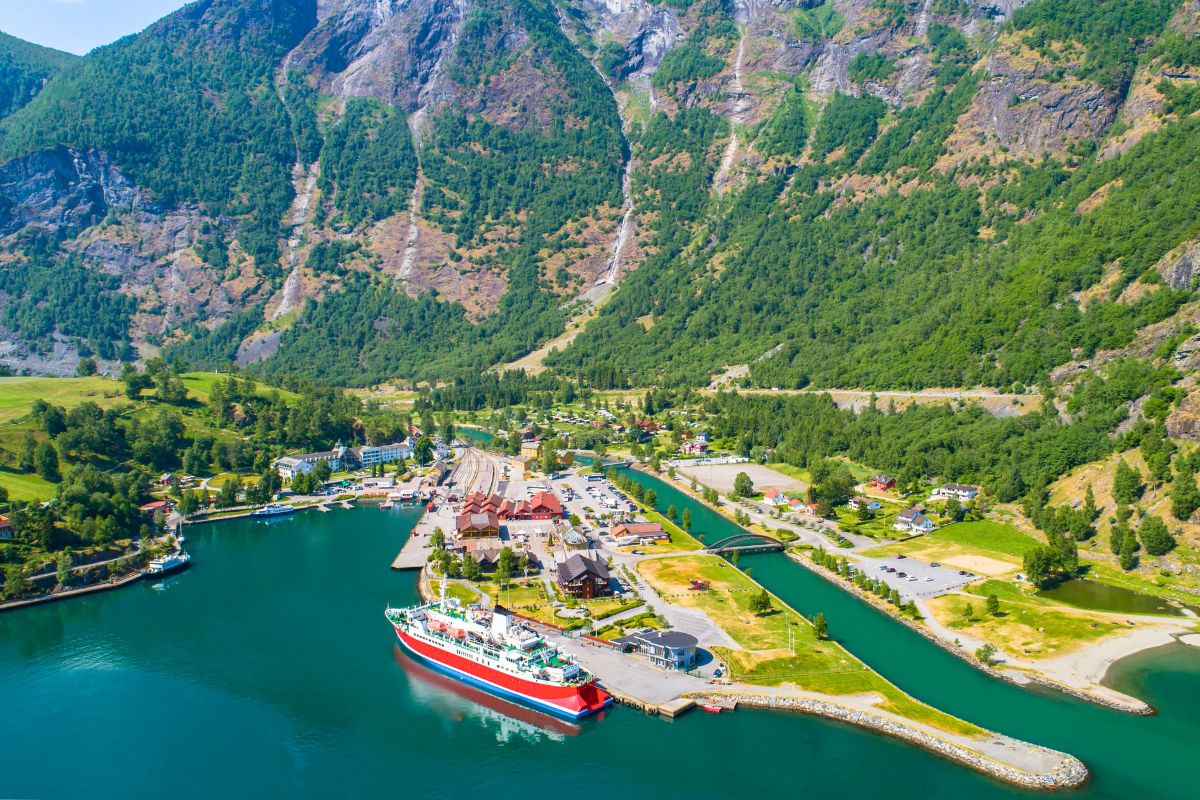 Head a little bit outside of town, and you'll find a serene hamlet that shows off the very best of rural Norwegian life… with plenty of charm all its own!
With sights worthy of any picture book and a charming atmosphere, Flåm is perhaps most famous for its scenic railway; but whether you're traveling by train, boat, car, or foot, you'll be totally dazzled by the sights around you!
Stroll through the lovely little village and gaze out at mountains and fjords, or stop by the museum that covers the fascinating story of the beautiful trains and steep tracks that have helped determine the fortunes of the town.
You may just be tempted to go house-hunting as you wander through this quaint hamlet!
23 – Get a little awestruck at Sognefjord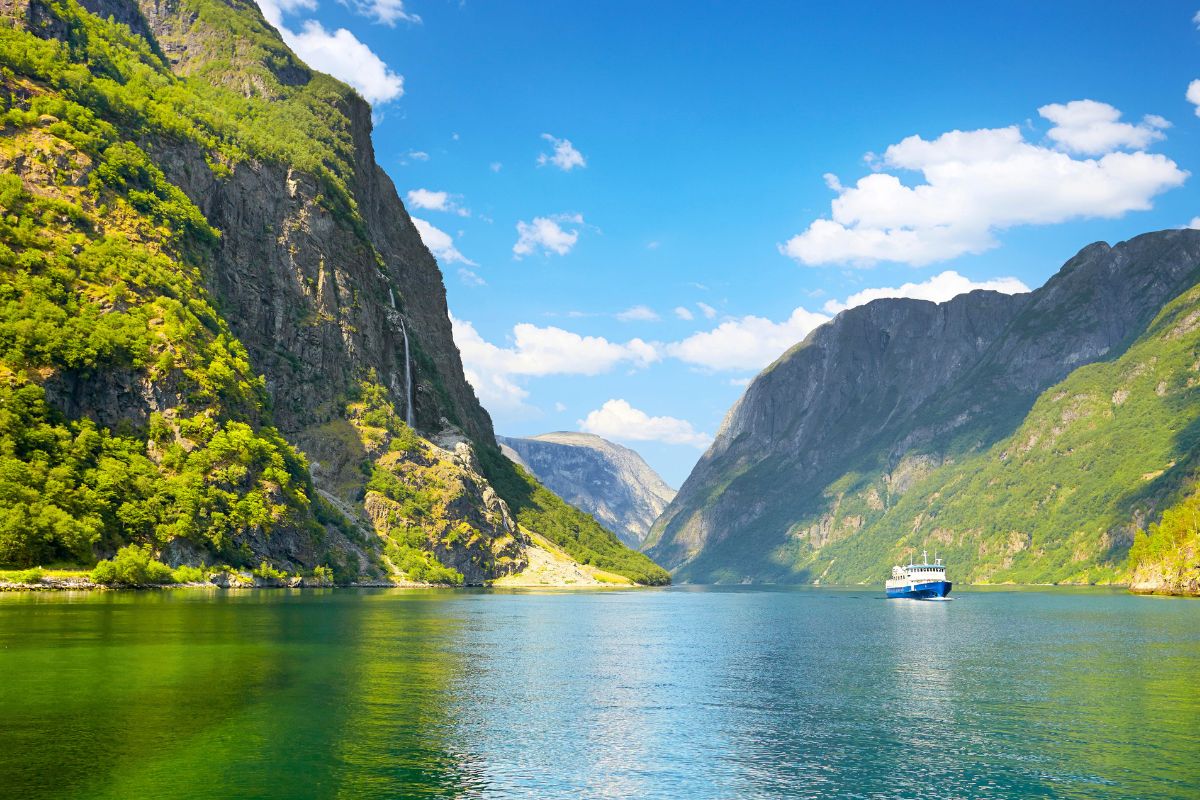 And while you're in the neighborhood, you can't miss out on one of the most famous natural views around: Sognefjord!
As both the longest and deepest fjord in the nation, this spot is an unmissable stunner, and the perfect place to enjoy the epic landscapes (and seascapes) that have made the region so famous.
You'll also get to pay a visit to some of the earliest settlements around here, including Gudvangen, a village of grassy roofs and lovely little homes tha dates all the way back to the Viking era.
You'll get a hearty dose of all the things that make this area so beloved – past and present!
24 – Roll your way to some gorgeous spots on a few bike tours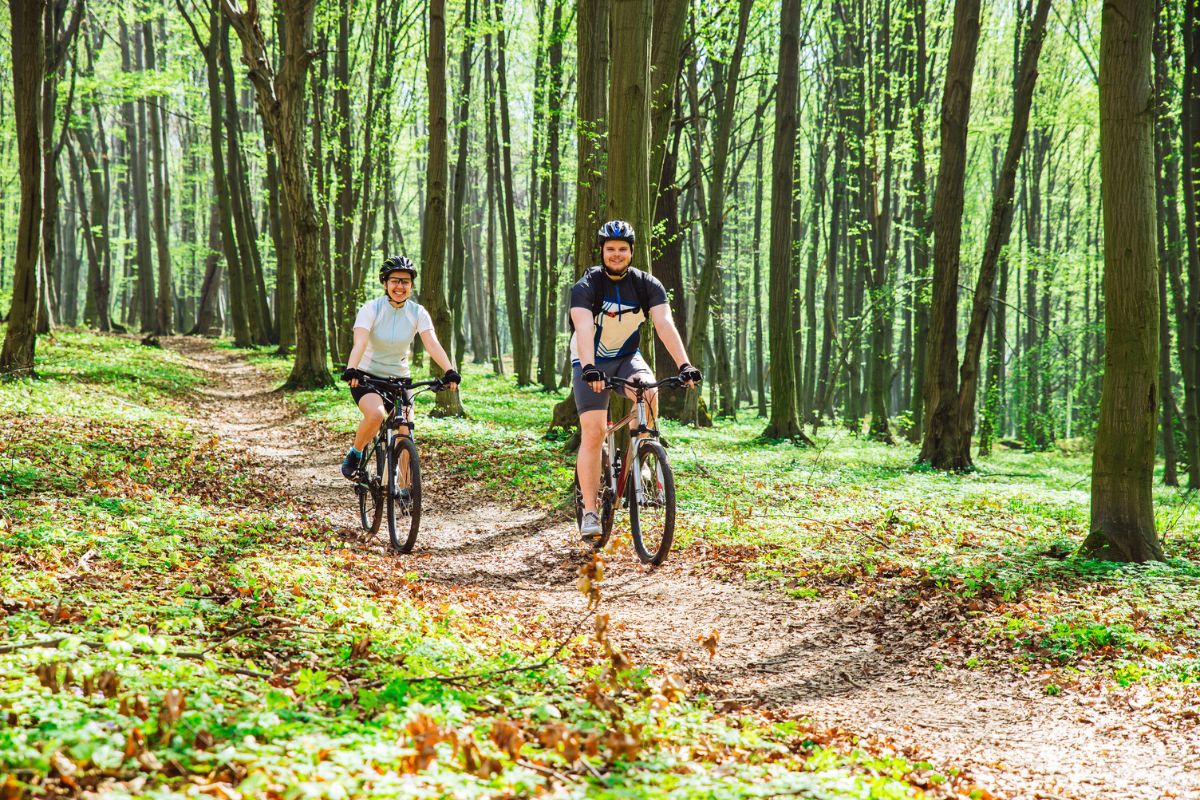 Out on the road or deep in the forest, you'll get to enjoy the fresh air and remarkable sights of bike tours!
When you're pedaling around, you can enjoy a whole new range of delightful adventures, especially as you head a little ways out of town to enjoy the rural areas.
And if you really want to get into nature, grab a mountain bike and get acquainted with the stark beauty of the Voss Forest!
Winding paths, dense groves of rustling trees, and even some secret swimming holes lie in wait, making every turn an adventure… and you'll quickly see how this sport became so popular!
25 – Learn more about the sea (and the humans that work there) at the Norway Fisheries Museum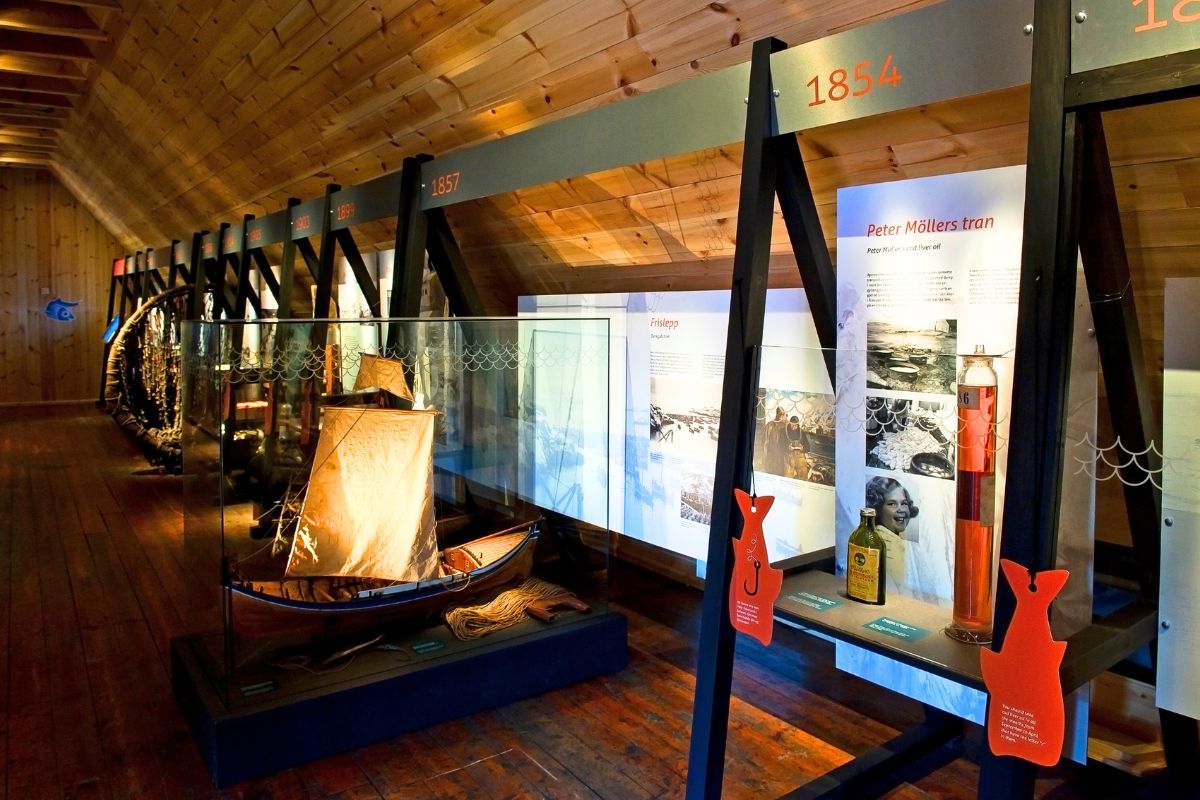 It's one thing to taste great seafood – it's another thing to learn about what goes into producing it!
You can more or less trace the entire history of Norway through its aquatic activities, and what makes this institution one of the coolest things to do in Bergen is the way in which it lets you interact with every aspect of the business.
You'll get right into the thick of one of the country's most exciting industries, learning all about the ships and technology involved in the process,  and exploring unique habitats of the many diverse species that eventually end up in the net.
You can even try a little bit of (simulated) fishing yourself!
And in between immersive peeks onto boats or beneath the waves, you can learn all about the unique human experiences tied into this popular business, from the controversial practice of seal hunting to the exciting process of raising salmon… some of which you can even feed!
26 – Take a peek into politics at Gamlehaugen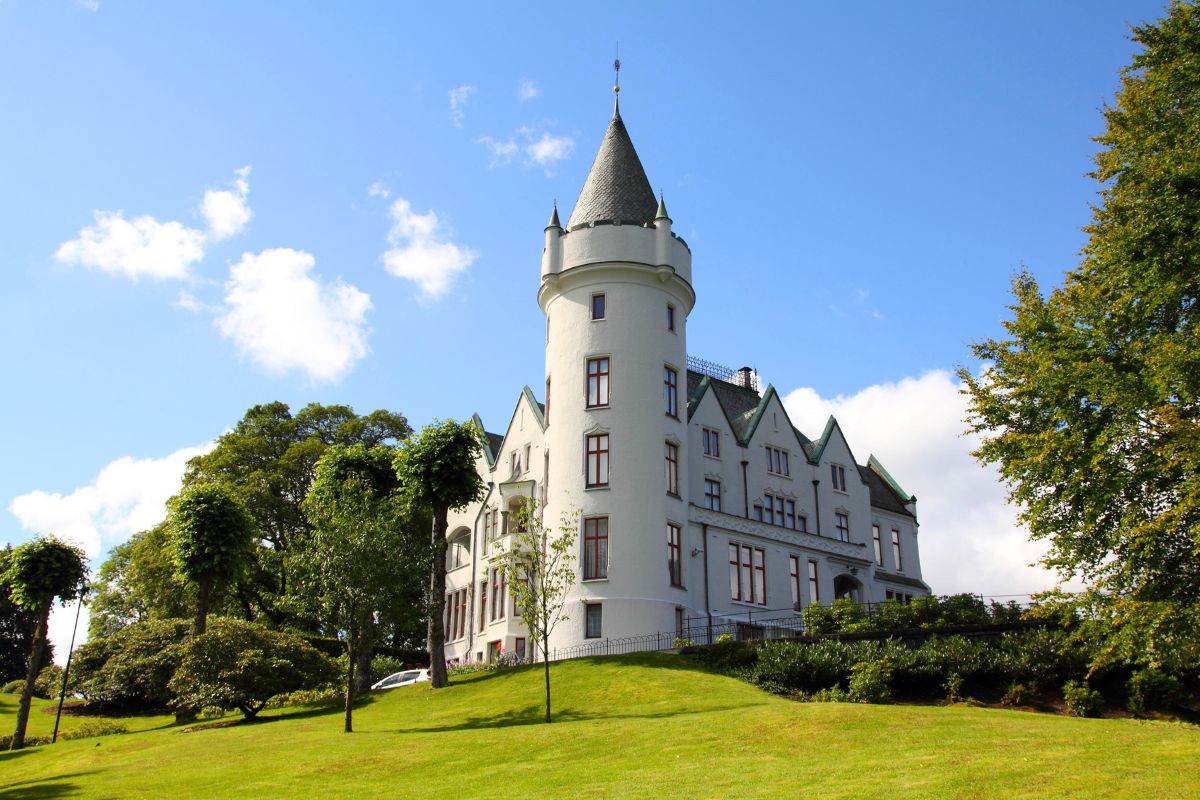 If ritzy residences are more your style, then don't miss out on this place – after all, it's literally fit for a king!
Norway's monarch calls this splendid castle home when he's in town, and from its lavish staterooms to the gorgeous gardens on the outside, every part of it is focused on beauty; but it's also been the home of some pretty significant national events!
While it came on the scene in 1899, the building is modeled after older Renaissance works, with a little bit of Art Nouveau thrown in.
The result is a striking palace that has been the site of many important political moments, and hosted Prime Ministers and royals… and plenty of visiting guests!
Take a look at the former office of Prime Minister Christen Michelsen, who helped guide the nation into an independent form as it separated from Sweden; then head out to the park to enjoy a bit of swimming or sauntering around!
27 – Enjoy another memorable slice of the great outdoors at Hardangerfjord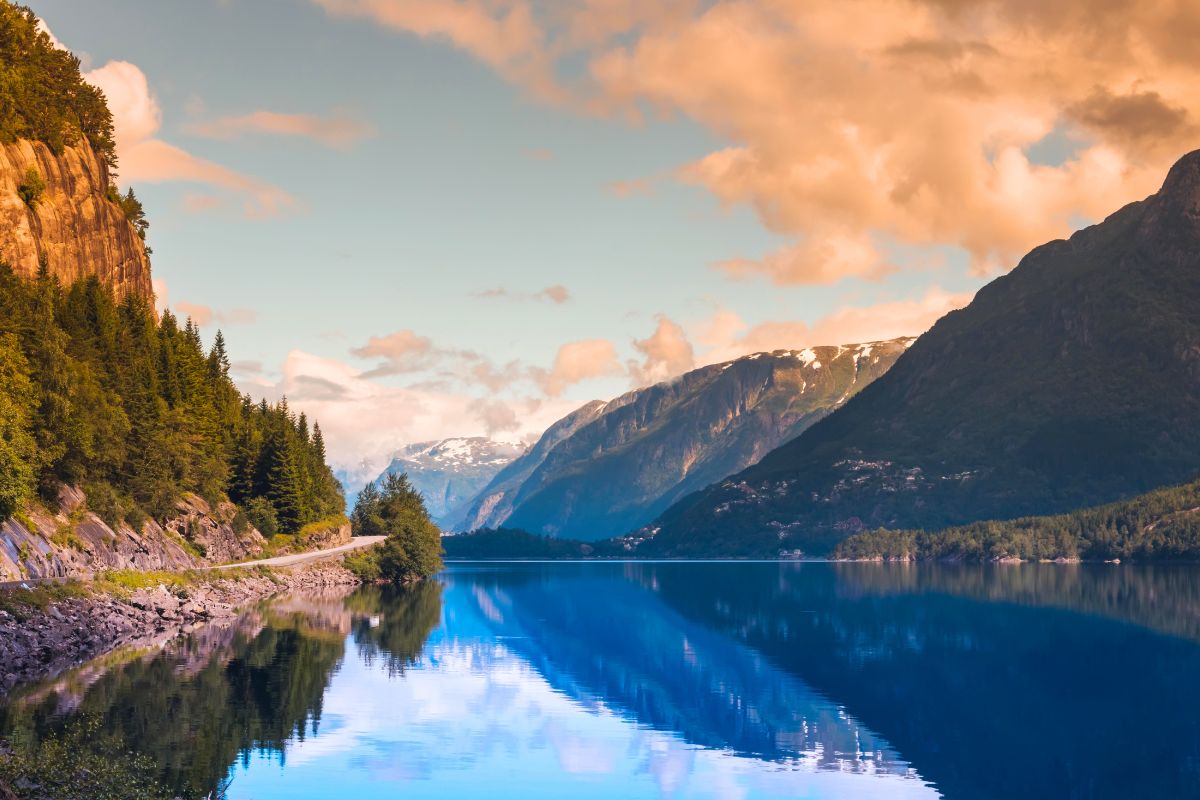 Never mind what the song said… on a trip to Hardangerfjord, you can go chasing waterfalls!
In fact, that's part of the whole idea, because the path to this stunning monument is filled with gorgeous cascades and patches of woodland that create an utterly charming adventure.
And of course, you'll feel even more rewarded once you reach the fjord yourself, the third-longest in the world… and certainly one of the most stunning!
If the cliffs and the water don't enchant you, the glistening glacier certainly will – not to mention the splendid farms and fruit orchards that add depth and charm to the area.
Be sure to sample some of that environmental richness with a refreshing glass of the famous local cider!
28 – See the world like a diorama on a seaplane tour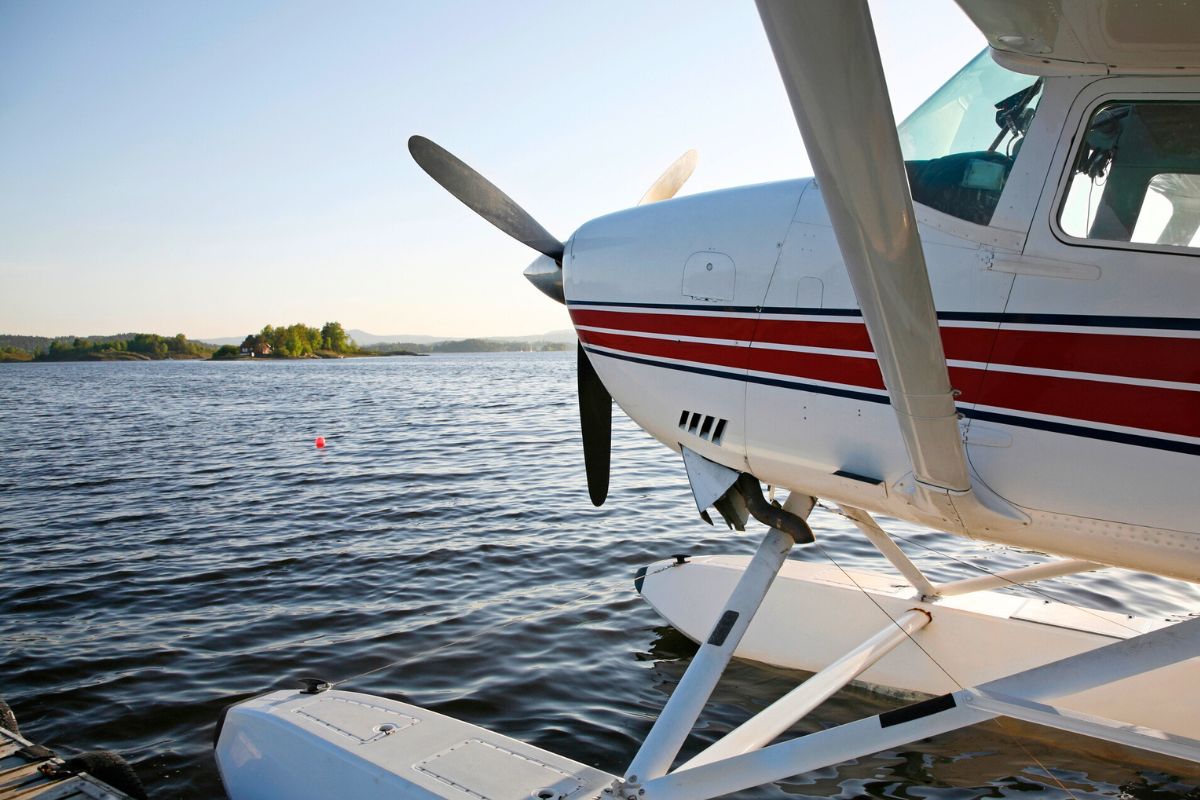 It's great to see all of these natural wonders up close, but there's also something to be said for enjoying the whole big picture. And with the high-elevation thrills of a seaplane tour, you'll really get some jaw-dropping perspectives!
The best part of these flights is their hybrid nature; along with the standard joys of soaring through the air, you'll also be able to get some good views from the water, where you'll take off and land.
And what views they are! Gaze down at the mighty glaciers and fjords, seeing their angles and beautiful details in a whole new way.
It's one of the most thrilling things to do in Bergen!
29 – Enjoy some winter chic all year round at the Magic Ice bar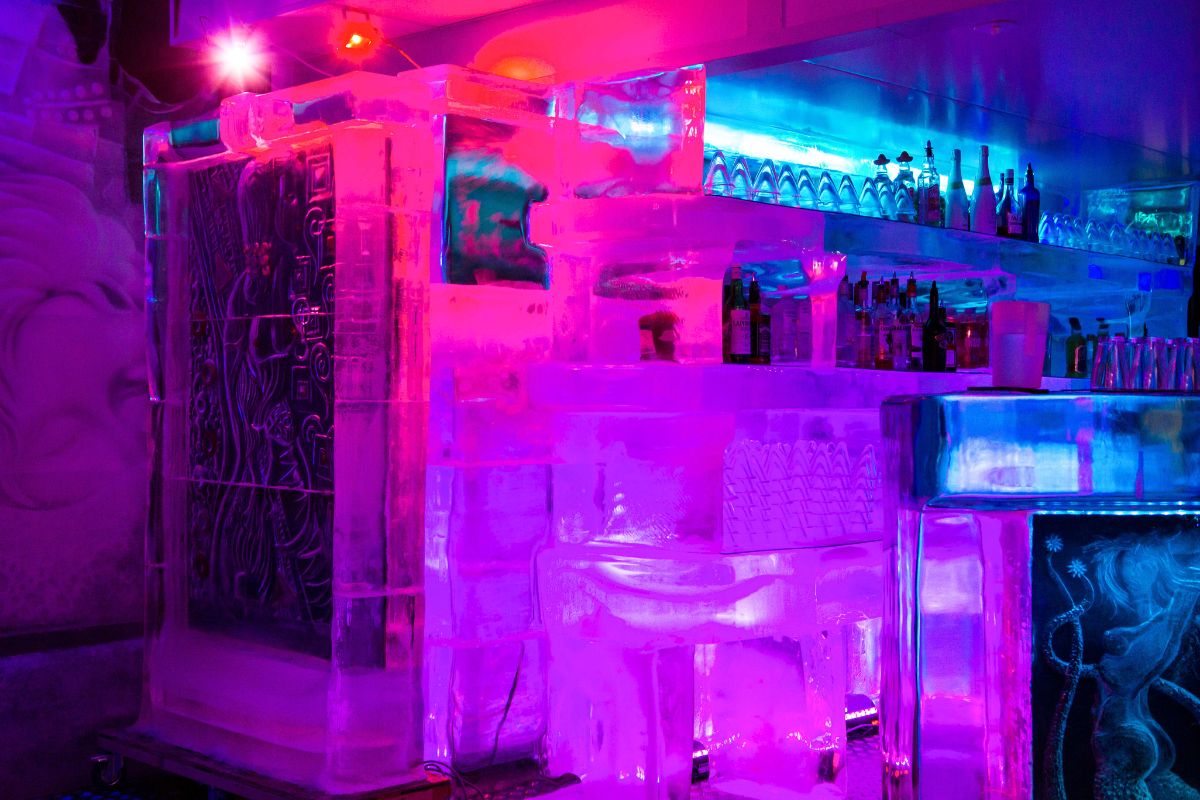 There's nothing quite like the joy of a night out in a new town… and there's one spot that's cool in more than a metaphorical sense!
Zip up your parkas and pick your favorite chilled cocktail, because Magic Ice bar brings a suitably wintry spin on your drinking experience – with a lot of style thrown in!
Everything here, from the glasses and the walls to the bar itself, is made of the frozen stuff, and there's even a full-fledged art gallery with plenty of chiseled masterpieces.
With colorful lights and festive music, it's one of the liveliest spots in town… and it certainly provides a happy hour you won't soon forget!
30 – Spend the day in a long-gone world at the Old Bergen Museum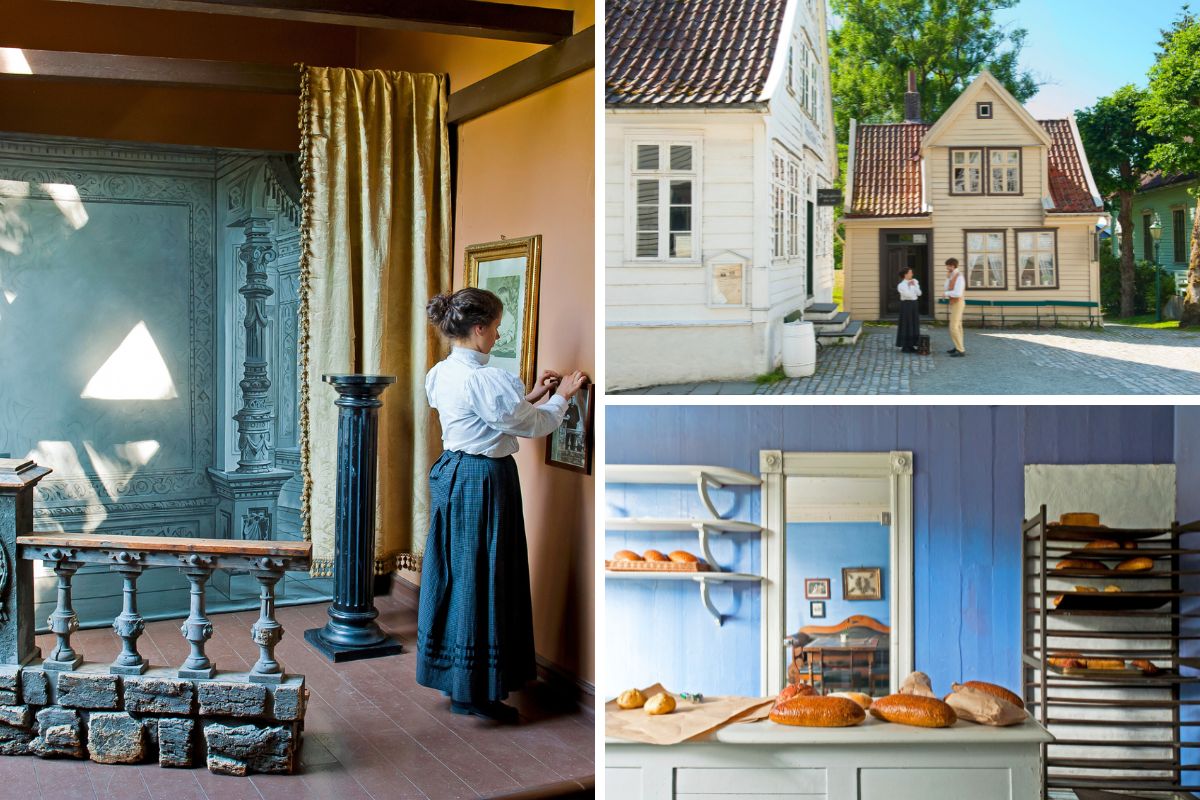 Time for another stroll into the past…. and a termite's paradise!
You may have spotted some of the lovely old buildings around town, and they actually hearken back to the 1800s, when Bergen was one of the largest wooden cities in all of Europe.
And as you amble down these streets, you'll find yourself transported right back to that era, with some contributions from the 1700s and 1900s thrown in.
This is your chance to explore the neighborhood as though it were brand-new; step into homes and businesses that still stand as they did hundreds of years ago, and watch a cross-section of the town going about its business.
You might even get to talk to some locals… or at least, their costumed counterparts!
Chat with families of traders and local politicians, and learn about their daily lives; then stop by the square to see the latest play, where you'll get to peek into even more of the lives and dreams of Bergen's residents – from over 120 years ago, that is.
History has rarely been so absorbing… or so deeply entertaining!
31 – Take a jaunt to Oslo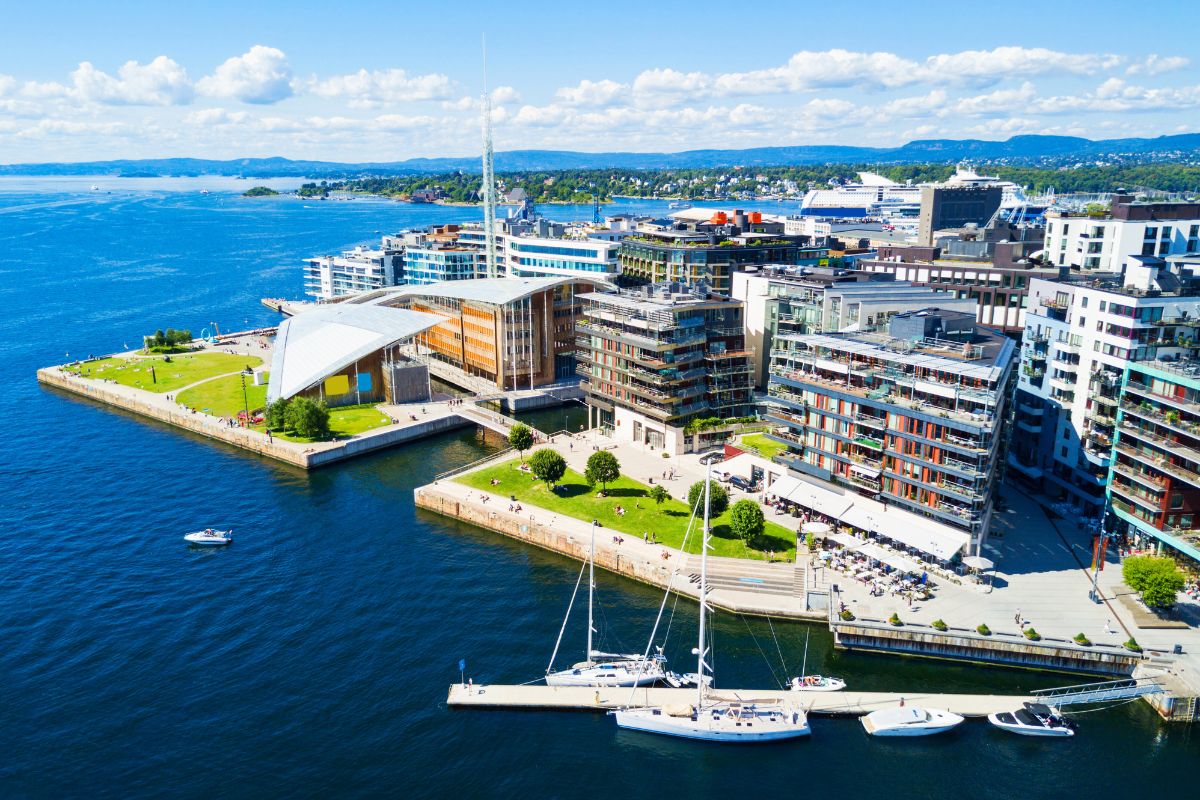 Switch things up a bit with a trip to the big city, a hotbed of culture and style… and plenty of quirks, of course.
As the capital of Norway, Oslo is certainly a place worth taking in, and it has the sort of adventures that can thrill every type of traveler.
From sculpture gardens to chic buildings and ancient Viking sites, you'll find an incredible mix of eras and ideas, all wrapped up in a cosmopolitan package that showcases the best of Scandinavia!
32 – Relax and explore the little world of Nygårdsparken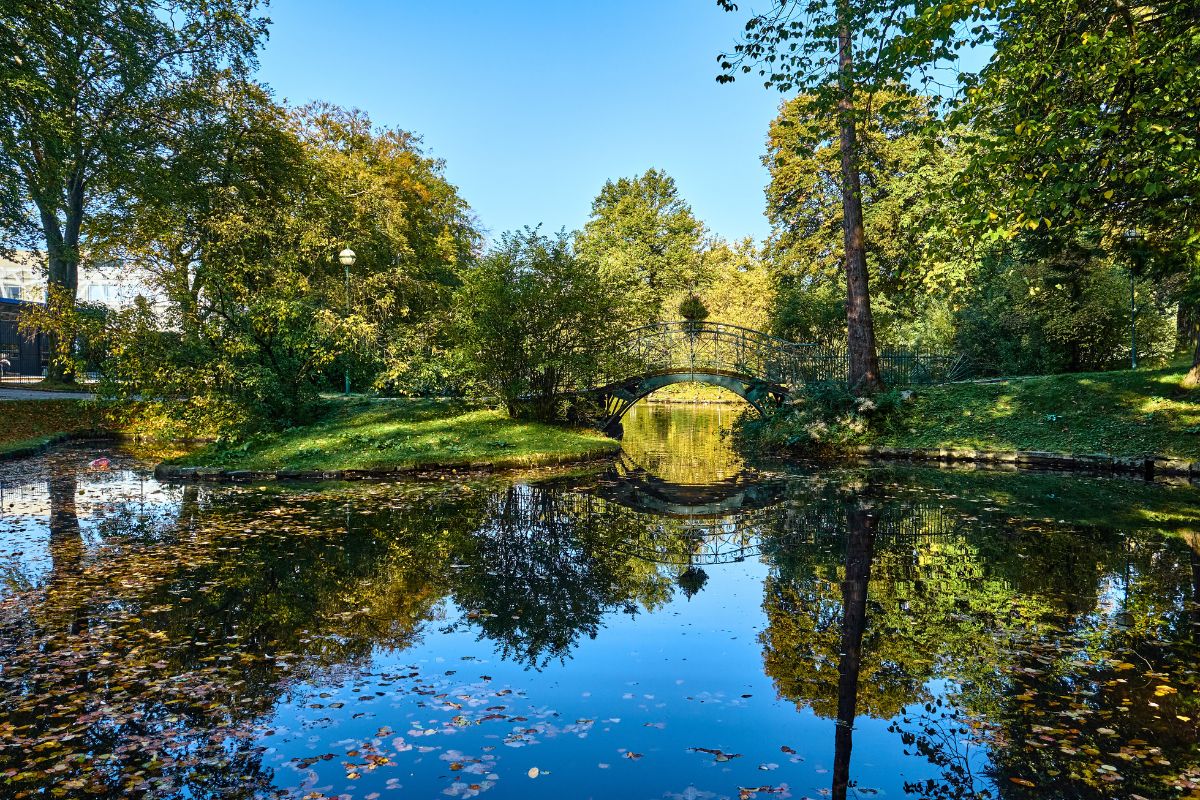 Perhaps you're looking for a somewhat more relaxed way to enjoy some nature while you're in town… well, this park certainly doesn't disappoint!
This is the largest urban green space in town, and while its influences come from a hodgepodge of European aesthetics – garden designs of the Danes, the elegant layout of the English -, it's very much a fixture of the community, just as it has been since 1880.
The scenery here is so pleasant the you can happily spend a whole day strolling, no matter the season; with gorgeous flowers in the spring and summer, trees bursting into color in the fall, thick blankets of snow in the winter, and the beauty of the lake anchoring the space all year round, it's truly a piece of paradise!
33 – Enjoy a summer paradise with a trip to Lysoen Island/Ole Bull's Villa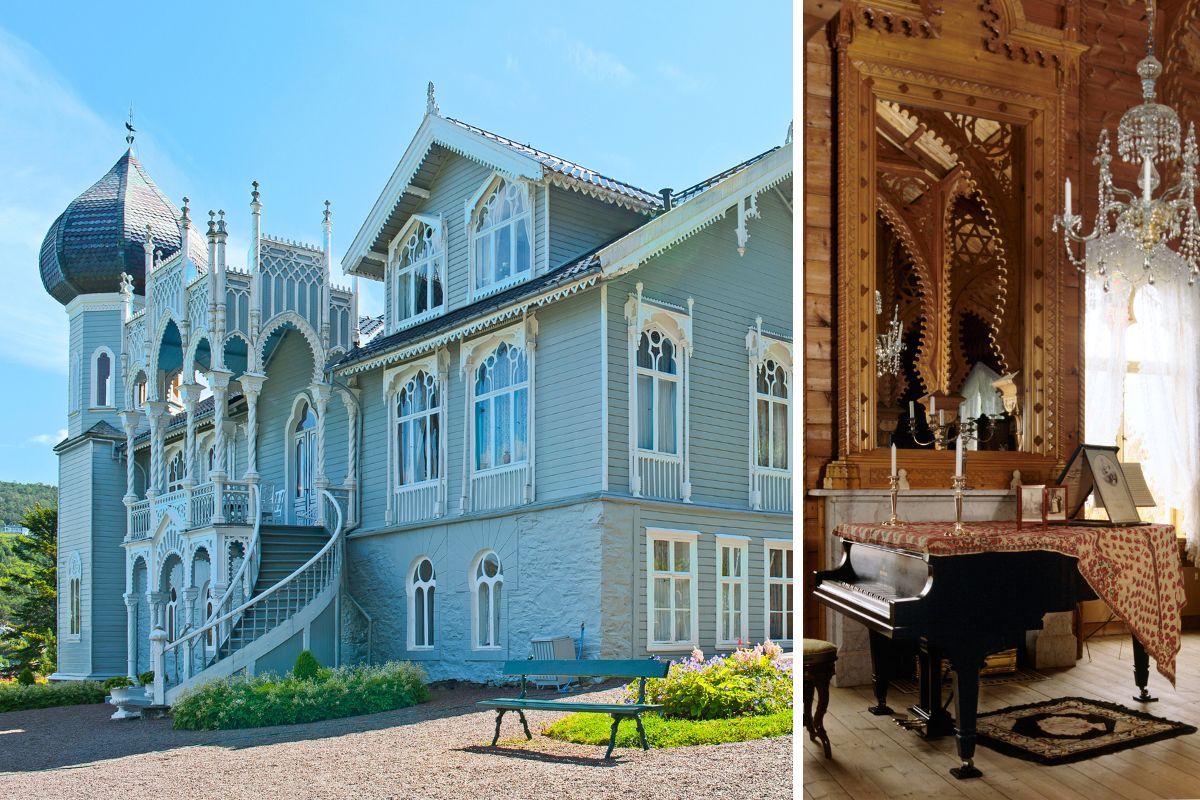 If you're doing a bit of island-hopping while you're here (and it's well worth the time, given all the neat little spots out on the water), you can't miss this lovely spot – after all, it's been charming locals since the late 1800s!
Unsurprisingly, outdoor recreation is the big draw here; you could easily spend a whole trip just trying out all of the different hiking trails.
But there's also a particularly interesting piece of architecture to explore here: a beautiful house that once belonged to one of the nation's most famous musicians.
Ole Bull was a master violinist and a dynamic personality, and his summer residence was often home to visiting creative types, bringing a bit of art and culture to the island.
Even after he passed away in 1880, the house – and the gorgeous grounds – remained, an ongoing testament to the area he loved so much.
Take a look at its beauty, then enjoy some of the greatest legacies he left behind: the charming pathways in the heart of nature!
34 – Take to the open air with an unforgettable helicopter tour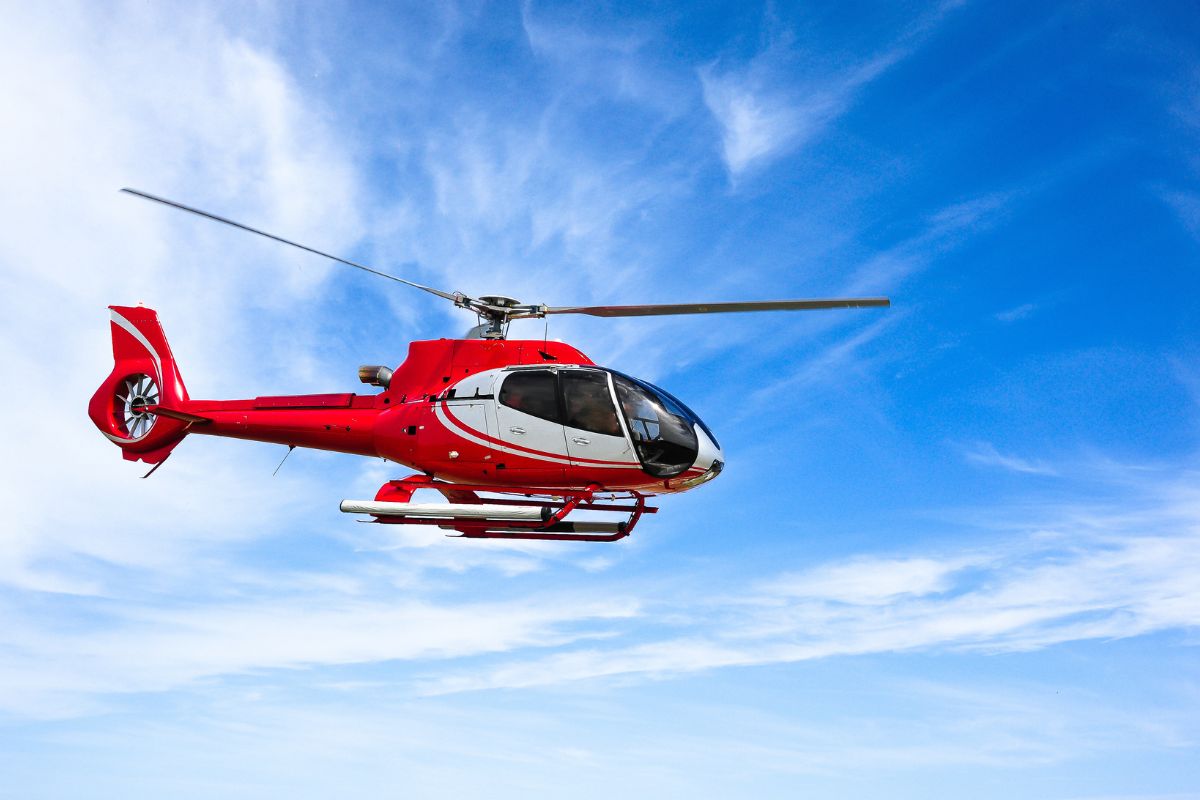 There's another great way to enjoy the world from up high… and you'll have your pick of scenery!
Helicopter tours show you just about every version of the Norwegian landscape, each vista more beautiful than the last; and while you're high enough to see it all, you're still low enough to enjoy the individual details!
Choose between the coast or the mountains (or both!), the shifting ice of glaciers, or the wonders of the fjords and rock formations spread out below you.
You'll even get a great glimpse of your host city, as you hover dizzyingly high above it!
35 – Go on an adventure to Trolltunga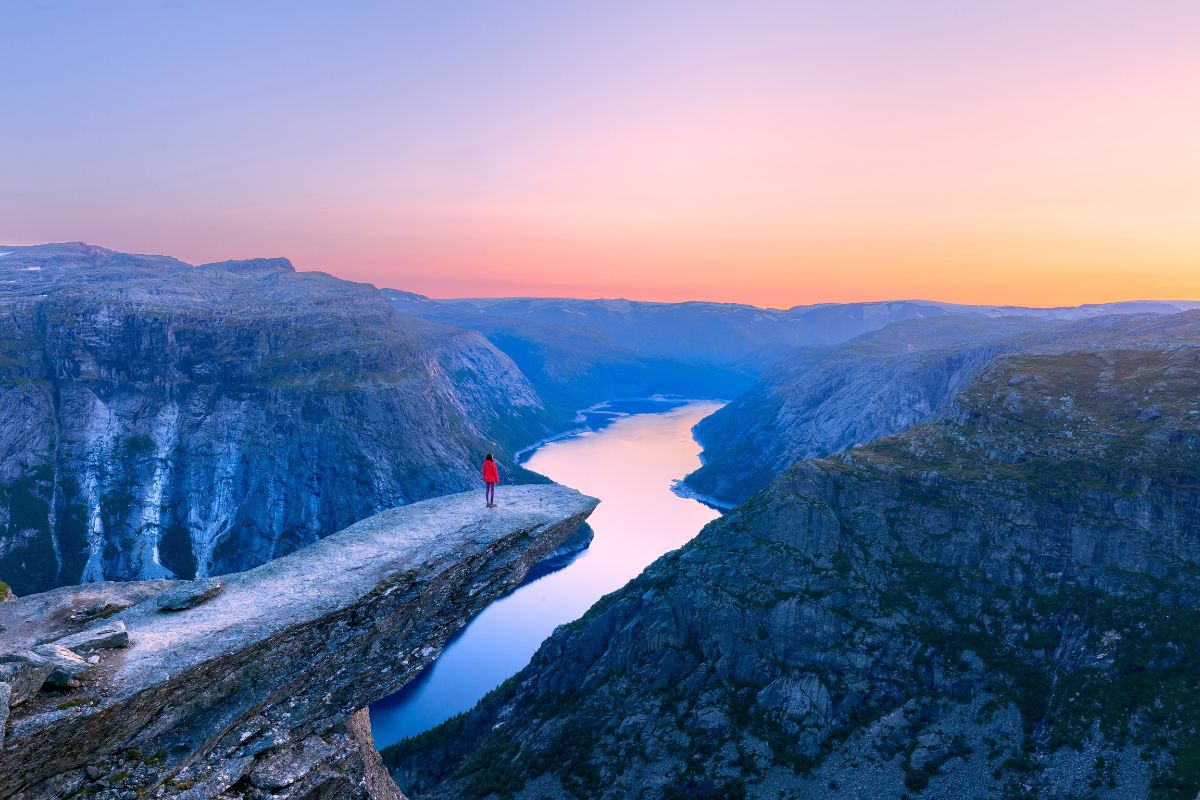 An epic hike, a dramatic stone formation jutting out into the open air, and views that feel too beautiful to be real… every part of the Trolltunga experience is entrancing!
One of the most beautiful rocks in the whole country – whose name delightfully translates to "Troll Tongue" -, it stands watch over Ringedalsvatnet Lake, with commanding views that are often the backdrop for photoshoots… and even a wedding or two!
Of course, great things take time, and this is certainly one of the most strenuous hikes in the region;  it's an all-day trek that runs 13.5 kilometers (8.4 miles) each way through continual elevation gain and strenuous paths.
But of course, you'll get serious bragging rights at the end – and those remarkable sights! There are also plenty of excellent Trolltunga tours when you're ready to really get a feel for the place!
36 – Give your tastebuds a holiday too at the best restaurants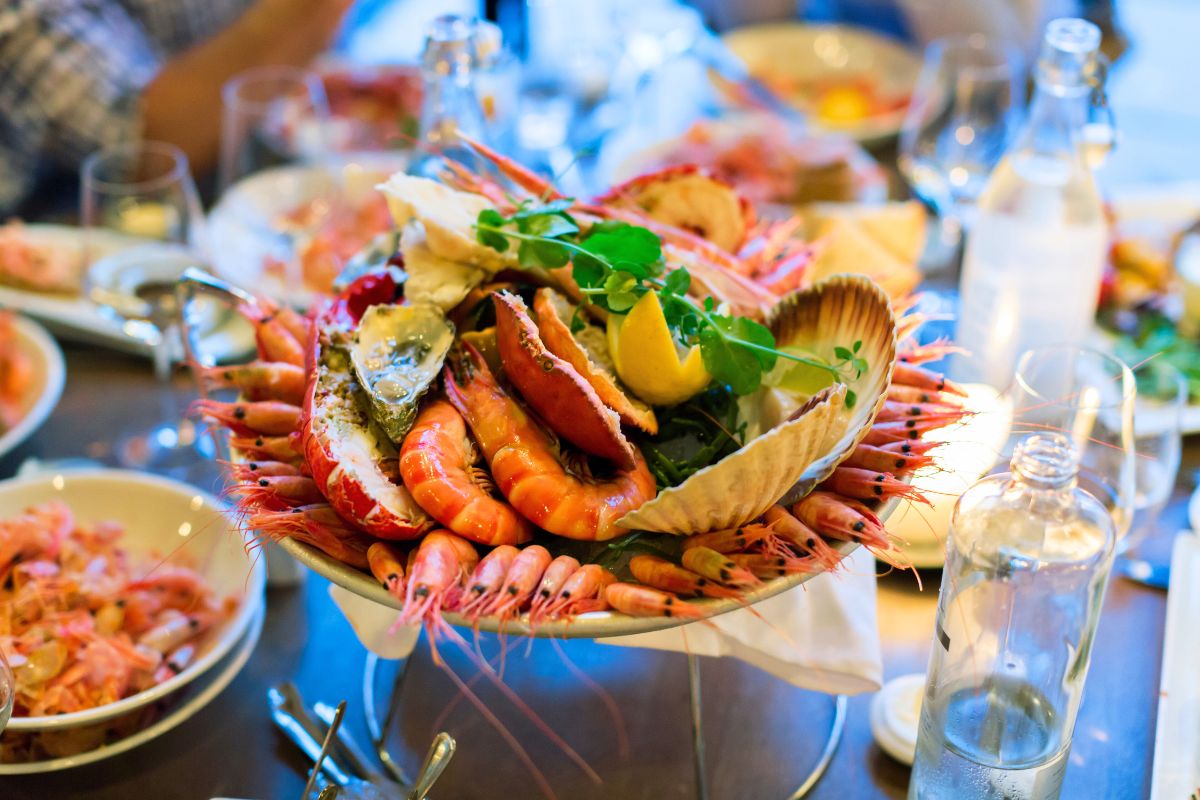 Eat your way through town in some more formal settings, where the ambience and the food go hand in hand – after all, this is a world-class food city!
With fresh ingredients and innovative presentation methods, each of these spots caters to a different culinary sensibility… and you'll have a great time sampling the results!
You can try the chic, globally-focused meals of Allmuen Bistro, or the ultra-fresh meals at 26 North Restaurant & Social Club, where all of the ingredients come straight from the lush environment… land and sea!
Tuck into some fresh Italian eats at Bien Centro, or enjoy decadent dishes like duck confit or wienerschnitzel at Bien Basar.
And if you're still jonesing for more seafood, grab a seat at Bernard Torghandel, where the finest shellfish and standard fish await you… with the ocean itself as the perfect backdrop!
37 – Indulge in a bit of holiday cheer at Pepperkakebyen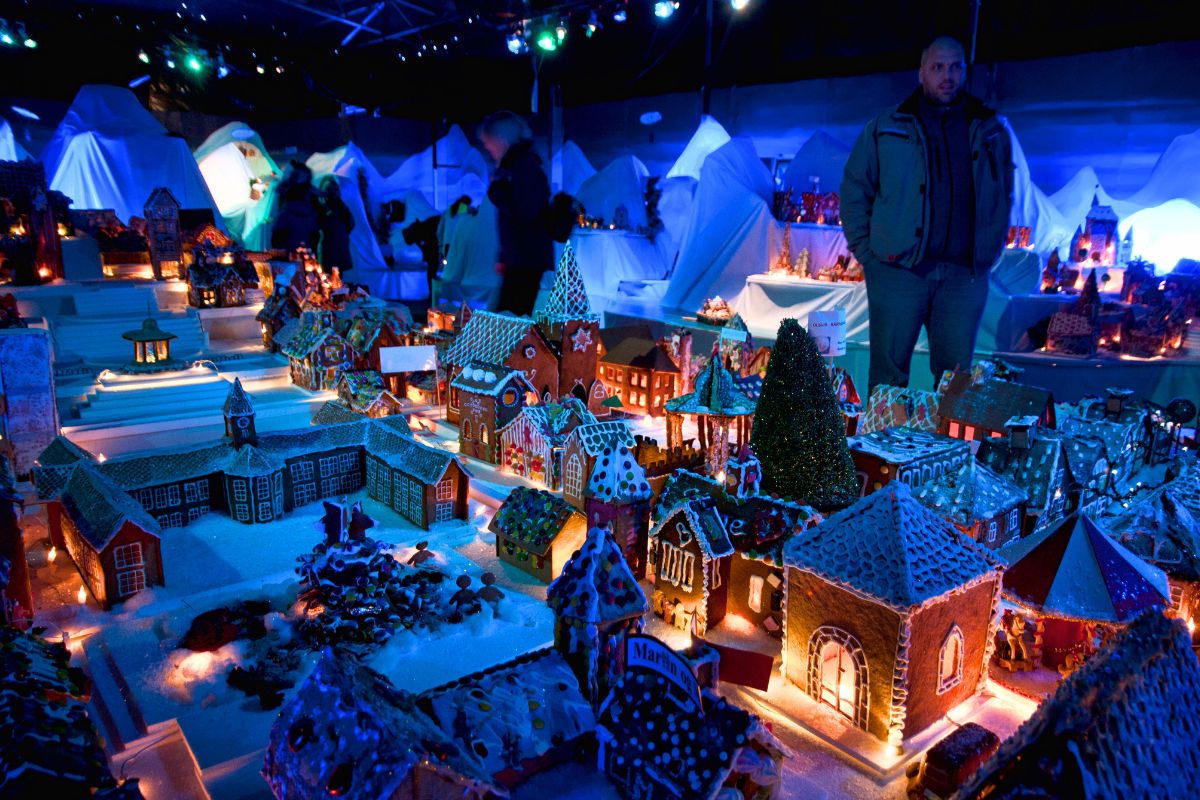 There are lots of lovely things to do in Bergen when the holidays roll around – but who could resist a record-breaking bit of Yuletide cheer?
Each year, the town comes together to create a detailed diorama of the city, complete with trains, boats, and little houses with charming streets running past them.
But here's the kicker: every inch of this little city is made entirely out of gingerbread!
In fact, this is the largest gingerbread city in the world, and a perfect place to celebrate the Yuletide – charming, creative, and oh so sweet!
How to get to Bergen?
Whether you're flying or sailing, there are plenty of convenient ways to reach town… and we can make it even easier!
You can fly straight to the city, then book some of the airport transfers in Bergen to get to and from town – no need to wait on taxis or buses!
And if you're traveling through the area on a cruise, there are also some fabulous shore excursions, where you can get out and explore all of the area's highlights, then hop right back on the vessel.
Where to stay in Bergen?
Bergen Børs Hotel spoils you rotten with its elaborate gym and upscale bar, and with a historic stock exchange building as its framework, you even get a little bit of history thrown in!
And if you want to focus on the sea, Radisson Blu Royal Hotel provides a colorful, charming residence right beside the wharf, plus its own restaurant and nightclub for all your dining and dancing needs!
Zander K Hotel combines stylistic flair with close proximity to some of the coolest places in town, including the aquarium and Bergen University… plus its own wine bar!
And at Citybox Bergen City, you'll be living your best cosmopolitan life; open the door and walk straight into the bustling heart of town, with Byparken, the Bergen Art Museum, and other treasures right in the neighborhood.
You can also live it up at Augustin Hotel, whether you're sipping some vino in the 400-year old wine cellar, enjoying the works by Norwegian artists decorating the walls, or puttering around the nearby fish market.
Visiting Bergen on a budget?
As we've established, you can explore this town by pretty much every mode of transit imaginable – and that includes your own two feet!
The free walking tours in Bergen make it easier than ever to get to know the town, from its iconic mountains and distinctive neighborhoods to its many industries and vibrant local culture.
And of course, you get the added bonus of hanging out with a local guide that knows all the ins and outs of the town, and can provide their own unique insights.
Be sure to bring some cash to tip them!
Where to go next?
From the big city to the charming hamlet, there are plenty of other Norwegian treasures to explore once you've wrapped up in Bergen… for now, at least!
Of course, Oslo is perfect for the full urban experience, home to vibrant museums, public art, and all of the music, theater, and fine drinking and dining options you'd expect from such a dynamic town.
Or get a real taste of the Arctic with a trip to Tromso, a charming little town where dog sleds, surreal cathedrals, and even a troll or two populate the scene.
And of course, there are tons of other places to visit in Scandinavia, from big cities to mountains, little towns to open wilderness … you'll quickly see why this region has become so beloved by visitors and residents in equal measure!
Final thoughts
If you like beauty and adventure, you'll always find things to do in Bergen – and of course, you'll get to know the city pretty well!
Because whether you're exploring its carefully preserved (or reconstructed) past or enjoying all of its contemporary charms, this is a place that is as much about culture and nature… and lucky you, you'll get to experience it all!