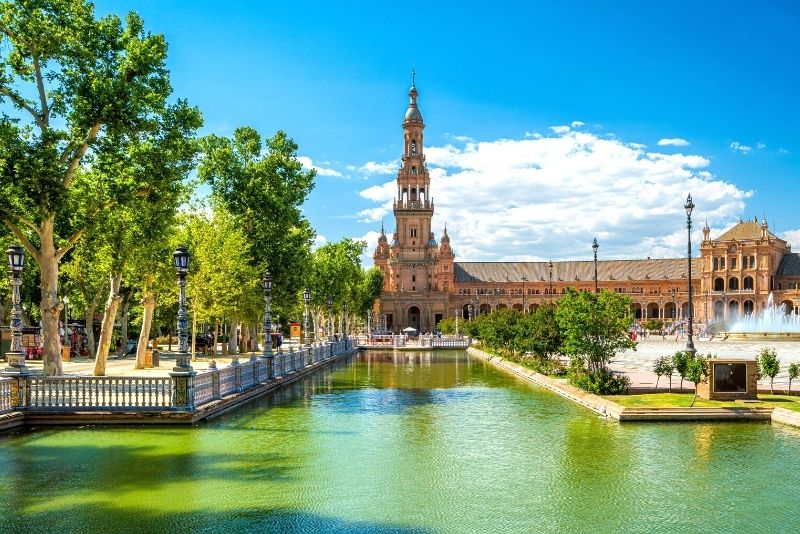 Rarely welcoming a day of rain, Seville is a sunkissed paradise that blends exotic culture with Andalusian flair. Stunning, sun-washed plazas and shady alcoves of orange trees line the streets alongside energetic courtyards filled with cafes, bars, historic buildings and performers, inviting tourists and locals alike to rejoice in an air of vibrant community.
Whether you're into sport (the football culture is mad), nature (check out the Caminito del Rey hiking trail), history, architecture, food, or prefer a party-centric vacation, the Pearl of Andalusia dishes up entertainment in spades.
Day trip to coastal towns nearby for a dollop of sunshine and salty air, or head north and visit tiny traditional villages where whitewashed homes dot the hillsides and ancient ruins are discoverable tenfold.
Grand palaces delight and dazzle and the cobbled streets, balconies dripping with flowers and hanging plants, and corners lit in fairy lights pull on all the heartstrings. There's simply no denying the romance dancing through the air — deeming it an idyllic spot for couples too.
As both the capital and largest city of awe-inspiring Andalusia, as you'll quickly realize, there's no shortage of wonderful things to do in Seville. So, without further ado, let's check them out!
Want to dive straight in? Browse our catalog now!
1 – Uncover the enchanted secrets of Real Alcázar of Seville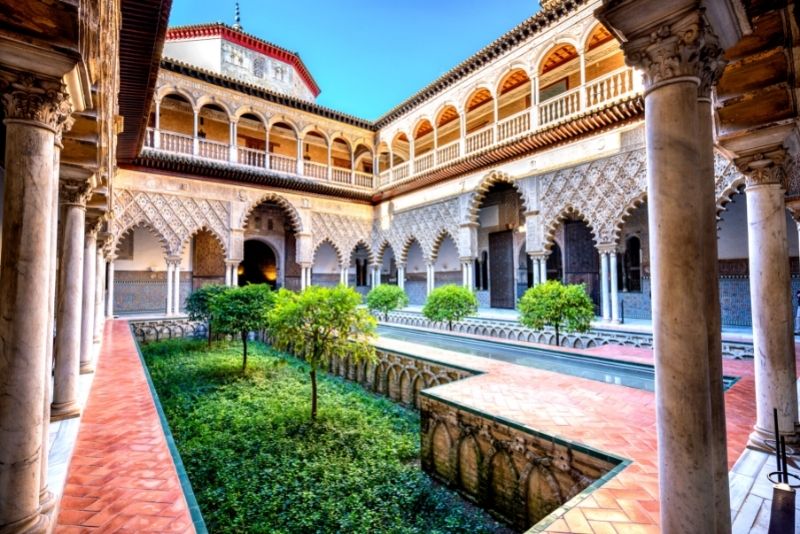 Arguably the most postcard landmark city-wide, this UNESCO World Heritage-listed stunning palace dates back to the early Middle Ages (circa 11th century), boasting a history rich in Moorish and Christian influences.
Despite its coveted past and being Europe's oldest palace in use, it's the Real Alcázar's undisputed beauty which draws in millions of visitors every year: after centuries worth of building and retouching, the landmark displays a melting pot of Muslim, Gothic, Renaissance, Baroque and Romantic style — still, though, it's its lush and immaculately decorated gardens which steal the show.
Don't forget to check Real Alcazar of Seville Tickets Prices.
2 – Explore the city on two wheels with a bike tour!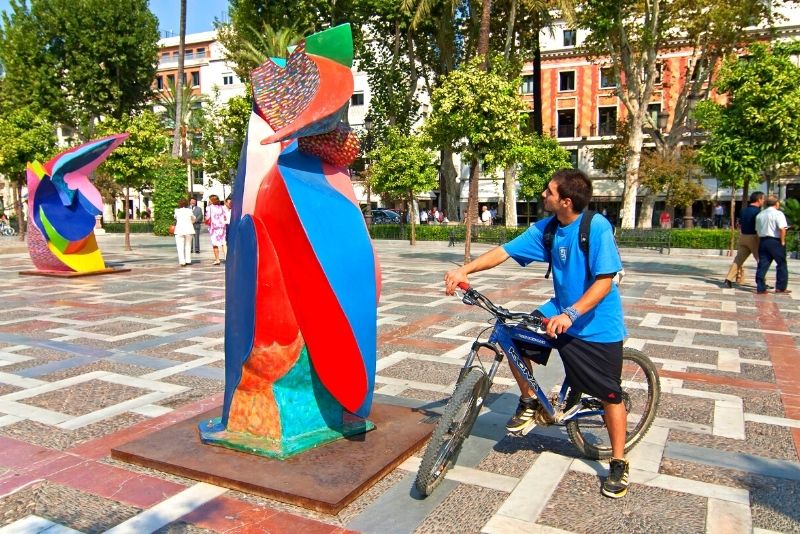 A wonderful way to escape the foot traffic, get off the beaten track, and explore the city's winding streets, bike tours are a fantastic way to discover Seville from a local's point of view.
With so many options available in terms of time, areas, and difficulty levels (as well as the option for traditional or electric bikes), it all comes down to personal preferences.
While each tour is a little different, most will scoot past must-see cultural and historic landmarks like the El Arenal neighborhood, Plaza de España and Seville Cathedral, with plenty to be learned along the way!
3 – Tour the postcard-worthy Seville Cathedral (& La Giralda)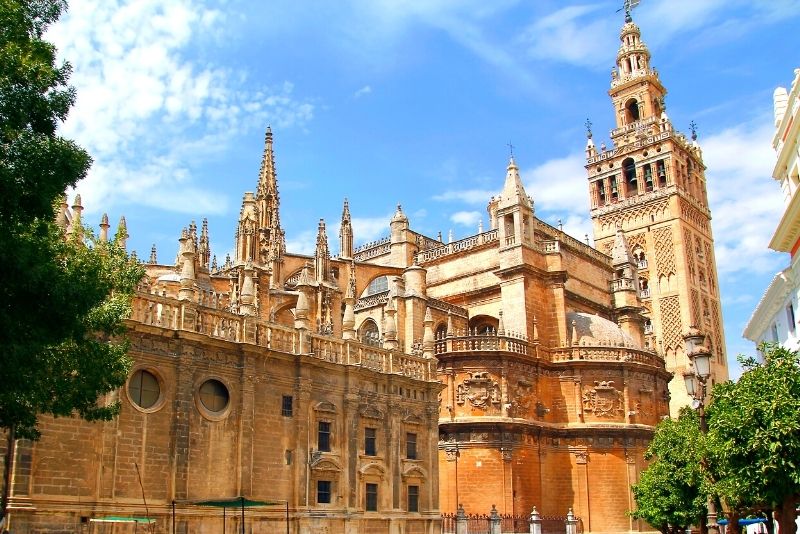 An undisputed Seville icon, the world's largest Gothic cathedral, and another UNESCO World Heritage Site, this wondrous landmark soars over 100 meters above the city streets and is steeped in a storied 500-plus-year-history.
Arguably its crown jewel, the Moorish style La Giralda bell tower, was originally built as a minaret for the adjacent Mosque, and now acts as an observation deck with panoramic views of Seville.
While you're there, don't miss the Tomb of Christopher Columbus, the resting place of the famed navigator.
4 – Snap a selfie at the Plaza de España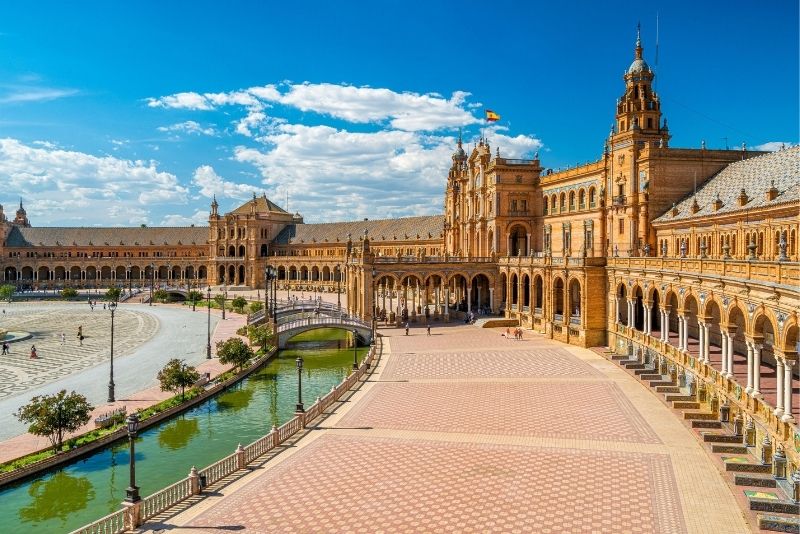 A postcard-worthy example of the grandeur and glory of Spanish architecture, Plaza de España is an over-the-top piece of opulence that stuns with each step.
Sitting inside the Parque de María Luisa and built for Seville's Iberoamerican Exposition in 1929 (and now a UNESCO World Heritage site), this fantastical square is teeming with ornate details, with a central canal that will no doubt catch your eye — and, on which, you can take a spin on a hired rowboat!
Take a seat at one of the many bars and cafes, join a walking tour, or simply spend an hour or two people watching — either way, it's one of the non-negotiable things to do in Seville.
5 – Check out the peculiar Metropol Parasol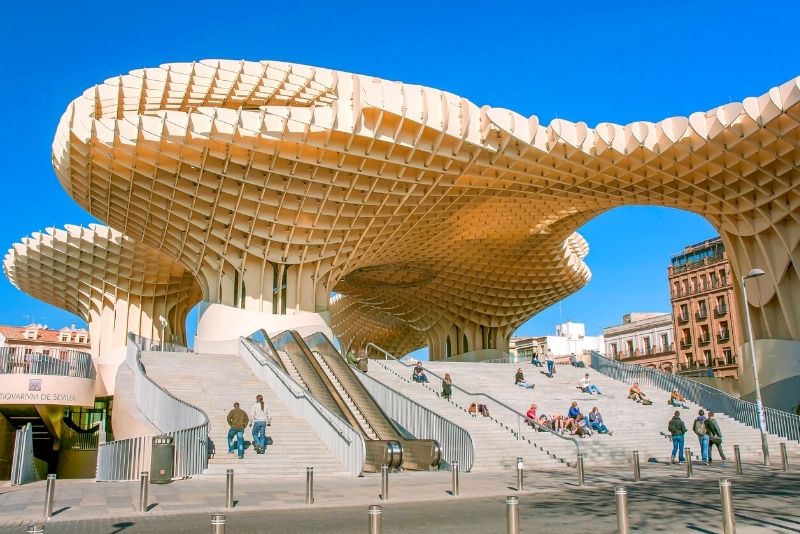 A massive, mushroom-shaped structure (well, six mushrooms, in fact) that sits right in the heart of Seville's old quarter, the Metropol Parasol (also referred to as the Setas de Sevilla) is a unique piece of architecture that since its construction in 2011 has quickly become one of the city's most photographed attractions.
Besides boasting the claim to fame of being the largest wooden structure in the world, the 22-meter-high landmark offers a special walkway and terrace called "El Mirador" on the upper level, as well as an esteemed tapas bar with panoramic views to boot.
6 – See it all with a hop-on hop-off bus!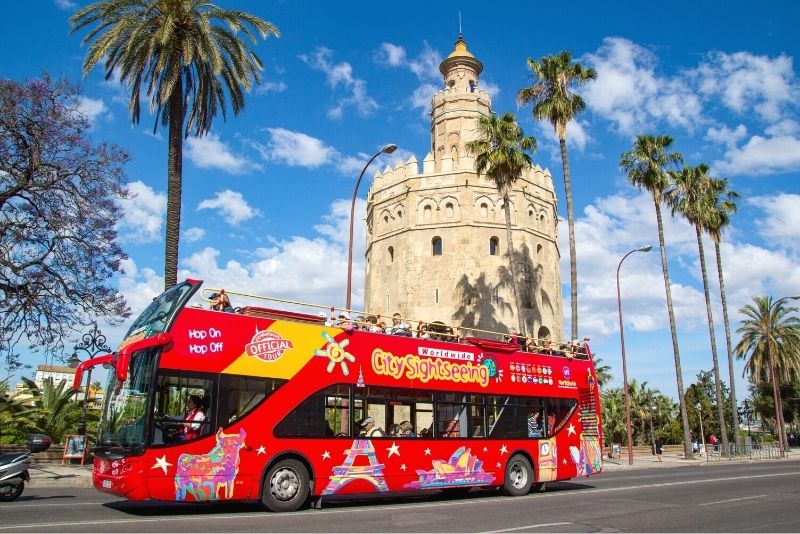 Short on time or can't be bothered walking between landmarks? Well, you're in luck! City-wide hop-on, hop-off bus tours are a great way to get your bearings and see the city at your own pace without having to plan a thing.
As you roam around the city on the open-aired, double-decker, big red busses, you'll pass by — and be able to stop at — notable landmarks and tourist hubs like the Tower of Gold, Plaza de España, Maria Luisa Park and Cathedral, just to name a few.
Plus, with an audio narration included, you're sure to learn a thing or two about the city with every stop along your route!
7 – Tantalize the tastebuds on a tapas food tour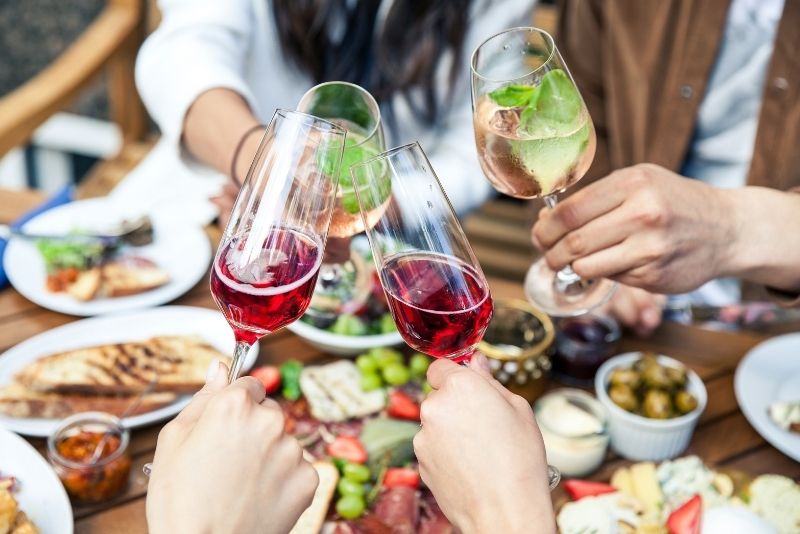 Foodies, listen up. Savor the sweet life in Seville with a dedicated gastronomy tour, where you'll be able to sample everything from traditional tapas and wine to classic Andalusian dishes that explode with flavor with every bite.
Take your pick between three-, four- or five-hour tours which will lead you through busy city streets, hidden alleyways, as well as local marketplaces, all while allowing for plenty of pit stops to taste your way through the local delicacies!
Depending on your including for a drink (or five), consider opting for a dedicated wine tour or wine tasting experience.
Hot tip: even if you don't sign up for a tour (you should), make sure to pop into El Rinconcillo, one of the region's oldest tapas bars where the atmosphere is constantly bubbling.
8 – Cruise down the Guadalquivir on a boat tour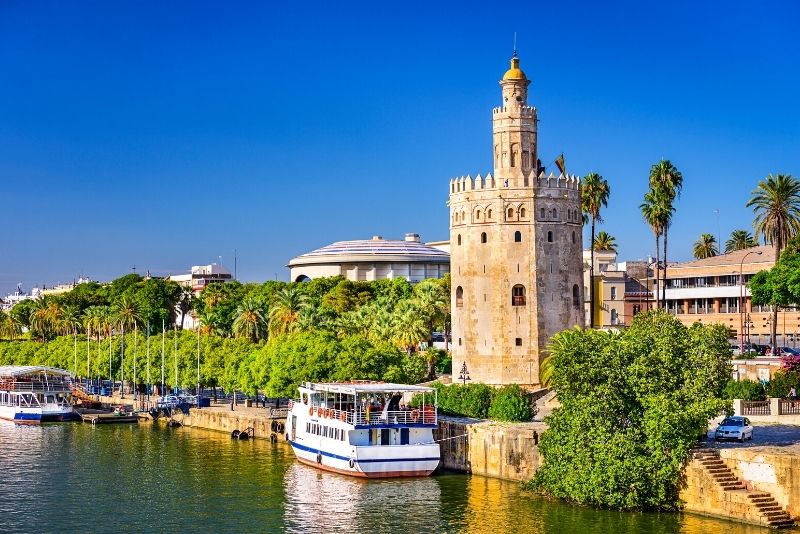 For a different perspective on Seville's historic and postcard-worthy riverfront, boats and cruises are a great way to get your bearings while you enjoy some fresh air and some of the best scenery in town.
Whether it's an afternoon lunch tour, romantic dinner cruise, high-octane party boat, or even your typical tourist boat, there are plenty of ways to explore Seville from the glistening Guadalquivir!
Want to explore the water but aren't in the mood for a giant boat? Consider renting a stand-up paddleboard or kayak instead!
9 – Enjoy the melodies during Candlelight concerts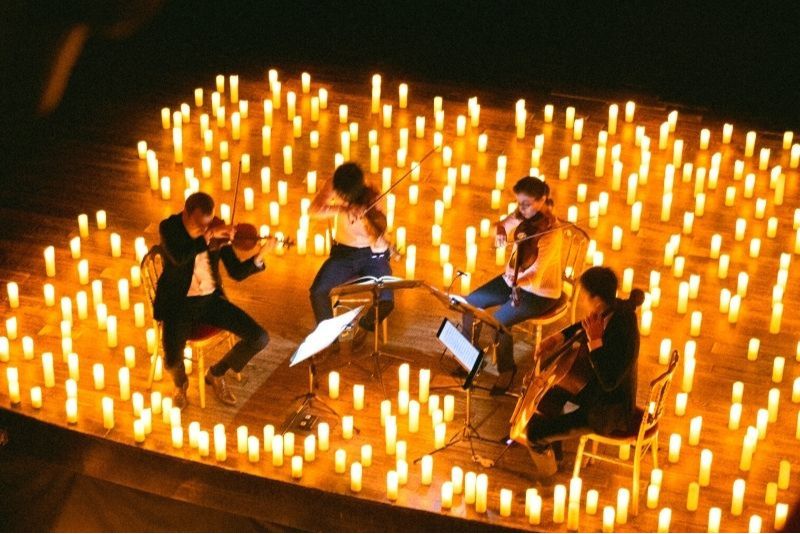 From a tribute to the Beatles to one's dedicated to Hans Zimmer, if you've never heard about candlelight concerts, it's best you perk up for this one — especially if traveling to Seville as a couple.
These remarkable concerts blow audiences away time and time again, and one can never quite believe their eyes … Entering a converted space flecked with hundreds of warm, glowing candles never fails to impress.
Another factor setting candlelight concerts apart is always the venue. Forget ordinary; revel in the sounds of Queen at Las Setas de Sevilla or a performance dedicated to composer/music producer Hans Zimmer's greatest hits at the Metropol Eventos.
Enjoy an evening of ballet and song at the Seville Aquarium during a 'Candlelight: Tchaikovsky, The Nutcracker and more' concert performed by a String Quintet and dancer.
These intimate spaces help add all the drama that musical geniuses require!
Sponsored placement
Explore Seville's mysteries at night
While Seville is breathtaking by day, exploring it at night is an entirely new experience!
On this guided walk, discover the fascinating history and mysteries of the city as you visit numerous prominent locations. Keep an eye out for any ghosts that may join you along the way…
10 – Marvel inside Iglesia Colegial del Divino Salvador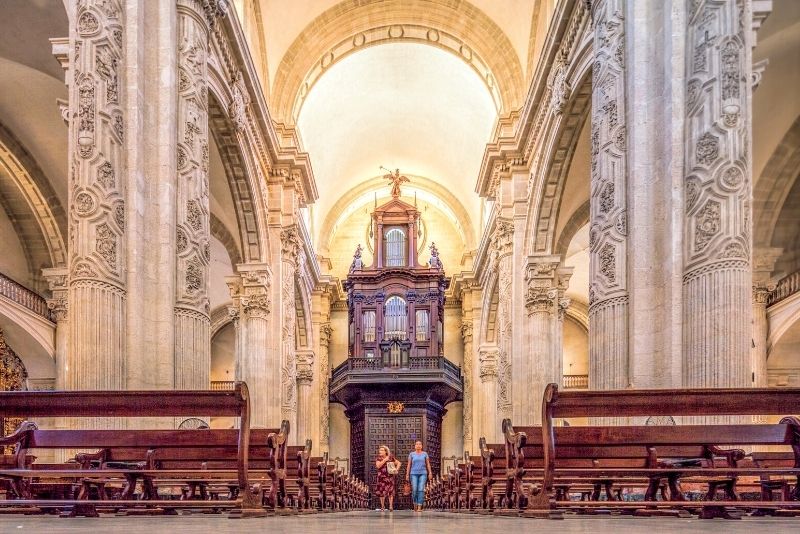 The most significant church in the city (after the Cathedral, of course), Iglesia Colegial del Divino Salvador (translating to the Church of the Divine Saviour) is a sight to behold for any architecture enthusiast.
Built at the turn of the 18th century, this wide-spanning church boasts towering columns and beautifully decorated ceilings that have been restored with painstaking attention to detail — well worth a visit if you're keen on checking out some of Seville's finest architectural gems.
If you'd like to venture inside, the church is open Tuesday to Saturday from 10:30 till 2:30, with youngsters under 15 granted free entry!
11 – Walk through the historic Santa Cruz district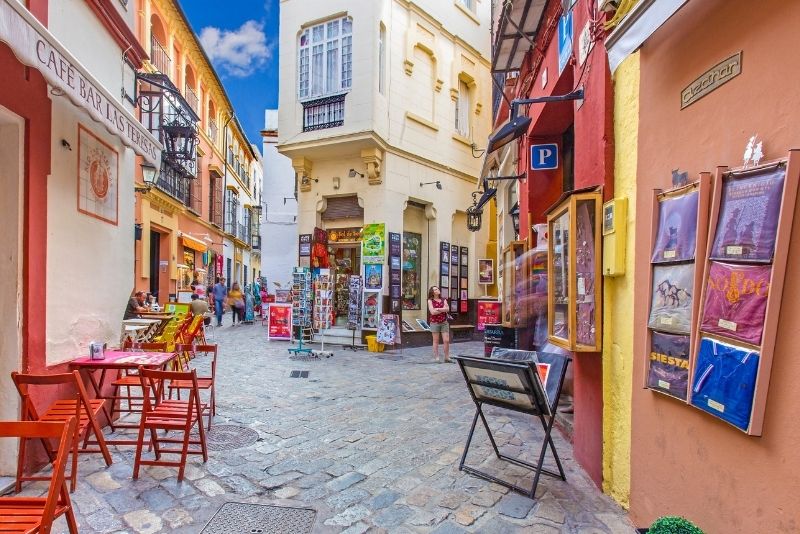 The famous, historic, and charming Jewish quarter of Seville, Santa Cruz is a labyrinth of narrow passages and quaint plazas just waiting to be explored.
Once home to the city's thriving Jewish community, Santa Cruz has retained its cultural heritage with an intriguing mix of synagogues, alleyways lined with bars and restaurants, and quirky pieces of street art.
The neighborhood, however, is much more than just a Jewish quarter; it's also home to some of the city's main shopping strips market and several important architectural gems — all of which are best appreciated under the tutelage of a local guide on a (free) walking tour!
12 – Whizz around town with a segway tour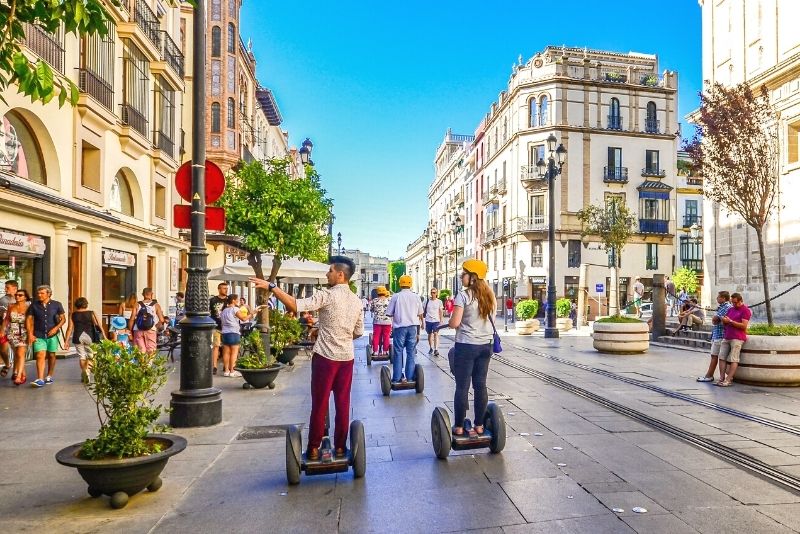 If you can't stand slow-paced walking tours and would rather get around the city at a faster pace, why not try an electric segway tour?
As you roll around on two wheels, led by an in-the-know local who'll wax lyrical about the city's history and culture, you'll be able to get a thorough feel for all of Seville's best sites.
Most of the time the tours take place around the city center, lasting roughly two hours with stops at some of its most iconic monuments along the way, including Plaza de Espana.
13 – Unveil the thrills of Isla Magica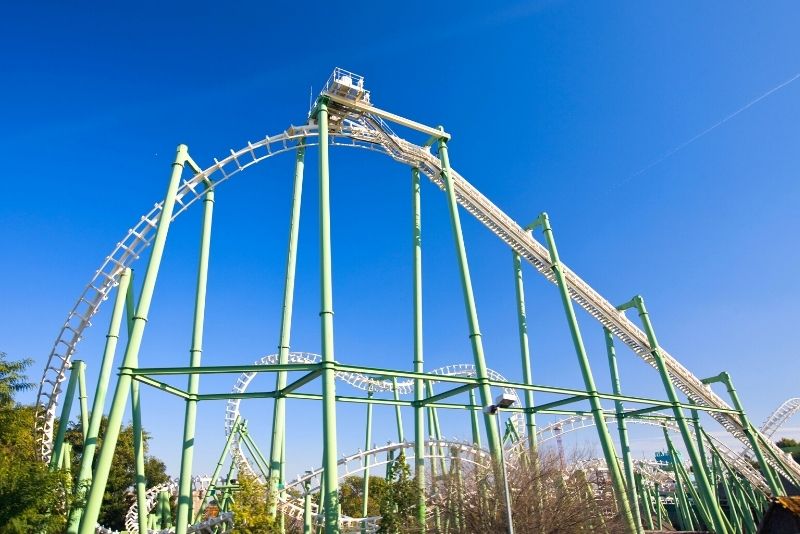 Found on Isla de La Cartuja, Seville's very own amusement park, Isla Magica provides fun in the sun for all ages, with heart-in-your-mouth roller coasters, family-friendly attractions, and dozens of live shows that the kids will love.
Thoughtfully laid out, the park is spread into themed zones, each with its own unique rides and attractions: ancient Sevilla, the Amazonía, and El Dorado, just to name a few.
Since the sizzling Seville sun rarely relents, the array of saturating water rides is a treat; meanwhile, the dizzying 765-meter-long Jaguar coaster is heaven on earth for adrenaline junkies.
14 – Take the kids to the Aquarium of Seville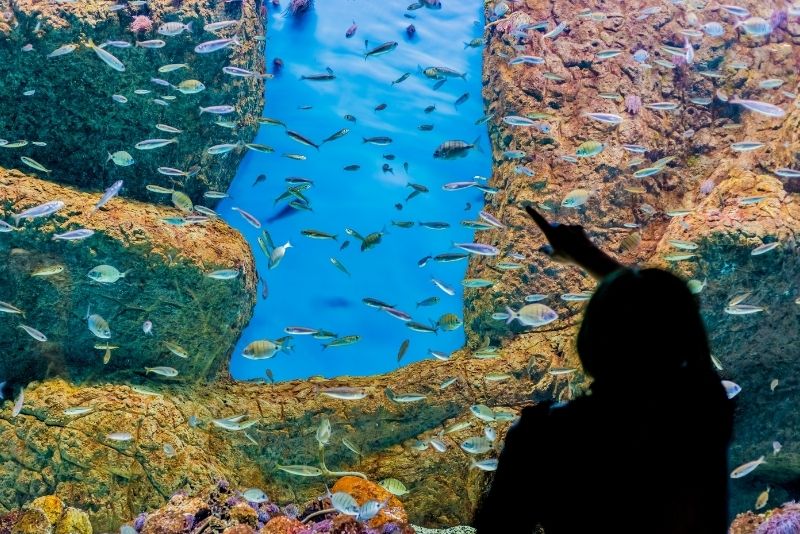 A fun-filled must for any family trip to Seville, the Aquarium of Seville is home to over 400 different species of colorful fish and sea creatures of all different shapes and sizes — over 7,000 all up!
While the 35+ different tanks each boast their own unique combination of creatures, it's bull shark-infested tunnel tank that steals the show!
Throw in regular live feedings, touch tanks, and educational workshops and talks, and you've got yourself one of the best family-friendly attractions in Seville.
Ocean warriors: the aquarium is involved in on-site and off-site conservation efforts, such as releasing Caretta turtles back into their natural habitats.
15 – Have a picnic in Maria Luisa Park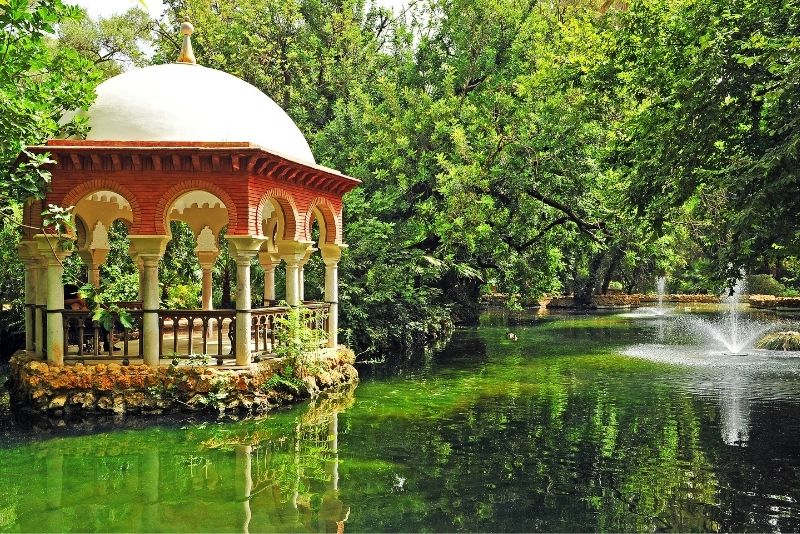 This expansive green space is the perfect place to relax as you take in Seville's fresh air and soak up some Andalucian sun. Open to the public for over 100 years, the area welcomes families to spend their weekends picnicking on grassy knolls or cycling around its 100 acres.
Far more than just a lawn though, the Maria Luisa Park's gardens are home to an impressive selection of fountains, sculptures and architectural pieces that'll fascinate even the most seasoned traveler, with the enormous Plaza de Espana building on one side and Guadalquivir River on the other.
16 – From mountains to tea trails; go hiking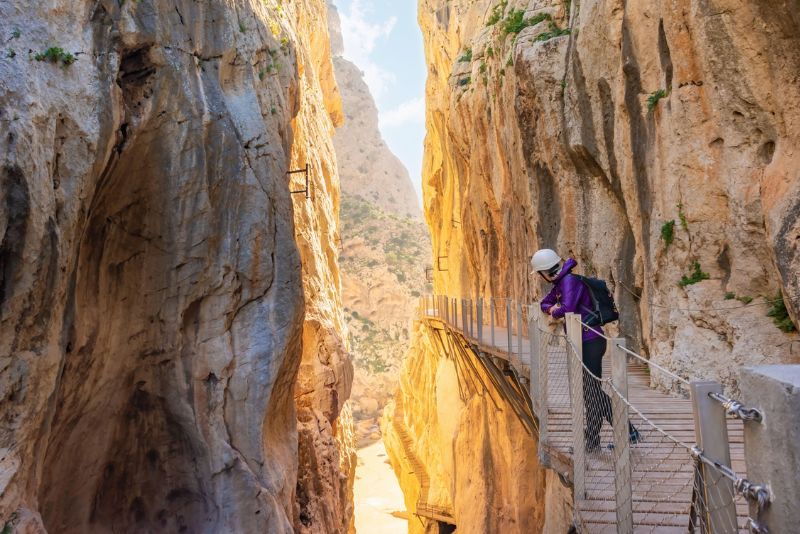 While hiking the popular Caminito del Rey path is well-favored by travelers, there are plenty more hiking routes in the Seville surroundings (such as around Sierra de Aracena, Grazalema, Sierra de las Nieves or Doñana) — so you're really spoiled for choice.
For example, trek to the Grotto of Wonders and become better acquainted with Aracena town (a great option for all levels).
An unusual and interesting route is via the Old Mines of Guadalcanal, clocking in a four-hour hike. Also here is a popular Tea Hiking Trail that is roughly two hours long and is suitable for adults only.
Hiking through Cazalla de la Sierra by the foothills of the Sierra Norte de Sevilla spans one hour, or there are extensive four-day hikes to Alpujarra and Trevelez Valley, even specialized themed hiking options for children.
17 – Stop by the General Archive of the Indies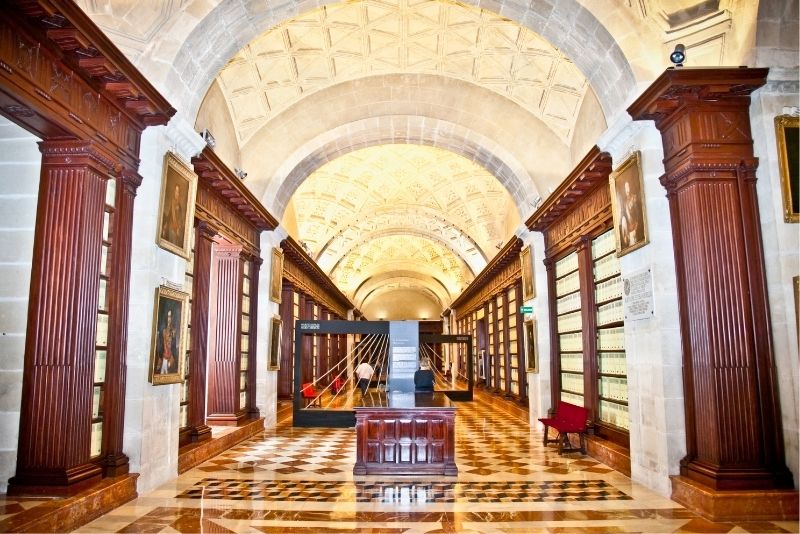 As you can probably guess from the name, General Archive of the Indies is a place full of records and documents — all kinds of insights into Seville and Spain's fascinating past.
The building itself — famous for its sprawling courtyard — dates back to the turn of the 17th century, while its contents total 43,000 volumes and some 80 million pages spanning administrative documents from the 16th to 19th centuries.
These are categorized for ease of navigation, covering topics such as maps and plans, patronage, accountancy, government, Chamber Clerk's Office and titles from Castile.
Did you know that the Spanish Indies refers to when Spain colonized other countries, from the Caribbean to the Philippine Islands?
18 – Feel the energy at the Plaza de Toros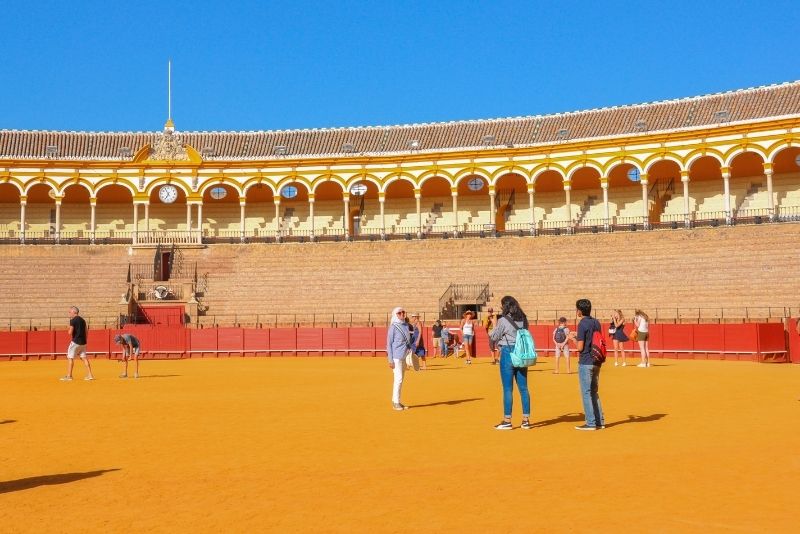 One of the most iconic sights in Seville, it's well worth taking a tour to explore the intricacies and hidden details that make up Plaza de Toros — the bullfighting equivalent of soccer's Old Trafford.
Built in 1881, this 12,000-capacity neoclassical structure is rife with historic detail — from Roman-inspired architectural elements to stunning Moorish-influenced carvings and sculptures.
The plaza has been awarded UNESCO World Heritage status, making it one of the most important landmarks in Seville to see on a tour, especially during the annual Seville Fair.
19 – Spend a day (in a jeep) at the Doñana National Park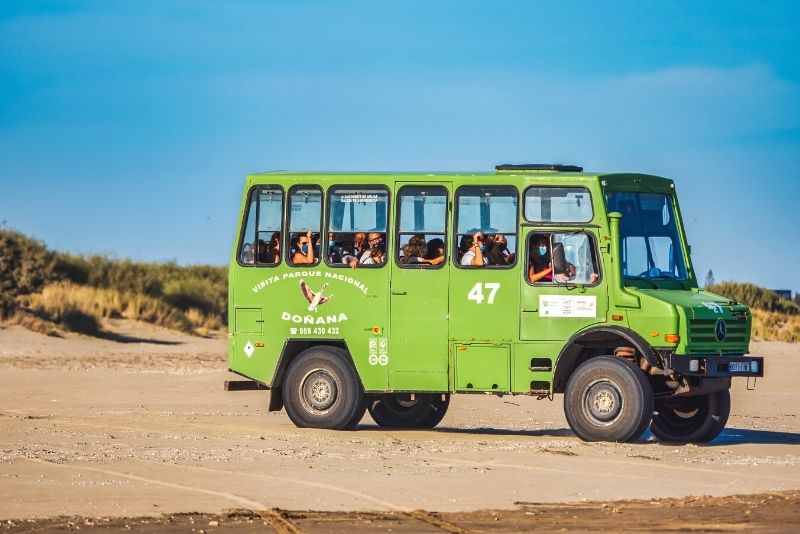 The Spanish countryside is a must-see when in Andalusia, and visiting nearby Doñana National Park — one of the most diverse wildlife habitats on earth — is the perfect way to explore it.
This UNESCO World Heritage Center (yes, another one!) boasts dozens of different types of mammals, birds, and fauna throughout its wetlands. You might come across flamingos, wild horses, big cats, and more as you explore the natural beauty of its lush forests or one of its many trails.
With a range of pre-organized options to choose from that take the hassle out of arranging a day trip — such as jeep tours, hiking trips, and village-hopping excursions — there's something for every kind of traveler.
En route to visiting the park, make a stop at El Rocio village just before entering, or on the way back. Pull over for an extra authentic Andalusian bite to eat, and then explore the tiny town steeped in tradition.
Read more about the best day trips from Seville.
20 – Meet the animals at MundoPark Zoo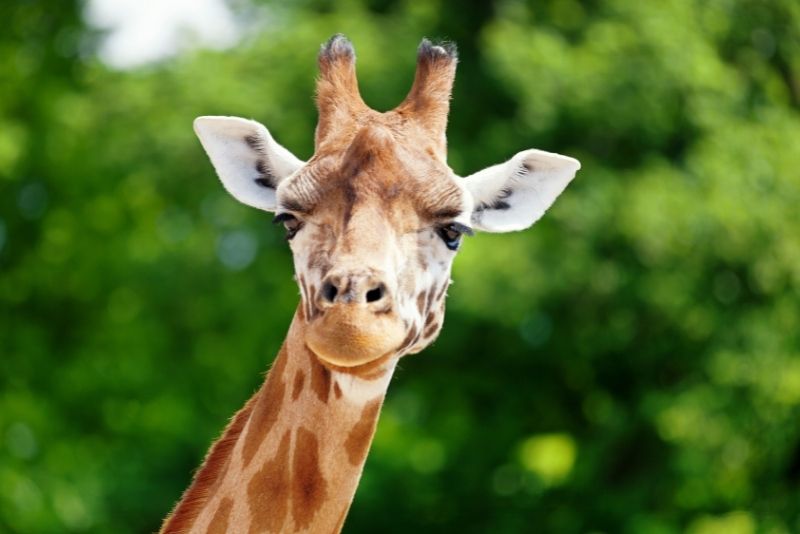 Always a popular choice with vacationing families, MundoPark Zoo is a great way to get up close and personal with all the animals you'd normally only see on TV.
A fun day out for kids of any age, this zoo has plenty going on year-round; from live feedings to special events and shows, and, of course, more than 200 different species to check out (don't miss the white lions).
Thanks to its secluded location about 30 minutes from the city, you'll also get to appreciate the Spanish countryside along the way!
21 – Crack clues and conquer the city on a scavanger game adventure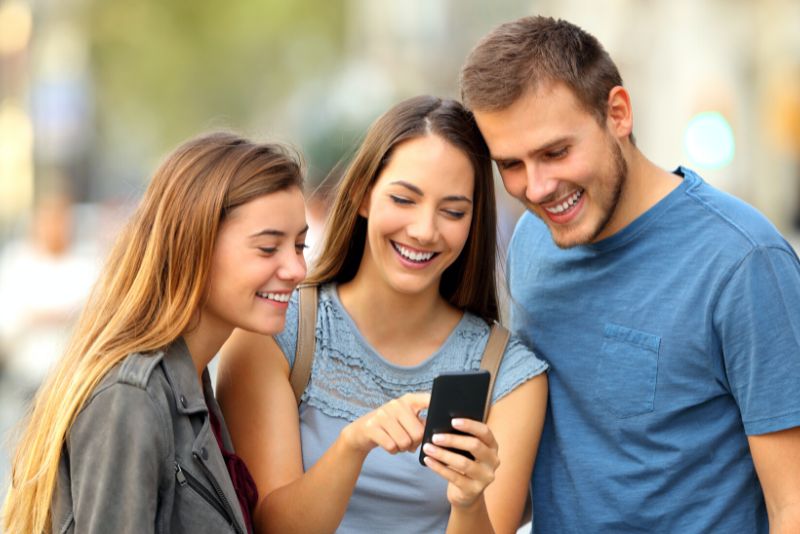 Are you traveling with a group of friends or family and searching for a unique day venture different from the usual options? If you've never heard of a city scavenger game (think of it like a cross between an outdoor escape room and the Amazing Race), this could be exactly what you're looking for!
Affordable and fun, all that's required is a two-person group minimum, a smartphone and your thinking caps.
Playing at your own pace, you'll be given a bunch of clues (accessible through an app), which need solving. Each clue you'll find at designated spots around the city — that also happen to be quintessential sightseeing locations or monuments.
Cracking riddles one by one, move from one landmark (like the Real Alcázar, Glorieta de San Diego and Plaza del Cabildo) to the next, until you eventually finish the game.
22 – Adventure to hard-to-reach places on a buggy tour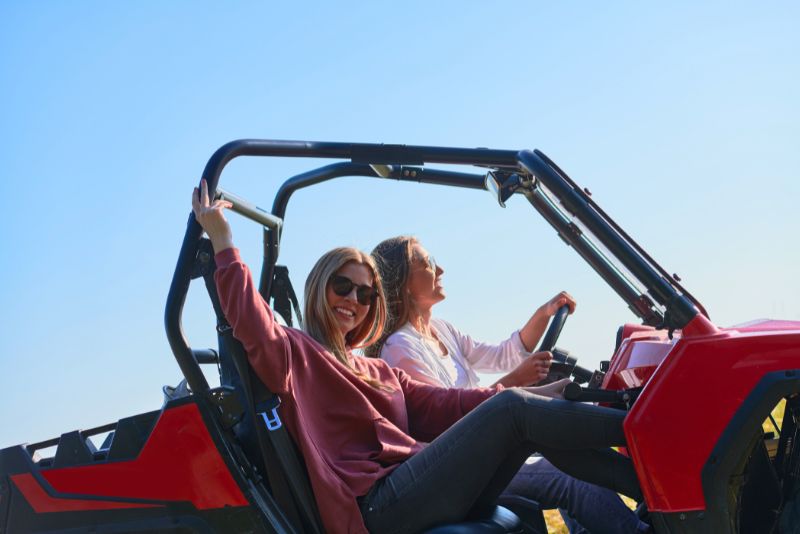 Looking for fun and exciting things to do in Seville for families, couples or a group of you and your best mates? A buggy tour is a sure way to go, cruising through the province of Seville.
Departing from either wild and rugged El Ronquillo or the town of Las Pajanosas, hop into your open-air two-seater buggy, and off you go!
There's the option for you to take control of the wheel in some parts, or simply relax and enjoy the ride!
These exhilarating adventures range from three to five-hour stints, or for something extra special, cross countries with a three-day buggy tour through Morocco!
23 – Take a journey through time in Carmona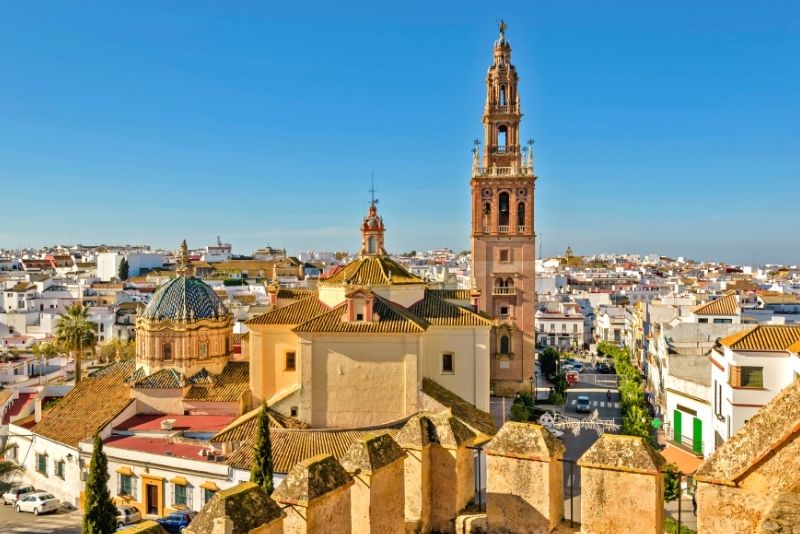 Historic and beautiful, Carmona is an ancient town perched atop a dramatic ridge, found about 33 km northeast of Seville — an easy day trip option.
As one of the oldest towns in Europe, it boasts a wide selection of centuries-old landmarks: don't miss the Necropolis, said to date back to the 1st and 2nd centuries, as well as the Alcazar de la Puerta Nueva de Sevilla, a towering fortress gate that separates the new and old sections of the city.
Like most European cities, Carmona dazzles with its public squares. One of the busiest is Plaza del Mercado, smack bang in the town center. Vendors set up selling fresh produce and even flamenco costumes!
It's a quick 30-minute drive from Seville to Carmona.
24 – Get your art fix at the Museo de Bellas Artes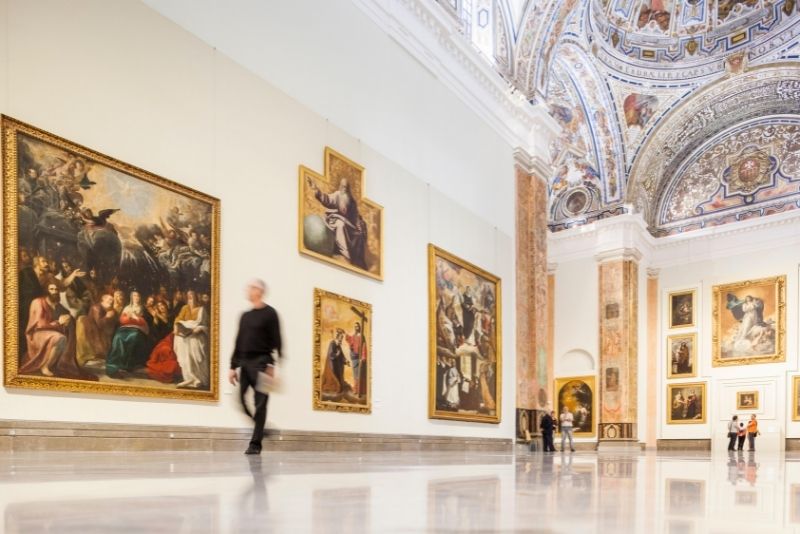 One for the art lovers, the Museo de Bellas Artes (or Fine Arts Museum) showcases a huge display of (mostly) Spanish art, spanning the medieval era all the way up to the early 20th century.
Even the building itself is a work of art; you'll find the expansive collection spread across two stories in a 17th-century palace.
Hot tip: for an in-depth look at the stories behind the pieces, consider booking a guided tour led by an art expert.
25 – Visit Plaza del Cabildo by day (and again by night)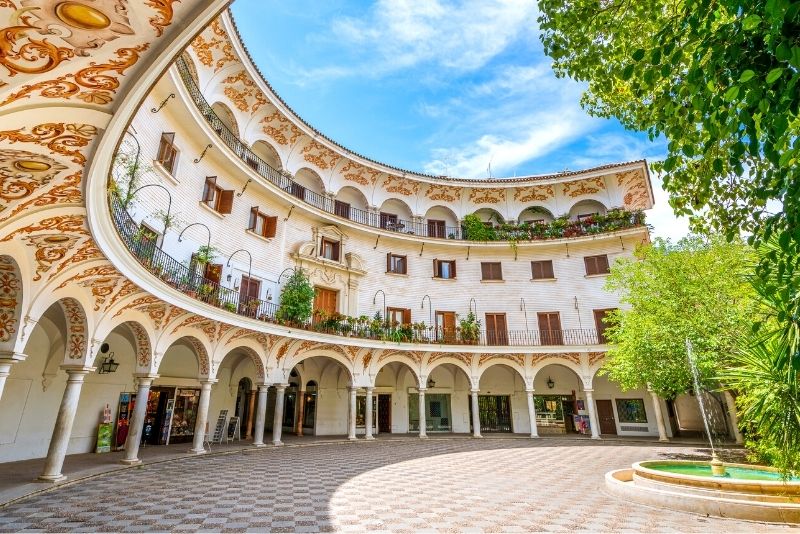 Located in the heart of Seville's historic city center in the Arenal neighborhood, right next to the famed Cathedral, Plaza del Cabildo is one of Spain's largest squares — albeit, not technically square, rather semicircular.
As well as being a popular spot for locals to meet and relax with friends or family, this plaza also plays an important part in Seville history (which you can hear all about on downtown walking tours) and plays host to an array of lip-smacking restaurants and quirky souvenir shops.
Hot tip: make sure to visit at night, when the area's magically lit up and the locals come out to play.
26 – Join a horse-drawn carriage tour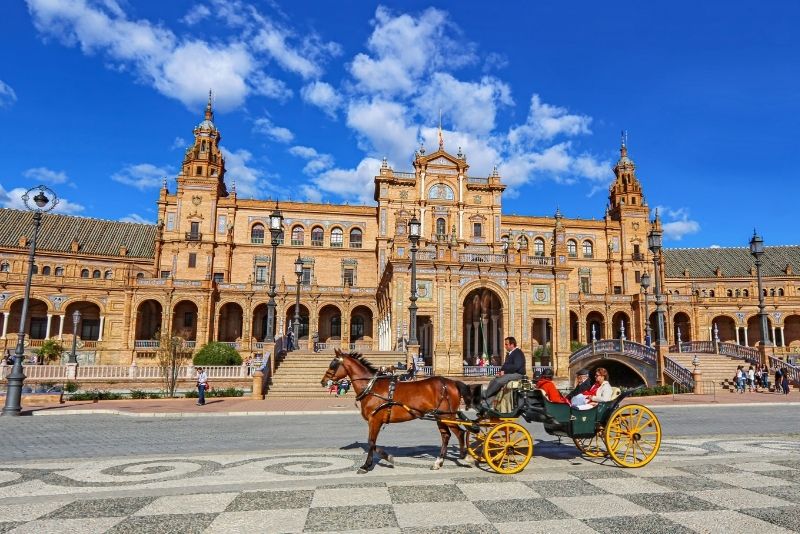 Picture this: you're sitting alongside a friendly local, as he or she takes you around Seville's most iconic sites, authentic old-school style.
As the horse-drawn carriage weaves through narrow streets and past hidden corners of the city, your guide will point out all sorts of fascinating details about both the city and its people.
It's a perfect way to get your bearings in the city, as well as learn more about Andalucian culture from someone who knows it best!
27 – Take home new recipes and skills after cooking classes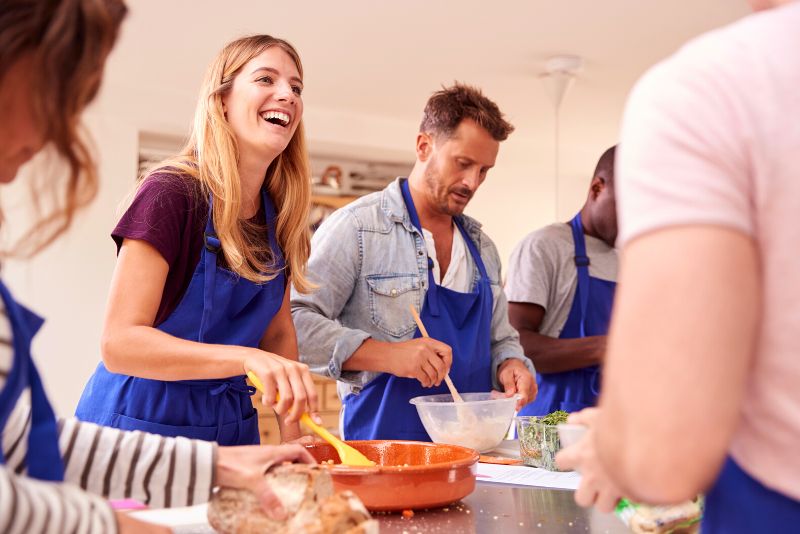 If you've fallen in love with the flavors of the Andalusia region, learn how to recreate some of your favorite dishes with recipes to keep forever during cooking classes in the capital of these parts!
Ranging from two to four-hour stints, there are a bunch of different food-centric lessons to try your hand at.
For the basic cooks, learn how to make Spain's staple dish; paella, on a rooftop terrace, or for novice foodies, you might want to consider a lesson at a cooking school inside the Triana Market.
During the workshop prepare dishes like Salmorejo and Huevos a la Flamenca. Shop for all your ingredients to use at the market prior. There are other culinary experiences that offer cooking classes inside a professional setup, with a trained chef leading the way.
Choose private classes at a local's home for a relaxed and inviting environment. Make two to three dishes, accompanied by (glasses) of wine, and enjoy the fruits of your labor together afterward.
Once your Seville trip is done, serve up an Andalusian feast for friends and family back home.
28 – Swinging from tree to tree, get your monkey business on and go zip lining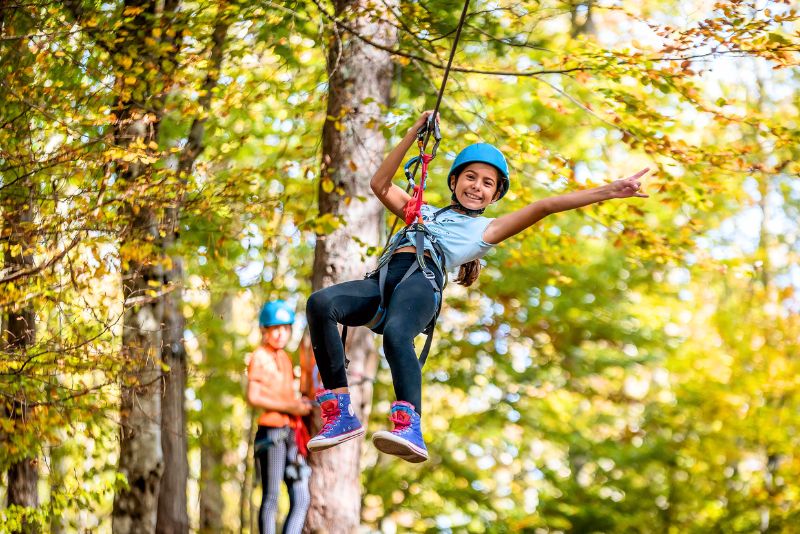 As the wind breezes through your hair, birds flutter by and the adrenaline overtakes your body as you're suspended mid-air, revel in the 150-meter-long glide when zip lining through the forest.
It's set up inside the verdant Ribera del Hueznar (forming part of the Sierra Norte Natural Park, also known as Cazalla de la Sierra), and it takes over one hour to get here. Still, it's completely away from the city bustle, so you really get to appreciate Mother Nature and the Andalusian landscapes.
Or, in the opposite direction, there are zip-lining courses in Bollullos (also just under one hour away). Make the most of your time here and join in some of the other adventurous outdoor activities, such as archery or even paintball!
29 – Golden views and naval history: explore Seville's Torre del Oro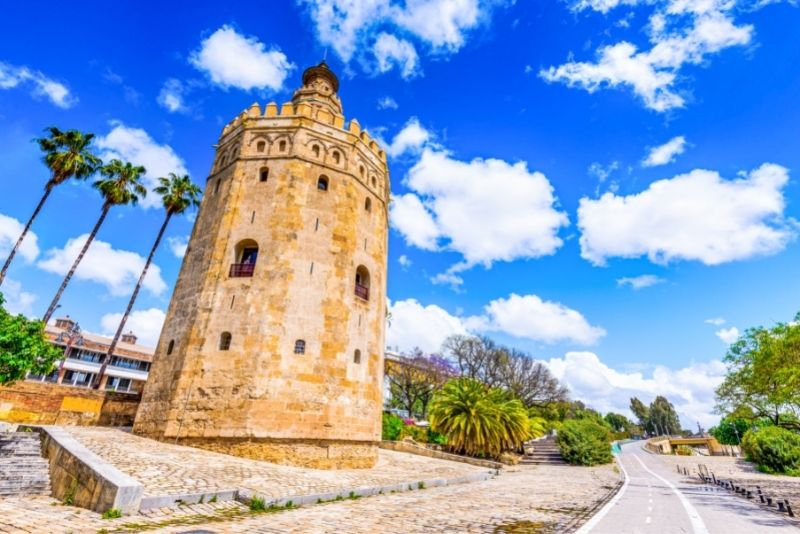 Translating to "The Tower of Gold," Torre del Oro is a military watchtower that sits on the shore of the Guadalquivir River right next to the Real Maestranza bullring, dishing up gorgeous views over Seville from its viewing deck.
Sure, it towers some 36 meters high, but with a rich history dating back to the 13th century, it's as much about the past as it is the present.
And, to top it all off, you'll find a small yet fascinating naval museum inside its walls.
30 – Head to Cádiz and Jerez on a day trip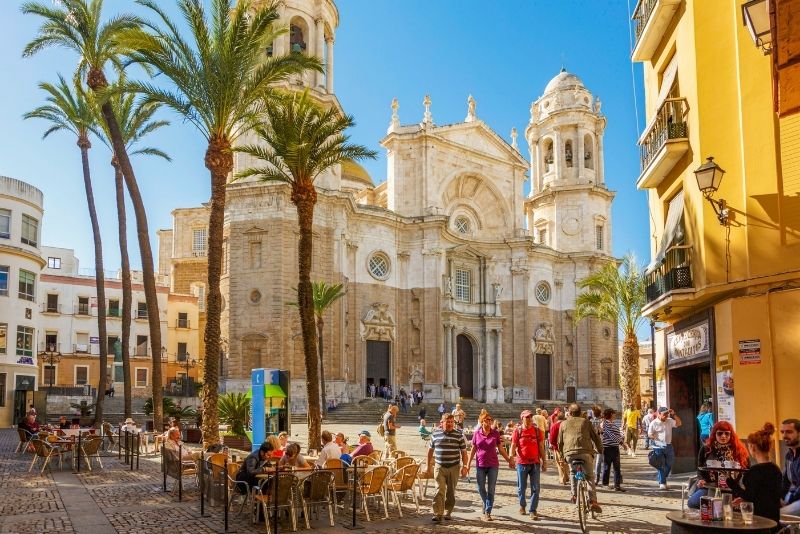 Two of the most popular day trips from Seville, Cádiz and Jerez each have a lot to offer — whether it's flamenco or sherry!
A lively university town with a wealth of history and culture, the ancient port city of Cádiz is perhaps best known for its flamenco heritage and base of the Spanish Navy; while Jerez de la Frontera (home to the famous sherry bodegas) surrounds a stunning 11th-century Moorish fortress.
While both are worthy destinations in their own right, thanks to their proximity, a combination day tour is typically the best bang-for-buck!
Already here, why not enjoy the road less traveled and try out exciting quad tours in Cádiz? The Vía Verde de la Sierra is very popular for it.
31 – Go kayaking down the Guadalquivir River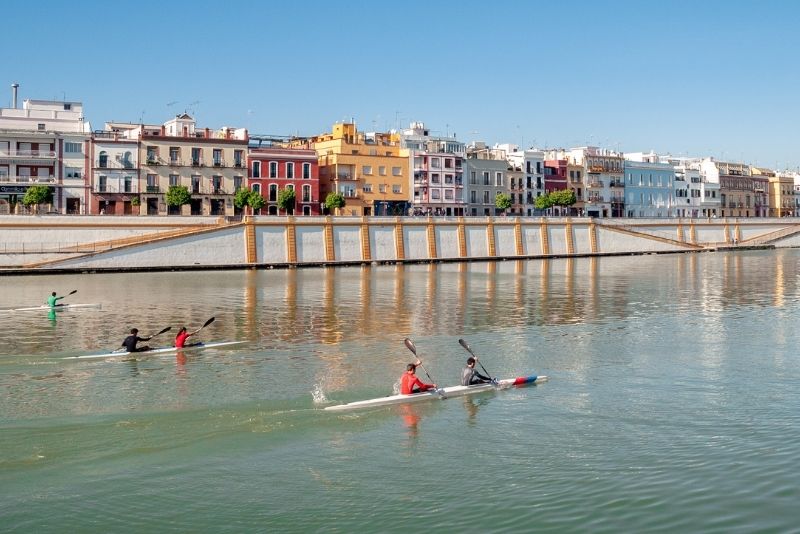 A wonderful spend of sightseeing, relaxation and exercise, kayaking is a brilliant way to see Seville when the sun's shining (which, let's be honest, is basically all the time).
A tour of the Guadalquivir river or a ride along one of Seville's canals will show you an almost entirely different side to this vibrant and historic city, with plenty to be learned from knowledgeable local guides along the way.
Prefer to go at your own pace? Kayak rentals are available too at various spots along the river.
For outdoor enthusiasts, kayaking isn't the only option … Choose to go SUPing (stand-up paddleboarding) on the river instead. There are paddle surf lessons available proceeded by action time or choose to SUP at sunset hour (amazing).
If you'd rather stay seated for your expedition, there are canoeing options too — anyone who is skilled in the area will tell you that there IS a difference between kayaking and canoeing! Enjoy a two-hour canoe tour on the Guadalquivir, or pick a different destination.
32 – Soar 1500 feet above the city in a hot air balloon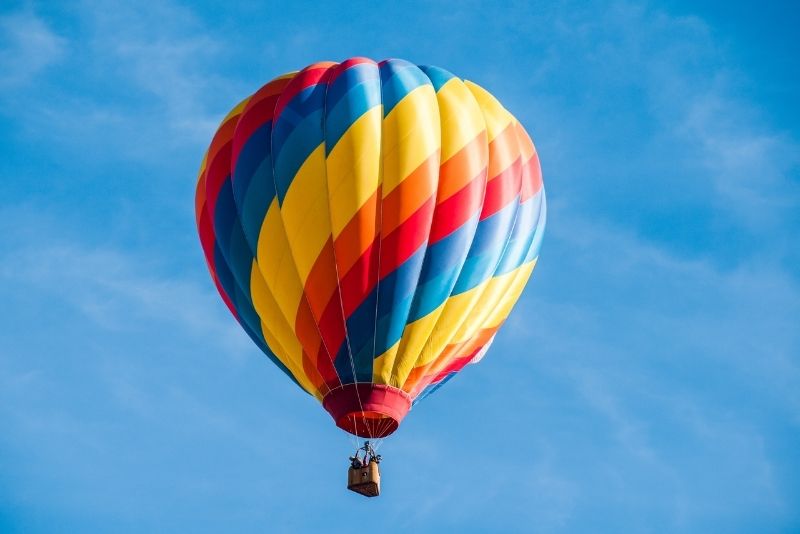 A very popular Seville pastime that continues to draw tourists year after year, hot air ballooning is both a relaxing and exhilarating way to get an unforgettable bird's-eye view not just of the city, but of wider Andalucia, the Iberian Peninsula, and the surrounding countryside.
As well as being a great way to kick off your day (trust us, the early wake up is worth it!), it's also the perfect activity for romantic couples looking for something different!
You're treated to a glass of bubbly, and certain hot air balloon rides include a delicious brekkie after the flight when you're back on the ground.
33 – Admire the beauty of the Hospital de los Venerables
For a unique slice of Spanish history, make time to visit Hospital de los Venerables — the former home (and workplace) of five 'venerable' priests.
Located in an atmospheric 17th-century convent building with plenty of original features intact including stone archways, religious frescoes, and a chapel with stunning stucco work — not to mention the antique furniture and large collection of paintings — it's an under-the-radar highlight for those looking to discover something new.
These days, it also houses the Velázquez Center, a wonderful homage to famous painter Diego Velázquez.
34 – What's for dinner? At the Museum of Illusions it's your friend's head on a plate!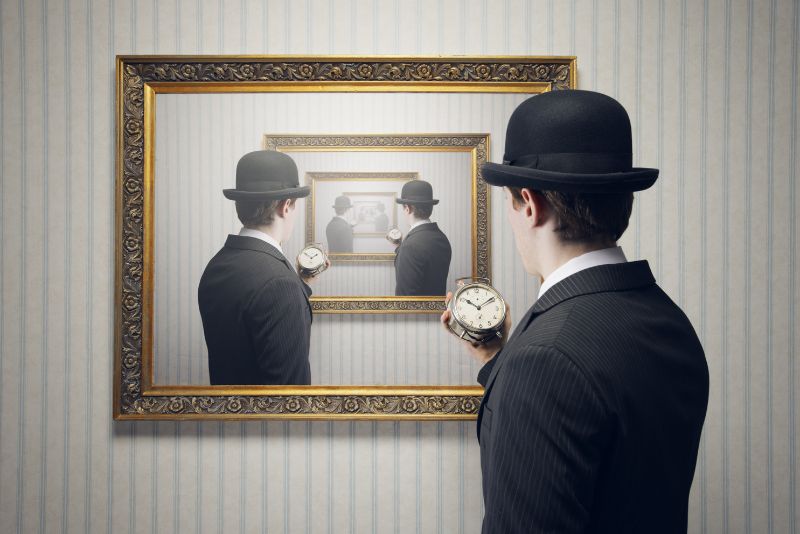 See your face multiplied by a hundred, creep up the sides of walls or grab a seat and be shrunken down to miniature size … Nothing is quite as it seems inside the trippy Museum of Illusions, and it's exactly as its name suggests: a playground of sensory wonders that trick the eye into alternative realities!
Spaced into themed exhibitions, discover classic illusionary displays and then some real out-of-the-box creative ones!
Get lost in between more than 60 illusions and these are a mix of entire immersive rooms, installations and educational exhibits designed with holograms, stereograms and optical illusions.
Some examples are the Reversed Room, the Cloning Table, the Beuchet Chair and the Vortex Tunnel.
35 – Stop by the Palacio de Lebrija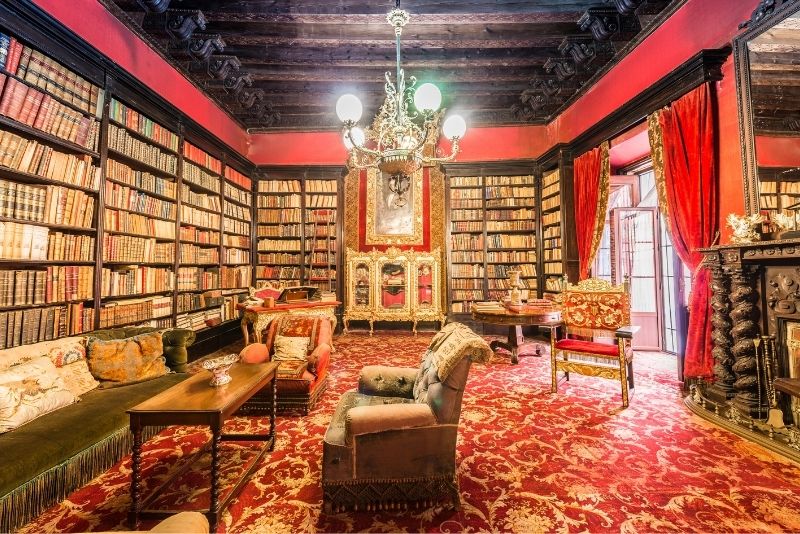 An opulent Andalucian home set around an enchanting Renaissance-style courtyard, Palacio de Lebrija was built in the 16th century and displays what is widely considered as one of the best mosaic collections in Europe.
Open to visitors on guided tours, it boasts charming frescoes, ornate ceilings and columns, a beautiful garden with palm trees and fountains, an impressive chapel decorated in gold leaf, plus more than enough historical intrigue and artifacts to keep you fascinated for hours.
Considered a palace house because of its pure decadence, there are two floors of hallways, rooms, art and mosaics to explore. Its grand library is one of the most spectacular — we are bibliophiles, but there's no bias here, just facts.
36 – Visit iconic landmarks during e-scooter tours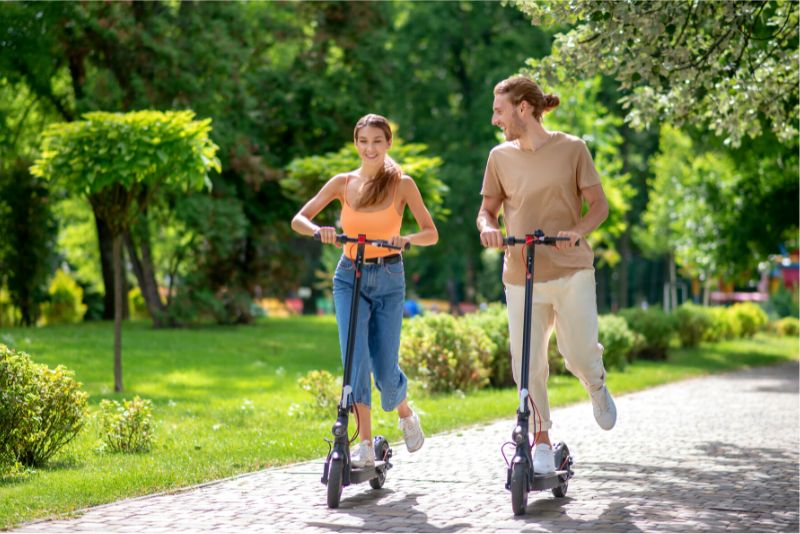 If you're keen on exploring the ins and outs of the city streets, but your feet have done enough trekking around the Andalusian landscapes, opt for an E-scooter tour around Seville!
Spanning two hours and covering way more ground than a regular walking tour; zoot around Seville's most iconic landmarks and monuments, and get to uncover hidden alleyways and local secrets – thanks to your tour guide brimming with knowledge and historical facts.
Starting from Calle Almirantazgo, set off toward the Guadalquivir river and then through the city. Pass by the famous Puente de Isabel II (also known as Triana Bridge), and toward the Palace of San Telmo, the Maria Luisa Gardens (and the Plaza España inside).
Other stops around the city center include the Real Alcazar, Seville Cathedral, the Archivo de Indias, the Tower of Gold (Torre del Oro) and the Royal Tobacco Factory of Seville.
37 – Venture into Andalusia's rich heritage on a day trip to Granada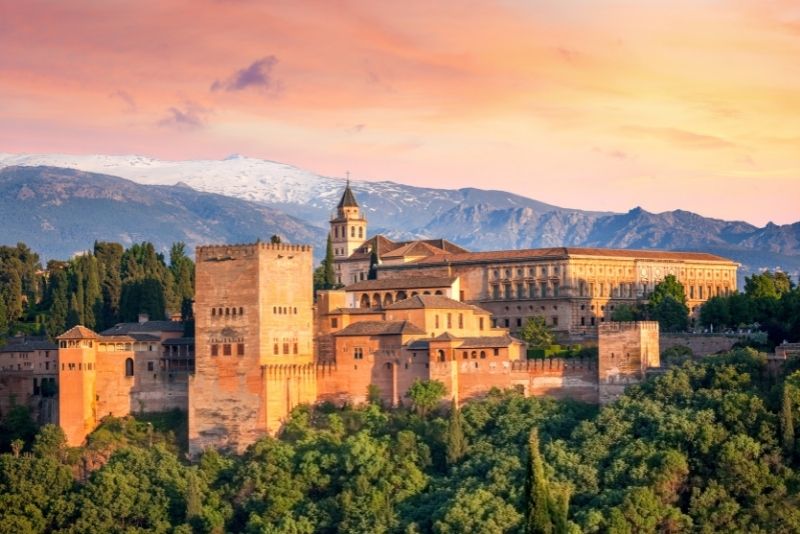 If you're itching to get away from Seville for a day and experience more of what southern Spain has to offer (which, admittedly, is a heck of a lot), why not consider heading to Granada for the day?
This ancient Islamic city is steeped in history and culture, with its many monuments — including Alhambra Palace (which you can't miss)  — attracting scores of visitors every year.
While the Monasterio de San Jerónimo and Nasrid Palaces are must-visits, make sure to leave time aside to wander around the city's atmospheric cobbled streets, packed with shops and cafes that'll make you feel like a local in no time.
Discover the most fun things to do in Granada.
38 – Learn from the best during Flamenco Dance classes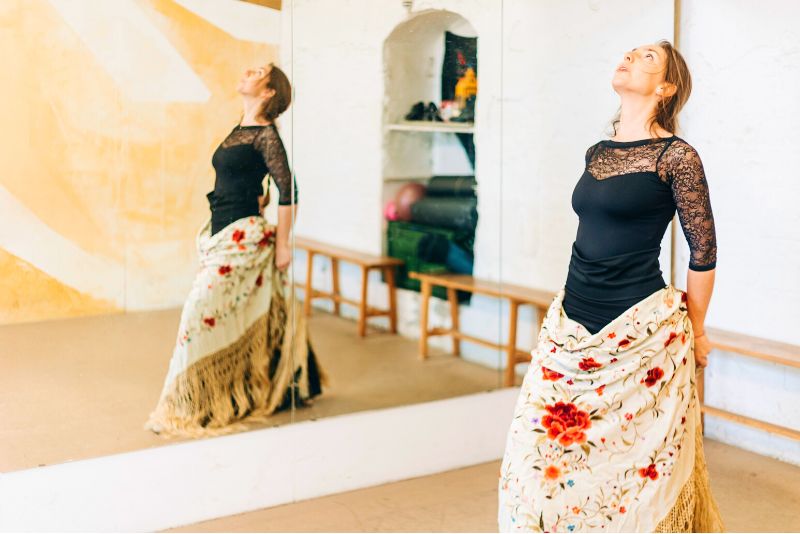 Did you know that flamenco actually originated around the corner in Cadiz? (Although some Sevillanos and other southern Spaniards may argue otherwise.) Don't pass up the opportunity to sweep the moves of the professionals during flamenco dance classes!
Dressed in an authentic flamenco costume and proper shoes (provided for), over the course of one hour, learn the basics, from how to position your body correctly, to the typical hand gestures, to how to listen to the music and move in time to the rhythm.
Then, dance it out to a choreographed routine!
An enjoyable part is also learning a bit about the history of flamenco during the demonstration — as well as watching the dancers perform moves and dance so swiftly and with such passion in front of you.
There are dance classes for adults and kids, and venues differ depending on the dance school/private lesson.
This traditional Spanish dance involves both men and women, so lessons are open to all.
39 – Marvel at the White Villages on a day trip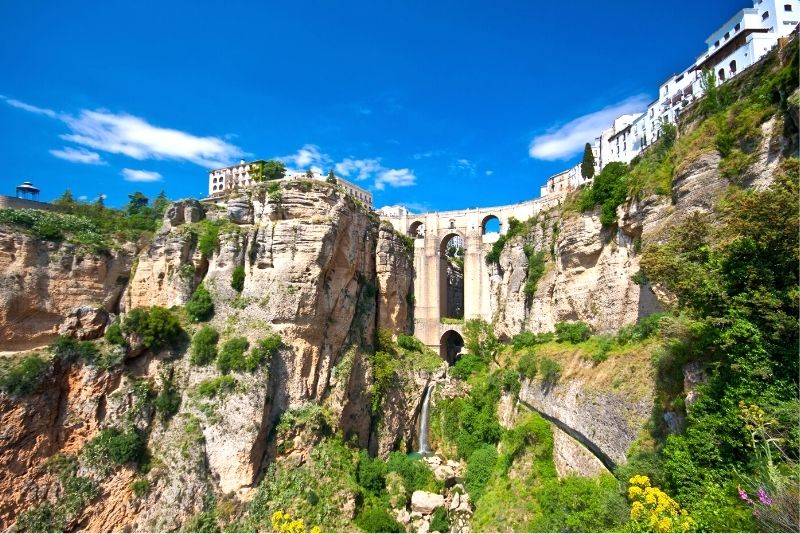 Easily accessible from Seville by bus, train or car, there are several tiny white villages nestled in the hills of Andalucia that make for a perfect day trip.
With their stunning architecture and traditional culture largely intact, these places will give you an intimate insight into life as it was hundreds of years ago — all within reach.
Ronda, whose two halves lie separated by the dramatic El Tajo gorge, is actually the third most-visited destination in southern Spain (and for good reason). Zahara de la sierra, built upon the site of a former border fortress, sits atop a hill with spectacular valley views. And, last but not least, Setenil de las Bodegas is a tiny whitewashed town that's been hewn into the rock face — a truly unique environment!
While all individually accessible, for the best bang for your buck, consider a tour that stops at multiple White Villages and includes transport and lunch!
40 – Amp up your playtime (and skills) with a round of golf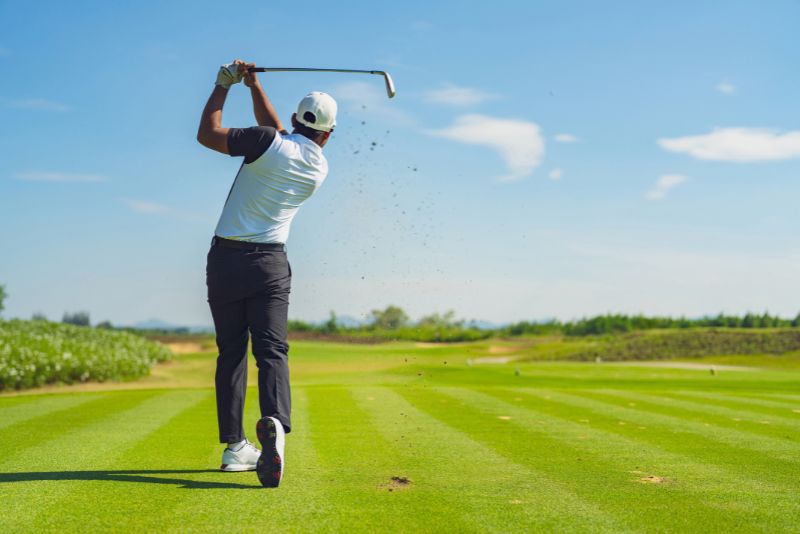 Circa the 1940s and the first nine holes of the Real Club Pineda de Sevilla took shape. Fast forward 50 years later and the other nine were constructed, totaling its current 18-hole course with a par 72.
Players can enjoy 6,299 meters of playing field, plus there are two practice areas set up with a tee platform, chipping green, approach area with bunker and a putting green. Hire a caddy master for the day, and there is a Golf Academy here too.
With its typical Southern Spain ambiance (and over 10,000 trees), Real Sevilla Golf Club has hosted plenty of international championships, including the 2004 World Cup, the 2009 Andalusia Open and the Spanish Open in 2008, 2010 and 2012.
Its 18-hole course (with a par 72) sports a Jose Maria Olazabal design, with 6,529 meters worth of playing ground. It has multiple putting greens, a driving range and a Children's Academy.
41 – Sample local treats at the Mercado de Triana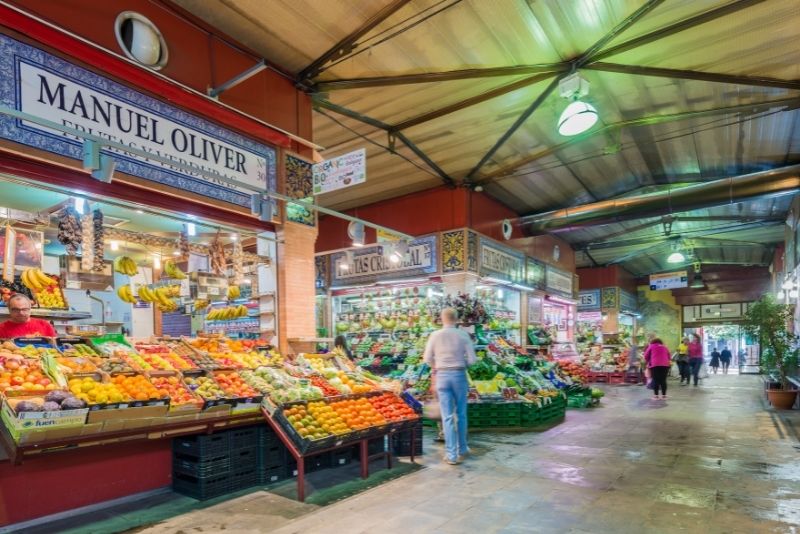 An iconic feature of Seville that has to be visited at least once, the city's main market (and one of its most photogenic) is a hive of activity and color.
Open daily from around 9 am until mid-afternoon (with restaurants open much later), Mercado de Triana offers both fresh produce and souvenirs from an array of vibrant, friendly locals.
Thanks to its location at the Plaza del Altozano on the site of the former San Jorge Castle, next to the Triana Bridge, there's no shortage of nice walks to burn off the calories after browsing the market.
42 – Get the best bird's eye view during airplane tours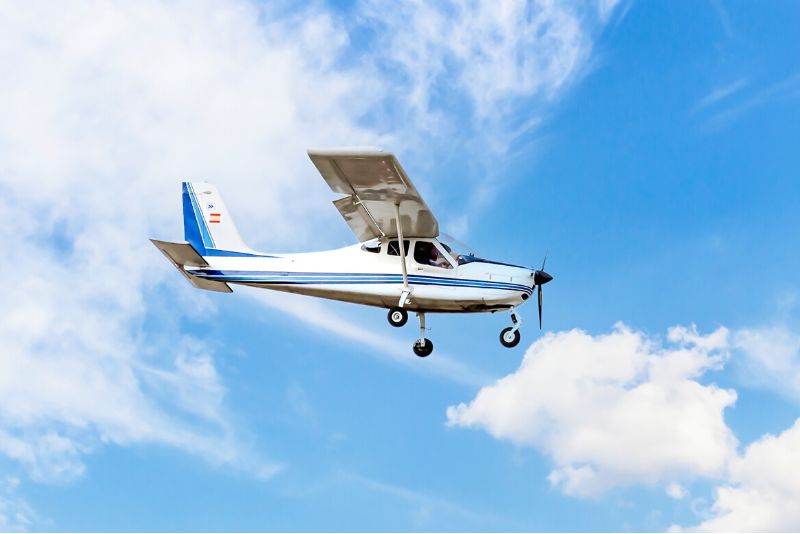 Feel like getting fancy in Seville? Or perhaps you're a photographer here on location? Whether you're after a 20-minute or one-hour venture, airplane tours never disappoint.
For something special, a 15-minute sunset flight is a sure winner; soaring over the local landscapes while enjoying chocolate and a bottle of Cava onboard, as well as a bouquet of flowers for the finishing touch.
If you're an aviator-enthusiast, guess what? You can even learn how to fly your own plane in Seville, including real air-time. Complete a 30-minute course and then join your pilot in the sky inside an ultralight plane. You get the chance to take the controls and fly the plane.
Glide over Bollullos de la Mitación town, the Guadalquivir Marshes, The Alcores or the city of Guillena.
43 – Saddle up for some horseback riding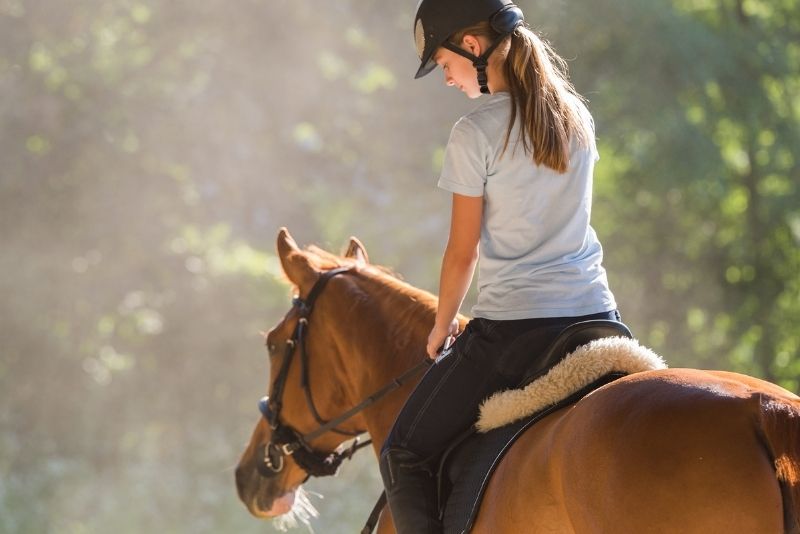 Looking for something a little more fast-paced than a carriage ride? There's plenty of horseriding lessons and adventures to choose from too!
Whether you're an amateur or a pro, the Andalucian countryside is one of Spain's best spots to get up close and personal with horses and immersed within nature.
For a more remote adventure, Doñana National Park is a solid place to start; while a range of horseriding trips remain closer to Seville itself.
Hot tip: if it's romance you're after, look no further than a sunset ride along the El Rocio beaches.
44 – Step into history at Casa de Pilatos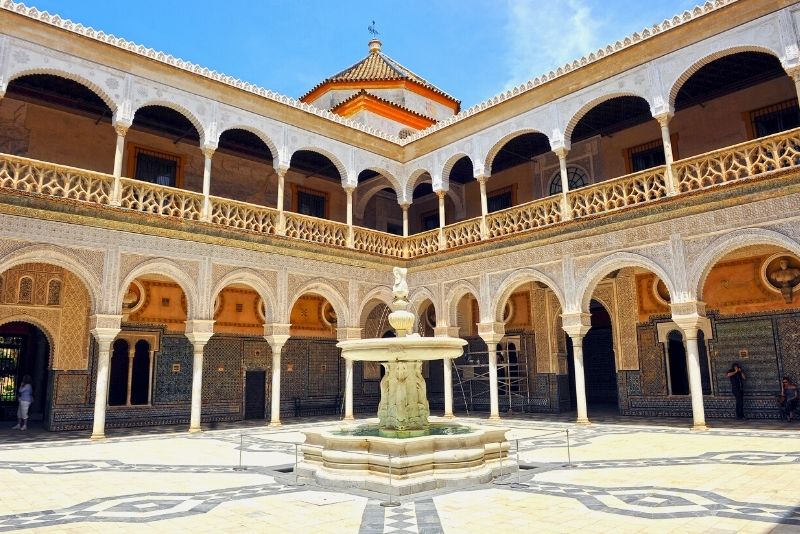 One of Seville's most historic buildings, Casa de Pilatos is an ornately-decorated multi-storied civil palace (read: not your typical royal palace) just outside the city center.
Originally built in the 16th century with renovations along the way giving it a rare combination of architectural styles, this underappreciated building now acts as a museum to showcase its original beauty and heritage.
The classical statues, colorful tiles and 3D carved wood ceilings are highly appreciated, but it's the history-focused audio tour which most visitors love most.
45 – Mix history with food at the San Jorge Castle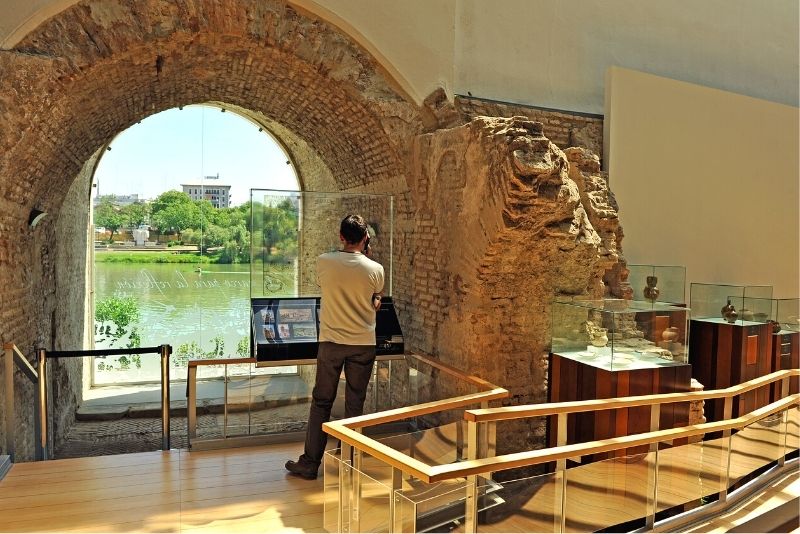 Straddling the west bank of the river, this imposing castle sits in a prime location overlooking Sevilla Cathedral and plays a crucial role in local history: the medieval fortress was used as both a headquarters and prison during the Spanish Inquisition.
You can learn all about its historical significance in its small, underground museum. These days, however, it's been demolished and rebuilt, attracting most tourists with its food market (Mercado de Abastos de Triana).
Fascinatingly, its foundational ruins were only uncovered during excavations in the 1990s.
As you wander around Castillo de San Jorge (also known as the Spanish Inquisition Museum), remains of the original fortress jut out, and the indoor gallery is built around it.
46 – Feel like Fernando Alonso at the karting arenas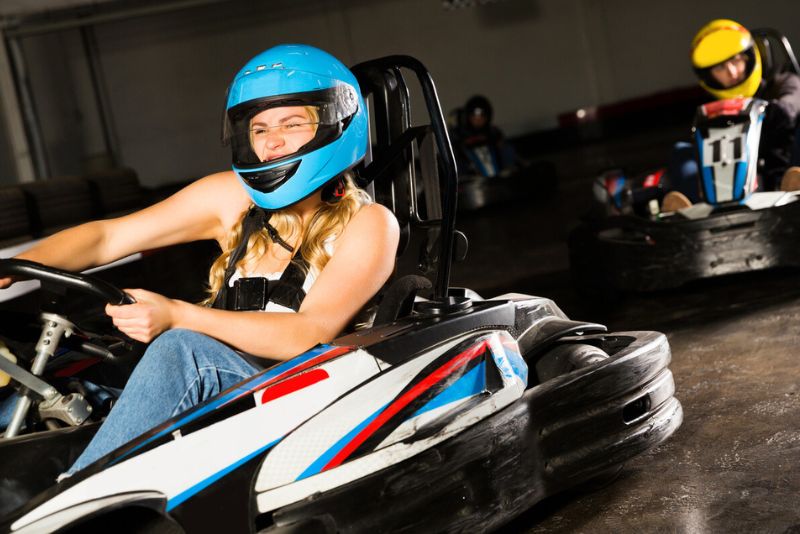 Searching for something different to try out in Seville? Enjoy the need for speed at these epic karting arenas!
Suitable for both adults and children, whizz around the 525-meter-long indoor track at Karting Marineda Sevilla. With dedicated karts for all ages, choose your vehicle, and off you go! The standard type is the SODI RT8 or the Sodi LR5, but there are also dual-seater Sodi 2Drive karts available.
If you're here with a group, you can even race your pals!
The closest thing to the real Formula 1, Karting Sevilla is a 1,566-long outdoor circuit. It boasts 16 curves and even has its own PitLane!
47 – Sit front row for a romantic, energetic flamenco show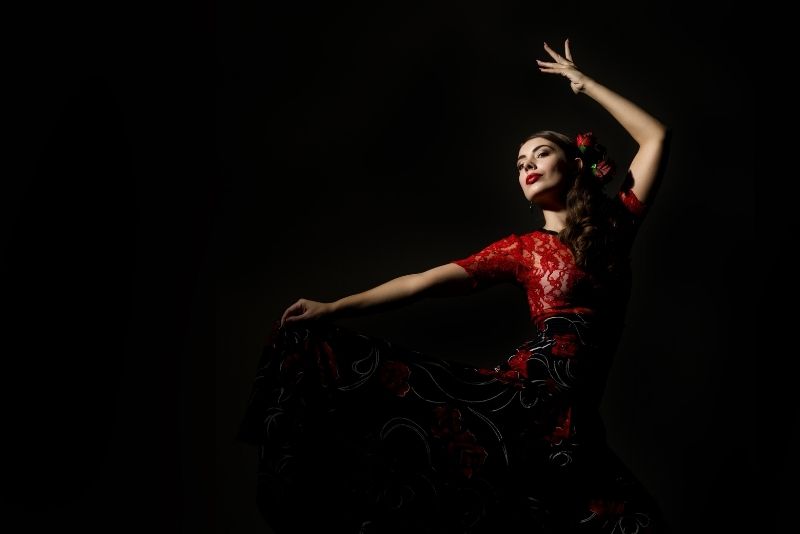 Simply put, no trip to Seville is complete without witnessing its world-famous flamenco show.
The passionate, soulful dance form is not just for tourists; it's an important part of the city's cultural identity and has been passed down through generations since Seville was first colonized centuries ago by Spanish conquistadors.
Choose from dinner shows — one of the very best of which is held at Tablao el Arenal, with traditional tapas or gourmet 3-course meal options — or a more formal theater setting like the Triana Flamenco Theater. Either way, you can't go wrong.
And, to top it all off, make sure to stop into the Flamenco Dance Museum to learn all about what you've just experienced!
48 – Check out the Monastery of Santa Maria de las Cuevas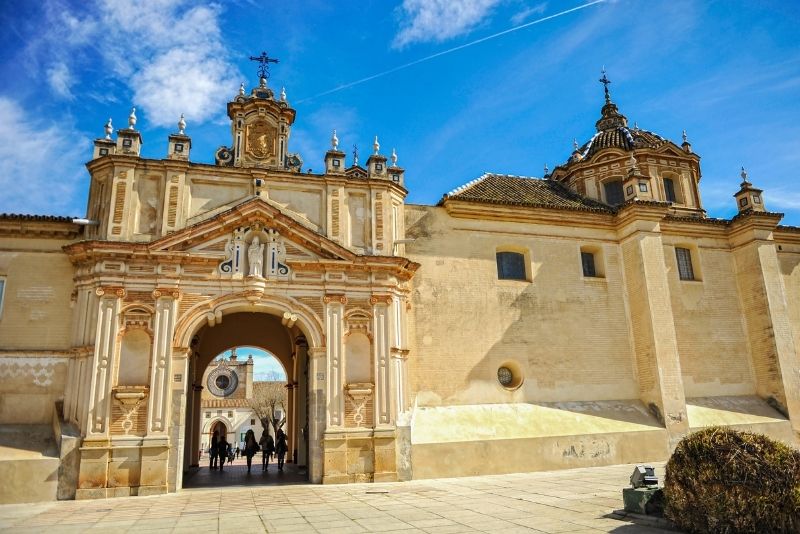 Another historic site that's different from the usual Seville attractions, Santa María de las Cuevas is home to a monastery founded back in the 15th century.
Sitting on the Isla de La Cartuja — therefore explaining its nickname, the "Monastery of La Cartuja" — completely surrounded by water on both sides, this centuries-old building offers visitors not only an insight into monastic life but also incredible views out across the river.
As the oldest of its kind in the city, it's well worth considering a private tour to hear about the ancient stories.
49 – Head to the Game of Thrones filming locations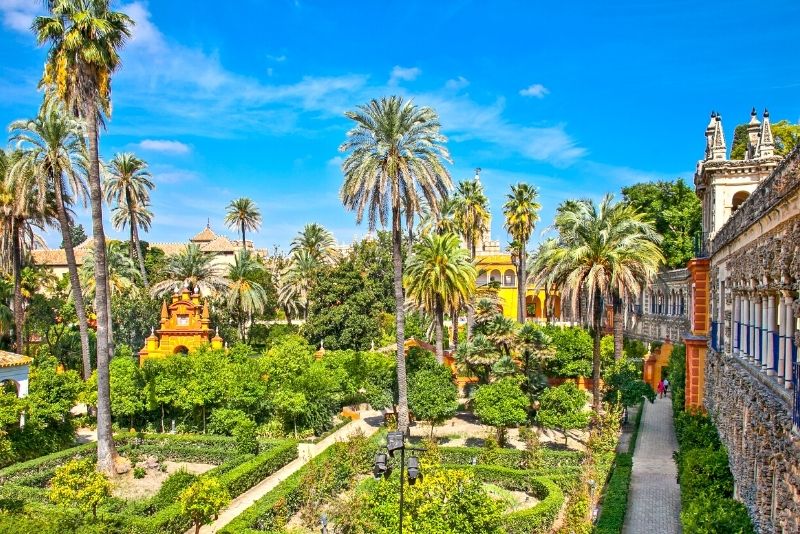 Any diehard GOT fans out there? While Croatia receives the bulk of the attention when it comes to filming locations (Dubrovnik is the home of King's Landing), Spain is actually home to quite a few too.
From the Alcázar de Sevilla — which was used as the Water Gardens of Dorne — to Andalucian sites like Itálica and Almodóvar del Río (home of Highgarden), there's plenty of GoT history to explore in the south.
Not to be forgotten is Osuna, a quaint town whose bullring — Plaza de Toros — featured in crucial scenes in season 5.
50 – Conquer the wild on a canyoning adventure
But wait, there are even more things to do in Seville to suit the outdoorsy type! There's no feeling quite like canyoning, where your primitive instincts kick into full gear!
With nothing else surrounding you but Mother Nature's finest, abseil your way down ravines inside the Sierra Norte de Sevilla UNESCO geopark, or rappel down rockeries in Villanueva del Río y Minas.
Expeditions range between three to five hours, plus there are multiple-day options if you're a beginner. Spend one full day dedicated to the art of canyoning, learning all the basics such as how to maneuver the ropes and other skills needed.
All adventures provide the necessary safety equipment and gear (like harness and helmet) but wear appropriate clothing and shoes. (Remember, descending the canyons often involves water action thanks to rushing streams out of the ravine.)
51 – Kick off the fun: experience the thrill of Seville's soccer matches!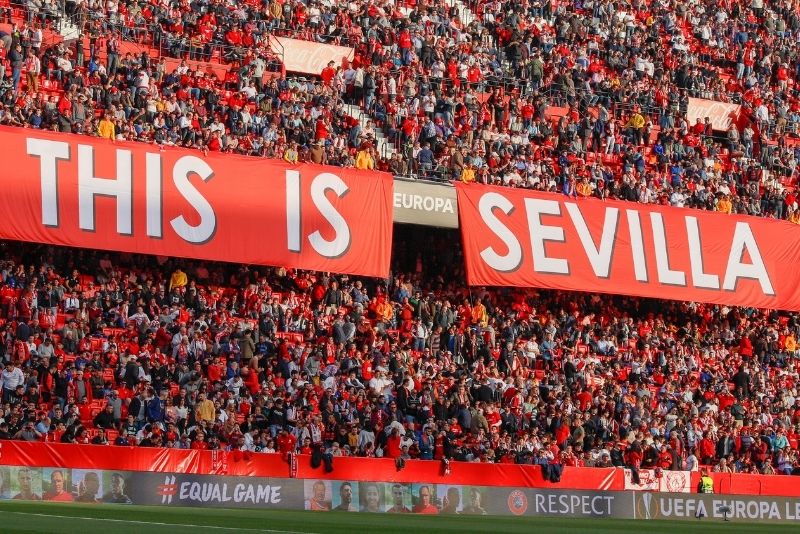 In a nation that goes wild for The World Game, Seville is home to two of the nation's top-ranked teams: Real Betis Balompié and Sevilla FC.
The former plays regularly at Benito Villamarín Stadium, while Ramón Sánchez Pizjuán Stadium serves as the stomping ground for the latter.
Regardless of which team you watch, if you've never been to a European soccer (football) match, thanks to its roaring crowds and unmatched energy, you're in for a real treat!
Football fanatics: when it's off-season, or there are no European League matches on, enjoy guided stadium tours, visiting players' locker rooms, the press room and even a tunnel walkthrough.
52 – Show off your bowling skills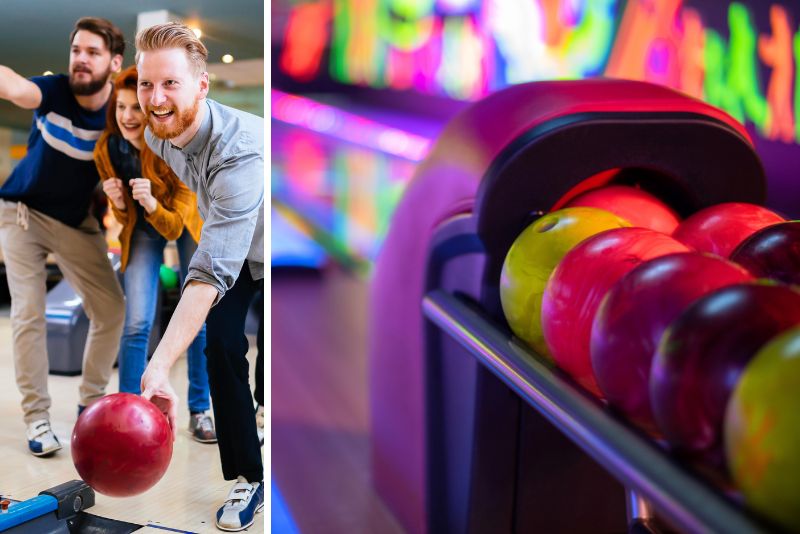 A sport that's stood the test of time and traveled around the world, here are the best places to go bowling!
Ozone Sevilla retains an old-school charm with its four wood-finished bowling lanes. Also here is a small arcade for some extra fun afterward.
Staying open until midnight on certain nights, there are six lanes at Bowling Next Level and in the evenings, its night mode is switched on! There is a kid's playground and foosball tables as well.
Lace up your bowling shoes and hit up Galaxy Park Bowling. Outlaid with AMF-branded lanes (used across the alleys in the USA), this spot also has night bowling and the space converts into a flashing disco atmosphere.
53 – Take a day trip to historic Córdoba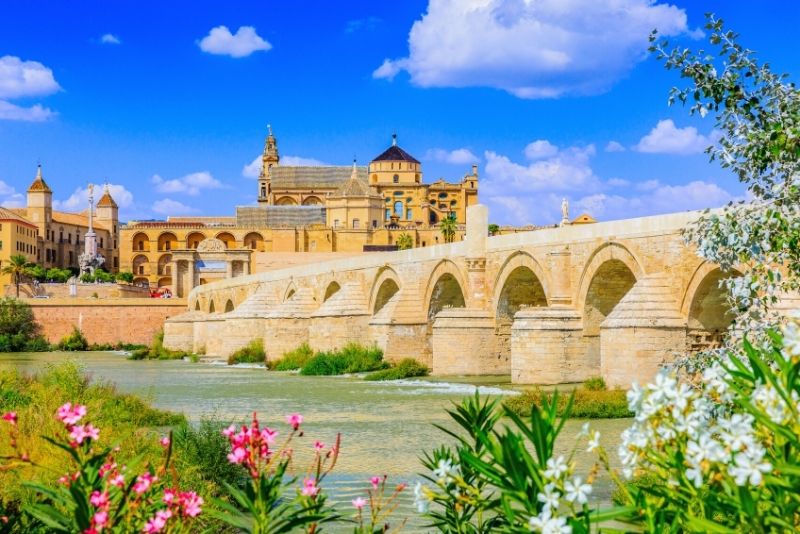 One of the most important cities in Spanish history, Córdoba's historic center is packed with sights that are well worth exploring.
As what was once a thriving Islamic city, its stunning Mezquita — a former mosque-turned cathedral — still stands today as an example of Islamic architecture as well as a UNESCO World Heritage Site.
In addition to the Mezquita, Córdoba's Jewish Quarter, an atmospheric maze of narrow streets and colorful buildings is worth exploring, likewise the wide selection of excellent restaurants and bars.
54 – Join a bull-breeding farm tour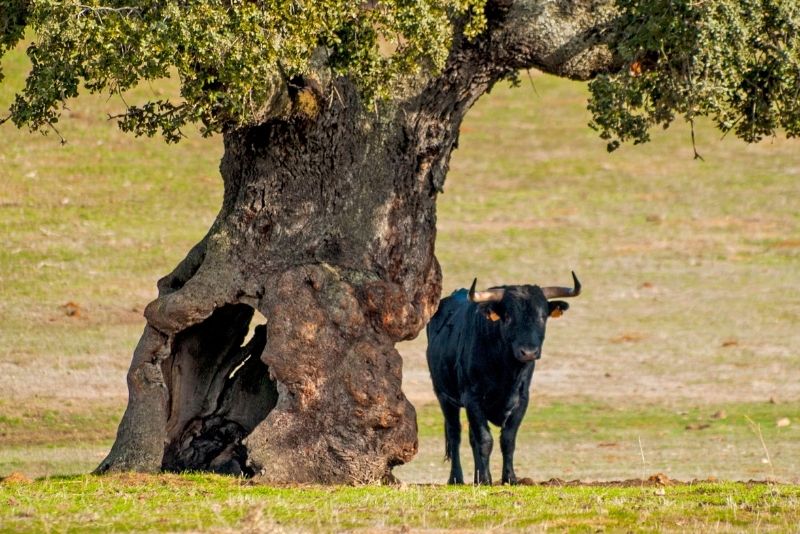 Very quintessentially Spanish, a visit to a Bull Breeding Farm is a unique way to experience Andalucia's proud ranching tradition.
A chance for visitors to truly understand the commitment and skill that goes into breeding some of Spain's finest bulls, this is an interesting insight into a world that has otherwise never been exposed on such a large scale before.
The pre-organized tours typically last 4-5 hours, with pickup and drop-off conveniently provided from Seville hotels.
55 – Get your dowse of science at Casa de la Ciencia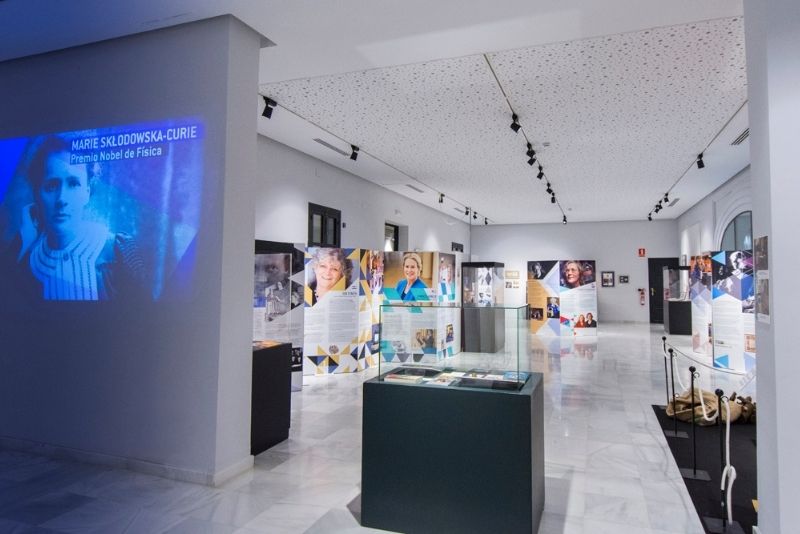 The perfect way to spend a rainy day (after you've exhausted all the museums), this interactive science center is both fun and informative, with plenty of hands-on exhibits for kids.
Complementing its permanent collection, Casa de la Ciencia also often hosts special themed exhibitions — together exploring fascinating areas like astronomy, geology, animals and insects, natural history, the human body, and a whole lot more.
Make sure to catch a show at the planetarium while you're there!
56 – Explore history, caves, and scenic hikes on a day trip to Aracena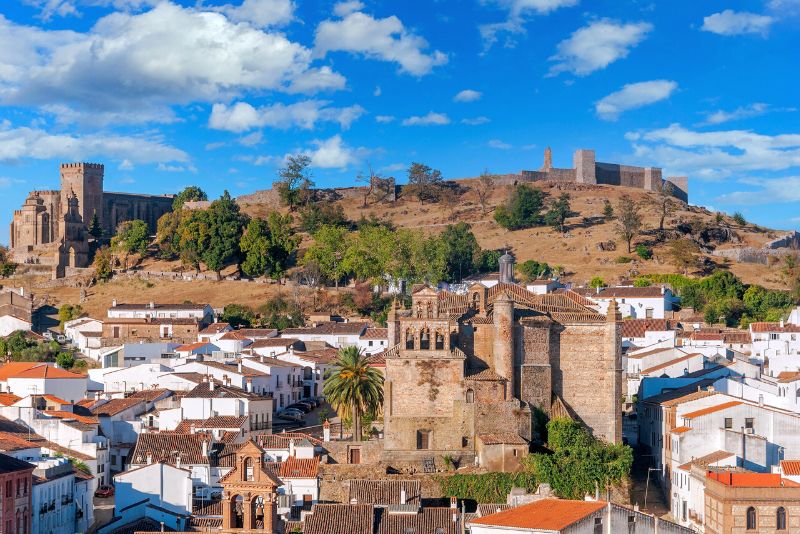 Heading to the northern part of the Huelva province, and west of Seville, day trip into the mountain ranges of the Sierra de Aracena and Picos de Aroche natural park and step back in time at Aracena.
Boasting the typical traditional whitewashed houses, ancient ruins and a history dating back to the 13th century, this quiet, quaint village is full of surprises.
One of its most famed sites is the Gruta de las Maravillas, one of the first grottos ever open to the public in Spain! It's one of the country's most spectacular cave systems, boasting lakes, stalagmites and stalactites inside.
Walking through the village built on the hills, uncover historic forts, castles and churches.
Situated at the foothills of the Sierra de Aracena mountains, hiking these parts is well-favored, and there are many pathways leading out from town. Be on the lookout for Iberian pigs who roam the ranges.
57 – Navigate your way to the Pabellón de la Navegación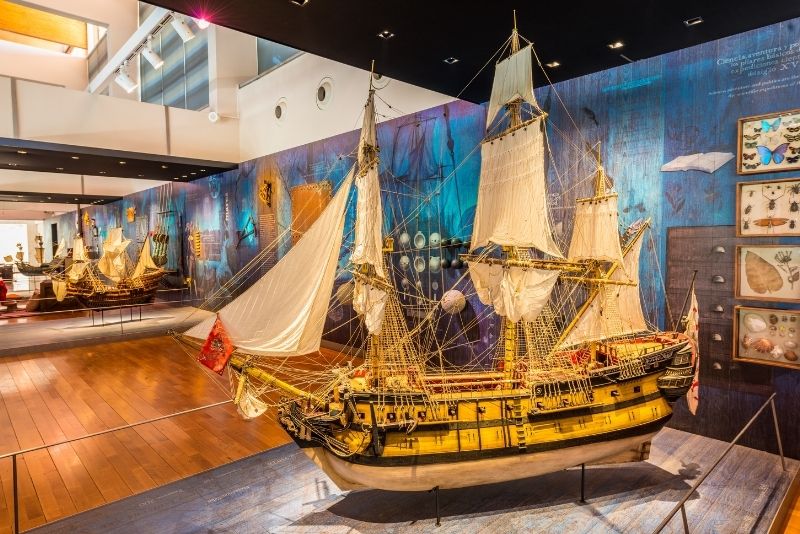 Located on Isla de la Cartuja along the shores of the sparkling Guadalquivir River, Pabellón de la Navegación is an incredibly modern building (built for the Seville Expo in 1992 but recently renovated with modern touches) that explores the world and history of seaborne navigation.
Throughout its rooms, you'll find a range of interesting exhibits — from scale models of ships and navigation tools to insightful multimedia presentations.
Also here is the Navigation Pavilion Exhibition Center's Planetary Cinema, and its immersive dome-planetarium-type screen showcases educational films. One of its permanent films is titled 'Exploring the Solar System.'
58 – Enjoy a day at the races at Gran Hipódromo de Andalucía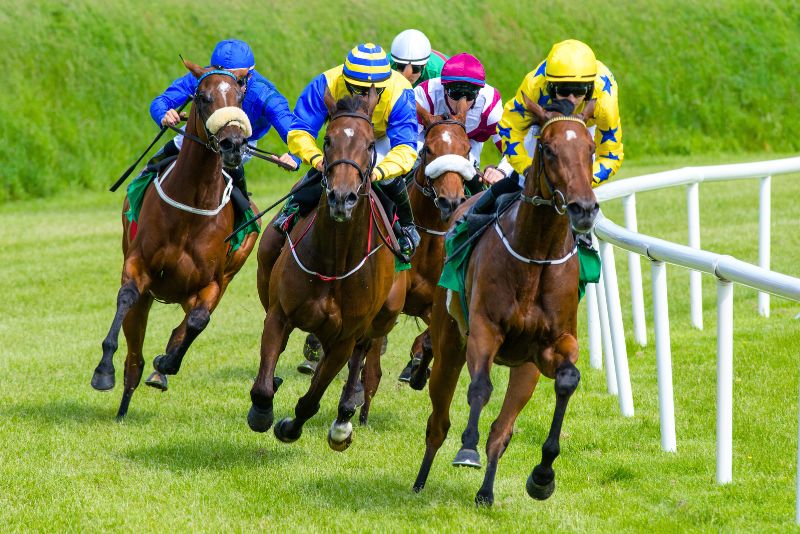 Introducing the largest racecourse in Andalucia: enjoy a day at the races at the Gran Hipodromo de Andalucia, spanning 155 hectares!
If you've read your history books, Spaniards have a long history with horses, and there's even a special breed hailing from these parts, known as the Andalusian, the Pure Spanish Horse or PRE. The steeds have been bred in Andalucia since the 15th century!
Spanning 155 hectares, the Great Racecourse Andalusia – Javier Piñar Haffner (as it's also called) hosts plenty of equestrian-related events and races.
This hippodrome has two tracks: a 2,000-meter-long grass track and a 1,800-meter-long sand track. On top of this, there's a 1,600-meter-long jogging track and a 1,400-meter-long obstacle course!
59 – Take the leap on a bungee jumping experience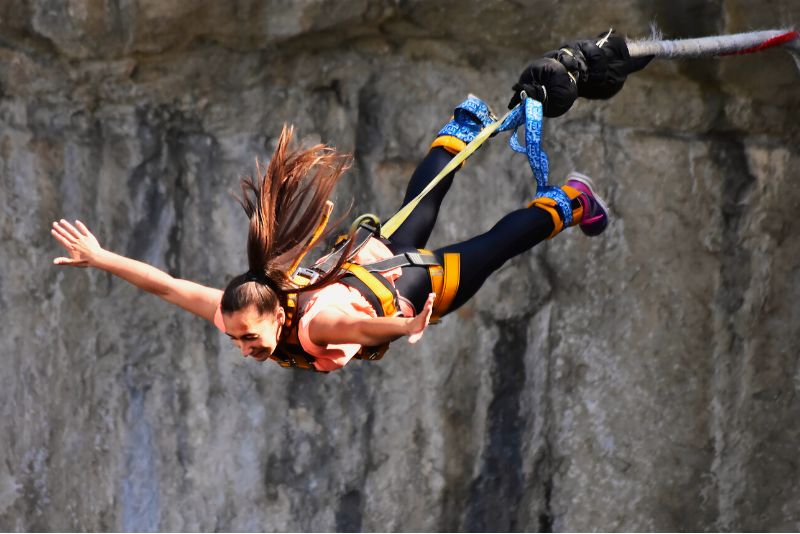 Enough with the city explorations; for the true adventurers and thrill seekers here's just the thing for you … Bungee jumping in the Seville region induces all that adrenaline in an instant!
Heading to a lake area in Aznalcóllar town (45 minutes from Seville) surrounded by mountains, prepare yourself (mentally and physically) to make the jump from atop a nearly 20-meter high bridge!
After receiving a short instruction on safety and how to use the equipment, make your way to the top of the bridge where there's no turning back. Then one, two, three and JUMP to your fall.
Wondering how it all went down? Moments are captured for you on a GoPro (available to rent for an extra cost).
There is also the option to jump in tandem with a friend – different ropes, but jumping off the bridge at the same time!
60 – Explore the ancient Roman structures of Itálica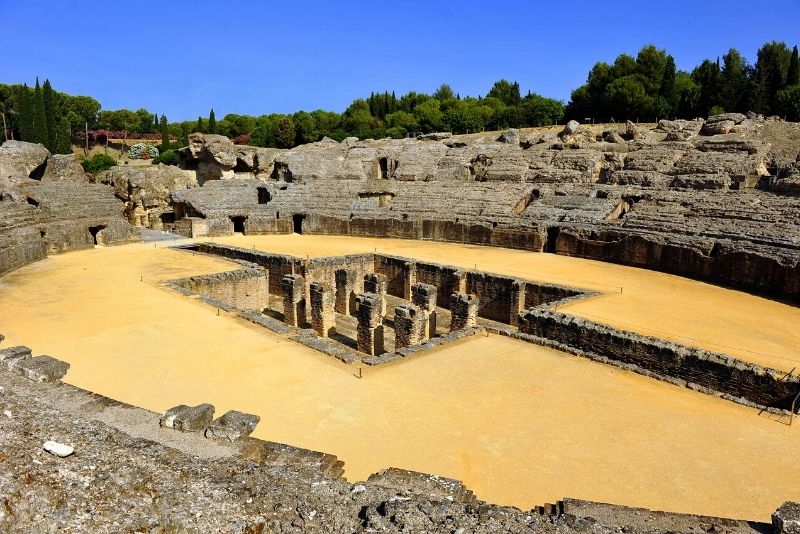 Home to the remains of what was once one of the Romans' most impressive amphitheaters, Itálica is a must-see for history lovers — especially since it dates back to 206 BCE, was one of the earliest Spanish Roman settlements, and is supposedly the birthplace of three different Roman emperors (Trajan, Hadrian, and Theodosius).
Easily accessible on a day (or even half-day) adventure, there's a lot to see and do, from the arena itself (which you can actually walk around!) to the quaint village of Santiponce near which it sits.
These ancient ruins are an official National Monument — after all, it is the first Roman city ever established in the Iberian Peninsula.
61 – See the inside of a royal home: Casa de Salinas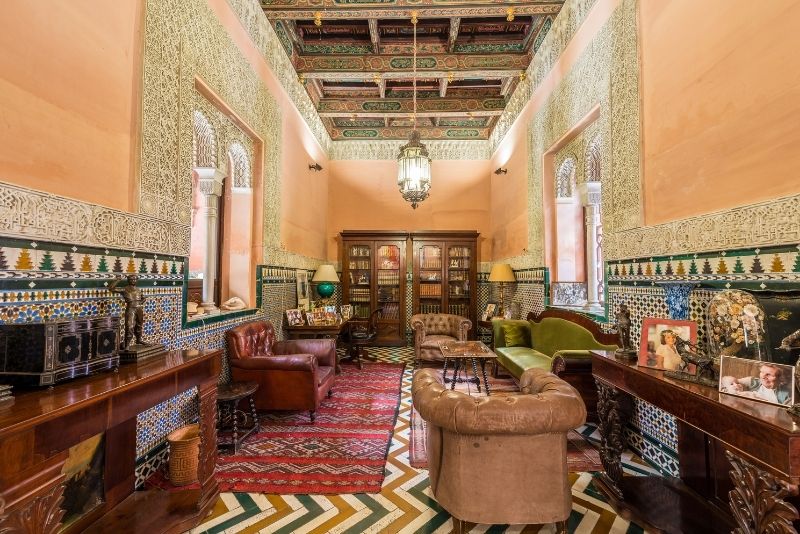 Another historic home that stands out from the typical tourist haunts, Casa de Salinas is a 16th-century palace with an ornate courtyard that acts as a smaller (and therefore less crowded) version of the infamous Alcázar.
Since the palace is privately owned, the only way to get inside is to book on one of the regular guided tours, but it's well worth doing — not just for its beautiful interiors and intriguing historic features (including a whimsical garden), but also to see a rare example of an authentic noble family's home.
One of the most unique things to do at the villa is attend its mesmerizing Seville Opera Nights hosted inside!
62 – Soar to new heights while skydiving and paragliding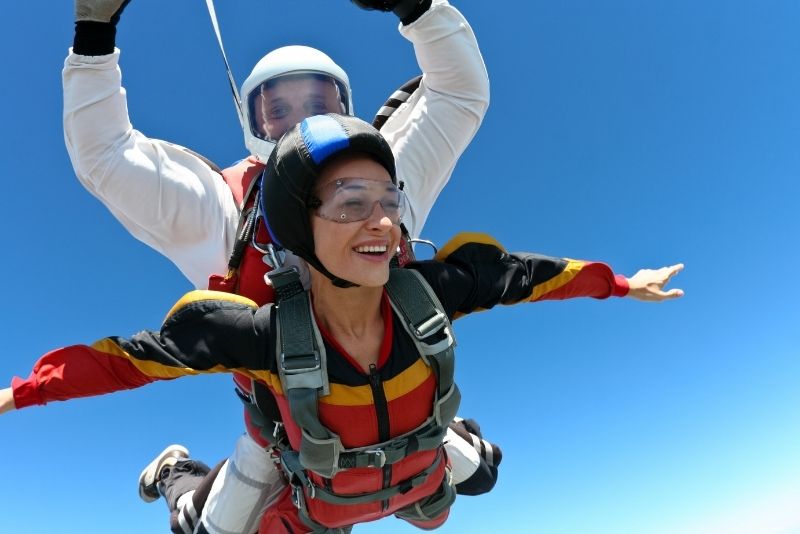 One of the adrenaline-fuelled ways to explore the beautiful landscapes of Andalucía, Seville is home to both skydiving schools and paragliding courses that are perfect for thrill-seekers.
If you're planning on skydiving, choose from either 3100 or 4600 meters (the former is a little cheaper); if you go with paragliding, take your pick from simple half-day flights to multi-day courses that will teach you the ins and outs of this heart-racing activity!
Either way, thanks to the unobstructed views, they're both considered top-tier things to do in Sevilla!
63 – Grab a table at some of Seville's best restaurants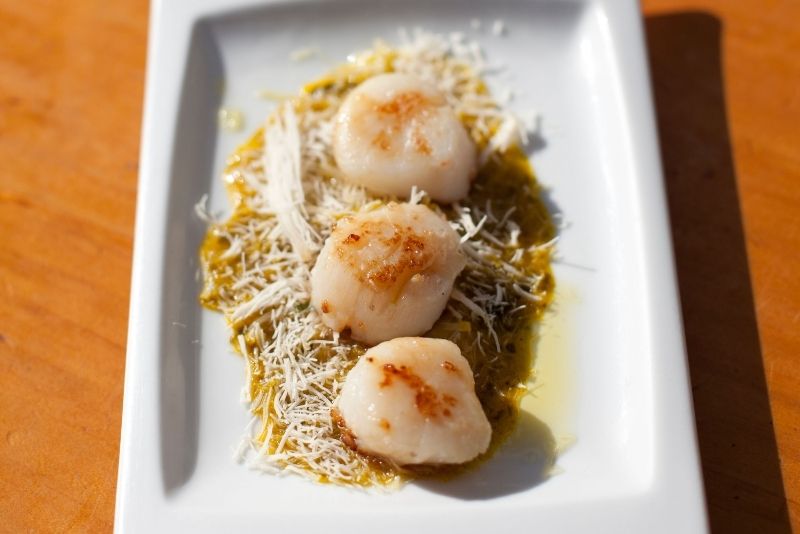 Cafes and tapas bars line the streets in Seville, so it can be hard taking your pick — especially if you can't read Spanish menu boards. If you're wondering where some of the best places are to dine, check out these restaurants in town.
It's a full-on culinary experience at seafood-centric Cañabota. Watch the chefs do their thing in front of you with live cooking demos around the gastronomic bar, and they offer both an a la carte and a tasting menu.
Paying homage to traditional Iberian traditions, ingredients and cooking techniques, the cuisine from Lalola de Javi Abascal is all about celebrating locality. Oh, and they're Michelin (Bib Gourmand) winners.
Bright and modern interiors with splashes of living greens add all the ambiance at Sobretablas. You can expect the finest wines and the Michelin-star awardees present its Andalusian, seasonally fresh menu beautifully.
Located just north of the heart of the city in the historical neighborhood of San Lorenzo, the stylish Eslava has been delighting customers for over three decades with a flavorful menu that changes depending on what's fresh and available each day.
Showcasing plates of food in a rustic yet refined style, book a table at Manzil and try their extensive tasting menu.
64 – Go on a lion night safari at La Reserva Andalusia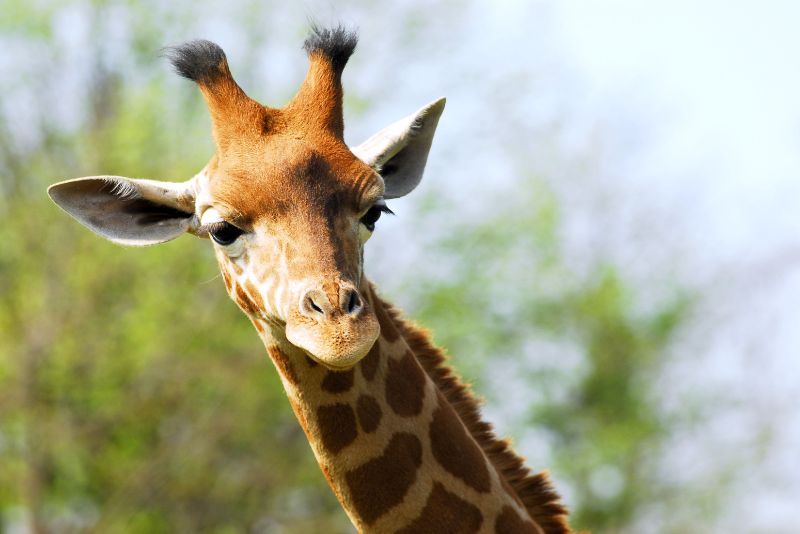 Stay and play at La Reserva Andalusia — the closest thing to Africa in Spain (other than spotting it on the coastline's horizon).
The open-air reserve doubles as a conservation center for the biodiversity of species where visitors are able to roam in the wild with its animals, but from the safety of a car (you can use your own).
Apart from the day safaris or night excursions to spot the lions and giraffes, there's loads to do here.
Visit the Aviary where the restaurant is set up, and next door is the Children's Garden with a sweet petting zoo. Have breakfast with felines or elephants or join an educational workshop, and non-related animal activities include karting or canoeing. You can stay overnight, too.
65 – Hike the famous Caminito del Rey path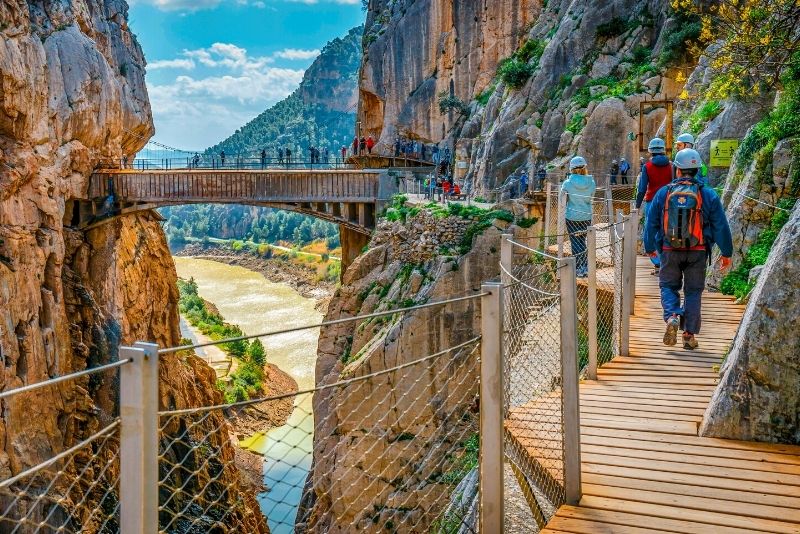 Arguably the area's most famous hike; the long, beautiful trek of seven kilometers that takes about three hours to walk in its entirety is one of Seville's most popular day excursions.
Far from your typical bushwalk, Caminito skirts along a unique aerial path suspended some 100 meters in the air along the walls of a gorge — so, if you're a bit squeamish with heights, it'll be a mighty challenge!
Hot tip: Because the journey is one-way and begins in Ardales and finishes in El Chorro, it's best to go with an official group that handles all of the details and transport.
66 – Get your balance on a stand-up paddleboard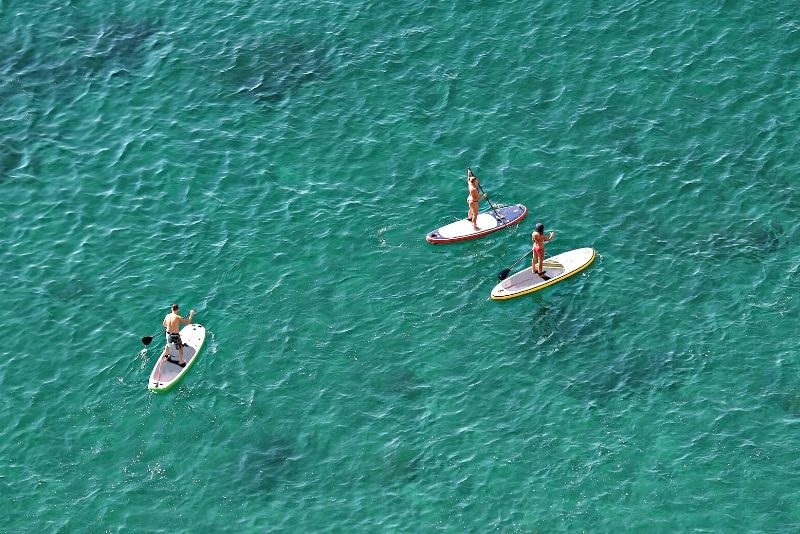 A relaxing outdoor activity that's risen to popularity all over the world in recent years (although comes from a much more established tradition), stand up paddle offers a unique way to explore the city's numerous riverways — and is one of those experiences that can be as active or relaxed as you like.
There are plenty of ways to get involved: from hiring boards independently for solo sessions, joining guided group tours, or even tagging along on 5-person board trips!
Go SUPing along the Guadalquivir River, for example, steering past Centro Comercial Torre Sevilla and Catedral de Sevilla. There are even romantic sunset paddleboard sessions available.
67 – Pretend to be a detective in the Escape Rooms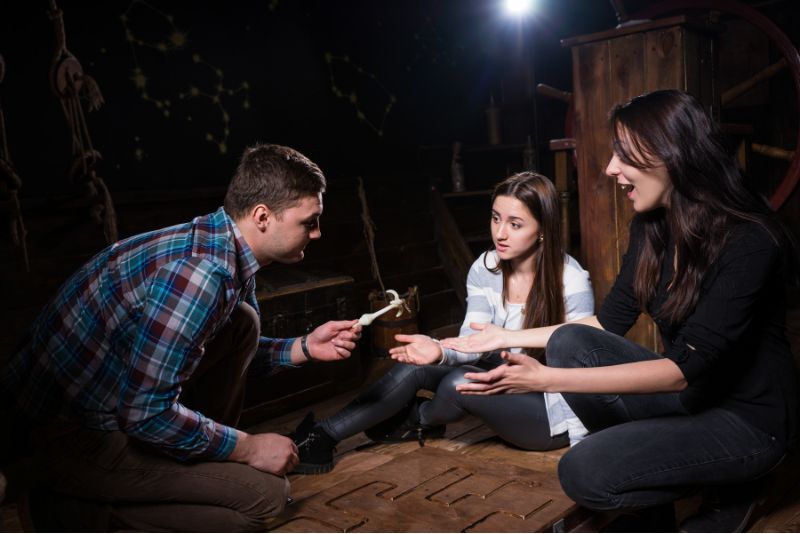 How many times have you watched a detective TV show or movie and thought 'I could do that!'? Well, ladies and gentlemen, if you think you've got what it takes to be the next Nancy Drew or Mr. Holmes, test out your skills in an escape room!
For those new to the concept, your group is locked inside a themed room with a whole bunch of clues and keys inside. You will need to solve each puzzle, rhyme or riddle presented around the room, in turn, unlocking individual keys.
To unlock the final door key (and the way out) you will have to attempt your escape in one hour to 75 minutes.
There is a medley of escape rooms to pick from in Seville, ranging in time, location and theme. For example, use your analytical skills during the Templar Path escape room or fight off an evil time traveler in the Oopart Mission escape room.
Do you think you have what it takes?
68 – Hop between countries on a Gibraltar and Tangier day trip!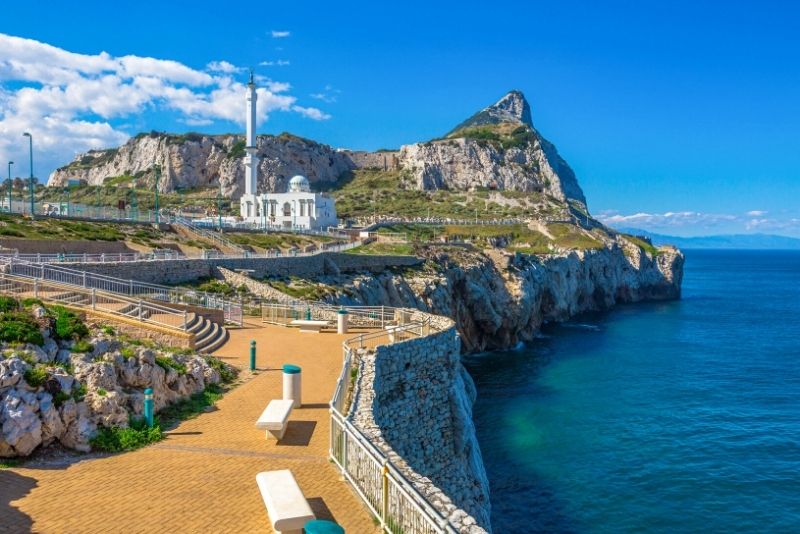 While neither city technically sits in Andalucía, or Spain, for that matter (Gibraltar is a British Overseas Territory while Tangier is the Moroccan gateway between Africa and Europe), these two popular day trip destinations allow visitors to get a taste of Morocco, and despite their proximity, a totally different culture and atmosphere.
Gibraltar is, of course, famous for the Rock of Gibraltar as well as the Túneles de Asedio, while Tangier is known for its vibrant medina where you can get lost in winding alleyways and historic architecture. Both are ideal day trip destinations that offer something a little different!
69 – Tour (and drink your way) around the city on a Beer Bike Seville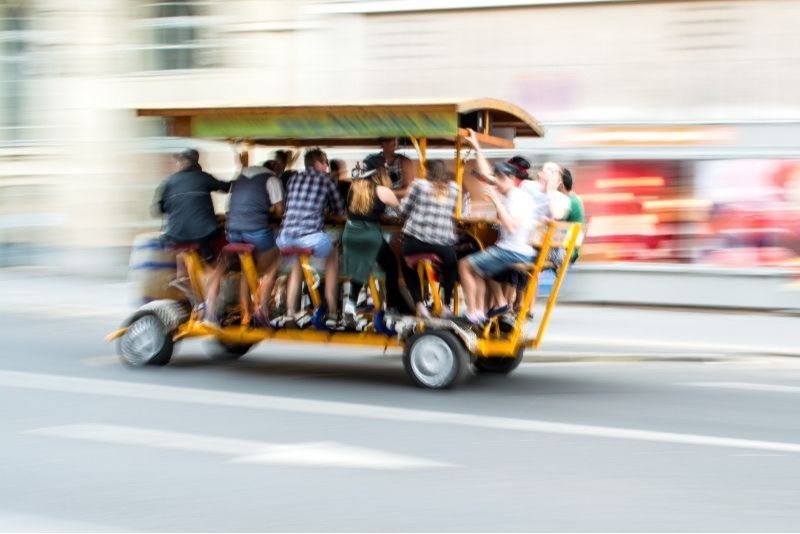 Pre-drink your way into a festive evening when joining a Beer Bike adventure around the city of Seville!
First gaining mega popularity in the Netherlands where these party buses/bikes originated, the bar on wheels has a seat on the outside for you to peddle, and your driver in front.
Lasting one hour, and absolutely hilarious to do when drinking is involved, your human-powered bike bus takes passengers on a tour around the city, passing by must-see landmarks and attractions such as Torre del Oro, the Maria Luisa Garden and the Palace of San Telmo.
The vehicle is fully equipped — we're talking bar fridge with one liter of Sangria, party music (and speakers), lights, the whole shabang!
No under 18s are permitted to join these fun eco-friendly sightseeing adventures.
70 – Meander through orchards and fruit trees at the famous gardens and parks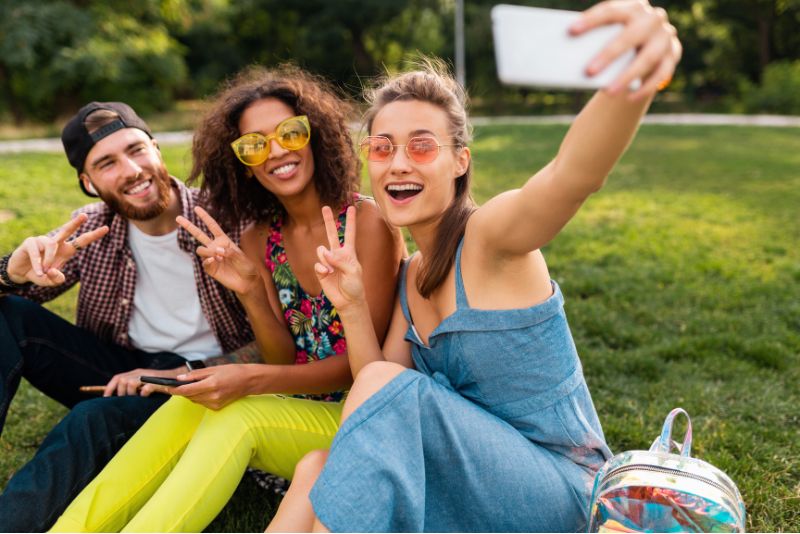 Seville is blessed with beautiful parks and spaces right in the heart of the city — it's half of its charm. Spend time in its famous gardens and parks!
Right next door to the Paseo de Catalina de Ribera are the Murillo Gardens (Jardines de Murillo). Fall in love under the Magnolia trees, and the garden enchants visitors with its tree-lined pathways, ceramics and fountains.
Visit Jardines del Prado de San Sebastián in May to see it transform into a flurry of purple as the Jacaranda trees shed their petals. It's a great one for families with zip lines and slides too.
Further toward the city outskirts is Alamillo Park. Thanks to its size, it's popular for sports like football, and has a children's playground as well as groves of orange trees!
71 – Experience Seville's stage delights at the theater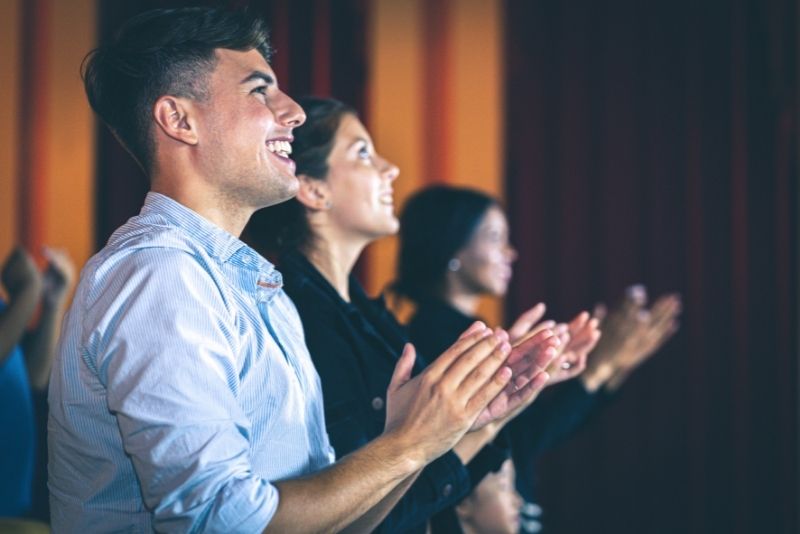 For a taste of how this city entertains itself, consider booking tickets to the iconic Teatro Lope de Vega, a staple venue in Maria Luisa Park.
Built in 1946 and famous for its large-scale musicals that carry spectacular backdrops, it's Seville's premier performance space for everything from plays to performers — so if you love live shows or are traveling with someone who does, consider this a must.
Another noteworthy venue, Teatro de la Maestranza is the go-to for all things opera. Welcoming both local and international names, it's a beautiful acoustic space and well worth the visit if you're in town.
72 – Visit the Palacio de las Dueñas, Seville's unique gothic palace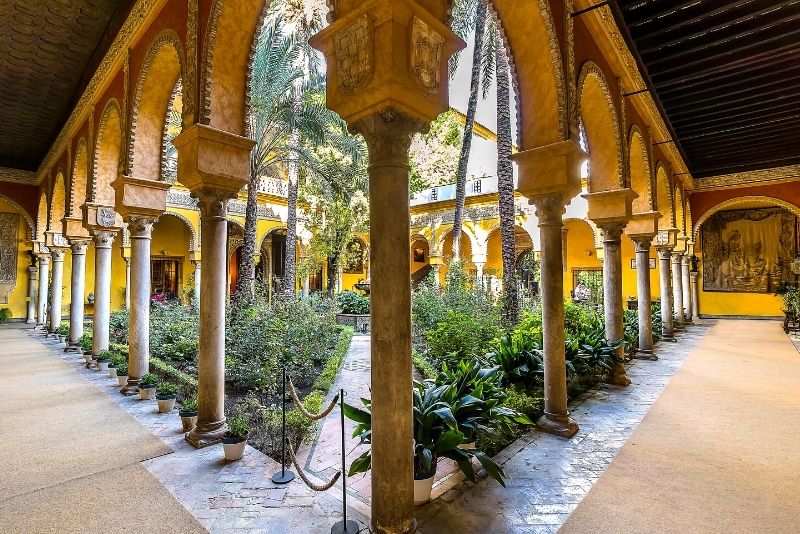 A magnificent example of Gothic architecture with Mudéjar influence, this perfectly preserved palace is one of the most unusual and beautiful sights in Seville — especially when the flowers bloom on its facade.
There are 11 ornate spaces within its magnificent gardens to discover, boasting more than 117 different plant and floral species.
Exterior beauty aside, as you step inside the 15th-century castle you'll come across all kinds of historical treasures that are well worth exploring, including bullfighting and football memorabilia that belonged to the late Duchess de Alba (a well-known aristocrat).
Palacio de las Dueñas offers guided tours.
73 – Don't forget about the Archeological Museum of Seville
If you're still itching to learn more about Seville's history, head straight to the Archeological Museum of Seville, a three-floor, ten-room exhibition inside Pabellón del Renacimiento at Maria Luisa Park
This museum features a vast collection of pieces from the Paleolithic era up to the Middle Ages, with an exciting array of Tartessian Pottery.
Even the building itself is also worth a gander; built in 1929, the neo-Renaissance structure was designed by one of Seville's most beloved architects, Aníbal González.
74 – Embrace local traditions with an olive oil farm tour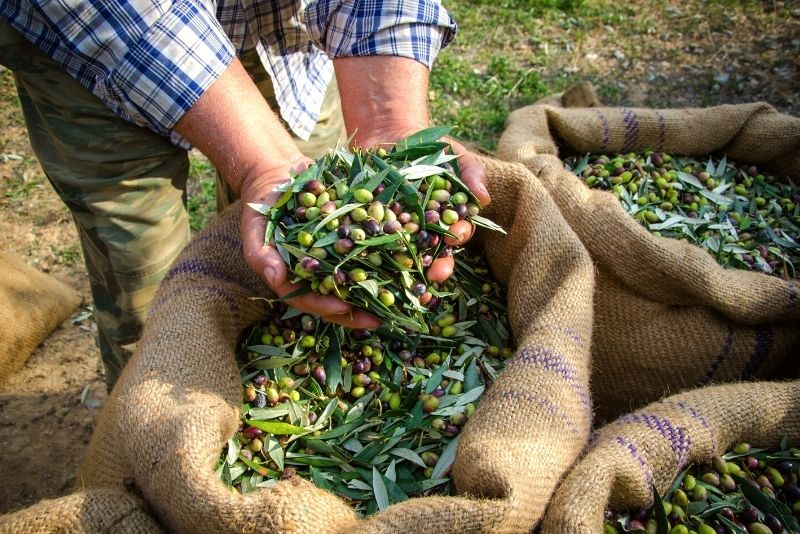 For a more immersive slice of life in southern Spain, head to an olive oil farm for a range of activities that include sampling the golden liquid and seeing how it's made. After all, the Andalucía region is the largest olive oil producer in all of Spain!
Visitors can also take a tour of the farm to learn about Spanish traditions and culture, as well as try out some hands-on activities such as pressing olives. Don't miss this one if you have even a passing interest in food & drink.
Spanish olives are highly prized, and once you've tasted a proper Spanish olive, whether black or green, it's hard to beat anywhere else — sorry, Greece and Italy!
75 – Join in the Holy Week festivities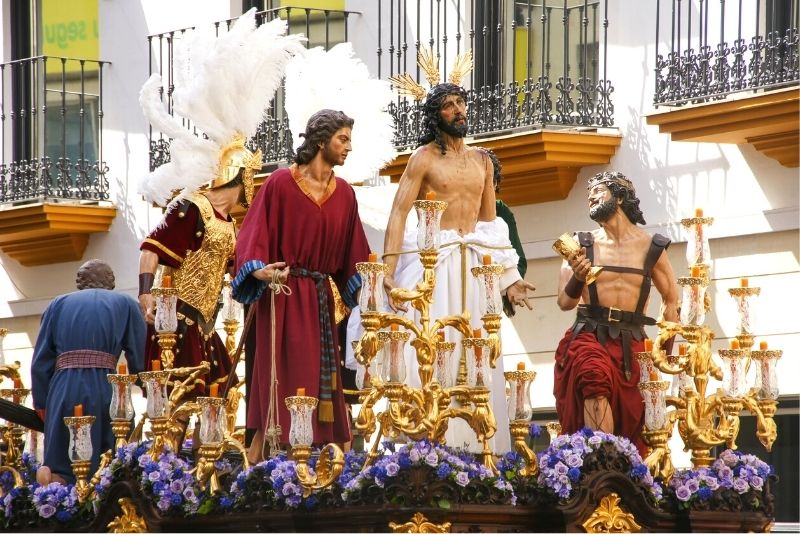 If you have the time and your vacation dates happen to line up, attending Holy Week — which takes place in the week leading up to Easter — is a must-do for any  Andalucían traveler.
A tradition dating back to at least the 16th century, not only is the week steeped in religious significance and history, but also comes packed with celebrations: you'll find traditional dance, delicious food, and ice-cold sherry around every corner, as well as parades that can last up to 12 hours!
In a predominantly Catholic city, Semana Santa (as it's known in Spanish) is a seven-day-long fiesta.
76 – Pamper yourself at a spa!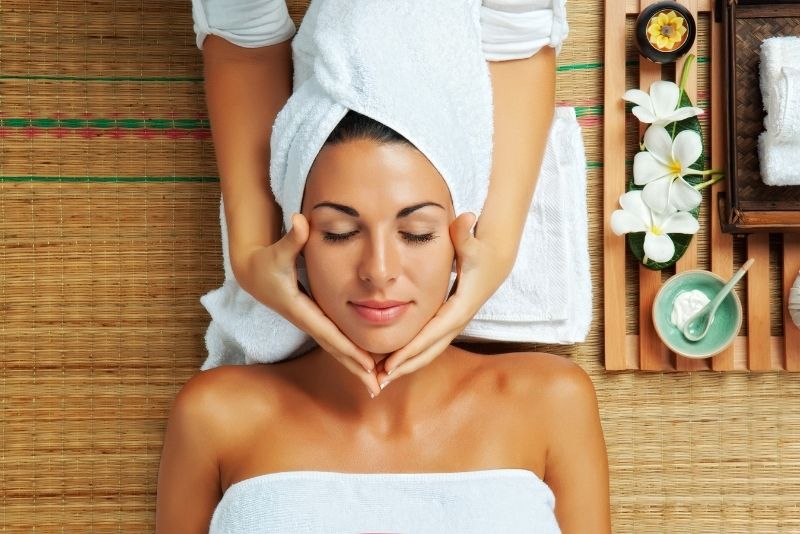 If the head's throbbing from last night's bar crawl, there's n better way to soothe it than with a relaxing massage. Luckily for weary travelers (even if you're just sore and bothered from walking around town), there's no shortage of spas in Seville.
Whether you're after a thermal bath, deep tissue massage, scrubbing and exfoliation or full-on aromatherapy, Seville's got your back.
If you can't decide where to book, the AIRE Ancient Baths are tucked away inside a 16th-century Moorish palace and deliver a large dose of beauty to complement the R&R.
For a different form of meditation, join a yoga class. Find your flow and leave feeling zenn-ed out. Yogis, there is even SUP yoga on the river for something different.
77 – Browse the Museum of Popular Arts and Traditions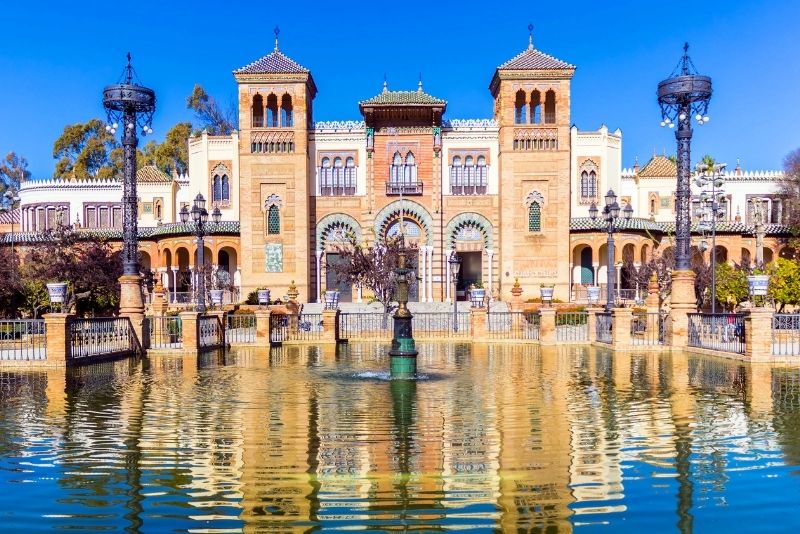 A great place to learn more about the cultural and historical heritage of Andalucia, the Museum of Popular Arts and Traditions features a huge collection of traditional dress costumes, handicrafts and other items relating to key events in Seville's past.
Throw in the diverse collections of oriental porcelain and ivory, blacksmiths' gear, household utensils, musical instruments, and vibrantly decorated tiles, and it's easy to see time can fly by within its walls.
Plus, thanks to its location inside beautiful María Luisa Park, it's a simple (and essential) addition to any day of walkabout.
78 – Admire the sunset from a rooftop bar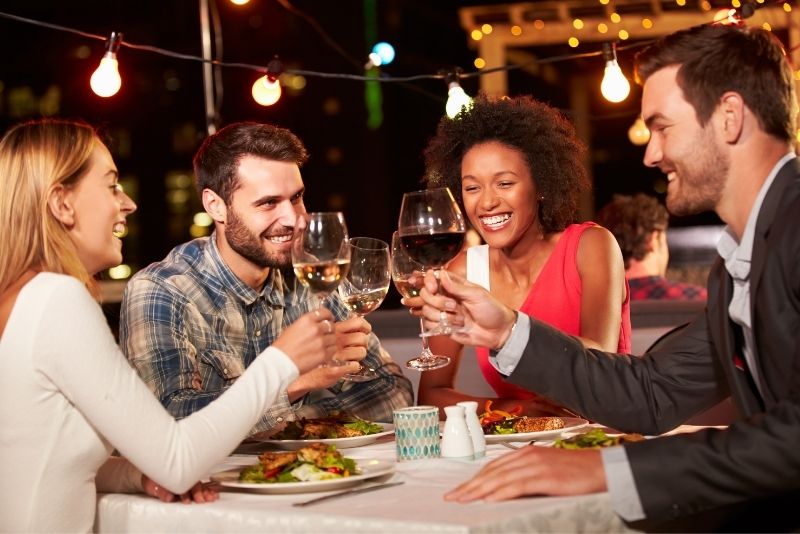 A little more low-key than a tipsy pub crawl, but equally as fun, is spending an evening on the town at one of Seville's many rooftop bars.
Situated in some of the city's best-kept buildings and offering gorgeous panoramic views across Seville, these bars are perfect for a night out with friends or date night.
One of the most popular spots in town, Terraza Hotel Doña María boasts spectacular views of the Cathedral as well as a rooftop pool.
Score two in one at the Gourmet Experience Duque Terrace Bar. Once you're done with your shopping at the Corte Inglés, head up to the rooftop for tapas and a glass of vino from the wine bar, or an affordable cocktail.
If you're still thirsty, the Pura Vida Terraza in Santa Cruz offers live music and hand-crafted cocktails, while Hotel Inglaterra's La Terraza, right on Plaza Nueva, is all about style and sophistication.
79 – Spend a night at Hotel Alfonso XIII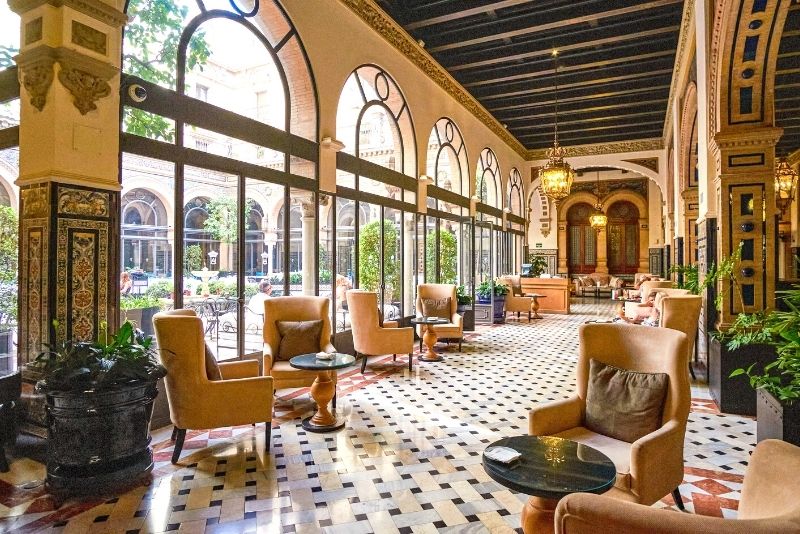 Feeling fancy? Then you'll love Hotel Alfonso XIII, a luxury hotel that sits right next to Seville's Real Alcazares inside one of the city's landmark neo-Mudéjar buildings. Built by King Alfonso XIII back in 1929, the hotel was literally constructed for the purpose of housing royalty — and, as such, is hard to beat for a night of pampering.
Besides opulent rooms with lavish furnishings and modern amenities, the hotel also boasts an outdoor swimming pool, gym and enchanting garden courtyard.
The five-star stay also does a fabulous Sunday Brunch, there are two on-site restaurants as well as a poolside option and a lavish bar.
80 – Party until sunrise at the best nightclubs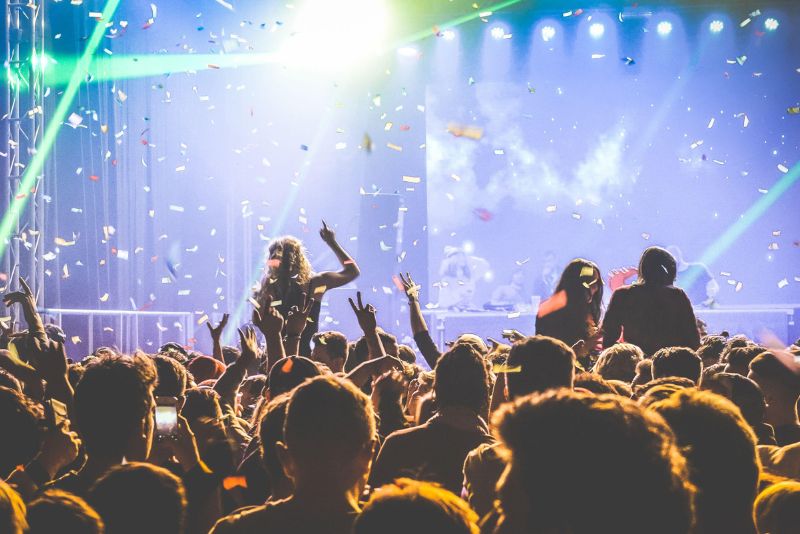 Get your disco on at the top nightclubs in Seville.
Appeasing crowds since the 80s, Groucho is an institute in its own right. Dazzling with five spaces (three of which are reserved for VIPs), there's a themed event on different nights of the week, like flamenco Fridays, Saturday Afternoon Fever and tunes from the 80s and 90s.
If you're in search of a wild night out, look no further than Uthopia — one of the biggest clubs in the city.
Obbio caters to all crowds, favored for its Drag nights and LGBTQ+ friendly setting.
Always jam-packed, Terraza Alfonso is frequented by youthful crowds and really kicks off in the summer.
Make your way to Abril Sevilla with its circus performers, bottle service and banging club beats.
Antique Theatro is one of the most impressive nightclubs in Seville, but they can be quite icky if you're not dressed to the nines (or a local).
How to get to Seville?
Rather than try to pick apart Seville's public transport system or wait in line at the taxi rank, why not take the easy route? By booking a pre-arranged airport transfer in Seville, you can take all the hassle out of arrival — a friendly, local driver will meet you at the arrivals hall (holding a placard with your name on it!) and whisk you away to your hotel.
Plus, if traveling as a group, it's often a cheaper per-person alternative compared to the regular shuttles.
Where to stay in Seville?
Have you thought about your accommodation options yet? A sprawling city that can cater to every budget, Seville offers everything from luxury royal-like hotels to basic bunk-bed hostels (where breakfast is included) and everything in between.
Not sure where to start? If you've already considered the aforementioned Hotel Alfonso XIII, both Hotel Palacio de Villapanes and the Boutique Hotel Casa del Poeta are overflowing with opulence; Melia Sevilla boasts a stunning, enormous pool; while the Black Swan Hostel Sevilla is the go-to for penny pinchers after a no-frills bed to sleep on.
For travelers who appreciate the minor details, the funky yet super stylish and luxe interiors at the Hotel Lobby will woo you over instantly! The beds are extra comfy, the location is prime and there's even a penthouse option with a private jacuzzi!
From its impeccable service to gorgeous rooftop restaurant, guests never want to leave the Hotel Unuk. Expect spacious room options that retain a modern, warm and classy feel and the balconies are an appreciated touch.
If you prefer boutique-hotel-type stays, look no further than the five-star, luxurious Hotel Mercer Sevilla. It's an excellent option for couples!
Visiting Seville on a budget?
Popular among budget-savvy travelers, free walking tours in Seville operate through all of the city's main neighborhoods, offering a great way to get a taste of the essential attractions and culture from a local's perspective. Typically, the guides are happy-go-lucky, charismatic, and are more than happy to share the inside tips on places to eat, underground bars, and the like.
Keep in mind, of course, that while they're 'free', guests are expected to leave a tip.
The Seville Pass is another fabulous alternative for saving extra euros! The pass automatically grants you access to the most famous landmarks, attractions and tours for a discounted rate (calculated into the overall price). Plus, you get to skip ticket-lines!
Where to go next?
When it comes to the south of Spain, you're truly spoiled for destinations to visit. Wondering which city to add next to your travel itinerary? Malaga, Cádiz, Córdoba and Granada are great options to consider!
Just over one hour away, there are plenty of things to do in Cadiz. Closest to Seville and as one of the oldest cities in Europe, it would be a crime to leave it off. There's a magic in the air and its sleepy cobbled streets have a way of capturing you.
1.5-hours away from the capital of Andalucia you'll find many fun things to do in Córdoba, where the landmarks and monuments are truly spectacular. Home to four UNESCO-listed sites, it boasts Roman and Moorish influences dating to the Middle Ages.
There are many other fun things to do in Malaga too. Located on the coastline, visit castles, museums, botanical gardens, beaches AND … Pablo Picasso's childhood home. Travel time between the two cities is 2.5 hours.
Adventure seekers can also find many things to do in Marbella, a destination that offers opportunities for water sports, hiking in the nearby mountains, and even skydiving.
Finally, for an overnight stay, there are plenty of things to do in Granada, as there is just so much to experience and see here! You can catch the train between Seville and Granada; this journey across the Andalusian landscapes is pretty!
If you only have a week or so to discover the Andalusia region, multi-day trips are a great way to travel across, visiting several cities in one go!
Final thoughts
Whether you're a helpless romantic or a history aficionado, the things to do in Seville are a treat for all travelers.
From days dedicated to drinking sangria and sightseeing, to time adventuring the outdoor parts of the city, it's truly a special place.
Have you visited Seville before? What did you love most about this dreamy city? Feel free to share with us in the comments.
As always, happy travels!