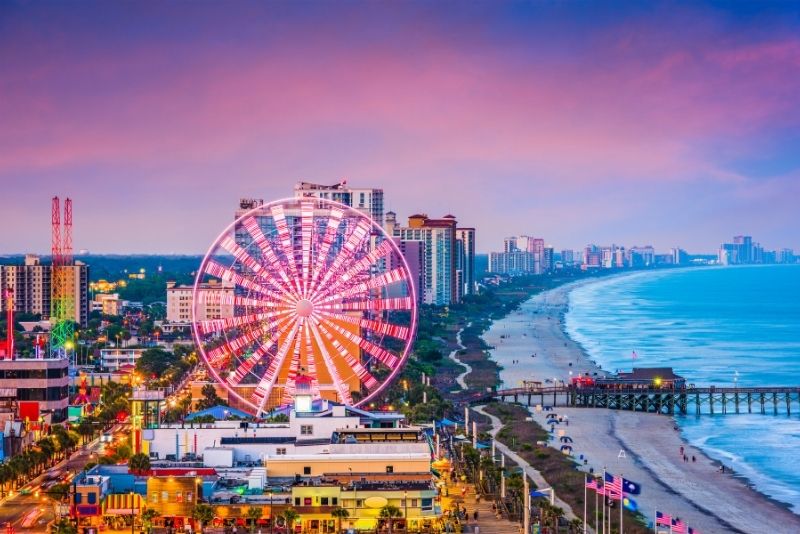 It might not attract a substantial amount of international tourist fame compared to the likes of Virginia Beach to its north and Charleston to its south, however, the Carolina locals have been flocking to the pristine waters of Myrtle Beach for decades — and only now is the rest of the world catching on to its unique charm.
With a long list of oceanfront attractions — from old-timey theme parks to modern piers, sprawling parks, and lively boardwalks — plenty of nearby wildlife, and a range of award-winning shows, bars, and restaurants, you'll be overwhelmed with the wonderful array of things to do in Myrtle Beach.
Need help planning your itinerary? Look no further.
1 – Take a ride on the wild Waccamaw River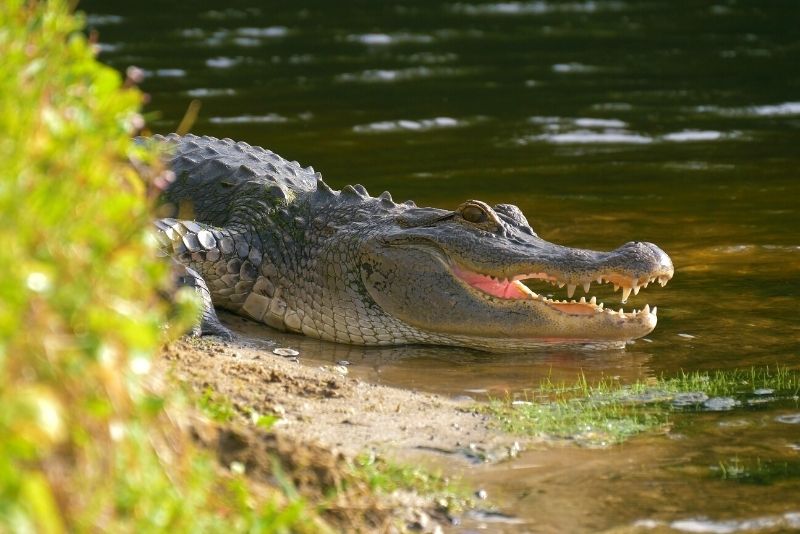 Hop on a boat, sit back and relax.
Cruising the wonderful Waccamaw River, surrounded by green moss and cypress trees, is one of the most popular things to do in Myrtle Beach.
With an expert guide from Waccamaw River Tours leading the way, take the opportunity to spot gators in their natural habitat, see the ospreys building their nests, and lose yourself in the beauty of the river!
2 – Watch a fire luau with dinner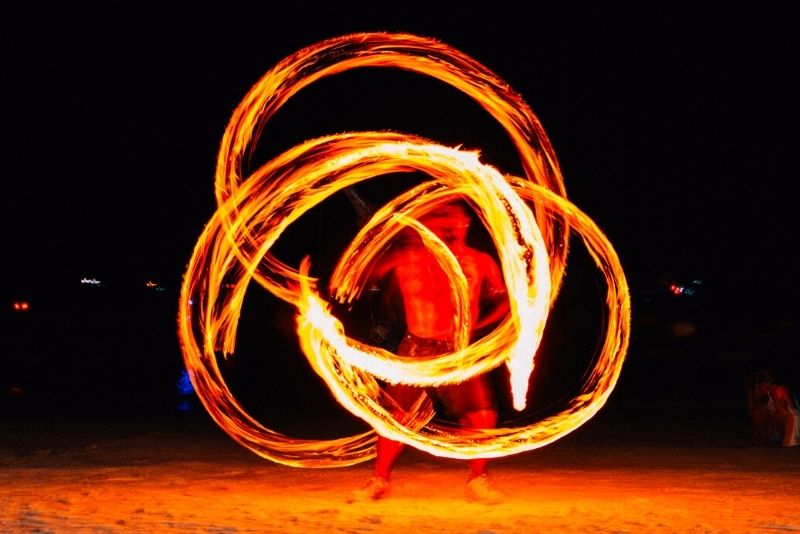 If the delicious buffet dinner isn't enough to entice you, set your night alight with an hour-long festive fire and dance show, straight from the Polynesian shores to the shores of South Carolina!
Expect to be entertained by singers, acrobats, and fire-knife jugglers, and don't forget to pick up a drink and a souvenir photo while you're there.
3 – Survive the zombie outbreak in an escape room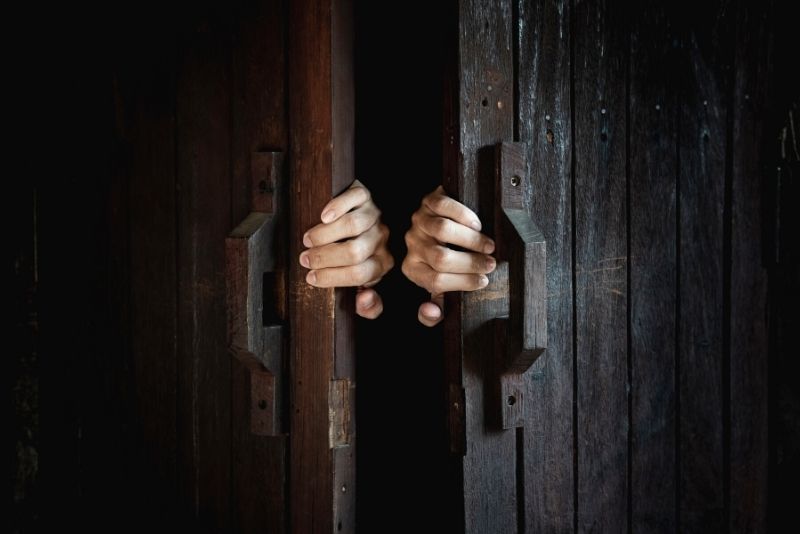 Myrtle Beach's own The Walking Dead-themed escape room is a guaranteed hit with fans of the show — or any would-be detective, for that matter!
You and your friends get 60 minutes to avoid the zombie outbreak and get to safety by solving all the clues and puzzles. So, do you think you've got what it takes? There's only one way to find out…
For something different, tackle what is officially the smallest escape room in the USA at Riddles by the Intracoastal waterway — that is, of course, unless you're a little claustrophobic.
4 – Take the trolley to Charlie's Place Historic Site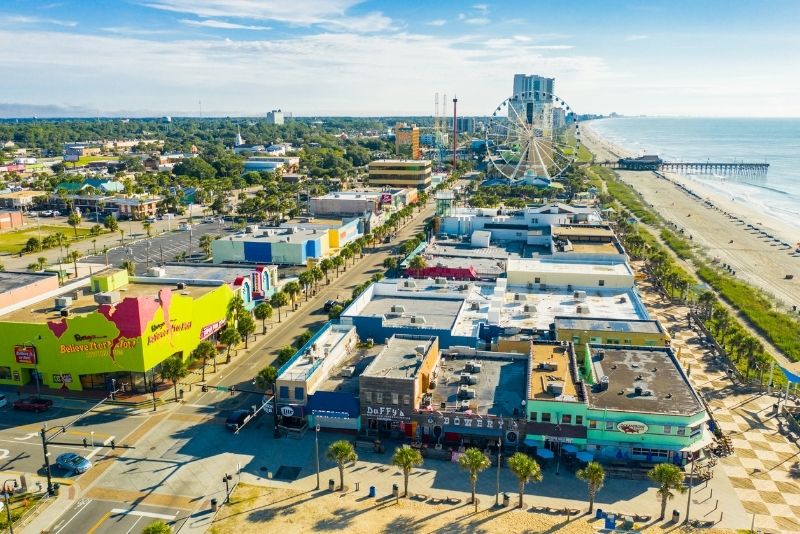 A convenient and affordable way to get around town, the city's trolly tours offer the chance to check out a range of cultural and historic landmarks.
Dive into the area's musical history at the African-American nightclub, Charlie's Place, where for over 30 years the best acts have performed on the Chitlin' Circuit; check out the reconstruction of the motel from The Green Book; walk around the Jack Thompson Photo Gallery, and so much more.
With themed experiences including movies, music, and history, there's something for every interest.
5 – Spend the day in historic Charleston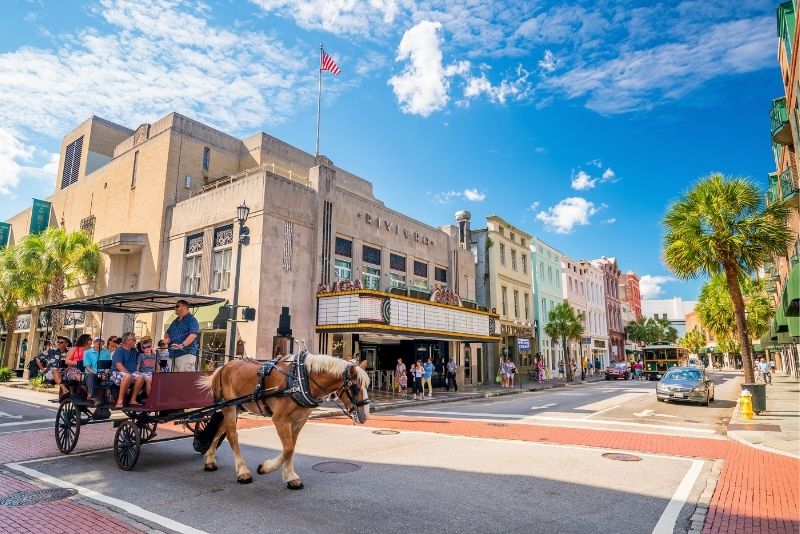 A vibrant southern city growing in popularity by the day, charming Charleston is a stone's throw from Myrtle Beach, making it the perfect day trip destination.
For an alternative to your typical bus tour, considering the unique horse-drawn cart experience:
Led by an entertaining and knowledgeable guide, you'll wander through the Old City, its open-air market, the Boone Hall Plantation, and the stunning harbor.
6 – Hit the surf!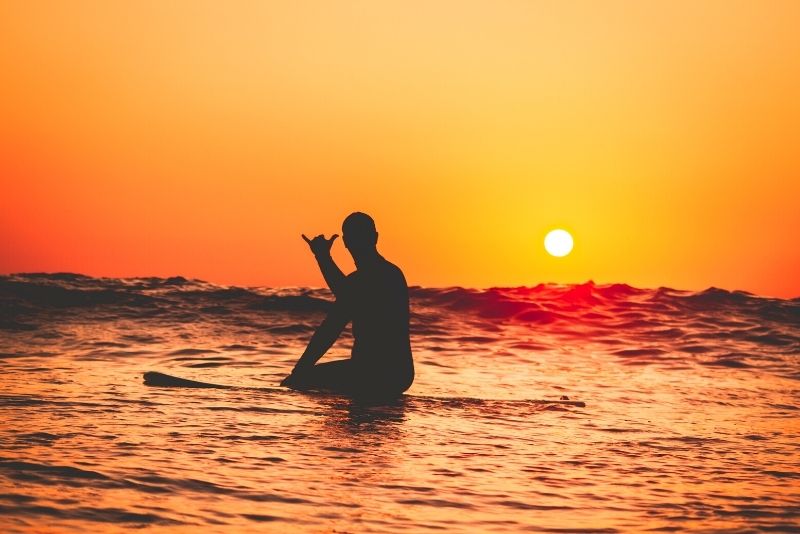 Surf's up! The famous Myrtle Beach surfing beaches are a favorite spot for locals and tourists alike, so why not get down for a surf lesson?
Whether you're a first-timer or a pro, the instructors can take you up a level and have you hanging ten in no time!
If you're planning on renting your own board and going solo, Twenty-ninth Avenue comes recommended for dishing up some of the area's best swells.
7 – Go kayaking at Murrells Inlet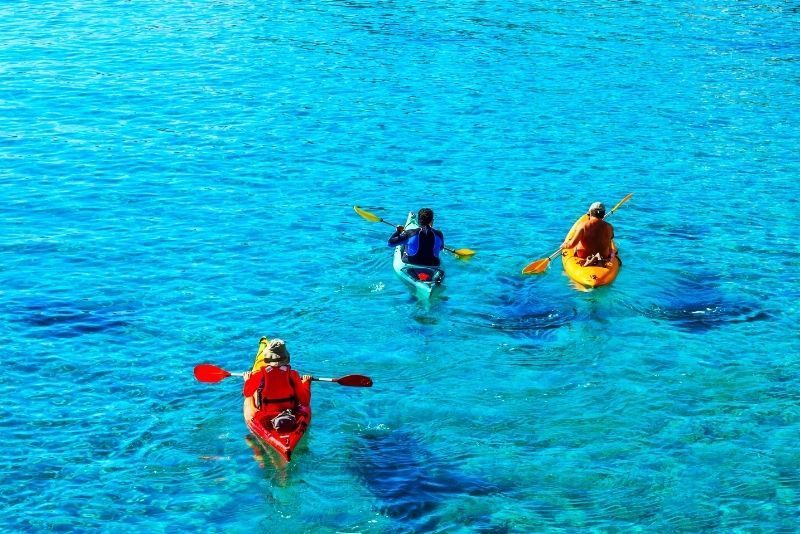 While there are so many things to do in Myrtle Beach, it's also good to step away from the bustling boardwalk, beaches, and theme parks once in a while.
Known as a blissful spot to unwind and recharge, Murrells Inlet, which sits about13 miles south of Myrtle Beach, is perfect for a quiet kayak on the water or a snorkel.
The glittering sunset is a must-see — especially on the days which the turtles come out to say hello.
8 – Go tubing with River Island Adventures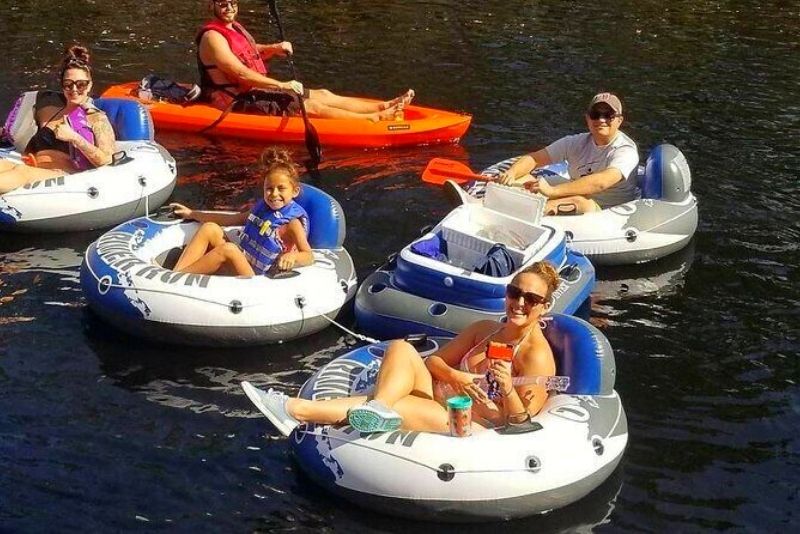 Sure, Myrtle Beach is full of relaxation opportunities (it is a near never-ending beach, after all), but for those seeking to combine relaxation with thrills, look no further than River Island Adventures.
On a tubing outing (or on kayaks or stand-up paddleboard – whichever you prefer), you'll soak in the sun as you zip through the water, wind in your hair along the beautiful river!
When you need a break, 48-acre River Island is set up with a picnic area, hammocks, grills, and giant yard games — the perfect combination to unwind.
9 – Blast the cannons on a pirate cruise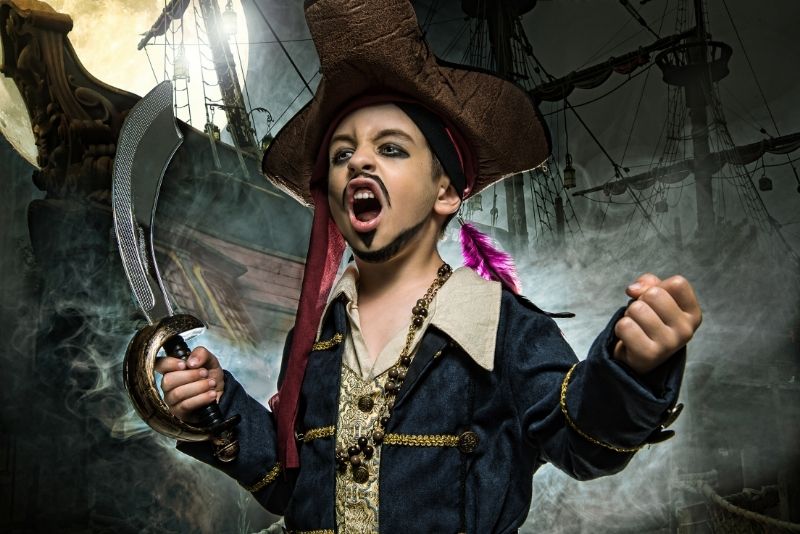 Board the biggest pirate ship in the Carolinas and hoist the Jolly Roger for a family-friendly adventure!
A perfect activity for youngsters, take to the seas to find Blackbeard's buried treasure, singing sea shanties, firing cannons, and fighting scoundrels along the way!
The journey lasts for around 90 minutes, but the memories will last a lifetime!
10 – Race against the clock in a scavenger game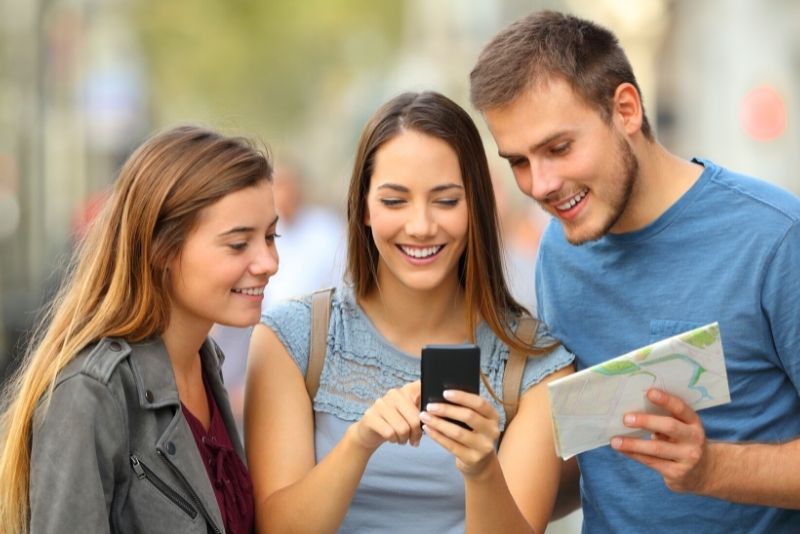 For when slow-paced walking tours become a little too routine, why not add a little extra excitement to your sightseeing with some friendly competition?
On interactive scavenger games, you'll be able to work as a team (or compete against each other) as you solve riddles, answer trivia questions, and race around Myrtle Beach's major landmarks and hidden gems!
Despite being on the clock, there's still plenty of time to pick up a drink or some toasted ravioli as you go through the town.
11 – See the knights do battle at Medieval Times Dinner & Tournament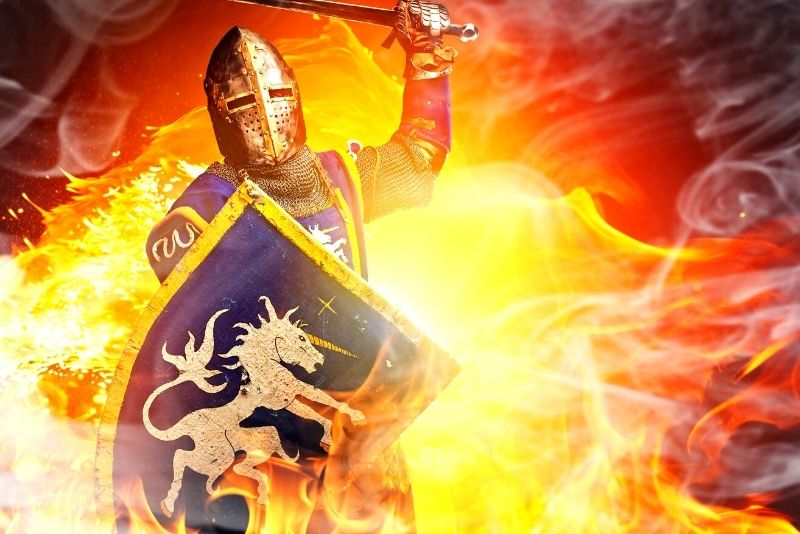 Hear ye, hear ye!
Myrtle Beach Castle is hosting the night of a lifetime, as six brave knights on horseback compete in jousting, swordplay, and horsemanship live in front of your very eyes
With a four-course meal fit for a king or queen, both kids and adults alike walk away grinning ear to ear at this nod to 11th-century traditions.
12 – Go to all your favorite gigs in one night at Legends in Concert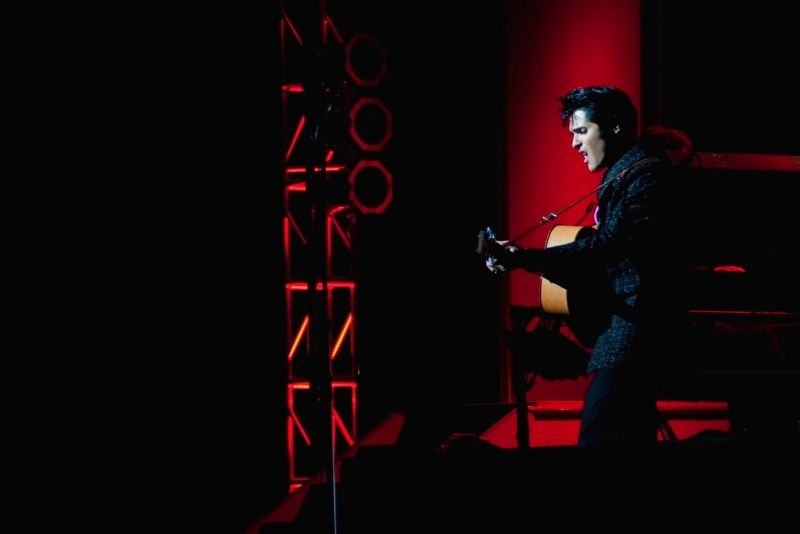 Ready to time-warp through music history?
Tribute performers from Elvis Presley to Dolly Parton, and Michael Jackson to Madonna take to the stage, with unparalleled lighting and special effects making the night all the more magical!
To get the most out of your evening, check out the nearby shopping and restaurants, or grab a photo with your favorite performer!
13 – Take the edge off at a spa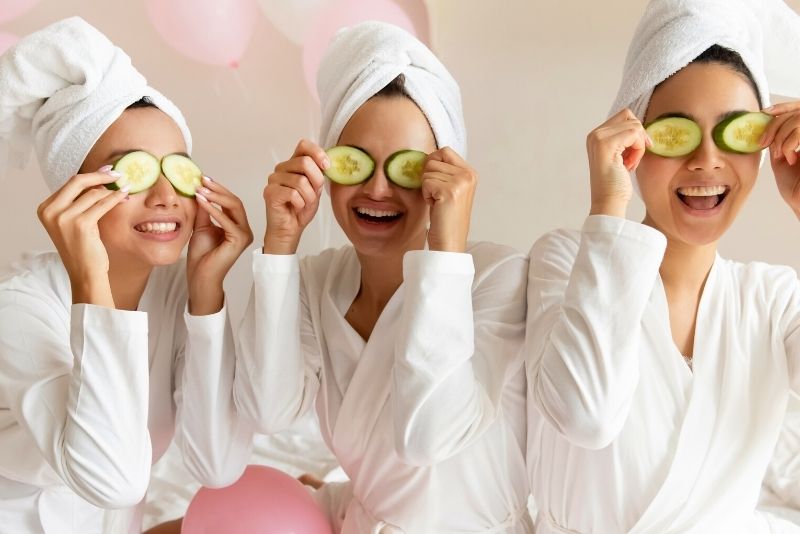 Exploring the myriad of things to do in Myrtle Beach can certainly tire out the legs.
Thankfully, heavenly Himalayan Salt Therapy is sure to rejuvenate any weary traveler.
As a unique alternative to most spas, here, the salts reduce inflammation and open the airways, so all you have to do is take a deep breath, put your feet up, and relax as the natural elements do their thing.
14 – Ride the iconic SkyWheel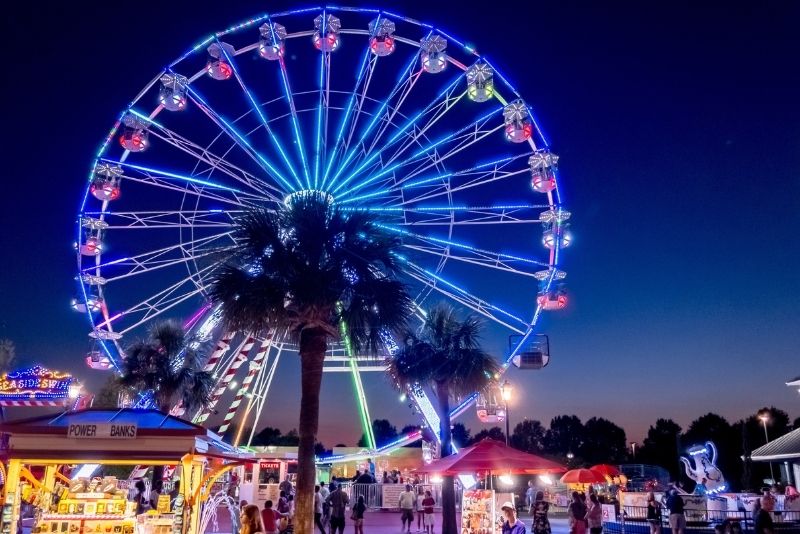 Ask any former visitor — no trip to Myrtle Beach is complete without a ride on the iconic SkyWheel.
The views from the top, at 200 feet over the boardwalk and sapphire waters, are simply beautiful.
Plus, since the gondolas are fully enclosed and equipped with heating or air-conditioning, great views and comfort are guaranteed regardless of the time of year that you're visiting!
15 – Meet sharks at Ripley's Aquarium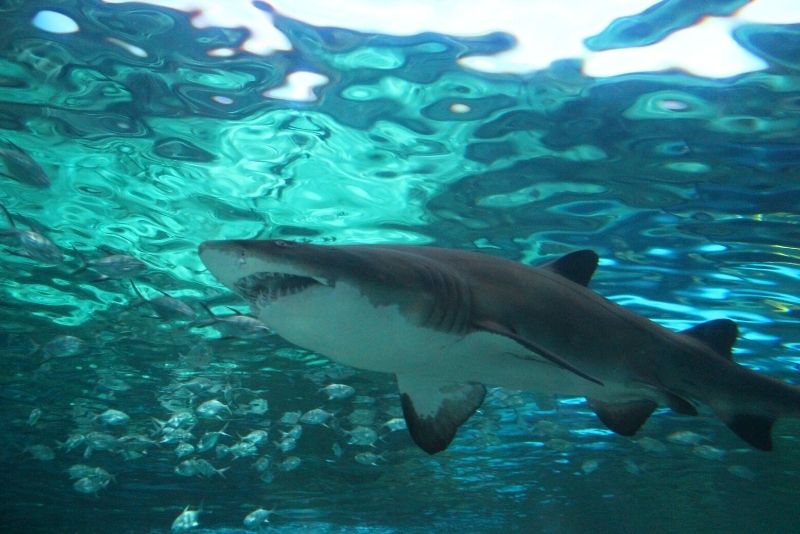 Besides the obvious plethora of sea life, this aquarium has plenty more unique selling points:
The glass-bottom boat gives visitors a spectacular view of the coral reef and the sharks swimming under your feet; visitors can get up close and personal with the adorable penguins at the Penguin Encounter, and kids can have pancakes with a real mermaid!
On those occasional rainy days, there's no better place to be.
16 – Meet celebrities at the Hollywood Wax Museum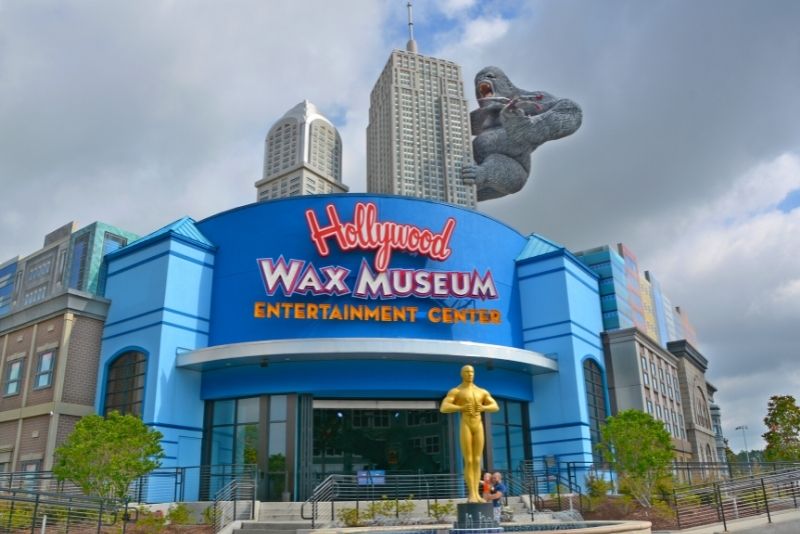 Myrtle Beach's Wax Museum is a selfie paradise, with all of your favorite celebrity A-listers — from Brad Pitt to Tom Brady, Beyonce, and everyone in between — ready to light up your social media feed (do you think your friends could tell the difference?).
Besides the lifelike figures, the popular museum also boasts a couple of other intriguing attractions, the confusingly  Maze of Mirrors, and the zombie-themed Chemacorp Lab, just to name a couple.
17 – Cheer on the Myrtle Beach Pelicans
Without the stature of an MLB side, the local fans are a close-knit community, which means that seeing the local baseball team at TicketReturn.com Field is often an unforgettable experience!
They love and rally around their talented side, as well as $2 Tacos & Tallboys on Tuesday night games!
Besides the chance to catch a live game, the stadium also boasts an obstacle course and moon bounce perfect for zapping the kids' energy!
18 – Get to the piers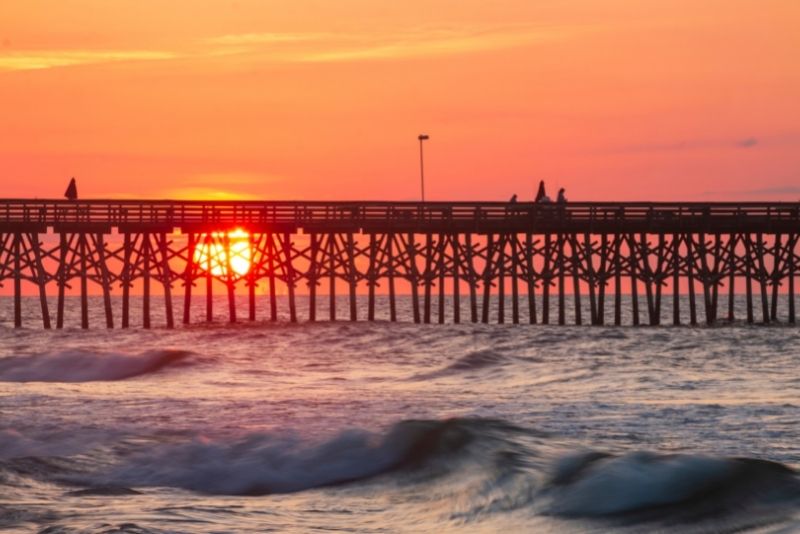 Acting as somewhat of a beacon for the range of things to do in Myrtle Beach, the piers are always teeming with activity, entertainment and curious crowds.
Discover Apache Pier's arcade games and campground; the delectable food of Pier 14 restaurant, and live music at 2nd Avenue Pier.
Garden City Pier's fishing is a real catch, meanwhile, Surfside Pier will reel you in with its regular street entertainment!
19 – Chase thrills at Family Kingdom Amusement Park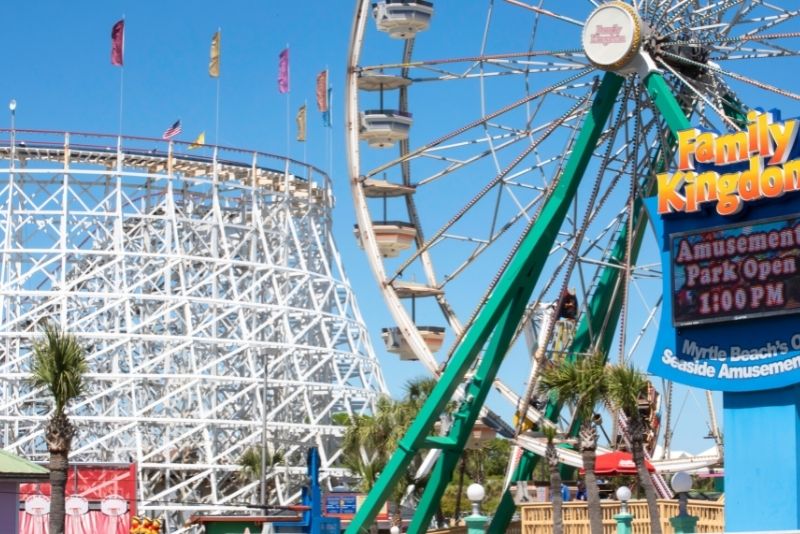 Thrill-seekers, listen up!
At Family Kingdom Amusement Park in the heart of Ocean Boulevard, guests brave enough can free-fall 110-feet in the Slingshot Drop Zone, ride the sharp turns and exhilarating drops on the Twist'n Shout Coaster, and tackle the Swamp Fox, featuring incredible water views and quick shifts in direction!
For something more family-friendly, the bumper cars and go-kart tracks are always a delight.
20 – See a six-legged cow at Ripley's Believe It or Not!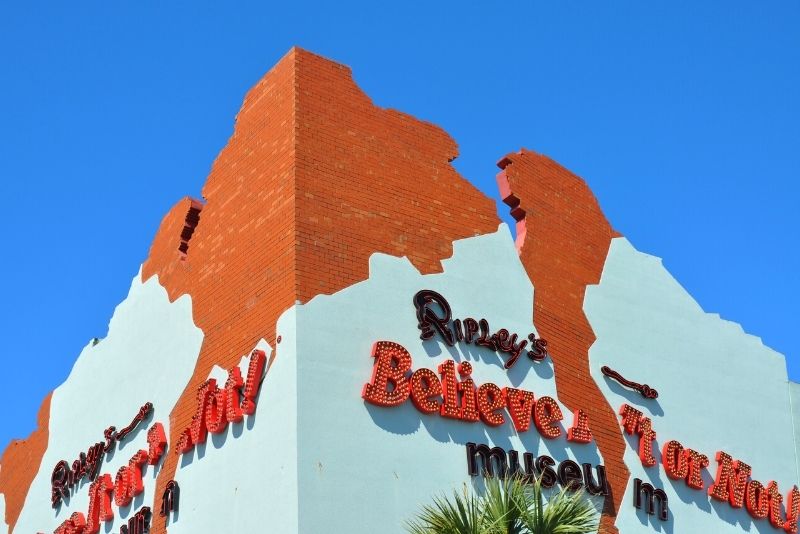 As the name suggests, you won't believe what lies within one of the most unique things to see in Myrtle Beach.
The unmissable three-story building contains the Odditorium, which gets stranger the deeper you go, showcasing shrunken heads, six-legged cows, floating boulders, and everything in between.
Ripley's also boasts its own horror maze, 5D theater, 'Smash Dash' challenge (an interactive race), and an arcade, making it an obvious choice for a rainy day.
21 – Wet your whistle at New South Brewing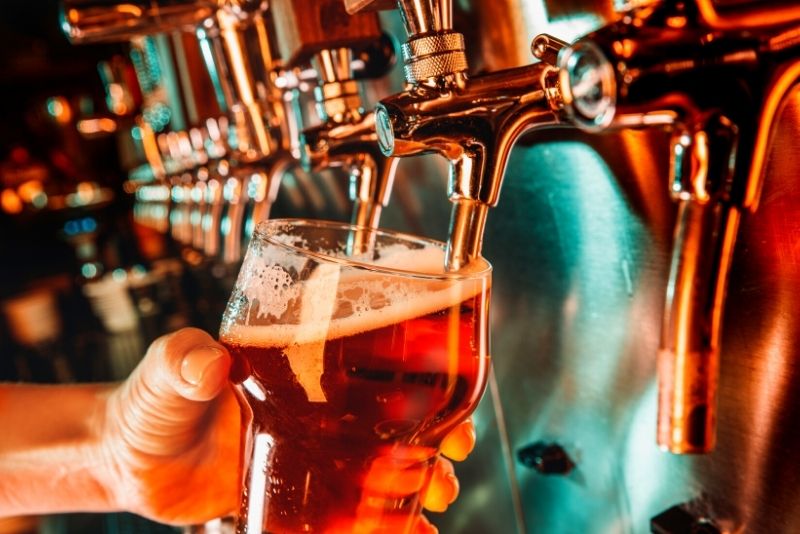 Fancy a cold beer on a hot day? How about one sure to warm you up on a cold day? Well, look no further.
New South Brewing offers fascinating tours that take you behind the scenes of its famous brewery — and yes, samples and included.
Try a sweet Grandma Candy, a coffee-infused Java the Nut, a robust Dark Star Porter, or a signature Dirty Myrtle DIPA — as you'll discover, there's something for every palette!
22 – Check out the warplanes at Warbird Park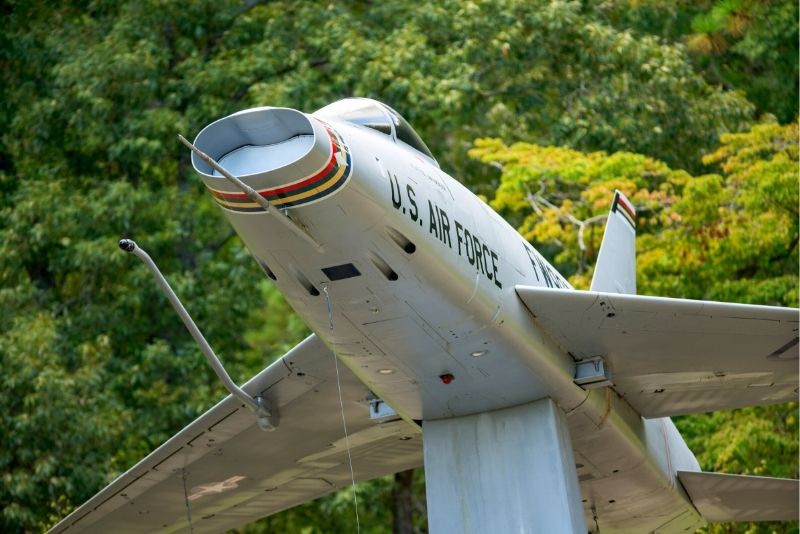 With a great collection of warplanes, any little kid who wants to be a pilot will have a ball at Warbird Park!
Besides its unique decorations, the park is also historical and cultural significance, acting as an homage to the men and women of the United States Air Force
To make the most out of your visit, check the calendar for events like 'Art in the Park', where you can peruse the stalls or buy some art, jewelry, pottery, or other original crafts from artists across the country.
23 – Ride the waterslides at Myrtle Waves Water Park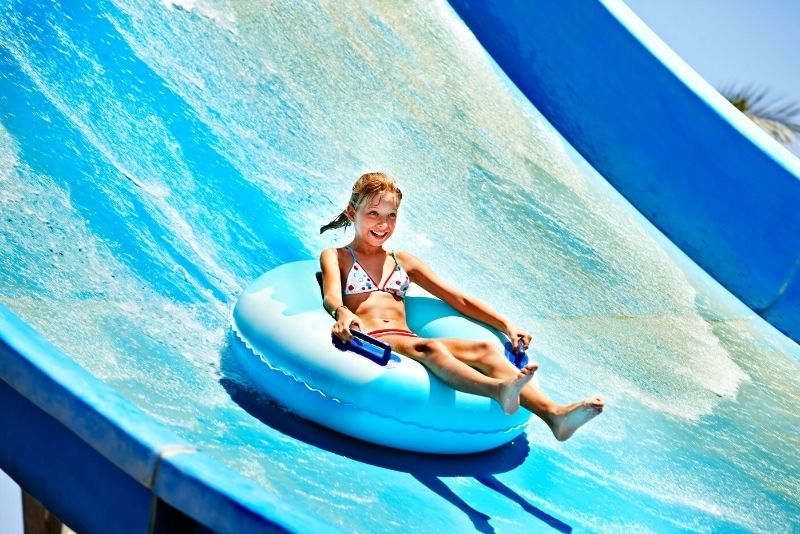 Whether you're a thrill-seeker hunting for a vertical-drop slide or a chiller craving a wave pool, Myrtle Waves Water Park has got you covered.
Relax in your tube and float downstream on Lazy River, or try keeping your feet on the surfboard at FlowRider!
Then, of course, there are the twisting and turning tube slides and water slides — definitely try Night Flight or Turbo Twisters, so long as you're not afraid of the dark!
24 – Burn rubber on the Myrtle Beach Speedway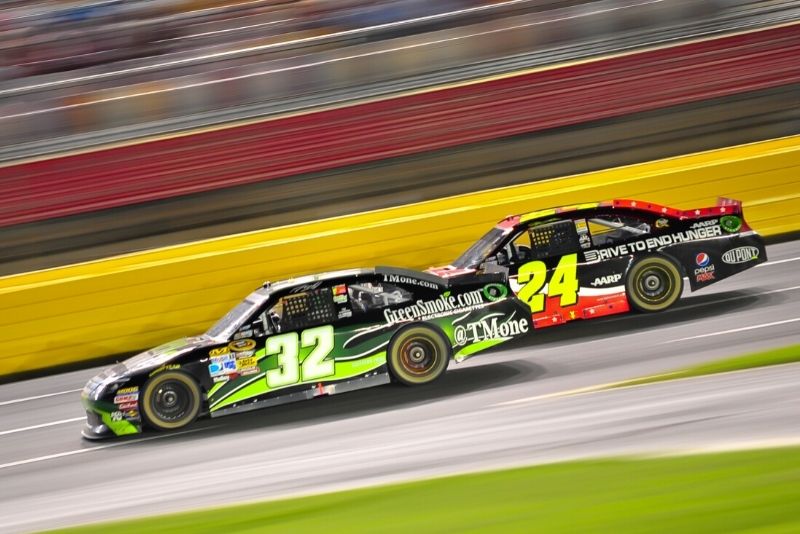 Ready, set, go! Rev-heads will love gripping the passenger's seat for three heart-in-mouth laps of the old NASCAR racetrack in a genuine NASCAR racecar!
To take the experience up a gear, switch the passenger's seat for the driver's seat and put the pedal to the floor as you channel your inner Richard Petty!
Be sure to check the calendar to see what's on when you're in town; the venue hosts everything from Mini Stocks to Super Trucks and Vintage Racing cars at various times throughout the year.
25 – Catch a show at the Carolina Opry Theater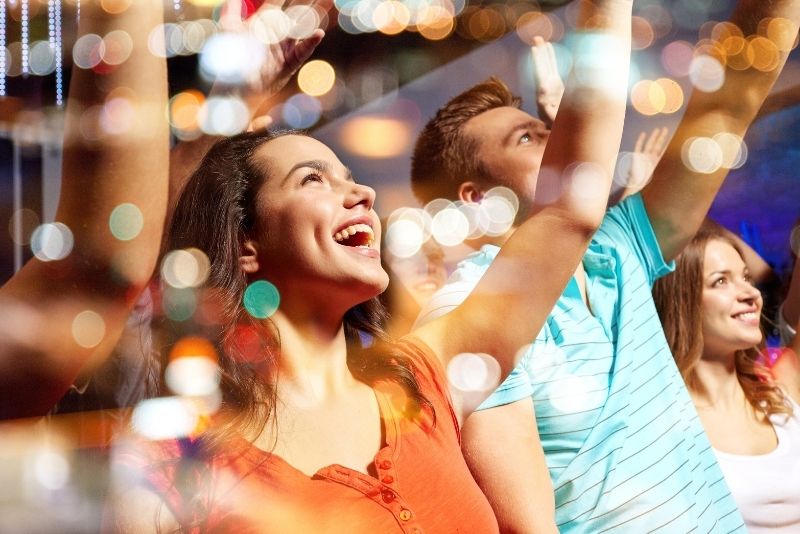 A tourist crowd favorite, Myrtle Beach's first theater has plenty brewing behind its curtain!
With two hours of music, comedy, and dance, the Carolina Opry variety show was voted 'Top Attraction in Myrtle Beach' by CNBC.
Time Warp, on the other hand, is a musical journey starting from the 1960s up until the modern era.
However, arguably the most intoxicating show of them all is Thunder and Light's masterpiece of choreographed dance, lasers, and contemporary music!
26 – Enjoy a swashbuckling dinner and show at Pirates Voyage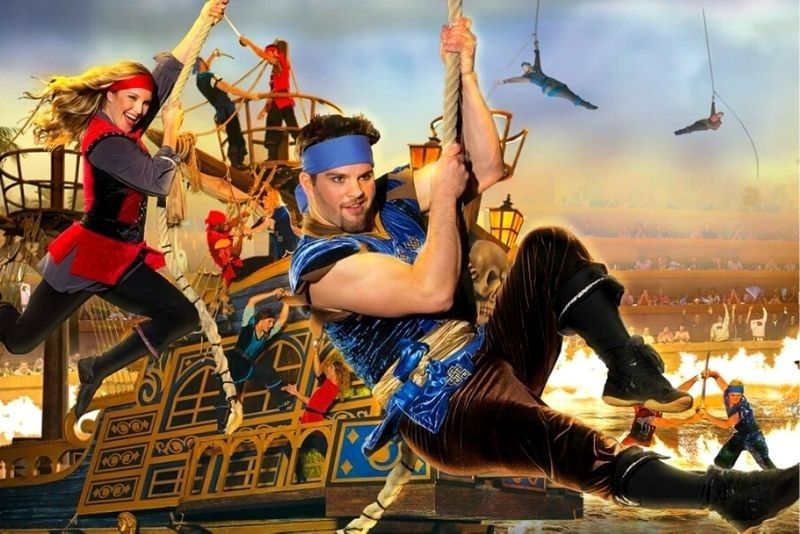 Arrrr, enjoy a scrumptious four-course meal and come on deck with Blackbeard and Calico Jack as you battle for lost booty through air, land, and water in a 15-foot deep indoor lagoon!
Complete with full-sized pirate ship props, mermaids, and sea lions, the performers' aerial and acrobatic prowess make for a great show any night of the week.
27 – Laugh till you cry at a comedy club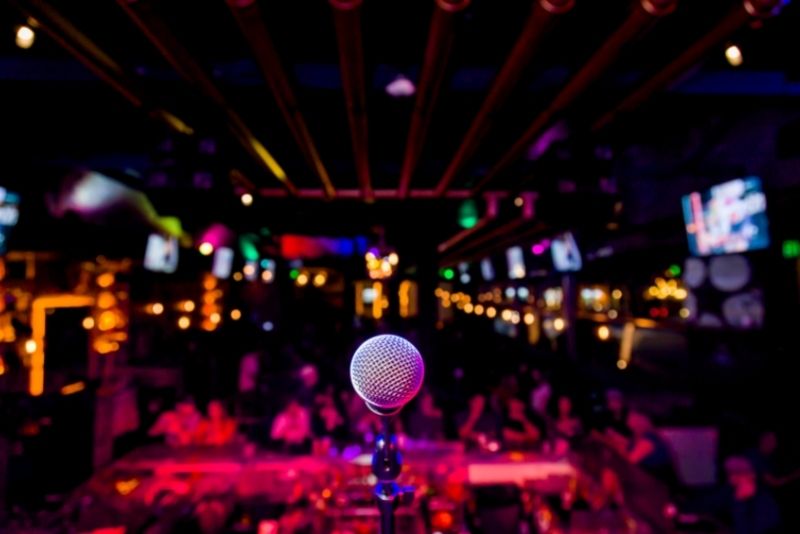 As anyone who's visited will attest, Myrtle Beach's Southern-inspired comedy scene will make your sides split with laughter!
The highlights of the stand-up shows are Carolina Comedy Club and Comedy Cabana, each showcasing famous comedians and rising stars, as well as open-mic nights if you want to test out your latest one-liners!
For something a little different, Carolina Improv offers a fun night for both seasoned drama students and total newbies!
28 – Pick a card (any card) at Michael Bairefoot's magic show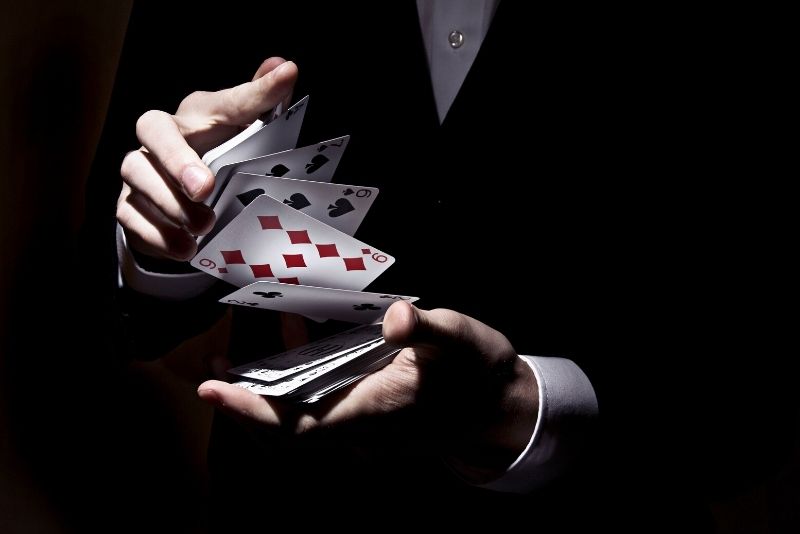 For a night of entertainment unmatched by anything else, the world-famous and award-winning entertainer and magician, Michael Bairefoot takes the classic tricks and brings them into the new age for a spectacular show fit for the whole family!
Hot tip: Snag your tickets online ahead of time because this show is popular and often sells out in peak season.
29 – Try being an astronaut at WonderWorks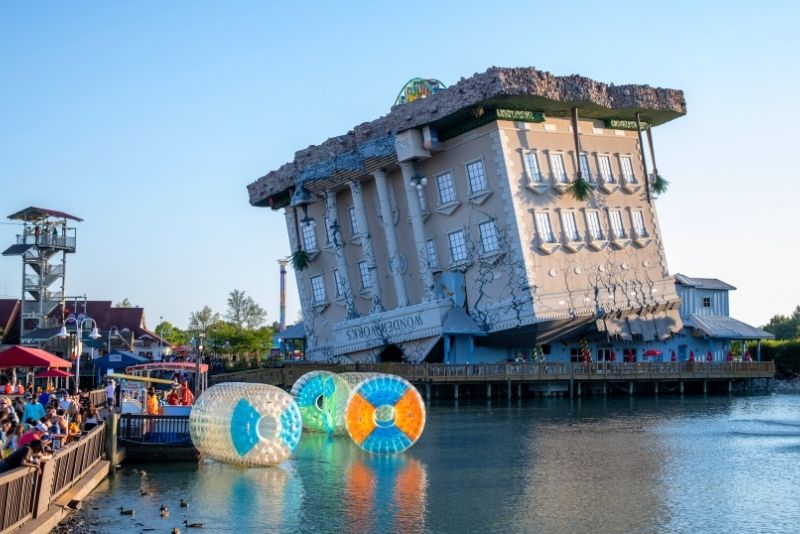 With 50,000 square feet of interactive exhibits to delight your inner child, arouse your curiosity, and open your imagination, WonderWorks is a must for the bucket list.
Anyone who dreamed of being an astronaut will be over the moon at the Space Discovery Zone, complete with spacesuits and astronaut training.
Visitors also love the Extreme Weather Zone, while lying on a bed of nails in the Physical Challenge Zone makes for some incredible photo ops!
30 – Race your friends on Broadway Grand Prix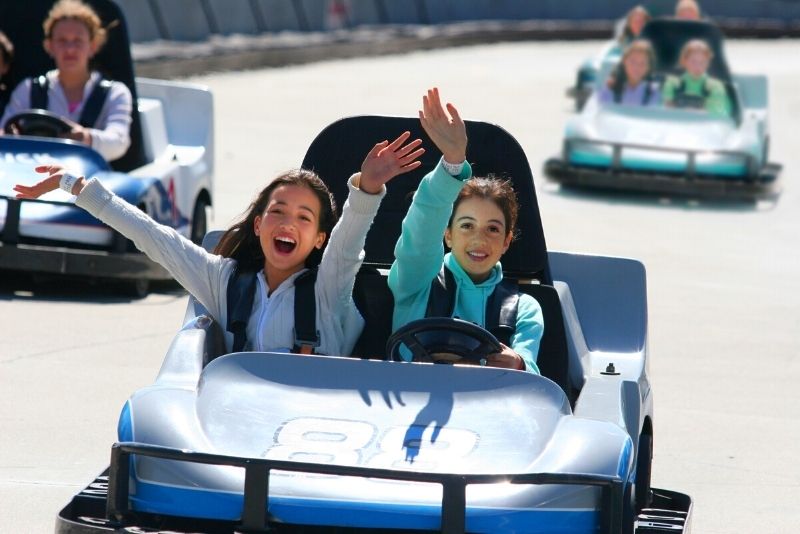 Put that pedal to the metal!
With seven unique go-kart tracks to test your speed, handling, and overall driving ability, buckle up and zip past the other racers, showcasing your Mario Kart prowess in real life.
After tackling the Grand Prix Pro Track for a real challenge, make a beeline for the mini-golf and arcade games.
31 – Go dolphin-spotting with Myrtle Beach Dolphin Cruises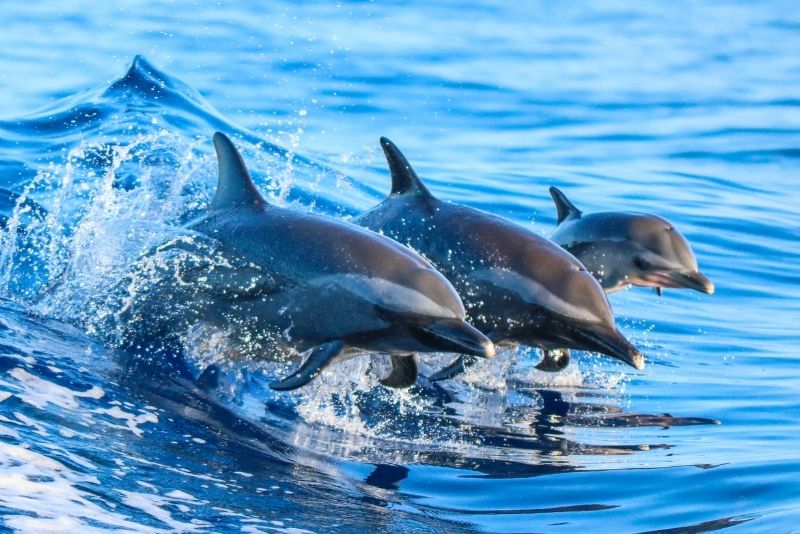 A wonderful day out on the water for the whole family, dolphin-watching adventures start by cruising out of Myrtle Beach harbor, picking up speed as you head out into the open ocean.
From there you can see the glamorous dolphins — and if you don't, the cruise company will give you a free pass to ride again!
After meeting Mother Nature's friendliest ocean mammals, a great view of Myrtle Beach's coastline awaits as you head back to the harbor.
32 – Hit a hole-in-one at mini-golf!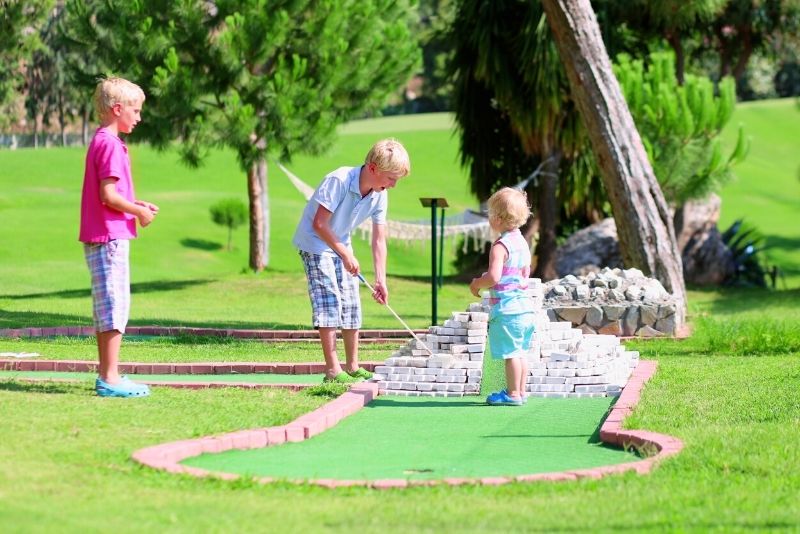 If you're traveling with kids, or just want something simple and cheerful to kill a few hours, mini-golf is just the thing!
A number of courses dot the area, some of which offer themes like Shipwreck Island, a pirate-style course; Jurassic Golf, where your ball escapes the jaws of prehistoric monsters; and Jungle Safari, where replicas of elephants, giraffes, tigers and lions line the putting greens.
33 – Get on a jet ski at Myrtle Beach Watersports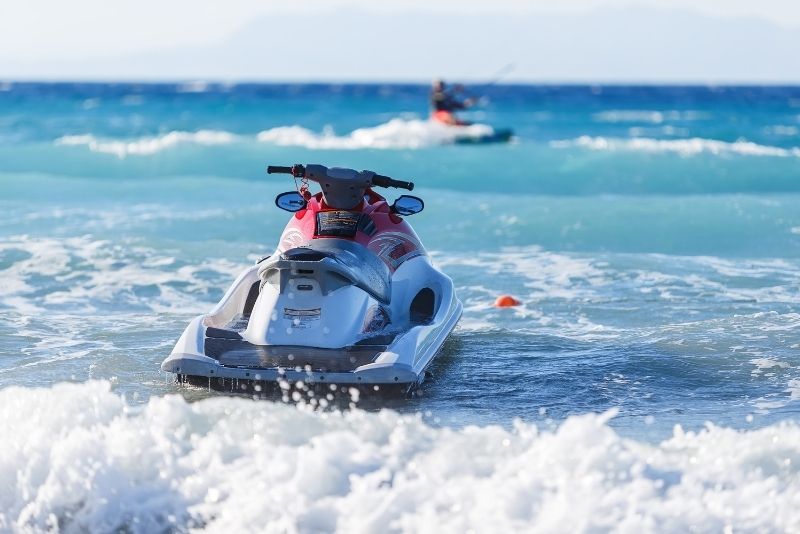 Myrtle Beach loves its water, and no water sport gets the adrenaline pumping like jet skiing!
At places like Myrtle Beach Watersports, they don't just have jet skis to rent — they offer lessons and plenty of space for you to go full-speed and learn the ropes!
On those sizzling summer days, it's a perfect way to cool off.
34 – Take a hike at Myrtle Beach State Park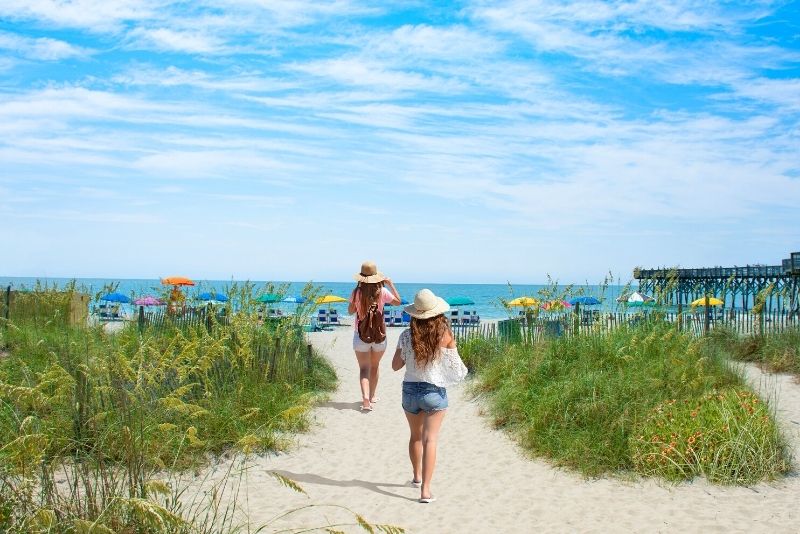 The Grand Strand, as well as the Sculptured Oak Nature Trail, are some of the last maritime forests in the area, both considered unmissable treks for avid hikers!
Besides the popular routes (of which there are easy and moderate hikes to suit every level) there are also options to go camping, cycling, horse-riding, bird-watching, fishing, and more.
Whatever you do, make sure to catch a sunrise!
35 – Glide through Myrtle Beach on a Segway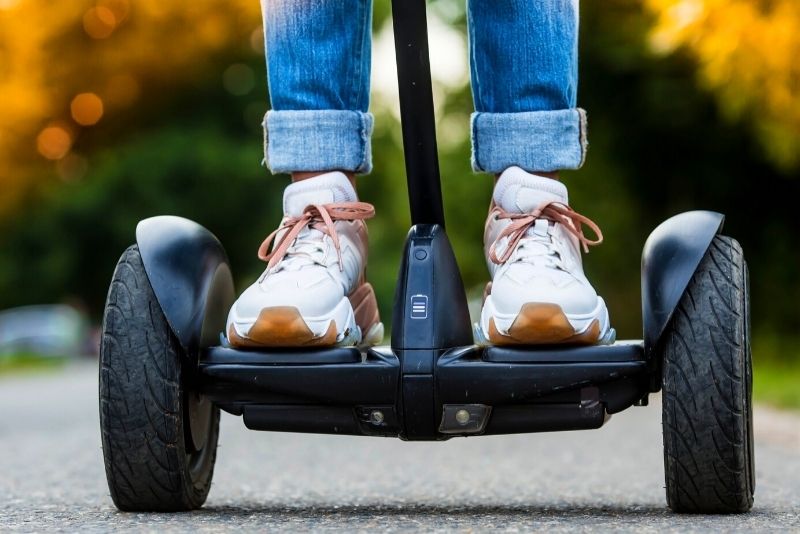 It might take a couple of attempts to get your balance, but then you'll master the Segway and it'll be like riding a bike!
As a faster way to get around town and see the signs compared to a traditional walking tour, Segway riders love the North Myrtle Beach Segway Experience and Huntington Beach State Park Tour.
Both of these popular options, as well as plenty more, head offroad into nature for a slightly more challenging, but gorgeous, ride.
36 – Take bowling to the next level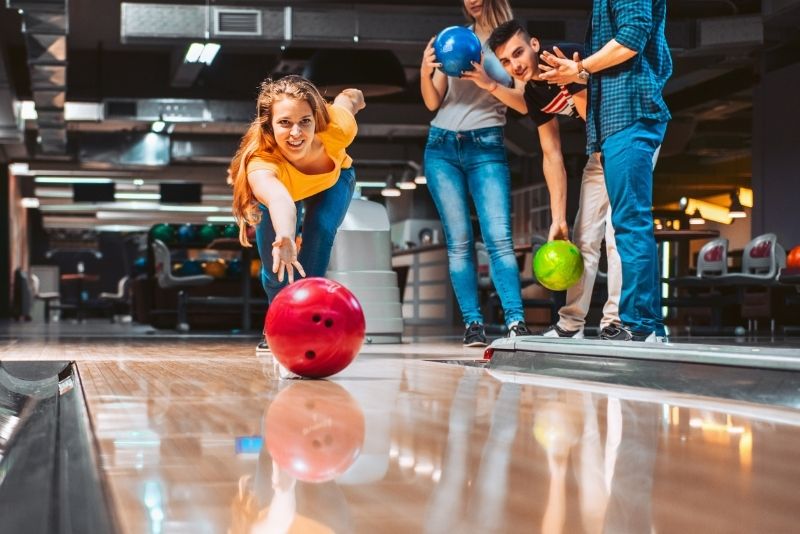 Bowling might not top your list of things to do in Myrtle Beach, but if you've got the time to visit an alley during your trip you definitely won't regret it!
The black-light bowling lanes and glow-in-the-dark mini-golf at 810 Bowling are delightful and come equipped with a bar and restaurant.
Meanwhile, besides its lanes, 710 North Myrtle Beach also offers billiards, bocce, table tennis, and board games to enjoy with a craft beer in hand!
37 – Take to the skies in a helicopter tour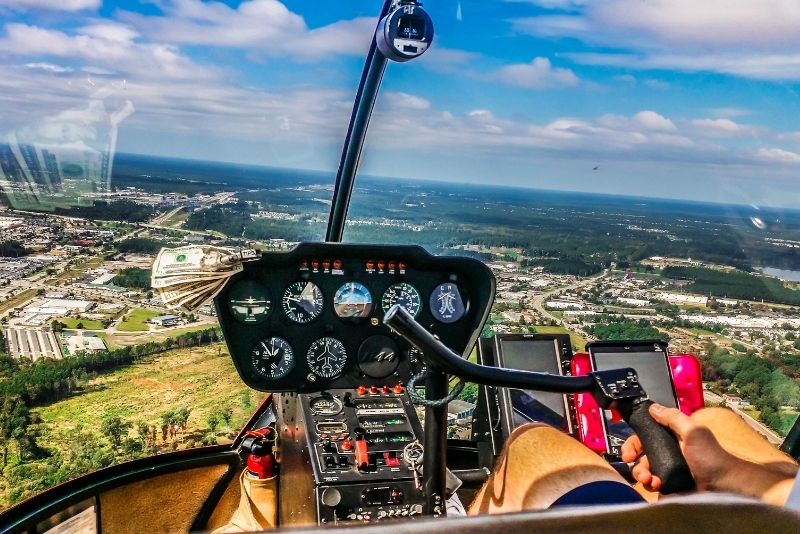 For as little as $20 — yes, you read that right — you can ride shotgun in a helicopter for a breathtaking birds-eye view of Myrtle Beach!
With unobstructed vistas from Broadway to the baseball diamond and the endless beauty of the Carolinian countryside, it's a sight that simply needs to be seen to be believed.
For something truly spectacular, opt for the oceanfront rides. Those lucky enough have the chance of seeing dolphin pods pierce the surface of the ocean!
38 – Saddle up for a horseback riding experience!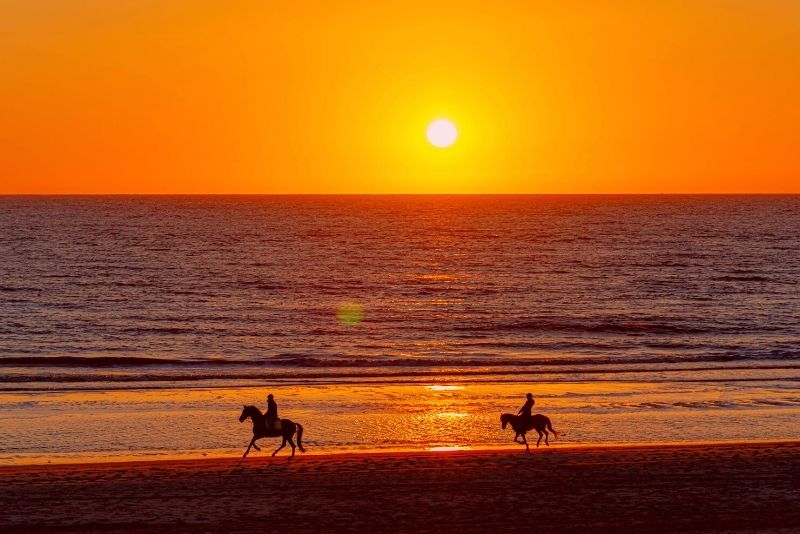 The way the Carolinians of old went around the country is still a popular, relaxing, and unique way of seeing rural South Carolina.
There are rides for all ages and skill levels to enjoy — including riding up the Grand Strand's oceanfront, riding through a historical plantation, and riding on a private island!
39 – Watch the feeding shows at Alligator Adventure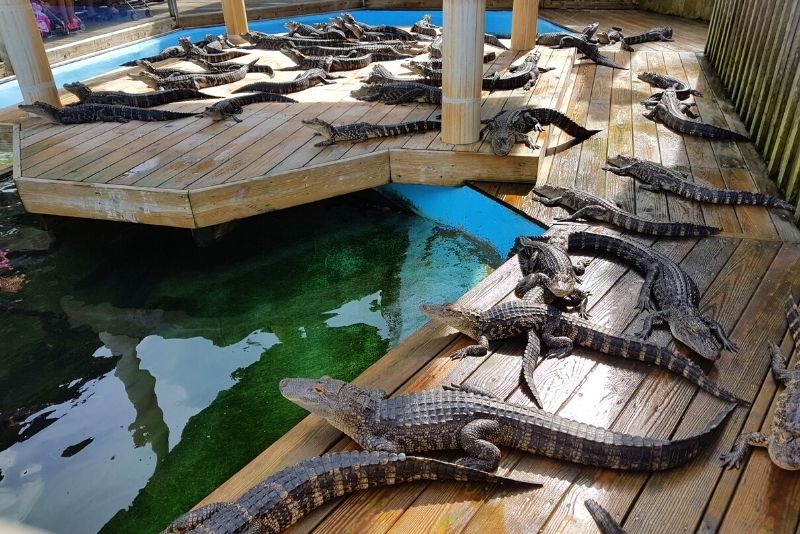 Crikey! Crocodiles and alligators up to 20-feet long lurk in hiding around the lake. That is, of course, until it's feeding time!
Seeing their powerful jaws snap to devour their dinner is a remarkable sight and visitors usually come home loving their crocs and gators as a result!
Don't forget to check out the other exhibits, the main attractions of which include venomous snakes, flamingos, and squirrel monkeys.
40 – See the Fountain of the Muses at Brookgreen Gardens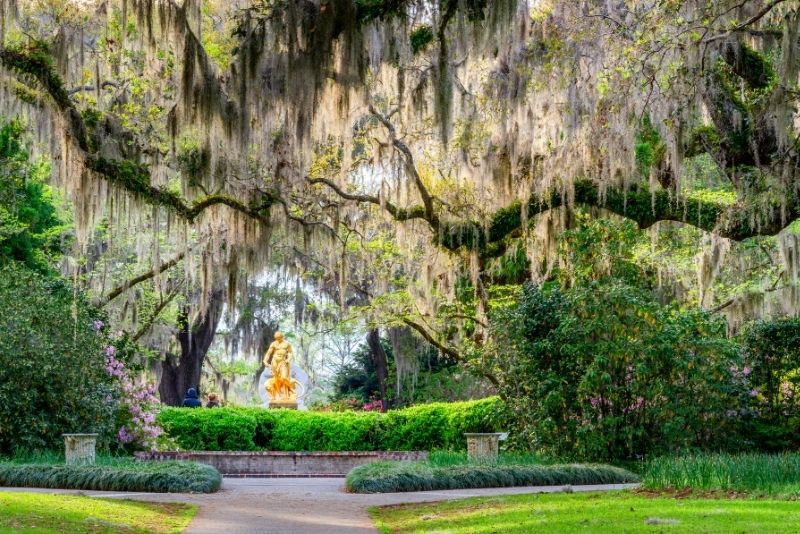 Ask any local and they'll shout it from the rooftops: Brookgreen Gardens is a gem.
It has a stunning botanical garden where you can get lost for days, the biggest collection of American figurative sculptures in the United States, and a wildlife preserve with old rice plantations.
As if that weren't enough, it's also home to the Lowcountry Zoo, housing animals such as butterflies, bald eagles, and river otters!
41 – Hit max speeds on a zipline!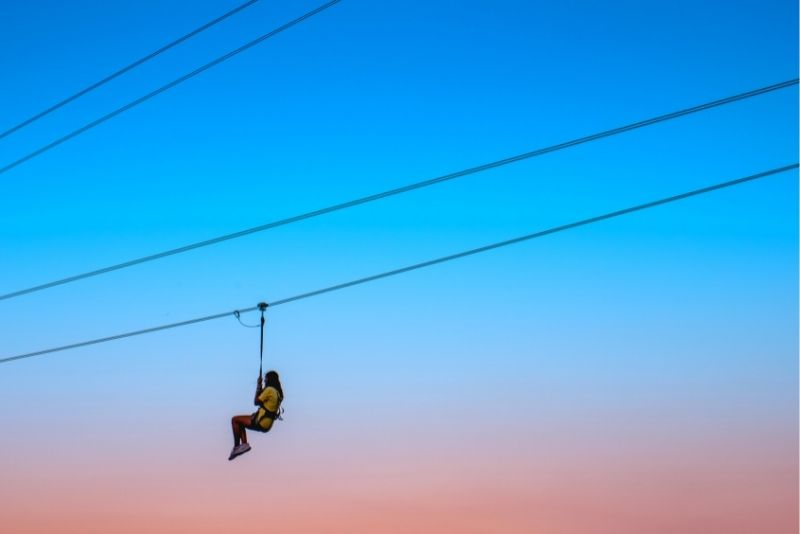 With no shortage of zipline destinations in the Carolinas, thrill-seekers are spoiled for choice. So, where do we begin?
Besides its main attraction (the zipline) Go Ape Treetop Adventure in North Myrtle Beach throws in Tarzan swinging, rope ladders, and an Aqua Park for an extra challenge!
With spectacular treetop views, Myrtle Beach Zipline Adventures has a 600-foot zipline by the Atlantic Ocean, reaching speeds of 40 miles per hour.
Meanwhile, the Soar offers a good mix of ropes challenges to complement its 1,000-foot WonderWorks zipline!
42 – Pick berries at Indigo Farms
Fresh fruit, good weather, and the great outdoors — is there any better combination?
As what promises to be one of the more rewarding things to do in Myrtle Beach, nothing tastes better than the fruit you get to pick yourself, at Indigo Farms you know you're getting the best and the freshest!
If you're not into fruit-picking, it's still worth swinging by their market instead to sample the latest products.
43 – See Green's Beach Ball at the Franklin G. Burroughs-Simeon B. Chapin Art Museum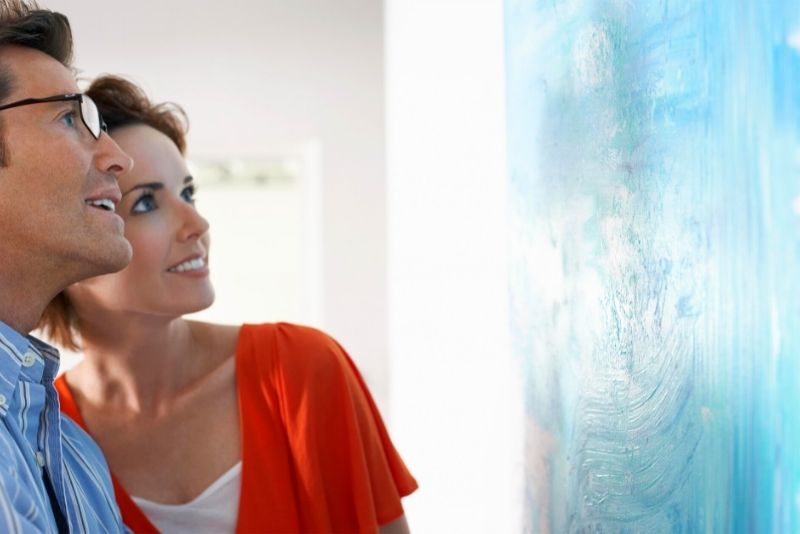 Myrtle Beach's artistic side is on display in this 1920s villa, with plenty of pieces inspired by the sunny shores nearby.
The permanent Southern Art collection is an interesting lens into the Southern United States lifestyle, but with temporary exhibitions cycling through the gallery, visitors are sure to be surprised at the artistic variety on show!
44 – Enjoy a beachside beverage of your choice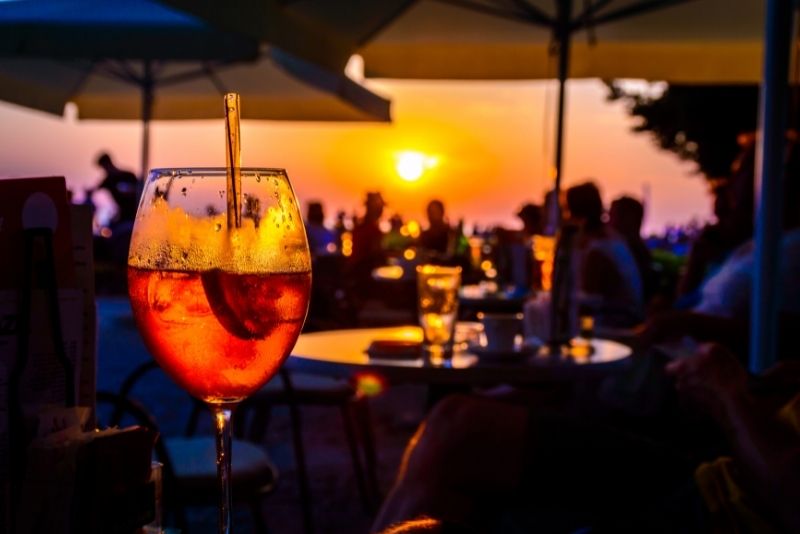 The lively beachfront (and its even livelier bars) is the place to be when the sun goes down!
Ocean Annie's and Oceanfront Bar & Grill have great live music; Pier View Bar has some of the best views through its giant windows; Bummz Beach Cafe showcases inimitable island vibes; and Tin Roof is a more hipster choice, with no shortage of hand-crafted cocktails.
As you can see, there's something for everyone when it comes to getting your drink on.
45 – Play your cards right on The Big "M" Casino ships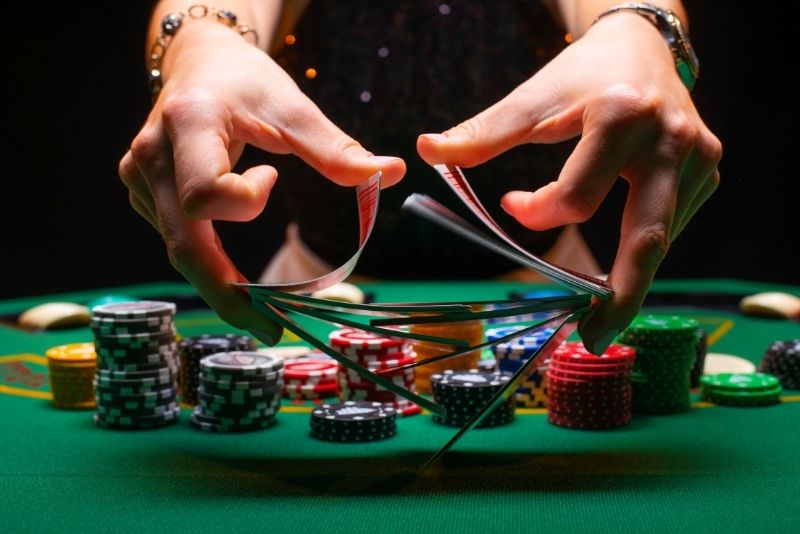 Believe it or not, the colossal ocean liners 'Ship I' and 'Ship II' are the only casinos in South Carolina!
These over-21 cruises set sail from nearby Little River and include meal options, but the real drawcard is the table games and slot machines onboard!
The glamour of casinos and the easy-going beach vibes come together for a fun afternoon or evening.
46 – Have a morning mimosa with Cruisin Tikis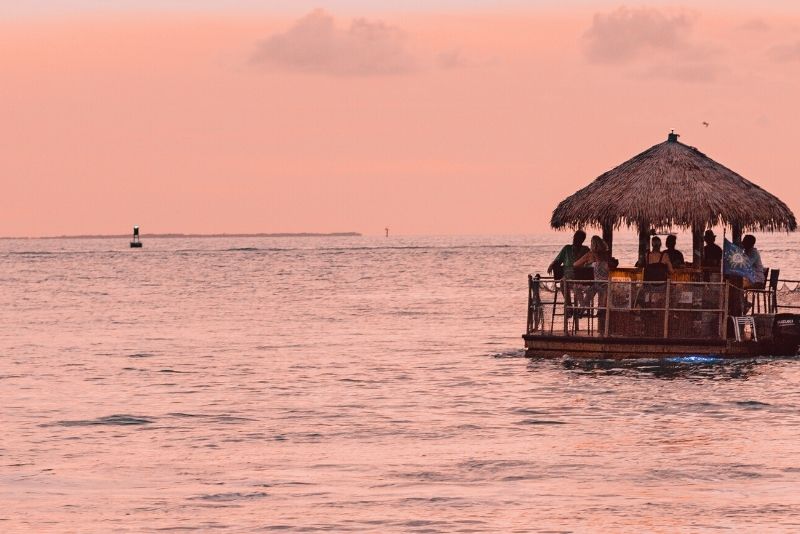 You're on vacation, after all, and nothing says 'stress-free holiday' like a morning beverage!
Cruisin Tikis' BYO food and drink cruises can be enjoyed as a group of up to 6 on a private charter, or you can take a seat and make new friends!
Cruises run at all times of the day (so there's no excuse to avoid fitting it into the itinerary), but travelers particularly love the picturesque Sunset Cruise and the waterfront Bar Hop.
47 – Experience weightlessness at Funplex Myrtle Beach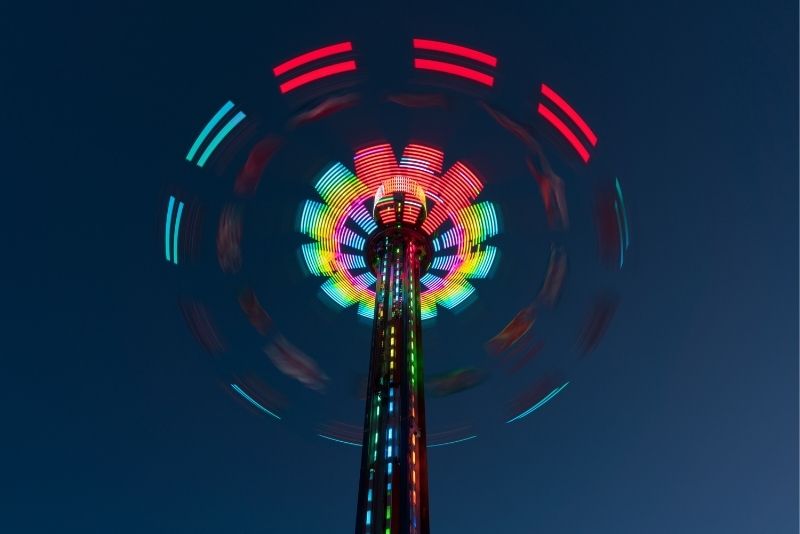 Funplex is the new kid on the block at Myrtle Beach as far as tourist attractions go, but families and adrenaline-junkies love it already!
With a diverse selection of activities, there are rides for every age group, none more popular than Sky Velocity, a heart-racing ride that makes you feel weightless as it turns inside-out over the stunning beachfront.
For something a little more on the relaxation side of things, the nostalgic Sunny Day Swing is reminiscent of a classic summer's day at the playground.
48 – Reel in a catch on a fishing tour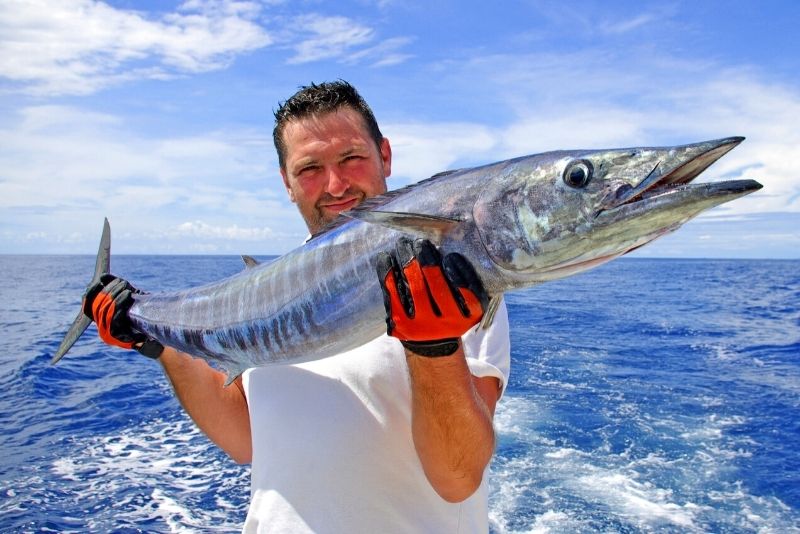 With no shortage of open ocean, it's no surprise that fishing is one of the locals' favorite things to do in Myrtle Beach.
There are two ways to go about it: Either rent your own gear, cast a line off a pier and catch anything from a king mackerel to a blue crab; or learn the ropes or try your hand at deep-sea fishing through a private or small-group fishing charter.
49 – Stroll along the Boardwalk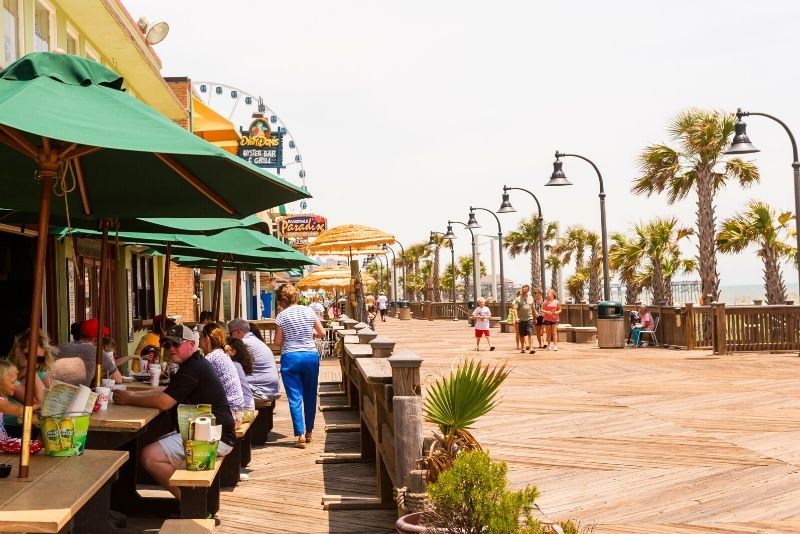 With non-stop energy and entertainment year-round, the 1.2 mile-long Boardwalk and Promenade is the undisputed soul of Myrtle Beach.
A diverse selection of shops, attractions, restaurants, bars, and amusement park rides will make the hours fly by, and, of course, a grand view of the ocean.
Hot top: If you're visiting during summer, be sure to checkout Boardwalk festivals like Hot Summer Nights, complete with live music and fireworks!
50 – Reminisce at Wheels of Yesteryear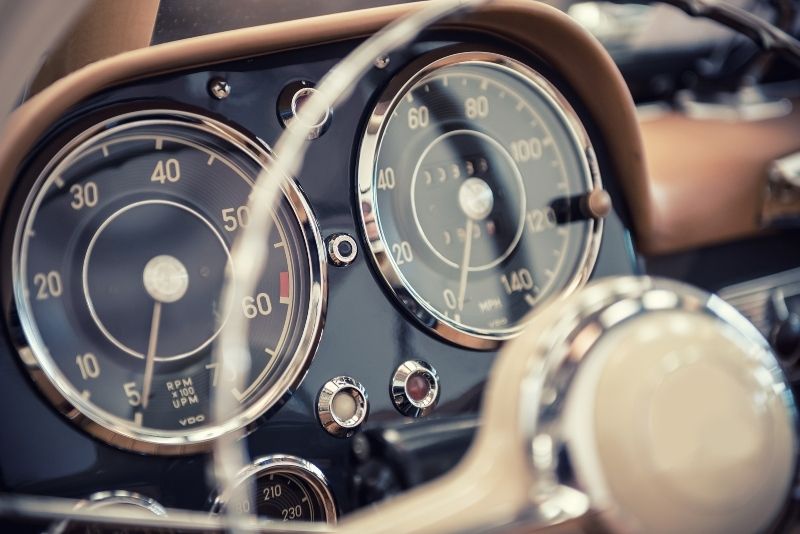 One for the motor enthusiasts, the Wheels of Yesteryear museum showcases a phenomenal collection of muscle and classic cars — best of all, even if you've already been there, the collection changes every year!
With cars ranging from the 1930 Ford Model A to the 1969 Mercury Cyclone CJ, the 1969 Buick Wildcat convertible, and so many more, the air of nostalgia is unmatched.
Even if you're not a rev-head, it's still one of the more lovely things to see in Myrtle Beach.
51 – Sing along to the Motown Tribute Show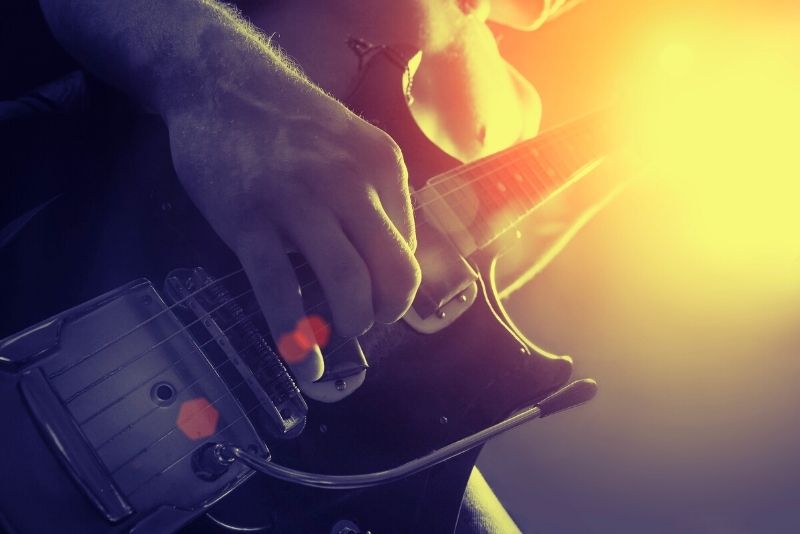 At this renowned extravaganza, you'll be Dancing in the Streets in no time!
A toe-tapping show that takes you back to the heyday of Motown, the night features uncanny tributes to Diana Ross, the Jackson Five, Marvin Gaye, Lionel Richie, and plenty more pioneers of the genre that got America moving and grooving during the 60s and 70s.
52 – Be amazed at Le Grand Cirque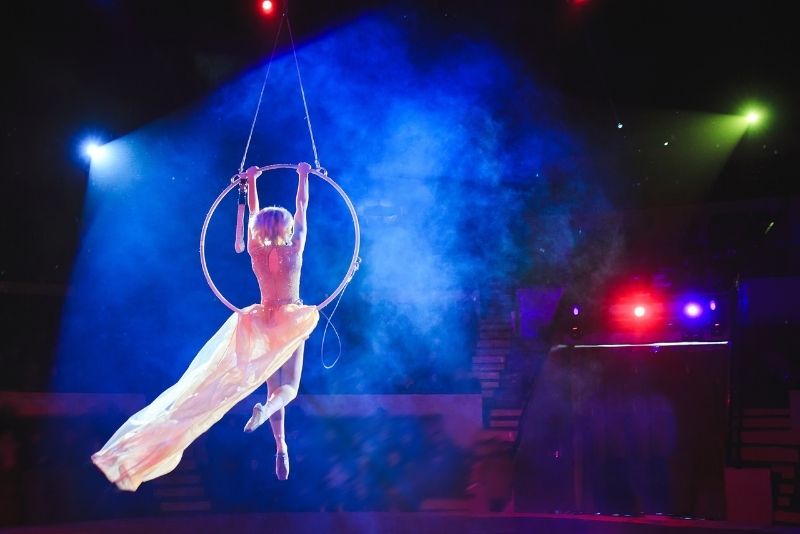 25 million people have sat on the edge of their seats during the thrilling spectacle at Le Grand Cirque. Need we say more?
Grab a ticket, grab a seat, and watch as the death-defying acrobatics, aerobics, and circus skills — with a healthy dose of comedy on the side!
Trust us, add the 2-hour, friendly-friendly show to your South Carolina bucket list.
53 – Roll down the river on the Barefoot Queen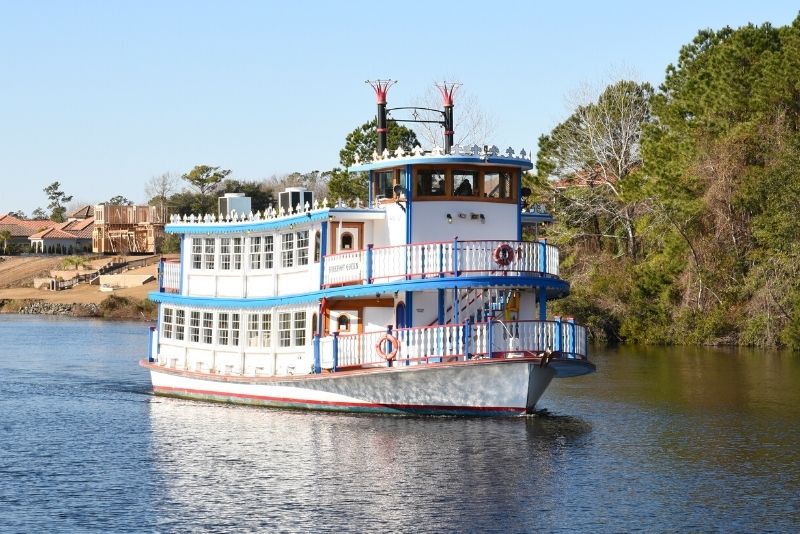 Decked out with a fully stocked bar, with onboard entertainment and outdoor decking, stepping onboard this authentic wooden riverboat is like taking a trip back in time.
Whether you're after dinner and a show, a romantic sunset cruise, or a guided tour, the atmospheric Barefoot Queen can take you there in true Myrtle Beach style!
54 – Spend the day at Wild Water & Wheels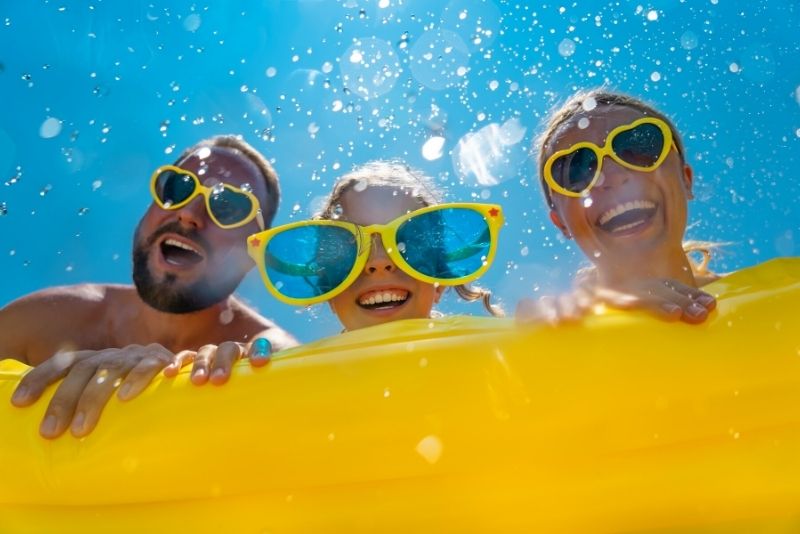 Two of Myrtle Beach's most exhilarating rides are the amazing Triple Dip and Free Fall Cliff Dive, and they're both found here, at Wild Water & Wheels in Surfside Beach.
The rides are bound to get the heart racing with speeds of 45 miles per hour, however, if you prefer to stay dry, then go-karting at the Race Zone and the Mini Golf course are just as fun.
55 – Watch an unforgettable seaside sunset at the Pie-Eyed Parrot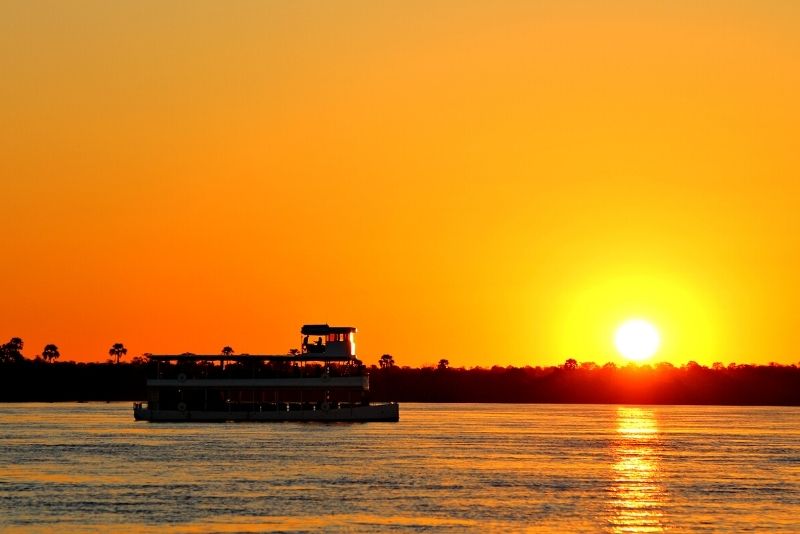 Admiring the vibrant colors of the sun bouncing off the azure water from the Pie-eyed Parrot (with a fruity drink in hand, of course) is a truly mesmerizing way to cap off any day on your trip. Photos just don't do it justice.
Once the sun's gone down, that's when the music gets going and dinner is served. Then finish off the night with a dance under the stars.
We hope you've enjoyed our selection of things to do in Myrtle Beach, South Carolina!
If you have any other must-see suggestions along this 60-mile stretch of beautiful beach, feel free to let us know in the comments!
As always, happy travels.