Cape Town, South Africa is fast becoming one of the most popular cities in the world for tourists – and for good reason.
With its stellar combination of natural beauty and thriving artistic scene, it's the place to go for some world-class adventures and numerous options for cultural immersion.
Whether you're admiring the views from the top of Table Mountain or Lion's Head, reflecting on history with a visit to Robben Island, or winding through the multicolored houses of Bo-Kapp, a trip to the Mother City is an experience like no other.
Add in world-class wineries, a fantastic surf scene, and the chance to meet diverse wildlife from elephants and lions to sharks and penguins, and you might start considering scrapping your return ticket home.
So dust off your hiking shoes and pull out your adventure hat, as we explore some of the many fun things to do in Cape Town.
1 – Take a spin on the Cape Wheel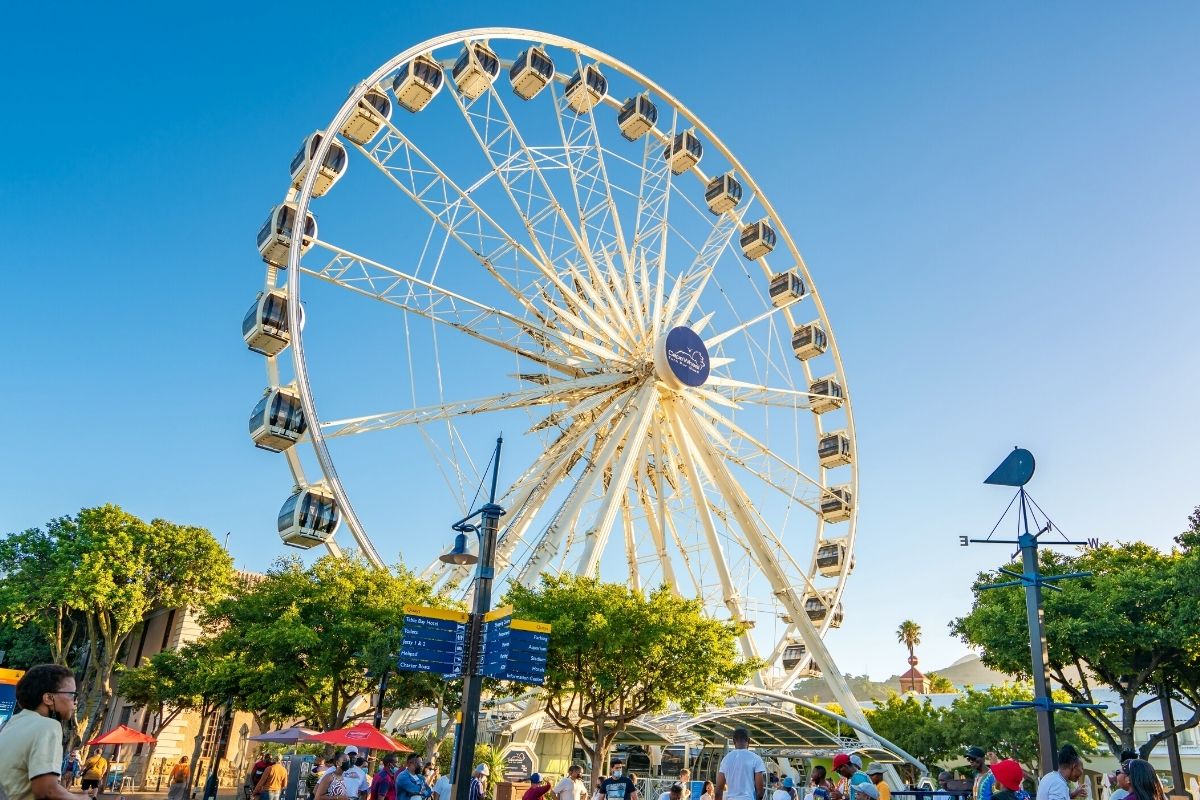 If you're looking for a unique way to orient yourself to the big attractions in town, try taking a ride on the Cape Wheel.
131 feet tall at its peak, this delightful Ferris Wheel will allow you to see all of the iconic sights during its four revolutions.
As with the city in general, the mountains are the big attraction here; you'll get wonderful views of Lion's Head, Table Mountain, and the striking ridges of the Paarl Mountains.
But you'll also be able to see several manmade sites, such as the aquarium and Robben Island.
And of course, you'll get to take in the full beauty of the city's skyline.
This is a fun and beautiful way to see all the sights that Cape Town has to offer!
2 – Admire the plants at Kirstenbosch National Botanical Gardens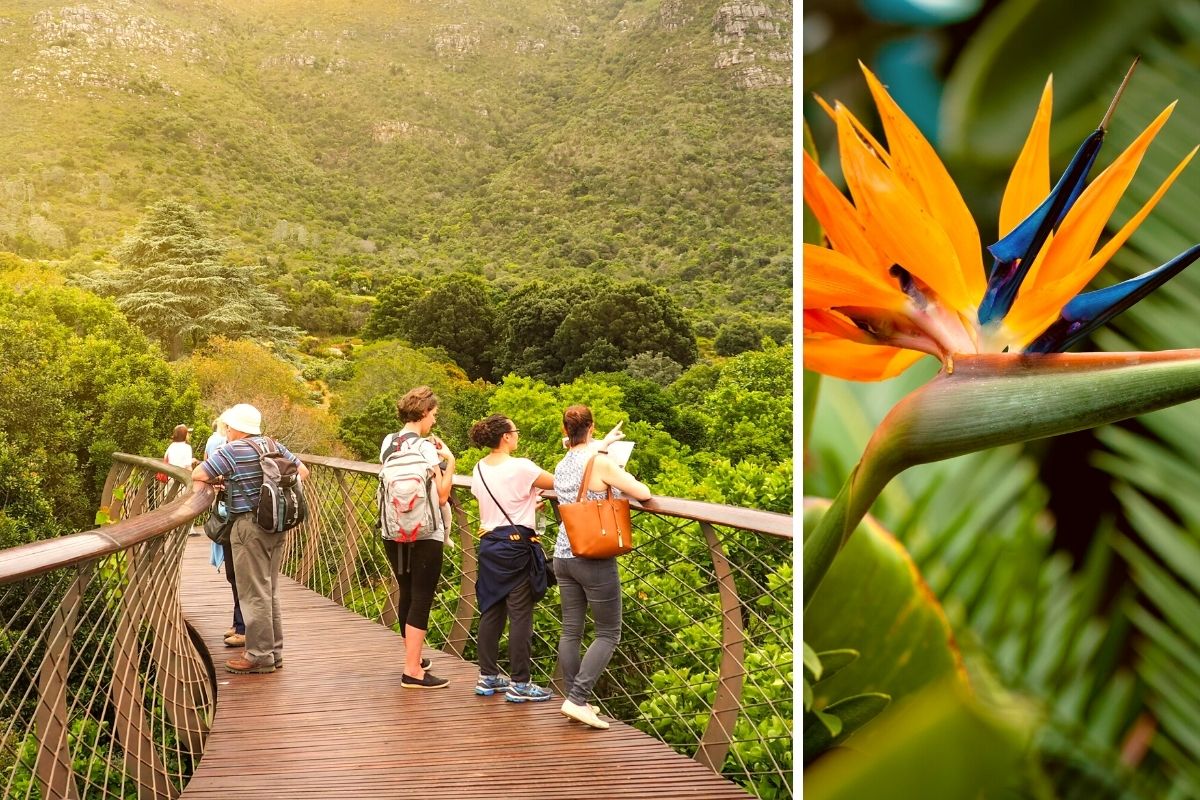 Back on the ground, head over to the Kirstenbosch National Botanical Gardens to soak up the scenery and learn about some of the beloved local plants.
Located at the eastern base of Table Mountain, this splendid complex features over 7,000 different types of plants, all of which are native to southern Africa.
Wander through the well-manicured paths to see beautiful flora of all shapes and sizes, including hundreds of species native to the Cape.
With five different trails running through the property, you'll also have ample opportunity to see the more wild, forested sections of the park.
A visit to the garden also pairs well with other tours in the area.
With the "Hike and Wine" trip, you can enjoy a brisk trek along the base of Table Mountain to reach the gardens, followed by a stop at the Constantia winery to sample some of the local vintages.
Or include Kirstenbosch as part of a fun-packed day tour that also includes stops at the famous Cape of Good Hope, where the Atlantic and Indian Oceans meet, and Boulders Beach, where you can visit a local penguin colony.
Whichever option you choose, don't miss out on this beautiful example of biodiversity!
3 – Pay a visit to the penguins at Boulders Beach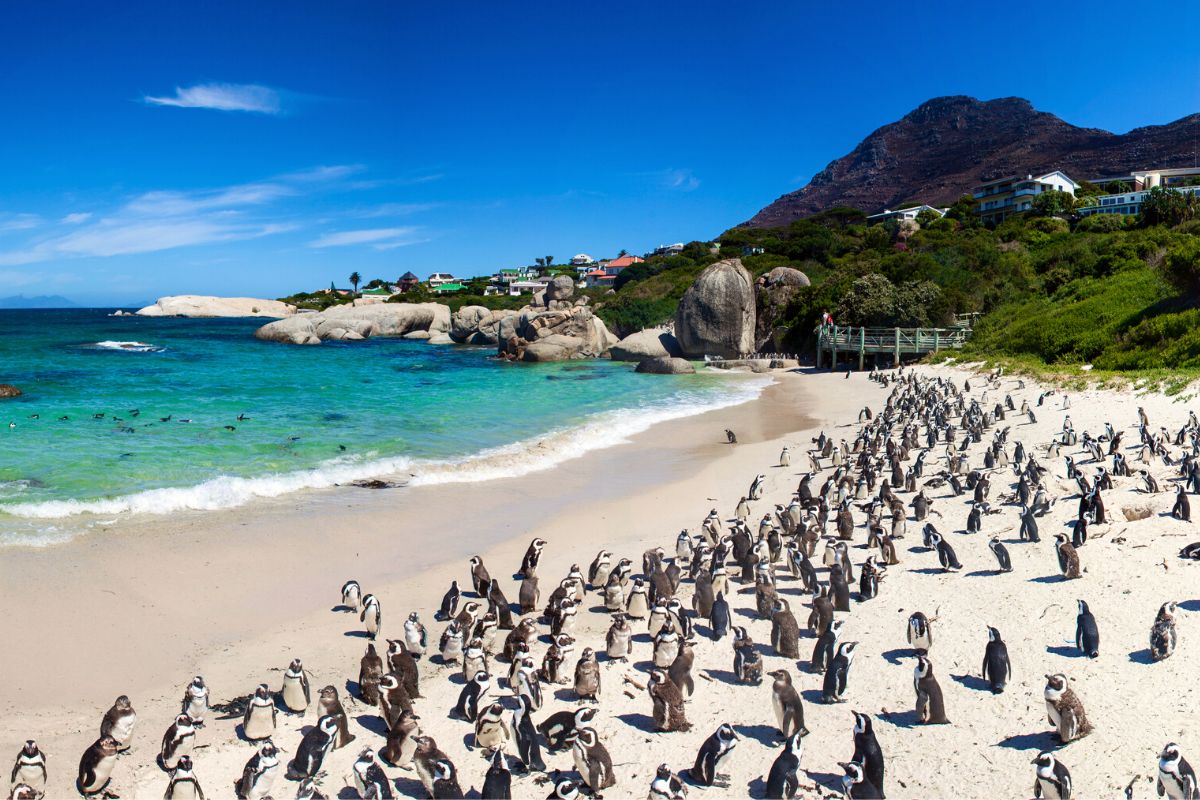 Penguins are often beloved fixtures at many zoos, but it can be hard to visit them in the wild.
Fortunately, you don't need to book an Antarctic cruise to meet these charismatic animals; just add Boulders Beach to your list of things to do in Cape Town!
The area got its name due to the large granite stones that dot its shores, but it's the African penguins that are the real draw here.
With their comical waddling gait and big personalities, these aquatic birds can offer hours of entertainment.
More importantly, this is the one place where you can actually see them up close, making it an utterly unique and exciting excursion.
Boulders Beach is also one of the best spots in the area to catch the sunset, so once you've spent enough time enjoying the penguins' cuteness, settle in on the sand and enjoy nature's spectacular evening show.
4 – Look for wildlife at Aquila Reserve
You'd be hard pressed to find a better place for safaris than South Africa, and luckily, there are some that you can indulge in without the long trek into the wilderness.
If you're short on time or budget, a day trip to Aquila Reserve is a must.
A mere two hours from the city, this stunning nature preserve boasts a spectacular variety of animals, from elephants and baboons to rhinos, lions, and antelope.
It's also a great place for bird-watchers, with dozens of beautiful species, including black eagles and ostriches, calling the area home.
Spend the day exploring the gorgeous landscape and keeping an eye out for its many residents, accompanied by a knowledgeable guide.
This is one game drive that you won't want to miss!
5 – Try a day trip to the Cape Peninsula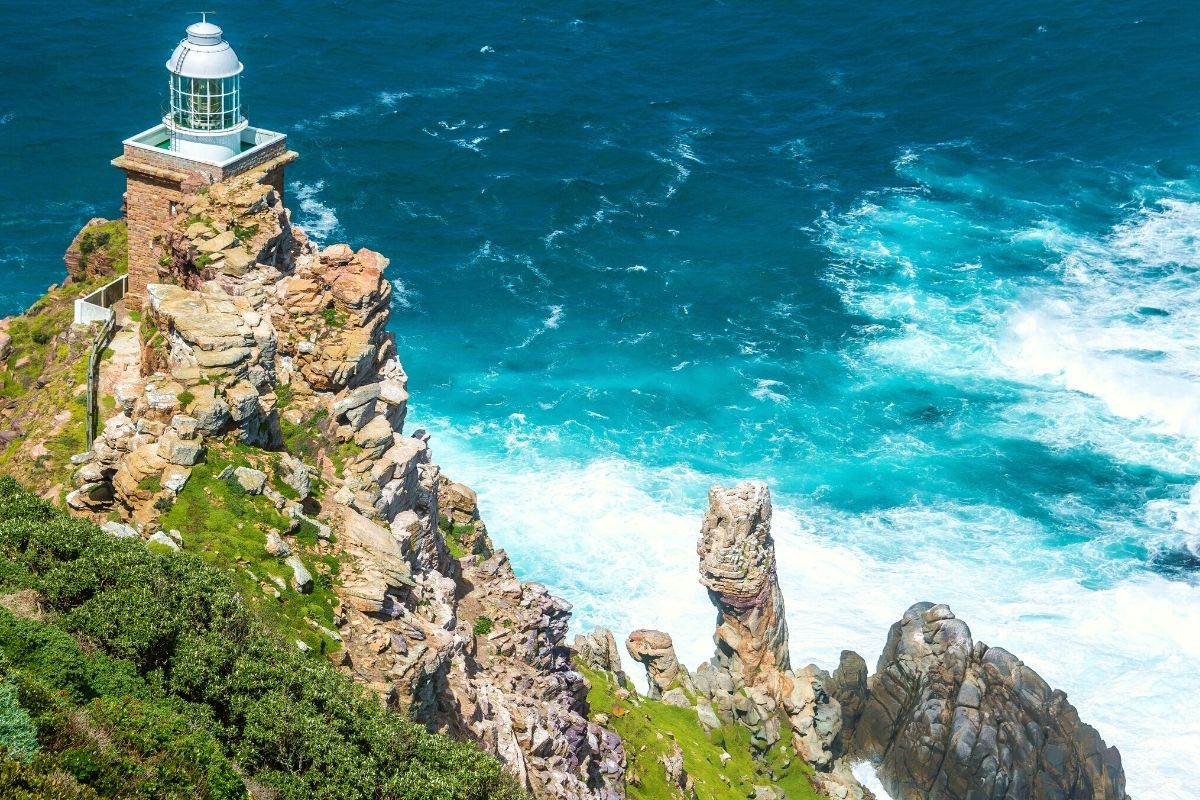 For another slice of spectacular scenery, head out to the Cape Peninsula.
While the entire area is gorgeous, there are a couple of spots that you just can't miss.
Cape Point, one of the most striking spots on the peninsula, is also home to the Cape Point Nature Reserve, where unique regional plants grow wild amongst stunning seaside cliffs, while chameleons, baboons, ostriches, and other local animals freely roam around.
Meanwhile, the Cape of Good Hope boasts, the distinction of being the southwesternmost spot on the continent of Africa, and is also another great place to see penguins in the wild.
With a day trip along the peninsula, you'll be able to enjoy these wonders in full, and better understand why this is such an iconic drive.
6 – Explore the V&A Waterfront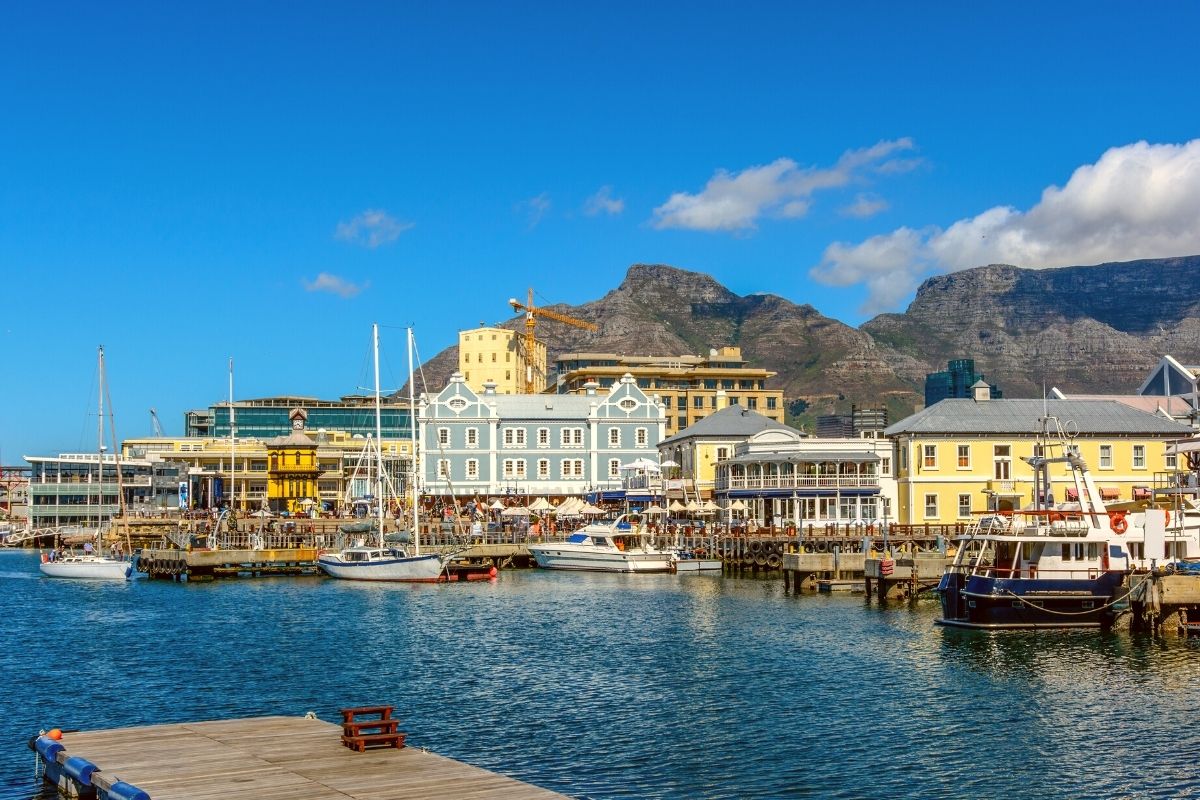 Looking for great shopping, delicious food, and beautiful  ocean views, all in one place?
Take a stroll down to the V&A Waterfront, where over 450 unique businesses await you.
Be sure to stop by the V&A Food Market to sample some delightful South African specialties, including Cape Malay dishes and biltong (dried meat).
Unsurprisingly, this is also a great place to do some seaside tours.
Hop aboard a sailboat or a kayak and cruise out to see some of the local marine life, including dolphins, seals, and whales.
Thanks to migratory patterns (and the ever-changing behavior of animals, of course), each tour offers something new and exciting for visitors.
This bustling waterfront is a wonderful place to explore and cut loose on your trip.
7 – Delve into history at the Castle of Good Hope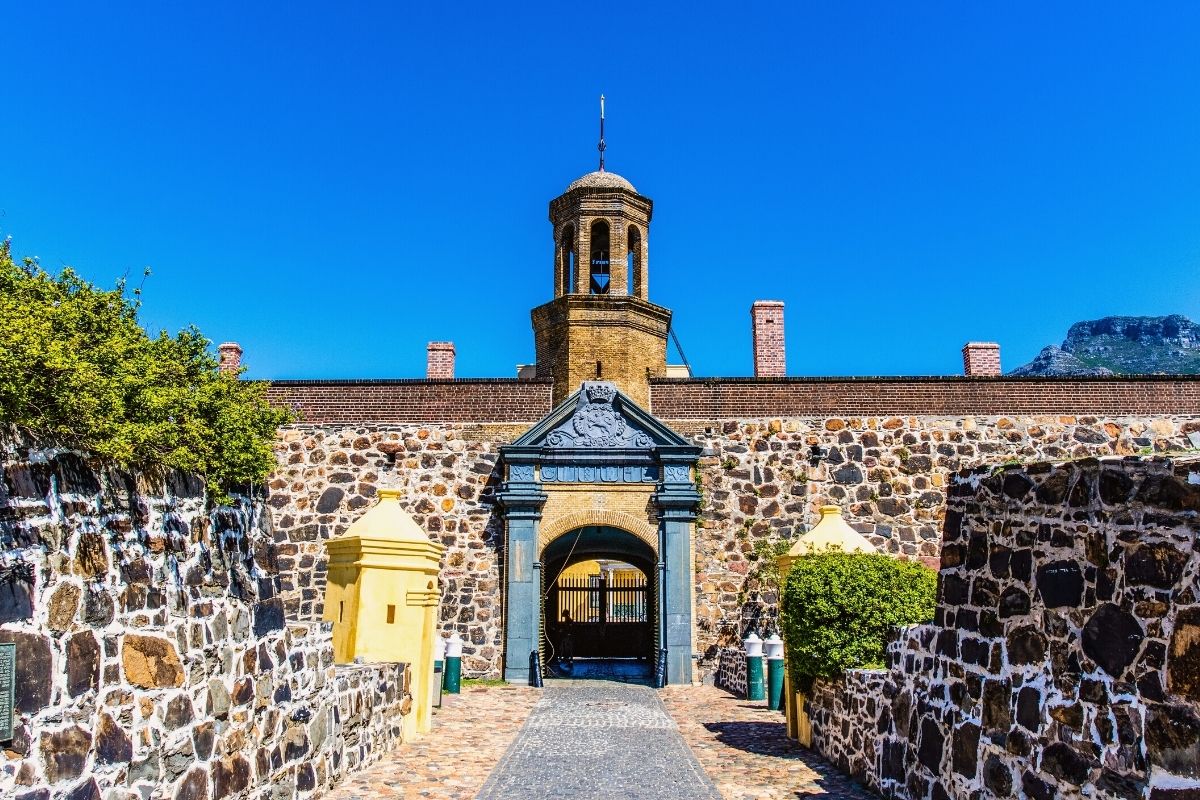 With its beautiful, massive bell tower, the Castle of Good Hope is hard to miss.
And its interior is just as exciting, filled with cultural institutions and beautiful design details.
The castle was built in the late 1600s, and has served as a military and civic center ever since.
Today, it hosts three renowned museums, as well as being an architectural gem in and of itself.
The William Fehr Collection features a multitude of artworks, all themed around the history of South Africa and its people.
There's also FIRED, an exhibit focusing specifically on ceramics.
And, of course, there's the Military Museum, which covers the tumultuous stories of conflict in the region.
For history lovers, the striking castle and its equally impressive collections are a must.
8 – Take a walk at Green Point Park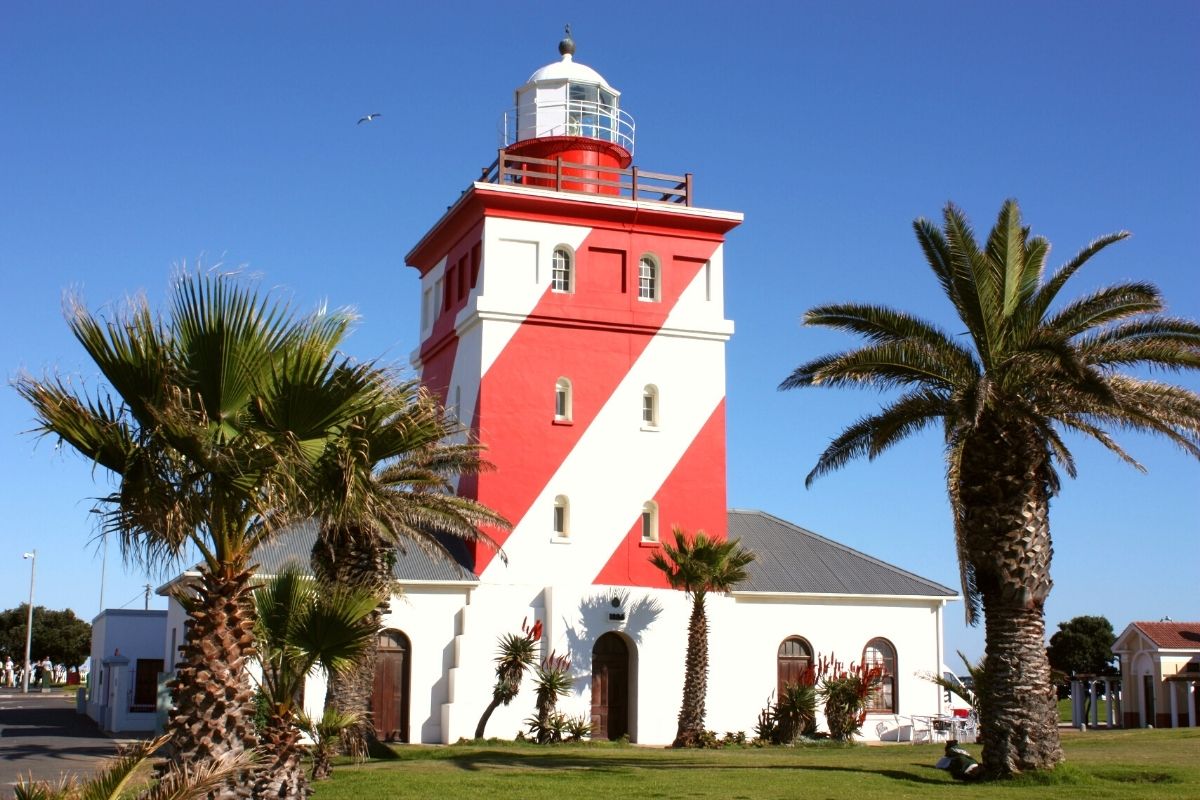 Another beloved public green space in town, Green Point Park offers beautiful landscapes, scenic walking paths, and a variety of great attractions across its 26 acres.
Take a stroll through the beautiful biodiversity nursery garden to see local plants and wildlife, as well as some beautiful works of public art.
Or check out the fitness equipment, walking trails, and the delicious drinks at the tea house.
And don't miss a trip to the Green Point Lighthouse; built in 1824, it's become an iconic piece of the landscape due to its candy-cane color motif and prominent location on the point.
There are also some great playgrounds for kids, and plenty of open fields for dogs to frolic.
This beautiful park has something for the whole family!
9 – Catch a show at the Labia Theatre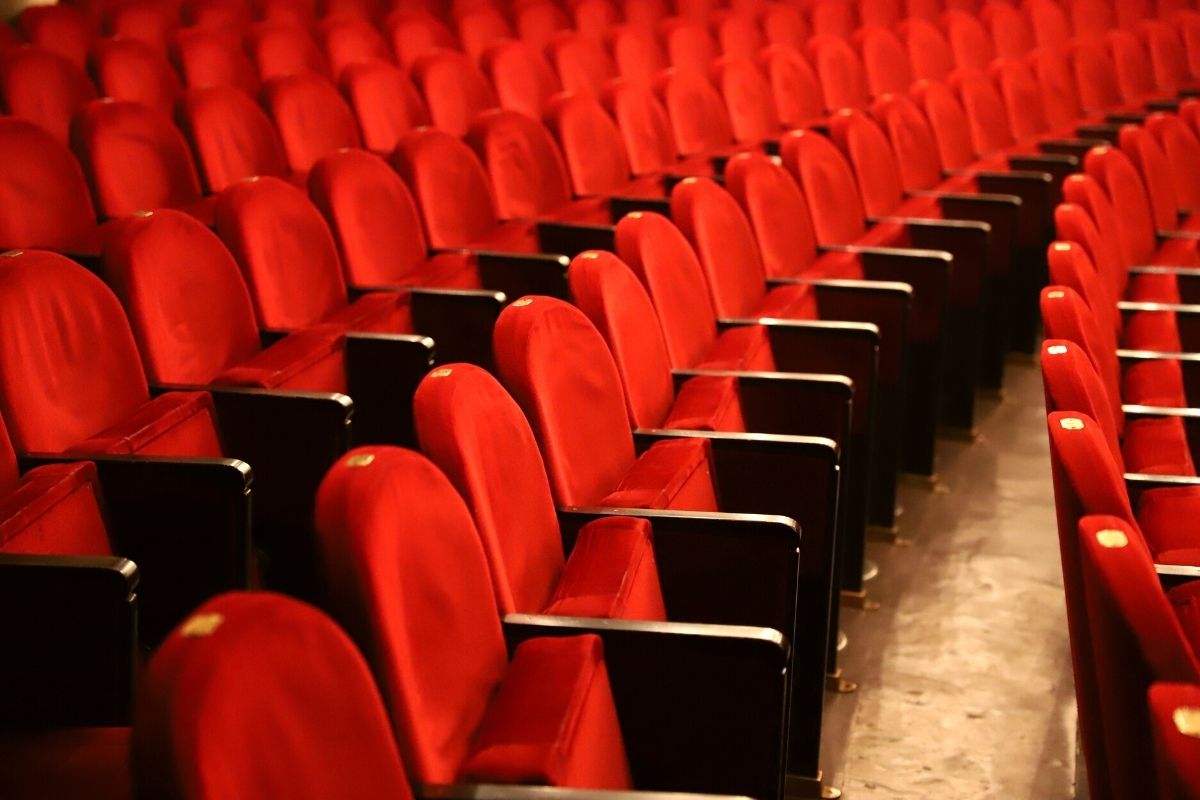 With a thriving arts and theater scene, it's little wonder that Cape Town boasts some impressive cinemas.
And the Labia Theatre, located on Orange Street, is among the best.
It's the oldest independent cinema in the city, and continues to host regular showings on its four screens.
The theater got its start as a ballroom for the Italian Embassy, and today, it still cuts a striking figure, with brightly colored exteriors and plush seating inside.
But it's their commitment to screening independent and/or avant-garde movies that makes the spot a favorite hangout for filmgoers.
For fans of movies and the buildings that house them, a trip to The Labia Theatre is a must.
10 – Take a Township guided tour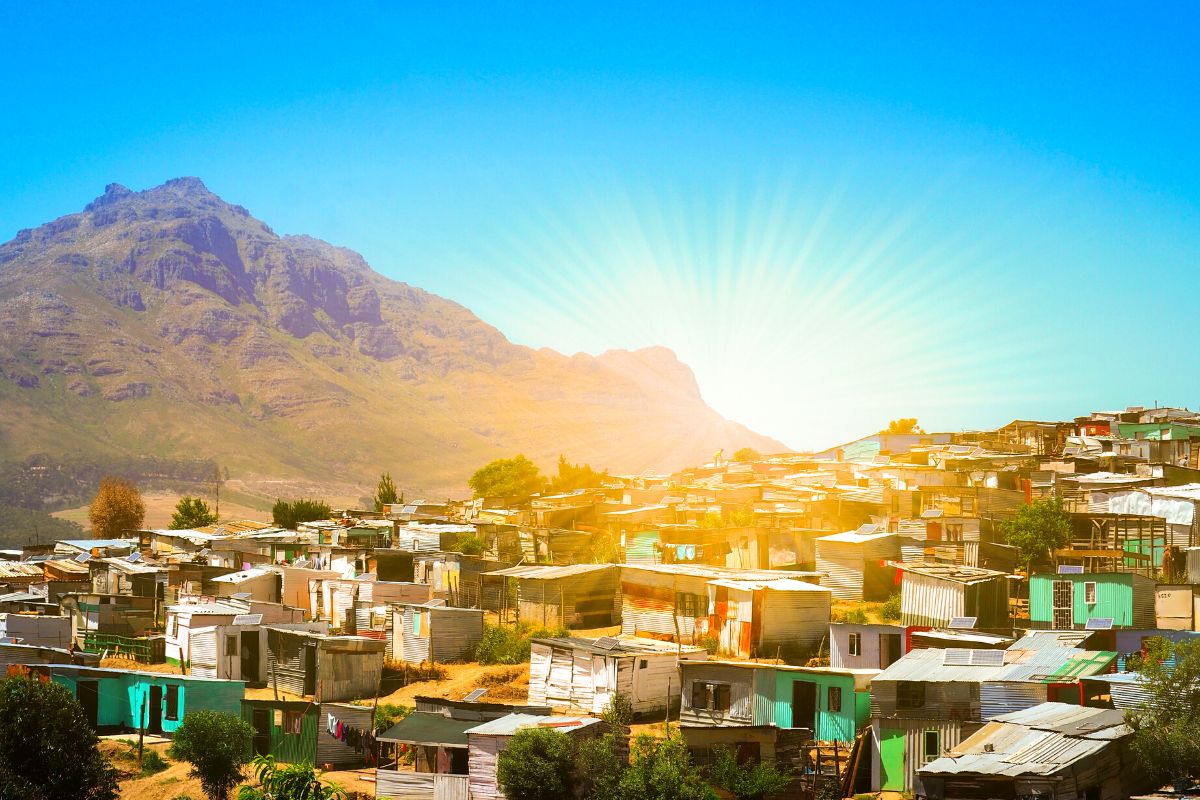 Cape Town is a beautiful city, but also one marked by tragedy and strife that continues to this day.
A township tour can be a powerful way to understand these issues more in-depth, while visiting the communities most impacted by them.
While the tours vary, you can generally expect to spend several hours walking through the neighborhood with your guide, learning about the history of the community and its residents.
But while the inequities of the past are addressed, these tours are also about celebrating the innovations of the future.
In the Khayelitsha community, you can see a whole range on entrepreneurial projects undertaken by the residents, from small businesses to arts and performance groups.
You'll be able to learn more about the different aspects of these lively, diverse communities, and see the many ways in which they're working to move forward from past injustices.
A township tour is one of the many activities that comes included with the purchase of a city pass.
You can mix and match your preferred activities from over 70 options, including art museums, animal encounters, waterfront excursions, and even a tram ride to the top of Table Mountain.
You will also have access to the Hop-On, Hop-Off bus for the duration of your pass' validity, which makes transportation to all of these places that much easier.
For a somewhat unorthodox experience, try taking a bike tour through the township.
You'll make your way through the neighborhood, learning about how its residents go through their daily lives.
Along the way, you'll also get to experience some unique local cultures, and see how local nonprofits use bicycles as a means of community empowerment.
Don't miss out on these meaningful and unforgettable experiences.
11 – Taste the local delicacies on a food tour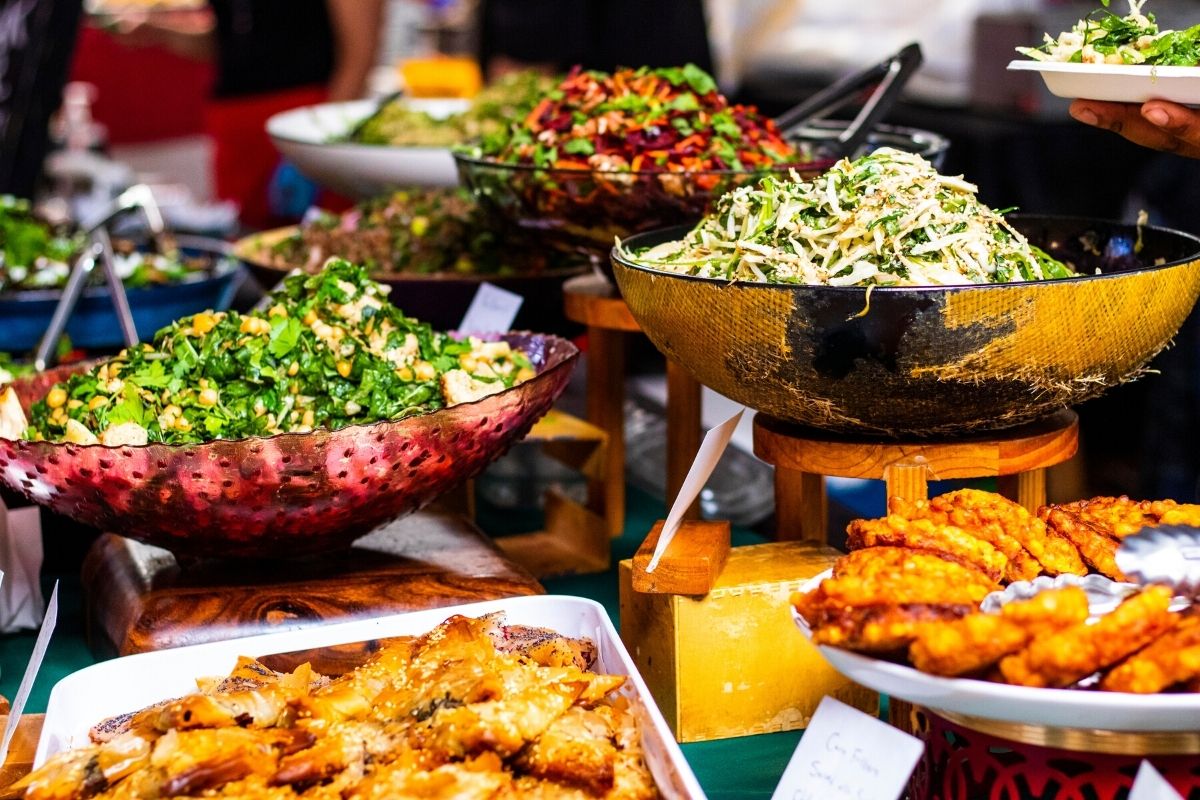 Start with a traditional South African base, add a strong dash of European and Asian influences, and season with some big-city twists, and you'll get the renowned cuisine of Cape Town.
There are several tours that cover some of the most popular foods and drinks in town, such as coffee, wine, cheese, and meats .
But there are also plenty of options for those seeking a more unique experience.
Meet up with a local to explore the city's cuisine through their eyes, or take part in a roundtable discussion on LGBTQ identities while sharing a meal
Or spend the day learning about African food and storytelling traditions, as you visit some of the lesser-known  spots around the community
Along the way, you'll learn all about the culture while enjoying delicious meals – not a bad way to spend the day!
12 – Splash around at Sea Point Pavilion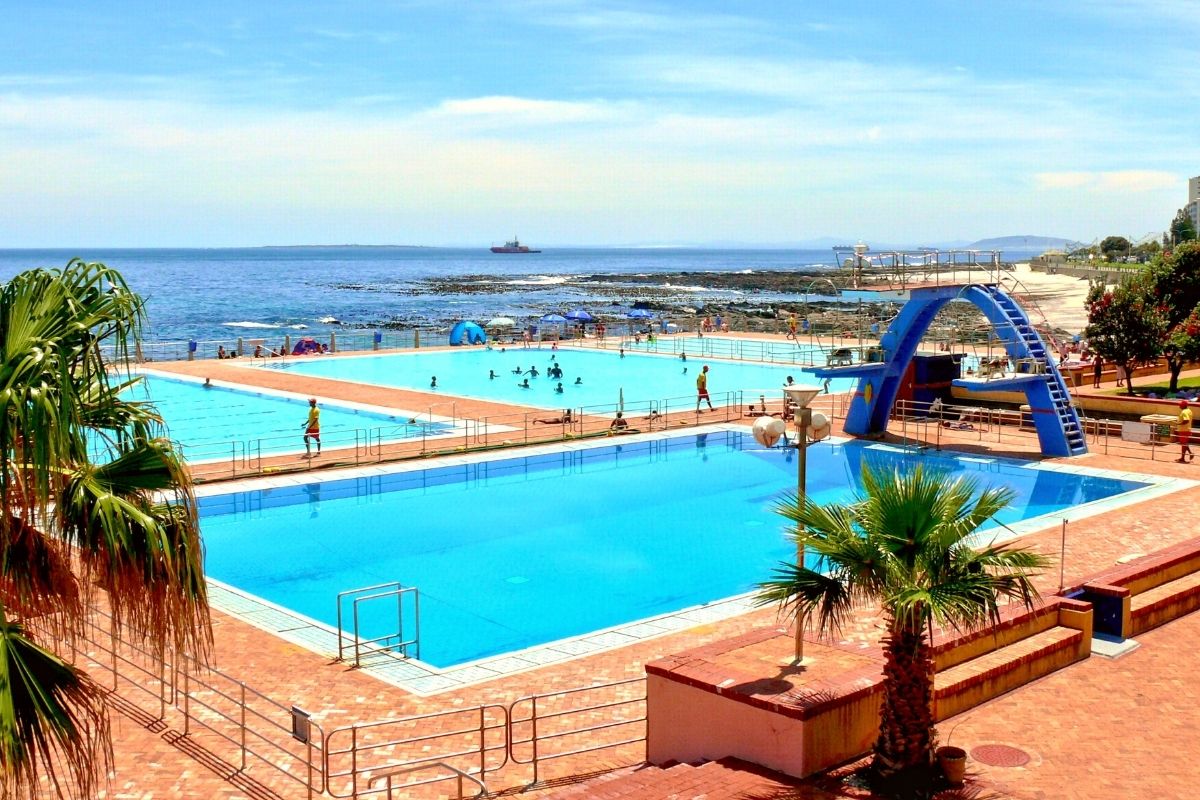 Still craving a swim, but don't feel like a dip in the ocean?
Head over to the Sea Point Pavilion, a beautiful swimming complex with something for everyone.
The main feature is the Olympic-sized swimming pool, perfect for doing laps.
But there are also kid-friendly splash pools, as well as one specifically for diving.
Whether you want to work on your breaststroke, practice your diving, or just mill around in the water, you'll have a wonderful time chilling at this beloved local spot.
13 – Take a trip to Silvermine Nature Reserve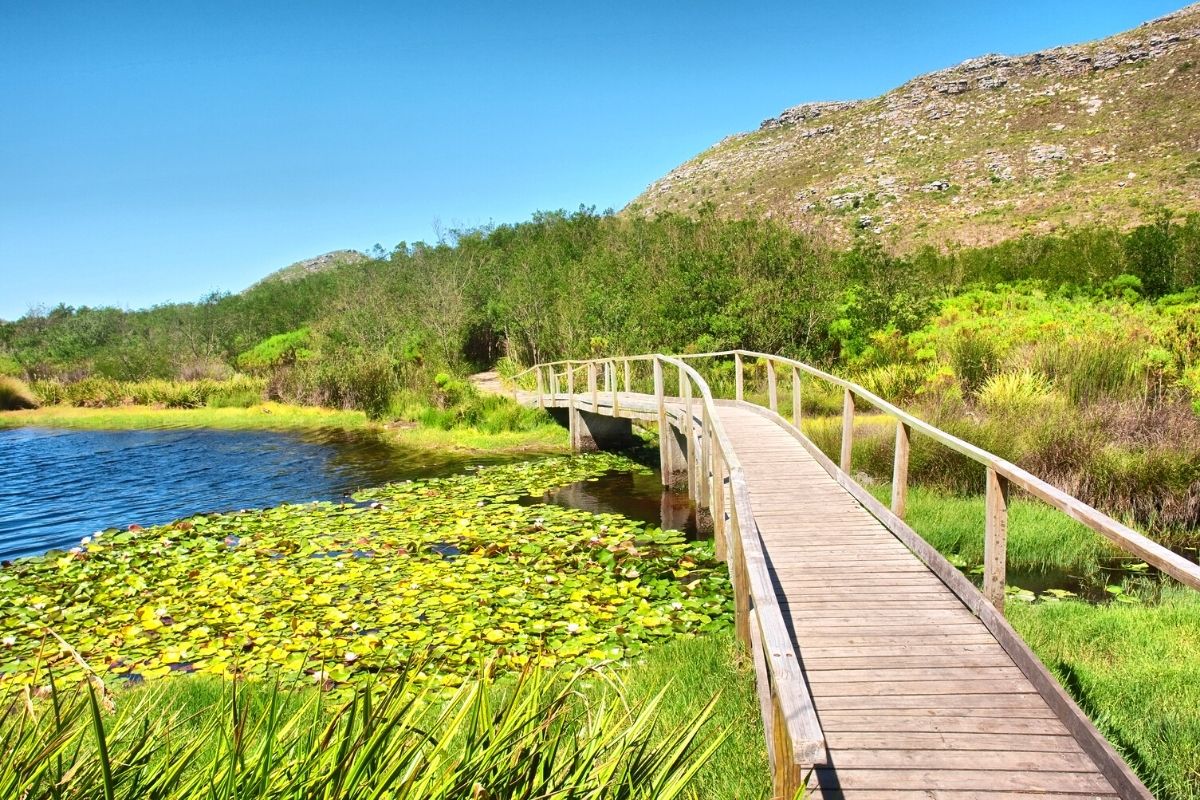 South Africa is rightfully famous for its natural wonders, and Silvermine Nature Reserve is a great way to experience some of those delights within the city limits.
While there are plenty of things to do in Cape Town for hikers and nature-lovers, this spot is particularly beloved for its beautiful views and wide variety of hiking trails.
Located in Table Mountain National Park, the reserve is also a great place for birdwatching, mountain biking, and sightseeing; and, of course, it also features spectacular views of the surrounding area.
And if you really want to do some in-depth exploring, try hiking further to some of the nearby communities, such as the former naval base of Simons Town or the charming agricultural area of Noordhoek.
This is a great place to visit if you like peaceful scenery and some nice nature-viewing opportunities.
14 – Enjoy the colorful Bo-Kaap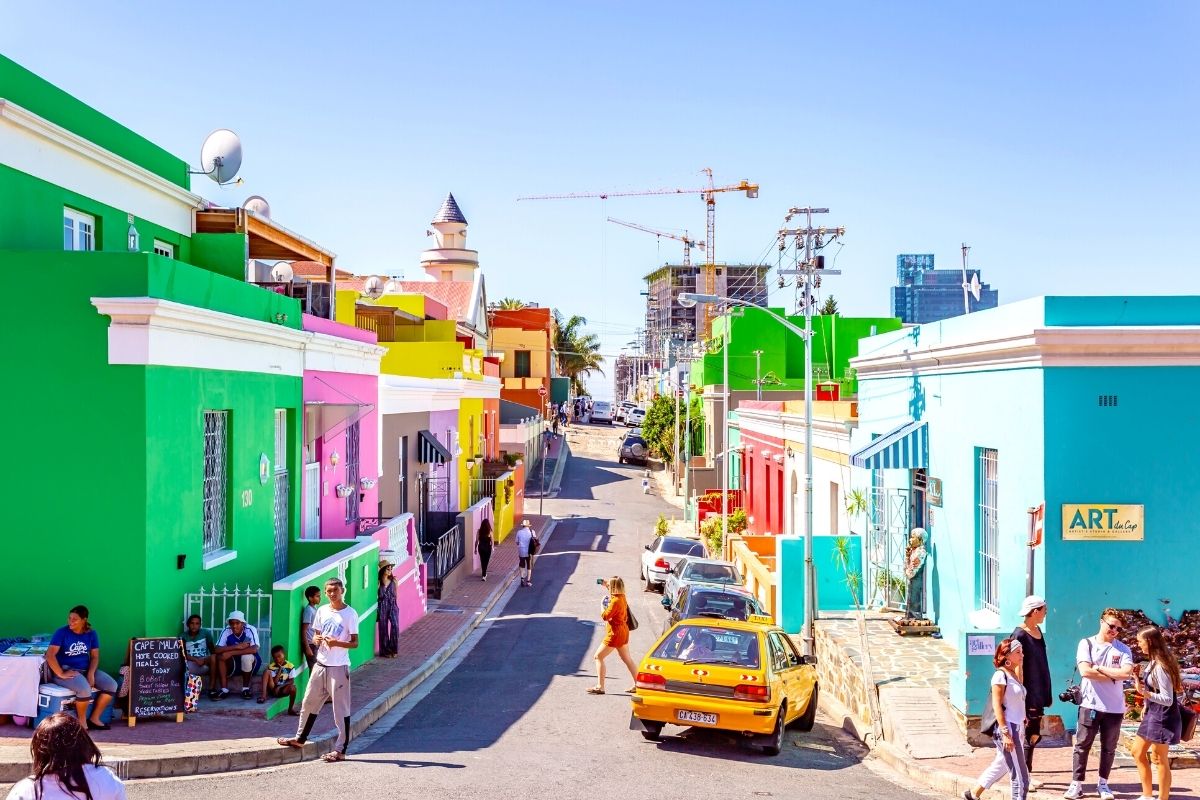 Walking tours are among the best things to do in Cape Town if you want to better understand the city's many cultural influences.
And the vibrant, intriguing Bo-Kaap neighborhood is among the most popular.
Traditionally, the area has been home to the city's Cape Malay population, and you can still see many elements of the culture in the brightly-colored buildings and delicious regional foods.
It's also well worth stopping by the Iziko Bo-Kaap Museum, which showcases the history of Islamic culture in the city.
Located in a traditional home, the museum highlights the neighborhood's immigrant cultures, as well as the ways in which the community has developed its own distinct character over the decades.
And then, of course, there are the buildings themselves, each painted a different, bold color.
As you walk down the street, you'll feel as though you're stepped through the middle of a rainbow, with vivid houses and cafes on every side.
It's just another unique aspect of one of Cape Town's most fascinating communities.
15 – Relax or museum-hop in the Company's Garden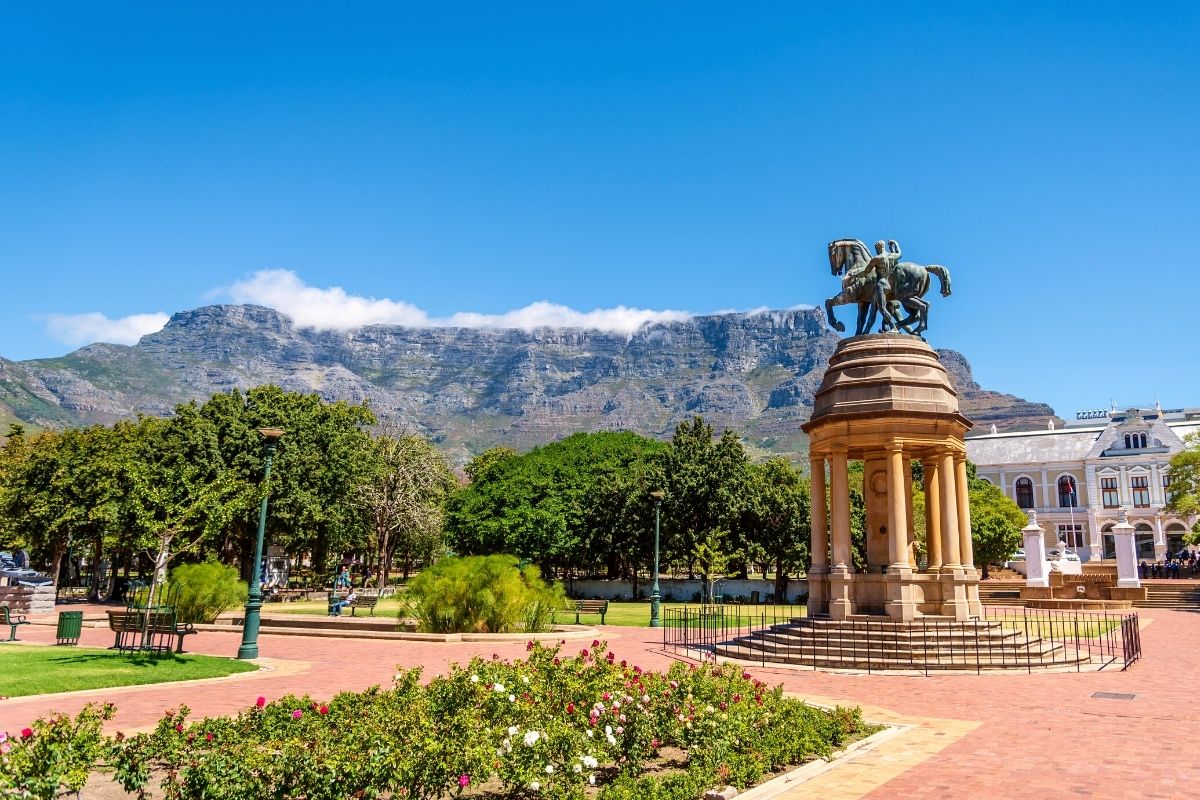 Cape Town has no shortage of beautiful gardens, and remarkably, you can still visit the original public green space, which has grown and evolved many times over the years..
The Company's Garden was created in  the very earliest days of European settlement – indeed, it's been a fixture here since the 1650s!
It got its start as a produce garden for sailors passing through with the Dutch East India Company, and today, it serves as a beloved community space and creative portal F.
Stroll along beautiful paths under the shadows of rubber trees and gingko trees, and keep an eye out for friendly squirrels!
And don't miss the many splendid cultural attractions in and around the park, including the South African National Gallery, St. George's Cathedral, the Cape Town Holocaust Center, and the South African Museum.
All this exploring might make you hungry, so stop by The Company's Garden Restaurant for delicious meals with a laidback but high-quality atmosphere.
Try their selection of teas and coffees, then try some delicious salads, burgers, omelets, and more.
It's the perfect start or end to a wonderful day at this beloved local park.
16 – Broaden your horizons at the Museum of Contemporary African Art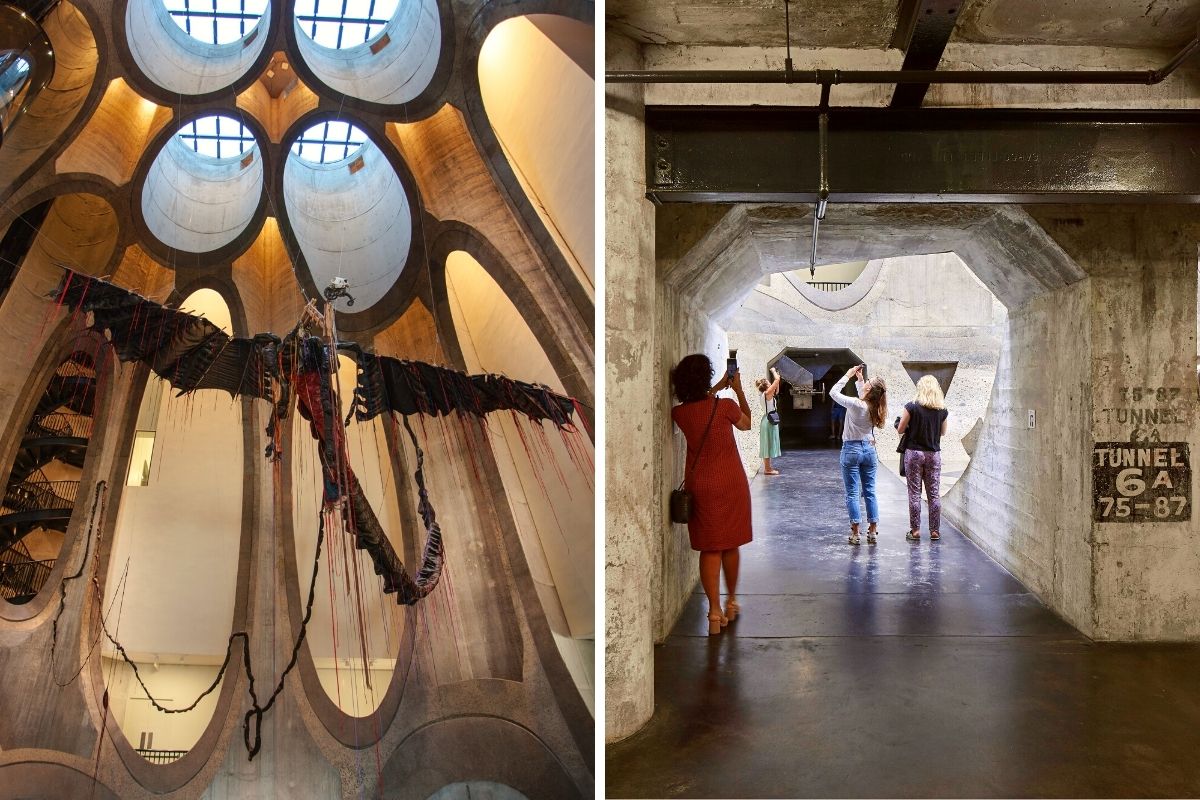 A perfect entryway into Cape Town's thriving creative world, the Zeitz Museum of Contemporary African Art features cutting-edge works by artists from around the continent..
This world-class institution focuses on promoting the oft-underappreciated modern art scene on the Africa
Stop by to view works by such renowned artists as Amanda Laird Cherry, Cosmos Shiridzinomwa, Mamela Nyamza, and Rory Emmett.
While many of the featured artists are from South Africa, you can also see works by creators from Malawi, Zimbabwe, and more.
The exhibits are continually changing, making each visit a unique and enriching experience.
And while the art itself is phenomenal, it's the messages behind it that really stand out. With a focus on cultural promotion and exploring social themes through art, the museum offers a truly engaging and thought-provoking experience for visitors.
17 – Visit some of the best markets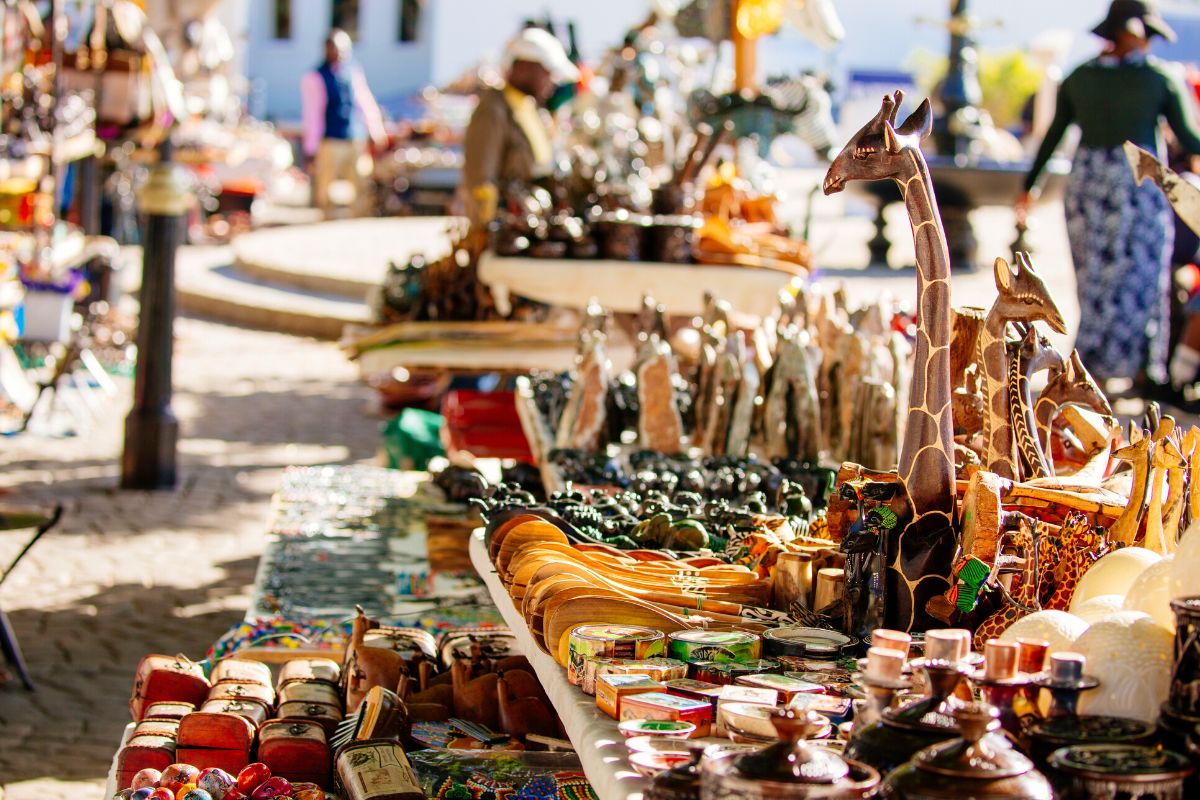 Whether you're shopping for groceries, souvenirs, or a little bit of both, the markets of Cape Town have you covered – and they're great for people-watching!
Stop by Mojo Market for live music and artisanal merchandise from all over the world, or sample oysters and browse through products by a range of acclaimed designers at the Neighbourgoods Market.
Check out Greenmarket Square's booths filled with figurines, textiles, and other unique goods that make wonderful gifts for those at home, or learn about urban agriculture – and taste some of the delicious products – at Oranjezicht City Farm Market.
And for an excellent mix of creative retail options – many of them featuring handmade products – and great musical and artistic performances, swing by Bay Harbour Market, which boasts a street fair atmosphere and some truly unique crafts for sale.
With locations all over the city and eclectic offerings, you could easily keep busy just hopping from one lively market to the other.
So grab a shopping bag and start exploring!
18 -Take a day trip to Table Mountain National Park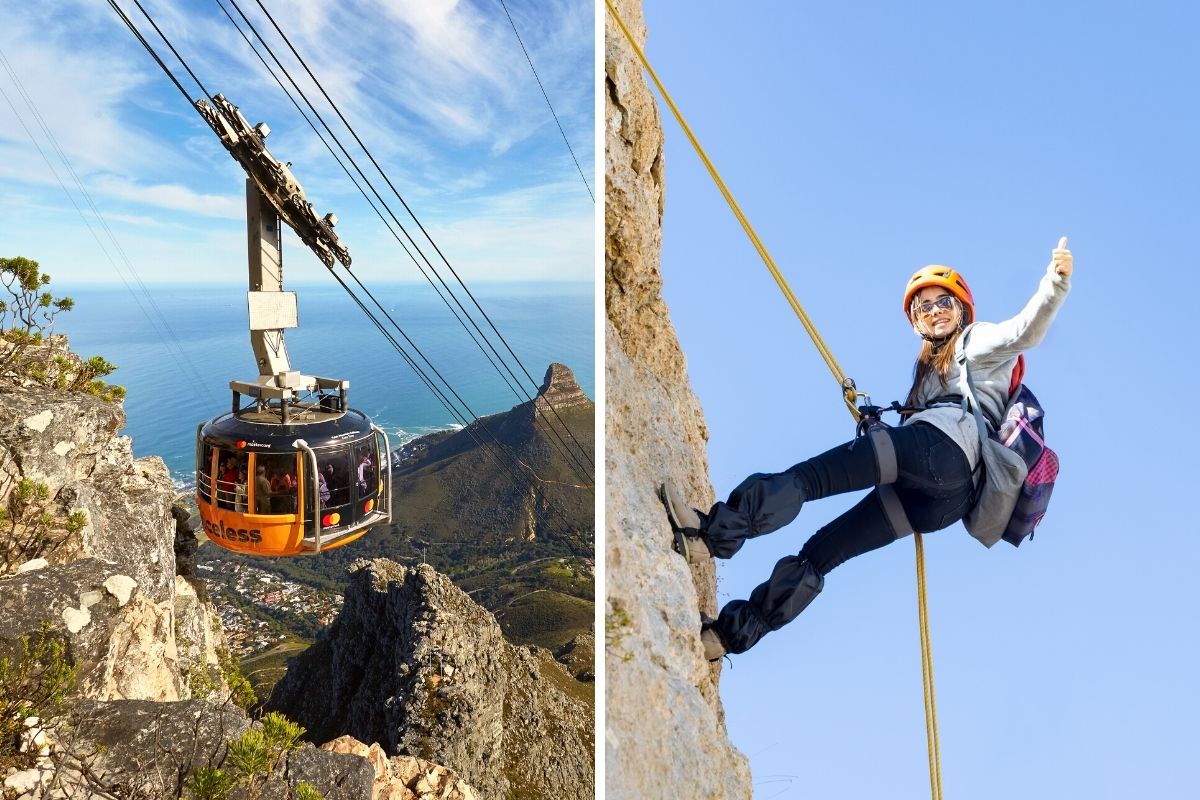 Wherever you are in town, it's hard to miss Table Mountain.
Towering over the city, it has long been an icon for a reason.
And it's even more phenomenal from the top, with stunning views of the city and the sea, as well as the other nearby mountains. .
No matter what adventure level you prefer, it's one of the most fun things to do in Cape Town.
The Aerial Cableway is a popular option, and for good reason; it offers a gentle, scenic ride up the mountainside, with the scenery gradually unfurling below you.
But you can also hike up if you fancy a bit more activity. While the trail is steep, it's well worth it for the great exercise and stunning views. Do keep in mind that the paths can be treacherous, so it's best to hike with a group.
If you're looking for even more adventures on and around the mountain, you'll have plenty of options to choose from.
Try ziplining at the foot of the mountain, where you'll zoom along seven thrilling routes while enjoying a unique look at the surrounding area.
Or try out some abseiling, where you can descend the rocky terrain with a rappelling rope and see the landscapes from an up-close perspective.
And if you'd like to cover even more ground, consider joining a scooter tour.
This allows you to see the sights at your own pace, with the added advantage of
Whatever you choose, the top of the mountain is not to be missed!
19 – See the wonders of science at the Iziko South African Museum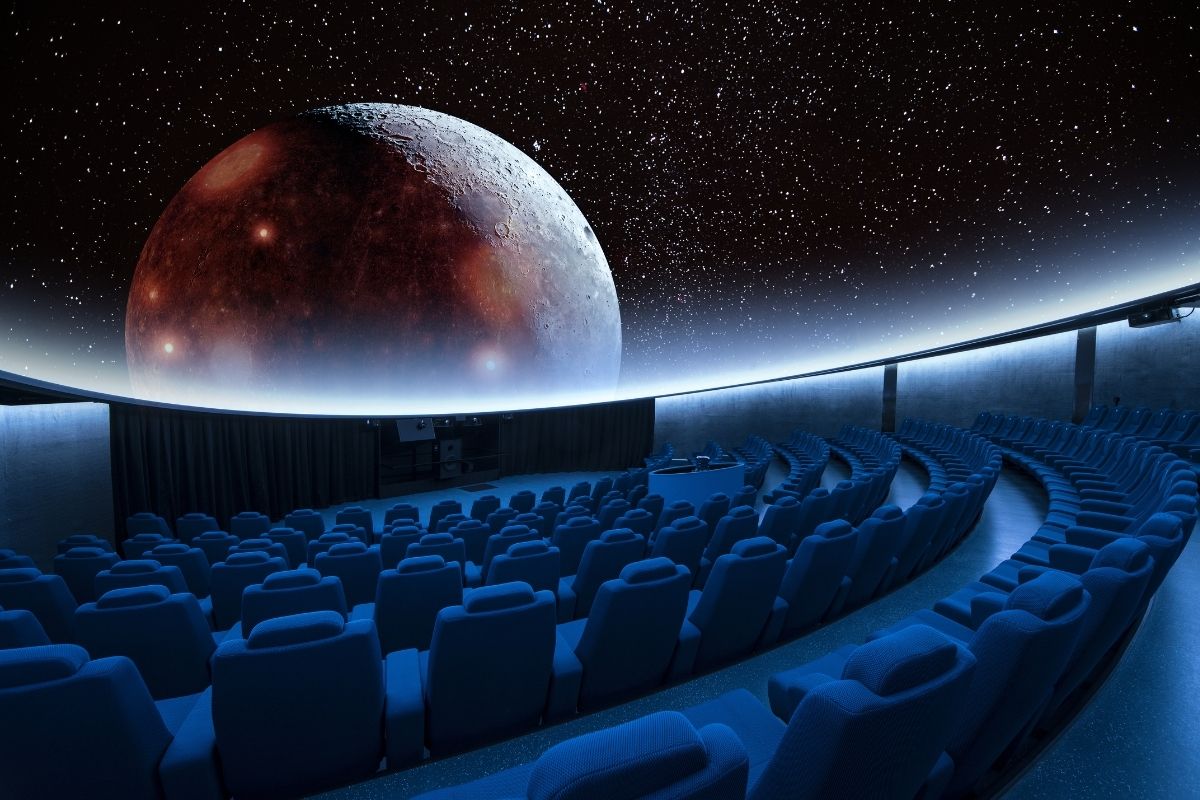 Want to spend some quality time with the plants, animals, and cosmos of the Cape?
Then be sure to visit the Iziko South African Museum, which celebrates the area's rich biodiversity.
It's one of 11 institutions run by Iziko, which focuses on promoting cultural, natural, and social history.
At the South African Museum, it's all about nature, as well as the early origins of human civilization.
Check out beautifully preserved plant and animal specimens, as well as wonderfully preserved fossils and tools developed by early hominids.
Once you've seen all the earth-based offerings, head over to the Planetarium to see some world-class immersive shows.
Settle in under the Digital Dome and enjoy animated programs, deep dives into science, and spectacular views of the night sky and its many moods.
This place is sure to bring out the kid in you!
20 – Visit the Rhodes Memorial on Devil's Peak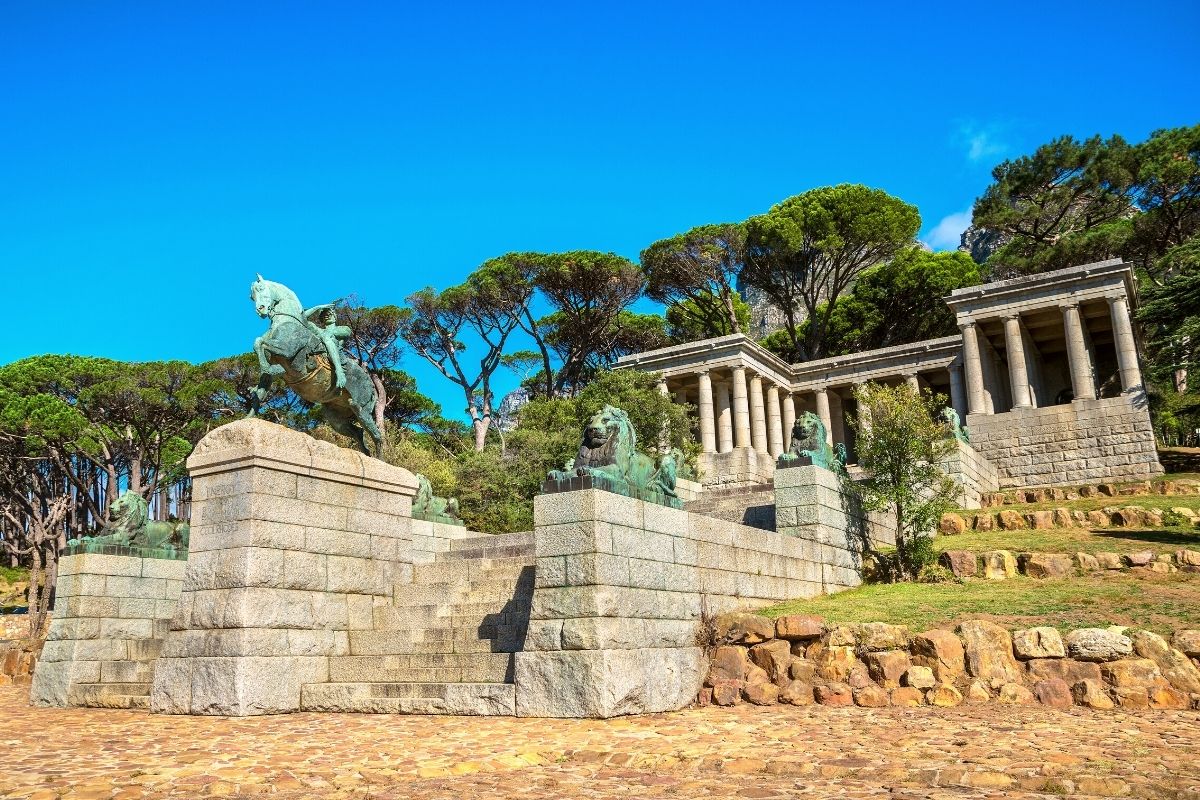 If you're hiking around the famed Devil's Peak, you may come across a striking statue: a man atop a horse, flanked by stone lions.
Climb a little higher, and you'll see another statue, this one depicting the man for which the whole structure is named: Cecil John Rhodes.
A prominent politician in the late 19th century, the elaborate monument pays tribute to his years in office.
In addition to being an architectural marvel, this area is also a great place to enjoy the scenery, with breathtaking views of the town below.
This pleasant hike is a great way to spend the morning.
21 – Swim with the seals at Hout Bay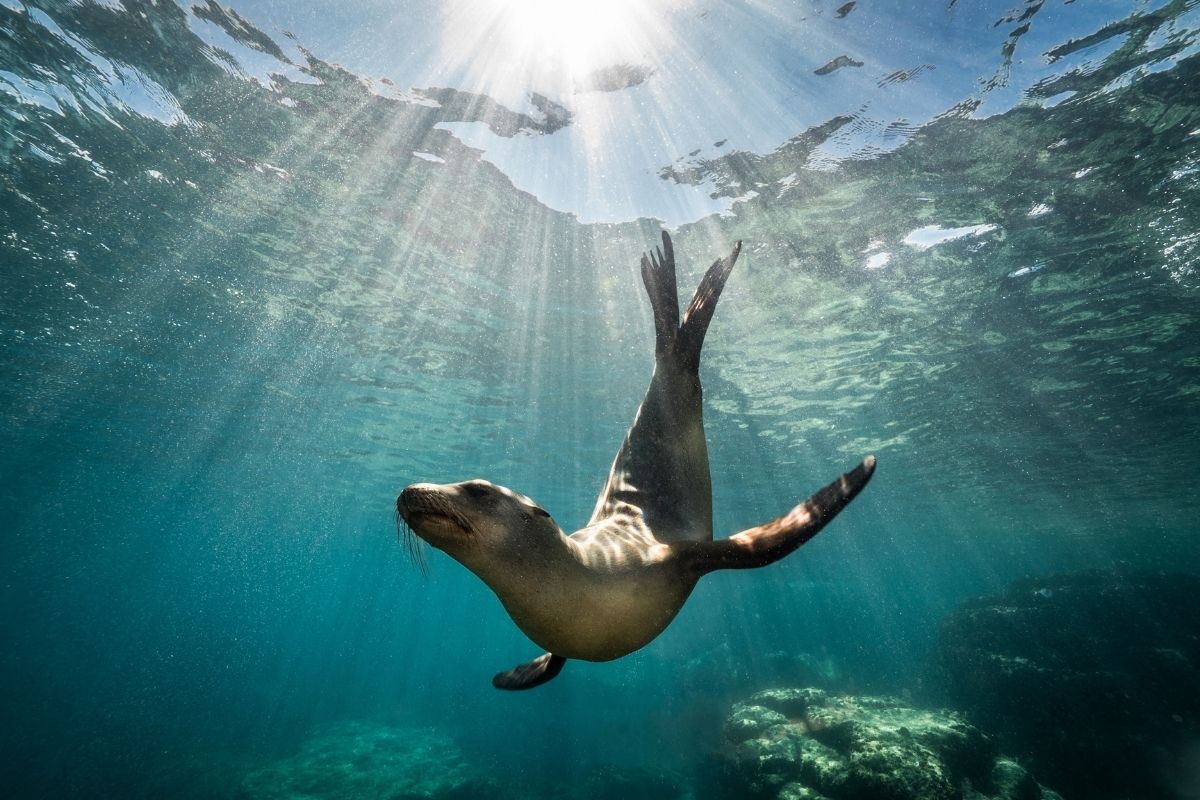 We've all admired seals in books and movies, and maybe even up close at an aquarium or on the shore.
But what about swimming alongside them?
Well, if you head to Hout Bay, you can do just that!
Easily one of the most fun and unique things to do in Cape Town, your hour-long tour immerses you – literally – in the natural environment of the Cape Fur Seal.
As you swim through the water with these playful creatures, you may want to become an ocean-dweller yourself!
And if seal snorkeling leaves you wanting more, there are plenty of other activities to partake in at the bay.
Take to the seas with a guided kayaking tour, or hop aboard a shipnto Duiker Island for another view of the friendly pinnipeds.
And if you really want to see the area from another angle, book a helicopter tour to enjoy some spectacular ocean views from overhead.
This beautiful bay is not to be missed!
22 – Hang out in some public parks
One of the best aspects of Cape Town is how it combines nature and culture.
Right in the heart of the city, you can enjoy any number of fantastic public parks.
De Waal Park, located in the Oranjezicht neighborhood, features a lovely Victorian fountain and plenty of open space for dogs, as well as free concerts every summer.
Wynberg Park, with its striking collection of flowers and conifer trees, also offers excellent playgrounds and lots of room for picnics.
And if trees are your passion, head to Arderne Gardens, where you can roam through an incredible collection of plants from around the world, including towering Aleppo Pines and Moreton Bay Figs.
In the midst of all of your sightseeing, take some time visit these beloved community spaces.
23 – Ride around with hop on hop off bus yours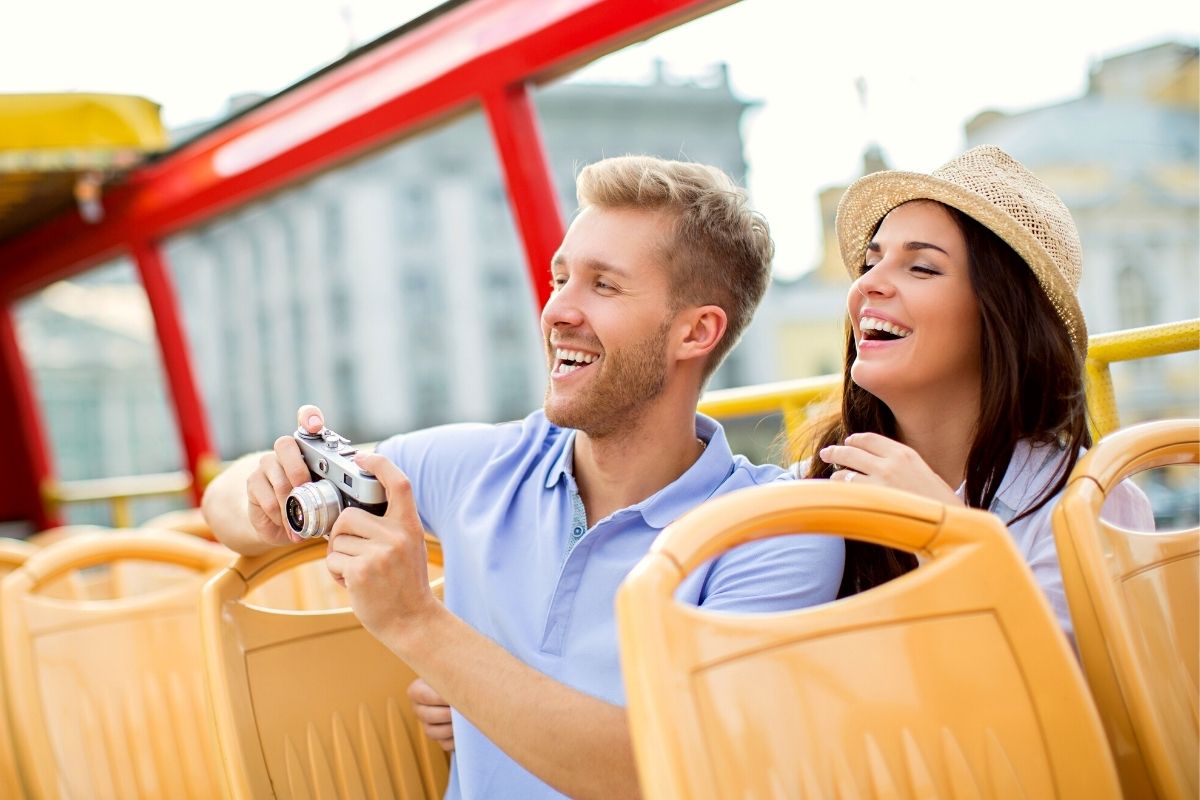 With such a wide array of attractions, it's little wonder that Cape Town has a thriving Hop-On, Hop-Off bus system.
You have any number of routes to choose from with this popular company.
Take the loop around the city to enjoy its most beloved museums, religious buildings, and historical treasures, or head out further to enjoy the coastal views of Clifton and Camps Bay.
And if you're a wine fan, there's even a winery tour option!
Sit back and relax as the bus takes you to various vineyards, where you can enjoy some premium tasting options. And when you're ready, you have easy transportation back to the city.
These buses are a great way to explore everything that Cape Town has to offer – without the hassle of arranging your own transportation.
24 – Take a cooking class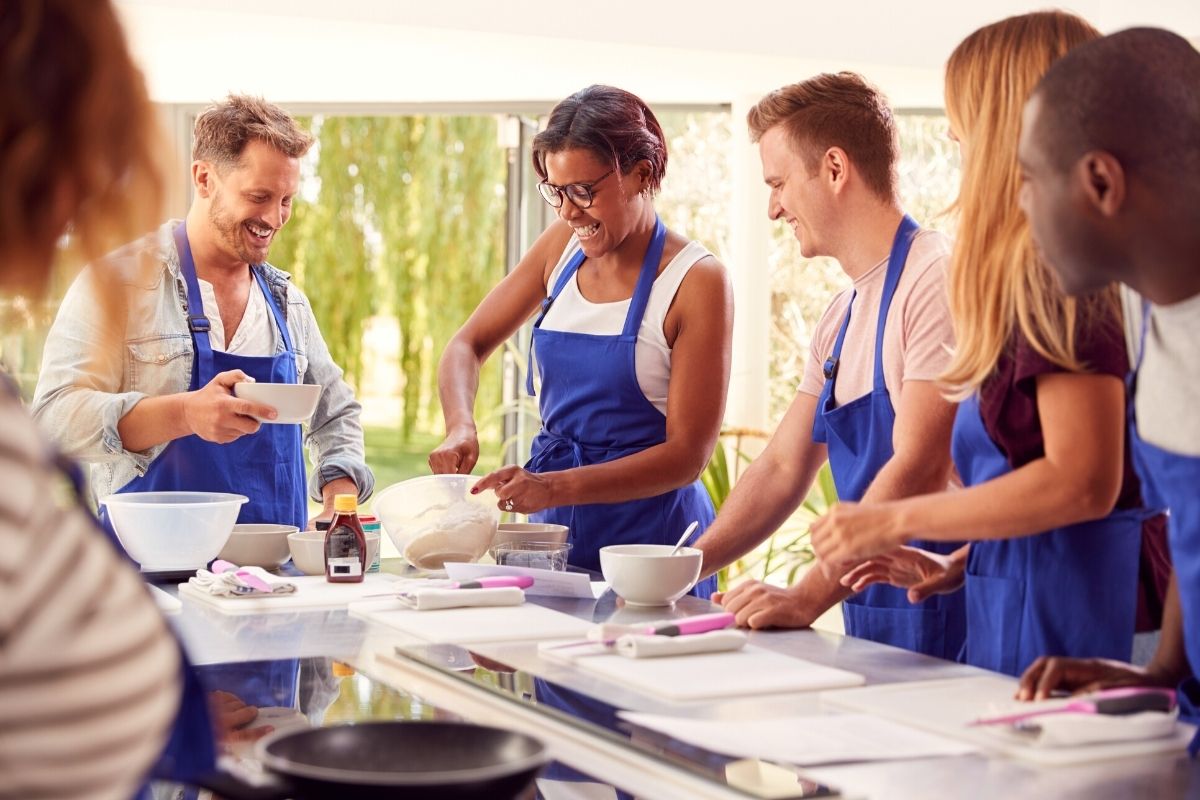 If the food tours and the markets have you craving more culinary things to do in Cape Town, try taking a cooking class.
With both private and group options available, you can experience the joy of making local cuisine while learning about the city from the people who know it best.
One of the most popular options is Cape Malay cooking, which is a great way to learn more about this unique Captonian culture.
With their distinctive. often spice-filled cooking style the Cape Malay culture is a unique fixture in the city, and their food is part of that experience.
Not only will you learn more about the local culture, but you'll get to enjoy a delicious meal at the end!
25 – Get Curious At the Cape Town Science Centre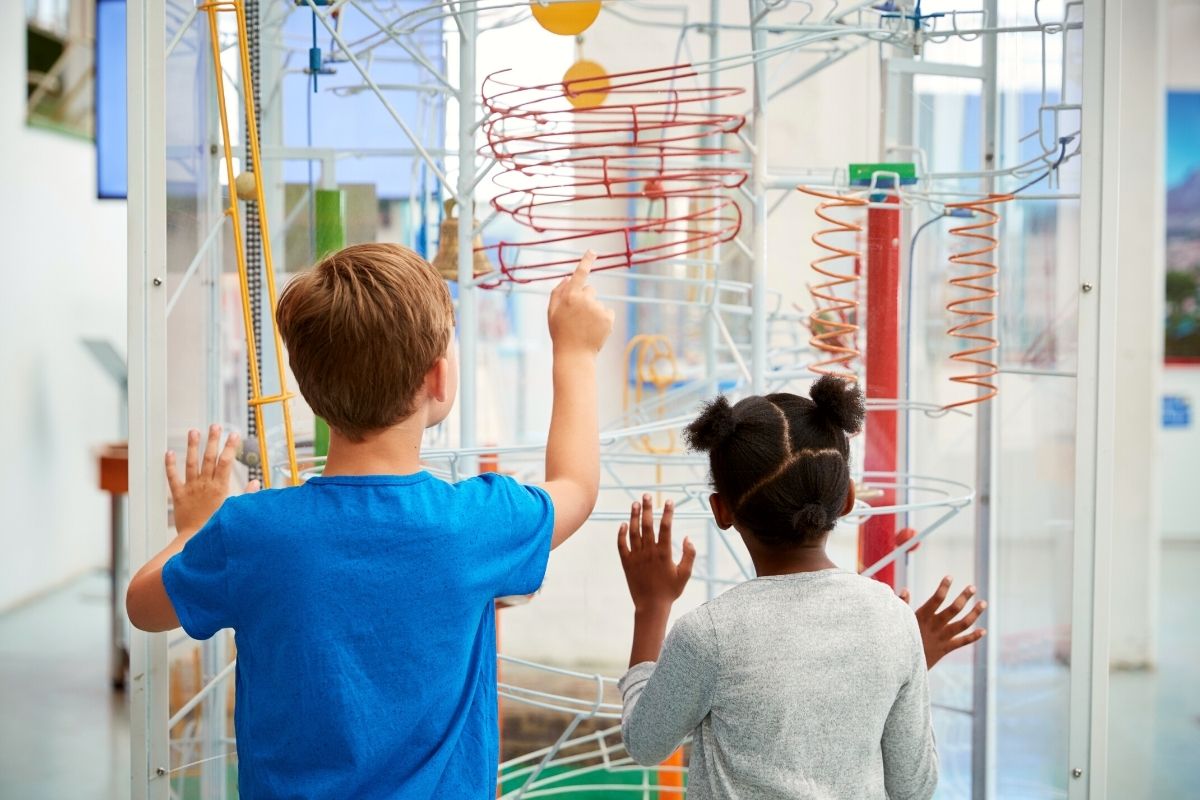 If you live for the lab and find joy out in the field, you'll love the Cape Town Science Center.
Its interactive exhibits run the gamut from robotics to neurology, puzzles to space travel .
See space from a different vantage point in the inflatable planetarium, or check out the science clubs designed to promote STEM education for kids.
With innovative programming and a strong community focus, this institution is a true treasure. In a town that' full of them.
26 – Race your loved ones at Toboggan Family Park
If you want a unique adrenaline boost while in town, head over to Toboggan Family Park – and get ready for some action!
As the first downhill tobogganing track in Africa, this park offers a variety of fun and wild rides that you simply can't get anywhere else.
After riding to the top of the hill, you'll go racing down the concrete slopes, passing through almost 20 different turns and drops.
Along the way, you may spot some local wildlife and catch some great views of the town – if you concentrate whilst speeding around, that is!
Whether you're looking for a fun family activity or a wild afternoon with friends, the toboggans will definitely unleash your inner speed demon.
27 – Reflect on the past at Robben Island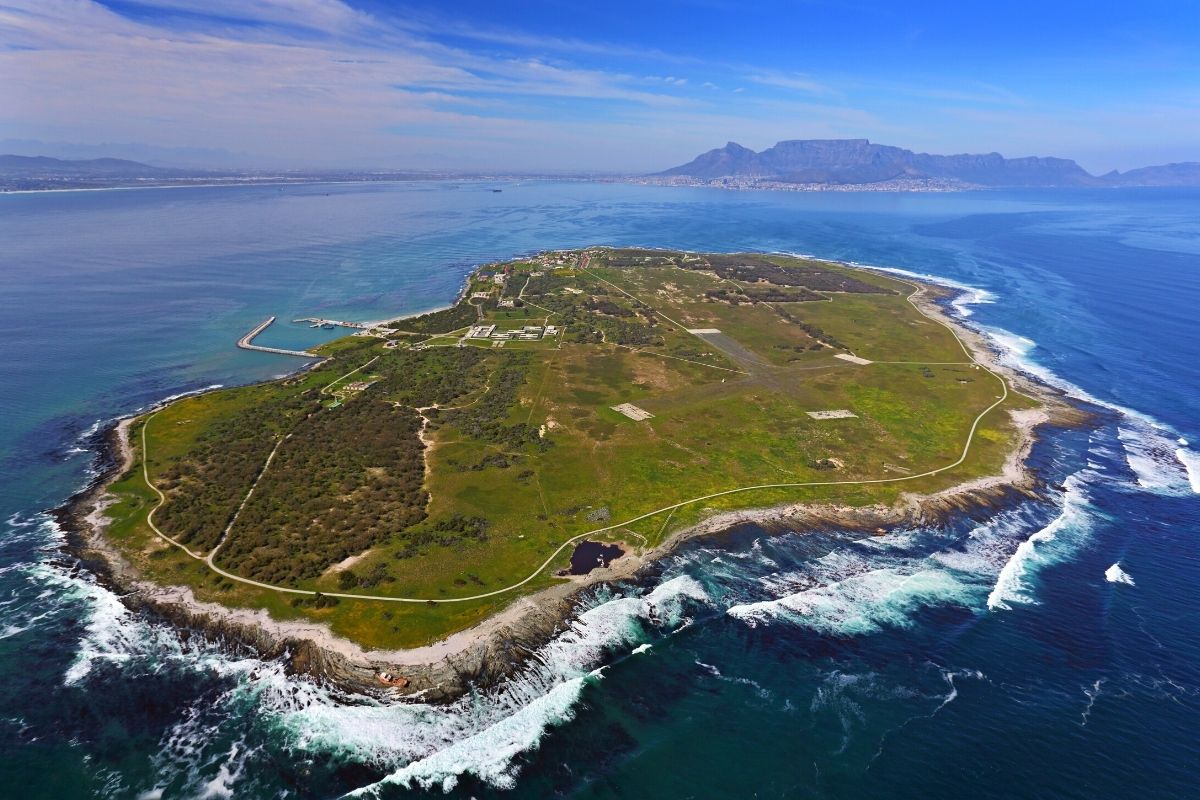 For those interested in the city's history – and especially for first-timers – a day trip to Robben Island is a must.
This former prison is best known as the place where Nelson Mandela spent 27 years of imprisonment, before being released and elected president of South Africa.
In homage to the man and his work, the Nelson Mandela Gateway serves as a connecting point for the island.
Standing three stories high, this world-class building also features a number of exhibits on the apartheid struggle, preparing you for the intense exhibits that lie ahead.
On the island itself, you'll be able to tour the facility and learn more about its troubled history, as well as Mandela's time there.
While Robben Island may not be the most relaxed place to visit, it is  certainly invaluable.
28 – Enjoy the views at Lion's Head and Signal Hill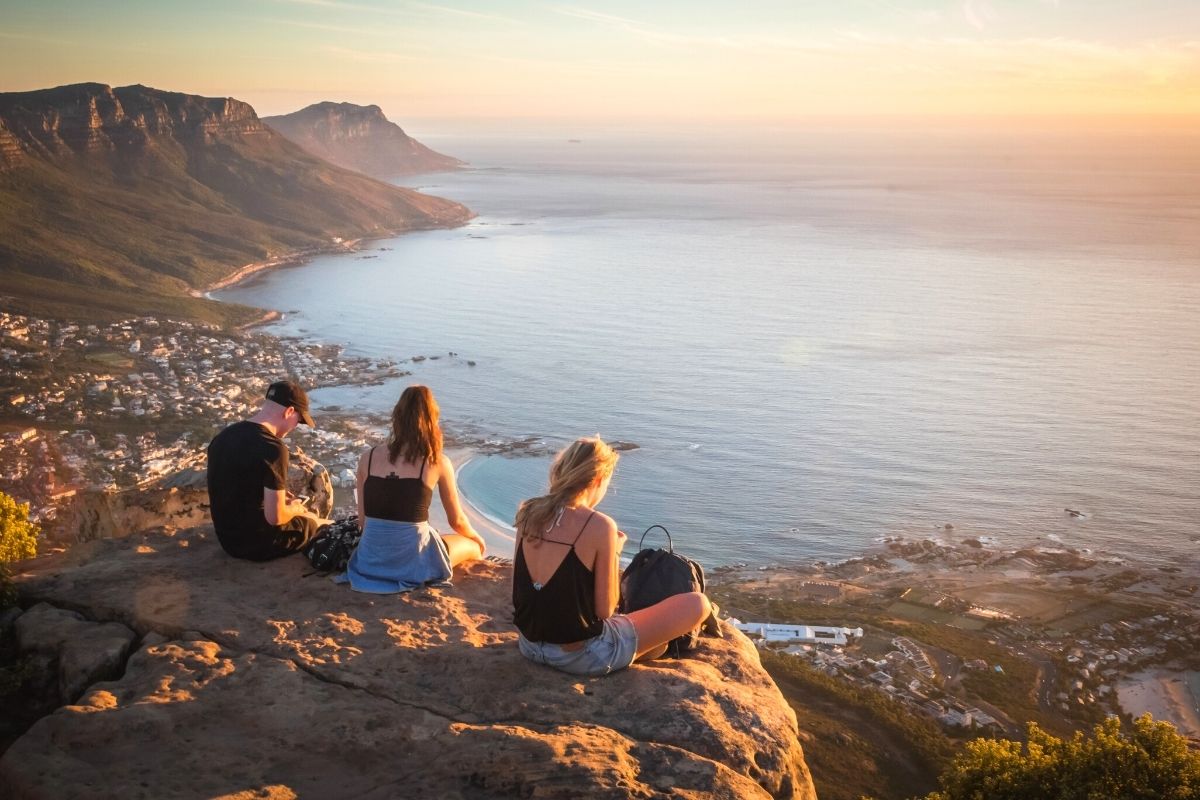 While Table Mountain gets a lot of attention (and rightfully so!), it's also well worth visiting the neighboring peaks of Lion's Head and Signal Hill, which offer some spectacular mountainous adventures of their own.
While Lion's Head may be the more famous peak, Signal Hill, which is right next door, is a particularly popular spot for trail running.
The routes here are great for a morning jaunt – not punishingly steep, but just enough to provide a nice challenge.
These same qualities make both mountains hiking hotspots; it's recommended that you go with a guide and/or a group, to better enjoy the trails safely.
With dozens of routes up and down the mountains, there are plenty of adventurous options for hikers of every level.
And once you've reached the peak, you can celebrate by flying right off of it!
Paragliding from the top of Lion's Head is one of the most popular things to do in Cape Town for a reason; it combines the thrilling feeling of flight with phenomenal views of the city, the surrounding mountains, and the sea.
After all of the adventures, wind down for the evening by watching one of the many beautiful sunsets that grace the mountaintop.
Enjoy panoramic views of the city, backlit by the ever-changing evening sky.
These iconic slopes are well worth the trek!
29 – Hike along the Alphen Trail in Constantia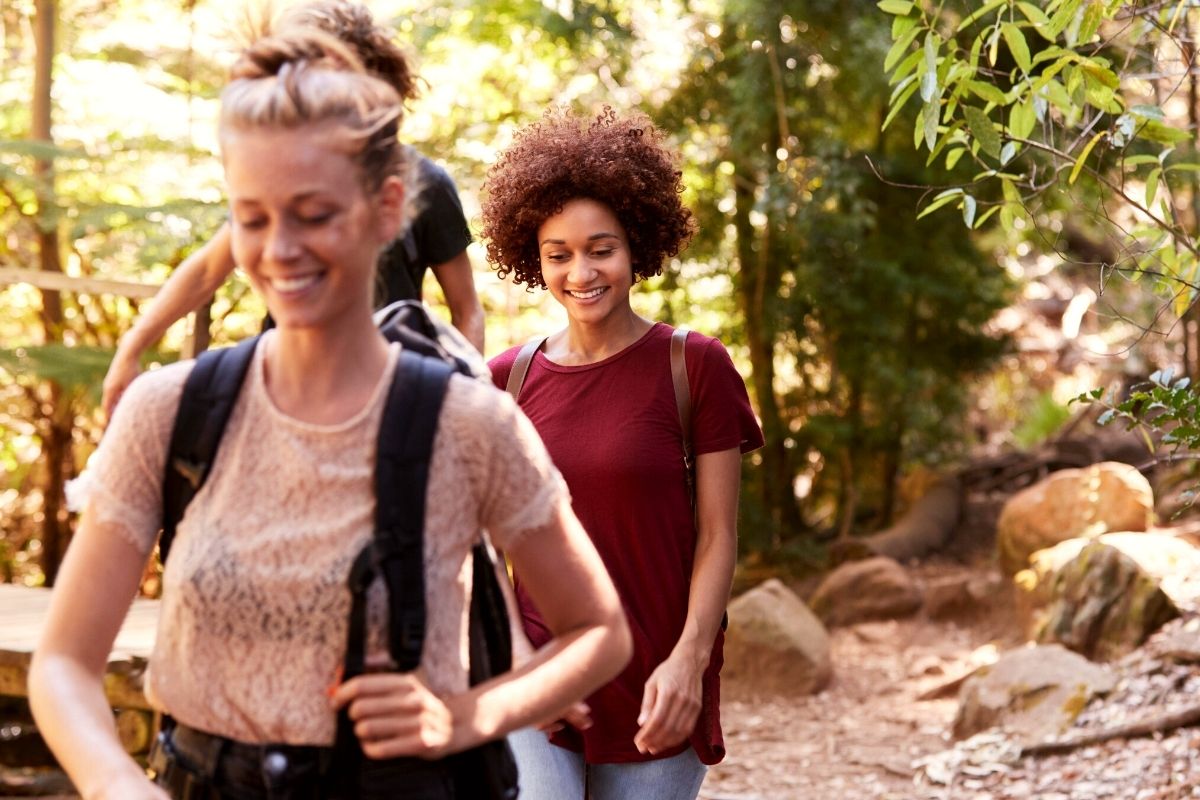 While Constantia is best known for its wineries, it is also another great place to do some hiking.
The Alphen Trail, which features 4.8 miles of out-and-back paths, offers abundant greenery and plenty of lush landscapes along its riverside route.
It's a great option for families and casual hikers, as well as dog-walkers and trial runners.
While it may not be as challenging as some other nearby trails, it's a pleasant and scenic way to explore the area.
30 – Admire the art at the South African National Gallery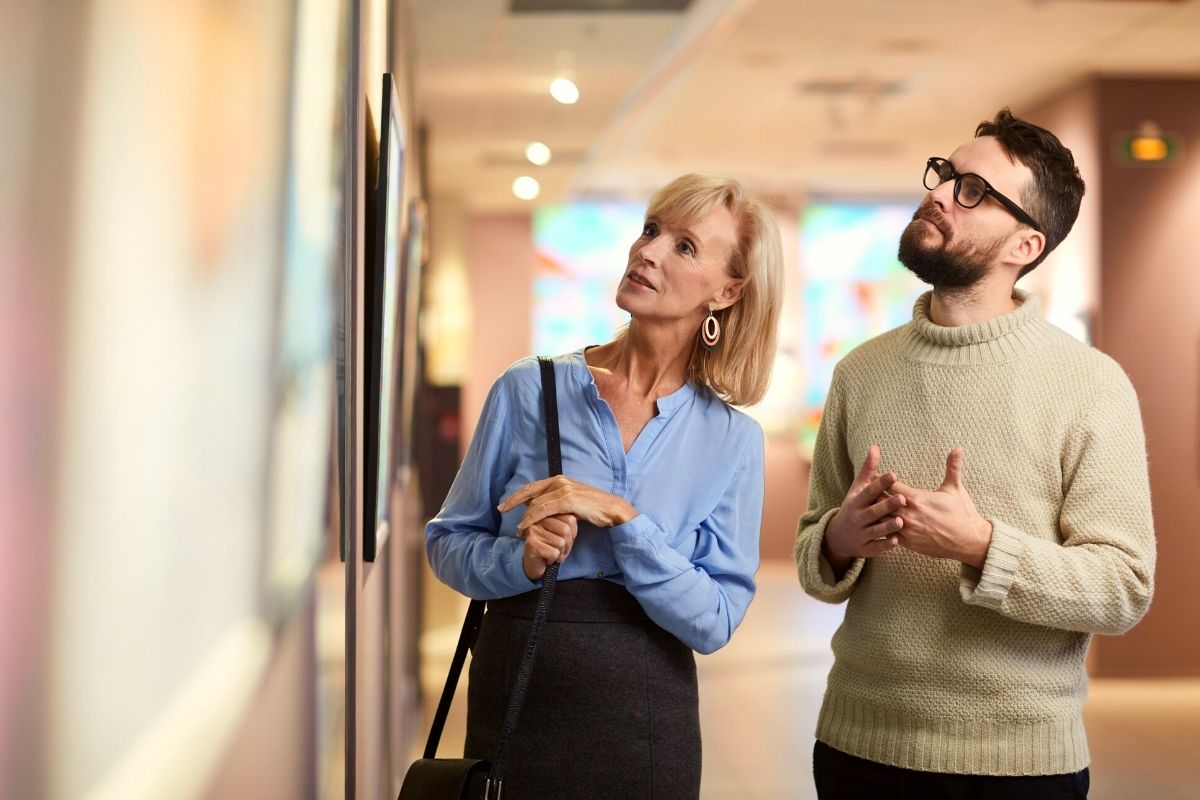 With a broad range of works from the 17th century to the present day, the South African National Gallery seeks to promote the artistic cultures of the continent throughout the ages.
Its catalog includes works by Diane Victor, Robert Hodgins, and Lippy Lipshitz, as well as Dutch, British, and French artists.
Stop by to admire the multi-medium installations, and learn more about the long and rich history of art in the Mother City.
31 – Get energized at the best coffee shops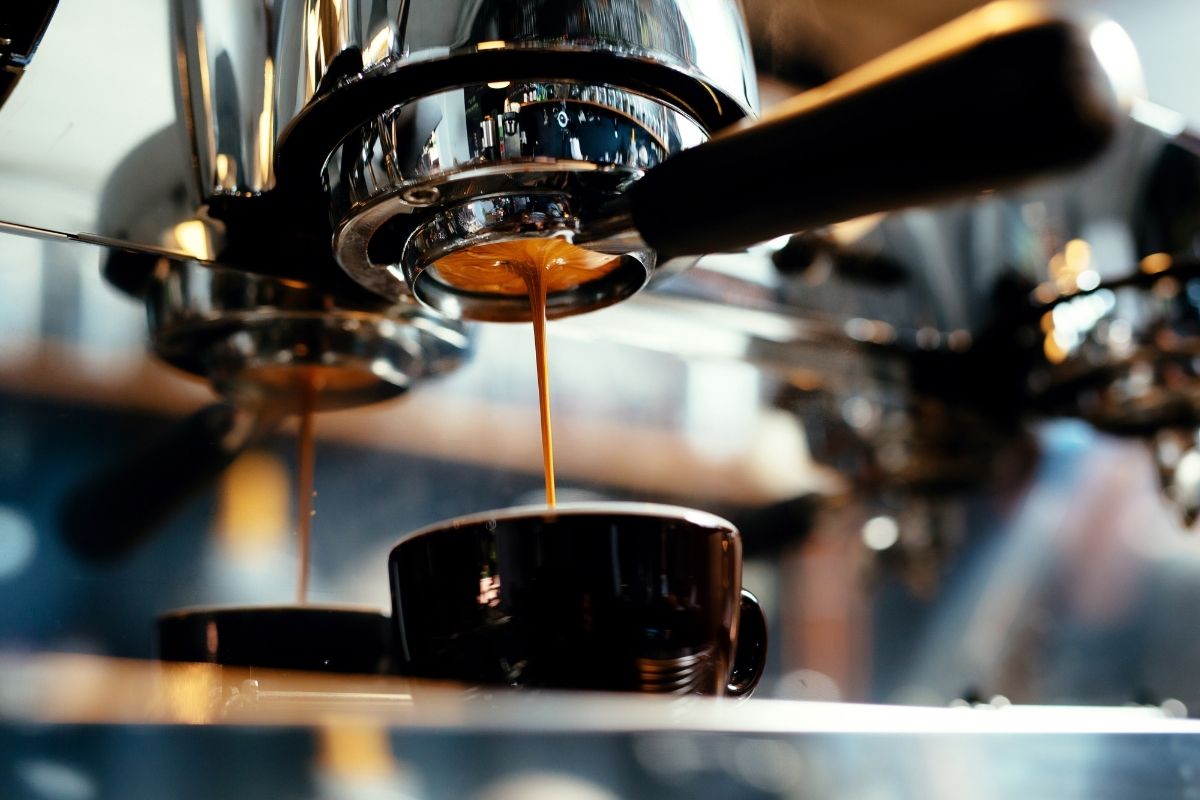 Along with its other culinary offerings, Cape Town boasts an impressive cafe scene – with good coffees to match.
Stop by some of the best spots in town to enjoy tasty brews and a relaxed, funky atmosphere.
At The House of Machines, you can sip Hoduran Arabica surrounded by the industrial-chic motif of the space, which also sells menswear and motorcycle parts.
Or taste the carefully cultivated cups at Espresso Lab Microroasters, which features a fun laboratory aesthetic.
And if you want a full meal with your java, stop by Schoon De Companje in Stellenbosch, where you can pair your hearty latte with ice cream, sandwiches, and even wine.
With so many options for delicious caffeinated beverages, you'll be bouncing off the walls by noon!
32 – Spend some time in Langa town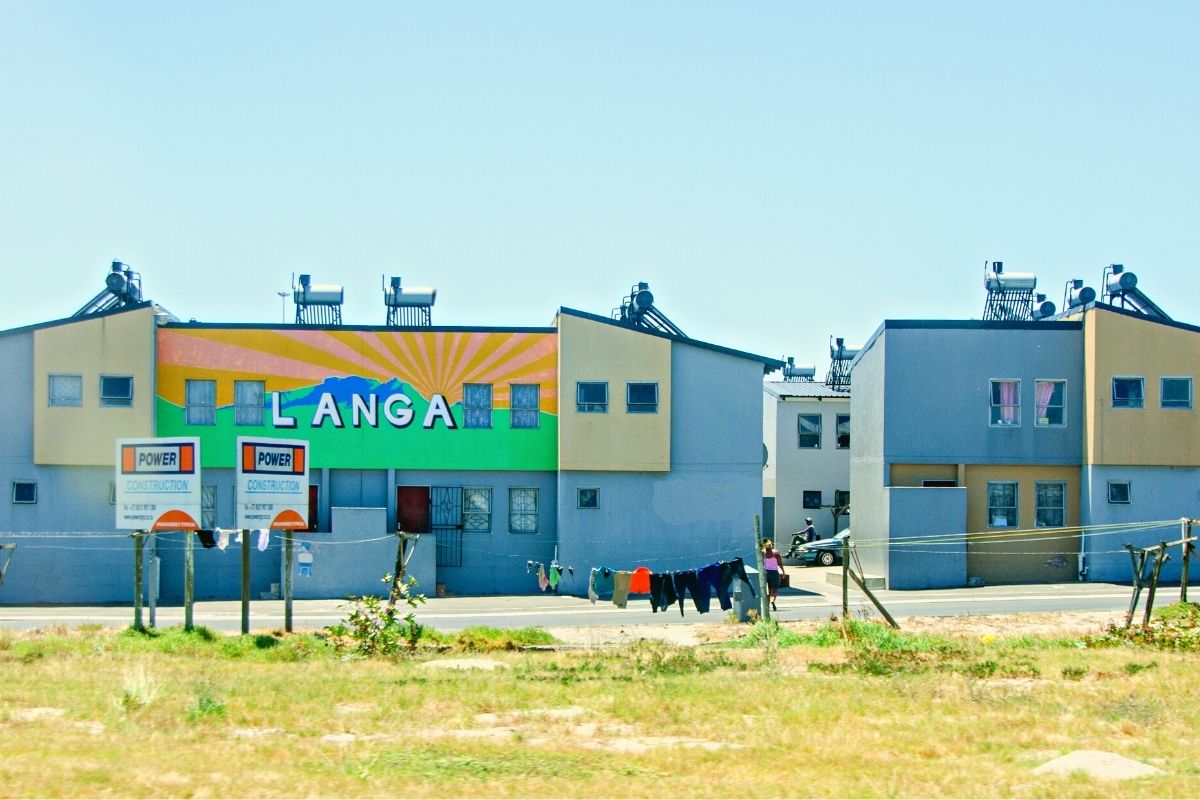 Another great township that's well worth exploring, Langa town is filled with creativity and entrepreneurial spirit.
Like its neighboring communities, Langa town is actively working to move beyond its troubled past, and your tour will likely include a chance to enjoy their thriving arts scene.
Take a tour of several historic churches in the area, then listen to a stirring performance by the community gospel choir.
Or try the arts and cultural tour to see more of the creative projects that take place here.
And with the Township Development Taster tour, you can learn more about the many innovative businesses that flourish in the neighborhood.
This unique community will help you learn more about the city and its nuances.
33 – Norval Foundation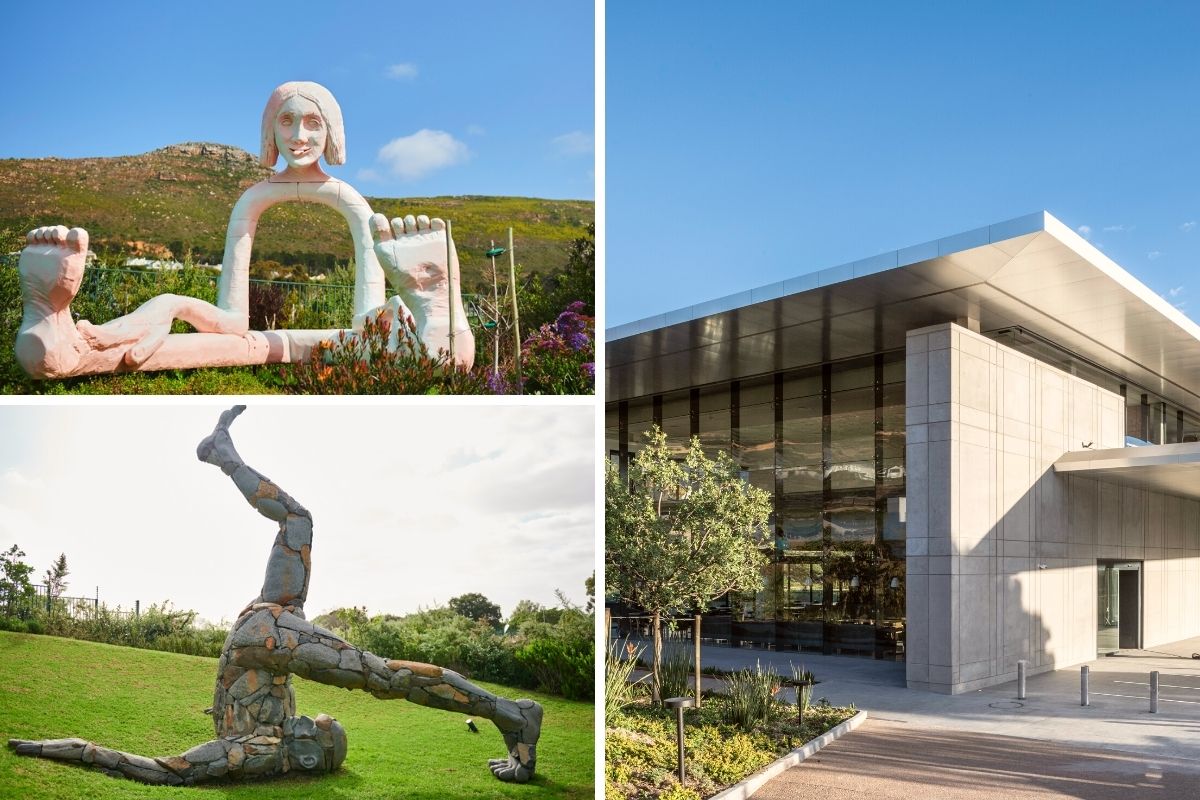 Looking for thought-provoking sculptures, striking visual art, and great research opportunities all in one place?
Then be sure to stop by the Norval Foundation.
With a focus on African and African diaspora artists from the 20th and 21st centuries, the space is notable both for its impressive collection of works and its beautiful natural surroundings.
Take a look at the programs that are on during your visit; if you're lucky, you may be able to catch a show in their world-class amphitheater.
This is also a great place to engage with the local creative community, and support accessibility to the arts.
34 – Go whale watching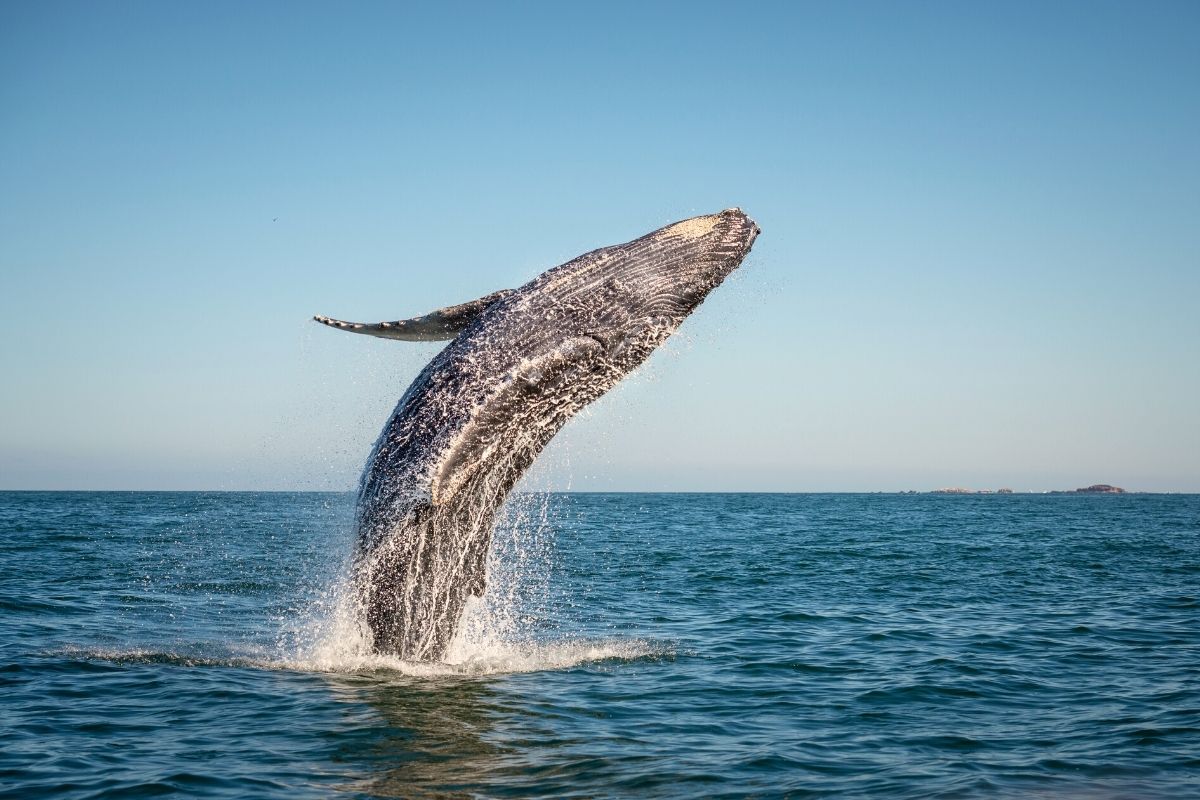 One of the most joyful things to do in Cape Town is taking to the seas for some whale watching.
These large, beautiful creatures migrate through the area between June and November, and there are a number of tours that give you plenty of time to watch them in action.
Hermanus is the most popular spot for these excursions, as it's home to large populations of Southern Right whales.
You can also visit the Stoney Point penguin colony, making for a wonderful day with the local wildlife!
35 – Play around at the waterparks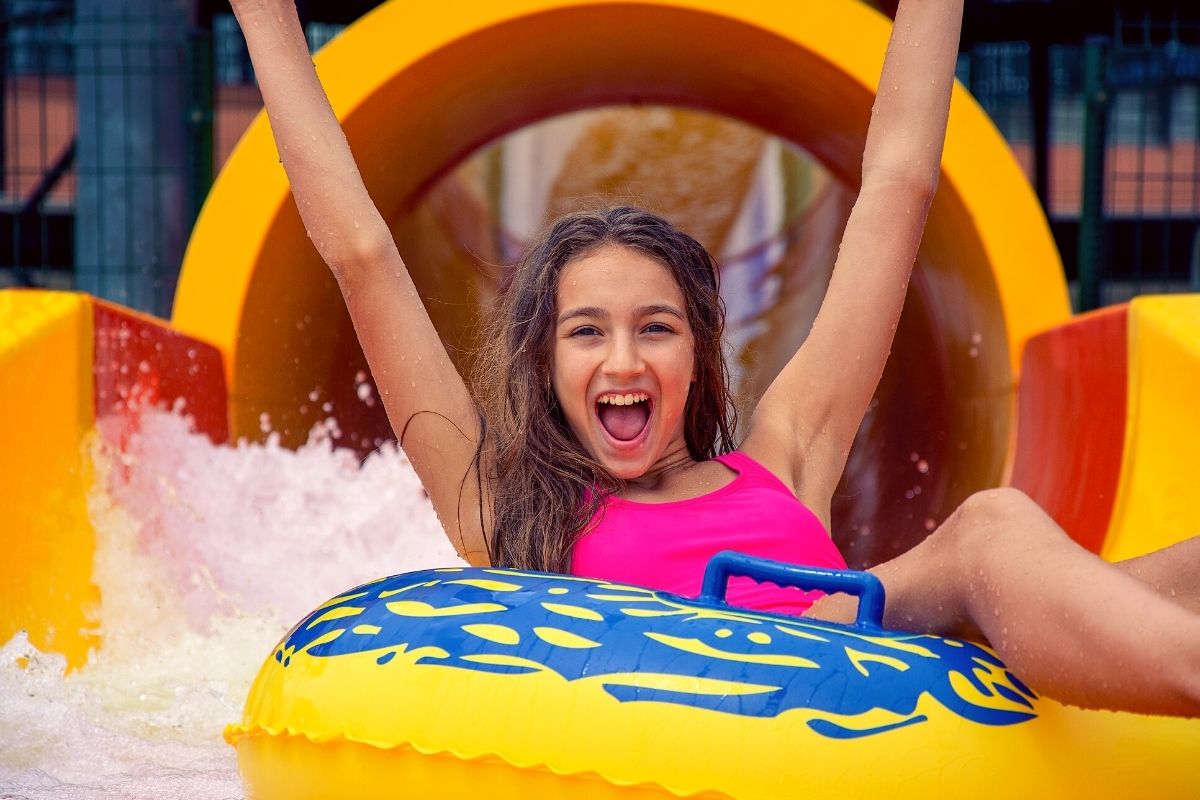 There are plenty of great aquatic things to do in Cape Town, and that includes some fantatstic waterparks.
Down at Muizenberg Beach, you can make a splash on the three water slides.
Younger visitors will love the gentle but fun "junior slide," while older guests can choose between the adventurous curves of the "main slide," or the straight-ahead velocity of the "speed slide."
And if you'd like even more variety in your rides, head over to Waterworld Strand for dozens of adventures.
Choose between the whirl of the Supertube or the whoosh of the Speed Slide, or just enjoy the massive pool.
Kids will love the racing slides and the creative adventure play areas!
In the winter, the whole complex transforms into Snow World, offering plenty of fun for the colder months.
Check out the ice sculptures, snow ramps, and ice slides, and celebrate the winter season in style.
36 – Catch a wave at Muizenberg Beach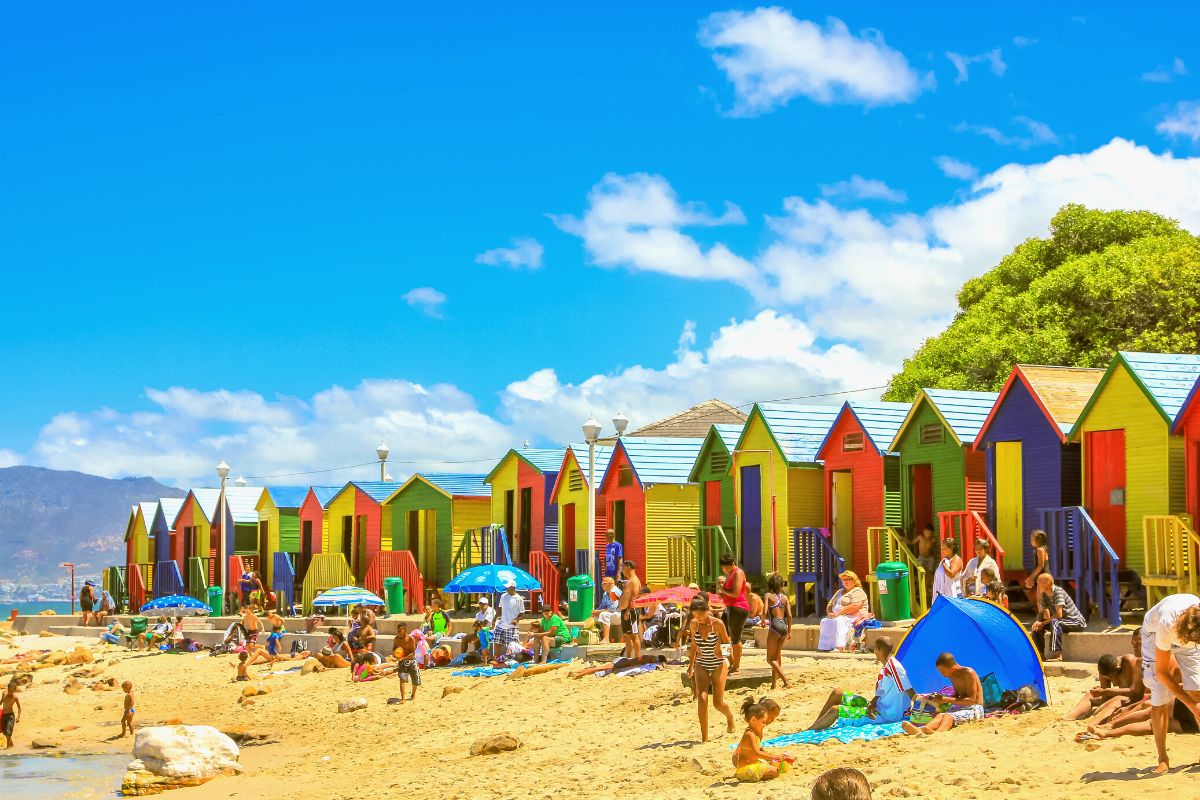 Cape Town is renowned for its beaches, and Muizenberg, on the western side of town, is one of the best for water sports.
In addition to beautiful scenery, it's the place to go if you want to try one of the most beloved local pastimes: surfing.
With a variety of group and individual options, you can choose the lesson that best suits your interests and experience levels.
And if you've never surfed before, Muizenberg is a great place to start, with gentle, consistent waves and a variety of knowledgeable teachers.
After practicing the basic moves on land, you'll head for the water to try putting these ideas into action.
You'll feel like a proper beach bum in no time!
37 – Educate yourself at the District Six Museum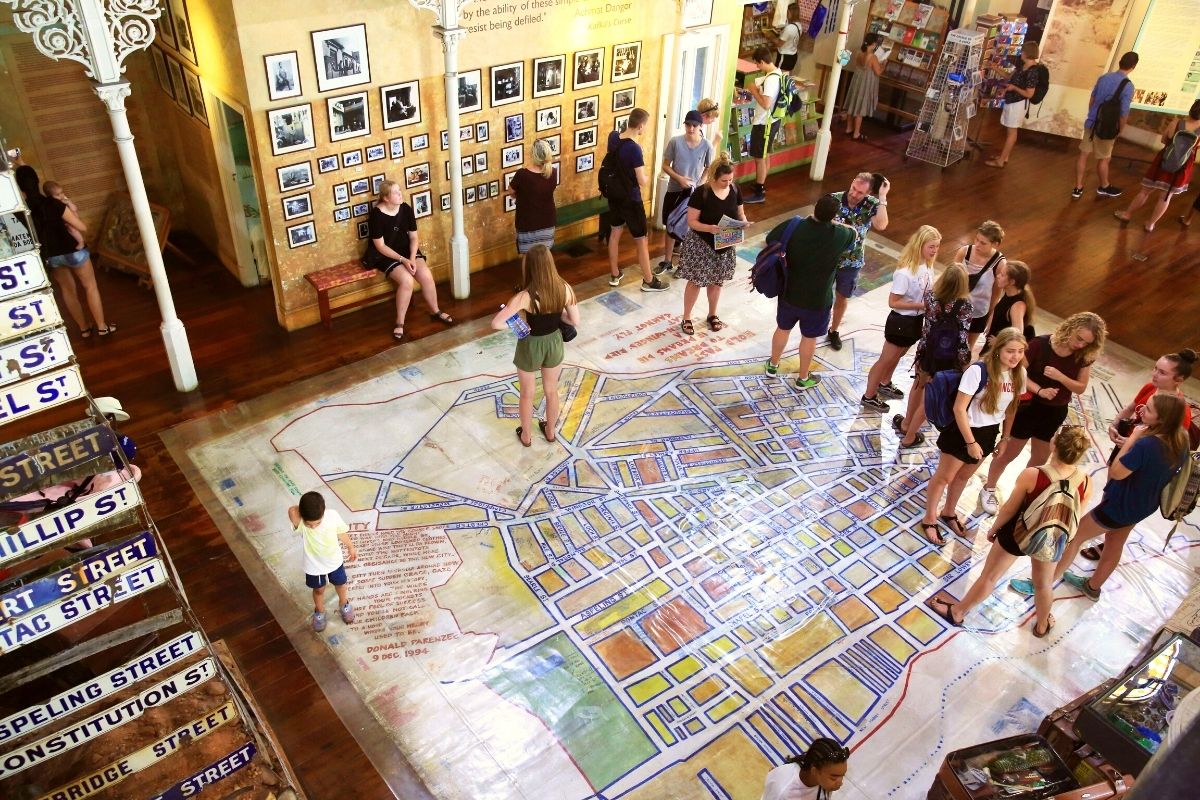 District Six, notorious for its forced evacuation programs during apartheid, is a crucial place to understanding the history of segregation in South Africa.
A visit to the District Six Museum may be sobering, but it's also a powerful reminder of how these issues affected the city's residents.
Explore the multimedia exhibits depicting the neighborhood's glory days as a multicultural creative hub, and the horrors inflicted upon it by the brutal government regime.
Be sure to take some time to talk with the staff as well; many of them are former District Six residents, and their personal narratives add some first-hand context to the story.
If you're interested in exploring the complicated history of the region, this museum is a must.
38 – Hang out at the beaches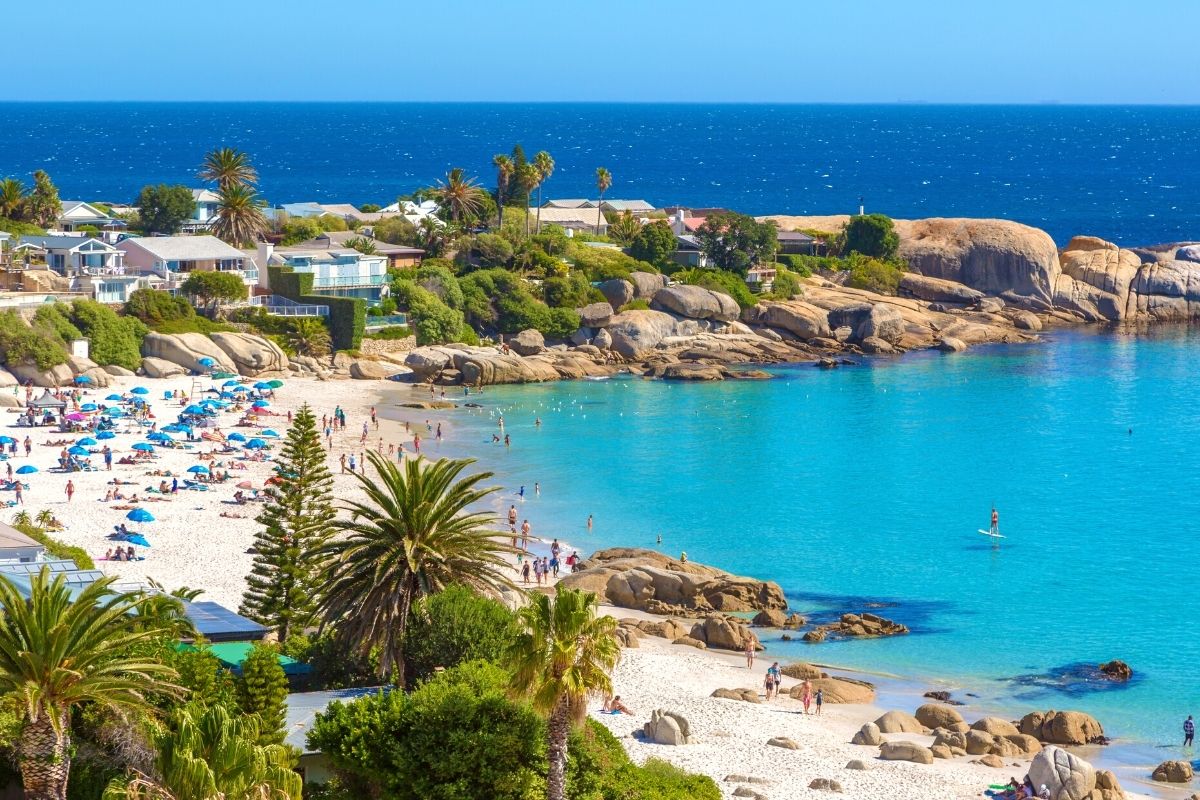 In between all the other activities in town, make sure to carve out some time for the famous beaches of Cape Town.
Whether you like gentle waves or striking views, there's a perfect bit of sand and sea waiting for you.
Clifton Beaches, with its row of mansions and collection of unique shores, is perhaps the most famous area.
Its four different beaches offer everything from volleyball games to off-leash areas for dogs
If kitesurfing and amazing views of Table Mountain are more your style, head over to Blouberg Beach, just north of the city.
Or check out the creature-filled tidepools and surf breaks of Queens Beach, which is tucked into the Sea Point area.
After a day of fun, there's nothing like a sunset on the beach.
For particularly spectacular views, check out Glen Beach or Camps Bay Beach.
Glen Beach is the more secluded of the two, but still offers plenty of good waves and space to relax on the shore.
Neighboring Camps Bay, meanwhile, is renowned for its clean waters, beautiful white-sand beaches, and lively atmosphere.
And both of them offer great views of the mountains, as well as the beautiful Atlantic waters.
There's no better way to greet the evening in the city!
39 – Let the kids go wild at Bugz Playpark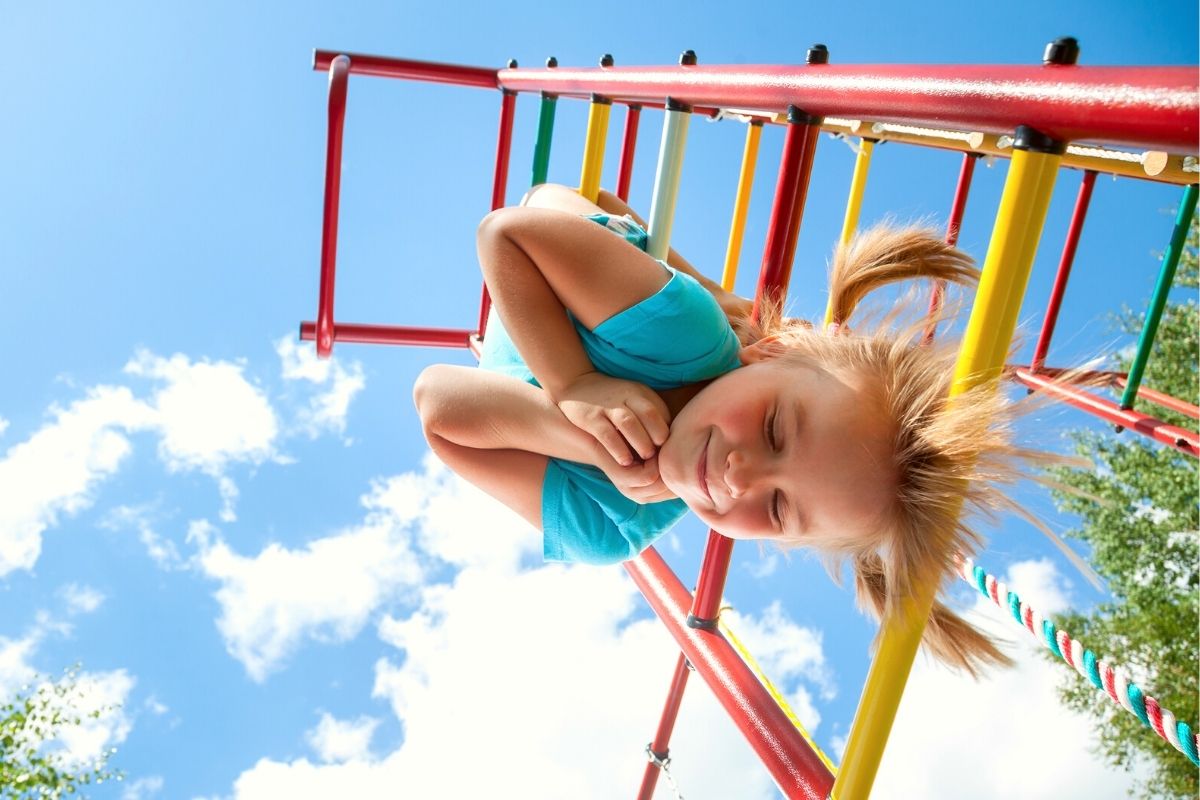 Looking for something to entertain your kids and educate them at the same time?
Check out the attractions at Bugz Playpark, which encourages learning through outdoor play.
Kids will love activating their imagination by riding the Worm Train or the Swing Horses, or getting some exciting exercise with the Rowing Boats and the Pedal Bikes.
And of course, there's the massive jungle gym, which will encourage them to further exercise their minds (and bodies) through some good old-fashioned fun.
Even grown-ups will enjoy themselves in this active space!
40 – Check out the Woodstock street art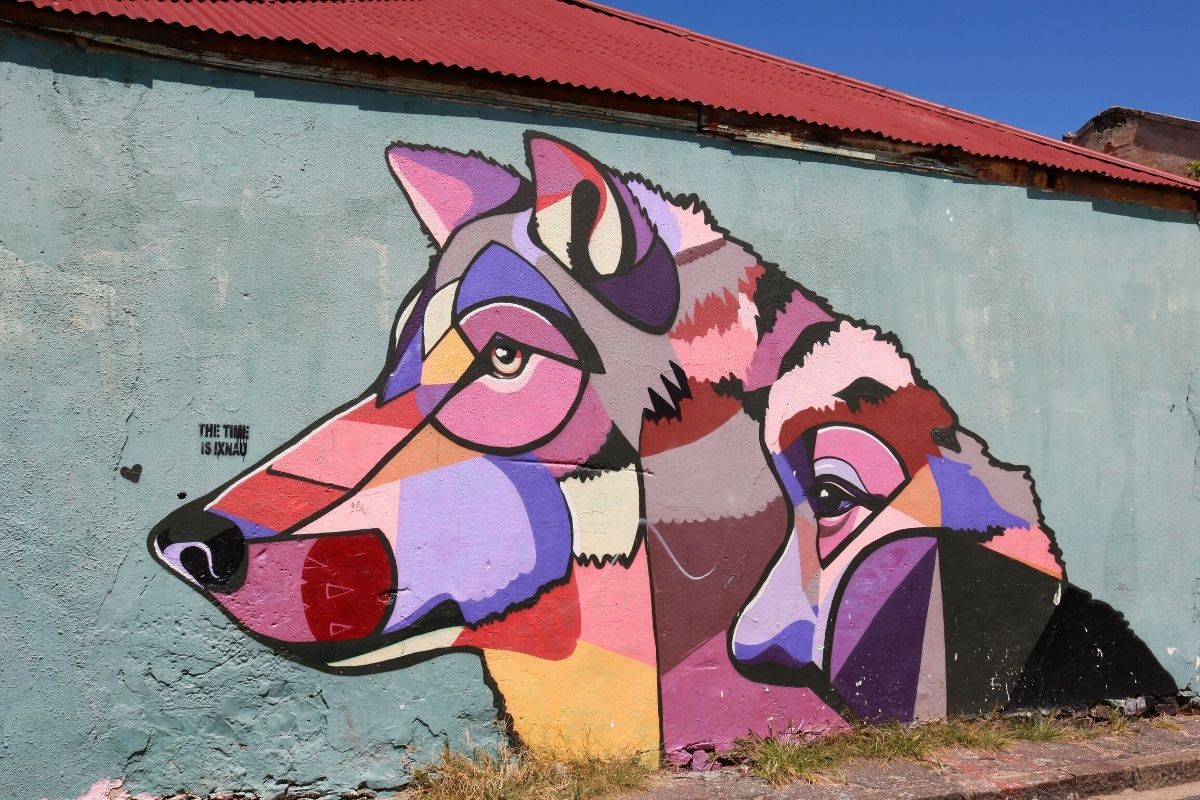 An excellent complement to the many art museums in town, a street art tour is a great way to see a different sort of creativity.
The Woodstock neighborhood is among the most popular places to view street art, with a variety of bold murals showcasing the politics and history of the city.
Your tour will also take you past other hallmarks of the artistic scene, such as the Old Biscuit Mill, which hosts a variety of shops and avant-garde restaurants.
Salt River Street is another great option, offering a self-guided audio tour that provides added context to the works that you're admiring.
Don't miss the chance to check out some of the city's less orthodox masterpieces.
41 – Go on some wildlife safaris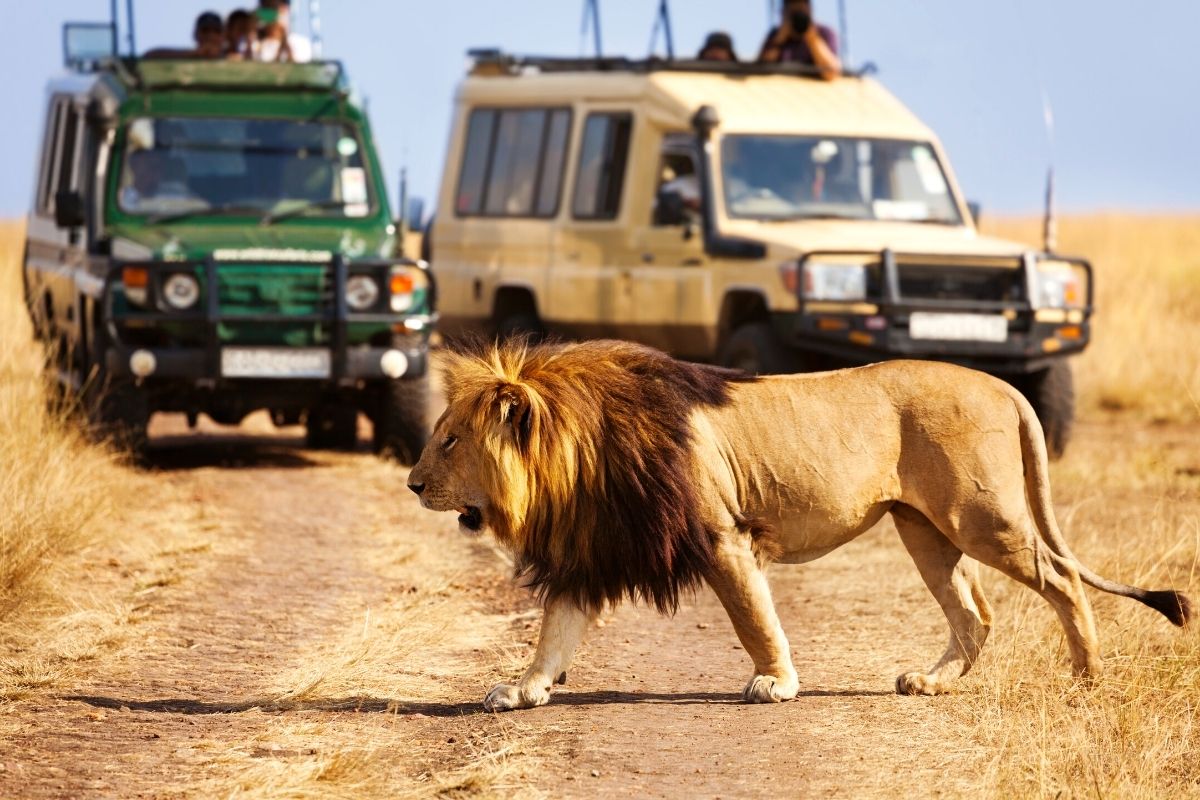 Aquila Reserve isn't the only place near town where you can get up close with some wildlife!
In fact, there are tons of beautiful areas within easy access of the city.
Inverdoorn Game Reserve is known for its fantastic views of unique wildlife, including endangered rhinos, oryxes, and the Cape Barbary lion.
You'll also get some marvelous views of wine country on your way to the park.
But there's no shortage of excellent parks to choose from.
As the starting point of the famous Garden Route, Cape Town is a great jumping-off point for short safaris with plenty of wildlife.
Check out the smaller creatures in the landscape FIX with a bushwalk, or visit the many ostriches of Oudtshoorn.
Whichever park – or parks – you choose, you'll have a magnificent time getting in touch with nature!
42 – Make some avian friends at World of Birds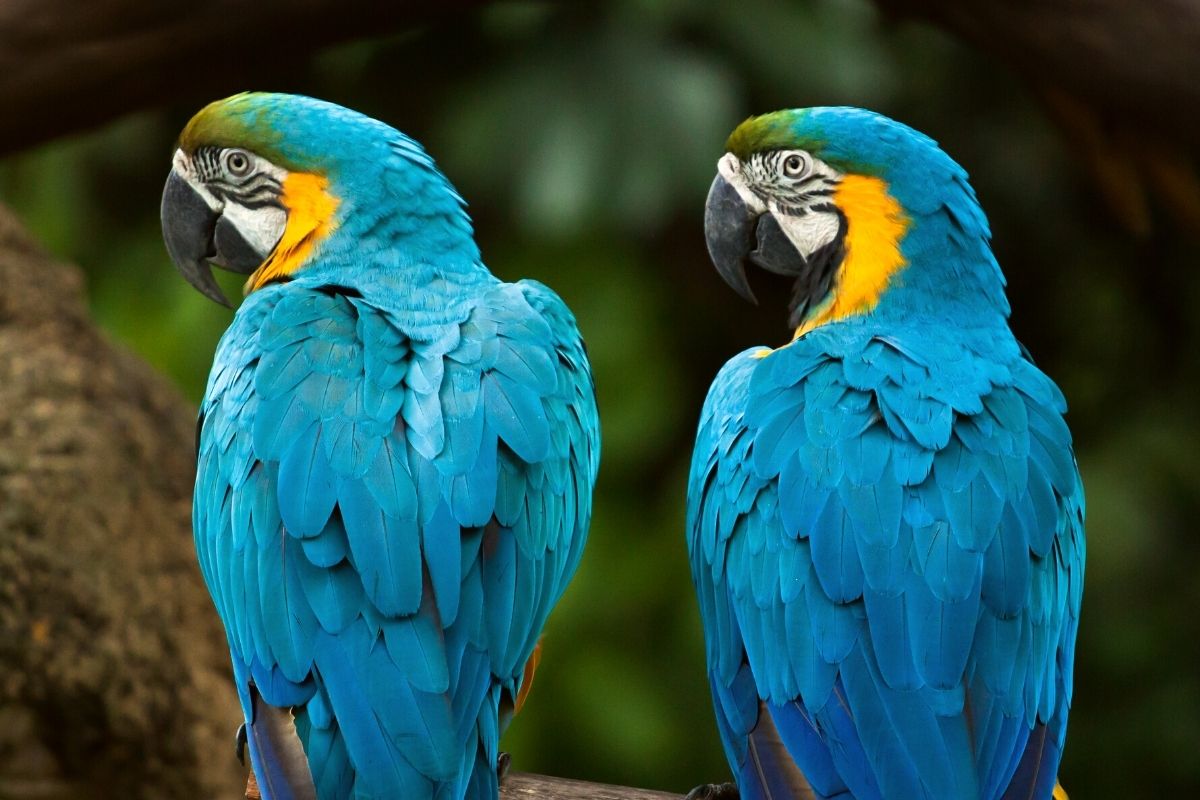 For another great day with animals, check out World of Birds Wildlife Sanctuary and Monkey Park, where you can get up close and personal with an impressive variety of creatures.
With over 3,000 birds from more than 400 different species, this is the place to go for ornithology enthusiasts and casual bird-lovers alike.
Meet macaws, owls, flamingos, and native species such as secretary birds.
And if mammals are more your speed, you'll have plenty to choose from here, with meerkats, porcupines, and a variety of monkeys on display.
Don't miss the feeding times throughout the day, where you can watch penguins, birds of prey, and seabirds enjoy some tasty treats!
The sanctuary should be included on any animal-lover's list of things to do in Cape Town.
43 – Take a trip to Garden Route National Park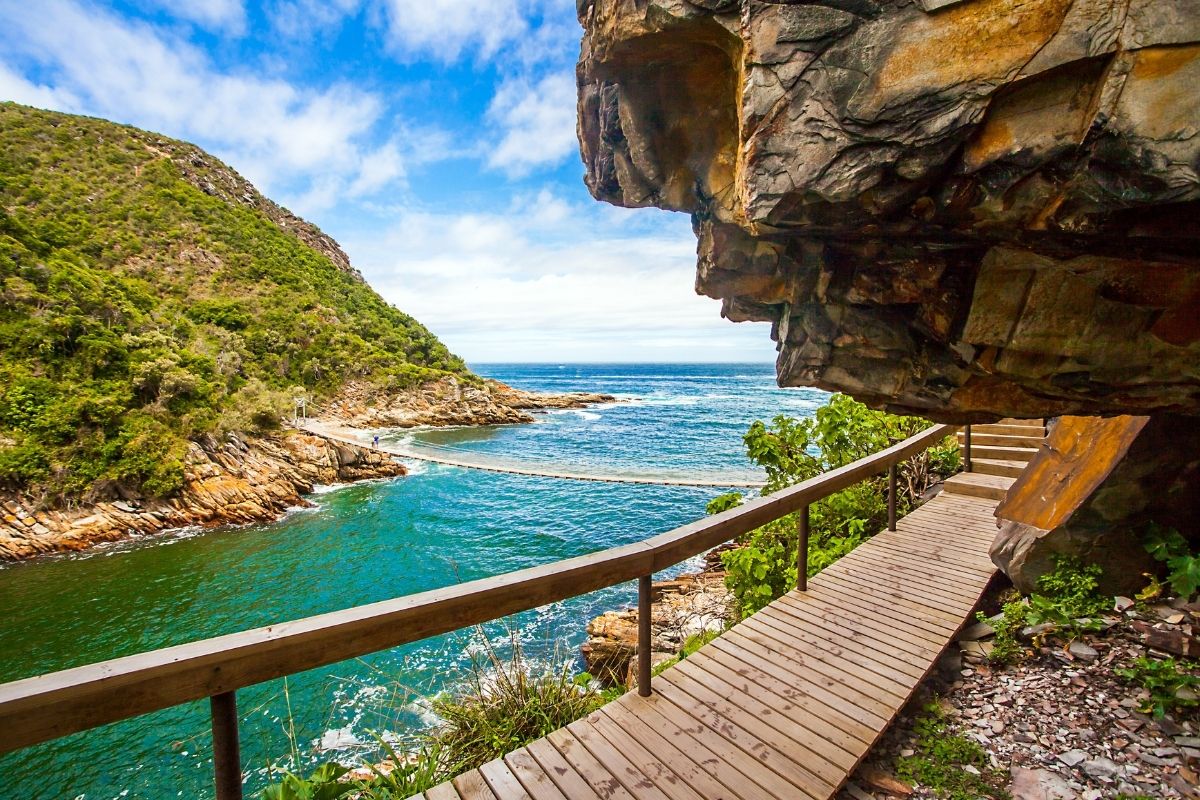 While the city life is wonderful, it can be nice to get out of town for a bit during your visit.
And one of the most popular options, by far, is the Garden Route.
Stretching along the country's southern coast, this beautiful drive is beloved for its breathtaking scenery and wonderful vacation options – including a variety of national parks and game reserves.
Garden Route National Park is particularly renowned for its wild landscapes and biodiversity, with marine sanctuaries, beautiful plant life, and lush, wild forests ripe for exploring.
There are plenty of hiking trails available to explore this striking area, including the famous Otter Trail, which can be traversed over a period of four or five days.
You can also kayak, mountain bike, birdwatch, or spend time soaking up the scenery.
There are also plenty of other great multi-day trips along the route itself.
Try a three-day safari in search of the famous "Big Five" – buffalo, elephants, lions, leopards, and black rhinos – then cap off your trip with some bungee-jumping.
Or head out on a guided four-day excursion, which includes game drives, caving, village visits, and more.
It's a great way to get a feel for this iconic route – and it'll leave you wanting more!
44 – Do some kayaking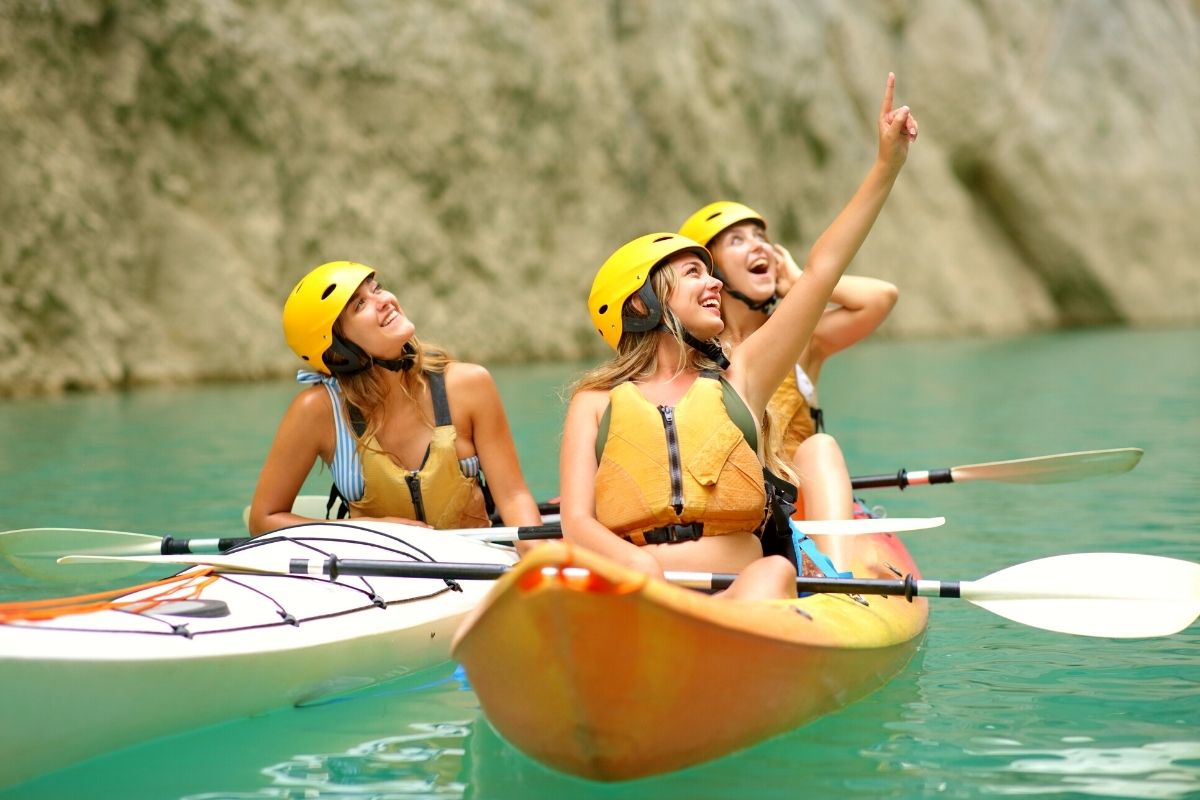 There's nothing like paddling through the water on a beautiful day, and Cape Town is a particularly great place for kayaking.
Head out onto the crisp Atlantic for great views of the city, as well as the chance to glimpse some local marine life.
Hout Bay is a particularly popular option for guided tours due to its beautiful scenery and active seal population.
You'll love the fresh air and exercise, with unbeatable sights!
45 – Take some wine tours
South Africa and wine are truly an iconic pairing.
And there are plenty of vineyard tours around Cape Town that offer you the chance to sample some of the best bottles that the region has to offer.
On the aptly named Winelands tour, you'll spend the day exploring such famous areas as Franschhoek and Stellenbosch, often in the company of wine experts.
You're sure to find a new favorite vintage (or three) as you sip your way around.
For a dash of history with your tasting session, head to Groot Constantia Trust, the oldest wine estate in all of South Africa.
With roots dating back to 1685, this estate is perhaps most famous for producing Napoleon's favorite wine!
For another great option that offers both quality and quantity, try the Franschhoek Wine Tram.
This popular section of the Hop-On, Hop-Off route takes you all over the valley, offering the chance to stop at up to six wineries.
When you've had your fill, you can hop back on the next tram and make your way back to town.
For a particularly glamorous experience, try a sunset cruise, with two glasses of delicious vino to enjoy.
It's a wonderful way to enjoy the local drinks and the scenery all at once.
46 – Try sandboarding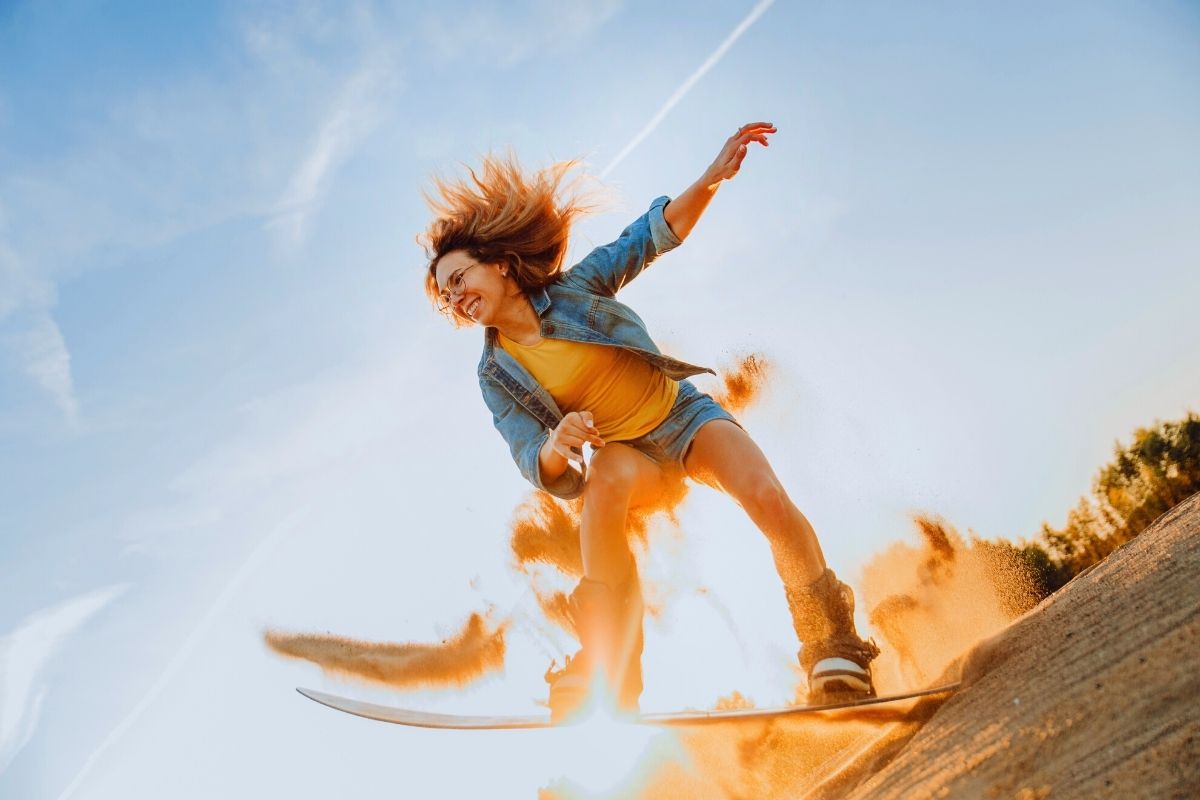 Sure, riding the waves is great… but how about surfing the sand?
Less than an hour outside of town, the towering Atlantis Dunes offer a striking bit of desert in the midst of the region's normally lush climate.
They're also a great place to try sandboarding, a popular sport that involves hurtling downhill on a modified snowboard.
And getting there really is half the fun, with a fleet of Jeeps and/or quad bikes ready to take you on a wild ride up, over, and around the dunes.
Adrenaline junkies will love trying out this wild experience!
47 – Visit Chapman's Peak
Chapman's Peak may be a little further from town than its mountainous contemporaries, but it is more than worth the trip.
It offers terrific views of Lion's Head, Hout Bay, and more.
It's also a great place for biking; try booking an EBike tour if you'd like to enjoy the scenery without the sore legs.
Or combine the excursion with a trip to other popular attractions, such as Cape Point and Muizenberg Beach.
And for a really unique experience, try heading to the top of the mountain in a vintage car.
Choose your ideal auto from the tour company's extensive inventory, then take a memorable ride along the winding roads to the peak.
Combining a classy ride with glorious views, it's a great way to spend the day.
48 – Catch a game at Cape Town Stadium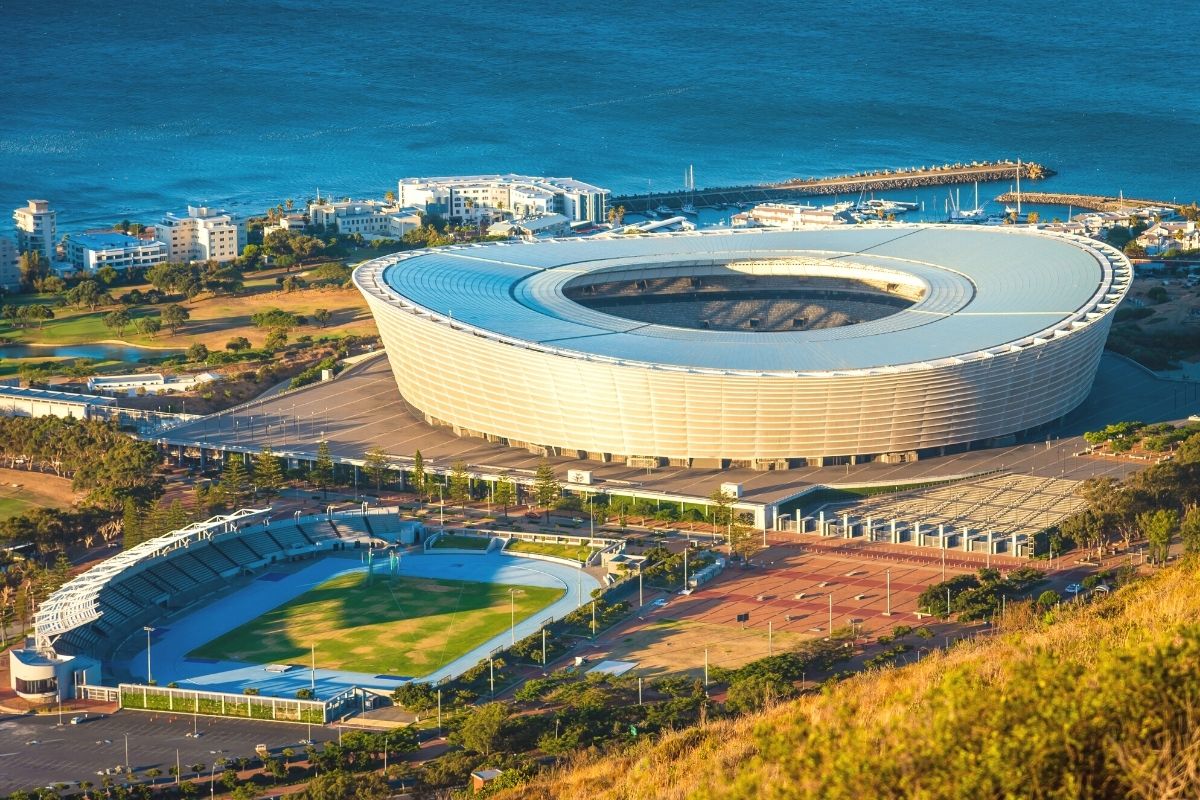 With its iconic donut shape and sleek metallic design, the Cape Town Stadium is a famous part of the city's skyline.
It's also a wonderful place to cheer for some local sports teams, particularly football and rugby.
The stadium was originally built for the 2010 World Cup, so it's little surprise that it still hosts a variety of soccer matches, often by the Ajax Cape Town club, which calls the spot home.
It's also the main playing ground for the acclaimed Stormers rugby club, and has hosted plenty of other matches for the sport over the years.
With a roughly 58,000 person seating capacity, you'll be able to enjoy the game with plenty of locals!
49 – Focus on wellness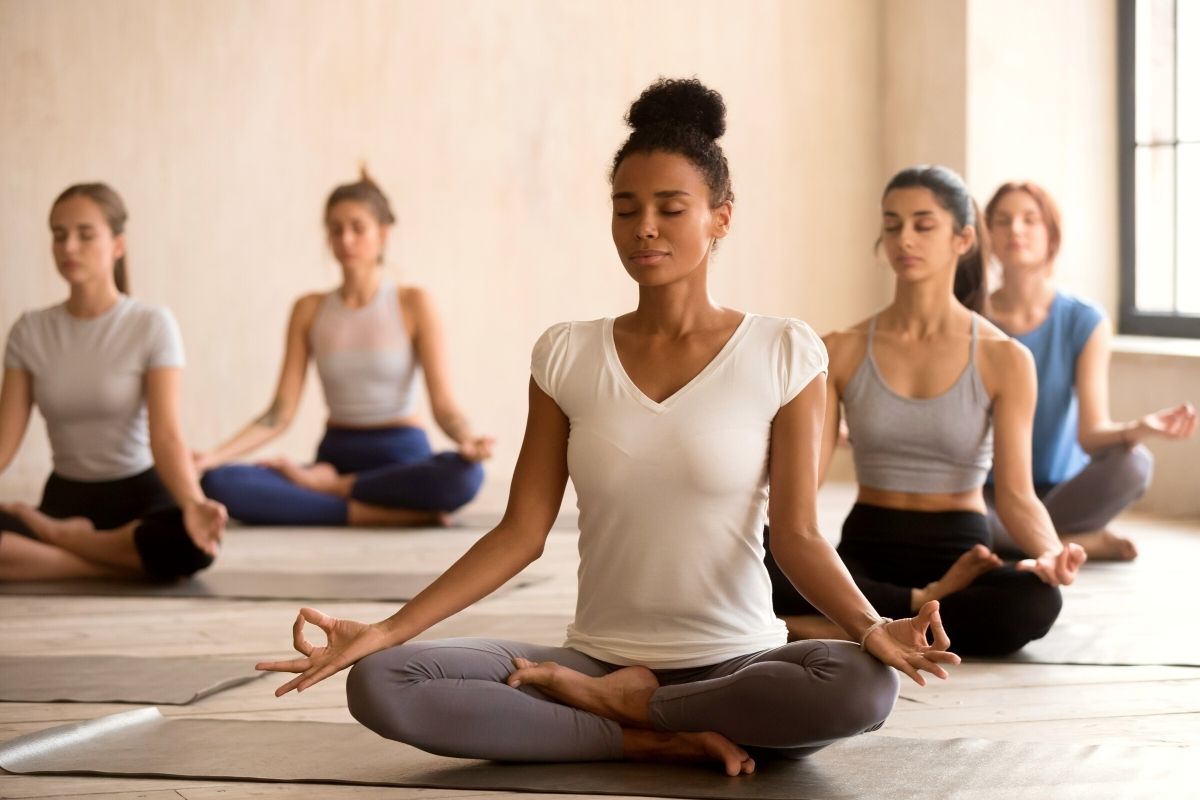 While you're trying all the action-packed things to do in Cape Town, you should take some time to focus on rest and relaxation.
Luckily, the city has its fair share of wellness options for those looking to take it easy on vacation.
With a Spa, Wellness, and Wine tour, you can spend the day treating yourself to such luxurious offerings as manicures, pedicures, massages, and steam rooms.
Follow up the relaxing experience with some delicious meals and wine, as well as scenic drives.
Or try a unique twist on the Table Mountain experience with a combination hike and yoga session.
Follow up your adventurous trek to the top with some restorative stretching in a premium location.
And if you want to further focus on the internal, take a meditation class with a mindfulness chat afterwards.
It's a great way to center yourself and find some inner peace in the midst of all the hustle and bustle.
Don't skimp on the self-care while you're in the Mother City.
50 – Visit the fish at Two Oceans Aquarium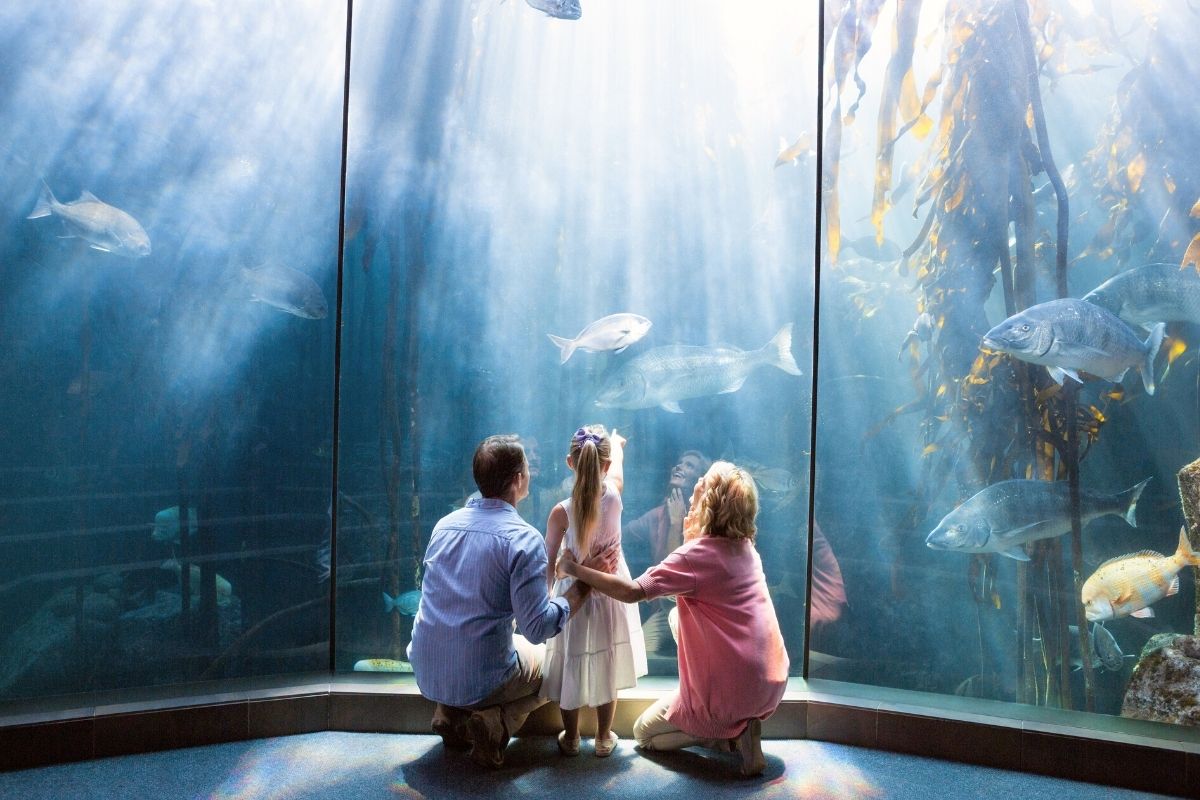 Among its many wonderful natural features, Cape Town is famous for being the meeting point of two bodies of water: the Atlantic Ocean and the Indian Ocean.
Take a trip to Two Oceans Aquarium to learn more about the awesome ecosystems that flourish in this area.
From the lush kelp forests to vast populations of octopuses and fish, this fantastic institution offers an unparalleled glimpse into the world beneath the waves.
Be sure to visit the hagfish exhibit; this is the only aquarium in the world where you can see this peculiar-looking creature.
This beautiful and educational excursion will help you appreciate the nearby waters in a whole new way.
51 – Have a meal with a sea view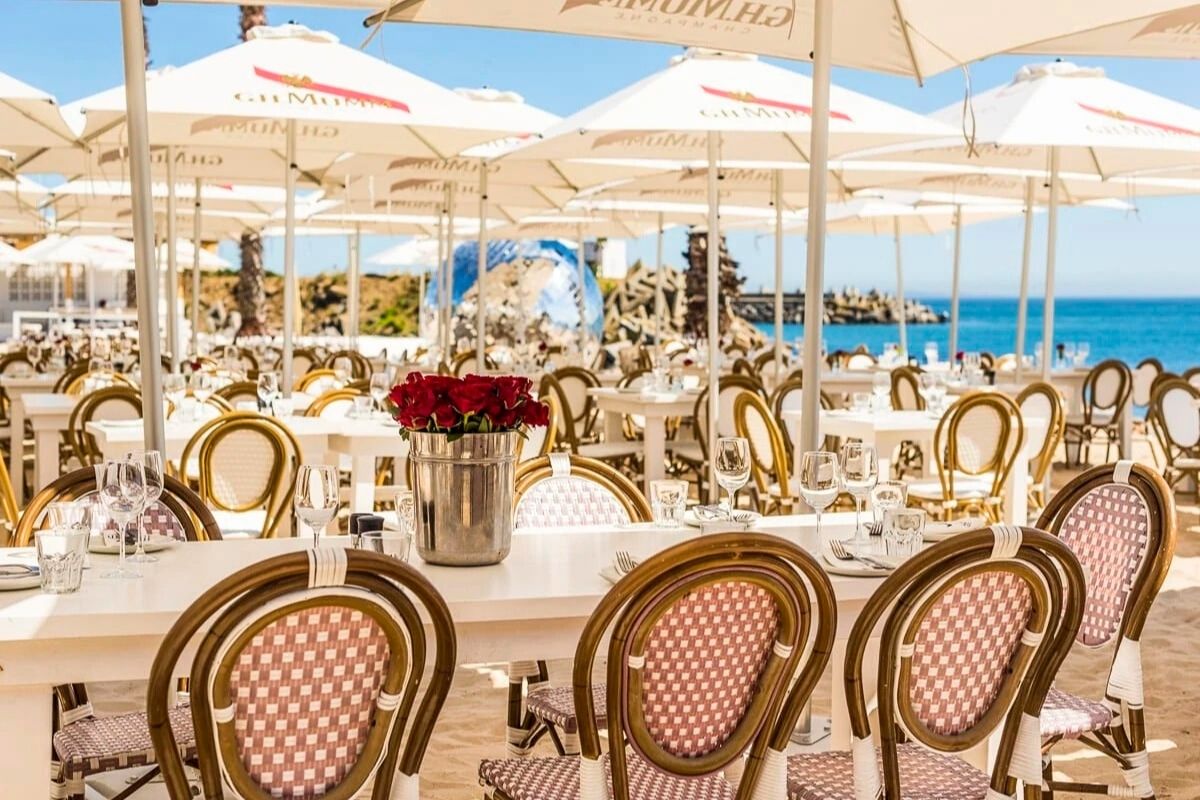 The only thing better than watching the ocean is doing so with a delicious meal nearby.
And unsurprisingly, Cape Town has plenty of classy places that fit the bill.
Grand Africa, a relaxed cafe that's right on the beach, offers terrific views, five different bars, and some of the best sunset views in town. You can also sampling seafood and steaks and soaking up the artsy vibe.
Bobo's Brasserie, which is in the trendy Mouille Point area, has a relaxed nautical atmosphere and a large menu that caters to every palate.
If you're in the mood for some guilty pleasure food, stop by Lily's for the famous fried chicken.
Whether you're looking for a fancy dinner spot or a relaxed lunch date with friends, you'll find plenty of options that offer great flavors and wonderful views in equal measure.
52 – Wander the paths at Newlands Forest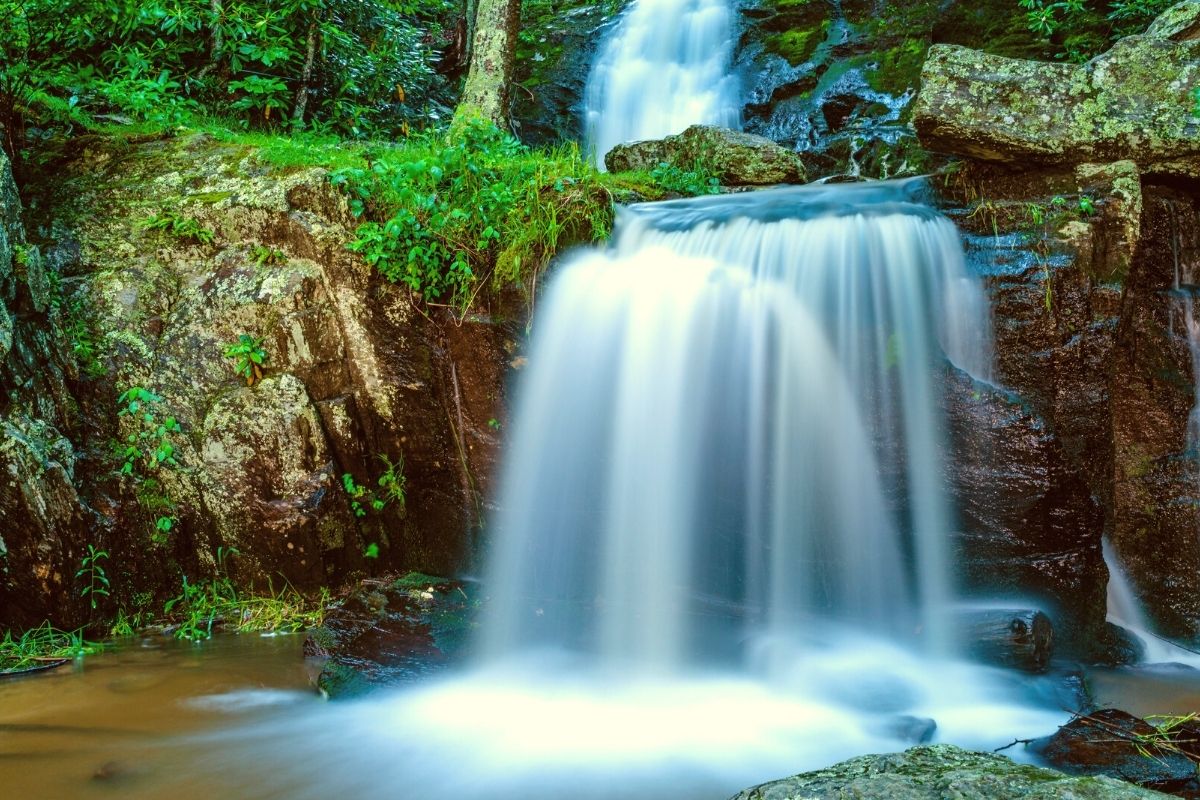 When you enter Newlands Forest, you'll probably feel a little bit like you've stumbled into a fairytale.
With its towering evergreens, gentle waterfalls, and beautiful, meandering trails, it's a great place to hike or socialize while enjoying the pristine wilderness in the heart of the city.
With four different hiking trails and plenty of striking trees and mosses to admire, you'll be able to craft your own adventure as you roam.
Be sure to check out the former woodcutter's cottage tucked along the Skelmkoppad path.
It's nickname is "Paradise," and as you take in the surrounding area, it's easy to see why!
53 – Go shark cage diving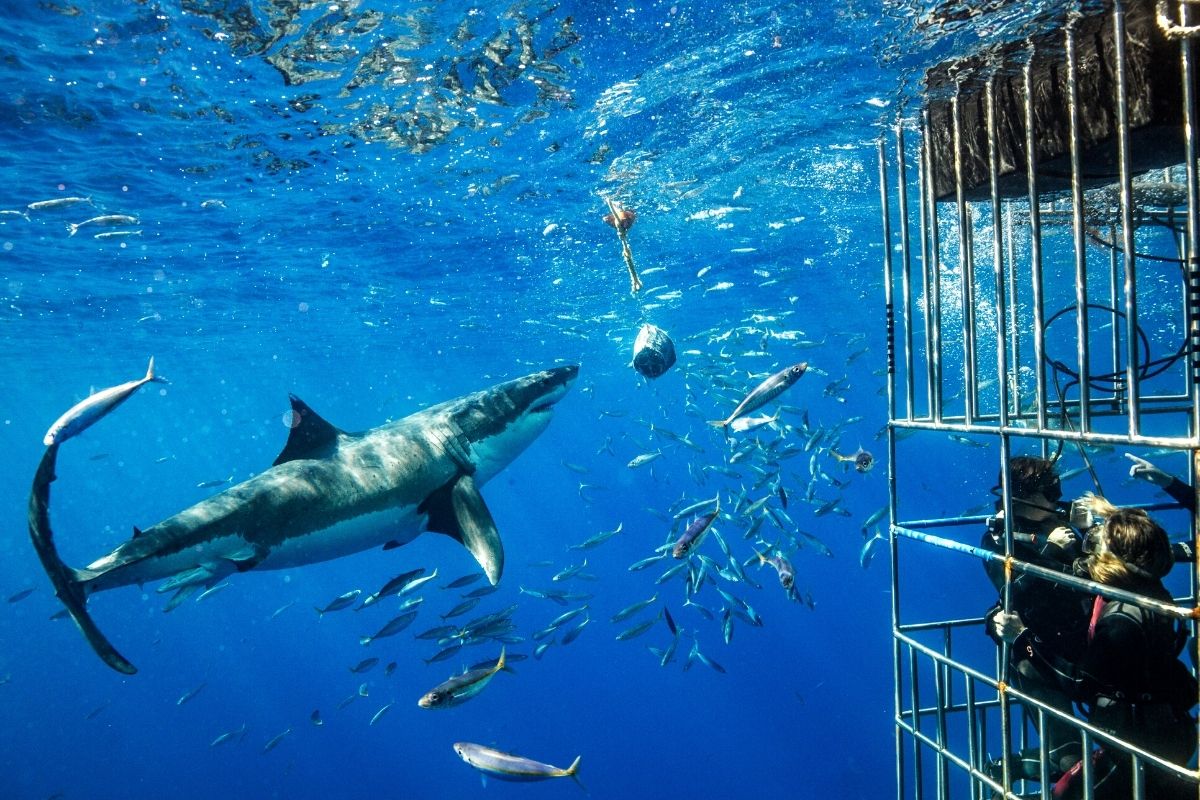 Feeling particularly adventurous on your trip?
Then take the opportunity to meet some of the ocean's most impressive residents face to face.
Shark cage diving is one of the most popular things to do in Cape Town, and for good reason; this is one of the only places on Earth where you can get up close and personal with Great White Sharks!
April through September is the best time to see these beautiful creatures, but no matter the season, you're likely to catch a glimpse of other sharks as well, such as Makos and Seven Gilled Cow Sharks.
Hop into a secure diving cage and descend beneath the waves, where you can watch the sharks passing by in their unhurried way.
And if you'd like to explore further, try a scuba diving session.
Even if you're not PADI-certified, you can do a discover dive to learn the basics of the sport, while getting some great views of sharks, anemones, and the many other animals that call the area home.
It's sure to be a memorable experience!
54 – Visit Addo Elephant National Park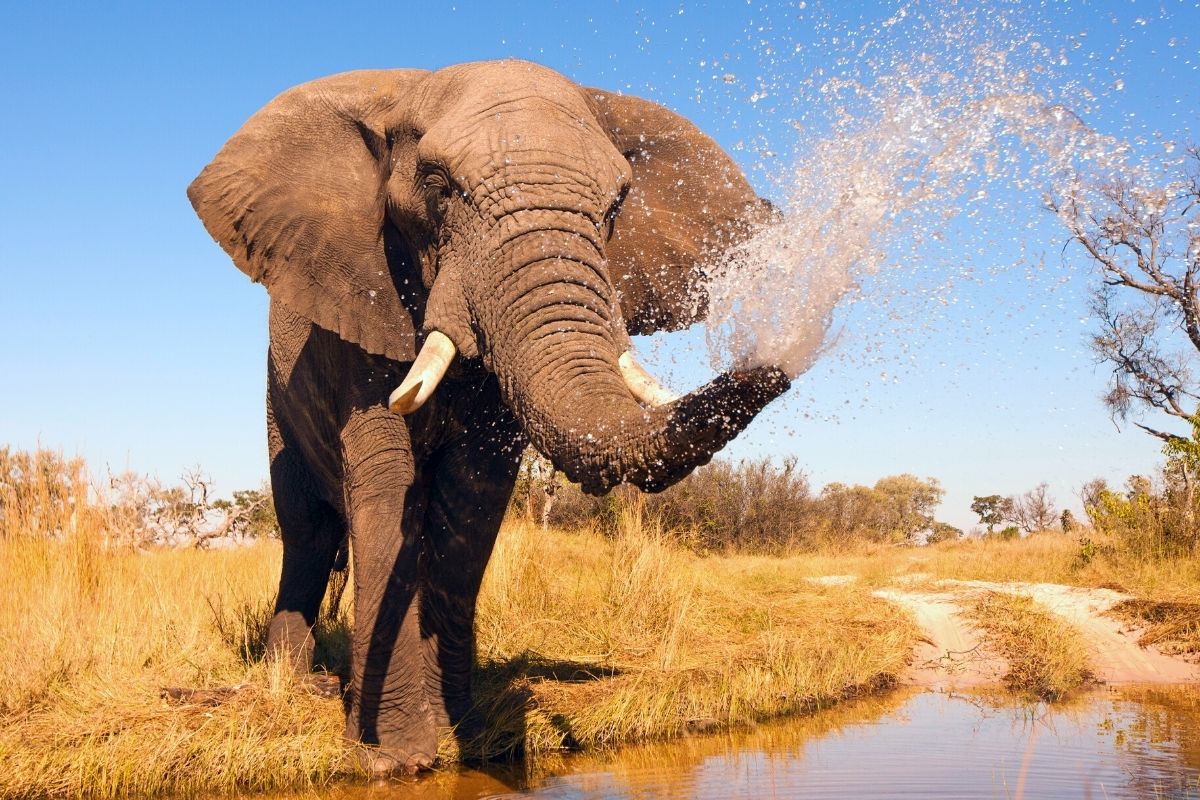 Just a day's drive from the city, Addo Elephant National Park is a wonderful place to see large, healthy herds of pachyderms, as well as Cape Buffalo, wildebeest, zebras, and a variety of wild birds.
With so much to see, a multi-day trip is a perfect way to experience the park.
Many companies offer five, six, or seven-day excursions, often with optional add-one such as wine tastings or bungee jumping.
And of course, you'll have some spectacular game drives to look forward to!
55 – Go paragliding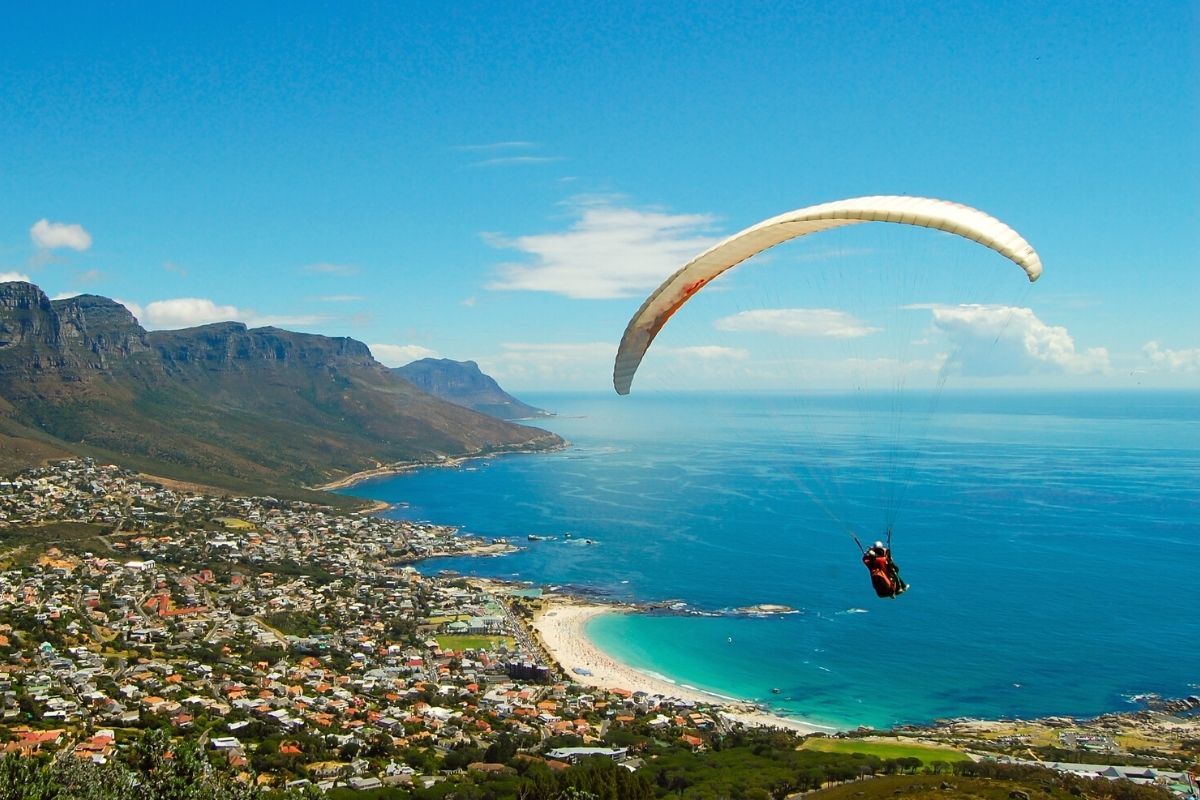 Paragliding – a popular adventure sport in which participants strap themselves to a giant parachute and float through the sky – is especially beloved in Cape Town, with people frequently taking to the skies from the many mountaintops.
Lion's Head is a popular starting point, but you can also embark from Signal Hill.
If you haven't flown before, no problem – all sessions are tandem ones, meaning that you'll be strapped to a guide who knows the ins and outs of flying.
This is a unique and exciting experience, and an unbeatable way to see the sights!
56 – Take some quad tours and jeep tours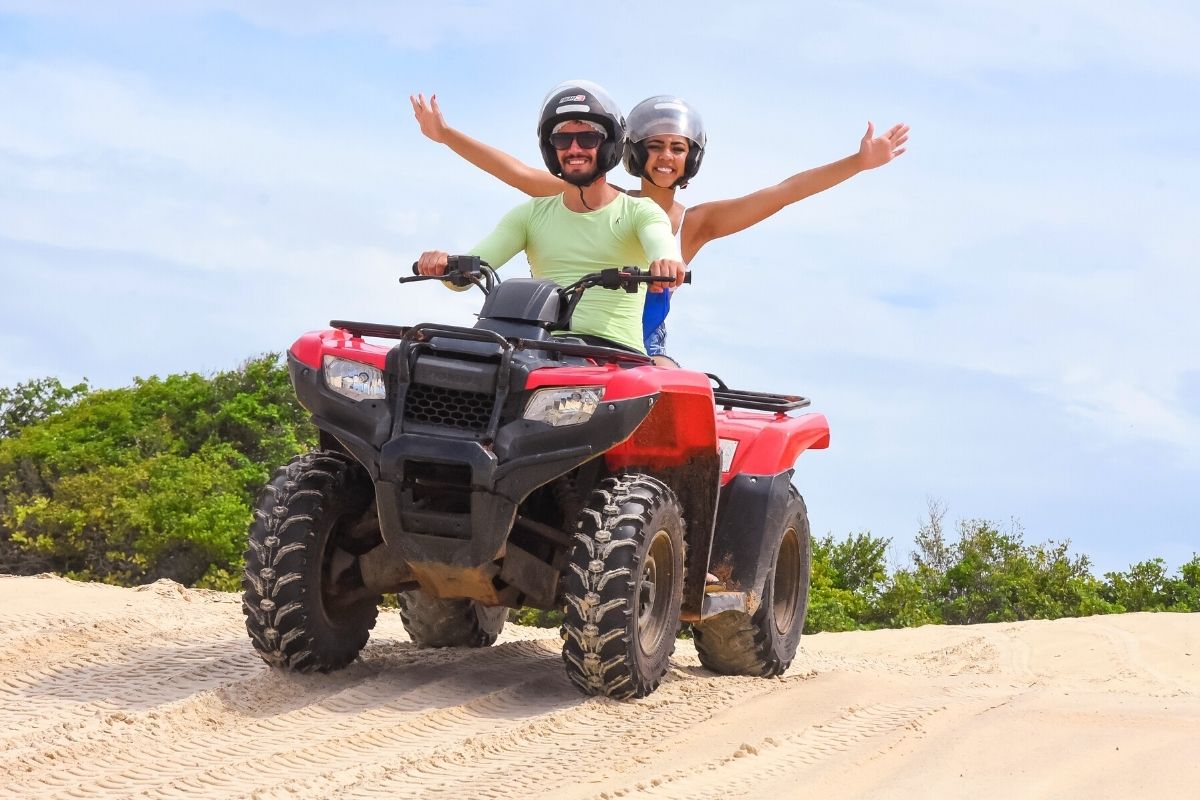 If you really want to explore the wilder side of Cape Town, check out some of the quad tours and Jeep tours in the area.
Quad bikes, a form of recreational ATV, are perfect for exploring the wild ridges of the Atlantis sand dunes, or the pristine beaches of West Coast National Park.
You can also traverse the terrain in a Jeep Wrangler, where you'll get a bouncy and wild ride with stellar views.
These vehicles are a perfect way to see some more rural areas, and they're quite fun in and of themselves!
57 –  Cast a line at Kalk Bay Harbour
If you're an avid angler or simply love to shop, Kalk Bay Harbour is an ideal destination.
This funky seaside area is part of a larger neighborhood filled with trendy and eclectic offerings, and it's an ideal place to do some fishing.
Cast your line and try to reel in local delicacies, such as yellowtail.
Then cook up your prize and enjoy!
This is also another wonderful place to enjoy the sunset, whether dining at one of the many delicious restaurants or just strolling along the beautiful waterfront.
This hidden gem of a neighborhood is well worth exploring.
58 – Try some skydiving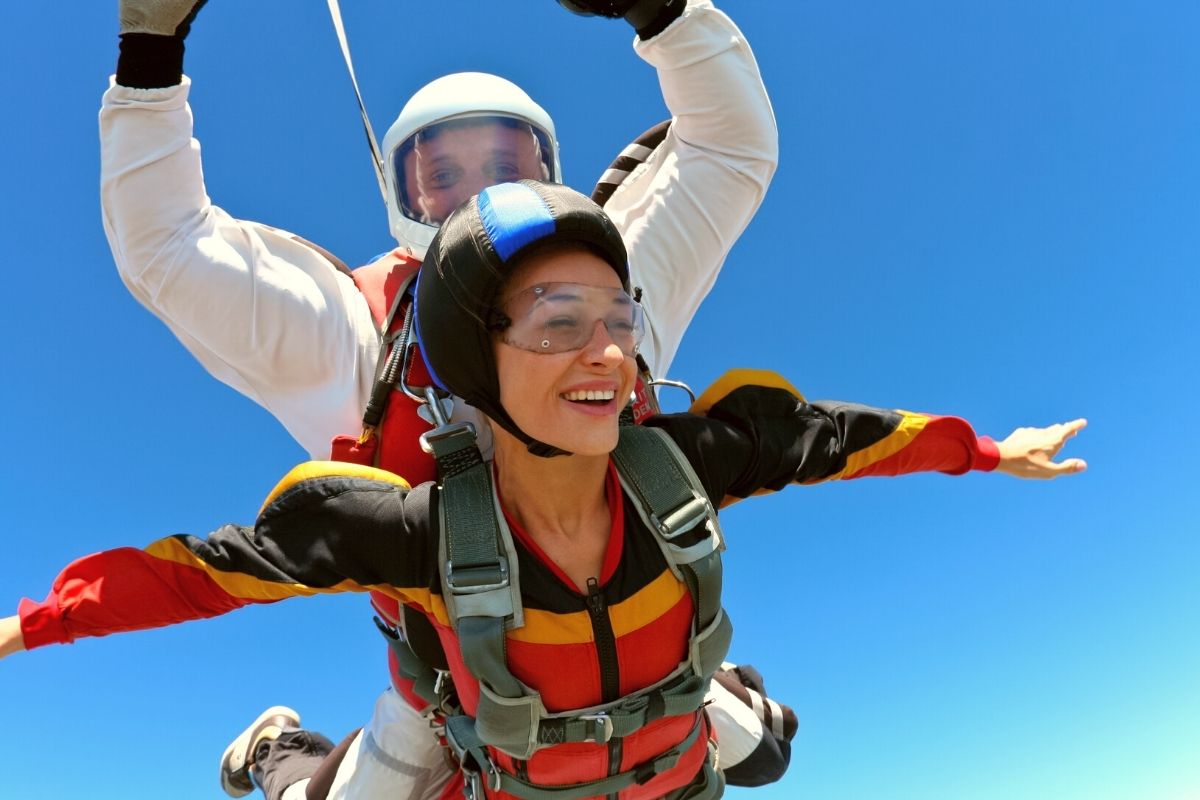 Want to take your aerial adventures to the next level?
Then give skydiving a go.
While hopping out of a plane 9000 feet in the air may seem alarming, it's a wonderful way to see the surrounding area and experience the feeling of weightlessness.
Your exhilarating flight will offer unparalleled views of the peninsula, Robben Island, and the vast outline of the city.
You'll have a great adventure, and some wonderful bragging rights when you get back home.
59 – Live it up at GrandWest Casino and Entertainment World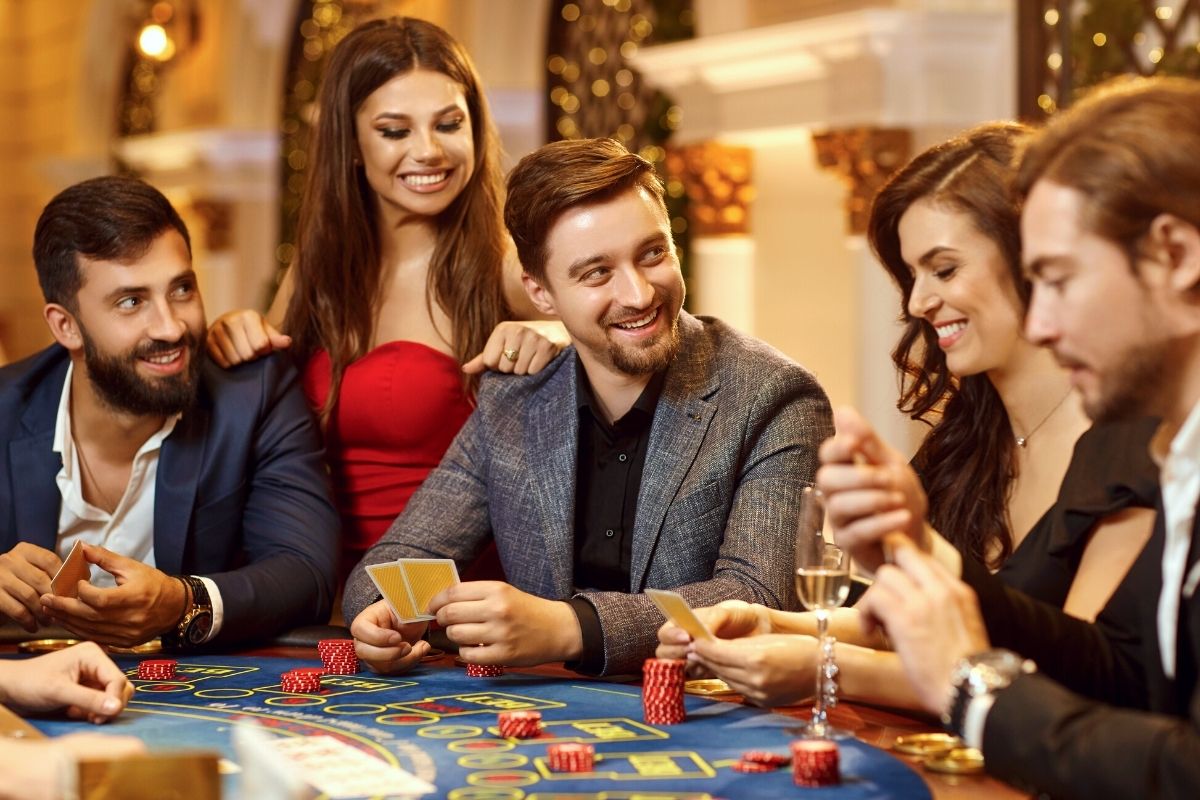 If you like a little bit of the high-roller life with your vacation, don't miss out on GrandWest Casino and Entertainment World.
This massive complex is a popular option with locals and visitors alike because of its range of amenities, from top-notch gaming to excellent dining and entertainment options.
Try out the slot machines and high-stakes tables, then head over to the restaurant area to fill up on everything from steaks and pizza to seafood and donuts.
And even if gambling's not your thing, you'll find plenty to do here.
Enjoy a couple rounds of bowling, get your pulse racing with some laser tag, or catch the latest film at the CineCentre.
There's even an ice-skating rink!
With plenty of fun options and a lively atmosphere, this is a place that the whole family can enjoy.
60 – Catch a show at the performing arts theatres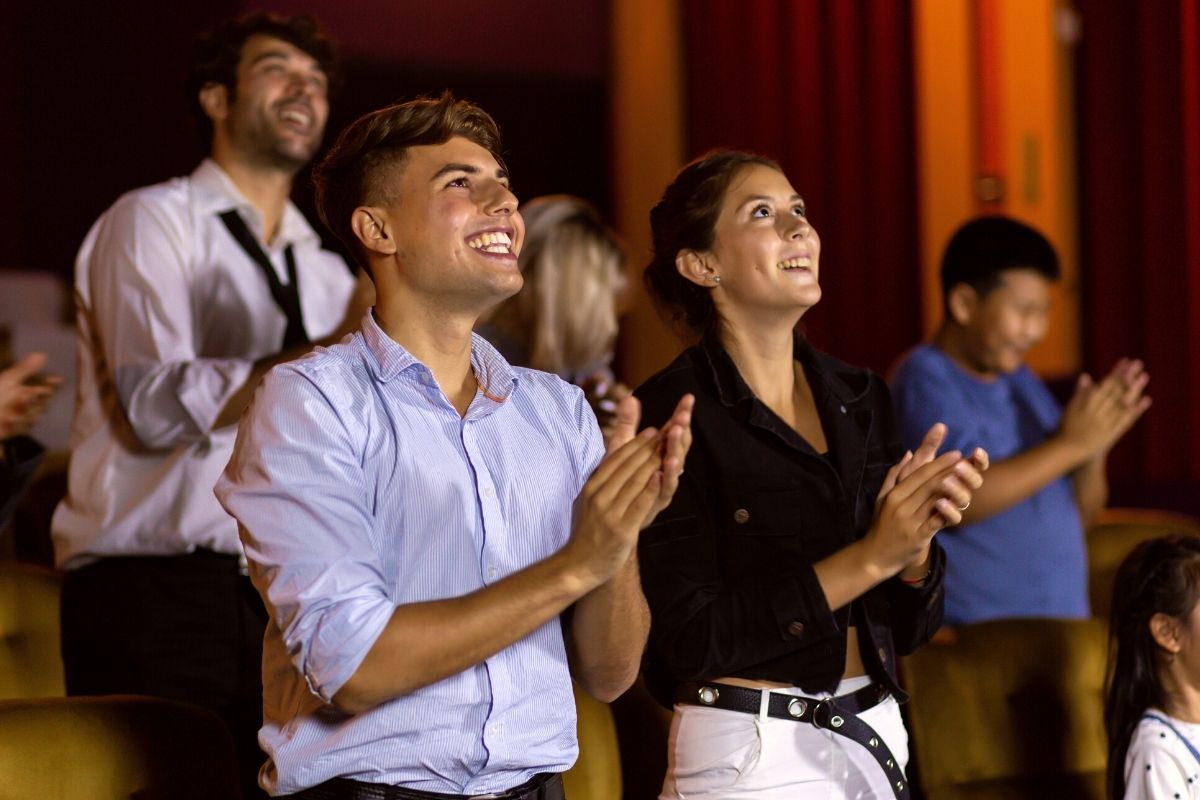 Another great aspect of the city's cultural life is its thriving theater scene.
With a variety of avant-garde performances and diverse shows, catching a show is always a delightful thing to do in Cape Town.
Artscape Theatre Centre specializes in sophisticated dance performances, as well as youth-oriented programming. But depending on the day, you can find anything there from puppet shows to gospel performances to magic displays.
Meanwhile, the Baxter Theatre Centre promotes a rotating array of avant-grade performances, and is also the home of the beloved Jive Cape Town Funny Festival, which takes place each winter.
With so many excellent programming options, your hardest choice will be what to see first!
61 – Take a dinner (or lunch, or breakfast) cruise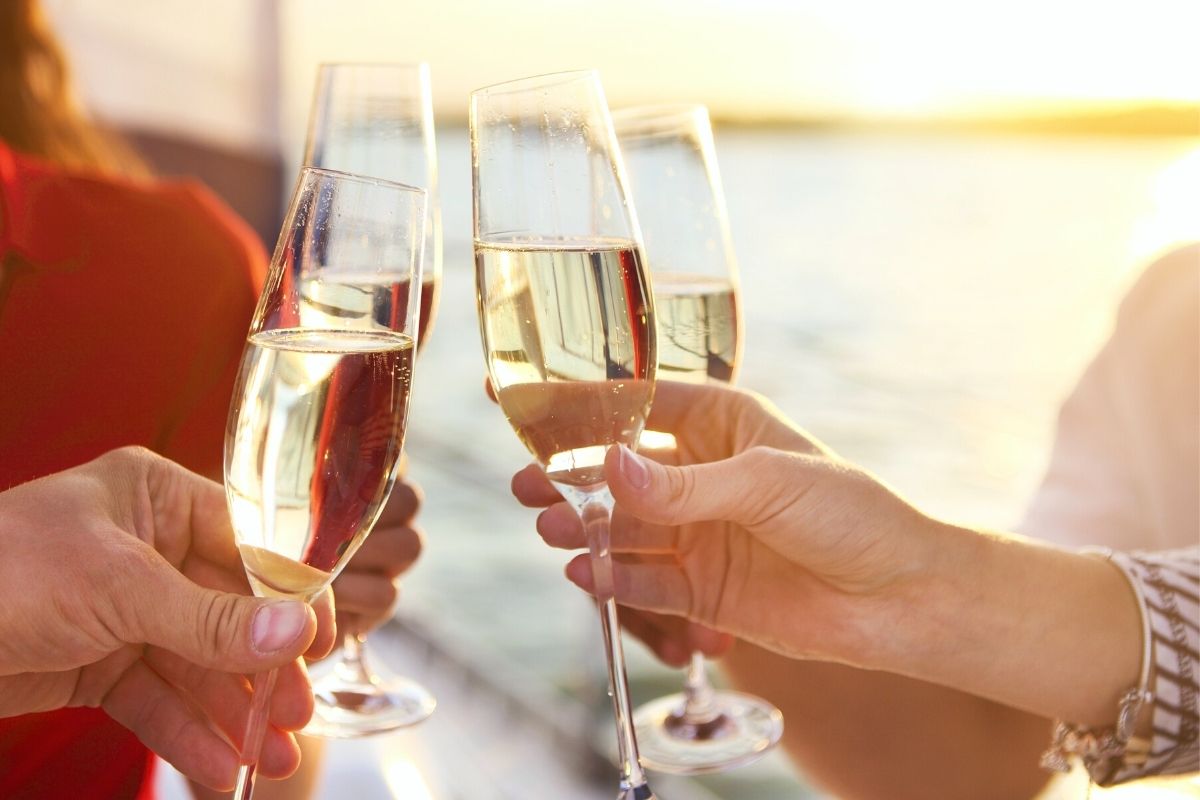 If you want a great meal for your next oceanic experience, be sure to book a dinner cruise.
Take full advantage of the nautical delights in the area with a variety of options catering to individual interests.
You can start your day off in style with a morning sail around the harbor, complete with breakfast and Prosecco.
Or head out on an afternoon jaunt to watch for wildlife, then get dropped off at the V&A Waterfront to enjoy a delicious lunch.
And if you're seeking a more romantic experience, you can reserve a private dinner cruise, where you can enjoy high-class cuisine whilst watching one of the city's many beautiful sunsets.
Whatever type of boat (or time of day) you choose, you're bound to have a memorable meal.
62 – Helicopter tours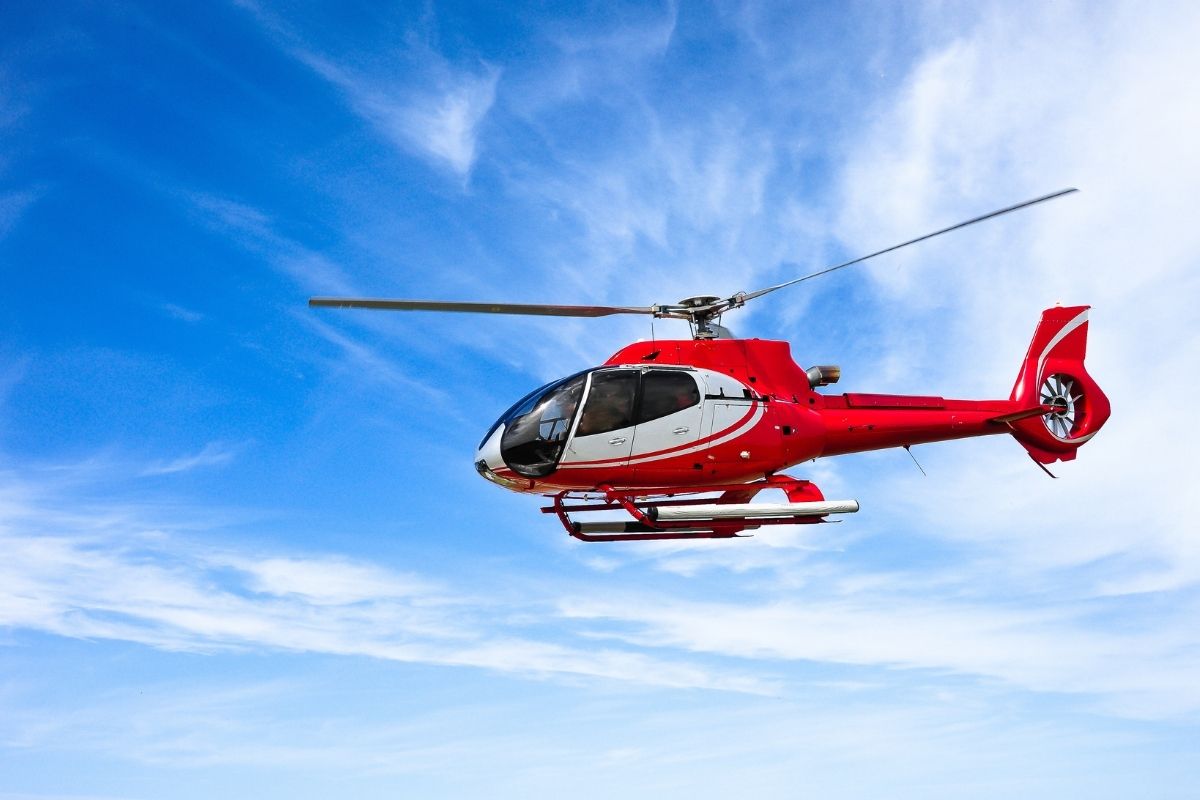 If you'd like a slightly longer time to enjoy some aerial views of Cape Town, try a helicopter tour.
You'll be able to enjoy panoramic views of the area at a relatively leisurely pace.
Check out the Two Oceans Helicopter Tour to witness the meeting of the seas, as well as spectacular glimpses of Hout Bay, Cape Point, and more.
Or take the Atlantic Coast option, which passes over the coast and the famed Twelve Apostles mountain range.
And don't miss the Robben Island tour, which will provide a whole new perspective on the famed complex.
You'll get some wonderful insights into geography and history – and get to hang out in some pretty cool aircraft as well!
63 – Cheer for the home team at Athlone Stadium
Another great place to catch a football game in the Mother City is Athlone Stadium, home to the Engen Santos team.
With a 34,000 seating capacity and ample field space, it's long been a renowned public institution.
It has also featured prominently in many major sporting events, including the 2014 African Nations Championship and the 2010 World Cup.
The space also hosts large concerts, so check the calendar before you visit!
64 – Enjoy a film at the Galileo Open Air Cinema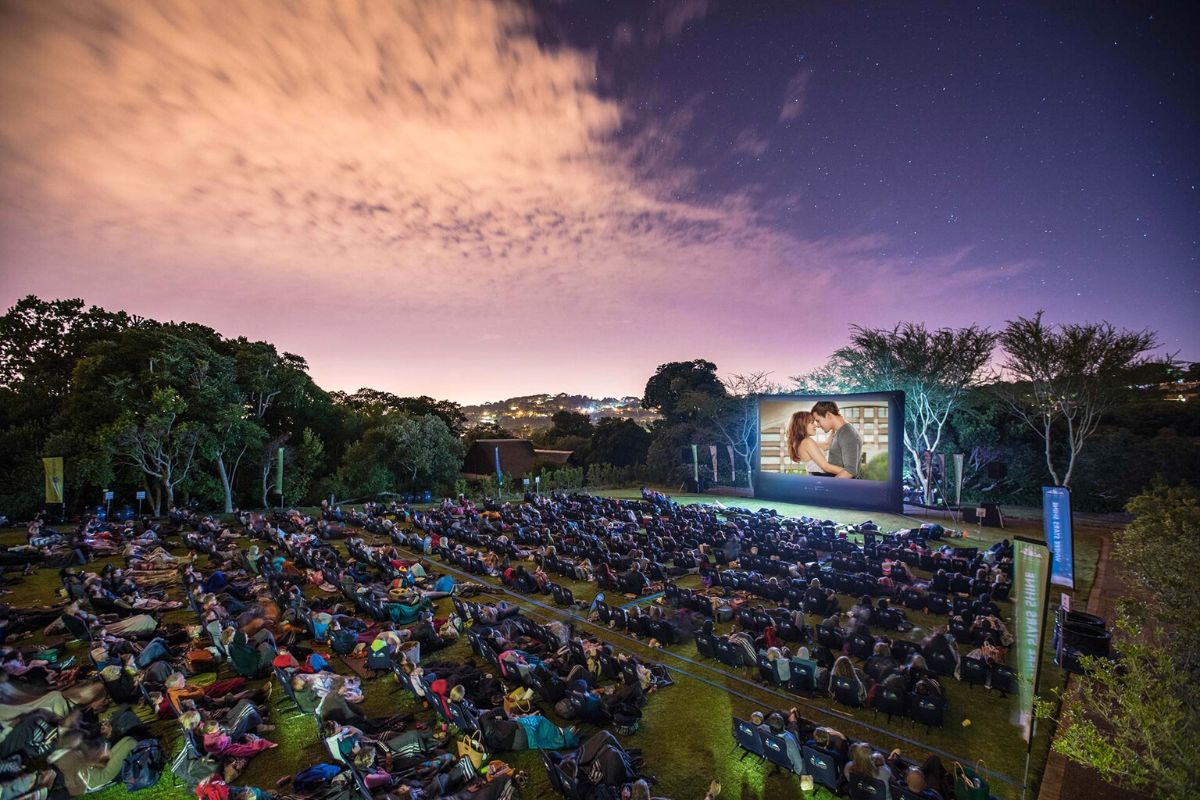 When the weather's nice, there's no shortage of things to do in Cape Town.
And probably one of the best is enjoying some quality films outside, courtesy of the Galileo Open Air Cinema.
This lively event takes place at assorted venues around the city and surrounding areas, including Kirstenbosch Gardens and various vineyards.
Come a little early to enjoy pre-show entertainment, including musical performances.
Then settle into your seat with a picnic basket to enjoy recent releases or old favorites.
This is a great way to celebrate the outdoors and the film industry all at once!
65 – Soak up the nightlife on Long Street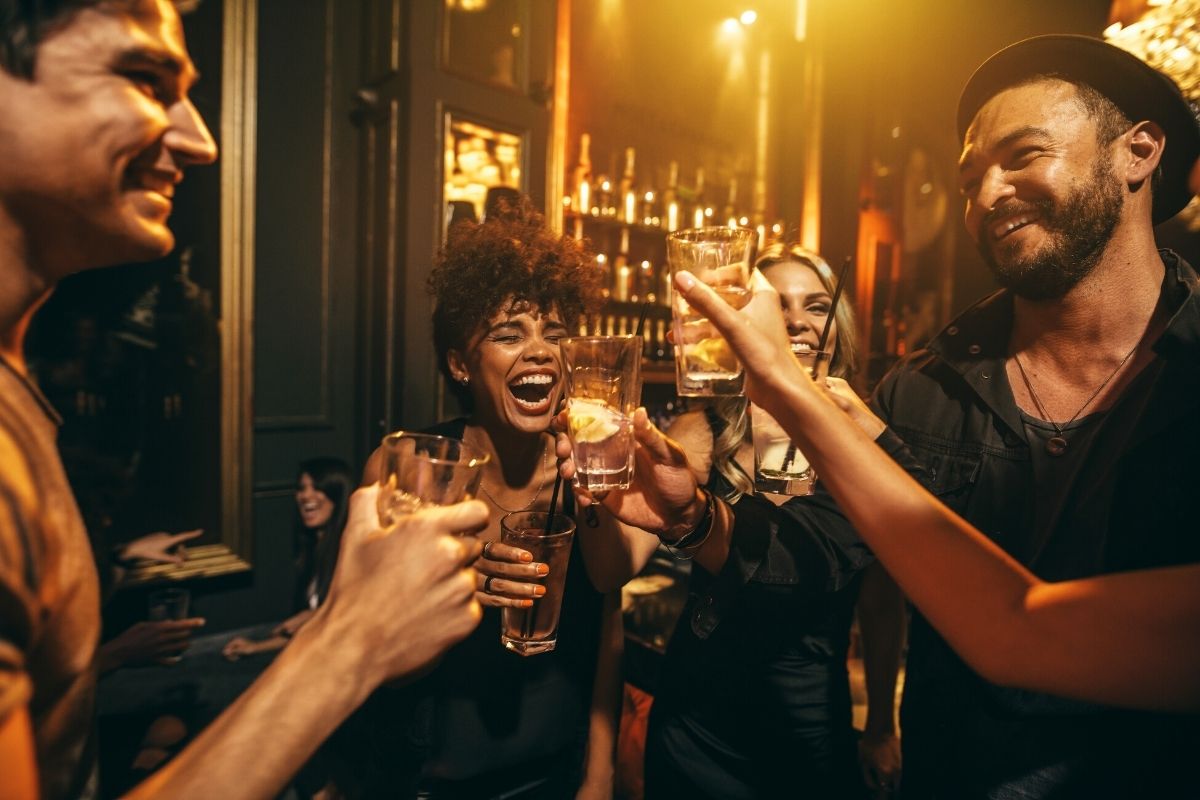 One of the most popular avenues in town, this bustling road is best known for its top-notch bars and active nightlife scene.
Check out Bob's Bar for low prices and unpretentious atmosphere, Beerhouse for craft brews and a variety of events, or The Waiting Room for an all-out party scene.
No trip to Cape Town would be complete without paying a visit to this iconic street.
66 – Taste some beers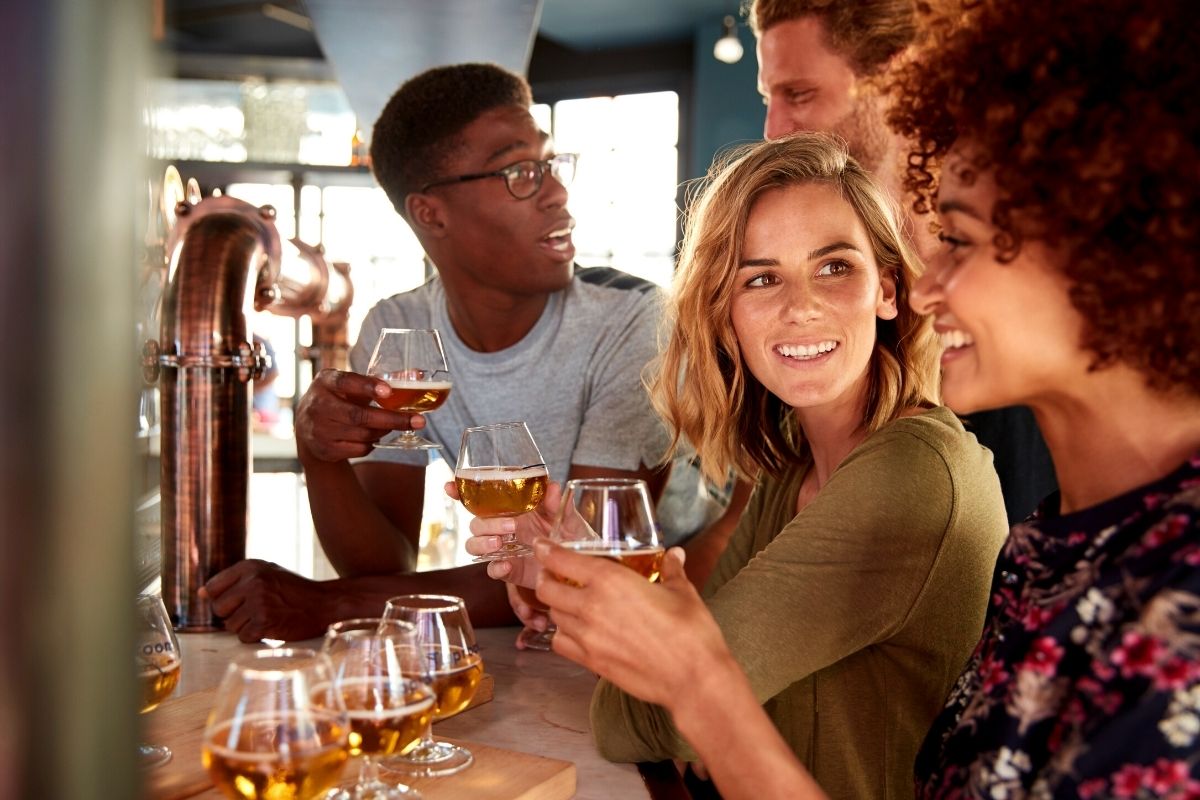 Wine may be the beverage of choice in Cape Town, but the city also has a fantastic beer scene that's well worth exploring.
Sip your way around town at some world-class breweries, then wind down the evening with a barbecue on the beach.
For a really comprehensive experience, try a daylong tour along the West Coast that includes beer, wine, and olive sampling, as well as a game drive.
It's a wonderful way to sample some of the area's most famous delicacies.
67 – Kick back at the best rooftop bars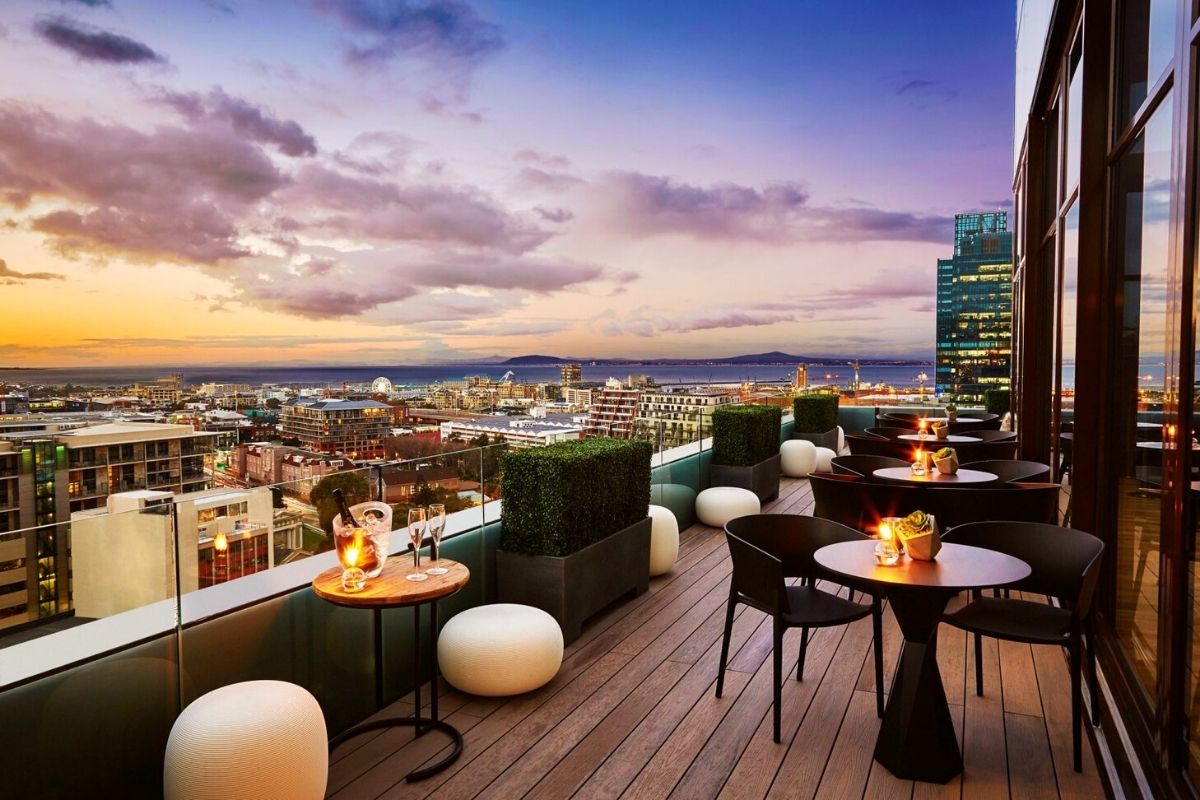 As you end another busy and exciting day in Cape Town, stop by one of the many excellent rooftop bars to unwind with a good cocktail.
Head to the top of the Silo Hotel to enjoy beverages and seafood as you take in jaw-dropping views of the ocean. Also, soak up the last rays and enjoy stunning mountain views at 14Stories Rooftop Bar (SunSquare City Bowl Hotel).
If the land-based sights are more your speed, swing by The Mountain Club at Cloud 9, where you can admire the nearby ranges from two luxurious rooftop pools.
And if you're exploring the trendy haunts of Kloof Street, pop over to Up Yours at Truly Cafe, which serves up liquors and brews in a cozy, plant-bedecked space.
From chic to casual and everywhere in between, the city's rooftop bars are the perfect way to wind down the day – or kickstart the evening!
Where to stay in Cape Town?
You'll feel like you're in the lap of luxury at Taj Cape Town, whether you're relaxing at the spa or enjoying a meal at the Mint restaurant.
But it's well worth venturing out, with the famous Long Street just outside the door and daily shuttles running to the V&A Waterfront.
If you're really into the beach vibes, the Newkings Boutique Hotel offers easy access to the water, as well as nearby attractions including the Cape Town Stadium and the waterfront.
And you'll be sitting pretty – or swimming pretty – at Bliss Boutique Hotel, with its solar-heated pool and easy access to hiking, golfing, and windsurfing.
With one of our airport transfers, you can get started with your stay that much faster.
Where to go next?
Two hours away by plane (or a couple of days' drive), Johannesburg offers another perspective on big-city life in South Africa.
In addition to the many attractions in the city proper – including lively markets, great restaurants, and beautiful galleries -, it's a great gateway to exciting outdoor adventures, from safaris to rafting.
And it's also an easy day's drive to other popular places, such as Pretoria and Kruger National Park.
With a rich history, a vibrant sports scene, and ample opportunities for wildlife watching, there's no shortage of great things to do in Johannesburg.
Final Thoughts
Cape Town is arguably one of the most dynamic and intriguing cities in the world.
Its multicultural, innovative atmosphere is only matched by its striking natural wonders, and the juxtaposition makes for a truly unique metropolis.
While it is not without its issues, The Mother City's spectacular outdoor and indoor offerings – as well as its efforts to move forward from its troubled past – make it well worth a visit.
And you may discover that the more you indulge in all of the amazing things to do in Cape Town, the more amazing things you'll find to try!
So start planning your visit, and maybe the next two or three ones to follow. This city is likely to capture your heart!
We hope you enjoyed this list of fun things to do in Cape Town. Don't hesitate to comment below if you wish to recommend another fun activity or a cool place to visit in South Africa.
Happy travels!