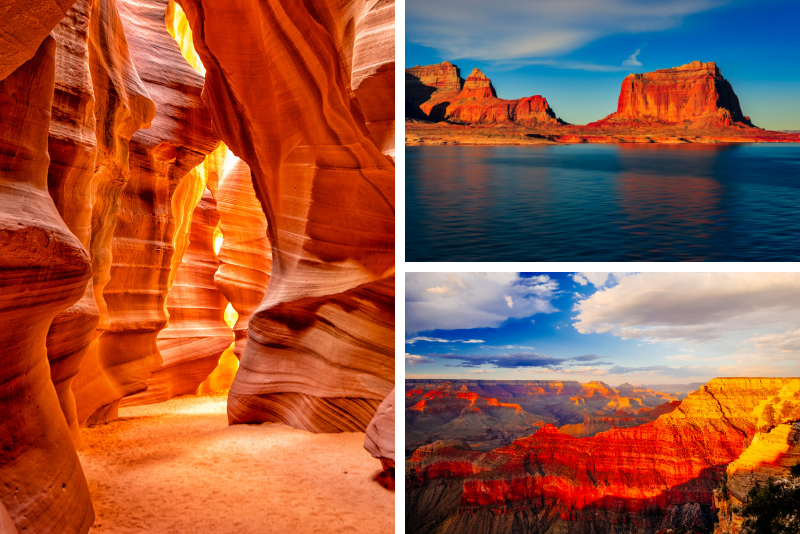 Do you want to take a breather from Las Vegas? Looking for exciting places worth exploring for the day? Check out our selection of the best day trips from Las Vegas. Use our interactive map to see all the locations mentioned.
Get off the Strip and discover some of the most stunning scenery in Nevada and around.
1 – Valley of Fire State Park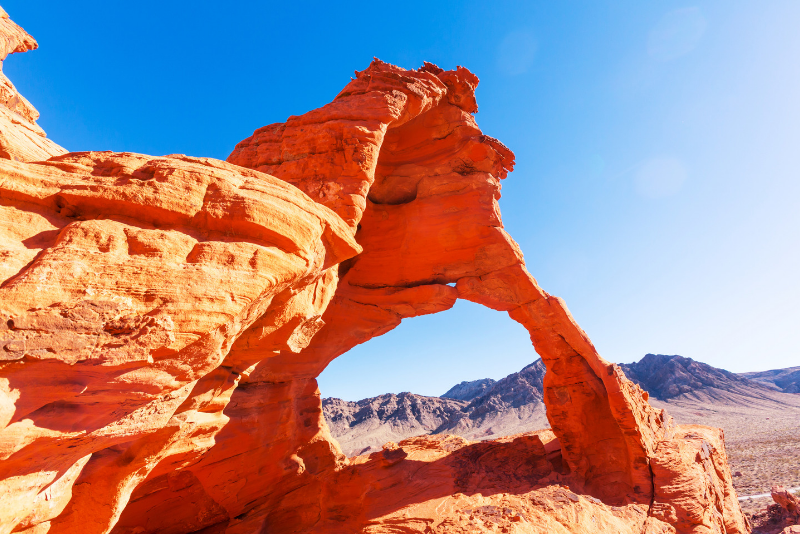 Be aware that Valley of Fire State Park may become your favorite hike after you spend hours exploring its concealed canyons and caves.
These red rocks are also home to some of the oldest petroglyphs and remains of Native American civilizations, more than three thousand years old!
Valley of Fire is one of the most iconic sites in Nevada.
2 – Mojave National Preserve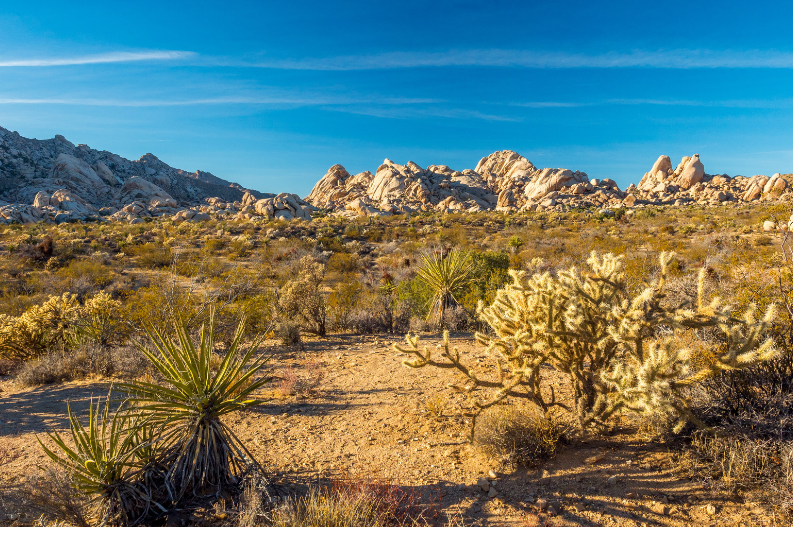 About 60 miles down South in California lies the iconic landscape of the Mojave National Preserve.
A rare ecosystem, the Mojave desert is yours to travel across.
Besides plant life, the gorgeous Ivanpah Valley offers a variety of landscapes including desert washes, volcanic cinder cones, rose-coloured dunes, and mile-high tops.
3 – Antelope Canyon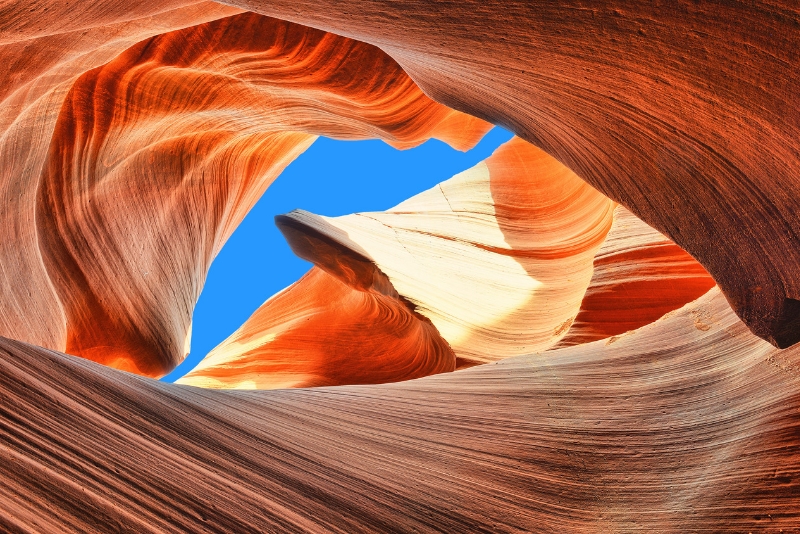 Another piece of majestic red rock formations, Antelope Canyon is a narrow slot canyon with two separate trails to explore: Upper and Lower Antelope Canyon.
Excursions start from Las Vegas and include both transportation and the guided visit of the Antelope Canyon with a Navajo guide. You can visit both the Lower and Upper parts of the site so that you can see one of the most colorful and photographed canyons in the country from every angle.
Compare hotels and vacation rental near the Antelope Canyon
4 – Grand Canyon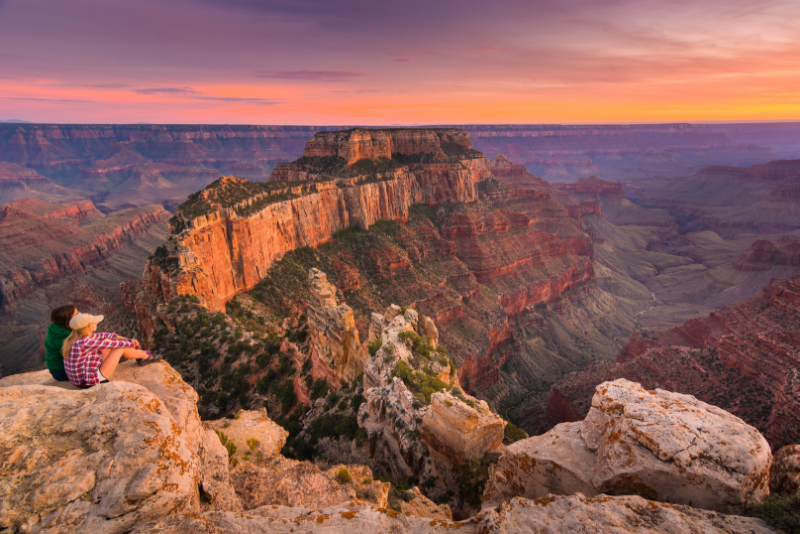 Sure, the world-famous Grand Canyon deserves more than a one-day trip because it is a 277 miles long canyon sharpened by the Colorado River.
Coming from Vegas, you may easily access the West Rim and its vertiginous attraction, the Skywalk, or head to the South Rim, either traveling by bus or by helicopter. Choose among the best Grand Canyon tours from Las Vegas!
Enjoy this world natural wonder from a unique point of view.
See also: How to get from Las Vegas to Grand Canyon, Best things to do at the Grand Canyon
5 – Red Rock Canyon National Conservation Area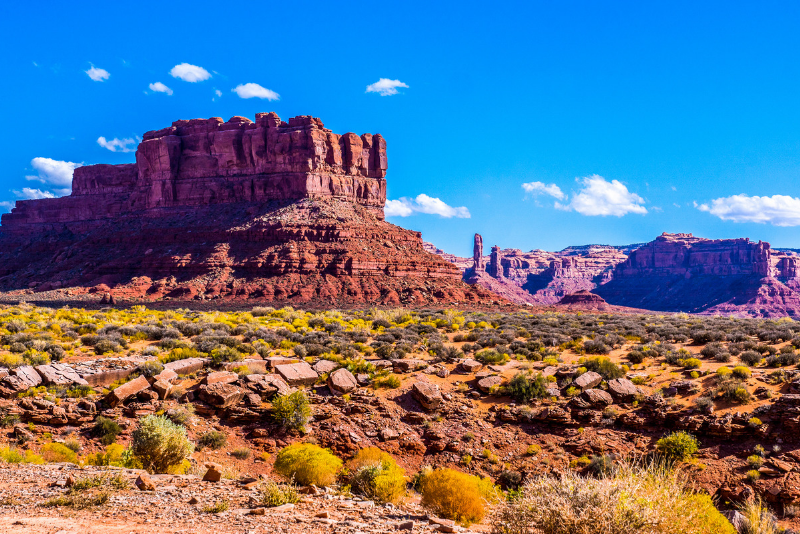 Don't feel like driving for hours to have a delightful day trip? How about Red Rock Canyon National Conservation Area situated at Vegas' doorstep?
The site offers many opportunities for hiking, horse riding, and rock climbing.
Head west for about twenty miles to find yourself into Red Rock Canyon's magnificent scenery.
Make sure to check our top 10 best Red Rock Canyon tours from Las Vegas.
6 – Hoover Dam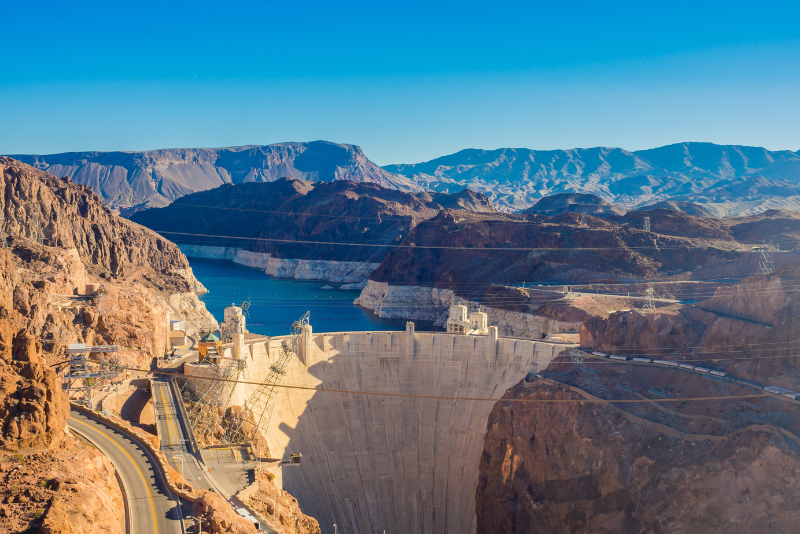 How much do you want to see one of the most spectacular works of architecture made by man, let alone one that dominates the largest reservoir in the United States?
Hoover Dam is to human monuments what the Grand Canyon is to natural wonders, purely majestic!
From there, you will also get a full view of the Colorado River and Lake Mead.
7 – Lake Mead Recreation Area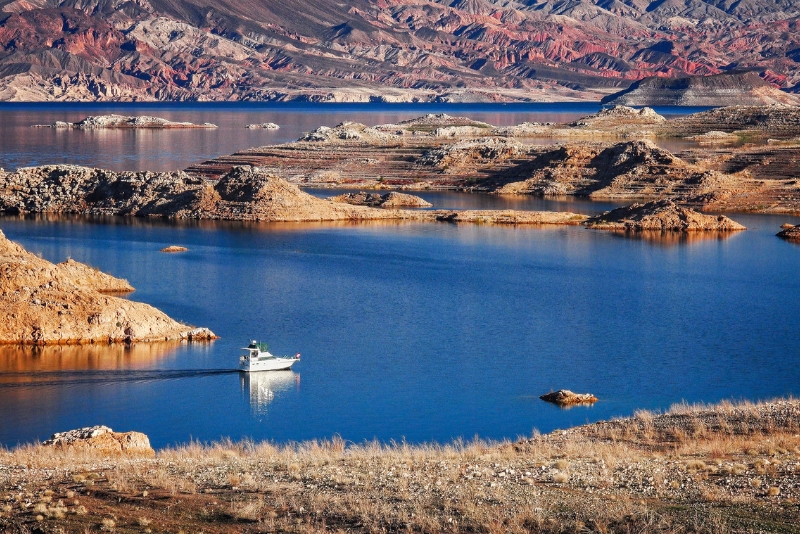 Whether you are planning a relaxing experience or an active escapade, Lake Mead Recreation Area welcomes some of the best day trips in the area.
Will you calmly enjoy the scenery of the lake before having dinner on the shore, or end a jet-skiing afternoon by jumping aboard a cruise boat?
8 – Zion National Park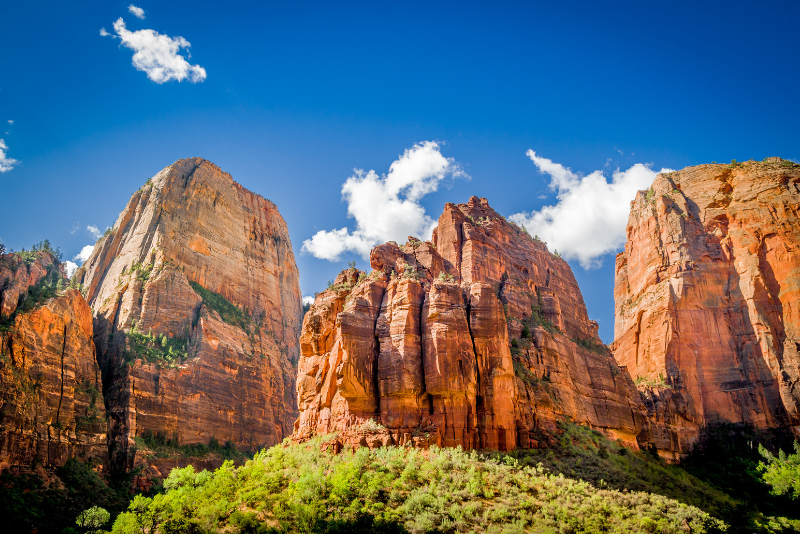 Located in Utah, Zion National Park features among the most exciting places when it comes to hiking.
While some trails may require more than a day, many of them are still excellent day trips.
Also, you may choose more or less challenging paths across this natural paradise – it's up to you!
See also: Fun things to do in Zion National Park
9 – Mount Charleston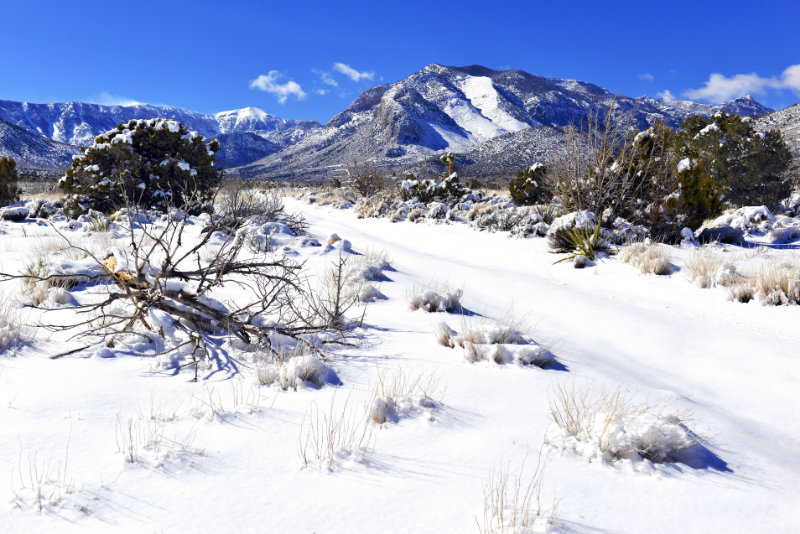 The Las Vegas area is a neverending source of wonderment.
You may contemplate Mount Charleston's snowy summit without driving more than an hour North from the city.
Perfect for either summer and winter day trips, Spring Mountains are the closest peaks you can go ski at in the hot state of Nevada!
10 – Lake Spring Mountain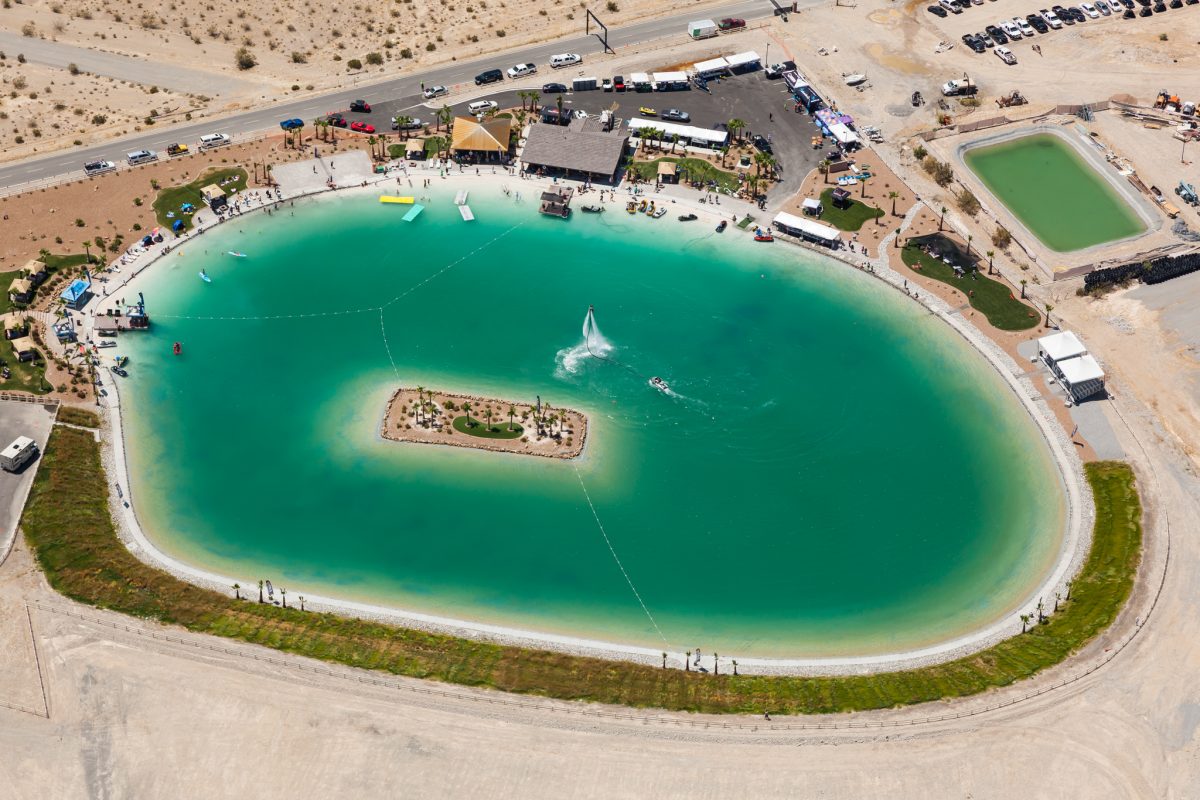 For those who need a refreshing break from the big city, Lake Spring Moutain is an oasis situated an hour West from Las Vegas.
The resort offers many water activities, such as paddleboarding and rafting.
Nearby Parhump's wineries host concerts and cultural performances all year.
11 – Eldorado Canyon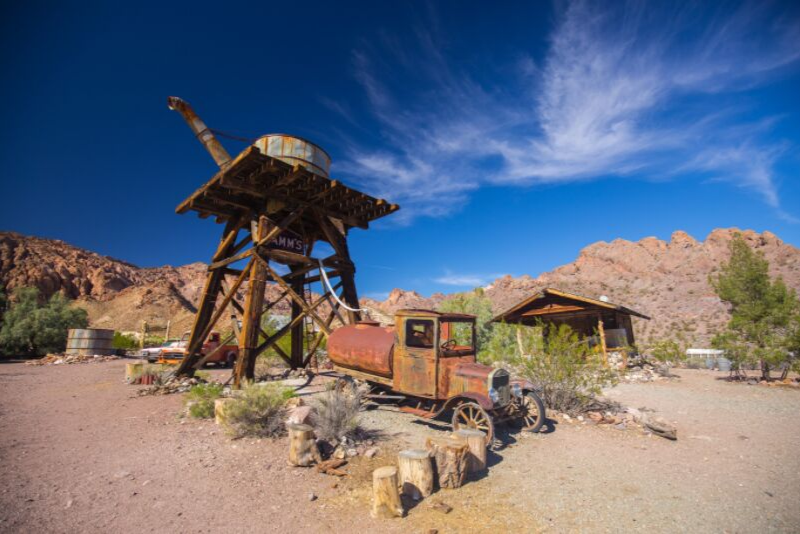 Tour Eldorado Canyon, a place that made the state of Nevada's history by being a center of its mining industry.
The most active and fearless may then visit the impressive Techatticup Mine and Nelson ghost town.
Go back in time thanks to unaltered life scenes, including buildings, vehicles and all sorts of yesterday's props.
12 – Dixie National Forest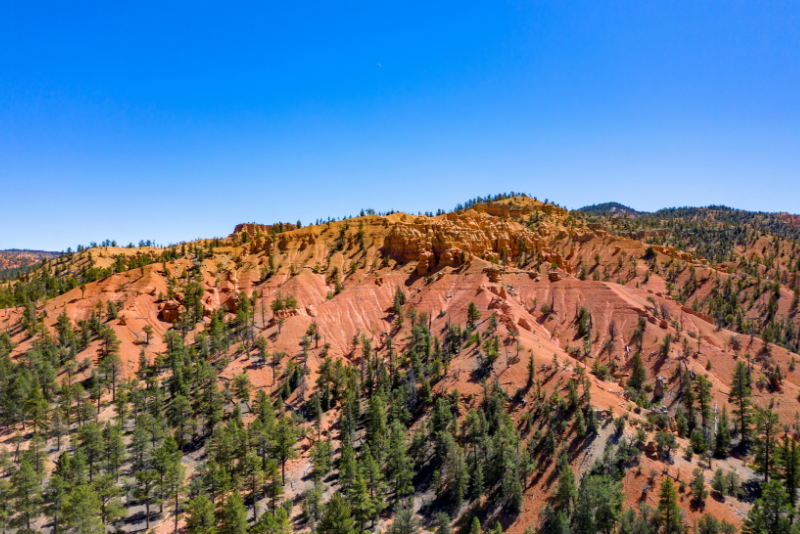 Going the miles separating Utah from the capital of Nevada is a trip, but the charm of Dixie National Forest should make you consider it.
The picturesque landscapes and the abundant wildlife encountered while walking these forest trails are a treat for nature enthusiasts.
13 – Nellis Dunes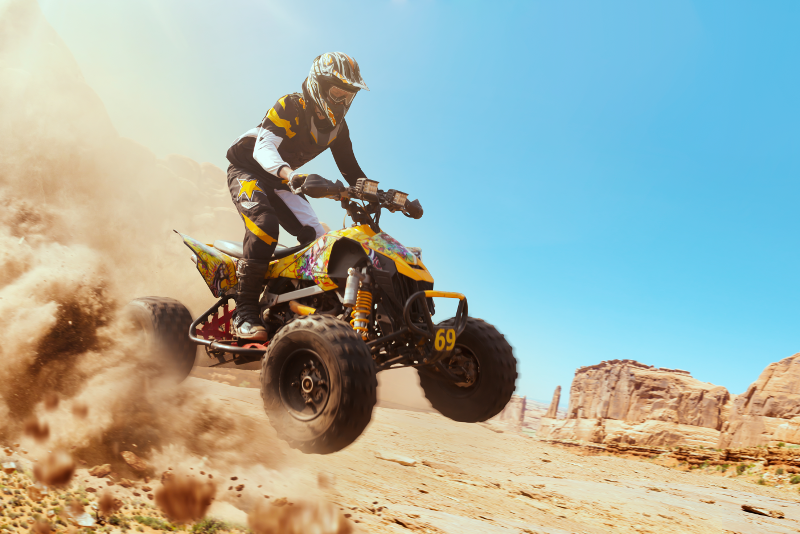 Looking for a more adrenaline-packed activity than peaceful hikes and sightseeing?
One of the most popular trips around starts in North Vegas. Explore the Nellis Dunes and the Las Vegas Recreation Area riding an ATV.
Over rolling hills and sandy dunes, we guarantee that you will enjoy your way across the desert!
14 – Seven Magic Mountains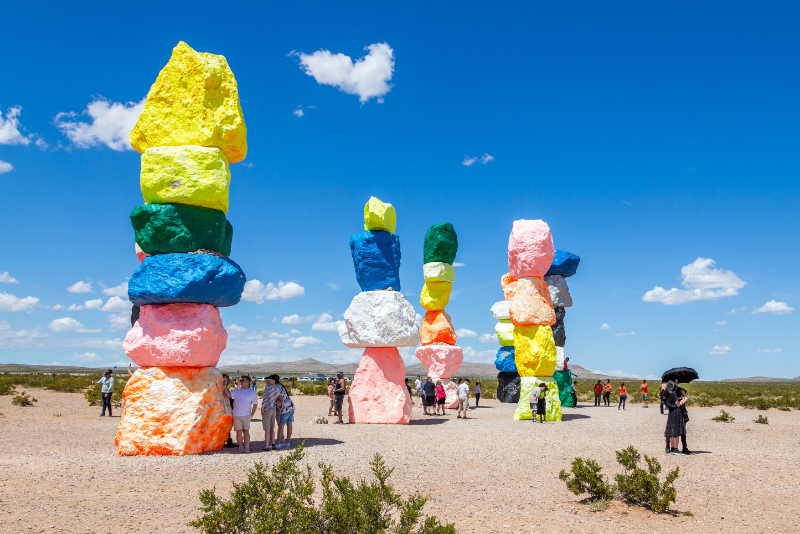 The work of Swiss artist Ugo Rondinone, Seven Magic Mountains is a piece of Land Art, an original form of Contemporanea art.
These lightly colored boulders are reminiscent of the region's landscape and especially Bryce Canyon's "hoodoo" formations.
It can be visited as you drive by South Las Vegas Boulevard, near Goodspring, Nevada.
15 – Area 51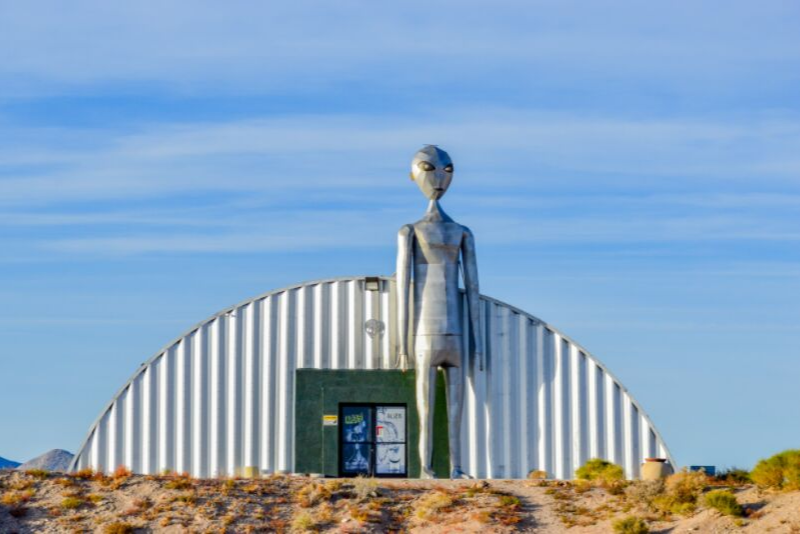 Hiking trails and resting in lands with no mystery excite you no more?
Hit the UFO road and fulfill your curiosity! The weirdest things are to explorable on the extraterrestrial highway to Area 51 and its Alien Research Center.
Drive, stop for the signs of extraterrestrial life and come back with the strangest feeling.
16 – St George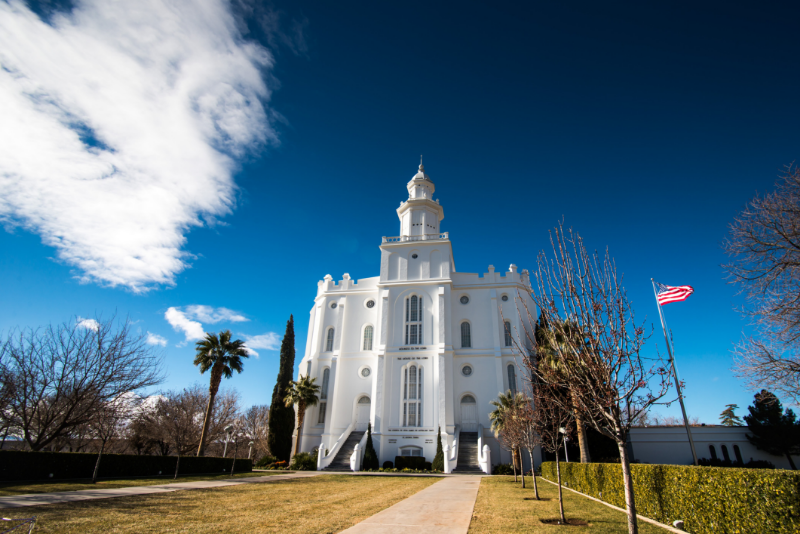 A center for tourism in Southern Utah, St George offers an original mix of outdoor fun and small-city attractions.
Enjoy downtown shops, museums, and restaurants or join one of the many adventures available out in the tremendous rocky scenery.
The city may also be a convenient stop before heading to Zion National Park.
17 – Death Valley National Park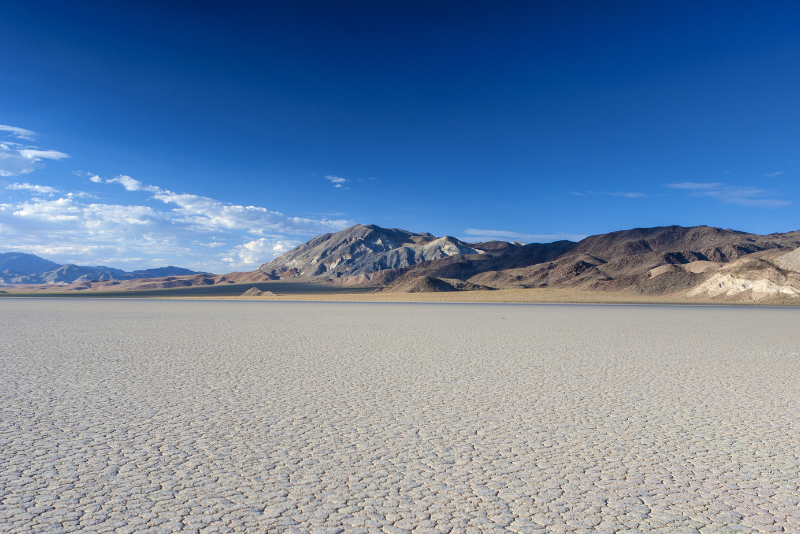 Here is where disbelief starts. Known to be one of the hottest and driest deserts, Death Valley National Park is the definition of an extreme environment.
You should plan a day trip to meet unforgettable sights in one of the most intriguing places in the world.
Watch for the insanely high temperatures!
18 – Red Cliffs National Conservation Area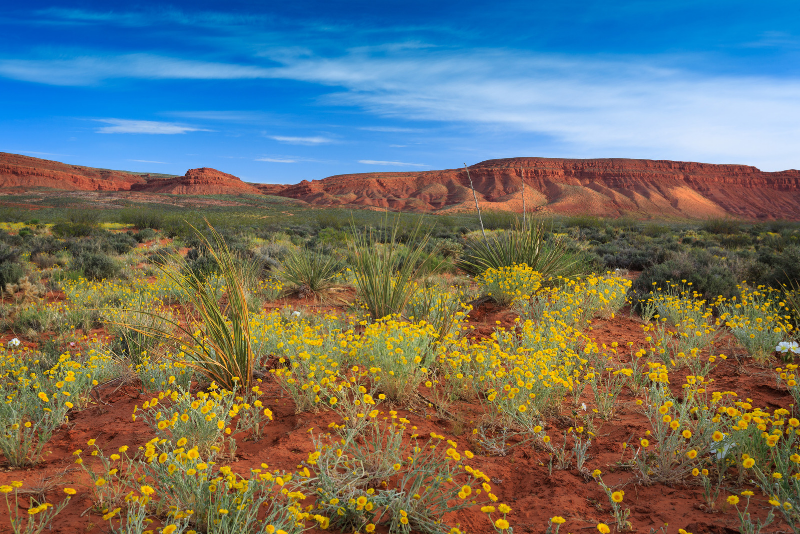 Less than two hours are required to reach the Red Cliffs National Conservation Area, an inspiring place if you are thirsty for adventures.
It is an exciting part of an ensemble of visits awaiting you past the Utah Stateline (St George, Zion and Bryce National Parks), and it is situated next to the no less gorgeous Snow Canyon State Park.
19 – Black Canyon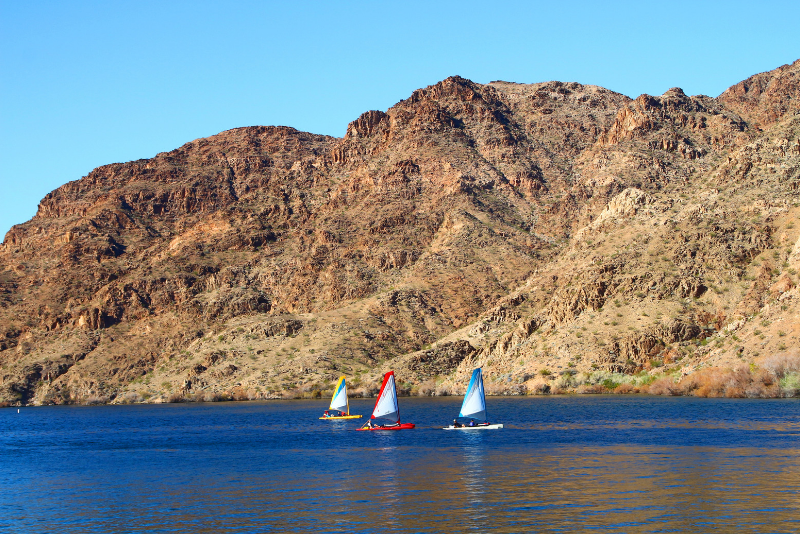 If you want to enjoy the beautiful scenery and be active on the waters of Colorado River, a kayaking or rafting trip to Black Canyon is the thing to do.
Relax on the river shores and paddle as far as the colorful Emerald Cave!
Your Black Canyon trip starts at Willow Beach, a pleasant water sports area situated 50 kilometres from Vegas.
20 – Bryce Canyon National Park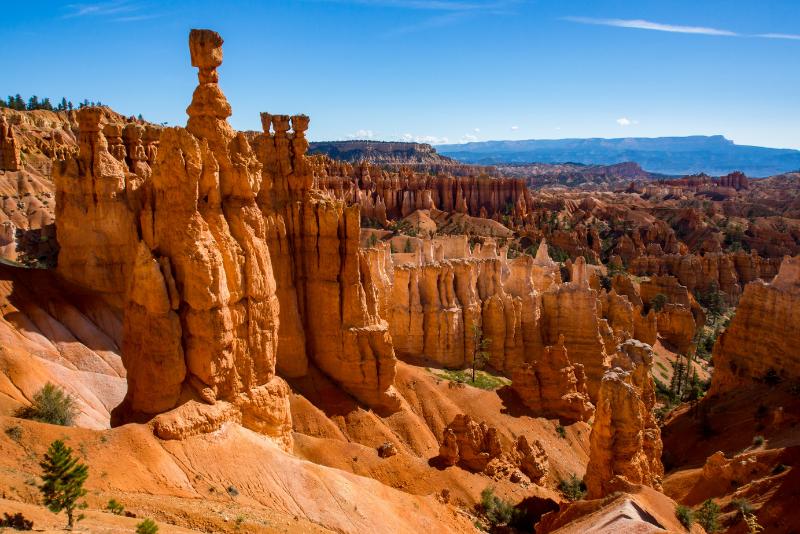 Prepare for one of the most impressive dives into nature you can get coming from the urban craze of Las Vegas.
Bryce Canyon National Park is an original site where red rocks and stone arches give travellers fascinating views.
For an entire day of hiking, check out nearby Zion National Park and Dixie Forest.
Compare hotels and vacation rental near the Bryce Canyon
21 – Lake Havasu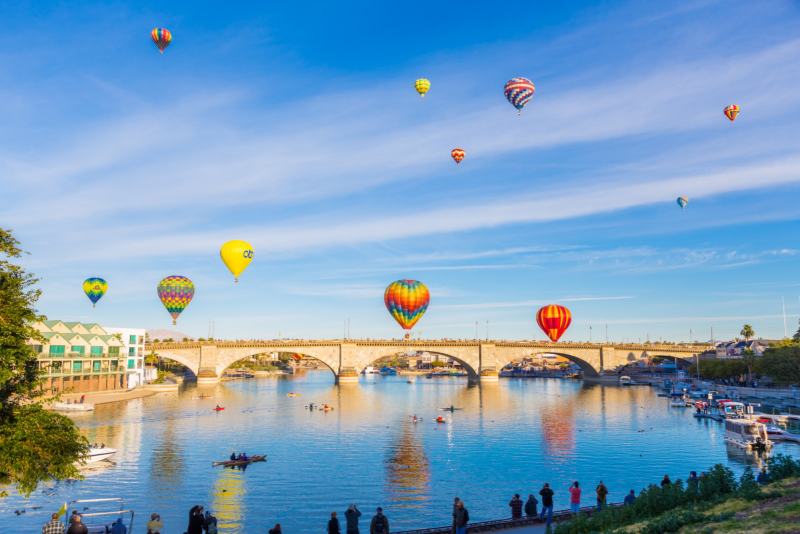 In Arizona, Lake Havasu is an excellent destination whether you seek to relax on a boat or have a mix of watersports at Lake Havasu City's resort.
More, the Havasu Wildlife Refuge preserves an incredible variety of birds and other animals along the Colorado River shoreline.
The refuge and the city are a two-hour drive south from Las Vegas.
22 – Snow Canyon State Park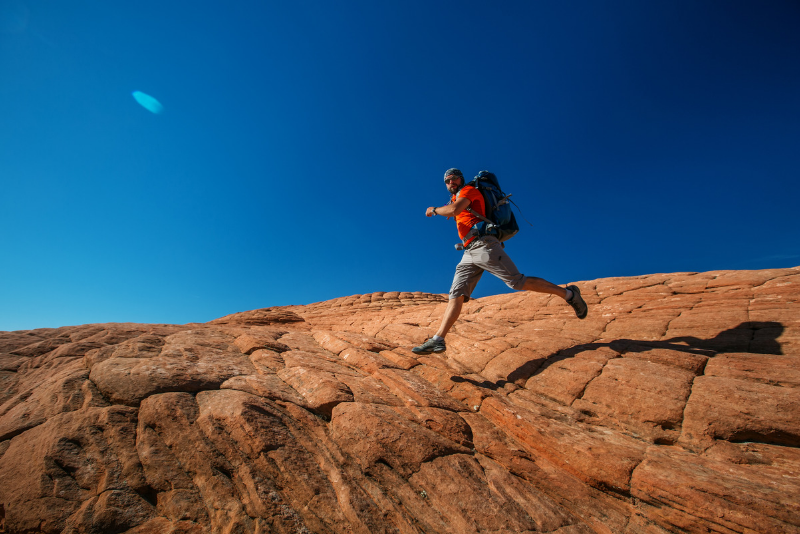 If you already plan on visiting the precedently mentioned Red Cliffs National Conservation Area or any curiosity on the path of your day trip to Utah, do not miss the opportunity to follow your visit with a walk into Snow Canyon State Park.
Amazing scenes of red and yellow coloured sandstones, slot canyons and petrified dunes await you there.
23 – Santa Clara River Reserve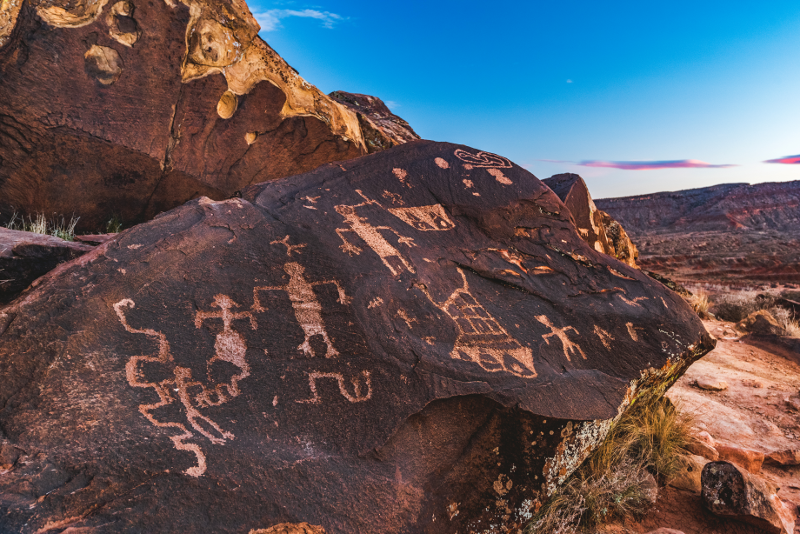 A natural and historical visit you can reach by driving to St George's area in Southern Utah, the Santa Clara River Reserve offers fine hikes.
Running across the Northern part of the reserve, the Anasazi Valley Trailhead has well-preserved petroglyphs carved into the cliffs, which are the works of the Anasazi Native tribe.
24 – Cathedral Gorge State Park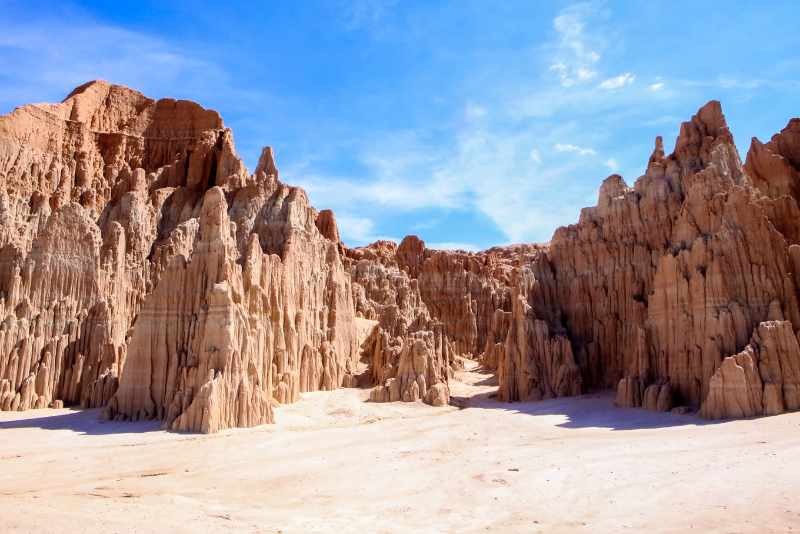 It takes around two hours to reach Cathedral Gorge State Park, but the hikes and the views are worth the travel time.
The highly-eroded clay and contrasting deposits caused by volcanic activity contribute to this magical landscape.
As for the place's poetic name, find out its meaning by exploring the multitude of formations on the path of your trail.
25 – Hidden Valley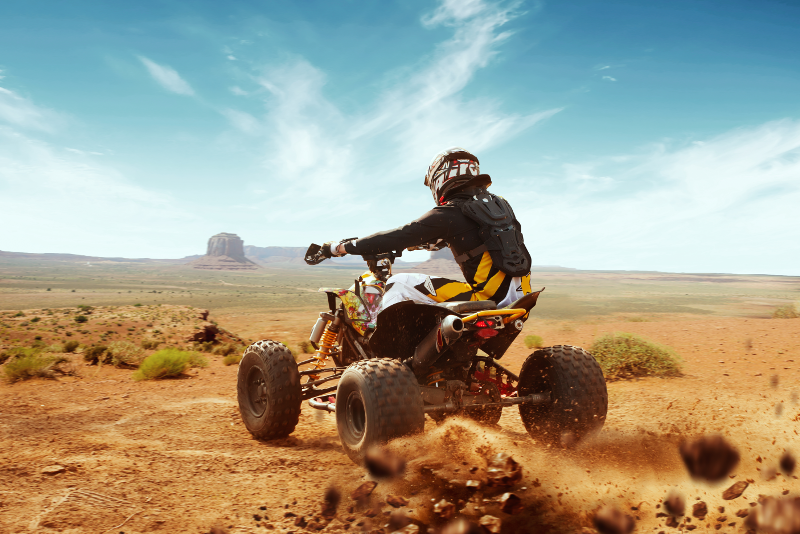 Go on a high-paced ride through the rugged mountains of Hidden Valley and the Mojave Desert starting from the nearby town of Primm.
All-terrain vehicles from dirt bikes and quads are available, and they are ideally suited for travelers who want to both enjoy speed and unforgettable sights.
26 – Sloan Canyon National Conservation Area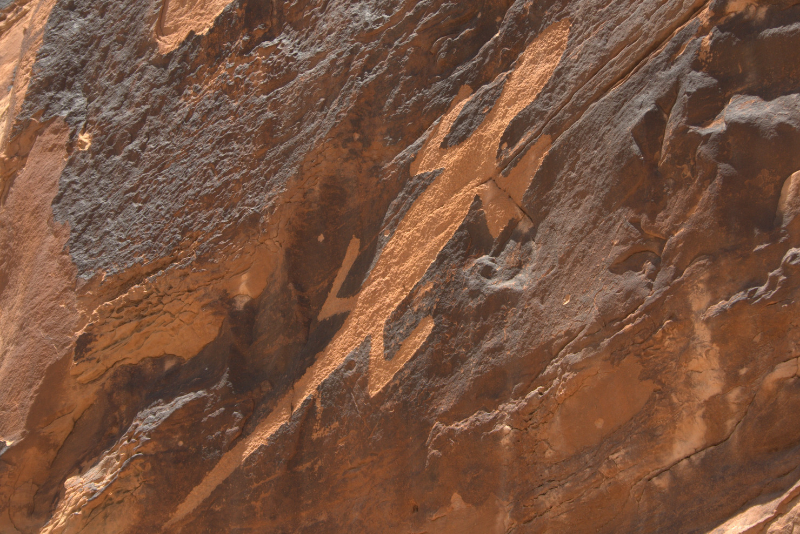 If you are into picturesque sites and ancient art, Sloan Canyon National Conservation Area is home to hundreds of stone etchings containing more than two thousand petroglyphs.
Walk on the tracks and discover these pieces. This Nevada site is just a thirty minutes ride from the city.
27 – Lake Las Vegas Water Sports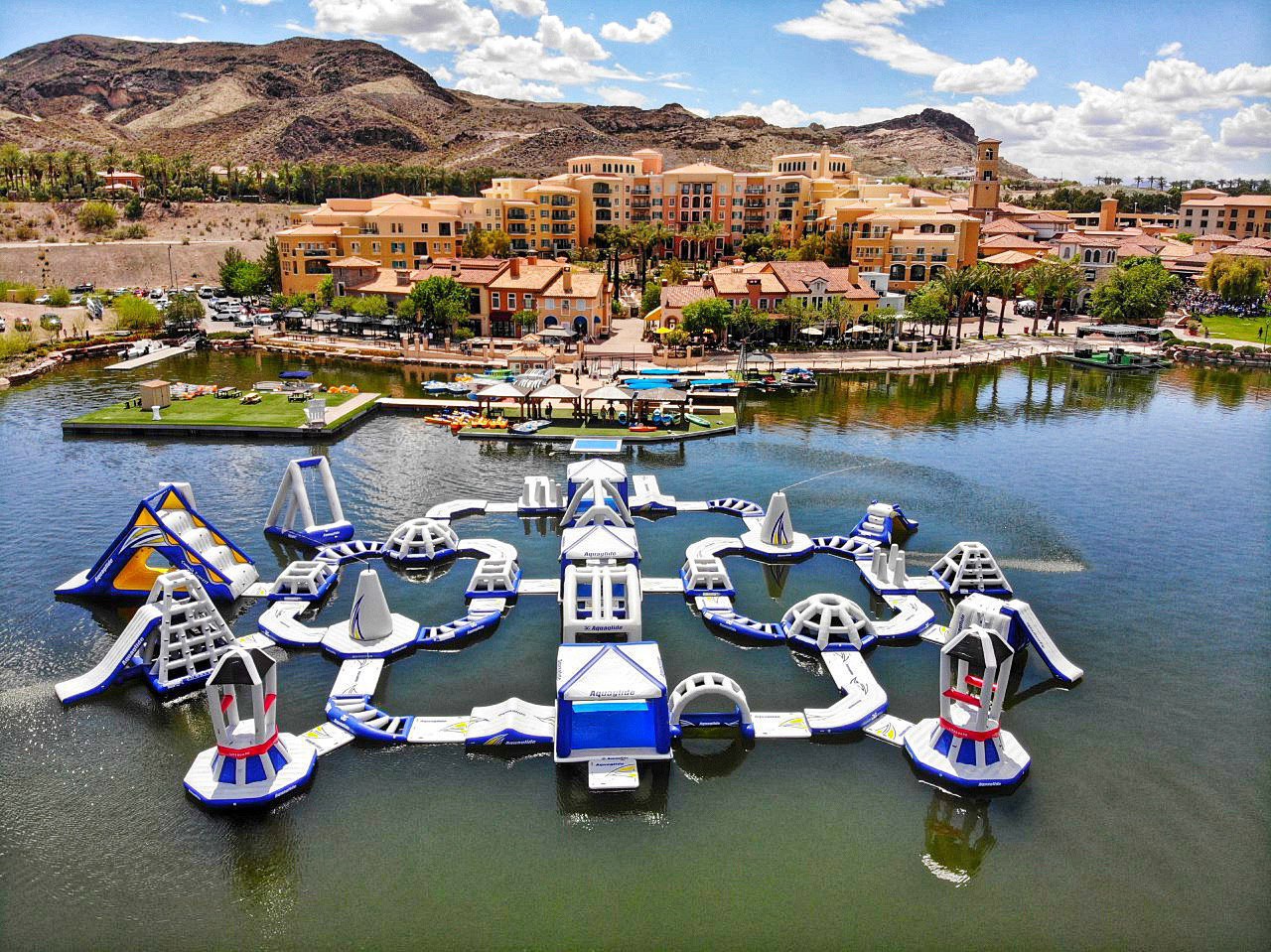 From boating to paddle boarding and kayaking, Lake Las Vegas Water Sports is the closest resort from the city to offer such a complete panel of attractions.
If boating is not your style, enjoy a fun time at the water park. A thirty minutes drive from the city, Lake Las Vegas is an accessible one-day amusement destination.
28 – Monument Valley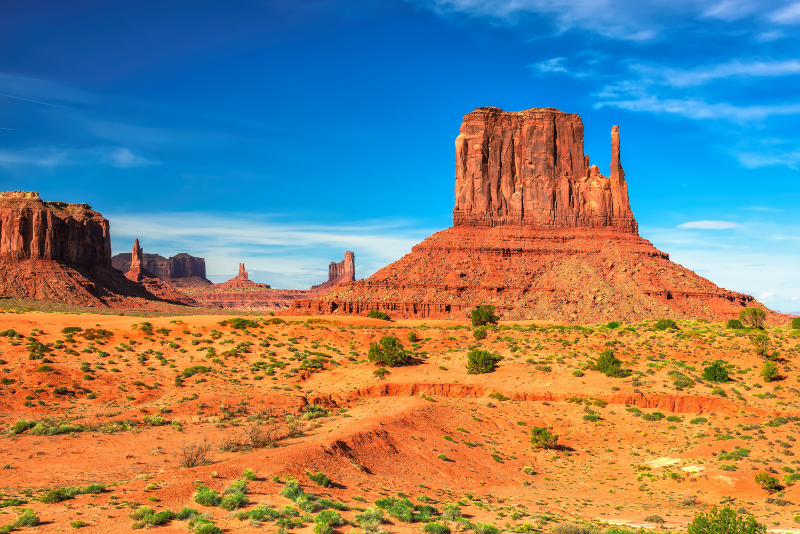 The furthest site we provide you with is simply a gorgeous scenery, and surely the most typical Western picture one may find.
When it comes to dreaming landscapes on the American territory, Monument Valley is part of the royalty.
As time flies by, you might decide to stay until the sun sets on the rocks.
29 – Horseshoe Bend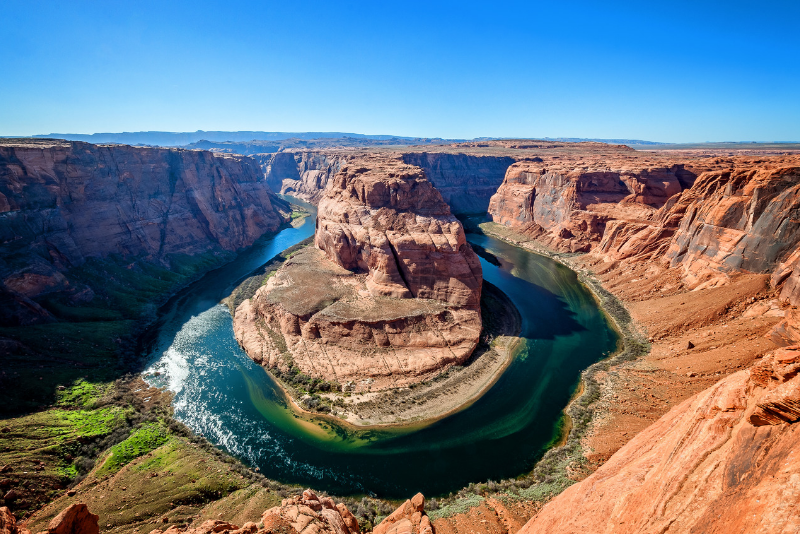 A truly fascinating sight, Horseshoe Bend is situated in the Navajo Reservation area.
Like nearby Antelope Canyon, these high cliffs are a delight for photography enthusiasts. Kayaking and rafting day trips along the Colorado River are the best way to stop by this marvelous site and contemplate it from the riverbank, but there are also excursions by minivan heading to Horseshoe Bend and Antelope Canyon.
30 – Los Angeles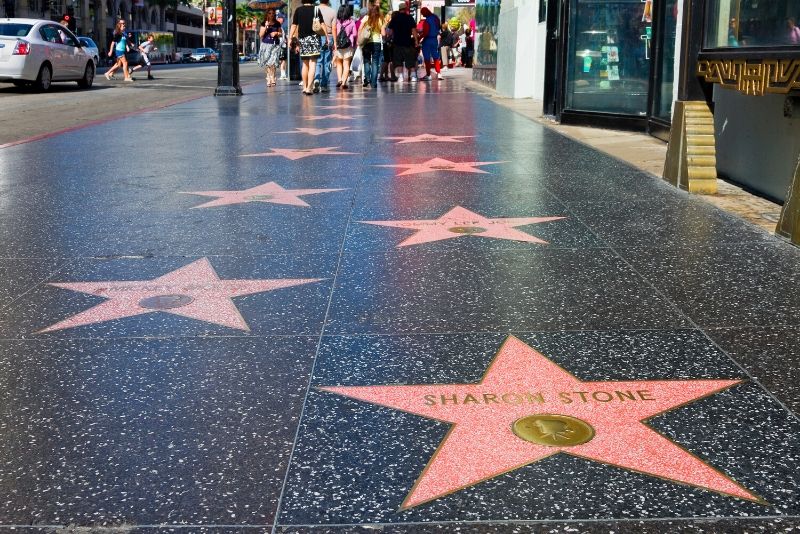 Visit the famous districts of Hollywood and Santa Monica during your day trip from Las Vegas to Los Angeles. You will travel through the Death Valley and the Joshua Tree National Park to reach the city of the movies. Enjoy a full day in Los Angeles. By booking a tour with a guide, you will be guided through the main districts of the city, making it possible to visit LA in just one day.
We hope you enjoyed our selection of day trips from Las Vegas. For more inspiration about Sin City, take a look at the best things to do in Las Vegas.
Don't hesitate to comment below if you have any questions. Have fun 😉