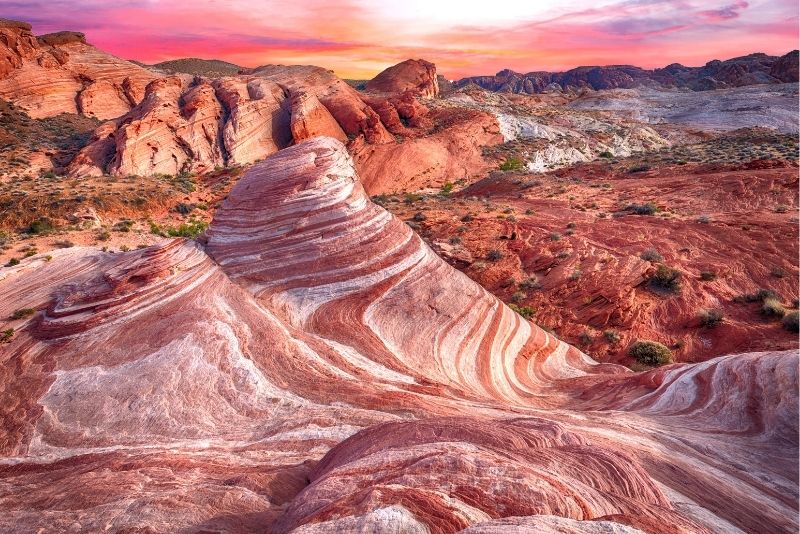 There's no excuse not to visit the beautiful Valley of Fire State park if you're in Las Vegas. Located just one hour away from the glitz and glam of the city, the park offers a great way to explore the Mohave desert, enjoy nature, and go home with a collection of stunning photos for your social media.
Nevada's first state park is a beauty that offers plenty of things to see and do. Come to hike, horse ride, or camp overnight for perfect stargazing skies. Famous for its pink and fiery-red rock formations, the park is also home to 2000-year-old petroglyphs, beautiful panoramic vistas, and a number of interesting hikes through canyons and sandstone that's millions of years old.
In this guide, you will learn everything you need to know about the Valley of Fire State Park, including:
Looking to book a tour to visit the Valley of Fire State Park from Las Vegas? Use our search engine and compare all the tours available.
How to get to the Valley of Fire from Las Vegas?
By car
Located in the heart of the Mojave Desert, Valley of Fire is about 90 km northeast of Las Vegas via I-15 N and Valley of Fire Highway. Look out for exit 75 marked as Valley of Fire/Lake Mead.
Because it's less than an hour away from the city, the park offers a great escape when you need a break from all the lights and noise of the Strip.
If you don't mind driving a little longer (about an hour and 40 minutes, to be exact), take the NV-147 highway instead, then switch to the NV-167. This scenic route takes you through the  Lake Mead Recreational Area with great views along the way.
Renting a car is a great option if you plan on combining more than one park into one (Red Rock Canyon Park is not that far away) or if you want to hike and explore at your own pace, stopping for photo opportunities or even for a meal on your way back to the city.
By organized tour
If you'd rather leave the driving to others, a guided tour from Las Vegas offers all the convenience and little of the trouble. Round-trip transfers are usually available from your hotel or major points on the Strip, and tours also offer extras like lunch and additional spots at famous scenic points. Both private and small-group tours are available so you can pick the experience that would work better for you.
The beauty of exploring Valley of Fire State Park by organized tour is that you are not limited to one specific adventure. For example, you can choose a tour that combines Valley of Fire with Red Rock Canyon so you can see two wonderful sites in one day. Or you can choose to go to Seven Magic Mountains instead so you can soak the natural beauty and an art installation in one trip.
Would rather take a step back in time? Some tours will take you to see 4,000-year-old petroglyphs and explore the valley as the ancient Anasazi Indians experienced it, then stop by the Lost City Museum to see ancient art and artifacts.
Lace-up your shoes and get ready to hike (easy, moderate, or difficult hikes are available) if you're up for a day of adventure instead.
How much does the entrance ticket to the Valley of Fire cost?
Entrance fees are charged per vehicle when entering Valley of Fire State Park. You usually pay this fee at the booth located at the entrance of the park.
However, if nobody is there when you arrive, look for a self-pay station nearby.
There, you'll find envelopes and a payment box. Tear off the stub on the envelope and take it with you – you will need to prove you paid your entrance fee if you're asked by a ranger inside the park. Then add the exact amount of the entrance fee in cash inside the envelope and drop it into the slot.
Fees:
• $10 per vehicle regardless of how many people are inside
• Camping at one of the park's designated campgrounds is $20/night plus an extra $10/night if you want to connect to electricity (most common for RVs). Since campground spaces are on a first-come/first-serve basis and you cannot make reservations, you need to pay this fee alongside the vehicle fee as you get into the park
• If you're arriving with a large group and would like to use space within the park for an event, organized picnic, etc. there's a special $25 Group Use Area Reservation fee on top of the entrance fee per vehicle
What are the best Valley of Fire tours?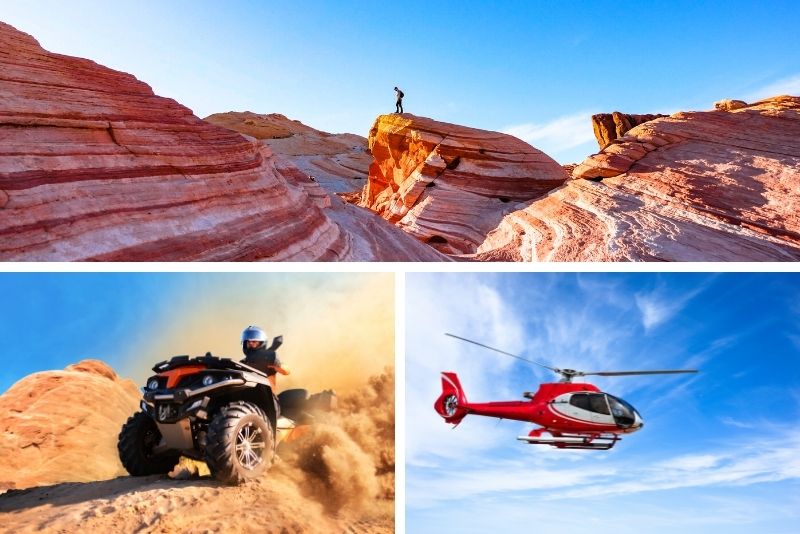 Looking for excitement, breathtaking views or an active day out? A day tour to the Valley of Fire can offer all this and more. Even better, an organized tour means you can just sit back and let others take care of the details, so you can focus on making the most of your visit to the park.
No matter which tour you choose, they all start with pick-up at either your hotel or a designated Las Vegas departure point. From there, you'll be taken to Valley of Fire by air-conditioned vehicle to start your adventure. Longer tours are more likely to include more than one stop, whether that means a second sighting place, grabbing a meal, or something else.
Both group excursions and private trips are available, so you can choose whatever fits your needs better.
ATV tours
Ready to leave the Strips behind and get down and dirty in the desert? Then there's no better way to do that than with an ATV or buggy tour in Valley of Fire's scenic desert landscapes.
After arriving at the park, you'll spend some time with your guide to learn basic safety rules and be fitted with safety gear. Doesn't matter if you're a novice or expert driver – the rugged Nevada terrain can accommodate everybody!
Some tours are shorter (3-4 hours), while others last up to 8 hours. Make sure you check in advance so you find a suitable one depending on how long you want to ride.
A little apprehensive about driving in the desert? There are also non-driving tours available, so you can leave the driving to the professionals and just enjoy the fun ride while you take pictures.
Some tours use the Logandale Trail system, located in a more remote area of the park – which almost guarantees there won't be other riders around.
TIP: Buggies carry two people so they're a cheaper choice if you're traveling with somebody, as you can share the cost. If you're on your own, it's cheaper to drive an ATV.
Helicopter tours
If you think Valley of Fire looks beautiful on the ground, imagine seeing all the stunning colors and rock formations from up above. Even better, a helicopter tour often combines a scenic flight over the Grand Canyon with a stop by Valley of Fire, so you get to see the best of both parks within one trip.
Tours tend to be short (30 to 90 minutes, depending on what's included), but there's a lot packed into that time window. One of the most popular helicopter tours includes a flight over the Grand Canyon area before heading near the Hoover Dam, and Lake Mead. You'll listen to the pilot share details about what you're seeing before he lands at an overlook in Valley of Fire to watch the sun set over the striking rock formations as you sip some champagne.
Shorter tours skip the Grand Canyon part of the flight and concentrate on Valley of Fire instead. On these tours, you'll depart from the heart of Las Vegas and have a chance to see some of the city lights as you fly away towards Valley of Fir to admire the red hues of the landscape before landing for some champagne and a chance to take great pictures.
Hiking tours
Go ahead and lace up your boots – there's a scenic wilderness out there waiting for you! Just one hour from Las Vegas, you'll find towering cliffs, deep canyons, petroglyph-covered walls, and fiery red sand dunes as you hike through Valley of Fire State Park.
A paradise for photographers, there are few places near Las Vegas as beautiful as Valley of Fire. Plus, with a professional guide showing you the way, you will not only enjoy the best hikes but also find the best photo spots.
Tours allow you to choose from easy, moderate, or difficult hike options. Easy hikes are usually shorter (around 3-4 hours) and allow for breaks along the way, while difficult hikes take around 6 hours and take through more challenging terrain at a quicker pace so you can cover more of the park. No matter which one you choose, you'll still get to see red and pink boulders, caves, and canyons.
Many of the tours include complimentary snacks and water, and some will also stop by the  Valley of Fire State Park Visitor Center so you can learn a bit about the history and geology of the place you're about to hike (and get some souvenirs while you're there).
Horse riding tours
If you're looking for a chance to go back in time and have an authentic cowboy experience, horse riding into the desert certainly ticks all the boxes. In these tours, you'll be picked up at your hotel or an agreed-upon place and brought to a ranch, where you'll be matched with the perfect horse for you according to your riding experience.
New at riding? Don't worry, Tours can accommodate everybody as long as you're in good physical condition and willing to learn.
From there, you'll start riding into Valley of Fire, traveling the trails that cowboys and Native Americans once traveled on too. Depending on the time of your tour, you'll also enjoy either breakfast or lunch at the ranch, where you'll be served an authentic cowboy meal.
Photo tours
Let's face it – a photo tour of Valley of Fire could be the ultimate souvenir! Rather than trying to figure out the best angle for each beautiful spot you see at the park, how about joining a tour where a professional guide will take you to the most picturesque areas of the park and help you get the best possible photo?
You'll be able to grab the park's flora, fauna, and natural formations in all their glory!
Even better, some of the longer tours will also take you to additional spots, including the volcanic landscape of the Paiute wilderness and the edge of Lake Mead for some extra snapshots to remember.
Visiting Las Vegas during a special event? Whether a birthday, a wedding, or an anniversary, you can book a private photo tour to commemorate the special occasion. Enjoy a ride to Valley of Fire in a luxury vehicle while sipping some champagne, then work with your own professional photographer for some great images. You can even book a tour that starts with a helicopter flight before landing in the Grand Canyon for some stunning sunset photos.
All photo tours guarantee a minimum number of photos (about 48 images per hour) so you'll have plenty of options to pick your favorites from.
What will you see in the Valley of Fire?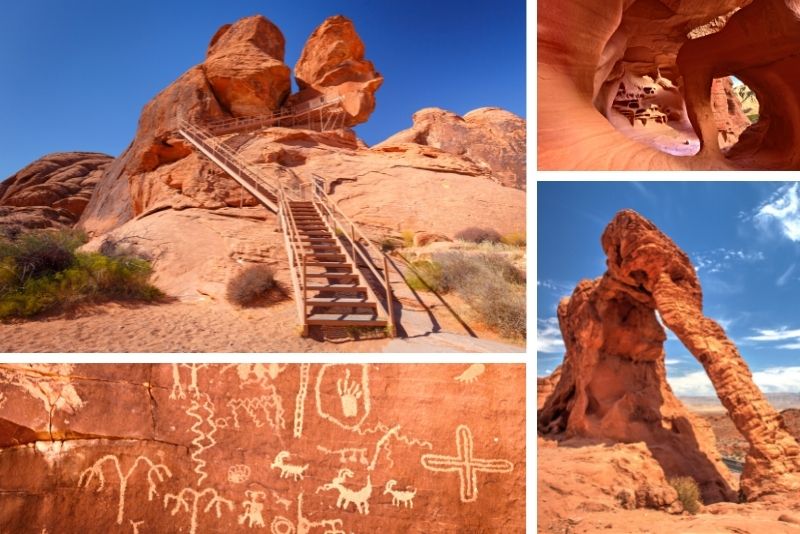 There's plenty to see and do in Valley of Fire State Park, including panoramic vistas, ancient petroglyphs left behind by Native Americans, scenic drives, and beautiful hikes.
Whether you're at the park for two hours or two days, Valley of Fire can't miss views and top attractions won't disappoint.
Rainbow Vista
Surrounded by red sandstone and with a total elevation of just 29 meters, this picturesque 1.8 km-long trail shouldn't take more than 30 minutes to complete.
Although the Rainbow Vista Trail offers great views from the first step, the viewpoint once you reach the top gets extra points. The view opens up over multicolored rocks, canyons, open desert areas, and valleys, and it's especially stunning as the sun comes down in the afternoon.
As there's little shade on this trail, it's best not to attempt it in the summer, when temperatures can reach over 40 degrees Celsius. This is especially important if you're hiking with a dog, as the beginning of the trail is made up of sand, which could get too hot for dogs' paws.
Rock Formations
The beautiful red Aztec sandstone that makes up the rock formations in this park was formed over 150 million years, as sand dunes shifted and were shaped by the elements. The result is the stunning landscape you see today, where the rocks appear to be on fire as the sunlight bounces on them throughout the day.
Although all the red sandstone formations here are beautiful, some are particularly famous. This includes Elephant Rock (shaped like an elephant with a particularly long trunk) and Arch Rock, a delicate stone arch off-limit to hikers to ensure its protection. There's Atlatl Rock, a large boulder decorated with petroglyphs and rock art left by the Anasazi Pueblo farmers.
Located off White Domes Road there's also a very short trail that takes you to a tall rocky outcrop that seems to be holding a rock balancing on top.
Fire Cave
The "cave" name is a bit misleading – you won't find a subterranean cave deep into the cliffs here. Instead, think of Fire Cave (also known as Fire Glow Cave or Windstone Arch because of the shapes found inside it) as a sort of natural sculpture carved into the red stone.
Fire Cave is part of the 7 Wonders loop trail, which starts right by the car park. Finding the cave is a bit tricky even if you're following the trail, so ask at the visitor center or check out directions on your GPS before setting out on a hike.
Once you see it, however, it's pretty obvious – a cave-like space shaped right into the red and pink stone by erosion. Inside the cave space, the sun's reflection creates beautiful colors perfect for photography (especially in the early morning).
Pink Canyon / Pastel Canyon
Pink Canyon is a stunning striped pastel pink canyon. Though small, the colors are definitely stunning, especially if you visit during sunset. The beginning of the canyon is narrow, though the walk soon opens up, giving you even better views over the rock formations.
The canyon isn't part of an official marked trail but it's easy to find between parking lots number 2 and 3. At only 1.8 km long, it's an easy hike, mostly flat, that should take less than 20 minutes to walk – though you'll likely spend a lot longer on it to take photos and enjoy the beauty of the sculpted sandstone and pinkish hues.
White Domes
Valley of Fire has a number of scenic roads, but none as beautiful as White Domes Road. This 1.7-km loop trail takes you alongside some stunning red Aztec sandstone cliffs, a section of a narrow slot canyon that reflects sunlight beautifully, near Atlatl Rock, and through Pastel Canyon.
There are even remains of an old movie set where scenes from Star Trek and Transformers were filmed.
Though short and easy (dog and kid-friendly), this hike offers some stunning scenery. Make sure to stop along the way for plenty of photographs.
The trail gets busy during the afternoons, which means you might end up bumping elbows with many other hikers, especially as you walk through the narrow canyons. Arrive in the early morning for a bit more privacy and solitude.
Mouse's Tank & Petroglyphs
Most people hiking Mouse's Tank are searching for Petroglyph Canyon, where the walls feature hundreds of carved ancient drawings. The trail is named for two portholes where water collects after rain and where an outlaw Southern Paiute Indian called Little Mouse once hid to evade his pursuers.
You can access this short (just 1.2 km) trail that takes you there right from the visitor center. Follow the signs to walk through the shallow canyon to the water tanks near the end of the trail.
Seven Sisters
The Seven Sisters is a towering rock formation of seven boulder-like stones. A sign at the spot tells us these stones were once much larger but time, winds, and rain eroded the sandstone to the much smaller size they are today.
Once you get closer, you'll notice plenty of holes and "breaks" on the stone, a sign that the erosion is still happening and the rocks continue to get smaller – though at a very slow pace – every year.
To find the Seven Sisters, just follow Old Arrowhead Road. You'll notice a picnic site near the rocks and a small parking area.
The Beehives
These large sandstone formations are easily recognizable by their grooved lines that resemble the pattern of a beehive. They were formed over time as layers and layers of silt were deposited on top of each other, with wind or water moving the material to form the lines.
The Beehives are located right across the road from the park campgrounds and are a fun photo opportunity – you can even squeeze into some of the openings and grooves in the rocks.
Is it worth visiting Valley of Fire?
A large number of tourists visiting Valley of Fire State Park do so as an impromptu day trip – and this is perhaps one of the best reasons to visit. Located just 80 km from the Strip, the park gives you a chance to explore beyond the city limits without having to commit to a long day out.
Another great reason to visit? Most of the hikes, viewpoints and best photo spots within the park are located within a 13 square km area. This means you can get the most out of the park in just a few hours unless you want to do longer hikes. Other desert parks in Nevada are just too big to truly explore in one day.
Other reasons it's worth visiting Valley of Fire State Park:
It's Nevada's oldest state park and it was home to prehistoric civilizations, including the Anasazi Pueblo farmers. You can still see many signs of their presence in the 3,000-year-old petroglyphs etched on the park's red sandstone.
It's less crowded than larger parks. For example, it only receives less than 10% of the number of visitors that the Grand Canyon sees every year. This means quieter trails, silent nights under the stars if you're camping there overnight, and better photos without tons of other people around.
The Mars-like red sandstone rock formations in the park look so otherwordly that the park has been used to film science-fiction scenes, including Schwarzenegger's Total Recall and Star Trek Generations.
If you only have an hour or two, you can simply drive through the park and stop a few times along the way — you'll still see many of the best attractions and get stunning photographs without having to hike much.
How long does it take to drive through Valley of Fire?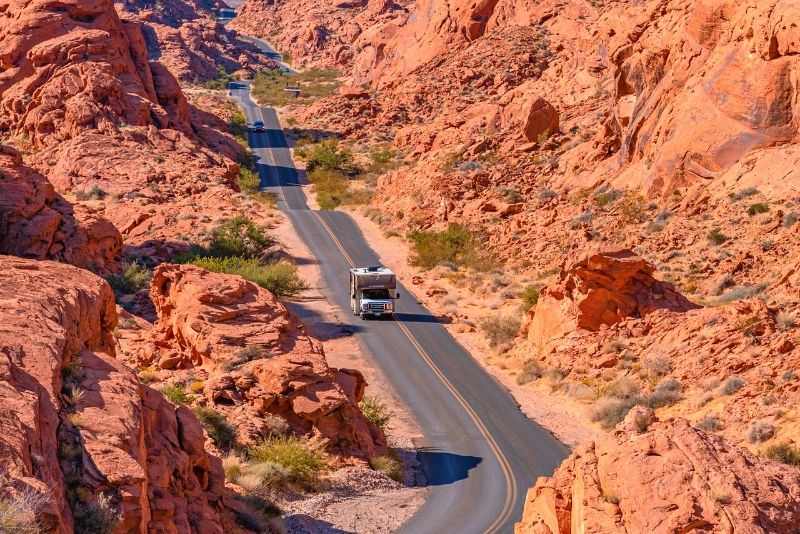 Even if you don't have too much time to spend at the park, a drive through it will still give you a good overview of the red sandstone cliffs. The scenic views start long before you arrive at the park's fee station, but once you pay and drive into the park, you'll be driving on the Valley of Fire State Park Highway, the stunning main road that cuts through the desert. Along the way, you'll pass all the most famous trails, the visitor center, and some of the best viewpoints.
It only takes 16 km to cross the entire park if you take this road, but the red landscape won't disappoint. Keep your eyes open for the Scenic Loop Road that branches off the highway. It's only 5 km long but passes some major attractions, including Atlatl Rock, famous for its ancient petroglyphs.
If you have more time to drive through the park, White Domes Road (also known as Mouse's Tank Road) is even more stunning. Just over 9 km long, this road starts near the visitor center and takes you through towering ridges.
This is one road that's worth a few stops – climb to the viewpoint at the end of the road, try the Rainbow Vista Trail or the Fire Wave Trail that starts right from White Domes Road, or simply stop for postcard-picture views along the way.
What are the Valley of Fire operating hours?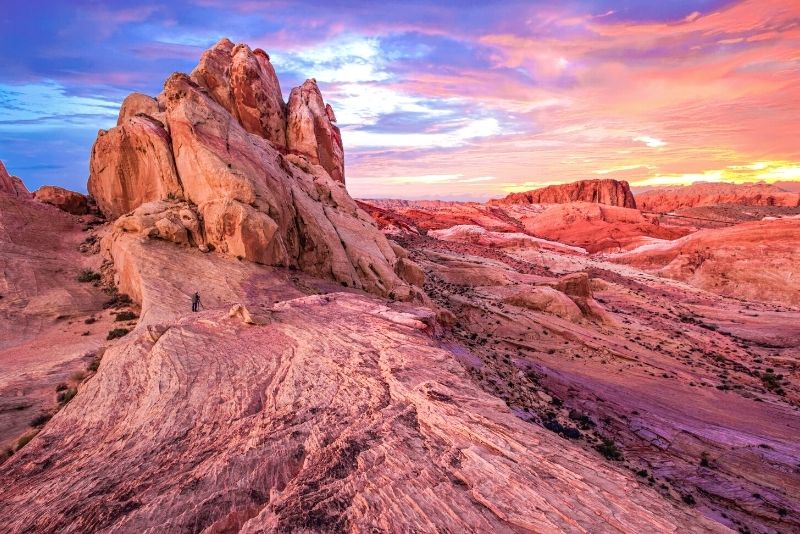 Valley of Fire State Park is open year-round from dawn to dusk. Because that will vary depending on the time of the year (sunset could be as early as 4:30pm or as late as 8pm), make sure you check with the park in advance. When in doubt, call the visitor center to confirm what time the park will close.
If you are caught inside the park after sunset, rangers will ask you to leave, but not before giving you a fine for trespassing.
The visitor center is open from 8:30am to 4:30pm, regardless of the time the park closes. If you're hoping to pick up a map there before you start hiking, make sure you time your arrival within those hours.
The park has two campgrounds with a total of 72 spaces, and people staying there are the only ones allowed within the park boundaries after sunset. Backcountry camping is not allowed.
When should you visit Valley of Fire?
Best time of the year
Although this might vary depending on how cold a particular year is, the best time to visit Valley of Fire is sometime between October and April. While winter temperatures can get very low in the morning or during cold snaps, the average winter temperature is usually between 15 and 23 degrees Celsius during the day. March and April stay around the 20 degrees Celsius mark, offering perfect weather for hiking.
Although rain can happen during these two months, it's usually in the form of short, light showers and isn't much of an inconvenience.
The bad news is that these are also the busiest months at the park. With summer temperatures often reaching over 40 degrees Celsius, most visitors looking to hike arrive during winter instead. The exception might be January, which is a bit less busy than usual, as people are still recovering from the holiday season and traveling less.
Best time of the day
During high season, the park is already busy by mid-morning, so make it a goal to arrive as soon as the doors open. In summer, sunrise is around 5:20am, so you'll have a good headstart over the hikers arriving by 9 or 10am. Early morning will get you lower temperatures and also guarantee a parking spot, another tricky thing to get in high season.
Which are the best photo spots in Valley of Fire?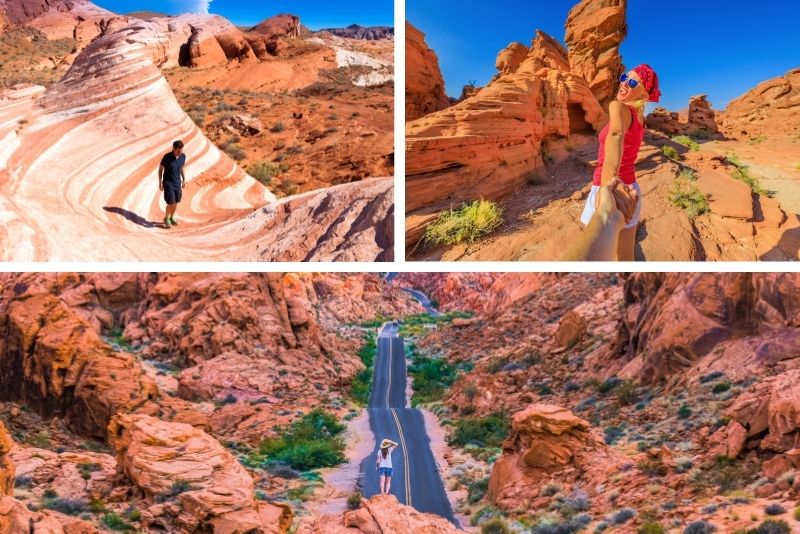 No matter where you go within Valley of Fire State Park, you'll find plenty of stunning backgrounds for your photos. The park is filled with Instagrammable places at every turn, so make sure you spend a good long day driving and hiking the park to leave with plenty of photo memories.
To get you started, here are some of the best photo spots at Valley of Fire State Park.
Mouse Tank Road
Mouse's Tank Road is hard to miss, less than 10 minutes past the visitor center and off the Valley of Fire Highway. The contrast of the dark gray road against the reds and pinks of the sandstone around it makes for a perfect photo spot. You'll get an even better photo if you climb up. Search for a parking area and then look up – you'll see a large boulder that towers right above the road. It's only about 10 steps up to get there but the views over the road and the rock formations around are stunning.
Slot Canyon
This very narrow and colorful canyon is part of the 1.6 km White Domes Loop trail, which starts at the end of Mouse Tank Road. Just park there and start walking clockwise to avoid a steep climb. The entire trail offers great views and spots for photographs, but once you get to the very narrow canyon, things get even more picturesque. Early mornings are the best time to visit, as the canyon can get crowded later in the day.
Pink Pastel Canyon
Also located off Mouse Tank Road, Pink Canyon isn't part of a marked trail, so you'll have to search for it a bit harder. Look for an area to park (not an actual parking lot, but somewhere with space for about three cars) and that's where the entrance to the canyon will be.
The Fire Wave
Getting to the pinkish-orange stones that make up the Fire Wave requires a 2.4 km hike (roundtrip), which is only about 10-15 minutes one way. You'll have to climb up to the top of one of the boulders for the best photos – but don't worry, that also only takes about a minute.
This is a very popular area for photos, so you need to arrive early (think 7am) if you don't want other people in your frame.
Balancing Rock
Balancing Rock itself is a great place for a photo, but so is the view you get when you climb up to it and then look down on the road below. It's only about 200 meters from the road down below to the top of the hill where Balancing Rock is located, so it only takes a few minutes to hike up the trail (which starts next to the visitor center) for the view of a lifetime.
Elephant Rock
You can see Elephant Rock right from the Valley of Fire Highway so drive until you see it in the distance, then find a place to park. You'll have to hike to it, but from the highway, it's less than 500 meters. The rock looks, just like the name suggests, like an elephant head with a long trunk. Climb up the hill and rocks around it (but not on the elephant itself) for the best view.
Valley of Fire State Park Sign
When you're at Elephant Rock, look around for the "Greetings from Valley of Fire State Park" welcome sign. It's a frame-like sign with stunning views over the red landscape. Just pose behind it for a cute reminder of a wonderful trip.
Arch Rock
The arch you see here today was formed over a long period of time as rain and wind eroded the soft rock. While this might be many many years away, the arch will continue to erode and one day crumble under its own weight. For now, you can still get a stunning photo of it by hiking the scenic loop that takes you right to it, or just snap a few shots from the road below. As with Elephant Rock, no climbing on the arch itself is allowed.
Fire Cave
The beautiful striped orange and red sandstone that make up Fire Cave (really just a deep carving on the rock) is especially stunning very early in the morning, when the sun reflecting on the walls of the cave makes them look as if they're on fire. If you catch the light just right, they also look otherworldly.
Seven Sisters
These seven eroded boulders are better photographed right from the Valley of Fire Highway. We always advocate "safety first," so don't suggest actually walking onto the road – but you can still find a great spot right next to it for a view of the Seven Sisters lining up against the horizon. It's worth walking close to them for additional pictures that capture the rocks' blow holes and surface erosion.
Can you fly drones at Valley of Fire?
If you have a drone, you likely already know some of the best views you can ever capture are from above. This is especially true in the desert, where the red sandstones and the towering cliffs will look breathtaking against the golden sand.
Unfortunately, all Nevada State Parks prohibit drone flying unless in an area designated for that use by a park supervisor. These exceptions, however, are rare – and in the case of Valley of Fire State Park, they simply don't exist. The ban is in place to reduce noise that can scare or harass wildlife in the park and is strictly enforced by the rangers patrolling the park.
If you were hoping to do some drone photography, Red Rock Canyon Conservation Area, Lake Las Vegas, and Seven Magic Mountains all allow drone flying. Nearby Potosi Mountain South also allows drones.
Apps like Airmap are a good idea if you want to fly a drone in Nevada. They allow you to plan your route but also get you up-to-date information on airspace regulations and any current flight restrictions in your area of choice.
Can you climb in Valley of Fire?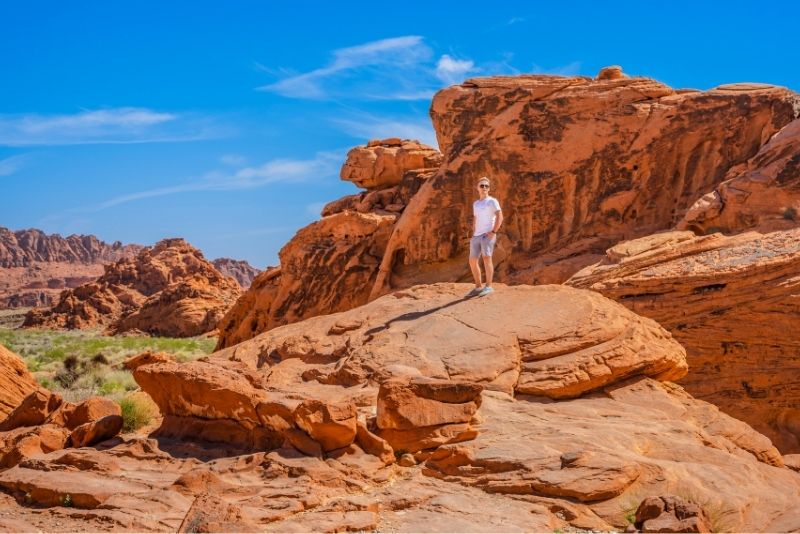 With all that beautiful red rock around, we can't blame you for wanting to go climbing in Valley of Fire. After all, the views from the top are surely an epic sight to behold. Unfortunately, the soft chossy rock at the park means the stone is liable to crumble and break off, making it unsuitable (and unsafe) for rock climbing.
Although Valley of Fire State Park does not allow roped climbing because of this, scrambling and bouldering are permitted in certain areas. Stop by the visitor center on your way into the park to ask about restrictions and what's the best and safest place to explore.
If you're looking forward to rappelling, there's one single place in the park where this is allowed: Lone Rock, a 40-meter high rock close to the entrance of the park, directly off the main road. You must use natural tie-offs to rappel here.
If you're craving some real climbing, Red Rock Canyon is a much better option. The parks are about one hour away from each other, so it's easy to combine them into a single trip even if you only have one day. Offering Aztec sandstone cliffs as high as 900 meters and stunning shades of reds, oranges, and pinks, this is a prime climbing destination in Nevada.
Red Rock offers everything from one-pitch sport climbs to technical routes and long multi-pitch trads and steep sport. Plus, there's bouldering here as well if you're inclined to try that. While climbing season is year-round in the park, keep in mind that some of the best routes are in full sun, and summer temperatures can make them close to unbearable.
What do you wear and pack to Valley of Fire State Park?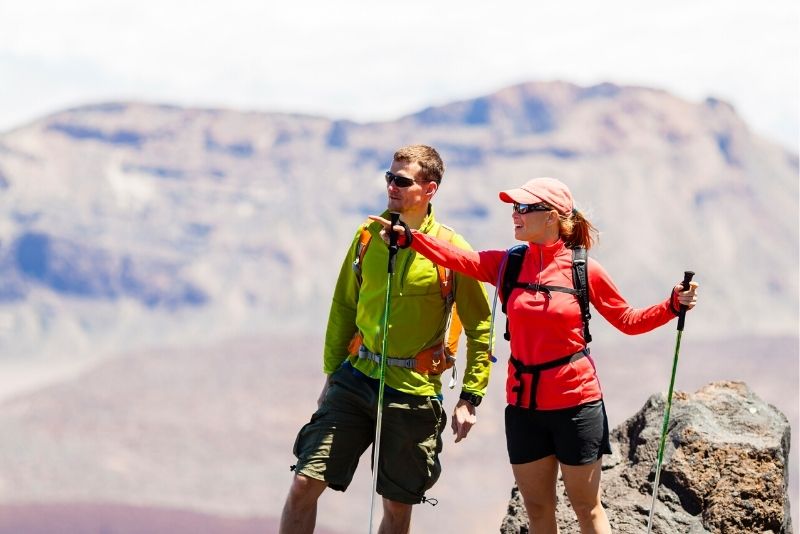 Whether you're heading to Valley of Fire State Park for a day trip or an overnight adventure, packing the right equipment can make a world of difference. This is especially important during spring and fall – the two busiest seasons – as the weather can start warm and dry in the morning but quickly turn cooler and wetter in the afternoon or evening.
Dressing in layers (or at least bringing some layers with you) is always a must, and if there's rain in the forecast, a light waterproof jacket will keep you comfortable.
In summer and most of the spring, a T-shirt and shorts are likely enough, but if you're camping at the park you should still bring something long-sleeved – it sometimes gets colder as the sun goes down. Expect winters to be cold in the early morning and evenings, but during the day you might be fine, especially if you're active.
Since you likely will be hiking at the park, a comfortable pair of shoes is another must. You should pack sunscreen, a hat, and sunglasses no matter the season. Temperatures have been known to reach into the 30s in winter, so better overprepared than to be caught in the heat without protection.
Don't forget to pick up a map at the visitor center – or, if you're arriving before they open, download one from their website in advance so you can find your way around easily. And while you can grab some snacks or water while you're there, there are no other places to shop within (or near) the park, so pack some in advance.
Above all, bring tons of water. Dehydration and heatstroke are serious issues when hiking in the desert, and drinking lots of water is the best way to stay safe.
Are pets allowed in Valley of Fire?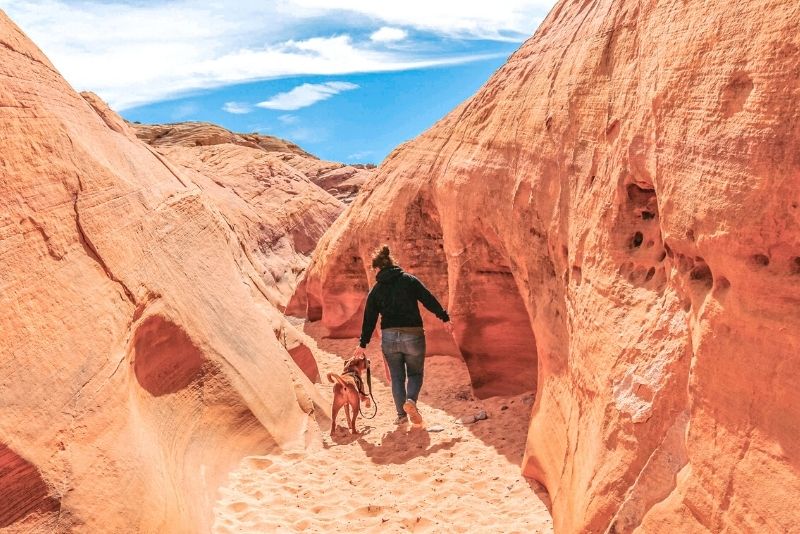 Although most Nevada parks welcome dogs, many restrict them to certain trails or areas of the park. As a result, hiking with your dog often means missing out on some of the most popular attractions within a park.
This isn't the case at Valley of Fire, where leashed dogs are welcome on all trails at the park. The only place where dogs aren't allowed is inside the Visitor Center. Dogs must be kept on a leash no longer than 1.8 meters at all times.
Hiking the park in summer isn't a good idea if you're bringing your furry companion along. With temperatures reaching into the 40s and little shade during June and July, this can quickly turn into a dangerous situation for your dog. Plus, trails with a sand floor (including the popular Petroglyph Canyon) can get extremely hot in summer and could cause burns on your dog's paws.
Two great dog-friendly trails to try are the 3 km long Scenic Loop Road, which offers a dirt floor (more paw-friendly than sand) and is short and easy, and the 11km long Charlie's Spring Loop, which offers running springs all along the way – perfect for dogs who will be happy to jump in the water again and again.
Is Valley of Fire safe?
Valley of Fire is a patrolled park, meaning rangers drive around regularly when the park is open. Just exercise normal caution and make sure you don't leave valuables in your car when you park.
A few different varieties of venomous rattlesnakes call Nevada home – and that includes Valley of Fire State Park. Snakes are hard to see in the desert, as they blend well with their surroundings. Some will warn you if you get too close when you're hiking – listen for their rattling tails – but others will simply attack if you surprise them, so the best thing you can do is stay away from them.
Rattlesnakes are more active when temperatures are over 20 degrees Celsius, so hiking in the winter or on cold mornings will always be safer. During the summers or very hot days, they also tend to shy away from the sun, finding refuge in crevices in the rocks. Be careful when climbing and stay on trails and away from cliffs when possible.
The biggest danger you'll encounter at the park is heat. The combination of heat and dehydration can be deadly, so make sure you bring lots of water with you. Also, pay attention to signs around the park to see if there's a heat warning in place.
Can you camp overnight in Valley of Fire? Are reservations required?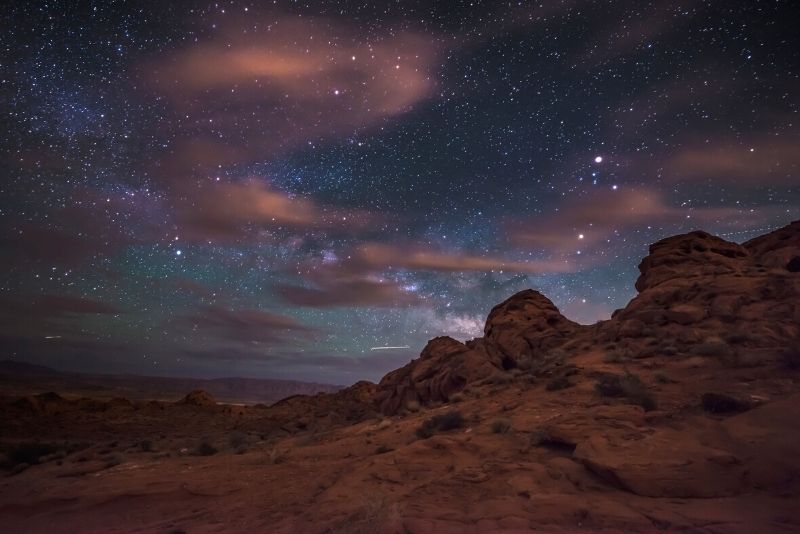 Those wanting to stay at the park overnight must stay in one of the two designated sites: Atlatl Rock and Arch Rock campgrounds. There's no backcountry or wild camping allowed within the park. Although the park closes at sunset, the campgrounds offer 24-hour access.
Both campgrounds are available on a first-come, first-serve basis, and they tend to fill up quickly during spring and fall, especially since there's a total of only 72 campsites available. Each campsite has its own picnic table, grill or fire rings, and water spigots to access drinking water.
Arch Rock Campground
With just 29 sites, Arch Rock is the smallest of the two campgrounds. Depending on the weather and the number of visitors, it might close during winter or summer. It's also the more primitive of the campgrounds, as it offers no showers and only has vault toilets available. On the positive side, because of the way the camping spots wind around the red sandstone, it offers lots of privacy.
Atlatl Rock Campground
As the main campground, Atlatl Rock Campground offers flush toilets and hot showers, as well as a couple of handicap-accessible sites. Although this campground remains open all year, keep in mind that camping in winter or summer can be tricky at Valley of Fire. In winter, it's not rare for temperatures to drop below freezing during the night, and in summer, it can get as hot as 48 degrees Celsius, making it unsafe and uncomfortable to camp.
While the campgrounds don't accept reservations, things are different if you're traveling with a larger group. Group-use campsites do require reservations (as there are only three available). There's a $25 a night reservation fee for these sites, plus a $25 a night fee per vehicle.
Spring and fall are the ideal seasons to camp in Valley of Fire State Park.
Can you visit other parks and attractions nearby?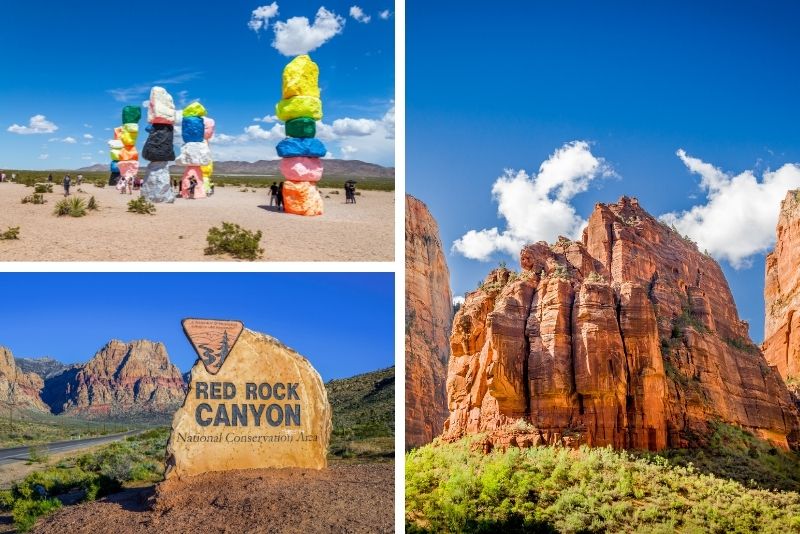 There's plenty to see and do out in the desert, so if Valley of Fire doesn't feel like enough, you can always drive to another park for some more adventure. You don't even have to go far – there are plenty of wonderful destinations within an hour or so.
Red Rock Canyon Park
Only one hour separate the two parks if you're driving. Even better, these parks complement each other perfectly. Red Rock Canyon Park offers longer trails, beautiful red-banded canyons, a 21-km scenic drive, and ancient petroglyphs. Red Rock Canyon is a popular hiking destination because of how close it is to Vegas, an incredible natural wonder with spectacular sightseeing.
Seven Magic Mountains
Created by Swiss artist Ugo Rondinone, this public art installation consists of boulders painted in different colors and stacked on top of each other to reach a height of 9 meters. Seven Magic Mountains is very close to Red Rock Canyon Park so if you're driving in that direction, it's a great idea to add this as a stop
Zion National Park
About 2 hours and 40 minutes separate Valley of Fire and Zion National Park, so if you want to visit both parks in one day, you would have to start up really early in the day. Zion National Park is actually across the border in Utah, but still close enough to include in your itinerary.
The park is renowned for its massive sandstone cliffs and the many opportunities for backpacking, canyoneering, and off-trail hikes that take you through rivers, and rust-colored canyons that seem to never end.
See also: Best things to do in Zion National Park
Grand Canyon
The Grand Canyon National Park is almost three hours away from Valley of Fire and is massive, so combining them into a single-day trip is not really possible. But you could easily do Valley of Fire for one day, then drive to Grand Canyon to camp there and spend a day or two exploring. The Grand Canyon park is over 1.2 million acres of stunning red beauty, filled with canyons, overlooks, scenic drives, and wild rafting rides down powerful rivers and deep into canyons and crevices.
Grand Canyon National Park offers all kinds of hikes, from short trails to overnight backcountry adventures. Plus, this is a favorite destination for photographers because of its vast landscapes where the sun creates playful shades of reds and oranges.
See also: Best things to do at the Grand Canyon
Hoover Dam
Located about an hour and 20 minutes from Valley of Fire State Park (but only 50 minutes from Red Rock Canyon Park), Hoover Dam is another fun stop if you're out exploring. You can tour the dam (including the passageways within the dam) and learn about its history, then walk on the world's tallest concrete arch bridge for a closer look at the power of the dam.
Lake Mead
Just 45 minutes away from Valley of Fire State Park, Lake Mead was formed by the Hoover Dam and is now the largest reservoir of fresh water in the country. It's also a stunningly beautiful lake that allows boating, swimming, and water skiing. Islands and beaches dot the lake and its surroundings and you can just stop by to admire their beauty – or you can take a paddle wheeler cruise that takes you all the way to the Hoover Dam.
Which is better: Red Rock Canyon or Valley of Fire?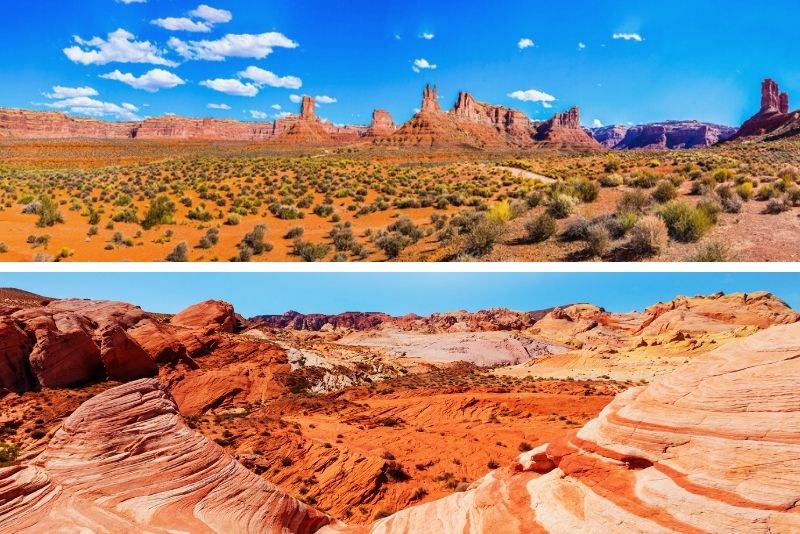 Both Red Rock Canyon and Valley of Fire State Park are very close to Las Vegas and make for perfect day trips. Still, each offers something unique so you might be wondering which one is the best choice if you can only make it to one of them.
If you only have half a day to explore, Red Rock Canyon is the best option, as it's less than half an hour outside the city and it's much smaller. Valley of Fire is about an hour away from Las Vegas and you'll need more time to truly explore it, so you should at least plan on a full day there.
Red Rock Canyon
Because of its proximity to the city, Red Rock Canyon State Park is often busier. If you're hoping for solitude as you hike the beautiful trails, this isn't the place. That said, the trails are longer and more advanced here – harder to complete if you're visiting with kids or dogs but more fun if you're up for a longer day out.
For drivers, Red Rock Canyon State Park offers only one 21 km scenic loop through the park. You can always park and explore on foot to access viewpoints and scenic trails, but your car options are limited in this park.
See also: 10 Best Red Rock Canyon Tours from Las Vegas
Valley of Fire
Valley of Fire's scenery is more colorful and the landscape offers a lot more options for photography. You'll find petroglyphs, canyons, and lots of wildlife here. Plus the sun bouncing on the rocks is a spectacle of reds, oranges, and yellows you won't want to miss.
Because Valley of Fire is not as close to Las Vegas, fewer people make it here and the trails tend to be less crowded. You can expect shorter and easier hikes here, but don't let that discourage you – there is plenty to explore and the views won't disappoint.
Valley of Fire is also close to Hoover Dam, a great addition to a full day out of the city.
Travel tips
If you only have a couple of hours to take a look at Valley of Fire State Park, stay in your car. Drive through towards White Dome and stop at the main scenic spots for some great photos. The drive itself only requires about 15 minutes, but count on 1-2 hours to make sure you can stop along the way.
If you don't want to camp and prefer staying at a hotel, the nearby small town of Mesquite has plenty of nice options, including hotels, resorts, and condos for rent.
Temperatures between May and September can reach 42 degrees Celsius in the shade, so be prepared. On very hot days, the park will put up warnings to stay off the trails. Have a plan in mind if it's too hot to hike so you don't waste your day (like arriving at dawn, before the temperatures start to rise). If the weather forecast is predicting very high temperatures, call the visitor center before driving there – the park closes certain trails, including Seven Wonders and Fire Wave, when the heat is extreme.
The loop road that goes around the campgrounds has some of the most beautiful single arches and rocks you'll find in the park. You can either drive or hike this route.
The speed limit on the main roads within the park is 56 kph. This goes down to 40 kph on side roads and 8 kph around campgrounds. Respecting the speed limit will save you money (rangers do patrol the park and will fine speeding cars) but also protect wildlife crossing roads.
The park asks that visitors respect the "Leave No Trace" principle as they hike the park. Don't move rocks around, don't take anything as a souvenir, don't dig or build anything (even if it's just stacking rocks). Even the tiniest changes can end up having a big impact if many people do the same. Respect nature by not interfering with it.
The park organizes an annual atlatl competition using replicas of ancient spears. In addition to being the name of one of the park's most famous rocks (and one of their campgrounds), atlatl is also the name of a spear thrower. Call the visitor center to find out when the competition is running if you're interested.
Cell service is limited in some areas of the park, so don't rely on internet access to be able to use hiking maps. Either print or download maps before arriving at the park.
Spring is a great time to visit Valley of Fire. In addition to nicer weather, you'll also get to see the desert in bloom. In addition to common desert plants like burro and creosote brush, Valley of Fire State Park is also filled with desert marigold, coral-colored desert mallow, and other beautiful wildflowers during spring.
Final Thoughts
Valley of Fire's landscape is epic and filled with tons of viewpoints, unique colors and stunning sandstone rock formations that turn fiery red as the sun bounces on them throughout the day. As Nevada's oldest state park, it also has plenty of history to offer as you hike through canyons and over hills.
So if you need a break from all the lights and sounds of Las Vegas, why not go ahead and travel into the desert for a very different kind of magic?
Have you already been to Valley of Fire State Park? Let us know in the comments what was your favorite attraction!