If there's one bucket list-worthy activity not to miss during your stay in Oahu, it's a snorkeling tour. This small tropical island in Hawaii will open your heart to the astonishing beauty of the underworld.
Snorkeling tours in Oahu will show you multicolored fish, canyon sea turtles and spinner dolphins, waiting to be discovered within its warm and crystalline waters.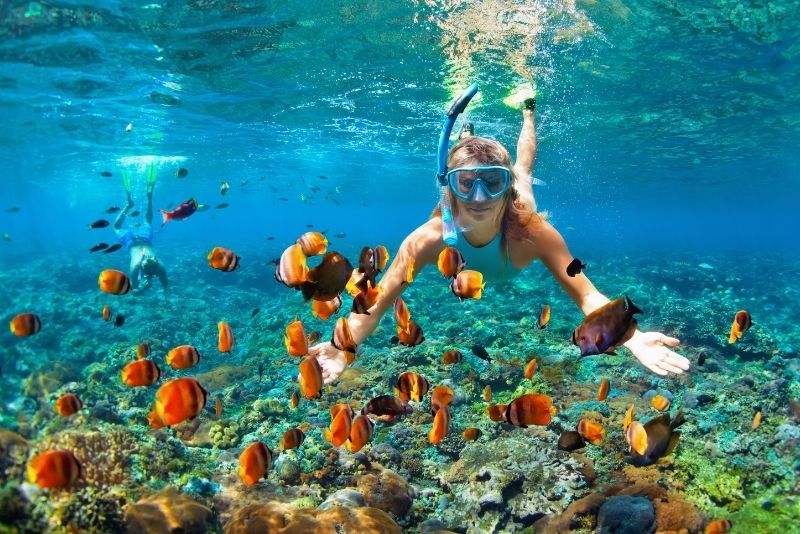 Here's all you need to know about snorkeling, one of the most fun outdoor activities in Oahu.
What are the best snorkeling tours in Oahu?
Turtle Canyon and snorkeling cruise in Oahu
Hop onboard a comfortable 15-meter yacht and spend your 2-hour tour swimming and snorkeling in the jewel-colored water.
Swim and spot turtles and a kaleidoscope of colorful fish at Turtle Canyon. Afterward, jump back onboard and recharge your energies with snacks and refreshments.
Eco-friendly West Oahu snorkeling sail with dolphins
Cruise in an eco-friendly boat and experience a dolphin watching where preservation sightings at its heart and is equipped with the finest amenities. You'll enjoy access to two restrooms and a fresh-water shower, as well as tables and seating areas for ample opportunity to relax on deck.
Sip on a range of drinks aboard as you follow marine life experts in spotting playful spinner dolphins.
Snorkel with sharks with One Ocean Diving from Oahu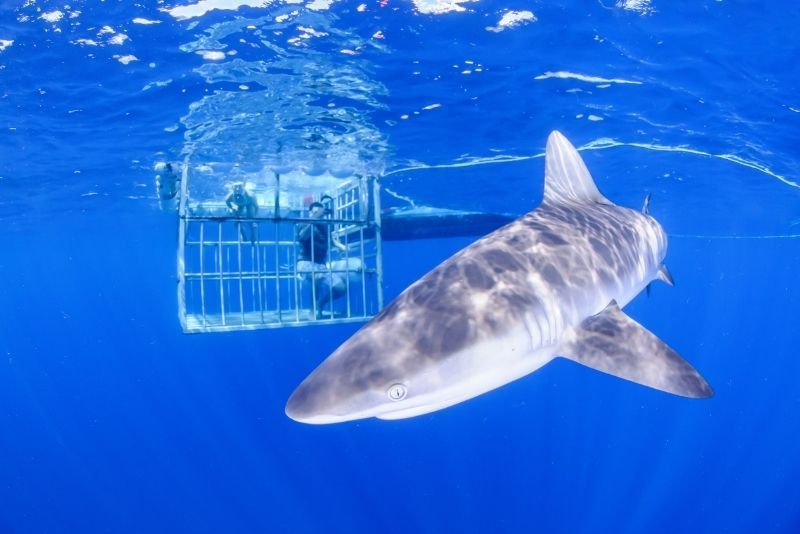 On this 2-hour tour, marine researchers who are specially trained in snorkeling with sharks safely — without a cage — will lead you every step of the way. They will teach you how to respond in the event that a shark approaches, while you learn fascinating information about marine life conservation.
Waianae snorkel cruise with dolphin and seasonal whale watching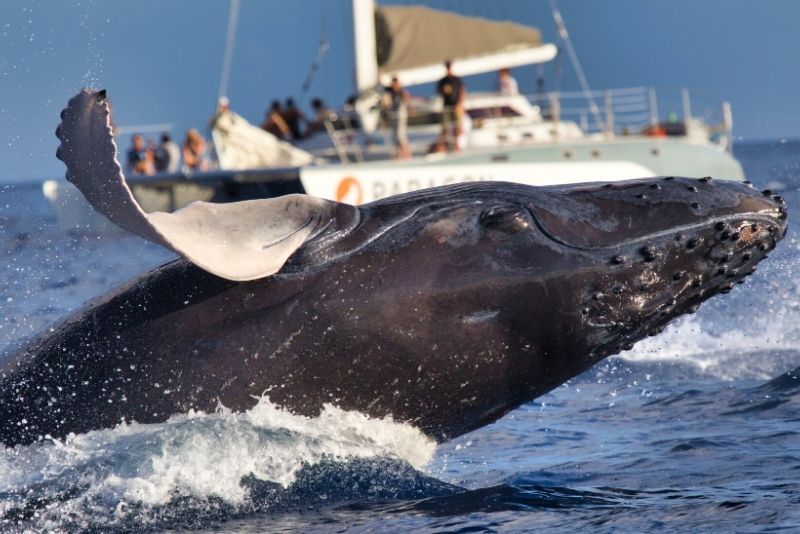 Cruise along west Oahu's pristine shoreline to see the spinner dolphins, humpback whales watching (seasonally), and other marine creatures that frequent the Waianae Coast.
You'll cruise in a 10-meter USCG vessel led by a lifeguard-certified crew who are experts in spotting Hawaii's underwater life.
The marine biologists and naturalists accompanying you will ensure that you witness the best marine life Hawaii has to offer. You'll also have the chance to swim and snorkel among tropical fish and turtles.
Private catamaran cruise with snorkeling
On a private fast boat, you will cruise off Oahu for 2 hours, admiring the coastline, spotting marine life and snorkeling at any spot you choose. This private tour is exclusive to your party and comes with snorkeling equipment.
How much does it cost?
Snorkeling tours in Oahu vary in price depending on what you plan on seeing during your tour, as well as the time of day and duration of your excursion.
A Turtle Canyon and snorkeling cruise costs around US$100 per person. The price includes a professional guide, taxes and fees, food and drinks, and the use of snorkeling gear.
A Waianae Coast snorkel cruise with dolphin and seasonal whale watching from Oahu costs around US$200 per person. The price includes all snorkeling equipment, wild dolphin watching and seasonal humpback whale viewing.
An eco-friendly West Oahu snorkeling sail with dolphins costs around US$160 per person, for a 3-hour round-trip sailing cruise. The price includes breakfast and lunch, unlimited drinks, as well as onboard crew members and a captain.
Snorkeling with sharks with One Ocean Diving tour from Oahu costs around US$160 per person, and all use of snorkeling gear is supplied.
Private catamaran cruise with snorkeling costs around US$750 per boat of up to six people.
What is included in a snorkeling tour in Oahu?
Boat ride
Snorkeling gear and life vests
Snacks and refreshments
Taxes and fees
Some specialized tours also offer unlimited soft drinks and two free bar drinks aboard your boat.
Where does it start?
Snorkeling tours departing from Waikiki typically begin at the Kewalo Basin Boat Harbor. North shore snorkeling tours often set off from Haleiwa, approximately an hour's drive from Waikiki.
How long does it last?
A snorkeling tour in Oahu lasts about 2 hours to 8 hours, depending on the number of stopovers to swim and snorkel..
When is the best time for a snorkeling tour in Oahu?
The best time for snorkeling in Oahu is from May to September when you'll find the most pleasant temperatures. However, if you wish to view Hawaii's famed humpback whales during your visit, then plan your excursion in January or February which are prime times for wild whale spotting.
Is there any combo available?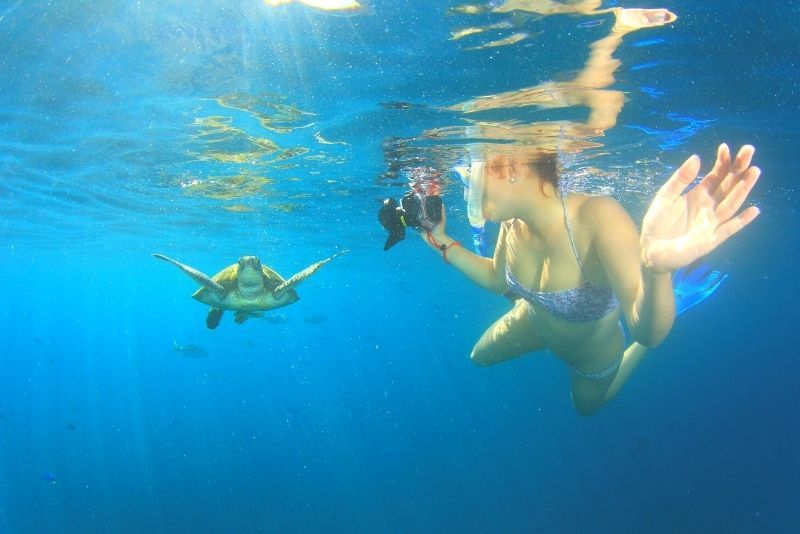 In addition to snorkeling, a whole roster of other outdoor activities can be enjoyed in Oahu. Here are the most sought-after:
A sailing adventure with lunch: On this 3-hour boat tour, you'll ride the Gold Coast Catamaran on the Waikiki ocean, as you swim, sail, and snorkel to your heart's content. You'll then polish off your experience with a spot of lunch washed down with unlimited soft drinks.
North Shore Circle Island adventure: Embark on your trip from a comfortable minivan and enjoy the intimacy of a small-group setting. Marvel at the North Shore island's top attractions and discover its secret spots on this comprehensive tour of Oahu.
Dolphin watching with hula and water activities: Gape at dolphins in their natural habitat on this popular tour that combines a hula performance with snorkeling. The tour also provides a complimentary bento lunch.
Wreck and reef diving tour: Discover ancient relics and jaw-dropping reef sites on this exciting diving trip. You'll have the choice to either snorkel or scuba dive, or just enjoy the boat ride if you simply want to accompany a member of your party.
Is it safe?
During your snorkeling tour in Oahu, you will be in the hands of certified instructors and guides who will guide you during every step of your excursion.
However, snorkeling tours are generally not advisable for people with mobility issues or heart problems, or pregnant women.
Are children allowed?
Children of all ages are typically allowed on a snorkeling tour in Oahu. However, for diving or snorkeling in deeper waters, the minimum age requirement is usually above 13.
What happens in case of bad weather?
Snorkeling tours in Hawaii require good weather. In the event that there is bad weather and your tour is canceled, most tour operators will offer you a different booking date or a full refund.
Travel tips
Bring your swimwear!
Pack towels and extra clothes.
Wear ocean-friendly sunscreen.