Scuba diving is one of the most popular activities in Oahu, and for good reason. The clear blue ocean surrounding the isle offers brilliant visibility, making it perfect for exploring the underwater world. There is also an abundance of marine life to see, including tropical fish, coral reefs and sharks.
Scuba diving tours in Oahu are a great way to experience all that Hawaii has to offer. Beginners and experts alike can witness unparalleled views, learn about the local ecosystem, and support the conservation of Oahu's marine life.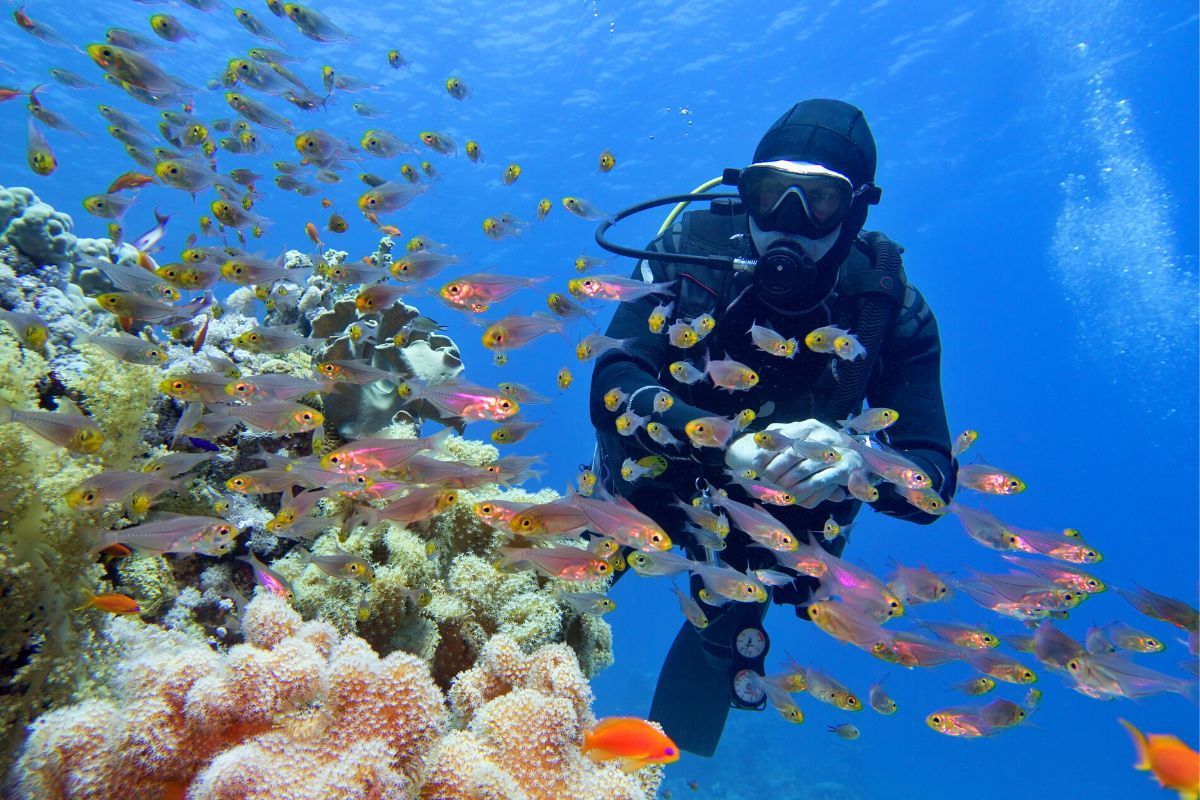 Scuba diving is guaranteed to be one of the most fascinating outdoor activities in Oahu. Find all the information you need before embarking on this unforgettable experience below.
What are the best scuba diving tours in Oahu?
Shark cage dive in Oahu
A shark cave dive is a thrilling experience that enables you to get close to some of nature's most misunderstood creatures. You'll board a boat and travel past the bountiful palms, and glistening sands of Hawaii to an area known for its abundance of sharks.
You'll have the opportunity to admire the spectacular beasts from the deck of your ship, before deciding whether to plunge into the cage to get closer. Inside the cage, you'll be safely within inches of several sharks, who are naturally curious. You may also see other magnificent sea creatures, such as dolphins, humpback whales and Hawaiian green sea turtles.
Pelagic shark dive tour in Oahu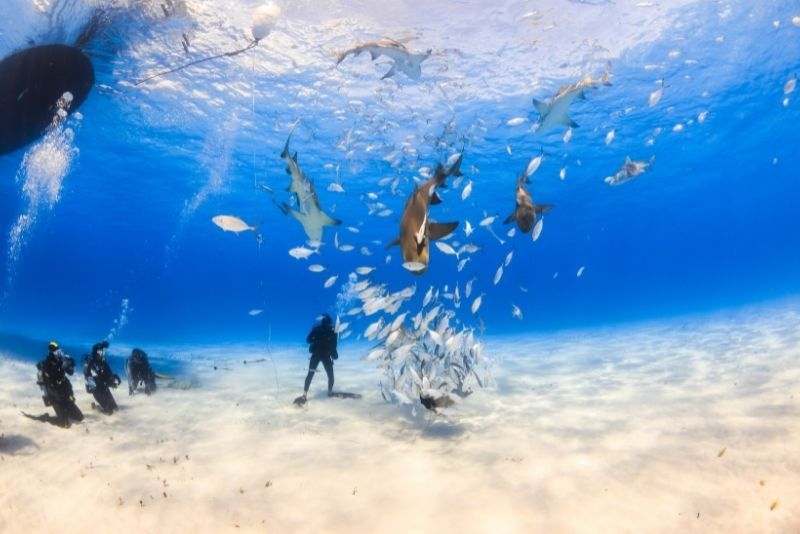 In the hands of a team of professionals, you'll swim with several different species of shark off the north shore of Oahu. You'll learn how to respect the beings in their natural habitat, as well as how you can stay safe while interacting with the "dangerous" creatures.
The shark species you may see as you glide through the waters include whitetip reef sharks, sandbar sharks and Galapagos sharks. You also may see commonly misunderstood tiger sharks and hammerhead sharks, which are often preconceived as vicious.
Oahu beginner scuba diving adventure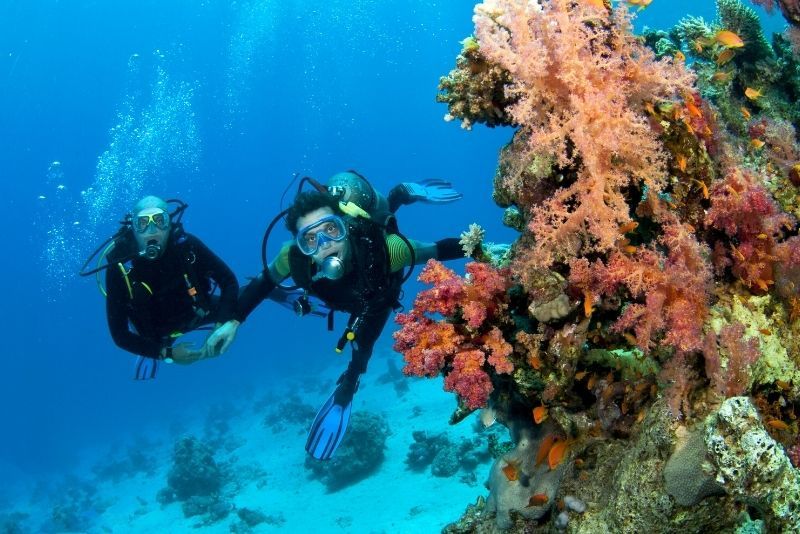 If you're a novice, you can still enjoy a scuba diving tour in Oahu. Aimed at beginners, the tour starts with a lesson where you can perfect your diving skills. From there, you'll head out to the deep blue seas, in search of an abundance of marine life.
With your scuba mask on, you'll swim through the waters of Magic Island with an experienced professional. As you drift through the underwater paradise, you'll have the opportunity to see octopuses, sea stars and Hawaiian green sea turtles.
Wreck and reef scuba dive tour in Oahu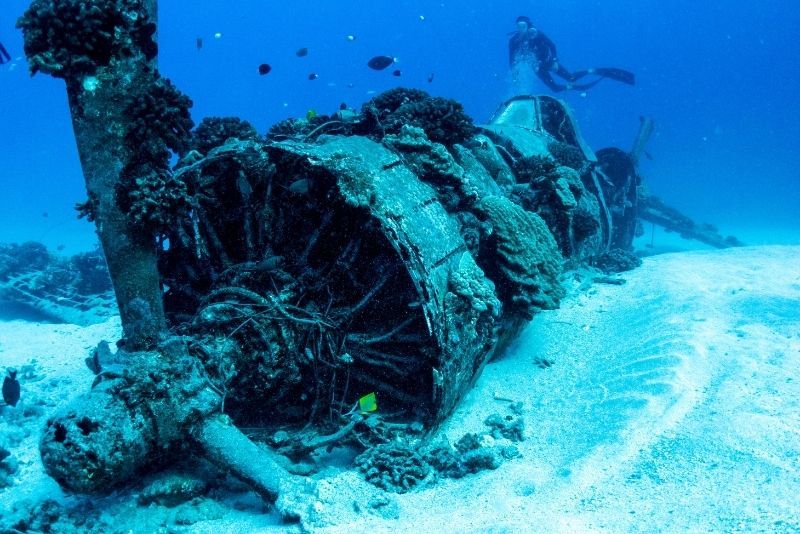 Certified divers can add an extra slice of thrill factor by discovering shipwrecks, where sea creatures love to hang out. You can choose between two wrecks, each of which lies at depths of up to 90 meters.
Regardless of which fascinating wreck you choose to explore, you'll see a copious amount of marine life, including whitetip reef sharks. Other beings you'll find in the wreck include graceful eagle rays and giant sea turtles.
You'll relax before your second dive of the day at one of Oahu's most celebrated reefs. Here, you'll find a variety of sharks, turtles, rays and octopuses, among smaller creatures such as starfish, and crabs.
Oahu night diving tour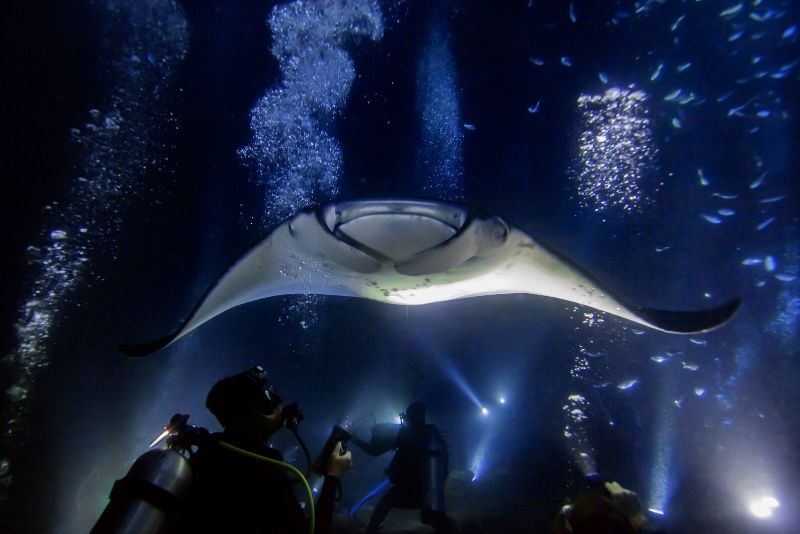 For those wanting a different perspective of life under the waves, a nighttime scuba diving tour in Oahu is just the ticket. Heading out on the water in the late afternoon, you'll enjoy exploring the depths of the waters at dusk when sea creatures are at their most active.
As the sun turns the water to sparkling shades of orange and pink, you'll enjoy a moment of peace before heading back under the surface. Here, you'll witness the rarely-seen events that take place after the sun sets, from sleeping sharks to turtle cleaning stations.
These cleaning stations are areas that groups of turtles travel to in order to eat algae from the shells of smaller fish. As the turtles fill their stomachs, the fish get rid of the algae weighing them down, in one of nature's greatest dances.
How much do scuba diving tours in Oahu cost?
The prices for Oahu scuba diving excursions vary depending on what type of dive you'll be participating in, and whether you're certified or not.
You'll pay between US$70 and US$140 per person for a shark diving experience. Those on the lower end of this range give you a taste of what cage diving entails. You'll find that you'll have more time in the cage if you're able to spend more on your tour.
You can expect a beginner's diving experience to cost between US$90 and US$110 per person.
A pelagic shark diving tour costs approximately US$160 per person, while a nighttime diving adventure will cost you US$200 per person.
Lastly, wreck and reef scuba tours are suitable for certified divers only, and cost around US$210 per person.
What is included in a scuba diving tour in Oahu?
Scuba diving tours in Oahu include all necessary equipment, as well as a professional guide on hand at all times.
Some excursions also include photos or videos from your dive to look back on with friends and family.
You may be provided with light refreshments throughout your tour, depending on its duration.
Where do scuba diving tours in Oahu start?
Scuba diving tours in Oahu begin in a variety of destinations across the island, close to the water's edge. You may meet at the tour operator's office or alternatively, you might meet your guide at a marina.
Regardless of where your meeting point is, you can view the location before booking. This will provide you with ample time to arrange transportation to and from the location of your tour.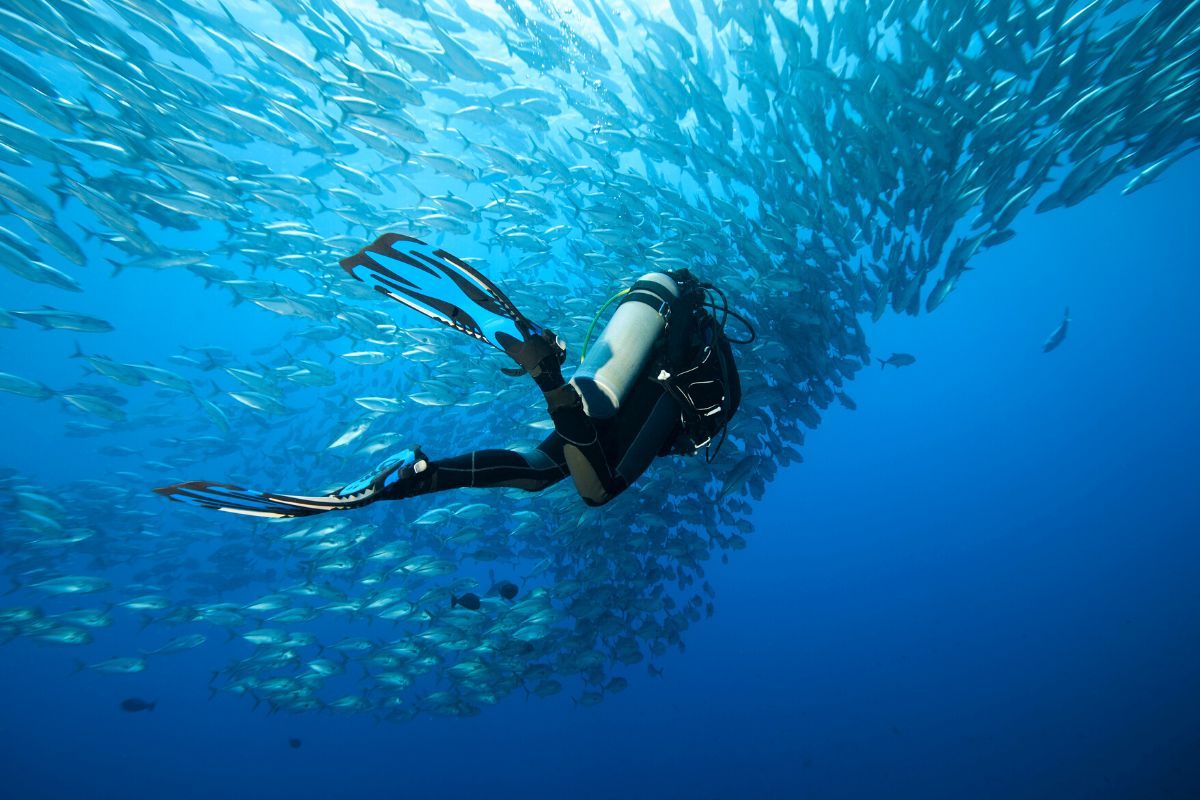 How long do scuba diving tours in Oahu last?
Usually, excursions last between 2 and 3 hours, which gives you plenty of time to explore the abundant seas. However, if you're short on time, you can choose to take an introductory tour that lasts an hour.
Make sure to arrive for your Oahu scuba diving trip approximately 30 minutes before the designated start time.
When is the best time for a scuba diving tour in Oahu?
Between May and September is the best time for scuba diving in Oahu, when diving conditions are the best and you'll have the opportunity to see the most sea creatures.
However, you can enjoy scuba diving tours in Oahu year-round, as the water temperatures range between a balmy 24 and 27 degrees Celsius across all months.
If you wish to have a unique diving experience, slip under the waves just after sunset, and see what adventures marine animals get up to after dark.
Is it safe to take a scuba diving tour in Oahu?
Scuba diving in Oahu is a safe and exhilarating activity. You'll have a professional guide to lead the way, and you'll participate in a safety briefing before dipping into the sea. However, those with serious medical conditions or heart problems are advised against joining a scuba diving tour.
Are children allowed on a scuba diving tour in Oahu?
Each individual scuba diving tour in Oahu differs in its age restrictions. Some tours allow children aged 5 to participate, while others prohibit those under age 15 from joining in. Check the age limitations of your preferred tour before booking.
What happens in case of bad weather?
If your scuba diving tour in Oahu happens during a bad weather, your excursion will be rebooked for another day. If this doesn't suit you, the tour provider will issue you a full refund.
Which other water activities can be done in Oahu?
Travel tips
If you're taking a scuba diving tour in Oahu that is aimed at certified divers, you must show proof of your certification.
Take a towel with you on your excursion, as these are usually not provided.
Arrive early for your tour to allow time for your equipment to be fitted.
Choose a diving trip that includes photos or videos if possible. This will allow you to relive your exciting moment over and over again.