When it comes to outdoor activities in Las Vegas, you'll need a month in the city to just scratch the surface. Whether you fancy finding your thrills on the ground or in the sky, Las Vegas never fails to deliver.
The surrounding desert offers up adventures that really get the adrenaline flowing, with quad biking, jeep tours, and horse riding taking you into the heart of nature. Further afield there are canyons, rivers, and lakes to explore.
Helicopter Tours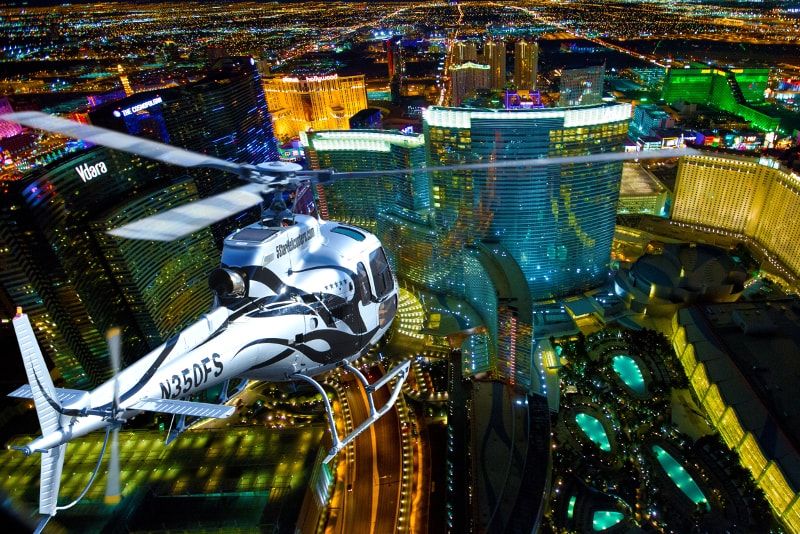 Helicopter tours in Las Vegas are the ultimate way to appreciate the bright city lights and wild landscapes surrounding this exotic desert hub. Soar over The Strip on an evening flight and see the city illuminated against the night sky.
For something even more epic, you can enjoy a Grand Canyon helicopter flight, passing over Lake Mead and the Hoover Dam on the way. Some tours land in the bottom of the canyon, where you can celebrate with Champagne and snacks beside the Colorado River. Sunset helicopter flights add a romantic touch, which are perfect for Las Vegas honeymoons!
ATV Tours & Quad Biking
If you feel the need for speed, then you can't go wrong with a Las Vegas ATV tour. Don't worry if it's your first time on an quad, you'll soon get the hang of it with instructions from your expert guide. These rugged adventures take you deep into the dramatic desert landscapes around Lake Mead, Hidden Valley, or the Grand Canyon.
If you want to explore an abandoned ghost town or tour the Techatticup gold mine, bounce along the trails to Eldorado Canyon and make like a modern-day cowboy on wheels.
Exotic Car Racing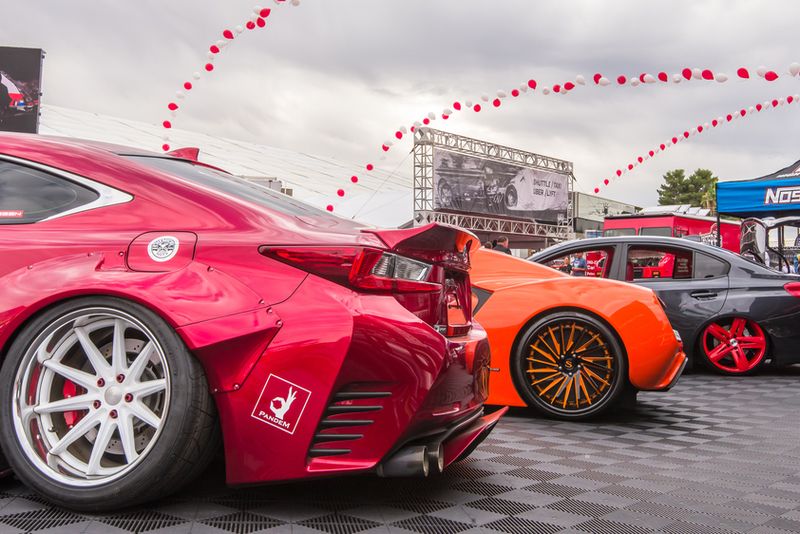 Get behind the wheel of a shiny supercar and show off your moves on the fastest track in town. Exotic car racing in Las Vegas hits all the high notes when it comes to getting the heart pumping, with plenty of chicanes to keep you on your toes.
Of all the Las Vegas adrenaline activities on offer, this is one of the best. After all, it comes with Porsches, Ferraris, and Lamborghinis! You'll have a few practice laps and a session in a 3D simulator to settle those nerves before it's time to go full throttle around the circuit.
Bike Tours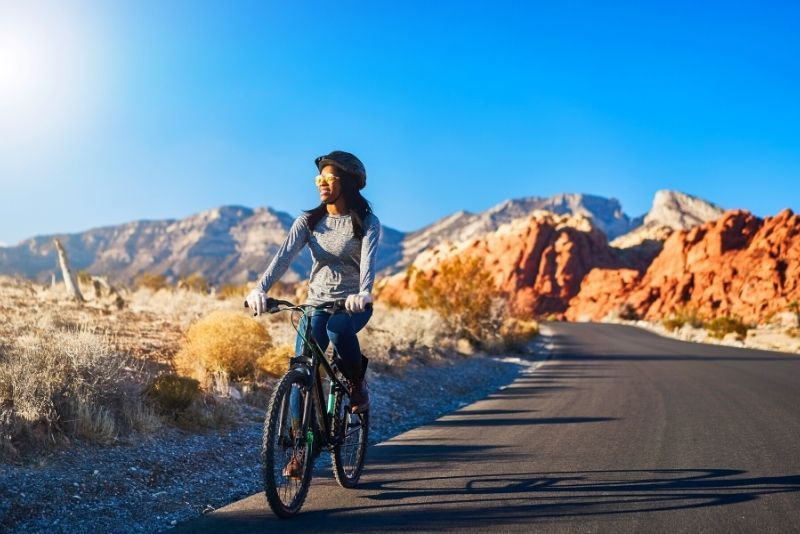 Las Vegas bike tours are a fun way to explore nature in some of the West's most stunning landscapes. You can go it alone or head out with a guide, who will take you along lesser-known trails through the desert around Lake Mead and Hidden Valley.
Mountain biking around Red Rock Canyon is one of the most popular outdoor activities in Las Vegas as you can travel much further than if you were on foot. However, if you'd rather not huff and puff all the way, opt for an electric bike which will do the hard work for you.
Kayaking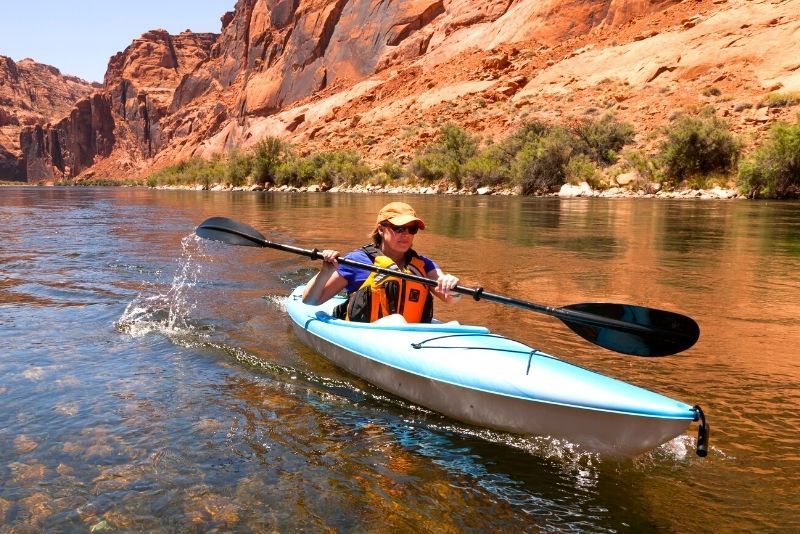 Slice your paddle through the calm river waters and float along scenic canyons on a self-propelled backcountry mission. Kayaking tours in Las Vegas give you access to some of the most remote territory in America, taking you to places few visitors ever venture.
Black Canyon is a favorite venue, with views of Hoover Dam and a secret cave where you can swim in bubbling hot springs. Lake Mead is another good bet, with islands and beaches for when you want a breather. Opt for an overnight Las Vegas kayak tour if you want to camp out beneath the stars.
Shooting Experiences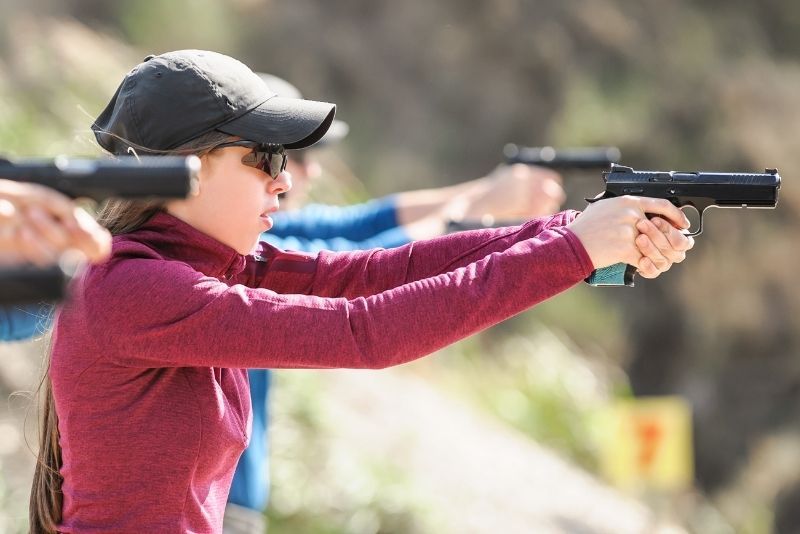 This one is for all the wannabe secret agents who think they can give James Bond a run for his money. Las Vegas shooting experiences will teach you how to hit your targets like a pro, whether you're at a military range or out tackling battle scenarios in the Mojave Desert.
Fire everything from handguns to assault rifles and see which weapon most suits your style of shooting. Once you've mastered your trigger finger, you can jump into the fray and re-enact historic skirmishes. You'll be a tried and tested gunslinger before the end of the day!
Buggy Tours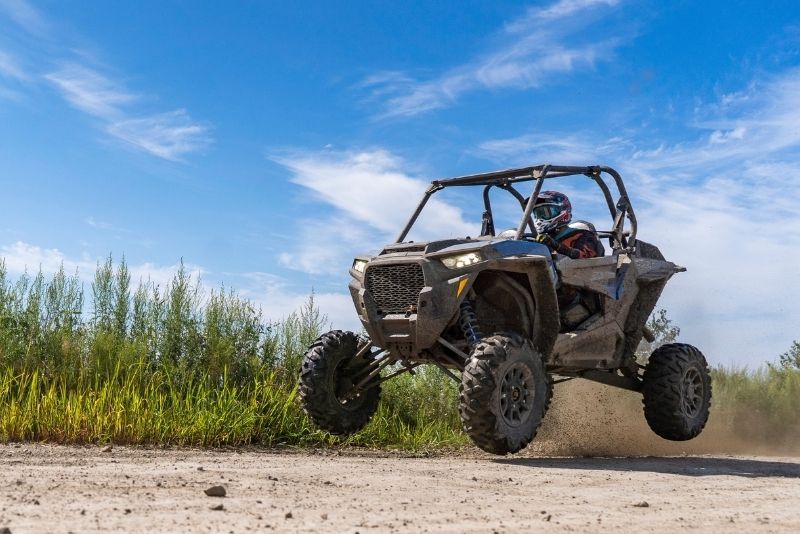 If you're looking for adrenaline activities in Las Vegas, a dune buggy tour is just the ticket. The outlying desert is the perfect place to get behind the wheel and hurtle along the wilderness trails. You'll ride off-road through canyons and across salt flats in search of adventure, so don't forget your camera.
Just out of town, the Nellis Dunes are made for Las Vegas buggy tours, with 15 miles of dirt track to pound. Other top spots are the colorful Valley of Fire and Hidden Valley, where you'll be sharing the trails with jackrabbits and maybe even a coyote.
Jump Passes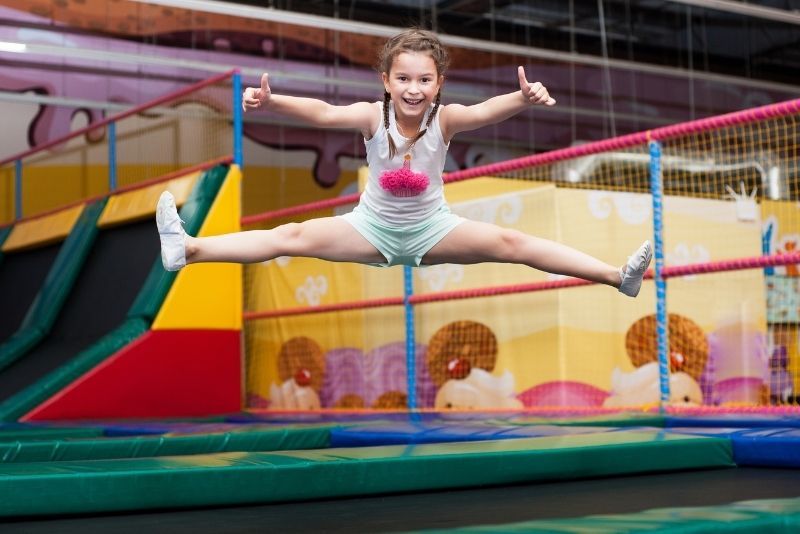 Take the excitement indoors and bounce around to your heart's content with some kid-friendly Las Vegas jump passes. These give you access to some of the best trampoline parks in town, where aspiring acrobats can channel their energy into perfecting some spectacular stunts.
Take on the ninja warrior assault course at Gravady Extreme Air Sports or see if you can scale the climbing wall at Uptown Jungle Fun Park. Remember, falling off is all part of the experience! There are parkour-inspired arenas too, and extreme dodgeball courts for letting off some serious steam.
Boat Tours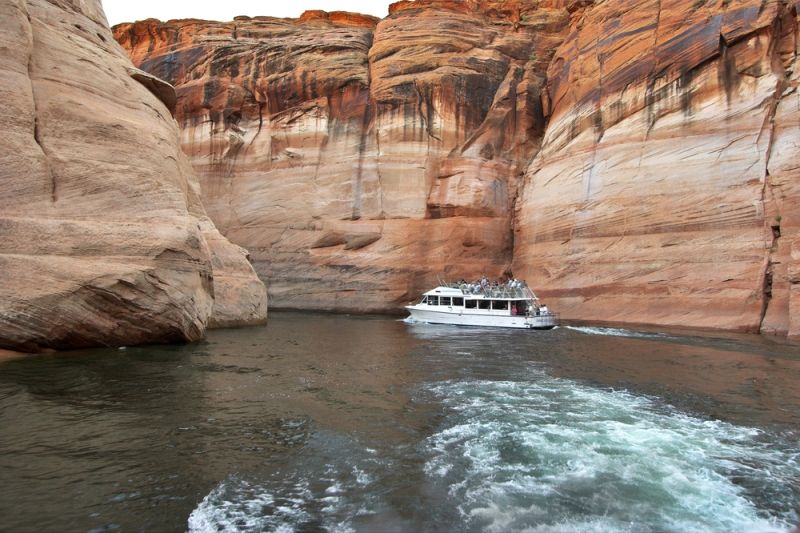 You don't have to go far for outdoor activities in Las Vegas. Boat tours are on offer right here in the heart of the city! If you haven't floated around the lagoon in a Venetian gondola, have you even really been to Vegas?
Boat tours in Las Vegas are a relaxing way to connect with nature and make a great contrast to city sightseeing. For romantic dinner cruises on an authentic paddle wheeler, head to Lake Mead and sail into the sunset in style. Or take a boat trip down the Grand Canyon for some serious bragging rights.
Horseback Riding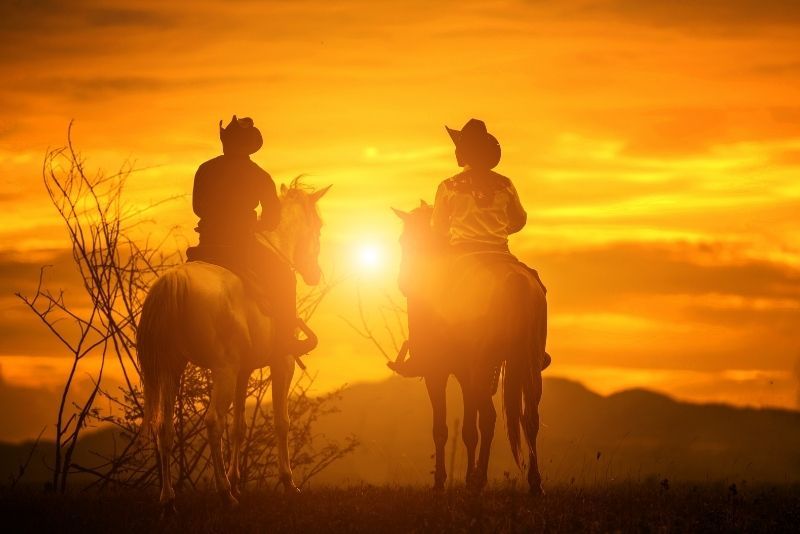 Las Vegas horse riding tours are a fun way for the whole family to embrace outdoor life and pretend to be ranchers for a day. You'll get to explore the Wild West on horseback, surrounded by endless desert plains.
After plodding along the trails in the hoofprints of outlaws and watching bighorn sheep grazing nearby, it's time for some cowboy-style grub! Food always tastes better outdoors, especially when it's served up around the campfire, and there's everything from barbecue to pancakes on offer. Go for the Red Rock Canyon or Grand Canyon rides for the ultimate Western movie backdrop!
Hiking in National Parks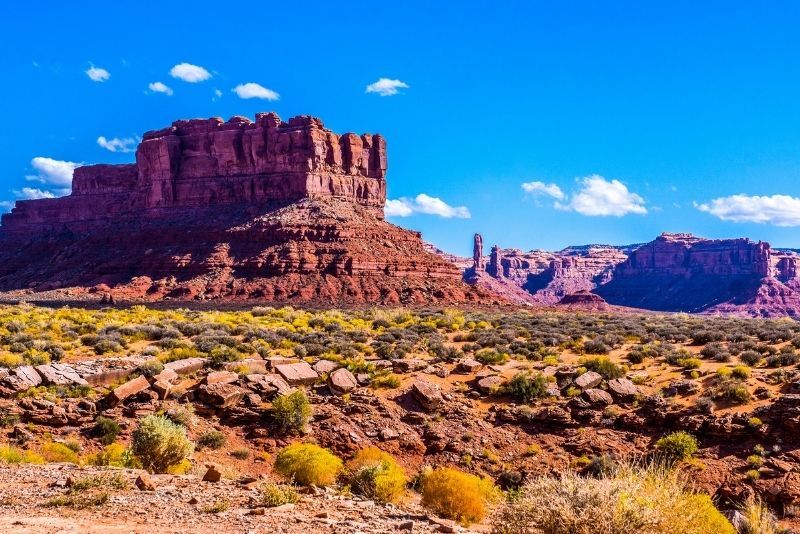 If you want to feel the earth beneath your feet and really be at one with the wilderness, then hiking tours from Las Vegas are always good fun. You could spend a year exploring the Nevada desert trails and never set foot in the same place twice!
Check out the mind-boggling formations in Red Rock Canyon or the Valley of Fire and see if you can spot the eagles and coyotes that call these beautiful destinations home. Your guide knows all the best viewpoints for photos and will lead you down secret paths to see ancient Native American petroglyphs too.
Jeep Tours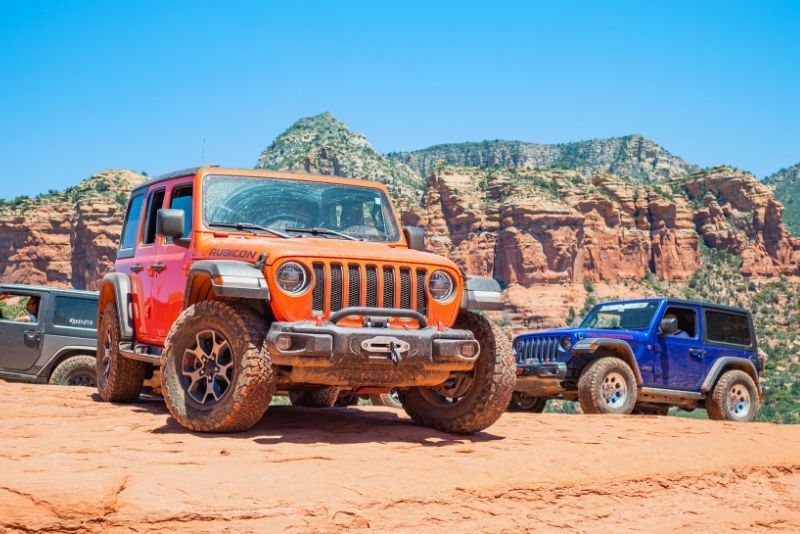 If you want to get out of town and explore as many places as possible, Las Vegas jeep tours are your best bet. Rugged canyons, sparkling lakes and abandoned ghost towns are all on the agenda as you visit places like Eldorado Canyon, Lake Mead National Recreation Area, and Red Rock Canyon. You'll jiggle along tracks that are well off the beaten tourist trail, as 4x4s can go places where other vehicles fear to trundle!
Shorter jeep tours in Las Vegas city can also be heaps of fun for those who want to cruise through the streets, sightseeing in style.
Airplane Tours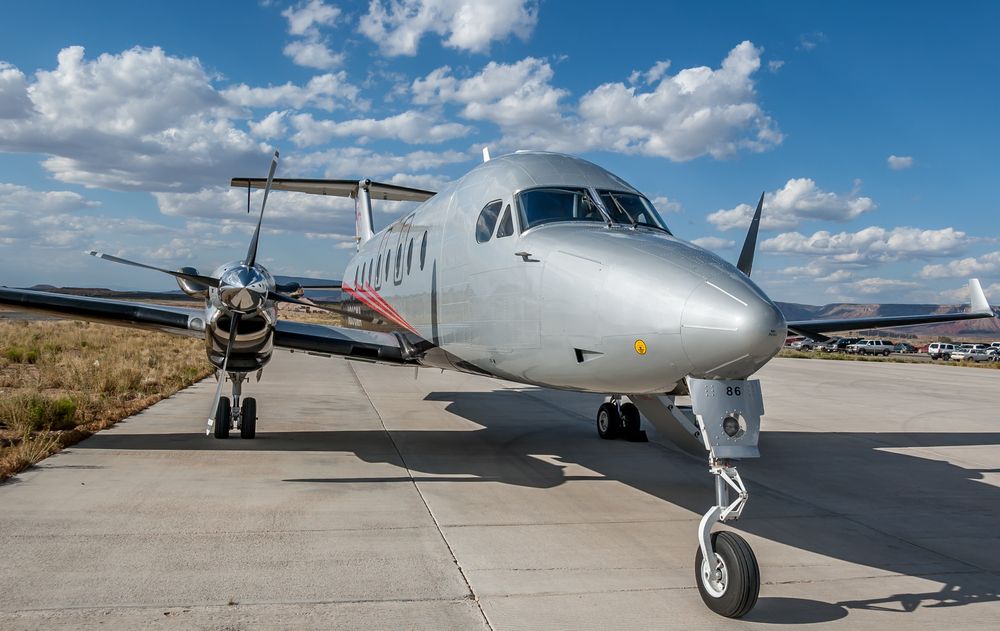 Check out the lay of the land from up above as you soar through the skies on a Las Vegas airplane tour. The city will seem so small and insignificant from this height! You'll spend up to an hour in the air, flying over the Grand Canyon to appreciate the vastness of the colorful plateau.
The airplanes have panoramic windows, so you'll come away with show-stopping photos. Up the action with an aerobatic flight experience, on a roller-coaster ride in the sky. Sightseeing flights are one of the most popular outdoor activities in Las Vegas, so booking ahead is essential.
Paintball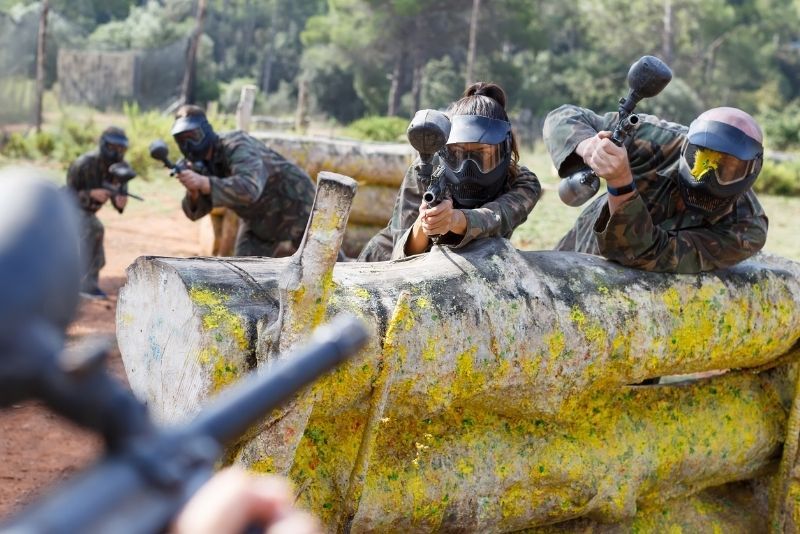 Ever wanted to splatter your friends with color bombs and experience close combat without the fear? Then try paintball in Las Vegas for a rainbow-hued adrenaline rush. You'll be kitted up with safety gear and paint guns, with a full briefing if it's your first visit to the range.
Then it's time to talk tactics with your teammates in the battle to outwit the enemy. Take cover behind barrels and walls before ambushing your foes as they come into your line of fire. Make sure you keep an eye behind; you never know who might be sneaking up on you!
Karting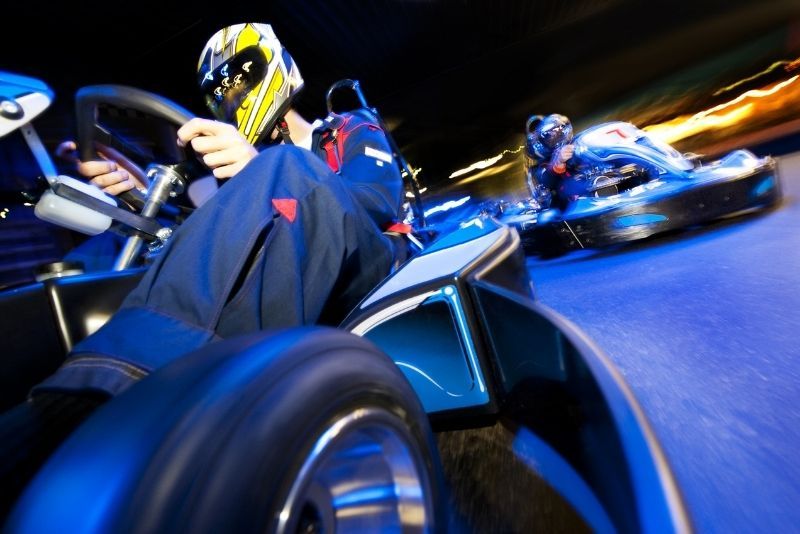 Las Vegas karting sessions are your ticket to ride, with specially built speedways just a short hop out of town. As you pull down your visor and grip the steering wheel in anticipation of the race, imagine that you're a pro driver about to blast your opponents out of the competition.
You'll receive instructions on how to handle the circuit, before zooming around the laps to try and achieve the top speed. Hang on tight as you fly around those bends! Go-karting in Las Vegas is fun for aspiring drivers of any age, so why not give it a try?
Hot Air Balloon Rides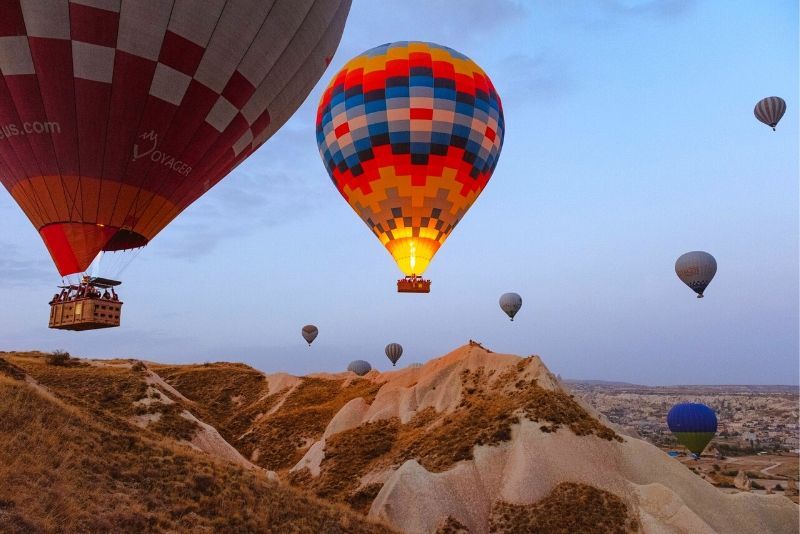 There's nothing quite as peaceful as gliding silently through the sky, watching the world sail past far down below. Hot air balloon rides in Las Vegas are the ultimate way to see the sights beyond the city, with most flights taking off from near Pahrump town, just 60 miles from The Strip.
Drink in those spectacular 360-degree views while drifting over the desert, and watch the sun poke its head over the horizon, bathing the plains in golds and oranges. Back down on the ground, you can celebrate with a glass of well-earned fizz.
Zip Lining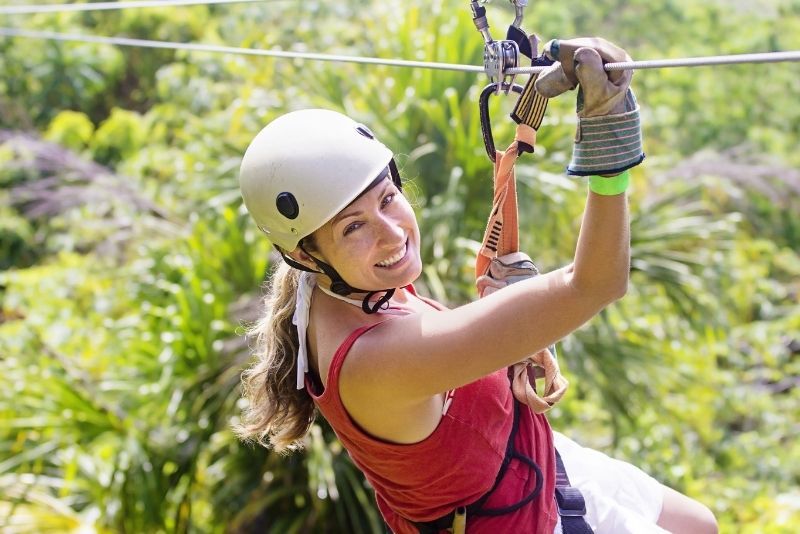 Feel the wind in your hair as you hurtle through the air while zip lining in Las Vegas. This is a chance to harness your inner superhero, soaring over the city as elegantly as any caped crusader. The LINQ zipline is the place to go, where you can race your friends just moments from The Strip.
Spend longer on the wire with a trip to Bootleg Canyon, where four descents will carry you 1.5 miles through the mountains. When it comes to outdoor activities in Las Vegas, this one will have you flying by the seat of your pants!
Skydiving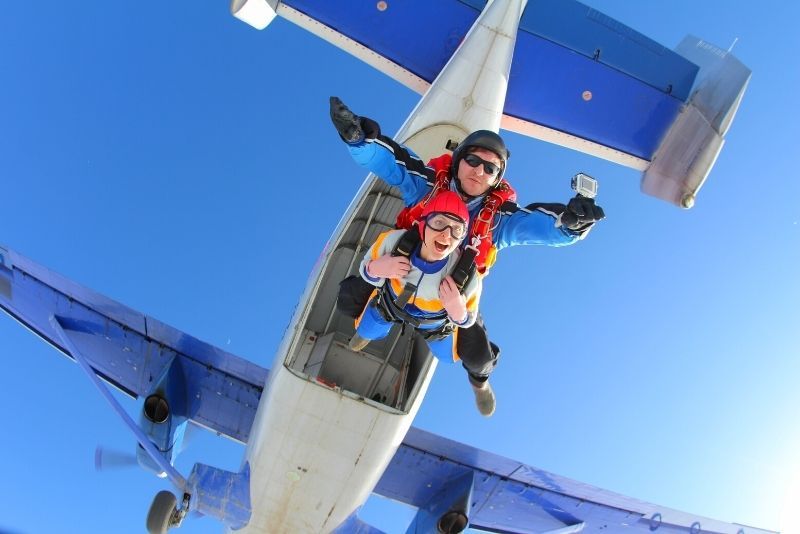 Daredevils searching for adrenaline activities in Las Vegas need look no further than a skydive over the Nevada Desert. This is the epitome of adventure, with a leap of faith to kick things off thousands of feet above the ground
Scream in delight as you plummet toward the earth before the parachute finally unfurls after a few moments of joyful terror. Then there's plenty of time to take in the scenery as you glide like a bird over the Grand Canyon or the Nevada Desert. Las Vegas skydiving really takes the meaning of adventure to new heights!
Stand up paddle boarding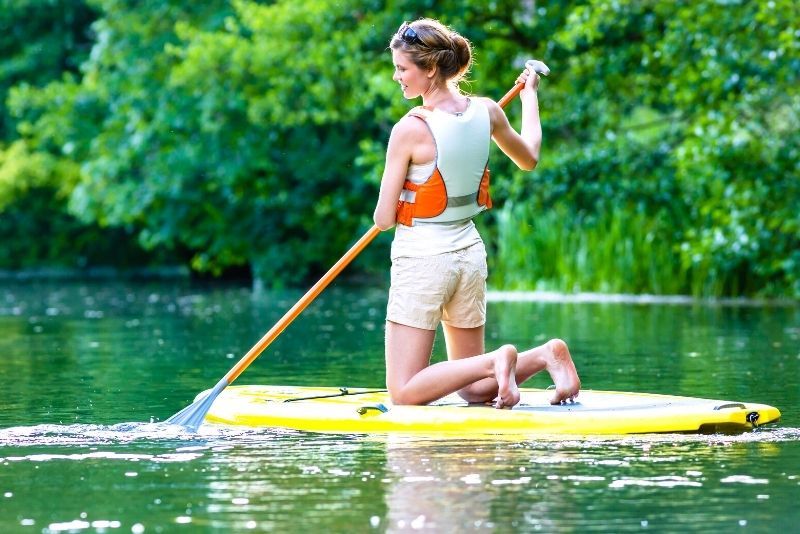 Stand up paddle boarding in Las Vegas is a relaxing way to explore the wilderness, with river and lake trips both on the cards. Don't worry if you're a beginner, you'll soon get your balance and will be off exploring in no time.
For epic scenery, float down Black Canyon where wildlife encounters and secret caves are the order of the day. Lake Mead is another worthy backdrop, and you can paddle to the Boulder Islands for a scenic picnic. Back in the city, you can try paddle board yoga, where getting wet is all part of the fun.
Rafting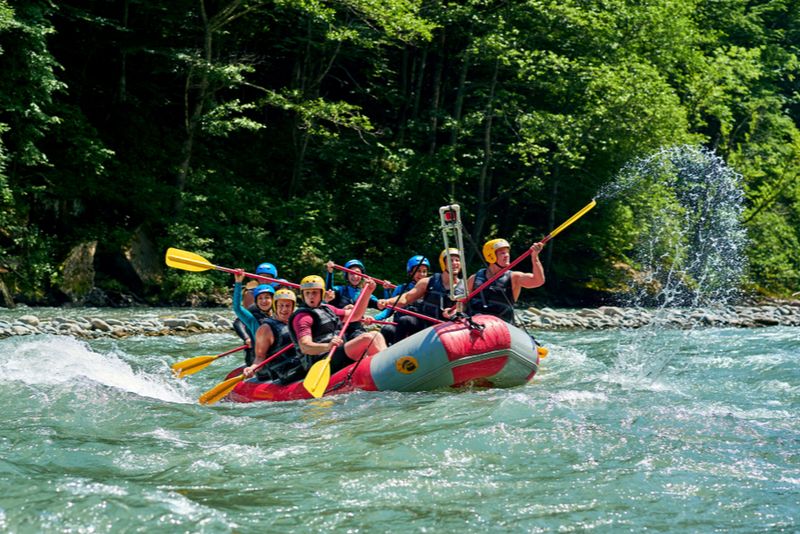 Add some thrills to your vacation by joining one of the world-class Las Vegas rafting adventures. The action takes place in either the Grand Canyon or Black Canyon, where the Colorado River will transport you through rocky ravines that have been here for centuries.
Get the heart racing as you negotiate the churning grade III rapids, or drift along serenely as your guide does all the hard work. You'll also enjoy other popular Las Vegas outdoor activities along the way, with beach swimming and hikes to hidden waterfalls being firm favorites.
Indoor Skydiving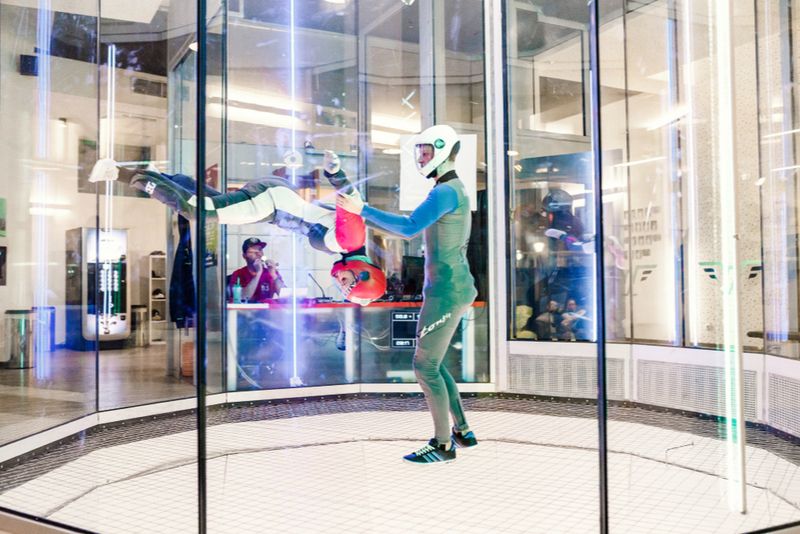 If you want to experience the thrill of freefall but don't fancy leaping out of a plane, then Las Vegas indoor skydiving is for you. You won't need a parachute or nerves of steel, just a thirst for adventure.
Inside the vertical wind tunnel, you will float weightlessly above the ground, laughing in the face of gravity. You'll be exposed to gusts of up to 120 miles per hour during the simulated skydive, which might just give you a taste for the real thing. Each session lasts a couple of minutes with the center handily located near The Strip.
Axe throwing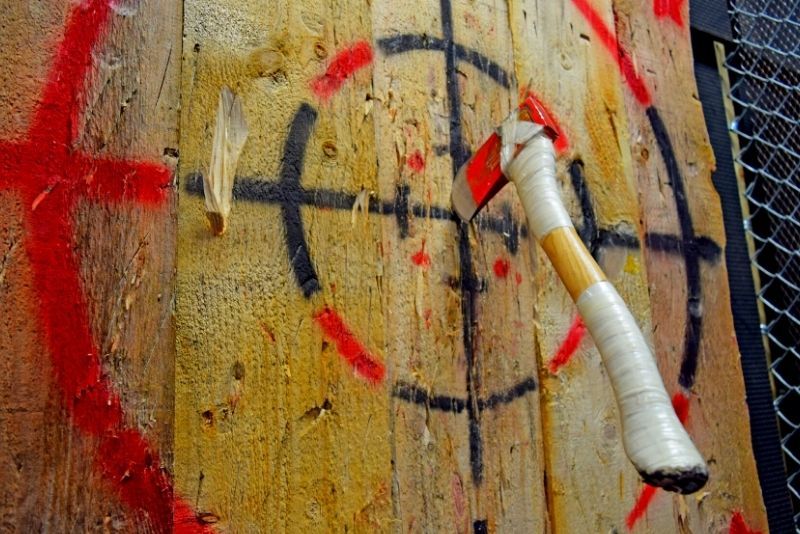 For a totally off-the-wall experience, axe throwing in Las Vegas definitely hits the mark. After a bit of training from the experts, you'll soon be flinging weapons at targets like a professional lumberjack. The trick is all in the wrist action, and don't forget to follow through with that throwing arm!
Once you're aiming true, you can have Black-Jaxe and Canadian Cricket competitions with your pals to crown the star axe thrower. The indoor Las Vegas venue isn't far from the city center so you can easily fit a visit into a day of exploring.
Drive an Excavator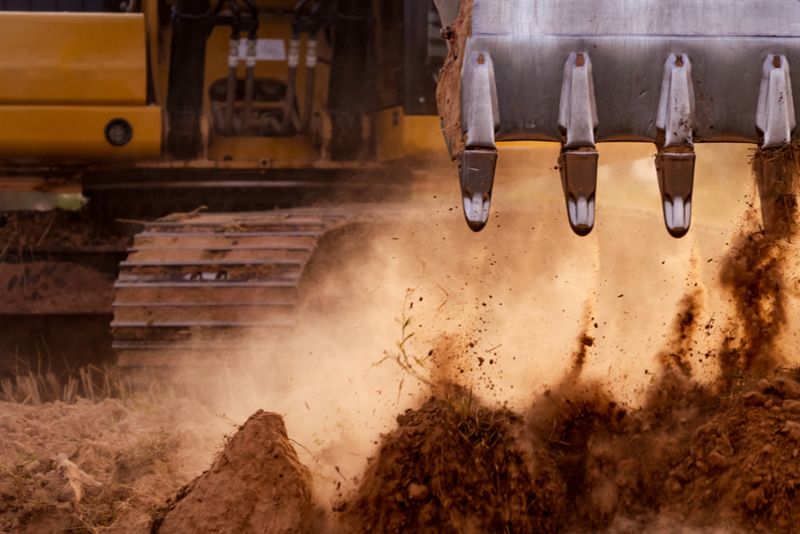 If getting behind the wheel of a giant digger has always been on your bucket list, then come and drive an excavator in Las Vegas! Out in the desert with the city skyline shimmering in the distance, there's no better backdrop.
You'll get to live out all your childhood dreams by digging holes, crushing cars, and trundling along the off-road tracks. It's all the perks of construction without the backbreaking work! Diggers, excavators, and bulldozers are all in the line-up so take your pick and start shifting that dirt.