Las Vegas is all about dazzling lights, showstopping attractions, and resorts that take bling to the next level. Yet when it comes to food, the city really shines through, thanks to an inventive culinary scene with influences from all around the world.
Whether you want to taste popular local dishes on a walking excursion or fancy spicing things up with horse riding or helicopter flights, Las Vegas food tours never disappoint. Here are some fun foodie-themed tours for you to digest.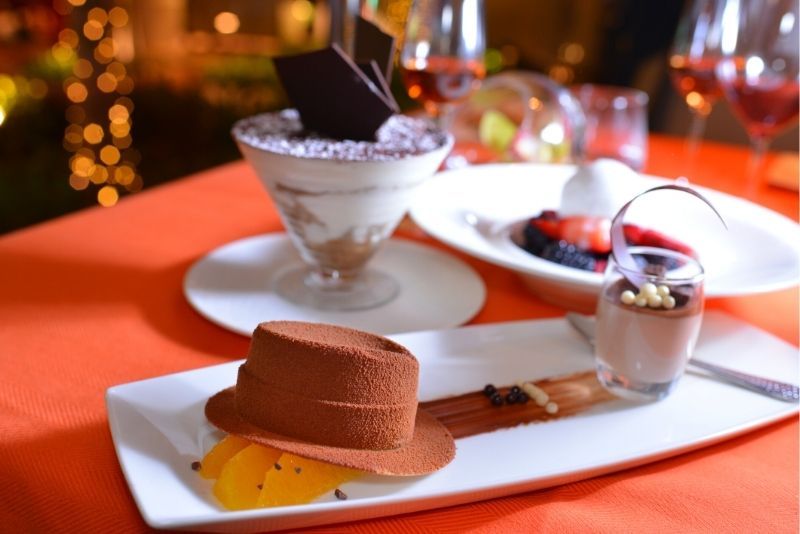 Explore historic Downtown on a food tasting tour
Discover the old heart of the city on a laid-back walking tour fueled by food. This tastefully regenerated area has become a magnet for culinary gurus, with lots of independent eateries and chef-driven venues lining the sidewalks. On a Downtown Las Vegas food tour, you'll stroll through the revitalized streets and stop by some of the most acclaimed restaurants in Vegas to sample inventive local cuisine. Some excursions stop at Fremont Street so you can take in the sights and pose for photos beside the rather quirky art installations.
Choose from a lunchtime excursion or, for added atmosphere, go for one of the night food tours and soak up the vibe as the district comes to life. Don't fancy walking? Food tasting tours by scooter and culinary Segway adventures are also up for grabs.
This historic district is famed for its personal service, artisanal treats, and seasonal farm-to-table fare. Perhaps not what you'd expect from such a boisterous city. The food here is often unusual and always creative, with signature dishes found nowhere else in the world. You can expect to sink your teeth into everything from chicken and red velvet waffle sliders to bacon-wrapped dates stuffed with truffled cheese. Vegan food tours are also available.
Eat your way along Las Vegas Strip
There's no doubt that The Strip is the place to be if you want to see sights like The Bellagio Fountains, the LINQ High Roller, and the Stratosphere Tower. Yet to truly appreciate all its charms, you need to visit some of the top restaurants and munch your way through their tasting menus.
Food tours on The Strip will leave you with an appetite for fine dining, with plenty of reimagined American favorites on the cards. You'll never look at a burger the same way again! Some excursions stop at multiple venues, sampling a different dish in each. Others offer multi-course dining experiences at an upscale restaurant, with sharing platters making for a convivial atmosphere.
Discover a world of flavors at The Venetian Resort, where international chefs rustle up finger-licking delights for you to try. In the Mott 32 Chinese Restaurant, sizzling Cantonese and Szechuan dishes will tantalize the taste buds, while at Matteo's Restaurant, recipes from northern Italy are the stars of the show. For a family-style meal, the Excalibur Hotel and Casino is a popular choice, or if you want the best views in town, opt for an Eiffel Tower food tour in their panoramic restaurant.
Visit craft breweries on a beer crawl
Hang out at the best breweries, bars, and pubs in the Downtown area on a lively Las Vegas beer tasting tour. You'll knock back flights of locally brewed beverages, and handcrafted house beers that are produced one delicious batch at a time. See if you can identify the secret ingredients that make this moreish amber nectar so unique. Hint: there may be roasted jalapeños, caramelized coffee beans, and serrano peppers involved!
As you contemplate your next stout or India pale ale, you might want to order a burger and fries to soak it all up. It's exactly what you need for a good night out! For those not keen on beer, there are cocktails, spirits, and Champagne to keep the evening frivolities flowing. If you want to create an everlasting snapshot of all the merriment, you can book a photographer who will accompany your group to the breweries, camera in hand.
Indulge your sweet tooth on a chocolate-themed tour
There's no shame in admitting that chocolate is just as enticing as all this posh gourmet dining. Luckily for those with a penchant for the sweet stuff, Las Vegas chocolate tours are all the rage here in town. You'll discover a whole new side to Sin City, on a four-hour walking tour of the tastiest spots.
At M&M World you can be among the first to try out new flavors, and you can personalize your own candy to take home as a souvenir. Meanwhile, at Hershey's Chocolate World you'll come across varieties of Jolly Rancher and Kisses that you never even knew existed! Next up on this scrumptious Las Vegas food tour is Pink Box Doughnuts for sprinkles and fillings, and a visit to the Ethel M. Chocolate Factory and Botanical Cactus Garden to find out the process from bean to bar. If the sugar overload hasn't stopped you in your tracks, you can finish your tour back on The Strip at Café Hollywood with a delicious ice cream shake and some specialty chocolates. You can always save the latter for later!
Tuck into a themed dining experience
Give your Las Vegas dining adventure a bit of a twist with a themed evening centered on revelry and food. The Tournament of Kings Dinner and Show at the Excalibur Hotel and Casino is a highly entertaining night out. Live out all your medieval fantasies as you watch gallant knights battle each other with swords and lances in the arena. As the action unfolds, sit back and enjoy a traditional feast of roasted hen and red potatoes, where eating utensils are optional to keep it authentic!
Another good evening can be had on a Planet Hollywood food tour. Here you can dine like a movie star on celebrity chef burgers and chicken crunch with mustard creole sauce while being snapped by your paparazzi photographer.
For a slice of country and western with your grub, sign up for the Chuck Wagon Dinner Show where barbecue favorites come with a side of entertainment. The band will play classics like the Dueling Banjos as well as a bit of Johnny Cash and Hank Williams, so feel free to bop along to the beats.
Meanwhile, aspiring super sleuths will enjoy the murder mystery dinner shows at The Orleans Hotel. Death and drama accompany a slap-up meal, with plenty of clues so you can try to identify the culprit before they strike again.
Go on a wine tasting tour
Did you know that Nevada is the proud producer of its very own wine? There are several vineyards out here in the wilderness, which make fun day trips from Las Vegas for those who want to swap neon for nature. A popular venue is the Pahrump Valley Winery which is just an hour away from the city. It's the leading producer of wine in the state, and you can enjoy a tour of the vineyards with a specialist guide who will explain the grape to glass process.
The highlight, of course, is tasting the wine and seeing if you can describe the upper and lower notes like a pro. Or if you're a bit baffled by the bouquet, you can just enjoy drinking it without worrying about the terminology! You can linter a little longer in this delightful rural setting by ordering a picnic lunch to accompany your tasting. Las Vegas wine tasting tours are a great way to learn more about the region, and some even visit Death Valley on the way back as a bonus adventure.