Legend says that Celeste River's famous blue color comes from God cleaning his paintbrush after painting the sky.
Born in Costa Rica's Guanacaste mountains, Celeste River's waters are tinted by a chemical reaction between mineral contents of two converging rivers.
Witness the phenomenon and its surrounding beauty on a Celeste River day trip from La Fortuna.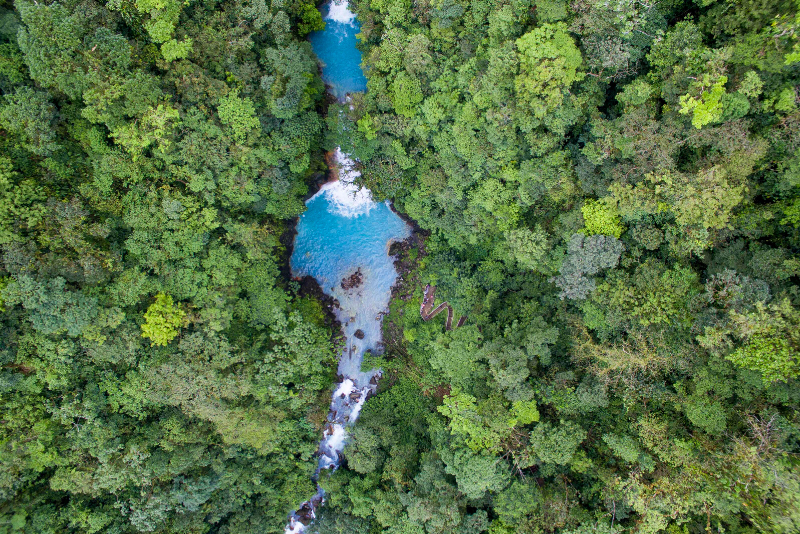 Here's all you need to know about the Celeste River, one of the most exciting day trips from La Fortuna.
How to get to Celeste River from La Fortuna?
The Celeste River sits at the northern edge of Tenorio Volcano National Park, about 70 kilometers northwest of La Fortuna.
From La Fortuna to Celeste River by car
The drive from La Fortuna to the Celeste River trailhead takes about 1 hour and 20 minutes. Take route 142 out of La Fortuna until you reach Corredor Nor Atlantico/Route 4.
Follow route 4 until you reach the trailhead in the park. There is a parking fee of CRC1,1800 (US$2) at the trailhead.
Guided tour to Celeste River from La Fortuna
Simplify your visit to Celeste River with a guided tour that covers round-trip transportation, park fees and a guided hike.
Relax and take in the scenery as a guide ushers you to the river, falls and even a swimming spot. Add extra convenience by booking a tour that includes a meal and water.
How much does the entrance ticket to Celeste River cost?
Celeste River is located in Tenorio Volcano National Park. Entrance fees to the park are CRC7,000 per adult (US$12) and CRC3,000 per child aged 0-12.
What is the typical itinerary?
Meet your tour guide and driver at your accommodation for the 1.5-hour drive to Celeste River from La Fortuna. Relax and take in the verdant and mountainous scenery before arriving for your 4-hour hike.
Set off on the trail led by your guide who will identify plants and animals, recount history of the area and share legends. Reach the Tenideros, the site where the Buena Vista and Roble Rivers converge, creating the characteristic blue waters.
Snap photos of geysers, hot springs and views of Mount Tenorio before reaching the Blue Lagoon and Rio Celeste Waterfall.
Swimming is not allowed in the national park, but many tours take you to neighboring private land for a chance to soak in the azure waters and riverside hot springs. Savor lunch at a local restaurant before returning to La Fortuna.
What kinds of tours are available to go to Celeste River?
Spend a day along the Celeste River in a variety of ways. Float, hike, soak or ride trails that follow the meandering river.
Hiking tours to Celeste River from La Fortuna
Celeste River's otherworldly blue color and its brilliant falls are close enough to La Fortuna to make it a must-see destination.
Join a guide for a 4-hour moderate hiking to Celeste River through Tenorio Volcano National Park, along a jungle trail passing through thick tropical greenery that shelters a wealth of animal life.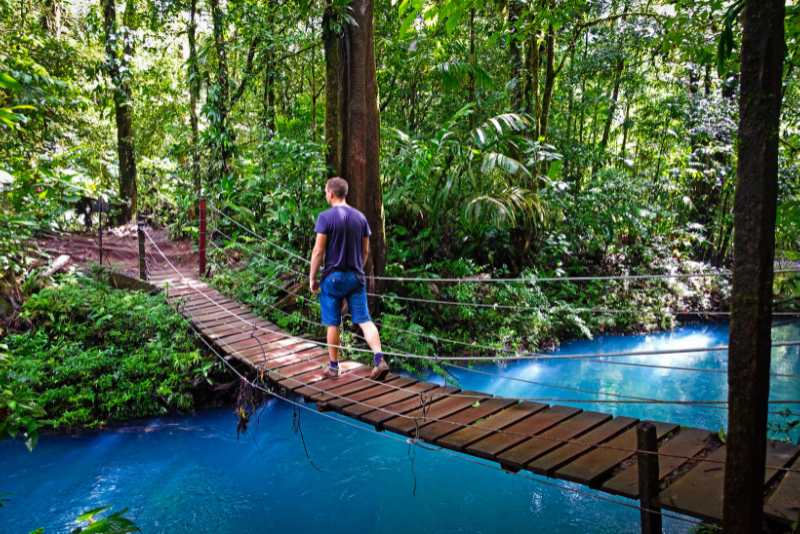 There are hikes created with animal lovers in mind. Choose a bird watching or night hike for chances of spotting some of the region's abundant wildlife.
On these rainforest night walks, you can spy some of the area's countless avian species, and get a unique look into nocturnal animal activity along the riverbanks.
Tubing tours on Celeste River
Immerse yourself in the fabled waters for a 2- to 3-hour float down the Celeste River. Hold on to your tube, as you pass through tropical habitat, keeping your eyes out for jungle inhabitants like monkeys and tapirs.
Tours include round-trip transportation from La Fortuna, use of a life jacket, helmet and snacks.
Horseback riding tours on Celeste River
Venture into the forest that lines the Celeste River on a horse chosen to match your confidence level. Take in the fluorescent river waters as you ride along the path.
Your 2-hour horse riding excursion leads you to a swimming area in the river complete with a Tarzan swing.
Private tour to Celeste River from La Fortuna
Delight in the company of your chosen companions and the attention of a guide on a private tour to the Celeste River. Move at your own pace, as your guide leads you through the rainforest for a peaceful visit to the blue waters, falls and hot springs without the crowds.
How much does a day trip to Celeste River from La Fortuna cost?
A day tour to Celeste River from La Fortuna that involves hiking costs from US$70 to US$160 per person, and lasts 6 to 8 hours.
Prices depend on the size of the group and whether a visit to some of the river's hot springs is included. Enjoy door-to-door service from La Fortuna, a driver and guide, lunch and a stop for swimming.
A birdwatching tour costs US$320 per person for a 4-hour tour and offer transportation, breakfast and 10 different viewing areas. A night hike costs US$55 per person for a 2- to 3-hour trip.
Tubing tours on Celeste River cost US$55 per person and provide transportation from La Fortuna, safety gear, a guide and snacks.
Horseback riding tours cost US$45 per person for a private experience and include transportation and a visit to a swimming spot in the river.
Private tours to Celeste River from La Fortuna cost from US$100 per person to US$240 per person for a 7- to 10-hour experience. Prices depend on group size and whether lunch is included.
What will you see and do?
Los Teñideros
Witness the mingling of the Robles and Buena Vista Rivers as their mineral components react to create the glowing blue color of the Celeste River.
Watch the chemical reaction occur as the two clear rivers become a striking blue, created by sulfur from one river mixing with calcium carbonate from the other.
Rio Celeste Waterfall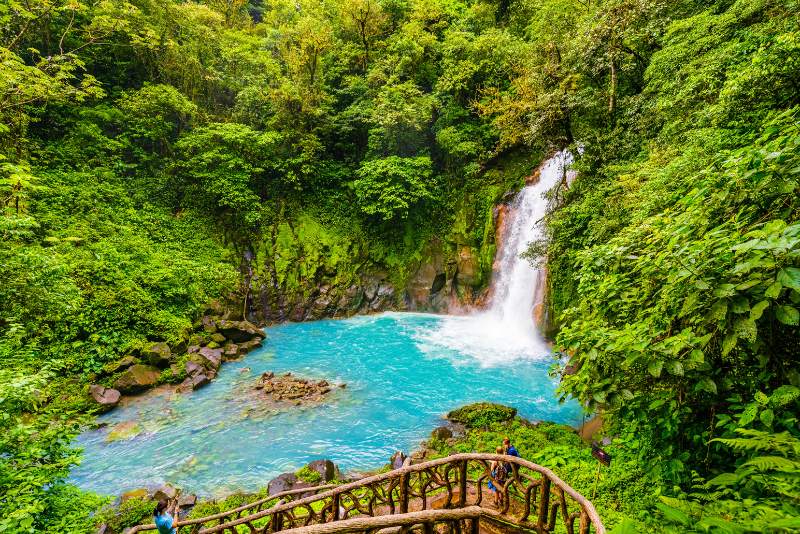 About one hour into the trail is the Celeste River Waterfall. The turquoise water tumbles from a height of nearly 30 meters into a pool that you can reach by a set of 250 stairs.
Geothermal activity
The Celeste River flows through a volcanic area, and the geothermal phenomena in and along the river are remarkable. See "los borbollones," Spanish for "little geysers" that bubble up from the riverbed.
Watch for steam rising from the river's edges, evidence of hot springs. Soaking in the park is prohibited, but you may access the spring from private land nearby.
Wildlife
Tenorio Volcano National Park shelters four different ecological zones that create ideal habitats for many types of animals. You may spot a puma or toucan, brightly-colored tree frogs or brilliant butterflies among many other species.
When is the best time to visit Celeste River?
The best time for a day trip to Celeste River is from December to April, when La Fortuna experiences the best weather.
Mornings are ideal for hiking along the river, as the popular trail gets crowded later in the day. The park may turn away visitors if there are too many people on the trail.
Avoid an excursion during September and October, when the area gets the most rain, as the rain dilutes the color of the river.
What are the other day trips from La Fortuna?
Travel tips
Bring swimwear, a towel, sun protection and insect repellent.
Let tour providers know of any dietary restrictions at the time of booking.
Wear clothing and shoes that are appropriate for an active day.
Carry a rain jacket.