A visit to Costa Rica's Venado Caves is not for the faint-hearted. Descend 150 meters below the earth's surface to caverns connected by crevices and tunnels.
See the country's only underground waterfall, a subterranean river and a resident bat colony. A day trip to Venado Caves from La Fortuna is an adventure of a lifetime.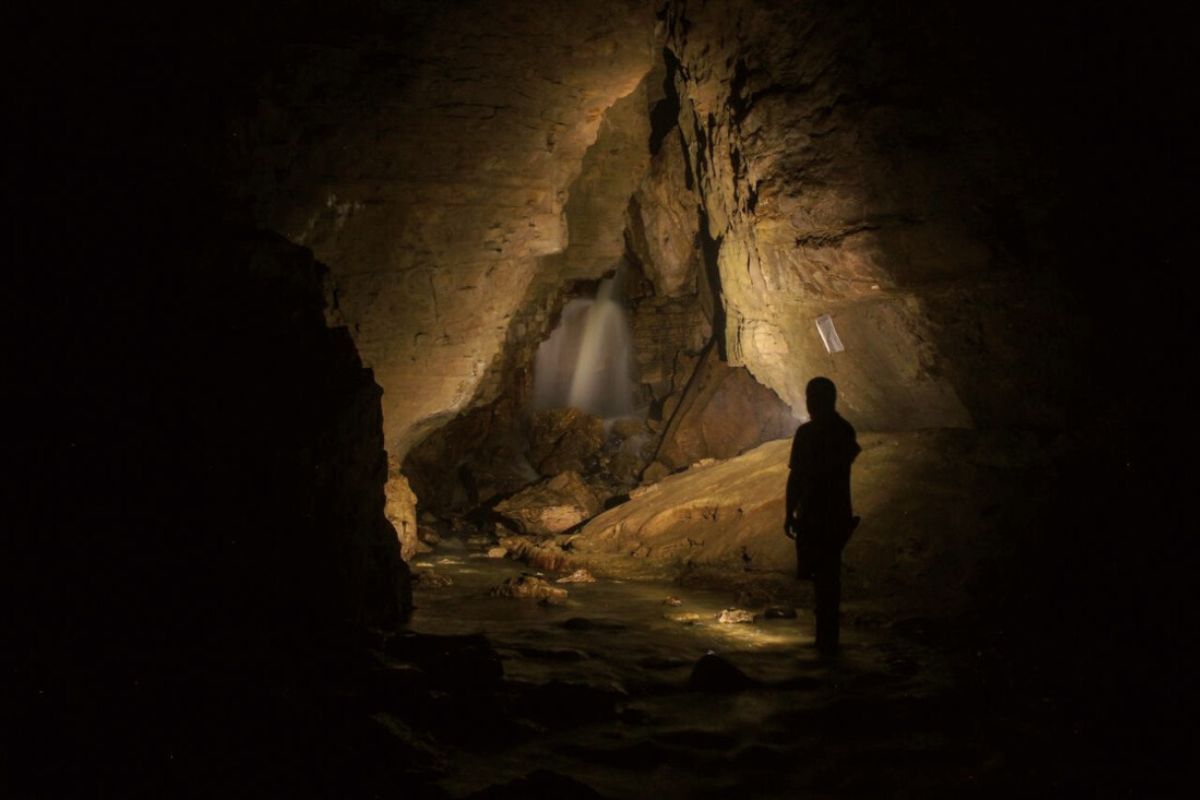 Here's all you need to know about Venado Caves, one of the most exciting day trips from La Fortuna.
How to get to Venado Caves from La Fortuna
Venado Caves are near Arenal Volcano National Park, about 40 kilometers northwest of La Fortuna.
From La Fortuna to Venado Caves by car
Venado Caves are less than 1 hour from La Fortuna. Take Route 4 / Corredor Noratlantico west from town for 20 kilometers until you reach Route 734. Follow Route 734 for 10 kilometers until you arrive at the cavern parking area.
Guided tour to Venado Caves from La Fortuna
Visit the caves conveniently and safely with a guided tour. Bundle round-trip transportation, safety gear and the expertise of a guide into one price. Relax after your experience with bottled water and tropical fruits, included in the package.
How much does the entrance ticket to Venado Caves cost?
Entrance to Venado Caves is US$28 per person and includes a guide and safety equipment. Tickets include access to the swimming pool located on site.
What is the typical itinerary?
Start with a picturesque 50-minute drive through hilly croplands with river and mountain views. At Venado Caves, and prepare to enter the earth. Your guide will give you a safety debriefing and outfit you in spelunking gear.
Move from cave to cave with your guide and group as you are surrounded by stalactites and stalagmites, walk through a river and step into the home of a bat colony.
View an underground waterfall and pools, crawl through tunnels and crane your neck to see the heights of formations that stretch beyond view.
If your tour allows extra time, choose to purchase a traditional "casado" meal featuring meat, beans, rice and vegetables, or cool off in the swimming pool. Change into dry clothes for the 50-minute drive back to La Fortuna.
What kinds of tours are available to go to Venado Caves?
Book a guided tour of Venado Caves from La Fortuna for a day you'll never forget. Choose from standard, small-group and private tours.
Guided tours to Venado Caves from La Fortuna
All tours of Venado Caves are guided, but booking a tour with transportation from La Fortuna offers more than the obvious benefit of round-trip transportation.
Guided tours also include a photo package, water and snacks as well as the possibility of booking a small-group tour.
Private tour to Venado Caves from La Fortuna
Arrange an outing just for your party with a private tour to Venado Caves. Explore at your own pace and take advantage of your guide's full attention.
Private tours allow flexibility that may allow a longer visit at the cave complex to enjoy a meal or a dip in the pool.
How much does a day trip to Venado Caves from La Fortuna cost?
Guided tours of Venado Caves cost around US$85 per person or US$105 per person for a small-group tour.
Private tours cost US$155 per person. All tours last around 5 hours from start to finish, with a 1.5-hour visit to the caves and a little less than 2 hours of travel time total.
All tours provide round-trip transportation from La Fortuna, a fully-guided tour, bottled water and fresh fruit. Guides will provide you with helmets, headlamps and rubber boots.
What will you see and do?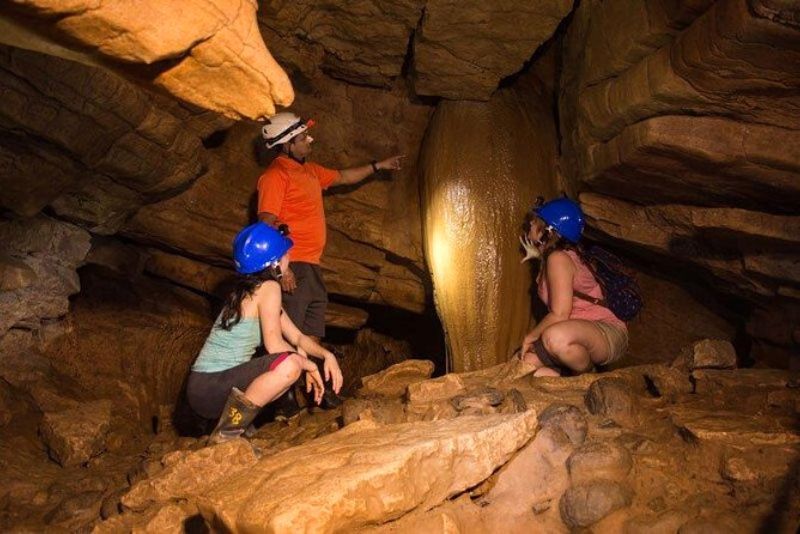 Witness evidence of tectonic movement and the influence of water over millennia in Venado Caves.
This series of caverns reach 2,700 meters into the subterranean environs of Arenal Volcano and was formed as long as 20 million years ago.
Once submerged under sea water, spy marine fossils on the cave walls and the river that still cuts through the limestone.
There are 10 caves within the system that range from high-ceilinged halls to small nooks accessible by crawling through tunnels.
Marvel at landmark rock formations "the papaya," "the altar" and "the coral."  Expect to climb and descend ladders, wade through pools and encounter resident bats, spiders and frogs.
What are the opening times?
Venado Caves are open from 8 AM to 3 PM.
When is the best time to visit Venado Caves?
A visit to Venado Caves can be enjoyable at any time of year. Avoid crowds by visiting in August through October.
Travel tips
Venado Cave tours are not recommended for people who suffer from claustrophobia.
Tours sell out quickly, so book your excursion early.
Dress in activewear that can get dirty and wet, and carry a change of clothing.
Bring insect repellent.