The untamed power of a volcano is something humans equally fear and admire. In Costa Rica, you can get up close to one of these mighty mountains with the Arenal Volcano peacefully bubbling away close to La Fortuna.
A day trip to Arenal Volcano from La Fortuna is a chance to experience the magnitude of the mountain but also indulge in the volcano-heated hot springs and explore the lush jungle surrounding the area.
La Fortuna is built at the foot of the volcano, making it the best starting point for any Arenal volcano excursion.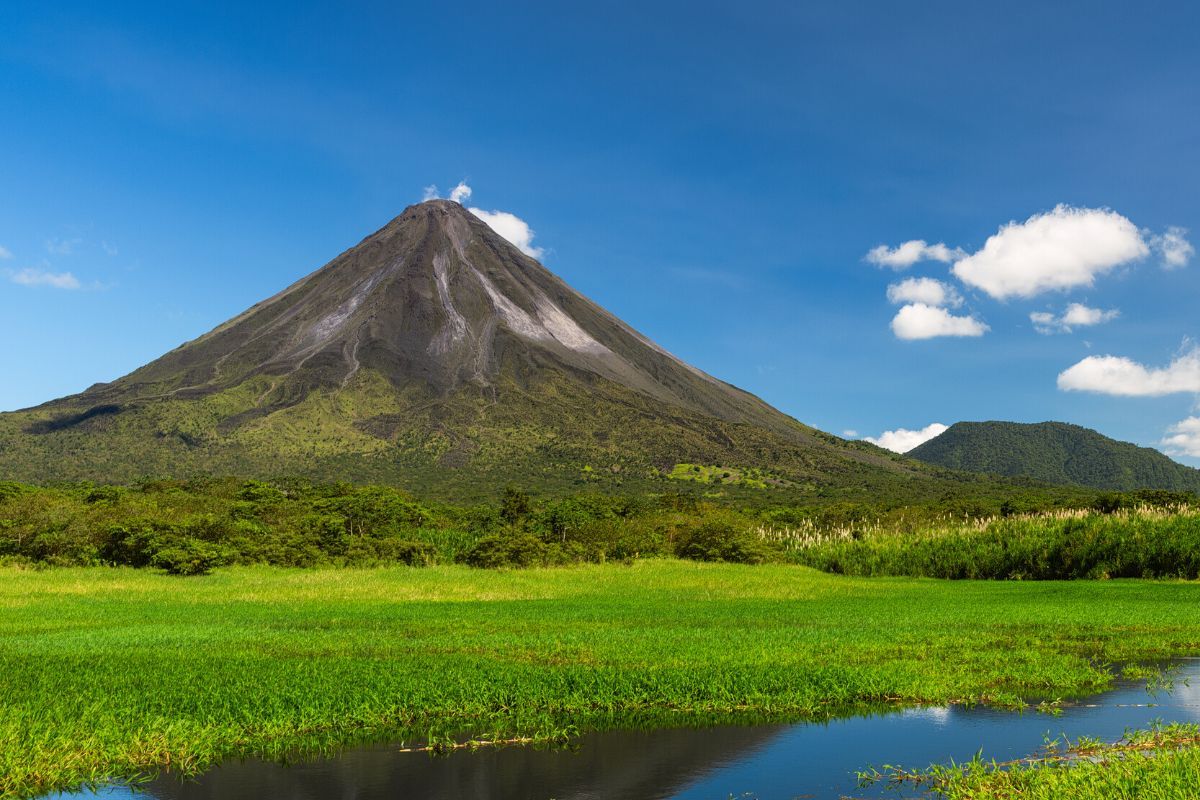 Here's all you need to know about Arenal Volcano, one of the most exciting day trips from La Fortuna.
How to get to Arenal Volcano from La Fortuna?
With views of the volcano from every angle of La Fortuna, you won't easily get lost trying to find it. All the activities around Arenal are within a 5-10 kilometer distance from La Fortuna.
From La Fortuna to Arenal Volcano by car
Arenal Volcano is only 10 minutes from La Fortuna. You will drive west on Route 142 and turn off at any point that interests you. It is roughly 5 kilometers from La Fortuna to the main attractions around the Volcano.
Guided tour to Arenal Volcano from La Fortuna
Guided day trips to Arenal Volcano are the easiest way to explore the many faces of this intriguing mountain.
An expert local guide will introduce you to all manner of adventurous excursions on a tour lasting anywhere from 3 to 10 hours, complete with reliable transportation and a dynamic itinerary.
What is the typical itinerary?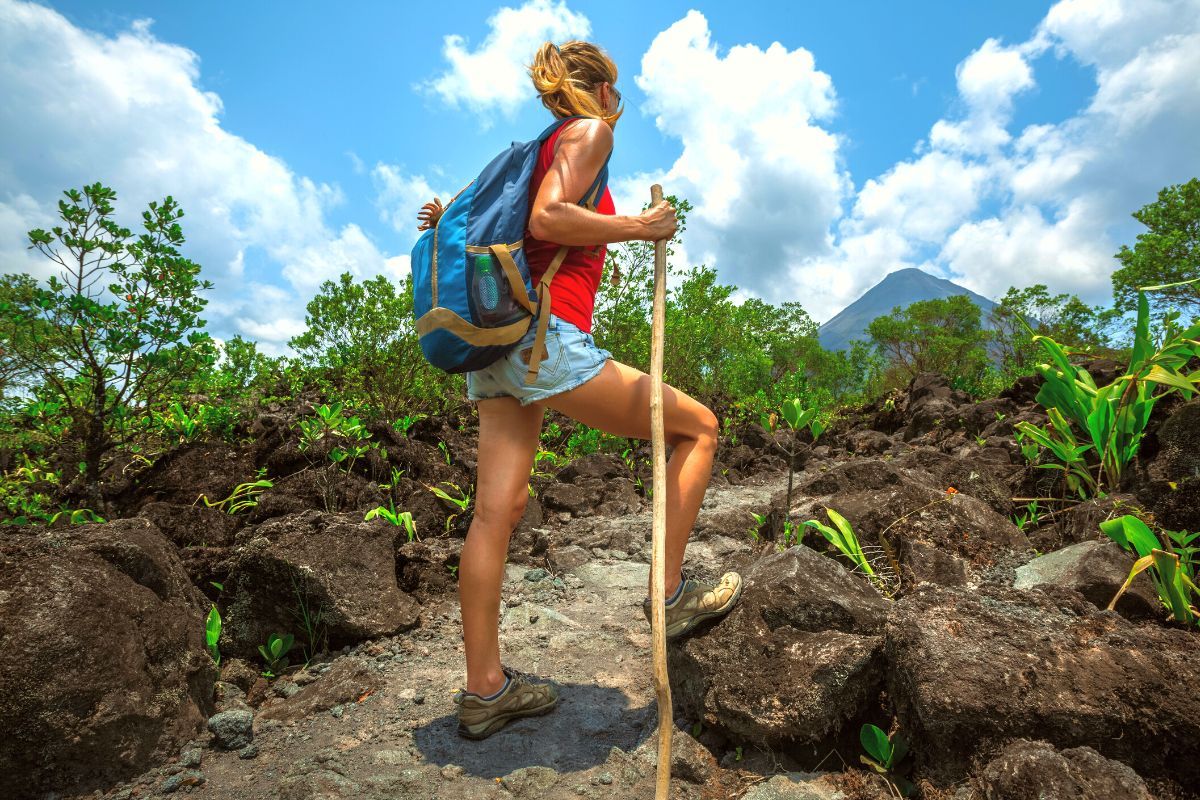 There are several action-packed itineraries to choose from and a few relaxing ones for those looking to appreciate the slow side of Costa Rica.
Get an early start from La Fortuna with hotel pick-up around 7 AM before setting off the starting point for your chosen activity.
A basic tour of Arenal Volcano begins with a drive to El Silencio Private Reserve, the closest point to the base of the volcano you can drive to.
From there, you will do a moderate 1km walk to an observation point from where you can see the lava rock field. Walk back to the starting point to change scenery and visit the regenerating forest at the base of the volcano.
Finish your 3-hour trip with some delicious tropical fruit and a ride back to the hotel.
There are also tours that start with a short hike to La Fortuna waterfall, where you can swim and enjoy a few moments of free time in the heart of the dense jungle.
Then, you will visit a traditional village for lunch and do a short volcano hike thereafter. Walk through the jungle on the slopes of the volcano, heading towards the tranquil hot springs.
Submerge in the warm water and mud baths to soak away your aches and pains before heading back to La Fortuna.
If you enjoy immersing yourself in nature, try a walking tour of the Arenal hanging bridges. There are 16 bridges suspended high among the treetops giving you the perfect vantage point to see birds and animals living in the canopy.
It is a short 4-hour tour with transport between your La Fortuna hotel and the hanging bridge park.
Thrill seekers can sink their teeth into the volcano's forest surroundings with multiple repels next to waterfalls and a ziplining course through the jungle.
You can also go river rafting with magnificent volcano views or simply cruise on Lake Arenal to enjoy sunset volcano views.
What kinds of tours are available to go to Arenal Volcano?
There are dozens of itineraries to choose from ranging from relaxing half-day outings to thrilling full-day adventure days:
Guided tours to Arenal Volcano from La Fortuna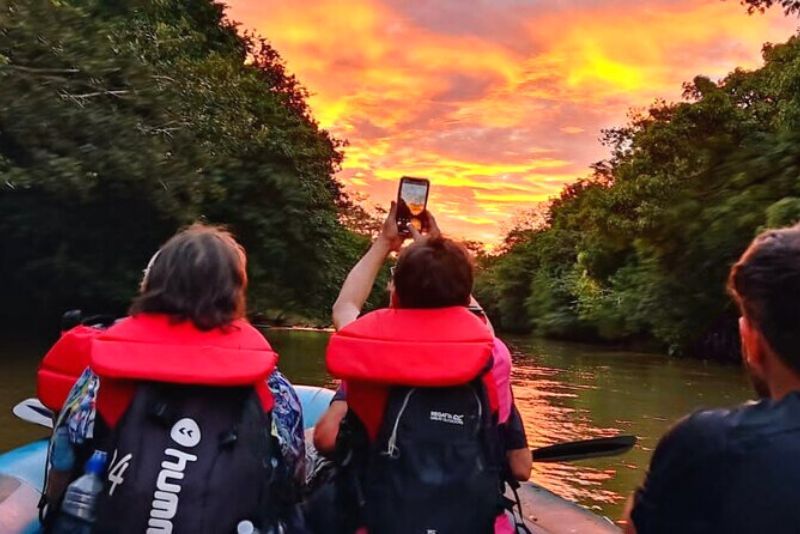 There are a few short half-day tours to Arenal Volcano, showcasing one unique activity in the La Fortuna area.
The most popular activities include walking along the hanging bridges, seeing the volcano on horseback, or a Lake Arenal cruise to enjoy spectacular views of the volcano.
Tours all include hotel pick-up and drop-off and an arranged activity for a small group. You will see the abundant nature around the volcano and appreciate its sheer size and power with a group of like-minded travelers.
Private tour to Arenal Volcano from La Fortuna
A private tour to Arenal Volcano and the surrounding attractions is the perfect way to enjoy the beauty of mother nature at your own pace. These tours offer flexibility with the itinerary, letting you focus on the locations you enjoy most.
You will have a private guide to help you explore and a comfortable vehicle taking you around the area, stopping as much as you like to take in the scenery.
Day trip to Arenal Volcano plus hot springs from La Fortuna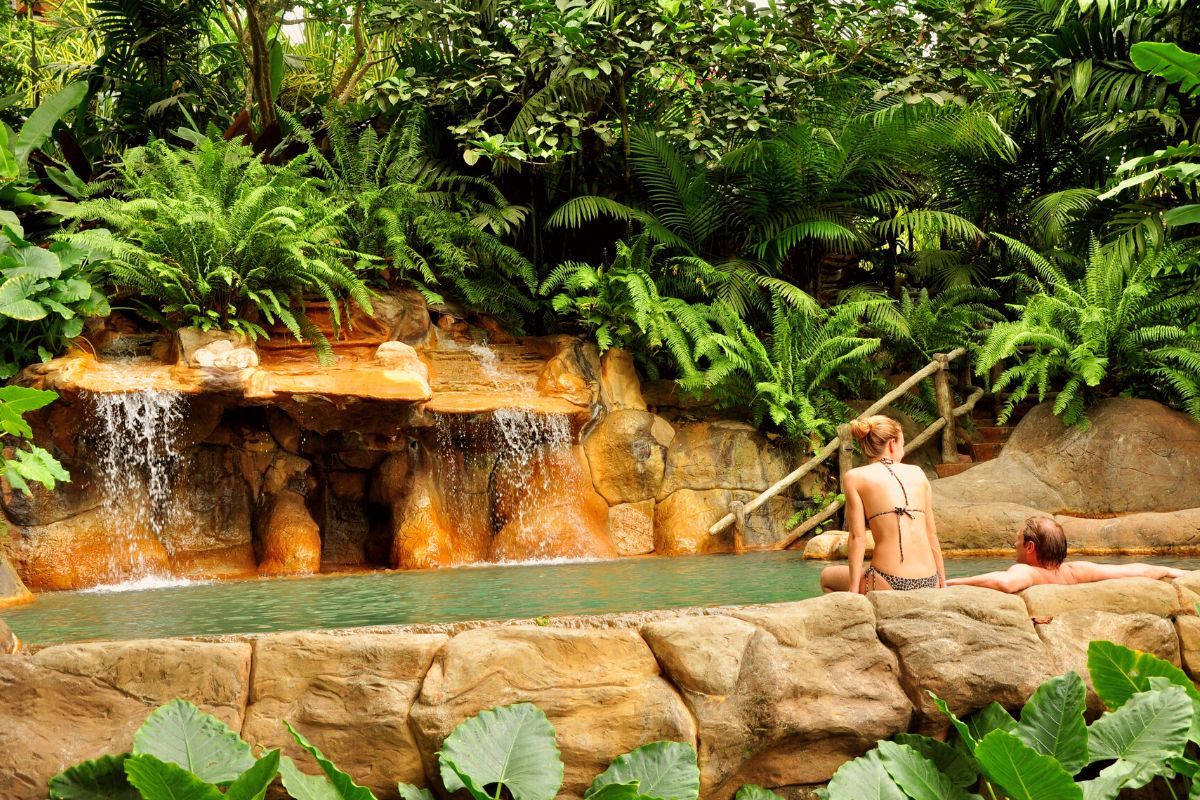 One of the most popular features of Arenal Volcano is the healing sulfur hot springs. Venture through the jungle to reach the hot springs and mud baths, where you can soak away your aches and pains in the warm volcano-heated water.
You can book it as a private experience or join a group excursion to Arenal Volcano.
How much does a day trip to La Fortuna from Arenal Volcano cost?
Day trips to Arenal Volcano start from around US$40 per person and include a hot springs visit.
A horseback adventure or a hike on Arenal Volcano is US$60 per person.
For US$75 per person, you can visit the hanging bridges with a naturalist guide to keep you informed about all the creatures and plants around you.
A private tour to Arenal Volcano, the hanging bridges and the hot springs costs around US$200 per person.
What will you see and do?
On a day trip to Arenal Volcano from La Fortuna, there is no shortage of adventure. The whole region is teeming with activities ranging from relaxing and scenic to downright daring and death-defying.
These are some of the activities you can choose from forward to on an Arenal Volcano excursion:
Partake in adventure sports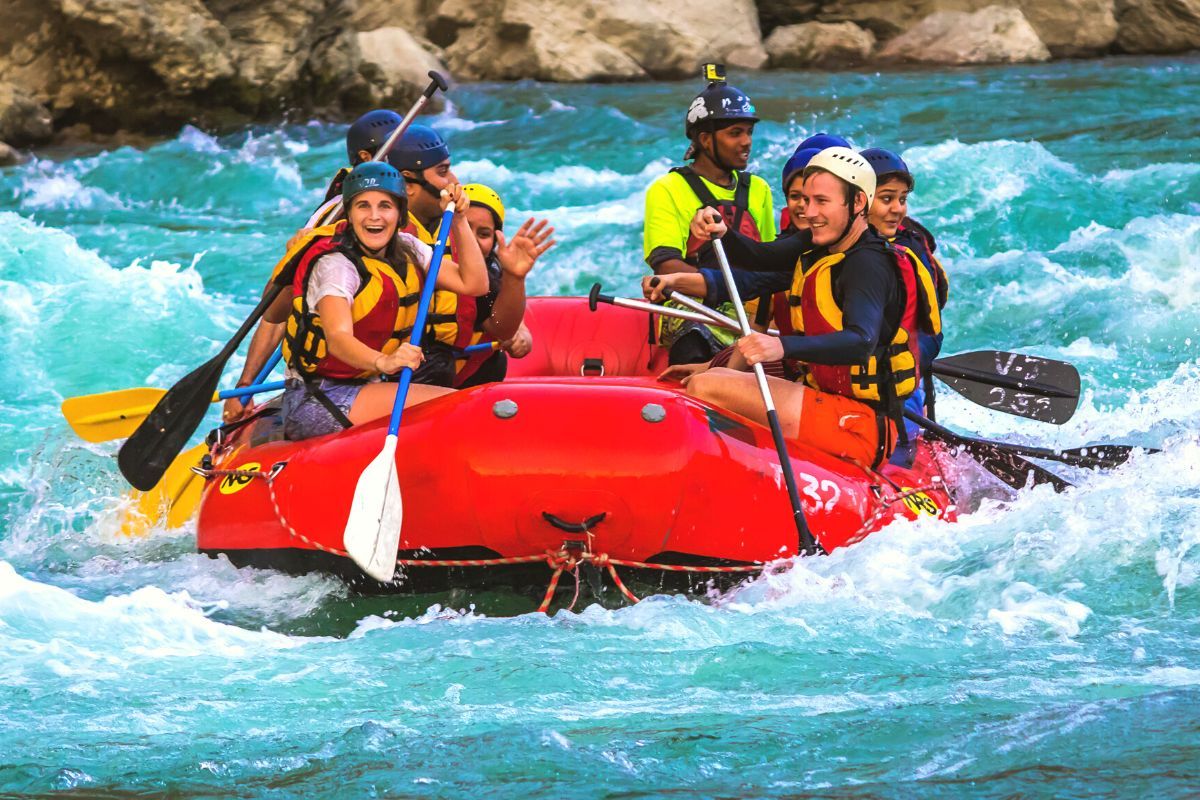 There is a new adventure activity awaiting around every bend of Arenal Volcano. The most popular is the canyoning experience that takes you deep into the jungle of the volcano's slopes.
On this excursion, you will repel from waterfalls, jump into clear pools and zipline among tree canopies. You can also go on a horseback adventure on the volcano or get a mega adrenaline fix with a white river rafting experience.
Other adventurous activities include paddle boarding on Lake Arenal or a quad bike outing.
Relax in the hot springs
The hot springs of Arenal Volcano are said to have many health benefits thanks to the sulfur content of the pleasantly warm water. Hot springs in the area are heated by the volcano and are all nestled in an idyllic jungle setting.
You will walk through the forest, admiring the lush endangered foliage before reaching the hot springs for a swim.
Go Sightseeing
There is a ton of sightseeing to be done around the volcano thanks to the marvelous scenery and abundance of forest life.
Walk high among the canopies to see sloths and toucans going about their business or visit a traditional village to learn about the Maluku Indians and their history, culture and art.
You can also see the black lava rock deposits from Arenal's last eruption in the 60s.
Take a hike
Doing a hike on Arenal Volcano is the best way to see the juxtaposition of the volcano's dormant calm state and its destructive nature.
You can see the black lava rock deposits from Arenal's last eruption in the 60s and the remnants of the scorched earth. On the other hand, you will experience the regenerative state of nature amongst the lush plant life on the slopes of Arenal.
When is the best time to visit Arenal Volcano?
Costa Rica has excellent weather all year round but the most popular months are from mid-December to April. This is the dry season in La Fortuna and you have a higher chance of sunny days.
Are there any tours to Arenal Volcano from other cities in Costa Rica?
Yes, there are tours departing from other cities in Costa Rica:
Travel tips
Many tours include lunch so let your tour operator know if you have any dietary restrictions.
Bring a light rain-resistant jacket for forest walks.
Wear comfortable shoes as a moderate amount of walking is required.
Bring your own swimsuit and towel if you visit the waterfall or hot springs or river rafting.