Rafting trips in La Fortuna is one of the most enjoyable means of exploring Costa Rica's natural wonders and observing its diverse wildlife.
You can opt for a leisurely drift on a raft or a kayak on a quiet river to view wildlife in their natural surroundings. Or take on the challenge of wilder white water, paddling through rapids and large splashing waves for great spills and thrills.
Here's all you need to know about rafting, one of the most exhilarating outdoor activities in La Fortuna.
What are the best rafting tours in La Fortuna?
Balsa River white water rafting class 2/3
If you're looking for river rafting thrills, take on the class II and III white waters of the Balsa River on this rafting tour from La Fortuna. Experience the excitement of paddling through rapids for more than 10 kilometers down the river.
Admire the sights of the lush surrounding forest alive with colorful tropical birds, monkeys and other wild animals.
After your hotel pickup in La Fortuna, you will be shuttled to the river departure base. Here you will receive instructions and a safety briefing from your professional guide on rafting equipment and techniques.
The Balsa River rapids are ideal for adventurous people who want to push their adrenaline limits, and 2.5 hours of rafting will leave you exhilarated.
You will also enjoy the luxury of fruits on the river, beers and water and towels. Your memorable rafting tour finishes with a delicious traditional Costa Rican lunch in a local restaurant, before returning to your La Fortuna accommodation.
Sarapiqui River white water rafting class IV
Well-known for its ecotourism, birding, wildlife and adventure travel, rafting on the Sarapiquí River from La Fortuna will fulfill your thirst for thrills and nature's wonders.
Experience the adrenaline fix in jumping the whitewater rapids and marvel at the variety of animals and birds in their natural habitat.
You will be safely guided by professional rafters on a raft for 6 people, rushing through more than 30 rapids and large splashing river waves.
You will receive a safety briefing and your safety equipment will include a personal flotation device and helmet. You will be expected to work as a team to negotiate the rapids and paddle as hard as everyone.
Cascading down the Sarapiqui, you can also take in sightings of rainforest fauna such as sloths, spider monkeys and toucans in their natural environment.
Along the trip, your guide will share his knowledge on the river's interesting history and its wildlife. Your all-inclusive tour also includes fruit, beer and a Costa Rican lunch to keep you refreshed.
After your exciting 2-hour rafting jaunt, you will be shuttled back to your hotel in La Fortuna.
Rafting and wildlife safari and Paradise Hot Springs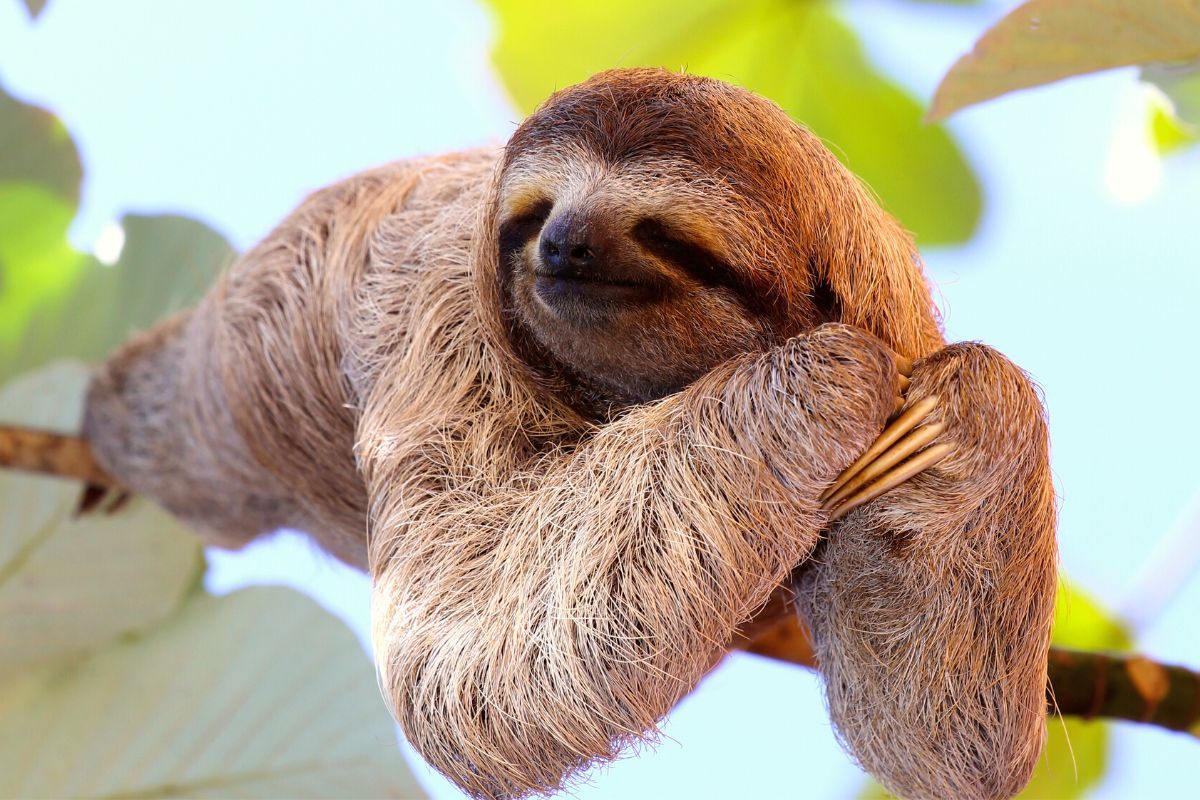 On this rafting safari from La Fortuna, you can shoot through the whitewater rapids of the Peñas Blancas River. Then float by raft or kayak along its quieter waters and immerse yourself in the rainforest looking for Costa Rica's wildlife.
End your day relaxing in hot springs heated by the famous Arenal Volcano.
Your tour starts with a visit to a magnificent viewing point in the rainforest where you will be able to observe the slow-moving sloths in their natural environment.
Look out for the 2-toed and 3-toed sloths, various species of birds and colorful frogs. You can then plunge into an invigorating natural forest pool. This is followed by a 45-minute drive to the Peñas Blancas River.
Along the way, you will pass four villages while your guide will enlighten you on the different plantations in the area. These include banana, pineapple, cassava and plantain (a banana-like fruit).
Having arrived at the river, you will paddle down some 10 kilometers of rapids with funny names like "Rock around the Croc" and others. You can then leisurely float on a raft or kayak down the peaceful waters of the Peñas Blancas River.
In the midst of an extensive ecosystem, you can look around to spot caimans and iguanas, sloths and monkeys, and various bird species.
Your tour finishes at the Paradise Hot Springs, which are heated by the Arenal Volcano and fed from underground minerals. Here you can end your day relaxing in the soothing warm waters of the springs.
On your return to La Fortuna, you will be shuttled back to your hotel.
La Fortuna white water rafting class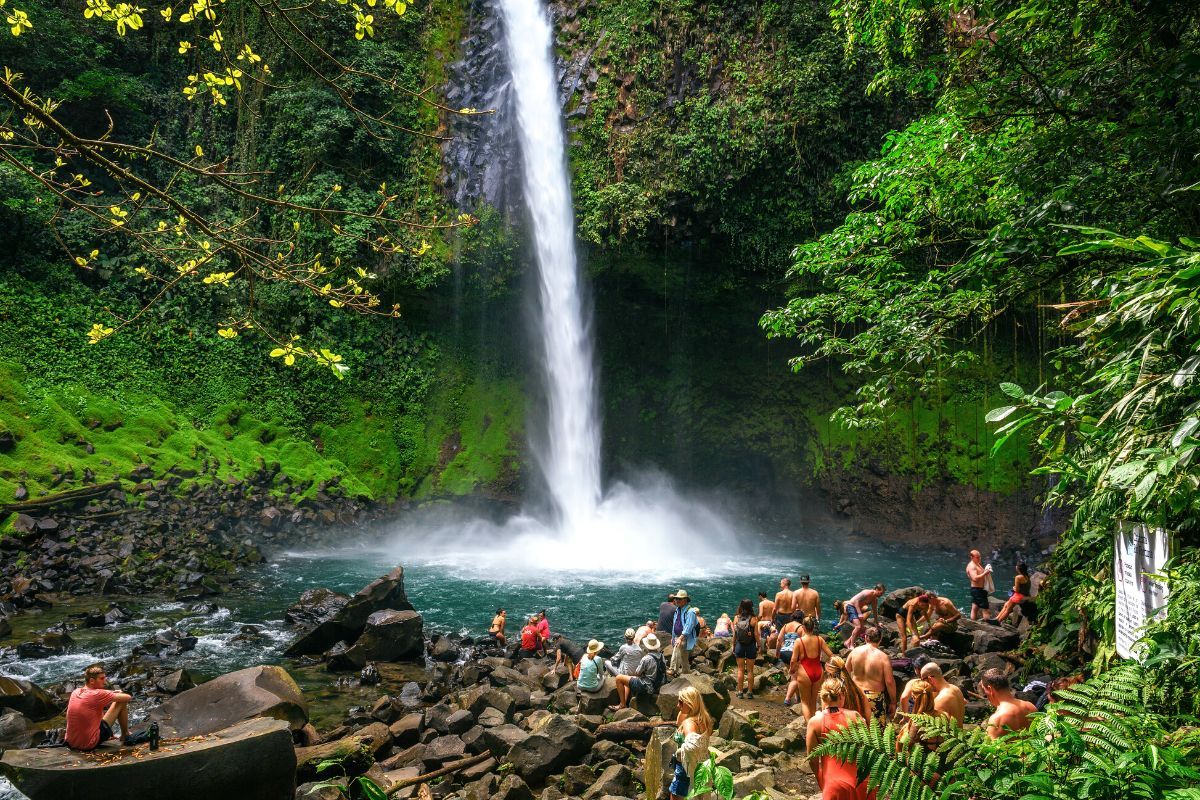 During this rafting tour from La Fortuna you can challenge yourself at mastering rafting and discover Costa Rica's wonders of nature from the river.
You can get your heart racing with the thrill of rafting and later taste local food from an organic farm.
You will meet your guide in La Fortuna and then drive to the starting point of the trail on a scenic stretch of the Rio Balsa. Accompanied by experienced guides and safety kayakers, your instructor will show you how to descend the river canyon.
Along the rapids stretch of the river, you will have two breaks from shooting the rapids to refuel your energy level. Your first pause will be alongside the river to enjoy some fresh fruit.
Your second stop will be to taste a real Costa Rican lunch. You will also learn fascinating facts about growing, harvesting and producing chocolate, sugar cane, fruits and medicinal plants in Costa Rica.
Your tour will also take you to the popular El Salto, a small waterfall and natural swimming pool located about 1.6 kilometers from central park in La Fortuna. The pool continues from the stream formed by the La Fortuna Waterfall. Located next to the road, it is free of charge. From here you will continue to the Upper Balsa River, a stretch with Class III and IV rapids. These are considered more challenging than the easy rapids but are not very dangerous. For this tour it's recommended to bring a change of clothes and water shoes.
How much does rafting in La Fortuna cost?
The Balsa River white water rafting class 2/3 tour costs US$110 per person.
The Sarapiqui River white water rafting class costs US$85 per person.
The La Fortuna white water rafting class US$110 per person and, the Arenal rafting and Monkey Farm tour costs US$180 per person.
The rafting and wildlife safari and Paradise Hot Springs tour costs US$300 per person.
What is included?
The La Fortuna rafting tours include all rafting equipment, transport by air-conditioned van, hotel pickup and drop-off, and food and drinks. Souvenir photos of your tours are available to buy.
Where does it start?
For rafting tours from La Fortuna, round-trip hotel transport is included in the tours. After pickup, participants are transported to departure bases around La Fortuna or Lake Arenal.
How long does it last?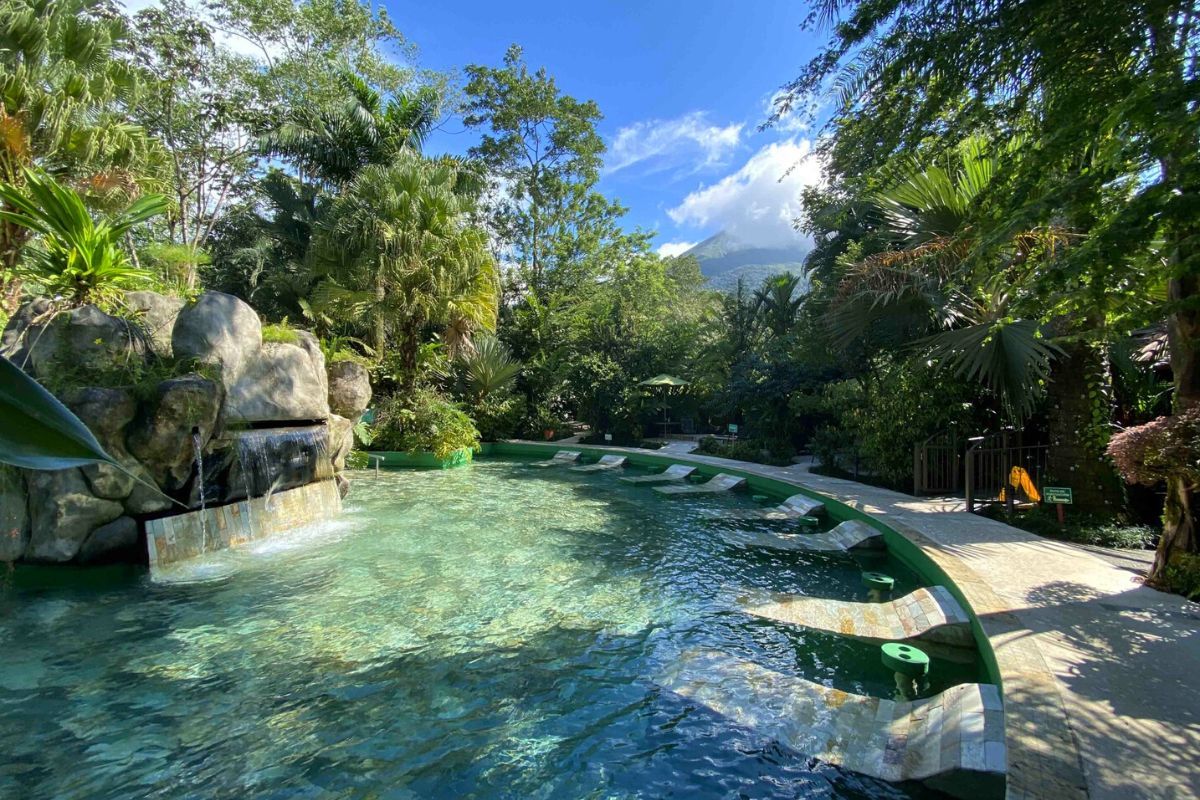 The average duration of the rafting tours in La Fortuna is about 5 to 6 hours. The rafting and wildlife safari and Paradise Hot Springs tour lasts for 12 hours.
When is the best time for a rafting tour in La Fortuna?
December to April is a good time to visit La Fortuna for outdoor activities, but this is also the busiest period, meaning higher prices. In the wet season from mid-April to November rivers are at their fullest and there are also fewer people.
For viewing wildlife, the morning or late afternoon are both good for viewing wildlife when they are most active. Mornings are usually quieter with better weather.
Are there any combos available with rafting in La Fortuna?
Arenal rafting and Monkey Farm experience
This unique 6-hour rafting tour from La Fortuna combines the thrills of whitewater rafting and nature and the Costa Rican farming culture.
You will be picked up from your hotel in La Fortuna and driven in an air-conditioned vehicle to the departure base in the Arenal area.
You will start with a very informative and interactive visit to a real northern Costa Rican farm, operated by traditional farmers. During your 2-hour exploration of the farm, you will learn about the various products they cultivate in the Arenal region.
These include bananas, coconut, ginger, sweet potato, yucca and others. You will also have the opportunity to feed their cows and cook some snacks with products you pick up from the farm table.
Then enjoy the sights of the fascinating Monkey Park Biological Reserve, just 17 minutes away.
To set your pulse racing, you will get onto a raft on the well-known Balsa River of the Arenal area. During your 3-hour rafting trip down the Balsa, you will be guided by experienced rafting instructors, so you will be in safe hands.
At the end of your exciting rafting trip, you will be returned to your accommodation in La Fortuna.
Is it safe?
Rafting tours from La Fortuna are safe. You are guided by experienced river guides who will not compromise your safety in any way.
These tours are not recommended, however, for people with back or heart problems, other serious medical conditions or with mobility impairments.
Are children allowed?
Children of all ages are allowed on most of the rafting tours from La Fortuna but, the minimum age for the Balsa River rafting tour is 5. The minimum age for the La Fortuna white water rafting class is 18.
What happens in case of bad weather?
Rafting trips in La Fortuna are dependent on good weather. If your trip is canceled because of poor weather, you can choose a different date or request a refund.
Which other water activities can be done in La Fortuna?
Travel tips
Make sure to book your La Fortuna wildlife safari in advance.
Bring comfortable clothes, tennis/water shoes, sunscreen and insect repellent.