Costa Rica's largest and most iconic volcano is the perfect place to enjoy the diversity of the country's hiking paths, hear the trills of exotic birdsong, and bathe in a refreshing crater lake.
Day trips to Arenal Volcano from San José are filled with thrilling activities, fascinating wildlife and astounding views.
And, after all that adventure, is there any better way to relax than by enjoying the smoking volcano from the thermal waters of a hot spring?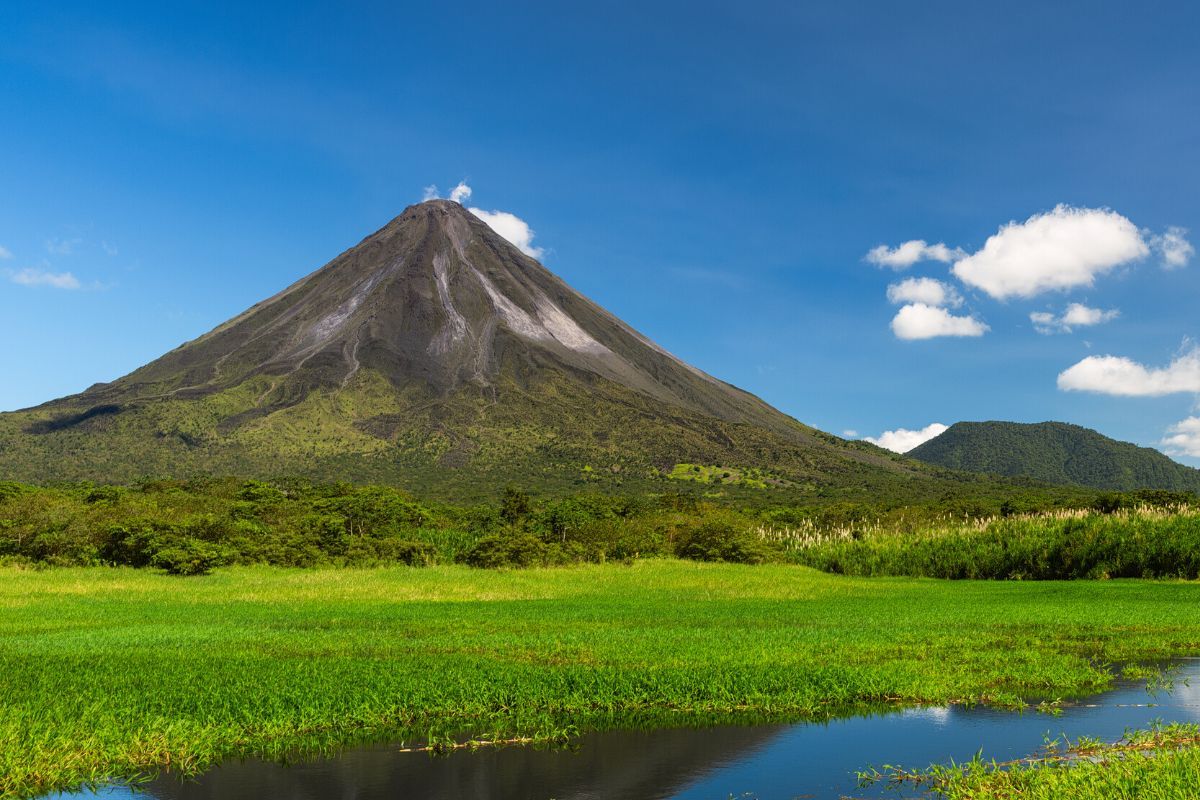 Here's all you need to know about Arenal Volcano, one of the most exciting day trips from San José.
How to get to Arenal Volcano from San José?
Arenal Volcano is situated in the Alajuela region of northern Costa Rica. It is approximately 90 kilometers northwest of the country's capital city, San José.
From San José to Arenal Volcano by car
The journey to Arenal Volcano by car takes around 3 hours and follows Route 32 north of the city. You'll merge onto Route 4 and follow it all the way to the national park.
From San José to Arenal Volcano by public transport
Another way to make the jaunt to Arenal Volcano is by public transport. You can take a direct bus from San José to La Fortuna, which takes around 3.5 hours. From there, it's a short taxi ride to the national park.
Guided tour to Arenal Volcano from San José
Alternatively, select a guided excursion to Arenal Volcano. These can last anywhere between 13 hours and 8 days, and begin with a convenient hotel pickup from your accommodation in San José.
These tours usually start early, collecting you between 5 AM and 7:30 AM.
How much does the entrance ticket to Arenal Volcano cost?
Adults: US$15
Children under 12: US$5
What is the typical itinerary?
Arenal Volcano day tours vary significantly based on the length of your excursion. Most trips last a day and start the 3.5-hour drive to the national park early in the morning after collecting you from your accommodation in the city.
While the quicker route is along the highway, most tours opt to take the more scenic journey, stopping by roaring waterfalls and coffee plantations.
Upon reaching Arenal Volcano, you may participate in a hike of the area or discover the wildlife of Arenal at a nearby refuge or center.
The majority of Arenal Volcano day trips end the excursion by relaxing in the hot springs that surround the mount.
If you choose an Arenal Volcano multi-day tour, you'll hop between regions each day, and participate in a selection of activities along the way.
You'll usually spend an entire day in each destination and stay there overnight before climbing aboard your bus, and moving on to the next location the following morning.
What kinds of tours are available to go to Arenal Volcano?
There are several Arenal Volcano day trips to choose from, depending on how much free time you have to fill on your Costa Rica itinerary.
Guided tour to Arenal Volcano from San José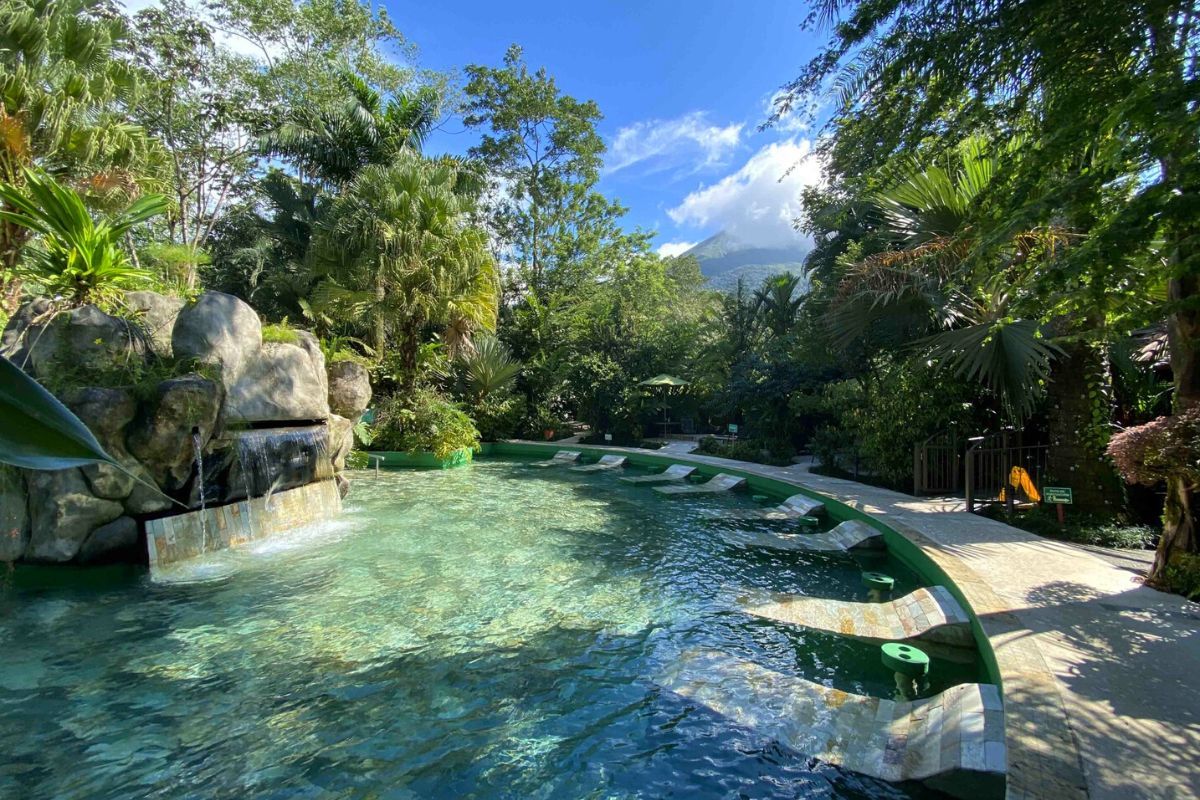 Take a scenic drive through the verdant valleys of Costa Rica, stopping at several furious waterfalls on your way to Arenal Volcano.
Taste a freshly-brewed coffee at a plantation before getting up close to Costa Rica's favorite critter — the iguana — at a wildlife center.
Learn all about the indigenous Maleku tribe residing in this corner of the country before sinking into the thermal waters of Paradise Hot Springs.
3-Day tour to Arenal Volcano plus Monteverde and Manuel Antonio from San José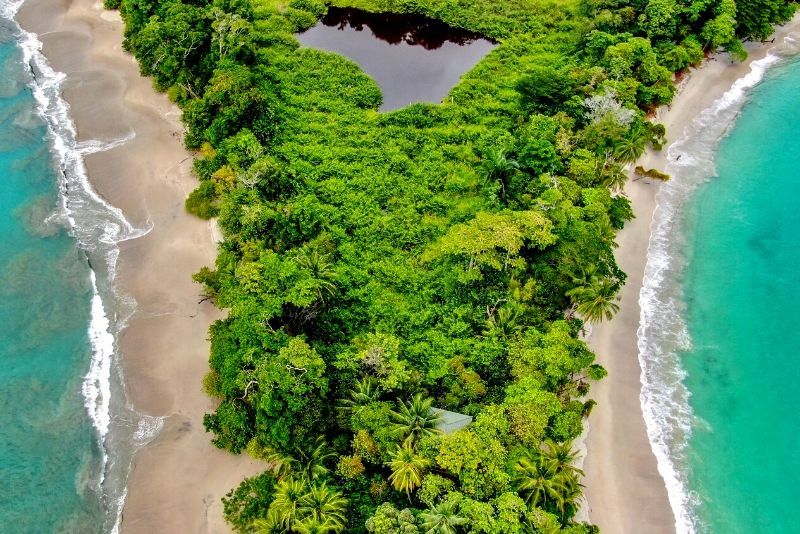 Those with more time to spare can opt for a 3-day tour of Costa Rica's natural highlights.
Hike through the misty cloud forests of Monteverde, seeking out the myriad of wildlife that call its far-reaching borders home, including shy jaguars and lazy sloths.
Journey on to Arenal Volcano where you'll participate in an invigorating hike followed by a dip in the nearby rejuvenating hot springs.
On the third day, you'll discover the paradisiacal landscape of Manuel Antonio National Park, with its tranquil bays and buzzing rainforests.
8-Day trip to Arenal Volcano plus Alajuela and Guanacaste from San José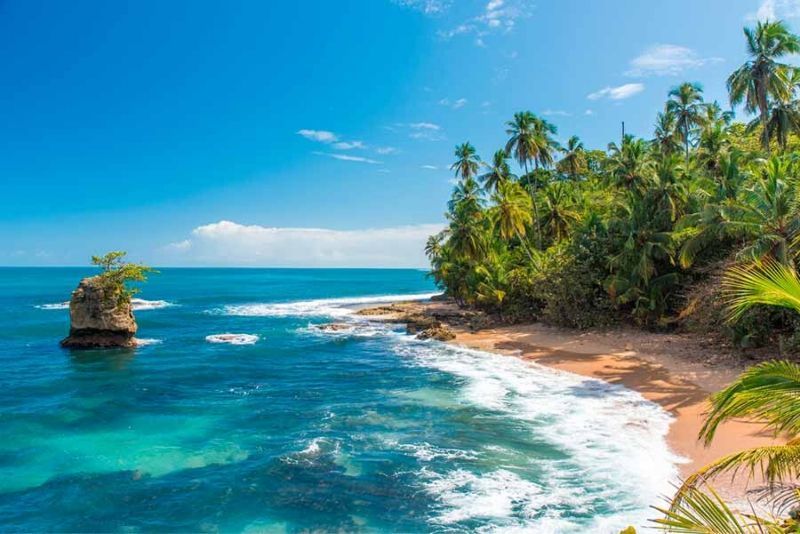 On this 8-day adventure, you'll explore the area surrounding Arenal Volcano including its healing hot springs and wildlife refuge. Trot through the Guanacaste mountain range on horseback and zoom through the diverse site on a zip line.
Sink your toes into the silky sands of Tamarindo Beach and spend some free time leisurely sipping cocktails by your hotel's pool or discovering more hidden gems of the town.
How much does a day trip to Arenal Volcano from San José cost?
Basic day tours to Arenal Volcano cost between US$150 and US$170 per person. Entrance fees are taken care of on this type of excursion and you'll enjoy the services of a knowledgeable guide.
If you opt for a 3-day trip to Arenal Volcano, Monteverde and Manuel Antonio, you can expect to pay around US$610 each. This includes accommodation at each destination, some meals and entrance fees.
Arenal Volcano multi-day tours that last just over a week start at US$1,390 per person depending on the type of accommodation you prefer.
What will you see and do?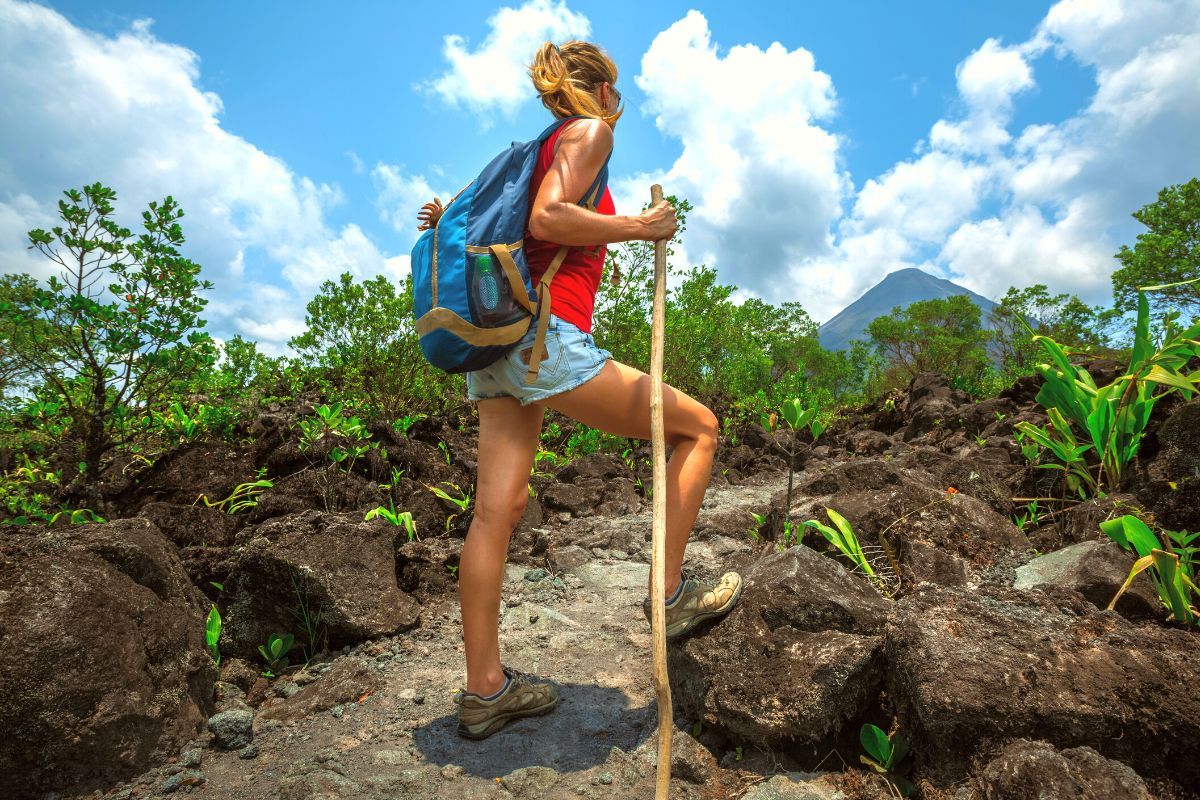 Arenal is an active stratovolcano that is relatively young in geological terms. Forming around 7,500 years ago, Arenal Volcano dominates the surrounding landscape from heights of over 1,600 meters.
While the mount is currently inactive, its last major eruption happened unexpectedly in 1968 and destroyed the nearby town of Tabacón.
This set off a domino effect of volcanic activity in Arenal and the mountain could often be seen bubbling, and spewing boiling lava. This continued for over 40 years until the volcano finally settled and fell dormant once more.
These days, visitors can hike its slopes and see evidence of these explosions for themselves before taking a dip in an azure crater lake on an Arenal Volcano day tour.
Because of this volcanic activity, the area surrounding the volcano is full of steaming hot springs. These pools contain high levels of magnesium and calcium, which aid in healing skin conditions, as well as providing relief from inflammatory pain conditions.
What are the opening times?
Arenal Volcano National Park is open daily year-round, from 8 AM to 4 PM.
When is the best time to visit Arenal Volcano?
The best time to plan a day trip to Arenal Volcano is between December and April when you'll experience the driest climate. The temperatures in the region hover between 26 and 29 degrees Celsius year-round.
Costa Rica's rainy season hits Arenal Volcano between May and November. However, showers typically last just a few hours and this season can be more budget-friendly for traveling.
Are there any tours to Arenal Volcano from other cities in Costa Rica?
Yes, there are tours departing from other cities in Costa Rica:
Travel tips
Most Arenal Volcano day trips include meals. If you have any dietary requirements, let your operator know upon booking.
If you struggle to plan activities on vacation, opt for a multi-day tour that is packed with adventures and doesn't require you to do any research or organize any events yourself.
Remember to take your camera with you on your tour!