One of the best ways to explore Costa Rica's rainforests is to go on a night walk in the wilderness in La Fortuna.  
Many tropical animals are nocturnal and it's when the sun goes down that the rainforests of Costa Rica become alive with creatures of the night. A night walk in La Fortuna's rainforests will enable you to discover these night creatures in their natural habitat.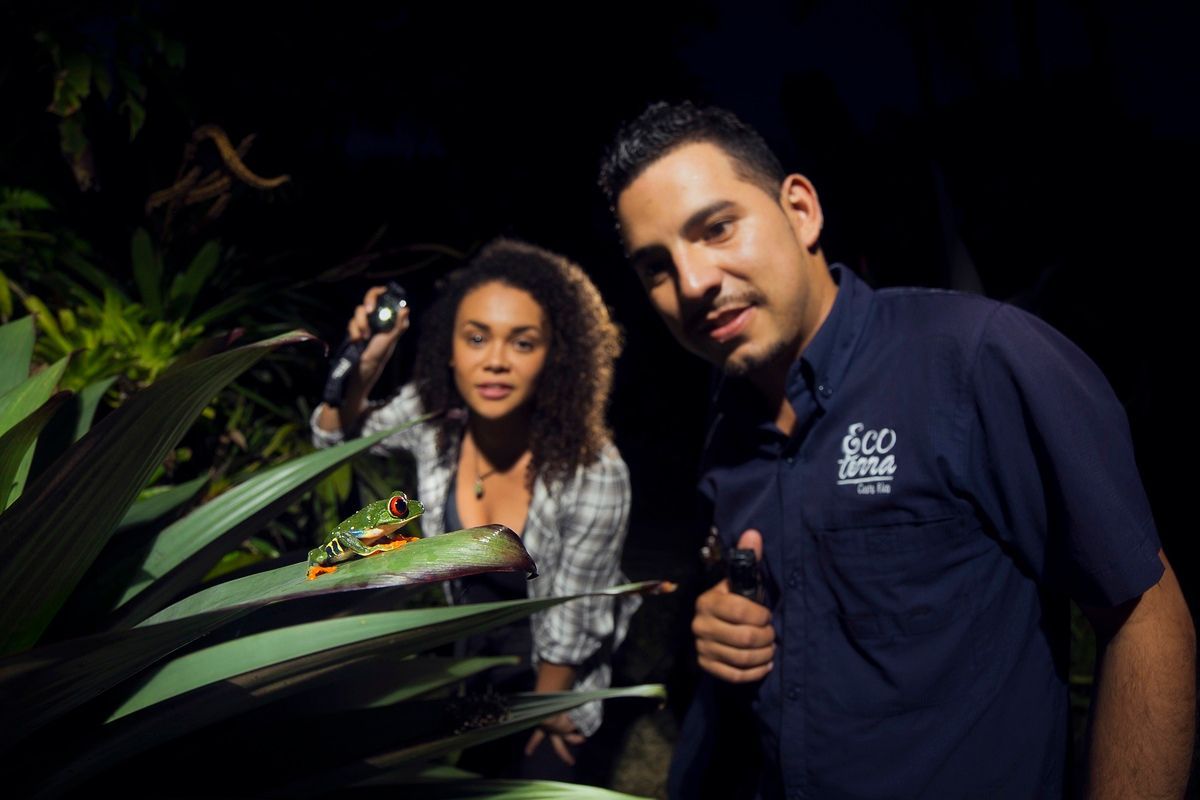 Here's all you need to know about rainforest night walks, one of the most exhilarating outdoor activities in La Fortuna.
What are the best rainforest night walks in La Fortuna?
Rainforest night walk and dinner from La Fortuna
On this 4-hour night walk in the rainforest in La Fortuna, you will discover the sights and sounds of the Costa Rica wilderness after dark. You will also enjoy a Costa Rican dinner and explore a frog reserve in the countryside.
Throughout the day, having a second driver will enable your guide to give you his full attention. He will lead you along the peaceful trail, where you will view the local wildlife in their natural habitat. You can keep an eye open for bats, other nocturnal birds and animals that make their way along the treetops and forest floor.
The La Tigra trail will take you around the lakes to the frog reserve, devoted to the rejuvenation and natural procreation of various frog species. Here you will find many species, including the dart frog and the bullfrog, the tiniest and biggest frog species, respectively, in Costa Rica. Also look out for the colorful red-eyed tree frog and the cute glass frog in their natural environment.
At the end of the tour, you will enjoy a delicious Costa Rican dinner that will be traditionally cooked on a wood-stoked stove. While you savor the taste of your meal, you can admire the lights of the San Carlos valleys. After dinner, you will be transported back to your hotel in La Fortuna.
Rainforest night walk next to the Arenal Volcano
Going on this night walk near the Arenal volcano, you will experience the rainforest coming alive with fascinating nocturnal creatures. The trail is custom-designed for forest exploration after dark and you can gradually immerse yourself in the nocturnal life of the area.
La Fortuna and Arenal National Park are the perfect introduction to Costa Rica, and will gradually expose the beauty of this region's flora and fauna. On this trip, enjoy the Ecoglide Arenal Park, linked with the Arenal Volcano National Park and surrounded by rivers, forests and mountains.
Your night walk will start with an outing around the ponds of the park. Your experienced nature guide is adept at finding the elusive nocturnal wildlife and will point out a variety of fauna species. These include the rare poison toad, dart frog, leopard frog, snakes, basilisks and spiders.
You will discover how these fascinating creatures interact to create a different world in the rainforest after sunset. Share the guide's knowledge of the natural environment, who will explain in detail the marvels of the rainforest's ecosystem. At the end of your fascinating night forest walk, you will return to your accommodation in La Fortuna.
How much do rainforest night walks tours in La Fortuna cost?
The rainforest night walk and dinner from La Fortuna costs US$65 per person, while the night walk next to the Arenal volcano costs US$105 per person.
What is included?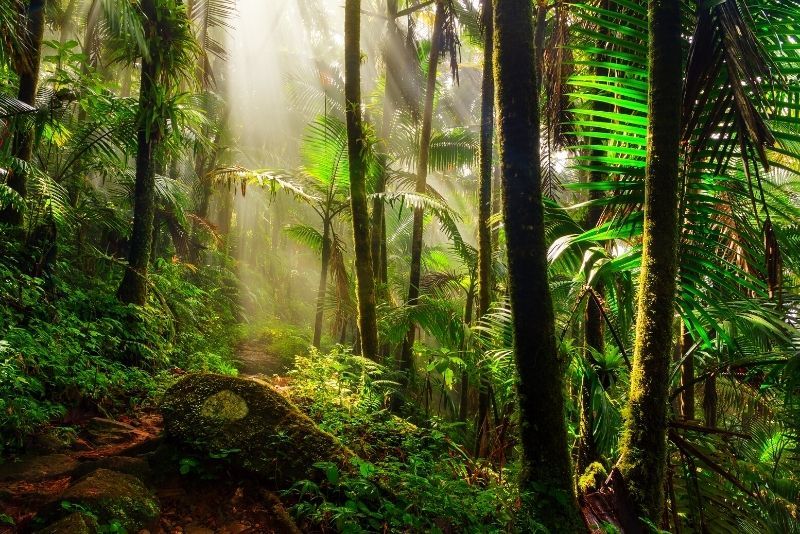 Your rainforest night walk tours include hotel pickup and drop-off, an air-conditioned vehicle, a professional guide, a Costa Rica dinner, bottled water and gratuities. If your accommodation is outside La Fortuna, then pickup may incur an additional charge.
Where does it start?
Pickup is available from all hotels in La Fortuna and surroundings to meeting points in La Fortuna (La Fortuna de San Carlos or at 142 La Fortuna).
How long does it last?
The typical duration of rainforest night walks is 2 to 4 hours. The rainforest night walk and dinner from La Fortuna lasts 4 hours, while the night walk next to the Arenal volcano 2.5 hours. The night walk twilight tour lasts 2 hours.
When is the best time for a rainforest night walk in La Fortuna?
The best time to visit Arenal and La Fortuna to enjoy the best weather is from the beginning of December to mid-April. The warmer and sunnier weather is most stable during the dry summer season (March/April). La Fortuna's busiest months are January to March, with September the least visited.
Is it safe?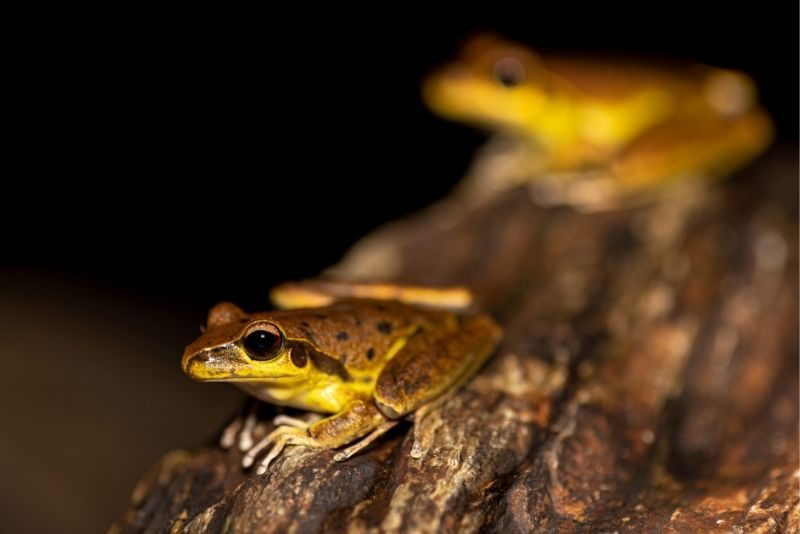 Rainforest nightwalks are safe, but keep to your guide's instructions and stay on designated trails to avoid snakes and other possibly harmful animals. Some frog species are poisonous and should not be touched at all.
Are children allowed?
Children of all ages are allowed on the night walk and dinner from La Fortuna, the night walk next to the Arenal Volcano and the night walk twilight tour. They must be accompanied by an adult. Infant seats are available for some tours.
What happens in case of bad weather?
The rainforest night walks in La Fortuna are dependent on good weather. Should it be canceled because of poor weather, you can choose a different date or request a refund.
Which other outdoor activities can be done in La Fortuna?
Travel tips
Make sure to book your night walk in La Fortuna in advance.
Bring fast-drying clothes, a rain jacket, sunscreen and insect repellent.
Wear comfortable hiking shoes/sandals.