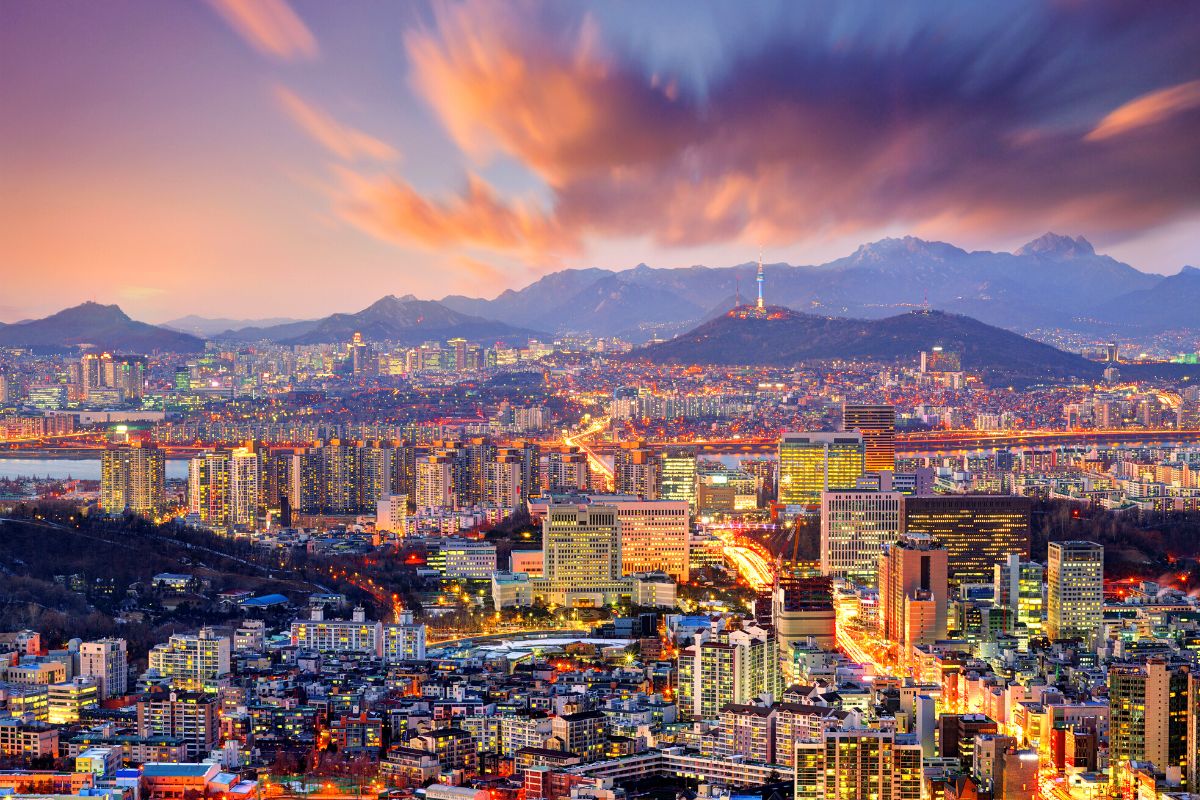 With an incredible population of over 9 million people, Seoul, South Korea is known worldwide as a giant metropolis, celebrated for its rich history dating back as early as 18 BC, but most widely understood from its Joseon Dynasty beginnings in 1392.
Today, Seoul is home to 4 UNESCO World Heritage Sites, state-of-the-art ecological parks and buildings, and a globally recognized performance theater presence.
Not to mention home to some of the most delicious street foods to savor, a stylish avant-garde fashion scene, and most recently, the rise of K-Pop fandom reaching global status.
We've got an inspiring and informative list ahead, so If you're planning a trip to Seoul, let's dive straight into the 99 fun and unusual things to do in Seoul, South Korea.
1 – Enter the impressive Gyeongbokgung Palace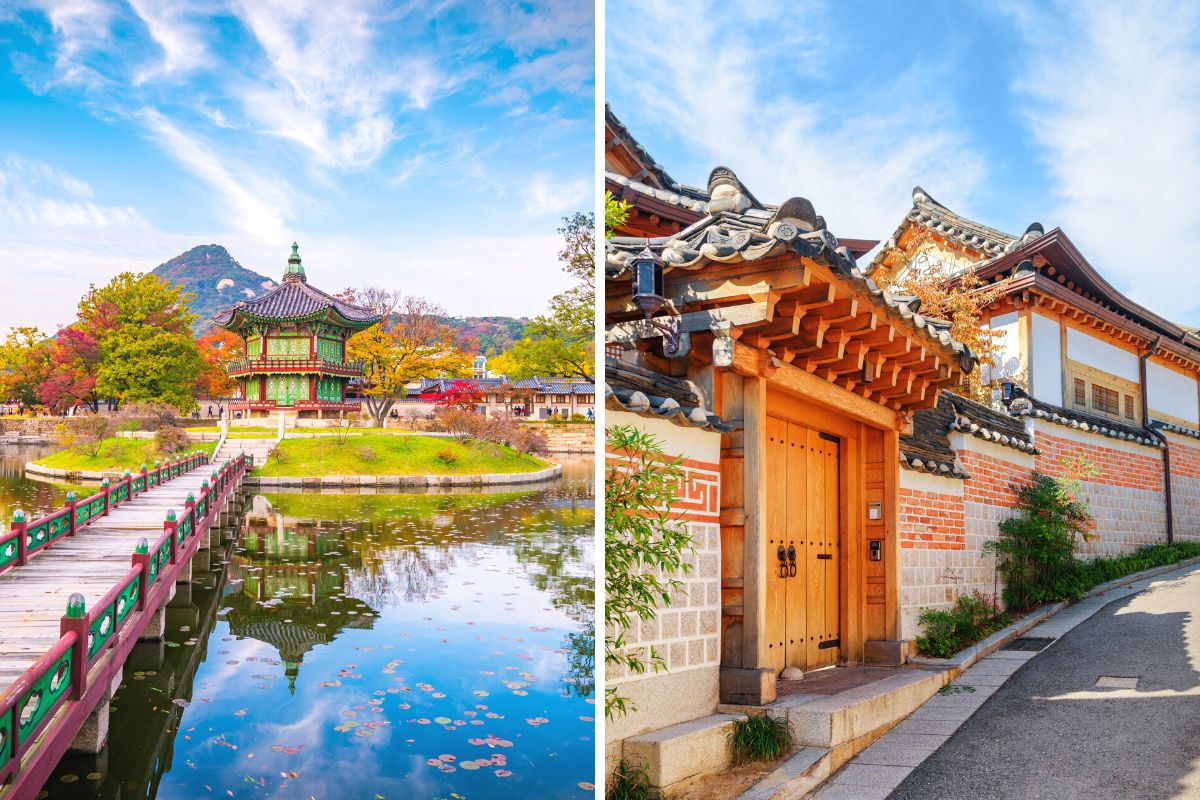 Built in 1395, the Gyeongbokgung Palace (palace greatly blessed by Heaven) was the residence of the Joseon dynasty, which ruled from 1392 -1897.
The palace also known as Gyeongbokgung Palace or Gyeongbok Palace was abandoned some 300 years after the devastation hit by the Japanese invasion of 1592, the Korean War, and multiple other natural disasters.
After continuous renovations, the palace is open today for visitors to admire and learn from. Enjoy walking around the palace grounds, entering the National Folk Museum of Korea, and the National Palace Museum of Korea.
Walk through the Gwanghwamun Gate, the main entrance of the palace built in 1395, signifying defense against invaders. Check out the changing of the guards every day at 11 am or 1 pm.
Consider booking a bus tour, oftentimes including a stop at the famed Bukchon Hanok Village, a 600-year-old village nearby.
2 – Go to the top of the N Seoul Tower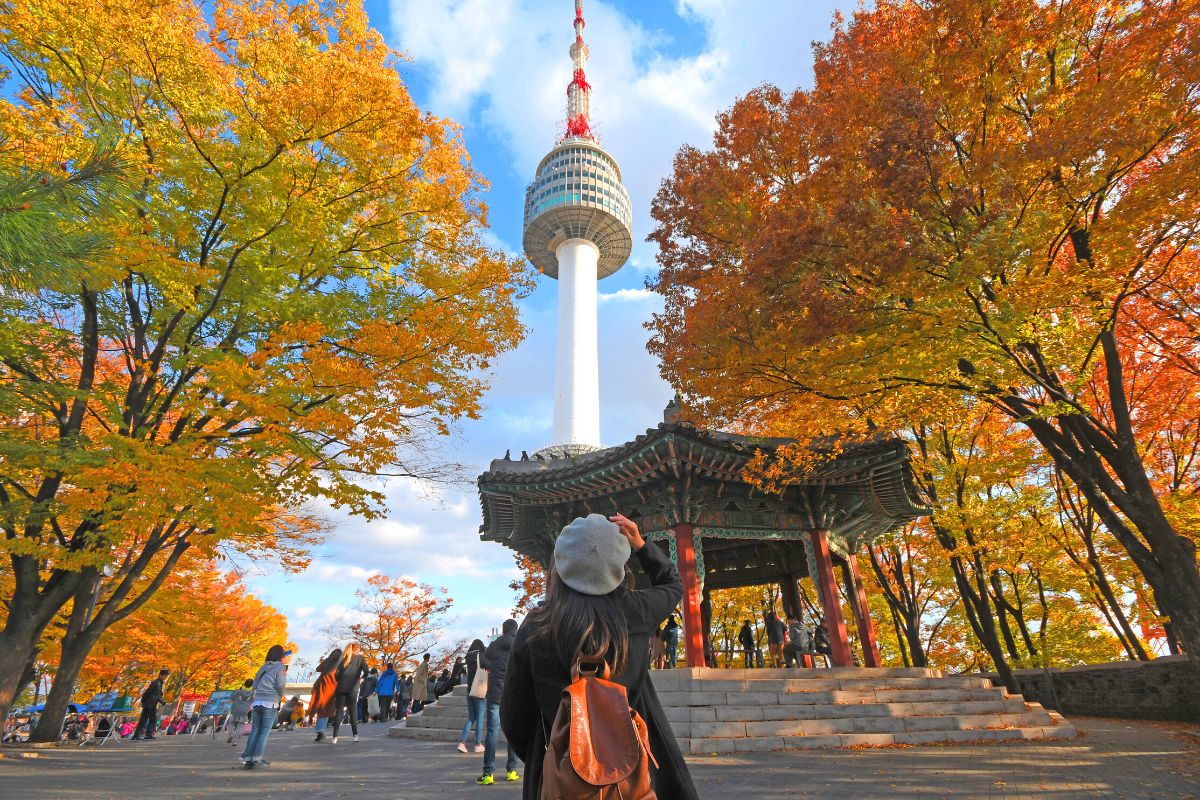 Adorning the cityscape of Seoul's modern city is the N Seoul Tower, reaching an incredible height of 236 meters tall. The height combined with striking modern features marks the N Seoul Tower the second highest point in the city, located in the heart of Seoul.
Additionally recognized as Namsan Tower or Seoul Tower, the N Seoul Tower is known for its entertainment, shopping, communications, and observation tower, which is a must-see for sweeping views of the city and nature, with the admission of 16,000 won.
Just a 5-minute walk away from the tower is Namsan Mountain Park, a picture-perfect park with walking trails and hills to climb up and catch another admirable viewpoint of the city.
Check out Namsan Cable Cars, offering an impeccable bird's eye view of the city on a 15-minute cable car ride.
3 – Unlock tremendous history at the National Museum of Korea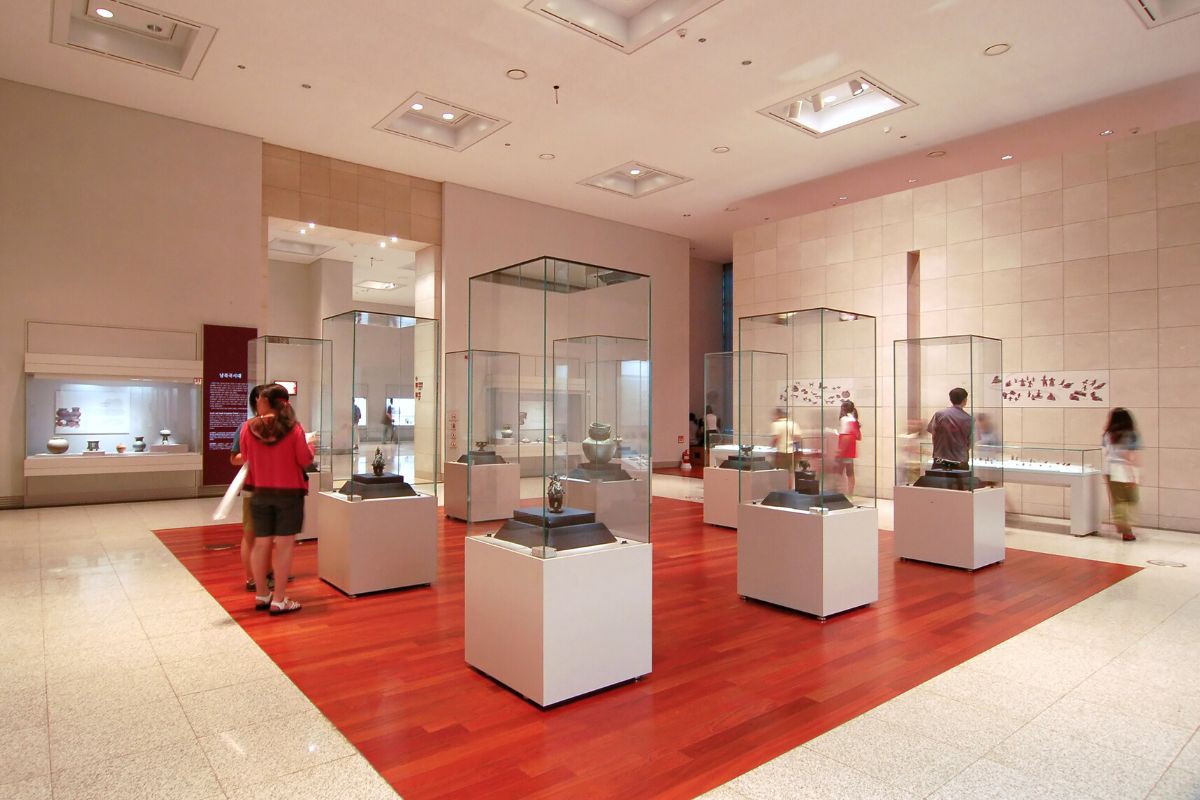 Dive deep into Korean history at the National Museum of Korea, walking visitors through the different eras of the country, starting with the fascinating ancient history.
The museum has various permanent exhibits as well as special exhibits to wander through. Check out the Room of Contemplation, housing 2 pensive bodhisattva statues dating between the 6th-7th centuries, inviting visitors to ponder life's bigger questions in the section of the permanent exhibition.
In the temporary exhibition center, check out an updated calendar with upcoming international exhibits, such as the Aztecs, Mesopotamia, or the Astana Tombs. Step into the massive Korean calligraphy and Buddhist painting gallery.
Known as the largest museum in Korea, collecting an estimated 320,000 artifacts, dispersed over 3 floors, the museum is free entry with the exception of special exhibits and is open between 10 am – 6 pm every day, except Wednesdays and Saturdays when it's open until 9 pm.
4 – Discover the number of activities to do inside Dongdaemun Design Plaza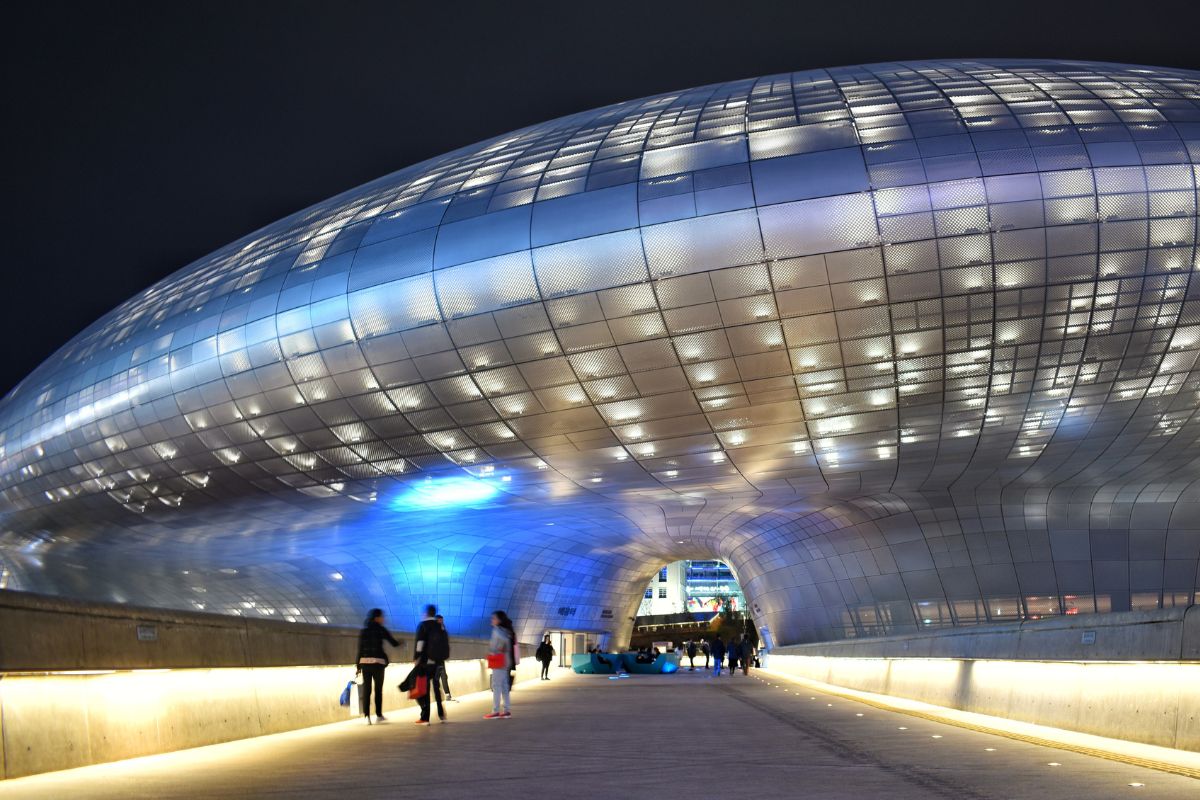 Built to host some of the city's most emblematic events and housing a myriad of exhibitions and then some, is the stunning Dongdaemun Design Plaza (DDP), which opened its doors in 2014 to the public.
The DDP is known for its remarkably futuristic appearance, drawing crowds of locals and tourists for its markets, incredible shopping, cultural and international events, galleries and exhibitions, museums, and more.
Appreciate the building's rounded-out curves, modern gray, concrete aspect, aesthetic lighting, and welcoming aura, located in Seoul's historic district of Jung-gu. DDP is divided into approximately 7 sections, each housing a different purpose, and open for certain events.
The DDP is open all year round and is free to enter and admire, however, if there is a specific activity you'd like to participate in, a fee may be added. Interpretation services for English speakers are available.
5 – Plan a day trip to the naturally abundant Nami Island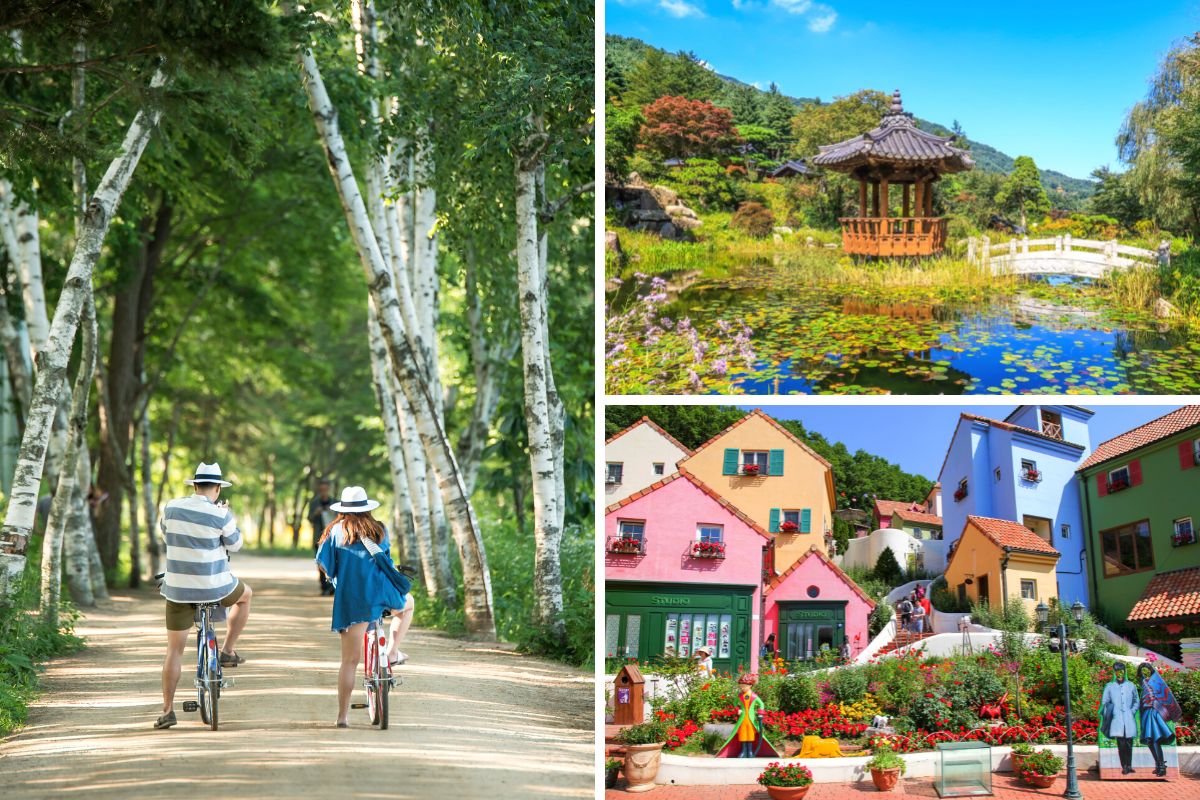 Check out a day trip to the river island called Nami Island, located approximately 1.5 hours from downtown Seoul.
Nami Island lures its visitors with its quaint and very picturesque natural sites, from shady tree-lined trails to sparkling calm rivers, that seem to dress the island in a variety of colors no matter which season.
Situated 20 minutes away is Petite France, a stunning French-inspired park adorned with pastel-colored houses near a mountain and mirror-like lake.
Check out one of the most beautiful gardens in Korea, Garden of Morning Calm, known for its plush and colorful display of plants of all sorts, perfectly manicured flowerbeds, peaceful walking trails, and heavenly rivers.
Gangchon Rail Bike is known for its old train tracks turned bike trail, where visitors rent a rail bike and pedal their way on the track, gazing upon the beauty of the mountainous landscapes.
Lastly, check out Mount Seorak, the towering 1,708 meters tall jagged mountain, and its abundant hiking trails. Take in sights like the bronzed statue of Buddha, and temples, or hop on the Seoraksan Cable Car to go to Gwongeumseong Fortress and so much more.
6 – Take a beautiful stroll through the Cheonggyecheon Stream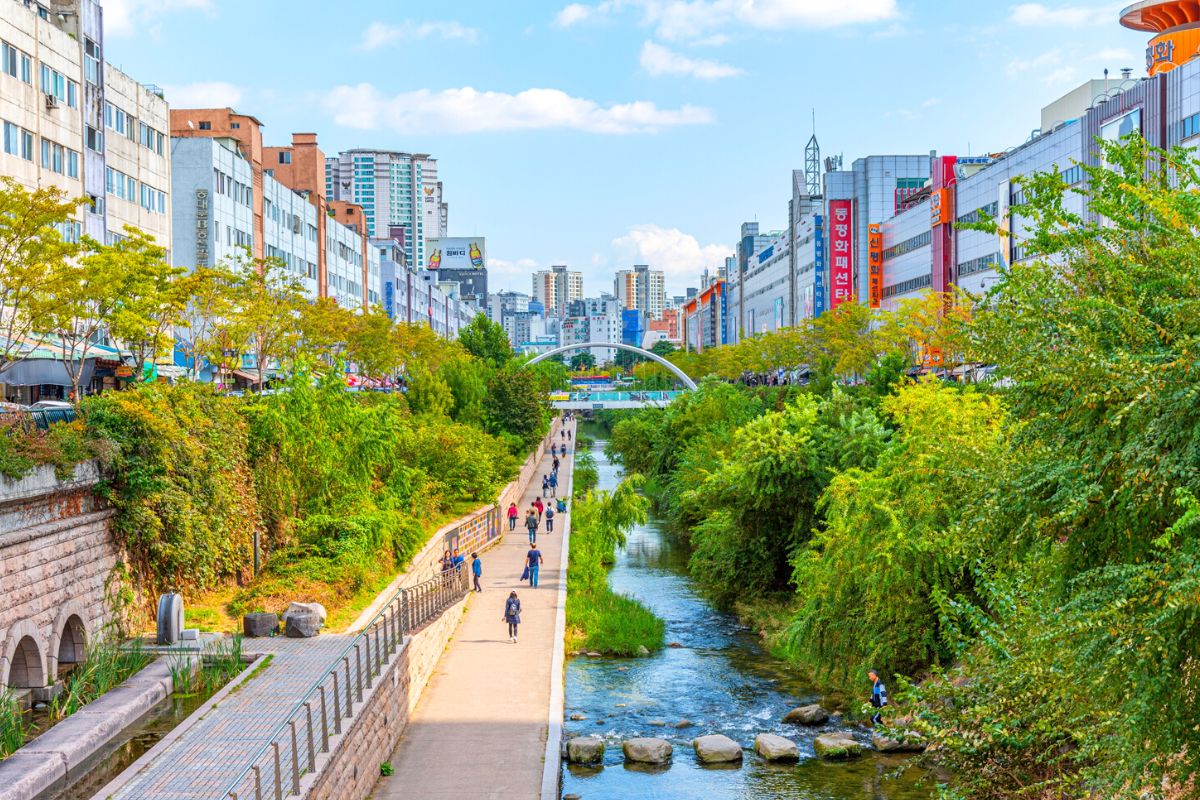 The Cheonggyecheon Stream is an ecological park and walkway that has replaced a historic, pre-existing stream from the Joseon Dynasty.
Undergoing a variety of transformations over the years, the park was built as an open cultural space with an environmental consciousness that the public could enjoy.
Walk almost 11 kilometers, starting at the Cheonggye Plaza, where visitors are welcome to visit any time of the year, as many different events and exhibits are held throughout the walkway.
Enjoy the Lotus Lantern Festival taking place late April-mid May, the Seoul Lantern Festival in November, or the gorgeous Seoul Christmas Festival in December.
Visit during the evening to watch a beautiful, glowing spectacle of lights featuring synchronized light shows, lit-up waterfalls, and a symbolic wishing well created with 8 different stones representing the 8 provinces of the country.
7 – Relish the local food scene through the markets on a food tour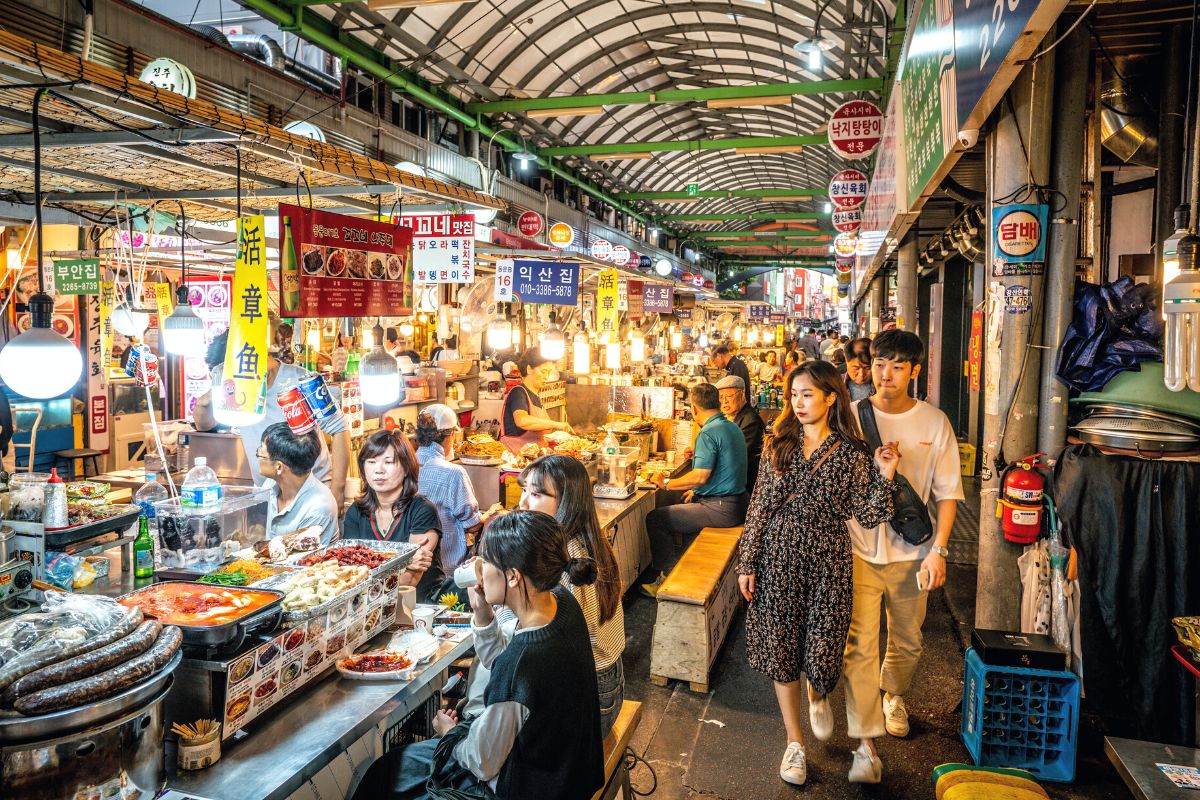 On a locally crafted food tour, featuring Korea's main dishes like Japchae (stir-fry noodles), check out Gwangjang Market, a must-stop on any food adventure housing more than 400 shops and food stalls, in the historic center of Seoul.
Known to be one of the city's oldest markets, dating back to 1905, lose yourself in a symphony of delicious scents enveloping you in a colorful market scene.
Noryangjin Fisheries Wholesale Market is a popular fish market, where all of its fish is mainly still alive, living in large fish tanks until they are purchased, guaranteeing the freshness of the fish, as well as the market.
Step into Tongin Traditional Market, a popular foodie haven, showcasing an abundance of fish stalls and street food options. While you're scouting your next meal, appreciate the incredibly fresh produce and local ingredients being sold.
8 – Wander through the serious beauty of Seoul Forest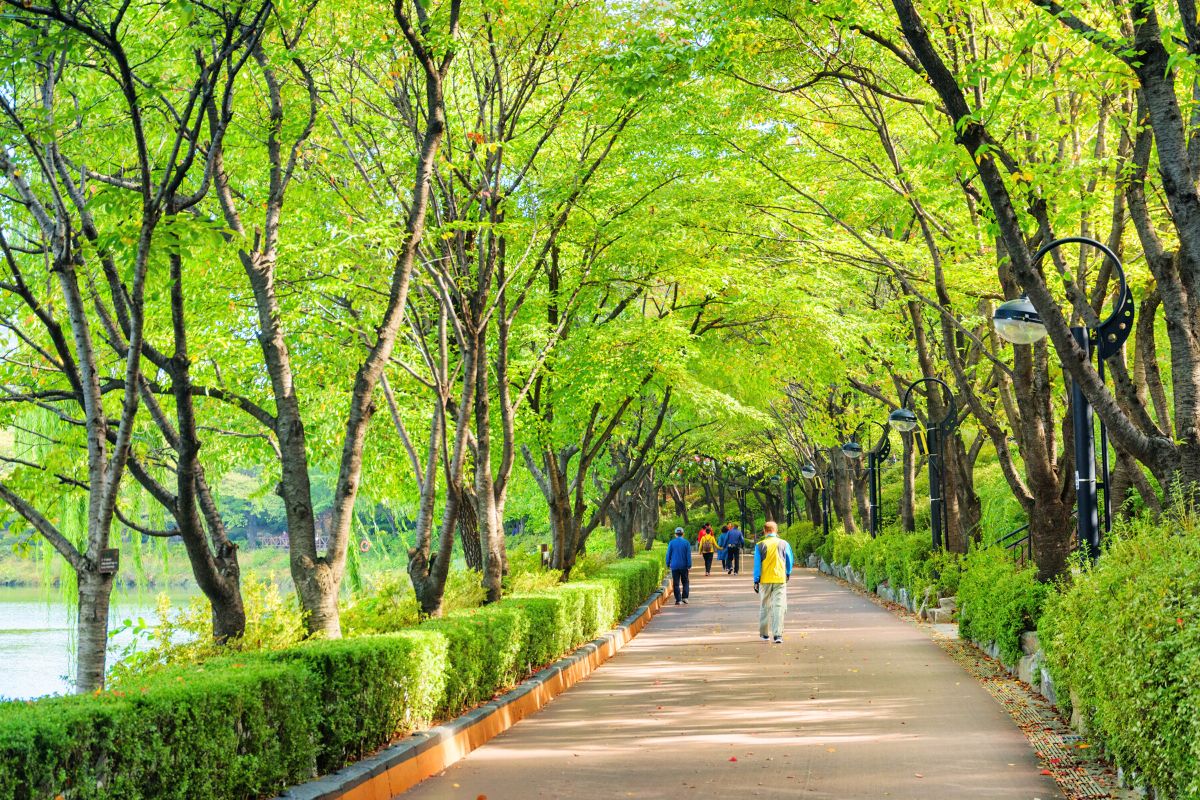 Free to enter and enjoy a peaceful nature escape is the Seoul Forest, which hosts a variety of different activities that are at an additional cost such as the Eco Forest (deer petting zoo), Insect Garden, Butterfly Garden, and a few more activities.
Though the park is always brimming with over-the-top beauty, some of the best times to witness pure natural splendor are in the spring during the Cherry Blossom season or during the fall when the leaves start to turn bright orange, red, and yellow.
Consider renting a bike to really get the full image and sensation of the season, for the hourly rate of 4,000 won, or walk through the various walking paths, including the fabulous overhead footbridge that connects Seoul Forest to Hangang Waterside Park.
Located in Seongdong-gu, 20 minutes away from Seoul city center on public transportation.
9 – Learn about Korean ethnography at The National Folk Museum of Korea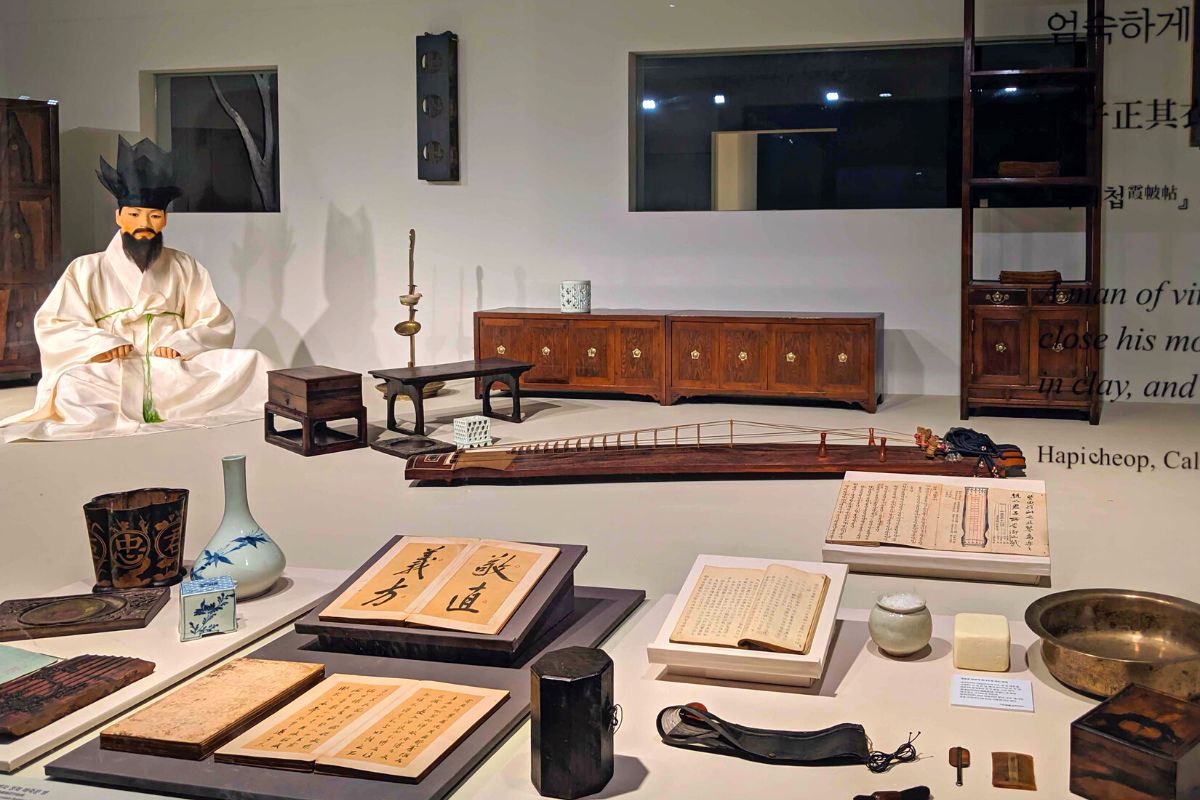 Situated within the emblematic Gyeongbokgung Palace is the National Folk Museum of Korea, which houses the social story of the people of Korea, showcasing expansive examples of work that detail social and cultural life in Korea, past and present.
Walk through the 3 permanent exhibits of the museum – Korean Traditional Daily Life', 'A Year in Korea', and 'Korean Life Passages' and the open-air exhibit, showcasing various other elements of traditional life in Korea.
View the dozens of artifacts, from film, literature, art, and a variety of other materials collected from different sources that have been kept and showcased to locals and visitors to appreciate.
Take your children to the Children's Museum inside, with specialized exhibits for children to understand at their level the different exhibits found in the actual museum.
Admission is free with a Gyeongbokgung Palace ticket.
Sponsored placement
Unveil the magic world of the Alchemy of Souls
Using state-of-the-art technology such as holograms and projection mapping, the unique "Alchemy of Souls: Light and Shadow" exhibition creates an immersive experience based on the original drama of the same name.
With 10 major themes from the Alchemy of Souls universe reinterpreted, immerse yourself in the dreamy elegance of Daeho, with this hour-long adventure of light and shadows.
10 – Have some fun on a Han River Cruise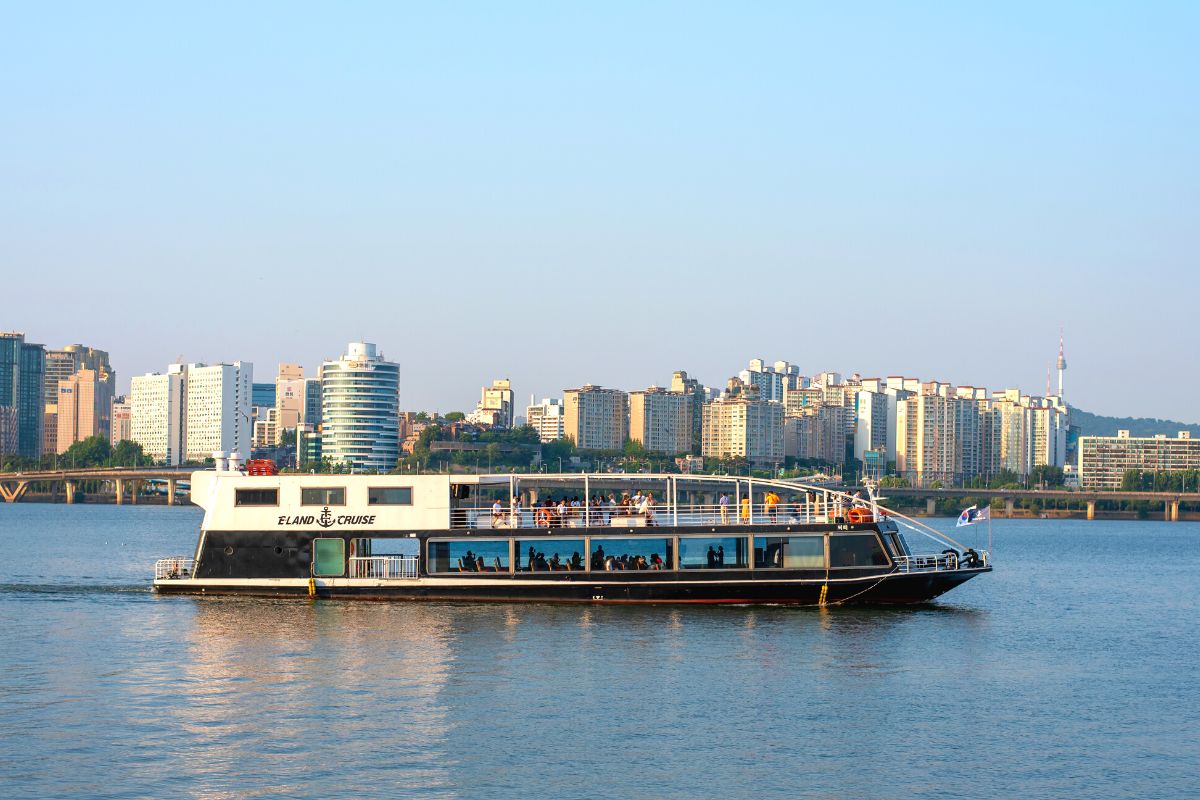 The Han River Cruise is a popular pastime for locals and exciting activity for visitors, taking guests on a journey across the Han River (also known as Hangang River) since the late 80s and today.
Featuring a wide variety of sights to catch along the way, such as the Bamseom Islet, Jeoldusan Park, and Namsan Seoul Towel, the cruise famously puts on live performances, and offers buffet lunch or dinner, while cruising under the hot Korean sun, or the gentle sunset.
Choose from a variety of cruise themes such as story cruise, music cruise, or moonlight cruise, as well as taking the cruise during the day or night. Tickets start at 15,000 won for adults and 89,000 won for the fireworks cruise.
11 – Get a vast bird's eye view of Seoul by walking the Seoul City Wall Trail on Inwangsan Mountain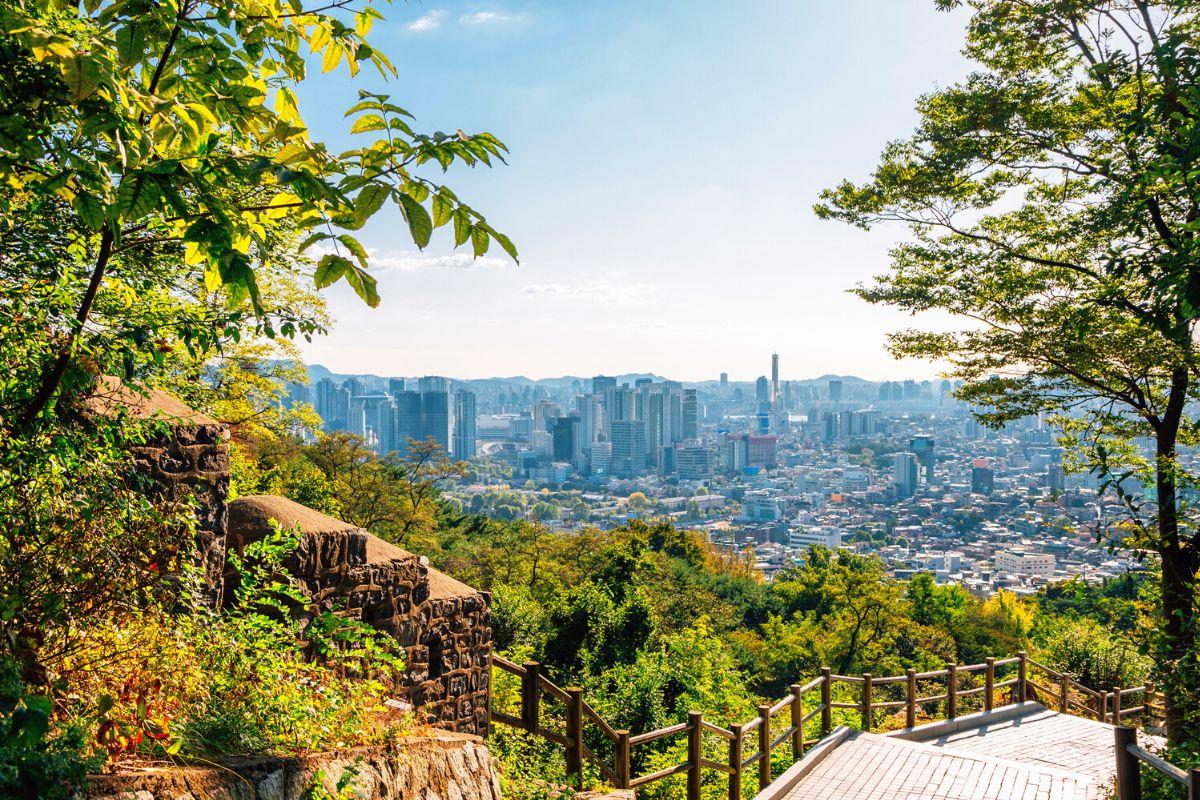 The Seoul City Wall is a historic wall that dates back to 1396 that was built to protect Seoul from invaders during the Joseon Dynasty. It's a wall that crosses Inwangsan Mountain – up the mountain, through the summit, and descending.
In fact, the only hike available on the emblematic Inwangsan Mountain is guided by the Seoul City Wall Trail, making the trail comfortable for most travelers, and offering incredible views of the mountainside and city.
The Seoul City Wall Trail is very extensive, it even goes beyond the Inwangsan Mountain to a few other mountains. The total length of the Seoul City Wall Trail is approximately 18.6 kilometers.
The Inwagsan Moutain is a perfect mountain to hike to get full city views, as well as catch sight of some interesting natural rock formations throughout the hike.
12 – Spend the day at Seoraksan National Park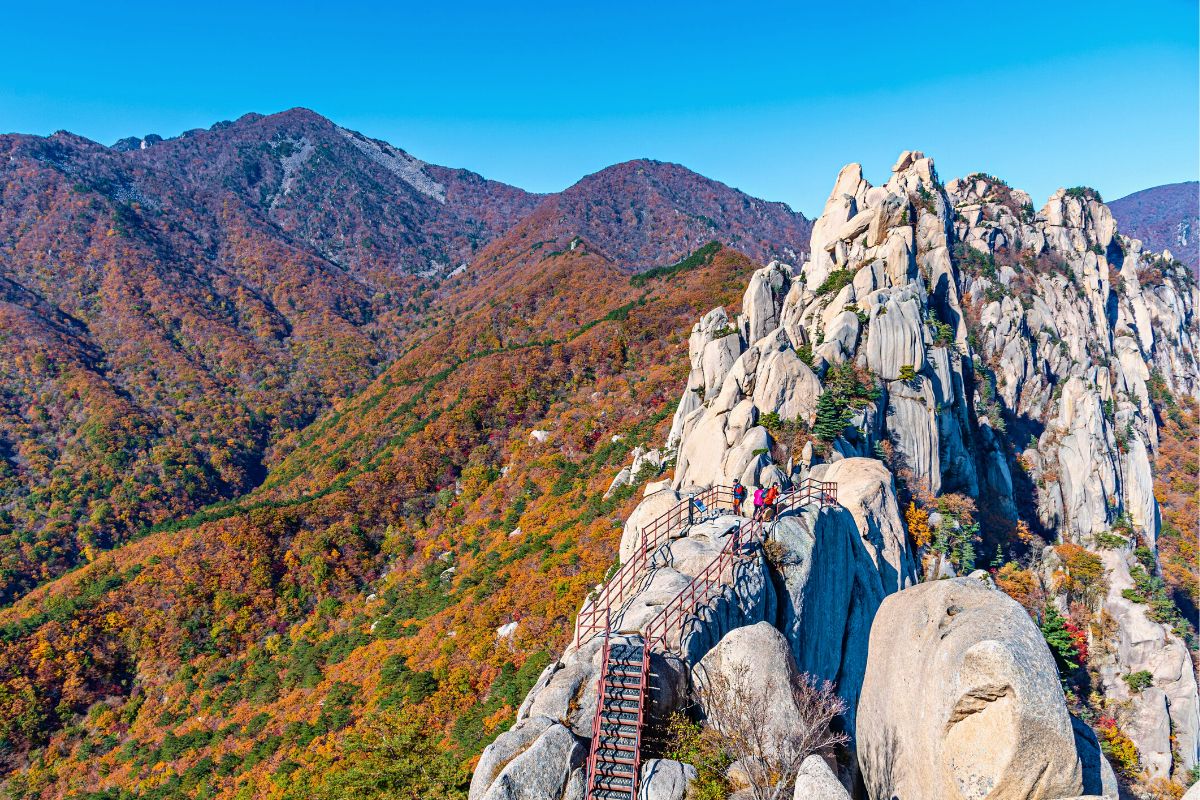 Located on the northern side of Korea, Seoraksan National Park is known to be the country's third highest peak, standing at around 1,708 meters, one of the best day trips from Seoul for adventure seekers.
The park itself takes up 398.539 square kilometers and has a wide array of recognition from being designated the 5th national park in Korea in 1970, to being a very popular nature destination for a lot of locals.
While hiking, make sure to check out one of the 30 different smaller peaks, as well as the Geumganggul Cave perched up some 600 meters above.
Check out the 2 Buddhist temples in the mountains, Baekdamsa and Sinheungsa, as well as take sight of the beautiful natural scenery of flowers, plants, and wildlife such as the Korean musk deer, and the Korean goral.
Take the Seoraksan Cable Car, taking visitors up to the Gwongeumseong Fortress sitting on the top.
13 – Steep yourself in Seoul's history at the Seoul Museum of History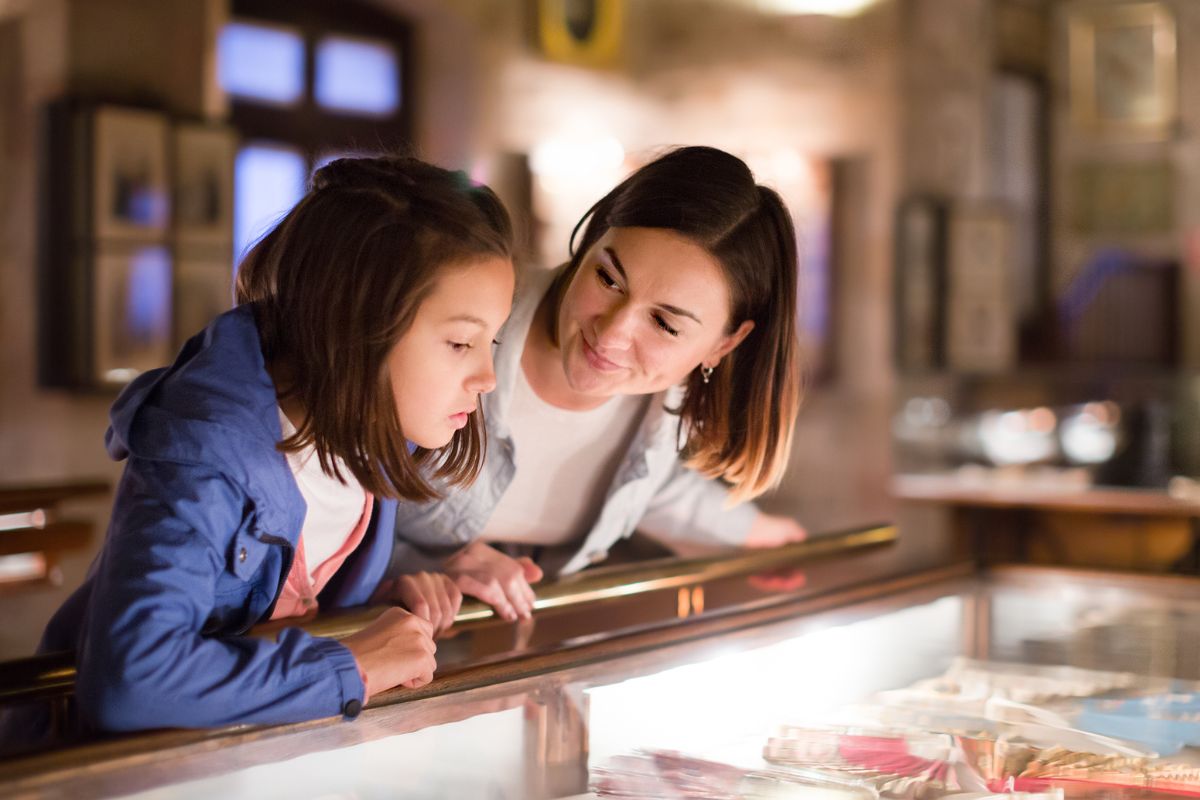 Enter the timeline of Seoul's history via the Seoul Museum of History, welcoming visitors to enter its space, and learn about the humble beginnings of a major global city, today.
The museum has 5 permanent exhibitions, starting with the Joseon Capital in 1392, all the way to modern-day Seoul.
The museum also has a lobby exhibition showcasing visiting international historical pieces from the Czech Republic to Guatemala, as well as an outdoor exhibit area, showing visitors materials and figures that were once a part of important Korean buildings, palaces, and sculptures.
Stop by the VR exhibition, taking visitors on an immersive journey, enveloping the senses to take a personal journey through the exhibits they see presented in the museum, in virtual reality.
Stop by the Jongno-gu district to check out the museum. Tickets to enter are free.
14 – Marvel at the beauty of the bridge fountain called Banpo Bridge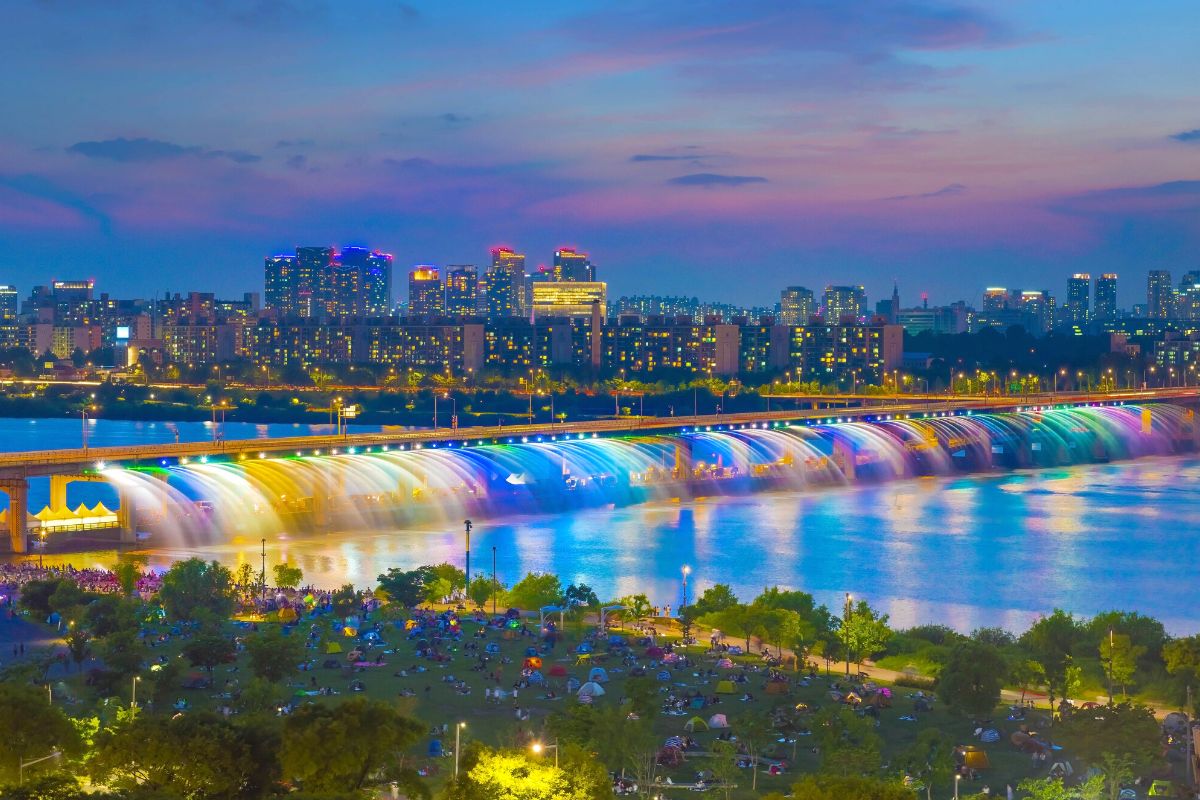 Crossing over the Han River, displaying a scene of cascading water is the iconic Banpo Bridge Fountain, ranging 570 meters in length.
The Banpo Bridge is considered to be the longest bridge fountain in the world, impressively equipped with 380 nozzles.
The bridge is designed to take water from the Han River, and release it back into the river, in a beautifully lit fountain display with music included, all across a 1.14-kilometer stretch of the bridge.
Walk the path underneath the bridge, or visit Some Sevit (floating islands) nearby, and catch the show from a different angle, marveling at the spectacular display of water and light, any time of the day, but especially during sunset or in the evening.
Sponsored placement
Van Gogh: The Immersive Experience!
Dive into the world of Vincent van Gogh in Seoul`s 360º digital art showcase. Travel back to the 19th century and discover the life of Van Gogh in "A Day in the Life of the Artist in Arles France" through a unique VR journey. Step into the canvas, feel the world shaped by his brushstrokes, and immerse yourself in an evocative light and sound performance.
15 – Explore the grounds of a well-preserved Changdeokgung Palace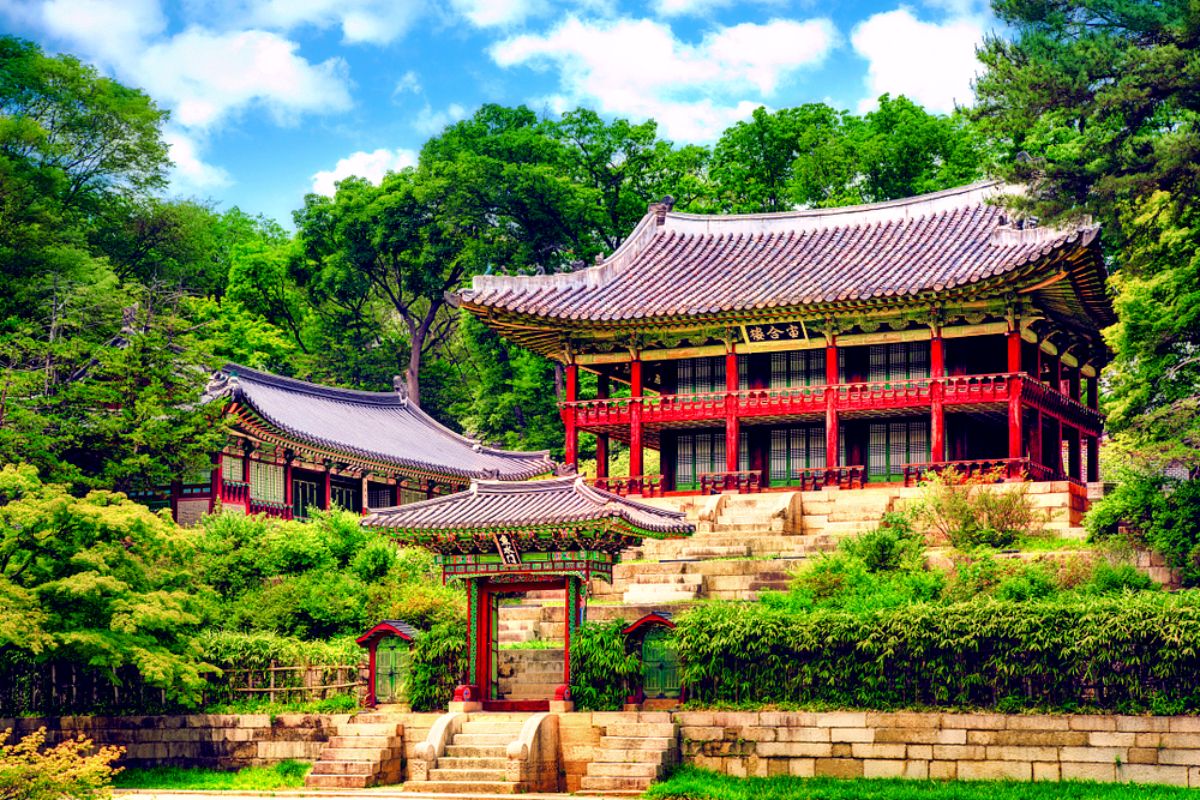 A must-visit is the Changdeokgung Palace, a UNESCO World Heritage Site, and space that was the residence of various Korean royalty as the second royal palace at the time, in 1405.
Admire the beauty of the architecture of this very well-conserved palace, and its perfect mold to the natural landscape of the grounds. It is a perfect representation of architecture and nature intermixing together.
Check out the majestic Donhwamun Gate, which is where you can pick up your ticket, and then proceed to the grounds, where you'll see the Geumcheongyo, the oldest stone bridge in Seoul.
Stop by the Secret Garden, a perfect slice of greenery galore., boasting calming ponds covered in lilypads, and pavilions near the water, offering a closer look at the natural beauty.
The garden needs previous reservations ahead of time separate from visiting the palace alone.
16 – Walk the impressive elevated park called Seoullo 7017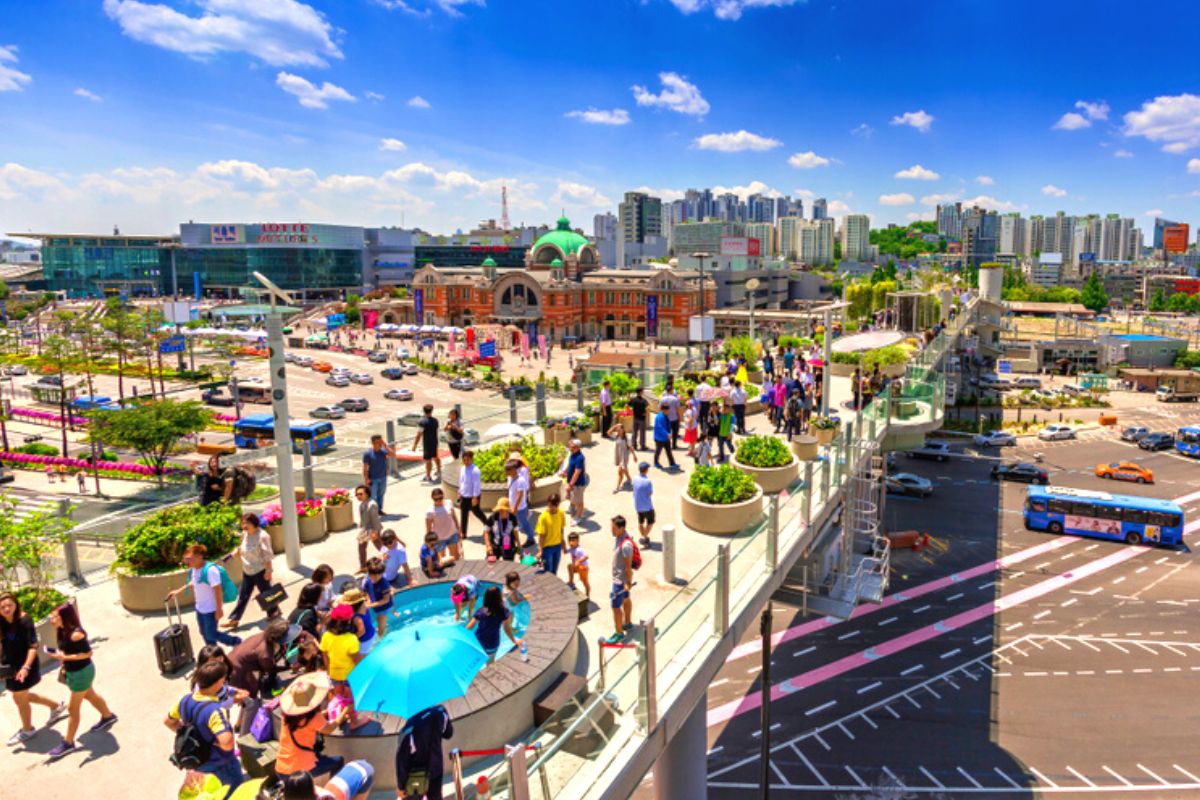 Creative and unique is the Seoullo 7017, an elevated park that was built on a former highway, situated in the Jung-gu district.
Spanning around 983 meters long and housing a multitude of plant life from shrubs, flowers, and trees, the park welcomes visitors to enjoy this unique garden escape in the middle of a bustling city.
Seoullo is translated to "Seoul Street" while 7017 references the year in which the highway was built, in 1970, and when it turned into the park space it is today, in 2017.
Visit during the evening, when the LED lights underneath the benches and around the plants illuminate further the park and reveal its splendor.
Surrounded by tall glass windows on each side, visitors will feel protected by any kind of strong winds that may pass through the elevated park.
17 – Get a 360-degree view of Seoul from the Lotte World Tower
Visit the tallest tower in Seoul and the 5th largest in the world, Lotte World Tower, standing tall with 123 floors, boasting incredible city views unlike anywhere else in the city.
Inside, enjoy the wonderful services and amenities, including cafes, art galleries like the Lotte Museum of Art, and even a luxury hotel.
A must-see inside is the Seoul Sky observation deck showcasing sky-high views of Seoul, truly stunning to witness the city at any hour and any season, but especially during sunset hours.
It is the only site in Seoul where you can get a 360-degree view of the city, the Han River, and nearby mountains from above.
The Lotte World Tower is located in the Songpa district, the tickets to enter the observation deck start at 27,000 won for adults and 24,000 won for children.
18 – Make your way through riddles and obstacles inside the Alive Museum & Dynamic Maze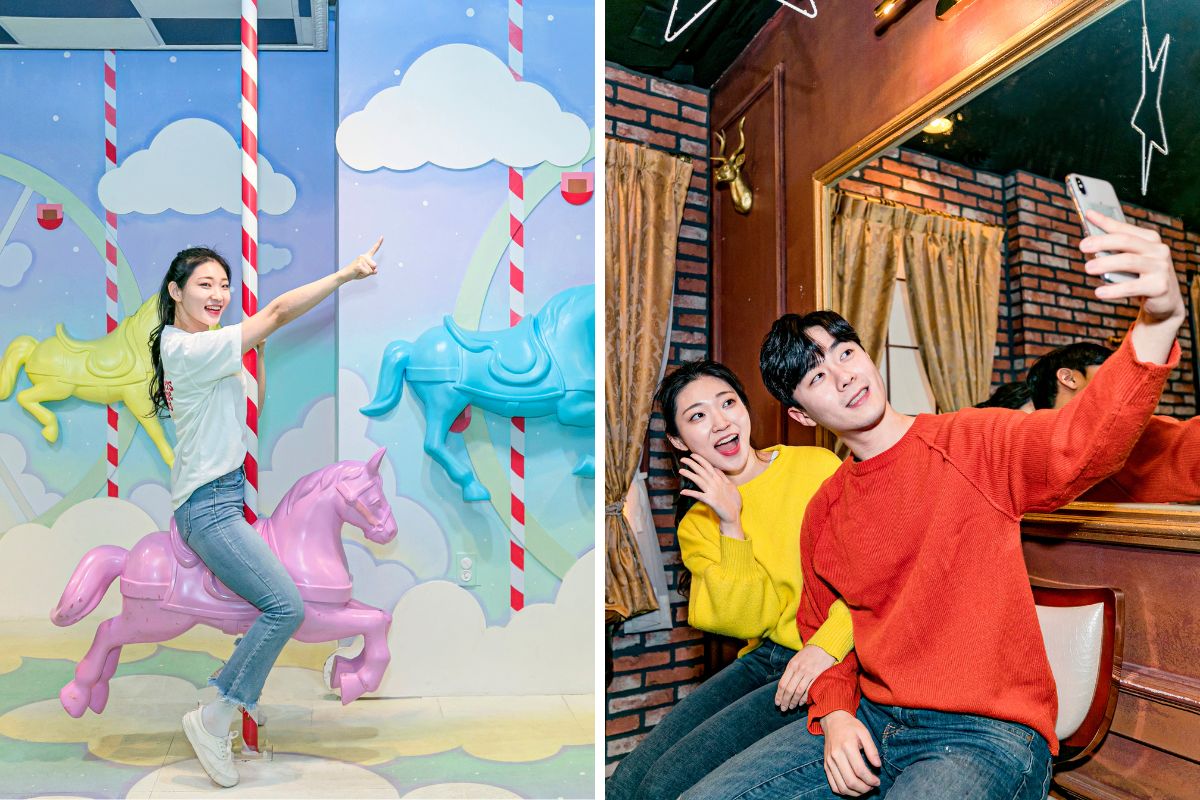 Enter the world of illusion inside the Alive Museum, where enlarged classic art pieces from Picasso, Van Gogh, Monet, and more make a space for you to join inside, as well as participate in wacky images and scenarios making eyes second guess what they're seeing.
The Alive Museum & Dynamic Maze is an indoor playground where everything is not what it may seem at first glance. Take fun pictures with yourself inserted in a black and white 2-D coffee shop, and make your way through various puzzles, and riddles, in a fun-house style environment.
Stop by the Dynamic Maze, where visitors navigate through a series of obstacles and mirrors, trying to find their way to the exit.
A fun way to spend a rainy day in Seoul and create fun memories, check out tickets to the museum and maze starting at $8 USD.
19 – Learn about the hardships of war inside the War Memorial of Korea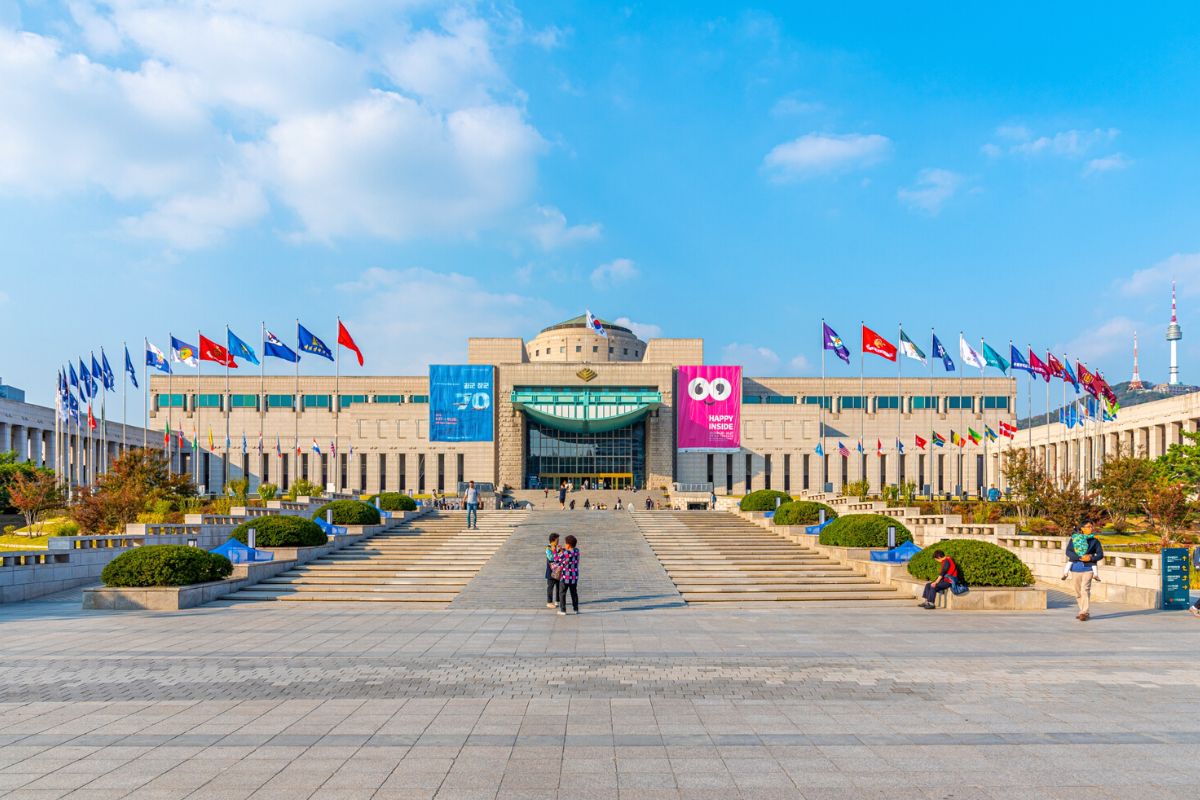 Localized in what used to be the Korean army headquarters is today the War Memorial of Korea, transformed to honor the military work and sacrifices of the soldiers.
Walk through the exhibits, showcasing up to 33,000 war materials and military relics, describing the different wars in which the Korean Military participated.
Enter the 6 halls, each covering a different era/topic in military history, including the Patriotic Memorial Room, War History Museum, and Expeditionary Forces Room.
Get an idea of what the battlefield was like, and view the sculptures honoring those who died for Korea. The museum is located in the Yongsan-gu district, and tickets to the museum are free.
Consider booking a tour of the War Memorial, to dive deeper into the exhibits, ask questions, and understand the sacrifices made to lead Korea to its current independence.
20 – Step inside the historical National Palace Museum of Korea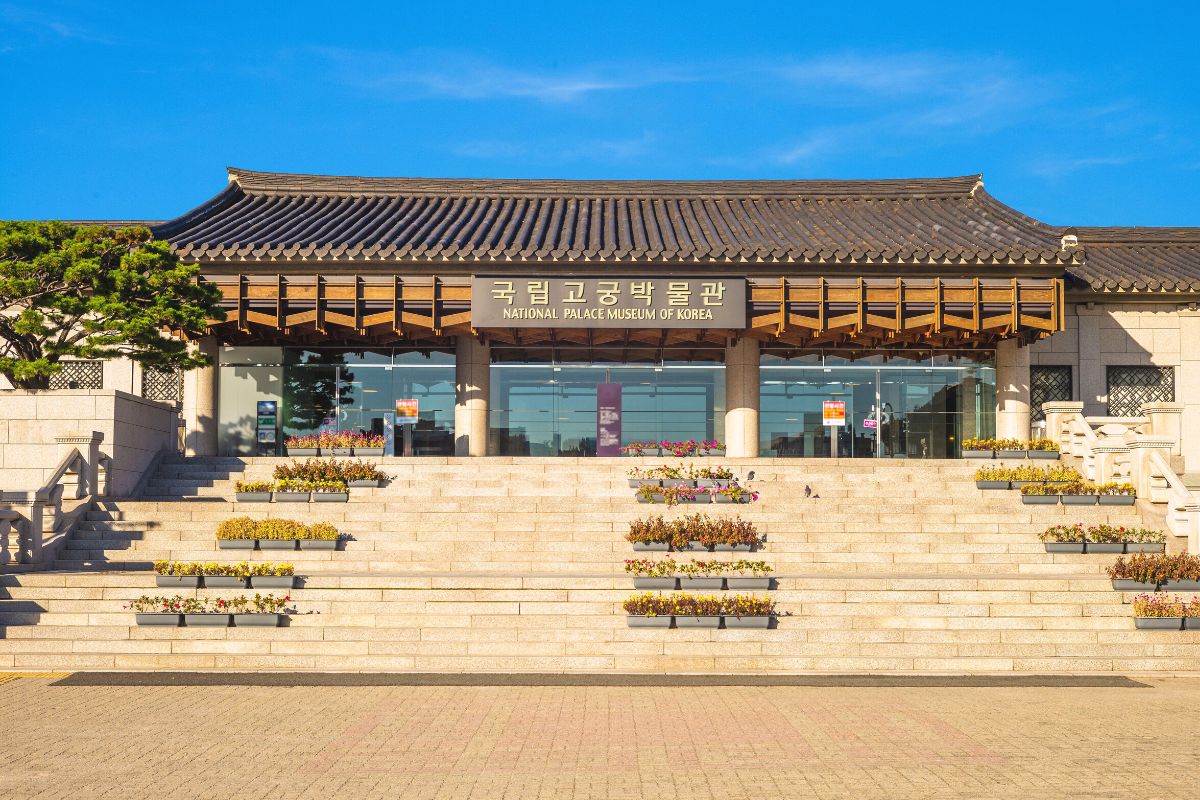 Go learn about the Joseon Dynasty, an important era (and last dynasty) in Korean history dating back to 1392-1897.
Inside the National Palace Museum of Korea, visitors are able to step back in time and view over 35,000 pieces of material possessions of the dynasty throughout its halls, starting with the Kings of Joseon, to the Korean Empire, and their royal paintings, calligraphy galleries, sculptures, detailing traditions, and governing practices of the time.
Other than witnessing Joseon Dynasty artifacts, visitors can expect exhibits showcasing pre-historic findings and other early histories.
Although the ticket is free, visitation to the palace requires booking your spot ahead of time. Visitors can check out the National Palace Museum of Korea in the Jongno-gu district.
21 – Have a picnic lunch at Yeouido Hangang Park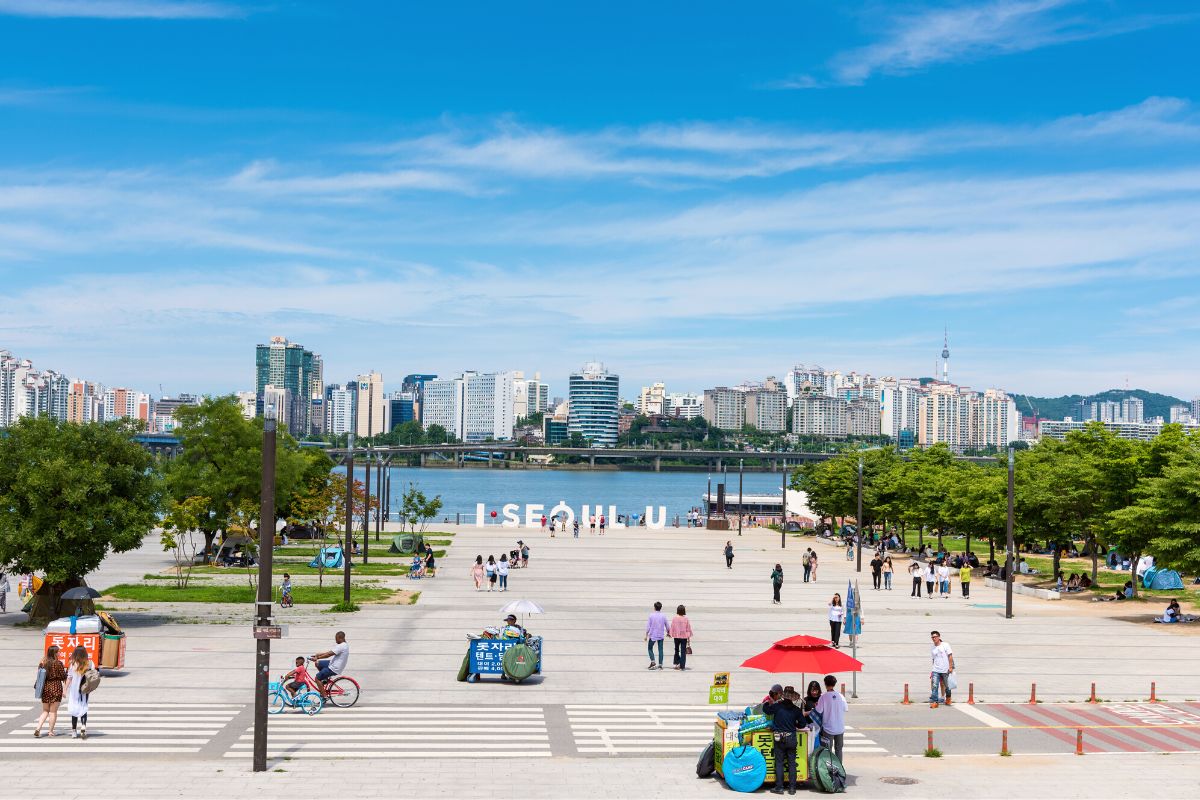 Situated on Yeouido Island, Seoul's finance and banking center, visitors can stop by Yeouido Hangang Park for a variety of activities, from a quiet picnic to riding a bike or having a quick jog.
A popular park destination for locals, the bike offers wide walking trails, biking paths, and running paths, zig-zagging across the park grounds, crossing through beautiful gardens, along the water, revealing beautiful city views of the financial buildings.
Rent a bike for 3,000 won for the first hour, and if you're traveling with your child, take them to the water fountains with other local children to jump around and have fun. Take a seat on a bench and contemplate the beauty and quaintness of the park's surroundings.
Lastly, snap a photo of the famous I·SEOUL·U Sculpture to make it official that you spent the day at Yeouido Hangang Park.
22 – Shop till you drop at the unique Common Ground shopping mall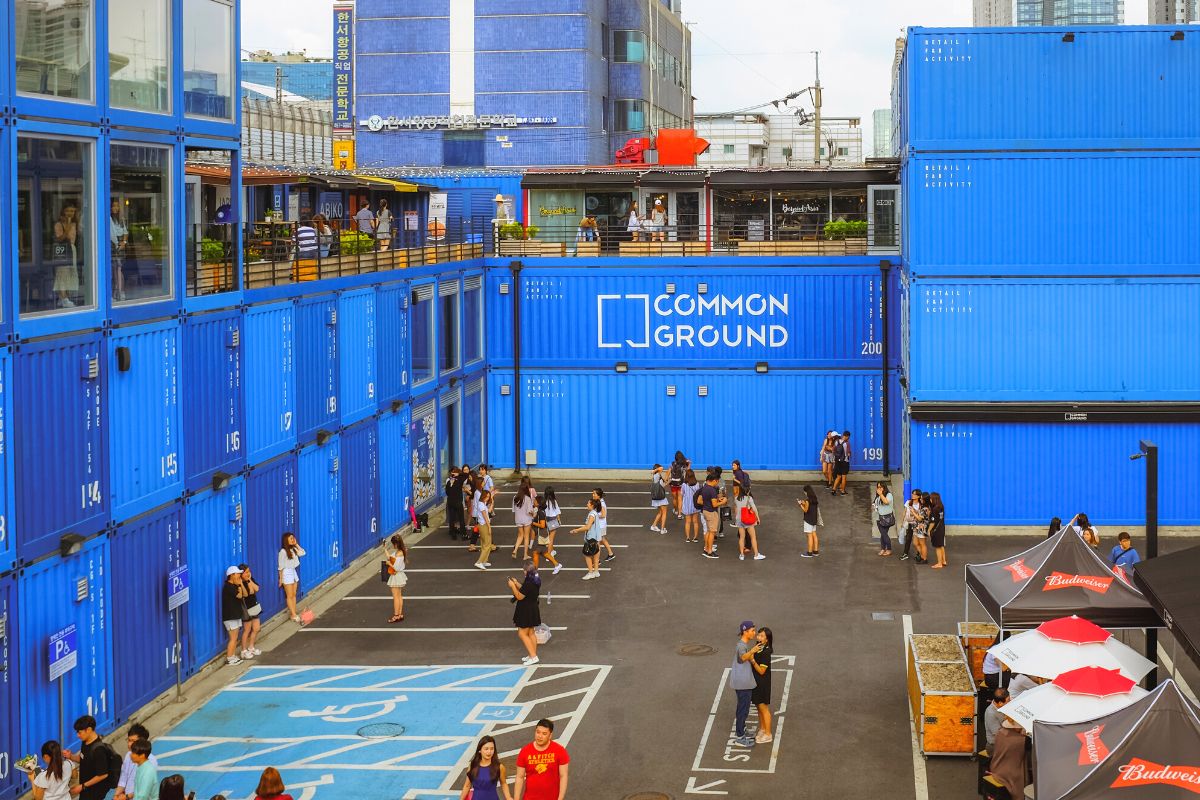 Step inside this unique mall, housing a variety of clothing brands and lifestyle brands, situated inside Korea's first and unique mall made out of shipping containers.
The blue, industrial edifice stands out against the backdrop of modern skyscrapers, located in Gwangjin-gu, 25 minutes north of downtown Seoul.
From local Korean brands to global brands like Under Armour and Vans, to book shops, body piercing facilities, and pop-up stores, Common Ground prides itself on innovation, culture, and unique experiences primarily around youth culture.
Divided into 4 sections: Street Market houses 30+ clothing stores for women, Market Display houses 25+ subcultures, and boutique clothing shops, Terrace Market is where all the small brands and eateries are located, and Market Ground is an events venue for rent.
The mall opens every day, 11 am – 10 pm, with a few shops closing at 1 am on weekends.
23 – Hike up Korea's tallest mountain, Bukhan Mountain (Bukhansan)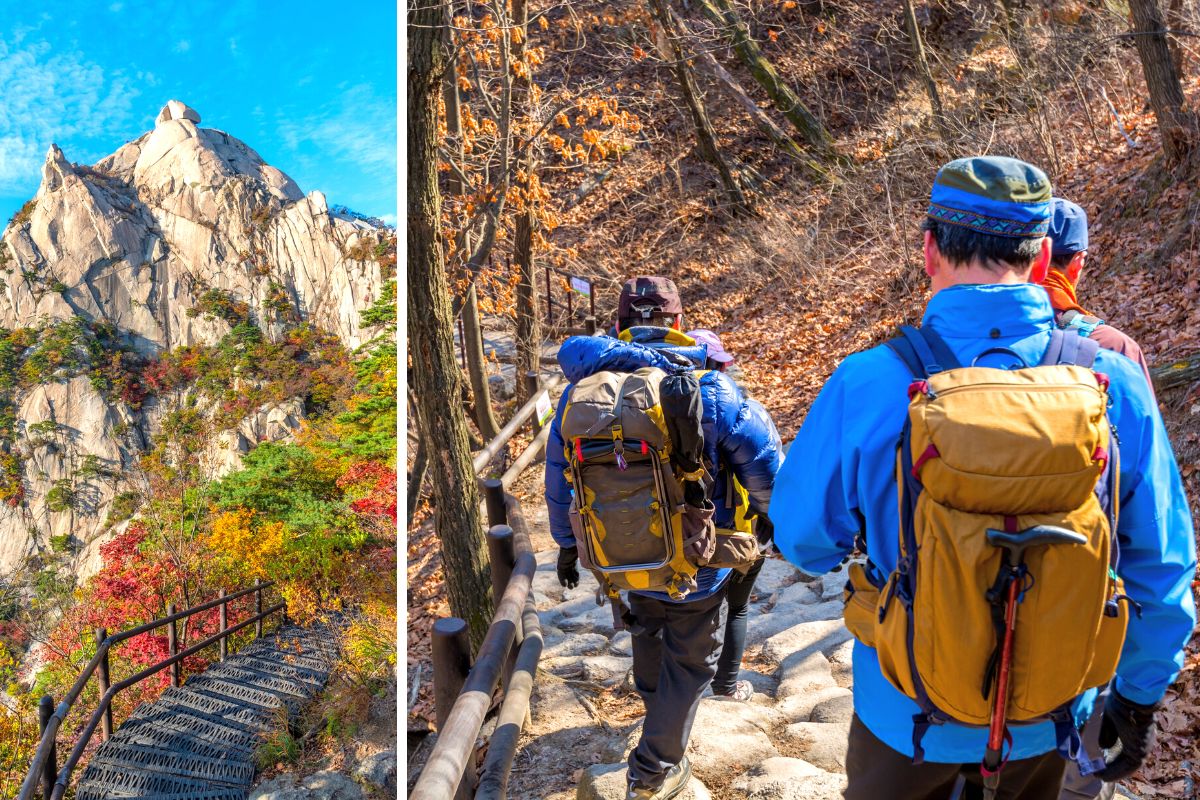 Bukhan Mountain is located north of Seoul and is known for its hiking opportunities and stunning views of the urban landscape from above.
Bukhansan in English means "north of the Han river" which historically is an important river that crosses right through the city. The Bukhan National Park is the home of Bukhan Mountain, which has a staggering height of 836 meters and is considered Korea's tallest mountain.
Many adventurous hikers take on the challenge of the 4-5 hour hike all the way up to the summit of Bukhan Mountain, granting them exquisite views and indescribable peacefulness.
Though you don't have to be a pro hiker, some physical condition and personal motivation may be required to complete the trek.
Also worth checking out is the Golden Buddha Temple, which takes around 40 minutes to reach the temple from the park entrance.
24 – Visit Korea's first Catholic church, Myeongdong Cathedral
Officially marking itself as a Catholic monument in Korea, the Myeongdong Cathedral is considered to be the birthplace of Catholicism in Korea and has been in action since 1898.
Myeondong Cathedral is known to be the first cathedral built in Korea in Gothic fashion and boasts a 45-meter tall bell tower on the exterior, and white high, vaulted ceilings in its interior.
Considered an important Korean monument, the church houses the remains of the 9 saints and martyrs who dedicated their existence to the Catholic religion in Korea.
Visit during lunch to hear the organs play as you step into its interiors, or simply take a stroll and enjoy the gardens outside. The cathedral is located in the Jung-gu area in Seoul and is open every day except for Mondays.
25 – Explore the traditional 600-year-old Hanok Villages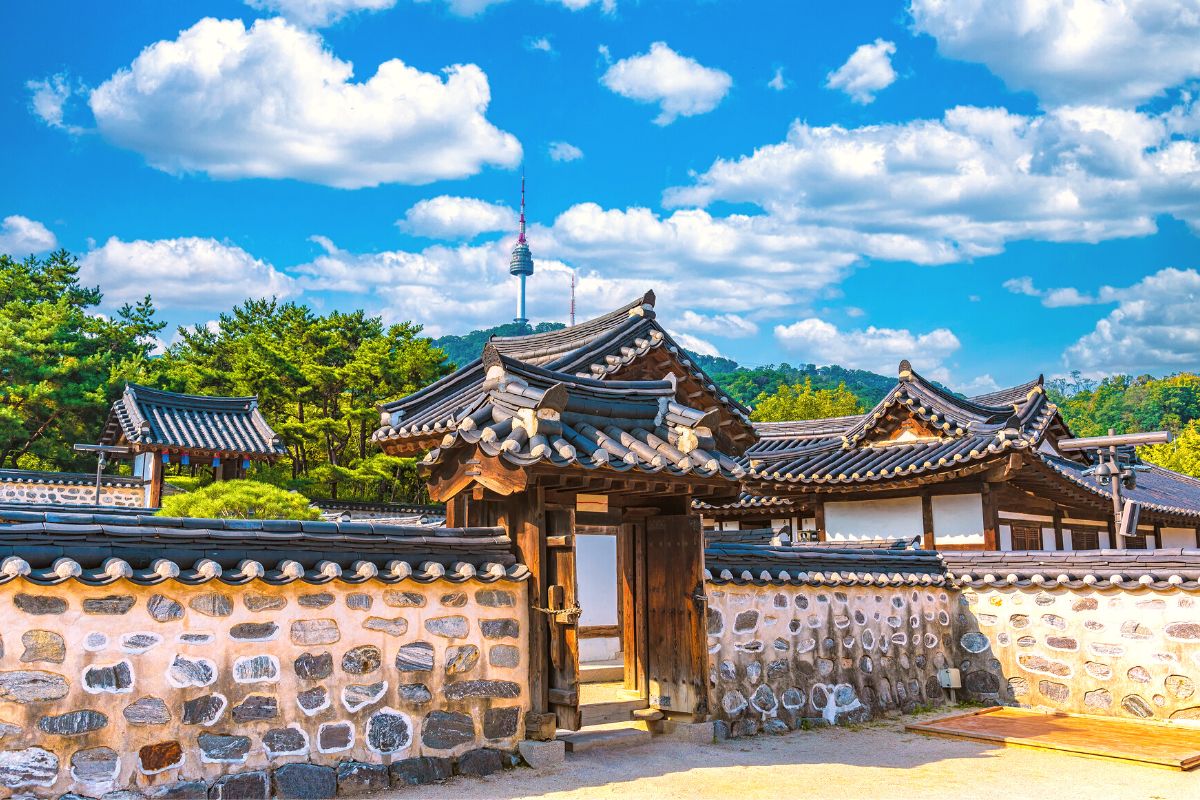 Visit the beautiful traditional villages of Hanok, situated between Gyeongbok Palace, Changdeok Palace, and Jongmyo Royal Shrine, dating back to the Joseon Dynasty, some 600 years ago.
Hanok is the name of the traditional Korean home design of tiled, thatched roofs.
Check out Namsangol Hanok Village, also known as "A Village of Traditional Houses in the Namsan Valley" offering a view of Korean-style houses, narrow streets, a pond, a pavilion, and a town square.
On a city tour, you'll receive detailed explanations regarding the architectural styles, the village history, and typical day-to-day experiences.
Additionally, check out Ikseondong Hanok Village, offering not only traditional Korean culture and architecture, but also a great variety of picturesque cafes and restaurants, with amazing views of the village.
Make sure to bring your camera to capture incredibly beautiful street photography.
26 – Enjoy a day at Everland theme park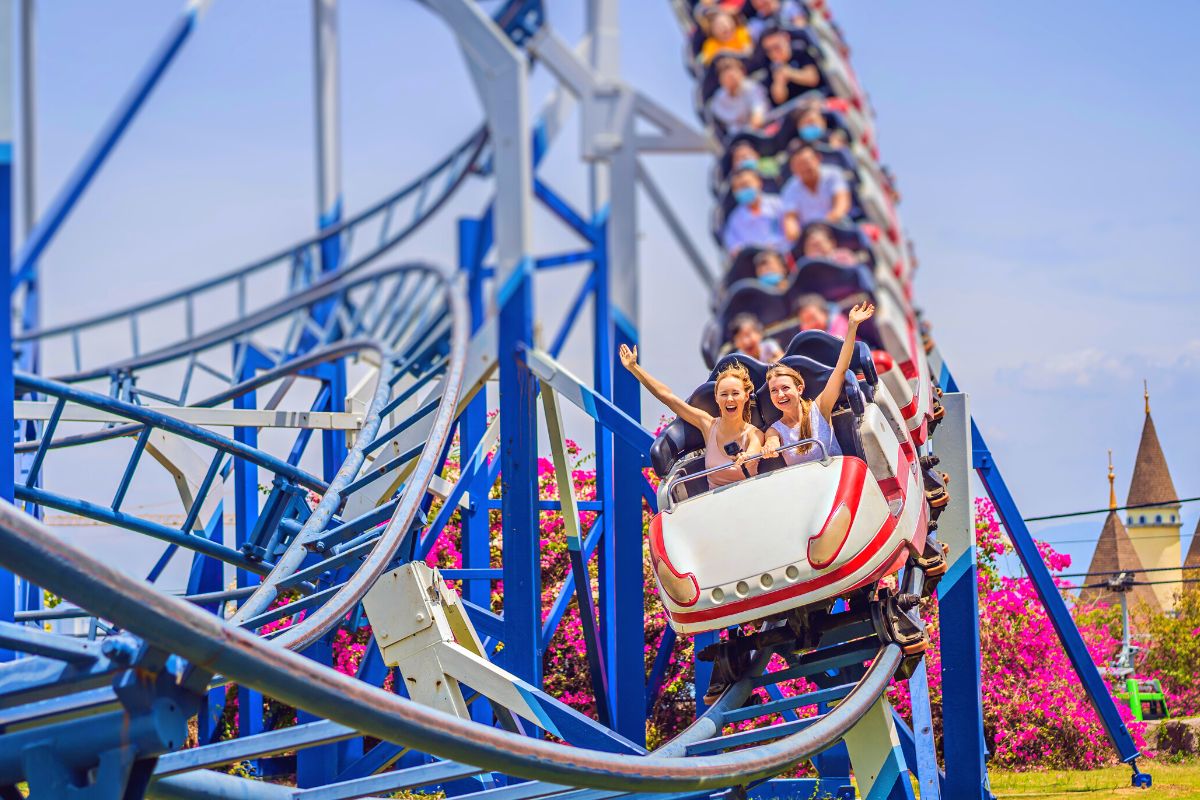 Everland is considered to be South Korea's largest amusement park, hosting around 5.85 million visitors every year, ready to offer adventurous roller coasters, theme park games, and endless other entertainment.
Everland theme park is divided into 5 different sections, each with its own theme, from Global Fair where various cultures are represented through different styled buildings and treats, to American Adventure, Zootopia, European Aventure, and Magic Land.
Enjoy other attractions like Safari World, where animals come alive as your bus takes you alongside them, virtual reality games, splashing water rides, and so much more.
If you have small children, they will love visiting Everland, and if you're one to enjoy roller coasters, this will be a great place to spend the day and enjoy the various adrenaline-pumping rides.
Tickets to Everland begin at 55,000 won for a full day pass.
27 – Relish the views from Hangang Bridge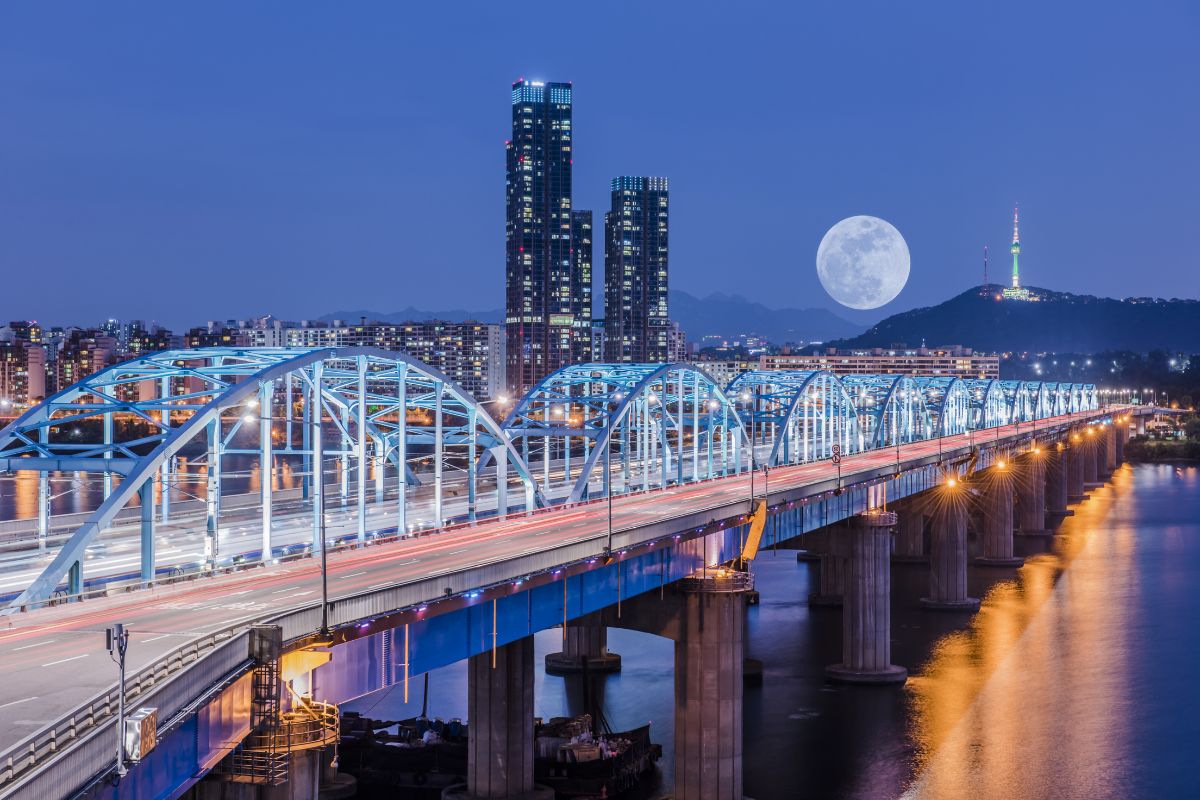 Crossing the historic Han River is the Hangang Bridge, impressively built to transport 8-lanes of car traffic between Yongsan-gu (north) and Dongjak-gu (south).
The Hangang Bridge dates back to 1917 and was the first bridge created to connect these 2 parts of the city.
However, during the Korean War of 1950 between North and South Korea, the building was destroyed in a bombing, killing around 500 and 1,000 Koreans. It took 4 years to fully restore the bridge back to full use.
Today, the bridge is used mainly for car transportation, as well as for taking a stroll on foot. Many people like to enjoy the city views, especially during sunset hours.
28 – Witness Seoul's famous Silver Grass at Haneul Park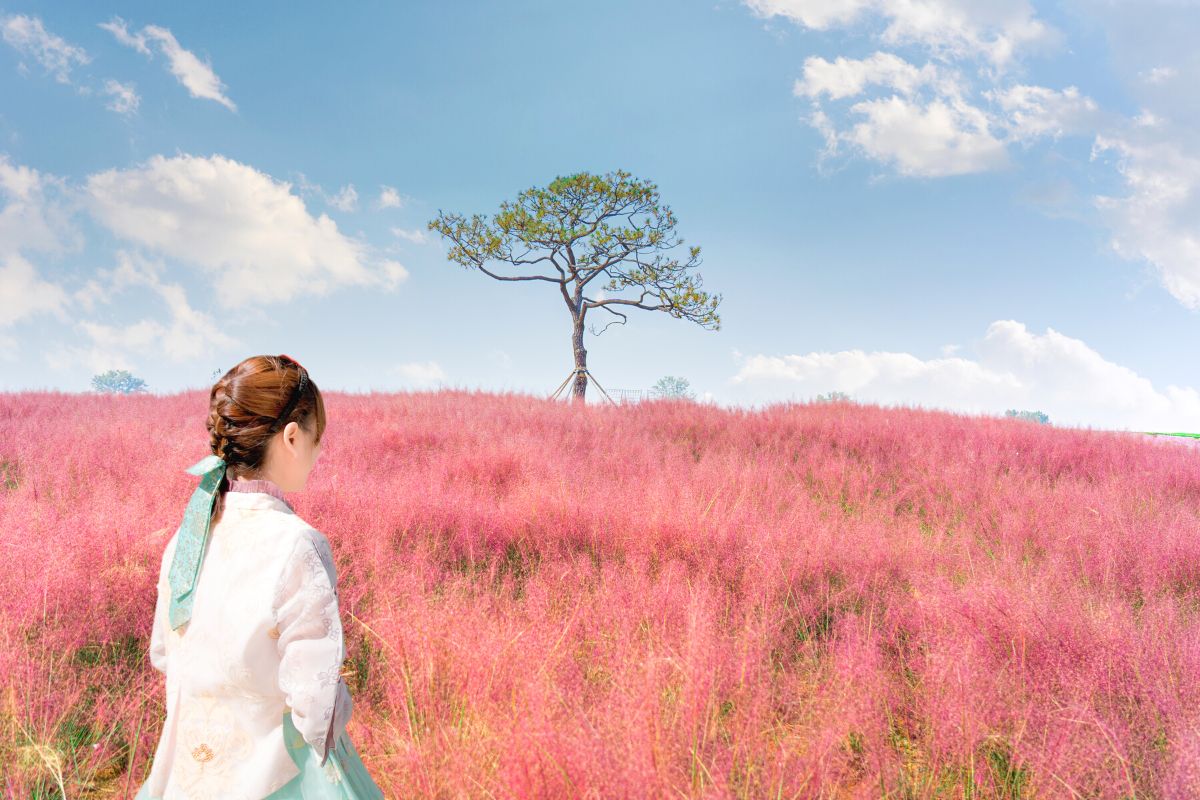 Previously a landfill and situated inside World Cup Park (a park situated beside the World Cup Stadium) is the stunning Haneul Park, sharing beautiful vistas of tall grass, unique flora and fauna, and expanded views of the city and Han River.
To get to the sweeping nature views, take the 291 steps up to the top, which is not terribly difficult, especially knowing what kinds of views are in store. If you visit Seoul in October, make sure to visit Haneul Park for the annual blooming of the silver grass at the Silver Grass Festival.
Go during sunset, and catch a spectacular show of sunny orange and red colors highlighting and grazing the tall grass. The park is open every day, from sunrise to sunset.
29 – Take a tour of the National Museum of Korean Contemporary History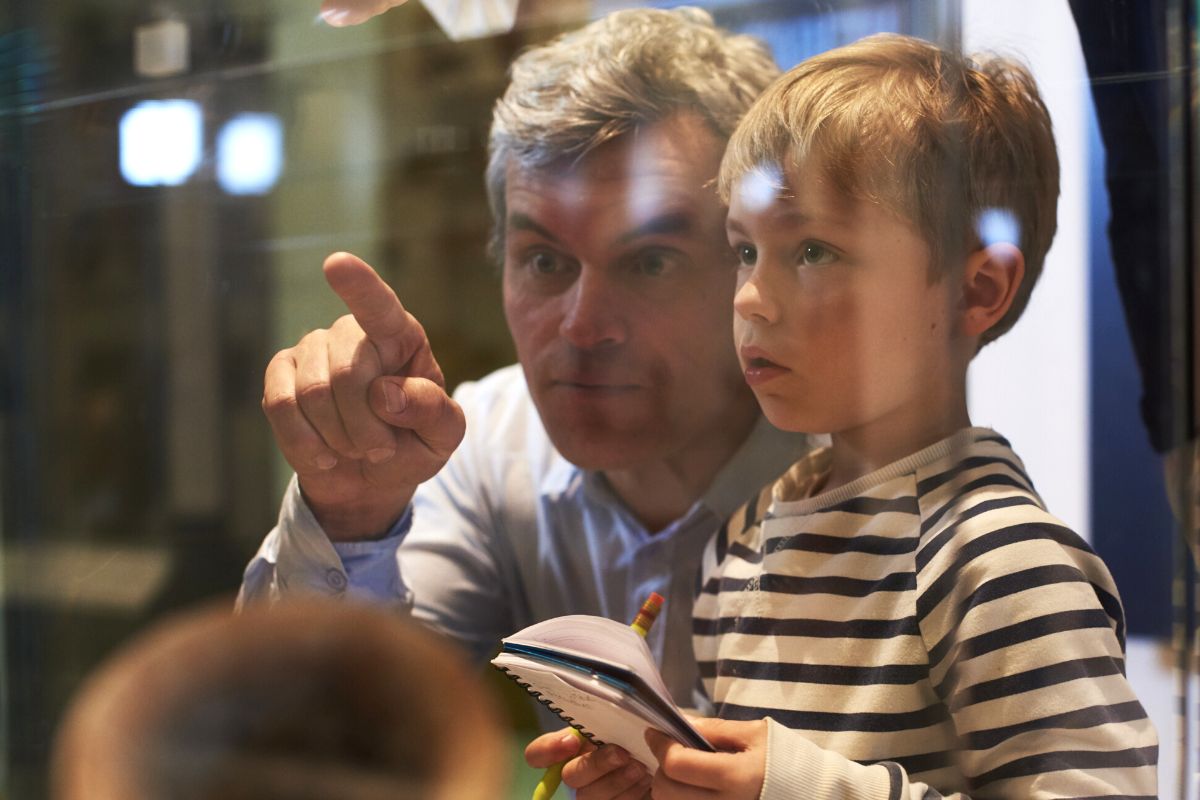 The National Museum of Korean Contemporary History aims to be a place where Korean history, the good, the successful, the bad, and the ugly, is shared and explained in a way to help Koreans and locals understand the country's history, and extract lessons to create a better tomorrow.
Moreover, the museum has included special exhibits showcasing the impact of modern national and global pandemics, to begin reflecting and learning from those experiences, and seeing how they have played out in life today for many Koreans.
Browse through the permanent exhibits such as the Longing for Freedom, Equality, and Independence exhibit, sharing the invasion of Japan in Korea, the Republic of Korea-The World exhibit showcasing the birth of South Korea, and more.
Check out the 3 main exhibits: the History Gallery, Interactive Gallery, Thematic Gallery, and the Children's Museum. Admission is free.
30 – Catch the sight of the iconic Cherry Blossoms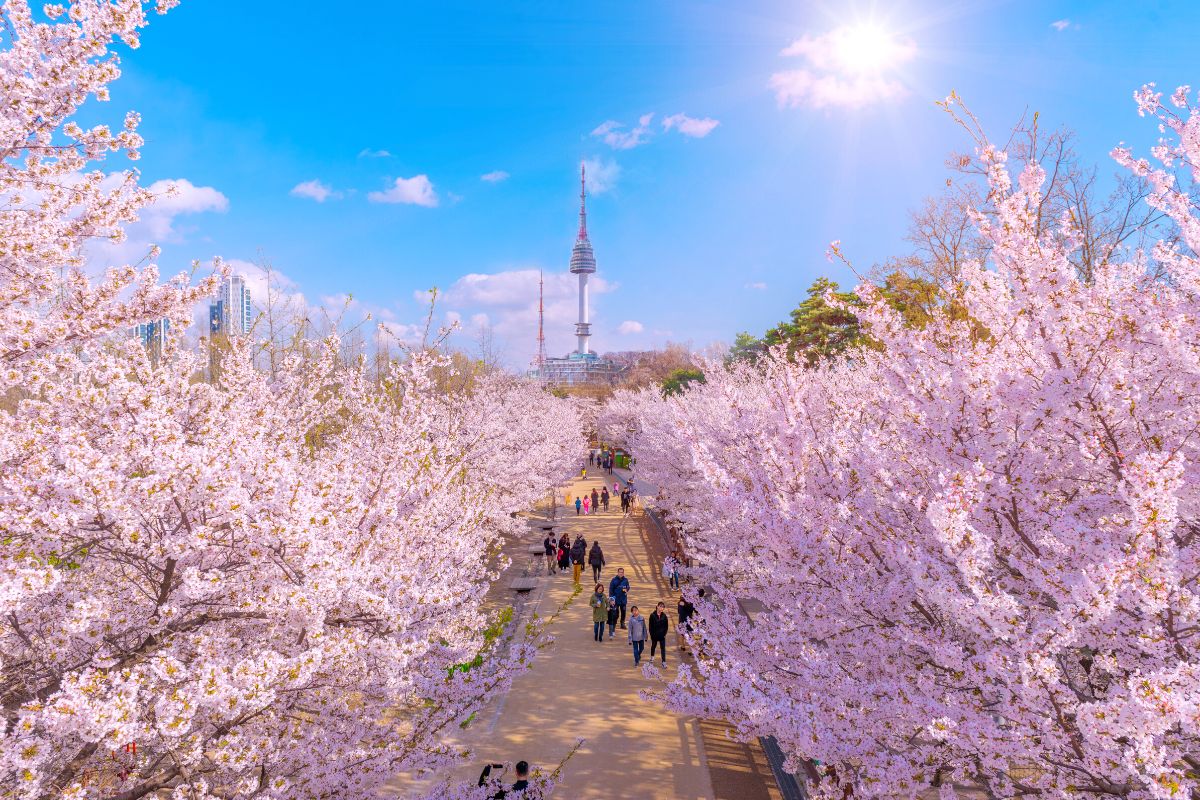 A sight of picture-perfect imagery is the stunning view of cherry blossoms adorning the city every year around springtime, drawing crowds from all over the world.
Typically shifting every year by a few days, experts say that the first week of April seems to be the time when the Cherry Blossoms are in their full brilliance, and when cherry blossom festivals begin, such as the Yeouido Cherry Blossom Festival, housing more than 1,000 Cherry Blossom trees.
A guided Cherry Blossoms tour will take visitors through the best sights and parks in Seoul, ensuring that you get a first-person view of the stunning natural pink phenomena.
Make sure to charge up your phones or bring your best camera to catch the sight of pink cherry blossoms lined walking paths, reflecting off of the still and calming lakes nearby.
31 – Check out the trendiest cafes in Seoul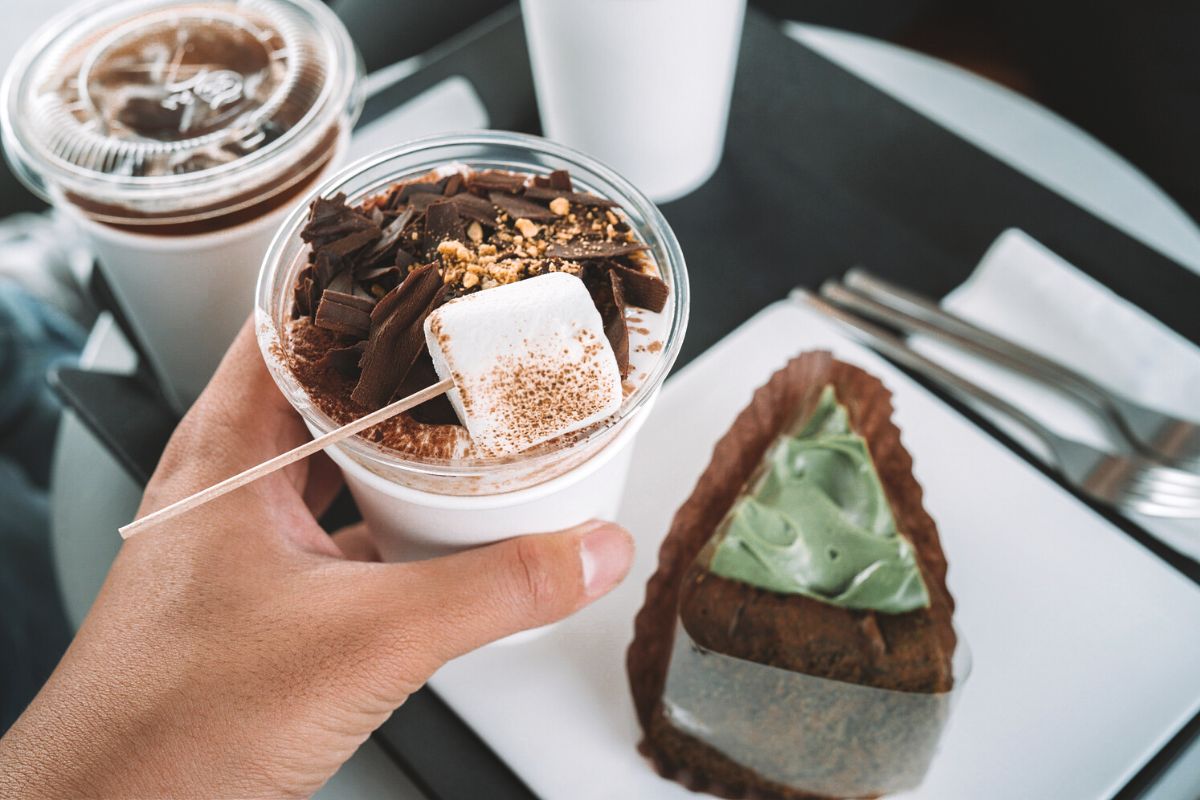 Seoul is known for many natural sights and modern advancements, but another thing it is known for is its ultra-trendy cafes and strong cafe culture.
Check out Cheongsudang Gallery, a beautiful outdoor garden cafe, offering a whimsical and secret garden feel with its perfectly paved pathways surrounded by lush greenery. Sit outside, or in the modern interiors, and enjoy a matcha latte.
Step inside the picturesque Coffee Nap Roasters coffee shop decked out in all-white interiors and known for its 7,000-brick hill interior inviting guests to literally sit on the hill, inside the cafe. It's something to see for yourself.
Get trippy inside Greem Cafe, with its 2-D interiors, making the coffee shop look like it was taken straight out of a sketchbook with its black and white drawing scribbles. Rest assured, their delicious coffee and pastries are anything but 2-D.
32 – Choose between relaxation or thrill inside Seoul Grand Park & SeoulLand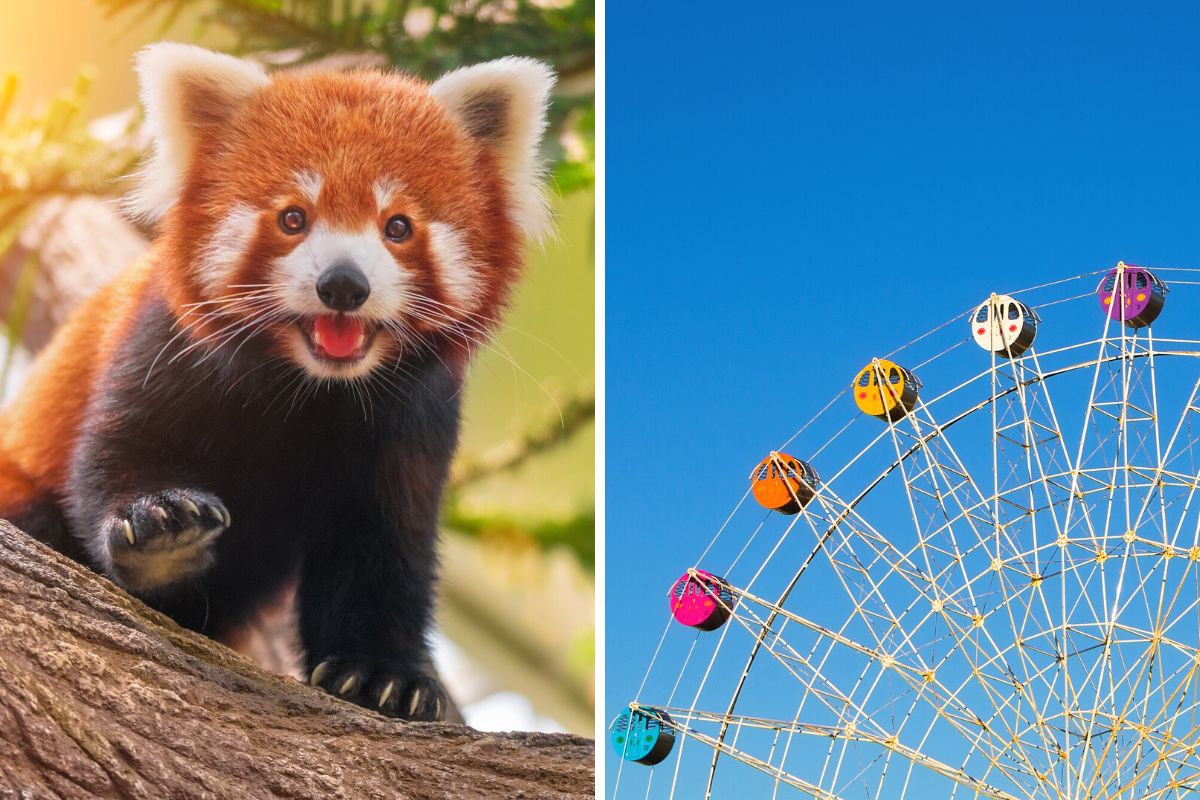 The Seoul Grand Park is an impressive park complex with a number of things to do and see, from walking the idyllic paths that cross through the perfect botanical gardens, to the Seoul zoo, and the fun amusement park, Seoul Land.
Seoul Land is a popular amusement park brimming with roller coasters and 35+ rides of all sorts within its park borders. Stay a while for live entertainment, or have a quick bite to refuel in one of the many eateries inside.
Wander into the Healing Place, and enjoy forest bathing through the various leafy walking paths, which can take from 30 minutes to complete or up to 3 hours, depending on the path.
Catch sight of the beautiful rose gardens in the Theme Garden, as well as take your children to the Children's Zoo, the smaller version of the Seoul zoo.
33 – Dive into Buddhist culture at Jogyesa temple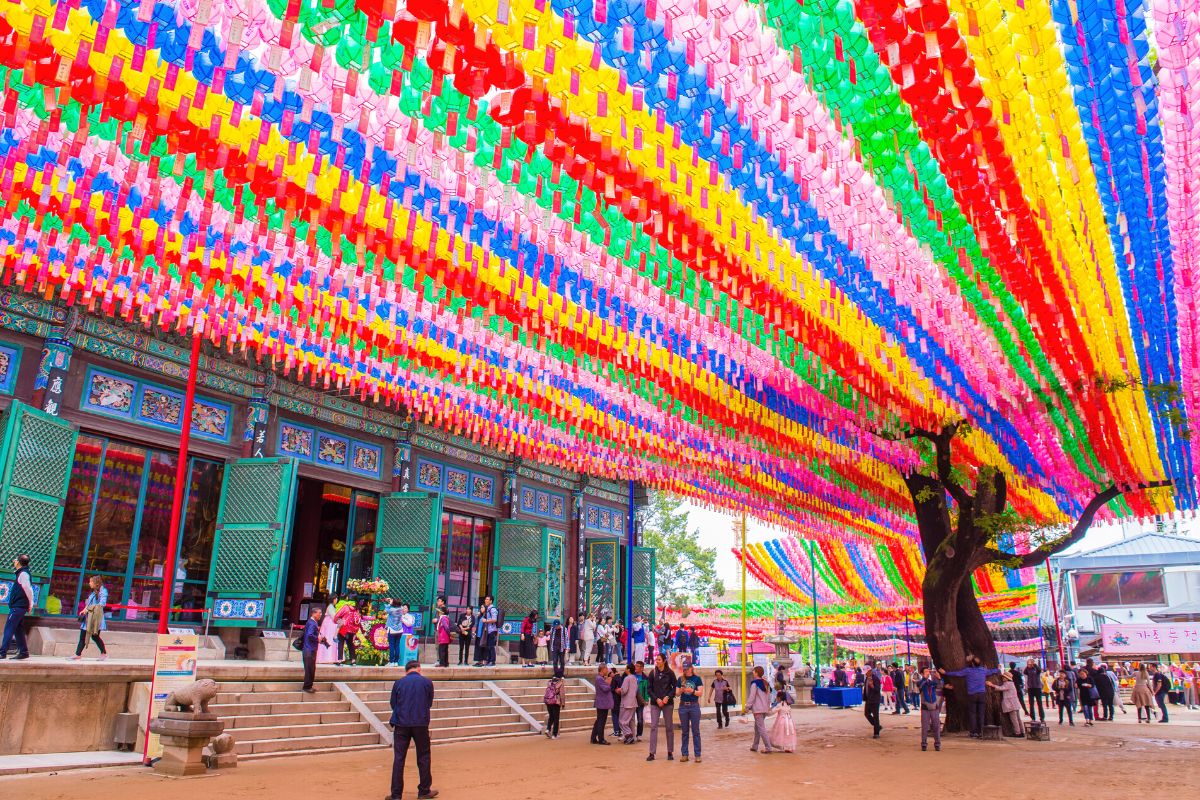 An important building in Korean Buddhism is the Jogyesa Temple, considered to be the main Buddhist temple in Korea, situated in the Jongno-gu district, and dates back to the 14th century.
Look up at the 500+-year-old white pine tree called Baeksong right beside the temple, considered to be a national, natural monument in Korea.
Enter the religious space, walk through the Daeungjeon Hall, the temple's main hall, and gaze at the Buddha shrine.
If you're traveling anytime between April 18th and May 11th, check out the beautiful Lotus Lantern Festival (Yeondeunghoe), a spectacular light festival done to celebrate Buddha's birthday, and takes place at Jogyesa temple and throughout the city.
The celebration landed a spot on the UNESCO Cultural Heritage list.
A popular spot to stop at on a bike tour, the temple is open all year round, and admission is free.
34 – Visit the interesting Demilitarized Zone for the day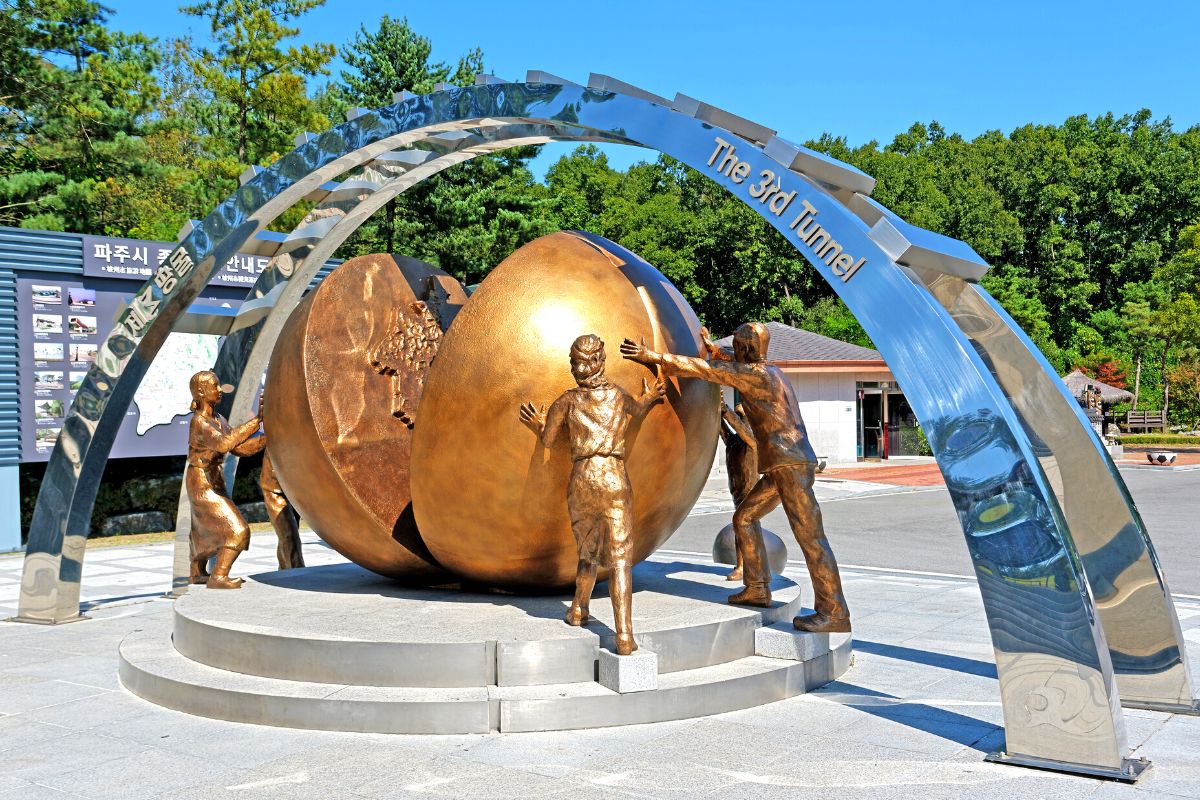 The Demilitarized Zone (DMZ) sits 1 hour north of Seoul, and it is a 2-kilometer stretch of land that was established in 1953 during the Korean War.
The DMZ takes up territory on both the North and South Korean sides and is considered weapon-free. It is a space on the border to essentially have peace between two territories in this case.
Visitors are able to visit the DMZ following certain instructions on a day tour, specializing in knowing how to safely take visitors to experience this interest-piquing stretch of land. Hop on the DMZ train, dubbed the Peace Train, a train designed to take visitors from Seoul to DMZ.
If you decide to hop on this train, proper identification is required, and most of the time, visitors are only allowed on if they travel with an official tour, with certain restrictions to consider.
35 – Visit 63 Building, the world's tallest golden building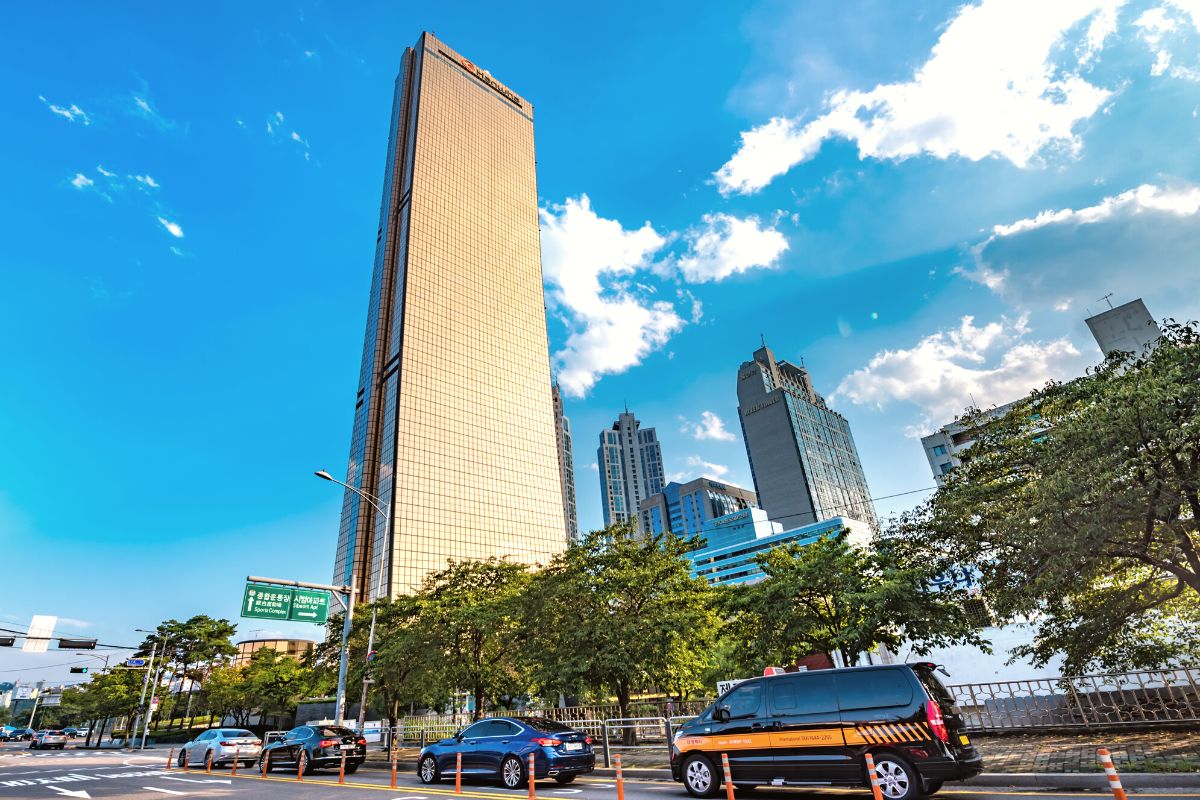 63 Building, otherwise known as 63 Square, is a fascinating building that draws in architect lovers and other curious travelers, due to the building's 249 meters height, and incredible and vast views of Han River, and the city below.
The 63 floors of the building (hence the name) all occupy different purposes, from offices and event venues to an aquarium, IMAX theater, a wax museum, plus a few eateries. Take the elevator to the top floor, and get impressive and ever-expansive views of the city, getting wider the higher you go.
The building itself is identifiable due to its gold-clad appearance, making it stand out against other buildings, especially when the sun begins to set, casting a golden shimmering brightness in its surroundings.
It's free to enter the building, but come prepared to pay for activities inside.
36 – Take a hike at Gwanaksan Mountain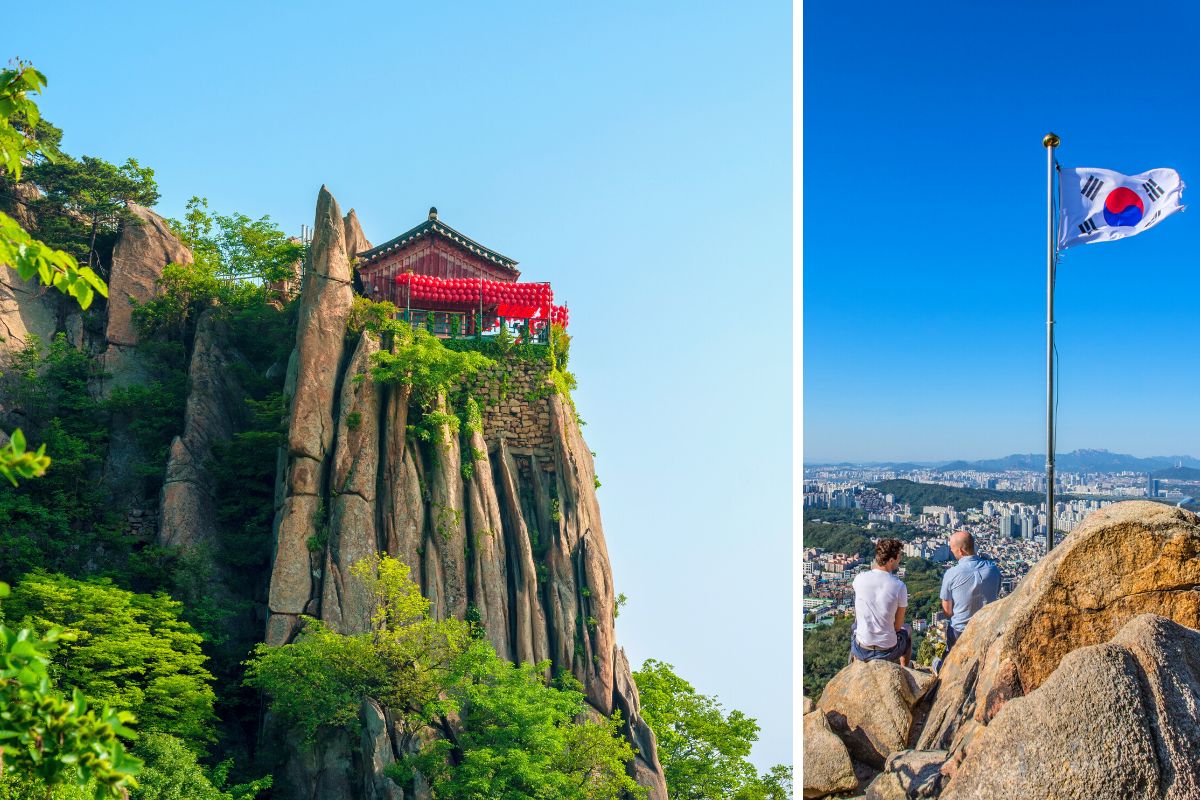 Translated into English, Gwanaksan means hat-shaped peak, which describes the appearance of this mountain. Gwanaksan Mountain is located in the southern region of Seoul and covers 5 districts and cities.
Check out the amazing hiking trails and opportunities, from challenging to easy, through jagged rocks, or tree-lined paths, all offering incredible views of the city and Han River from above.
The hikes are nonetheless easy to follow, as there are signs posted everywhere, many with English subtitles, telling you where to go, and which path level to take.
A tip to consider is to download Google Translate and use the Korean to English function offline in case there is something you don't understand, and no one is in sight to help. Usually, a popular place for locals, come during the weekdays if you want to hike with fewer crowds.
37 – Participate in the many activities at Seokchon Lake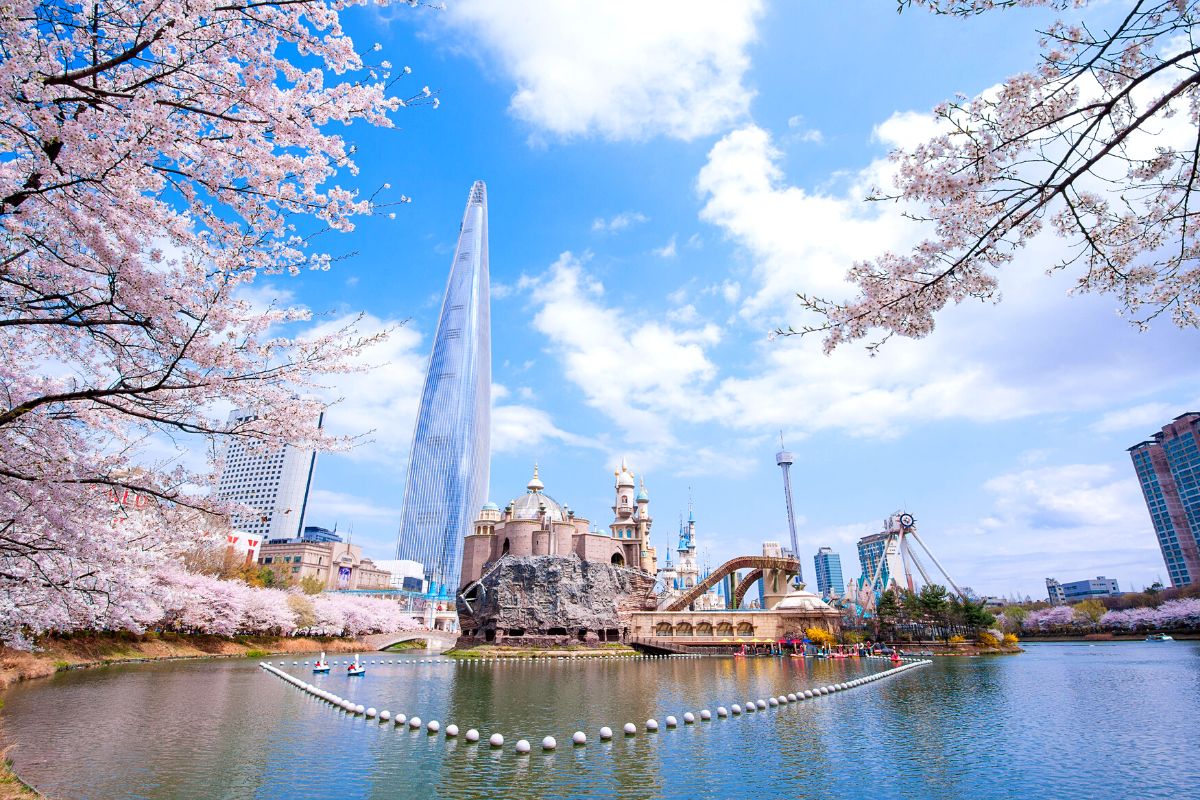 Also known as Songpa Naru Park, Seokchon Lake is a peaceful lake and recreation center situated on the eastern side of Seoul.
Seokchon Lake has various different viewpoints and activities to participate in, from walking and jogging, the park is visited often during 2 main seasons – cherry blossoms in April/May and the vibrant fall leaves in October/ November.
Check out a live performance from the Seoul Nori Madang, an outdoor pavilion, in April-October at 3 pm, where an ensemble of Korean musicians and performers gather to deliver a wonderful show, for free.
Another thing to stick around for is the Floating Art Show, showcasing large multi-media sculptures floating in the river for all to see. Seokchon Lake is a very popular park for many locals, so it's not odd to catch older men playing a game of Baduk, a Chinese board game.
38 – Have fun at Lotte World Adventure with your children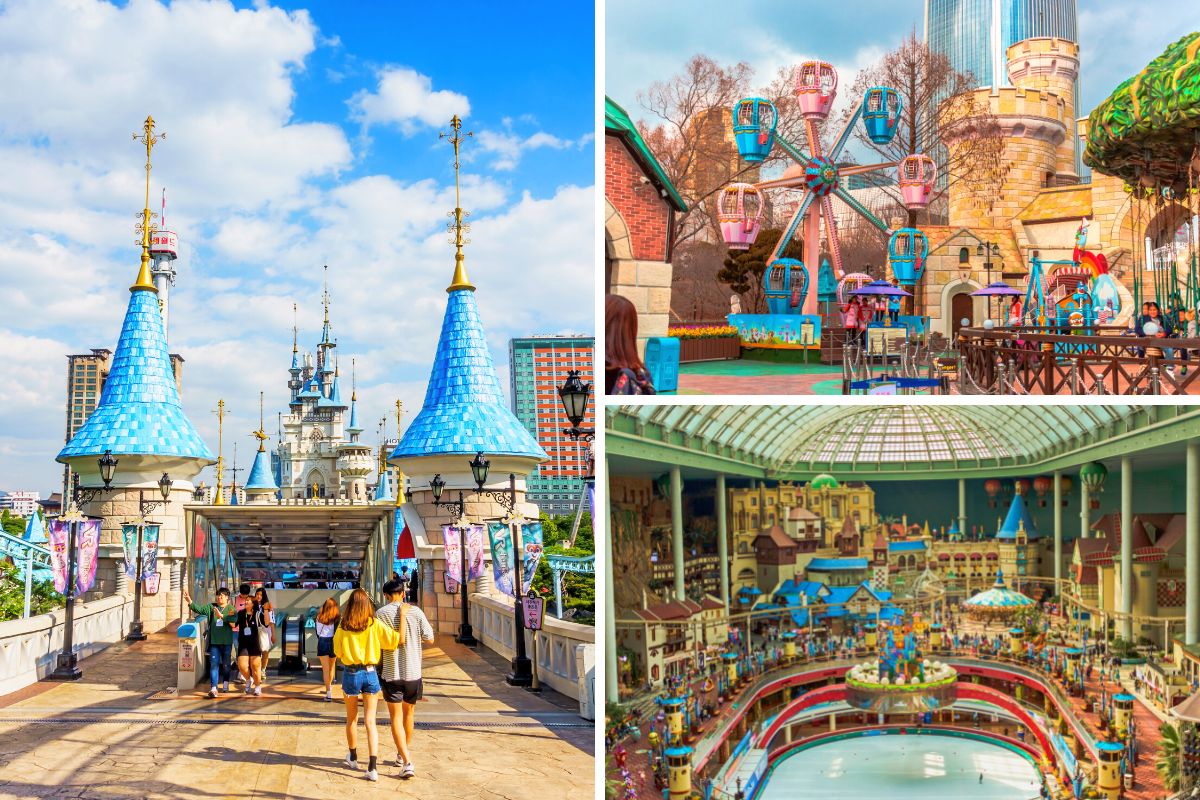 Showing a very similar appearance to Disney World is Lotte World Adventure, an impressive indoor amusement park situated near Seokchon Lake, and situated inside the complex Lotte World.
The outdoor component called Magic Island is connected to the amusement park and accessible via monorail.
Taken straight out of a princess picture book, this amusement park is perfect if you're traveling with small children, making them feel excited and free to hop on all the rides and make memories walking through the footbridge to the giant castle.
Enjoy live entertainment shows, 3D films, endless rides, and fun treats. Park admission begins at 36,000 won for a full-day adult pass, 32,000 won for a full-day teen pass, and 29,000 won for a full-day child pass.
Purchasing the Songpa L Pass allows entrance to Lotte World and more attractions for 70,000 won.
39 – Learn and grow with your kids at the National Children's Science Center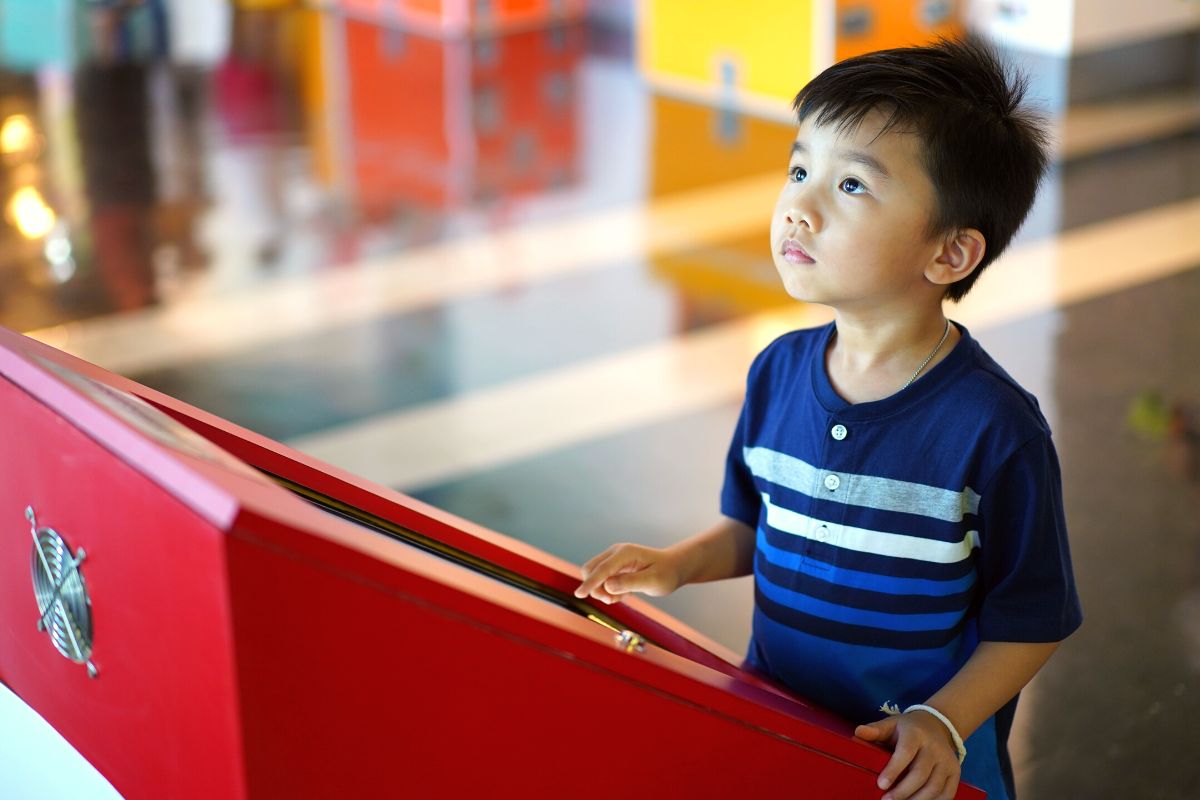 Another perfect option to add to your growing list of things to do in Seoul with children is the National Children's Science Center, located in the Jongno-gu district in Seoul.
Take your children to the science museum, where they will learn about science topics like physics, biology, geology, technology, space sciences, and more. There are also exhibits for adults, featuring interactive collections of life sciences, and technology.
With 2 exhibition floors and one outdoor exhibition space, families are encouraged to take advantage of the collections within to learn together. Families can also take advantage of the fun family cooking classes, as well as the other children-exclusive programs.
Check out the unique 5 Houses and 30 Doors exhibit, encouraging children's imagination and curiosity by opening doors of interesting houses, and expecting unique experiences.
Entrance fees vary according to age: 2,000 won for ages 20 to 64, 1,000 won for ages 8 to 19, free for children under 7 and adults over 65.
40 – Listen to Seoul's darkest tales on a ghost walking tour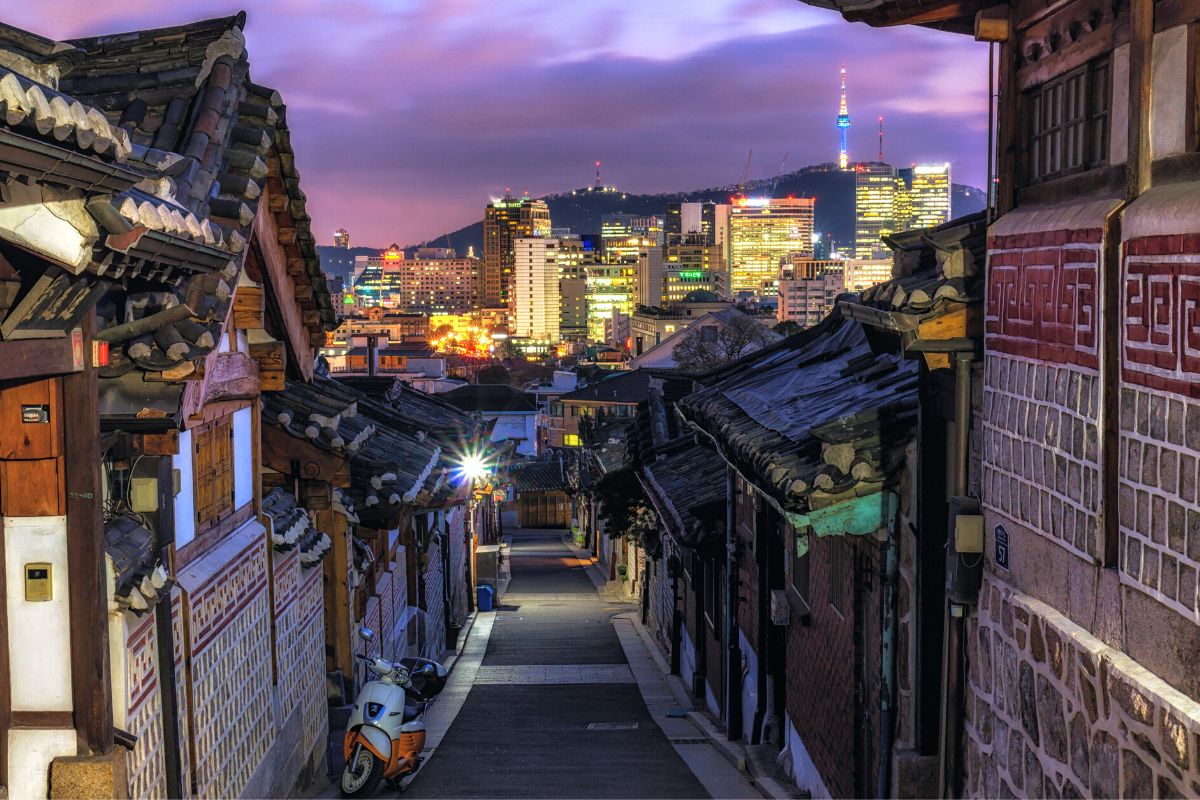 Enjoy a spooky night tour where the city shows its dark, and creepy past, and the city's mysterious and cryptic stories come to life on a walking ghost tour.
Stopping by some of the most haunted sites in Seoul such as the Gyeonghuigung Palace, and the Tapgol Park, the birthplace of Korean independence, discover the hidden and terrifying history and stories that occurred throughout the streets of Seoul.
Walk down with confidence along a professional guide through dark alleyways, turning the corner towards a scene of mystery or crime in years past, with a group of spooked, yet eager participants.
Ghost tours in Seoul are a popular staple idea to add to your list of things to do in Seoul at night, as most start at 8 pm, and go for approximately 2 hours. Many tours are available in English as well.
41 – Take a walk around Gwanghwamun Square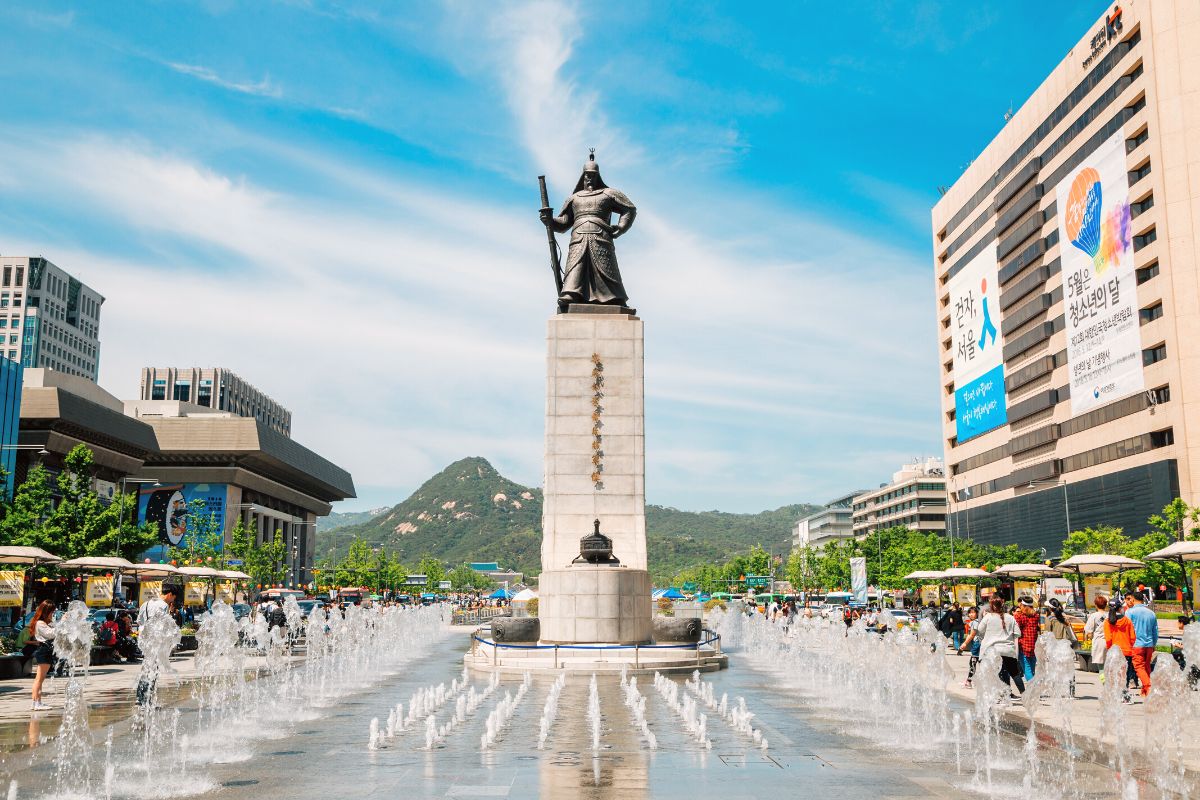 Gwanghwamun Square is a beautiful square and historical landmark found in the heart of Seoul that has recently been renovated and opened for the public to enjoy once again.
Located near Gyeongbokgung Palace, it is the perfect place to stop by for a stroll, catch a bit of the Seoul vibe, and take in the depth of the 600-year-old square.
Appreciate the bronze statue of King Sejong, one of the most influential figures in Korean history as the monarch of the 15th century, walk through the newly added fountain corridor, or simply bring a picnic and enjoy it on the spacious green lawn.
Stop by the digital wall, located on a sunken wall of the square.
Hop on a bike tour, and cycle your way around the square, as you get a full explanation and quick deep dive into the fascinating history.
42 – Visit the must-see mall in Seoul, Starfield COEX Mall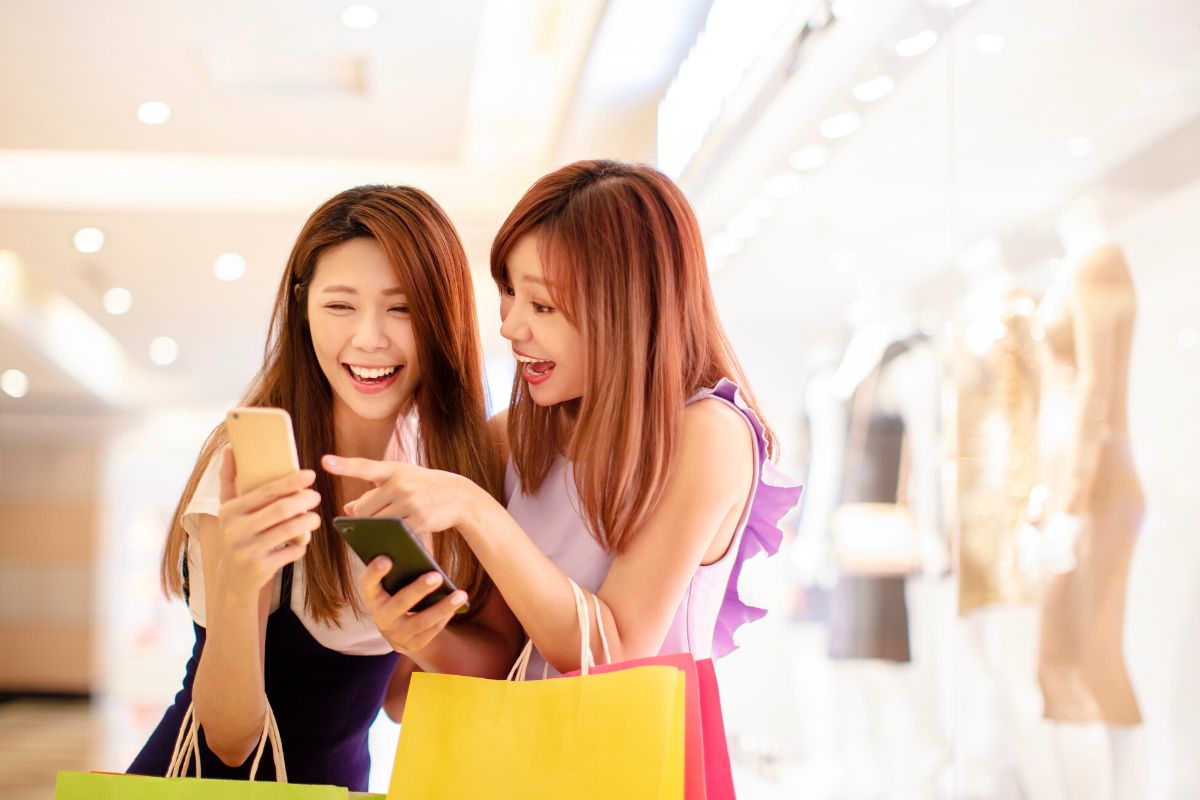 Starfield COEX Mall is considered to be the biggest underground mall in Asia, and it is located in the Gangnam-gu district of Seoul.
Inside the mall, visitors can expect anything from local Korean and other Asian brands, as well as other international brands, in total may be around 300+ stores.
The mall is a popular venue for a variety of events, as well as housing a cinema, an aquarium (one of the biggest in Seoul), the picturesque Starfield library, and various eateries.
Notice the beautiful and skillful architectural design that made the underground mall receive so much light, and give a feeling of openness as you go from store to store.
Stop by Bongeunsa temple, situated next door to the mall, where visitors will catch a glimpse of the co-existence of modern and ancient, offering some peace after the fabulous mall chaos.
43 – Catch a baseball game at Jamsil Baseball Stadium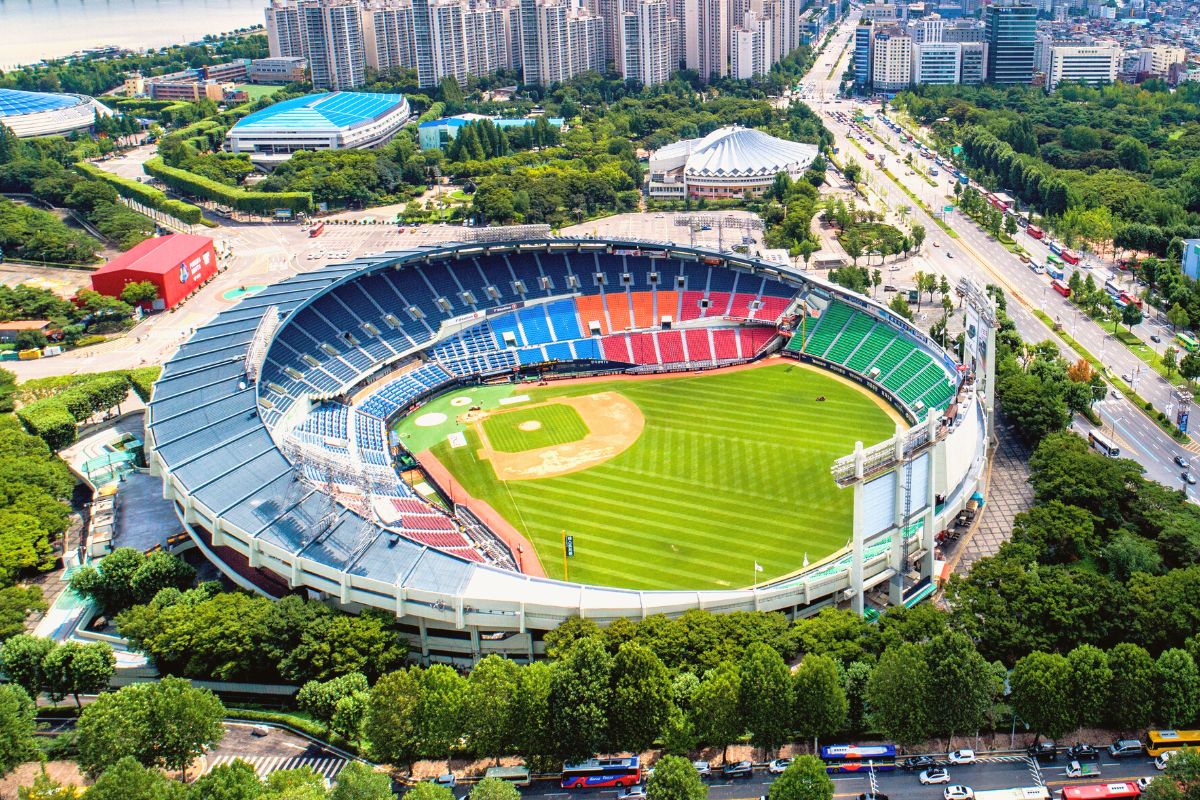 Step inside Jamsil Baseball Stadium, Korea's first baseball stadium, and the home stadium for the LG Twins and the Doosan Bears, South Korea's major baseball teams.
Jamsil Baseball Stadium is part of a larger sports complex called the Jamsil Sports Complex, which houses the Olympic Main Stadium, Auxiliary Stadium, other major swimming pools, in-line skating rink, gym, and more sports facilities.
Other than serving major international sporting events, it has also been used for cultural and art events from concerts to operas in the past.
Today, visitors can look into the stadium by purchasing tickets to a baseball game or any other event taking place. During baseball season, the stadium is busy with multiple other events, which are accessible on their website. The stadium is located in the Songpa-gu district, south of Seoul.
44 – Walk through the large Deoksugung Palace complex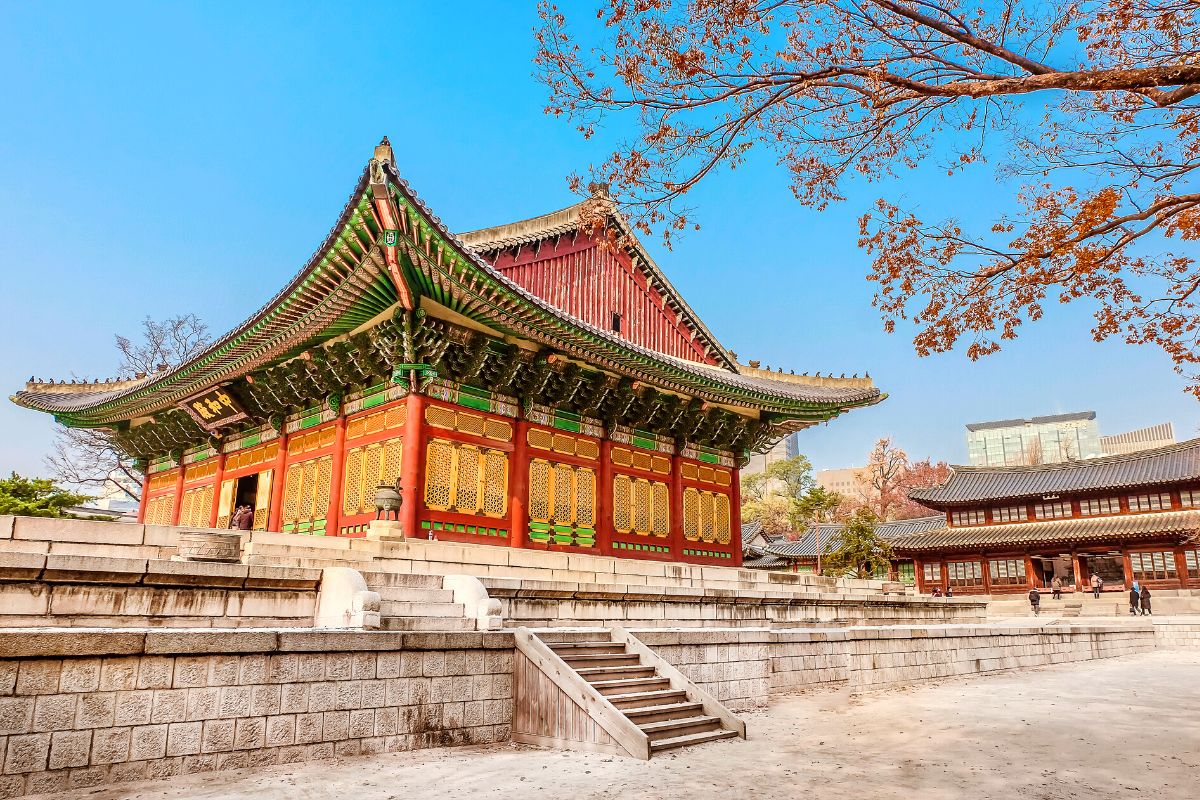 Visit the large palace complex called Deoksugung, where Korean royalty lived in temporarily during the Japanese invasion.
The Deoksugnung Palace was not a palace until 1611 when it was named Gyeongungung. It would, later on, be renamed Deoksugung, in order to honor Emperor Gojong.
Walk through the impressive Deoksugung Gate, witness the change of the guards, happening every day at 11 am and 2 pm (except Mondays). Walk through the renovated Geumcheongyo Bridge, estimated to have been constructed in 1897, one of the oldest bridges in Seoul.
Step through the Junghwamun Gate, and onto the expansive courtyard, as well as the various halls that served events held by the royals.
Hop on a bus tour to stop here, and multiple other important stops along the way, teaching you about the in-depth history of the palace complex, its purpose, and its use today.
45 – Spend a good chunk of time exploring the different parks of Seoul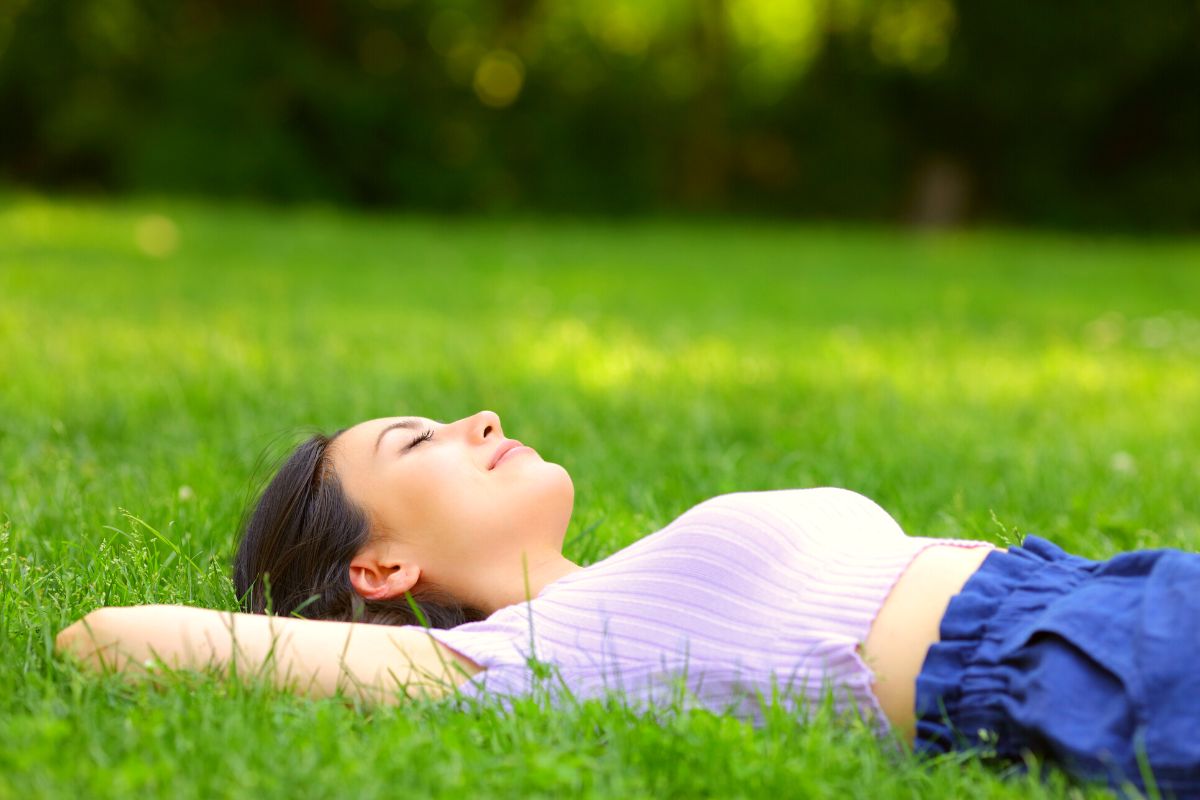 Described as the "center of historic and cultural tourism", Naksan Park showcases hiking trails that take visitors to some seriously beautiful and vast views of Seoul, as well as checking out Mural Village, a mural exposition open to the public definitely worth seeing.
Dream Forest is Seoul's third largest park, and offers one of the best natural compositions of cherry blossoms, maple trees, pine trees, leafy, lush forest, ponds, lakes, and so much more.
The park is known to host a variety of performances and events, so make sure to check their website calendar.
Anyang Art Park is a beautiful park located south of Seoul and is known for its open-air art gallery and art installations, swimming pool for children, multiple walking paths, and so much more. Check out the mirror installation in the woods for some pretty awesome photo ops.
46 – Learn interactively about science at Gwacheon National Science Museum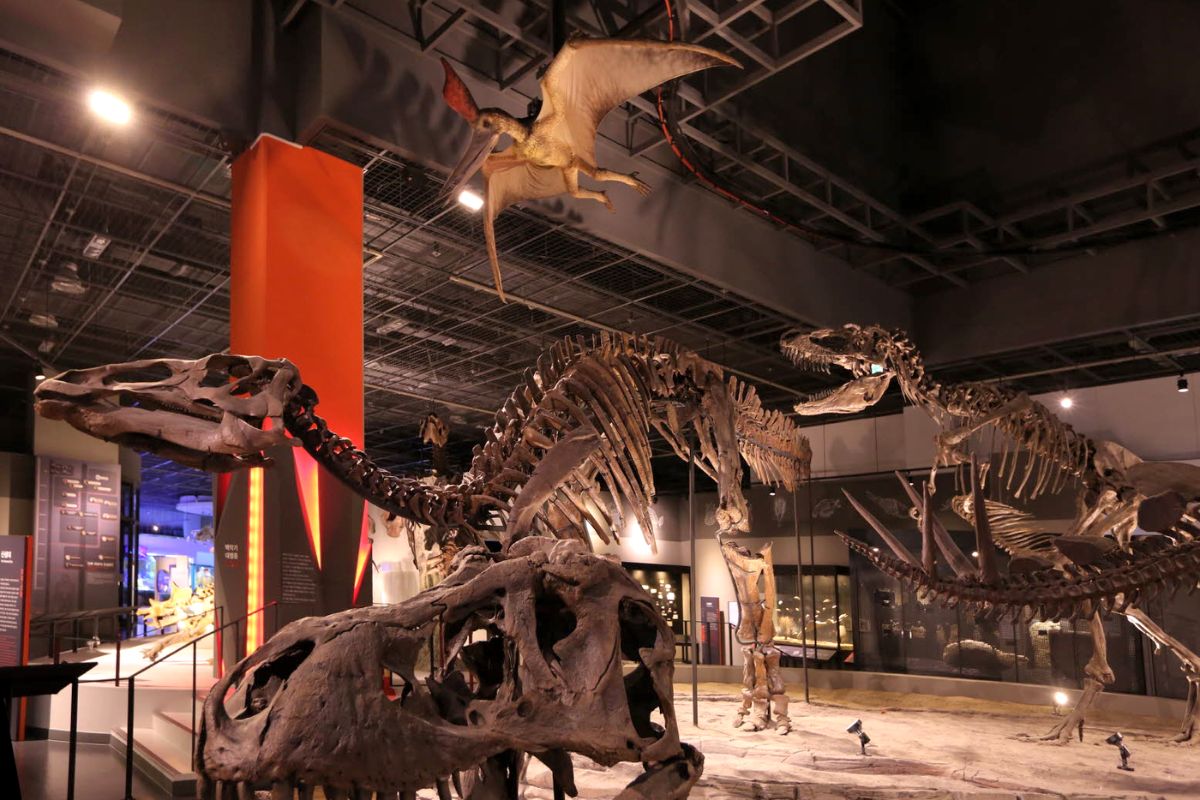 Gwacheon National Science Museum is a wonderful science museum, prompting Korean citizens to appreciate and learn more about the fascinating world of science, in many different areas of life.
Divided into 5+ separate exhibits, the very well-organized museum invites visitors to walk around a few of the exhibits, such as the Hi-Tech Center, Natural History Center, Traditional Science Center, and a few more.
Half of the exhibits and collections are interactive, which invites the visitors to really become immersed in the topics at hand, creating memorable experiences.
Only a 45-minute drive from downtown Seoul, visitors should also take advantage and check out the hybrid planetarium, which accommodates 273 people, and hosts viewings of space science documentaries in ultra definition and complete immersion.
Admission is 4,000 won for adults and 2,000 won for children.
47 – Visit the UNESCO World Cultural Heritage Site of Hwaseong Fortress for the day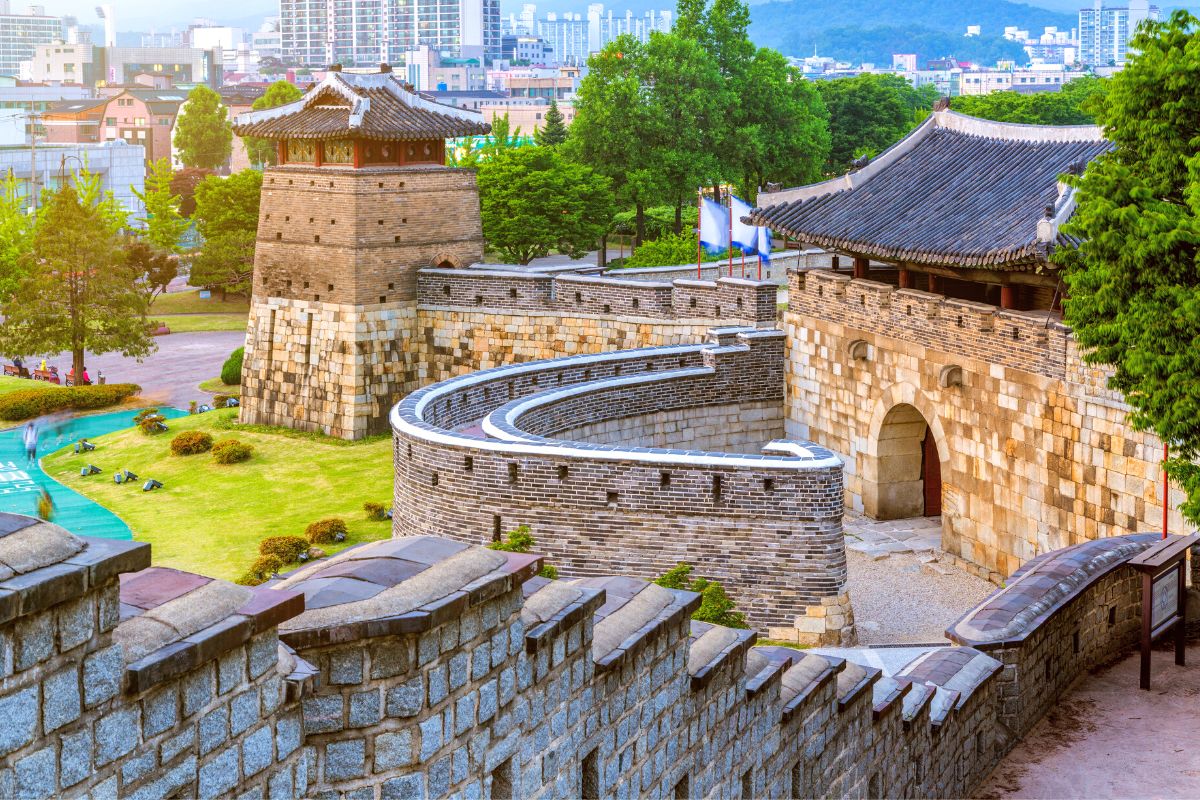 Visit the impressive Hwaseong Fortress, located 46 minutes south of the city, making for a perfect day trip option. Dating back to 1796, the fortress used to be one of the 4 regional governing centers, throughout the Joseon Dynasty.
It was built by the son of Prince Sado, who moved his father's grave site to where the fortress sits today and built the fortress in hopes of honoring his father, and changing the capital from Seoul to Suwon.
After walking through the Paldalmun Gate, if you're visiting around 11 am on any day except for Mondays, then you may catch the martial arts show performance, as well as the changing of the guards.
Check out the Korean Folk Village, situated close to the fortress, which gives a great example of the origins of traditional Korean culture, as well as the Joseon Dynasty.
48 – Appreciate Buddhist culture at the Bongeunsa Temple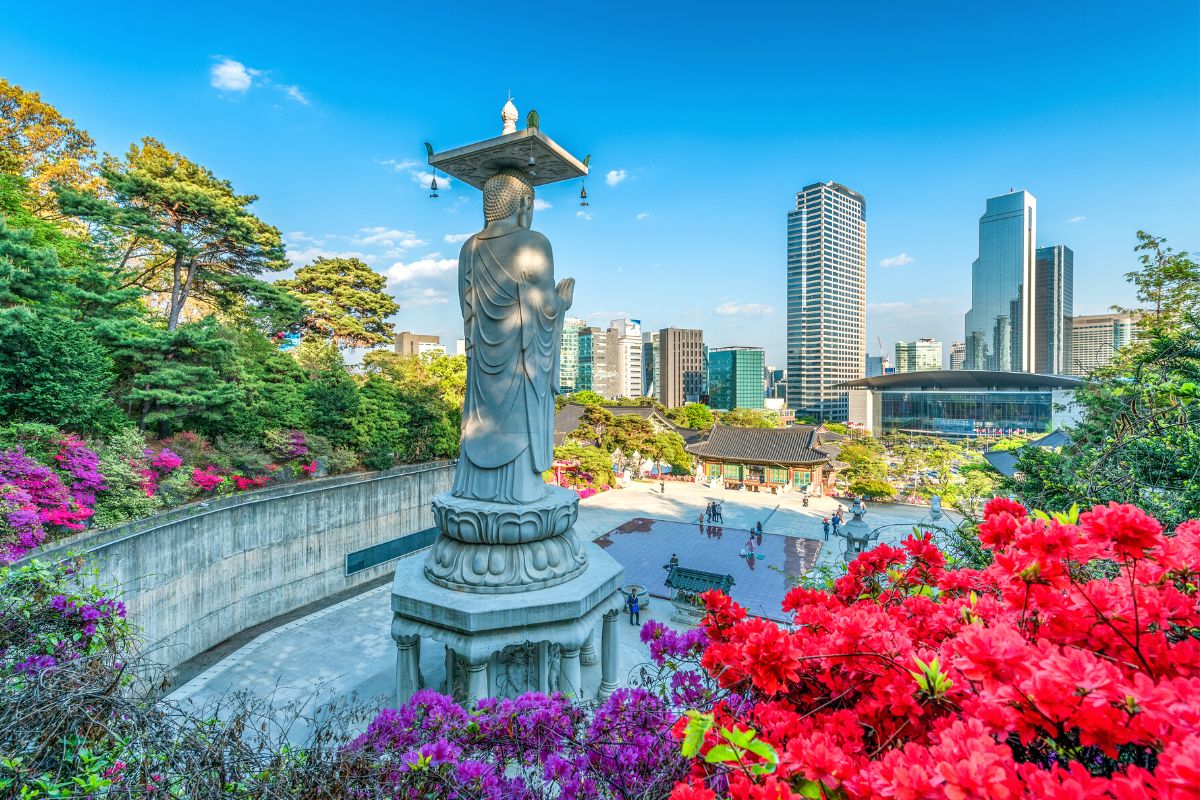 Located north of the COEX Mall is the Bongeunsa Temple, originally built in 794, undergoing various changes throughout its history from name changes, the Korean War damages, and being named the main Korean Buddhist Temple.
Today, visitors can walk the grounds that have recently been renovated, and stumble across the stone statue of Maitreya, known as the Future Buddha, as well as the tallest sculpture made out of stone in Korea.
Pay a visit either at 4:10 pm or 6:40 pm to witness a percussion ceremony by the temple monks, using only 4 instruments.
If you're visiting Seoul around the 9th day of the 8th month of the lunar calendar (somewhere between 23 August – 23 September), you can witness Jeongdaebulsa, where the temple monks recite the Buddhist rites while carrying the scriptures on their heads.
Admission is free.
49 – Enjoy a day at the Caribbean Bay water park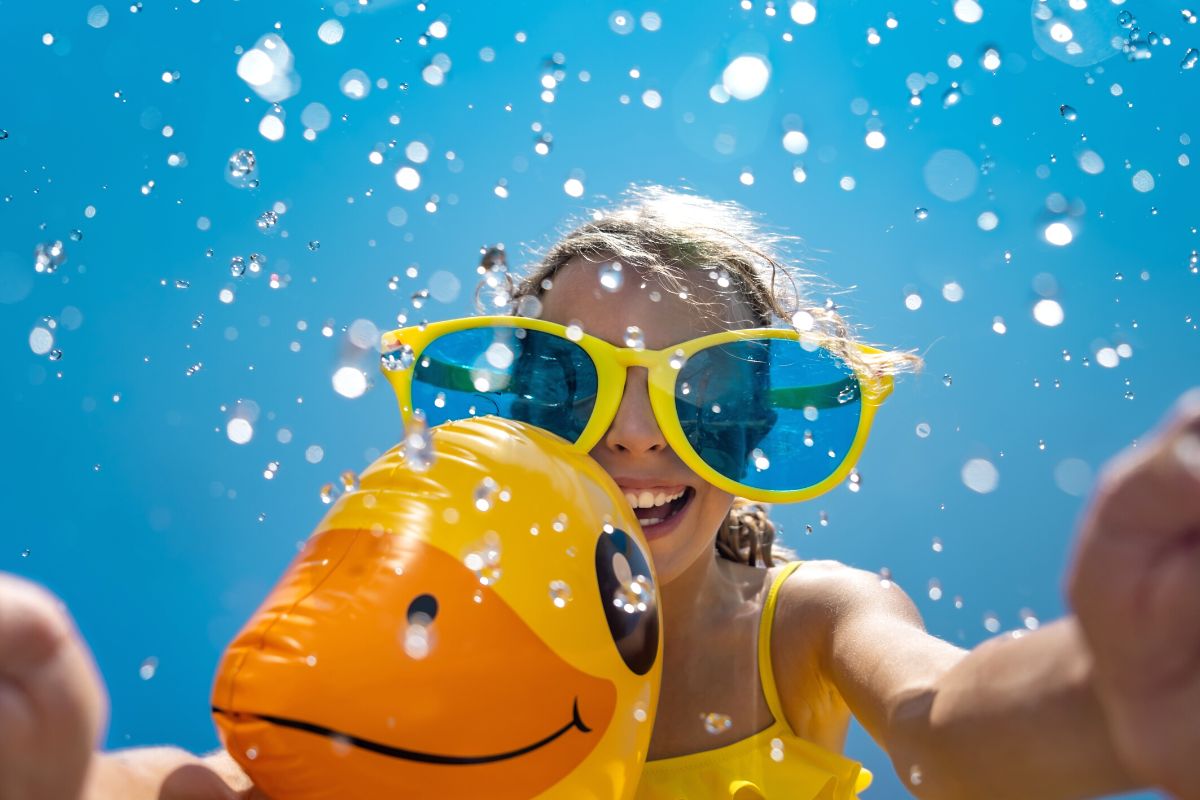 Part of the Everland amusement park complex is Caribbean Bay water park, an indoor/outdoor water park that first opened its doors in 1996, and is known as one of the largest water parks in the world.
Caribbean Bay is famous for its tropical beach-inspired water park areas, offering children the best of water activities from water slides to lazy rivers, state-of-the-art water coasters, tube slides, swimming pools of different water levels, and so much more.
The other side of Caribbean Bay offers parents a bit of leisure as well, offering spa-like amenities, and the tranquility that only a Caribbean beach escape can offer, in the middle of Korea.
If you're planning to visit this amazing water park during the summer, it is recommended that you visit on a weekday, as the weekends tend to get very crowded, very quickly.
50 – Walk through the oldest hall inside Changgyeonggung Palace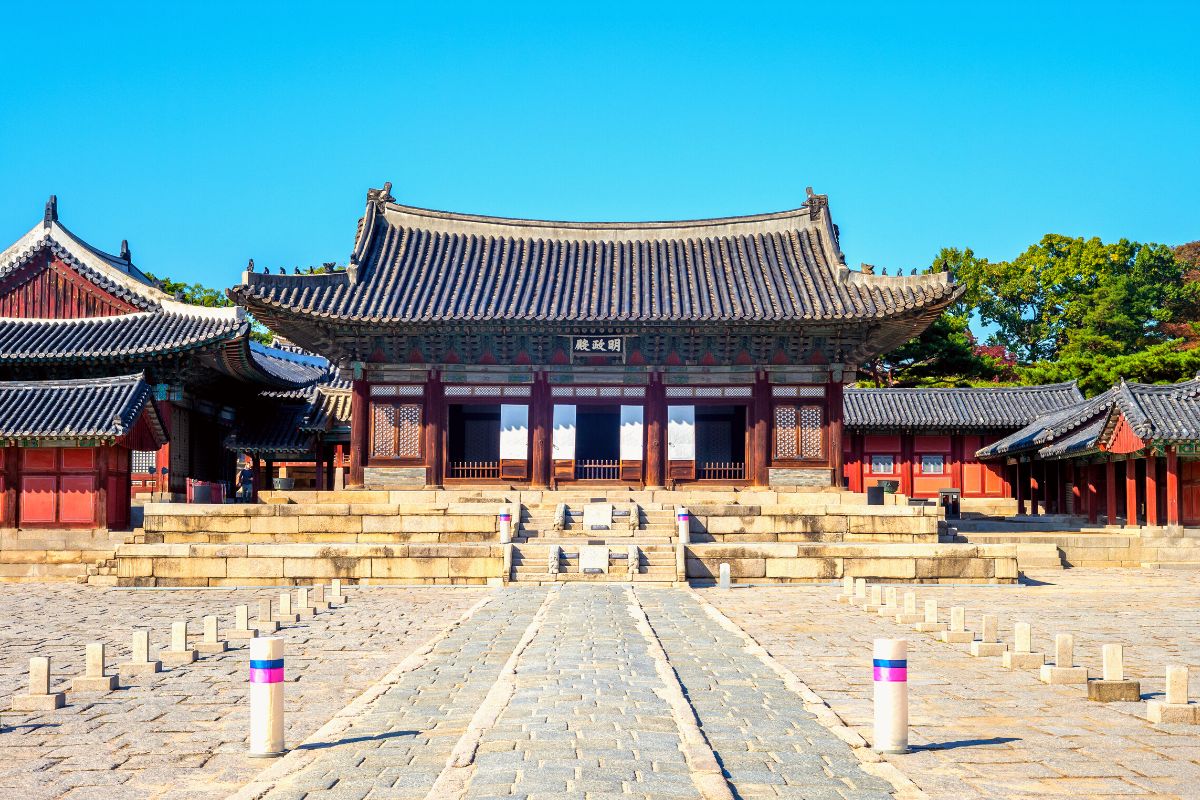 Situated near Changdeokgung Palace is the Changgyeonggung Palace, originally built as Suganggung Palace in 1418 by King Sejong for his abdicated father, King Taejong.
The palace was renovated and renamed to Changgyeonggung Palace in 1483 by King Seongjong, the 9th ruler, to serve three queens of the former rulers.
Though it's a smaller palace, the interiors display a good representation of Korean traditional architecture, as well as stunning exteriors that mesh perfectly with the nature surrounding it.
Also known as Donggwol the East Palace, the palace is located 30 minutes east of downtown Seoul in the Jongno-gu district.
Check out the main hall of the palace called Myeongjeongjeon, known to be the oldest hallway in any Korean palace, previously used for important meetings and hosting visitors.
Though the palace was destroyed during the Japanese invasion, today it has been renovated to welcome visitors. Walk through the opulent main gate called Honghwa, signifying "promoting harmony".
Free guided tours are offered, and the admission fee is 1,000 won for those aged between 19 and 64.
51 – Shop and dine at Insadong Street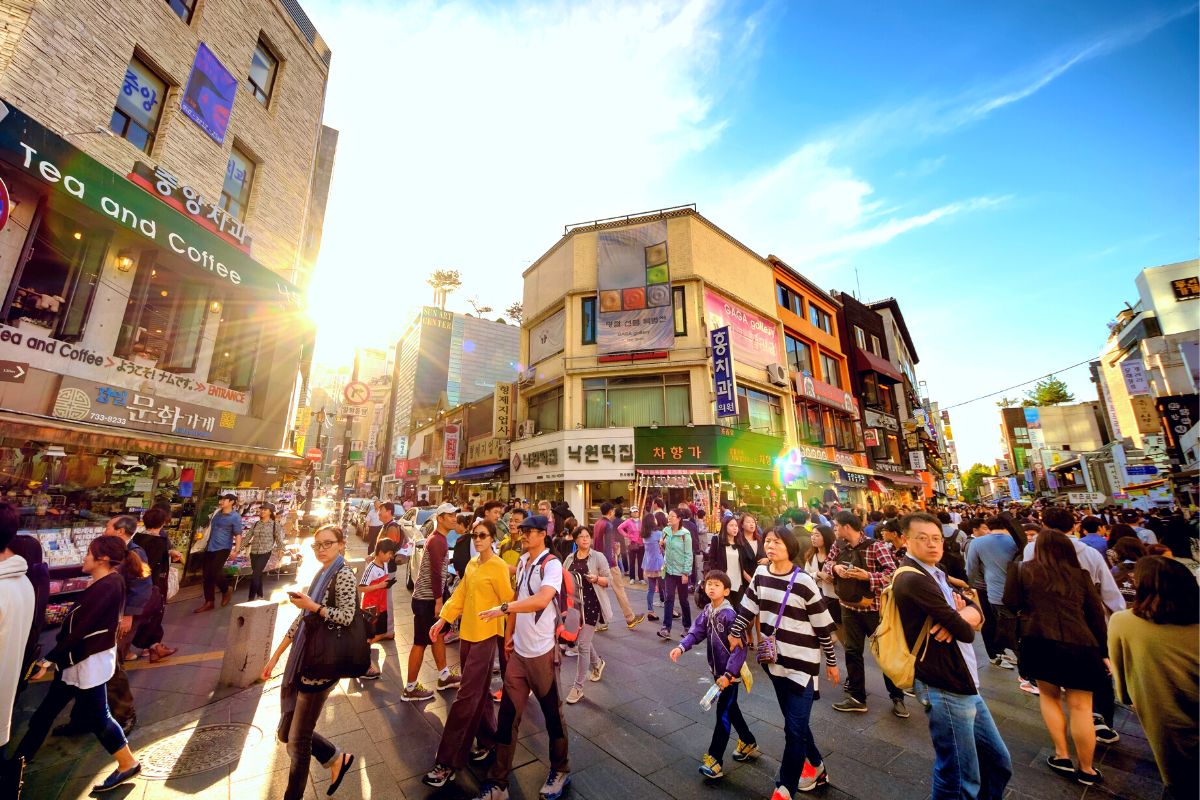 A visit to Insadong Street is a must-visit site for its local culture, and endless foodie and artistic things to do. Though it is considered in many ways a tourist destination, Insadong Street maintains bits of its local atmosphere with its sprawling markets and local eateries.
Indulge in some shopping, picking up a few souvenirs at Insadong Street, known to house stalls that sell a variety of unique items, art pieces, and perfect gifts to take back home.
Another shopping hot spot to check out is Insadong Samziegil and its 4 floors of clothing, accessories, restaurants, and more. If art is your thing, check out Kyung-in Art Museum, housing a sculpture garden, and 3 gallery halls.
Tea lovers, make a note of the Beautiful Tea Museum, where you'll learn and experience certain tea rituals, with some of the best-selected tea samples to try.
52 – Learn about the Korean activists who sacrifice their lives inside Seodaemun Prison History Hall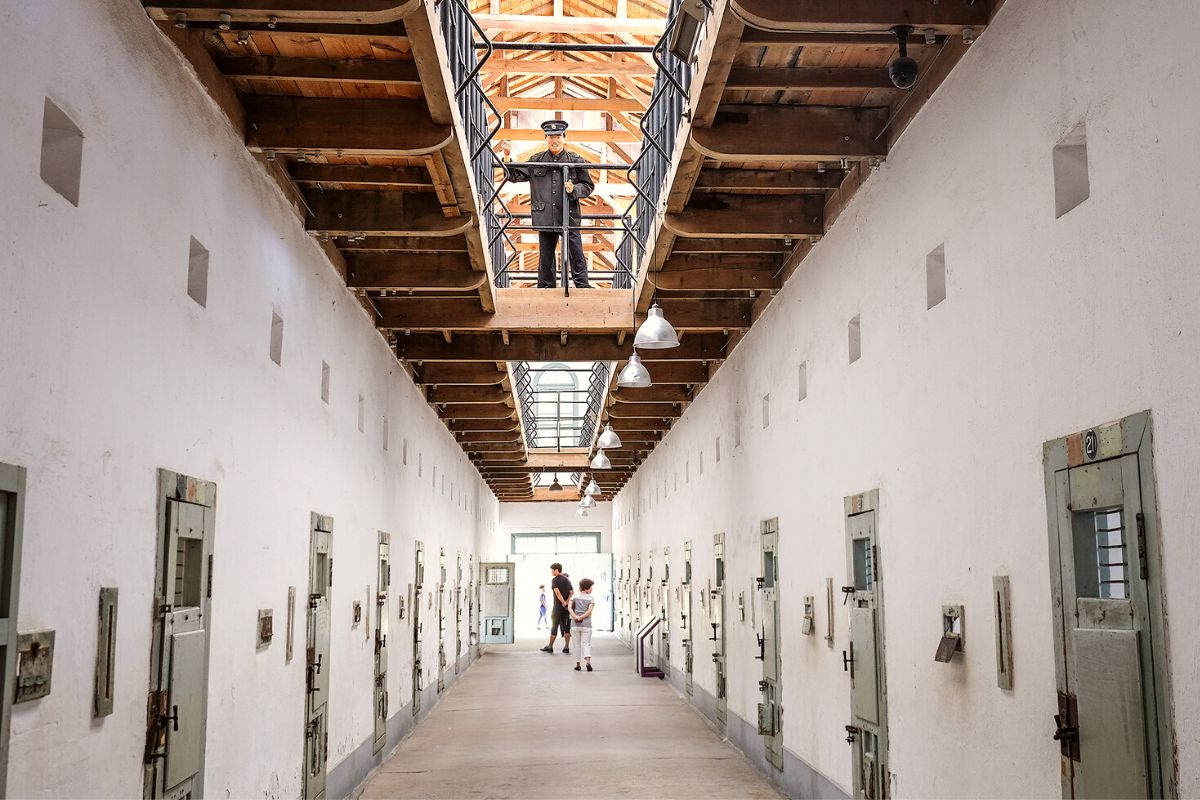 A prison used by the Japanese during their occupation of Korea where up to 40,000 Korean activists entered, is today a memorial for those who lost their lives in defense of Korea.
The Seodaemun Prison was a functioning prison for 80 decades, from 1908-1987, even after its independence from Japan in 1945. In 1998, the Seodaemun Prison History Hall was opened to the public.
Today, visitors are able to visit the prison cells, as well as the Execution Room, and pass by the Corpse Removal Exit, a 40-meter-long tunnel used to transport the bodies of those executed secretly.
Stop by the Reverence Monument to pay respects to the sculpture dedicated to those activists who lost their lives, where it is estimated that approximately 400 of the inmates died within the walls of the prison.
Admission is 3,000 won for adults.
53 – Shop at one of the largest traditional Korean markets, Namdaemun Market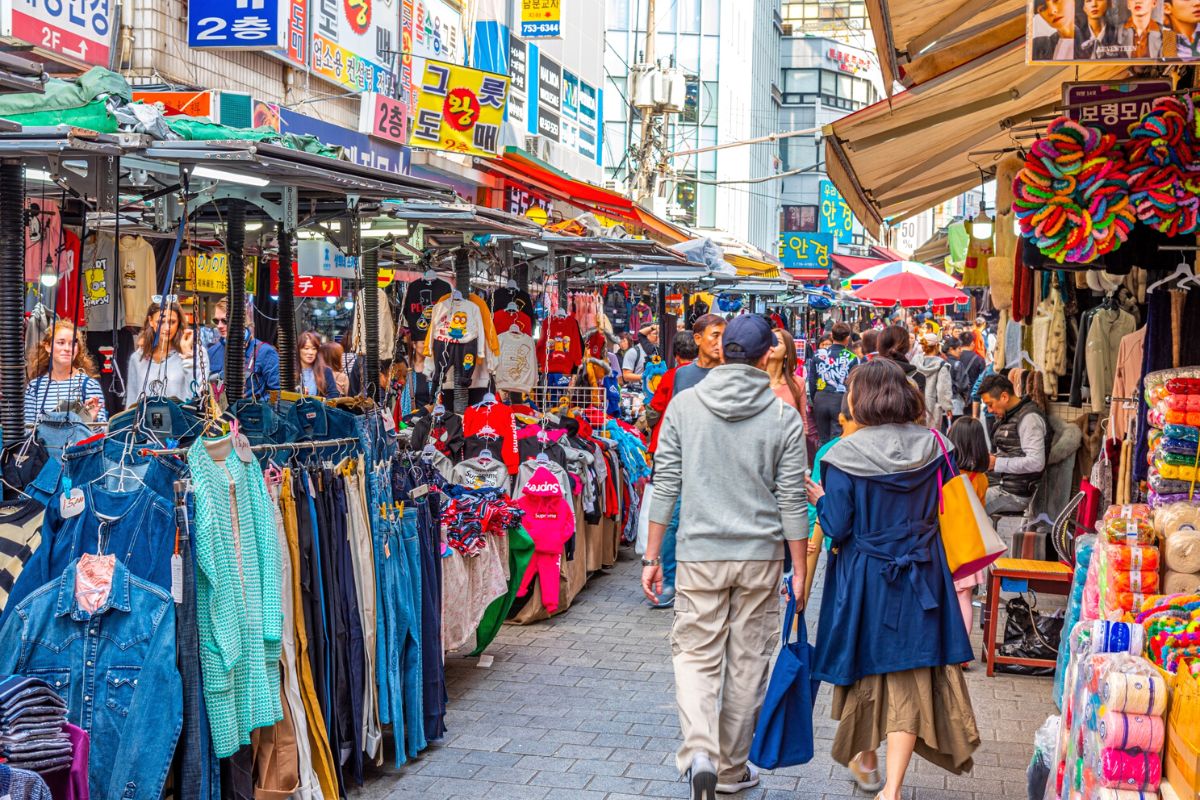 Step inside one of the best markets in Seoul, Namdaemun Market, known for its incredible variety of authentic street food, and ample amount of souvenir stalls, with its 10,000+ stalls.
A Namdaemun Market will take you through the various stalls, share with you the history behind this market which started in 1964, as well as learn insight directly from a local as far as when to go when it's less crowded, and other helpful information.
Most of the items that you can buy at the market are everything from clothing, to housewares, mountain climbing gear, and everything in between. The market is located in the Jung-gu district, beside the previous gate to the Old City, "The Great South Gate."
Bonus tip, credit cards are accepted at the market, but if you can, try to bring cash just in case.
54 – Walk the grounds of the Blue House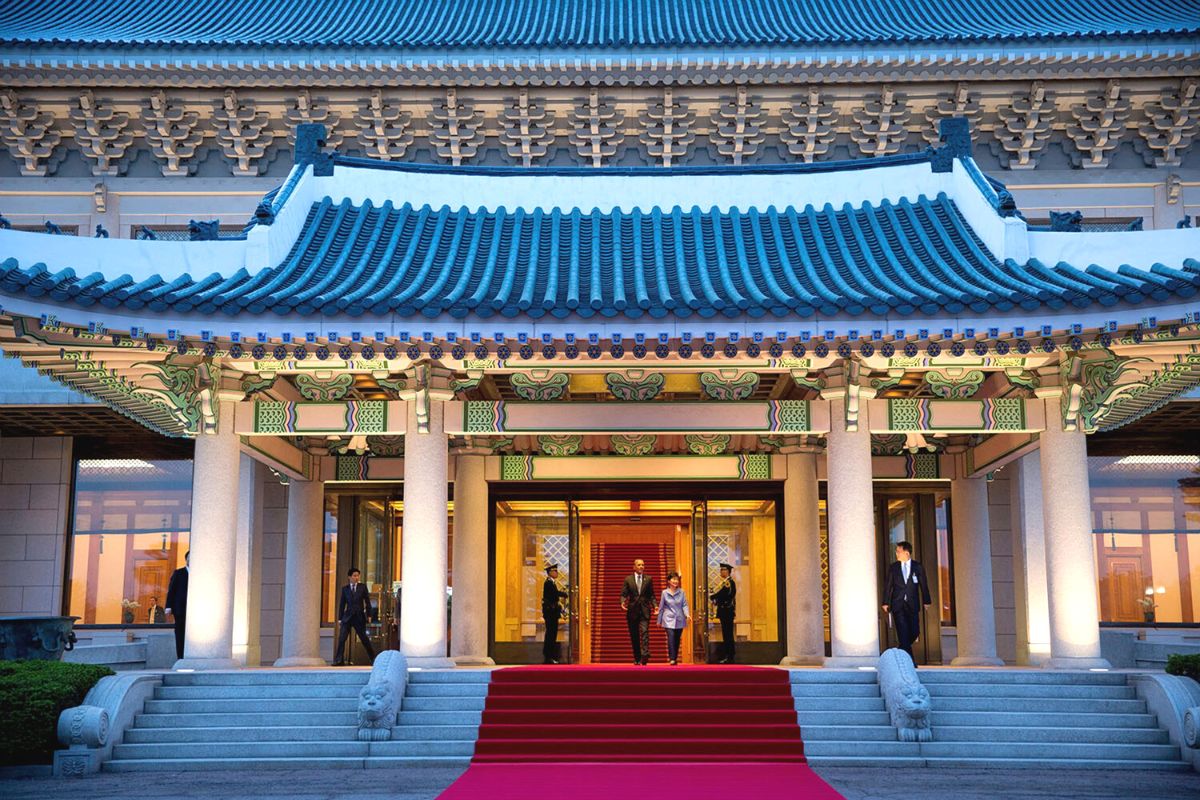 Learn about the Blue House, known as the official presidential office and residence for the past 74 years. It has also been known as Cheong Wa Dae and is located in the Jongno-gu district.
As of recently, the Blue House has opened up to the public for the first time in the 74 years that it's been in use, and that is because the current president has decided to move his residence to a different part of Seoul.
Visitors are welcome to walk the grounds, although the building itself is off-limits. Visitors can walk outside, and see through the windows the different rooms, such as the various dressing rooms, the kitchen, and even a beauty parlor.
Tours are available, offering a great deal of historical insight, and curious facts, worthy of learning, especially as it's in the midst of transition currently.
55 – Take a couple of hours day trip to the ski slopes near Seoul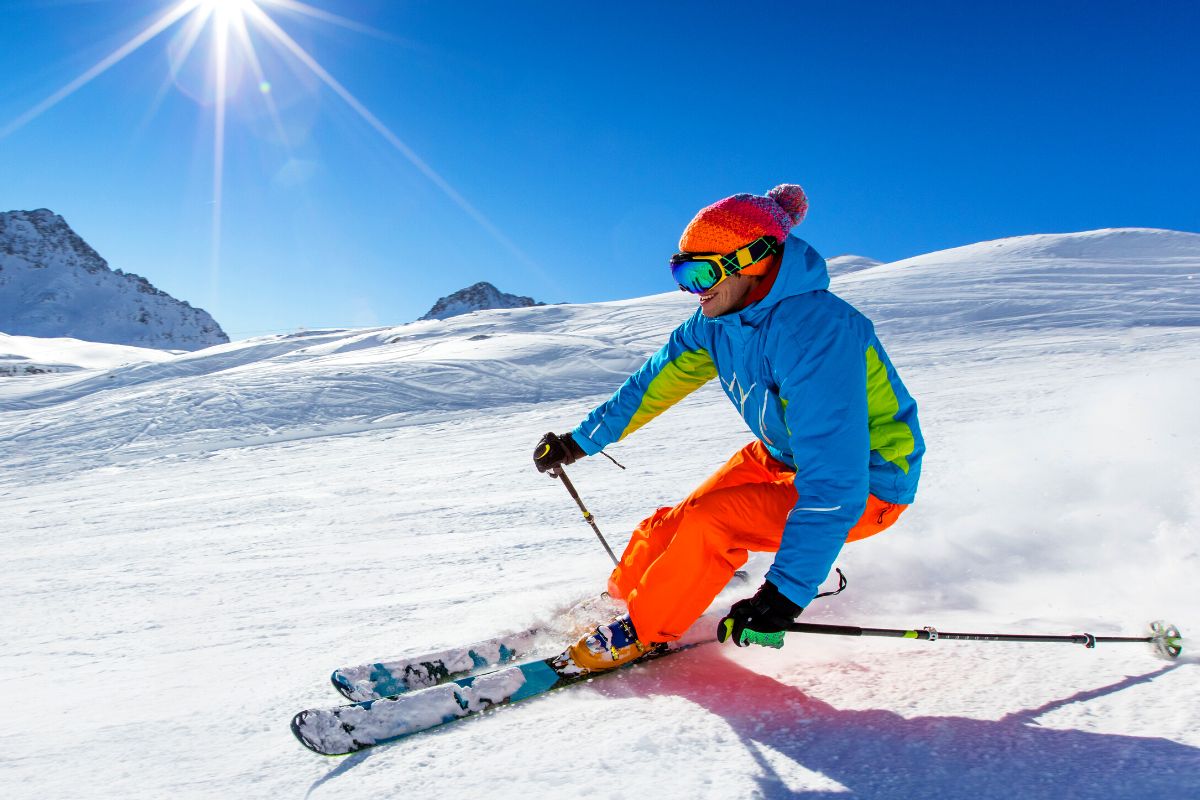 Yongpyong is one of the largest ski resorts in South Korea and was one of the selected ski resorts for the 2018 PyeongChang 2018 Winter Olympics. Visitors can check out the slopes, and stay the night at the Dragon Valley Hotel built for the Olympics.
Take a 1.5-hour day trip to Daemyung Vivaldi Park, Korea's largest ski resort as well as one of the most stylish, boasting trendy cafe shops, shopping, and luxury lodging accommodations.
Most famous for being the main slopes of the 2018 Winter Olympics, Pyeongchang's slopes go as high as 1,438 meters high. Check out some of the 5 different slopes, including the longest slope in YongPyong Resort.
Elysian Gangchon Ski Resort is 4 hours away from Seoul and offers incredible slopes for seasoned professionals, as well as classes and training for newbies.
56 – Try your hand at Korean cooking inside a cooking class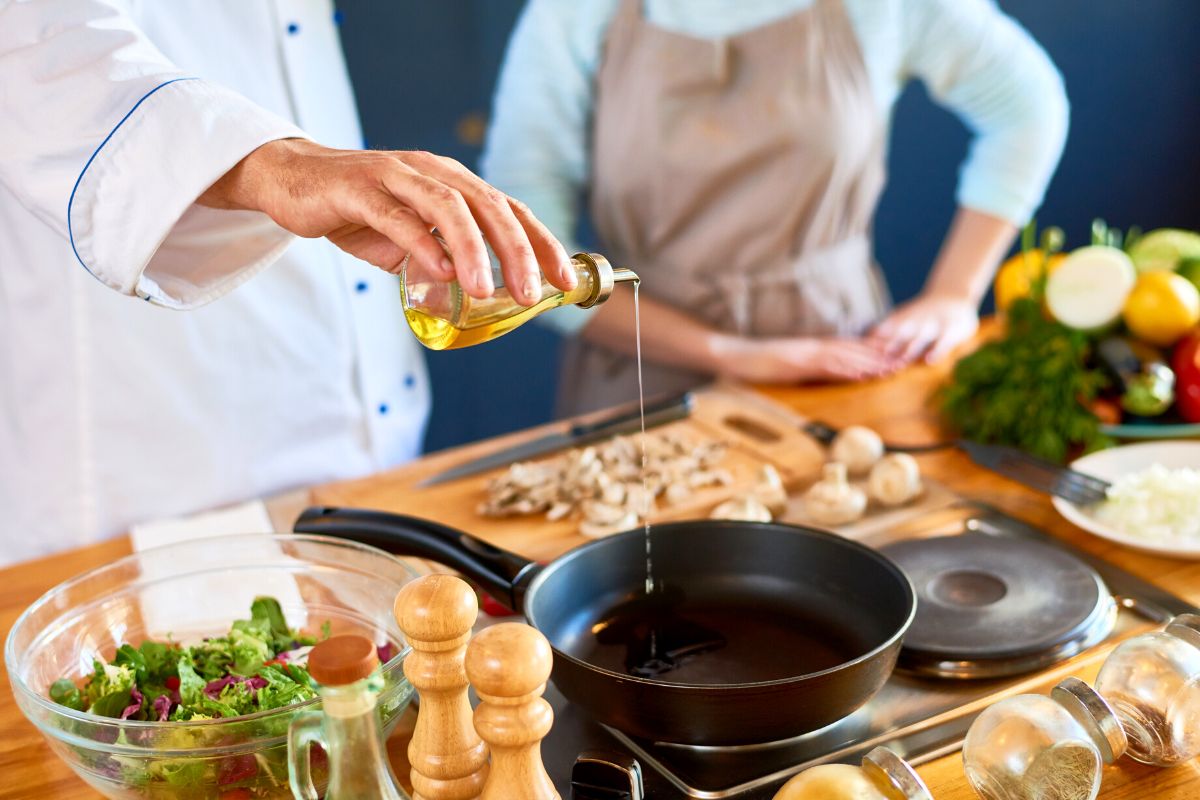 Enjoy learning about Korean cuisine as you indulge in the scents, quality, and uniqueness of the staple ingredients of Korean food.
Learn how to make some of the traditional Korean foods such as Kimchi (fermented vegetables), Samgyeopsal (fried pork belly), and Jjajangmyeon (Korean noodle dish).
Learn from a local professional as you walk through the markets as a group to buy your ingredients together, grasp how Koreans shop for ingredients and then take them back to the traditional house where you'll be cooking up a delicious storm.
A cooking class usually lasts around 3 hours, and participants typically make 3 food items, in addition to tea and dessert.
Visitors can choose from lunch or dinner time slots, where a tour and shopping at the market will be included. Cooking classes start at around $45 USD.
57 – Take your children to Seoul Children's Grand Park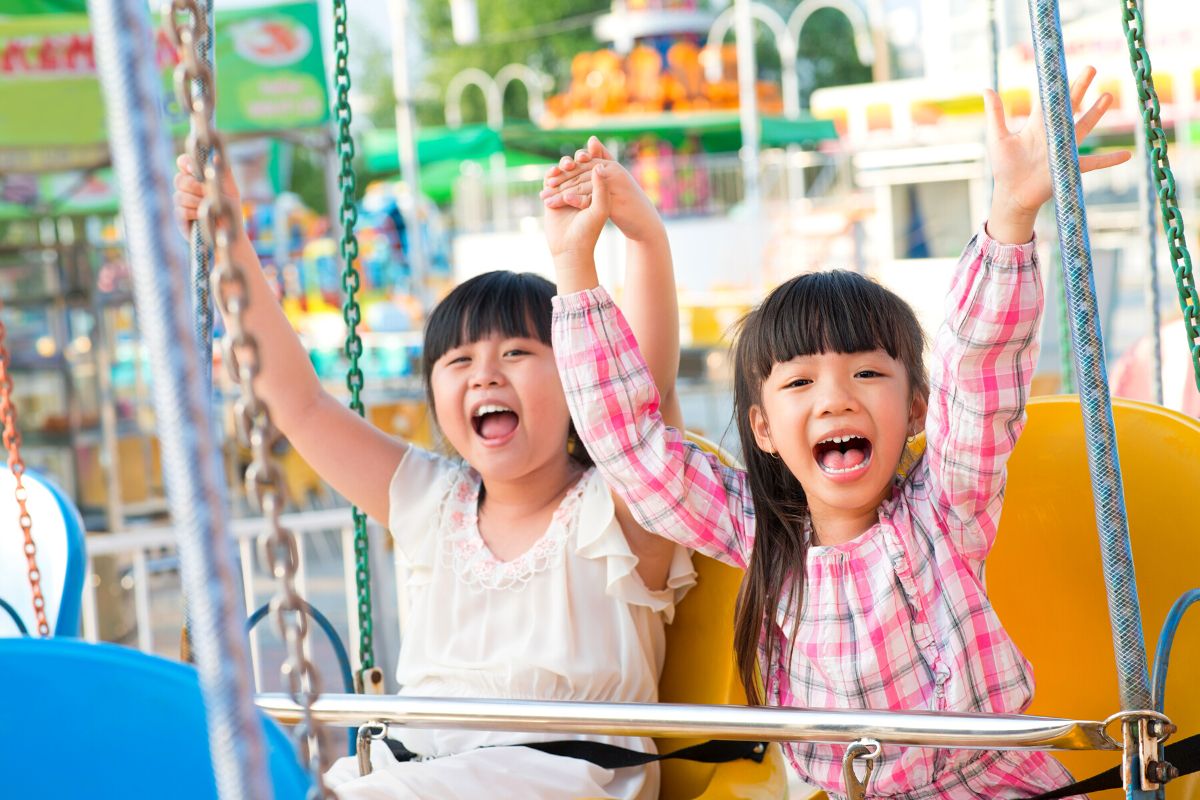 Check out the fun and amazing Seoul Children's Grand Park, a public park situated in the Gwangjin-gu district, featuring a number of activities for children to take part in, from a zoo to an amusement park, scenic walking trails, a music fountain, and a playground.
Children can watch the animals get fed, or even feed the animals themselves using park-provided snacks, after snapping a photo in front of the SEOUL sign at the entrance.
The park opens from 5 am – 10 pm, and the zoo and botanic garden are open from 10 am – 5 pm.
Don't miss the Seoul Children's Museum, located not too far from the park, offering family cooking classes, exhibits showcasing science, sensitivity development nature, and art topics for children's growth.
Tickets to enter must be purchased ahead of time online.
58 – Check out a popular wedding venue in the historical Unhyeongung Royal Residence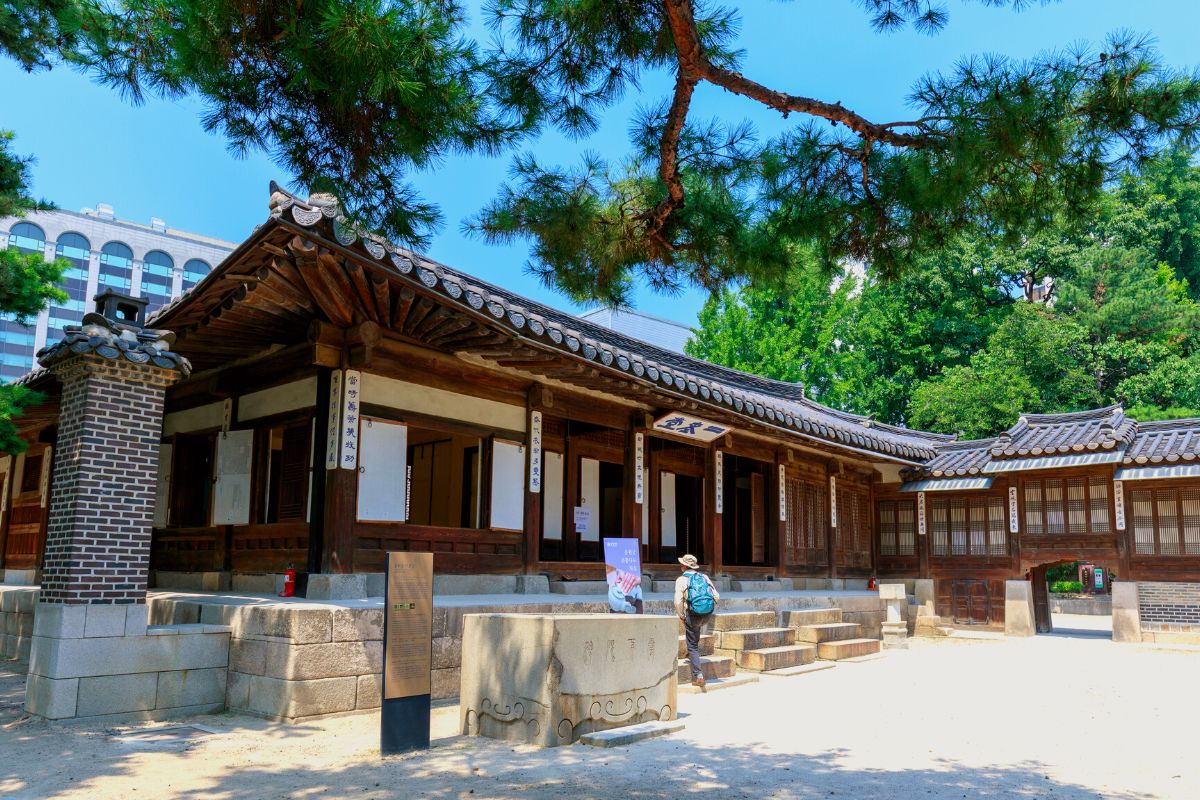 Check out the Unhyeongung Royal Residence, located in Jongno-gu, which was the residence of the prince regent of Korea during the Joseon Dynasty.
Emperor Gojong was married at this palace, and on several occasions, there is a re-enactment of the marriage ceremony between Gojong and his wife, Myeongseong. Today, it's even a wedding venue that some Korean couples choose, so it's not a surprising sight to see couples getting married there.
Walk into the courtyard, and admire the different rooms, many of which were used as bedroom chambers, and business. The Exhibition Hall shows visitors the fascinating relics found in the palace, from writing tools, to wedding clothing.
Though the palace was destroyed during the Korean War and Japanese invasion, portions of the palace remain and can be seen any day of the week except for Mondays.
Admission is free.
59 – Attend a live performance at a state-of-the-art concert hall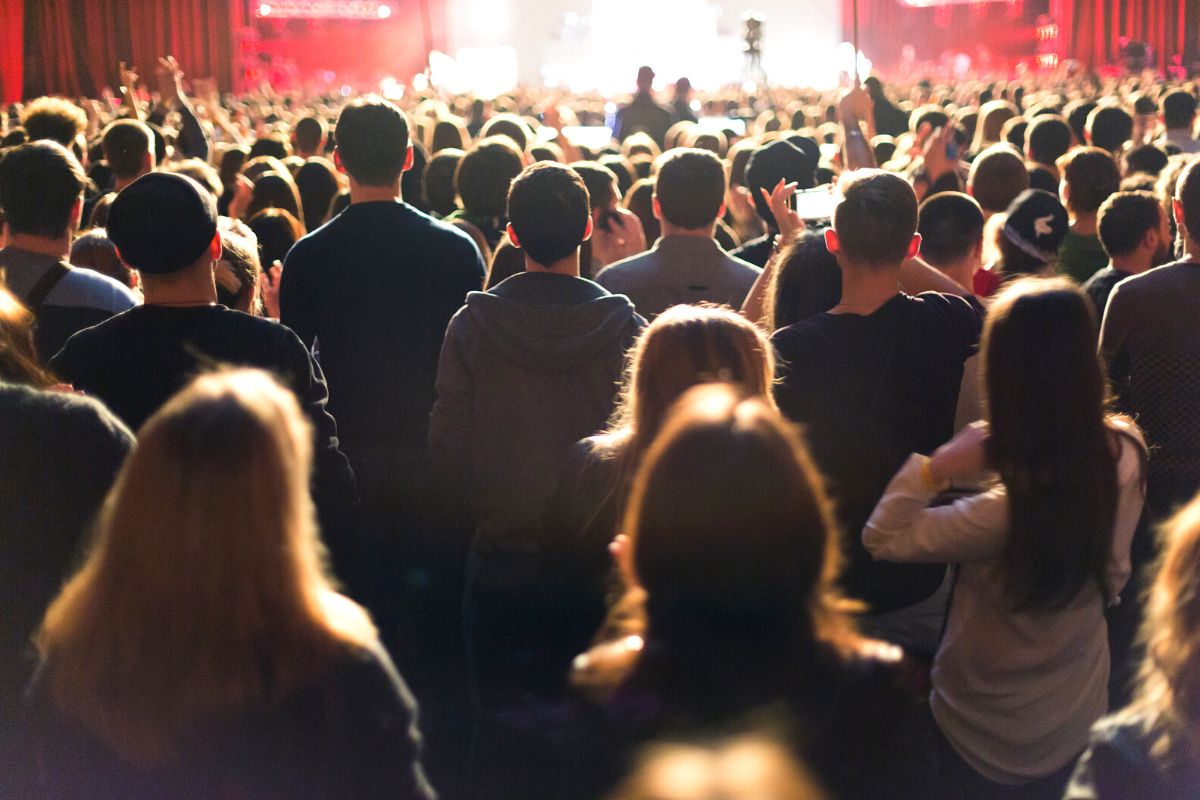 Tune into a live musical performance at Lotte Concert Hall, and admire the two floors of seating, with a capacity of 2,036 people. It's said that the acoustics inside this concert hall are some of the best in Korea, so make sure to consider attending a live show to listen for yourself.
Olympic Hall is located in Songpa-gu and is another wonderful concert hall that features two concert venues. The large one is fit for 2,452 seats and the small one is fit for 240 seats. Catch a K-Pop show in the large venue, or discover a new indie artist in the smaller venue.
If watching a K-Pop show in all its glory is on your list of things to do in Seoul, then definitely consider going to a K-Pop show at YES 24 Live Hall. This concert hall was built to host mainly pop concert shows, and it's located in Gwangjin-gu.
60 – Learn about marine animals inside COEX Aquarium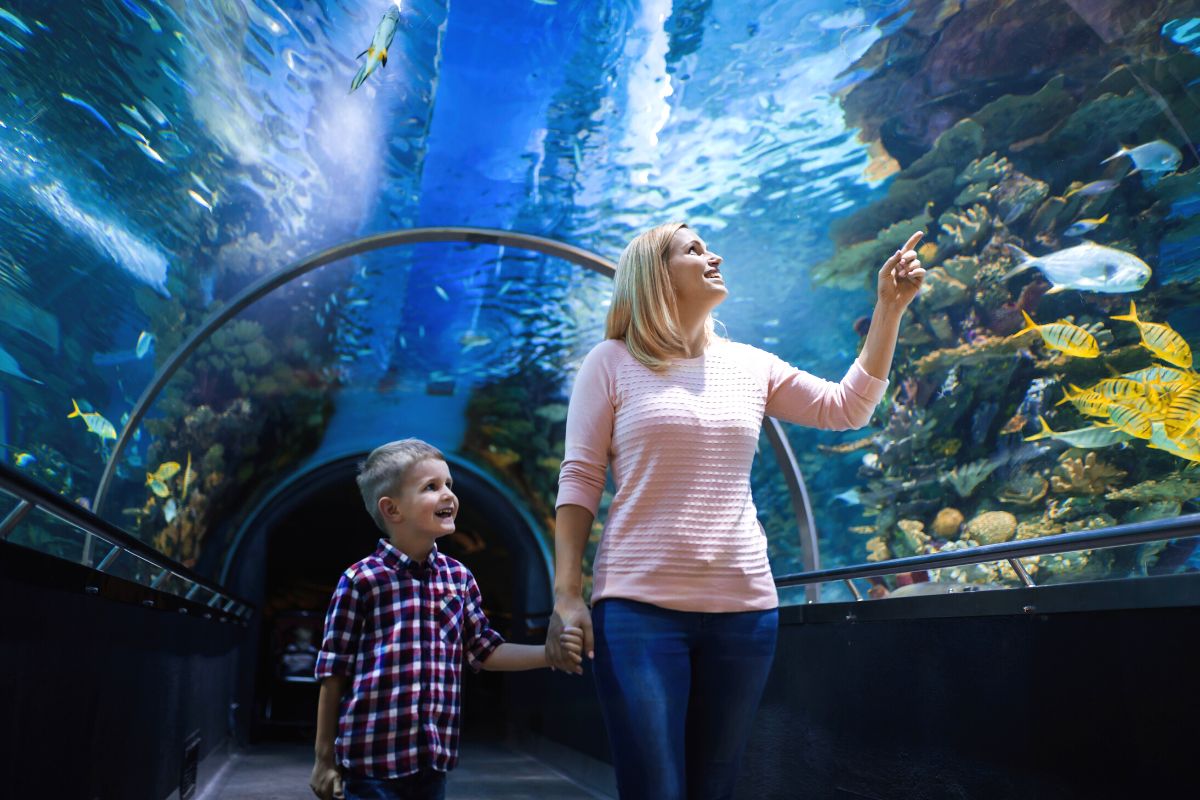 Housing 183 different display tanks of various sizes is the COEX Aquarium, situated inside COEX Mall in the Gangnam-nu district. Browse through the 14 themed exhibitions, showcasing approximately 600 different species, and 40,000 different fishes.
This large-scale aquarium also features immersive-style tunnels where families feel surrounded by all sorts of sea creatures, as they learn about the fascinating world of marine life.
Stick around for the fish feeding hours, and tune into the mermaid performances. Check out the penguin playground, which will surely create memorable moments for the entire family.
Entrance tickets start at $39 USD for adults and $29 USD for children.
61 – Enter the biggest toilet sculpture turned museum at Haewoojae Museum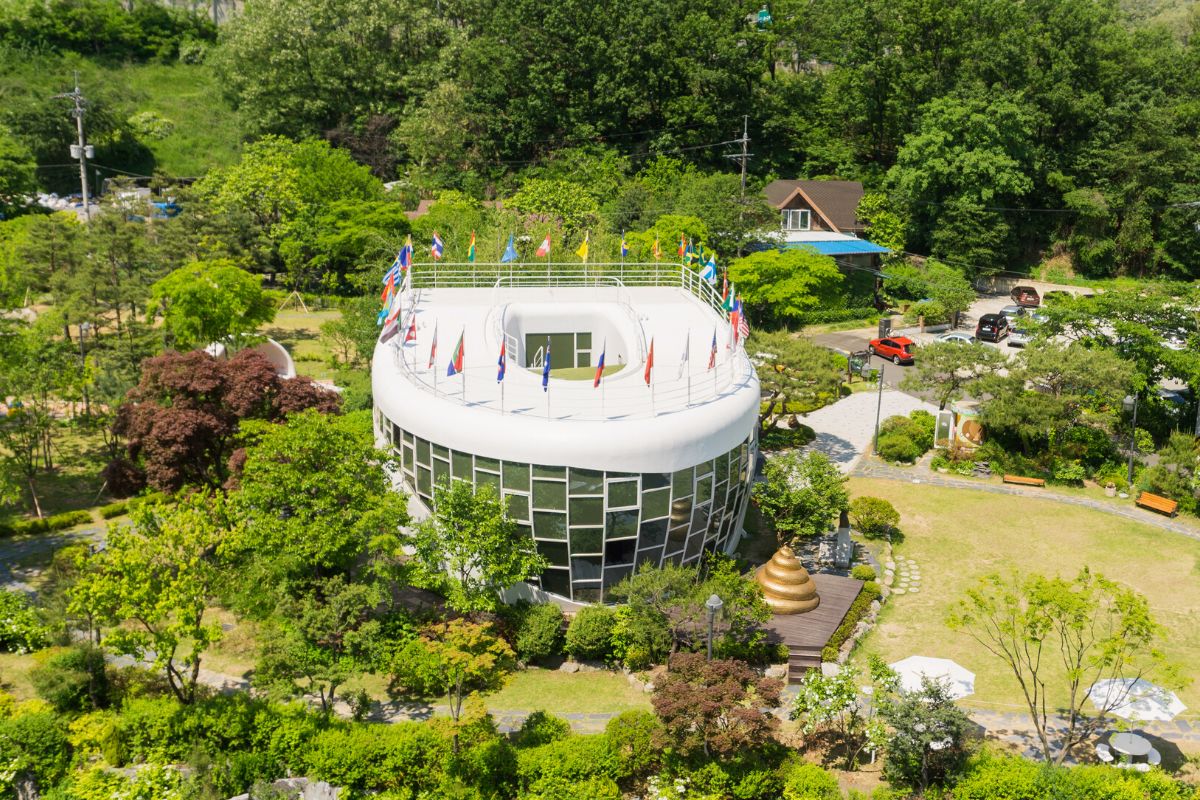 By far, one of the most unique things to do in Seoul is the Haewoojae Museum, also known as the Mr. Toilet House.
The museum focuses on the science of toilets and shares with its curious visitor's toilet culture all over the world, interesting toilet facts and stories, a view of what toilets look like all over the world, and much more.
Originally started by Sim Jae-Duck, whose intention was to create a movement to beautify the city's toilets, the building that is now Hawwoojae Museum, was built and became the headquarters for the World Toilet Association.
Eventually, he was known as Mr. Toilet, hence the nickname for the museum today.
Mr. Toilet House gained a lot of attention after its construction in 2007, breaking the records for being the biggest toilet sculpture in Korea, and potentially the world.
Admission is free.
62 – Stare at the impressive build of Heunginjimun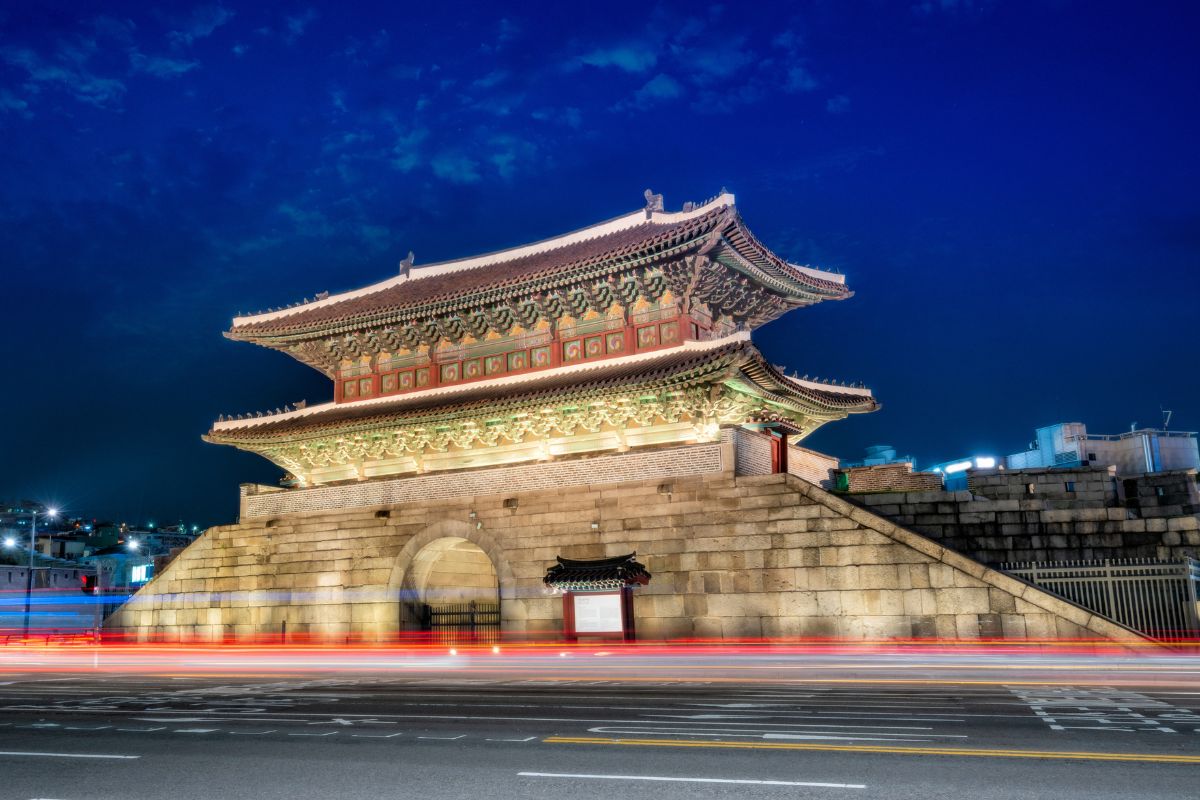 Make some time to stop by the Heunginjimun historic gate of the Fortress Wall built to protect the town of Hanseongbu, which is current day Seoul. It is one of the 8 gates of Seoul, and this one is located in the east of the city in Jongno-gu.
It's said that the town of Hanseongbu housed a few important facilities belonging to the government, therefore a wall and gate were built to protect it. The gate is an impressive work of art, boasting a 2-story gate, with multiple compartments.
The meaning of Heunginjimun in English means "Gate of Rising Benevolence", and the gate dates back to the Joseon Dynasty, in 1398. Though it has recently suffered due to the natural distress of the rain, the gate is open for visitors to stop and stare at the magnitude of the gate.
63 – Browse through Olympic history at the Olympic Park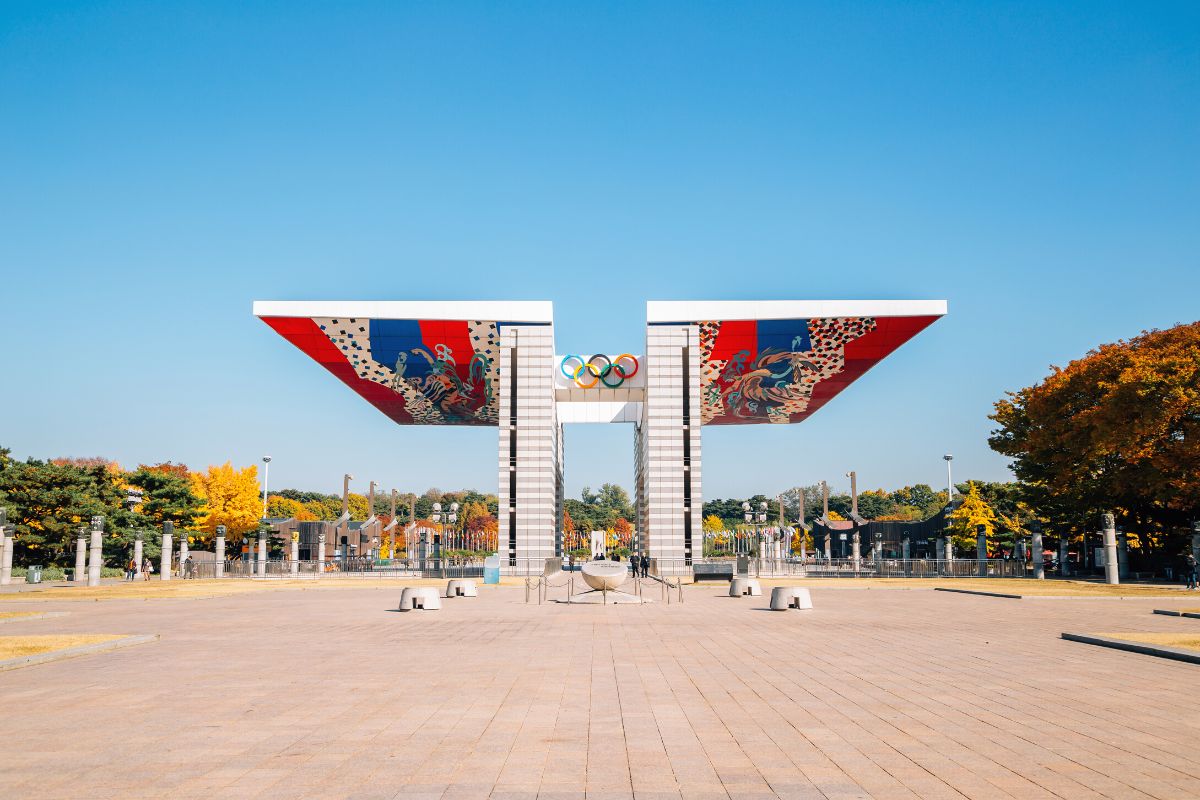 Visit the wondrous Olympic Park, designed for the 1988 Summer Olympics, located in Bangi-dong, Songpa-gu.
The Seoul Olympic Museum of Art is the perfect place to start your Olympic Park journeys, to recount some of the highlights of the 1988 Summer Olympics, as well as diving into the history of the construction of this park complex, and its purpose today.
Standing tall is the World Peace Gate, reaching 24 meters high into the sky, completed in 1988 by Kim Chung-up to symbolize peace and harmony at the start of the games. Check out the Sculpture Garden within the Olympic Park, showcasing a variety of sculptures created by some of the best Korean sculptures.
Olympic Park Rose Plaza is famously known for its gorgeous display of roses, estimating around 150 varieties, and in many different colors. Love tennis? Olympic Park Tennis Court is the space to go to if there is a tennis tournament occurring in Seoul, located within the Olympic Park and built for the 1988 Summer Olympics.
Visit the Olympic Weightlifting Gymnasium, known to hold up to 4,000 people watching weightlifting matches. Take a dip inside the Olympic Swimming Pool, featuring 2 – 1 meter diving boards, 2 – 3 meter diving boards, and 5m and 10m double-width diving platforms. It is accessible to the public for the price of 6,000 won.
Wander inside the Olympic Gymnastics Arena has a capacity of 15,000 people, and it boasts a first-of-its-kind roof made of a 4-layer fabric coating.
64 – Look around the second residence of royalty at the Gyeonghuigung Palace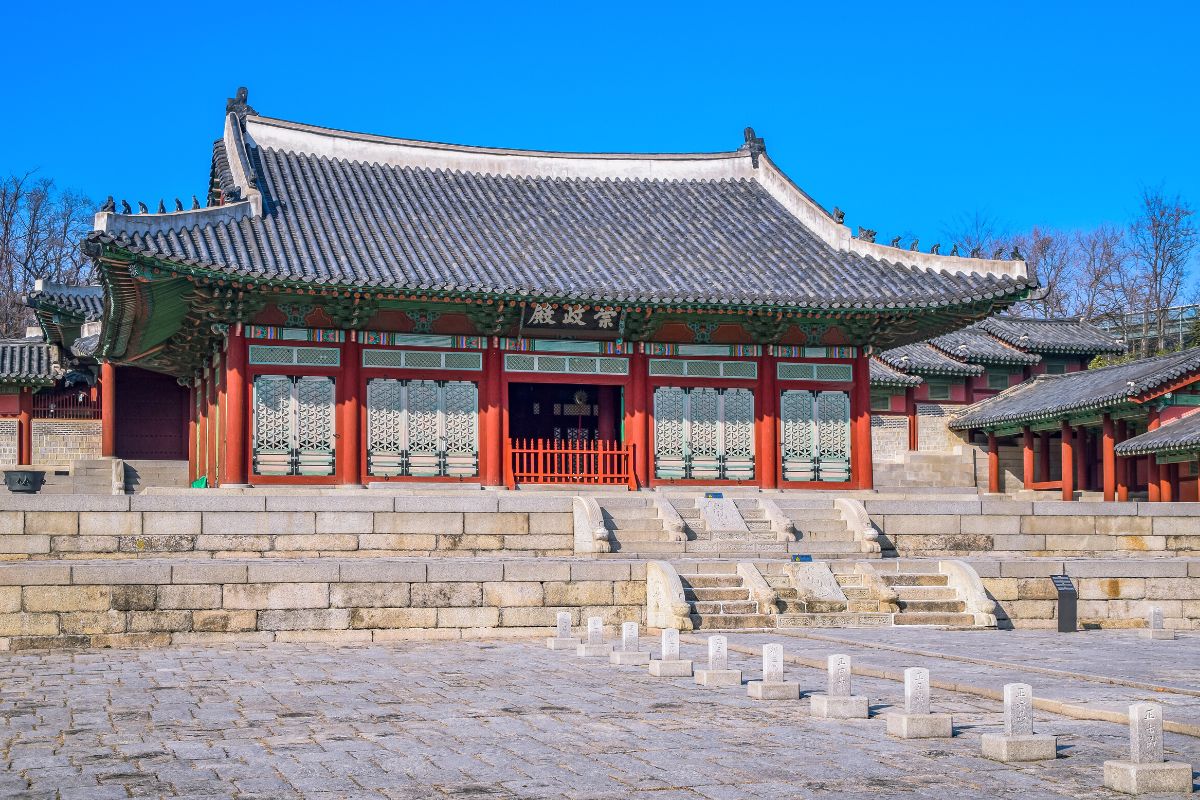 Forming part of the 5 grand palaces of Seoul, Gyeonghuigung Palace is considered the western palace because it is located on the western side of the city.
The palace was completed in 1623 and was used as a second residence for a few other kings later on. Enter and gaze at the beautiful architecture of wood in various colors, and imagine the way that royalty must have lived within the walls.
Check out the Seoul Museum of History, documenting the various changes that Seoul has gone through from the earliest dates, to recent history, and today.
The palace has free entry and is open every day except for Mondays.
65 – Take a day trip down to Andong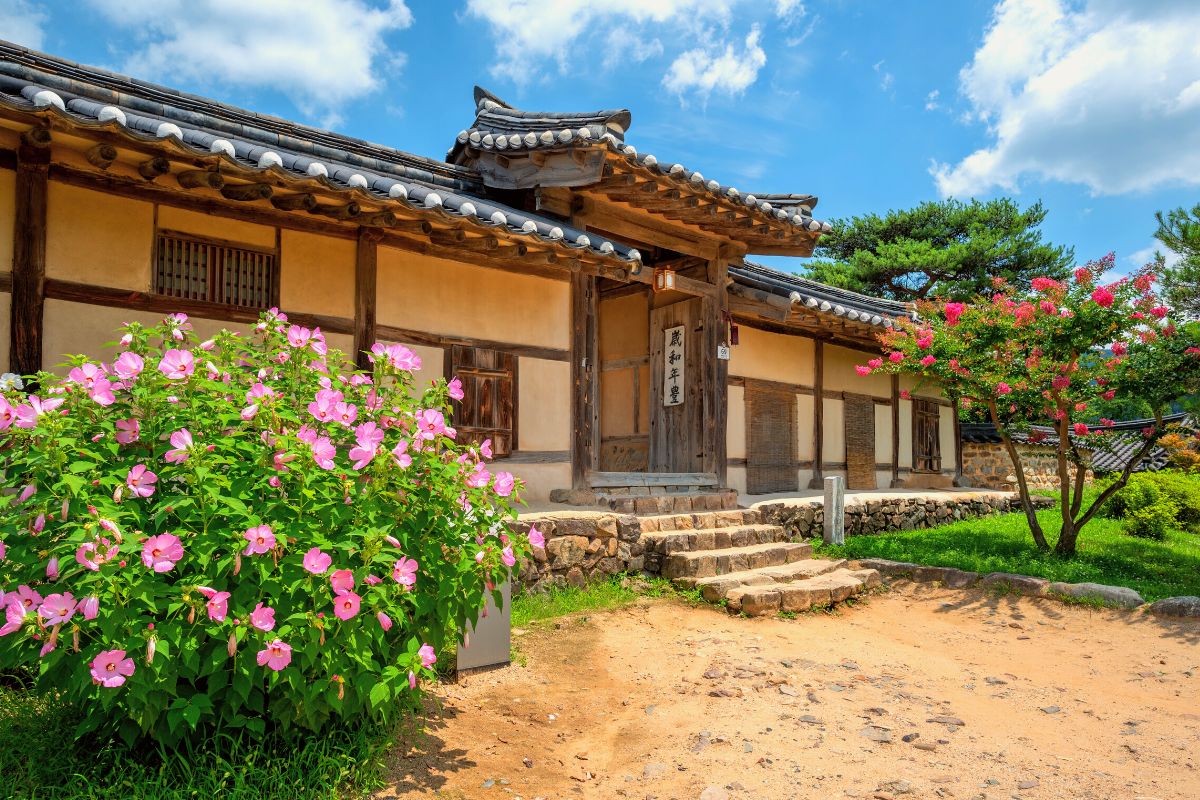 Andong is steeped in 600 years of traditional, rural Korean culture, known for some of its contributions to Korean tradition such as the famous wooden masks, drinks like soju, traditional Hahoe Folk Village, and much more.
Andong is located a little under 3 hours away from Seoul and can be accessed via bus or a tour with a guide included. Of the many things to do, one of the favorite attractions is to stay in a traditional Choga house in the Hahoe Folk Village.
Additionally, trying the famous alcoholic drink Soju is a must-do in Andong, typically available at restaurants, or even inside souvenir shops. Try it while you're enjoying the local gastronomy, such as gan godeungeo (salted mackerel) inside the local Andong Market.
Lastly, bask in the stunning view of the city, take a ferry, and marvel at the mountainscape.
66 – Walk the cool, themed tunnels at Gwangmyeong Cave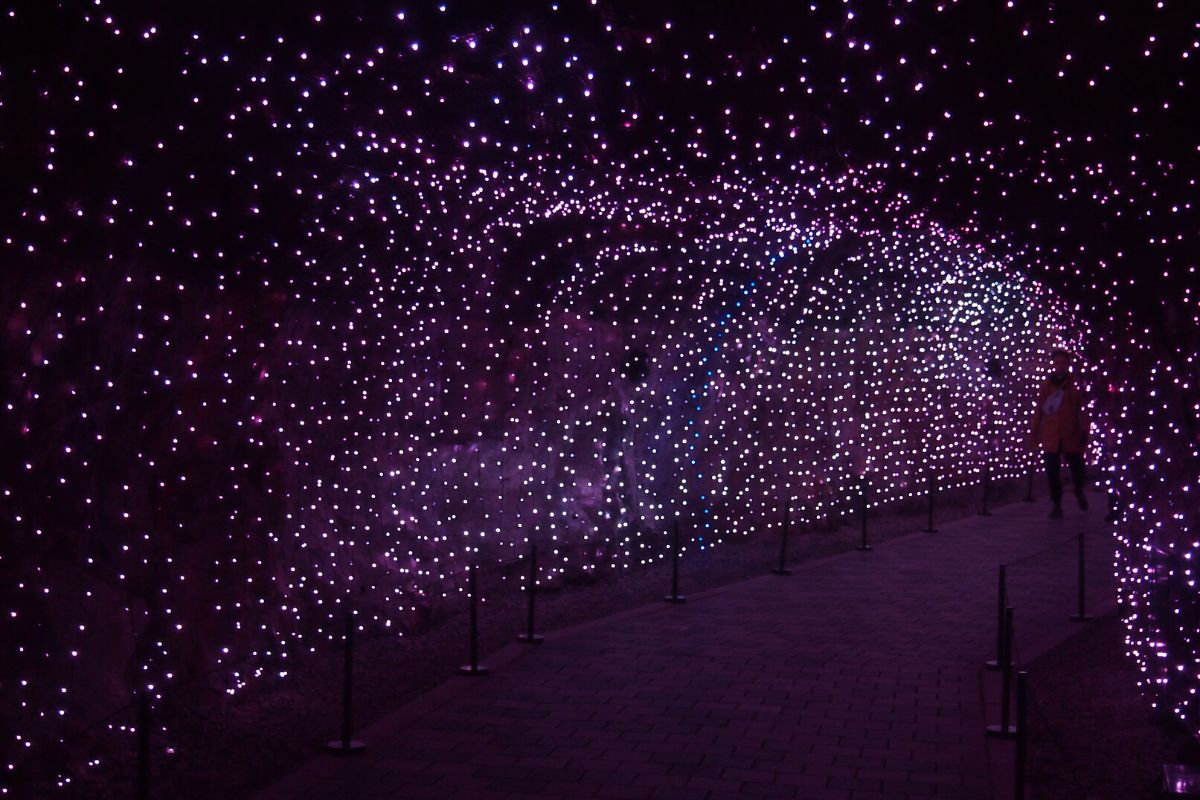 Situated 45 minutes southwest of Seoul is the incredible Gwangmyeong Cave, a themed cave that offers visitors various cultural and art activities and events to take part in.
The Gwangmyeong Cave was once a mining cave where gold and silver were found, and today, experts say that more may be hiding within the depths of the cave.
Inside, visitors can choose from various tunnels that connect at the entrance called Wormhole Square. From there, there is the Space of Light the famous tiny LED-lit cave featuring LED-lit figures of animals.
There is also the Cave Arts Center and Media Show, a light show projection of crystal clear figures such as under the sea marine animals, or a space galaxy. With many more themed tunnels, you'll surely want to dedicate a day to exploring them all.
Adult tickets start at 6,000 won.
67 – Stop to drink some tea in a tea house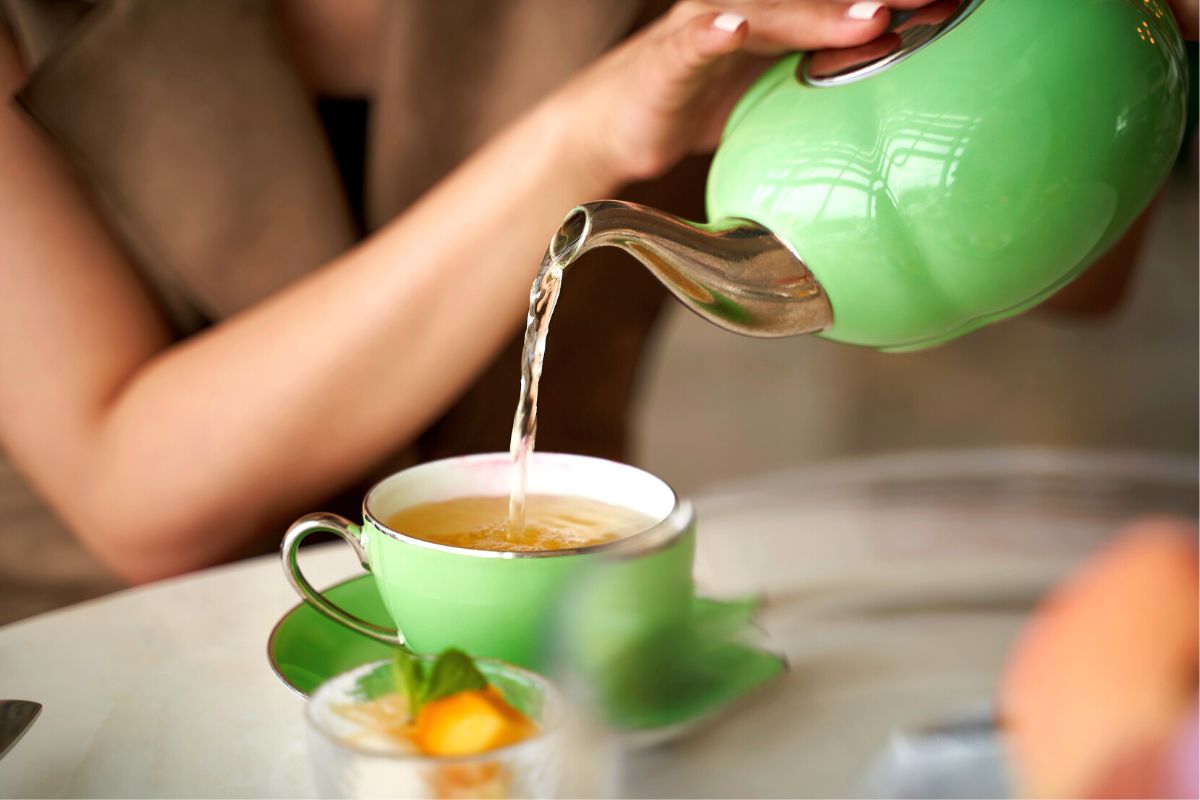 Relish incredible tea flavors, quality, and experiences not to miss while in Seoul.
Check out Moonbird Teahouse, known for its exquisite tea and its fully adorned and quirky teahouse, covered in various scribbles, and serving tea in wooden saucers. Enjoy your tea with a little rice cake snack on the side.
If you're looking for a traditional tea experience, check out Shin Old Teahouse, where guests sit on the floor as they sip on tea, surrounded by colorful tapestries, local art, and other quirky knick-knacks. Try a cup of plum tea with a side of sticky rice.
Gain the health benefits of tea at Tea Therapy Haengrang, where the owner creates their blends of tea leaves to create delicious and healthy tea concoctions. Also on the menu is a foot bath, perfect for those tired visitors walking around the city sightseeing.
68 – Enjoy an icy day trip to the Hwacheon Sancheoneo Ice Festival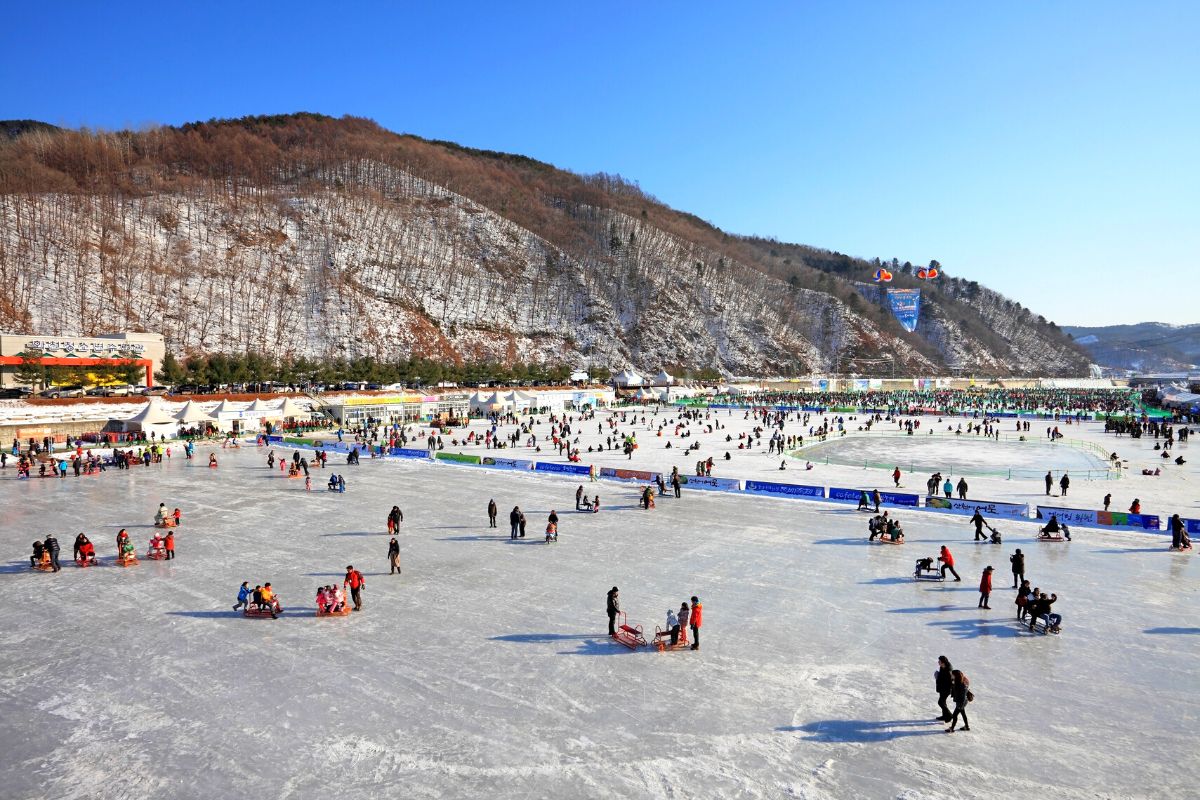 If you're looking for the perfect winter getaway, consider the Hwacheon Sancheoneo Ice Festival perfect for ice fishing, and many other ice activities taking place every January.
Indulge in ice games like bobsledding, and ice sledding, and even catch your own fish to grill right then and there.
Whether you're a seasoned pro fisher, or you've never fished in your life, this is a fun festival to witness, and see how fish is caught and cooked – it can't get any fresher than that.
Located north of Seoul, 3 hours away, consider booking a tour that will provide you comfortable and warm ground transportation, entrance to the festival, all the fishing equipment you'd need, and the instructions on how to catch the perfect fish.
Organized tours offer all you would need, except for tips, so consider bringing cash.
Tickets start at $90 USD.
69 – Step into the creepy abandoned theme park, Yongma Land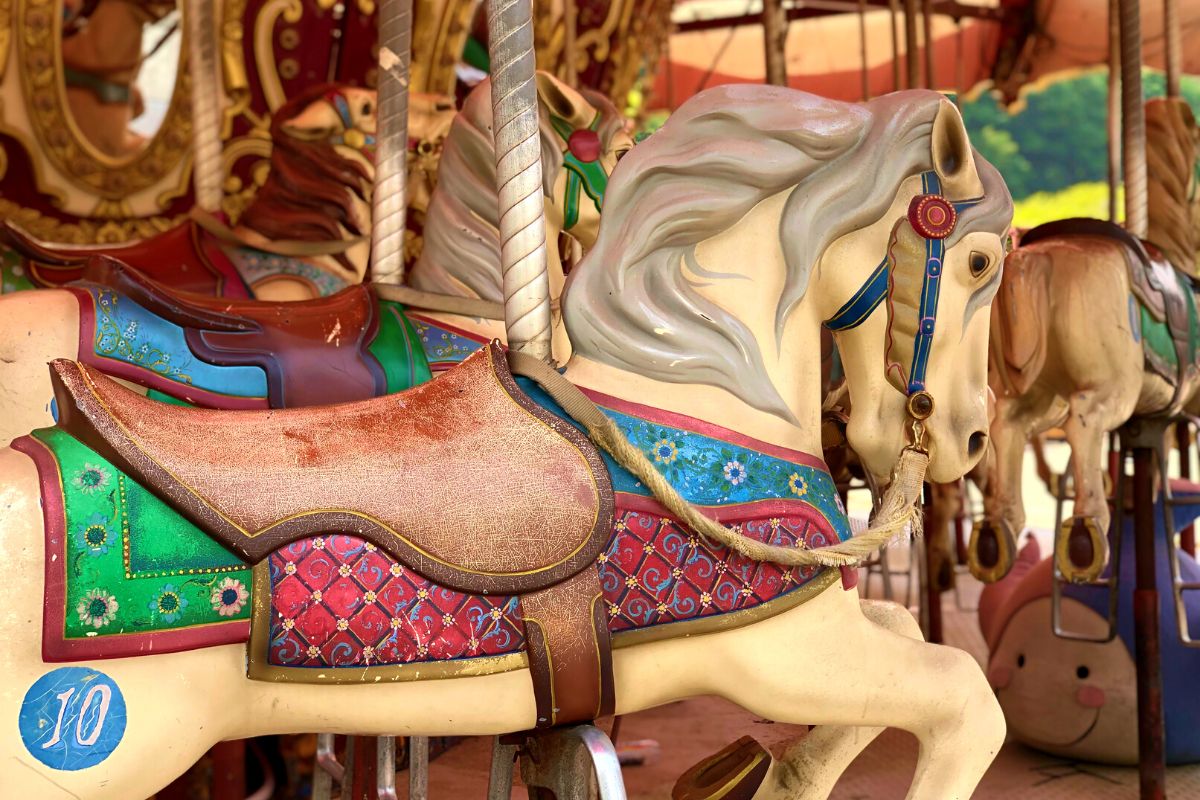 Step into the abandoned theme park called Yongma Land, a family-owned theme park that closed in 2011, and today remains lonely and slightly creepy. Rusty automatic games, ditched carousel rides with cheery and multi-colored horses, and deserted rides add to the eerie ambiance of the amusement park.
Today, the former amusement park has been featured in various projects, from K-Pop music videos to films. It is even open to visitors wanting to explore the grounds themselves.
Book a guided tour that will take you through the labyrinth that is Yongma Land, giving you details, and a creepy story and legend or two about the place. Take your pictures as you stroll around.
Entrance into the abandoned theme park starts at 10,000 won for adults and 5,000 won for children. The theme park is located in Jungnang-gu.
70 – Listen to the musical stylings of the Seoul Philharmonic Orchestra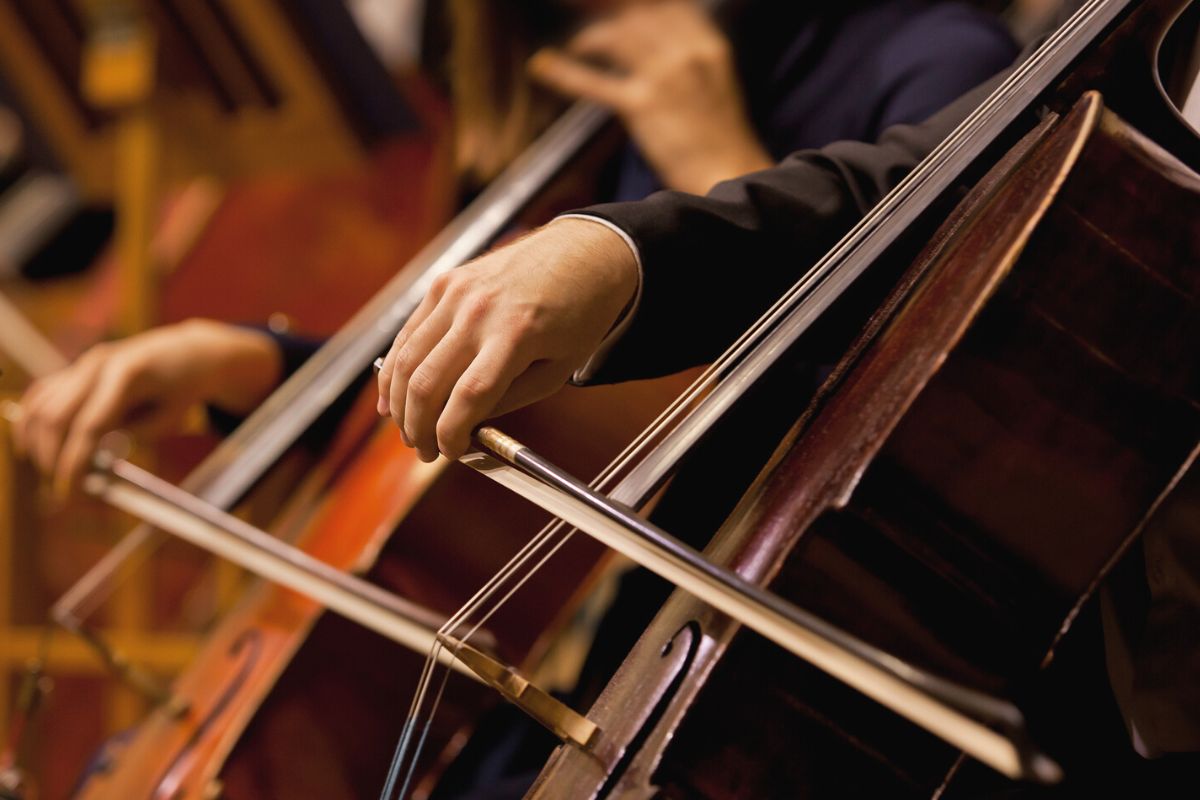 Bring music to your ears at the Seoul Philharmonic Orchestra, South Korea's prestigious orchestra, founded in 1948. This prestigious orchestra ensemble has toured throughout the world, from the U.S. to Japan, European countries, and many other parts of the world.
Check tour schedule online, and even book tickets to see and listen to the glorious musical compositions of the Seoul Philharmonic Orchestra, from concert halls throughout South Korea, to public park venues in Seoul – for free.
Listen to their renditions of classical music, from Beethoven, Mozart, and many more.
If you are looking to catch a free show, check out specifically their public concert calendar on their website. They mostly perform at public venues throughout Seoul, including during national Korean holidays.
71 – Enjoy a day at the aquarium at Aqua Planet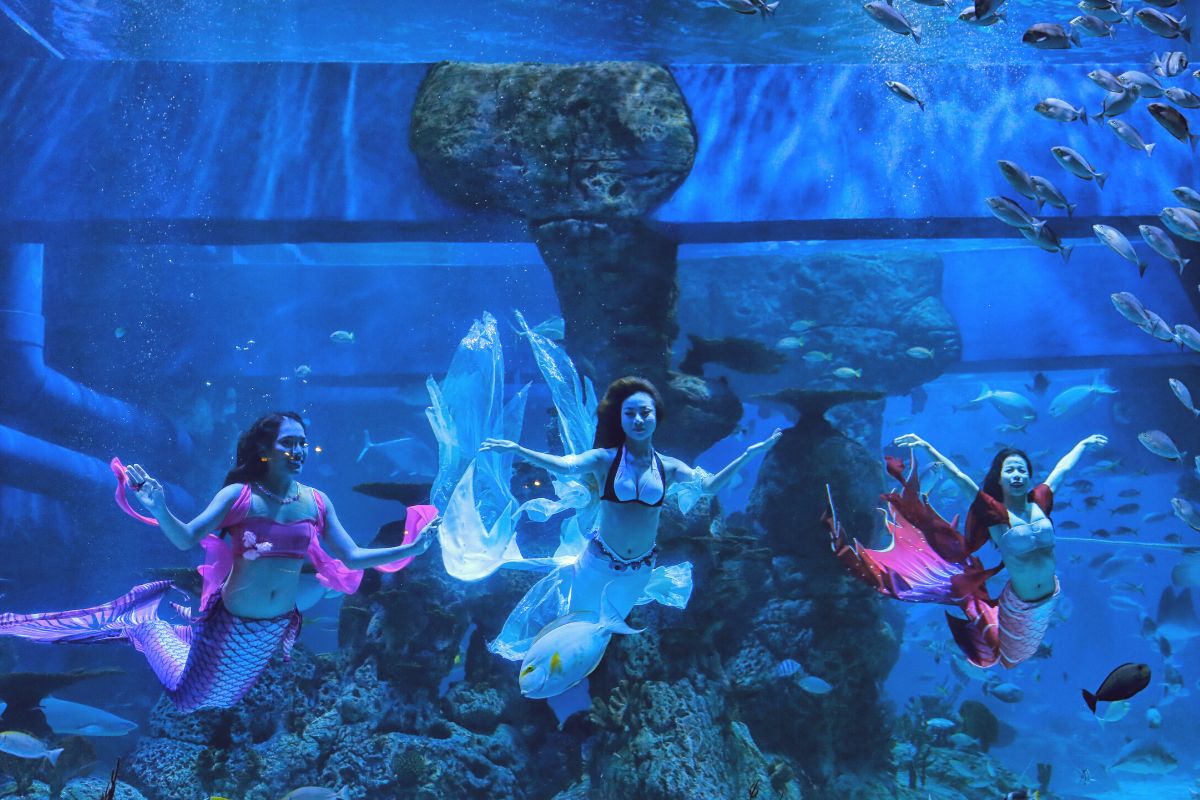 Visit the first-ever aquarium in Korea, Aqua Planet, and enjoy the presence of a variety of marine animals of all sorts, both local and international. Take the family on a journey under the sea to learn about the creatures such as the Australian lungfish, otters, turtles, penguins, eagle rays, and more.
Something not to miss is the awesome show put on by the aqua creatures, including stingrays, sea rays, and many more marine life, taking place every day. Be sure to check the schedule to check times, as well as check out seasonal programs they have for children to enjoy.
Peer inside the expansive fish tanks to catch a glimpse of the mermaid popping in, intermingling with some of the fish inside the fish tanks. Admission tickets start at 27,000 won for adults and 23,000 won for children.
72 – Marvel at the literature beauty inside Starfield Library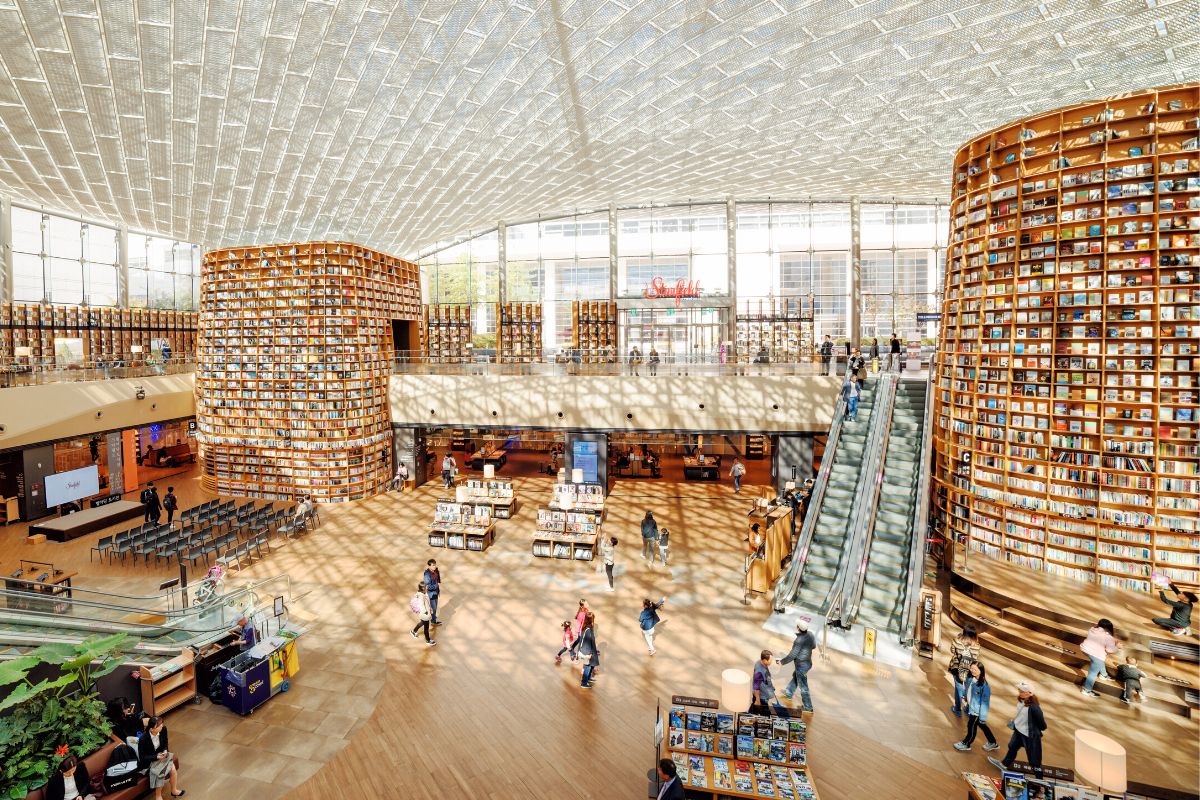 Bookworms rejoice and visit Starfield Library, a space collecting an estimated 2,800 books of all sorts of genres, displayed beautifully on a wrap-around, multi-level bookcase.
Let your eyes dart all around the room, and take in the sheer beauty of various book covers adorning every inch of the library, situated within COEX Mall.
Sit in one of the many sitting spaces, designed to complete work, the couched bleacher-style seating for conversing with others, or in the seating in the middle of the library, giving an encompassing view of the grandeur of the library and books above.
Check the library's website for its various cultural events, taking place frequently, inviting intellectuals, authors, celebrities, and more.
The Starfield Library simply lures in visitors with no straightforward reason, so accept the invitation, and enjoy the literature-filled space inside.
73 – Visit the incredible art museums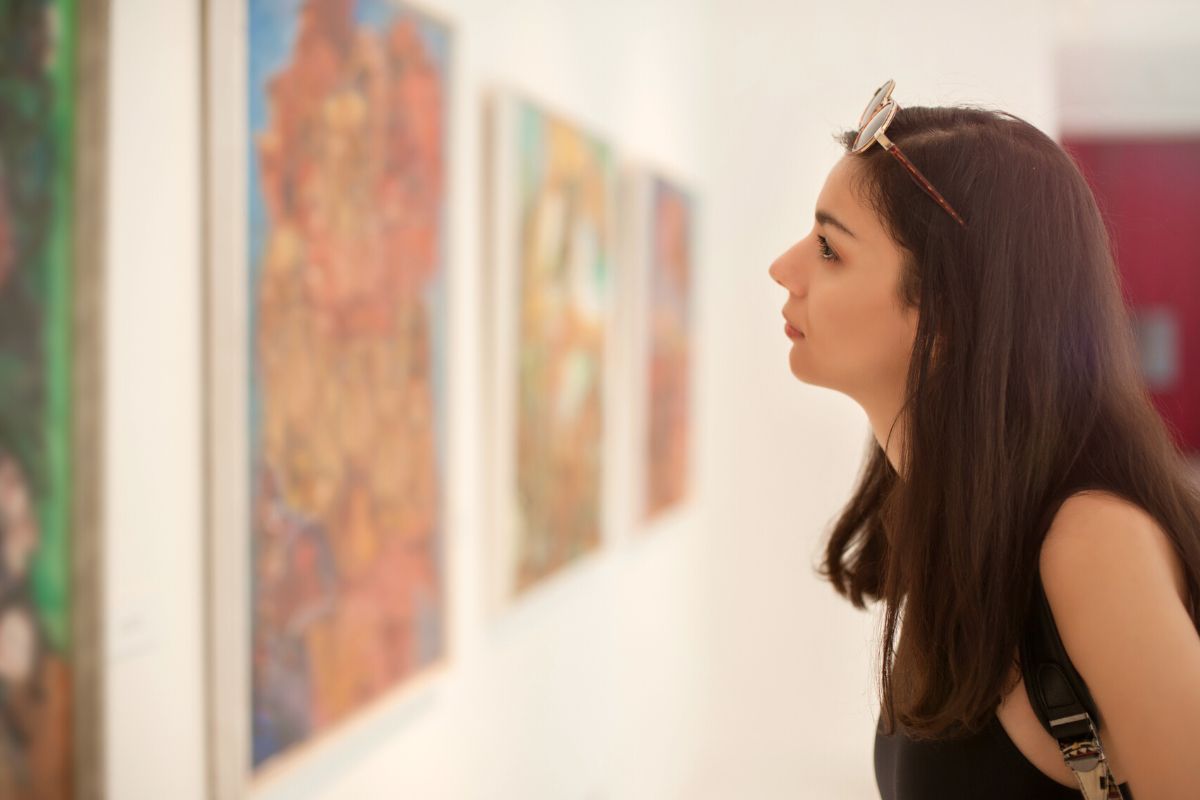 Visit the Amorepacific Museum of Art and contemplate some of the modern art pieces found within its collections. Check out its various cultural events and exhibits, highlighting different names in the Korean contemporary art field.
The Hangaram Arts Center Museum is a 3-floored art gallery and venue, continually hosting a myriad of different art galleries via different mediums. Check out anything from calligraphy, design, photography, and more.
Check out Leeum Samsung Museum of Art, where ancient art intermingles with contemporary, offering the best of both worlds to a wider group of art lovers.
Enjoy browsing through the collections of porcelain jugs, gold earrings, wood relief work, wire and plastic works, silver prints, and more.
Most of these museums are located within the heart of downtown Seoul and can be easily accessible via public transportation.
74 – Visit the Seoul Central Mosque to learn about Islam in Korea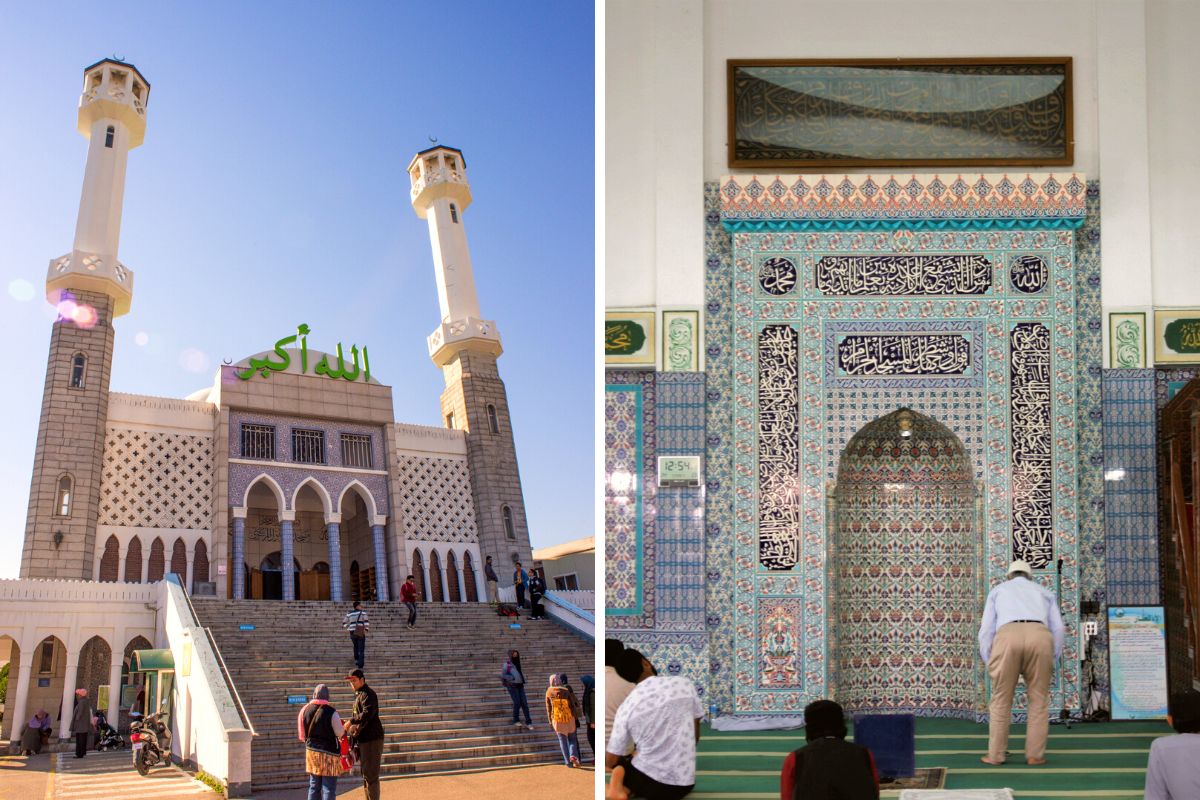 Visit the first mosque ever built in South Korea, the Seoul Central Mosque, located in the neighborhood of Itaewon. The Seoul Central Mosque was built via monetary donations from other Islamic countries, on a plot of land donated by Korea.
Today, the mosque holds lectures in English, Korean, and Arabic, and residents and visitors are welcome to enter the mosque and tune into a lecture if they wish to learn not only about the Muslim religion but also about the Muslim religion in Korea.
Around the area, visitors can check out different shops and cafes selling typical dishes enjoyed in Islamic countries, such as Halal foods, baklava, hummus, tabbouleh, and more.
Circle the area, and take note of the architecture that surely stands out against the other architecture in the area. Two towering minarets, a blue-tiled entrance, and stunning geographical textiles.
75 – Take a day trip to Pocheon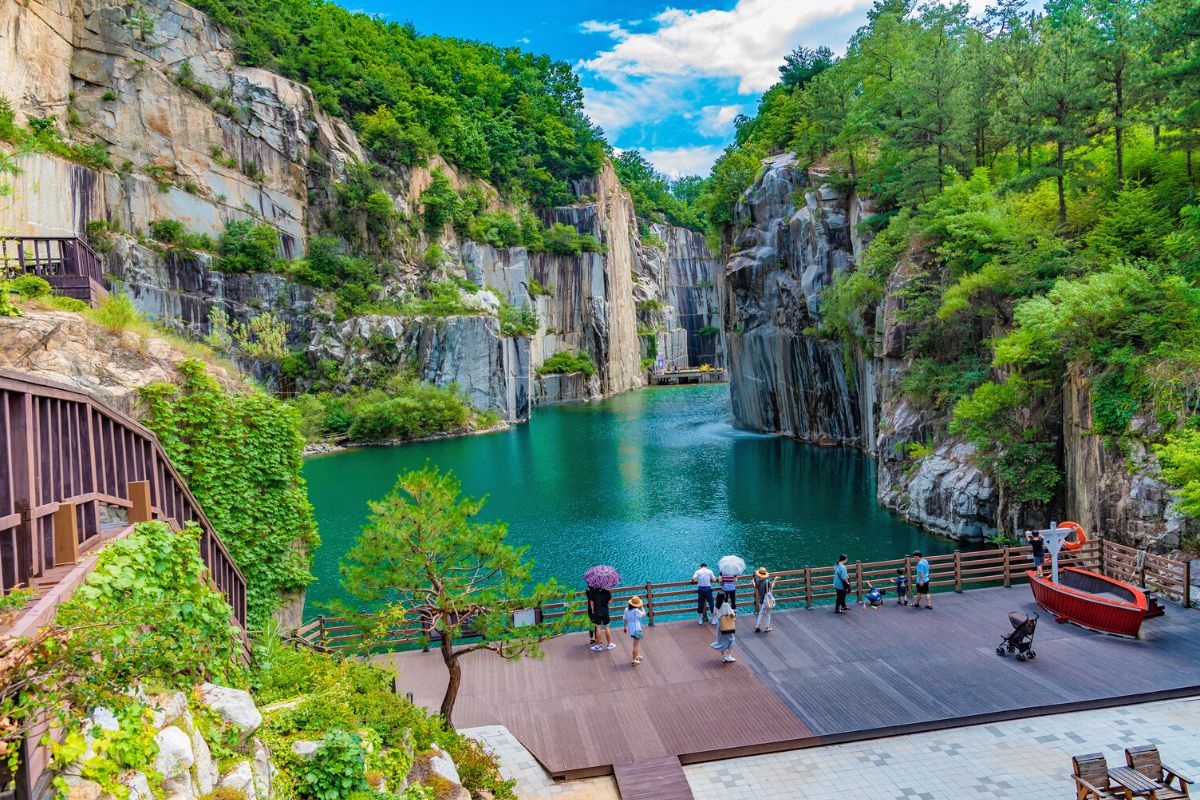 Visited annually by 400,000 people, Pocheon is a beautiful nature sight found 1.5 hours away from downtown Seoul.
Take a day trip from Seoul to discover the true beauty and abundance of natural phenomena waiting for you to experience. From the stunning limestone cliffs, dramatically welcoming all visitors, walk down the wooden staircase to see Bidulginang Falls up close, as well as the caves and babbling brooks, adorning the scenery.
Walk across the impressive Hantan River Sky Bridge, a 180-meter-long pedestrian-friendly footbridge that crosses over the Meonguri Gorge.
Consider strolling the pebble path below the Meonguri Gorge to get even closer to nature, or taking a stunning cable car ride through Pocheon Art Valley.
Lastly, have a snack and enjoy the moment at Pyeongggang Land, where children roam free, and visitors can check out the tall pink grass fields.
76 – Check out the wonders in and near Seoul City Hall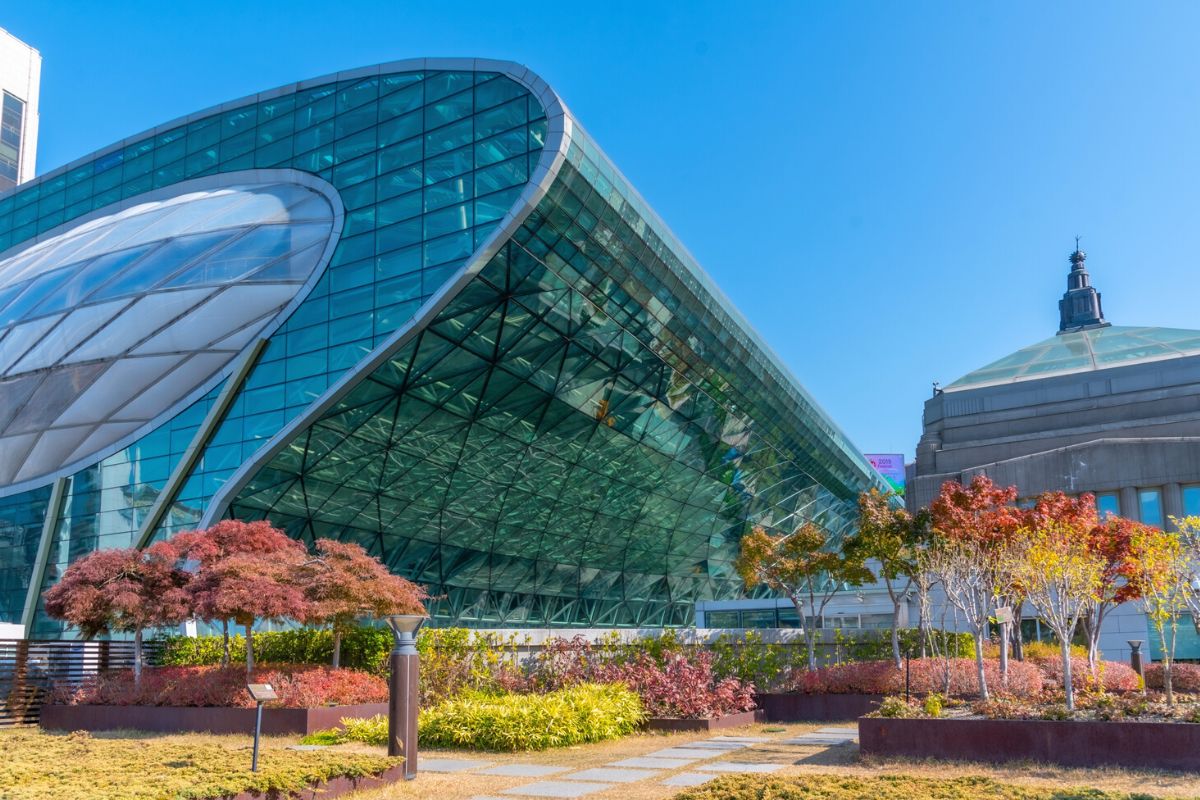 Located in the heart of downtown Seoul is the recently renovated Seoul City Hall, which itself is a monument to take in. One of the first things to take in about the city hall is the eco-friendly design, emulating a traditional Korean house.
Stepping closer, visitors can take in the Guinness World Record-breaking vertical garden, or green wall, 1,516 square meters, and hosting over 70,000 different plants that not only make the garden look beautiful but also help filter the air.
Step into the Jeongdong Observatory, found on the 13th floor of the Seoul City Hall, where visitors can take in the spectacular views of the city, including the famed Deoksugung Palace.
Visit across the city hall to find the Seoul Plaza, a beautiful patch of green grass for public use where families and friends gather on sunny days.
77 – Get a breath of fresh air at Gyeongui Line Forest Park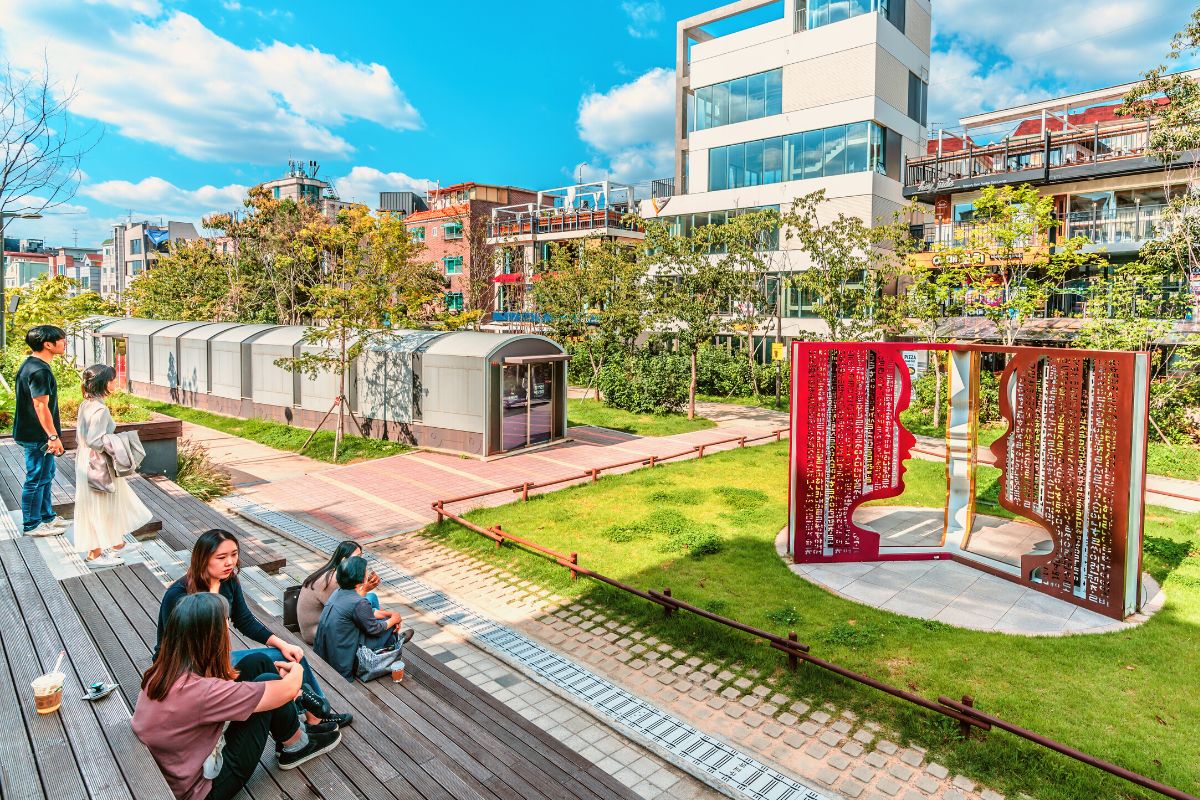 Gyeongui Line Forest Park is a lovely park that sits on the grounds of what used to be a trail line, and today, remnants of its past are still seen, as it's surrounded by expansive patches of green grass, trees, street vendors, and people enjoying their sweet time taking it all in.
Located 15 minutes northwest of downtown Seoul, the park is conveniently located next to some of Korea's must-visit neighborhoods known for their trendy and artsy vibes such as Yeonnam-dong and Hongdae.
After taking a rest in the park, stroll over to Yeonnam-dong's many trendy cafes and restaurants such as CARTA 19, a delicious Italian food restaurant and cafe, and Ci Vediamo, a culinary fusion between Korean and western delicacies.
Check out the local market Dongjin Market located in Yeonnam-dong, known for selling unique, and creative crafts by up-and-coming local designers.
78 – Observe the street art at Ihwa Mural Village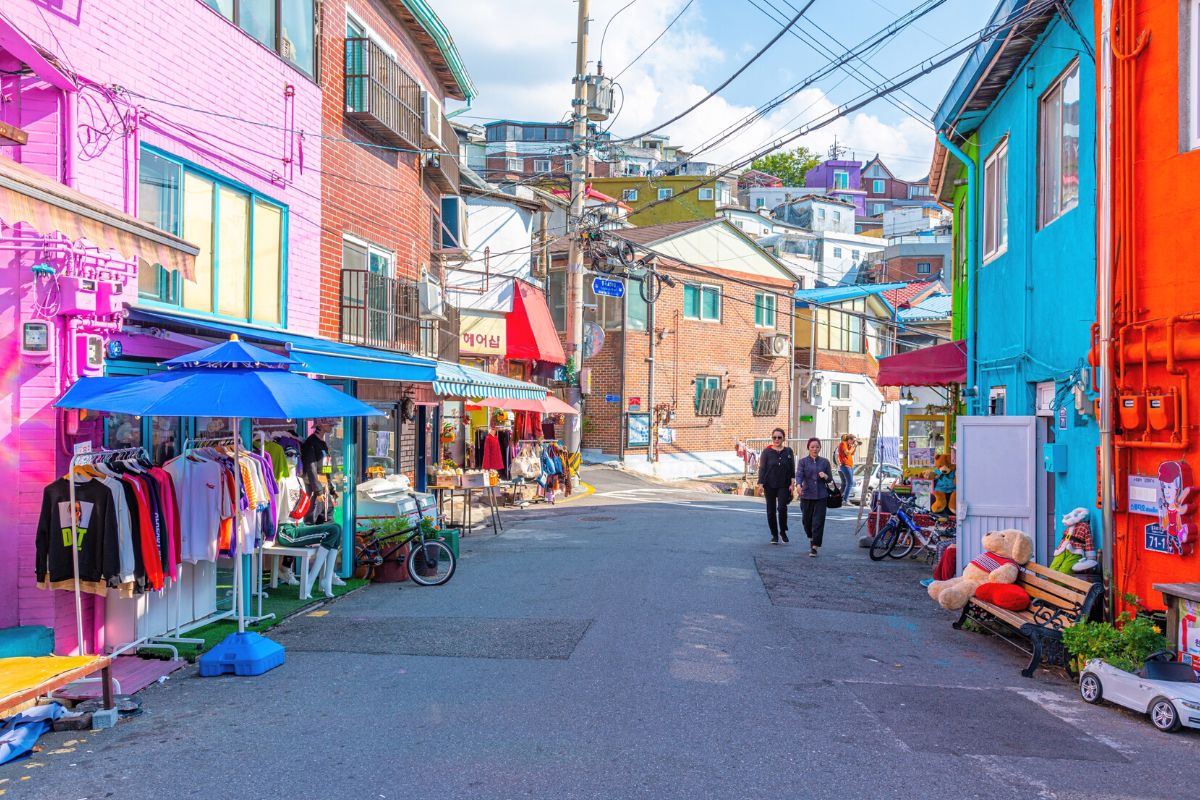 See the stunning murals of Ihwa Mural Village, located 30 minutes north of Seoul, where walls are covered with well-kept wall art and other crafty street designs that are a must-see in this part of the city.
Be aware that the Ihwa Mural Village is a residential neighborhood, so while it's ok to visit, make sure to be respectful of those who live in the area.
Take photos of the murals without getting other people in the shot, don't enter gates unless there is a sign indicating to do so, and walk around during normal park hours, while speaking at normal volume.
Visit on Sundays, when the Daehangno Philippines Market takes place, as well as an artisanal art market called Marche At happening twice a month at Maronnier Park.
Indulge in some of the local cafes, and stop by the artisanal shops.
79 – Spend a whole day roaming Gyeonggi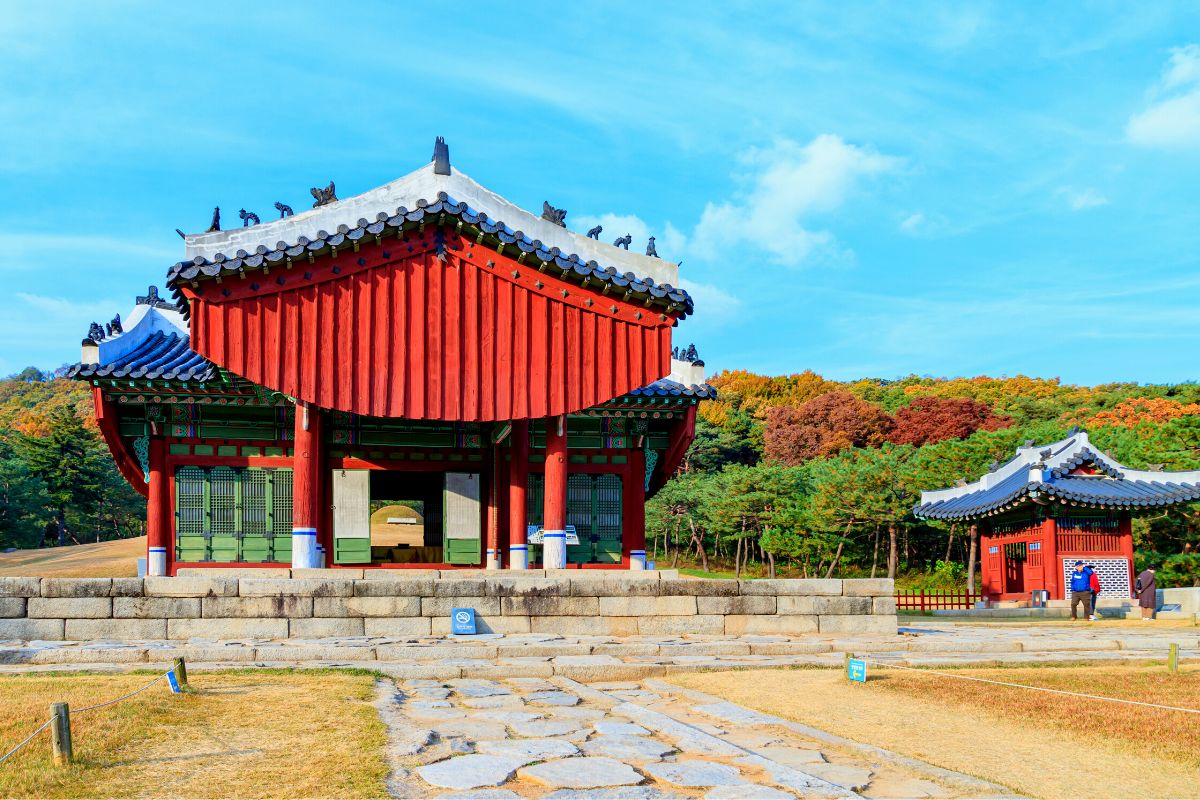 Considered to be the most populous city in Korea as well as the most visited destination for 3 years in a row, Gyeonggi must-visit destination waiting for you to discover it.
Visit the Bukhansan National Park, offering various hikes, historical stop points along the way, and natural granite rocks. Check out Suwon, the UNESCO World Heritage Site. It is known as the only walled city left in Korea, where visitors can check out the Hwaseong Fortress.
Enter the historic and traditional Korean Villages, taking in the details of traditional Korean life, clothing, architecture, and maybe even a wedding.
Petite France, the French-inspired village is also located in Gyeonggi, a picturesque hillside village, near the edge of a quaint river. Many places listed on this post are located in Gyeonggi, so consider that when planning your itinerary.
80 – Learn about Korean script at National Hangeul Museum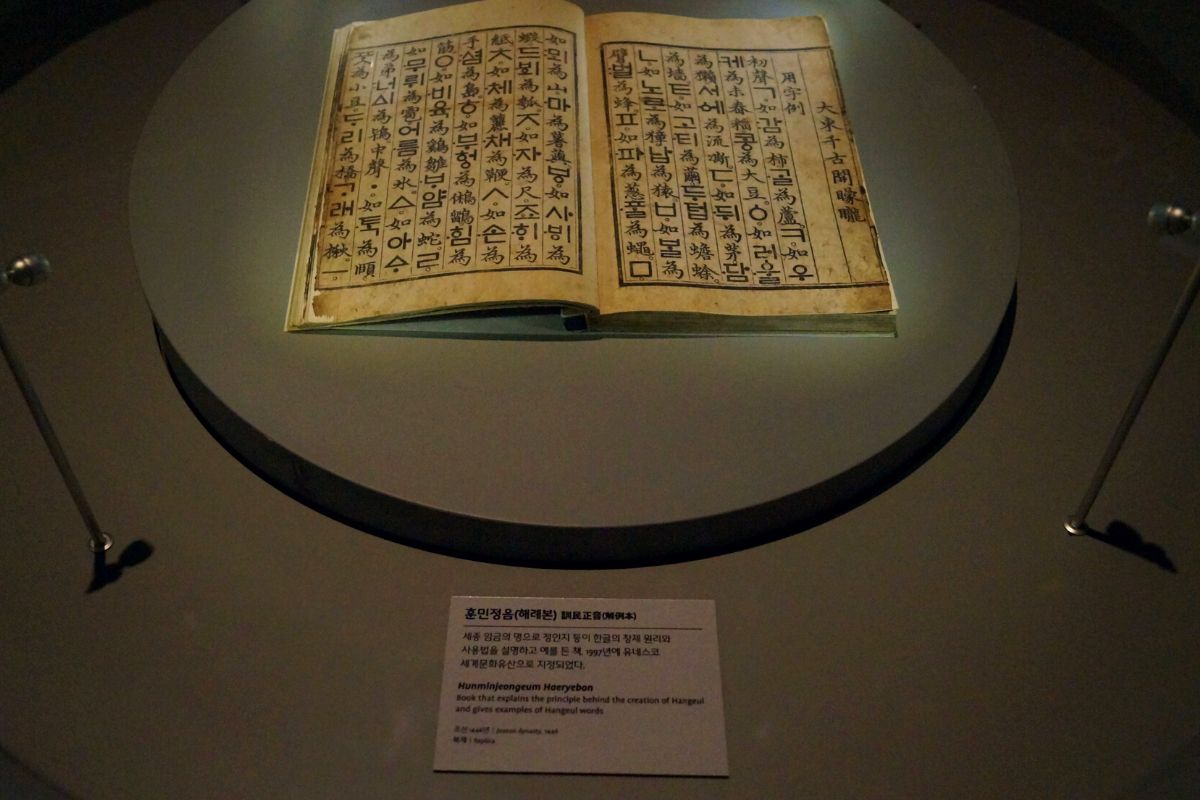 The National Hangeul Museum aims to open the world up to Korea's most important cultural heritage called Hangeul – the Korean writing system and alphabet.
The museum has multiple exhibits, designed to showcase Hangeul to visitors, local citizens, and children via children-specific exhibits, as well as serve as a research institution, collecting and analyzing Hangeul data to further enrich their exhibits.
Inside, visitors can expect to see exhibits detailing and educating the history of the Korean alphabet and writing system, examples of how it's been used, how it's developed over the years, and today's efforts to further share it with its citizens and the world.
The museum is very well put together, and many have left with a newfound appreciation and understanding of the Korean alphabet, covering etymology, sentence structures, language progress, and much more.
Admission is free.
81 – Refresh and rejuvenate inside a Korean bath house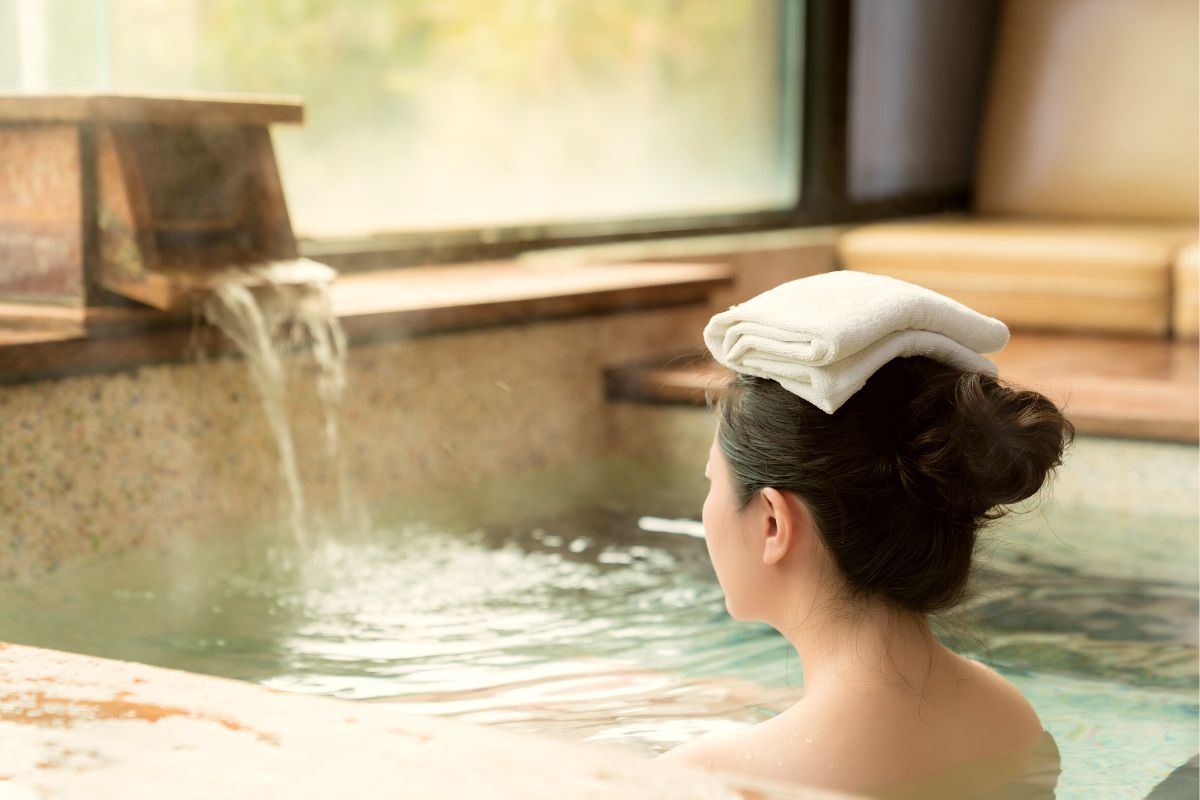 Known as jjimjilbang by Koreans, Korean bath houses are communal-type spas with even more commodities, services, and special care.
Enjoy the lavish luxuries inside The Spa in Garden 5, boasting chimney steam rooms, cypress steam rooms, luxurious skin treatments, and in-house theater entertainment.
Situated in the heart of Seoul is the Siloam Sauna, offering Korean body scrubs with special salts, sauna rooms, and a sleeping room. They have a secure luggage-keeping room and lockers, perfect for visitors on the go.
Typical entrance into a bath house ranges between 7,000 and won-20,000 won, and it's a common practice that appeals to Koreans of all ages.
Not sure where to start your Korean bath house experience? Consider checking out a half-day Korean spa experience with a local guide, while learning about the social ritual of Korean spas and their history.
82 – Learn about the Korean home interiors inside the Korea Furniture Museum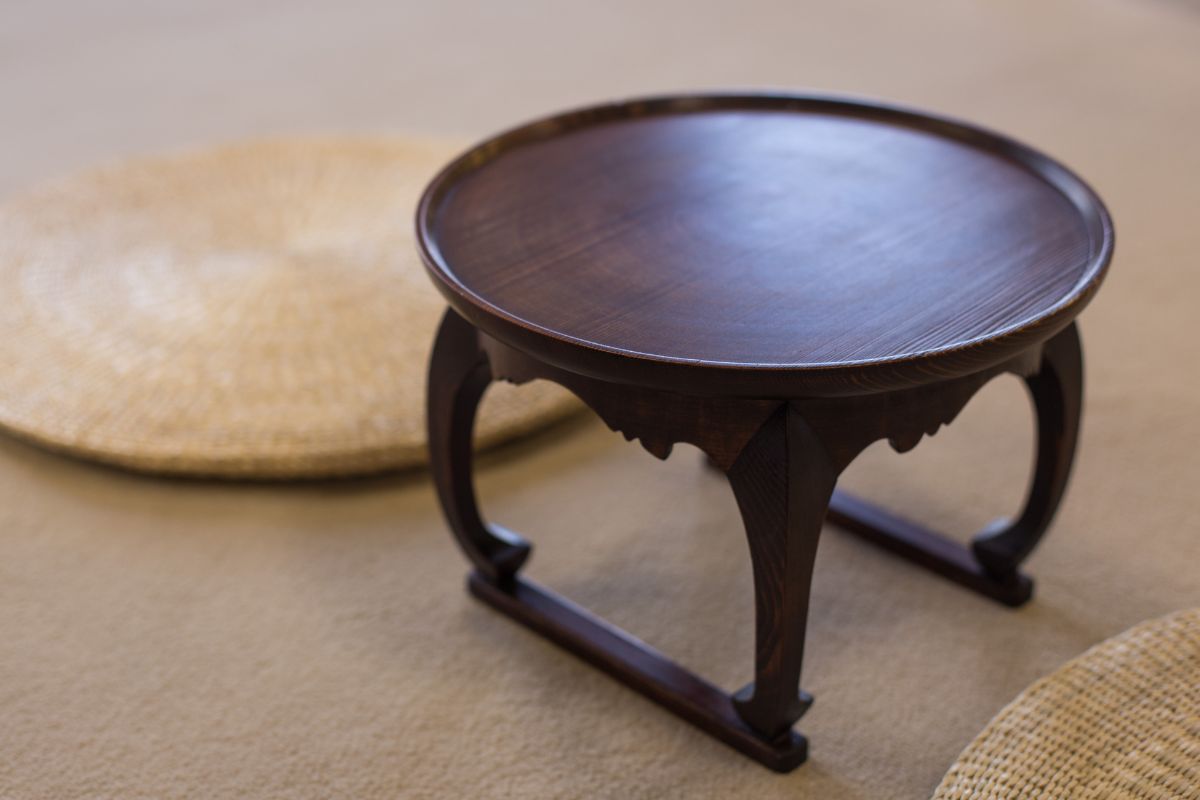 A great and unique way to learn more about historical Korean culture is learning it via their furniture at the Korea Furniture Museum.
Located in the Seongbuk-gu district, the unique museum has been showcasing since 1993 the different types of furniture (unique to many visitors) inside a few Hanok-style buildings.
Inside, visitors can engage with the fascinating way in which Korean used to decorate their homes in line with nature, creating beautiful and functional spaces.
Learn about certain furniture, the unique beds, the use of light inside the home, and the organization within.
Wander through the 2,000+ pieces, and the set up of a traditional living room, bedroom, and other spaces within a traditional home in Korea, from a style, organizational, and furniture perspective.
To visit, guests must book their slot on the museum's website ahead of time.
83 – Eat at the best restaurants in Seoul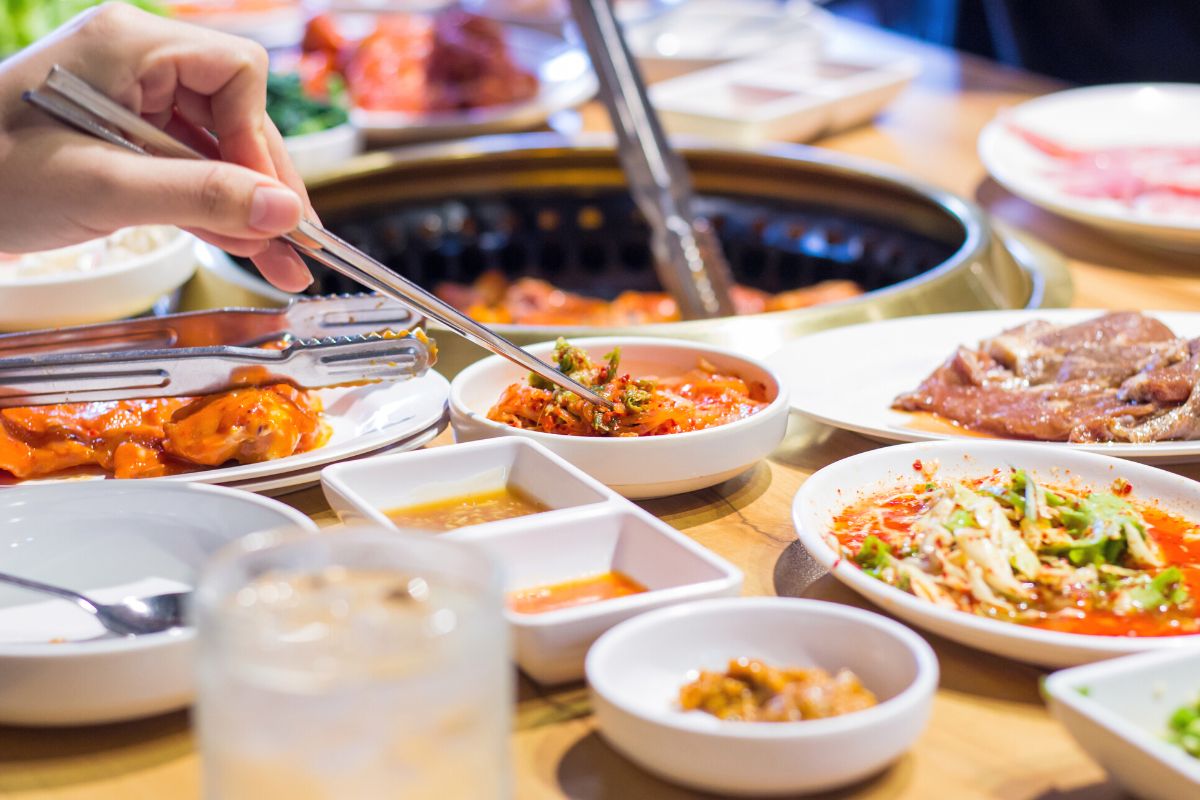 Receive an elegant meal with Buddhist origins inside Doore Yoo, where the head Micheline Star Chef wonderfully creates vegetable-based dishes inside a traditional Hanok house.
Enjoy a traditional dish inside Seoul's oldest officially registered restaurant, Imun Seolnongtang, which is known for its rich soups made with decadent flavors in a tasty broth concoction. Try their beef bone soup, delighting Koreans since the beginning.
For a casual, yet cultural experience, try Hoban, serving rich dishes like Korean blood sausage and braised butterfish with a side of traditional soju to wash it all down. It's the perfect combination.
Try a Korean beef soup called Gomtang at Hadongkwan, decked out with fresh leeks and kimchi to taste. Tradition and history says that the soup was consumed lukewarm by the king, so don't be surprised when yours arrives as such.
84 – Learn about the oldest wooden structure in Seoul at the Sungnyemun Gate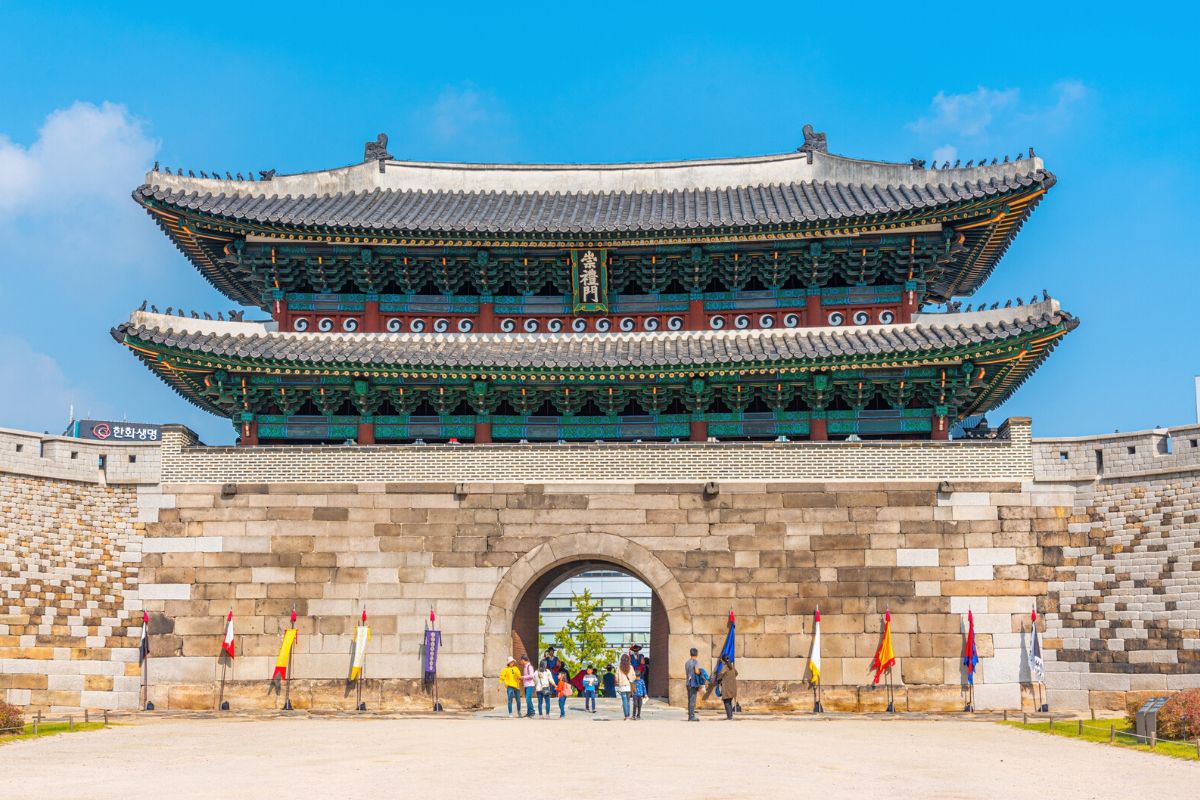 The Sungnyemun Gate comprises part of the famed 8 city walls in Seoul and is located near Seoul Station and Seoul Plaza in the Jung-gu district, making it a great addition to your list of things to do in Seoul
Known traditionally as Namdaemun Gate, the gate was famously the entrance to the city that foreigners would take, as well as protecting the city not only from human invaders but also large animals, dating all the way back to 1398.
Though the gate suffered a fire in 2008, today the gate has been restored and open for visitors to take in the majesty of the 2-floored gate, admiring the wooden structure, said to be the oldest existing wooden building in Seoul.
Check out the gate at night, when it's beautifully lit, or during the day to appreciate the small garden nearby.
85 – Get the ultimate K-Pop dance class experience with a pro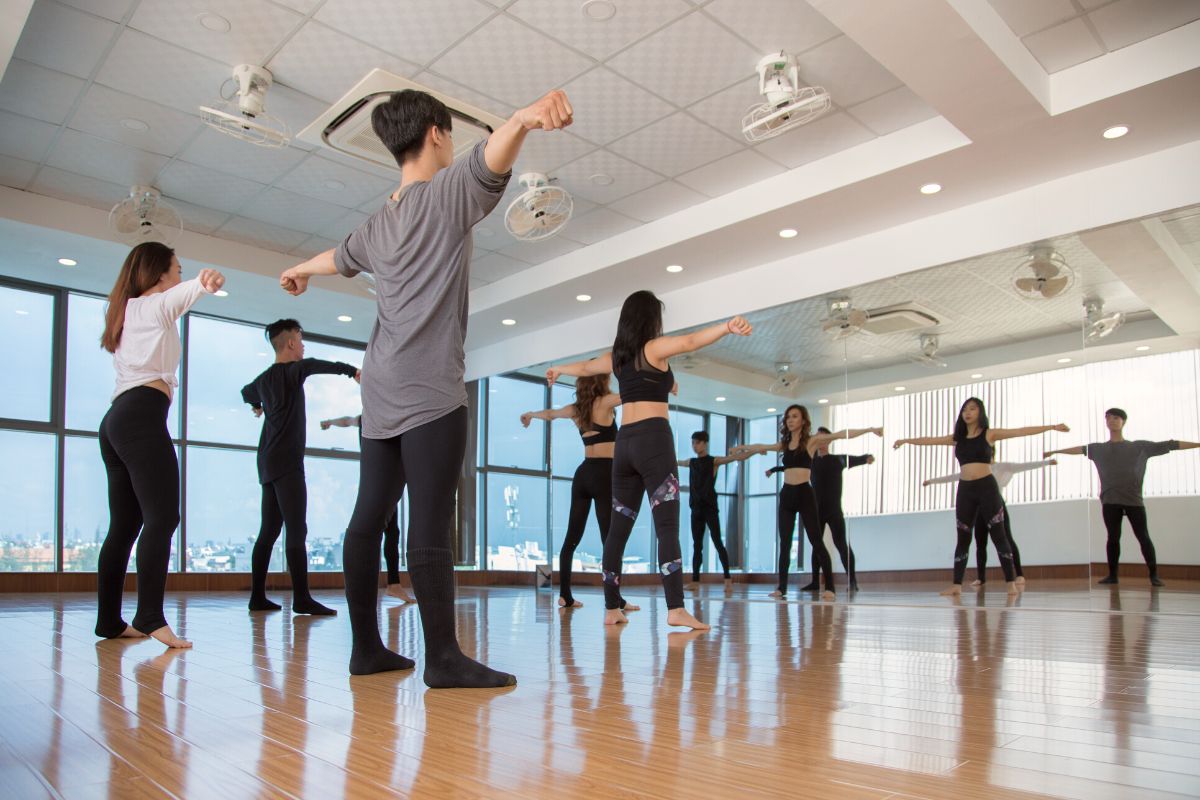 Break a sweat and learn some new moves inside a K-Pop dance class, offered widely throughout Seoul.
Take a dance class, many times offered by an actual K-Pop or former K-Pop star and choreographer, showing step-by-step moves that send fans on a frenzy globally.
Some tours will also offer K-Pop walking tours, taking dance participants on a stroll to show some of the most important sites and sharing facts related to K-Pop in Korea, and its influence worldwide.
Arrive at the dance studio, and as a group, learn the steps, hype each other up, and collectively gain the dancing skills you can only learn from a professional.
Classes start around $30 for a 1.5 – 2 hour session.
86 – View art pieces of all sorts inside Culture Station Seoul 284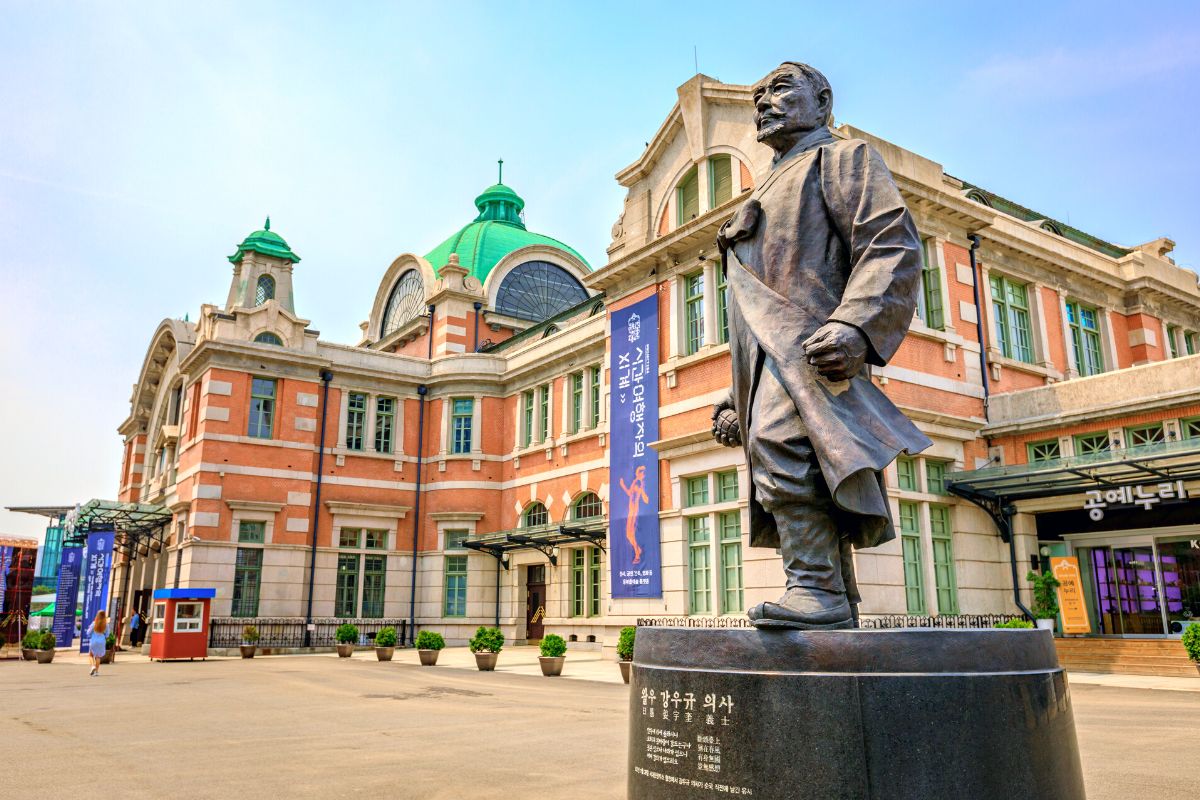 Look inside the Culture Station Seoul 284, a traditional train station dating back to 1925, a Renaissance-style building with red bricks and granite floors, located in the Jung-gu district.
The number 284 comes from the historical number given to this and many of Seoul's historical sites.
Today, the former train station is a cultural space, where multiple pieces of art are exhibited to visitors, from modern to classic, in various mediums. The beauty of this culture and art space is the meeting point between modern and ancient.
Visitors love viewing a mix of modern, and contemporary art, in the backdrop of stained glass windows and ornate arched hallways.
Check out the Culture Station's online calendar to catch when the next exhibit moves into the gallery, as well as other potential dance performances and workshops.
Admission to the culture station is free.
87 – Purchase tickets to a performance at Sejong Center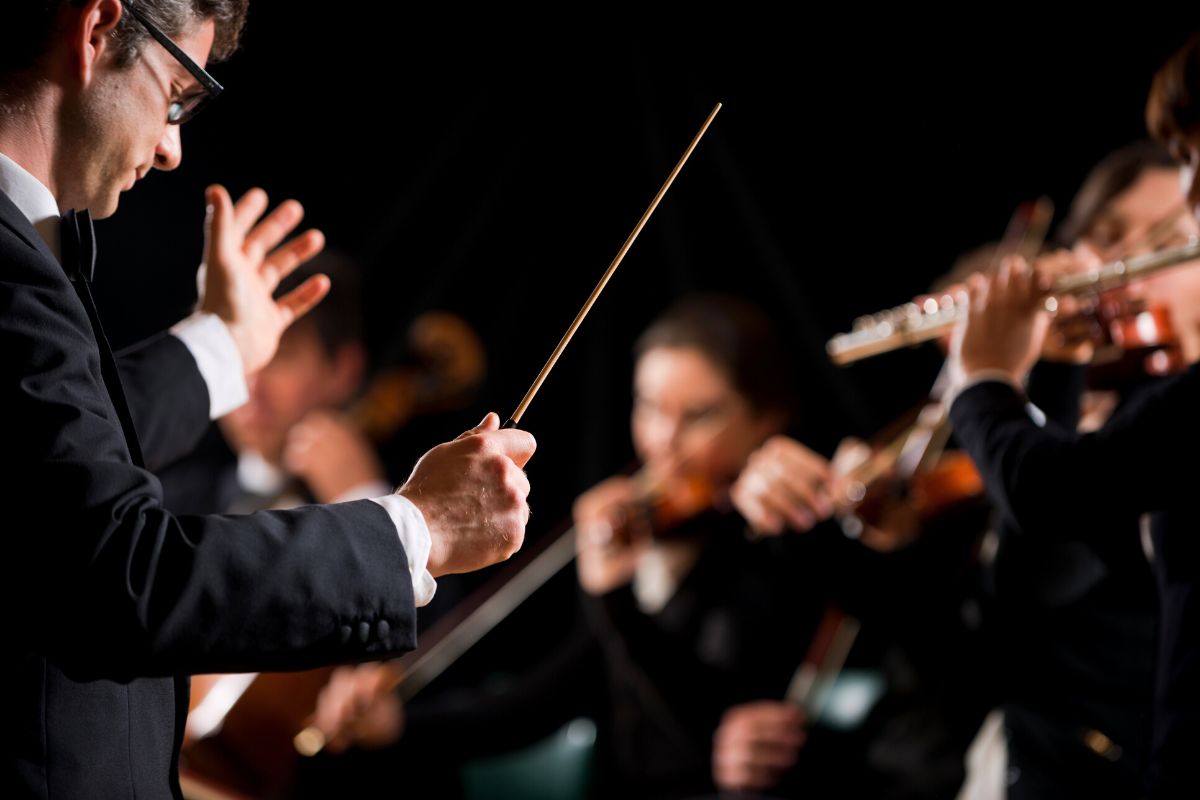 The Sejong Center is the space to visit all things arts and culture, as it is known as the largest arts and cultural complex in Seoul, located in the Jongno-gu district.
Enter the cultural space, and take in the 6-story building, housing everything from the Grand Theater to other smaller theaters, venues, an art museum, the Sejong Art Academy, meeting rooms, and much more.
Don't forget to check out the Sejong Outdoor Garden, adorning the exteriors of this superior art and culture complex.
It's free to enter the space, however, if you'd like to attend a performance inside the theaters, you can buy your ticket in person at the ticket booth or via phone.
The latest you can purchase a ticket is 1.5 hours before the performance start time.
88 – Treat yourself to the best of fine dining in Seoul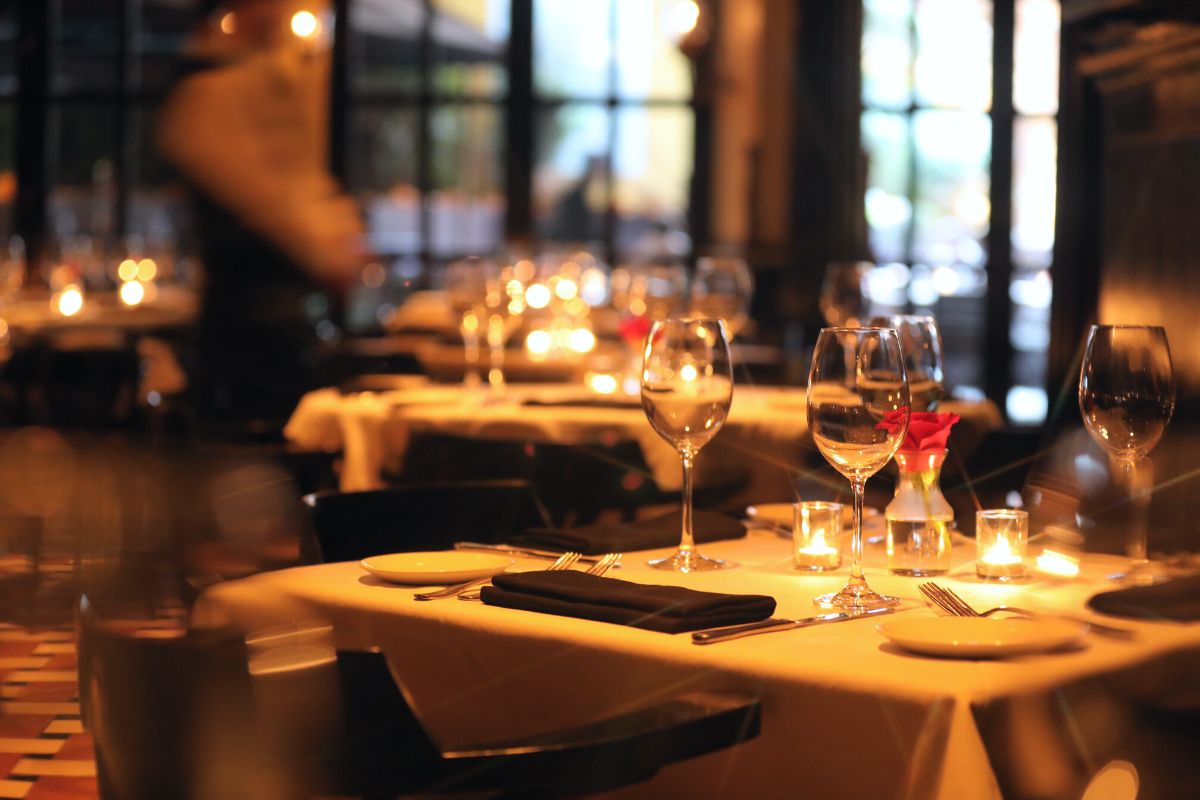 Delve into the deliciousness of flavors past and present intermixed together, experiencing a journey that describes Korean heritage taste in a single bite at Onjium.
Recognized with 1 Micheline start for high-quality cooking, and for its flavor research activities, rest assured each bite has been crafted with thought and savory intent.
Try a fusion of east meets west at L'Amant Secret, where the head U.S. trained, Korean chef Son Jong-won directs his team of talented cooks to create the perfect dishes blending high-quality Korean ingredients, with cutting-edge techniques and western flavors.
Craving some innovation? Consider Zero Complex, a new dining format where lead chef Lee Chung-hu pushes the envelope in modern cooking, elevating Korean dishes in his way, and only cooking with ingredients grown inside his greenhouse for optimal quality.
89 – Prepare for an evening at the performing arts theaters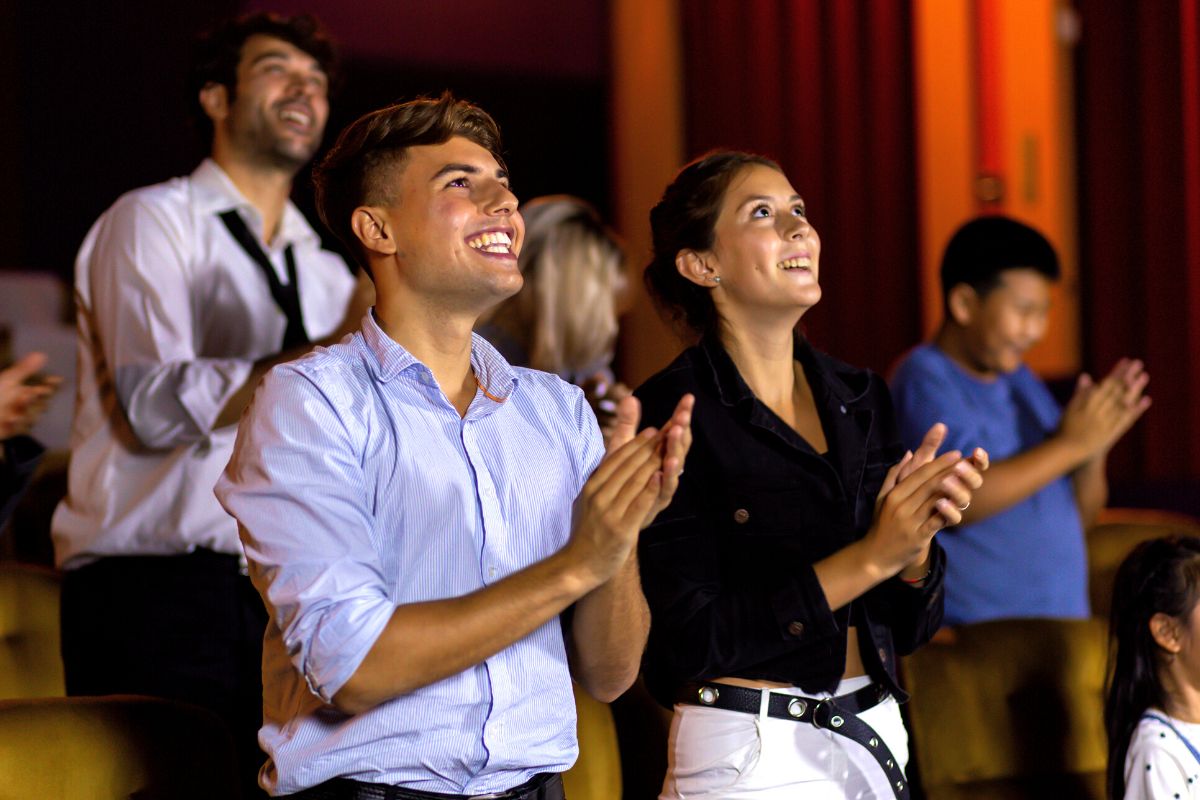 The National Theater of Korea was the first arts theater in Asia commissioned by the government, opening back in 1950. Today, the venue houses 4 different theaters, each showing performances of different genres.
If you're in search of a musical, check out Charlotte Theater, which almost always puts on musical shows, many of which showcase local and international musical performances. The Charlotte Theater is located in the Songpa-gu district.
Offering a mix of theater performances, from dance, theater, and more, check out Blue Square Theater, housing two large theaters, considered to be Korea's largest performing arts hall, located in the Yongsan-gu district.
For a local, Korean theater experience, check out Jeongdong Theater, identified by many Koreans as one of the most representative of traditional art performances, showcasing national-recognized theatrical performances like "Masters Exhibition," and "Art Frontier".
90 – Take a sip or two of soju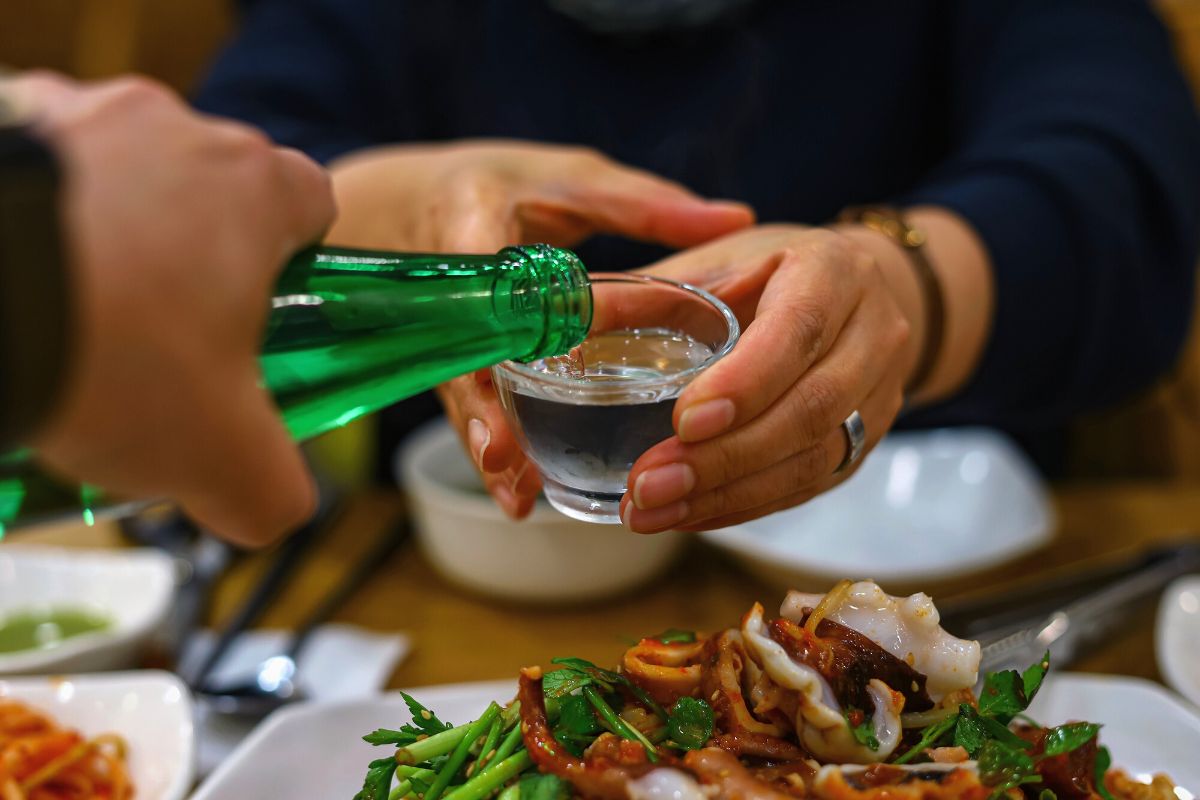 Soju is a very popular, typically rice fermented liquor in Korea that has been enjoyed for many years and is globally recognized above many other Korean liquors.
Soju comes in many different forms, and though when visiting Korea, you may find the iconic green bottles with soju inside, they are not the most authentic. Finding the most authentic soju is said, to come down to how to order it rather than where to find it.
That being said, visitors are suggested to check out local bars where they sell traditional liquors. You'll know that you've ordered an authentic soju if the aftertaste has an earthy flavor.
Some street food tents such as pojangmacha or some convenience stores may have better and more authentic soju. For bars that sell the famed drink, check out White Bear Makgeoll or Sanullim 1992.
91 – Have a uniquely fun night at a Nanta Show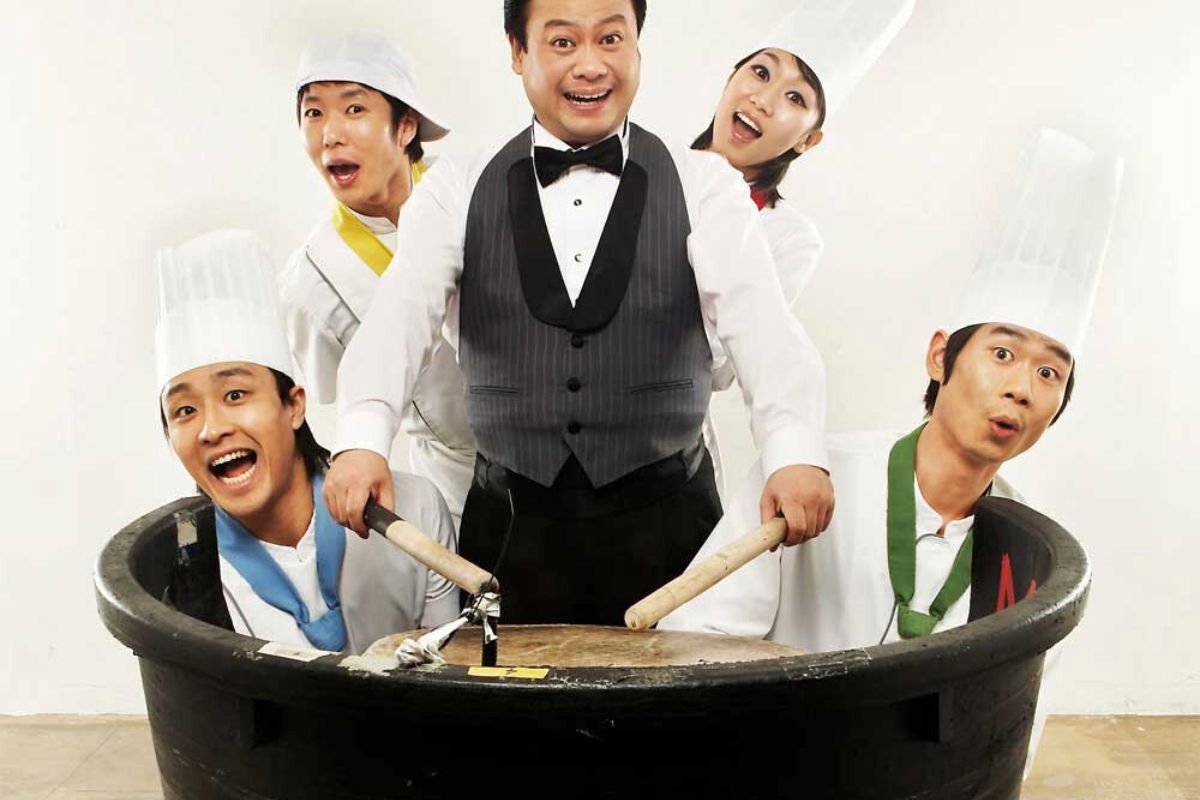 Looking for something unique to check out in Seoul? Consider a Nanta Show.
Nanta shows are essentially drama and comedy shows centered around cooking and culinary arts in specific.
Viewers get to watch as a group of 4-5 cooks create comedic sketches, and make music with pots and pans while feverishly trying to meet dish and catering deadlines that their head boss implements on them.
Ever since its opening in 1997, the Nanta shows have broken records in the past as the most visited attraction in Korea, attracting more than 10 million to see them at Myeongdong Theater.
Book your ticket before FOMO really hits, and don't miss out on the fun. Get the best seat in the house and see what all the fun commotion is all about. Tickets start around $40 USD.
92 – See the Changuimun Gate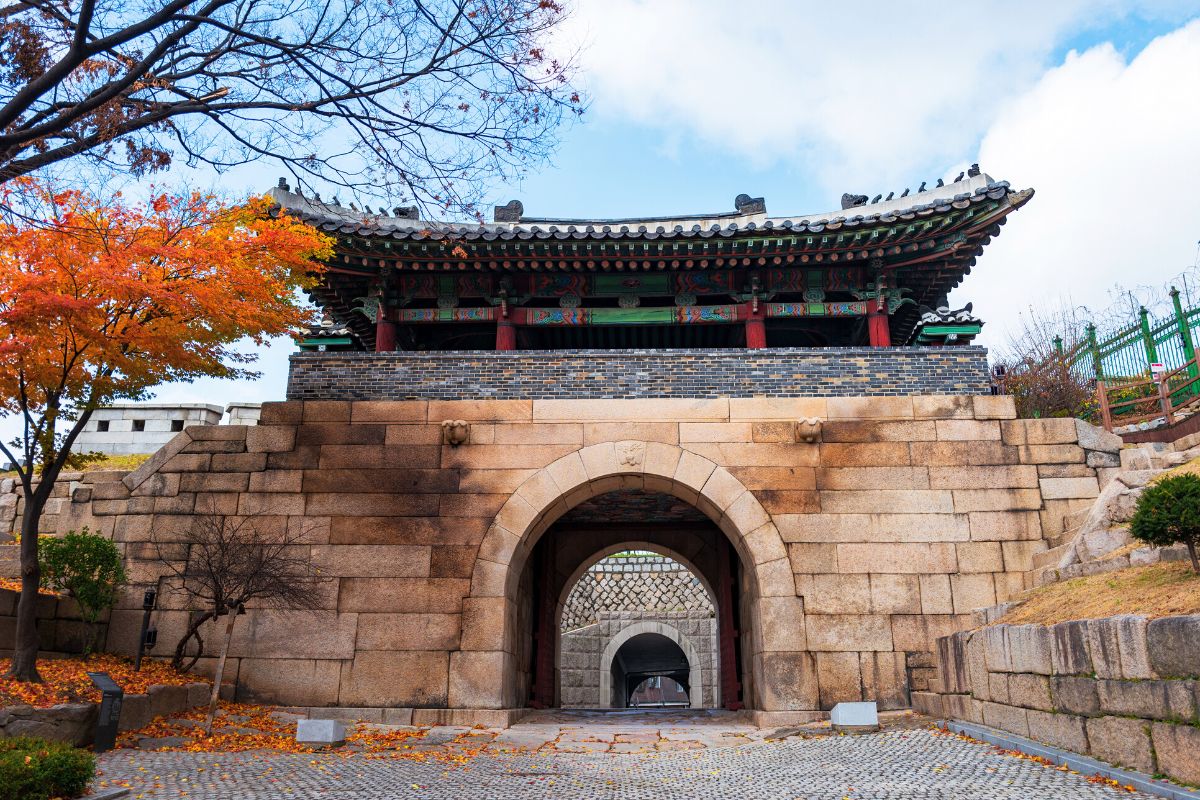 Changuimun Gate, also known as the Jahamun Gate forms part of the 4-mini gates of the walled city of Seoul, dating back to the Joseon Dynasty.
It is also the only gate that has managed to remain preserved in its original format, not suffering severe destruction over time.
When visiting the Changuimun Gate, check out the designs and reliefs on it. Images of chickens are stamped across the gate because it is said that the chicken was a form of protection from potential enemies.
The gate is located in the district of Jongno-gu, try and visit it during the evening to see it lit up beautifully, and take a moment to bask in its magnificence with the city backdrop.
93 – Go night market hopping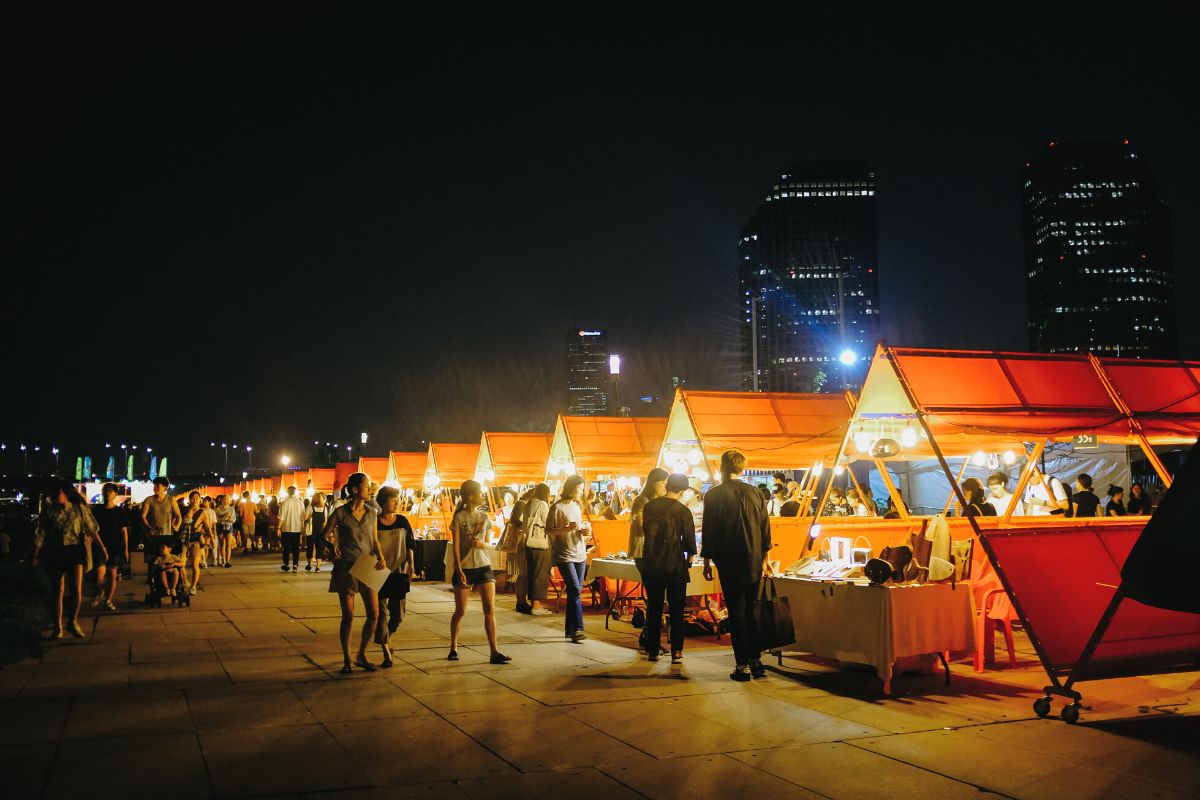 Bamdokkaebi Night Market is a great place to start your night market adventures, where visitors can check out and feast on different types of food, from Korean to other global favorites. Check out the artisan stalls, selling some of the cutest gifts to purchase for friends back home.
Bustling with tangible excitement is the Myeongdong Night Market, where the scent of delicious Korean food will lure just about anyone onto its street, as well as the varied stalls of Korean skincare, accessories, and clothes. A must-try here is the Korean fried chicken – it is to die for.
For a large-scale outdoor night market, check out Dongdaemun Market, serving visitors some of the best variety of Korean street food, from Mandu (dumplings) to Hotteok (filled pancakes).
While visiting the Dongdaemun Market, walk past the beautifully lit Dongdaemun, illuminating the scenery in all its glory.
94 – Prep for an eventful evening enjoying Seoul's nightlife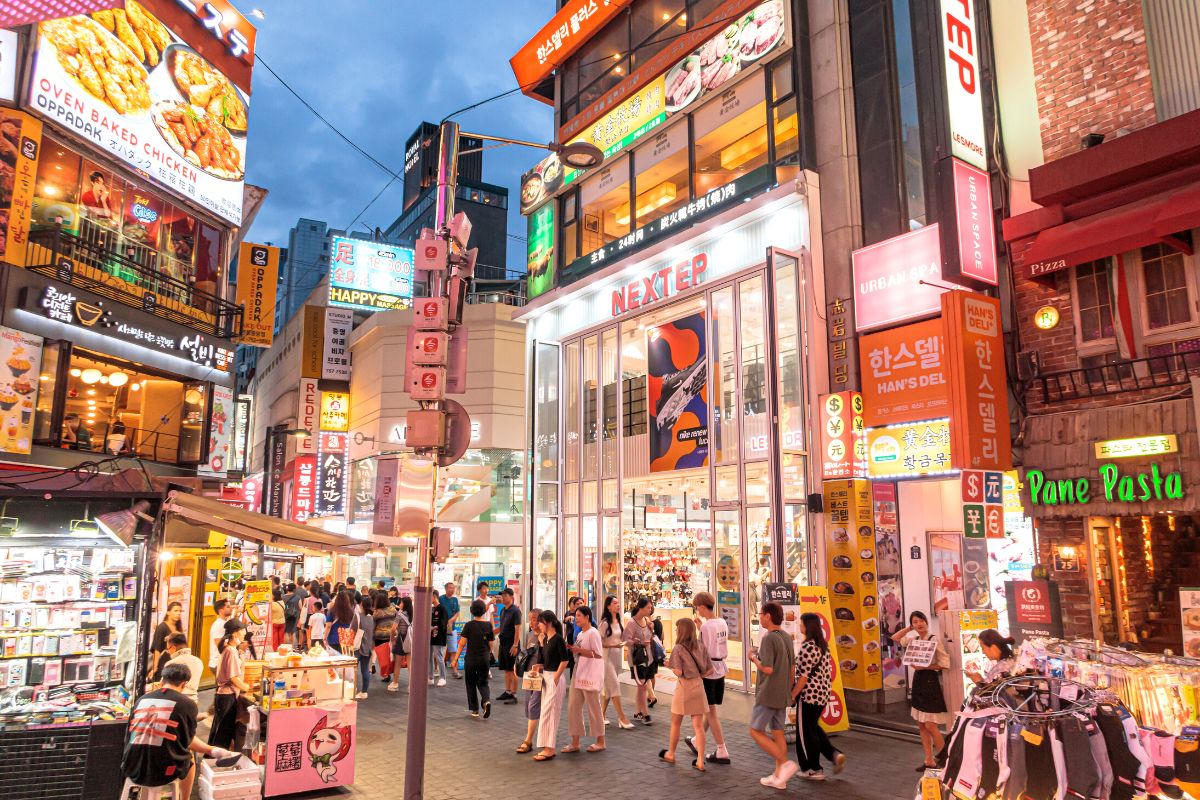 Koreans love to make rounds throughout the night, stopping at various places, making for an interesting night of fun. If clubbing is your jam, look no further than Gangnam – Seoul's high-end club neighborhood.
Looking for a night of R&B and hip-hop music? Check out Cakeshop, recognized as one of the best clubs in 2018 in Seoul. Located in the trendy Itaewon, known for its hipster culture and international scene, it's a great place to go out in.
Noise Basement 2 (NB2) is a popular place where the blaring music and bright lights keep going into the early morning the next day. Located in Hongdae, a neighborhood typically known for its youthful university student scene, and a great place to go out on the cheap.
95 – Visit the 5 different parks inside the massive World Cup Park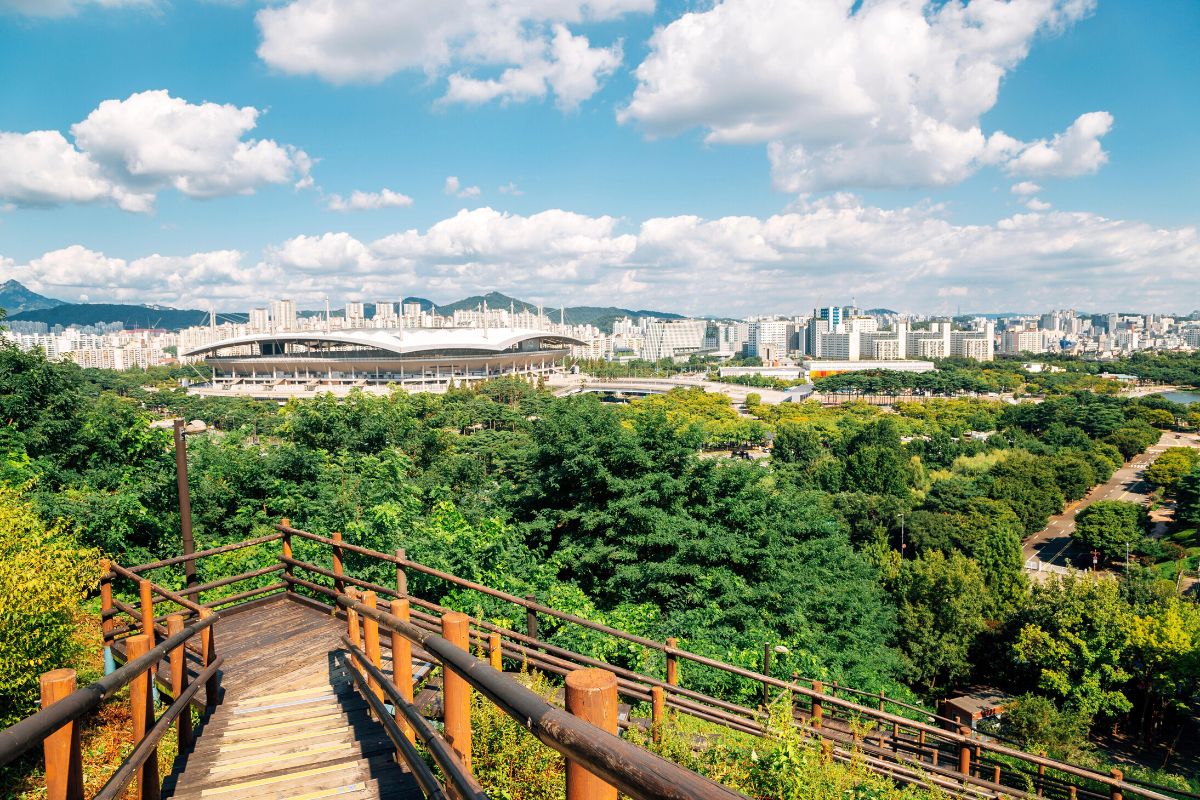 Check out World Cup Park, situated near World Cup Stadium, a beautiful ecological park in Sangamdong-gil, in what used to be a landfill for 15 years. It was built to honor the World Cup Games between Korea-Japan World Cup Games in 2002.
The World Cup Park is more of a park complex, as it houses 5 different parks inside: Pyeonghwa Park, Haneul Park, Noeul Park, Nanjicheon Park, and Nanji Hangang Park. Each park has a theme, from peace to sunset, and sky, noticeable upon entering any of the parks.
Pyeonghwa Park is the park closest to the World Cup Stadium, and is perfect for picnics and contemplating nature. Nanji Hangang Park is great for playing sports like soccer, basketball, and even camping.
Haneul Park is a gardener's wonderland, boasting an incredible amount of flowers, attracting numerous butterflies, and showcasing impressive views of Seoul.
96 – Sing your heart out inside a Noraebang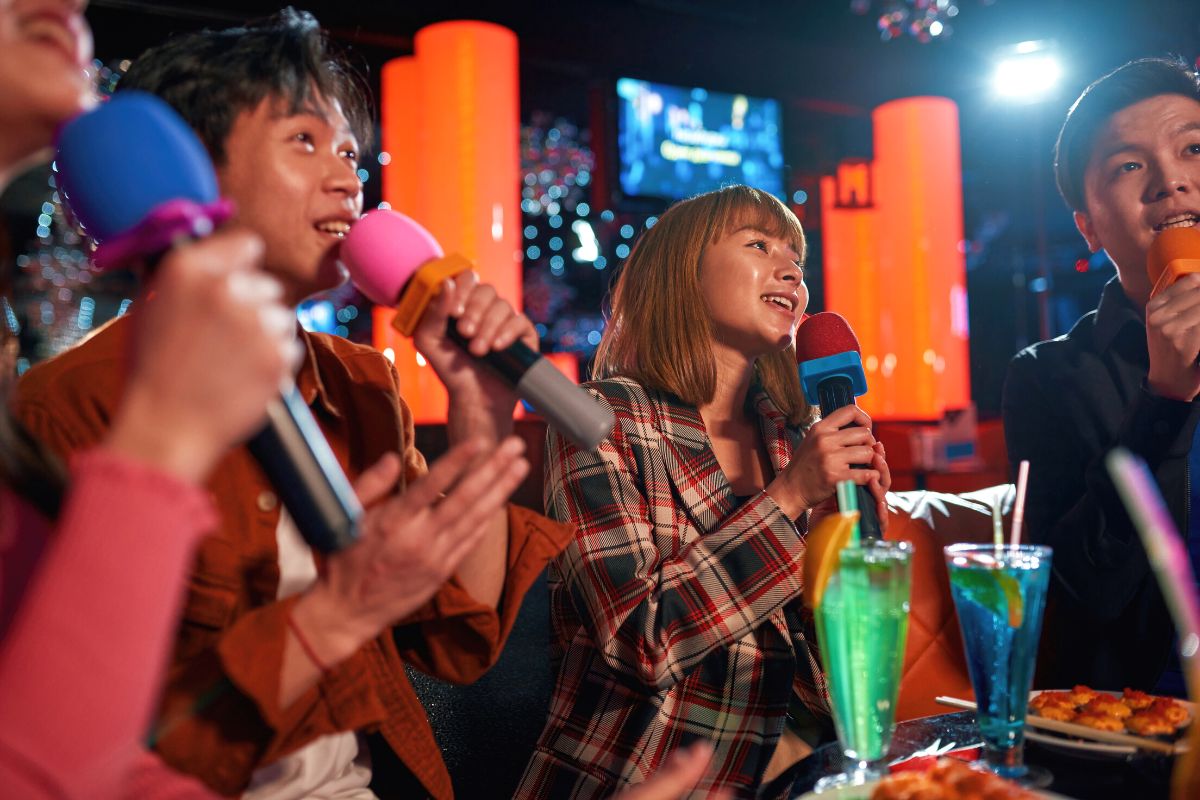 Party it up, Korean style, at a Noraebang (a Korean-style karaoke room) with your closest friends, as you belt out songs together or solo. Noraebangs are common throughout South Korea, and chances are that in a city like Seoul, you are likely to find one on almost every corner.
Helicon is a great Noraebang, where quality equipment like audio, microphones, lights, and technology, really make you feel like a singer, elevating the experience and fun. Enjoy snacks and drinks available in between encores.
Awesome Coin Noraebang is awesome for those who may be traveling solo and don't want to miss out on the singing! Single rooms can be rented, and at a very comfortable price, making it even more impossible to skip out on such a fun traditional Korean activity.
Su Noraebang is open 24 hours a day and is often a place that can be rented out for the day if you'd want to. Brimming with multiple tracks in various languages and unlimited snacks for a small fee, people of all backgrounds find their singing place at Su Noraebang.
EHWA Cono is another great place for those who may be solo traveling, offering private rooms to let yourself sing out everything from your joys to your frustrations, at a very good price point.
97 – Make your Seoul nights memorable on a pub crawl of the best bars
For a fun night out, check out Le Chamber, creating craft cocktails inspired by world flavors. To get in, all you have to do is push the right book in the Le Chamber bookcase, and the hidden door will slide open. Listen as the music of the live music gets louder, as the conversation of people over a few drinks.
Sky Lounge at COEX Intercontinental Seoul is an amazing bar sitting 30 floors above the city of Seoul. This is the perfect bar to visit if you are in the mood for an elegant ambiance, with no loud music and delectable drinks to accompany deep conversation.
Pierre Bar is located in Lotte Hotel, 35 floors up, offering incredible views of the city, N Seoul Tower, and more. Consider ordering one of their signature cocktails, or perhaps dabbling in their extensive collection of 28 types of vodka.
98 – Make time to visit the Seoul Arts Center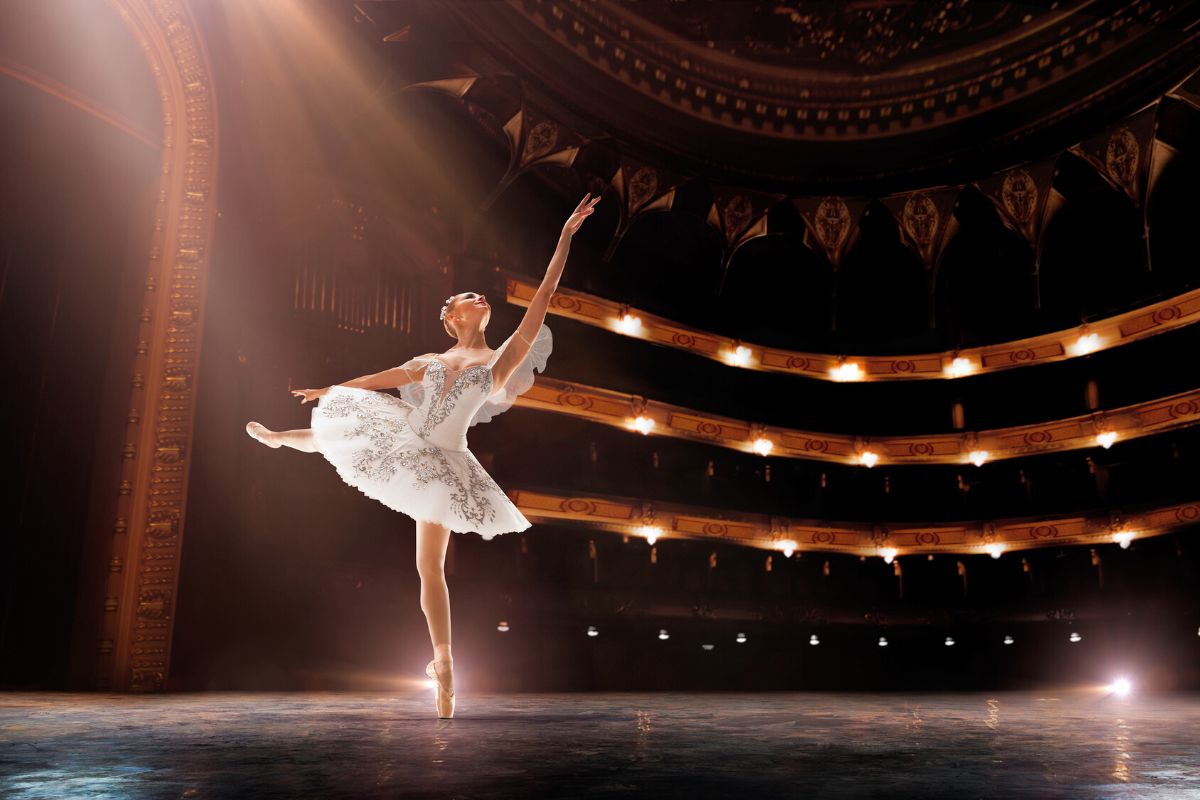 Considered one of the top 10 leading art centers in the world, the Seoul Arts Center is an amazing destination for all things performing arts and culture.
The Seoul Arts Center houses the Korea National Opera House, Hangaram Art Museum, Seoul Calligraphy Museum and gallery, and more. Enter the stunning Korea National Opera House, a beautifully arched theater with a red and blue color scheme, and equipped with 5 levels of seating housing 2,283 seats.
Check out the Korean National Ballet, also housed inside the Seoul Arts Center, where visitors are able to catch an unforgettable ballet show completed with live symphonic music. Tickets for the ballet depend on the seating section, but most start at 5,000 won up to 80,000 won.
99 – Watch the city skyline from the best rooftops bars in Seoul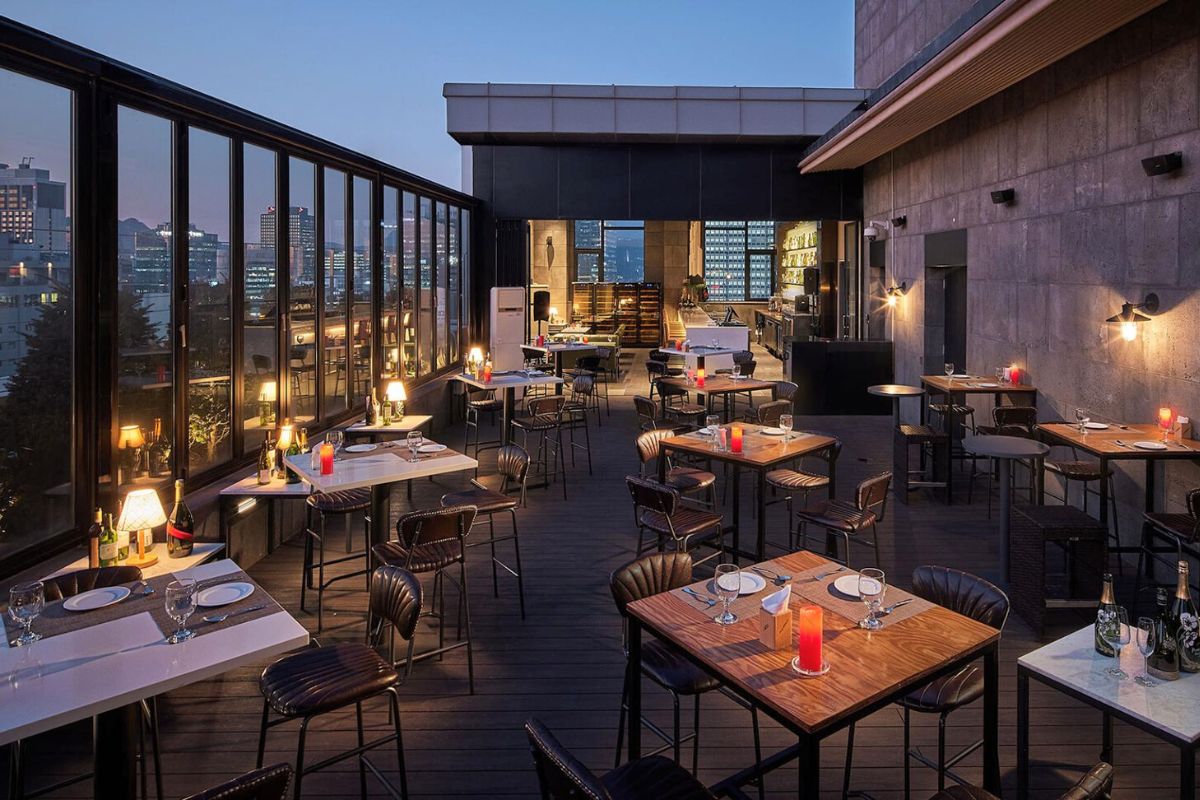 Stand high above the city, and sit in a lofty, elegant rooftop bar at Rooftop KLOUD, ordering and sipping on some of the most delightful cocktails mixed by a knowledgeable mixologist, while soft music plays in the background.
Rooftop Floating offers supreme views of the city and nature with the majestic Namsan Mountain, with spacious seating and an extensive list of craft cocktails, wine, and craft beers. Enjoy watching the day turn into night as the sun sets, and the DJ starts to fill the space with music.
Bring a significant other to enjoy the night skyline and Seonjeongneung Park views from the 15th floor of the Krug at Crescendo Hotel. Feel luxurious setting foot on the marble floors of the stunning and ample rooftop, as you order your first round of craft cocktails, or take a look at the craft beer list.
How to get to Seoul?
Although Seoul has two airports, Gimpo and Incheon International Airports, Incheon International Airport is South Korea's main and largest airport where international fliers typically land.
Though there are multiple ways to arrive at Seoul city center from Incheon airport, airport transfers are available and are the best option if you're traveling with significant luggage, and if you want to arrive downtown fast, typically under 30 minutes.
If you'd like, you can also take the Airport Railroad Express (AREX), which has 2 trains that transfer visitors to Seoul Station, in a little over 35 minutes.
Where to stay in Seoul?
Nine Tree Premiere Hotel Insadong serves its guest Korean-style breakfast every morning, after a relaxing and restful evening in their rooms boasting incredible sights of the city and mountains. This is a great stay if you're looking to be near sites like Gyeongbokgung Palace and Jongmyo Shrine.
Allow the morning light to wake you through the floor-to-ceiling windows in each room of the Stanford Hotel Myeongdong, offering incredible hospitality and care. Enjoy the proximity to sites like the Myeongdong Cathedral, Namdaemun Market
Toyoko Inn Seoul Gangnam is an excellent choice to spend your nights, located just 5 minutes away from Lotte World Tower and Lotte World Mall. Enjoy an American-style breakfast, included in the stay.
Check out Four Points by Sheraton, proudly a travel sustainable hotel offering perfect distance to Seoul Station, which connects visitors to sites like Deoksugung Palace, and is only 30 minutes away from Incheon Aiport.
Enjoy an early morning breakfast or late night cocktails on The Terrace at Grand Hyatt Seoul, a stunning dining space with views of the city, and mountains all around, as well as the floor-to-ceiling windows displaying similar views in every room.
Book a night at The Shilla Seoul, the Forbes nominated 5-star hotel, offering modern amenities and decor in every room, in the heart of Seoul. Consider booking your airport transfer services in the hotel for a discounted rate.
Conveniently located near the Gongdeok Subway Station, consider booking your stay with LOTTE City Hotel Mapo, offering top cleanliness, warm hospitality, and an incredibly helpful location, near the Itaewon, Hongdae, and Sinchon neighborhoods full of local activity and authentic Korean food and shops.
Visiting Seoul on a budget?
Check out a free walking tour to get you started on your adventures in Seoul.
Free walking tours offer the best introduction to the city, as a local and passionate guide takes you around the city, showing you all the important sites, and sharing important history, while also leaking must-visit food spots and nightlife suggestions to engage in.
Where to go next?
Consider multi-day trips taking you through some of the most popular destinations in South Korea, such as Busan, known for being the second most populous city in the country.
Gongju is a great destination known for its historical fortresses and national parks, while Yeosu is known for its maritime history, and stunning red camellia gardens.
Wonju is known for multiple art and history museums, as well as Wonju Hanji Theme Park, and Suncheon is known for Suncheon Bay Wetland Reserve, a must-see natural site.
And if you're planning on exploring other countries nearby, you should visit Japan, with its rich history, a huge diversity of UNESCO World Heritage Sites, delicious gastronomy, and incredible landscapes, you'll find many things to do in Tokyo, Osaka and Kyoto.
Final thoughts
Seoul's official name is Seoul Special City, and visitors past and present can definitely see why.
With its vibrant history experienced via the grand palaces, booming ingenuity, and creativity seen with the Seoullo 7017 highway park, delicious gastronomy in every corner, and abundant hiking opportunities, the possibilities are endless in the self-proclaimed "Soul of Asia".
We hope that you enjoyed this list of 99 fun and unusual things to do in Seoul, South Korea.
Happy travels!