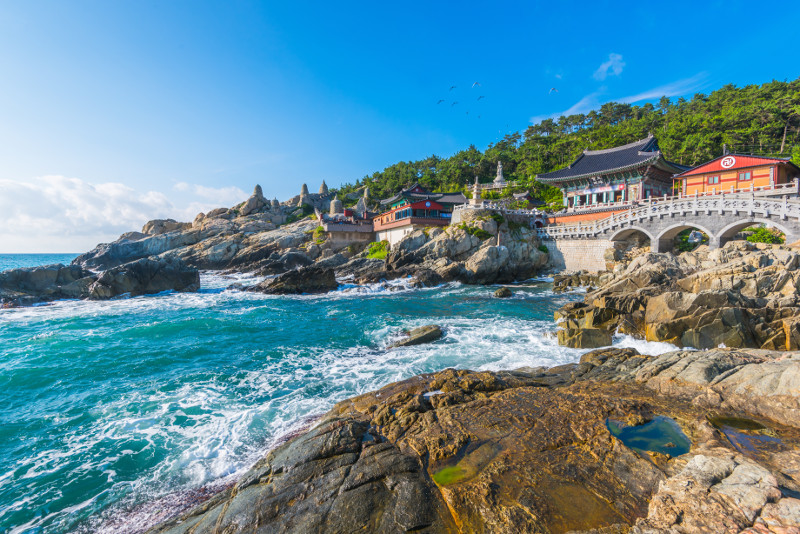 Captivated by the culture, cuisine, palaces and shopping areas of the South Korean capital but have a little bit of extra time on your hands?
Here's a guide to the best day trips from Seoul to help you discover the beaches, countryside, mountains, historical treasures and other marvels that lie outside of the city.
1 – Seoraksan National Park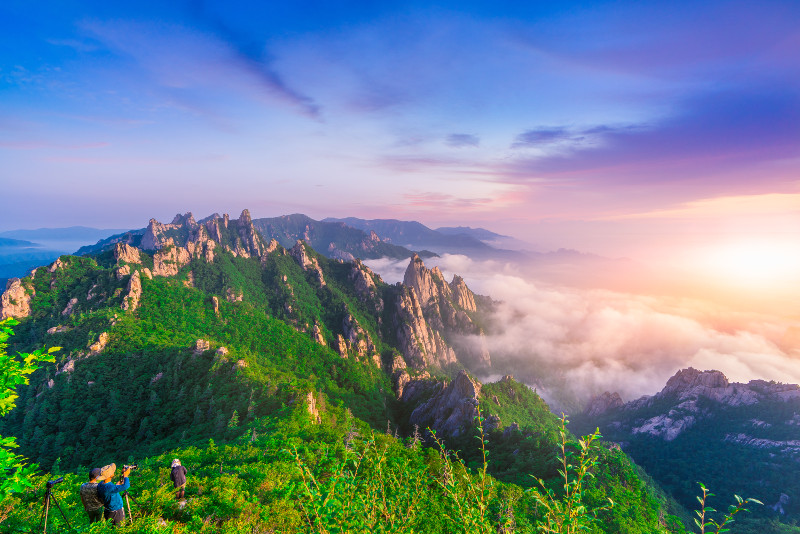 Awaken your senses and connect with nature amid the awe-inspiring surroundings of the Seoraksan National Park. This vast reserve encompasses numerous peaks including Mount Seoraksan, one of the highest peaks in the country.
Hike along trails that pass by cliffs and waterfalls and up mountains, ride the cable car and venture inside a cave once used as a place of worship.
Seoraksan National Park also boasts two Buddhist temples, Baekdamsa and Sinheungsa. This head temple of the Jogye Order of Korean Buddhism dates back to the seventh century although it has been rebuilt several times in the intervening years.
2 – Nami Island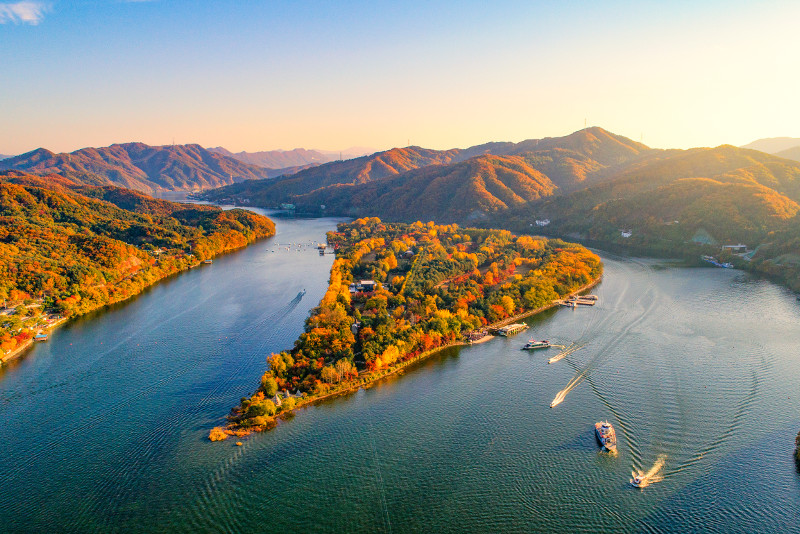 For another nature-filled day tour from Seoul head to Nami Island, a half-moon shaped island that is a year-round draw for its tree-lined lanes, riverside paths, woodlands and lush green fields.
Hike or cycle through picture-postcard perfect landscapes and visit such must-see attractions as Ginkgo Tree Lane and Cherry Tree Lane. The island is also home to a theme park with a merry-go-round, water sports facilities and a roller skating rink.
3 – Korean Demilitarized Zone (KMZ) & Join Security Area (JSA)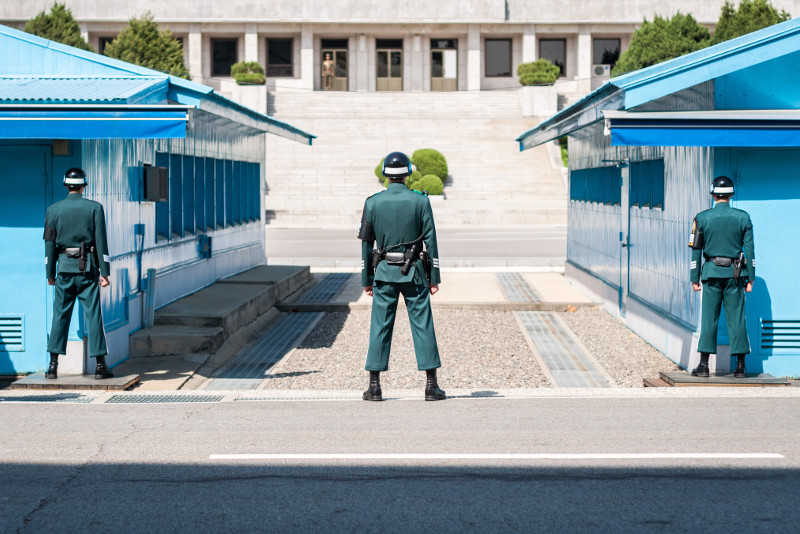 Located about 48 kilometres north of Seoul is a strip of land known as the Korean Demilitarised Zone or DMZ. This heavily militarised border between South and North Korea was established in the 1953 Korean War Armistice Agreement.
See monuments and relics from the war and learn more about the three-year conflict by touring the Joint Security Area that connects both countries. Visit the Third Tunnel, an incomplete tunnel under the border that was built by North Korea supposedly for the intention of invading the south.
4 – Petite France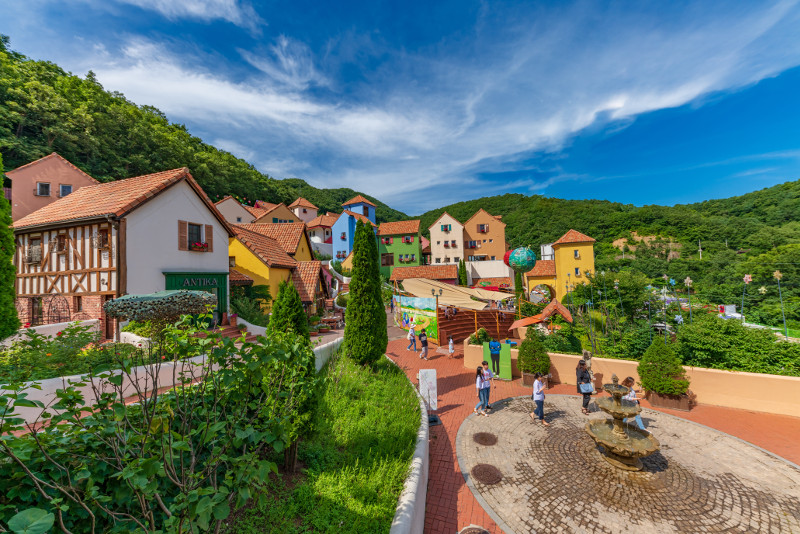 Bid 'bonjour' to Petite France, a visually enchanting slice of France in South Korea. Explore this small French cultural village set in the countryside that boasts attractive French-style buildings, delicious French food and fascinating cultural attractions.
Browse the street flea market, watch a marionette performance, play games such as petanque, the traditional ball of France, peruse an exhibition of antique porcelain and stroll along the Bonjour Walkway. This is a long wooden boardwalk into the countryside.
5 – Naksansa Temple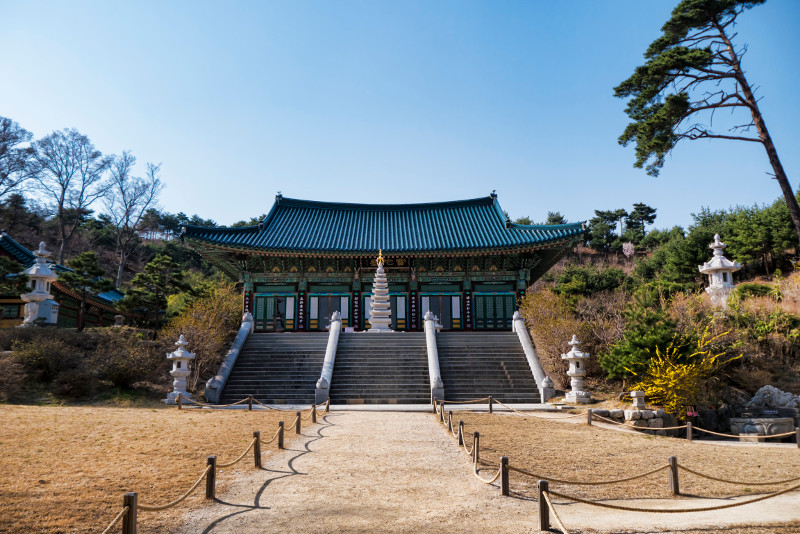 Sitting on the slopes of Naksan Mountain overlooking the East Sea is Naksansa Temple, a beautiful Buddhist place of worship that was founded in the seventh century.
During this day trip from Seoul marvel at the temple's 15th-century stone pagoda and photograph the white granite Buddhist statue of Haesugwaneumsan that crowns the mountain top.
You can also peek through a hole in the sanctuary floor to look at the sea below.
6 – Garden of Morning Calm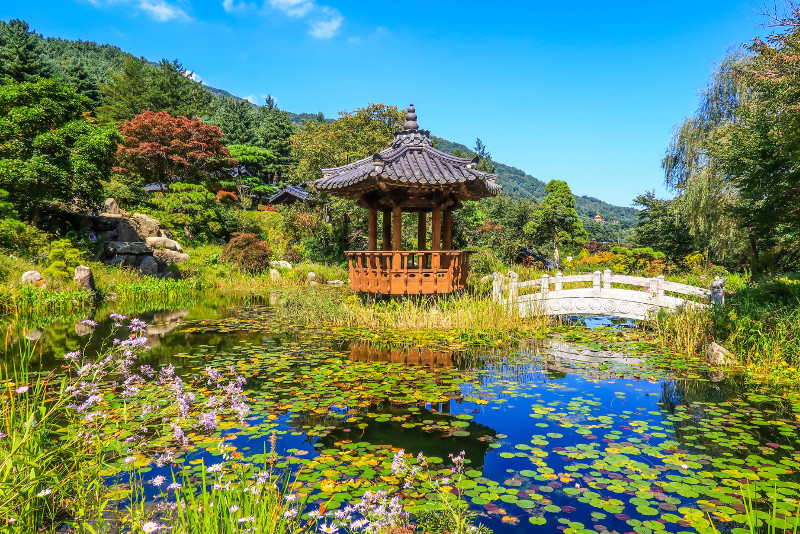 Less than an hour's drive from the South Korean capital is the Garden of Morning Calm, a large private garden that's open to the public and nestled among the mountains of Gapyeong county.
Wander through the three-hectare botanical wonderland of thousands of species of colourful and scented plants. Drop into its themed gardens such as the Sunken Garden, the Wild Flower Garden, Pagoda Valley and the Hometown Garden.
This features a typical Korean thatched cottage and the types of plants people love to grow near their homes.
7 – Busan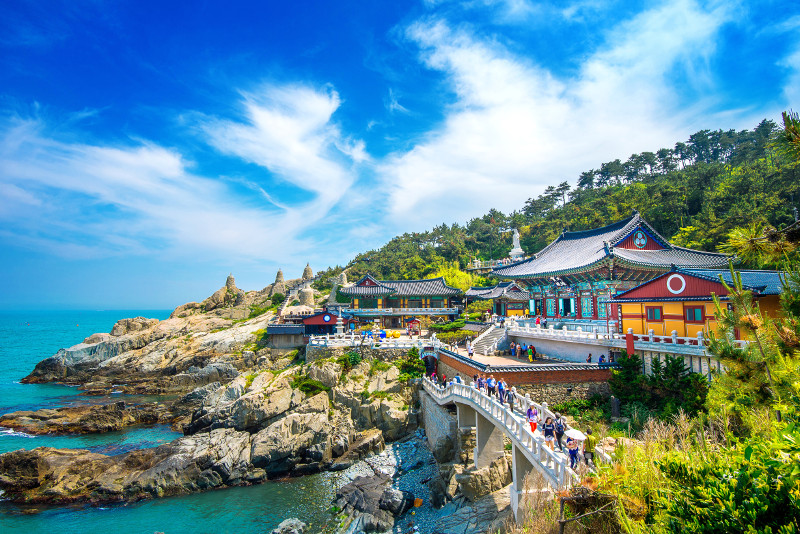 Thrill to a fun day out from Seoul at Busan, South Korea's second-biggest city and a popular coastal destination of beautiful beaches, ancient temples and hot springs. Spend at least a day here to experience some of its best attractions.
They include the hot spring waters of Heosimcheong Spa, the unique creations of the Radium Art Centre, the 14th-century Haedong Yonggung Temple and Haeundae Beach.
This dazzling stretch of white sand is located at the edge of the city.
See also: Fun things to do in Busan, South Korea
8 – Suwon Hwaseong Fortress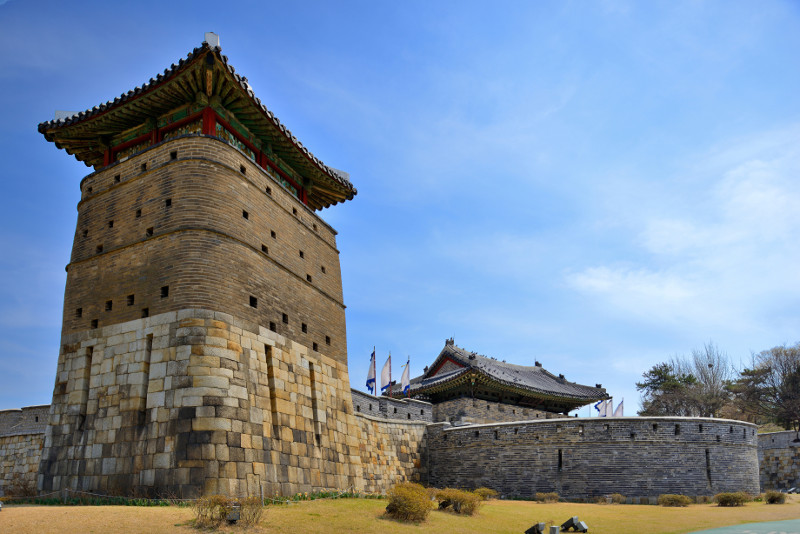 Satisfy your curiosity about the past with a day trip from Seoul that takes you to Suwon Hwaseong Fortress, a well-preserved stronghold from the 18th century.
This impressive structure was built by King Jeongjo and features a massive wall that stretches for more than five kilometres.
It incorporates numerous defensive structures that are still intact such as observation towers, command posts and arrow launcher towers.
9 – Yong Pyong Ski Resort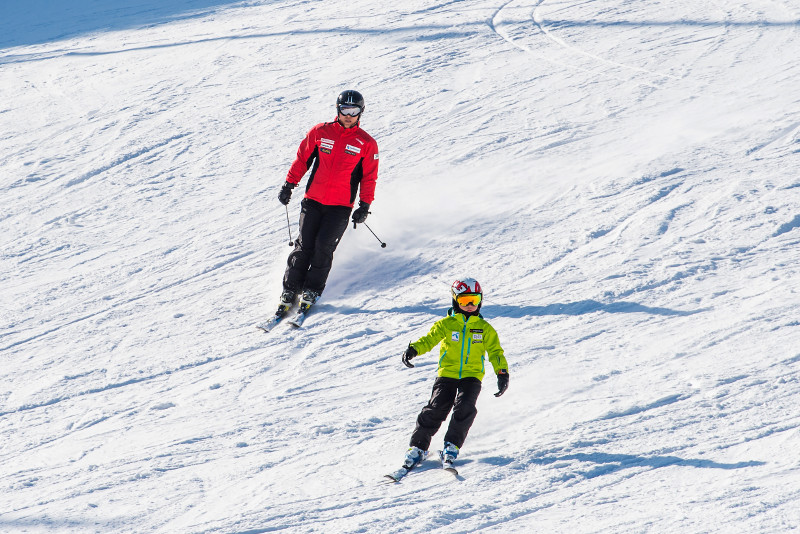 Strap on your ski boots and wrap up warm for a day of snow-based adventure at Yong Pyong Ski Resort. One of the country's biggest and oldest alpine ski areas encompasses part of the Taebaek Mountains and boasts slopes for skiers of all abilities.
Although the typical ski season here lasts from mid-November until early April, this is a year-round recreational resort with a wealth of other facilities.
They include a golf course, swimming pool, tennis court, health club, archery, disco, sauna and campfire site.
10 – Daemyung Vivaldi Park Ski Resort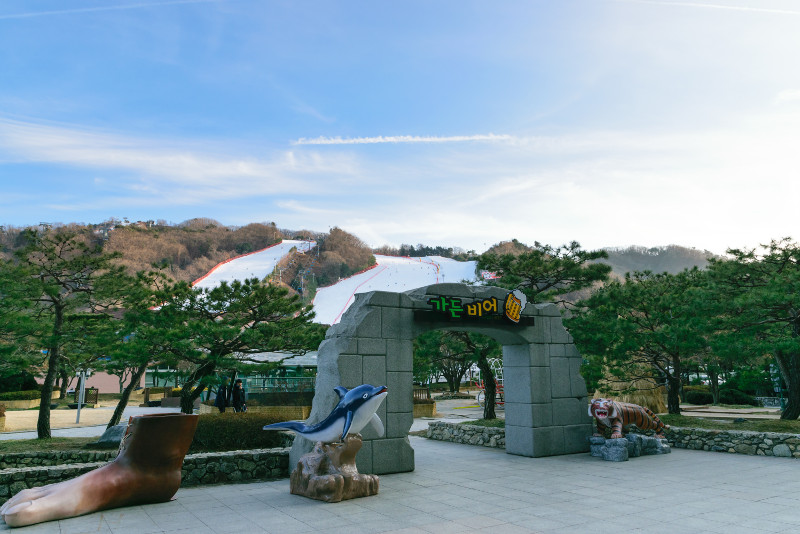 If you're a snow lover searching for quality powder, take a day trip from Seoul to slalom down the white-covered slopes of Daemyung Vivaldi Park Ski Resort, one of the most popular ski resorts in the country.
This large ski area boasts state-of-the-art facilities and skiable terrain suitable for all levels.
Other leisure facilities include a swimming pool, sauna, lake park, forest bathing site, badminton and basketball courts and amusement park rides such as a merry-go-round.
11 – Paju Premium Outlets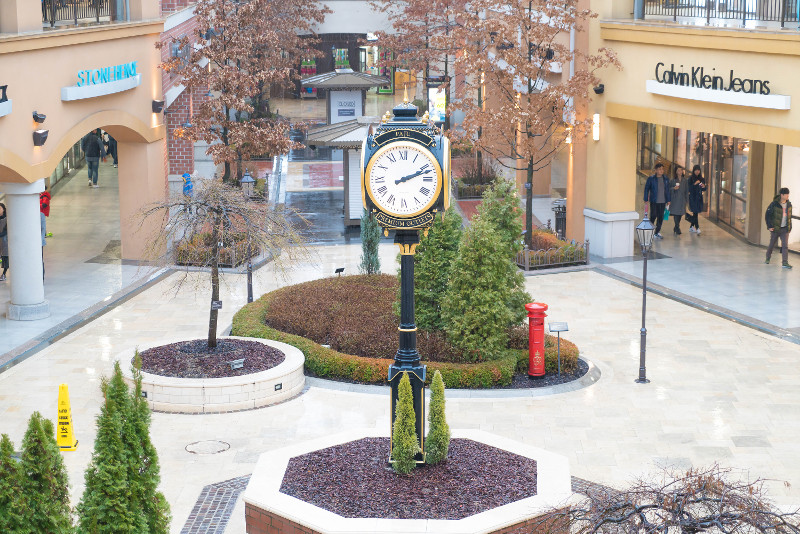 Looking to freshen up your wardrobe? If so, make tracks for Paju Premium Outlets, a three-story luxury mall with more than 150 stores.
During this day trip from Seoul take advantage of big discounts on everything from clothing and the latest fashions to jewellery and items for the home.
Take a break from your bargain hunting and unwind with a meal in the expansive food court which has almost two dozen restaurants and cafés. For the children, there's a playground and amusement rides.
12 – Lotte World Amusement Park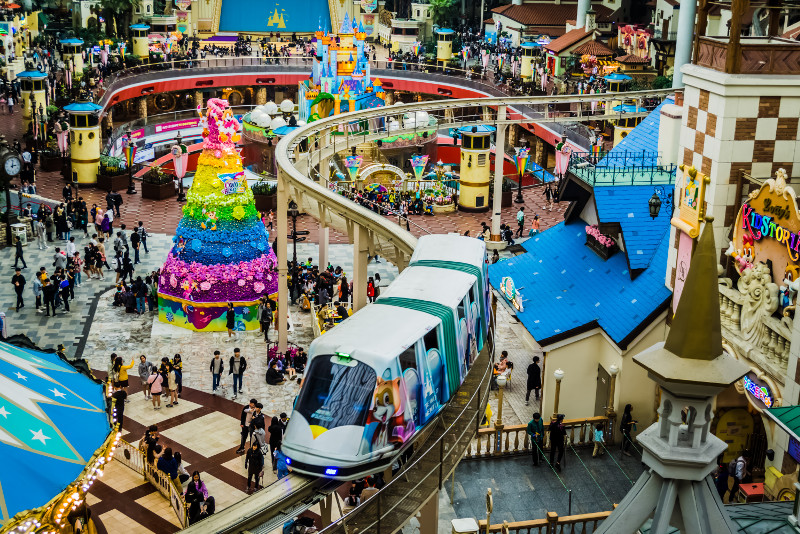 Turn the dial marked fun up to the max with an excursion from Seoul to Lotte World Amusement Park.
This family-friendly recreational complex contains a vast indoor theme park and an outdoor amusement park called Magic Island.
Whether you're an adrenaline junkie with a need for speed or someone who's just looking for a magical escape there's something for everyone including thrill rides, fantasy parades, restaurants, game facilities, department stores, an aquarium, shops, 3D movies and much more.
13 – Gangchon Rail Park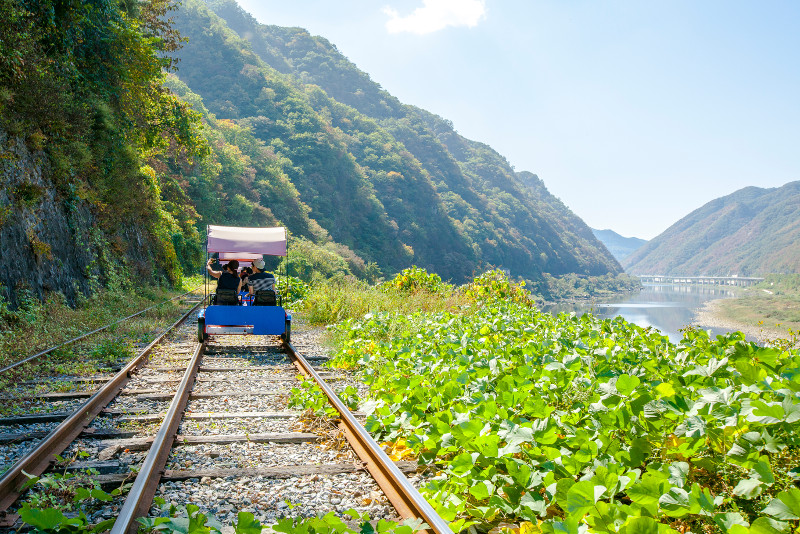 Discover the South Korean countryside with a day out from Seoul that takes you to the Gangchon Rail Park. Once a fully operational train line this eco-friendly attraction is now a cycle route along a disused railway track.
Choose two-seater or four-seater bike options and pedal past rivers, mountains and paddy fields. The scenic trip can also take in a virtual reality tunnel that uses 4D special effects to create a shooting game where you can target VR monsters.
14 – Yongin Daejanggeum Park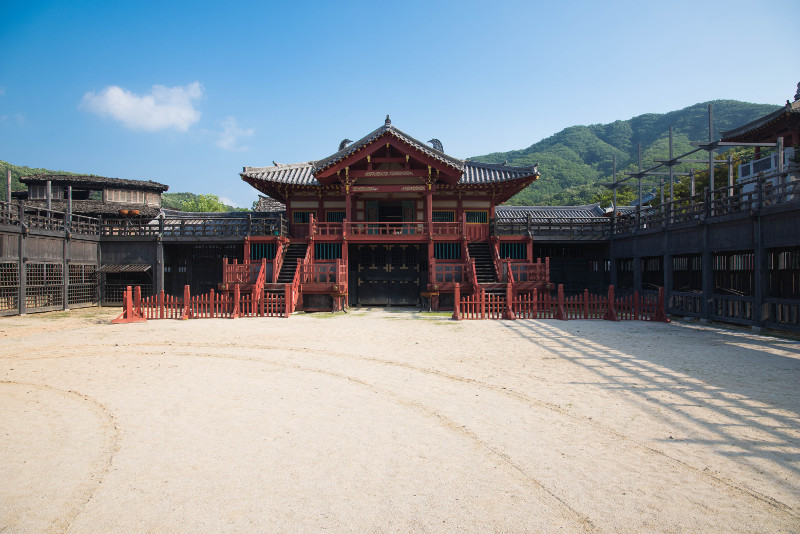 Go on a day trip from Seoul to Yongin Daejanggeum Park to walk in the footsteps of television and movie stars.
This outdoor historical film set is also a top visitor attraction with buildings and architectural styles based on historical records. Tour the open studios, try on costumes and have your photos taken with actors.
Among the dramas that have been filmed here for the Munhwa Broadcasting Corporation are Flower in Prison, The Moon that Embraces the Moon and The Goddess of Fire.
15 – Gyeongpo Beach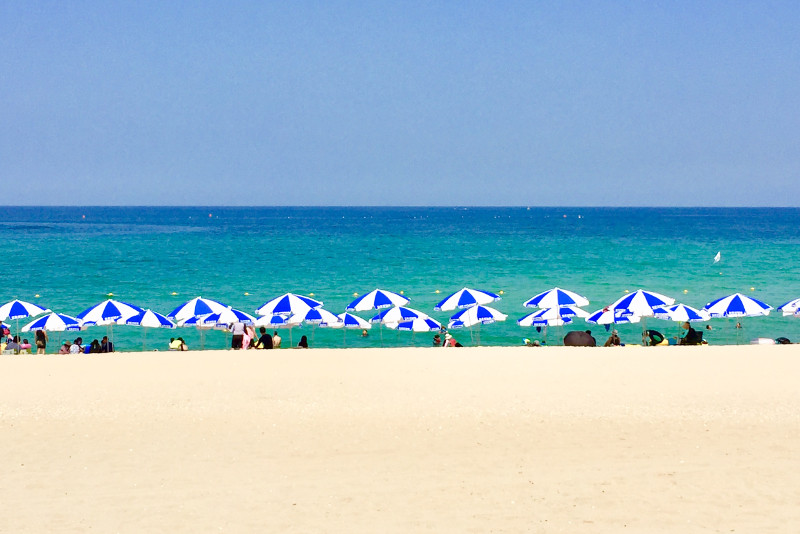 In the hot summer months top up your tan at Gyeongpo Beach, a 1.8-kilometre expanse of fine sand lapped by cool waters and bordered by pine trees.
This is the largest beach on the country's east coast and one of its busiest.
During your chilled out day trip from Seoul lie on soft sands, swim in the clear blue sea and tuck into delicious meals at beachside restaurants. From your table gaze out at the beautiful views across the East Sea.
16 – Geochang Strawberry Farm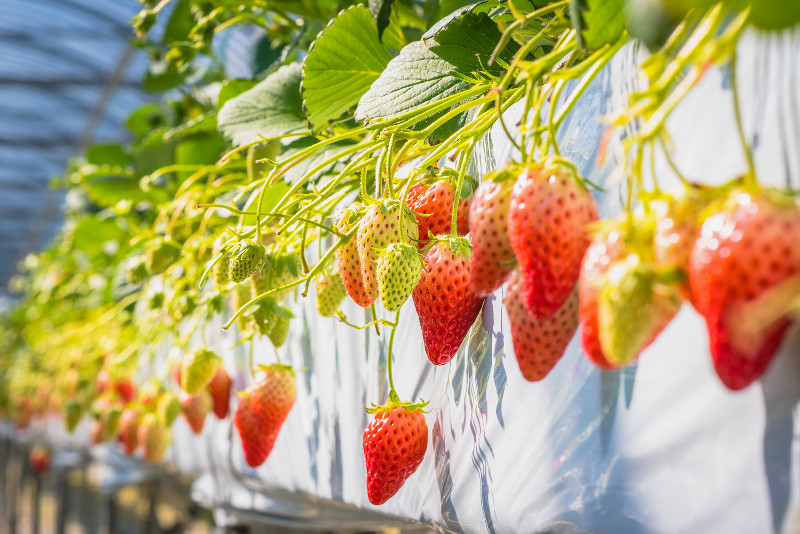 Savour the sweet delights of a strawberry picking experience at Geochang Strawberry Farm, about a one-hour train ride south of the city.
Walk among rows and rows of fresh and succulent fruits that are just waiting to be picked. With this tasty day trip from Seoul, you'll also discover how the zesty strawberries are grown and cultivated.
17 – Hahoe Folk Village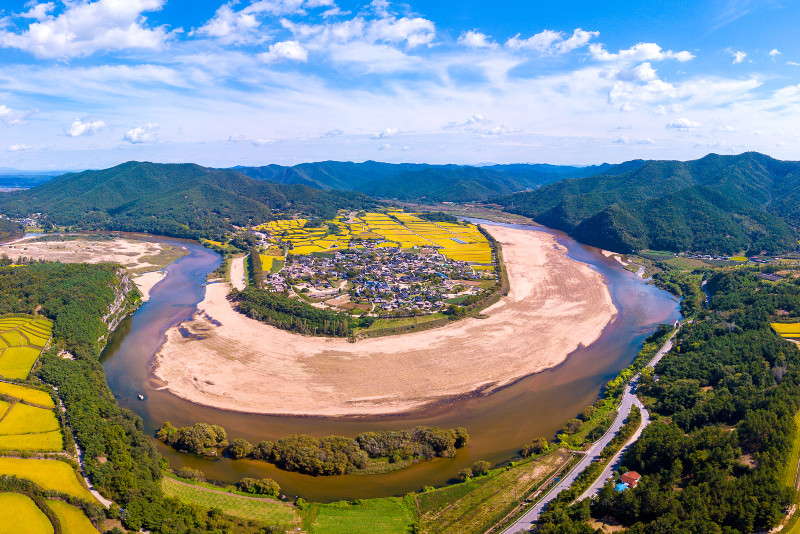 Travel back in time at the Hahoe Folk Village, a traditional riverside village and UNESCO World Heritage Site that dates back more than 600 years.
When you embark on this delightful day out from Seoul you'll witness folk traditions and period-style architecture.
You will also be able to sample local specialties such as Andong Guksi, a noodle dish and a distilled alcoholic drink called Andong Soju. Other highlights include the village's delightful setting at the foothills of Hwasan Mountain.
18 – Alpaca World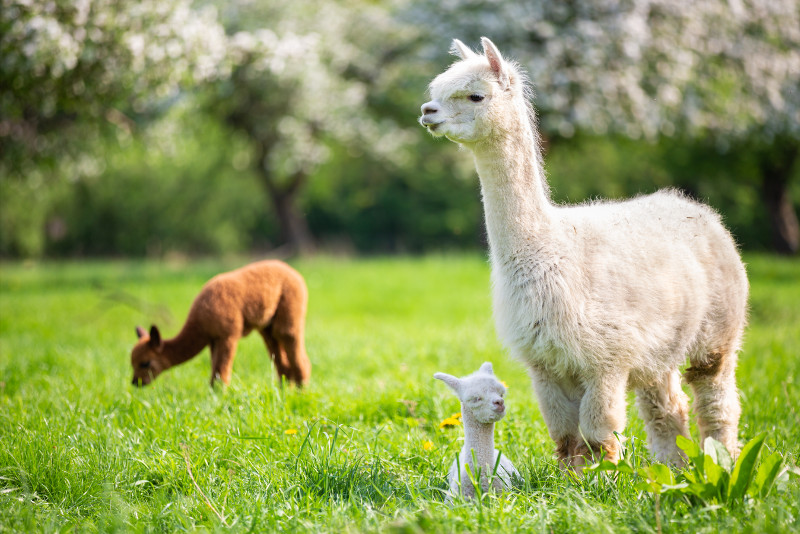 Enjoy close encounters with the furry and cute-looking alpacas at Alpaca World, about a two to three-hour drive from the capital of South Korea.
While at this popular zoo feed the animals, visit the bird garden, ride around the grounds aboard the train and see a number of other animals including deer, camels, ponies, sheep, owls and peacocks.
Other activities and attractions include animal performances, horse riding and outings in the surrounding woods.
19 – Gwangmyeong Cave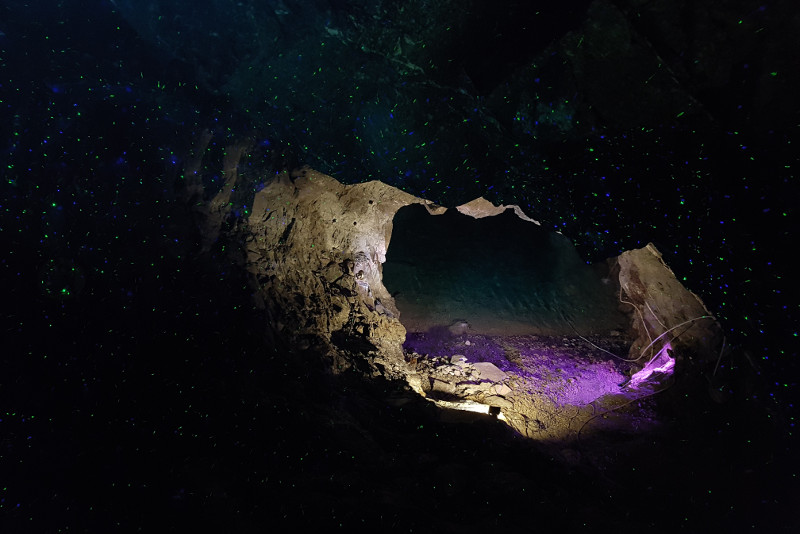 Venture to the far outskirts of Seoul for the Gwangmyeong Cave, a themed cave complex where gold and other precious metals used to be mined.
Today it is full of entertaining attractions such as aquariums, light shows and an underground winery.
Additional in-cave highlights that make for an exciting day trip from Seoul are the Golden Falls waterfall, an arts centre hosting cultural performances and the Cave Underground World Exploration.
This is a passage through which miners used to carry mined ore.
20 – Anseong Farm Land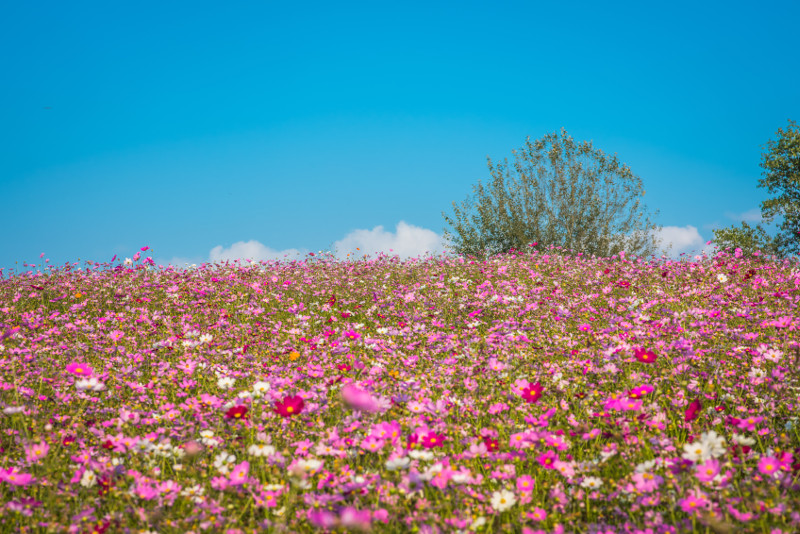 Devote a day to discovering and enjoying the rural delights of Anseong Farm Land, a livestock-themed attraction for all the family.
Go horse-riding, pet farm animals, make a pizza at the Dairy Experience Centre, feed livestock, learn about agriculture culture at the Korean Folk House and much more.
Other highlights of a visit to the farm include amusement rides such as a carousel and mini-train, a children's playground and a fairy-tale themed village and pond.
21 – Hani Lavender Farm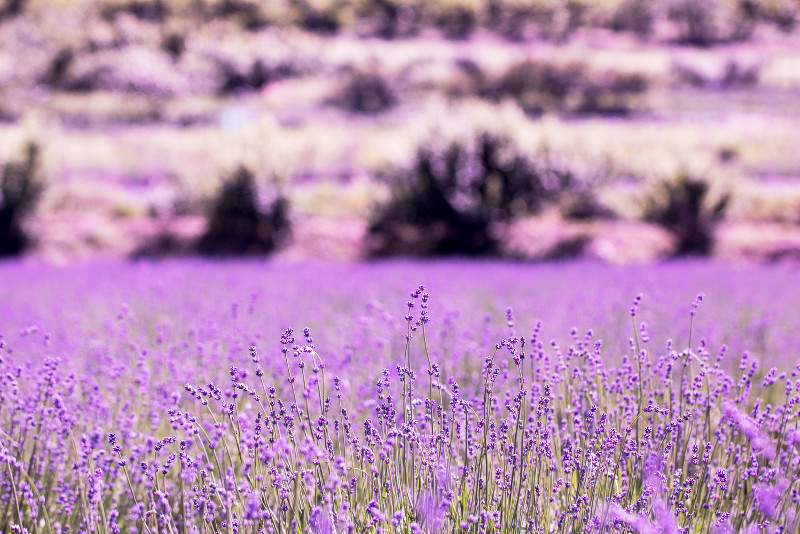 Walk through a lavender field in full bloom when you go on a day trip from Seoul to Hani Lavender Farm.
Tour the rest of the grounds to see the lavender oil distillery drying room, greenhouse and other areas associated with the creation of lavender-based products such as natural air freshener, aroma sachets and soaps.
On-site facilities include a farmer's market, herb shop, scent stores and the lavender exhibition hall. This rural destination is open year-round but the most abundant blooming takes place in June.
22 – Everland Theme Park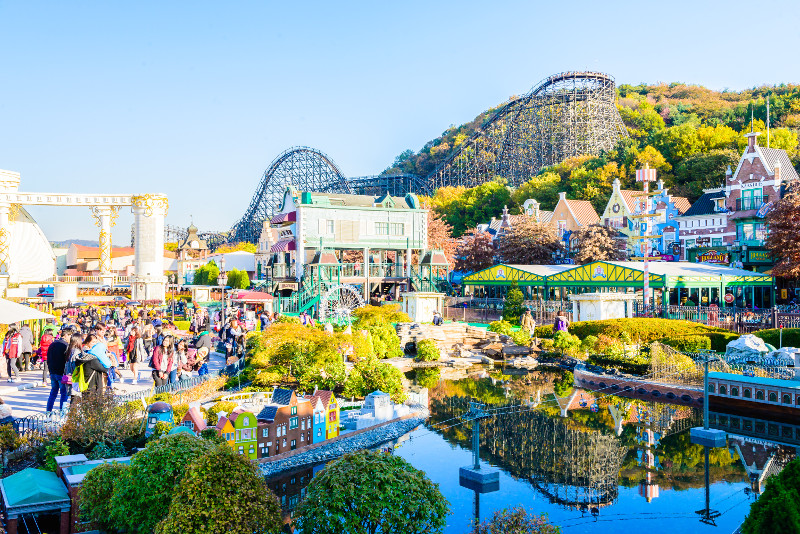 If you're looking for a fun day out of Seoul treat the family to Everland Theme Park.
This is South Korea's largest theme park, a fantasy playground of five different themed areas such as Magic Land, European Adventure and Zoo Topia.
There are coasters and other thrill rides as well as flumes, petting zoos, gentle-paced attractions, colourful parades and firework shows that light up the night sky. Experience the thrills of the Hurricane ride, step inside a rotating house and see exotic animals when you hop aboard the wildlife safari bus.
23 – Pocheon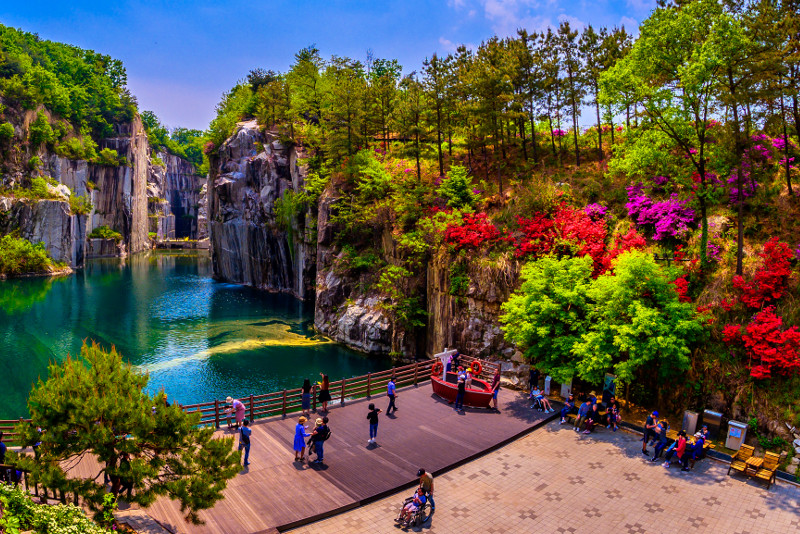 Travel to the endlessly fascinating Pocheon, a rugged town that's a two-hour drive from the capital and set amid an environment of forests, rivers, lakes and endless hills that seem to roll on for miles.
Walk by the shores of Sanjeonghosu Lake and visit Pocheon Art Valley. This former granite quarry has been transformed into a lake with a park and boasts captivating scenery and a wealth of recreational attractions.
They include sculptures, an astronomical science museum, walking trails and an outdoor concert hall.
24 – Ganghwado Island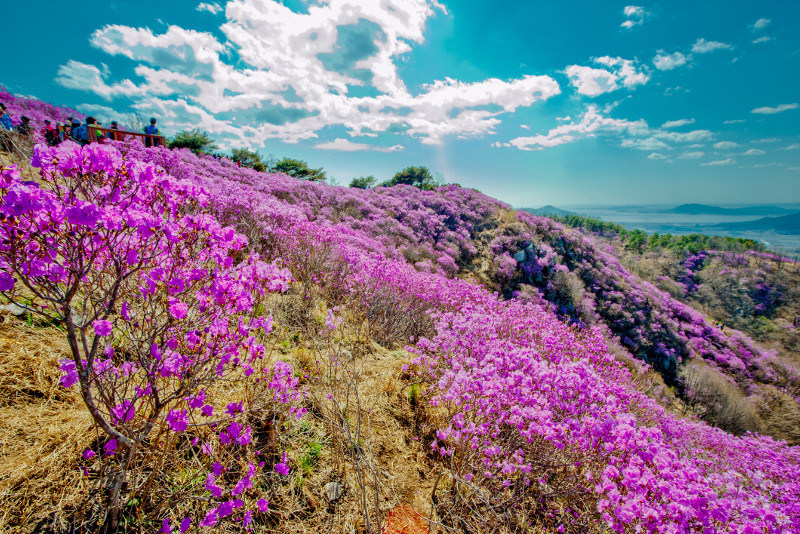 With fortresses, temples and beaches Ganghwado Island makes for a fascinating and deeply relaxing jaunt away from Seoul.
This island getaway is located in the estuary of the Han River and encompasses a small number of other islands, inhabited and uninhabited. Stretch out on golden sands, visit Bugeun-ri Dolmen, an ancient burial site, go bird watching and tour temples and the 17th-century Gwangseongbo Fortress.
This was the location of a fierce battle during the American invasion in 1871.
25 – Hwaseong Haenggung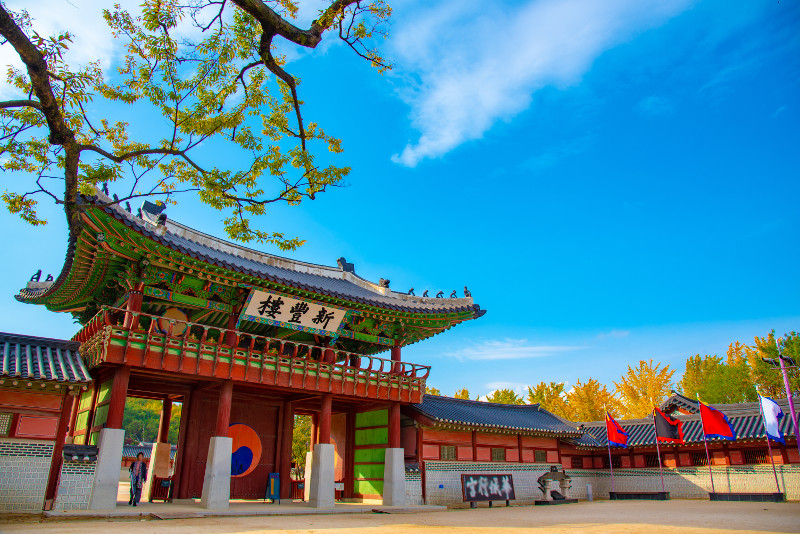 Looking for an interesting day trip from Seoul that provides you with intriguing historical insights? If so, tour Hwaseong Haenggung, an 18th-century palace that was an official residence for King Jeongjo.
Explore the exhibition halls of this grand complex which served as a residential retreat during times of war. The palace sits in the middle of a fortress and hosts a three-story visitor centre that provides lots of information about the building's architecture.
26 – Bukhansan National Park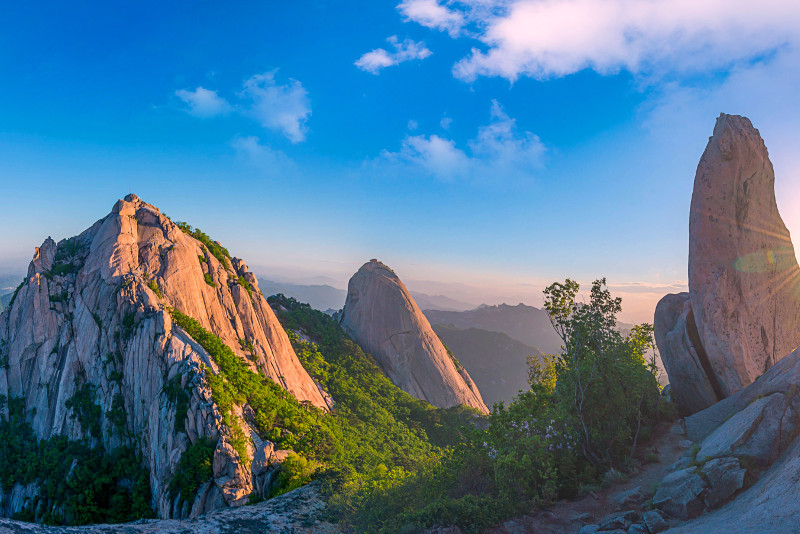 Marvel at the natural splendour of Bukhansan National Park, a stunning protected wilderness area of forests, temples and rugged peaks.
Hike along the park's many trails that wind their way by streams, through forests and under mountains. Climb towering peaks such as Baegundae, the park's highest peak and visit Buddhist temples.
This day trip from Seoul is just 30 minutes away from the centre of the city by public transportation.
27 – Gyeongju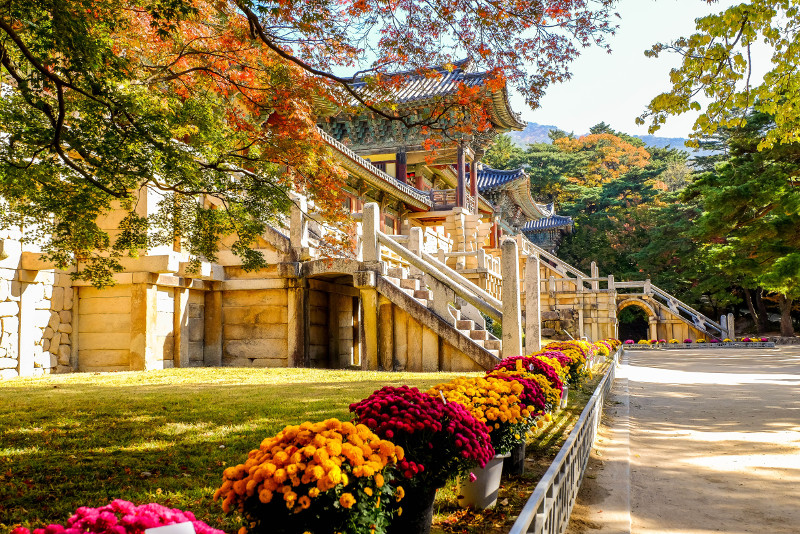 Get away from the hustle and bustle of Seoul with a jaunt to Gyeongju, a coastal city and capital of the ancient kingdom of Silla.
This major tourist destination is a superb day trip from Seoul and is known as 'the museum without walls' for its large number of temples, tombs, rock carvings and pagodas.
Travel to archaeological sites, visit ancient places of worship, breathe in the fresh air at verdant parks and relax on beautiful beaches.