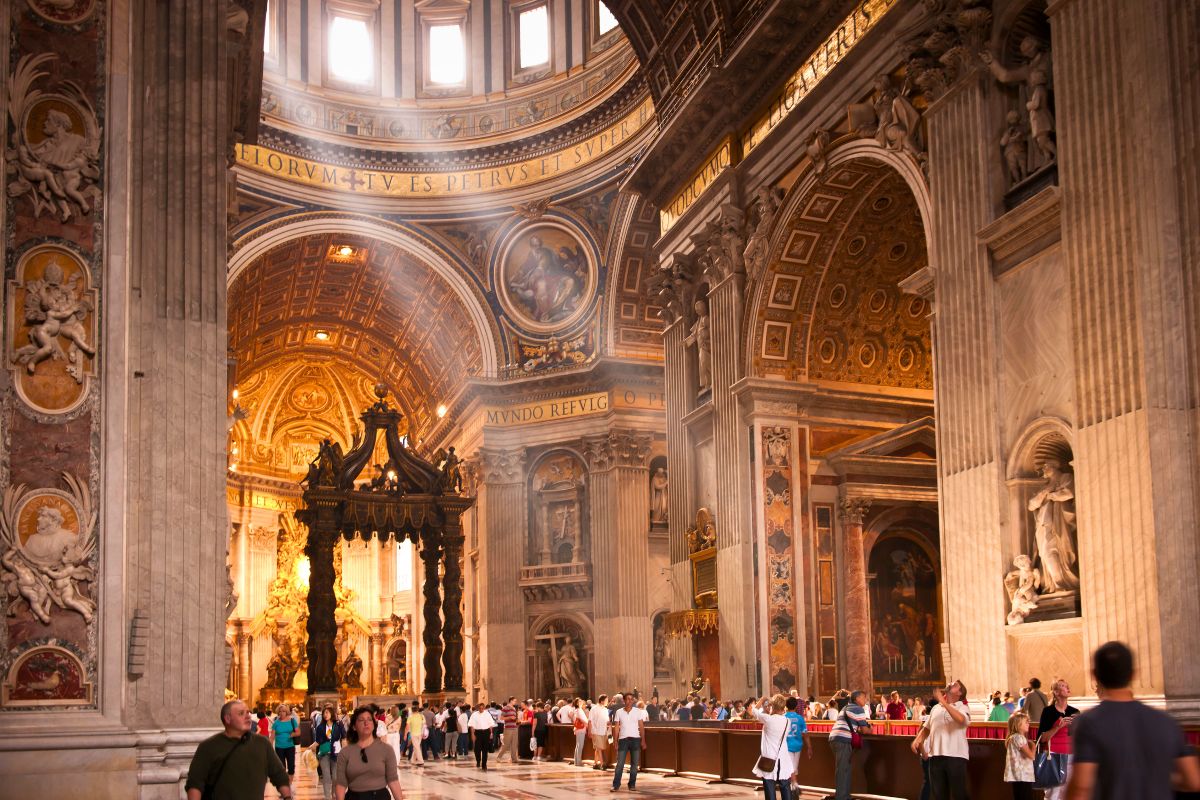 Are you wondering why people book St. Peter's Basilica tickets in advance even though admission is free of charge? The answer is simple — to skip the line and save lots of time!
Learn how to avoid the crowds at one of Rome's busiest attractions with St Peter's Basilica skip the line tickets and guided tours to spend your holidays enjoying the sights instead of waiting in line.
Vatican City is undoubtedly one of the biggest highlights of any visit to Rome, and getting to see St. Peter's Basilica is an absolute must – so give yourself peace of mind with great deals on tickets and guided tours to experience the best of this beautiful historical and cultural gem.
St. Peter's Basilica dates back to the 16th century and is one of the holiest Christian sites. If you have the endurance to climb the 551 stairs to the top of its dome, you can enjoy breathtaking views overlooking the city of Rome.
Go ahead and book your St. Peter's Basilica skip-the-line tickets now, or continue reading for more details about booking St. Peter's Basilica tickets and tours.
How much do St. Peter's Basilica tickets cost?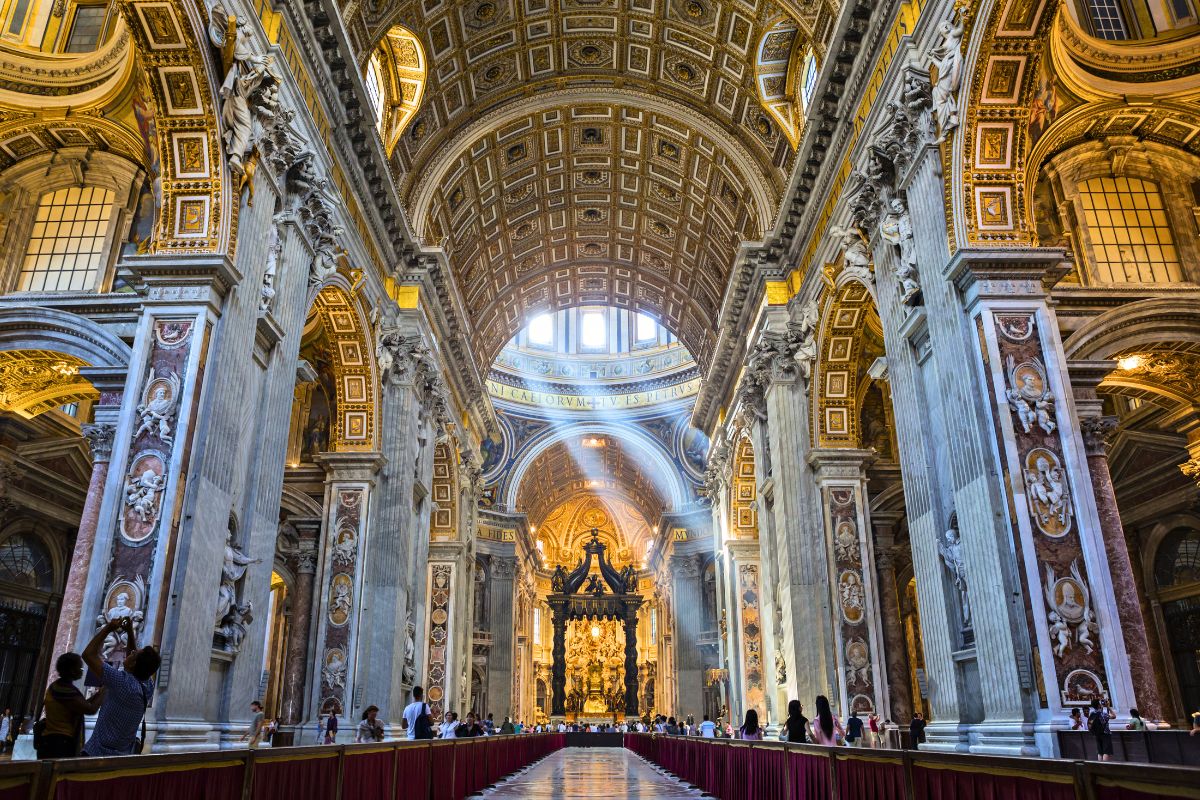 Good news! St. Peter's Basilica tickets are free.
However, if you wish to climb the dome of St. Peter's Basilica, you will need to pay €8 to use the stairs or €10 for an elevator ride halfway up.
You also have the option to book a St. Peter's Basilica tour, which includes the ticket price and a guided visit to the Dome, Papal Crypts, Sistine Chapel and Vatican Museums.
You can find St. Peter's Basilica tours starting at €35.
How do you skip the line at St. Peter's Basilica?
Knowing how to skip the line is important if you want to make the most of your time. St. Peter's Basilica is very popular and free to enter, so you may have to wait in line for up to two hours if you don't know how to skip the line.
Those waiting in line for hours didn't take the time to research ahead of time like you. Unfortunately, there is no way to skip the security line. However, you can skip the ticket line for the St. Peter's Basilica Dome Climb by booking your tickets online in advance.
You can find tour packages to skip the line from dozens of different online providers. Searching through them all can be overwhelming and time-consuming. That's why TourScanner compiles all the offers to make it easier for you to book and compare prices.
Are St. Peter's Basilica tours worth it?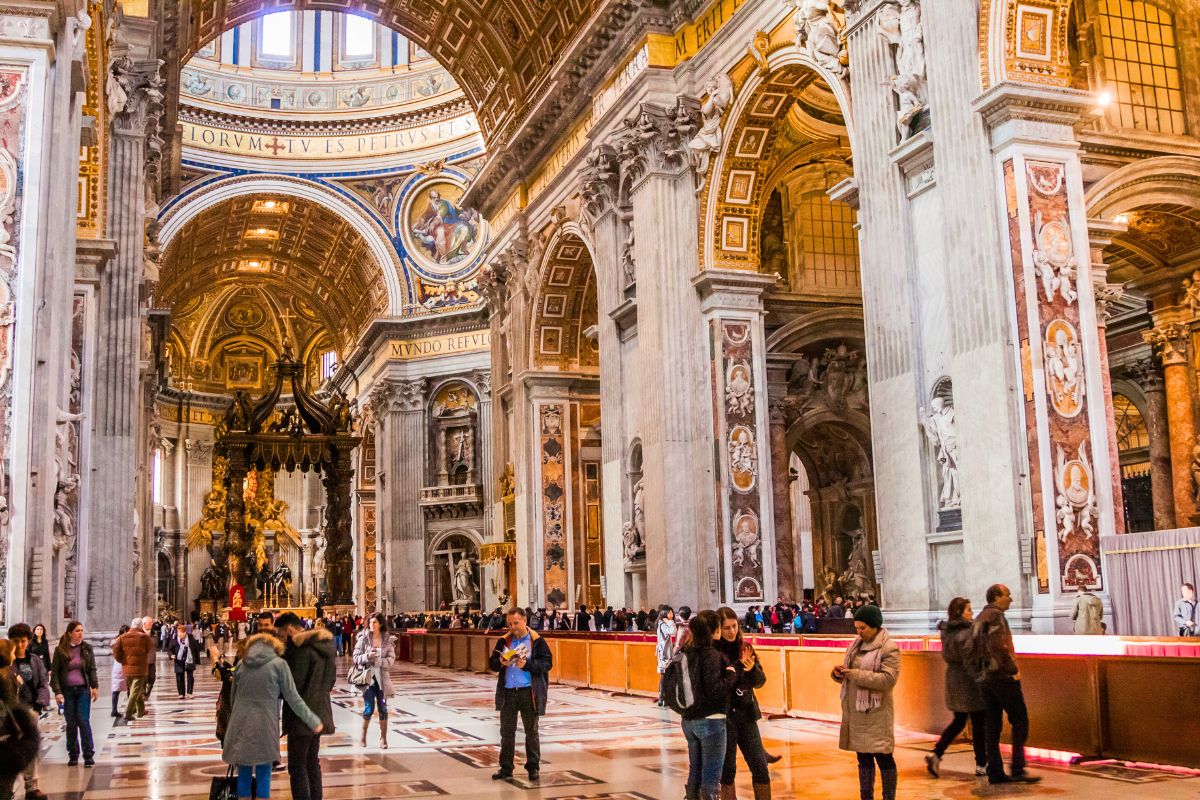 Yes! Guided tours of St. Peter's Basilica are the best way for you to see this historical monument. You will have a more personal experience, along with many other advantages.
You skip the line – Although everyone must pass through the security check, you won't need to wait again in the ticket line if you are visiting as part of a tour.
You will learn more – Your tour guide will be there to provide the historical context vital for fully appreciating the art and architecture of the Basilica. Your guide will also ensure you don't miss the most important sights and answer any questions you may have.
You can pick the best tour for you – From group tours to private tours, and audioguide tours to family-friendly tours, there are so many options to choose from. Our search tool makes it easier to find the tour that best fits your needs and budget.
What are the best St. Peter's Basilica tours?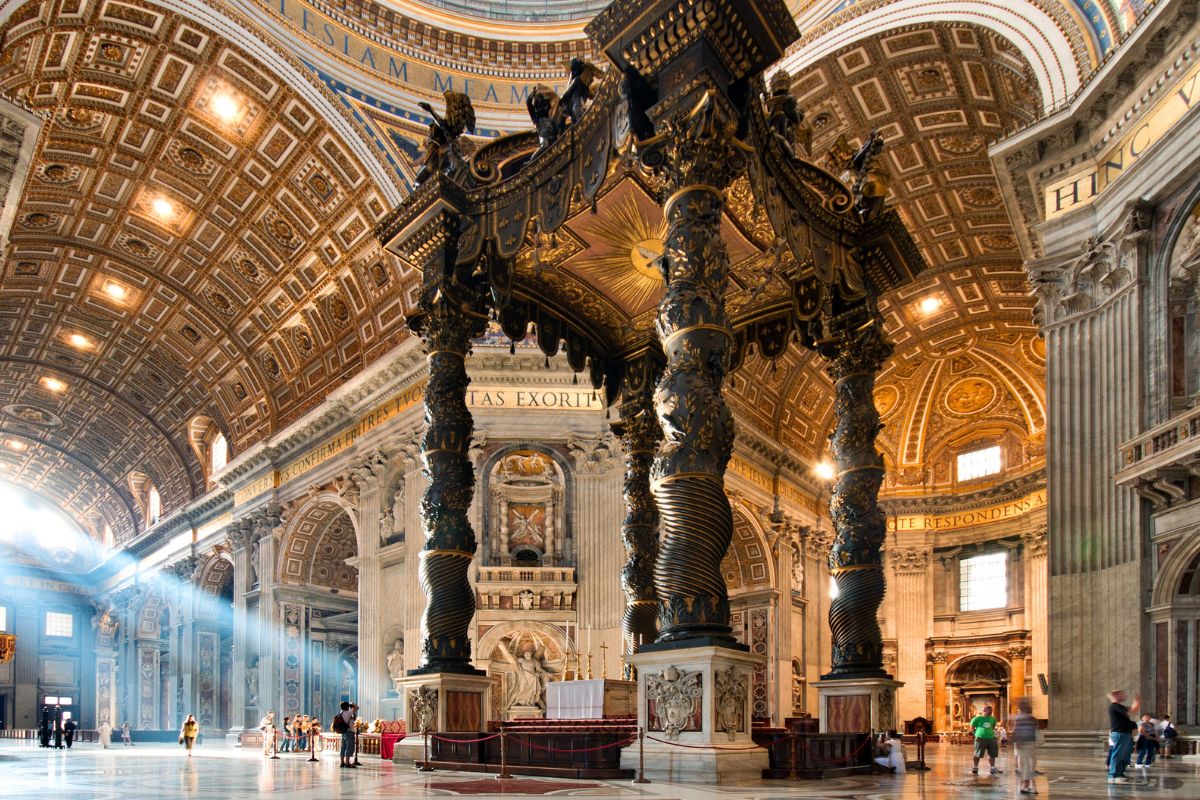 Audioguide tours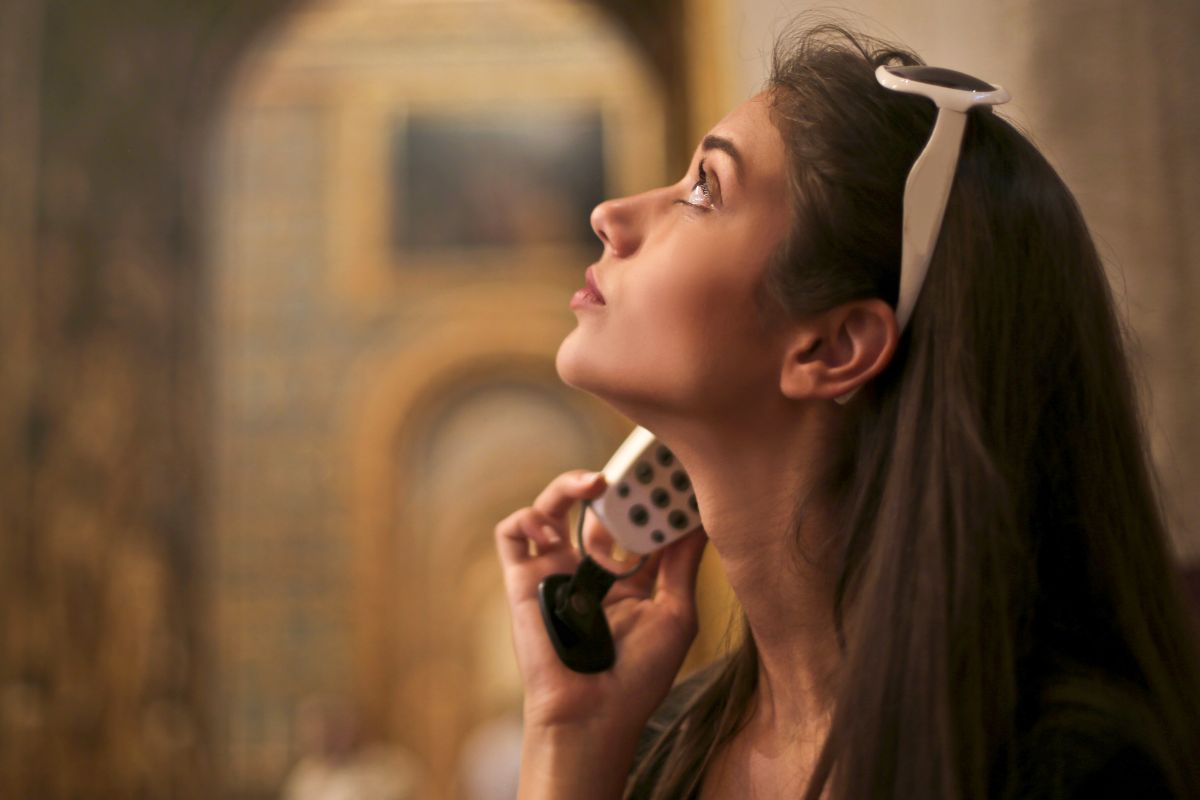 Skip the ticket line and head straight into St. Peter's Basilica at your own pace with an audioguide to lead you around the church and provide insightful historical context for the incomparable paintings and works of architecture all around you.
Group tours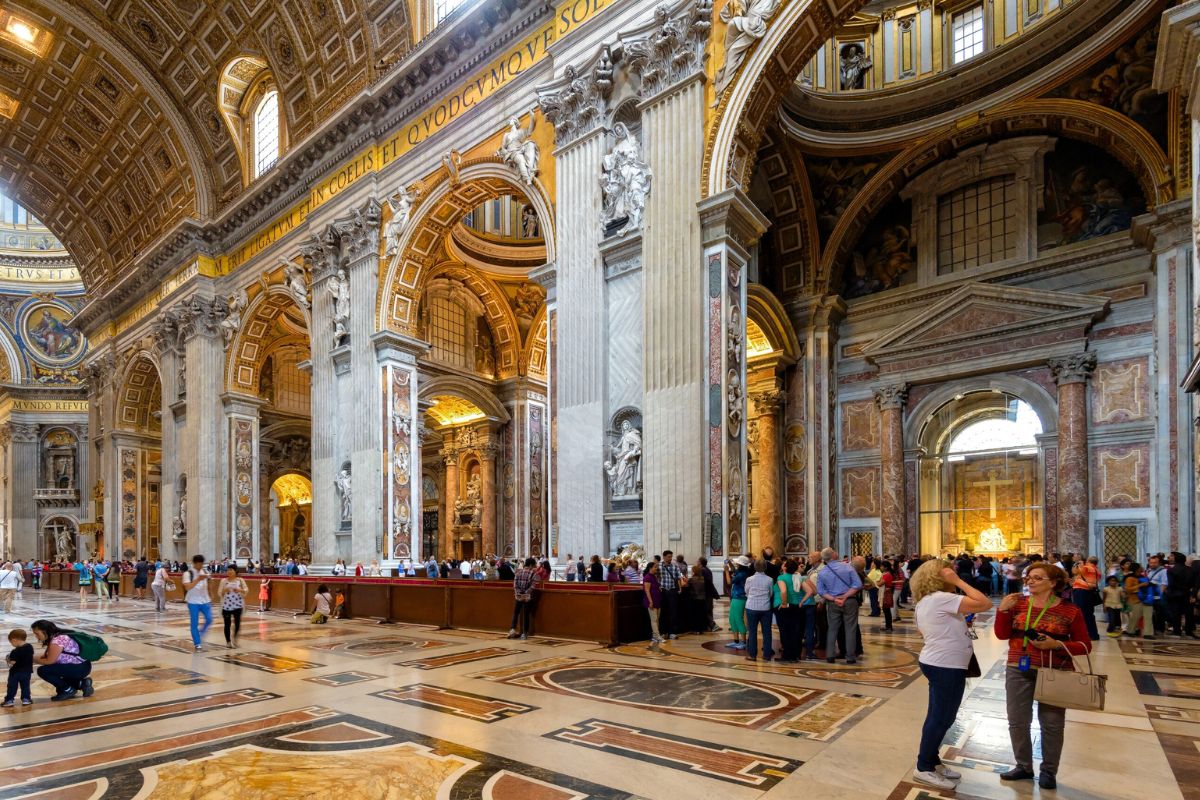 On St. Peter's Basilica group tours, you have a guide to ensure you don't miss the most impressive works of art and that you fully appreciate the historical importance of each piece.
Although there is certainly plenty to see at the Vatican for an entire day, you can also book a half-day or full-day tour that includes other important sights in Rome, such as the Colosseum and Roman Forum or the Catacombs of Rome.
A great benefit of guided tours is that they include true skip-the-line access. Even skip-the-line tickets have a fast-track line to wait in. However, most guided tours will skip both the normal and fast-track lines to take you directly into the Vatican Museums and other sites.
This is especially important during the high season when both lines can get very long.
Private tours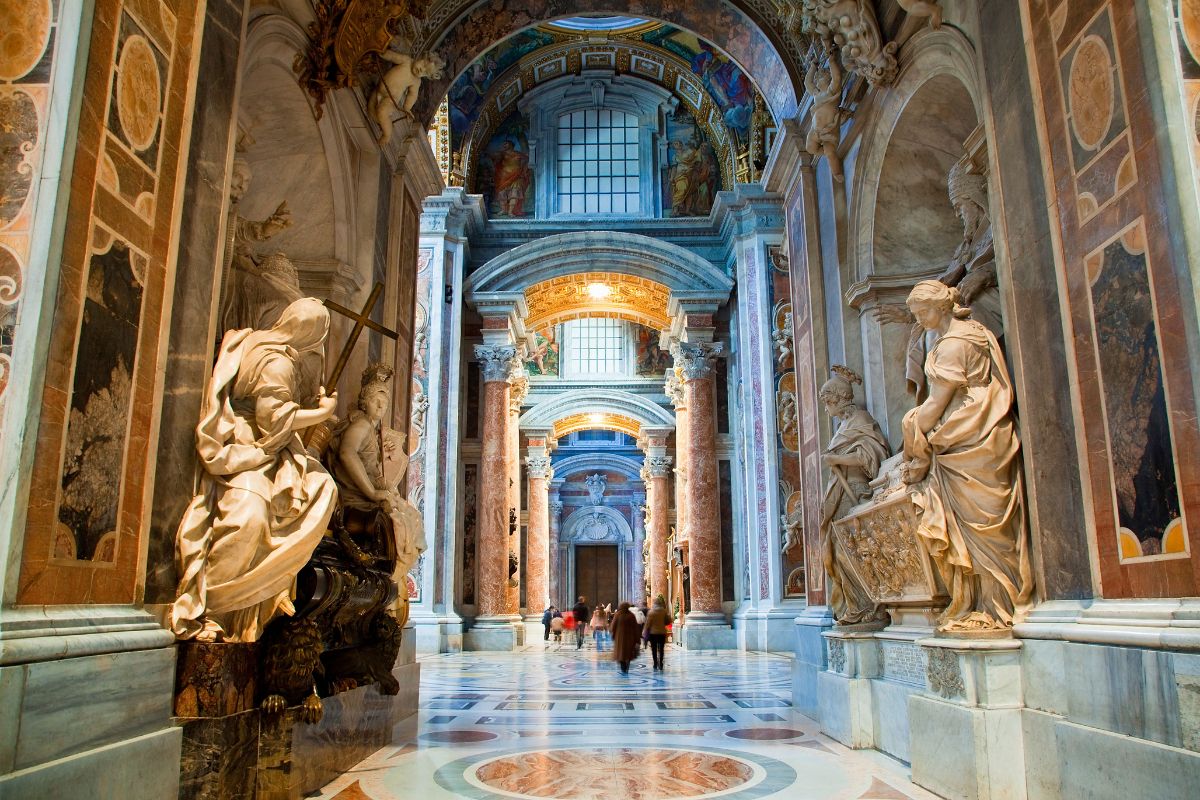 If you're looking for a more personalized experience, then St. Peter's Basilica private tours with your very own guide are just the thing. The tour can focus on what you're most interested in, from specific works of art and architecture to the rich cultural and religious history hidden around every corner.
You can choose from small group tours of up to 10 people, semi-private tours of up to 6 people or private tours exclusively for your own group. With a small group, you will have a more personal experience and be able to appreciate St. Peter's Basilica at your own pace.
Private tours can be combined with visits to other sites, such as the Vatican Gardens, Vatican Museums and the Sistine Chapel. You can also choose from tours lasting only a few hours or half-day and full-day tours with pickup directly from your hotel.
Are St. Peter's Basilica tickets included in any attraction city passes?
Yes, you can use the Omnia pass to visit the Vatican Museums (including St. Peter's Basilica).
What will you see inside St. Peter's Basilica?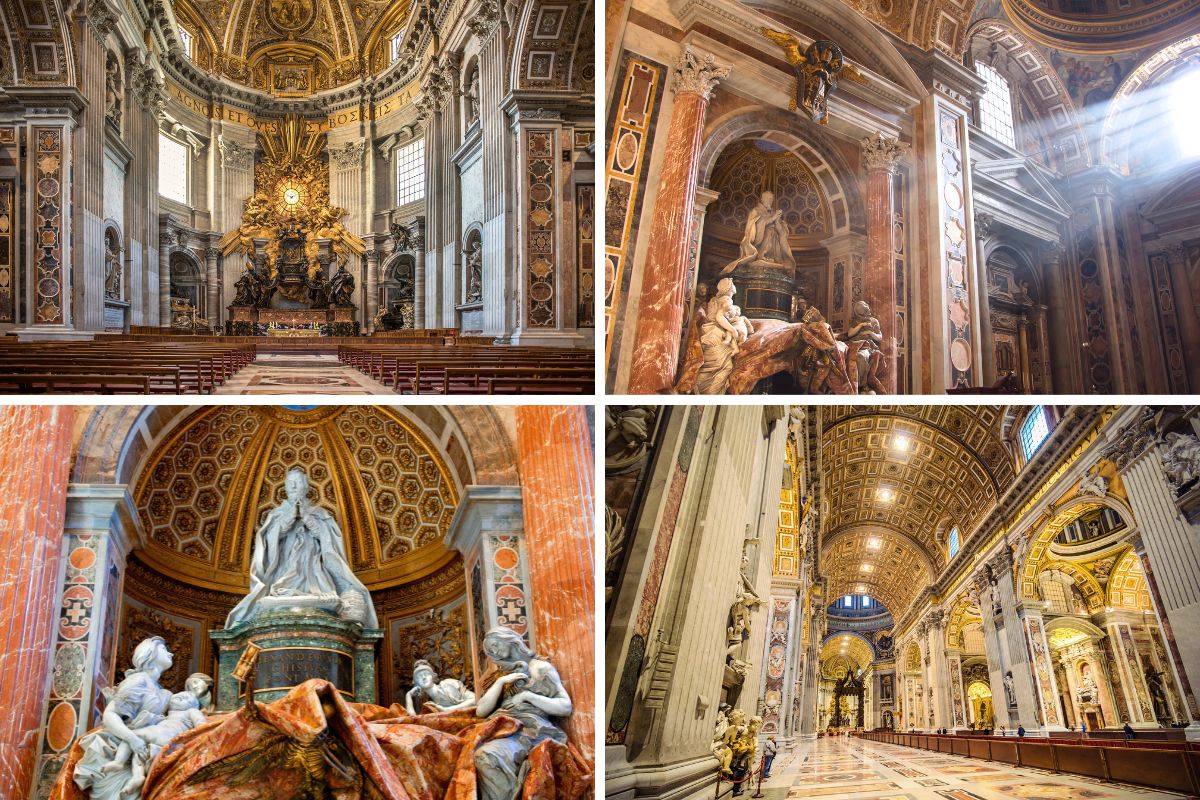 Standing tall and wide as the largest church in the world. This impressive feat of Renaissance architecture covers over 23,000 square meters. By law, its dome is the tallest building in Rome and reaches a height of 136 meters.
Besides appreciating the size and intricacy of the architecture, you will also be able to appreciate frescoes and sculptures — the most well-known being Michelangelo's "La Pietà." This masterpiece is all the more impressive considering that he carved it when he was only 24 years old!
Another highlight is Bernini's baldachino, which is a canopy directly under the dome to mark the burial site of Saint Peter. Christians will call to mind Jesus's reference to this in the Bible when he proclaimed, "you are Peter, and on this rock, I will build my church" (Matthew 16:18).
Bernini constructed four bronze columns that sit on marble plinths and reach a height of 20 meters to mediate the vastness of the church to the human scale, much like Jesus mediated the glory of God for humanity.
Please be aware that St. Peter's Square and the Basilica are inaccessible on Wednesdays until noon due to the weekly Papal Audience. If you plan to visit on a Wednesday, you can buy separate tickets to attend the Papal Audience.
There are several levels within St Peter's Basilica, so it's worth taking the time to explore all of them, to see everything there is to discover here.
Underground, you will find the Vatican Grottoes and Necropolis, where you will find St. Peter's tomb, and a large underground graveyard, which is the resting place of 91 former popes.
One of the most worthwhile parts of St Peter's Basilica is the Cupola, or dome. Standing over 450 feet tall, it is an impressive sight. Designed by Michaelangelo, it features beautifully detailed mosaics and boasts some incredible views.
It's worth climbing the stairs to the top if you are not put off by the tall, narrow flight of stairs. The views are well worth the effort. Besides the unique perspective of looking across the nave of the Basilica, you can also enjoy breathtaking panoramic views over the city of Rome. Don't hesitate to book your tickets or tour to climb St. Peter's Dome.
What else will you see inside the Vatican?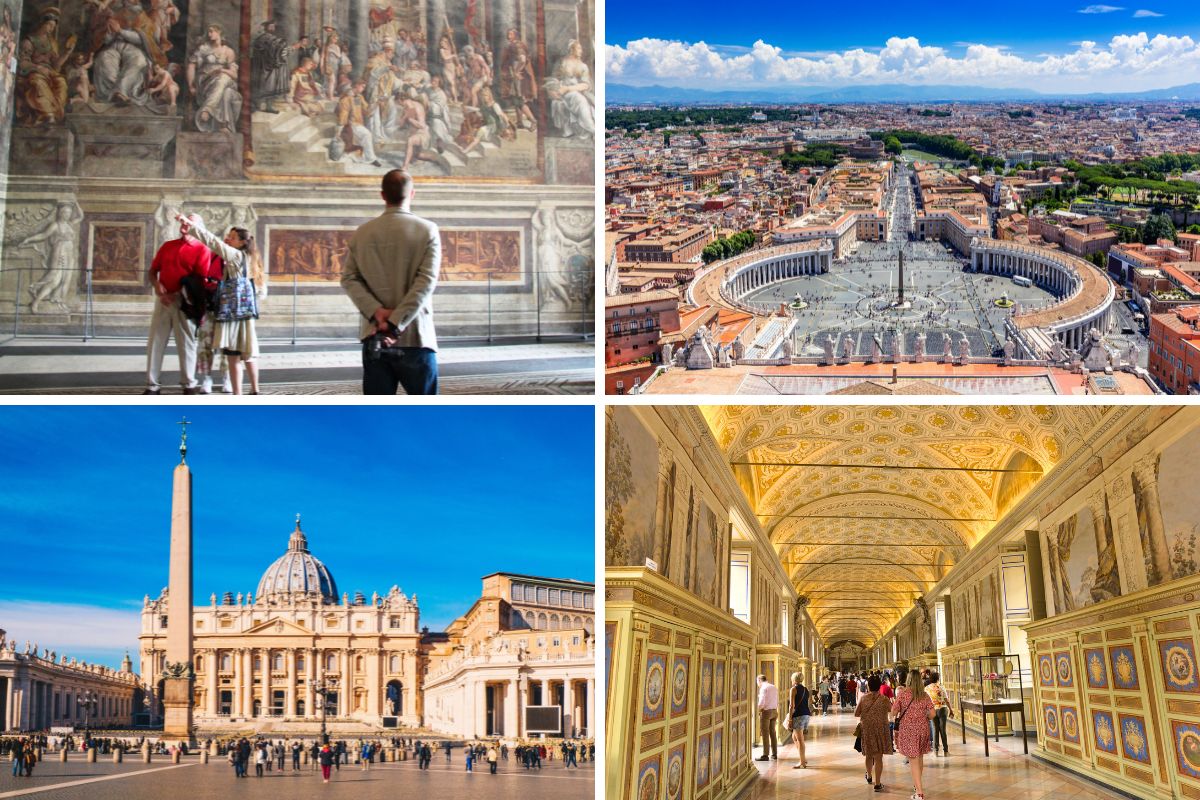 Besides St. Peter's Basilica, you can also visit the Sistine Chapel and explore dozens of collections in the Vatican Museums. Here you will find on display contemporary and classical works of art by the best painters and sculptors to have ever picked up a brush or chisel.
Over 6 million people visit the Vatican Museums each year, making it one of the most visited art museums in the world. You could spend weeks or even months exploring all the works in the museums. However, if you only have a day, be sure you don't overlook the masterpieces described below.
The Sistine Chapel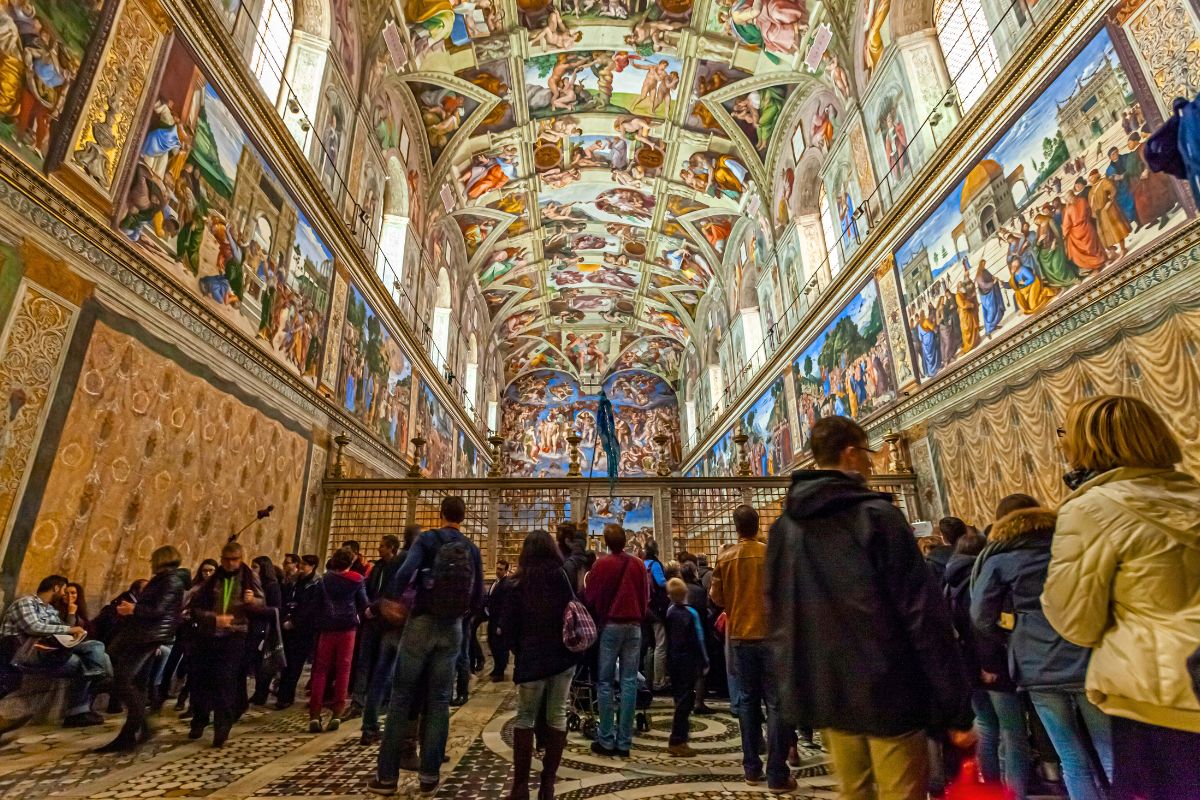 You will come across some of Michelangelo's most enduring works here. One of the most recognizable is "The Creation of Adam," where you can see God reaching out his finger to humanity. This iconic image is just one part of a series of murals that spans 40 meters across the ceiling.
In front of you, covering the entire altar wall, is Michelangelo's unparalleled fresco, "The Last Judgement." This masterpiece is 14 meters tall and stretches 12 meters wide, with over 300 figures depicting the Second Coming of Christ.
Despite its historical significance and artistic value, this chapel still serves as the location for the papal conclave. This centuries-old tradition involves cardinals gathering to select a new pope. People from all over the world come to observe the smoke from the chapel's chimney, waiting for the moment when white smoke emerges to announce the selection of a new pontiff.
The Raphael Rooms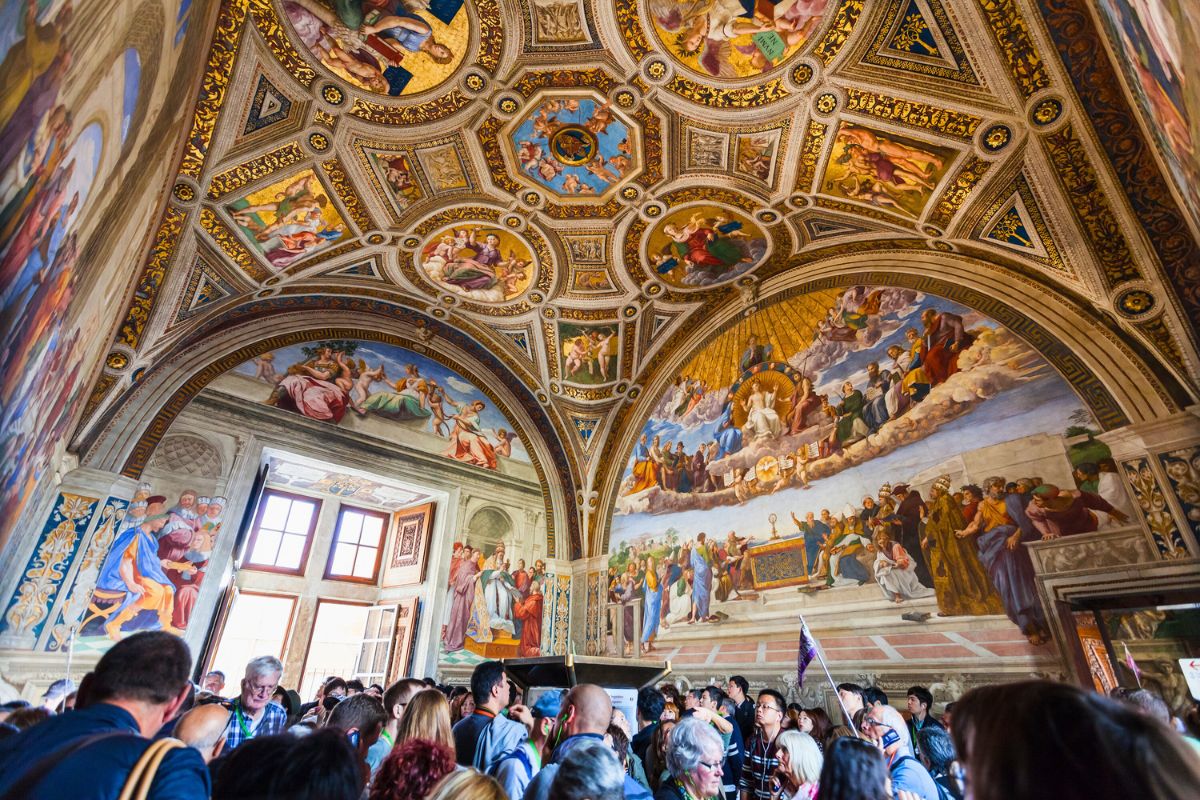 The great Renaissance artist Raphael's masterpieces are displayed in four grand rooms here. Each room is adorned with giant frescoes depicting mythological and historical events on the walls and ceilings.
One of the most famous paintings here is The School of Athens. If you look closely, you can spot Raphael's self-portrait, as well as portraits of some of the brightest minds from antiquity and his own time, including Da Vinci, Michelangelo, Plato, and Aristotle.
Vatican Gardens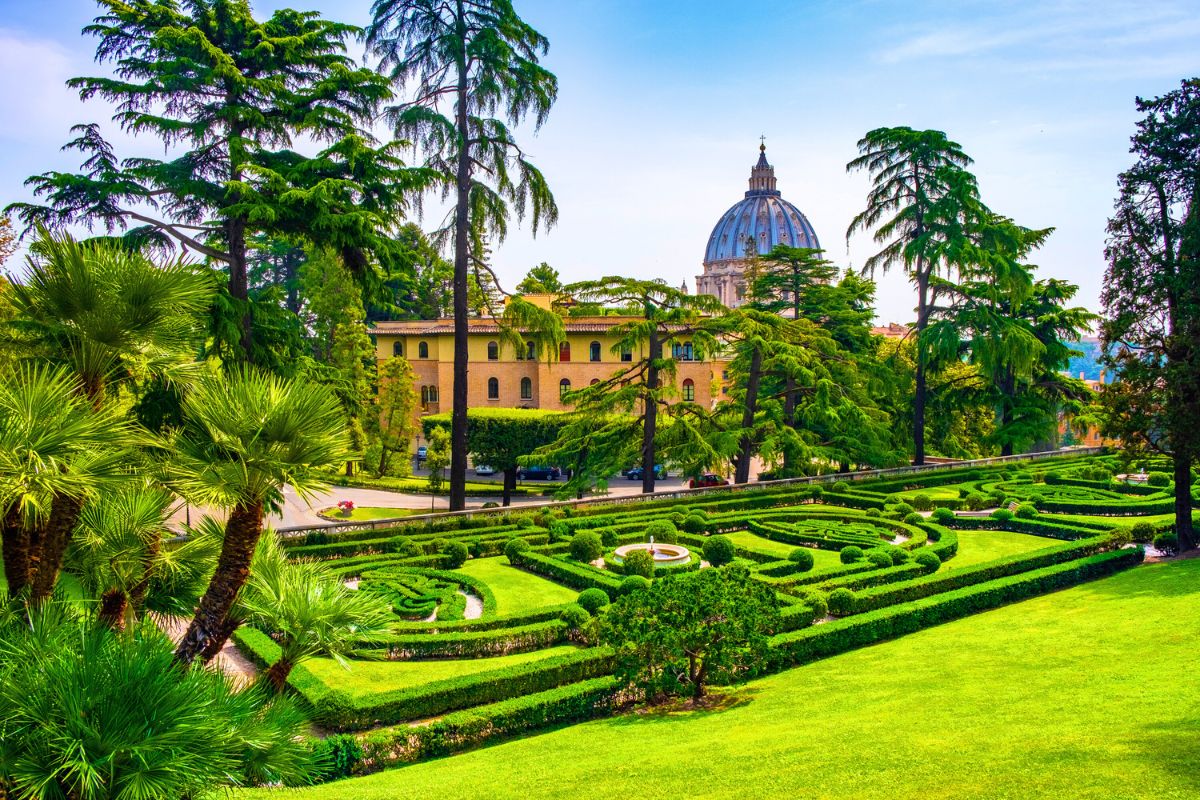 Although the Vatican Gardens are not part of the Vatican Museums, you can book guided tours that include the gardens with your visit to the rest of the Vatican. This is actually the only way to visit the Vatican Gardens, as you cannot explore the gardens on your own, but only as part of a guided tour.
The Vatican Gardens cover 23 hectares, which is about half the area of the entire Vatican! Legend has it that the gardens were founded with soil transported from Mount Calvary, where Jesus Christ and thousands of early Christians were once crucified.
Pope Francis only opened these gardens to the public in 2014, so it is a rather new opportunity for you to be able to see this more secluded area of the Vatican. Besides its statues and fountains, a highlight of the gardens is the collection of Blessed Virgin Mary shrines. Countries from around the world have been gradually adding to the collection since the early 20th century.
What are St. Peter's Basilica's opening times?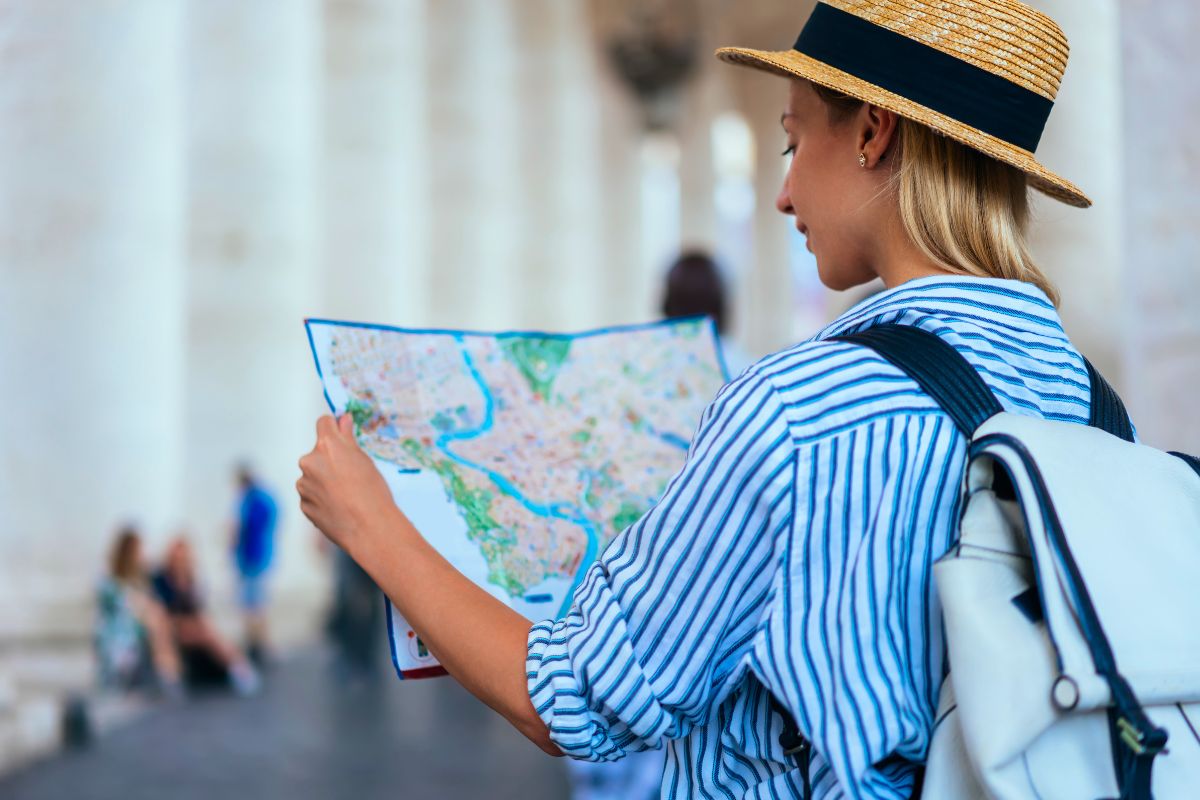 St. Peter's Basilica is open daily from 7 AM to 7 PM from April to September. However, from October to March, it closes one hour earlier.
The dome of St. Peter's Basilica opens one hour later and closes one hour before the church itself. In other words, the dome is open from 8 AM to 6 PM for most of the year.
Please be aware that St. Peter's Basilica closes for special events. For example, on most Wednesday mornings, St. Peter's Basilica is closed to the public until 12 PM for the Papal Audience. For more information check the complete guide on Papal Audience tickets, tips & schedule.
What is the best time to visit St. Peter's Basilica?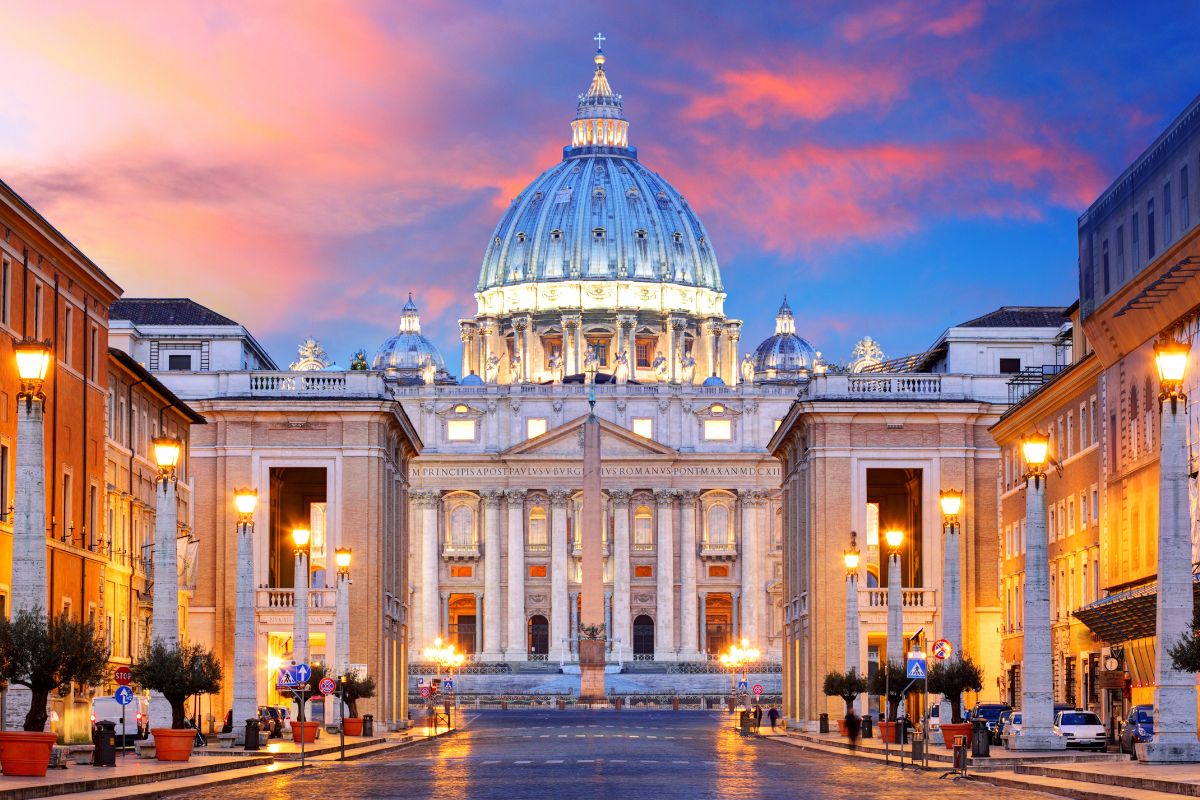 The early morning or late afternoon is the best time to visit St. Peter's Basilica. This is when there tends to be fewer people. Just make sure you take into account the final permitted entry of the day.
St. Peter's Basilica is exceptionally busy during the peak seasons of April to May, and July to October. It also gets very popular during important Christian holidays.
Weekends, especially the final Sunday of the month, are also much busier than weekdays.
Travel tips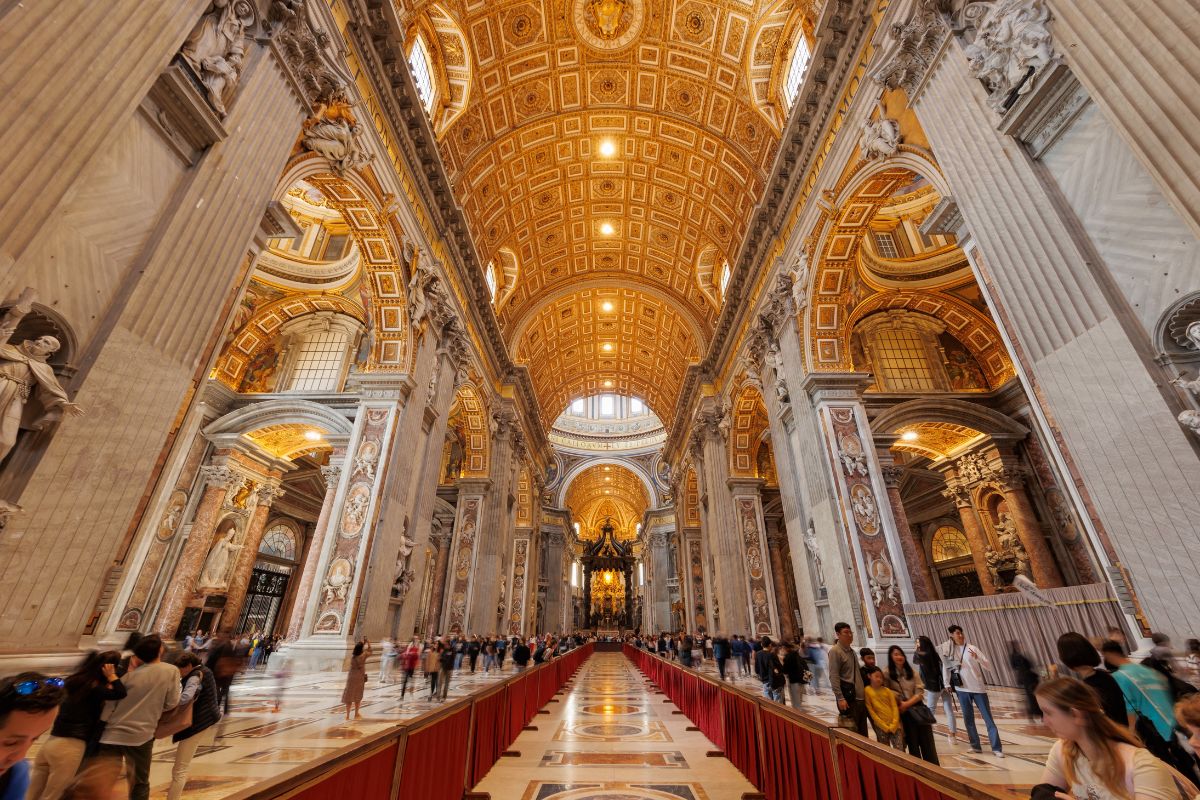 Book in advance. Guided tours to visit St. Peter's Basilica sell out fast. You can also save a lot of time by not only purchasing tickets in advance but also considering skip-the-line and fast-track options.
Dress appropriately. Visitors must wear appropriate clothing, which means no sleeveless shirts, low-cut shorts/dresses or hats.
Avoid Christian holidays. St. Peter's Basilica and the Sistine Chapel receive much more visitors during holidays like Easter and Christmas. The last Sunday of the month is also very busy because the Vatican Museums and the Sistine Chapel are free to enter.
Wear your walking shoes. Whether you plan to climb the 500-plus stairs to the top of St. Peter's Basilica or you'll just be wandering around Vatican City, there's no way to avoid lots of walking.
Bring cash. If you are planning to climb the St. Peter's Basilica dome and you haven't purchased a ticket or tour in advance, don't forget to bring cash. Card payments are not accepted.