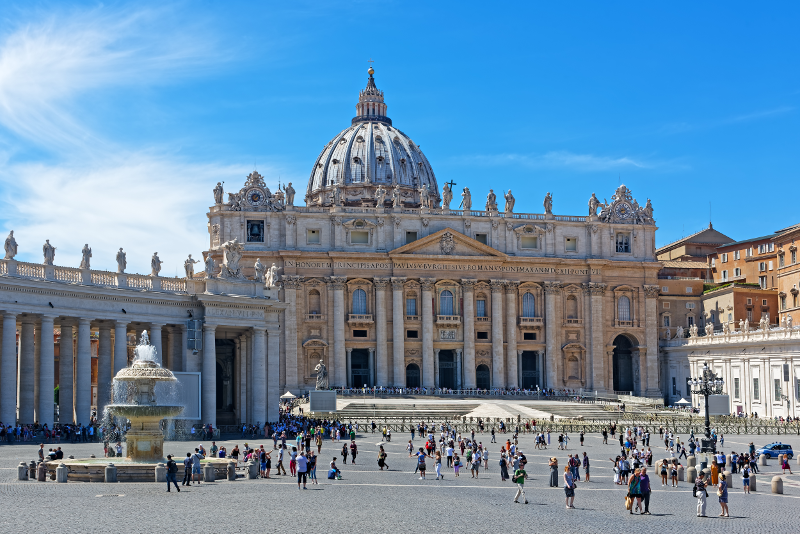 Wondering why many visitors book St Peter's Basilica tickets in advance even though admission is free of charge? The St Peter's Basilica is one of Rome' busiest attractions and the waiting line is incredibly long. Learn how to beat the queues with skip the line tickets and guided tours so you can save your precious holiday time.
Vatican City is undoubtedly one of the biggest highlights of any visit to Rome, and getting to see St Peter's Basilica is an absolute must – so give yourself peace of mind with great deals on tickets and guided tours to really experience the best of this beautiful historic and cultural gem.
Built in the 16th century and festooned with artistic masterpieces inside, St Peter's Basilica is one of the holiest places in the Christian world, and a beautiful, fascinating place to visit and explore. And with some of the most incredible views available across the city from its dome, it's a truly memorable place to add to your trip.
Don't feel like reading ahead? Book your St Peter's Basilica skip the line tickets right now.
How much do St Peter's Basilica tickets cost?
General entry to St Peter's Basilica is free of charge.
To enter the St Peter's Dome, you can either climb the stairs directly, which costs €6, or take an elevator half way to the top, and climb the remaining stairs, which costs €8.
How do you skip the line at St Peter's Basilica?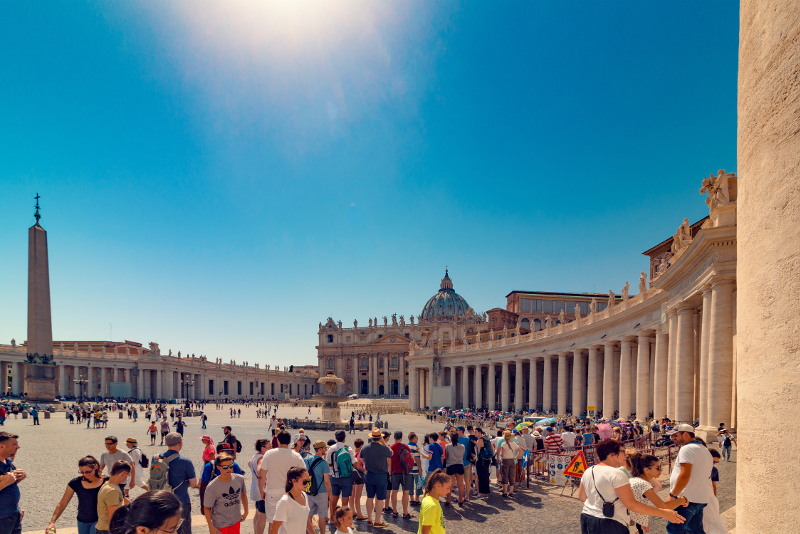 Entry to St Peter's Basilica is free, however you will ordinarily have to wait in line to enter and pass through security. Waiting time can be up to 2 hours during peak season.
But don't worry, there are several ways to skip the line at St Peter's Basilica, such as renting an audioguide, booking a guided tour or purchasing a city pass.
For your information, there are many resellers that offer such services. We strongly recommend you to compare prices between providers before making a purchase as discounts and deals are often available and can save you some money.
Option 1: rent an audioguide
Enter the Basilica with a skip the line ticket and visit the St Peter's Basilica at your ease following the explanations of your audioguide. You will receive the instructions in a separate e-mail with your tickets so you can download your audioguide in your phone. This is the cheapest option to skip the line.
Option 2: book a guided tour
With a local tour guide by your side, skip the line and dig deep into the history and art of the St Peter's Basilica. There are many guided tours available including morning guided tours, small group tours, private tours, guided tours with Dome climb to name a few. This is a great option if you wish to skip the line and enjoy a VIP experience.
Option 3: purchase a Rome city pass
Most of the Rome cty passes include skip the line tickets for the St Peter's Basilica. Pick the right city pass depending on what attractions you wish to visit and the duration of your trip in Rome. Booking a city pass is a great option to save time and money when traveling in Rome.
What will you see?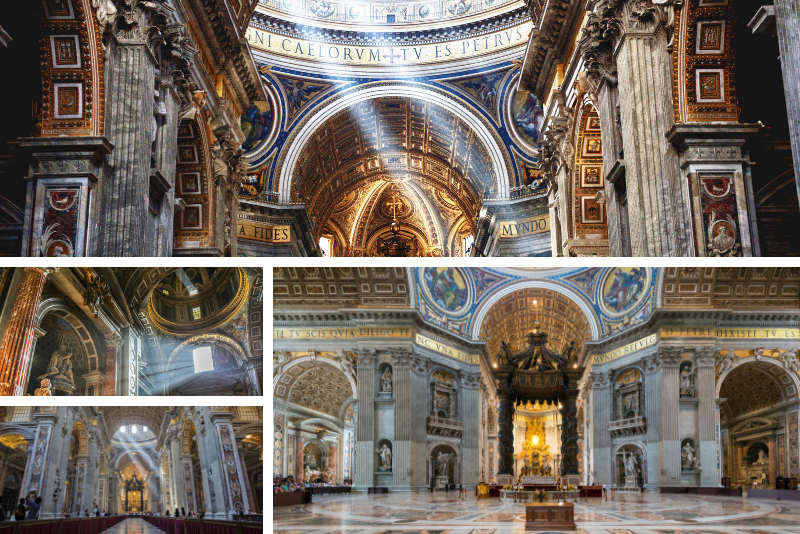 St Peter's Basilica was built in the 16th century and is one of the holiest shrines in the Catholic world, created around the tomb of St Peter. The building itself is an example of stunning Renaissance architecture, and is one of the largest churches in the world, with one of the tallest domes in the world as well. It goes without surprise that this vast and stunning building dominates the skyline of Vatican City, and is impressive to see at any time of the day, or night – when the area of Vatican City is dramatically lit up.
There are several levels within St Peter's Basilica so it's worth taking the time to explore all of them, to see everything there is to discover here. Underground, you will find the Vatican Grottoes and Necropolis – here you will find St Peter's Tomb, and a large underground graveyard, which is the resting place of 91 past Popes.
Inside the main hall of the Basilica, you can see many famous artworks, paintings and sculptures, including one of the most famous carvings created by Michaelangelo, the Peita. Carved from a single slab of marble, this impressive piece is kept protected behind bulletproof glass. Outside in the courtyard meanwhile, are over 100 3-metre tall carved statues of various saints, and make an impressive sight.
One of the most worthwhile parts of St Peter's Basilica is the Cupola, or dome, and standing over 450 feet tall, it is an incredible sight to take in. Designed by Michaelangelo, it features beautifully detailed mosaics across the surface of the ceiling and dome, and boasts some incredible views. It's worth climbing the stairs to the top, if you are not put off by the tall, narrow flight of stairs. The rewarding views are well worth it – as well as getting a unique view across the nave of the Basilica itself, you can also enjoy breath taking panoramic views across Rome on a clear day. Click on the following link if you are looking to book St Peter's Basilica tours with Dome climb. 
What is the best time to visit St Peter's Basilica? How can you beat the crowd?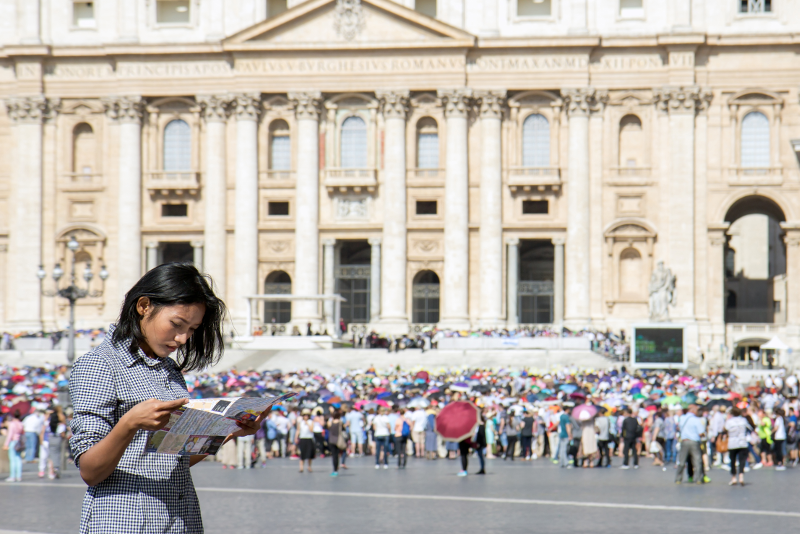 St Peter's Basilica is an extremely popular destination with tourists all year round, but it is extremely busy during peak seasons of April – May, and August – October, and during Christian holiday periods. It is also busiest on Saturdays, with high volume of visitors.
To avoid the crowds, it's best to visit the St Peter's Basilica early morning or late afternoon, closer to closing time.
What are St Peter's Basilica's opening hours?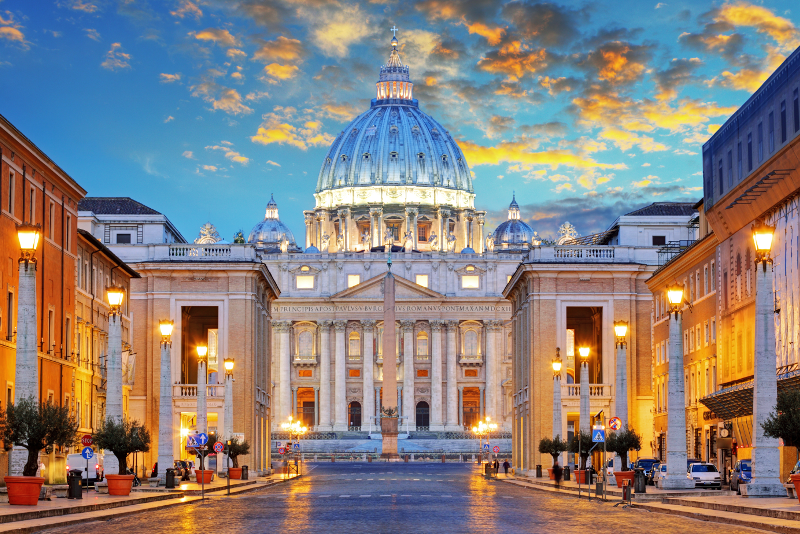 St Peter's Basilica is open to visitors every day, from 7 am to 7 pm between April to September, and from 7 am to 6 pm between October to March. The Cupola is open an hour later, and closes an hour before the Basilica's closing time.
On Wednesdays, the Basilica is closed until 12 pm on the days that the Pope holds a Papal Audience.
Travel tips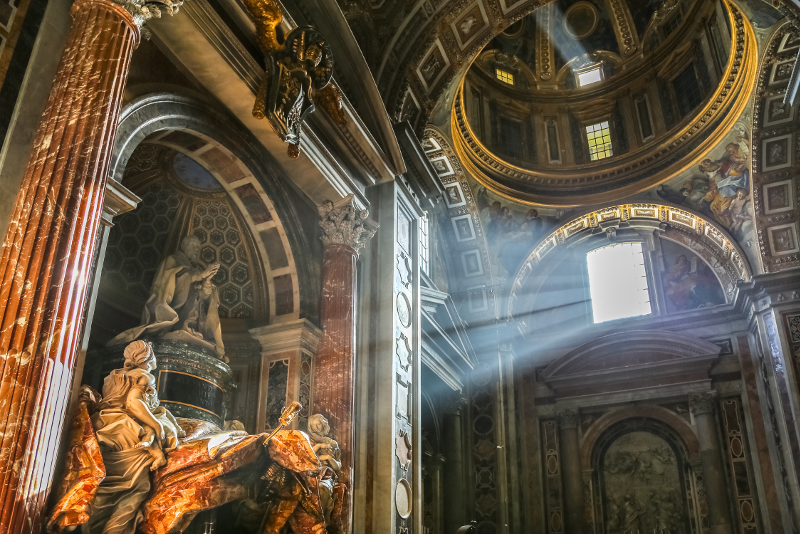 As St Peter's Basilica is a religious institution, make sure that you dress appropriately before your visit. Both men and women should be covered from shoulders down to knees – you will not be allowed in otherwise, even if you have been waiting in line.
Avoid religious holidays including Easter and Christmas periods, as they will be extremely overcrowded and busy. The Pope holds a Papal Audience every Wednesday morning when he is in Rome and these can get very crowded. The main Basilica will be closed on these days during the morning until 12pm.
If you are planning to visit the Cupola and want to take the elevator or the stairs, please make sure you have cash available to purchase a ticket on the day, if you do not have an advance ticket booked already. Card payments are not accepted.