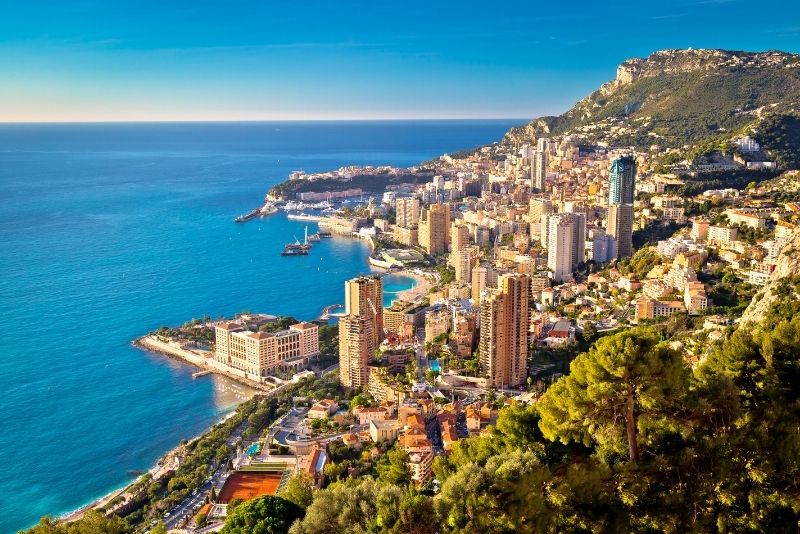 Monaco is the place where glamour and sophistication meet, flanked by the sun-kissed shores of the French Riviera. No other city (well, principality, technically) in the world can match Monaco's reputation for luxury — a reputation that precedes it by decades.
For its size, the infamous Monte-Carlo is home to more millionaires than any other region in the world. If you're looking for nightlife, people watching or shopping, there's no better destination than Casino Square in Monte-Carlo; and when it comes to casinos themselves, none are as iconic as Casino de Monte-Carlo.
In this European beacon of high-class, there remains something for everyone: from museums and galleries to restaurants and nightclubs; from historic landmarks like the Prince's Palace and Monaco Cathedral to immaculate beaches; from glamorous shopping opportunities on Rue Princesse Caroline to upscale boutiques at the Metropole Shopping Monte-Carlo.
As you'll quickly discover, the list of things to do in Monaco is far more diverse than you might imagine.
1 – Spot the sharks at the Oceanographic Museum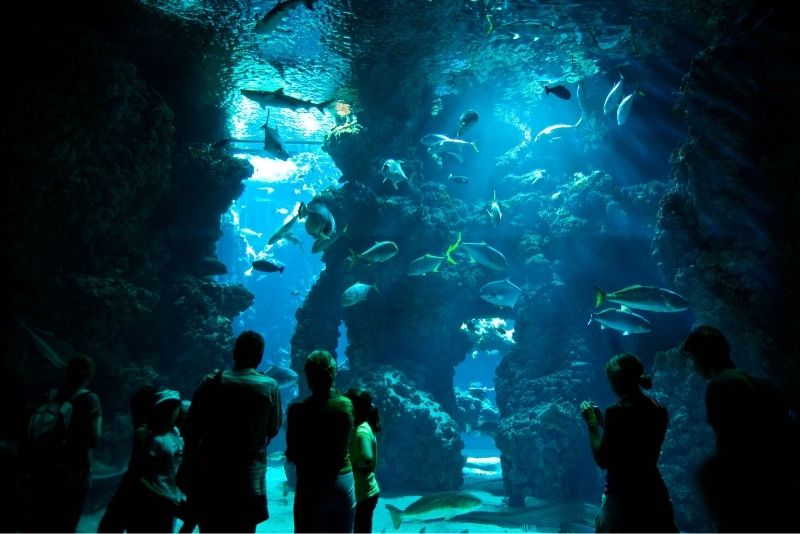 Playing host to some 2000 vibrant, playful, and sometimes a little intimidating species, the Monaco Oceanographic Museum is a surefire delight for adults and kids alike.
Sittin on the iconic Monaco Rock, just behind vibrant Old Town, the century-old museum not only displays some of the most beautiful and rare marine specimens on the planet through exhibits like the 6-meter-high shark lagoon and adorable Turtle Island, but also offers unique educational experiences and guided tours.
2 – Wander the halls of the Palais du Prince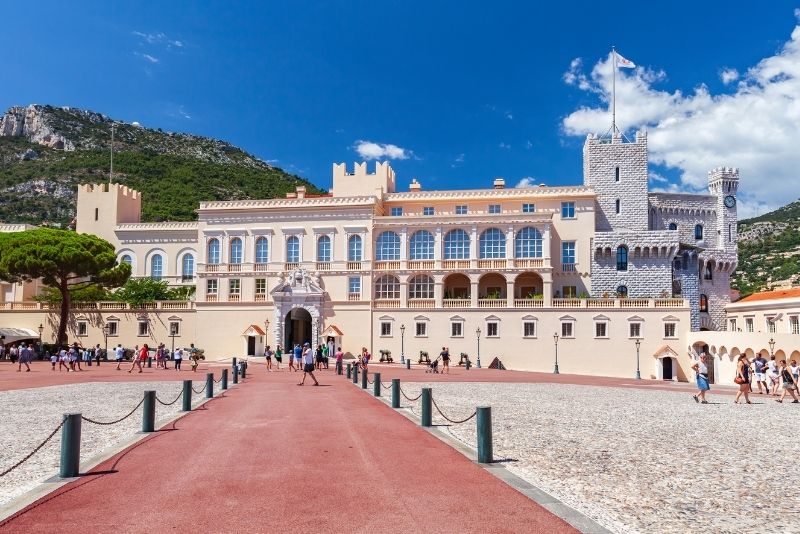 Built all the way back in 1215, this near-millennia-old building is easily one of the most visited attractions in Monaco — a royal residence, history lesson, and museum all in one.
Featuring dozens of lavish rooms spanning across its marble-lined floors, guests can admire priceless works of art and learn all about the Prince's Palace's fascinating history via the included audio tour.
If visiting during the summer, be sure to wander through the palace's courtyard, where open-air concerts by the Monte-Carlo Philharmonic Orchestra often take place.
Hit tip: For the best bang for your buck, consider purchasing combined tickets for the palace, the Oceanographic Museum, and the Prince of Monaco's car collection
3 – Be amazed by the car collection of HSH the Prince of Monaco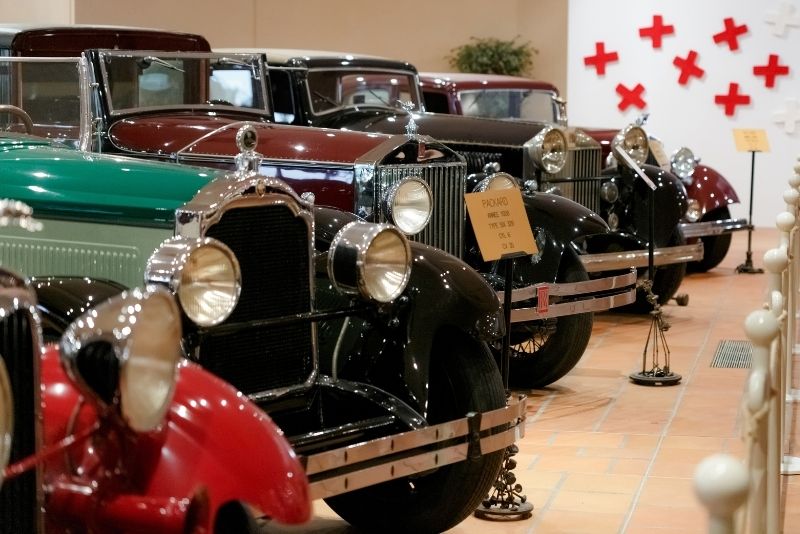 A frontrunner for the world's most expensive garage, the car collection of HSH Prince Albert II of Monaco is an impressive sight to behold.
Located in Fontvieille near Port Hercule, visitors are able to admire over 100 cars from all eras and styles curated by some of the world's most coveted brands (particularly European and American names) — Bugattis, Bentleys, Alfa Romeos, Rolls Royces, and plenty more, going as far back as the 1903 De Dion Bouton.
For all of you petrolheads out there, it's undeniably one of the essential things to do in Monaco
4 – Join a walking tour of charming Old Town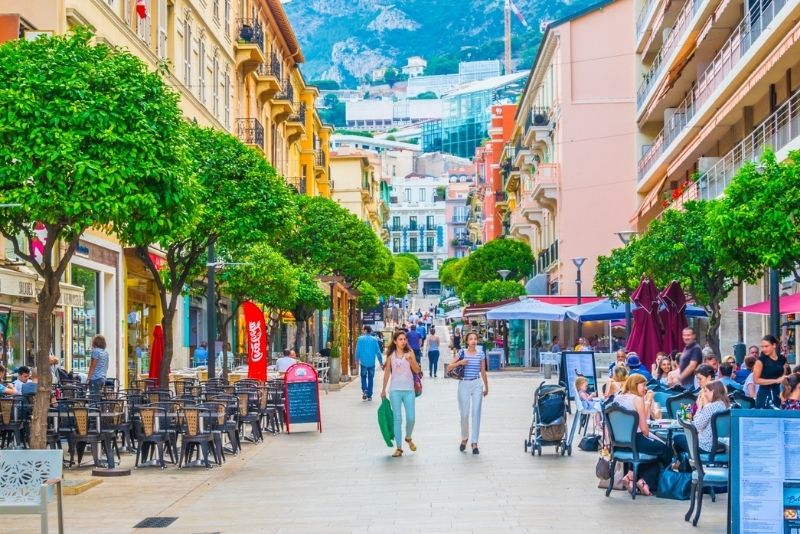 Whether you're jumping off a cruise ship for a day or exploring the region over a few, an Old Town walking tour — the oldest quarter of Monaco — is a must.
Building upon its rich history, Old Town offers an inspiring mix of charm and sophistication. With winding streets filled with stunning architecture reminiscent of the city's past, guests will be hard-pressed not to fall head over heels for this unique place.
Led by friendly, knowledgable locals, visitors will be blessed with up-close encounters with some of Monaco's most important historical landmarks, including the Chapel of Mercy, St. Nicholas Square, and plenty of small boutiques and cafes.
Make exploring the city a fun game, with a scavenger game! Download a scavenger game, where you'll follow prompts on your phone to race around the city, uncovering a variety of hidden gems, and details not otherwise seen by even the locals.
5 – Admire the Saint Nicholas Cathedral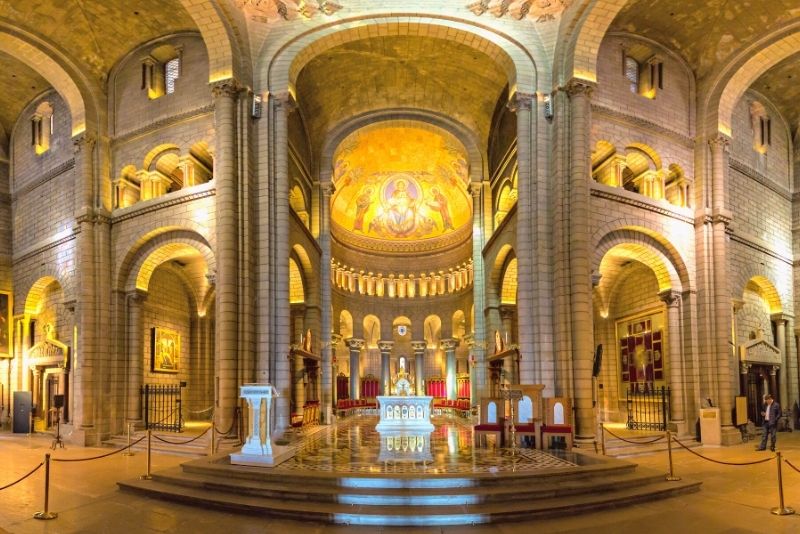 Also known as Cathédrale de Monaco or Cathedral of Our Lady Immaculate, one of the most important, recognizable landmarks in Monaco is this spectacular white-stone cathedral. Despite being built somewhat recently at the turn of the 20th century, this majestic Roman-Byzantine-style building still boasts a range of elements nodding to earlier years: namely the 16th-century altarpiece of Saint Nicolas.
Visitors are free to wander through and admire some impressive architecture evocative of many French cathedrals before taking a peek at its impressive mosaics and stained glass windows.
6 – Wander around the Exotic Garden of Monaco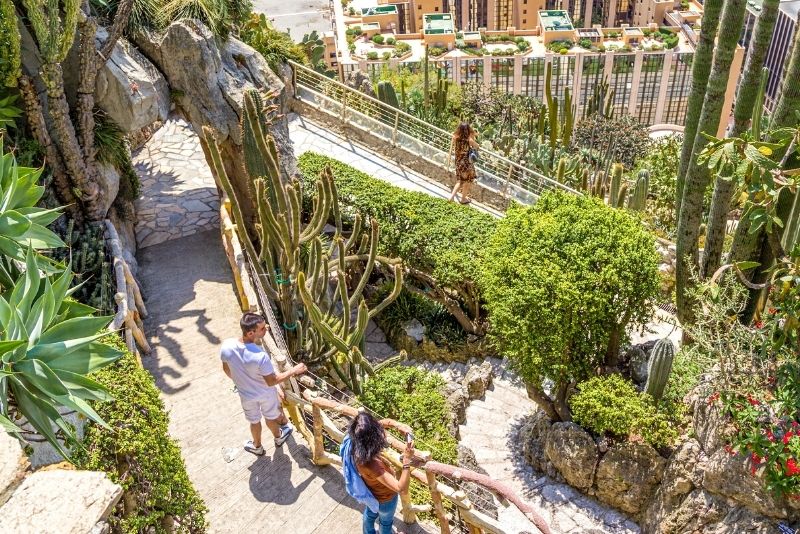 For a relaxing day immersed in blissful nature, the prestigious Exotic Garden of Monaco should be a high priority.
Wander through a lush, exotic garden filled with over 1000 species of rare plants and flowers from local and faraway lands, perfect for those who want to escape the bustle of city life.
Thanks to its open-air location on the cliffside, it dishes up truly incredible photo ops.
7 – Tick off the major sites on a bus tour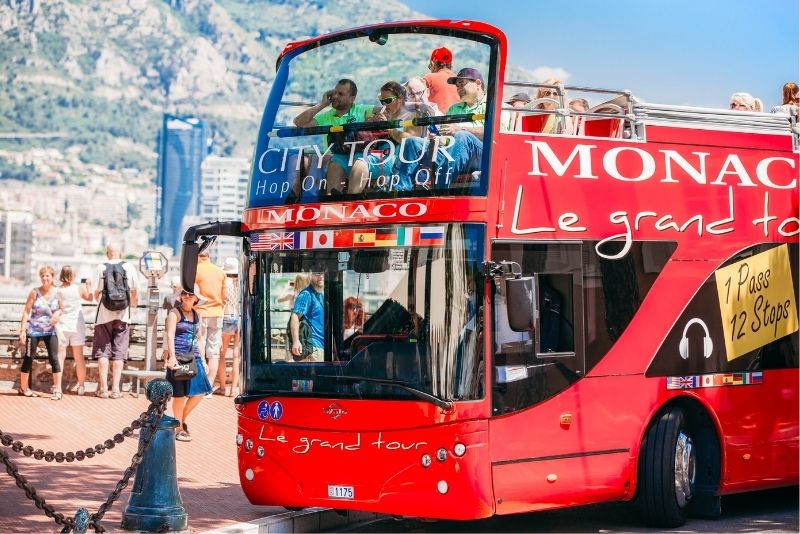 If you're pressed for time (and on a tight budget), taking the double-decker bus tour of Monte-Carlo is an excellent way to cover most, if not all, key sights in one fell swoop.
With over 20 stops throughout the city center and beyond, including outside some major attractions like the Oceanographic Museum and Prince's Palace, visitors can hop off and on at their leisure.
8 – Head to the Monaco F1 Grand Prix (and go behind the scenes!)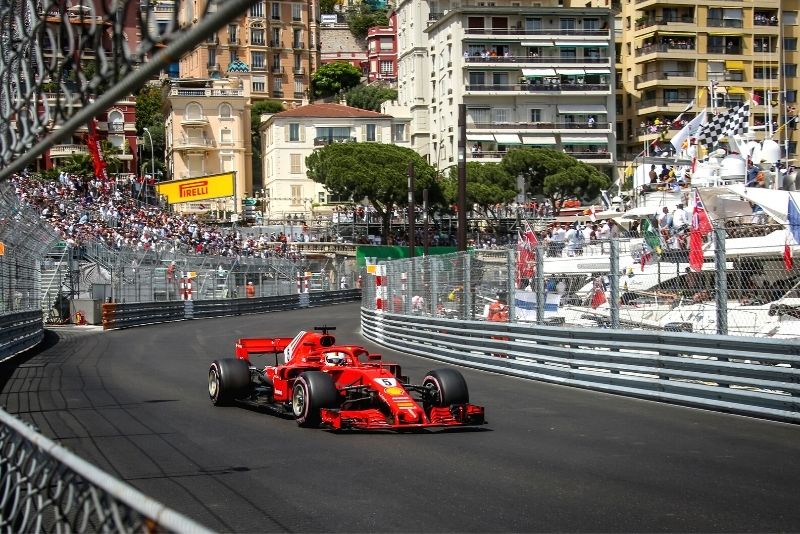 There's no better way to experience the excitement and glamour of Monaco than by attending its most famous event: the Formula One Monaco Grand Prix.
Taking place in late May or early June, this is one of the world's top events for sports fans as well as petrolheads — not only do spectators get an up-close view of the world's fastest cars in action, they also get to experience Monaco's extravagance like never before.
With exclusive pit lane tours and behind-the-scenes access with Formula One drivers, this is one of the top things to do in Monaco for racing fans.
9 – Check out the Nouveau Musée National de Monaco (NMNM)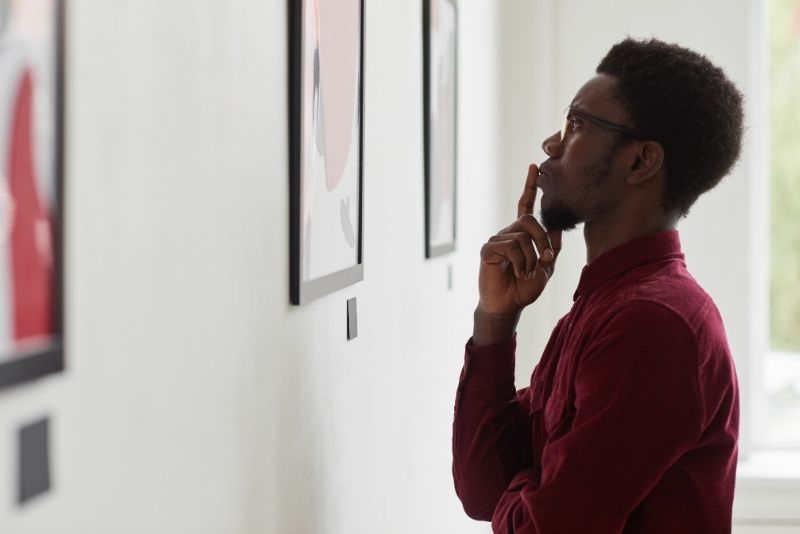 Housed in two separate locations: the stunning belle-époque Villa Sauber and the pearly-white early-20th-century Villa Paloma, this coveted museum is one of Monaco's most frequented artistic hotspots, displaying a host of impressive contemporary art.
The former tends to dive into performing-arts themes, while the latter often showcases environment-related exhibitions.
Keep in mind: if you're planning on visiting the NMNM and the Jardin Exotique, a combo ticket is your best bet.
10 – Check out the sculptures at Jardins de Saint-Martin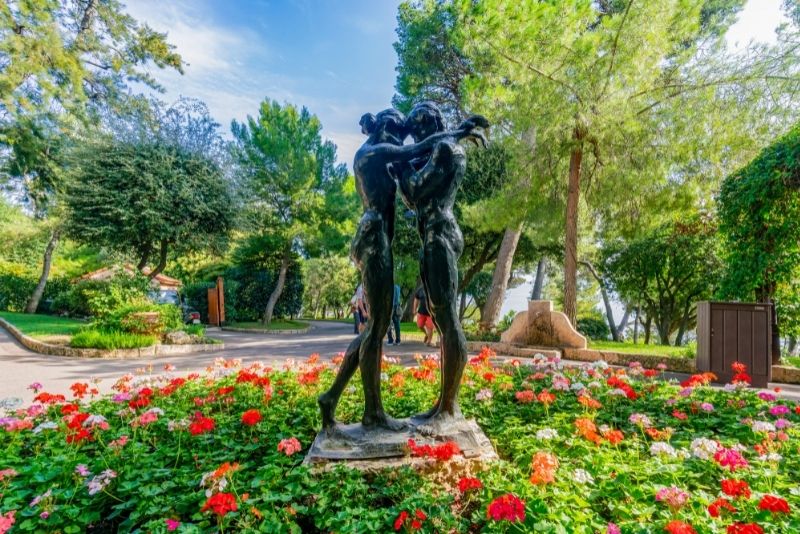 Sandwiched in between the Oceanographic Museum and Prince's Palace on a hilltop overlooking the city center and the water, the Jardins de Saint-Martin is one of Monaco's most picturesque green spaces.
With a variety of plants and trees, a handful of unique sculptures, and no shortage of spots to sit and relax, it's a great space to recharge the batteries.
11 – Get behind the wheel of a luxury car!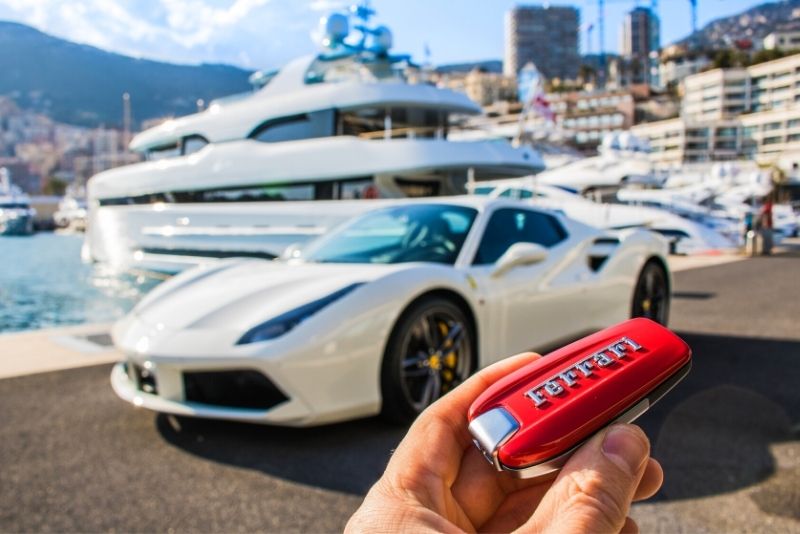 A dream activity for anyone who slept in a racecar-bed as a kid, for those thrillseekers who want to get behind the wheel of Monaco's finest cars, be that a gorgeous Lamborghini Gallardo, head-turning Ferrari California convertible, or roaring Ferrari F430 (just to name a few).
Whether you opt for a 30-minute joyride or a couple of hours down the coast of the Cote d'Azur, expect to feel like royalty.
12 – Get some zen at the Japanese Garden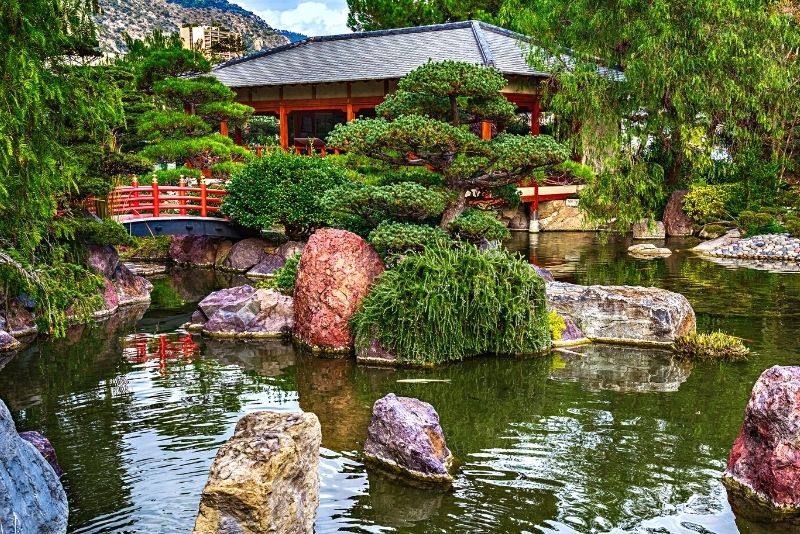 A splendid amalgamation of Japanese design and Mediterranean flare, the beautiful Japanese Garden, located right next to the Grimaldi Forum convention center, promises to be a highlight of any visit to Monaco.
With no shortage of bonsai trees, koi ponds, and luscious greenery all around the place, it's perfect for those looking for some tranquility in an otherwise hectic city.
13 – Take a quick tour of the Chapelle de la Visitation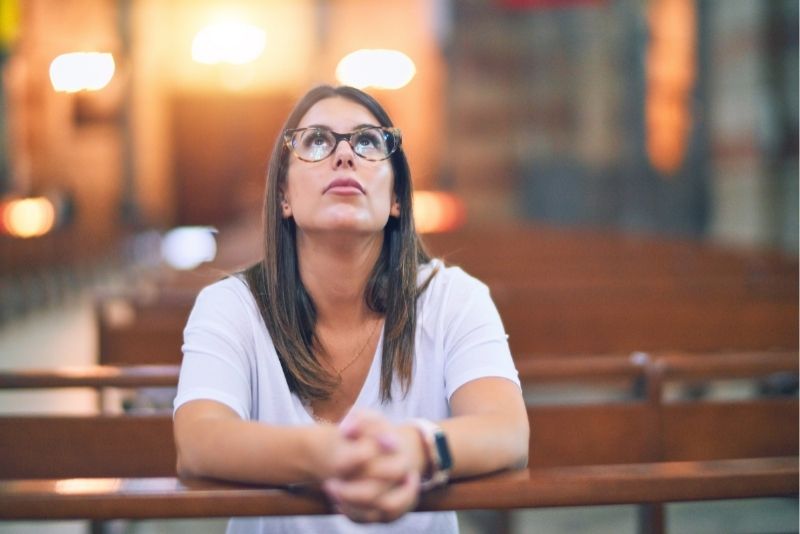 A fascinating art museum, baroque (with gothic touches) chapel, as well as a former Monastery, the 17th-century Chapelle de la Visitation is an easy and free addition to any day of wandering around the Monaco-Ville area.
On short tours, which typically last around 20 minutes, expect to see an impressive collection of religious art includes masterpieces by names like Rubens, Zurbaran and Ribera.
14 – Discover maritime history at the Monaco Naval Museum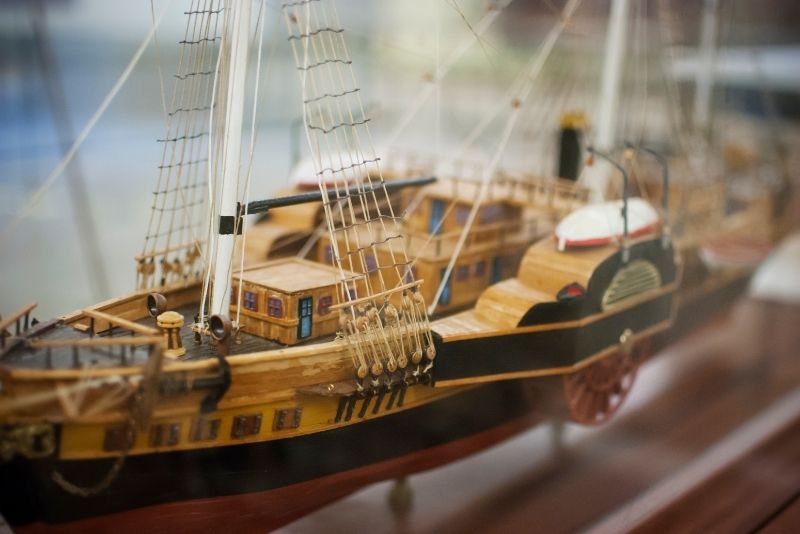 With a fine collection of some 250 detailed model ships and submarines (most dating back to the 19th century), plus maritime paintings and ancient artifacts, Monaco's Naval Museum — located right on the harbor in the Fontvieille district — is one of those things to do in Monaco that will keep history buffs more than satisfied, particularly when they see the WWII-era manned torpedo.
As an added bonus, you'll get some great views over Port Hercule as well as plenty of opportunities for photo-ops.
15 – Soak in the views on a boat tour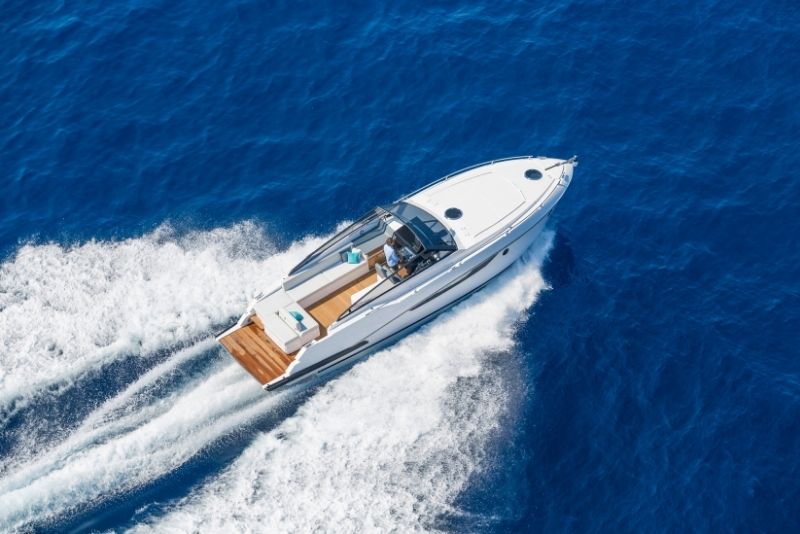 What better way to explore the Principality of Monaco than from the shimmering Monacos harbor, regularly home to some of the world's most extravagant yachts?
From the comfort of a luxury catamaran (or a speedboat or ferry, whatever floats your… boat), enjoy 360-degree views of the area's famous landmarks such as Port Hercule, La Condamine, and Monte Carlo, and head out further to the stunning French Riviera.
16 – Spend some time at the Princess Grace Rose Garden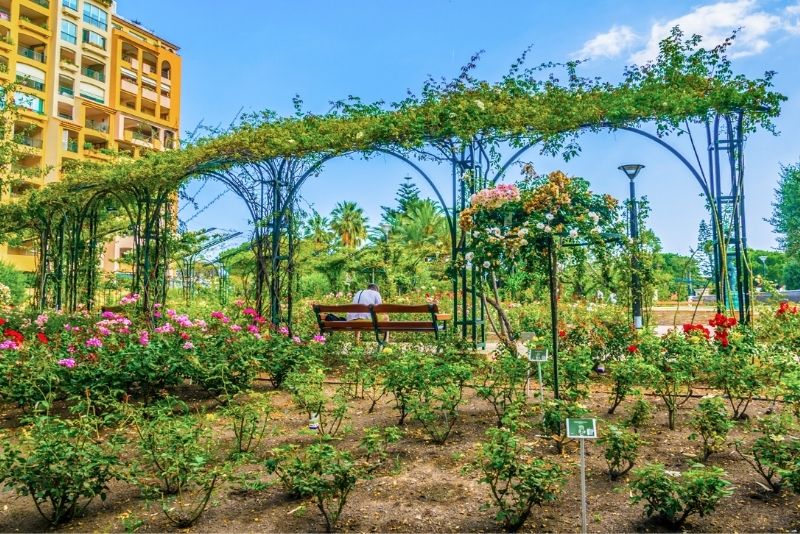 Designed as a charming memorial to Grace Kelly, the late wife of Prince Rainier III, the Princess Grace Rose Garden, with its beautifully manicured displays, showcases some 4,000 different species of roses (be honest, did you know there were even that many?) as week as a herb garden and a handful of statues.
The enchanting oasis is open from sunrise to sunset and is totally free for visitors.
17 – Catch an AS Monaco match at Stade Louis II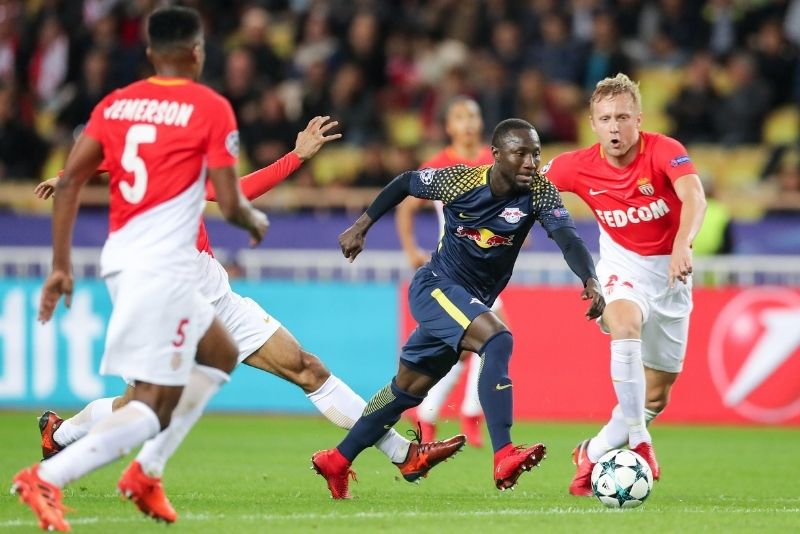 A must-do for any football (soccer) fan, Monaco's Stade Louis II — nestled between historic buildings and attractions in the Fontvieille district — is the home of AS Monaco FC and has been since it opened its doors in 1985.
Besides the chance to immerse yourself in the roar and electric atmosphere of a home game, the stadium also offers behind-the-scenes tours.
18 – Sit front row at the Opéra de Monte-Carlo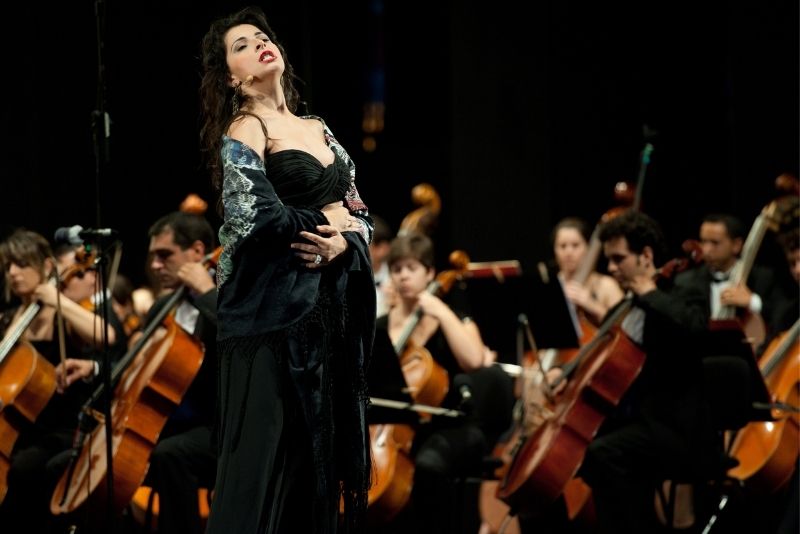 A grandiose and internationally-renowned opera house that's been welcoming visitors since 1879, the magnificent Opéra de Monte-Carlo (AKA the Salle Garnier) is one of Monaco's most popular attractions for both its architectural and cultural significance.
In addition to hosting top-notch ballet, opera, and symphony performances from around the world year-round, you can also opt for guided tours or simply enjoy a glass of bubbly at its luxurious open-air terrace.
19 – Take a walk at Fontvieille Park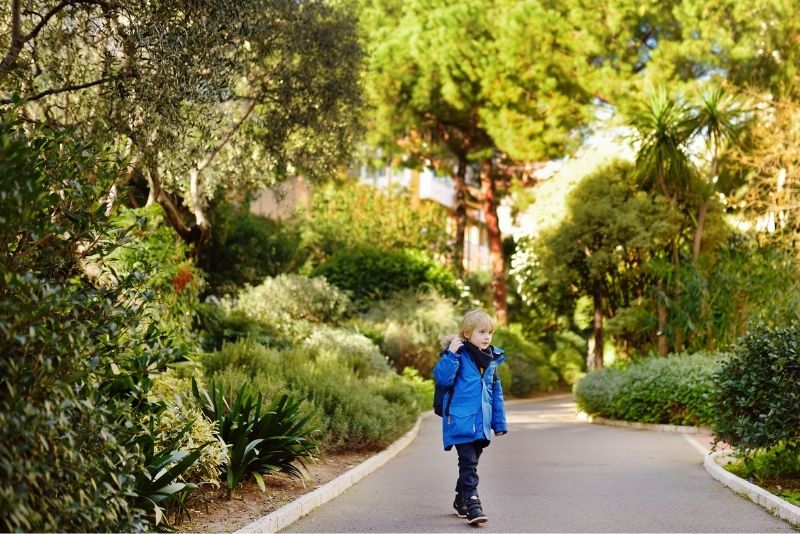 A large green space that's home to an array of colors, sights and smells, Fontvieille Park is the perfect place for a picnic or just some peace and quiet.
You'll also find plenty of sculptures (many by famous international artists) including The Sitting Couple, The Washer Woman, and Motphant (half motorcycle, half elephant), as well as Mediterranean plants, picnic areas, and the Big Top circus tent at its center.
20 – Witness a concert at the Salle des étoiles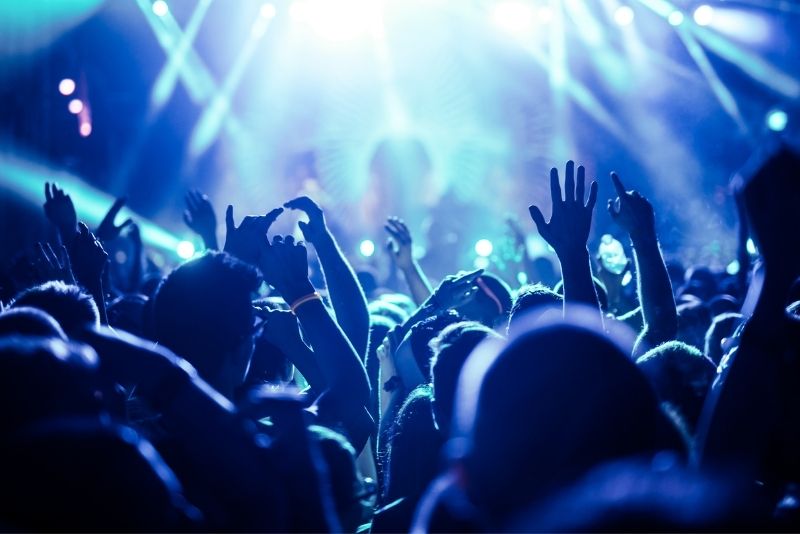 A truly famous concert hall and legendary Riviera venue for the elite, the Salle des Étoiles throws up gala dinners, upper-class weddings, and has been used as a venue for some of the world's biggest superstars for decades — Elton John, Frank Sinatra, and Tina Turner, just to name a few.
If you can't snag tickets for one of its star-studded events, try to visit the festivals: the Rose Ball, the Monte-Carlo Sporting Summer Festival, and the Monaco Red Cross Ball all take place here.
Wondering why this theater has such a pristine reputation? Its roof is retractable, allowing the stars to perform, well, under the stars.
21 – Visit the Fort Antoine Theatre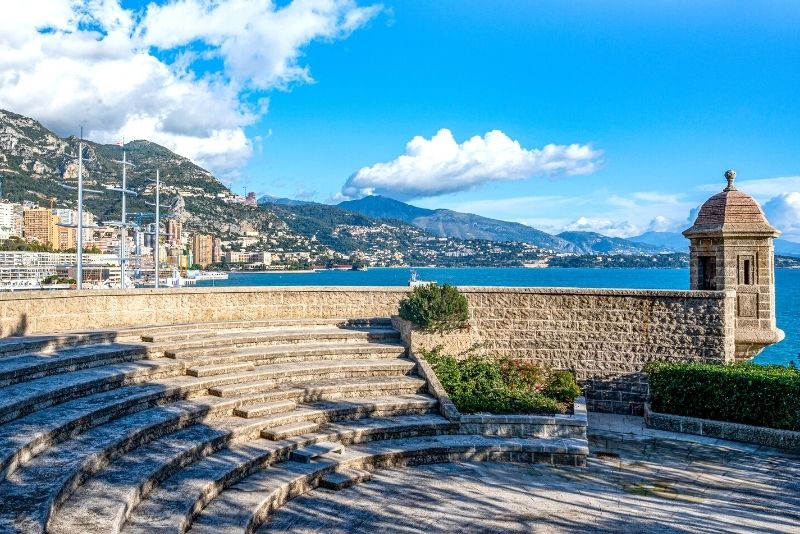 The traditional outdoor amphitheater of Monaco, the Fort Antoine Theatre has been a popular venue for locals and visitors alike since its rebuild in the mid-1950s — despite the fresh face, it still boasts resemblances to the century-old fortress which stood before it.
Not only is the amphitheater famous for its summer performances but also for its postcard-worthy location by the cliffside at the end of the Avenue de la Quarantaine.
22 – Grab some popcorn at the Monaco Open Air Cinema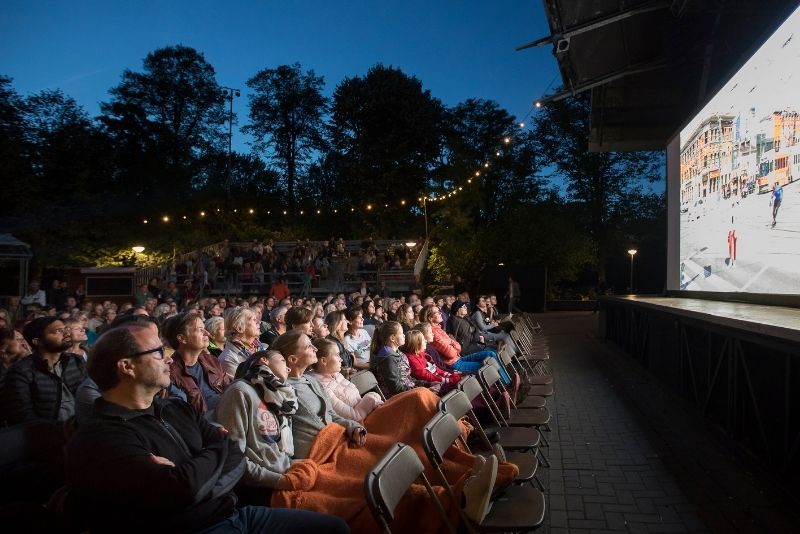 With warm weather almost year-round, sun-kissed Monaco is the perfect place to catch a movie under the stars — and there's no better place than here, at the largest open-air cinema in Europe.
The locally-beloved attraction screens films nightly, ranging from Hollywood blockbusters to European classics — check the website to see what's playing during your trip.
23 – Ogle at the enormous yachts at Port de Fontvieille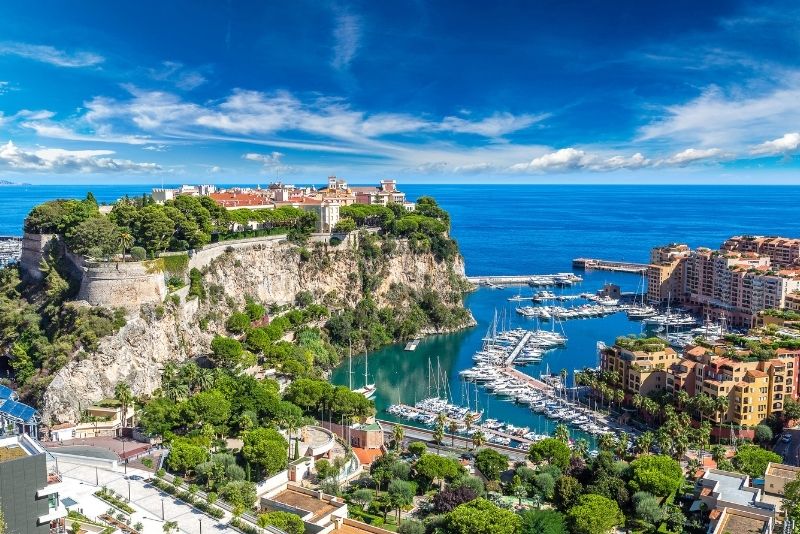 The largest marina in the world, Port de Fontvieille is home to hundreds of private vessels belonging to some of Monaco's — scratch that, the world's — wealthiest residents.
On top of the array of impressive, jealousy-evoking yachts, the encapsulating waterfront, flanked by towering cliffs, is central to plenty of restaurants and bars, as well as the 36-store Centre Commercial Fontvieille.
24 – Spend some time at Port Hercules: home of the rich and famous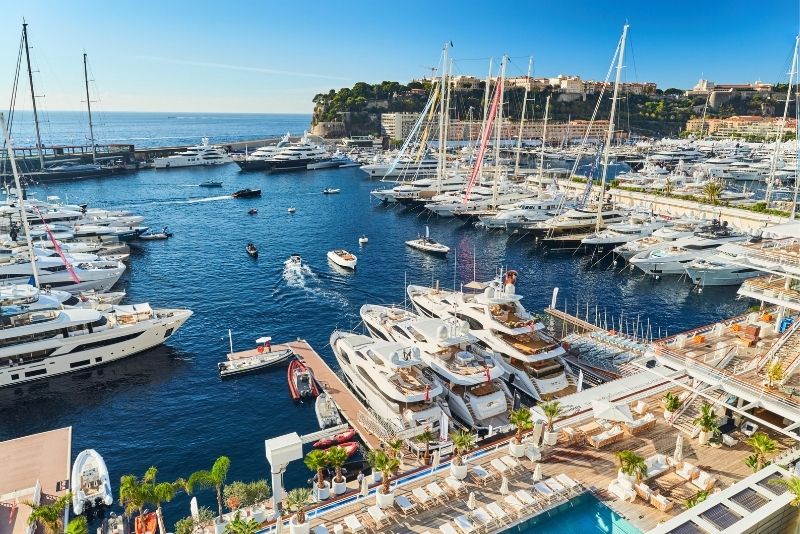 If you thought the Port de Fontvieille yachts were noteworthy, boy, you're in for a treat at Hercules.
As one of the only deep-water ports on the French Riviera, Hercules has the capacity to welcome gigantic cruise liners and no shortage of hundred-million-dollar yachts.
Hot tip: for a unique perspective, spend a couple of euros on a water taxi to take you from one side to the other to the harbor.
25 – Shop till you drop at La Condamine Market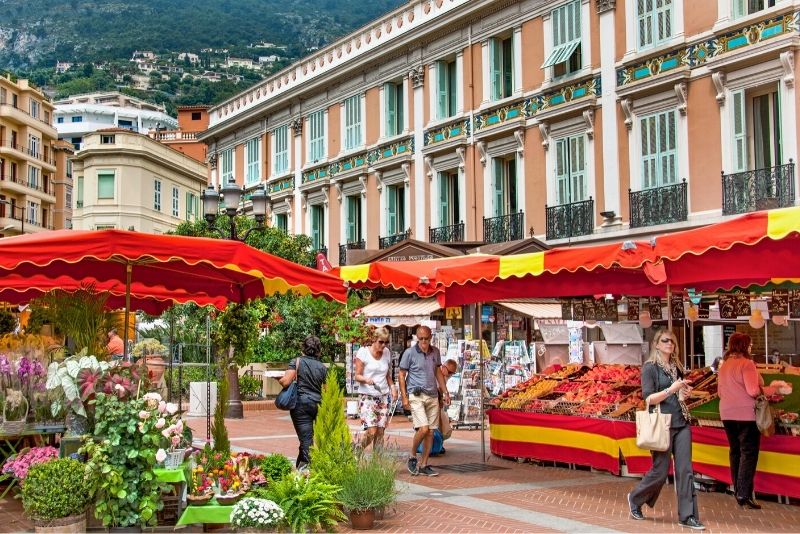 If you're looking to do some shopping, check out the charming and historic La Condamine Market.
Housing some twenty shops and stalls, the market takes place every day of the week, all year round, in the thriving center of Monaco-Ville, making it easy to pop by no matter your schedule!
Head here for tasty local dishes and drinks, grab some fresh flowers or homemade pasta, or just take a peek inside at its vibrant atmosphere.
26 – Take a day trip along the French Riviera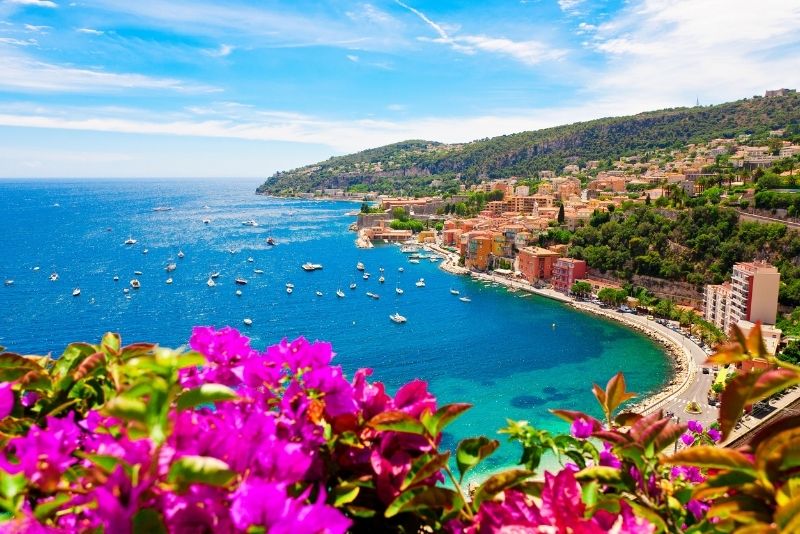 While there is certainly no shortage of things to do in Monaco itself, with bounds of beauty within reach, why not get out of town for a while and take a day trip along the sun-kissed coast?
Choose from Nice, the French Riviera's largest city; the mountaintop Middle-Ages village of Èze; the picture-perfect harbor town of Villefranche-sur-Mer; the colorful resort town of Antibes; or Cannes, a seaside city with a reputation that precedes it.
Of course, why just stop at one city? To get the complete experience, opt for a pre-arranged tour that includes multiple stops along the way!
27 – Learn about the place you're visiting at the Old Monaco Museum!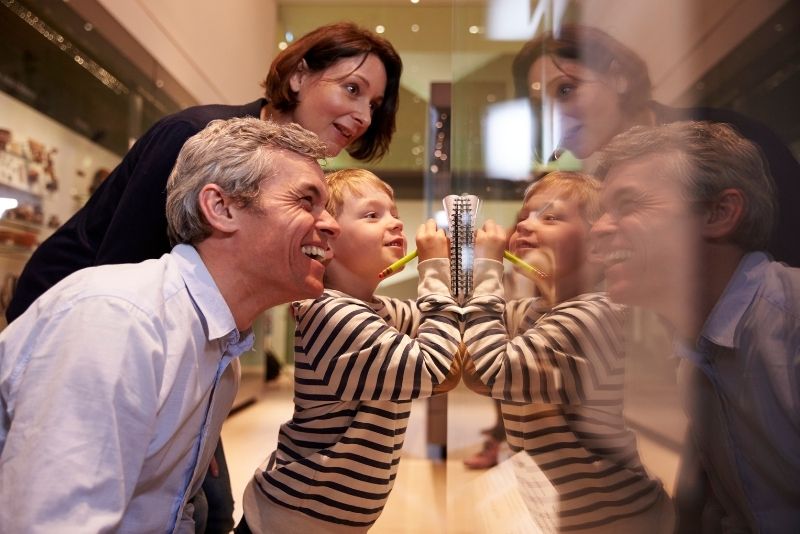 The Old Monaco Museum, also known as the Vieux-Musée de Monaco (in French), is a must for those interested in learning more about the fascinating history and culture of this unique country through an eclectic array of ancient heritage objects.
Having opened its doors to the public back in 1974, it now houses an impressive collection spanning from ceramics to paintings and old costumes, all working together to maintain the traditional Monegasque identity.
Hot tip: for all of you penny-pinchers out there, the museum is free to enter from 11 am to 4 pm on Wednesdays and Fridays!
28 – See what's on at the Grimaldi Forum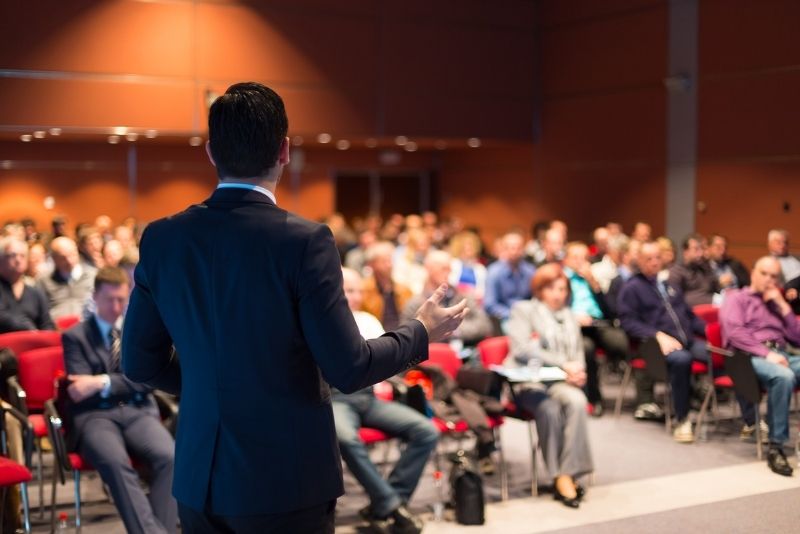 A beautiful venue for conferences and events, Monaco's Grimaldi Forum sits on the Larvotto seafront (Monaco's eastern beach quarter), hosting hundreds of important local and international conferences every year focused largely on exhibitions, music, and dance.
Come here to discover an impressive space spread out over 3 floors with state-of-the-art amenities; check the website to see what's on during your visit.
29 – Witness the Changing of the Guard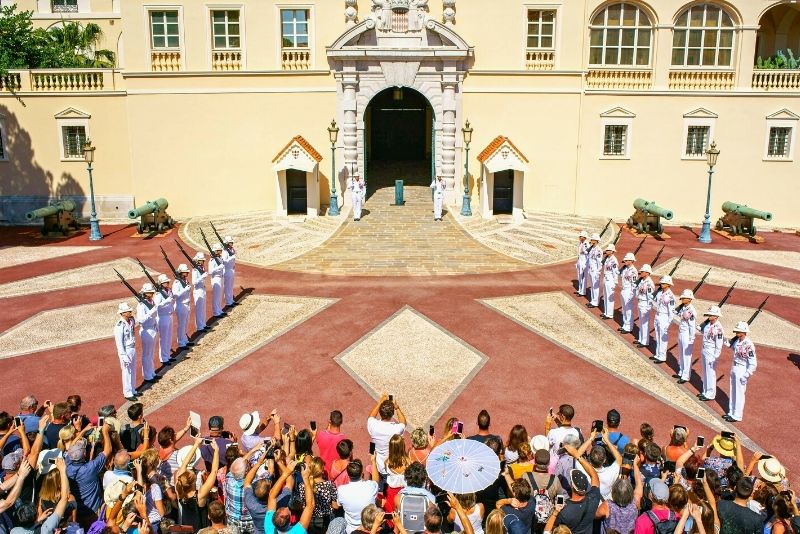 Every day at 11:55 am on the dot, in a tradition that hasn't lost its rhythm in more than 100 years, the spectacular Changing of the Guard takes place at Monaco's Palace Square.
In a grand, impressive ceremony that draws hundreds of onlookers from all corners each year, you'll see dozens of soldiers and officers take part in this time-honored tradition.
It only lasts around 10-15 minutes, easily worked into any day of exploring.
30 – Head to the Italian Riviera on a day trip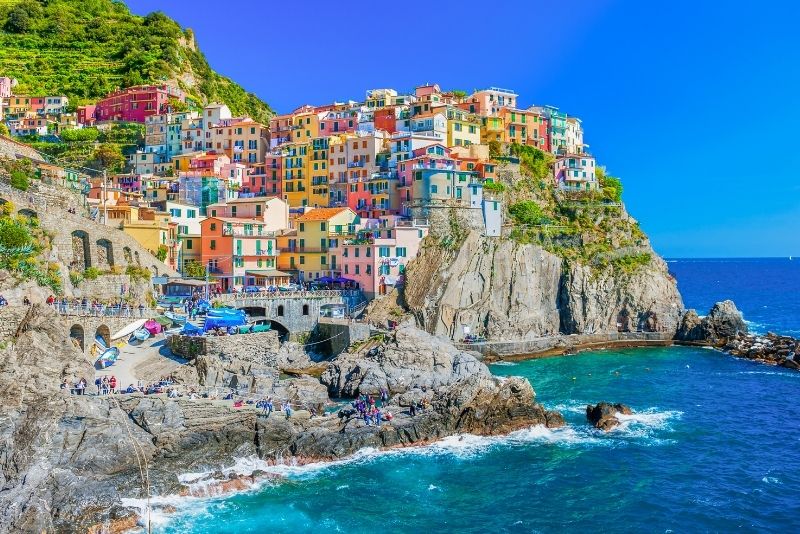 Home to brilliantly colorful cliffside towns, warm Mediterranean waters, and some of the most mouthwatering cuisine you'll find in Europe, an Italian Riviera day trip (or multi-day, if you've got the time) is quintessential on any Meditteranain vacation.
If you don't want to venture too far, why not head over to the town of Ventimiglia?
Just 30 minutes away from Monaco by train or car (bus available as well), this vibrant coastal city offers everything from great shopping opportunities and countless beaches to rich historical heritage. As the gateway to the Riviera di Ponente (the "Coast of the Setting Sun"), as you'd expect, the sunset views are dream-like.
Further along is Sanremo (45 minutes), home of the 12th-century San Siro Cathedral; Genoa (2.5 hours), the largest city along the Riviera; and the fairytale-esque 5 towns of Cinque Terre (4 hours' drive).
31 – Take the kids to Princess Antoinette Park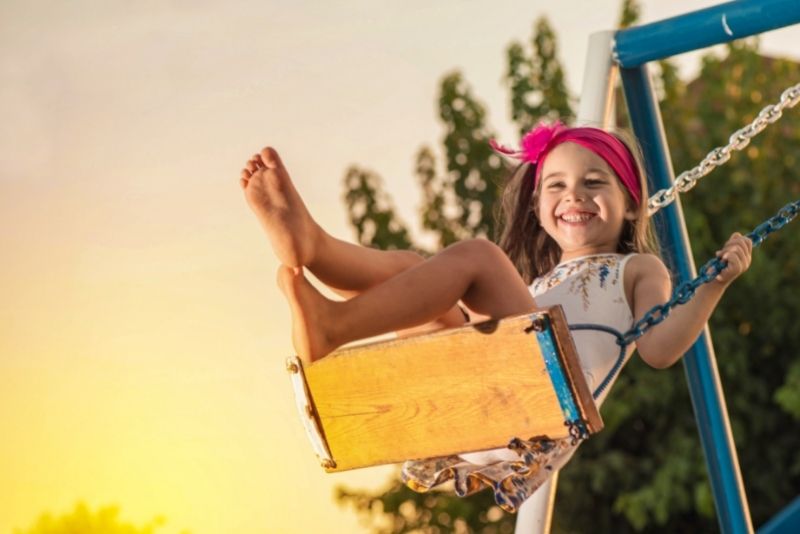 A little gem of a park in Monaco, Princess Antoinette Park is the perfect place to take a break from your hectic tour itinerary.
With a few playgrounds and swings, the youngsters will have a ball; with tennis courts, mini-golf, and ping-pong tables, it's great for some brief exercise; and with hundred-year-old olive trees lining its path you'll find yourself immersed within nature's beauty at this quiet retreat.
32 – Stop into the Museum of Stamps and Coins of Monaco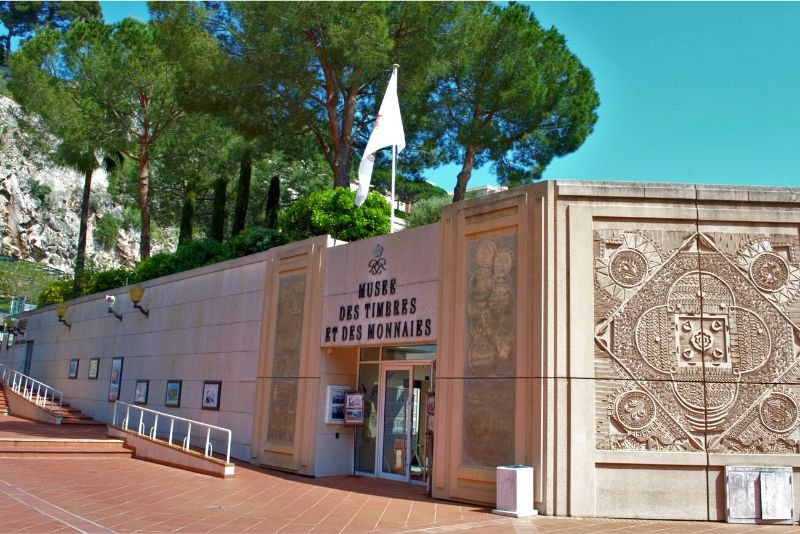 A quirky attraction not too far from the Fontvieille port, the Museum of Stamps and Coins offers visitors a chance to see up close Monaco's rich cultural heritage through its vast collection of historical postage stamps, banknotes, and coins of varying ages and denominations — a collection belonging to none other than Prince Rainier III.
Besides the long list of artifacts, the Museum also showcases a range of machines and tools like a stamp printing press and monetary pendulum.
33 – Soar over the coastline in a helicopter tour!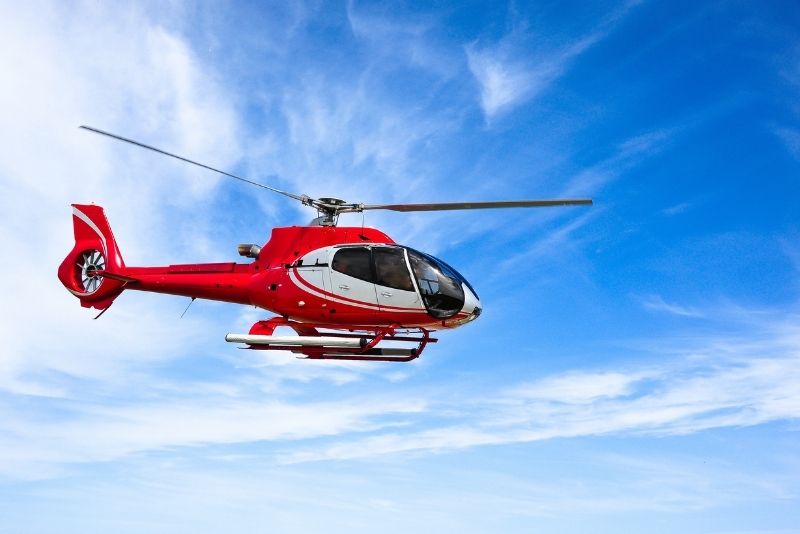 Monaco's landscape — from its century-old buildings to its iconic casino and marinas full of luxury yachts — is simply too gorgeous to miss out on, and with a thrilling sightseeing helicopter tour, you can capture all of its beauty from the sky.
With a fleet of helicopters hovering along various routes and for various durations, you can experience the city unfold beneath you for a few minutes of pure elation!
34 – Admire the beauty of the Courthouse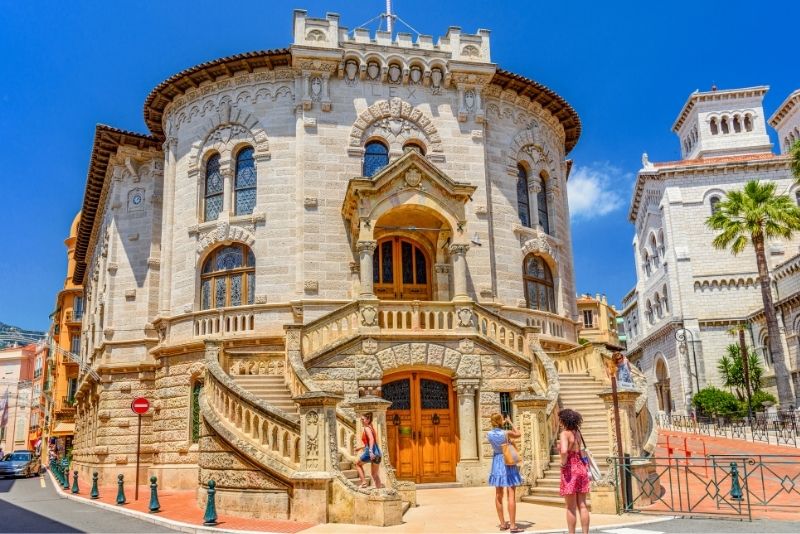 Sandwiched in between the popular Prince's Palace and famous Monaco Cathedral, the lesser-known Courthouse — often dubbed the Palace of Justice — is one of the principality's most beautiful buildings, if not the most.
The circular palace, which dates back to 1924, regularly delights passerby with its marvelous grand exterior staircases and is found smack-bang in the middle of Old Town.
35 – Check out St Paul's Anglican Church in Monte-Carlo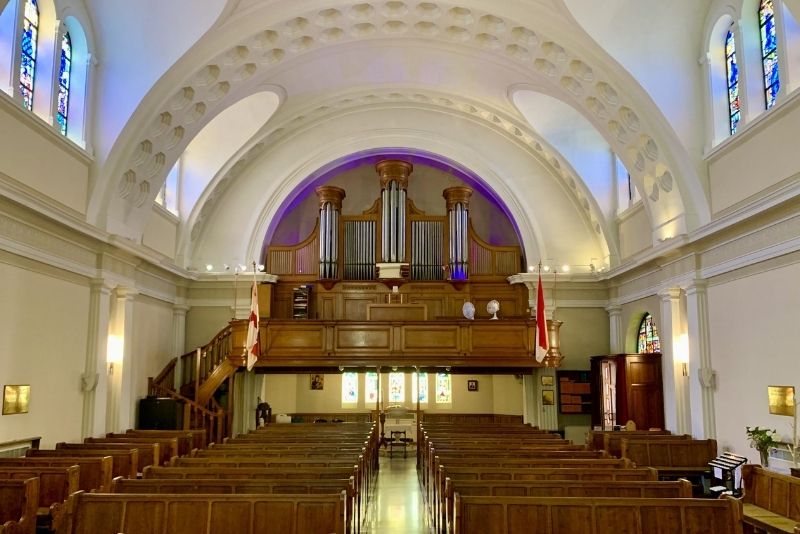 Although not as ancient or well known as the cathedral and monastery nearby, this quaint little church still holds its own impressive history within its stone walls, with beautiful architecture and stained glass windows to boot.
As well as being a respected house of prayer, the St Paul's Anglican Church also hosts occasional concerts and special events.
36 – Snap a photo with the Juan Manuel Fangio Statue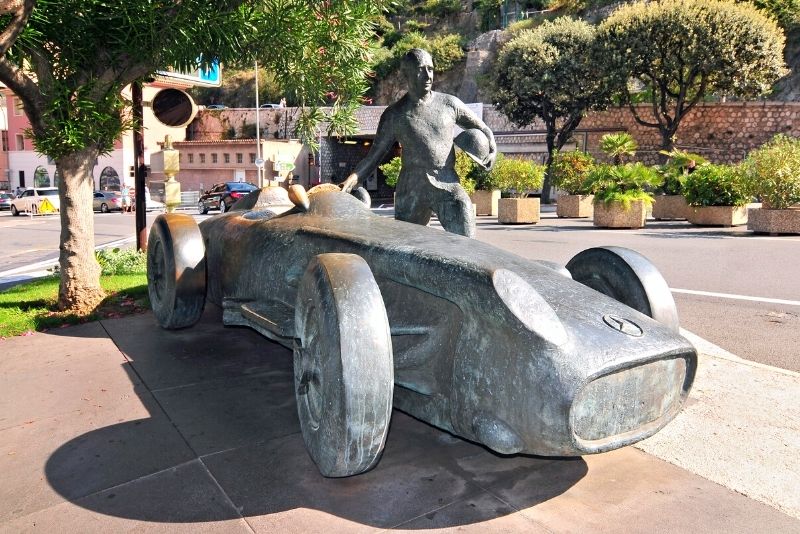 Monaco's famous Formula One Grand Prix brings thousands of visitors to the city each year, and with it comes a celebration in honor of one of its most successful drivers: Juan Manuel Fangio.
A five-time world champion who dominated the sport back in the 1950s, the statue of himself alongside his Mercedes-Benz W 196 Grand Prix racer now stands as a reminder of his outstanding achievements.
37 – Satisfy your sweet tooth at the Chocolaterie de Monaco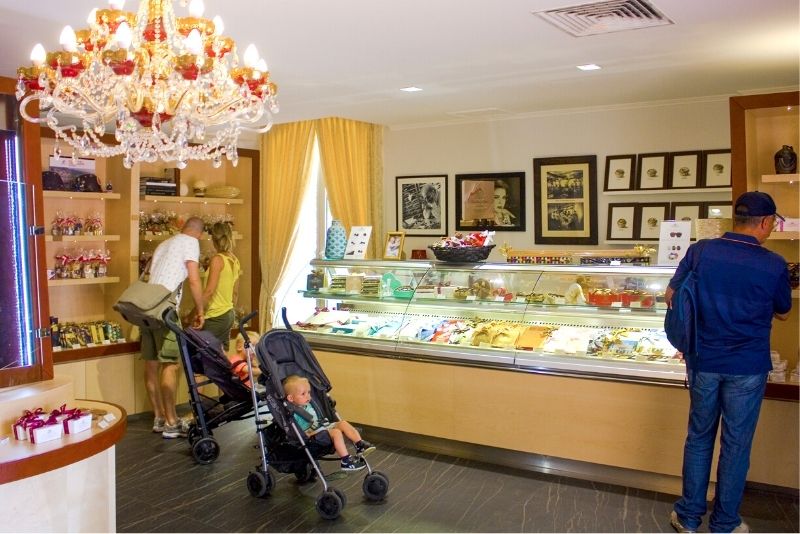 If your mouth starts to salivate at the idea of a warm, chocolate fountain, boy do we have a treat in store for you…
Serving dessert-obsessed customers for over a century, the Chocolaterie de Monaco is an unrivaled chocolate heaven that will leave you drooling for more. With a huge array of handmade chocolates and Monégasque-themed bonbons to choose from, you can either pick your favorite flavor or go with the chef's recommendations!
38 – Play a round at the Monte Carlo Golf Club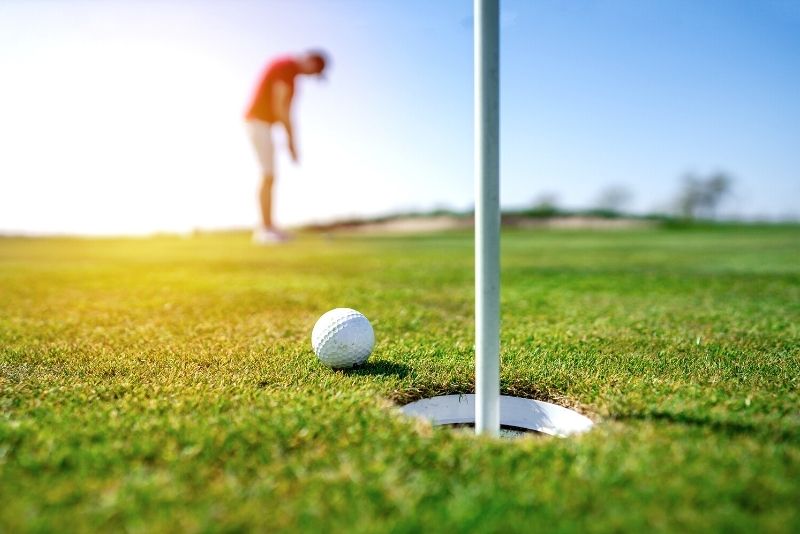 In a region known for sophistication and luxury, it should come as no surprise that Monaco boasts one of the most exclusive golf courses in Europe: the Monte Carlo Golf Club sits 900 meters above sea level, dishing up challenging and hilly fairways but also spectacular seaside views!
Don't have any clubs? Fret not, because the 100-year-old Club rents golf carts, clubs and shoes, and also boasts a restaurant and bar.
39 – Check out the Sainte-Dévote Chapel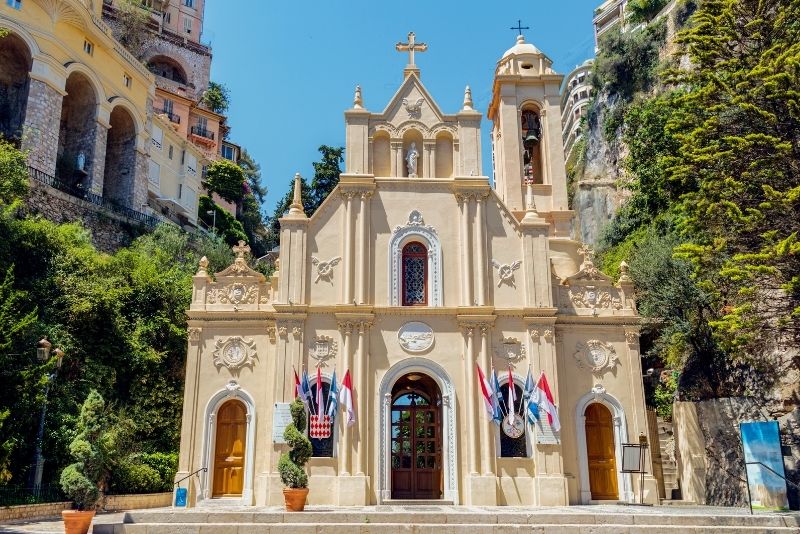 As one of the oldest places of worship in Monaco (documented as far back as the 11th century), the small and quaint Sainte-Dévote Chapel was built to pay tribute to Saint Devota — a Christian martyr who's believed to have lived in the 4th century.
With a range of restorations over the years, some in the 16th century and some post-WWII, the chapel showcases a marvelous mesh of architecture and history.
40 – Take a dip at Larvotto Beach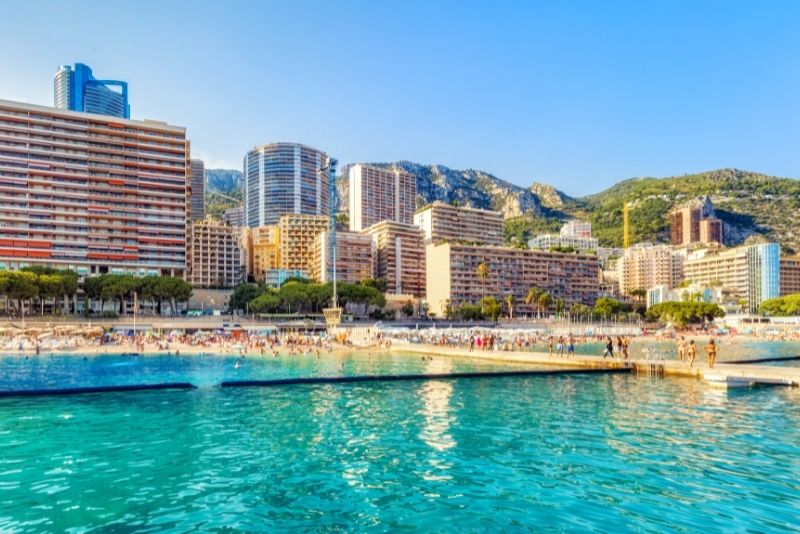 One of the most popular (albeit artificial) beaches in Monaco, Larvotto Beach is a favorite among locals and tourists alike for its shallow and calm waters.
With its sandy shores and central location, exclusive nearby restaurants, and ever-vibrant promenade, it's no surprise that its neighboring street, Avenue Princesse Grace, is one of the world's most expensive streets to live on — so be sure to take a stroll after soaking up some sun!
If you're after a less-crowded strip of sand, Crique des Pêcheurs is small and secluded, requiring a decent walk to reach its shores; while Solarium Beach, reminiscent of stairs, is where stronger swimmers and divers tend to flock.
41 – Hike part of the Red Trail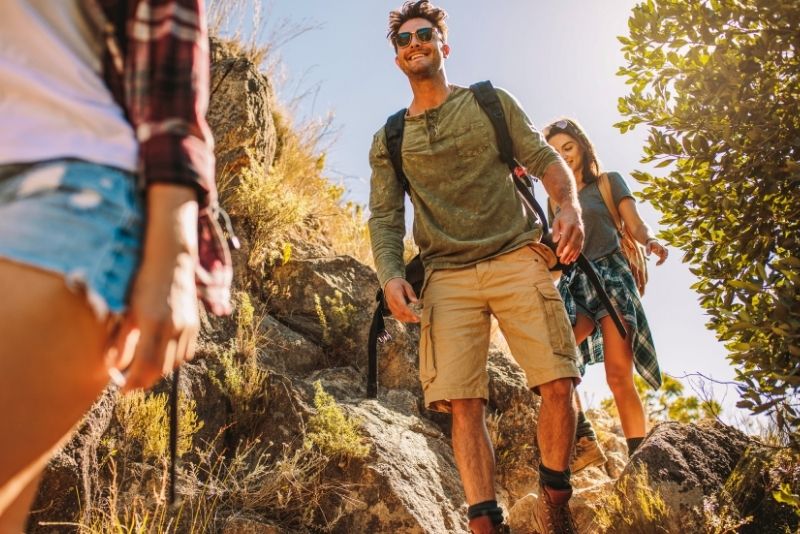 One of Europe's most extravagant long-haul hikes, the Red Trail (Via Alpina) connects Trieste to Monaco via Bavaria and Liechtenstein, skirting across eight different countries through the foreboding beauty of the Alps —  Mont Blanc and the Vanoise glaciers just a couple of its dramatic highlights.
While the entire trek would take the better part of a year (needed to be split across multiple hiking seasons), Monaco visitors can get a taste of the envied hike with a Red Trail section that leads up to the highest point in Monaco: Mont Agel.
With a well-formed path that takes you through forests and meadows and delivers gorgeous views over Monte Carlo, it makes for an excellent day trip with family or friends!
42 – Pamper yourself at the Thermes Marins Monte-Carlo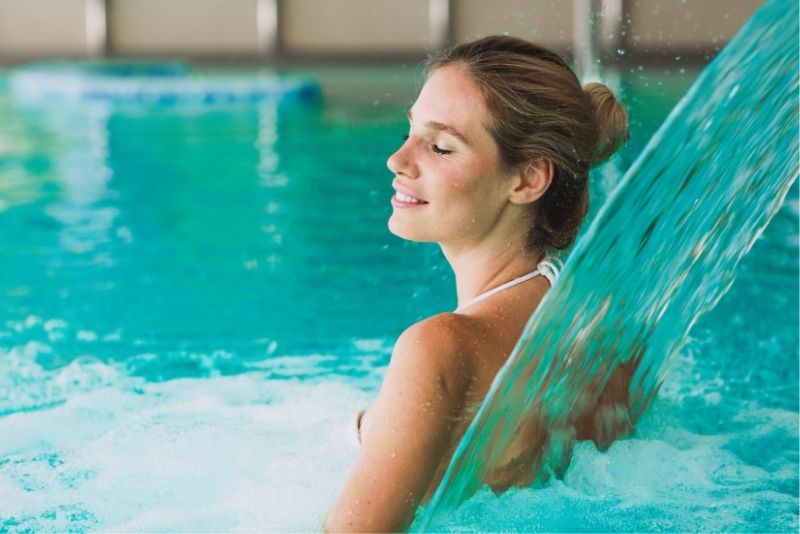 Looking for a unique way to experience Monaco? Then look no further than the Thermes Marins Monte-Carlo, a sea bath destination with some additional Monaco flare.
Considered a world of wellness and luxury, this state-of-the-art spa is located right on the shores of Larvotto Beach and offers an array of saunas (steam rooms), restorative massages, gyms, and detoxifying body treatments — perfect for the health-conscious traveler!
43 – See the animals at the Jardin Animalier de Monaco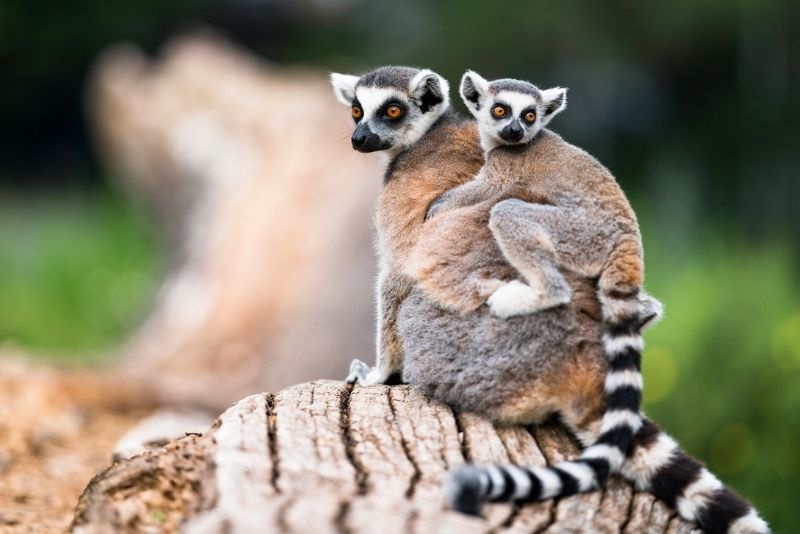 Tucked away beneath the Rock of Monaco, the Jardin Animalier de Monaco is a small yet enjoyable slice of nature that combines plant life with a range of animals, housing peacocks, flamingos, monkeys, kangaroos, and plenty more — totaling some 50 species.
A perfect spot to take the kids, the Jardin is easily seeable in 1-2 hours.
44 – See the mammoth at the Museum of Prehistoric Anthropology of Monaco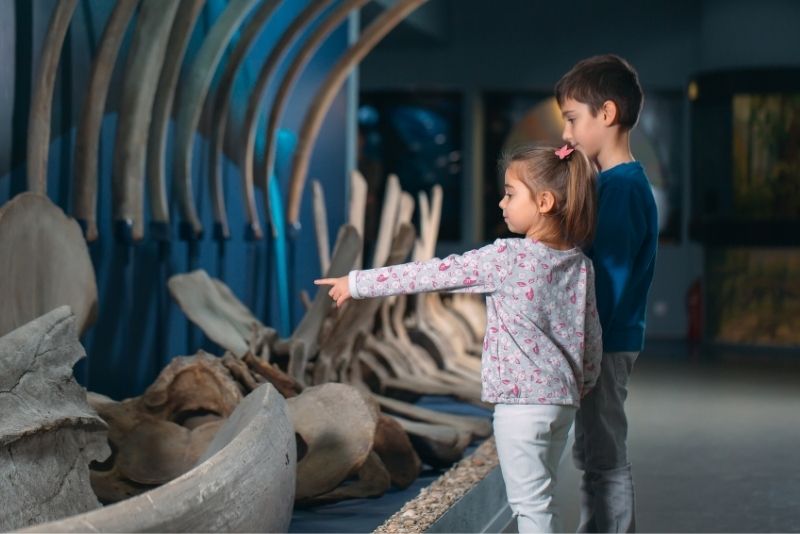 One of the most unexpected things to do in Monaco sure to delight history buffs, the Museum of Prehistoric Anthropology showcases a range of fossilized remains from prehistoric times — including artifacts unearthed during excavations in the surrounding area, as well as a wooly mammoth skeleton and a 2000-year-old male corpse.
Nestled within the Jardin Exotique de Monaco, the 120-year-old Museum is an easy addition to a day of walkabout.
45 – Turn a few pages at the Princess Grace Irish Library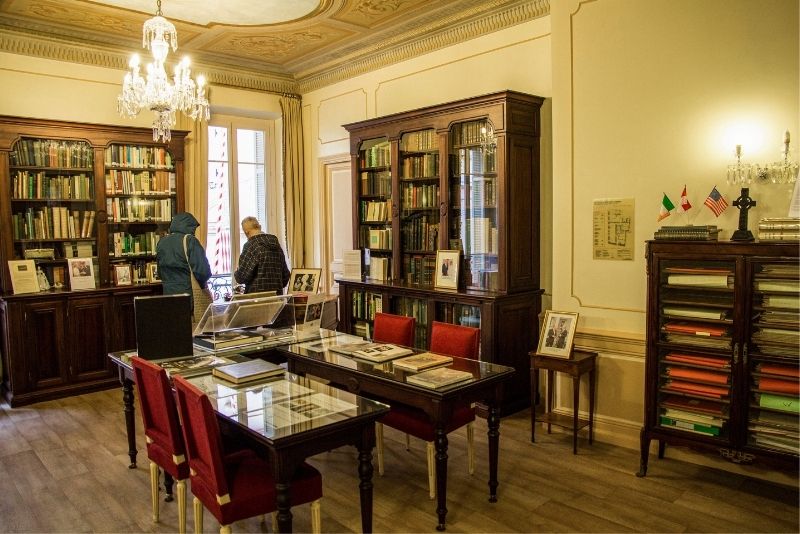 A lovely way to spend an afternoon that perhaps a little too toasty outside, the Princess Grace Irish Library holds a collection of thousands of books (many of which dive into Irish culture and traditions) and hosts a range of art and literature-themed events and workshops.
A highlight for traveling families, the Library is known for its warm and charming children's section.
46 – Sit back and relax at Square Théodore Gastaud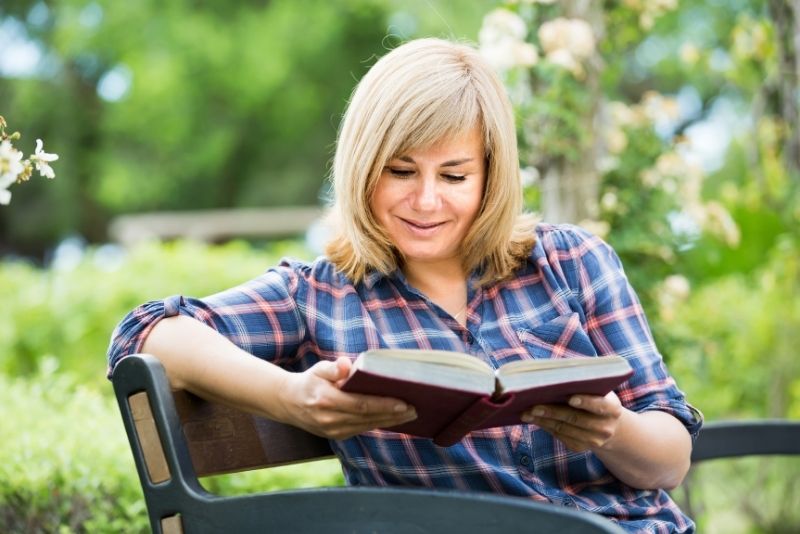 Hidden at the end of a quaint little alleyway next to La Condamine, the Tuscan-style Square Théodore Gastaud is an ideal place to spend some time away from the busy streets.
An oasis surrounded by pastel-colored houses and hidden patisseries (perfect for grabbing a quick pastry), square Théodore Gastaud features several benches and olive trees and is a stone's throw to a number of local shops, art galleries, and restaurants — making it the perfect place for an afternoon stroll.
47 – Get buzzed at Wine Palace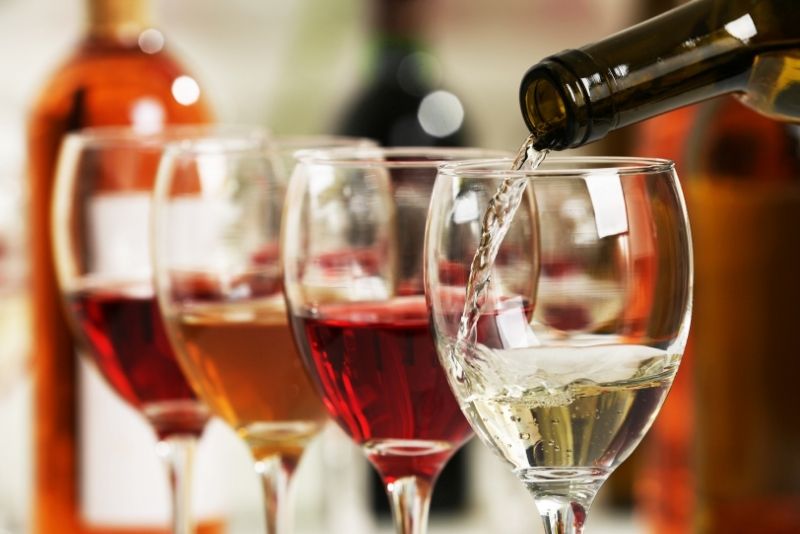 You're on vacation, after all! So why not treat yourself to a drink (or four) and get a little tipsy-wipsy at the Wine Palace?
Offering over 2,300 bottles of wines, champagnes, and spirits (as well as an array of snacks and incredible cheeses), this enoteca boasts one of Monaco's most pleasant settings — perfect for tasting the local tipple under the shade.
As one of the largest wine cellars in Europe with waterside views to boot, you're bound to find something that quenches your thirst. Be mindful: the Palace has minimum drink orders and is a little pricy (but you pay for the views, no doubt).
48 – Party it up at a beach club!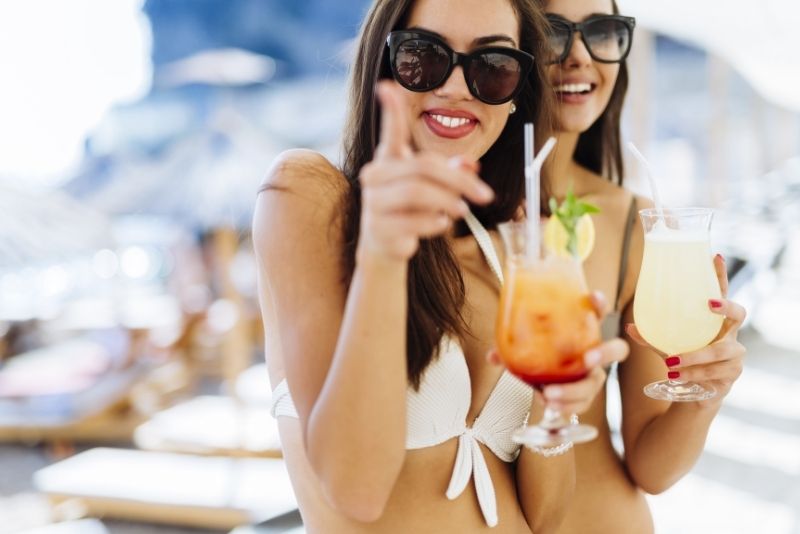 With endless sun, warm swimmable waters (and pools), and free-flowing drinks, nothing screams 'holiday' like letting your hair down at a beach club — and make no mistake, Monaco is teeming with a few luxurious ones!
Case in point: Nikki Beach at Fairmont Monte Carlo. With breathtaking Mediterranean Sea views from the opulent hotel's rooftop, plus a pool, creative cocktails, and a real 'elite' vibe, celebrities often stop by.
Meanwhile, Monte-Carlo Beach, a glamorous hotel, boasts a Michelin-starred restaurant, poolside bar, and private beach.
A little further out of the main haunts you'll find La Réserve de la Mala, a prestigious locale that is known for exceptional service, fresh seafood, and stunning views.
Finally, for something a little more casual, La Note Bleue, for example, offers family-friendly food and drinks by the sands of Larvotto Beach, complete with sunbeds and live music.
49 – Take a pleasant stroll around the Casino Garden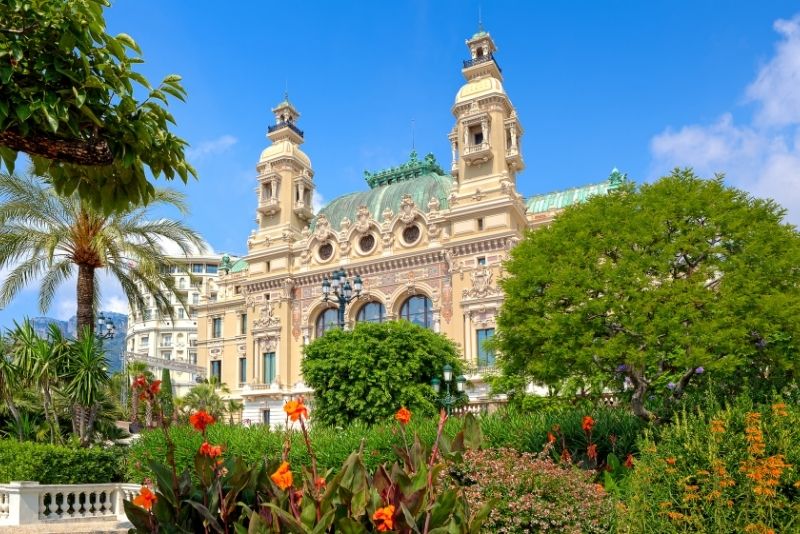 Of course, Monaco is most famously known for its world-renowned casino (the Monte Carlo Casino), so why not pay a visit to the understated yet equally extravagant garden that surrounds it?
With towering palm trees and manicured hedges surrounding an ornate Roman fountain, this serene space makes for one of the most picturesque spots to snap a few jealousy-evoking social media selfies.
50 – Stay in luxury at the Méridien Beach Plaza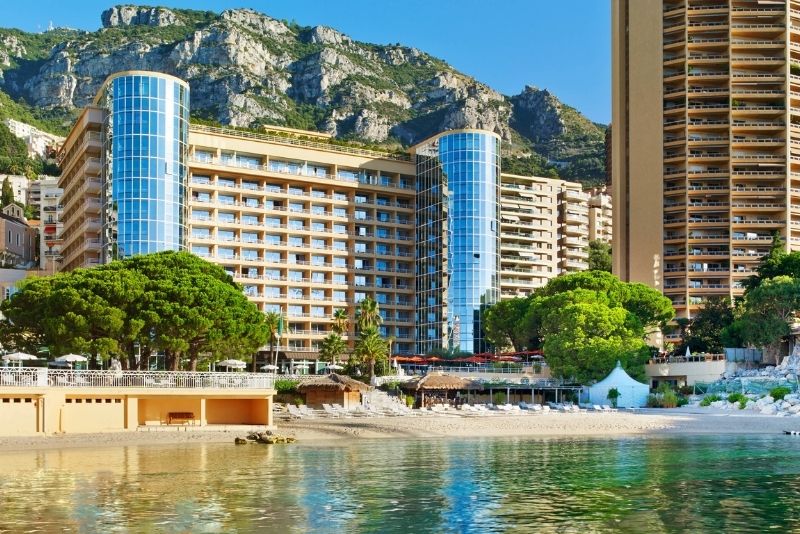 Sitting in the prestigious Monte Carlo neighborhood, the Méridien Beach Plaza wields the claim to fame of being Monaco's only hotel with a private beach.
Home to two custom-designed pools, plus sauna baths, cooking classes, and jet-skiing or parasailing adventures, there's a recipe on offer for every kind of traveler.
It's a symbol of luxury and, so long as you're not on a budget (you're in Monaco, after all), an exclusive accommodation.
51 – See world-class singers at the Monte-Carlo Sporting Summer Festival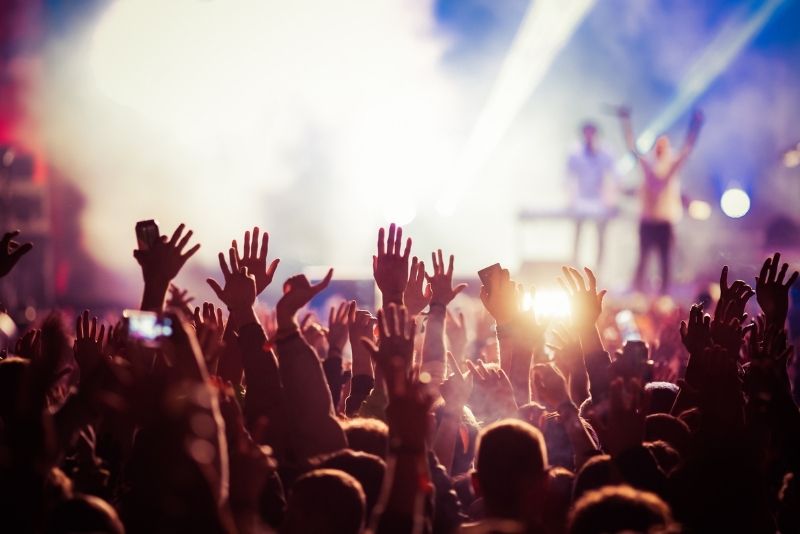 Year after year in July and August, the Monte-Carlo Sporting Summer Festival invites visitors and locals alike to enjoy a variety of cultural events at various venues around Monaco, revolving largely around concerts and performances at the Salle des Etoiles.
Highlights include performances from big-ticket names like Mariah Carey, Santana, John Legend, Rihanna, and the Cirque du Soleil (although the lineup changes annually), fireworks displays above Port Hercule.
52 – Grab a beer on tap at the Stars N' Bars sports cafe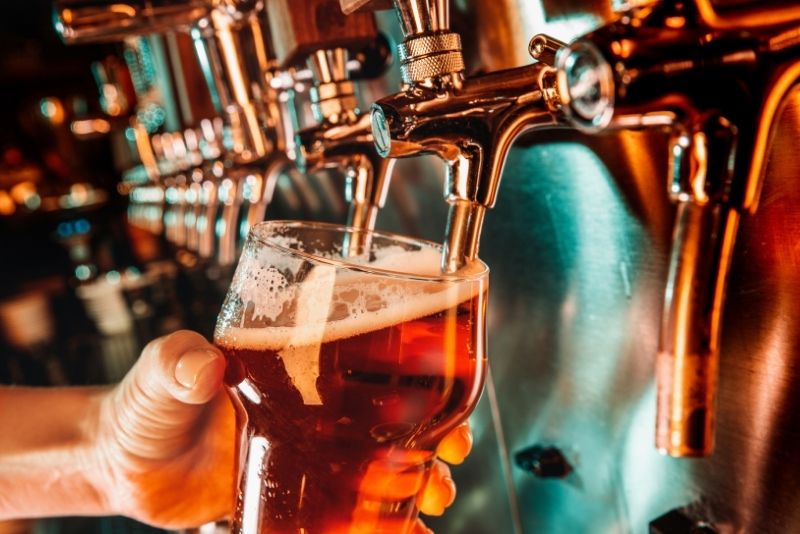 A must-visit for lovers of sports and alcohol, Stars N' Bars is a nod to the classic American sports bar, making it the ideal spot to catch your favorite team's game over a beer.
With an outdoor terrace and plenty of screens inside, it's easy to see why this largely vegan bar/cafe has become such a popular hangout — as a bonus, it's relatively affordable too, despite its prime location in front of Port Hercule.
53 – Relax and unwind at a spa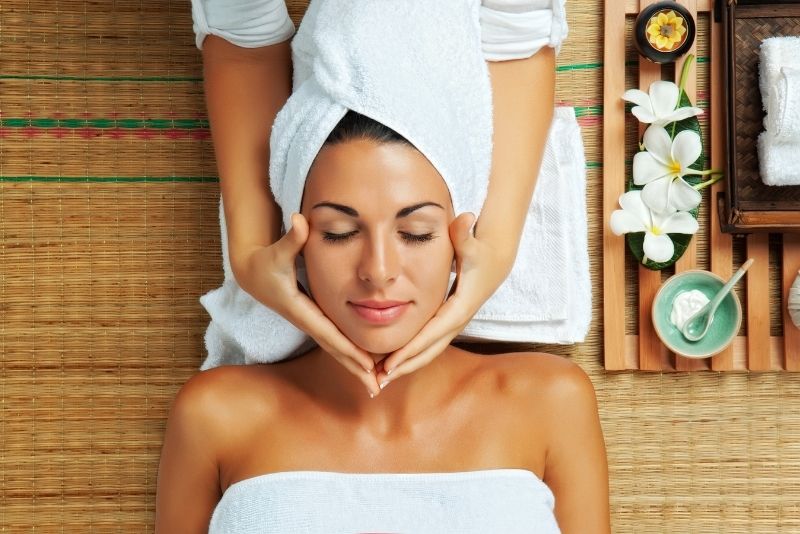 After a few days of partying on yachts, walking around Old Town, or sipping cocktails on the beach, a day dedicated to R&R certainly wouldn't go astray.
Luckily, spas and wellness centers are dotted all across the principality, offering a range of treatments and special packages for visitors to Monaco, all in luxurious surroundings.
We already touched on the Thermes Marins Monte-Carlo, however, a couple of other notable spots include the stunning, 5-star Odeon Spa; the Cinq Mondes Spa, Monte-Carlo Beach Spa, and the Fairmount Spa.
54 – Go bowling at Ni Box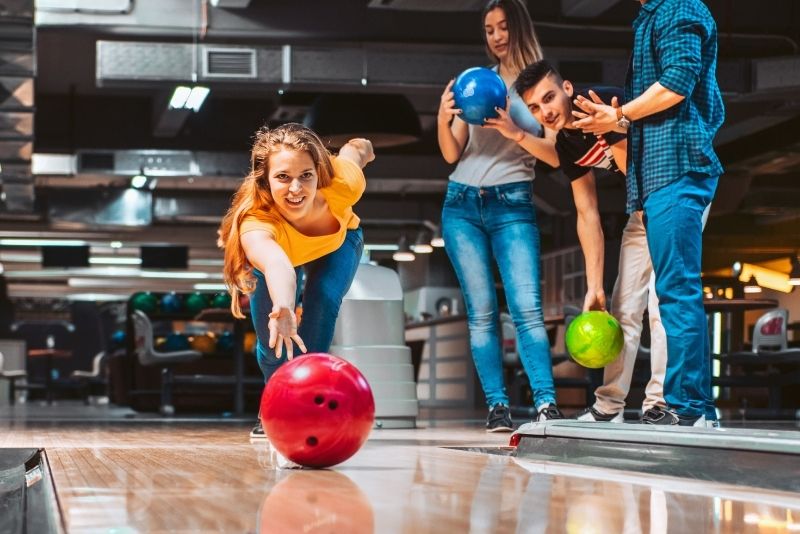 Located in the heart of Monte-Carlo, Ni Box is a boutique bowling alley that promises to offer a low-key night of entertainment for all ages.
With 8 lanes at your disposal, plus a handful of video games, simulators, and billiards tables — open to midnight six days a week — this is a fun place to spend the evening with friends.
55 – Dine at a Michelin-starred restaurant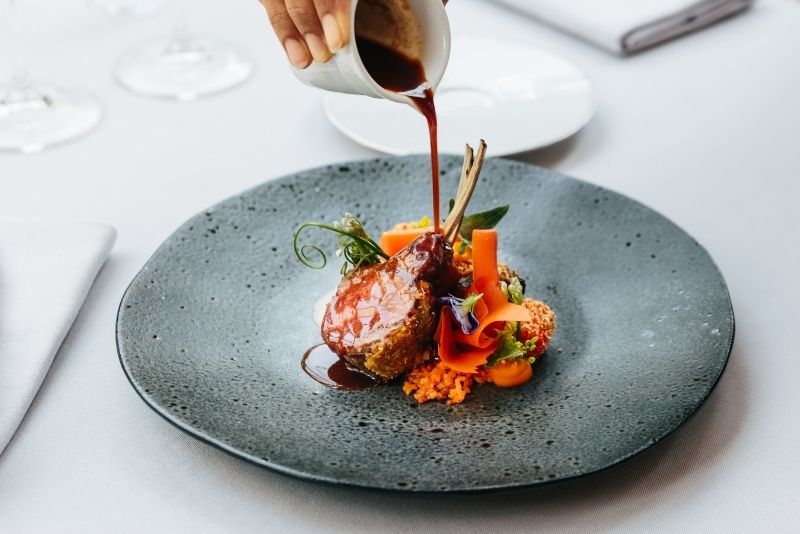 Foodies, rejoice! If you're a sucker for an upper-class meal and world-class service, Monaco boasts a whopping different Michelin-starred eateries.
From French-Mediterranean cuisine (Le Louis XV) to authentic Japanese dishes (Yoshi or Maya Bay), and traditional Italian pizzas (Rampoldi), you're in for one unforgettable dining experience.
Of course, make sure to book a table in advance to avoid disappointment.
56 – Max out the credit card at Metropole Shopping Monte-Carlo
One of the more things to do in Monaco for shopaholics, the Metropole Shopping Monte-Carlo is home to a wide range of luxury brands (from Gucci to Hugo Boss) and boutiques all under one roof.
Whether you're looking for a new watch, bag, or pair of shoes to add to your collection (or if you simply can't resist the chance to window shop and admire the gorgeous period chandelier and grand staircases), this is an essential stop on any trip.
57 – Follow the footprints of the greatest football players at Champions Promenade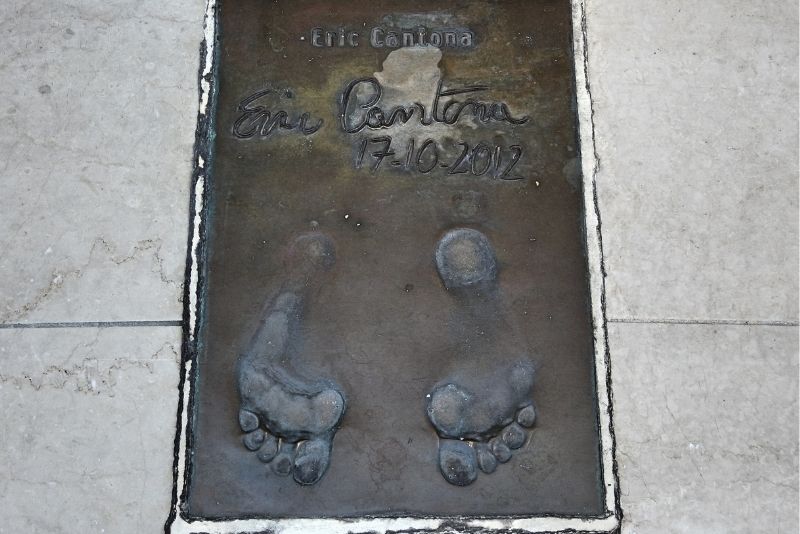 A football hall of fame walkway that's easily one of the essential things to do in Monaco for sports fans, the Promenade des Champions is a tribute to some of the greatest football legends ever, with each player honored via their own commemorative plaque.
From Pele and Maradona in one corner to Zidane in another — along with Ronaldo and George Best in between — this walkway stretches from Japanese garden and at one end to Larvottto beach at the other.
58 – Eat and dance the night away at the finest venues in Monaco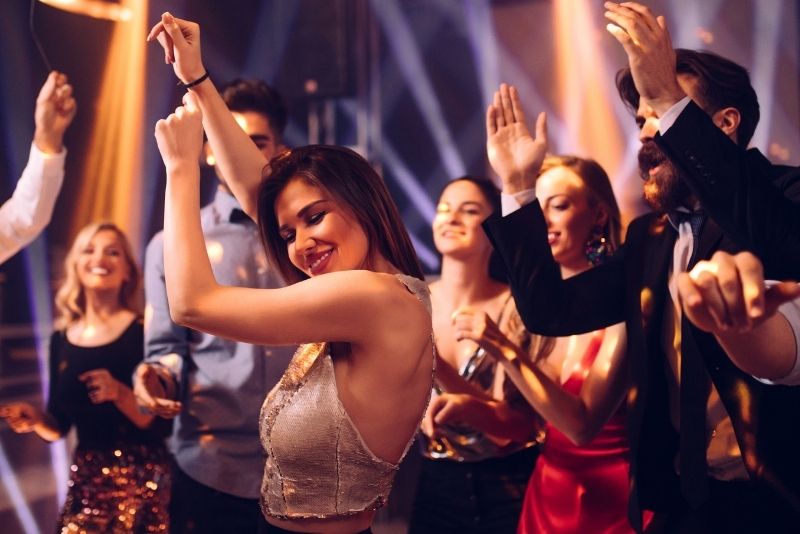 Buddha-Bar Mont enchants visitors with its remarkably extravagant soirées, providing a party experience like nowhere else with the best food, drinks, and ambiance.
Adorned with Buddhism relics, combined with deep red and purple lights highlighting the sacred sculptures, stick around to party all night with the rich and famous until the early hours of the evening.
Be seen at La Rascasse, one of the most legendary venues for parties, happy hour, live music, or lounging around on the terrace with privileged sea views.
With a resident DJ pumping out the beats throughout the week, you'll hear the genres of the world represented at this club, from salsa to acoustic, to electronic.
59 – Try your luck at Casino de Monte-Carlo (or a couple of others)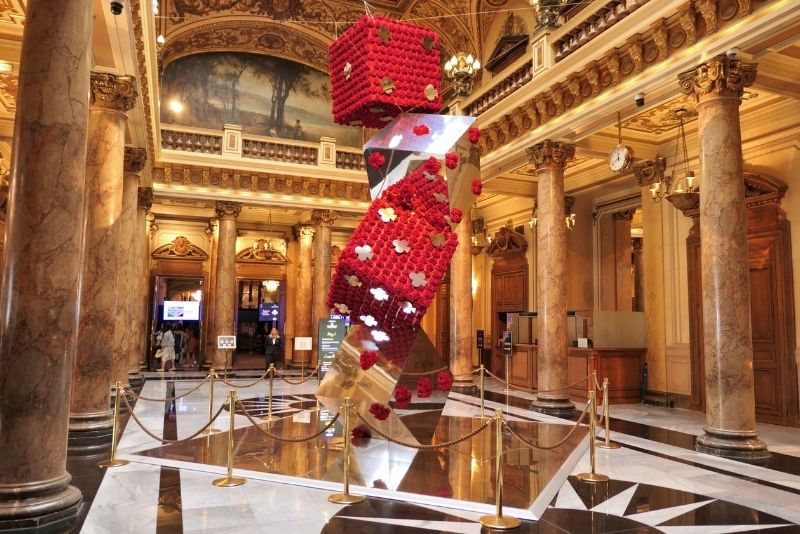 If you're after neon-lit slot machines, head to the Casino Café de Paris. If you're after table games and modern-chic cocktails, try out the Monte-Carlo Bay Casino.
Though far and away from the most famous casino outside of Vegas, as an icon of the region and a true beacon of upper-class sophistication, the Casino de Monte-Carlo should sit high atop any Monaco bucket list.
Conjuring up images of James Bond, supercars, models, and high-rollers, the legendary marble-and-gold gambling palace is open for tours between 9 am and 1 pm each day. Thereafter, the gaming goes into full swing and the haut-class dress codes apply.
60 – People-watch at Casino Square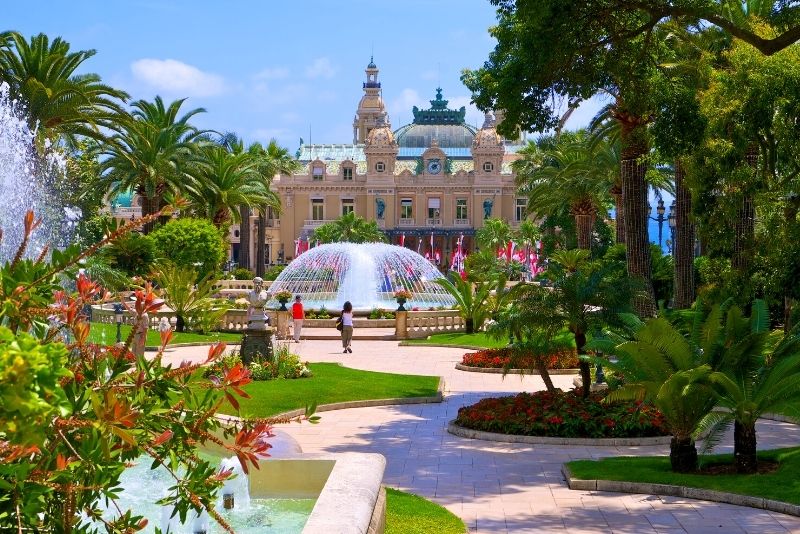 A paparazzo's haven for spotting international celebrities, deep-pocketed gamblers, and dozens upon dozens of jaw-dropping cars and limousines, Casino Square is the undisputed epicenter of Monte-Carlo luxury nightlife.
Lively and vibrant 24 hours a day, this square in Monaco's center sees casino visitors come and go all day long; with some stopping by to peruse the local shops for jewelry or luxury watches (Cartier being a favorite), and others popping into the Café de Paris for a classy meal.
61 – Sit front row for the Monte-Carlo Jazz Festival!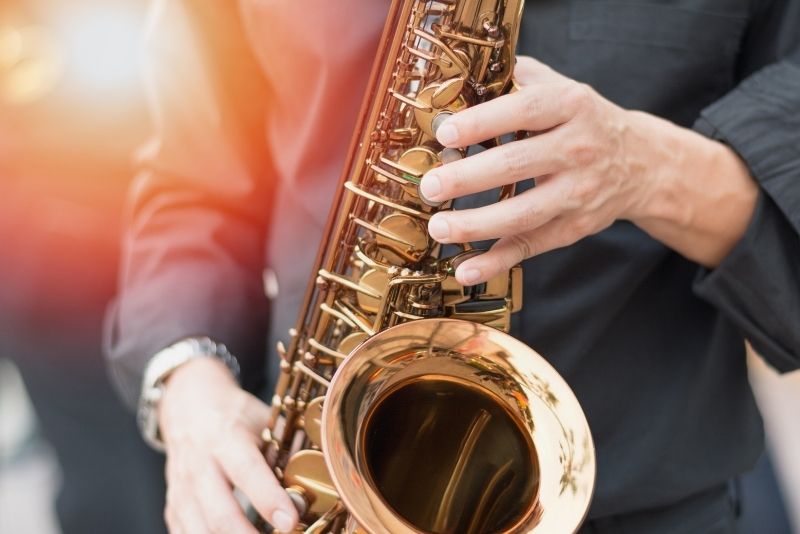 From late November through to early December every year, Monaco's Monte-Carlo Jazz Festival pulls in some of the biggest names on the international jazz scene for concerts at its renowned Opéra Garnier Monte-Carlo.
Be sure to check the website in advance to snag your tickets and see who's playing, and don't forget to dress up to the occasion!
How to get to Monaco?
Arrive in true style and luxury at your hotel when you book a safe and convenient airport transfer.
Plan ahead of time, reduce any travel planning stress, and have peace of mind knowing that when you arrive in Monaco, your private airport shuttle will be waiting for you, ready to take you to whatever point you need in the city.
Where to stay in Monaco?
Experience a truly affluent experience in Monaco when you stay at Hôtel Hermitage Monte-Carlo, located in a historic building, the hotel offers all the amenities that visitors could need for a more than comfortable stay. Enjoy views of the city, garden, or sea, and make sure to have a sip of vintage wine inside the luxurious Crystal Bar.
Stay the night at Le Méridien Beach Plaza, offering guests unmatched views of the Mediterranean Sea, and catering to the needs of the guests' requests, from 24-hour room service to the exquisite spa and gym amenities with expansive nature views. Enjoy being within walking distance of some of the city sights.
Enjoy the magnificent water views from your room at Novotel Monte-Carlo, while staying centrally located to the main sites and main train station. Offering a variety of breakfast options from American style to fresh Mediterranean dishes, you'll surely feel satisfied and energized for the day.
Where to go next?
Want to see the rest of the best places to visit in Europe? We're glad you asked!
Continue the affluent vibes in Nice, situated on the beautiful French Riviera, where aside from the sparkling sea, and all of its activities, you can also wander through the magical fields of lavender in Provence, sit back and relax at the beautiful square Place Masséna, or why not, rent the car of your dreams for a little spin.
Visit Marseille, France's second-largest city, exploring the historic sites such as the Notre-Dame de la Garde, the Château d'If fortress on an island, or getting your picture taken at the Palais Longchamp.
Get your shopping on at the fashion capital of Italy, Milan. Walk through the glamorous Galleria Vittorio Emanuele ll, or book a walking tour, and stroll through the magnificent Castello Sforzesco.
Explore beyond luxe Monaco, and onto other nearby gems, worthy of a shore excursion!
Final thoughts
We hope our list of the best things to do in Monaco was helpful to you as you plan your own itinerary, exploring this heavenly slice of luxury on the French Riviera.
Whether you're partying it up with the wealthy, or you're exploring rugged nature, or soaking up the historic sites, your trip to Monaco will be rich.
Happy travels!