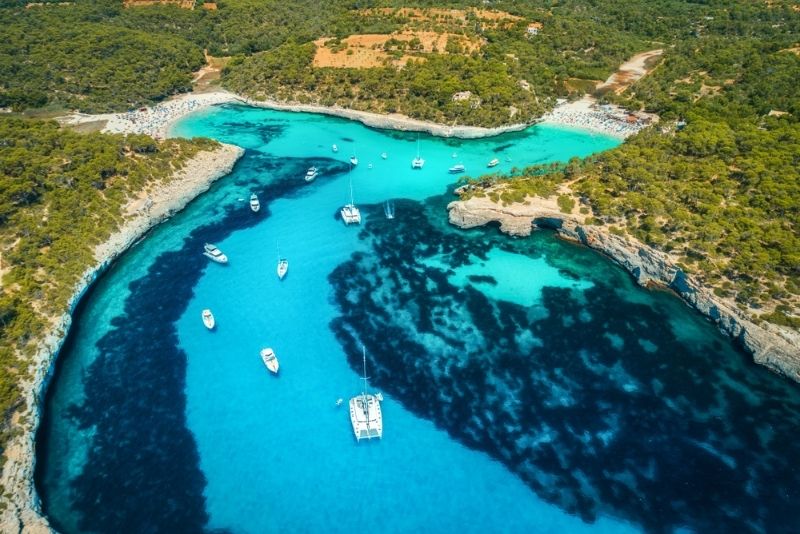 Often hailed as the jewel of the Balearic Islands, Mallorca is a sunny haven of scenic coves, lofty mountains, and Moorish architecture. This accessible Mediterranean land of hilltop villages and white sand beaches captivates travelers from near and far, each leaving with their own magical story to tell.
With the average summer temperatures reaching up to 87 degrees Farenheight and dipping as low as 40 degrees Fahrenheit in the winter, while offering around 300 days of sunshine and blue skies, there truly is no "bad" season to visit Mallorca, making it easy to plan a trip to whenever you'd like.
Catering to different travelers with different styles, plans, and budgets, in Mallorca, you can easily go from clubbing the night away to planning to explore the beautiful coves, or checking out the bohemian art scene, meeting incredibly welcoming locals along the way offering their recommendations to best enjoy the island.
Read on to discover all the top things to do in Mallorca, Spain's largest island, to help you decide how to spend your vacation.
1 – Pay your respects at Palma Cathedral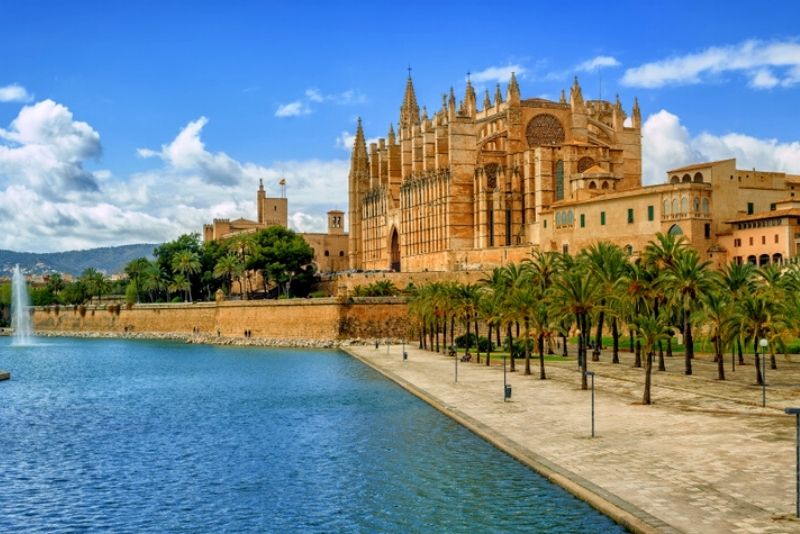 The star of the show in Mallorca's capital city is undoubtedly the magnificent Palma Cathedral. Standing proud beside the harbor in the historic quarter, this Gothic marvel is home to holy relics and royal tombs.
Keep your camera handy to capture one of the largest stained-glass windows in the world, and see if you can spot Gaudi's handwork on the alter.
Be sure to learn more about the cathedral's extensive architecture, inspiration, and more about the surrounding area, on a walking tour.
2 – Harness the waves on a catamaran excursion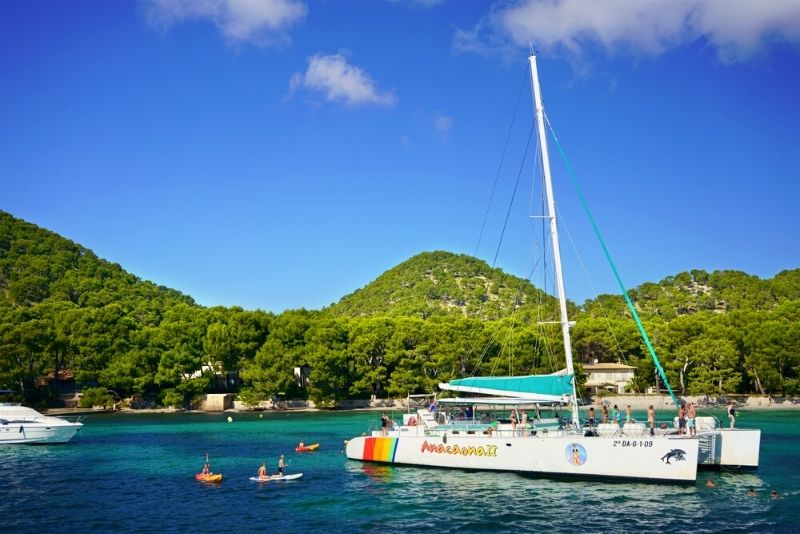 Cruise along the coast in style on board a comfortable catamaran. The twin hulls make this a stable ride, letting you concentrate instead on photographing the majestic sea cliffs and caves as you sail by.
Drop anchor in picturesque bays for a spot of swimming or snorkeling, and clamber back on board for a tasty barbecue feast prepared by the expert crew.
3 – Take a hop-on hop-off bus tour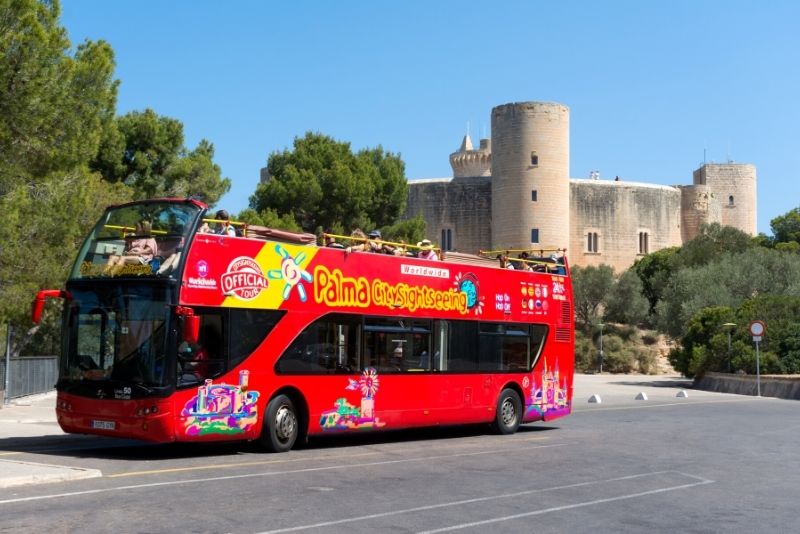 Want to see the sights but short on time? Then a hop-on hop-off bus tour of Palma is the answer. Explore this city of culture at your own pace, stopping at the attractions that catch your eye.
Stroll through Plaza España, visit Palau de la Almudaina, or pop into the cathedral. Get a seat on the top deck for the best views!
4 – Go underground in the Cuevas del Drach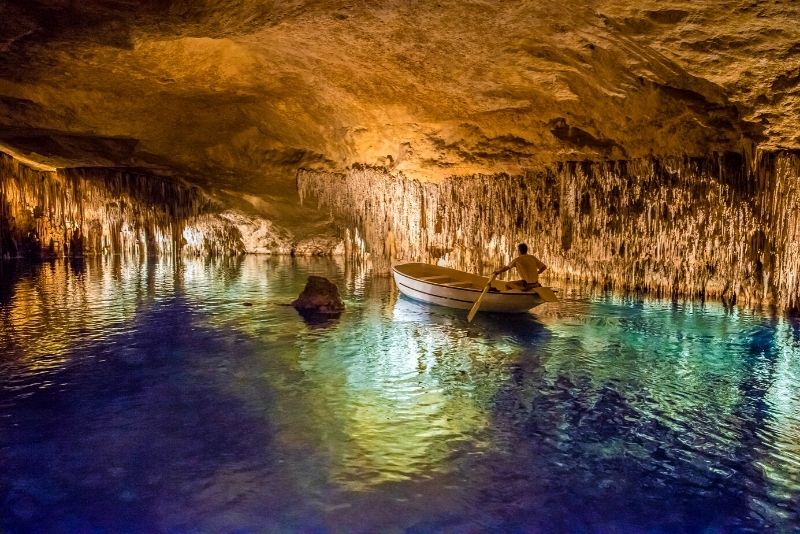 Heading deep below the earth's surface on a tour of the Drach Caves is one of the most remarkable things to do in Mallorca. Live musical performances and special lighting effects transform this eerie underworld into something quite special.
Take a boat ride on the vast subterranean Lake Martel, and gaze in wonder at the ethereal formations all around you.
5 – Relax on the beach at Cala Agulla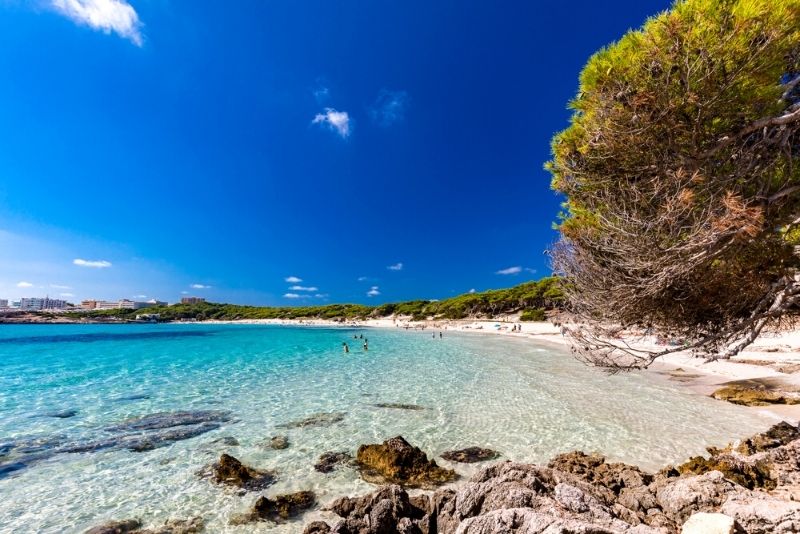 Perfectly positioned between scented pine forests and commanding mountains, the beach at Cala Agulla is one of the prettiest on the island. Popular with families, the fine white sand comes with a dazzling dose of shallow blue sea to swim in.
Hire a sun lounger or spread out your towel and settle in for a day for pure relaxation.
6 – Stroll around Palma de Mallorca Old Town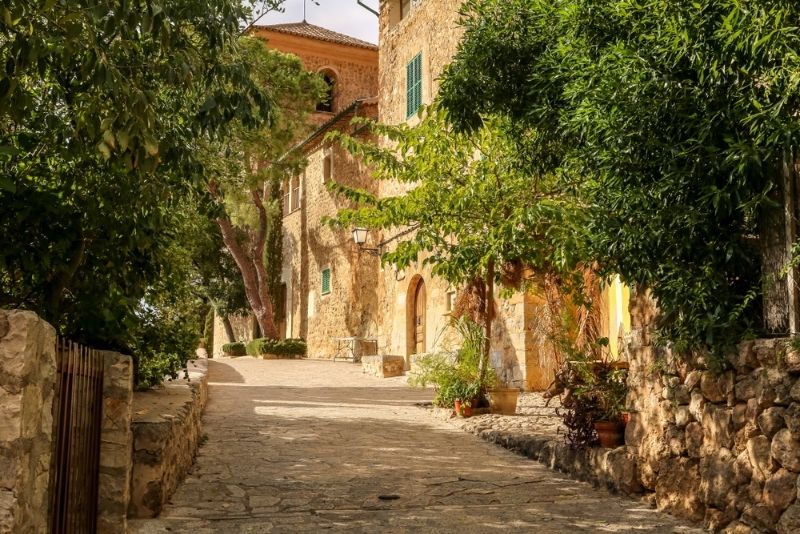 The historic quarter of Palma de Mallorca is a maze of narrow streets, leading to squares, mansions, and museums. Old Town highlights include the Gothic cathedral and the Palace of Almudania.
The best way to explore is on a walking tour, but if you want to cover more ground, bike excursions and segway tours are a fun way to get around.
Another fun way to explore the quaint streets of Old Town is to rent an electric scooter, where for approximately 1-hour, you'll cover a lot of must-visit sites, with a multilingual tour guide.
7 – Venture inland on a quad tour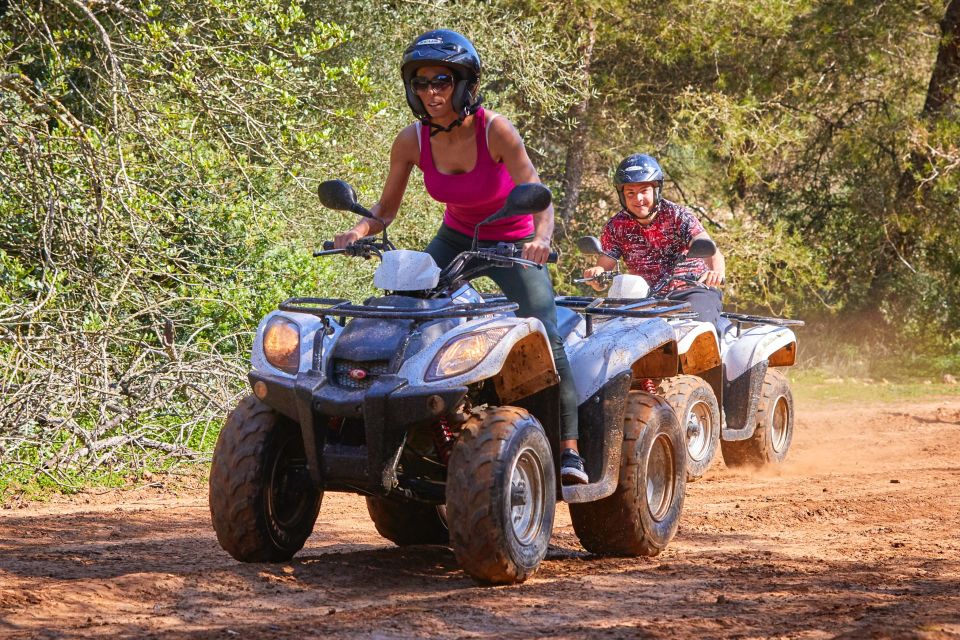 Journey into the rugged interior of the island on a thrilling off-road quad bike adventure. Explore lesser-known valleys and villages as you zoom along dirt tracks and hidden trails.
Stop at lofty mountain viewpoints for panoramic photos, then head to the beaches for snorkeling and cliff jumping. If you want to experience a different side of Mallorca – this is it!
8 – Unwind in Soller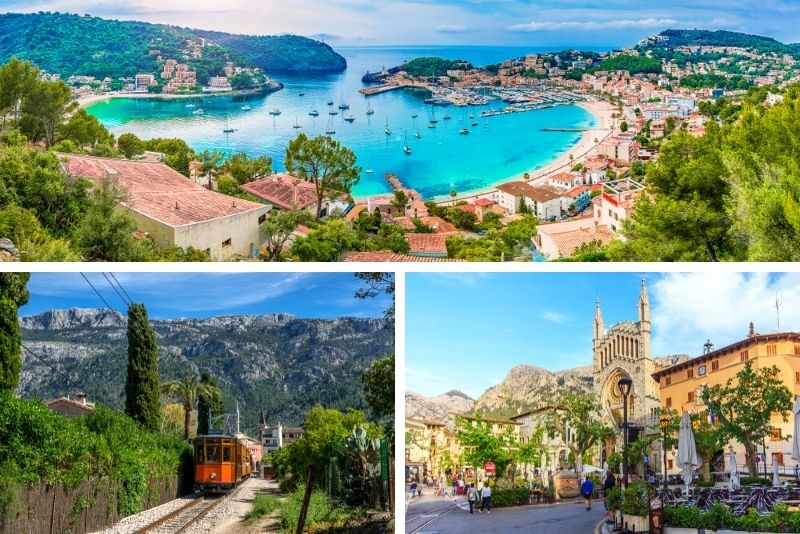 The peaceful town of Soller is nestled in a valley of orange groves between the hills and the sea. You can visit on a day trip, or by vintage train from Palma.
Wander along cobbled streets past traditional townhouses and practice your haggling skills at the market. Then indulge in a bit of people watching in laid-back plazas, and tuck into local tapas and pastries at local cafes. Visit the Port of Soller for a stunning view over the bay.
9 – Explore the underworld in the Caves of Hams
Fancy doing something different? The Caves of Hams are out of this world, with bizarre rock formations and secret lagoons beckoning you into the depths of the earth.
Walk along pathways to discover 15 different areas, including an extraordinary underground lake called the Sea of Venice. Watch out for the free-flying birds and be amazed at the luminous colors of the blue cave.
10 – Enjoy a dolphin watching cruise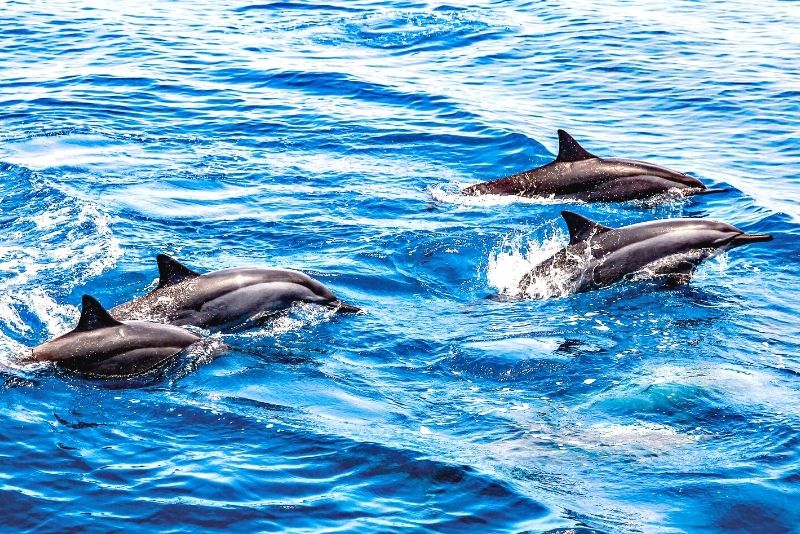 Hop on board a catamaran and sail out to sea in search of dolphins. Keep your eyes peeled for all manner of marine life as you cruise along the coast – make sure you have your camera to capture the action.
Pods of friendly dolphins often play in the bow waves of the boats, leaping through the surf and showing you their signature moves.
Be amazed by the wonder and size of whales, on a whale-watching tour, as you watch the creatures pop their head up to the surface while learning fun facts about them from your tour guides.
11 – Explore the Royal Palace of La Almudaina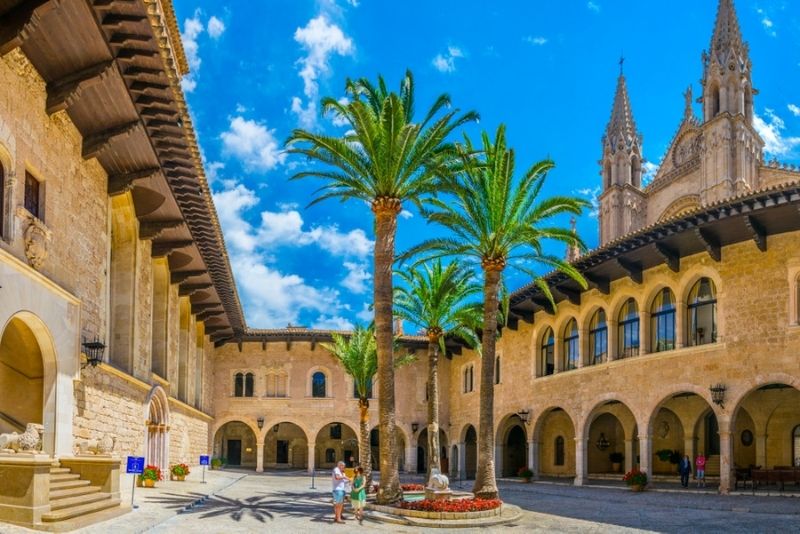 Conveniently situated opposite the cathedral in Palma, this 10th-cenutry Moorish fortress is one of the top sights in the capital. Rebuilt by the Christians in a more gothic style, the Royal Palace of La Almudaina has been home to the nobility for centuries.
Explore staterooms and grand halls, then visit the museum to discover how history has shaped this magnificent palace through the ages.
12 – Swim with sharks at Palma Aquarium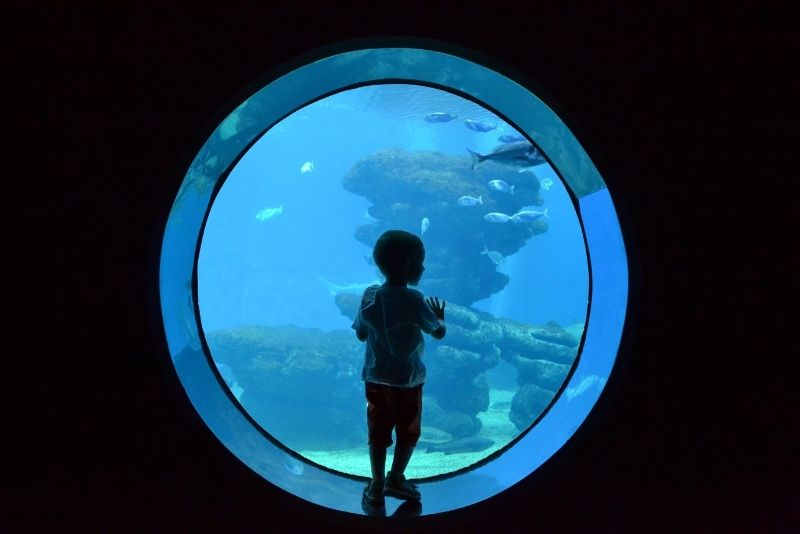 Looking for a fun family day out? Then visit Palma Aquarium and come face to face with over 8000 creatures of the deep. The highlight of this vast aquatic kingdom is the Big Blue Shark Tank – courageous explorers can even dive with the beasties inside!
Listen to enchanting whale songs in the 3D Aquadome, and watch manta rays chowing down at feeding time.
13 – Chill out at Es Trenc Beach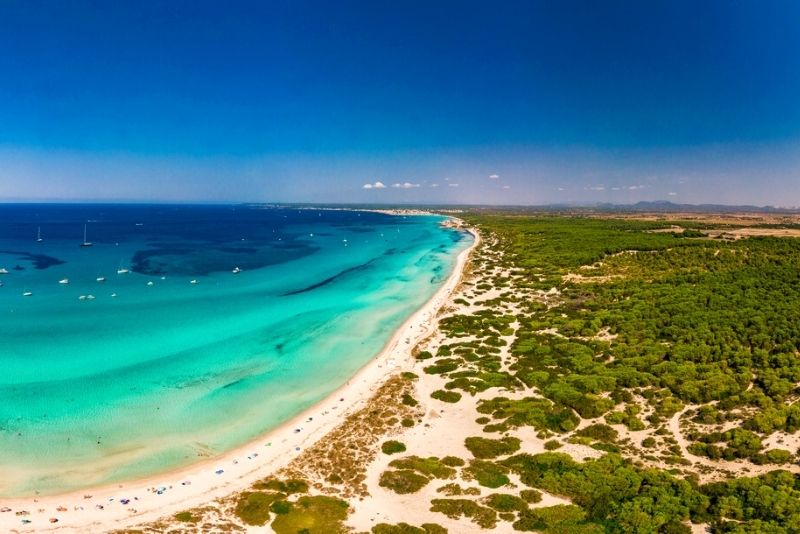 Es Trenc is the most famous beach in Mallorca, and it is easy to see why. The long swathes of golden sand and shimmering turquoise sea have distinctly Caribbean vibes. Grassy dunes line the beach, giving a sense of natural wilderness.
Facilities are low-key and unobtrusive, which is part of the charm. So, pack a towel and a picnic, and settle in for the day.
14 – Get a dose of culture at Valldemossa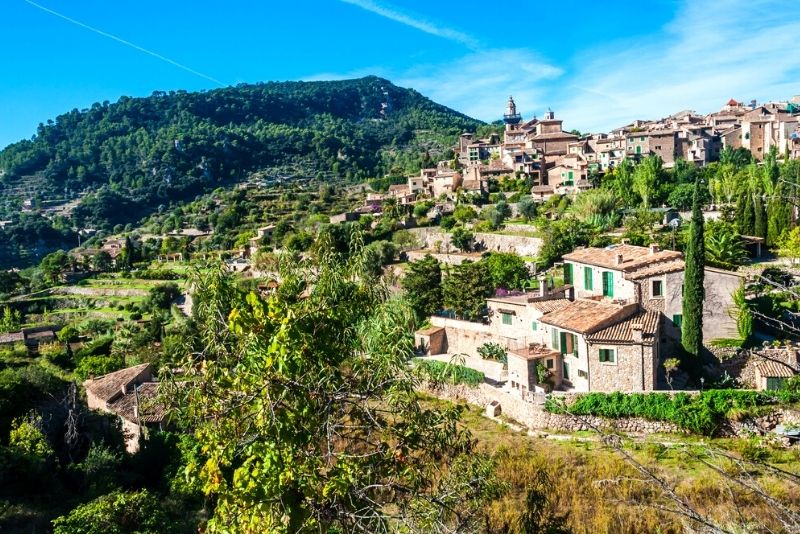 Just a 20-minute drive from Palma, the mountain town of Valldemossa feels a world away from the city bustle. Pedestrianized alleyways entice you into the heart of this rich cultural settlement, with churches, gardens, and plazas to explore.
Stroll around the Real Cartuja monastery and enjoy a Chopin piano recital in remembrance of the composer who once stayed here.
15 – Meet sea creatures on a snorkeling tour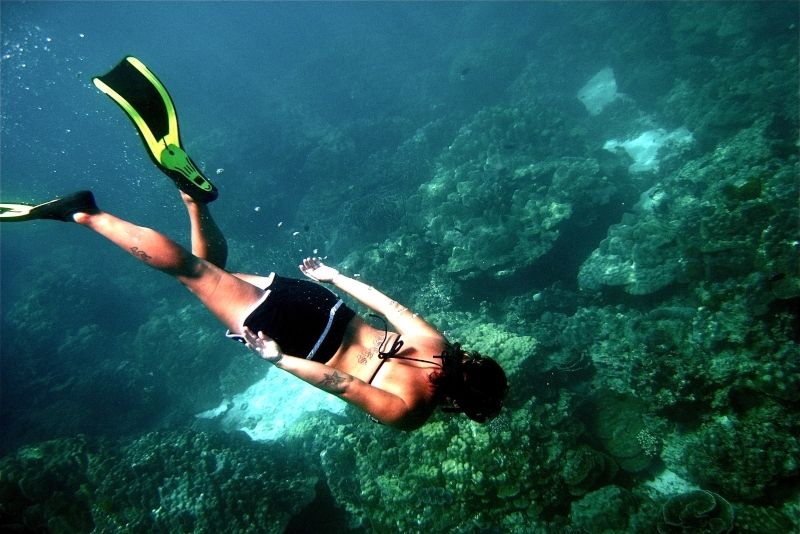 Snorkeling tours are one of the best things to do in Mallorca. The underwater world around this Mediterranean island is sublime, with unusual rock formations and abundant marine life to discover.
Swim out from deserted beaches or jump overboard and float beside colorful rainbow wrasse and seabream. Keep an eye out for moray eels in the rocky crevices.
16 – Enjoy some beach time at Cala Vella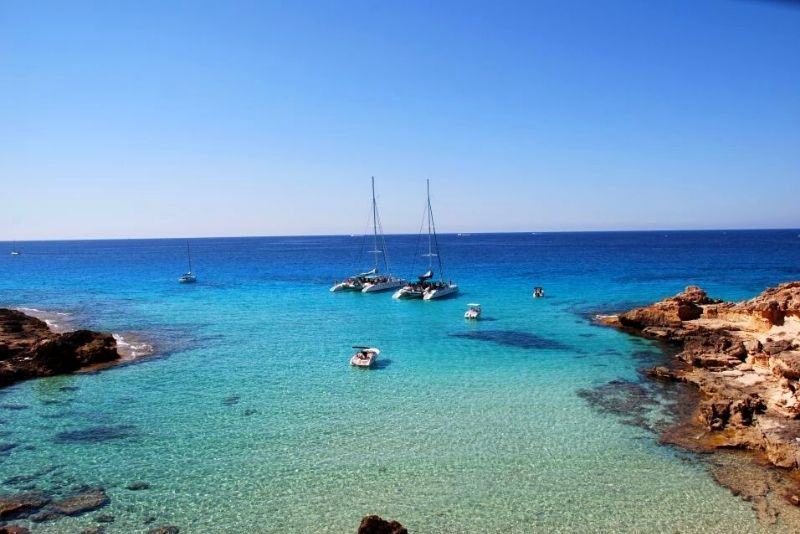 Kick your shoes off and feel the warm sand on your feet as you walk along the beach at Cala Vella. This dreamy cove is one of the most popular beach resorts in Mallorca, with its turquoise waters and sheltered bay.
Make a day of it on a boat trip to Cala Vella, with barbecue lunches and as much snorkeling as you can handle.
17 – Go wine tasting in vineyards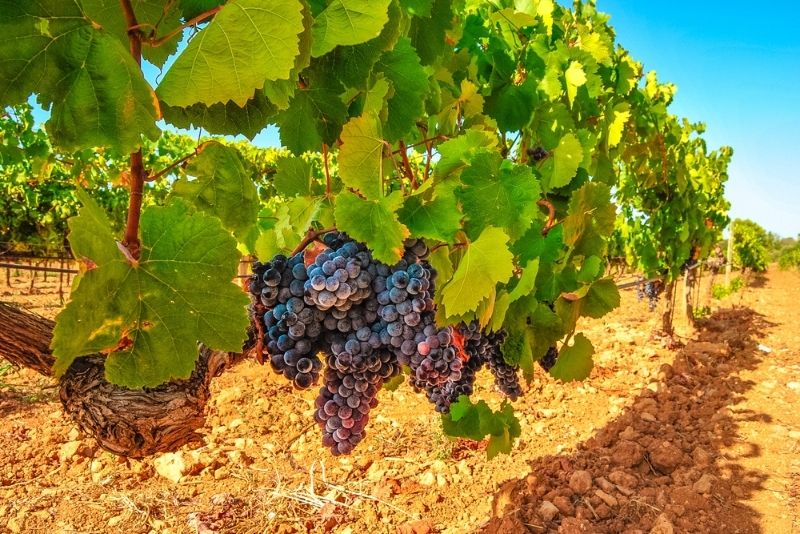 No visit to Mallorca would be complete without a wine tour in some of the prettiest vineyards on the island. Visit family-run wineries to learn about the production and aging process on a guided tour.
Test your sommelier skills with tastings of these locally produced vintages, and buy a bottle or two to take home. Some tours include plates of tapas to complement your wine.
What pairs excellently with wine you may ask? Cheese of course! So don't forget to also check out a cheese tasting, where you can try artisanal Mallorca cheeses, like Queso Mallorca.
18 – Relax on Formentor beach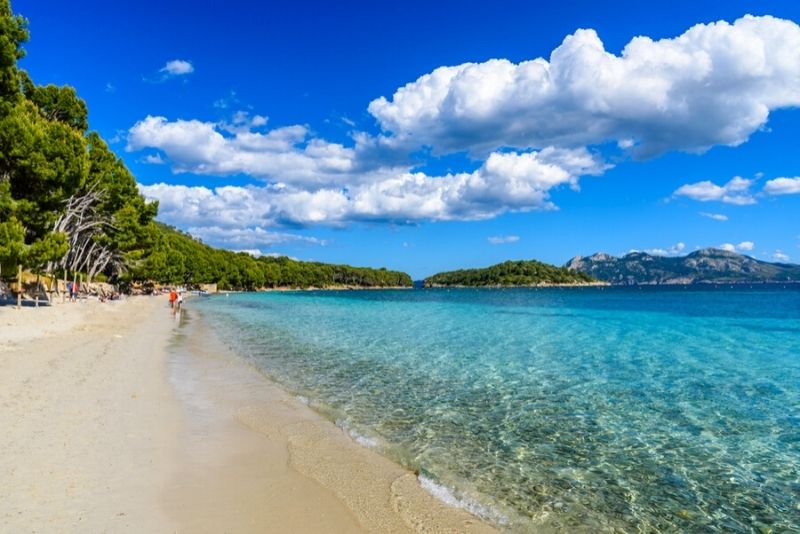 Beaches are a huge part of Mallorca vacations, and the sandy swathes of Formentor are some of the best. Indeed, you could be forgiven for thinking you were in the tropics!
The slim crescent of golden sand backs onto a pine forest, creating a wild yet welcoming vibe. Enjoy the views towards Cap de Formentor, and float languidly in the sparkling waters that lap gently against the shore.
19 – Saddle up for a horse riding tour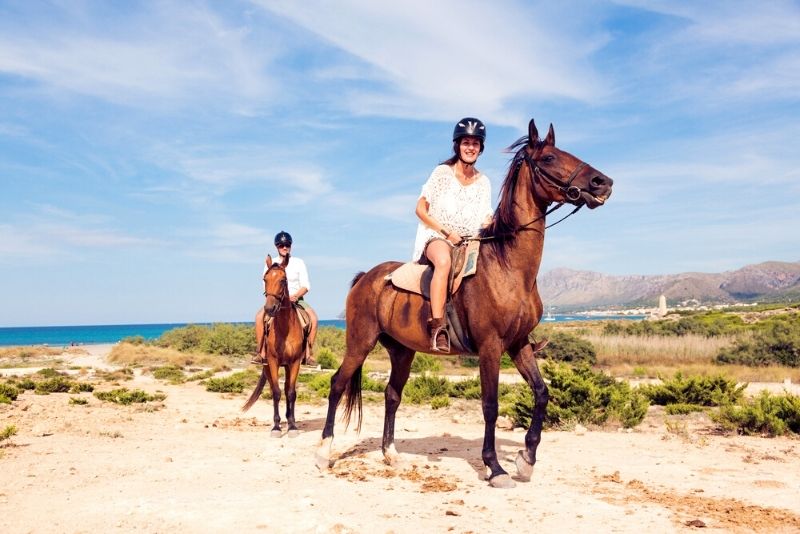 Release your inner cowboy and sit high in the saddle as your trusty stead navigates the rugged island interior. Routes can include coastal trails and forested slopes, with plenty of breath-taking mountain views thrown in for good measure.
Experienced riders can up the pace with a trot or canter, feeling the freedom that comes with a horse riding tour in Mallorca.
20 – Power along the coast by jet ski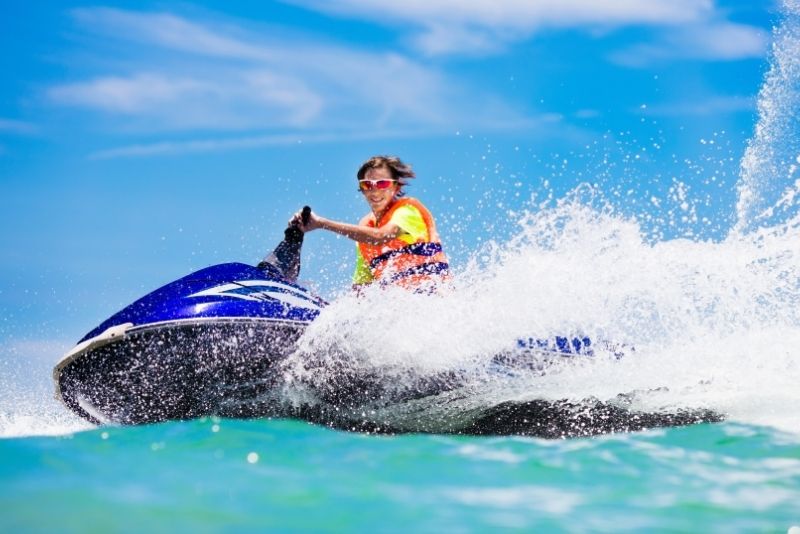 Ramp up the power and skim along the water on a thrilling jet ski tour. Ride tandem or go solo – you can decide. This is a fun way to see a different side of the island, with enough throttle as you can handle.
Discover secret caves that can only be reached by intrepid sea explorers, and take a dip in the open sea.
21 – Tuck into delicious delicacies on a Tapas Tour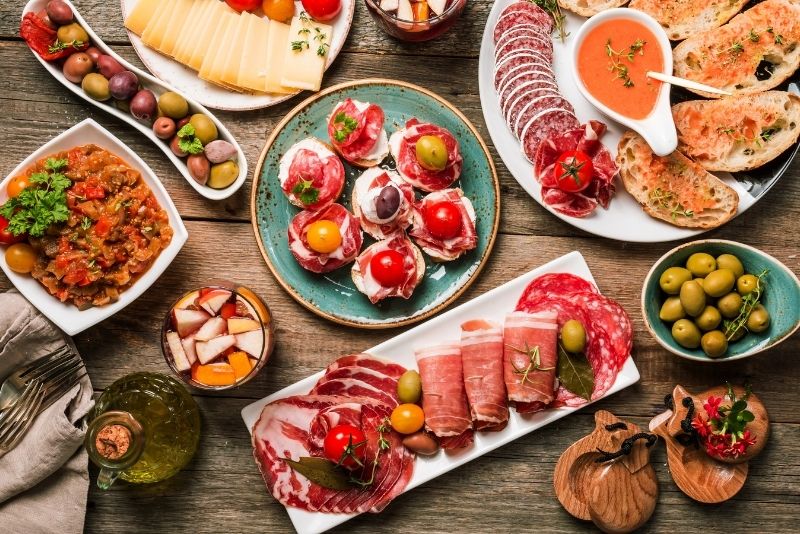 Food is an important part of your vacation, so take a tapas tour around Palma and get those taste buds working.
Take in the Old Town sights as you hop between bars and markets with a local foodie, sampling everything from Spanish tortilla to almond ice cream. Will your favorite bite be crispy ham croquettes, or will you prefer the garlic prawns?
Learn to cook and savor the flavors of saffron-infused rice made with chicken, seafood, and vegetables in a Paella – a traditional Spanish dish inside a Paella cooking class.
Want to learn about what the locals are drinking? Book a fun beer tasting, whether it's to party it up, or visit the different bars in the city for the best beer and tapas combo.
22 – Explore Parc Natural de Mondragó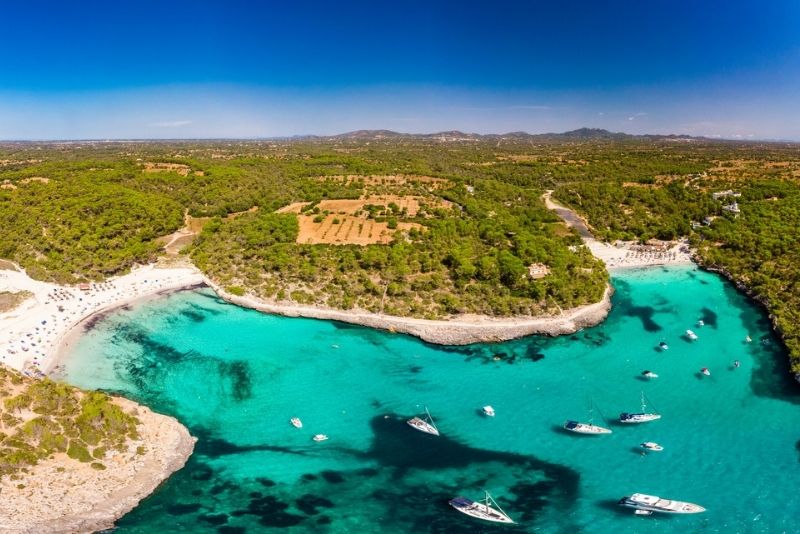 Of all the things to see in Mallorca, this one takes some beating. Famed for its pristine sands and sparkling turquoise waters, Mondragó Nature Park is also home to migratory birds who come to nest in the wetlands.
Hike along the winding trails that meander around the shore. Then walk barefoot on the best beaches on the island – we recommend Cala Mondragó and S'Aramador!
23 – Soar through the sky on a hot air balloon flight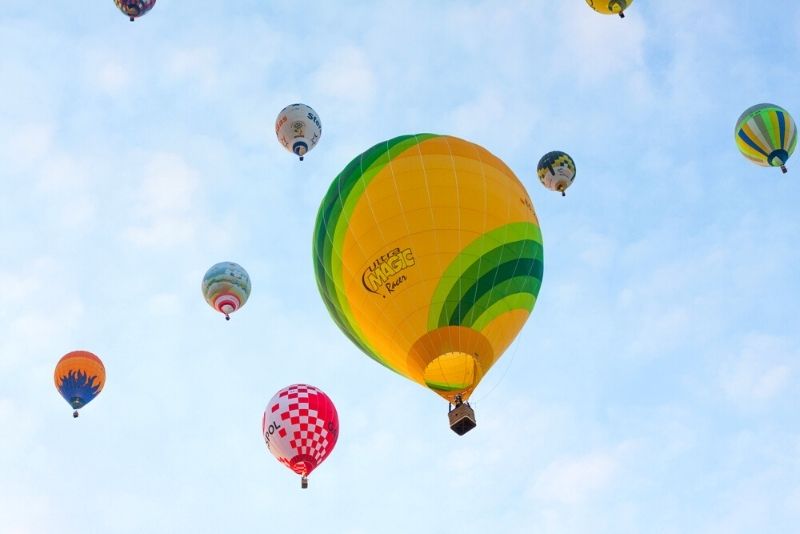 See the island from a different perspective as you drift silently overhead. Hot air ballooning is one of the most thrilling things to do in Mallorca – especially if you go at sunrise.
Keep your camera ready as you float over rugged mountains and sleepy villages, and see if you can spot the famous landmarks of Palma down below.
24 – Practice your Spanish culinary skills in a cooking class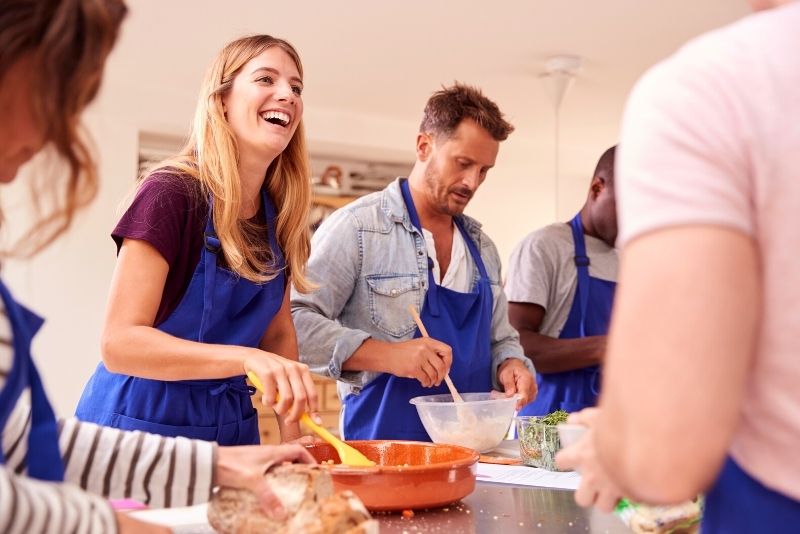 Get your hands dirty by taking a Spanish cooking class, where you'll learn about certain ingredients common in Spanish food, and of course, how to cook some of the most popular dishes.
From The Coca de Trampo, a flavor-infused bread, to the brothy rice, meats, vegetables, and spices mix called Arrós Brut, and more.
Choose to cook alongside a local in their kitchen, enjoying your creations with the whole family.
25 – Try scuba diving in Cala Delta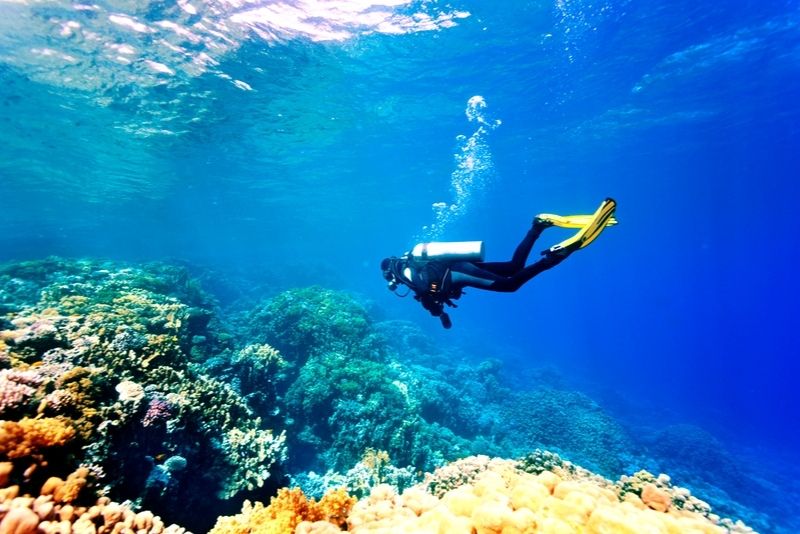 Perfect for beginners, the calm waters of Cala Delta are home to an enchanting underwater kingdom. Master your breathing techniques then head out to put your newfound skills into action.
Swim up close with shoals of colorful fish, and marvel at the vibrancy of this marine nature park. You might spot a barracuda or even a turtle if you keep your eyes peeled.
26 – Enjoy the Bay of Palma on a parasailing adventure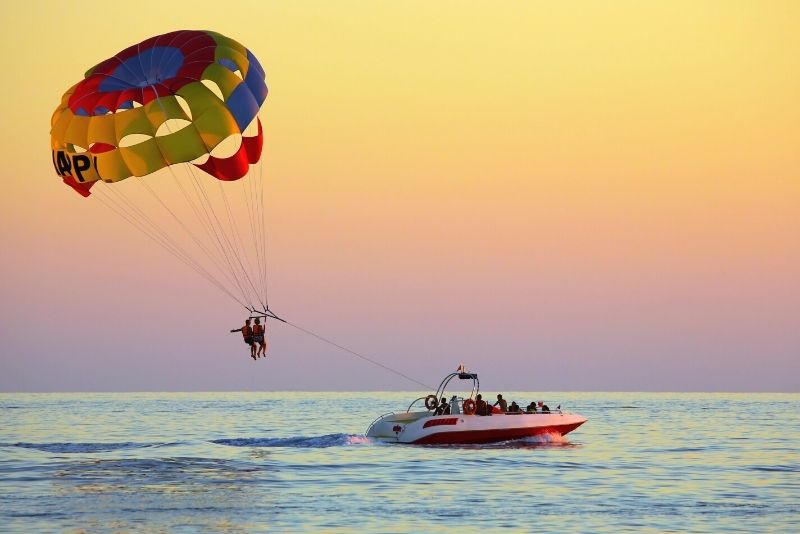 Get ready for lift-off when you hop on board a parasailing adventure, taking flight and seeing the island from a higher perspective. Included in the price are the tour guide, safety equipment, and boat ride.
For more fun in the sun, check out a jet boat, where aside from the thrill of gliding through the bay, you'll also explore some of the rugged natural terrains of Mallorca and secret caves.
27 – Swim at Calo Des Moro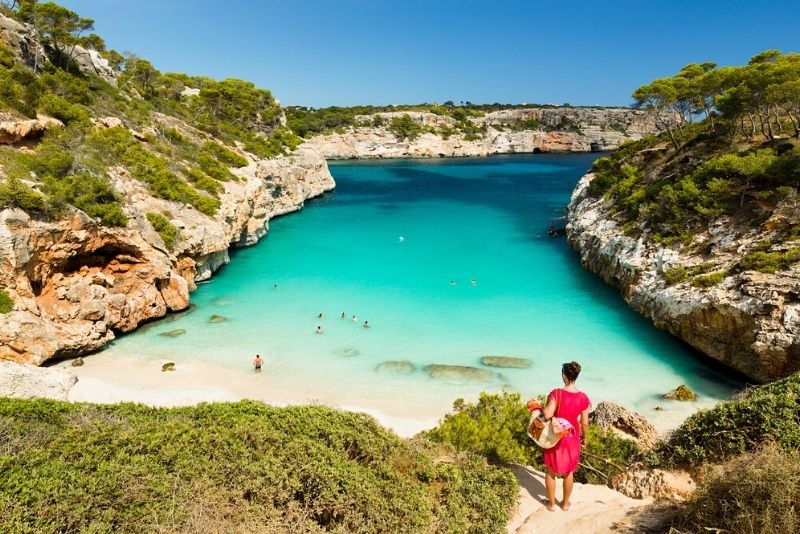 This hidden gem is one of Mallorca's best kept secrets. Flanked by rocky cliffs, Calo Des Moro is a beautiful bay with calm waters that make swimming a delight.
Unless you take a boat tour, getting there is an adventure – the scramble down to the beach is steep. The lack of facilities is part of the appeal, just arrive early to bag your spot.
28 – Hike the Serra de Tramuntana mountains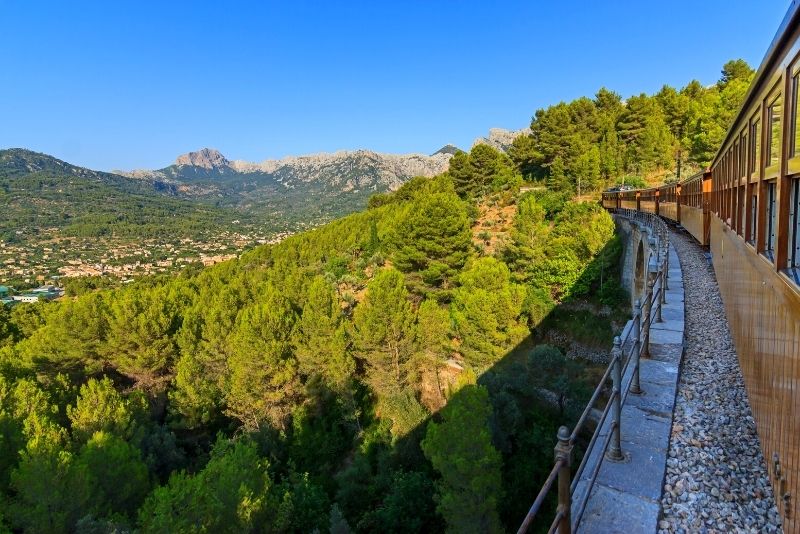 For the best views on the island, head up to the mountains of Serra de Tramuntana – a UNESCO World Heritage Site that forms the backbone of Mallorca.
Walk through ancient olive groves and around tranquil lakes as you explore this beautiful rural idyll, stopping at traditional villages along the way. For something different, take a historic train tour and see the highlights in style.
Though ruins are what's left of the La Trapa monastery, you can hike up to the top to get some of the most incredible views of neighboring islands, the mountains, and the blue sea.
29 – Go kayaking in Cala Major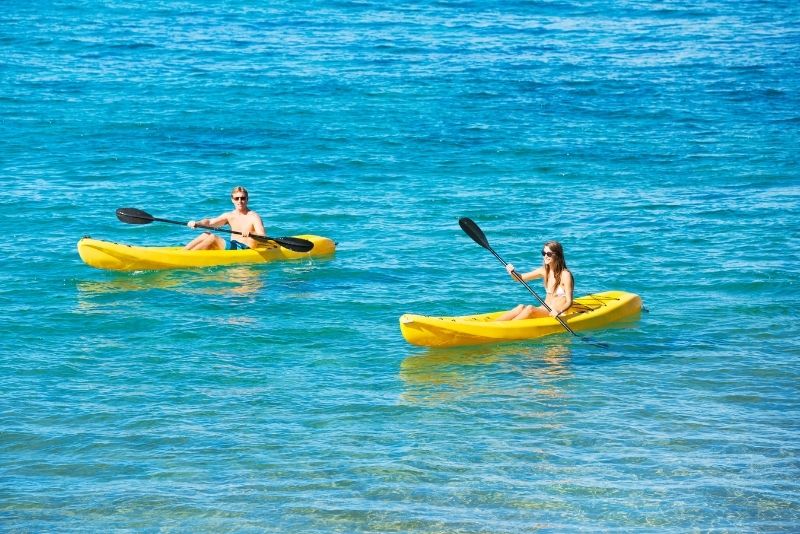 Put on your explorer's hat and paddle along the rocky coastline of Cala Major, drifting into hidden coves and swimming off sandy beaches.
The calm waters make this fun for beginners and pros alike, and the local guides know all the best spots for photos. Take a snorkel if you want to see shoals of colorful fish flitting about the seabed.
30 – Watch sea lions perform at Marineland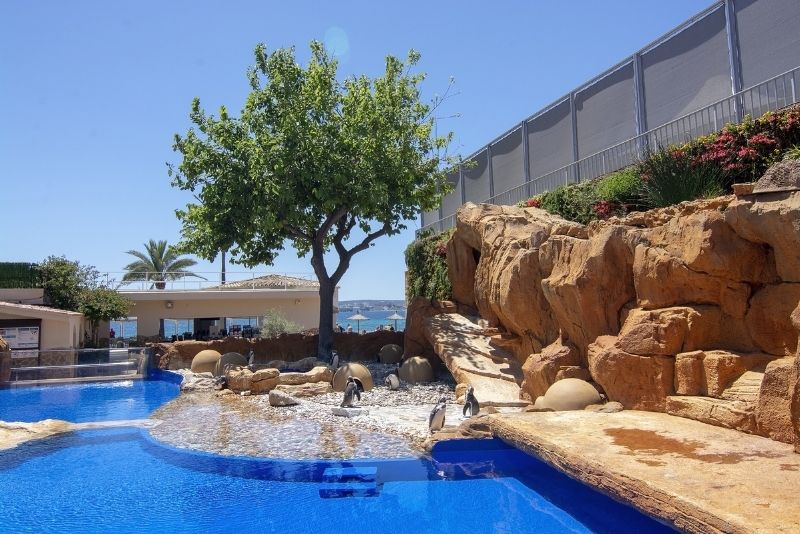 Marvel at the antics of dolphins, penguins, and sea lions on a family trip to Marineland Mallorca. Meet the wild inhabitants of the aquariums and aviaries, and enjoy entertaining shows throughout the day.
Want to get up close and personal with a dolphin? Then take part in one of the special encounters and come away with a photo to commemorate the magical moment.
31 – Descend underground in the Genova Caves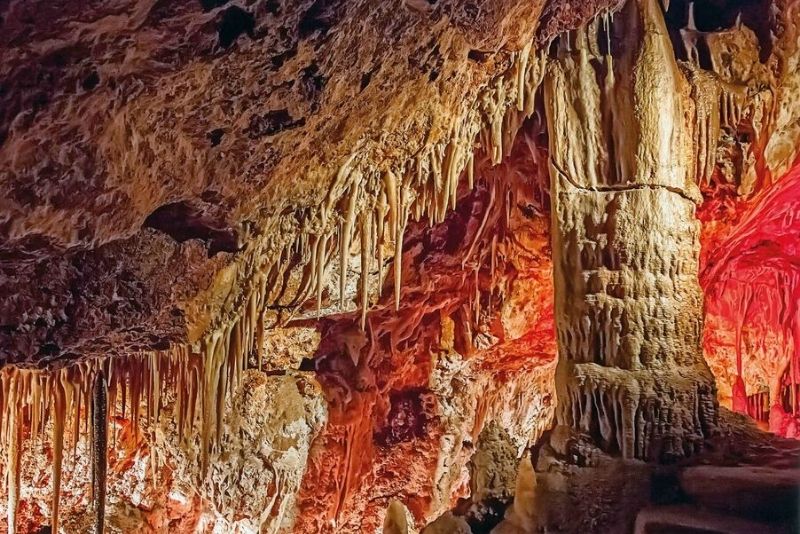 Explore deep beneath the surface of the earth on a guided tour through the prehistoric Genova Caves near Palma. Walk along winding tunnels and colossal caverns decked out with stalactites as you plunge further into this little-known world.
Admire towering calcium columns and mysterious pools, which are illuminated with colorful lights to enhance the definition. Get your camera ready!
32 – Visit Fundació Miró Mallorca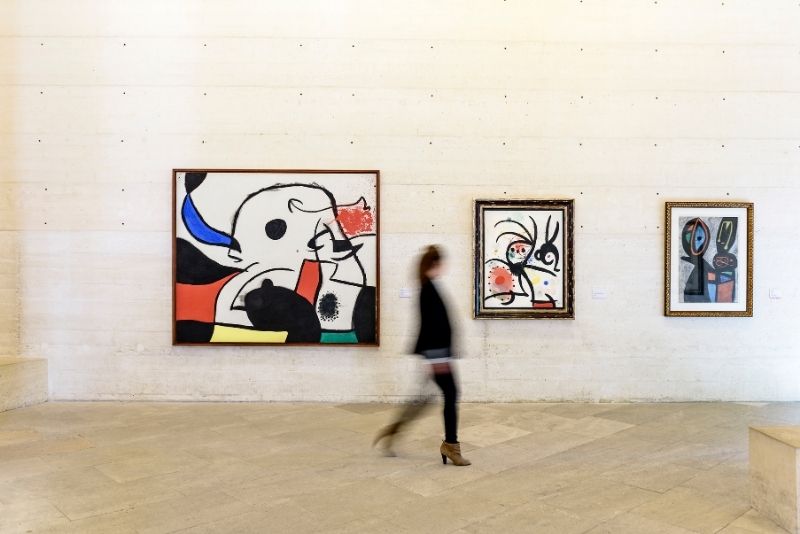 One of the most thought-provoking things to see in Mallorca is the Fundació Miró Mallorca. This gallery was the home of Spanish painter Joan Miró, known for his vivid childlike compositions.
There are over 100 paintings to enjoy, as well as several intriguing sculptures. Pop into the studio which remains untouched, with unfinished work and open tins of paint still on the floor.
33 – Escape reality at Katmandu Park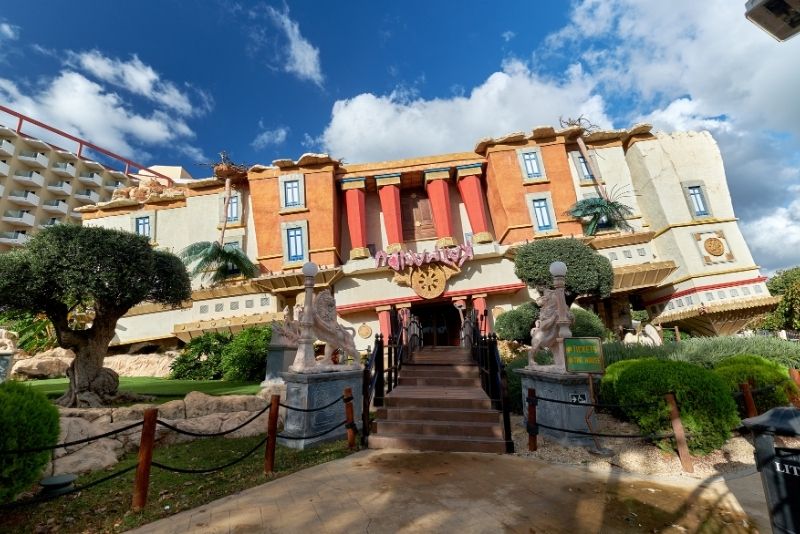 The best theme park in Mallorca really packs a punch when it comes to rip-roaring rides and mind-boggling attractions. Fun for all the family, Katmandu Park boasts everything from upside-down mansions with enchanted forests, to ice caves with interactive aquariums.
Battle zombies from the underworld on a virtual roller coaster, or cool off in the splash park with its flumes and waterfalls.
34 – Take a boat to Dragonera Island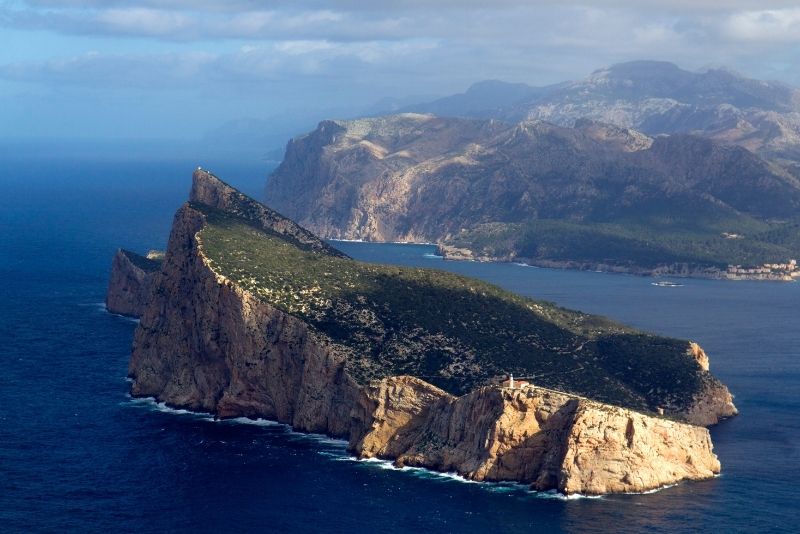 Love snorkeling and swashbuckling pirate stories? Then sail across to the uninhabited islet of Dragonera for a day of wild exploration. Traversing these secretive shores is one of the most adventurous things to do in Mallorca – perfect for nature lovers of all ages.
Once the haunt of famous pirates like Barbossa, today this protected reserve is a haven for hiking, swimming, and lizard spotting!
35 – Feel the thrills on a canyoning adventure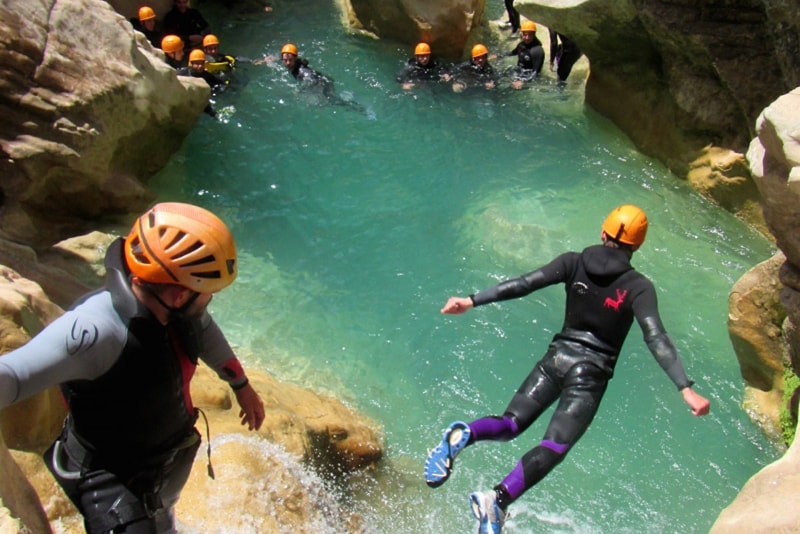 Abseil down dramatic gorges and scramble over boulders, following the river as it gushes through lush canyons. Practice your rope techniques under the watchful eye of your expert guide, and jump off vertical rocks into plunge pools if you dare.
Suitable for all ability levels, canyoning in Mallorca is a great way to get up close with nature.
36 – Make the city your playground on a scavenger hunt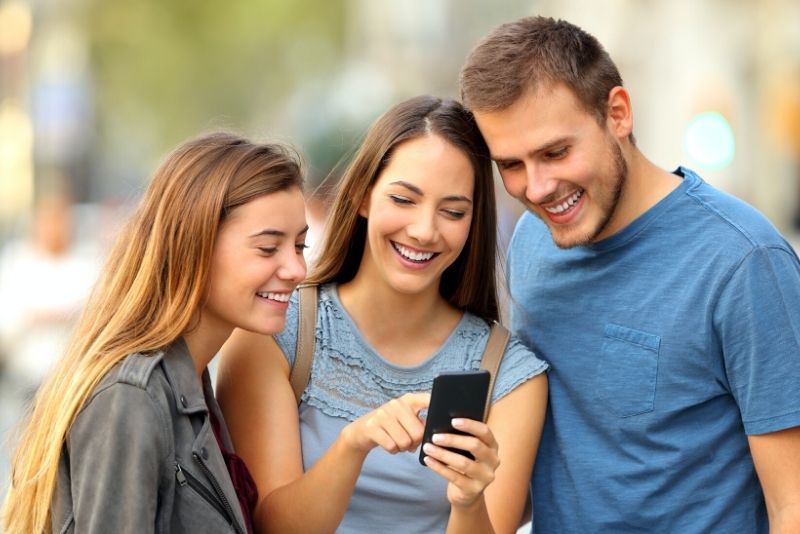 Run around the city, searching for clues and riddles to solve yourself with your best friends, after you download a fun scavenger game directly to your phones.
Visit different corners of the city that you wouldn't go to otherwise on your own, going at your own leisure, and stopping throughout the city to take pictures of these hidden gems.
So pack your comfiest shoes, and get ready to explore!
37 – Rise to new levels on a fun Flyboard adventure
Rent a thrilling flyboard, and literally float above the water, reaching new heights, and not to mention, incredible views only you will experience.
Sessions typically last around 15-20 minutes and are jam-packed with learning how to perform tricks both on air and water, as well as recording your awesome skills so you can show off on your social media sites.
So bring your sense of adventure, for this exciting ride!
38 – Shop at the Inca Market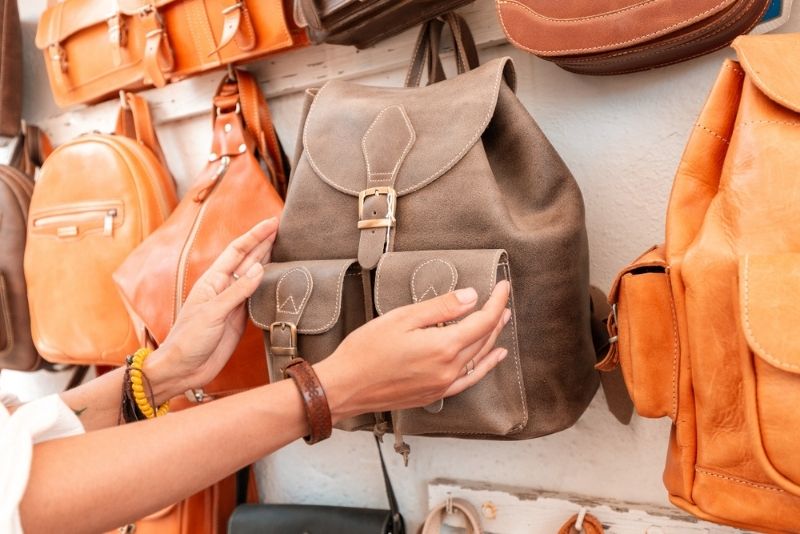 Want some unique souvenirs to take home? Then head to the buzzing Inca Market and browse the stalls with their artisan handicrafts and traditional leather goods.
Held every Thursday morning, Mallorca's most famous market is the perfect place for a wander. Practice your bartering skills and absorb the jolly atmosphere as you admire the colorful wares on display.
39 – Go cliff jumping on a coasteering tour
Up for a bit of action? Then strap on your helmets and head off on an epic coasteering adventure. Scramble along rocky outcrops and slither down slabs as you navigate this marine playground.
Jump off cliffs into the inviting waters below, and try a spot of sea caving or abseiling to get the adrenaline pumping.
40 – Visit Bellver Castle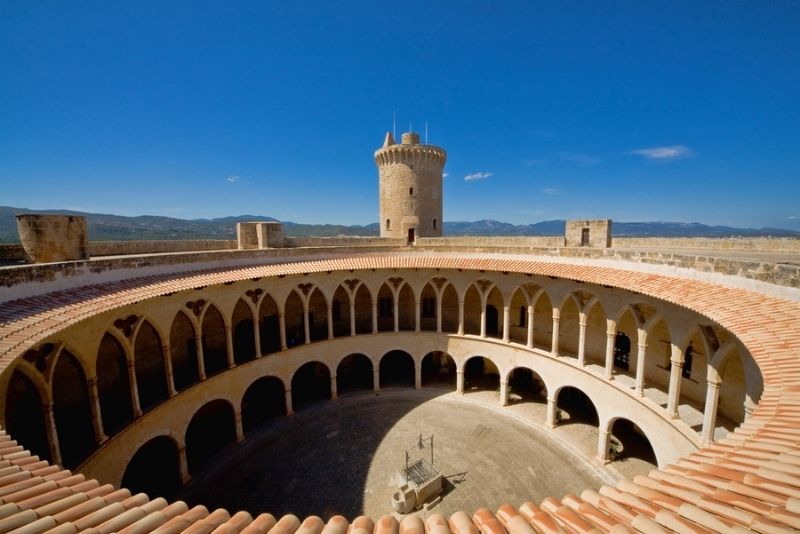 Perched on a hilltop 3 kilometers outside Palma, this imposing 14th-century fortress is the only circular castle in Spain. Formerly a royal residence and an infamous prison, today Bellver Castle is one of the most popular things to see in Mallorca.
Admire the spectacular views, then head inside to explore towers, walls, and courtyards. Swing by the museum for ancient artifacts and island history.
41 – Go sea caving at Cova de Coloms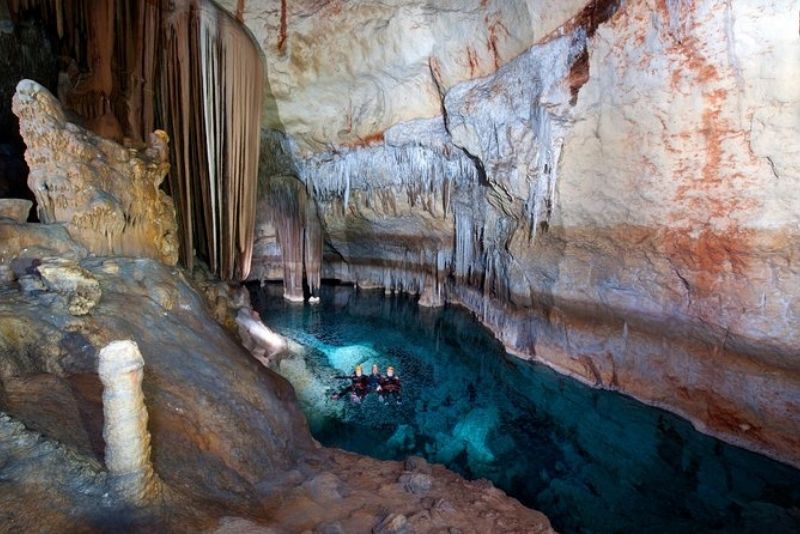 Mallorca has many caves, but the adventure that awaits you in the Cova de Coloms surpasses them all. Accessible only by swimming, this is the best sea caving trip on the island.
Wetsuits and lifejackets make the swim easier, and once inside you can explore underground caverns and lakes. Be amazed by eerie rock formations and jump into cave pools if you dare.
42 – Explore Cala Millor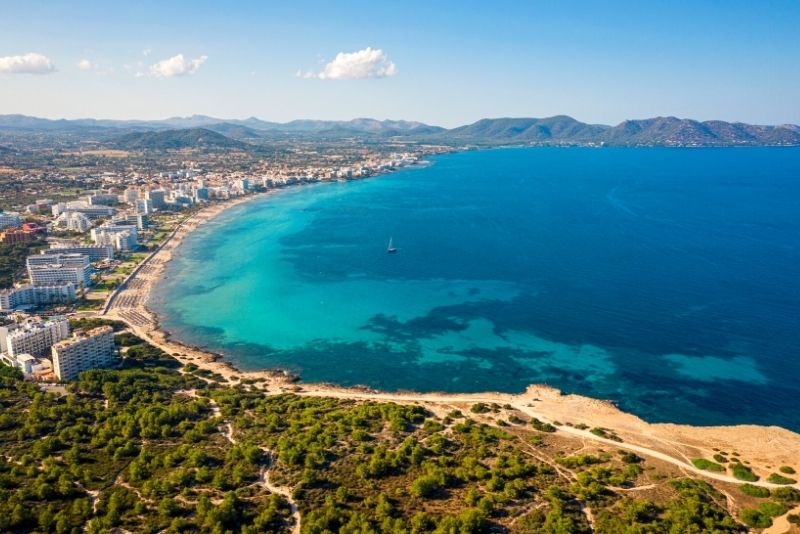 The popular holiday resort of Cala Millor on the eastern coast is famous for its long sandy beach and idyllic blue waters. Yet venture away from the shore and a world of rugged adventure awaits.
Take a fun buggy tour through remote villages and valleys, visiting monasteries and castles along the way. Enjoy stunning views over the sea, before returning for a dip in the warm Mediterranean.
Amp up the fun by joining an adventurous jeep tour, traversing through the roads less traveled, going from the mountains to the beach, and everything in between!
43 – Sunbathe at Alcudia Beach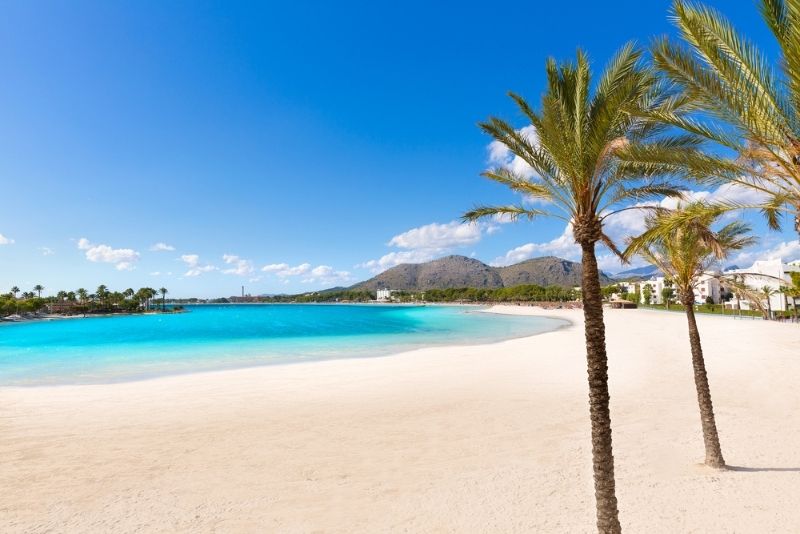 The fine white sands of Alcudia Beach make this stretch of coast one of the most desirable on the island. Bag a sun lounger and spend the day chilling out, enjoying cocktails and nibbles from the beach bars.
Feeling energetic? Then give stand-up paddle boarding a whirl – the calm waters are ideal for getting to grips with your balance.
44 – Swing through the trees in Jungle Parc Mallorca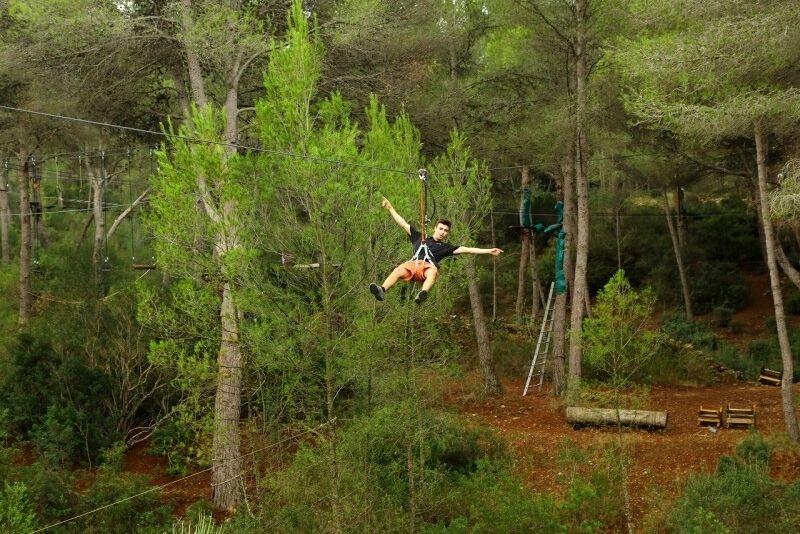 Tackle high-ropes courses, ziplines, and suspended bridges at Jungle Parc in Santa Ponsa. Suitable for all ages, this outdoor adventure playground will get your adrenaline flowing in no time.
Test your balancing skills on the Explorador course and negotiate your way over cargo nets, swings, and even an aerial bike bridge. Will you make it to the end?
45 – Splash around at Aqualand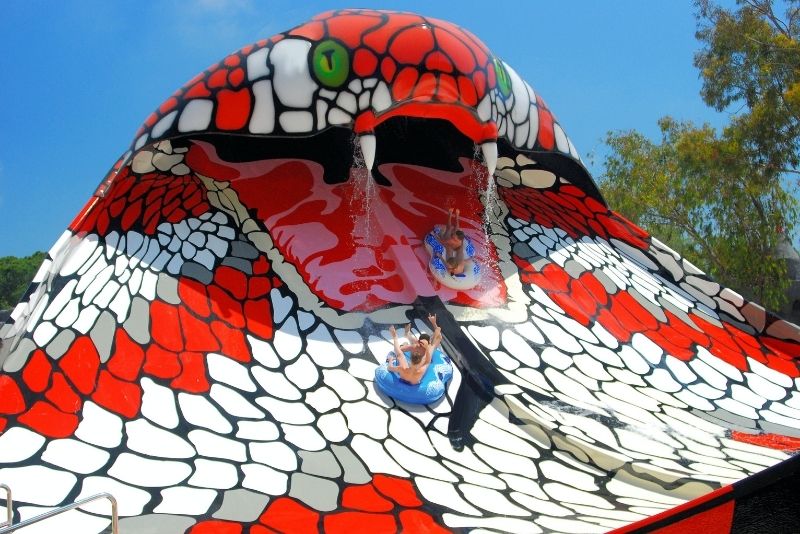 Enjoy some respite from the heat at Aqualand – one of the world's largest water parks. Race your friends down the flumes, take on the waves at the surf beach, and float lazily down Congo River.
Younger visitors will love the watery realm of Dragonland, where mini waterslides and a splash pool will keep them entertained for hours. Reward yourselves with pizzas and burgers after your exertions.
46 – Wander through the Jardines de Alfàbia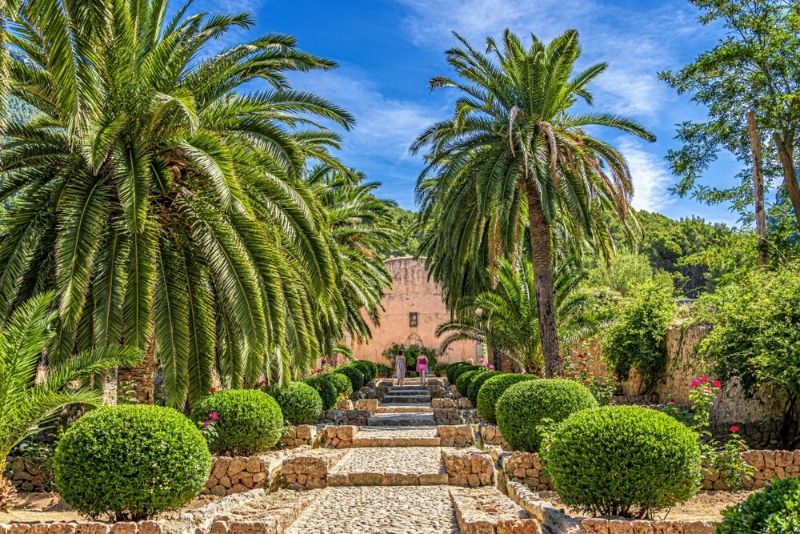 Swap beaches for hillsides and enjoy the change of scenery on offer at the historic Jardines de Alfàbia. Sitting pretty in the heart of the Tramuntana mountains, the house and gardens have a distinctly Moorish flavor.
After visiting the mansion, stroll through the manicured oasis, where palm avenues and lily ponds with fountains will keep you entranced for hours.
47 – Feel the soothing effects of a Hammam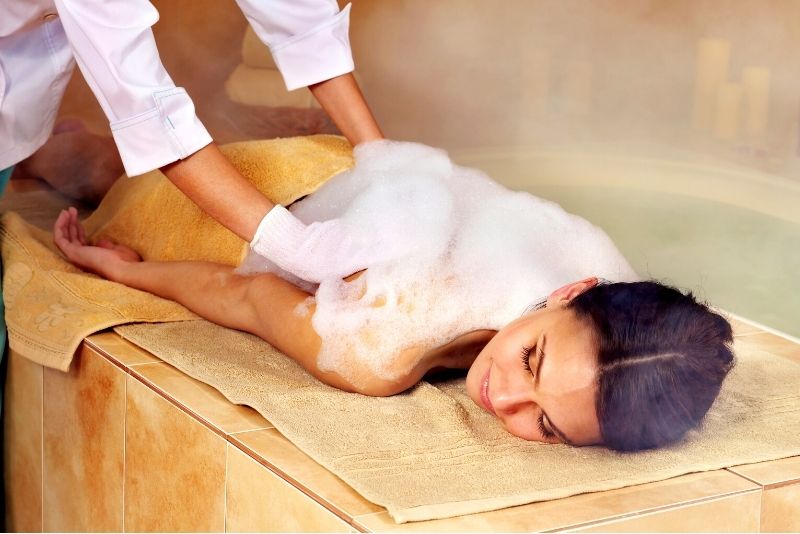 After so much sightseeing, you deserve a rejuvenating session at Hammam Al Ándalus, offering Hammam massages, a hot steam room session, lying down on a hot stone bench, and bonus facial services.
Relax instantly with the smell of oils, and incense aromas, as you're well received and taken care of by the caring staff.
Looking for additional relaxing things to do in Mallorca? Don't hesitate to check out the different spas for a moment of peace and serenity.
48 – Challenge your problem-solving skills at an escape room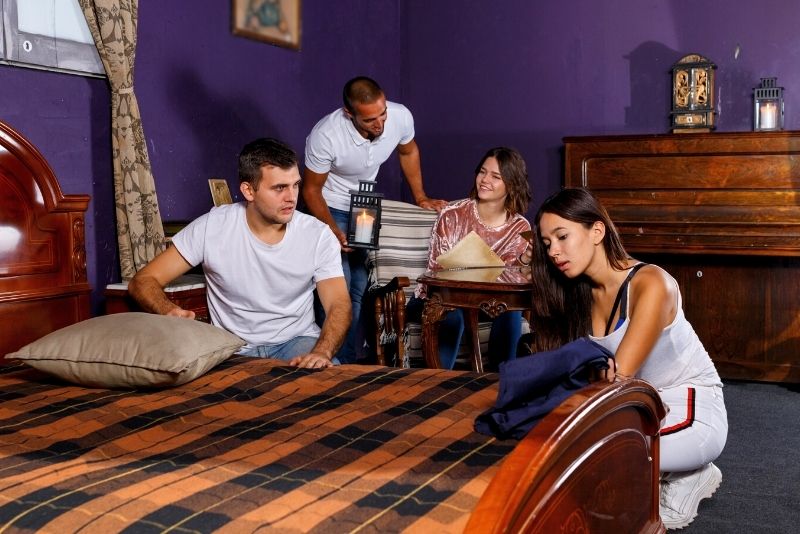 Whether it's a themed escape room or an escape room that takes place outdoors, you are guaranteed to have a blast solving together riddles, and answering questions while working with a small group, to literally "escape" and win.
The game usually takes around 60-minutes and rewards you at the end with a completion certificate.
Have children? There are escape rooms that families can do together, too!
49 – Visit the 14th-century Capdepera Castle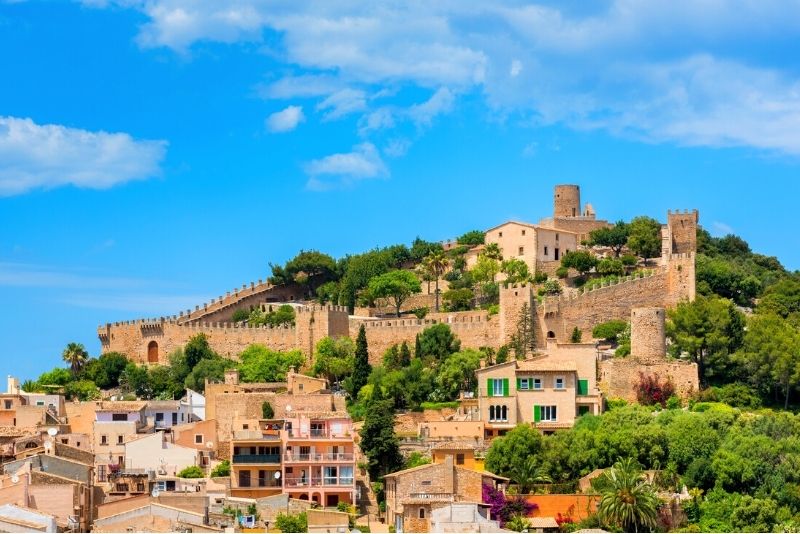 Get sweeping views of the sea and mountains when you reach Capdepera Castle, situated on top of a hill on the northeastern side of Mallorca.
Built in the 14th century in order to protect against pirate attacks, the Capdepera Castle took various other uses in the future, with remnants of a church, as well as remnants of its military use.
The castle is open all year round, except January-February.
50 – Take to the skies on a gorgeous airplane tour of the island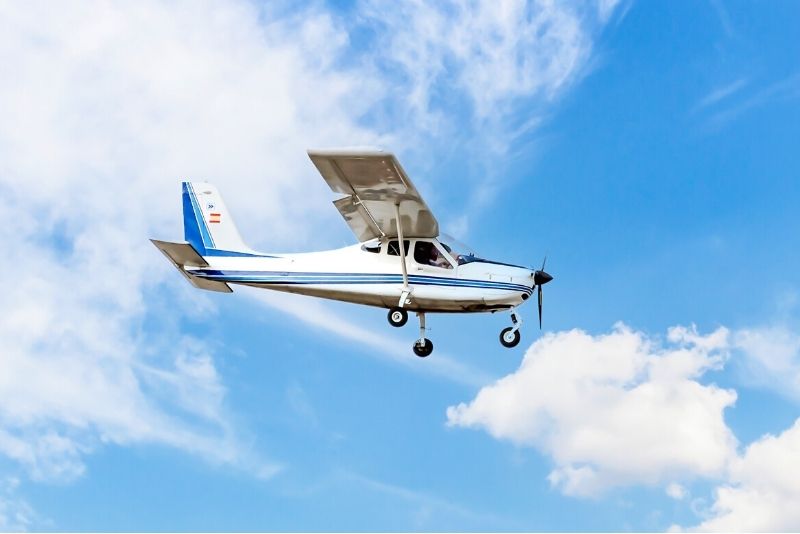 Get a spectacular view from the skies on an airplane tour (Microlight Flight Baptism) for approximately 30-minutes, crossing land and sea, as the wind blows through your hair. If you're traveling with someone else, request to split the 30-minutes into two 15-minute sessions.
If you want something a bit more covered, then consider booking an exciting helicopter tour, showing you the magic of Mallorca, especially great during sunset hour.
51 – Sail to Cabrera Island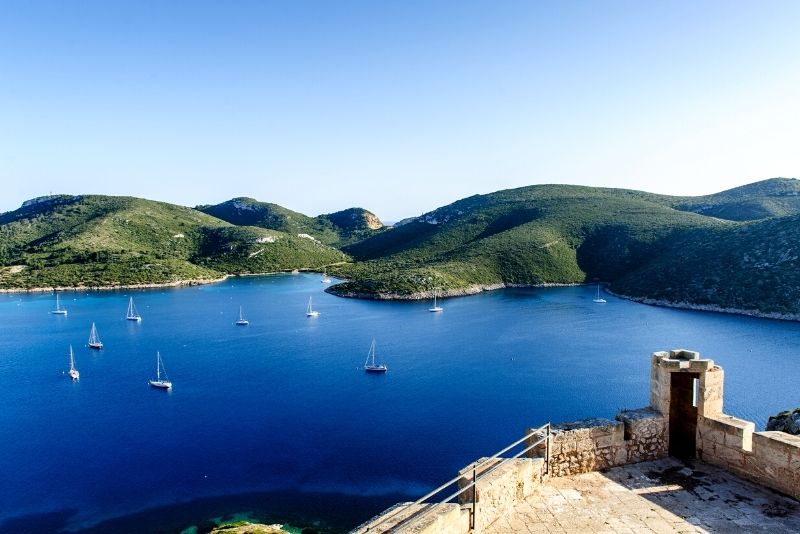 Just off the southern coast of Mallorca, Cabrera Island is the perfect place to escape the crowds. Part of the Cabrera National Park Archipelago, this uninhabited islet is famed for its blue grotto where mesmerizing cave reflections make the water dance.
Take a boat trip and spend the day exploring the ruined fortress tower, a naval cemetery, and the Cape Punta de Anciola lighthouse.
52 – Embrace the wild at Tirolinas Go Mallorca Forestal Park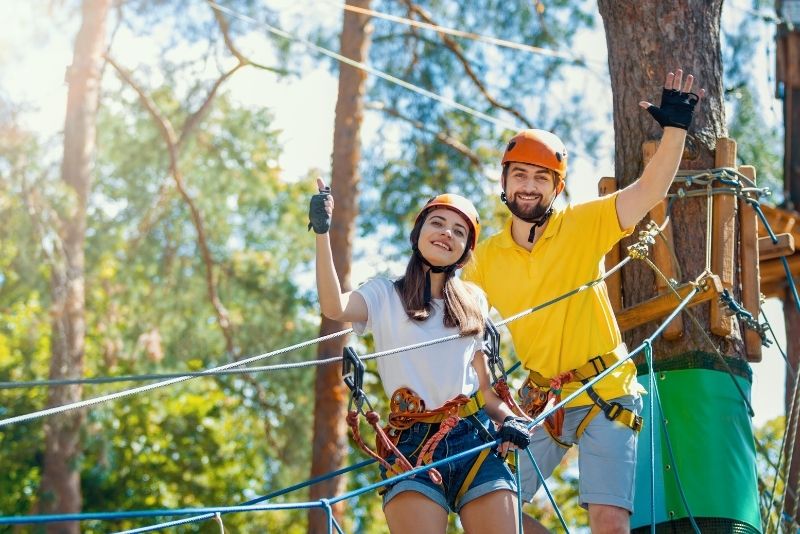 Find out what it takes to be Tarzan, swinging from the trees and teetering over rope bridges in the island's Forestal Park. Tirolinas Go Mallorca is a thrilling family day out, with over 80 different treetop activities to try.
Fly through the air on a zipline or see if you can conquer the climbing wall – which will you choose?
53 – Zoom down flumes at Western Water Park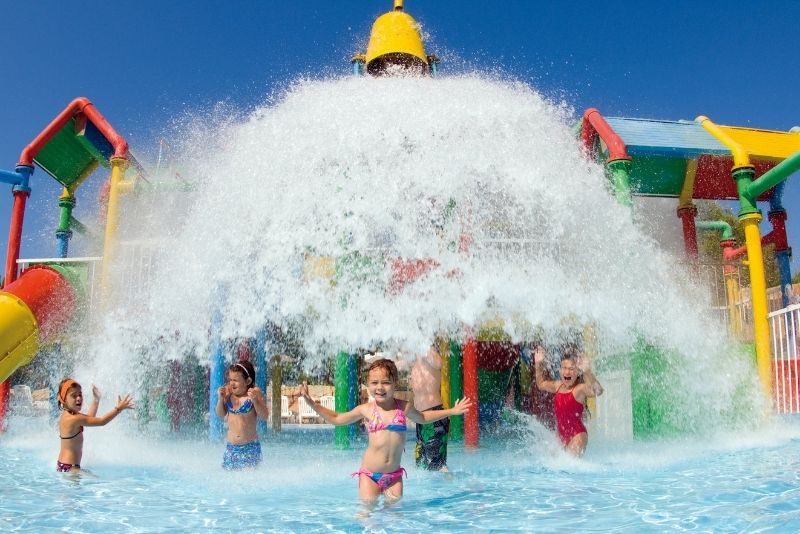 Plunge down waterslides or chill out in relaxing pools at this Wild-West themed aquatic park. The rides and attractions at Western Water Park come in all shapes and sizes – perfect for all the family.
Do you dare to take on the gravity-defying Beast, or will you prefer to float serenely down the Gran Canyon by raft? The choice is yours.
54 – Go hiking in Torrent de Pareis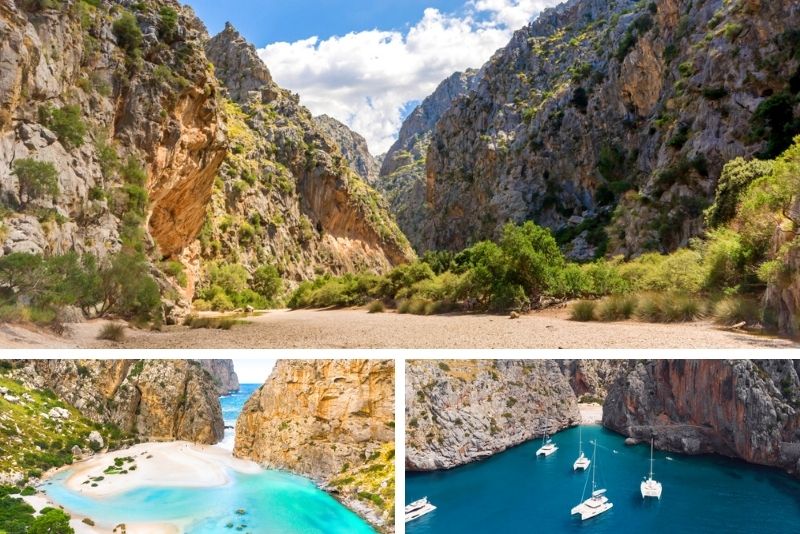 Lace up your boots and head deep into the Torrent de Pareis natural park for an adventurous day of scenic trekking. Surrounded by dramatic rocky crags and following a vast canyon, the route starts at Escorca and winds down to the coast at Sa Calobra.
Keep an eye out for goats and vultures as you scramble over boulders and leap across ponds.
55 – Celebrate another successful day in Mallorca at the best restaurants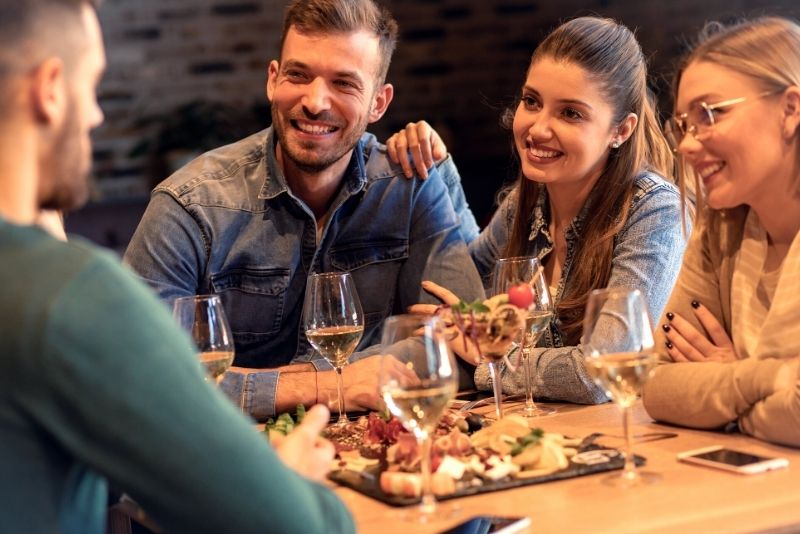 Guaranteeing a grand gastronomic experience, the chef at Terrae welcomes you to indulge in simple plates with big flavors, where no ingredient goes to waste. Locals recommend beef with Terrae-style potatoes or the Tacos Terrae.
A visit to Restaurante Ca na Toneta is not only a treat but a must when visiting Mallorca. Known for its exclusivity when it comes to certain organic ingredients, sourced from local farms, you'll enjoy the Mediterranean-inspired dishes that make up the menu.
Have a lovely meal at Ca's Patró March, where the views are incredible, but the food exceeds any expectations. Situated with views of the cove at Cala Deià, enjoy the menu offering an extensive list of seafood dishes.
56 – Have fun at Cala Figuera Beach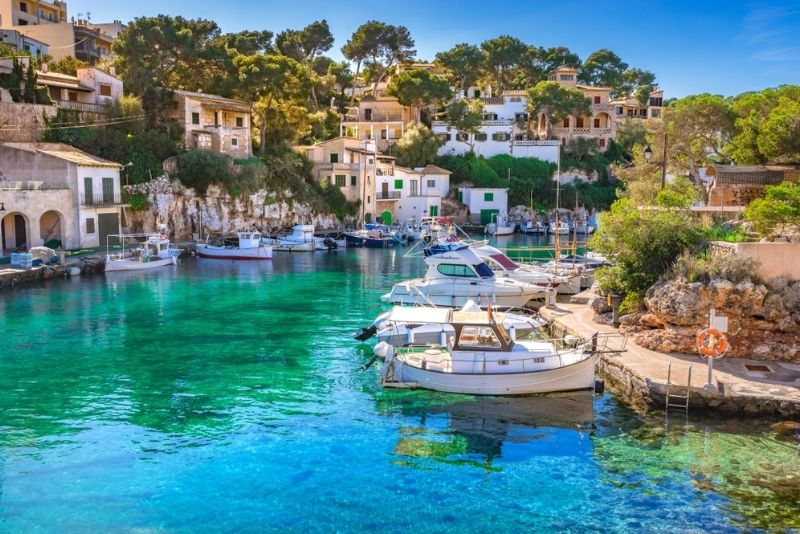 The best way to reach Cala Figuera beach is by boat, floating past vertical cliffs, and arriving in style at the cove. This remote north-eastern bay is a bit of an insider secret, with crystal clear waters that are ideal for snorkeling.
You can walk there too, along the undulating coastal pathway. The hike is steep so a refreshing dip at the end is most welcome.
57 – Reserve your seat to have dinner with a pirate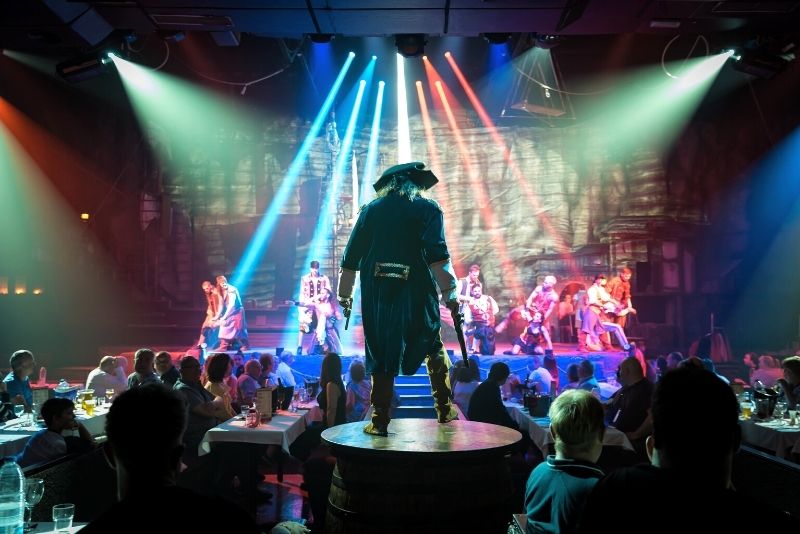 Enjoy all the fun at the Magaluf: Pirates Adventure Dinner Show, serving an extensive buffet, as you enjoy the acrobatic and professional pirates taking center stage!
There are 2 different dinner shows, Pirate Adventure Show geared towards families of all ages, and Pirates Reloaded, which is a show aimed towards adults 18+.
With over 30 years of experience entertaining a large number of people, make sure to book your tickets with anticipation.
58 – Sail into the sunset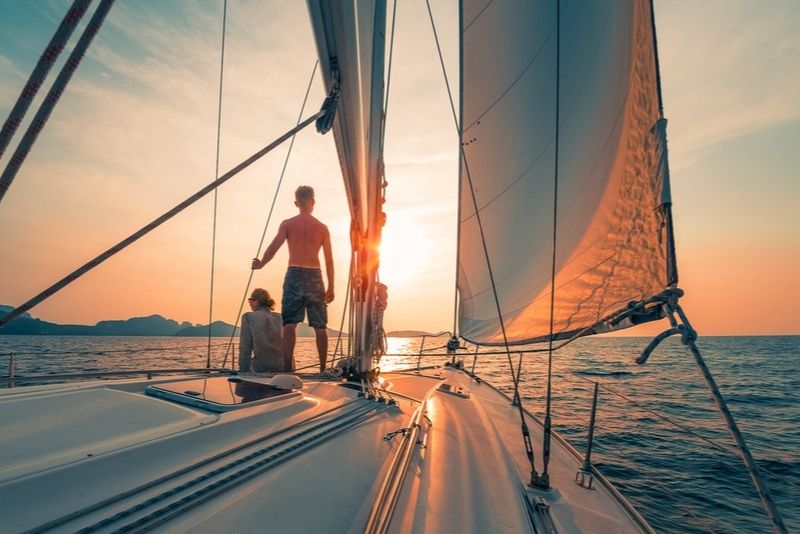 Relish those magical moments when day gives way to dusk as you sail around the dramatic coast of Mallorca. Hold your breath as the fiery red sun finally plunges into the sea, flooding the sky with romantic golden hues.
Enjoy a delicious local dinner or barbecue on deck, take a refreshing dip, or simply sunbathe in the bow nets.
59 – Practice your tennis at the Rafa Nadal Museum Xperience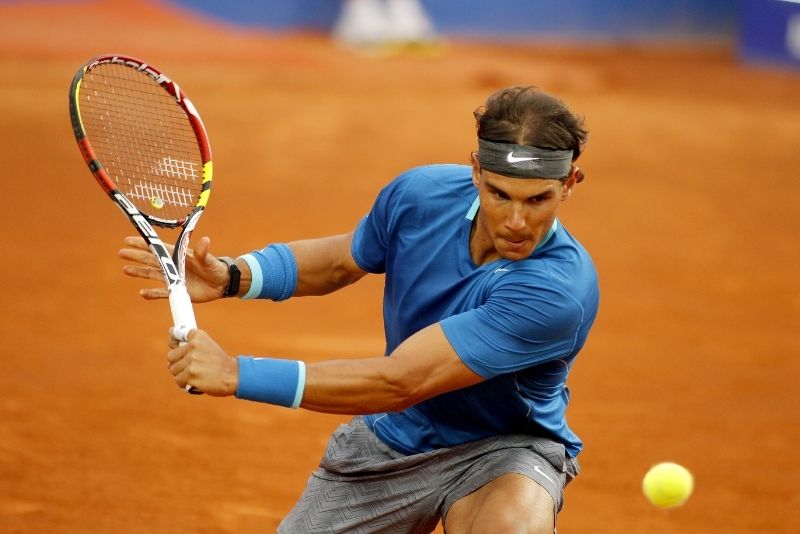 Learn about the career of this Spanish tennis legend as you explore the Rafa Nadal Museum Xperience in Manacor, where he was born. Get up close with his trophies and see some of the gear used in his grand slam triumphs.
Compete against your rivals in the latest generation sports simulators, or enjoy a tennis lesson with a professional coach.
60 – Be entertained at Son Amar Show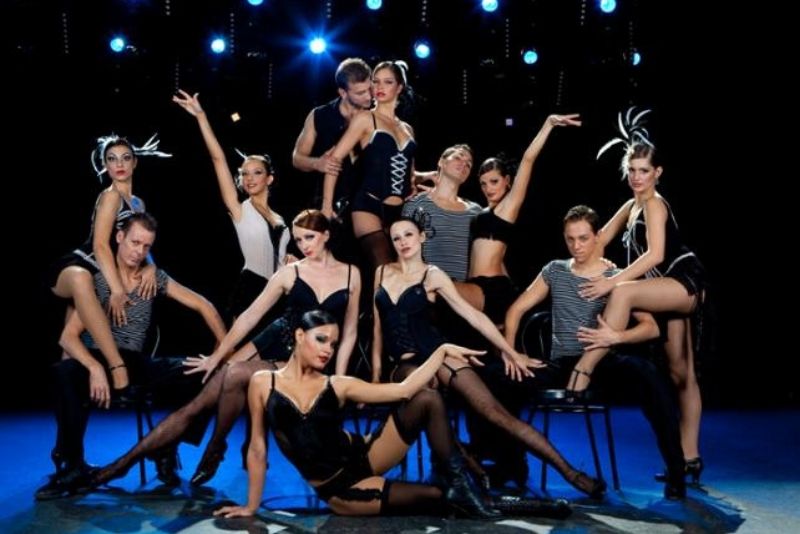 For an evening to remember, head to the Son Amar Show which deserves its reputation as one of the best things to do in Mallorca. Watch as international acrobats leap through the air and dancers wow with their graceful agility.
This themed interactive show takes you on a magical journey through the Mediterranean, with special effects and choreographed performances bringing it to life.
61 – Party until the next morning checking out the nightlife in Mallorca
El Neo Gastro Bar is known by locals as one of the best bars to hit up for incredible drinks, and an extended list of craft beers and spirits. Located in the area of La Llonja, round your night out at this trendy, bohemian spot, which also serves incredible food.
Agua Bar, also located in La Llonja is a great place to visit if you're in the mood to dance the night away. Listen to the best songs played by a DJ and if you can, check out their website to look for themed nights and specials like Open Mic Night, and Free Drinks nights (for ladies).
Situated in the other nightlife district in Palma, Santa Catalina, enjoy the lively, Bollywood-inspired bar serving up a great list of its signature cocktails, classic cocktails, and of course, beer and spirits.
How to get to Mallorca?
The best way to get to Mallorca is by flying into Palma de Mallorca airport, although if you have time, and would like to, you could also catch the ferry departing from Valencia and Denia.
The most common way to get to Old Town from the airport is a taxi or renting an airport transfer. An airport transfer can be booked ahead of time and be arranged to wait for you when you arrive, effortlessly.
Where to stay in Mallorca?
ICON Rosetó is a splendid boutique hotel that has the history of a previous life as a convent, but today, offers a modern design, with excellent amenities. Choose between a glowing city view or a lush garden view, and enjoy a complimentary Mediterranean breakfast.
If you're traveling with a large group, then Casa Catalina is the place for you. The spacious vacation home, equipped with a lovely roof terrace with views of the beautiful mountains, offers multiple rooms for each guest to have their own space. Set on a picturesque and quiet street, you'll love rustic vibes and excellent attention from the host.
Can Busquets is another wonderful hotel, overflowing with charming decor, tall ceilings, and wooden beams, situated in the middle of the gorgeous Tramuntana Mountains. If you are traveling to Mallorca for cycling, hiking, and outdoor tourism especially, Can Banquets is the place for you.
Visiting Mallorca on a budget?
Get an introduction to the city, exploring its main sights, while also learning the lay of the land with the help of your local guide on a free walking tour.
Plus, make sure to ask for local travel recommendations, many of which you probably won't find in the guidebooks.
Where to go next?
Considered the second most visited country in the world, make sure to check out our picks for the best places to visit in Spain, especially those near Mallorca.
A ferry ride away from Mallorca is the equally beautiful, and naturally stunning island of Menorca. Known for its turquoise blue waters perfect for scuba diving, its pristine vineyards offering some of the best wine, or trekking through the UNESCO Biosphere Reserve, the list of things to do in Menorca is truly enchanting.
Bringing together an incredible nightlife scene by night and a Mediterranean dreamland by day, Ibiza is an island that most definitely caters to more than one type of traveler. From the flourishing seafood food scene to the sleepy seaside villages, and incredible hiking opportunities, you'll see that the opportunities are endless to step out of your comfort zone, and into something exciting in Ibiza.
Final thoughts
From the beautiful shores of Cala Vella beach to the incredible views from the Serra de Tramuntana mountains, and the Gothic architecture of Old Town, it's easy to assume that whether you're looking to relax or get adventurous, Mallorca is your next island destination.
We hope that you enjoyed reading our picks for the best fun things to do in Mallorca.
Happy travels!