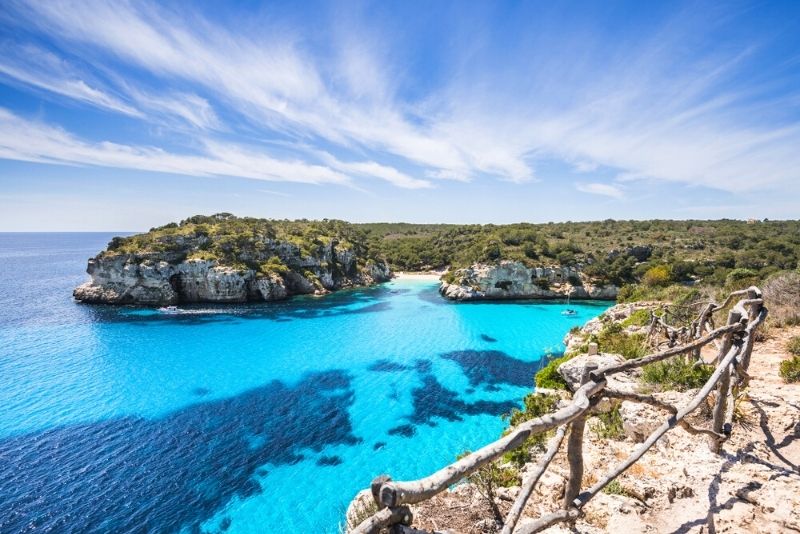 The Spanish island of Menorca is small but perfectly formed. Famed for its relaxing beach vacations, this UNESCO Biosphere Reserve is also home to historic towns, wild nature reserves, and sleepy fishing villages.
It's the kind of place where you can hike through wooded ravines, unwind on a jaw-dropping beach, then take a leisurely horse ride along paths once trod by Ancient Romans.
And while relaxation is a large part of the focus here, you can also zip around on water slides, get up close and personal with playful lemurs, or sip beverages and party in a cave!
And while the mellow vibes of the area will help you quickly fall in love, it's also close enough to other Mediterranean hotspots to make it a great launching point for further excursions.
Whether you want to go snorkeling in turquoise coves or enjoy wine tasting in sun-dappled vineyards, there are enough things to do in Menorca to keep everyone happy. This guide will help you decide which sights and activities to include in your itinerary.
1 – Chill out at Cala Macarella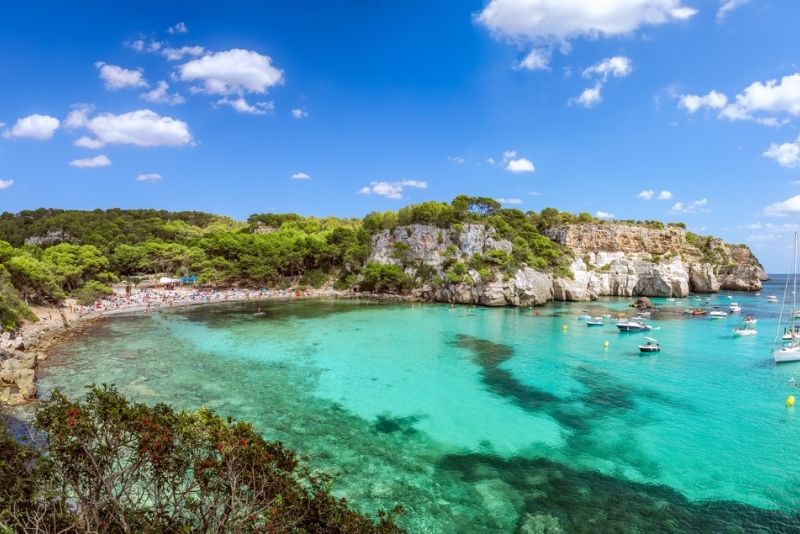 Tucked away on the virgin shores of southwestern Menorca and easily accessed from Ciutadella, Cala Macarella is the beach of your dreams. The clear water and sandy bay tick all the boxes, while striking white cliffs give a wilderness feel.
The beach is a popular stop on boat tours, with swimming and snorkeling both on the cards. Fancy a leg stretch? Then head along the coastal path and explore the quieter beach of Macarelleta.
2 – Travel back in time at Ciutadella de Menorca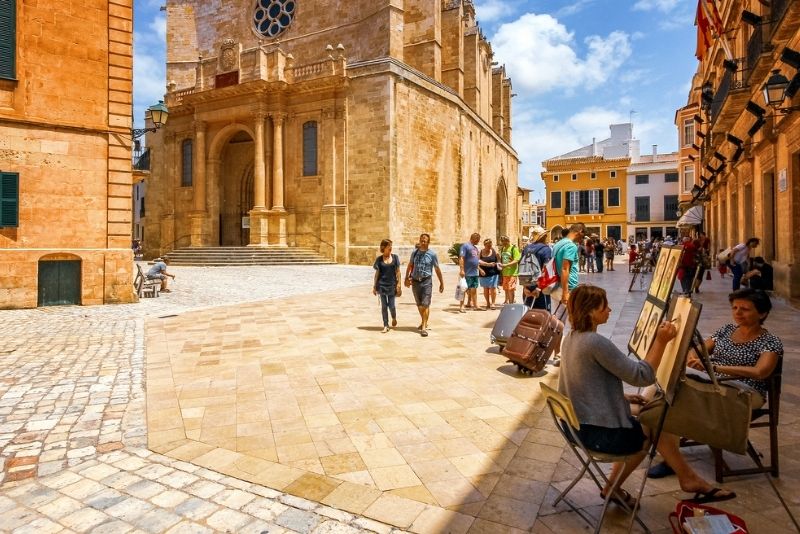 This historic former capital of Menorca is a cultural treasure trove of Mediterranean architecture and medieval squares. Take a stroll along the tranquil harbor and fortified walls of Ciutadella, before heading into the old Es Born district to explore churches, fortresses, and museums.
Make a reservation at one of the authentic restaurants for a taste of real Menorcan cuisine – the seafood here is freshly caught and cooked in the traditional style.
3 – Go exploring at Cala Fornells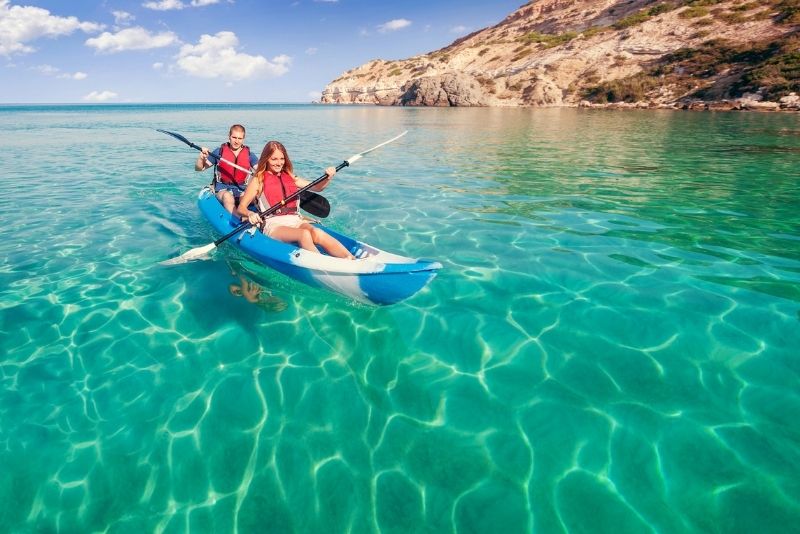 With crystal-clear waters, abundant wildlife, and a lovely sheltered bay, this gorgeous natural lagoon is a must for water fans!
Kayaking is a particularly popular option, but you can also head out on a stand-up paddleboard for an extra level of challenge… and fun!
And if you really want to get up close and personal with the local wildlife, be sure to do some snorkeling, and explore the wonders of the local marine reserve!
4 – Spot wildlife at Parc Natural de s'Albufera des Grau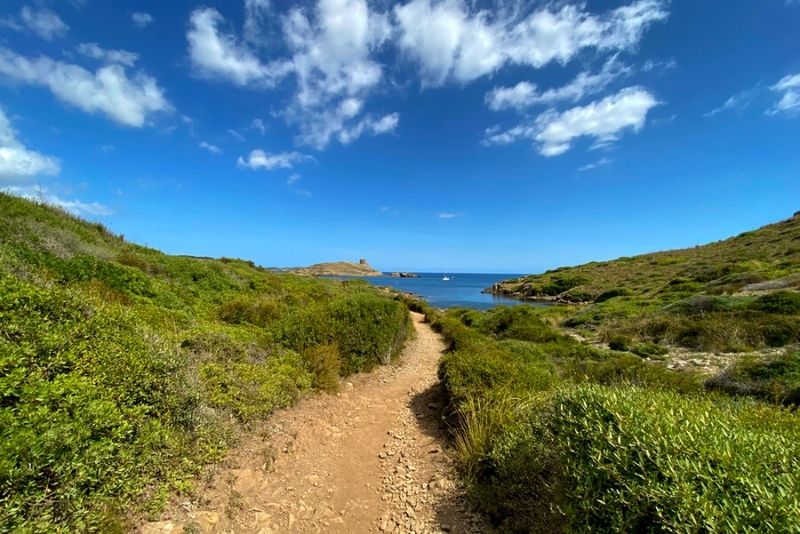 This pristine national park is a haven for wildlife, with freshwater lagoons, olive woodlands, and sand dunes to discover. Several endemic species live here – watch out for lizards scurrying over rocks and eagles soaring overhead.
Follow the easy trails and raised boardwalks around the wetlands, which are flourishing with local birdlife. Guided tours are available around Parc Natural de s'Albufera des Grau, taking in unspoiled beaches and Roman ruins.
5 – Splash about at the Aqua Center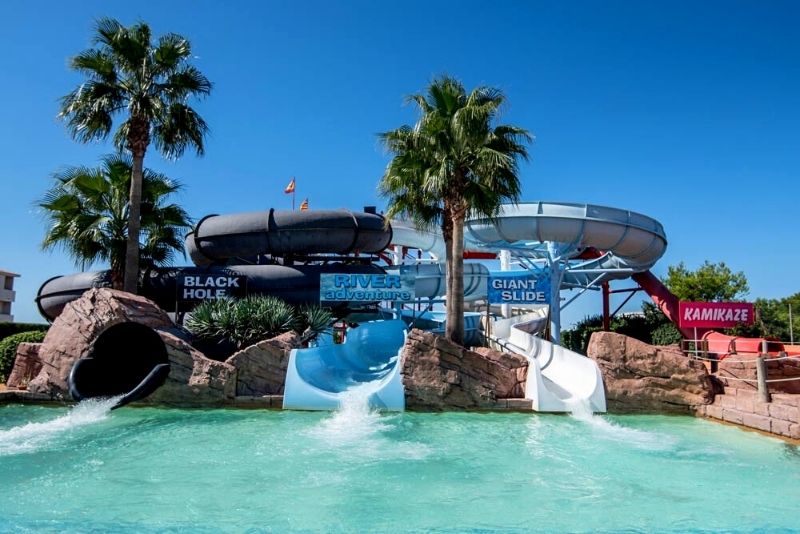 Spend an unforgettable day at the Aqua Center with fun-packed attractions for thrill-seekers of all ages. Get the adrenaline pumping on the Black Hole water slide, or chill out in the jacuzzi.
Smaller kids think this is one of the best things to do in Menorca as they race their friends in the karting area, and explore the water castle. Keep energy levels tip-top in the restaurant with paellas and home-made pizzas.
6 – Kick back at Cala Cavalleria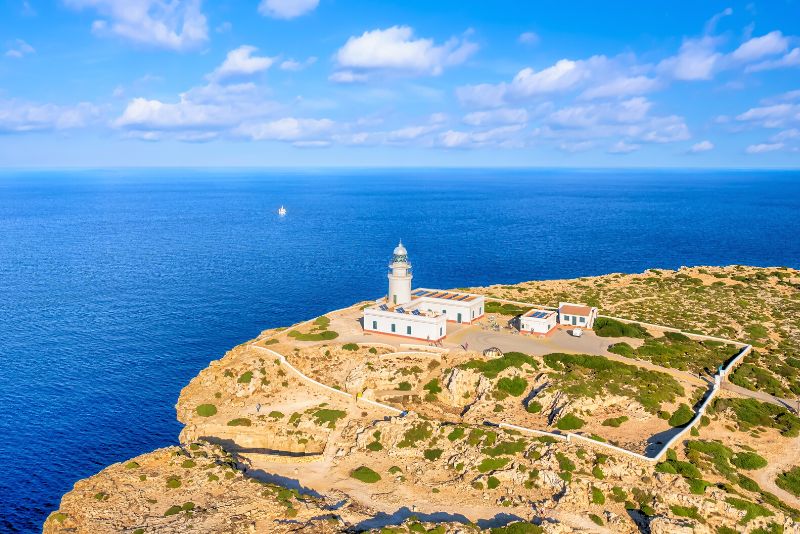 Even by the high standards of the local beaches, this stretch of shoreline stands out!
Tucked snugly between the Ferrugat outlet and Cape Caballería, the beautiful beach os known for its secluded nature, with largely unspoiled beaches and quieter waters than the main parts of the island.
While you're in the area, be sure to check out the Cavalleria Lighthouse, a splendid structure that dates back to the 1850s, and still serves as a literal and visual beacon.
7 – Go wild at Lloc de Menorca Zoo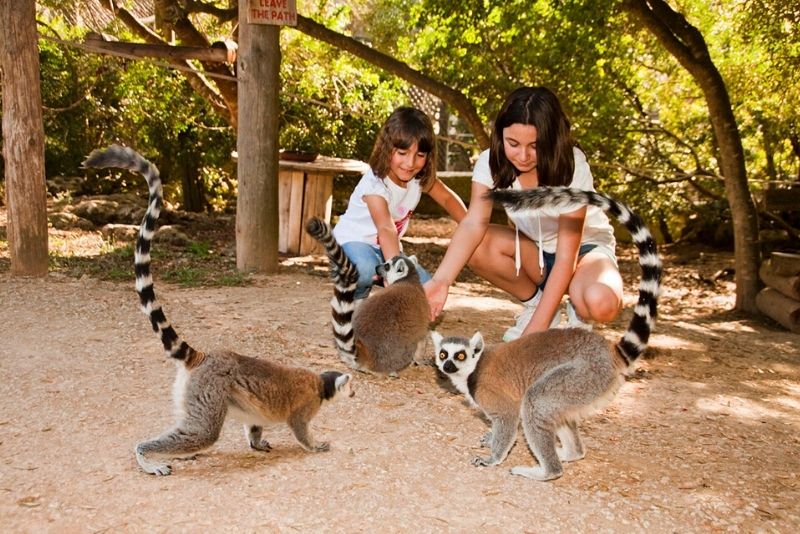 The Lloc de Menorca Zoo is a great family day out, with several native species to discover. There are animals from around the world too, and kids think this is one of the most fun things to do in Menorca.
Head into the forest to see cheeky lemurs, and watch acrobatic macaques swinging above your head. Smaller explorers can feed the goats and giggle at the antics of the resident porcupine.
8 – Explore the marine world on a scuba diving trip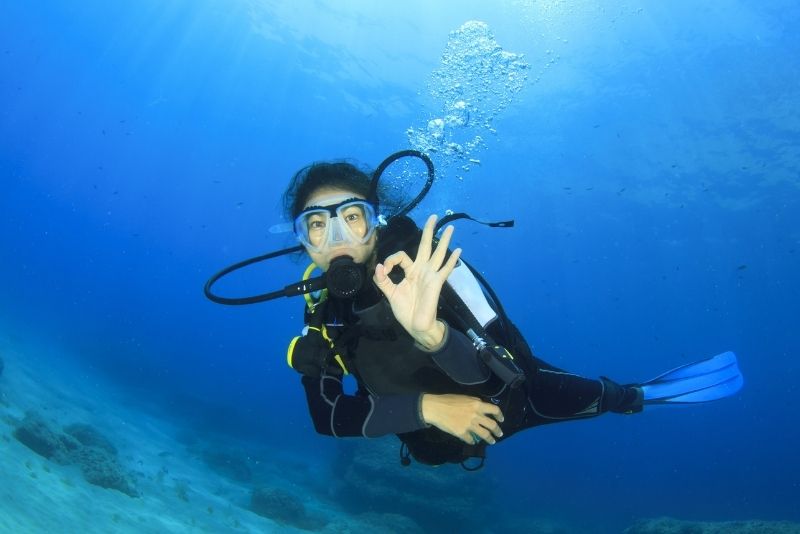 The marine life off the coast of Menorca is simply stunning, with everything from crab and octopus to scorpionfish and even barracuda. What will you spy as you plunge beneath the waves on a thrilling scuba diving excursion?
Admire the vibrant underwater kingdom as you glide over the seabed, where red coral thrives, and seahorses dance in seaweed forests. Tours are available for both beginners and experienced divers.
9 – Stroll through the old city of Mahón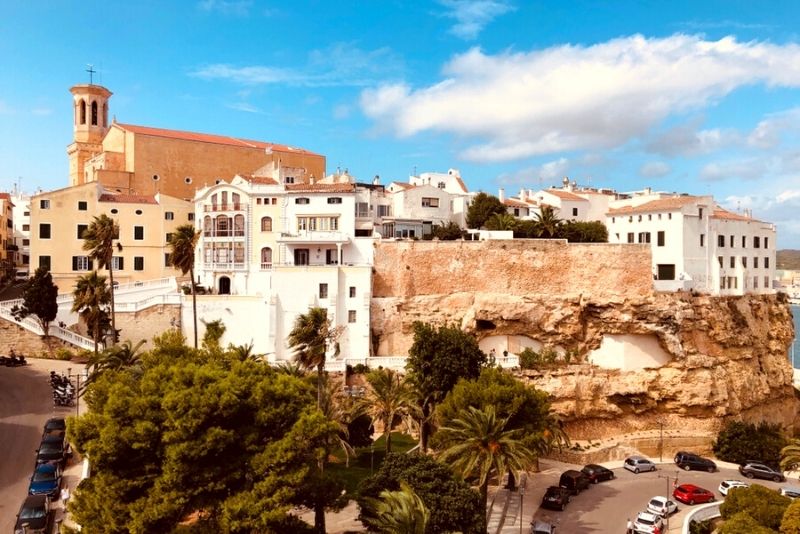 Culture vultures will love wandering through the traditional streets of Mahón, lingering in sunny plazas and quenching their thirst at quaint pavement cafes in the Old Town. The charming capital city is famous for its Georgian houses and peaceful harbor, as well as the bustling market and military fort.
Hidden inside a 17th-century monastery, the Museo de Menorca is a real highlight and charts the island's history. The building is photogenic too.
10 – Hike along the wild Canyon of Algendar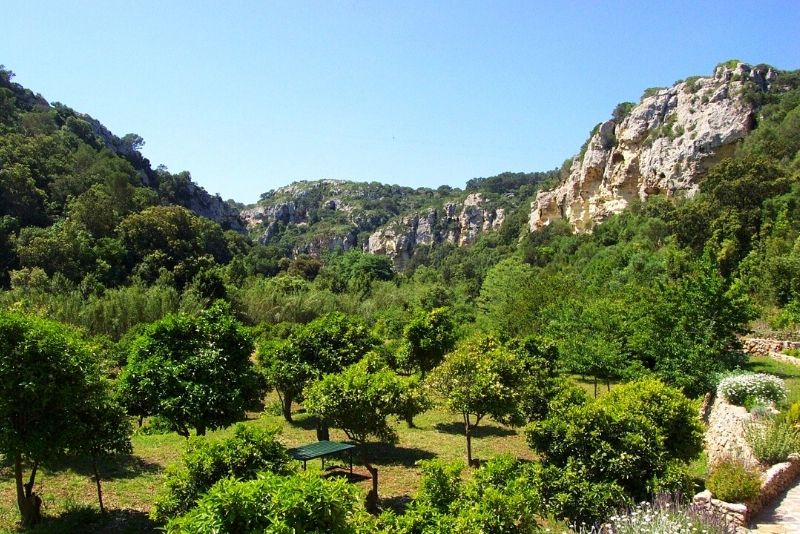 Ready for an adventure? Then head deep into the Algendar Canyon for a hearty dose of rugged scenery and pure unadulterated nature. Start your expedition at Ferreries and follow the narrow trail down through this dramatic 4-mile-long limestone gorge.
Keep your eyes peeled for pine martens and weasels as you negotiate this legendary ravine, and take photos of the steep cliffs that are dripping with tropical vegetation.
11 – Enjoy some beach time at Cala Galdana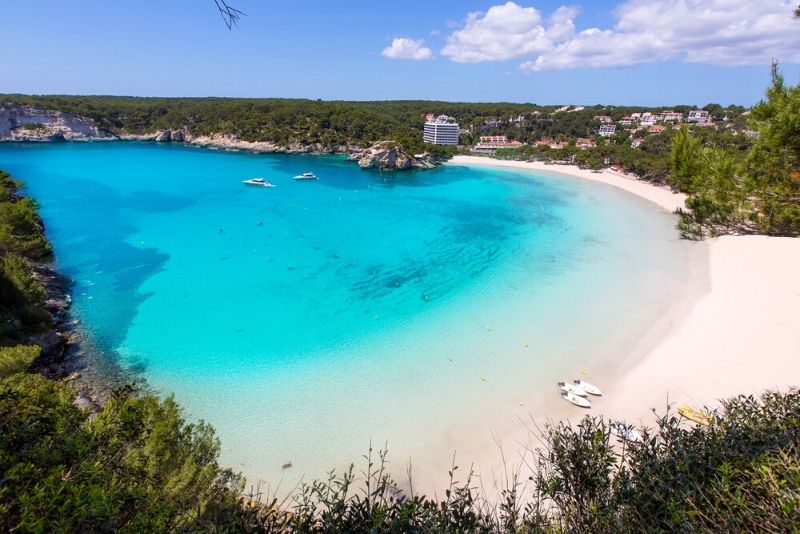 For laid-back Caribbean vibes and inviting blue waters, head to the resort of Cala Galdana for a fun day in the surf. Grab a sun lounger or stroll along the promenade that runs alongside this curved bay on the southwest coast.
Have a go at kayaking or stop by on a boat trip after exploring the nearby bays of Cala Mitjana and Cala de Trebalúger. Make sure you pack your camera!
12 – Discover La Mola Fortress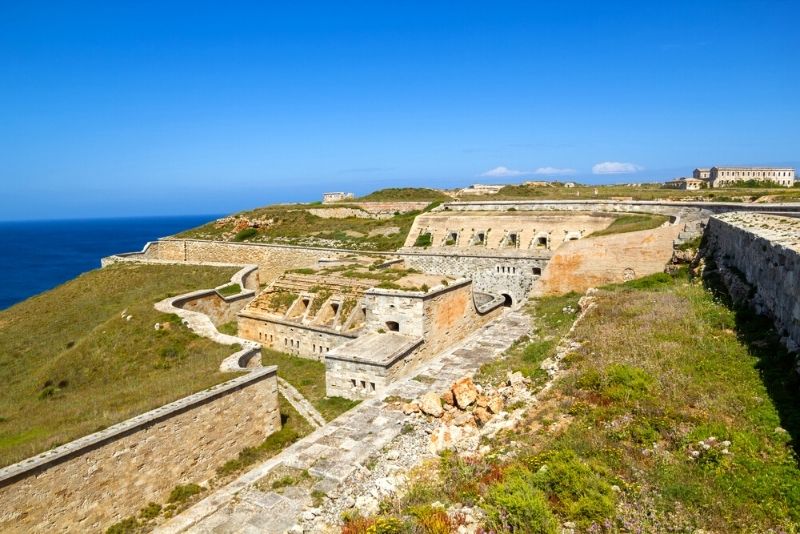 While you are exploring Mahón, visit La Mola Fortress which boasts superb panoramas out over the town and bay. This 19th-century military stronghold gives great historical insight into Menorca and was built to prevent the British from reoccupying the island.
Inside the fort, delve into secret underground passages and visit the old arms stores. Then take a stroll around the ramparts and check out the watchtowers – keep your camera handy for the views.
13 – Venture inland on an epic jeep tour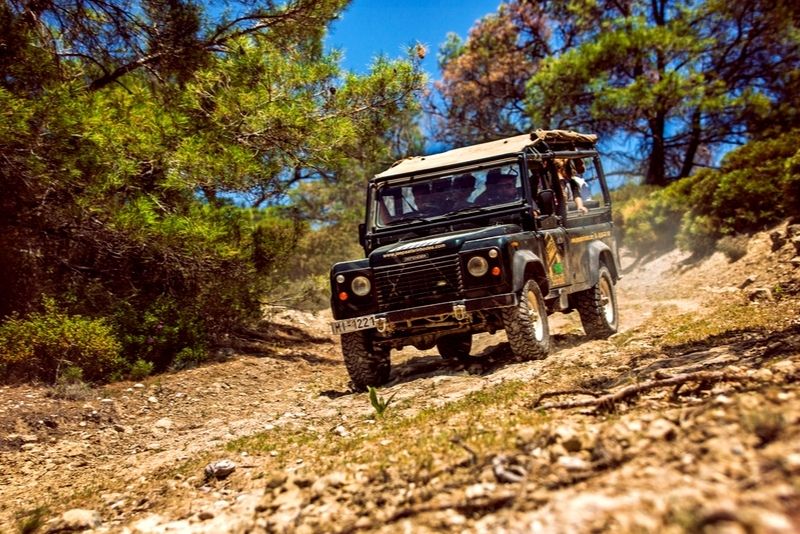 Head well and truly off the beaten track as you explore the rugged interior of this Mediterranean island. Bounce along rural tracks and see all the hidden spots rarely discovered by other visitors.
Highlights on this intrepid adventure include charming villages, secluded beaches, and dramatic ravines. Visit the famous Menorquín horses at a well-known farming estate and go for a refreshing dip in scenic coves along the way.
14 – Power through the waves by jet ski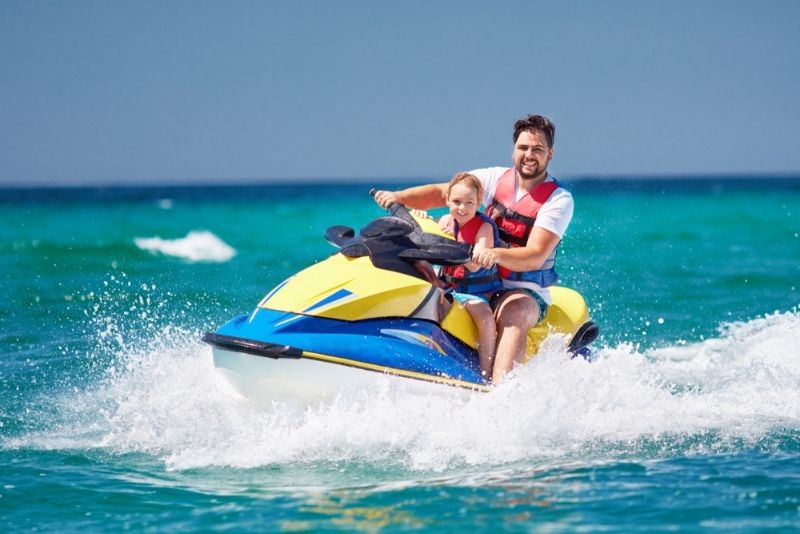 Fancy an adventure that combines nature and water? Then check out hidden coves and little-visited pockets of coastline in northern Menorca on a heart-pumping jet ski tour.
Feel the majesty of dramatic cliffs towering above the ocean and harness the waves as you skim across the water on this epic tour. Ride solo or tandem – you can take turns between being driver and passenger for the best of both worlds.
15 – Paddle in the shallows at Es Grau bay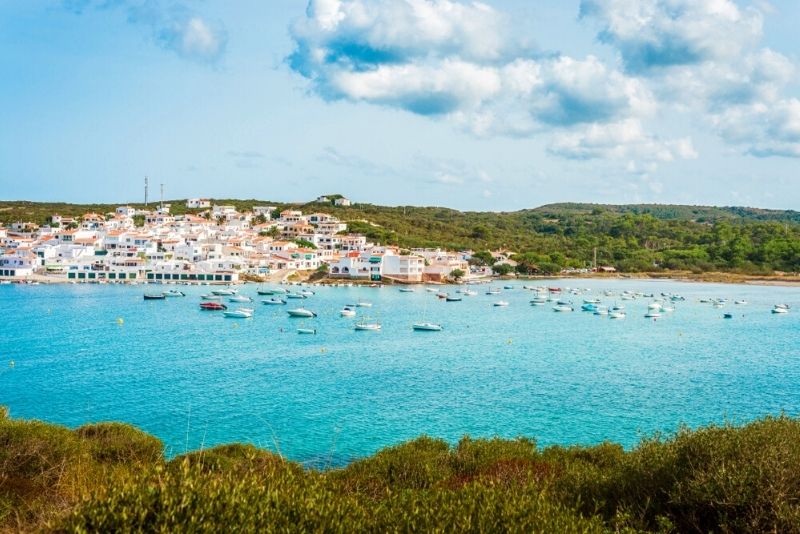 Up on the northeastern coast of Menorca just 6 miles from Mahón, Es Grau is perfect for a bit of seaside family fun. The water is warm and shallow – you can wade out some distance before it becomes deep enough to swim.
Intrepid travelers can go kayaking or stand-up paddle boarding, and many visitors like to trek along the coastal path for the dramatic scenery and far-reaching sea views.
16 – Unwind at the turquoise cove of Binibeca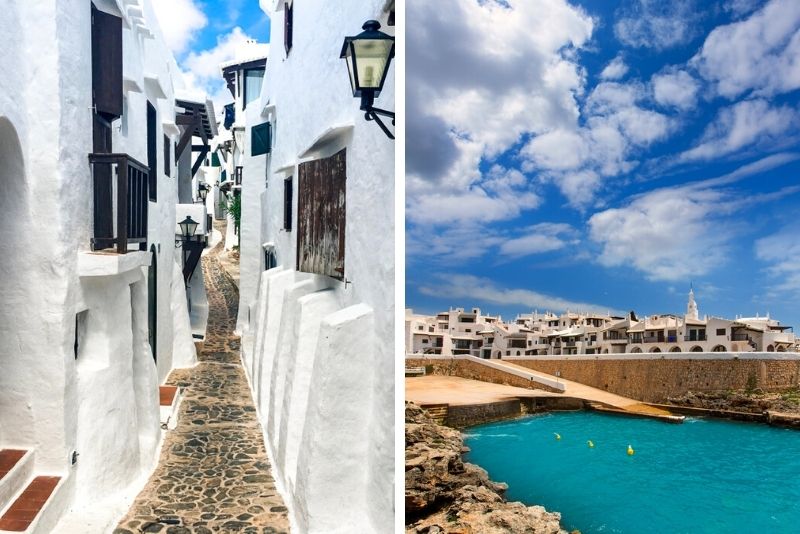 This charming coastal village on the south coast of Menorca is the place to go for your fill of narrow streets and traditional whitewashed houses.
Pack a towel for a swim in the calm bay and enjoy picnics in the dunes that line the white sand beach. Snorkeling is superb at Binibeca too because the water here is shallow and there are lots of rocky crevices where sea creatures hide.
17 – Swim at Cala Pregonda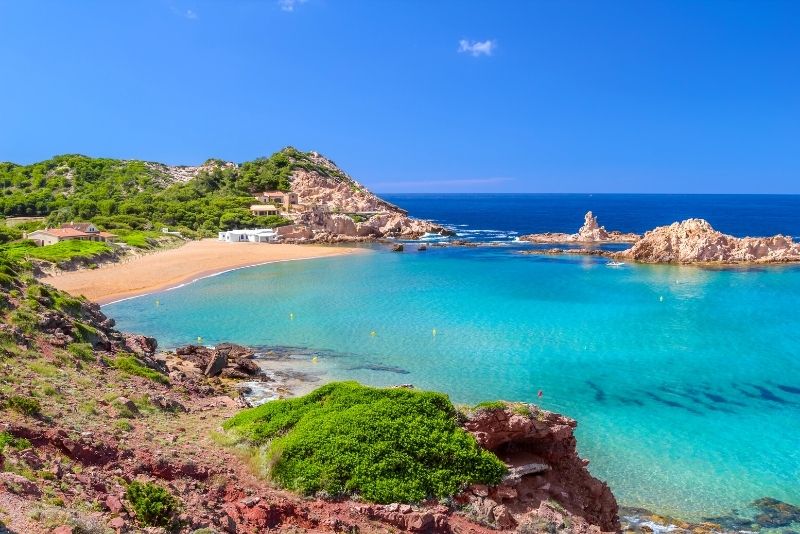 This isolated northern beach is a real hidden gem. It takes a bit of effort to get here, either on a 30-minute hike from Binimel-la or on a boat trip. Yet when you clap eyes on this unspoiled cove all exertions are forgotten.
Surrounded by rocky outcrops, the distinctive golden-red sand makes Cala Pregonda one of the most beautiful things to see in Menorca. Take a dip in the ocean and tuck into beach picnics.
18 – Plunge down slides at Splash Sur Menorca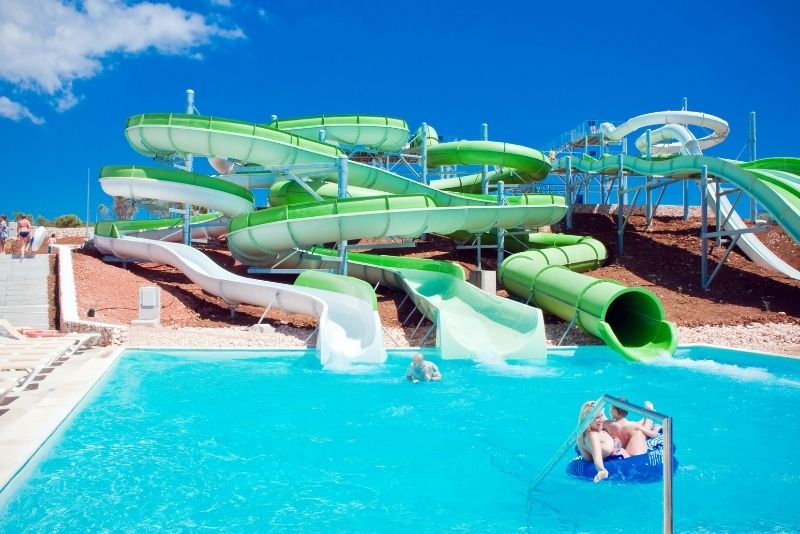 Adventurers of all ages love plummeting down chutes at Splash Sur Menorca. Get your heart pumping as you race through the Kamikaze and take a spin on the ominous Black Hole. Who will scream the loudest?
Take it down a notch with a float on the lazy river to catch your breath. Meanwhile, youngsters will have a splashing time on the pirate ship, complete with its own mini slide and water jets.
19 – Visit the Binissues Museum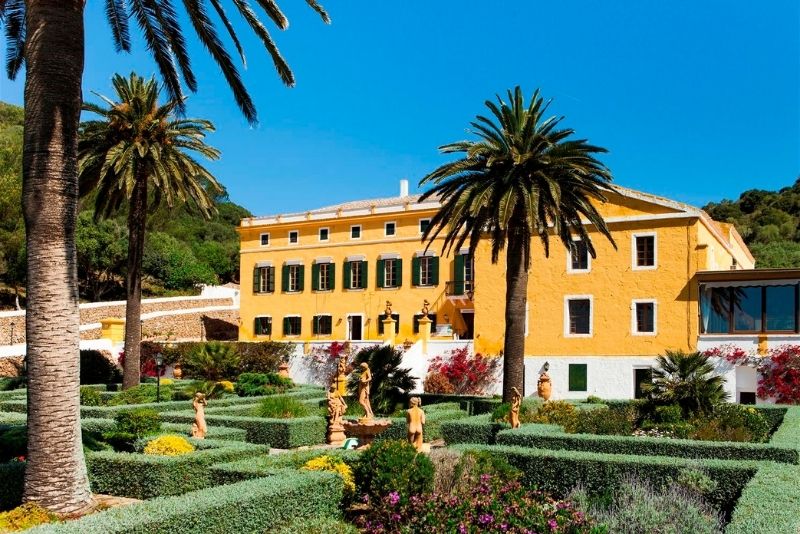 Journey through time and discover what life was like back in the 17th century at Binissues Museum. The majestic manor house was once home to nobility, while the traditional farmstead belonged to a local working family.
Learn about cheese-making and animal husbandry, and pop into the museums to see historical tools and ancient earthenware. The highlight is the Natural Science Museum where you can marvel at 8000 exhibits of species from around the world.
20 – Enjoy a dip at Cala Tamarells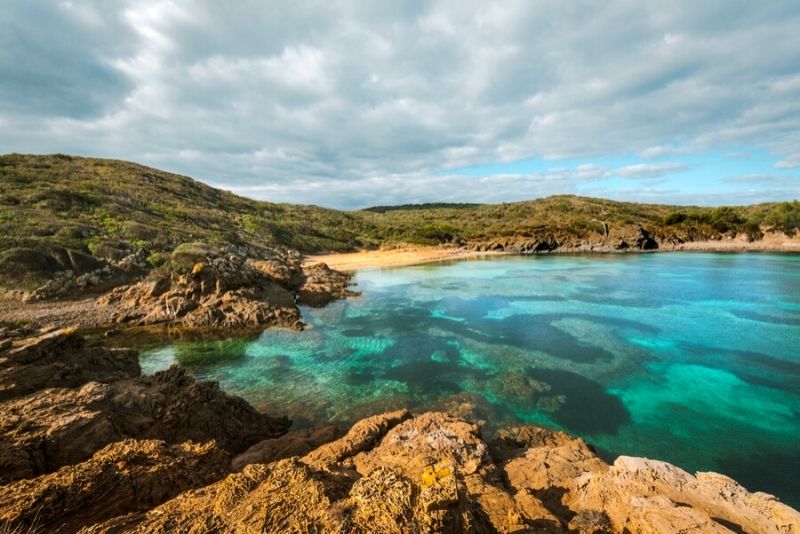 Remote and peaceful, Cala Tamarells is an idyllic beach on the east coast of Menorca, near Es Grau. Getting there is all part of the adventure, with rocky scrambles to negotiate before you reach the cove.
This is a popular spot on the Camí de Cavalls hiking trail but is a great destination in its own right too. Relax on the sand or jump in the water for a refreshing swim.
21 – Take a Colom Island speedboat trip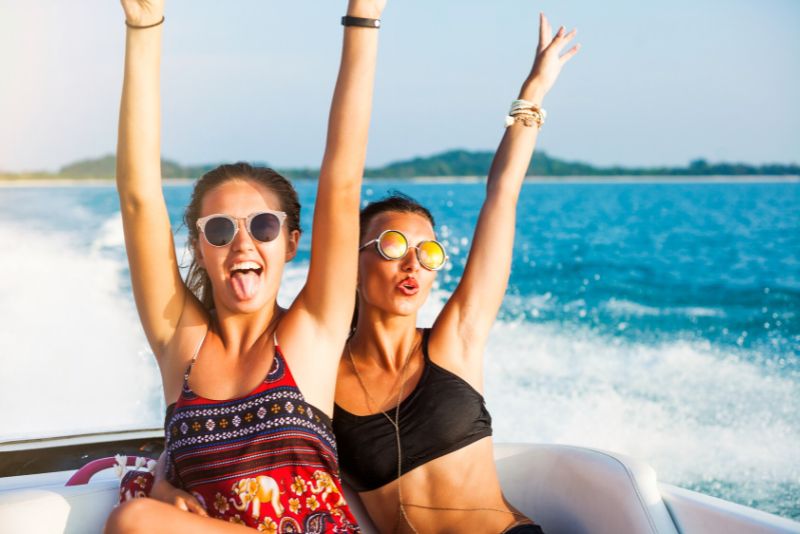 Want to get a little adventurous?
Then grab your best boat shoes and embark on a Colom Island speedboat trip!
Just 20 minutes from the mainland, this charming spot is known for its beautiful scenery and natural treasures.
Go for a dip in the gorgeous waters, or wander through the beautiful scenery of the surrounding Albufera del Grao Natural Park.
Then head back to shore, enjoying the fresh breezes as you speed across the sea.
22 – Explore the Camí de Cavalls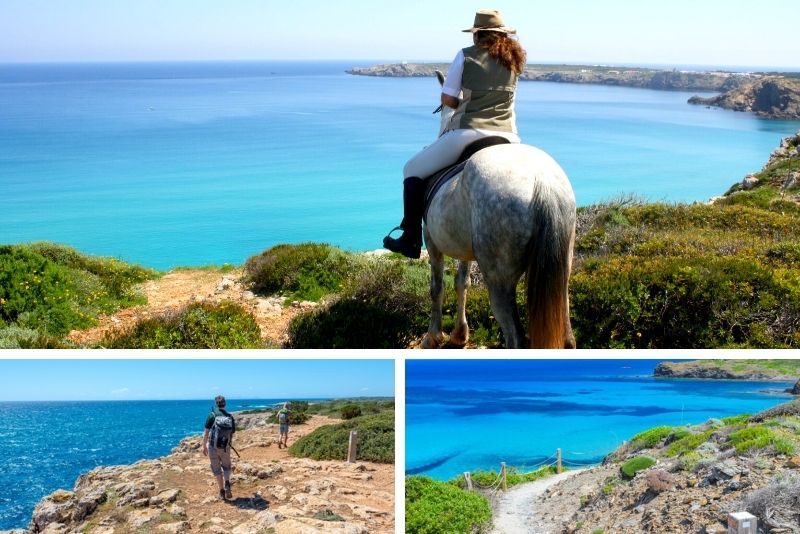 Discover Menorca at your own pace along the Camí de Cavalls trail which circumnavigates the island along the coast. Choose one of the 20 waymarked trails and take in secluded beaches, pine forests, and towering cliffs.
Hiking along this famous route is one of the most exhilarating things to do in Menorca, and it is popular with cyclists too. Ramp up the adventure on a horse-riding tour and explore little-visited parts of the island.
23 – Taste local wine and cheese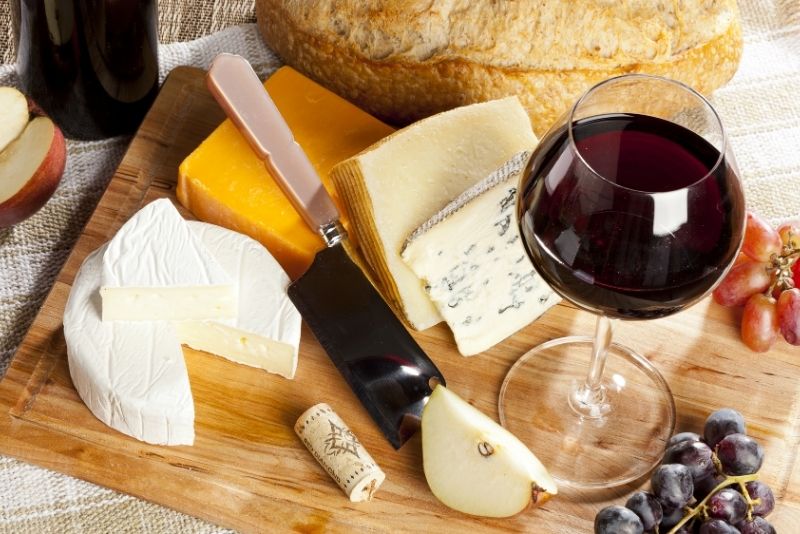 The best way to get to know Menorca is through its food, so join a cheese and wine tasting tour to discover the underbelly of this Spanish gem. Relish the rich flavors of handcrafted cheese, and learn about the production process right here on the island.
Then linger in sunny vineyards to find out why Menorcan grapes make such good wine. Tasting the end result is of course the icing on the cake.
24 – Relax in nature at Cala Turqueta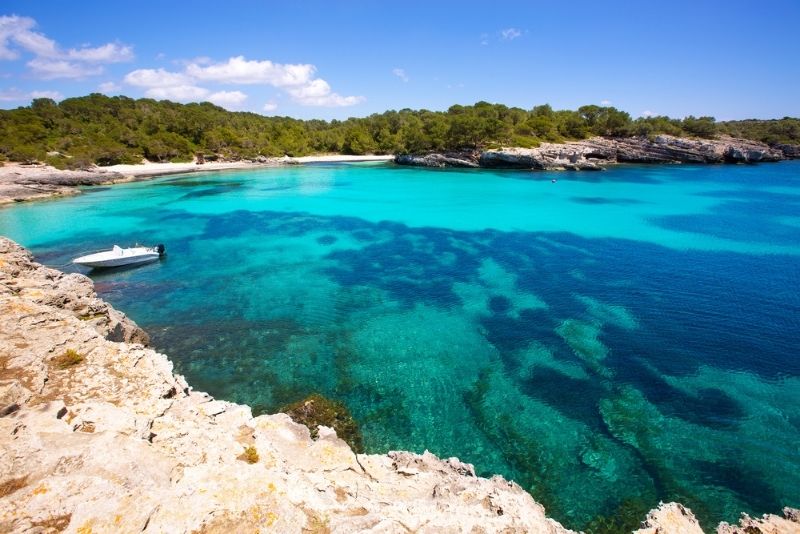 It can be tough choosing which beach to visit in Menorca because there are so many. Yet Cala Turqueta near Ciutadella in southwestern Menorca is an easy win with its dazzling turquoise water and fine white sand. No camera filters are needed here!
This pristine lagoon is a popular stop on boat trips around the southern coast, so come early in the morning for swimming and snorkeling without the crowds.
25 – Drink at Cova d'en Xoroi cave bar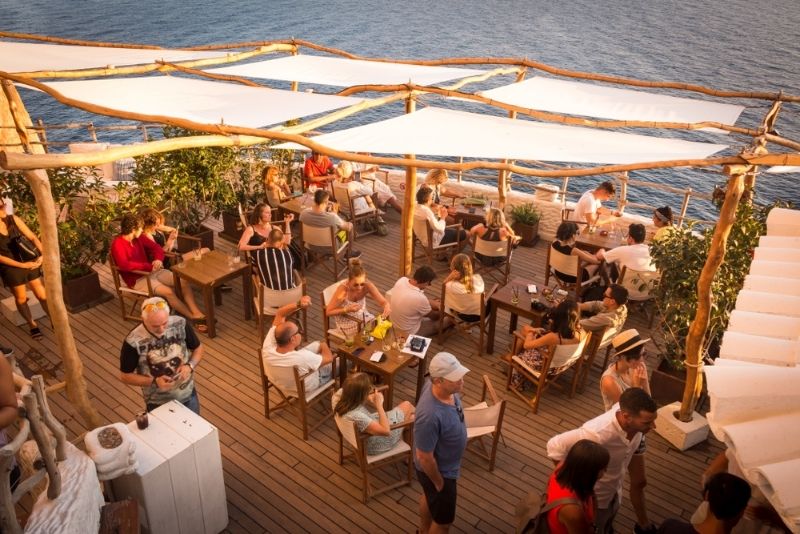 One of the more unusual things to do in Menorca is to spend an evening at Cova d'en Xoroi – a music club in a cave! Once home to a legendary corsair and his lover, the grotto today is the island's most sought-after watering hole.
Enjoy an aperitif during the day, drinking in the views over the sparkling ocean. Then return as dusk falls to boogie away at the themed party nights.
26 – Get some bragging rights form trying a flyboard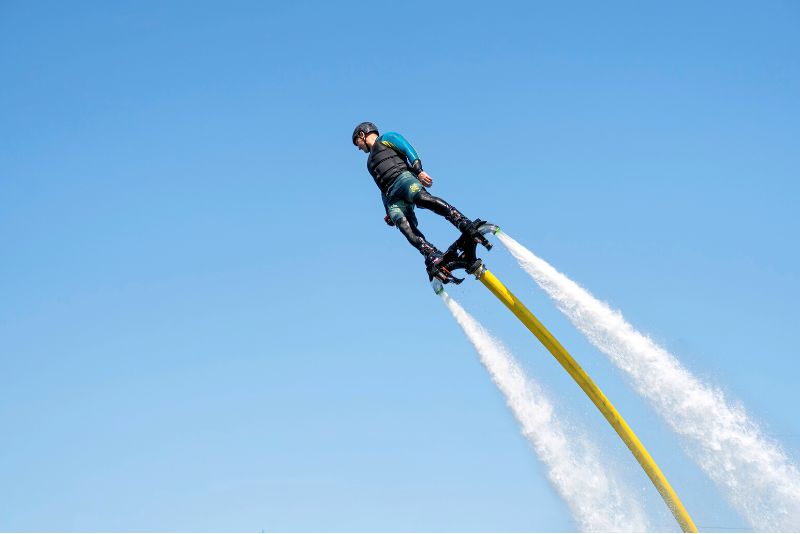 If you've ever dreamed of living in a sci-fi movie, today's your lucky day!
Flyboarding is an up-and-coming activity, offering you the chance to feel like a superhero as you glide through the air.
Strap on your device, get a brief crash course (not literally, luckily), then launch out over the water, looping and soaring above the sea with ease.
It's one of the coolest and most unique water sports around!
27 – Visit a religious sanctuary at Monte Toro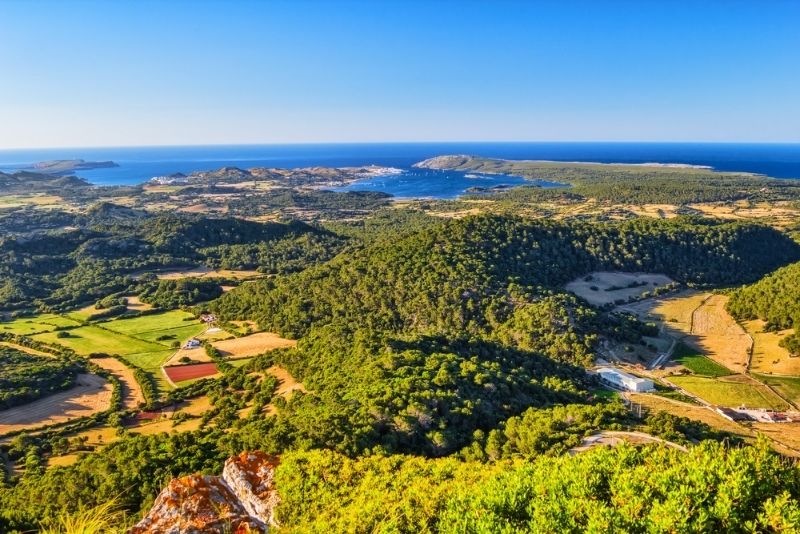 Over the centuries the highest peak on the island has been home to a watchtower, a monastery, and if legends are to be believed – a bull! Today you can still see the Gothic church remains, but the sweeping island views are the main event.
The summit of Monte Toro remains an important pilgrimage site, and the present-day sanctuary is the residence of a community of Franciscan nuns.
28 – Enjoy some paragliding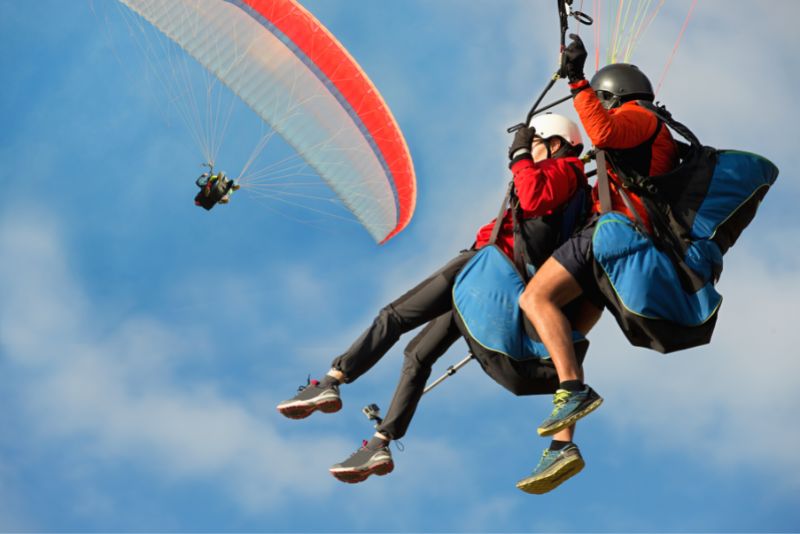 While the views from the sea and the shore are stunning, there's nothing like the view from the sky to keep you entertained!
Paragliding is a truly unique adventure, offering unforgettable scenery and the thrill of flight.
Take a running start off of one of the nearby hills, then soar through the air, enjoying a vantage point unlike any you'd find on the ground.
This thrilling adventure will keep you smiling long after you land!
29 – Enjoy the beauty of the sunset boat tours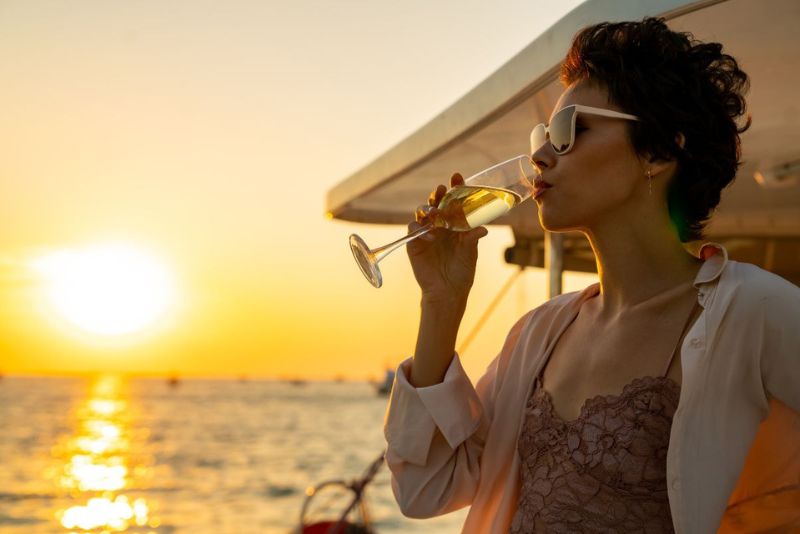 While there's no wrong time of day to head out on the sea, there's something spectacular about sunset boat tours!
With a whole range of vessels and activities to choose from, you can pick the adventure that best fits your fancy… but you're always guaranteed a terrific view!
Whether you're cruising on a catamaran or taking a last-minute snorkeling tour off the back of a touring boat, it's an ideal way to celebrate the evening!
30 – Zoom down flumes at Aquarock Waterpark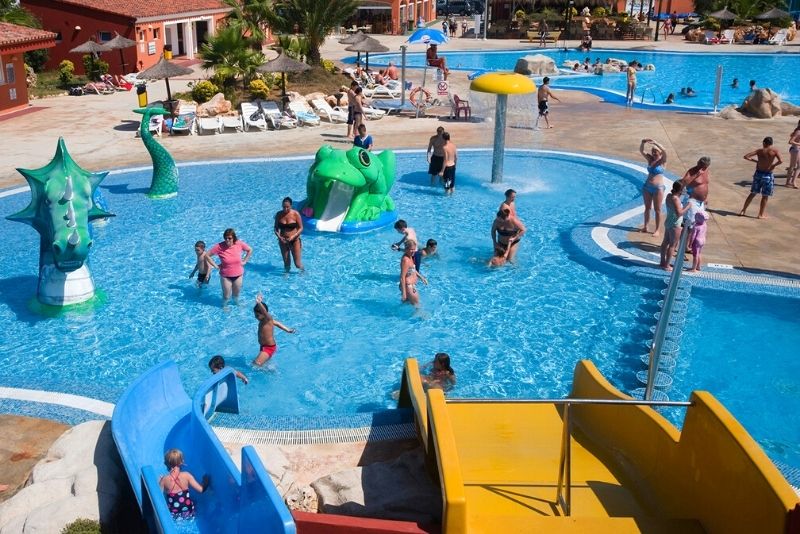 Let your hair down at Menorca's biggest water park and spend the day splashing around in the sun. Take on the giant slides and bob up and down in the wave pool, before enjoying a relaxing soak under the watchful eye of the Aquarock dragon.
Back on dry land, compete for pole position as you race your friends around the Kartingrock track and see how high you can bounce on the open-air trampolines.
31 – Hike or ride a horse along the Cami Reial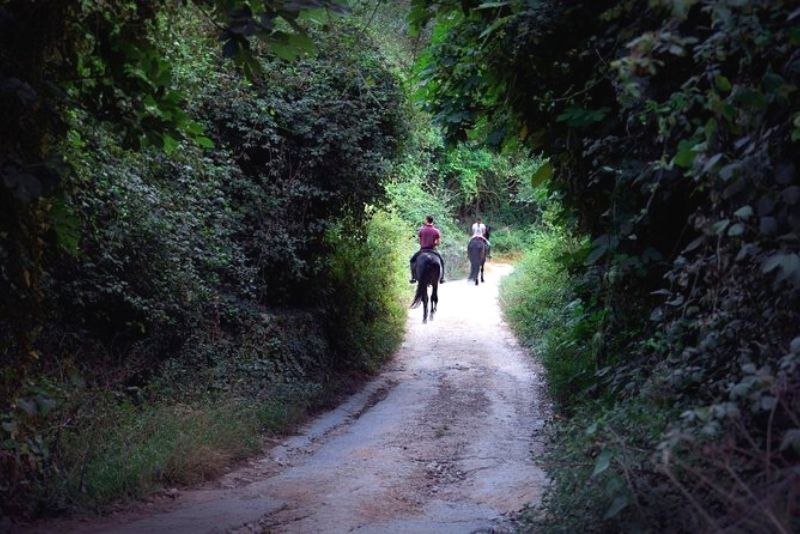 Fill your lungs with fresh air and your soul with joy as you stroll along one of the oldest paths in Menorca. This ancient route connecting Ciutadella and Mahón dates back to Roman times and has changed little over the centuries.
The Cami Reial meanders through wild olive groves, getting you up close to nature. Keep an eye out for the historic wells of Es Pouets, prehistoric caves, and the dramatic cliffs of Algendar. Ride a horse along the trail to enjoy nature at the best of it.
How to get around Menorca?
The best way to explore Menorca is to drive yourself, so you can easily visit the most remote and scenic parts of the island. There are plenty of car rental options to choose from. Scooter hire is even more popular and will allow you to get even further off the beaten track.
Where to stay in Menorca?
Whether you're splashing around in the pool or darting over to the beach just across the way, Meliá Cala Galdana offers luxurious vibes in spades – along with dining and decor to die for!
And Hotel Princesa Playa will take care of all of your vacation needs, from the game area and mini-market to the beach access, gorgeous gardens, and pools for both grownups and kids alike to frolic in.
Grupotel Playa Club is another shorefront treasure with all of the greatest resort amenities, including a breakfast buffet, play areas for kids, and even massage services!
And if you're looking for a particularly relaxed vacation, head over to Menorca Binibeca by Pierre & Vacances Premium Adults Only, where you can cruise around on a rental bike, unwind in the garden, or simply stroll and enjoy the tranquil scenery.
You can enjoy similar levels of relaxation with a family-friendly twist at Grupotel Club Menorca, where archery, tennis, and swim lessons are just some of the offerings on the action-packed calendar.
Visiting Menorca on a budget?
Informative and engaging in equal measure, free walking tours keep you learning, without going broke! Roam around the historic town of Mahon, and discover the unique conjunction of Spanish and British colonial cultures that shaped the region.
Be sure to bring some cash to tip your guide!
Where to go next?
Once you've peeled yourself away from paradise, you can have a great time exploring some of the best places to visit in Spain!
With centuries of history and multicultural influences, amazing cuisine, and a wonderful mixture of charming villages and world-class cities, this gorgeous country has something for everyone.
Closer to the island, you can enjoy even more fantastic beaches – plus amazing nightlife, awesome architecture, and funky art – in Mallorca.
Or bask in the glorious hedonism of Ibiza, where the parties and tapas are only matched by the antique shopping, ample snorkeling, and picturesque trails perfect for trekking.
You can also use Menorca as a charming home base for multi-day trips; it's especially convenient if you're looking for more aquatic adventures, with kayaking excursions, scuba trips, and boat rentals offering the chance to explore the beautiful briny blue.
Final thoughts
While most of the popular things to do in Menorca tend to be slower-paced, they're far from boring!
Even a mellow beach day feels elevated with such clear waters and warm sunshine, and it's even better with the promises of cultural expeditions, snorkeling, or food tours on the horizon.
Drop by and enjoy it all for yourself!