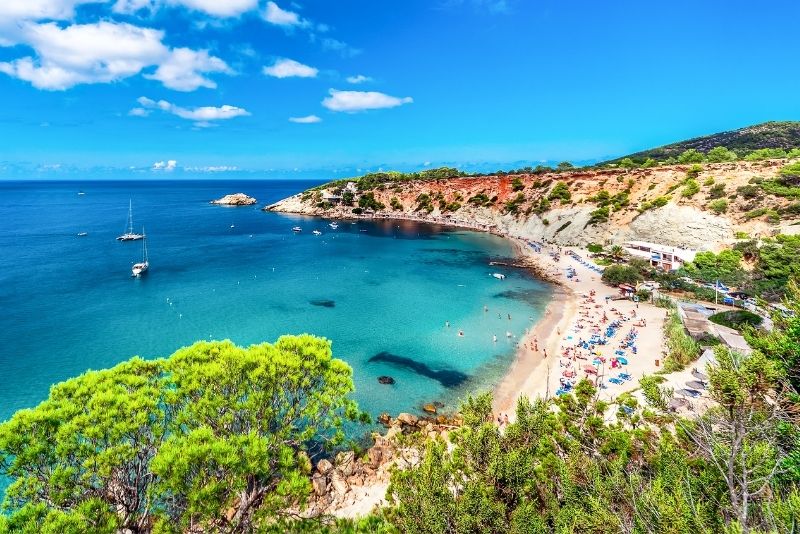 What comes to mind when you think of Ibiza? Flowing drinks, world-class nightclubs, shaking dancefloors, and beach clubs that spill onto golden sands, right?
Well, that's true. Ibiza is a wild party destination where you can dance all night and sleep until noon.
But there's more to this Mediterranean oasis than letting loose on the dance floor; this Spanish island has an impressive history, delicious cuisine (with handmade tapas and fresh seafood all over the island), stunning remote beaches and secluded coves, excellent year-round weather, whitewashed villages, and challenging hiking trails.
So whether you're an adventurer looking to snorkel or dive, a culture vulture keen on experiencing the strong hippy heritage (check out the flea markets and you'll see what we mean), or a party animal who wants to rave all night long, Isla Blanca has it all.
So, without further ado, check out the exciting array of things to do in Ibiza and start planning your upcoming, unforgettable adventure!
1 – Go beach-hopping!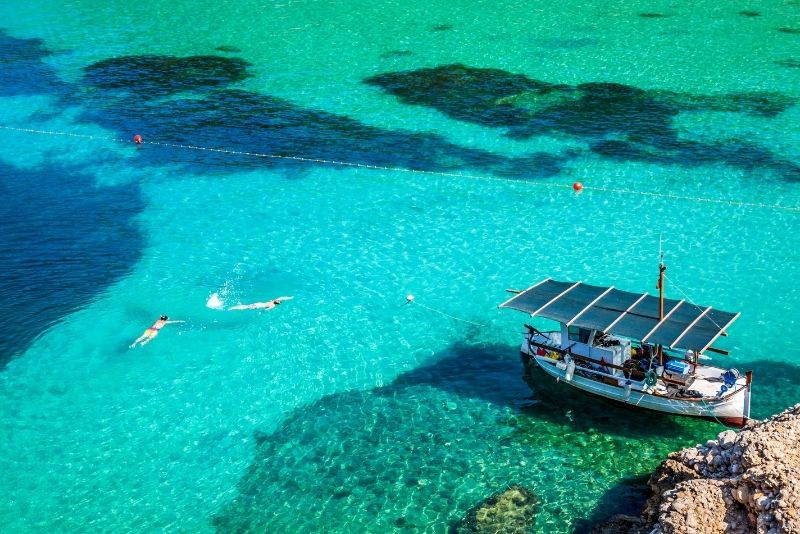 With year-round sun and warm, golden sands, Ibiza's coastline is simply stunning.
Whether you're after a secluded spot on the edge of the island, or somewhere with more entertainment options (and maybe even that famous nightlife), there are literally dozens upon dozens of beaches to choose from.
To get a taste of what the party island has to offer, consider a tour that hops around some of the area's most pristine stretches of sand: the peaceful, crystalline waters at Xarraca Bay on the island's northern tip feel like you've stumbled across a private beach; Cala Salada is hidden away in a San Antonio cove and provides a postcard-worthy contrast of turquoise waters with green vegetation;
Cala Comte is one of the most famous beaches in Ibiza; Cala Benirràs offers a hippie vibe and gobsmacking sunset; Cala Llonga is teeming with water sports, shops, and activities for the whole family; Cala Bassa is famous for its calm turquoise water; and Playa de Es Canar dishes up both shallow waters and nearby bars.
Can't decide where to start? Then join a pre-arranged beach-hopping tour which not only takes you to a handful of spots on a decked-out catamaran, but also includes lunch and drinks and plenty of time for sunbaking, snorkeling, and relaxing in between.
See also the Best boat tours in Ibiza
2 – Explore Ibiza Old Town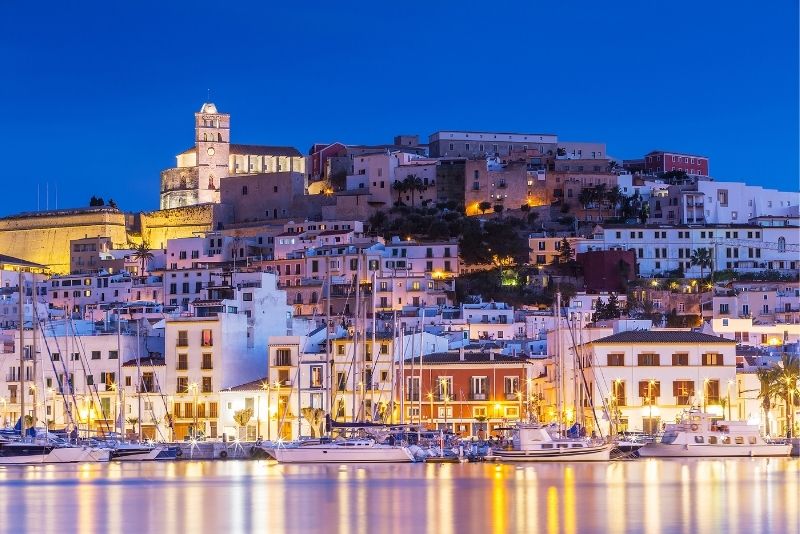 Ibiza's Old Town, a fortified UNESCO World Heritage Site, is an atmospheric labyrinth of narrow streets and whitewashed walls that offers a stark contrast to the typical Ibiza reputation.
And though it might not boast the island's best beaches or clubs on tap (the party scene pretty much stays at Playa d'en Bossa), Dalt Vila provides some stunning views out over the harbor and a breath of fresh air from Ibiza's modern side.
Even if you're not into historical sites or museums, it's worth popping by to soak up some atmosphere at the Castell d'Eivissa fortress, which offers commanding views of the ocean, and the famous Baroque-cross-Gothic Ibiza Cathedral.
To learn all the best bits about Old Town's history and evolution, consider a free walking tour (just don't forget to leave a tip).
3 – Wander around the Hippy Market Punta Arabi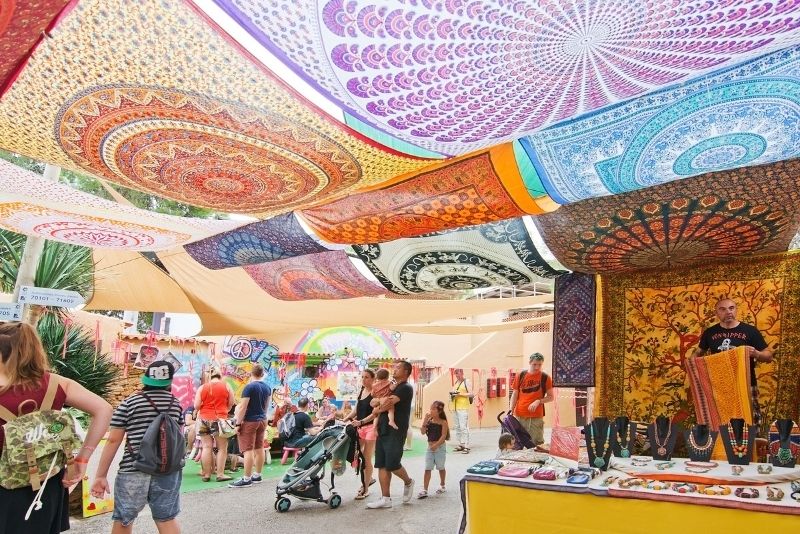 Every Wednesday, Ibiza's hippest flea market comes alive with some 500 stalls selling everything from vintage clothing to handmade jewelry and locally made organic skincare specialties.
Far removed from the touristy souvenirs, this sort of shopping experience is a great way to get in touch with local culture and connect with Ibiza's funky roots — and, besides the array of knick-knacks, there's plenty of live music, homemade paella, henna tattoo stalls, and masseurs at Hippy Market Punta Arabi!
Be aware that the market is open only from May to September, from 8 PM to 12 AM.
4 – Head underwater — go snorkeling or scuba diving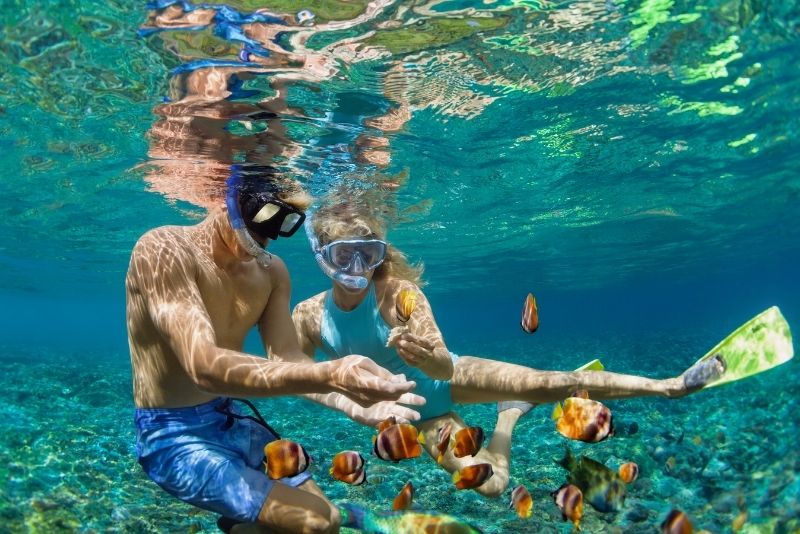 For a chance to explore beneath the waves and experience some of Ibiza's most unique marine life (we're talkin' fish, octopi, turtles, crabs, lobster, and Moray eels) there's simply no better way than by snorkeling or scuba diving.
Whether you're looking for an underwater adventure with your family — in which case, an easy snorkel in a calm place like the Ses Margalides islands is the way to go — or a thrilling underwater adventure with a PADI-certified dive instructor, there's no shortage of opportunities to get acquainted with the island's underwater world.
Hot tip: for a unique diving experience, it's hard to go past The Wreck of Don Pedro, a ship that sank near Ibiza's harbor back in 2007.
5 – Join a pool party at O Beach Ibiza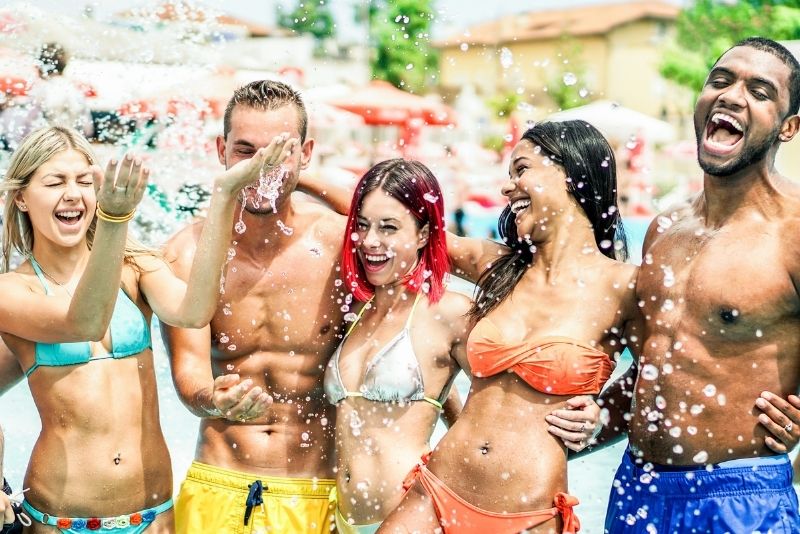 Ready to party in San Antonio? Then O Beach Ibiza is the perfect summertime destination for you.
With its regular shenanigan-filled pool parties, lineup of world-famous DJs, ever-flowing drinks, and stunning ocean views and sunsets to boot, O Beach Ibiza is a firm favorite for holidaymakers looking to make the most of their summer break.
Plus, with astonishing aerial shows — circus performers dancing above the pool — there's never a dull moment.
Are you celebrating something special? Check out the VIP packages and access that come with personal waiter service.
6 – Soak up the chill beats at Café del Mar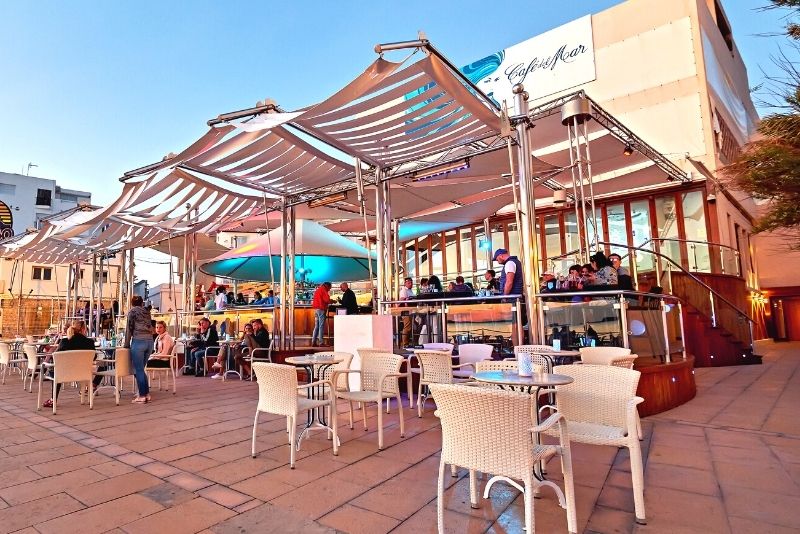 For anyone making their way through San Antonio (Sant Antoni de Portmany), Cafe del Mar is a must-stop for dinner and drinks and some top-tier sunset watching.
This internationally acclaimed restaurant/club has been hosting live music and DJs since the 1970s, and while slightly more expensive than your average beachside restaurant, dishes up Instagram-worthy sunsets like few others.
Open seasonally between April-October, in order to secure your sunset seats, be sure to reserve your table online!
Hot tip: If you want to get a feel for this beloved locale before visiting then check out their music live stream.
7 – Spend a day in Formentera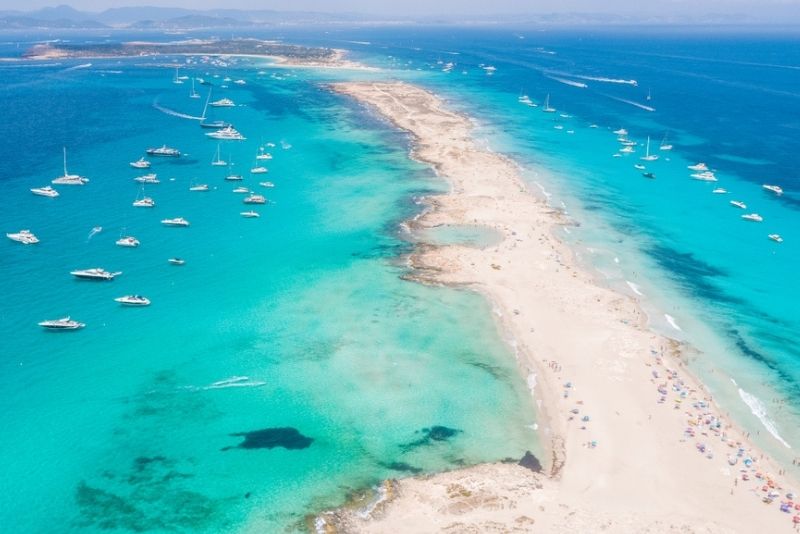 If you need a break from the party scene and tourist-trodden club life of San Antonio or Ibiza itself, make your way around to the tranquil island of Formentera, dubbed Ibiza's little sister.
Just a mere stone's throw from mainland Ibiza, but worlds apart in atmosphere – this tiny island is famous for its serene sandy beaches and picturesque views.
Make a day of it on a guided tour; take in some breath-taking coastal walks, go snorkeling or scuba diving (there are plenty of shops for gear rental), or just laze around on your own private little stretch of sand.
8 – Get wild at a boat party!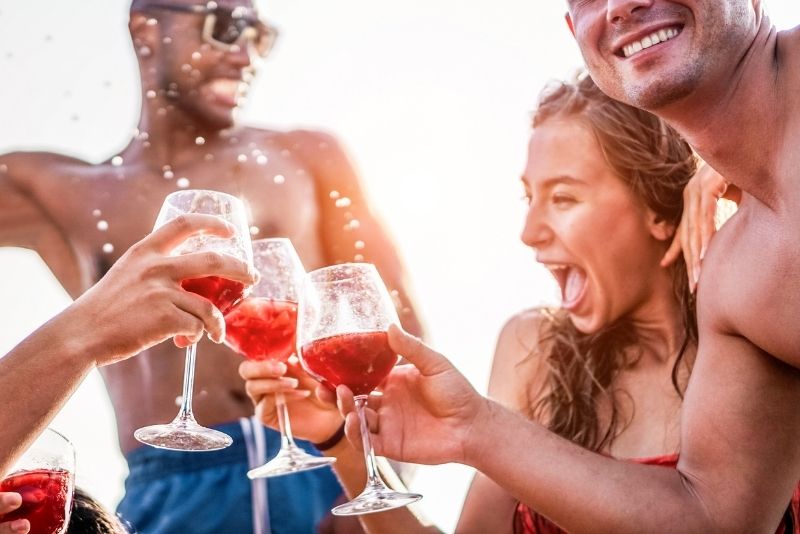 With some of Ibiza's best DJs spinning beats from the upper decks of luxury yachts and catamarans, it's no wonder these booze-filled events are fast gaining notoriety as one of summertime Ibiza's quintessential activities!
Each of the island's main boat parties (Oceanbeat, Lost in Ibiza, Cirque de la Nuit, and Pukka Up, just to name a few) offers a slightly different yet incredibly upbeat atmosphere, with all-inclusive bars, swimming stops, and a range of themed activities to keep you entertained.
Seriously, why else would you come to Ibiza?
9 – Check out the Puig de Missa church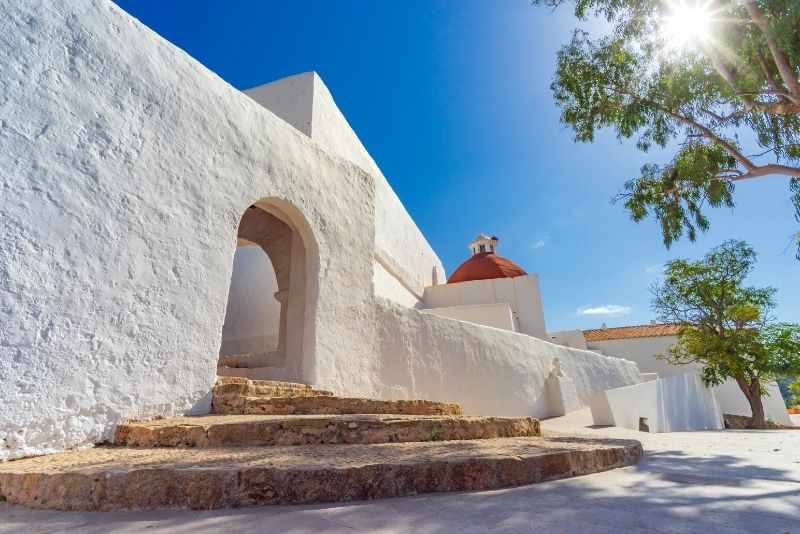 Positioned on top of a pine-covered hill overlooking the sea and the 16th-century town of Santa Eulalia del Rio, the white-walled Puig de Missa is widely celebrated as one of Ibiza's most impressive (albeit small) churches thanks to its unique architecture.
Nearby you'll find a graveyard, small cultural museum, and old water mill — but be warned, the area is steep so expect a decent workout to reach the summit.
Don't be shy to step inside between 10:00 AM – 2:00 PM, to look at the architecture from the inside.
10 – Check out all of Ibiza's Defence Towers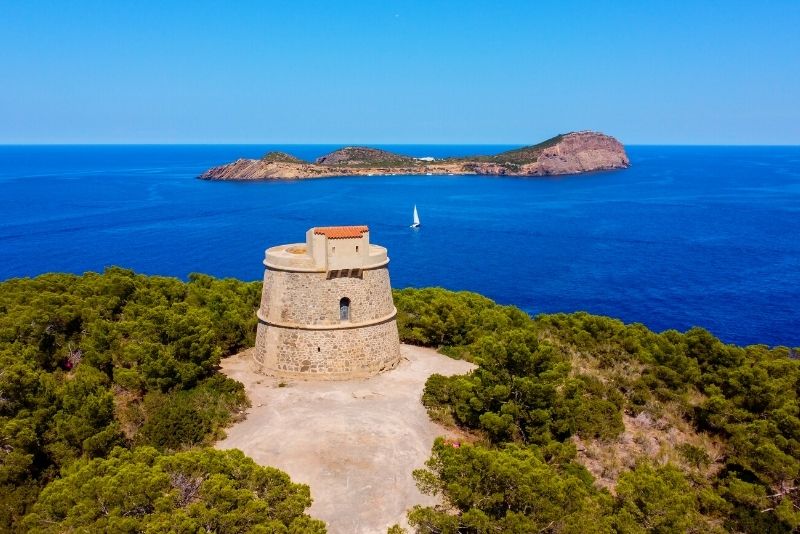 Climb up to Ibiza's defense towers, historically built to protect against pirate attacks.
From the Torre des Molar near Port de Sant Miquel in the north to Torre des Carregador or Torre de Campanitx in the east, down to Torre de ses Portes on the island's southernmost tip, Ibiza is dotted with defense towers in every direction, each telling a uniquely historic story.
With all of the towers built in prime lookout locations, it goes without saying that spectacular oceanside views are all but guaranteed no matter which one you choose to stop at.
Sponsored placement
Sail the seas on a day trip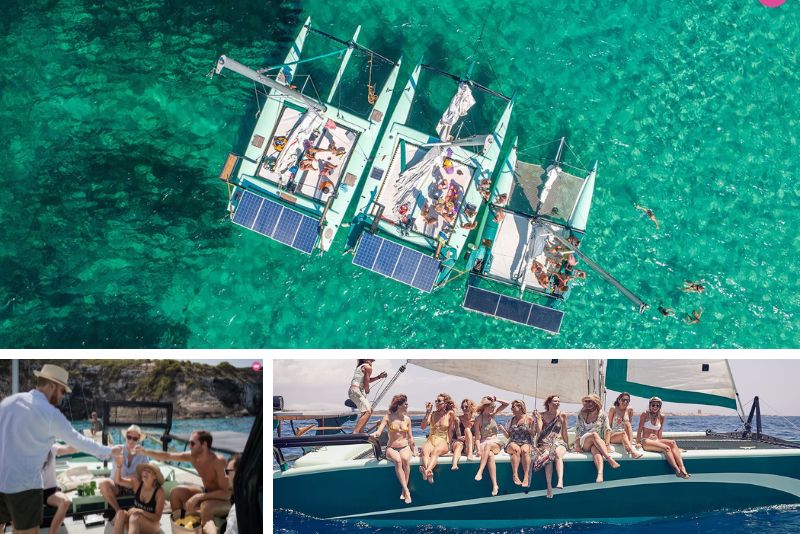 From the comfort of a solar-powered catamaran, you can discover Ibiza's beauty on a unique day trip. This boat comes equipped with a trampoline, sound system and welcome drinks, allowing you to luxuriate in the salty air and sun between visits to breathtaking beaches.
Lasting around 7 hours, your trip will take you to the west coast of Ibiza. Don a snorkeling mask provided onboard and dive into the turquoise waters. You can even select a sunset excursion, making for a spectacular experience for you and your select group.
11 – Go birdwatching in Ses Salines Natural Park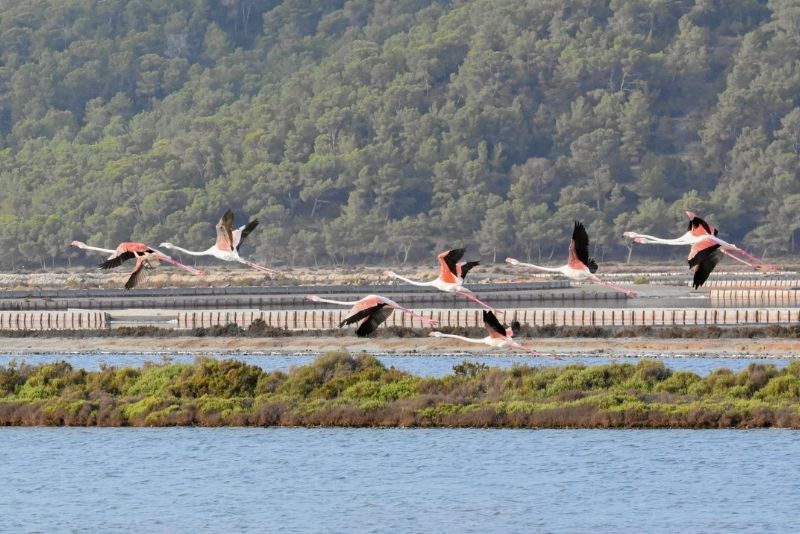 Spanning both land areas and water marshes between the south of Ibiza and the north of Formentera, this natural reserve consists of sprawling lagoons, wetlands, and coastal pools that attract hundreds of different species — from flamingos and turtles to sunbathing iguanas.
With no shortage of walking trails, whether you're an avid bird-watcher or a lover of all things nature, Ses Salines is one of the more underrated things to do in Ibiza if you're after a bit of fresh air.
Though it's open all year round, the ideal month to visit is September.
12 – Try Stand-up paddleboarding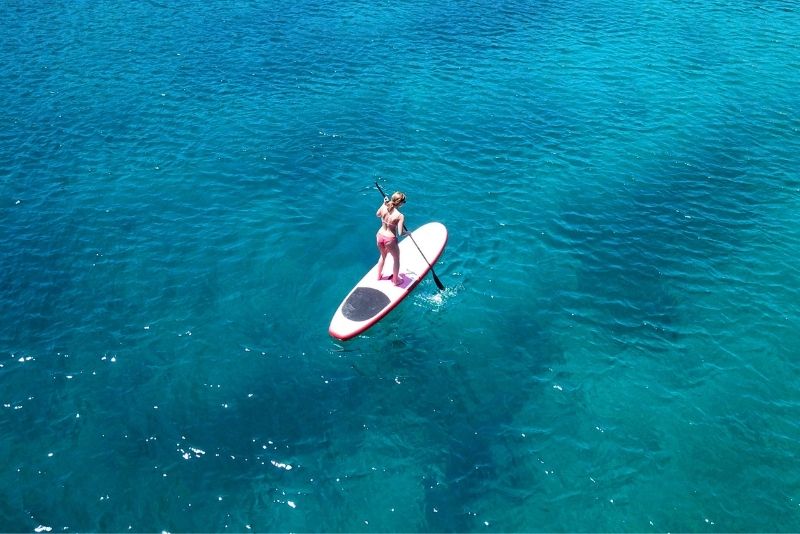 A relaxing (yet surprisingly difficult) sport quickly gaining in popularity, stand-up paddleboarding (SUP) is the perfect way to get out on the water and experience Ibiza's beautiful coast.
You don't need any prior experience or lessons – simply grab a board from one of many rental spots along the beachfront of San Antonia, Playas d'en Bossa, or Santa Eulària, and start paddling.
Hot tip: if you're a first-timer, and you want to stretch every dollar, consider a day-long excursion that offers some sailing, snorkeling, and SUPing all in one.
13 – Head out on a kayaking adventure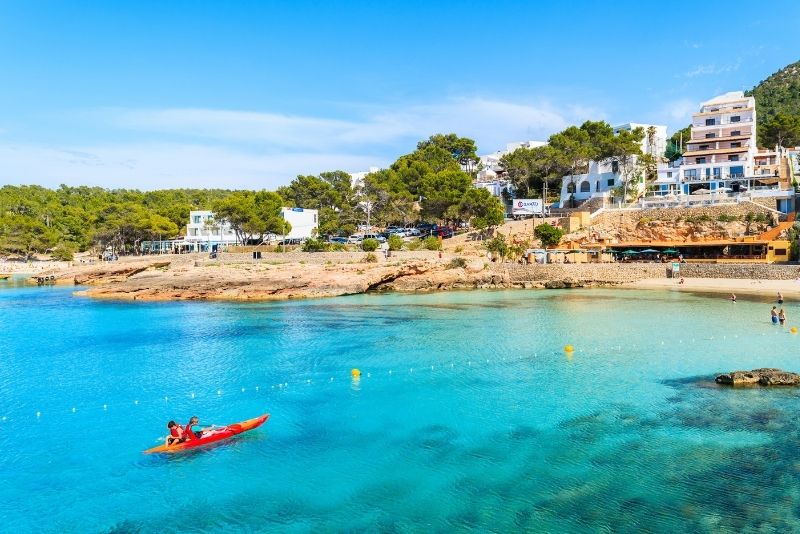 With its rugged, dramatic coastline and clear waters filled with fish and plant life – not to mention a plethora of cave-exploring tours – kayaking is becoming an increasingly popular activity in Ibiza.
And for good reason too! The sport offers the chance to explore parts of this sun-soaked island that are off-limits by road or on foot – and to give you a different perspective on the place too, whether that's the spectacular sunsets out at Cala Benirràs, or the untouched waters of Chiringuito Cala Xuclar, home to the Black Point cliff jumping hotspot.
Of course, if you prefer to go at your own pace, feel free to book a solo kayak rental for the day!
14 – Eat fresh sushi at Cotton Beach Club Ibiza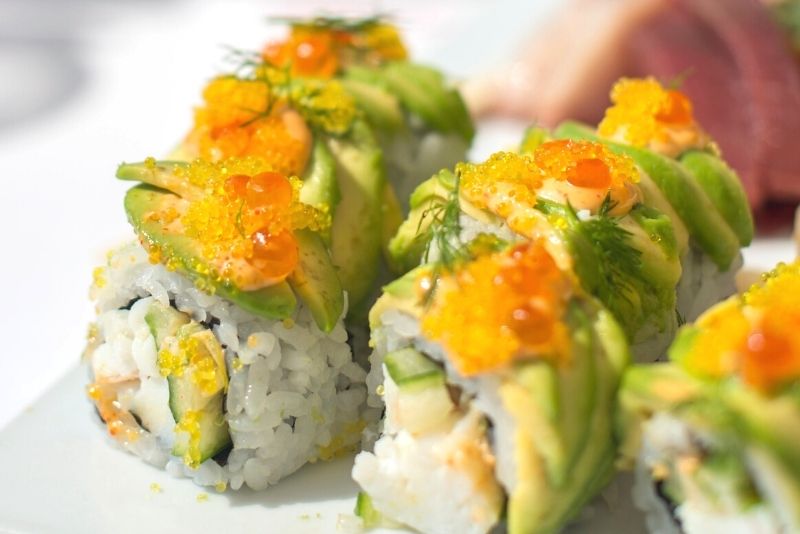 For the best place to see and be seen, head down to the luxurious, white-clad Cotton Beach Club Ibiza at Cala Tarida on the southwest coast — the personification of white-island sophistication and style.
A convenient taxi ride from both main cities (about 25 kilometers from Ibiza Town and 12.5 kilometers from San Antonio), Cotton is renowned for its high-class service, cliffside views, tune-spinning DJs, and white-washed roofs, making it one of the hottest chill-out clubs in town.
Because of its opulence, make sure to reserve your table ahead of time when the restaurant is open, during the summer, and a few days in December and January.
15 – Pay a visit to Santa Gertrudis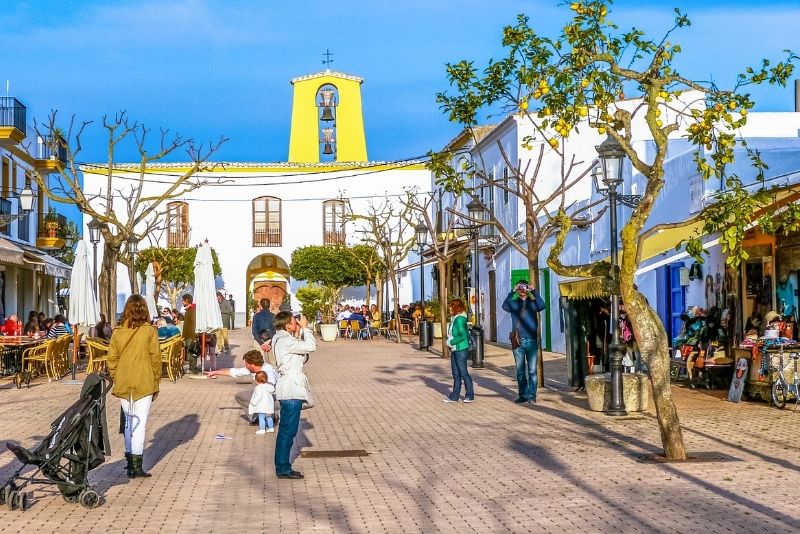 Smack-bang in the middle of the island, the small yet historic village of Santa Gertrudis de Fruitera is renowned as a charming and traditional whitewashed Mediterranean spot that's quickly gaining notoriety as a foodie magnet.
With a handful of less-touristy art galleries, boutiques, and shops (compared to the bach resort towns), it can also be a refreshing change of pace.
If you're looking to just pop by for an hour or two, plenty of the island-exploring tours tick this popular spot off the list.
16 – Marvel at the Es Vedra rock formation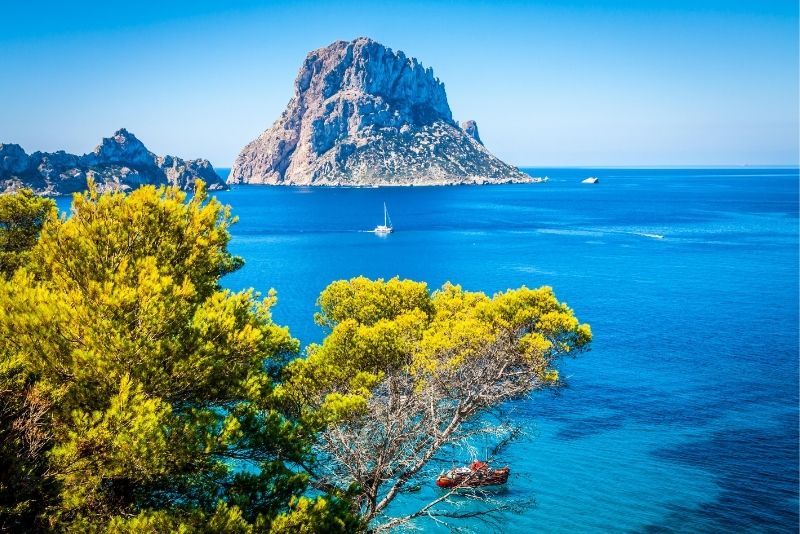 Doused in intriguing myth and legend as the alleged tip of Atlantis, Es Vedra is a staggering, uninhabited rock formation located near Cala d'Hort off Ibiza's southwestern coast.
Rising to an impressive 404 meters above sea level, Es Vedra is regarded as one of the most important natural sites on the island — not just for its stunning coastal views but also because it offers insight into the island's geological history.
Whether you hop on a jet ski, private bout tour, or luxury catamaran, add this remarkable natural structure to your list of things to do in Ibiza.
17 – Do some yoga on the beach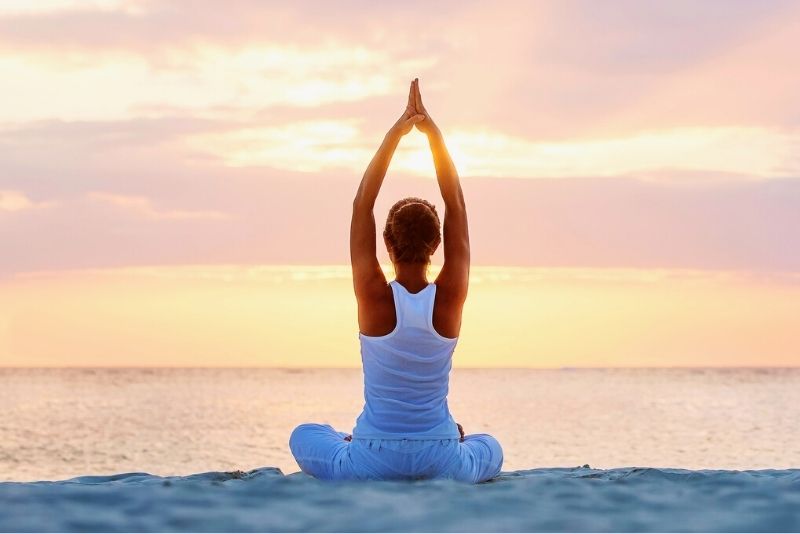 Live a more holistic lifestyle with a little help from one of Ibiza's relaxing, rejuvenating yoga companies, who offer both group and one-on-one classes on some of the island's most stunning — and most importantly, hidden and peaceful — stretches of sand.
After a beautiful session, continue the revitalizing experience with a refreshing smoothie with your seaside breakfast, and a reflective meditation to the sound of dolphins and birds.
Yoga equipment is provided, all you have to bring is the right energy!
After all that partying, some R&R always goes down a treat.
18 – Grab a table at the Sa Caleta restaurant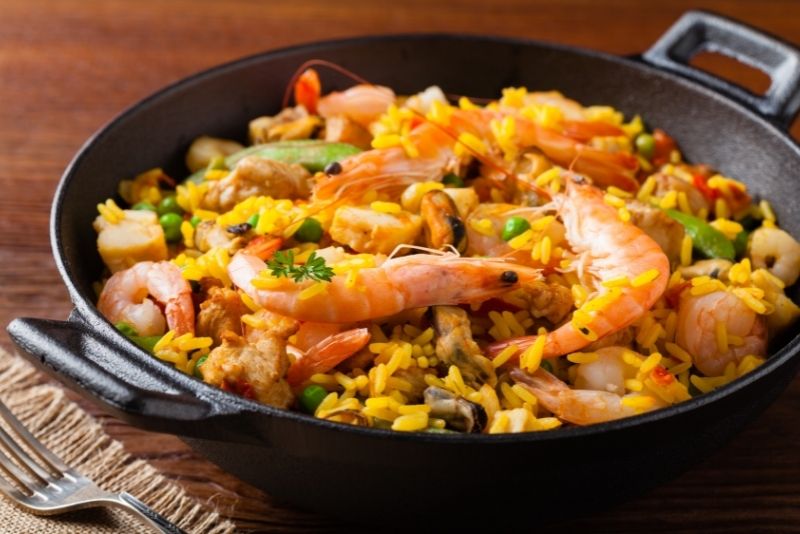 Peacefully tucked away on the quiet sands of Playa es Bol Nou, Sa Caleta is considered one of the island's premier seafood haunts, dishing up lip-smacking local fish dishes alongside classic Spanish tapas, paella, and other Mediterranean specialties.
With its alfresco tables adjacent to towering orange cliffs, notable impeccable service, and homemade desserts like flaó' (cheesecake with mint), it's certainly one of the more unmissable things to do in Ibiza for romantics and foodies.
Grab a drink after dinner at Es Jardi – the restaurant's chill-out zone, offering a tranquil moment by the sea.
19 – Spend some time in laid-back Santa Eulalia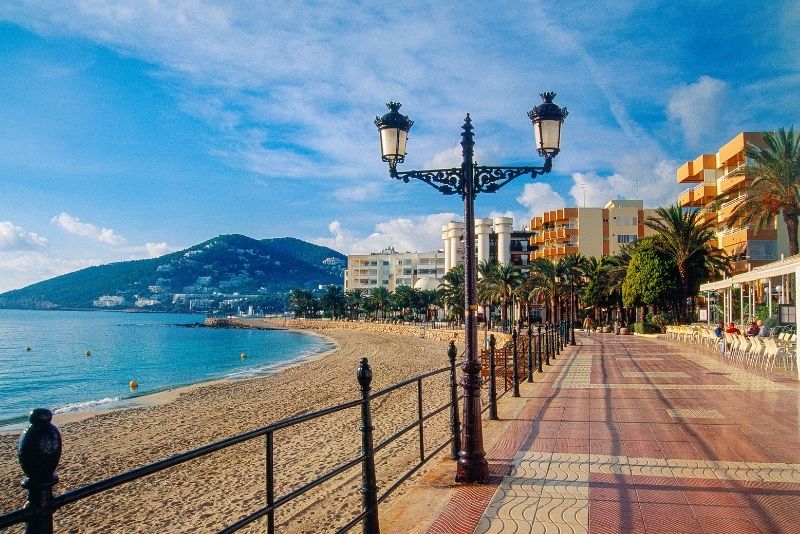 As the third-largest resort town on the island, Santa Eulalia del Río is located in a particularly lush area on the island's eastern coast. Great for families, it has its own lovely beach with crystal clear waters, stacks of noteworthy restaurants and art galleries, and an exclusive Yacht Marina that regularly welcomes impressive (and expensive!) vessels.
Hot tip: If you have the opportunity, line up your vacation with the first week of May — that's when Santa Eulalia hosts Energy Week, a zen-filled festival of wellness and relaxation that attracts experts from near and far.
20 – Spot some celebs at Nikki Beach Ibiza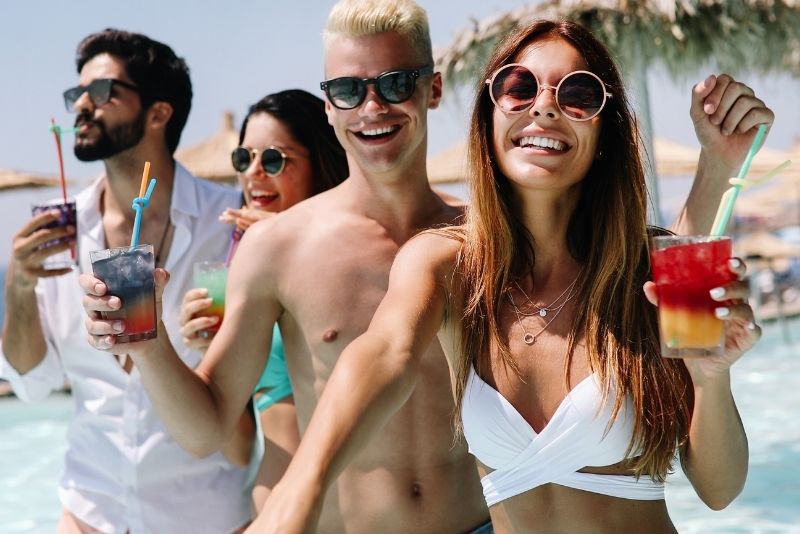 Fed up with partying yet? Of course not! Why not spend an afternoon at Nikki Beach Ibiza, one of the island's most exclusive beach clubs? If it's good enough for celebrities, it's good enough for you too.
Offering up a host of seating options including sun loungers with comfy pillows and towels, as well as private cabanas for those seeking some privacy away from prying eyes, the internationally-branded club provides a jam-packed events calendar (check the website) highlighted by white parties and the 'Amazing Sunday Champagne Party', freshly-caught seafood, and signature mojitos.
21 – Step inside Cova de Can Marçá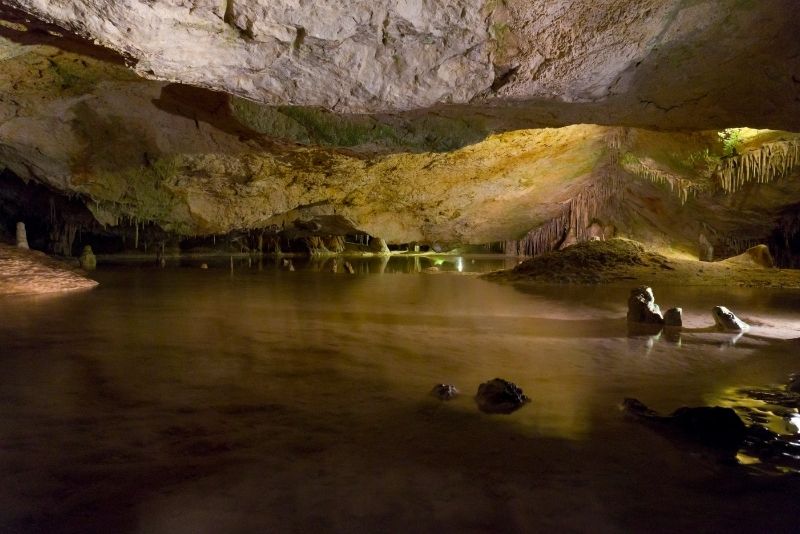 A little off the beaten track in the most rustic part of the island, this stunning cave teeming with stalactites and stalagmites is one of Ibiza's most gorgeous natural attractions.
Located on the island's north near the San Miguel Port, Cova de Can Marçà has been a popular spot for locals and tourists alike thanks to not just its stunning rock formations and crystal clear water, but also the unique history surrounding it.
The cave was originally discovered by smugglers and used as a hideout; these days, it offers a more tourist-friendly light show and cafe, and is often visited as part of a 2-3 hour boat tour.
22 – See all of Ibiza from the best rooftop bars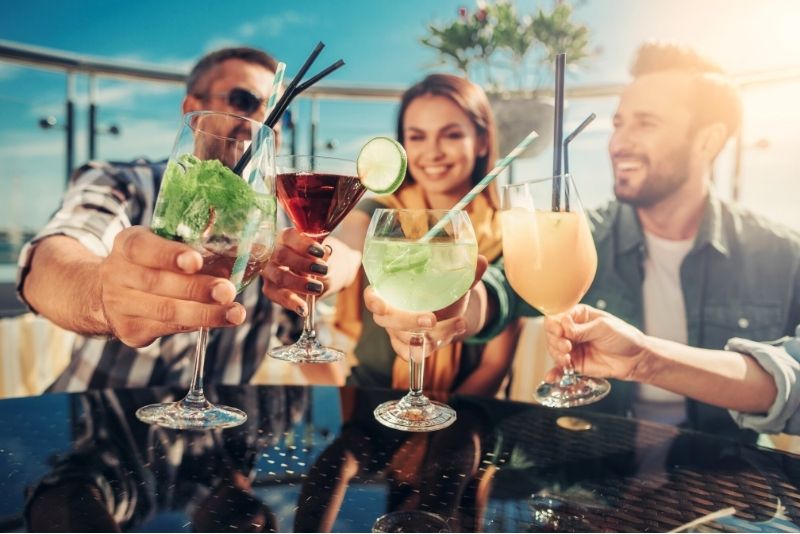 Get a panoramic view of the sea and island when you stop for a drink at Radio ME Ibiza Rooftop Bar, casually ending the night on the soft lounge beds while mingling with your friends.
See yourself viewing the sunset from one of the coolest infinity pools in Europe at the Epic Infinity Lounge, located on the top floor of Bless Hotel Ibiza. The all-white furnishings hovering over the pool create the perfect scene to experience.
Get a scenic view of the beautiful San Antonio Bay, as the day turns to night, and the lights in the distance start to add to the magic of scenery from Rooftop Nine.
23 – Work on the tan at Talamanca Beach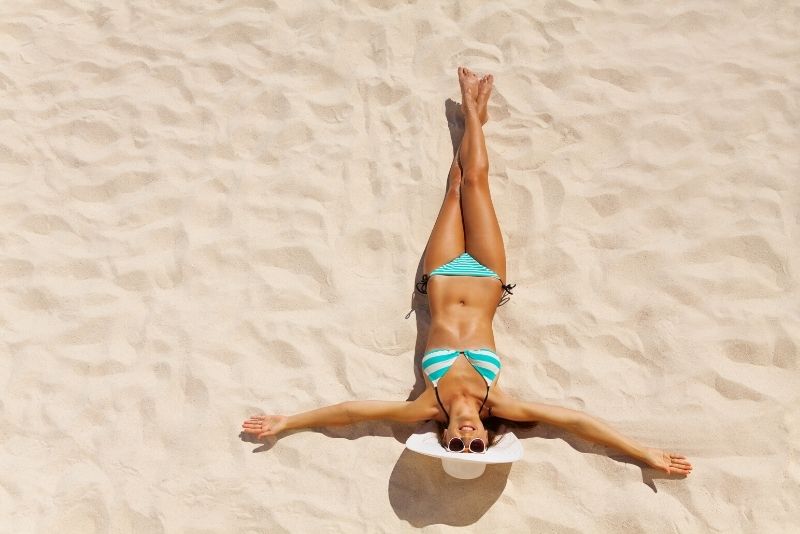 Right in the middle of the hustle and bustle of Ibiza Town, Talamanca Beach is the island's most popular urban stretch of sand with a colorful history as a post-WWII bathing spot.
With an active live music scene and some incredible sunset views, plus lots of bars and restaurants as well (notably the SHU Ibiza Talamanca Beach Club), it's one of those special spots that has something for everyone.
Hot tip: while the area is generally crowded, some reprieve can be found at Fish Shack, a celebrated remote seafood restaurant at the very end of the beach.
24 – Skid across the water on a Jetski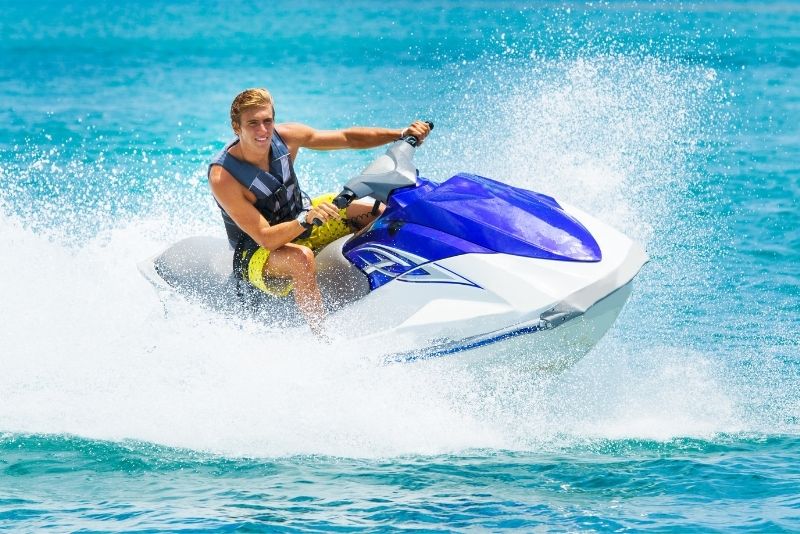 With the perfect balance of thrills and relaxation (depending on how hard you twist the throttle), there's no better way to explore some of Ibiza's most stunning coastline than on a jet ski!
While some travelers prefer to avoid the hassle and join a pre-organized and guided trip to spots like Atlantis, Es Vedra island, or the unique rock formations of Puertas del Cielo, others opt for the casual rental – each to their own!
Whether or not you've never hopped on a jet ski, many jet ski tours are beginner-friendly.
25 – Let the drinks flow at the Cala Bassa Beach Club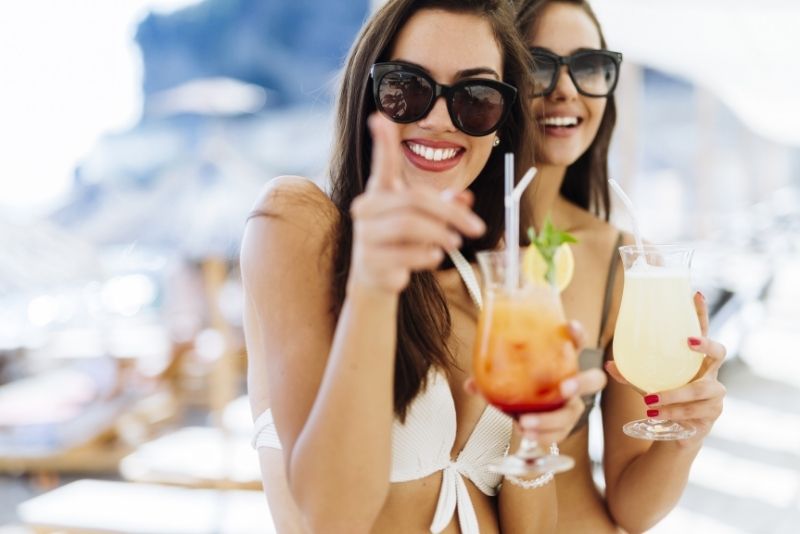 One for the thirsty travelers who want to lay in the sun, drink in hand, but not venture too far from the hotel, the plush Cala Bassa Beach Club is conveniently located on what's probably the busiest beach in the San Antonio area.
So long as you don't mind a few fellow travelers, the club is known to serve up a tasty sangria and a diverse menu covering both fast food and gourmet meals for lunch or dinner. All this, of course, with regular live beats and beautiful waterside views.
Hot tip: due to the area's popularity, most travelers recommend arriving early to secure a sunbed and make a day of it.
26 – Get outta town with a Jeep tour!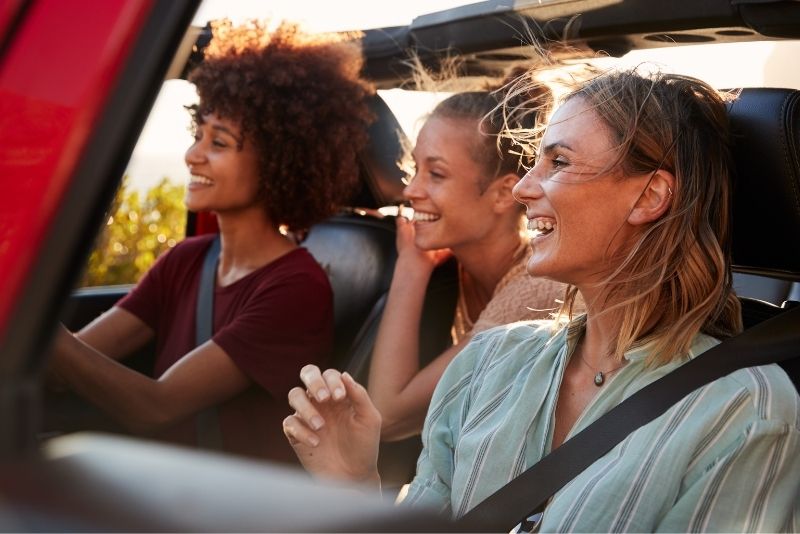 For a chance to step away from the tourist-trodden paths for a day, look no further than an open-air jeep safari.
With a professional driver at the helm who'll be delighted to explain all the fun facts about the island's history, flora and fauna, expect to take in some of Ibiza's most spectacular views as you drive through its rocky hillsides and green valleys.
It's perfect for those who are interested in experiencing more than just beaches, clubs, restaurants & bars – although if that's what you're after then there are plenty of Jeep tours that head to secluded beaches too!
27 – Soar over the island in a hot air balloon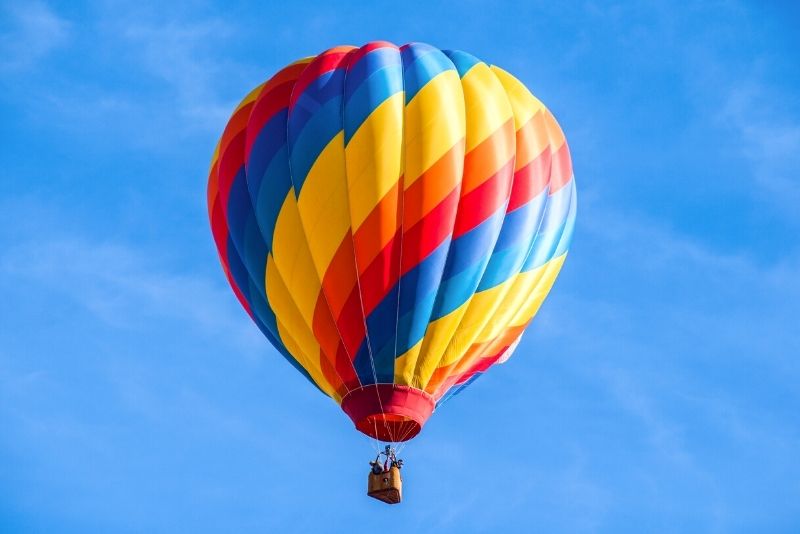 Marrying romance and adventure, sunrise hot air balloon tours are one of the most popular ways to see this beautiful island, and, on a clear day, even as far as the south of Mallorca.
Whether you're staying in Ibiza Town or Sant Antoni, the departure points for these gentle 60-minute trips are easy to get to (with hotel pickup often included) and even include a glass of champagne or cava (Spanish sparkling wine) with breakfast upon touching down!
Traveling with children? Enjoy a special hot-air balloon journey designed for children younger than 12 years old!
28 – Pamper yourself at a spa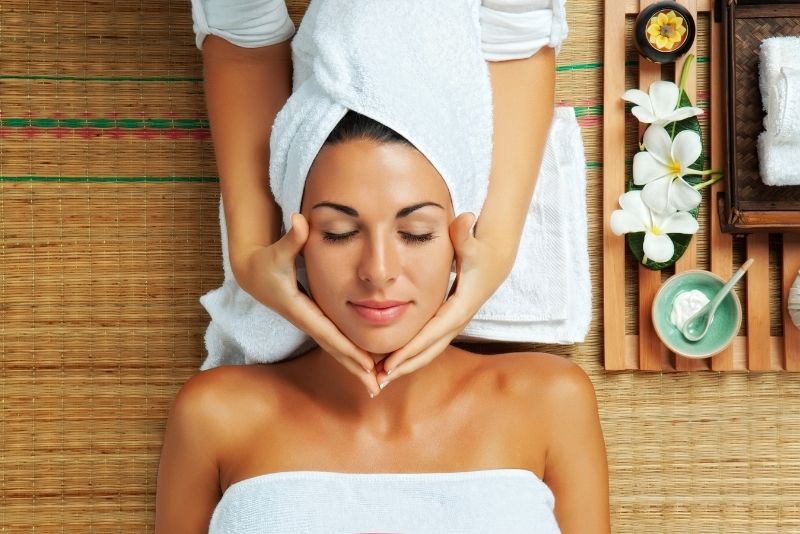 If the Ushuaia headache is still raging, or the muscles are sore and tired from falling off the surfboard too many times, Ibiza has an assortment of soothing and enriching spas to rejuvenate those weary bones.
From the Turkish baths and bubble beds at Zentropia in the five-star Grand Palladium White Island hotel at Playa d'en Bossa to the luxurious natural therapies at The Revival Spa at the Aguas De Ibiza Hotel, or the diverse steam rooms at the Prestige Spa at the Insotel Fenicia Prestige Hotel, relaxation is never too far away.
Can't decide which one to visit? Past travelers swear by the Atzaro Spa, a largely outdoor venue surrounded by orange trees that stray's away from the typical hotel-spa spaces.
29 – Jump on a quad bike!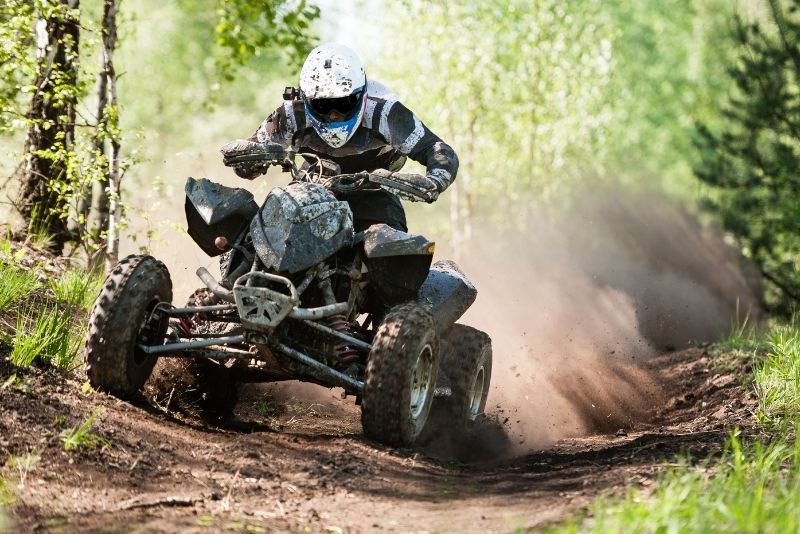 A fantastic way to see the hidden gems of this famous Mediterranean destination whether you're staying in San Antonio, Cala d'en Bossa, or Ibiza Town (with pickup from all of the main areas arranged for you), these 4-wheeled tours provide both high-octane thrills and a chance to take in some of the island's lesser-seen vistas.
With a capped number of people per tour, whether you choose a quad or a buggy tour, you're guaranteed plenty of fun as you explore coves, beaches, caves, and the lush countryside.
30 – Meet endemic wildlife at Aquarium Cap Blanc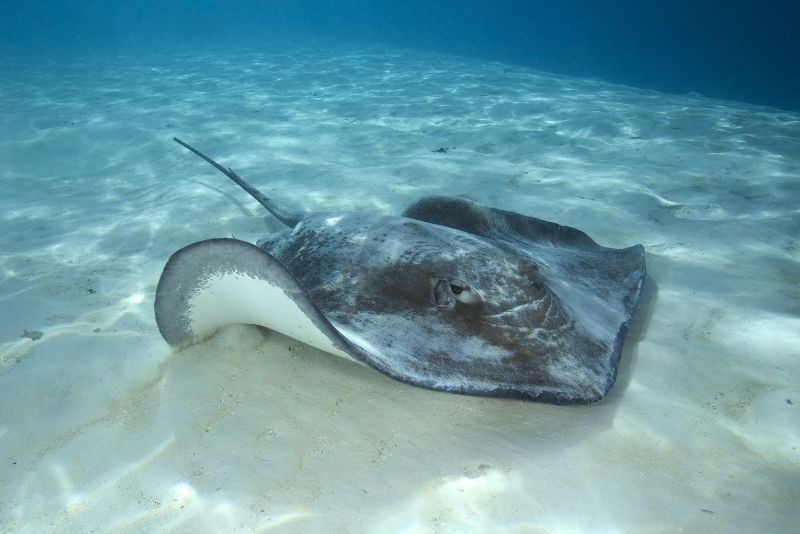 A former natural lobster cave turned popular aquarium, Cap Blanc offers an educational and interactive experience that's perfect for kids (and adults) of all ages.
The aquarium, not too far from Sant Antoni, is home to hundreds of colorful critters largely focused on Ibizan and Mediterranean marine life, including octopus, rays, and no shortage of vibrant fish, not to mention the impressive collection of shark eggs, and sea sponges.
At just 5€ for adults and 3€ for kids, it's worth it for the seaside views from the on-site terrace and restaurant alone.
31 – Grab a souvenir at the Las Dalias de Ibiza flea market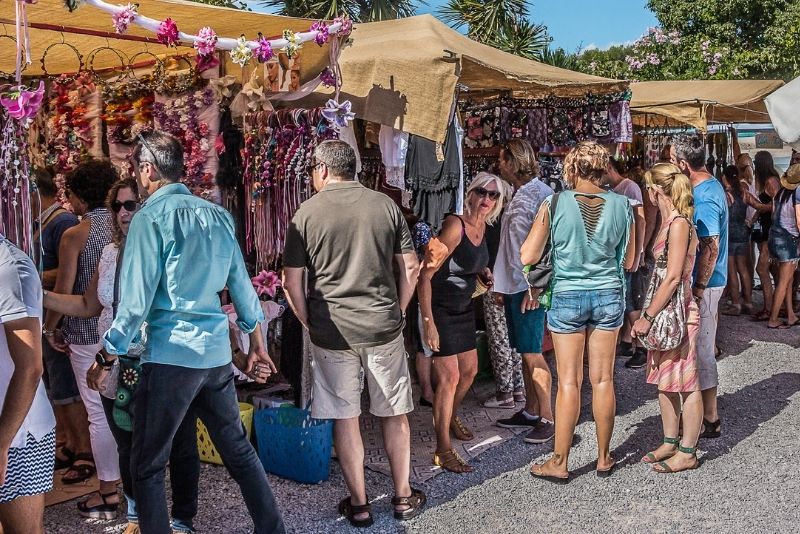 About a 30-minute drive from the picturesque cobblestone streets of Old Town Ibiza, the historically hippy village of San Carlos becomes lined with charming little boutiques, galleries, and food stalls every Saturday.
The rambling open-air Las Dalias market is filled with souvenirs, artworks, natural remedies, and beauty products crafted from local plants and flowers, so you're sure to find a one-of-kind souvenir.
Open from Saturdays 10 AM – 5 PM and Sundays 11 AM – 5 PM, please be aware that this seasonal market is closed between December 25th and January 1st.
32 – Cycle around Ibiza Town with a bike tour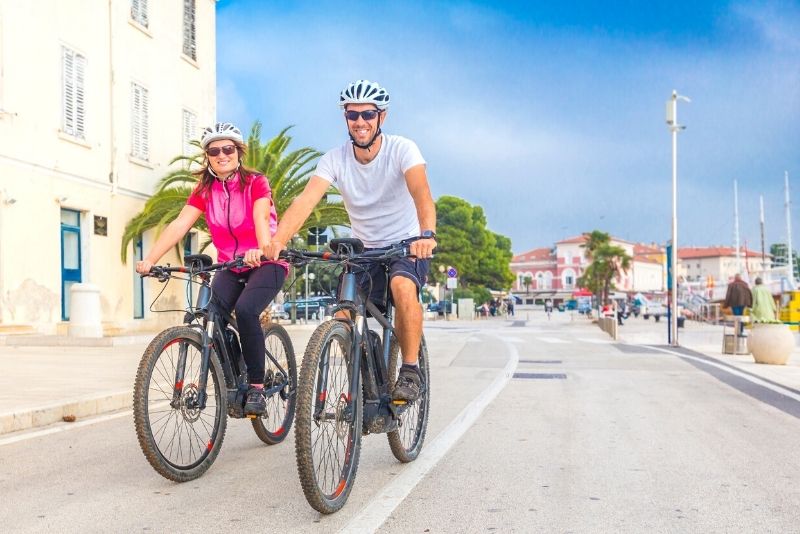 If you're looking for a more active way to tour the city than your typical tourist shuttle, opt instead for a calorie-burning, city-slicking bike tour!
A popular choice with visitors looking to see both the old town and Ibiza's natural landscapes, or uncover specific elements of the city like its hidden street art, locally-led bike tours are a great way for first-timers to check off all the main landmarks as well as get off the beaten track.
Want to explore Ibiza's beaches on 2 wheels? E-bike beach tours are available!
33 – Get your dance on at Bora Bora Ibiza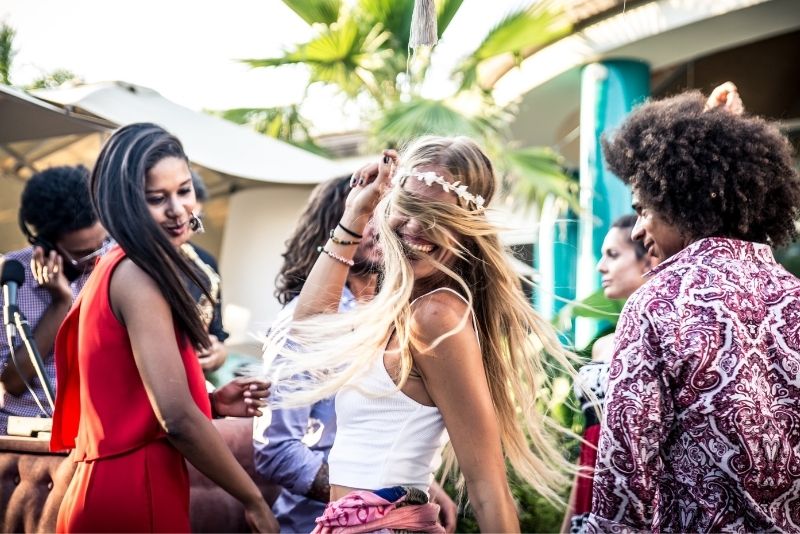 If a more adult-orientated night of drinking and dancing is more your thing, be sure to stop by Bora Bora Ibiza, a surefire way to discover the authentic party experience that island is world-famous for.
In a space where table dancing is encouraged, where shots are strong and flowing, and where the lineup of DJs is second to none, it's the ideal spot to let out your wild side.
Hot tip: While the entrance is free (except for VIP events), the drinks are a little pricey. So arrive before 6 pm before they jack the prices up.
34 – Check out the beachy Cala Tarida area (and go cliff jumping)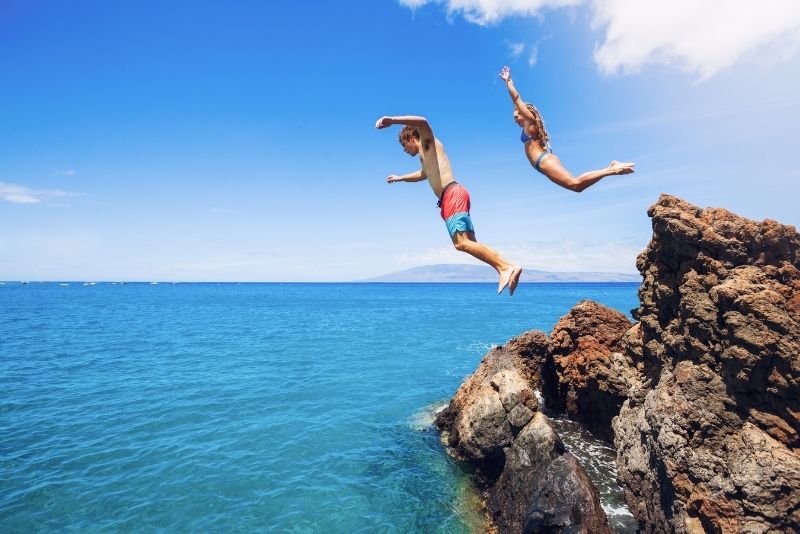 Home to the longest stretch of fine white sand on the island's west coast, family-friendly Cala Tarida is one of the most popular beaches in the area, with an impressive line-up of hotels (namely the Insotel Club Tarida Playa and Insotel Tarida Beach Sensatori Resort) and restaurants (check out Restaurante S'Espartar) to choose from.
While you shouldn't miss out on a hearty meal or a lazy day on the sand, Cala Tarida is also well known for cliff jumping, thanks to the relatively small jump that still oozes adrenaline.
35 – Book a table at Paloma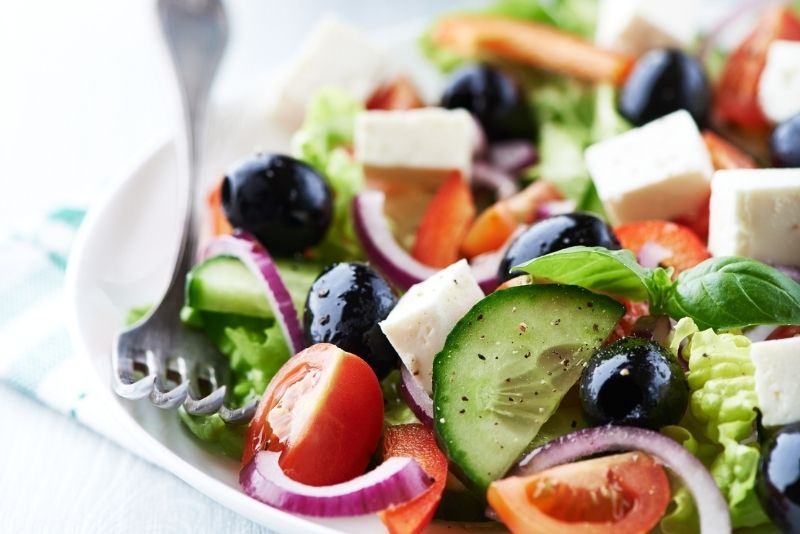 Foodies, listen up!
If it's homemade and authentic Spanish, Mediterranean, and Middle-Eastern cuisine that you're after, then Paloma is arguably THE go-to eaterie.
This family-run restaurant, which offers a quiet and romantic summer garden in San Lorenzo, a less-trafficked town in the island's center, has been around for decades and offers a menu of incredible dishes at prices anyone can afford!
As a bonus, they are also open in the winter! Perfect for a dose of summer while sitting near the indoor fireplace.
It's casual dining with vibrant flavors — what more could you ask for?
36 – Uncover hidden gems with a street art tour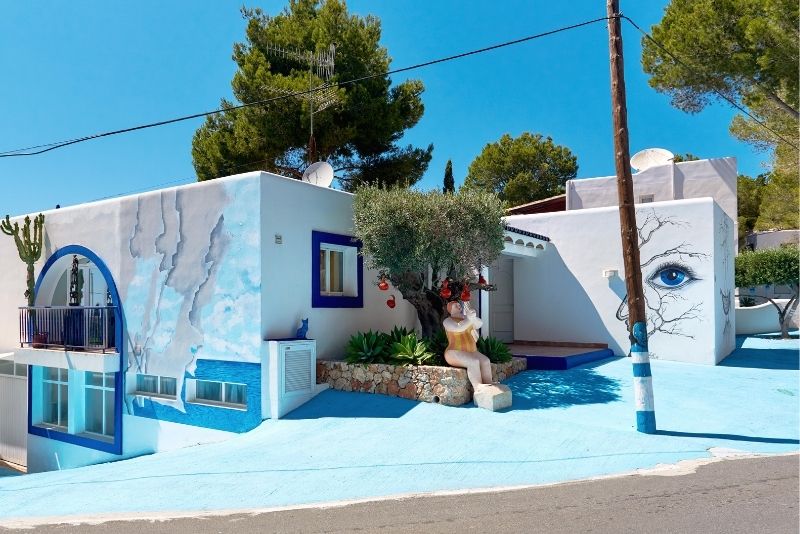 While Ibiza is far from famous for its street art, tucked away in hidden alleyways you'll find some of the world's most talented artists leaving their mark on buildings and walls across the island.
For those looking to explore this alternative side of Ibiza's culture, several fun-filled tours operate in both Sant Antoni and Ibiza Town, led by friendly locals who aren't shy to crack a joke or two.
Street art tours are offered in English and are available mostly during the weekends, and typically last a little over 2 hours.
37 – Speed around corners on a go-kart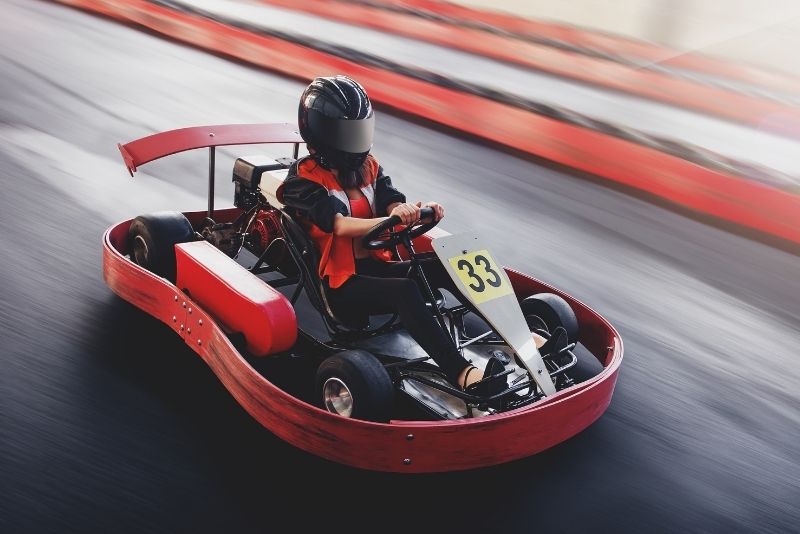 One for the adrenaline junkies and petrolheads, Ibiza's go-karting tracks are a serious thrill.
Located at different spots over the island, like San Antonio (Ibiza Karting) or Santa Eulalia (Go-Kart Santa Eulalia), you can choose from indoor or outdoor courses and speeds of up to 40 mph – perfect for those looking to test out their driving skills!
Choose from a variety of different karts, as both offer kid-friendly go-karting as well as accommodate large groups if you plan with them in advance. Large groups will receive a special discount as well!
38 – Explore the magical area of Atlantis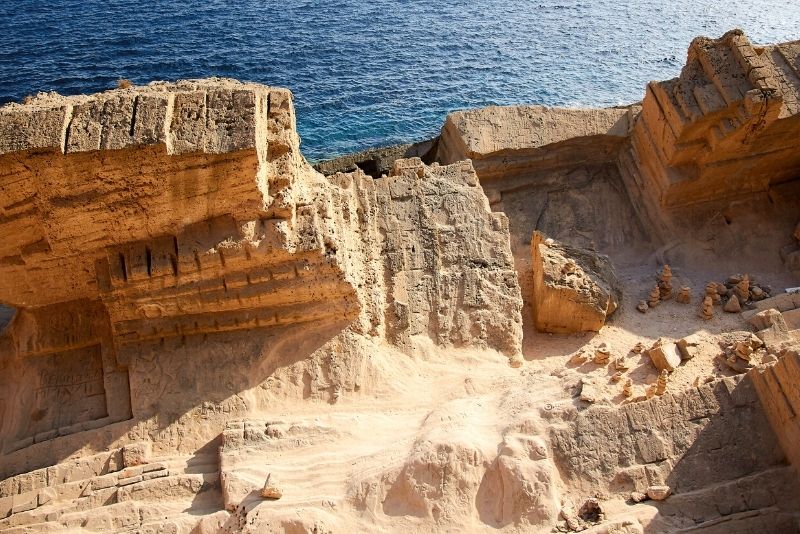 As far as natural attractions go, the hidden secret that is Atlantis is one of the underrated, yet most impressive things to do in Ibiza.
The friendly, mythical name given to the Sa Pedrera cove in the Cala d'Hort nature reserve, Atlantis is a secluded, underwater rock area highlighted by a stepped pool reminiscent of a natural jacuzzi. Totally covered in water at high tide, it presents as the perfect place to chill out and admire the clear blue waters on the other side of the rock wall.
Be sure to take a stroll around the area; incredible natural pools and hippie art lie around every corner.
39 – Hold on for dear life at Slingshot Ibiza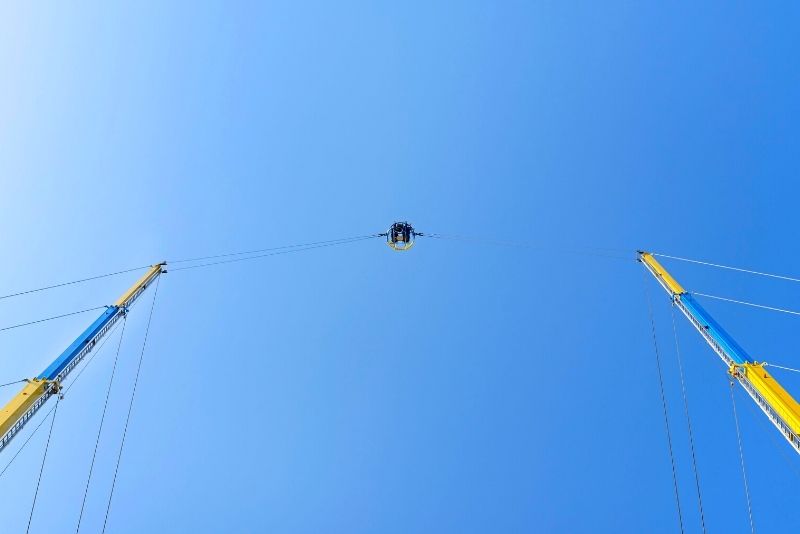 Thrillseekers, welcome to your paradise. Capable of rocketing from 0 to 160 kph in just 1.3 Seconds, San Antonio's high-intensity gravity-defying ride allows you to feel the speed and power of a giant slingshot, reaching an astounding 6G-force.
If you bring another person to get on the ride, your second ride is free, and if you're traveling with kids under 16, they can ride the slingshot for only 15 euros!
If that sounds a little too intense, there's always the bumper cars, Crazy Frog, or bungee trampolines in the area too.
40 – Eat, drink, and enjoy at the Experimental Beach resto-club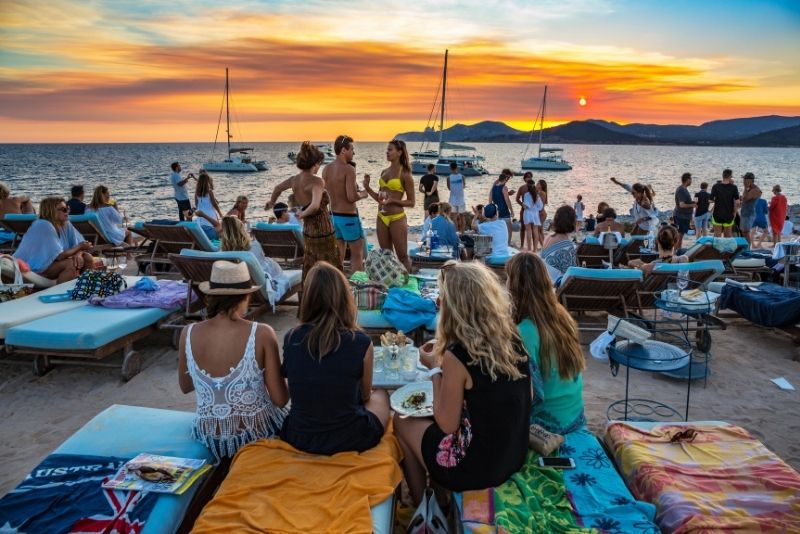 Nestled in the heart of the beautiful UNESCO-listed Ses Salines salt flats on the island's south, Experimental Beach is a restaurant cross beach club that's known for its unforgettable sunset views, diverse menu, and live, chill beats.
If you're after a romantic afternoon-into-evening, consider booking a double bed cabana, arriving early, and getting the drinks flowing!
After a day of relaxing on the double beds, head to the restaurant offering lunch and dinner options, meant to be perfectly enjoyed during sunset hour.
Experimental Beach Resto-Club closes during winter and reopens every spring.
41 – Take up some golfing lessons at Golf Ibiza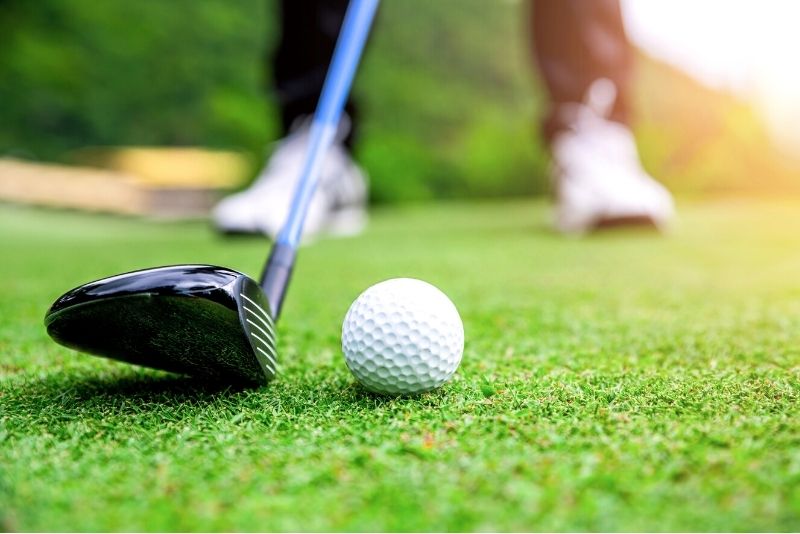 Learn how to putt at Golf Ibiza, featuring 2 golf courses, one with 19 holes and the other with 9 holes.
Whether you decide to take up lessons at their Golf Ibiza Academy, or you decide you want to go in for the day, either option is available to you, and you can make your reservation online to ensure your spot.
With precious sites of the mountain cliffs and the sea in the distance, mixed with the natural and artificial scenery in the golf course itself, the beauty abounds in this fairly reasonably priced golf course.
42 – Visit the Puig des Molins museum and archaeological site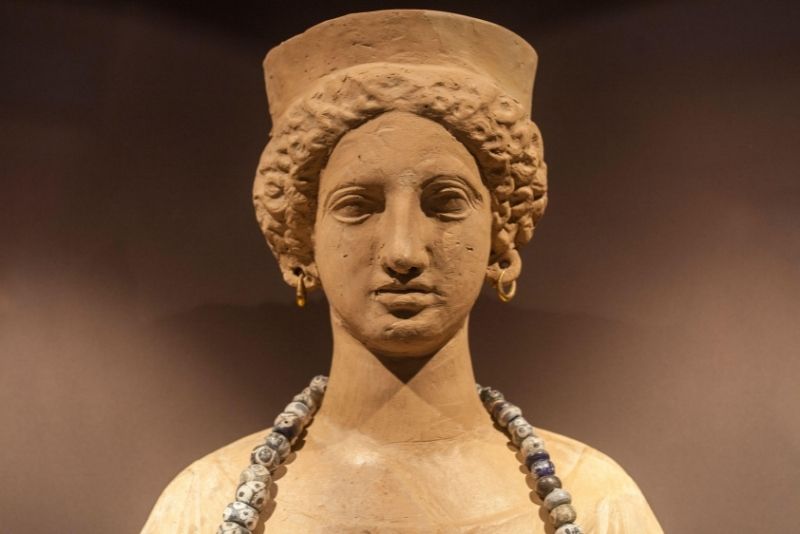 As both the island's biggest archaeological site and the world's largest necropolis, Puig des Molins is an archeological wonderland with a fascinating history.
With more than 4,000 tombs dating back to the Phoenician-Punic times, plus a museum that houses jewelry, ceramics, and a host of ancient treasures, it's a must for history buffs visiting the Spanish island.
The museum is open every day, except on Mondays or holidays, and tickets can be purchased at the museum.
43 – Hover over water on a Flyboard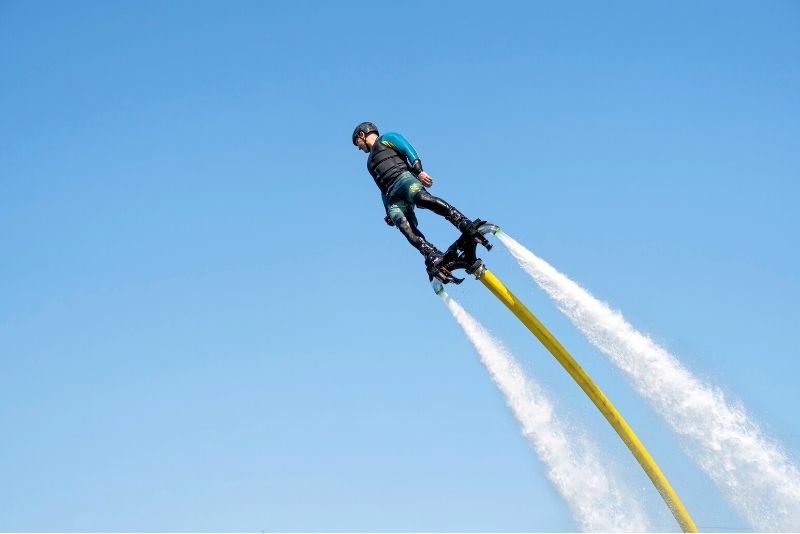 Have you ever wanted to try a unique attraction that isn't so commonly found just anywhere? Hoverboarding in Ibiza might just be your next activity!
Learn how to balance and then lift off into the air, literally hovering over the water, with the water below as your safety net.
Choose between working with the guidance of a professional hoverboard user, or trying it for yourself for fun – either way, will guarantee a fun time!
Safely (and excitingly) learn cool tricks and gradually get yourself to learn how to do cool flips all the while in the air.
44 – Enjoy a romantic meal at Amante Ibiza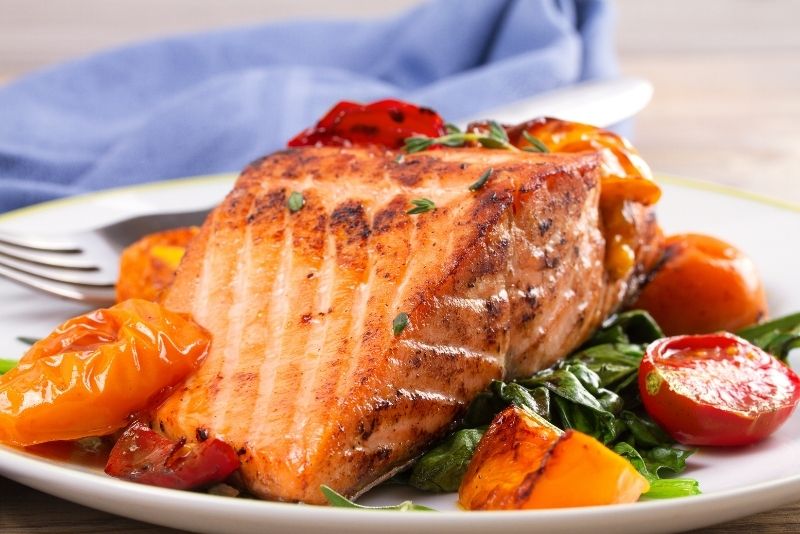 Another beach club-restaurant fusion, Amata is one of the island's newest hot spots, offering an upscale experience for the stylish traveler seeking a chic, albeit a laid-back day or dinner out.
Found at Sol d'en Serra bay close to Santa Eulalia, the venue is famous for its location atop dramatic cliffs, but its menu of cocktails and freshly grilled seafood shouldn't be overlooked either.
Finalize your evening under the ambiance of twinkling lights with the sand between your toes as you settle in for a movie at the restaurant's outdoor cinema.
45 – Spend the day at the Nassau Beach Club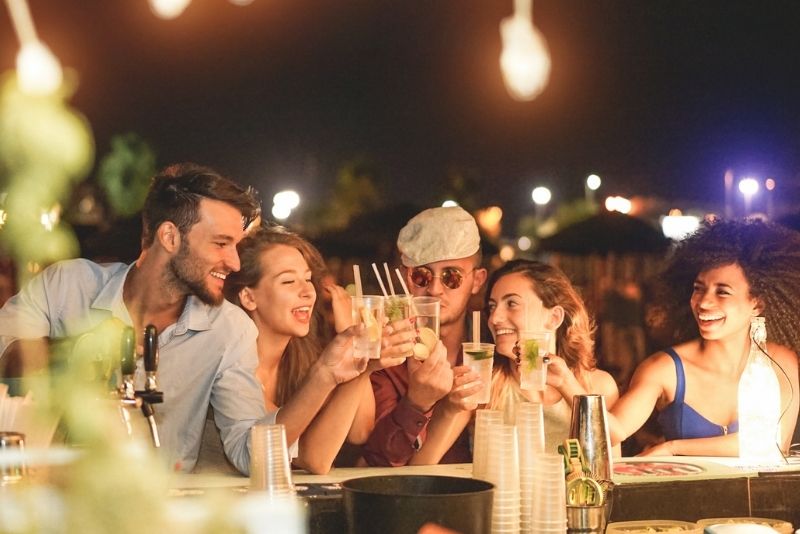 If it's luxury vibes and a VIP experience you're after, look no further than Nassau Beach Club on Playa d'en Bossa beach — with its elegant nautical-themed restaurant, free-flowing colorful cocktails, and hearty, fresh menu, it's one of Ibiza's most popular destinations that has produced some of the island's best parties over the years.
The venue is split into a bar, lounge, and restaurant, but it's typically the sandy private terrace that leaves the biggest mark on visitors.
Be sure to book your cabana on their website, and be sure to take a peek at their tantalizing menu.
46 – Sunbath at Cala d'Hort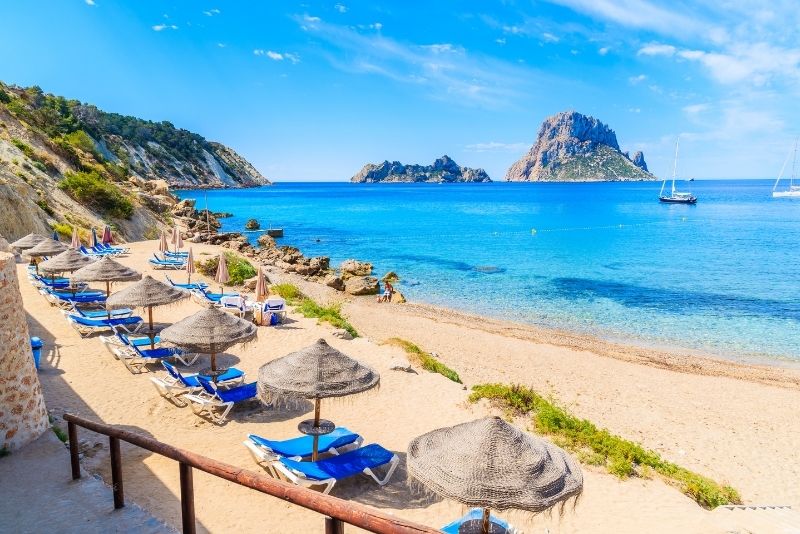 When you think of Mediterranian postcard-worthy beaches, this is what you get.
A very popular beach about 15 minutes by car from San José, Cala D'Hort is well-known for its shallow waters, great snorkeling opportunities, and the neighboring Natural Reserve. Above all, though, it's beloved for its proximity and front-row viewing of the towering natural island of Es Vedra.
While there's nothing wrong with simply renting a sunbed and sipping a cold drink as the sun goes down, more active travelers rave about kayaking along the shore and walking to either the Torre des Savinar defense tower or the Ses Paisses of Cala d'Hort archeological site.
47 – Admire the sunet from upper the hill of Sa Talaia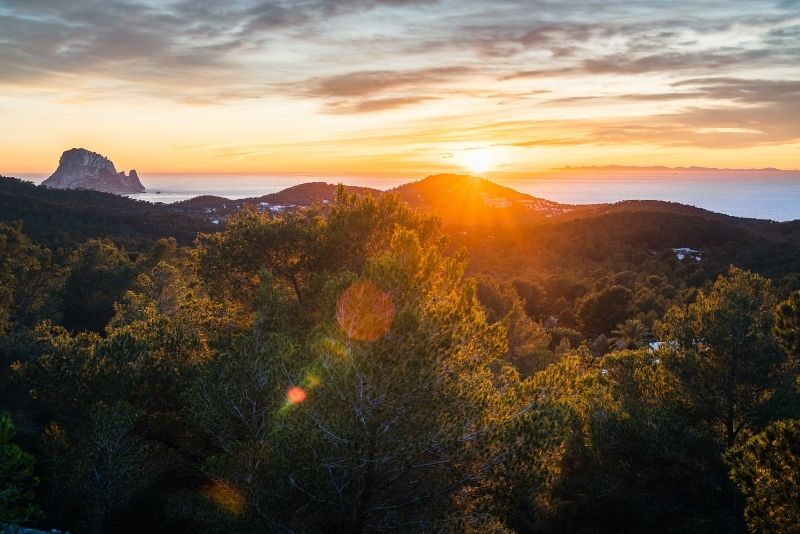 Whether you're a fan of hiking or not, Ibiza's rugged landscape is well worth taking in as part of any island adventure (and to work off some of the cocktails and paella…).
As the island's tallest mountain, Sa Talaia dishes up dozens of hiking trails suitable for all physicality levels; the most famous, however, is the moderately difficult 11.9km Cap de sa Talaia which snakes around forest paths to reach the island's highest point.
Time your hike for sunset hour for some seriously unmatched views of the Bay and town of Sant Antoni.
48 – Saddle up at the Ibiza Horse Valley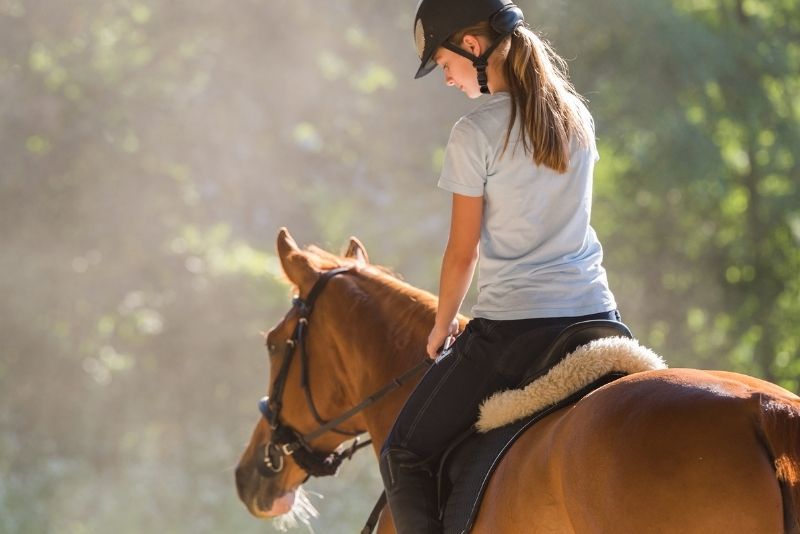 If you're looking for some good, old-fashioned family fun during your trip to the island, it's hard to look past Ibiza Horse Valley.
Offering one of the island's most popular (and respected, due to its purpose of providing sanctuary for mistreated horses) animal attractions, this horse riding center is a great place not just for kids but also for adults who've always wanted to get in touch with their inner cowboy or cowgirl.
Choose from riding lessons, half-day tours through the hills, full-day treks down the beach, or even overnight camping treks, and simply enjoy the lush wilderness!
49 – Pass by the Time & Space outdoor sculpture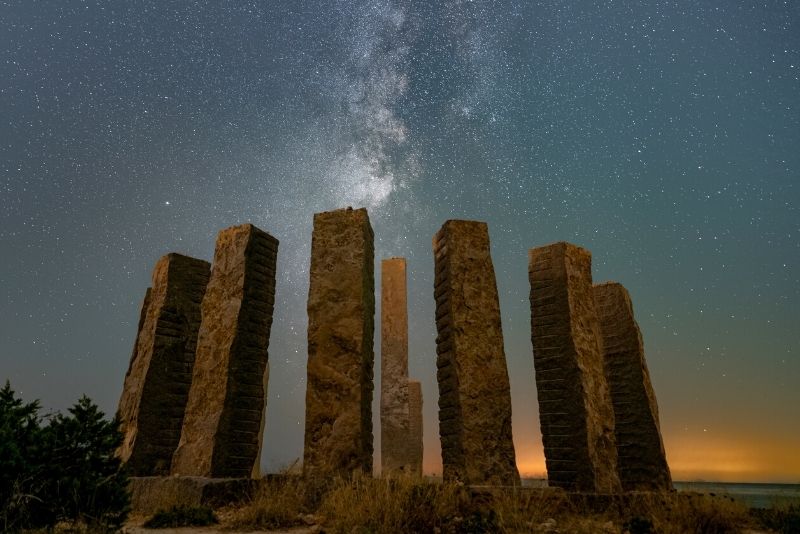 Tucked away between the beaches of Cala Tarida and Cala Codolar, Time & Space by Andrew Rogers is one of Ibiza's most unique outdoor art installations; the Australian artist's work features 13 large basalt stones meant to represent the solar system using a Fibonacci sequence placement system, the tallest of which dwarfs visitors at a whopping ten meters high.
Hot tip: Since the art is a little off from the main tourist trails, be sure to check out the nearby Doors of Es Vedra artwork, otherwise known as the Gates of Cala Llentia.
50 – Eat at the Cala Gracioneta beach restaurant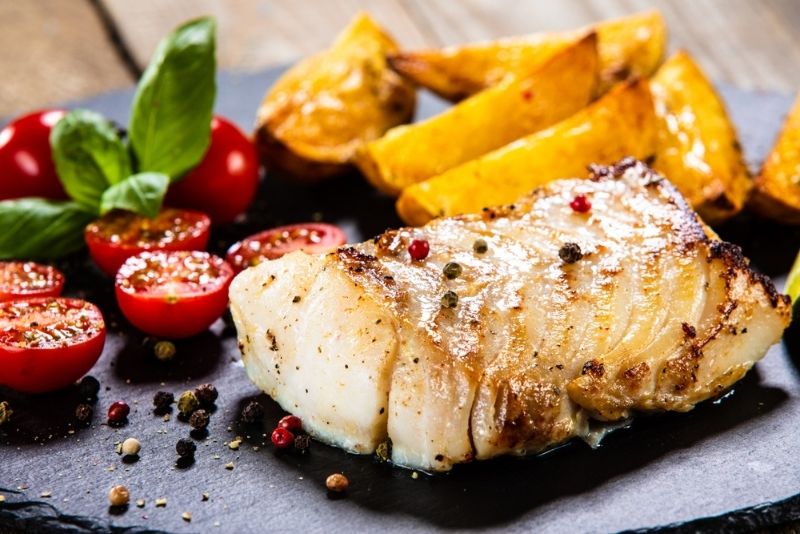 Wander about 2km north of San Antonio and you'll stumble across what is arguably is Ibiza's most underrated easily accessible beach: the 80-meter-long Cala Gracioneta with picture-perfect crystalline waters and juxtaposing pine trees.
And, not too far from the shoreline, you'll then find a relaxed eaterie that dishes up grilled fish, tasty meat, and plenty of ice-cold beers. If you're after an intimate vibe with wonderful views, you could do far worse!
Though the restaurant closes during the winter season, make sure to book your table starting in spring!
51 – Step back in time at the Ibiza Medieval Fair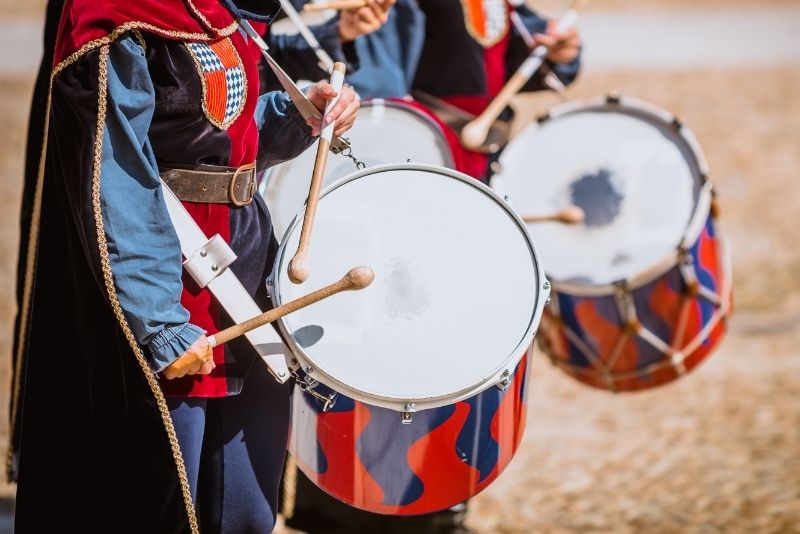 One for all the history buffs, culture vultures, LARPers, and curious travelers, the Ibiza Medieval Fair is one of the island's best annual events, with hundreds of participants dressed in medieval costumes and plenty of activities for adults and kids alike.
The Fair takes place every year between May 7th and May 10th on the old streets of Dalt Vila — expect live music, market stalls, rides, jugglers, food and drink in all directions, battle re-enactments, jousting tournaments, falconry displays, and plenty more in this unique celebration of the island's rich history!
52 – Kick back and enjoy a bit of parasailing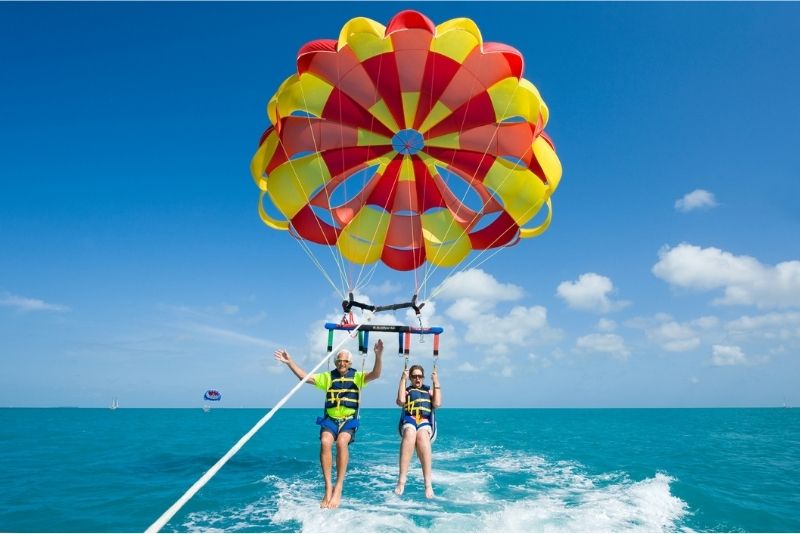 As you relax in the warm waters of Es Canar, you'll suddenly feel yourself rising up into the air… and then it's time for a whole different sort of fun!
Parasailing is a wonderful way to enjoy the great weather, great views, and great fun of the ultimate vacation activity.
Let the boat do the work, and focus on your fun-filled float!
53 – See the likes of David Guetta at Hï Ibiza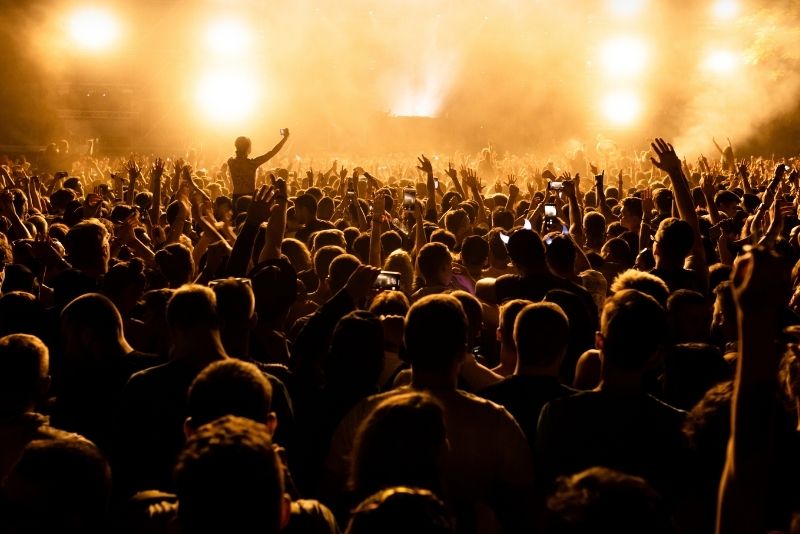 Just 500 meters from the Platja d'en Bossa beach, Hï Ibiza is without a doubt one of the most talked-about clubs in all of Spain.
The state-of-the-art club is part of the Ushuaïa group (so you know it's good) and has won countless awards for combining cutting-edge interior design with massive sound systems, awe-inspiring lasers and visuals, and a hot line-up.
With a list of DJs starting with David Guetta and Armin Van Buuren, it's clear that this so-called 'superclub' is here to make a statement.
54 – Try your luck inside an Escape Room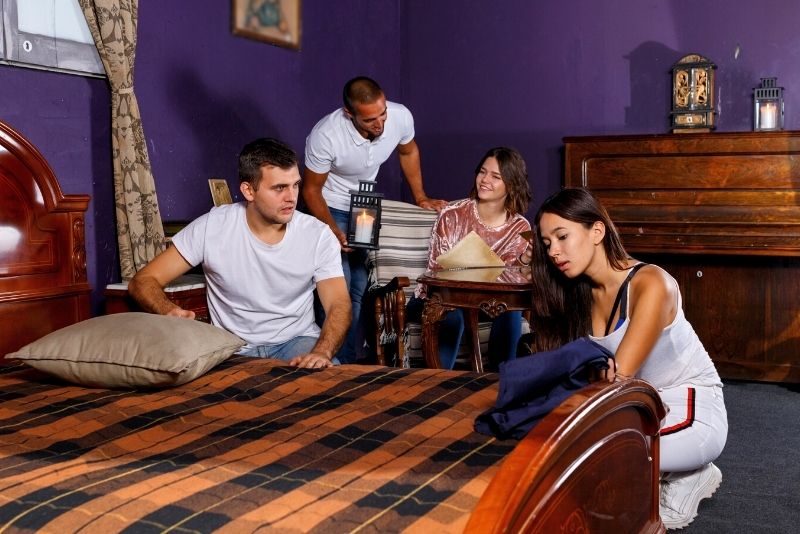 From the evil scientist in the lab to an Alice in Wonderland-themed escape room, Ibiza has a great variety of fun escape rooms awaiting you and your friends to put your heads together, and get yourselves out in record time!
Don't want to do an activity that will keep you inside?
We get it, Ibiza is way too beautiful to be indoors, which is why you should opt for the outdoor escape room!
Get to the bottom of a murder case that fictionally takes place in the quaint streets of Sant Antoni, as you scour the town for clues leading to the killer.
55 – Spend a few nights at Pikes Ibiza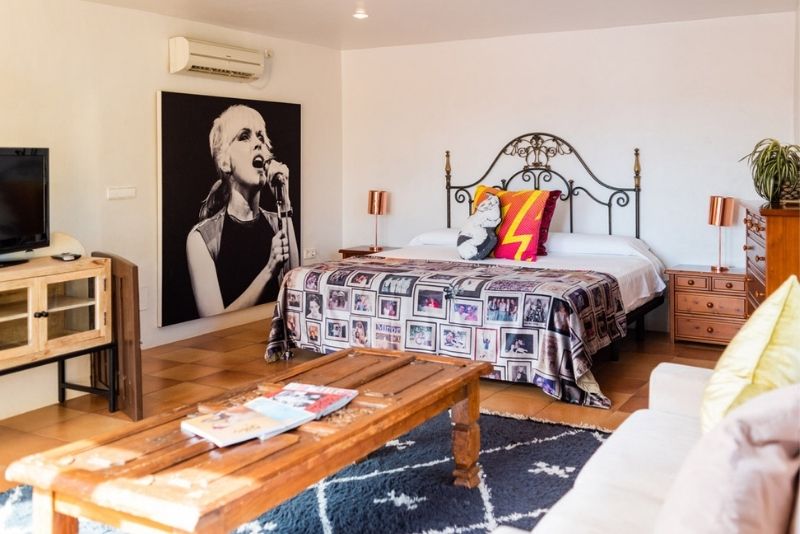 A luxury venue with the claim to fame of being Freddie Mercury and George Michael's favorite hotel AND the backdrop for Wham's 'Club Tropicana' music video, Pikes (pronounced pee-kays) is touted as one of the better places to stay if you're seeking a bespoke luxury and charming personality — it's not your typical all-amenities modern hotel, it's a little more magical than that.
Plus, with esteemed awards like 'Best Restaurant in Ibiza' in 2018 & 2019, and TripAdvisor's Travellers Choice from 2013-2020, Pikes' reputation really does precede it.
56 – Visit the island's most famous club: Pacha Ibiza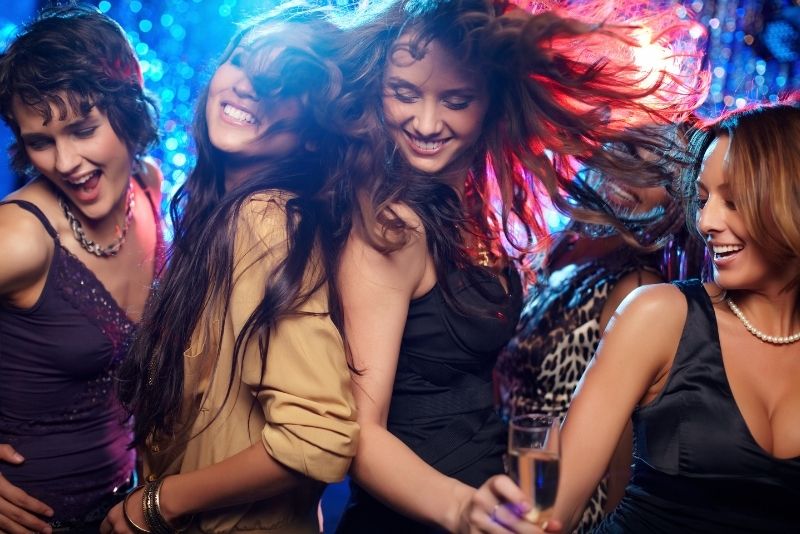 Even if you're not a clubbing aficionado, Pacha is worth visiting for its sheer size and reputation alone. Located in Ibiza town near the Marina, the internationally-renowned club has been pumping out swaying beats and welcoming performers and visitors from around the world since the early 1970s.
Capable of housing some 3000s partiers, Pacha is split up into five areas, each showcasing a different type of party: the Main Room focusing on commercial dance music and international DJs; the Funky Room for a more disco vibe, and the Global Room for R&B and hip-hop, to name just a few.
Whether you choose to spend your nights partying at one of their many dance floors or chilling on an open terrace, if you want to unleash your wild side, give Pacha the top spot on your list of things to do in Ibiza.
57 – Spoil yourself with a cabaret show at Lio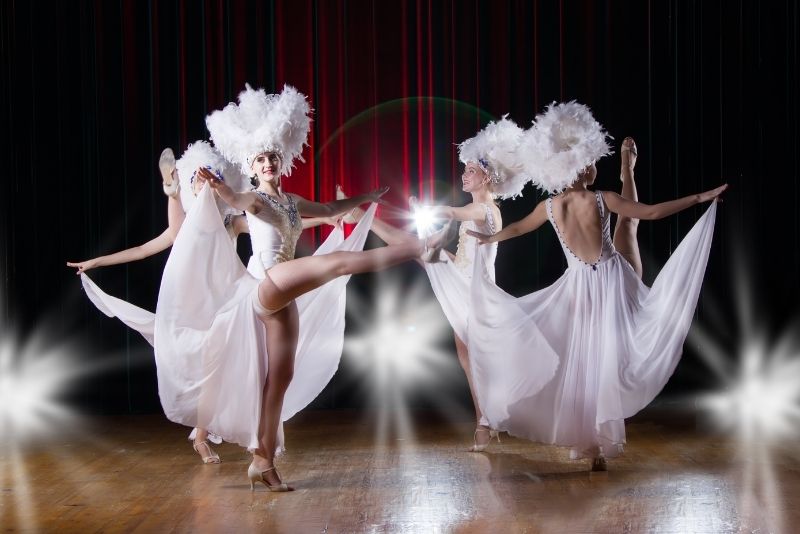 As one of Ibiza's most in-demand venues, Lio is a tale of two personalities.
Around dinner time, it serves as a Mediterranean restaurant with a spectacular cabaret performance — with the lights dimmed (but light enough so you can see your food), the entertainment dazzles for a remarkable dinner show.
Then, once the show wraps up, it transforms into one of Ibiza's top clubs, with international DJs spinning the decks and VIPs popping champagne until late.
Be warned: the show and the venue are by no means cheap, but with a reputation of glamour and extravagance, it may very well be worth forking out a few extra bucks for the memory.
58 – Party till the sun comes up at Amnesia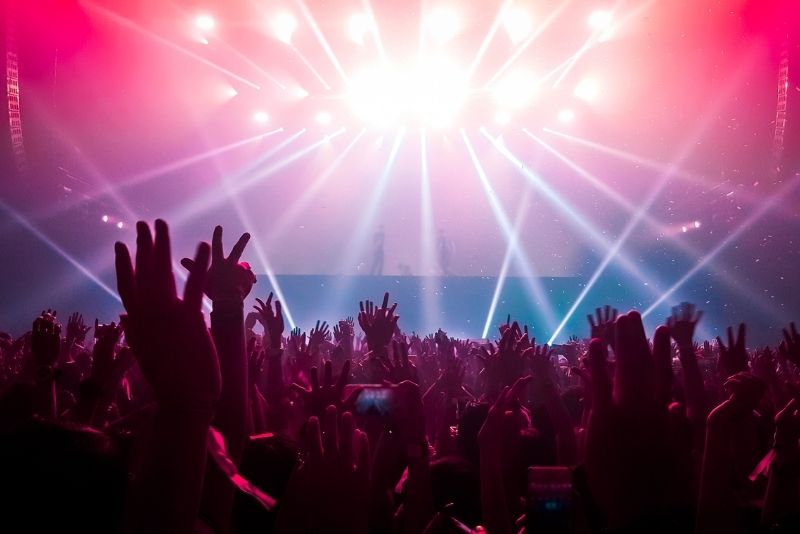 Any EDM fans in the house? As one of Ibiza's internationally renowned clubs — nightclub, more specifically — the multi-award-winning Amnesia takes the cake for party venues.
Located in San Rafael, not too far from Ibiza town, Amnesia is a firm fan favorite thanks to its swanky decor and spectacular lighting system that makes it feel as if you're dancing inside a kaleidoscope at times. As one of the island's most iconic clubs too — having been established back in 1976 — history buffs will love it.
The club itself is split into two enormous rooms, each with its own lineup of world-class performers: the Club Room, a dark, atmospheric den where you can dance like no one's watching, and the Terrace, an open-air dancefloor that floods with light when the sun comes up.
59 – Dance till dawn at the Ushuaia Ibiza Beach Club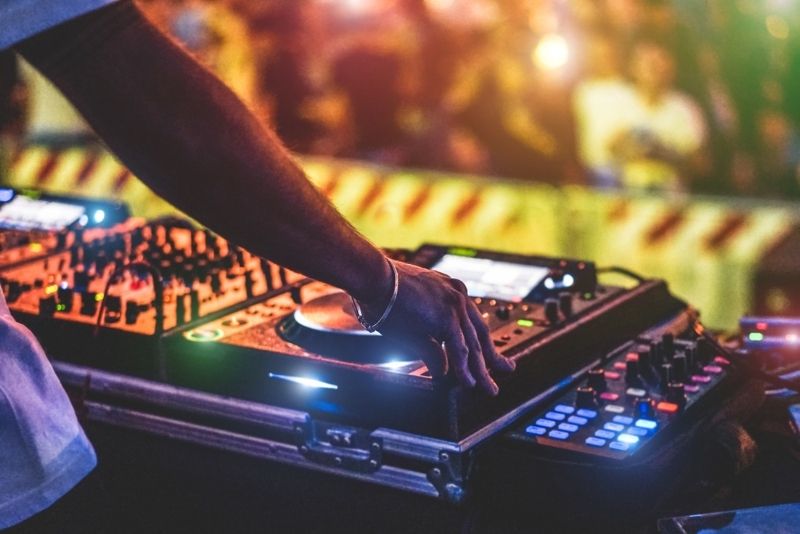 One of the world's most famous beach clubs, Ushuaia Ibiza Beach Club is renowned for its stunning location on Playa d'en Bossa, hosting several weekly parties each summer with world-class DJs pumping out tunes until the wee hours of the morning.
Of course, with fresh smoothies and tasty Mediterranean meals on offer during the day, it's somewhat a tale of two atmospheres depending on whether the sun's up or down.
Ushuaia has been consistently ranked as one of the world's best clubs by DJ Magazine. Need we say more?
How to get to Ibiza?
Transform any worries into excitement knowing that you don't have to figure out the transportation system upon landing at Ibiza Airport, as you try to figure out your transportation to the city center.
Pre-arrange an airport transfer, which will swiftly take you from the airport to your hotel, stress-free, especially if you are traveling in a friend group or with family.
Where to stay in Ibiza?
Hopefully, someday soon you'll find yourself drenched in Ibiza sun and in need of a hotel. Don't make the mistake of arriving and figuring things out last minute, that's a surefire way to waste your cash.
Instead, plan ahead by checking out Booking. The comparison website showcases all of the best online deals for Ibiza accommodation — whether you're seeking lavish luxury at the Hard Rock Hotel or a hell of a VIP party at the Ushuaïa Ibiza Beach Hotel, or even a bare-bones no-frills hostel that includes breakfast and a bunk bed, Booking has got you covered with the best prices.
With hostels starting from the price of a typical meal to opulent suites fit for royalty, there's something for everyone on this paradise island.
Visiting Ibiza on a budget?
If you're on a budget, why not try a free walking tour? Whether you're in Dalt Vila, San Antonio, charming Salinas, or the laid-back beachy Santa Eulalia, these free walking tours provide a great way to get familiar with a city's history and culture.
In most cases, you'll be guided by locals who know the area well — knowledge that only comes from living in Ibiza for years on end! Just keep in mind that if you take one of these tours, it's common courtesy to give them at some change as a tip if you found the tour worthwhile (which, of course, you will).
Where to go next?
After exploring the magic of Ibiza, and wandering off into the many different gems near Ibiza on the various multi-day trips be sure to explore some of the other best places to visit in Spain.
From the rugged off-roading adventures to the soft and quiet Mediterranean swims, and the historic old town's charm, Mallorca offers the perfect amount of adventure and chill activities.
Menorca is a typical summer holiday paradise for both Spaniards and foreigners, with an abundance of water activities to refresh with after a hot day of hiking to the tops of Monte Toro.
Home of Paella, as well as some of the best beachside partying, Valencia keeps the spirit well and thriving with the perfect dose of activities within this extremely walkable city.
Visit one of the famous cities of the famed Costa Blanca, Alicante, enriching visitors' Spain itinerary with stunning walks in the largest palm forest in Europe.
Final thoughts
From parties of the century to archaeological finds from the last century, and their special cultural and historical flair, we hope that our list of things to do in Ibiza has helped you see the tons of activities that call out to different interests, travel styles, and budgets.
With tons of beauty to celebrate in Ibiza, be sure to pack your dancing shoes!
Happy travels!