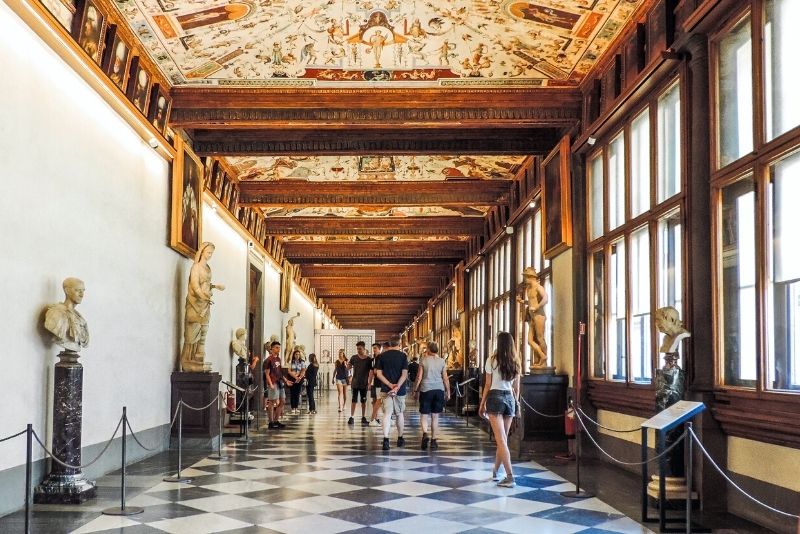 The capital and beating heart of Italy's sun-kissed Tuscany region, Florence is a city overflowing with history, culture, and art – a lot of art.
Dubbed the "Jewel of the Renaissance", the historic center of Florence is a justified World Heritage Site and constantly attracts millions of tourists each year in search of a glimpse of the city's incredible art and architecture. Creativity and inspiration run through the veins of Florence as if they were running down the Arno river itself, and that longstanding association is found around every corner – whether you're browsing the Duomo, sipping an espresso at a hole-in-the-wall within a 16th-century frescoed building, or wandering through esteemed palatial grounds or gardens.
But of course, no visit to this city on the Arno could be complete without at least a handful of museums. Exploding with color, detail, and historical significance, each museum is more fascinating than the last – from art galleries like the Uffizi (one of the oldest and most famous art museums in the world) and Accademia Gallery (home to Michaelangelo's towering statue of David) to historical institutions like the Archaeological Museum, there's something for everyone in this incredible destination. And that's not even including all of the smaller museums, palaces, monasteries, and aristocratic houses dotted hidden all over the city.
From world-famous art galleries and historic homes to quirky science museums and lesser-known gems, no set of interests or budget gets left behind. So, without further ado, let's dive in and check out the best museums in Florence!
1 – Uffizi Gallery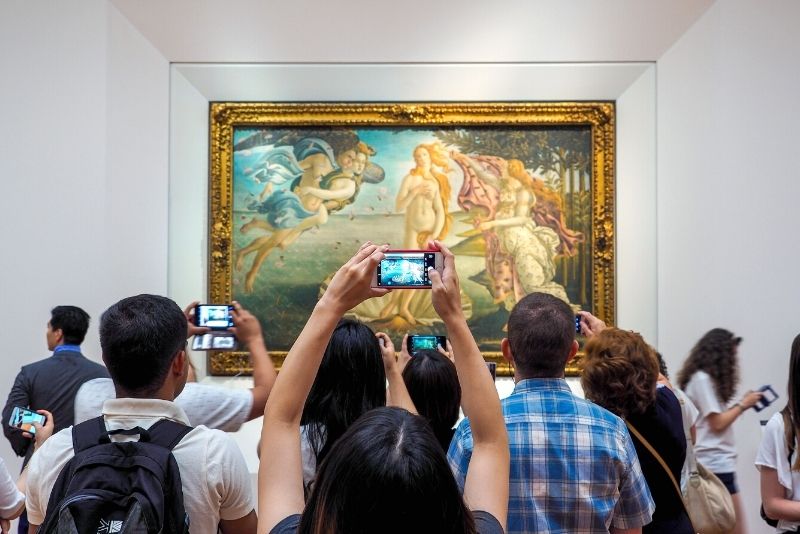 Just a 3-minute meander from the world-famous Ponte Vecchio (Vecchio Bridge), the Uffizi Gallery attracts art-loving tourists like moths to a flame, welcoming over two million visitors per year who come in search of ancient sculptures and historic paintings from the Middle Ages all the way up to the modern-day.
One of the oldest and most renowned museums in the world, its rich and varied collection features some of history's most celebrated artists including Leonardo da Vinci, Michelangelo, Simone Martini, Piero della Francesca, Beato Angelico, Filippo Lippi, Botticelli, Mantegna, Giotto, Cimabue, Raffaello (Raphael), Caravaggio, and a whole lot more, not to mention a handful of European artworks at the hands of German, Durch and Finnish artists.
With a complex past that includes being commissioned by Cosimo I de Medici ( first Grand Duke of Tuscany) in 1560 as the offices for the Florentine magistrates (hence its name — Uffizi, meaning "offices"), it wasn't until 1765 when it finally opened to the public, officially declared a public art museum about a century later. So, as you'll discover, the building is as rich in art and history as the myriad works which line its walls.
While you're more than welcome to grab a general admission ticket and browse the majestic halls at your own pace – the Uffizi Gallery tickets price for an adult will set you back 20 euros while kids under 18 are free – it's highly recommended to opt for a guided tour. Led by knowledgeable art experts, the Uffizi Gallery guided tours are the best way to get an in-depth look into each and every painting while learning a little something about the artist, the time period it was created, and its cultural significance.
At the very least, the 6-euro self-guided audio tour (available in Italian, English, French, Spanish, German, Polish, Russian, and Japanese) dives below the surface and will have you walking away full of fascinating tidbits and with a newfound appreciation for the paintbrush.
Hot tip: if you plan on hitting up a handful of Florentine museums (which, obviously, you are – why otherwise would you be reading this guide, right?) then the best bang for your buck is the PassePartout 5 Days. For 38 euros, the Single ticket provides access to Uffizi, the Pitti Palace, and the Boboli Gardens for 5 consecutive days.
The Uffizi is open from Tuesday to Sunday, 8.15 am to 6.30 pm, houses a quaint cafe and souvenir-filled bookstore, and is located smack-bang in the heart of the city, making this thought-provoking institution an easy stop on any day of walkabout.
2 – Museo di Palazzo Vecchio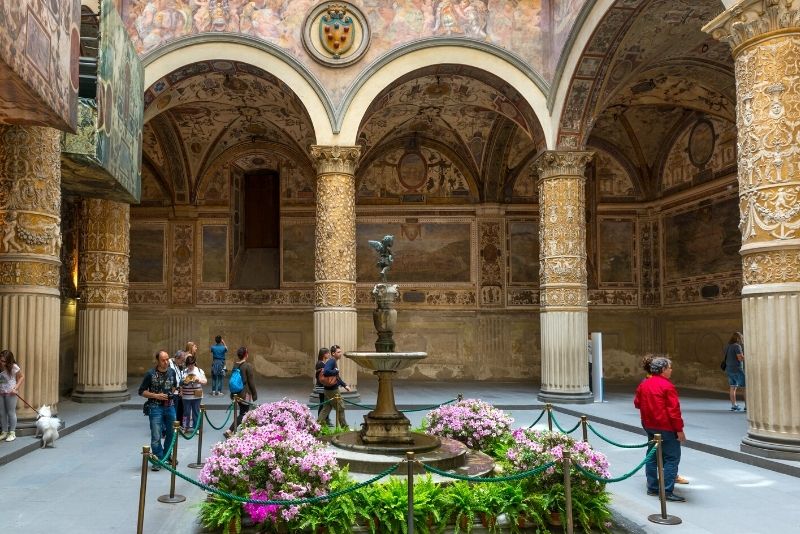 Originally built to house the city's government officials but then transformed into the Medici family (the Italian bourgeois family that ruled Florence for most of the 15th through 18th centuries, the Palazzo Vecchio is one of Florence's most iconic buildings, a towering symbol of the city's rich and powerful past that stands as proud today as it did all those centuries ago.
From the outside, its impressive crenellations, rust-hued exterior, and dominating position atop the Piazza della Signoria make it impossible to miss but don't be fooled — this medieval palace is far more than just a pretty face.
Inside, an array of secret passages, frescoed ceilings, and well-preserved artworks tell the tale of bygone eras while providing insight into how times have changed since Florence was ruled by powerful families like the Medici dynasty.
As the perfect blend of art and history, a visit to the Palazzo Vecchio is a must for anyone interested in learning about Florence's complex past and seeing some of the world's most celebrated paintings and decorations up close.
Fortunately, entrance to this fascinating museum is more affordable than most (12.5 euros for adults and free for kids under 17), and you could easily spend 2-3 hours browsing the various opulent rooms. But if you're pressed for time, we recommend opting for a guided tour which will take you on a whistle-stop tour of all the highlights.
If you'd rather explore at your own pace, make sure to visit the Hall of 500, the most impressive hall of the building, and climb the 233 steps up to the top of the 95-meter-tall bell tower – the oldest part of the structure, dating back over seven centuries – for incredible views over Florence (just don't look down if you're scared of heights!).
The Palazzo Vecchio museum is located a short walk from the Uffizi Gallery in the center of Florence, is open every day except Thursday from 9 am to 7 pm (closes at 2 pm on Thursday), while the Palazzo itself (if you want a quick overview without the in-depth history) remains open for browsing till 10 pm.
3 – Museo dell'Opera di Santa Maria del Fiore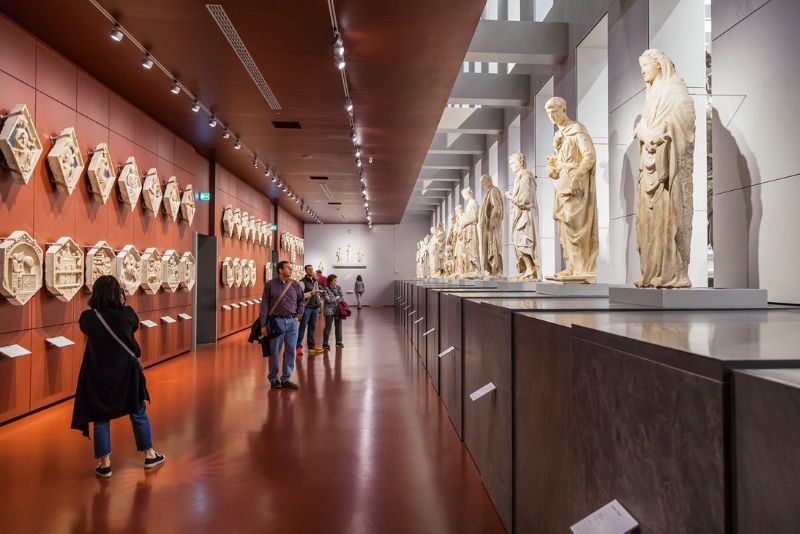 Created in 1296 to house the works of art commissioned for the construction of Florence Cathedral, the Museo dell'Opera di Santa Maria del Fiore (also called the (Museo dell'Opera del Duomo di Firenze – the Florence Cathedral Museum) is one of the oldest museums in Europe and home to some of Florence's – scratch that – Italy's most famous sculptures and artwork.
A quintessential stop for any true art lover, this incredible museum takes you on a journey through time, starting with the original plans and models for the now-iconic cathedral (which was finished around 1367), before moving on to the works of art that adorn its exterior.
Full of fascinating sculptures and intricate drawings and paintings, creations at the hands of some of the most famous artists in the world can be found here. While the list is long, a handful of the highlights include Ghiberti's bronze baptistery doors, a carved wooden Mary Magdalene by Donatello, and an evocative Pietà by Michelangelo, as well as a series of other masterpieces by artists like Andrea Pisano and Luca della Robbia. Deserving of its own mention is the wooden and brick model that Brunelleschi, the Duomo's architect, created with the help of Donatello and Nanni di Banco to showcase his plans for the emblematic cathedral.
While entrance to the museum is included in the price of the Brunelleschi, Giotto, and Ghiberti packages (each offering a different combination of attractions in the immediate area), the museum costs 18 euros – keep in mind that if you only choose to visit the cathedral (and not the museum), there's no charge.
Take note: on the museum's top floor sits a study room designed for the visually impaired. Here, visitors can handle and feel reproductions of works and models found inside the museum proper, a wonderful example of inclusivity that you won't mind in a lot of other institutions.
4 – Accademia Gallery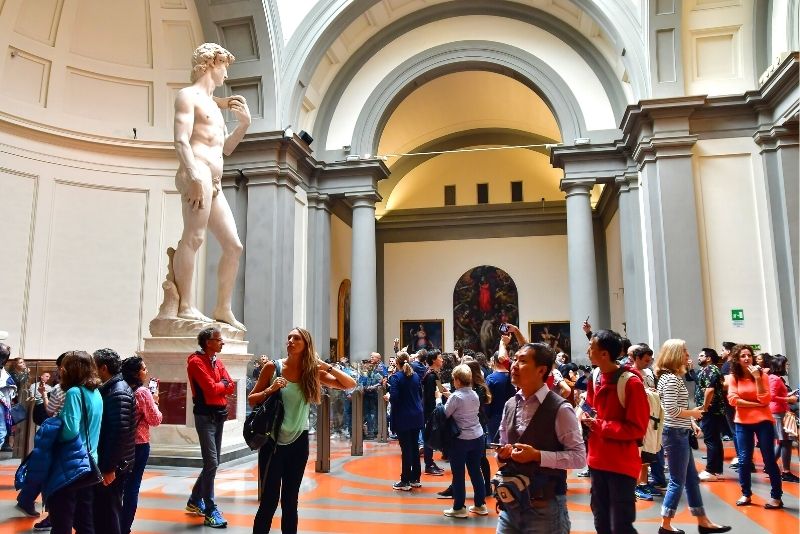 An artistic treasure in the heart of the cradle of the Renaissance, the Accademia Gallery is widely regarded as one of the best museums in Florence thanks to its diverse collection of Renaissance paintings and sculptures.
But the museum is most famous as the home of Michelangelo's David – one of the most iconic works of art in history.
The greater than life-size marble statue, which was sculpted between 1501 and 1504 to depict the Biblical hero before slaying Goliath (intended to symbolize strength and youthful beauty), is an awe-inspiring sight that never fails to impress. If not for its sheer size, standing 14 feet tall, then for its immaculate detailing. And while it may be tempting to spend your entire time at the Accademia Gallery marveling at this one incredible piece, make sure you also take some time to explore the rest of the museum's collection.
On display are several other Michelangelo works, including four unfinished Prisoners or Slaves – The Awakening Slave, The Young Slave, The Bearded Slave, and The Atlas (or Bound) – (in The Hall of Prisoners), intended for the tomb of Pope Julius II.
But it's not exclusively about the Italian sculptor. Browse the decorated halls and passageways and you'll uncover several paintings by Italian artists like Botticelli, Lo Scheggia, Baldovinetti, and Pontormo, as well as an extensive collection of Renaissance-era musical instruments.
Don't miss the Coronation of the Virgin panel painting by Jacopo Di Cione, likewise the Tree of Life by Pacino di Buonaguida.
The Accademia Gallery is open every day except Monday from to pm (last entry at pm). As far as the Accademia Gallery tickets price is concerned, admission costs 12 euros for adults (plus a 4 euro booking fee; so 16 euros), with discounts available for students and EU residents, and free entry for children under 18. If you want the best value for money, consider a combination package with a city tour or Uffizi visit.
Hot tip: if you prefer to plan your trips on a whim (and potentially save a few bucks while you're at it), you can often find Accademia Gallery last minute tickets online through various sources. Because of the museum's high popularity, it's commonly sold out at the official source, but if you know where to look, you'll do just fine!
5 – Museo Archeologico Nazionale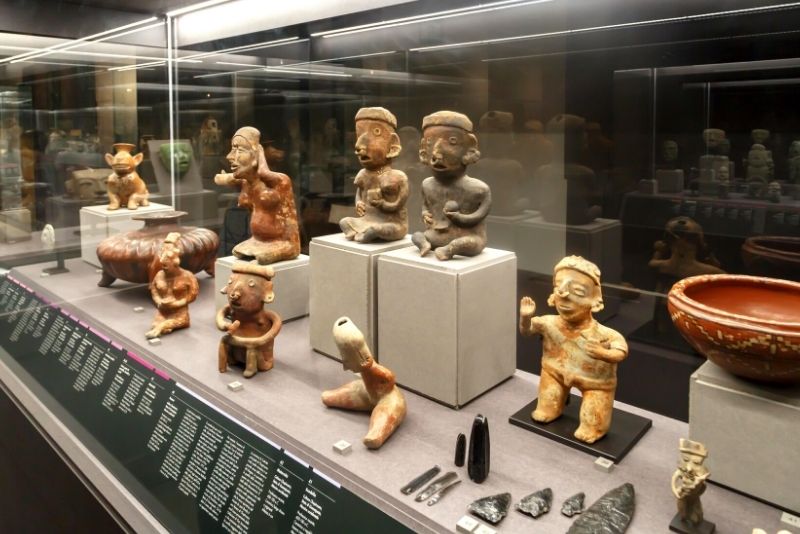 A nice change of pace from all of the Renaissance art scattered throughout myriad Florence museums, the National Archaeological Museum is one of the largest and most important museums in this beautiful city on the Arno (not to be confused with the eponymous museum in Naples). It houses an incredible collection of Etruscan, Egyptian and Greek works, as well as a significant number of detailed and varied Roman sculptures.
Not too far from the Accademia Museum, the Archaeological Museum is located in the Piazza della Santissima Annunziata inside a stunning building (to be expected of Florence by this point, right?), with a sprawling garden housing Etruscan tombs out the back.
As you explore the halls of this wonderful museum, keep an eye out for some of its most famous pieces, including the sarcophagus of Laerthia Seianti (from the 2nd century BC), an Egyptian war chariot, and the François vase from 570 B, to name but a few. The Egyptian section, in particular, is enormous: known as the Egyptian Museum, it is officially the second-largest of its kind in Italy, a surprising feature guaranteed to impress.
If you love uncovering hidden gems and lesser-known works, make sure you also check out some of the smaller objects on display throughout the museum. These include Roman mosaics, Greek vases, and a collection of amulets from the ancient world – visit the corridor upstairs where you can admire a slew of ancient gems from the Medici collections
The National Archaeological Museum is open Tuesday to Friday from 9 am to 8 pm and 9 am to 4 pm on the weekends (closed on Mondays). Entrance fees are 5 euros, and guided tours and also available for those of you looking to learn rather than simply browse.
Hot tip: much like the Accademia Gallery tickets, it's often possible to find National Archaeological Museum last minute tickets online through various sources. For the best bang for your buck, you can also visit the Museo Archeologico Nazionale for free if you buy the Uffizi Gallery 5 museum ticket.
6 – La Specola – Natural History Museum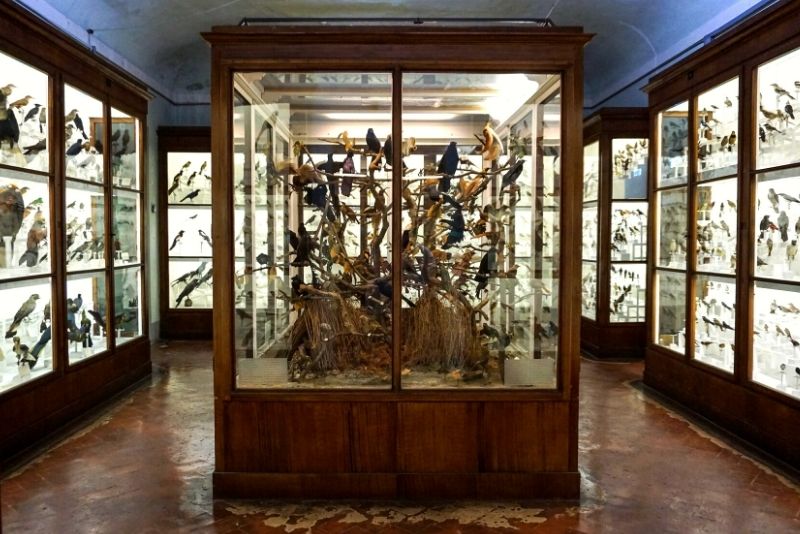 While lesser-known compared to galleries like the Uffizi, Accademia, and Archaeological Museum, the Museo di Storia Naturale della Specola is one of Florence's best museums – not to mention considered the oldest scientifical museum in Europe – and unquestionably worth a visit if you're interested in all things science and nature.
One of the most curious aspects of this museum is the wax anatomical models on display, a peculiar set of figures that were created in the 18th century by Gaetano Giulio Zumbo (who had an obsession with anatomy and corruption).
These lifelike models are both fascinating and slightly eerie, providing visitors with an insight into what medical science was like back in the day – make no mistake, when you see the nude wax women in erotic poses, with their organs showing and ribcages open, you'll realize that La Specola is nightmares away from your typical Madame Tussauds.
Housed on Via Romana on the southern side of the Arno next to the Pitti Palace, the Museo di Storia Naturale della Specola is also home to a diverse collection of minerals (with some of the world's largest crystals on display), meteorites, fossils and taxidermies animals, and an impressive Skeletons Hall on the ground floor.
One section is even dedicated to archaic zoology, where you can learn all about the evolution of various species through time. Over 3.5 million animals are part of the collection, with about 5,000 on display at any given time.
Besides the plethora of intriguing displays lining its floors, even the museum itself is a slice of history: prior to the early 19th century, this eclectic yet underrated institution remained the only scientific Museum in the world intended for the public. That meant that for over two centuries, anyone keen to learn about natural history first-hand had to come here to Florence. How times have changed!
The Museo di Storia Naturale della Specola is open Tuesday to Sunday from 10.30 to 5.30 (from October 31 to May 31 it closes an hour earlier). Admission fees are 6 euros for adults, 3 euros for children under 14, and free for the little ones under 6. Keep in mind that the anatomical collection is now only viewable by guided tour, so make sure to call the museum ahead of time to reserve a place or book a private group tour.
And, if you want to make an entire day of it, then allocate some time to explore the Boboli Gardens. With Renaissance statues & ornate fountains spread across the sprawling greenery, it's the perfect spot for a stroll and a picnic, and a welcomed change of pace from the busy Florentine museums.
7 – Museo Salvatore Ferragamo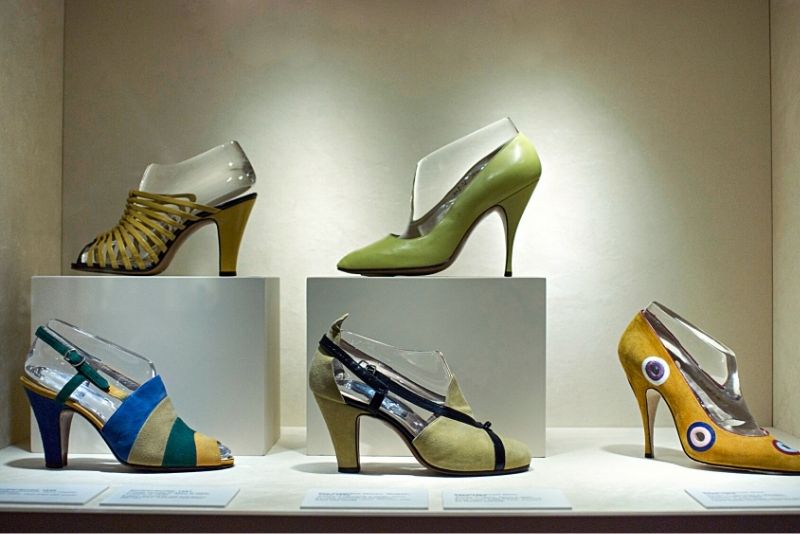 Acting as a beacon for fashionistas from near and far, the Museo Salvatore Ferragamo is one of Florence's more unique museums – you won't find Rennaisance paintings or marble sculptures here, that's for sure.
Dedicated to the life and work of world-renowned Italian shoe designer, Salvatore Ferragamo – who rose to prominence in Hollywood during the 1920s, creating iconic footwear for celebrities such as Marilyn Monroe, Audrey Hepburn, and Greta Garbo – this museum provides visitors with an insight into the fascinating world of high fashion and Italian design and showcases the pivotal role Ferragamo played in the history and development of both footwear and international fashion.
Housed in a grand building on the Via de' Tornabuoni, in the basement of Palazzo Spini Feroni, a historic building constructed in 1289 that, some 700 years later, became the headquarters of the company and the first Salvatore Ferragamo store, the Ferragamo museum now contains over 14,000 items spread across three floors, including sketches, original prototypes, press cuttings, advertising materials, photographs, vintage shoes (more than 10,000 alone, dating back to the 1920s) and films.
Among the slew of highlights are a handful of shoes Ferragamo created for Hollywood celebrities like Judy Garland, Marilyn Monroe, Audrey Hepburn, and Sophia Loren – it's no wonder Ferragamo was dubbed the Shoemaker to the Stars after he opened the 'Hollywood Boot Shop' in 1923. However, while the eccentric shoe collection is impressive, using silk, cotton, wood, embroider satin, and much more to make his pairs stand out, it's not all about the shoes. The museum also puts on themed rotating exhibits, diving into topics like silk or sustainability, and moving far beyond just a few pairs of kicks.
The Ferragamo museum is open every day from 11 am until 7.30 pm. Admission costs 8 euros for adults, with a 50% discount available for students and kids.
If you're interested in fashion or want to learn more about one of Florence's most famous sons, then the Museo Salvatore Ferragamo is definitely worth a visit – consider taking a free audio guide if you want to learn more (available in Italian, English, French, Spanish, and Japanese).
Hot tip: if you love fashion and can't get enough, then add the Gucci Garden to the list as well.
8 – Palatine Gallery at Palazzo Pitti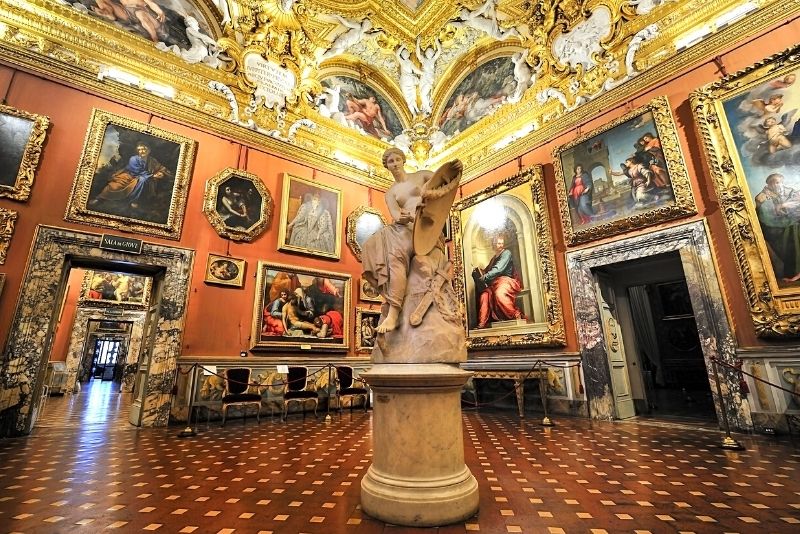 Stunning and colorful in every direction you cast your eye, with gold trimmings adorning the ceiling and attention-grabbing artworks lining the walls, the Palatine Gallery is one of the most beautiful art museums in Florence if not all of Italy.
The Palatine Gallery forms part of the Pitti Palace – a grand-ducal residence that was once home to the Medici family and the Lorraine family (and today serves as a museum complex – the largest museum complex in Florence), and which overlooks the Boboli Gardens. Housed on the entire first floor of the palace, this long and narrow gallery was commissioned in 1458 by the Florentine banker Luca Pitti, a friend of Medici.
Spread across some has 28 rooms (many of which are named after planets or gods) with high barrel-vaulted ceilings adorned with detailed frescoes, the gallery was intended as a space in which the Medici family could host grand events, as well as house their impressive art collection.
And what a collection it is.
Comprising paintings by some of the most celebrated artists of the 16th and 17th centuries and beyond – including Titian (note the Portrait of Vincenzo Mosti), Rubens, Van Dyck, Raphael (note the Portrait of Agnolo Doni as well as Ezekiel's Vision), Correggio, and Andrea del Sarto – the Palatine Gallery is an absolute feast for the eyes.
Alas, with so many masterpieces crammed into such a small space, it can be quite overwhelming trying to take everything in at once (especially since they are arranged the same way they were during the Medici years and don't follow any strict chronological order); it comes recommended to take one of the audio guides to help you make sense of it all.
The Palatine Gallery is open every day except for Monday from 1.30 pm to 6.30 pm. If you prefer to avoid the crowds, then it's worth noting that the Palatine Gallery is usually much quieter in the evening as opposed to the afternoon, and you can snag a skip the line pass or book a private tour if you're after a more VIP experience.
Admission costs 23.75 euros for adults (including a pre-sales fee of 4.75; so think of it as 19 euros), with discounts available for students and seniors. Keep in mind that tickets are also valid for the Modern Art Gallery, The Costume Gallery, and The Medici Treasures, so you can certainly get your money's worth.
9 – Strozzi Palace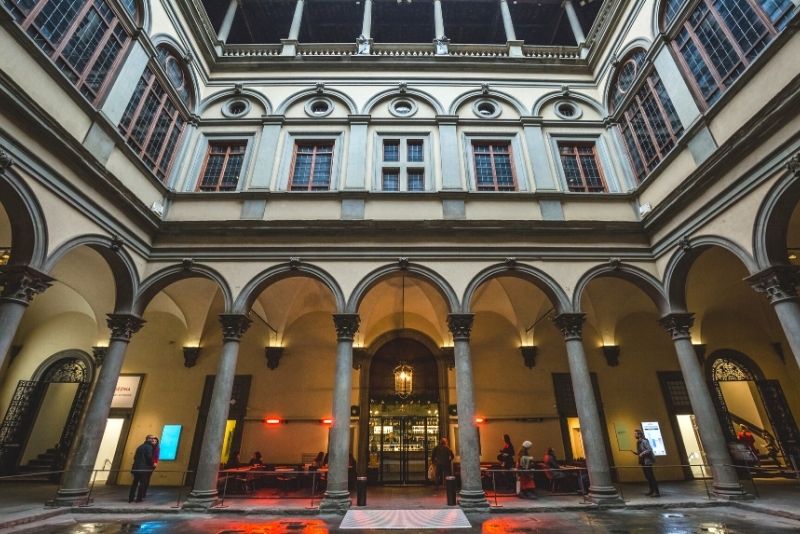 Marvelously grand and imposing, the Palazzo Strozzi is one of the most iconic sights in Florence – not to mention one of its most popular museums and a longstanding cultural hub.
A monumental Renaissance palazzo (palace) that was once home to one of the richest and most powerful banking families in Florence, today the Palazzo Strozzi appears as a small fortress in the heart of the city, housing several different cultural institutions and exhibits (over 50 different showcases since 2006), making it something of a 'one-stop shop' when it comes to Florentine art and culture.
Most notably, the Palazzo Strozzi is home to an excellent temporary exhibition space that has hosted everything from contemporary art exhibitions (such as Ai Weiwei or JR) to ultra-modern showcases of NFTs and digital art, retrospectives on 20th-century masters, and, of course, no shortage of medieval and Renaissance collections, keeping with the Florentine theme.
Beyond the exhibitions, there is also a stunning medieval courtyard and a small but very well-curated museum on the ground floor that is devoted to the Strozzi family.
The Palazzo Strozzi is open every day from 10 am to 8 pm (the last entry is an hour before close), with late-night access on Thursdays till 11 pm for all of you night owls. Admission will set adults back 15 euros, with discounts available for students and seniors, and free entry for tots under 6.
To dive deeper into the artwork on display, the audio guide to the exhibition comes highly recommended; available in both Italian and English, it's an extra 4 euro (or you could opt for a docent-led tour, but those are a little pricier).
Located a three-minute walk from the Arno River, the Strozzi Palace is a rare sight in the sense that it is surrounded by four streets, so you can admire the building itself from all kinds of angles – it's also a stone's throw from a slew of cafes (check out Forno di Antonio Mattei) and restaurants for a well-deserved post-museum pick-me-up.
10 – Bargello Museum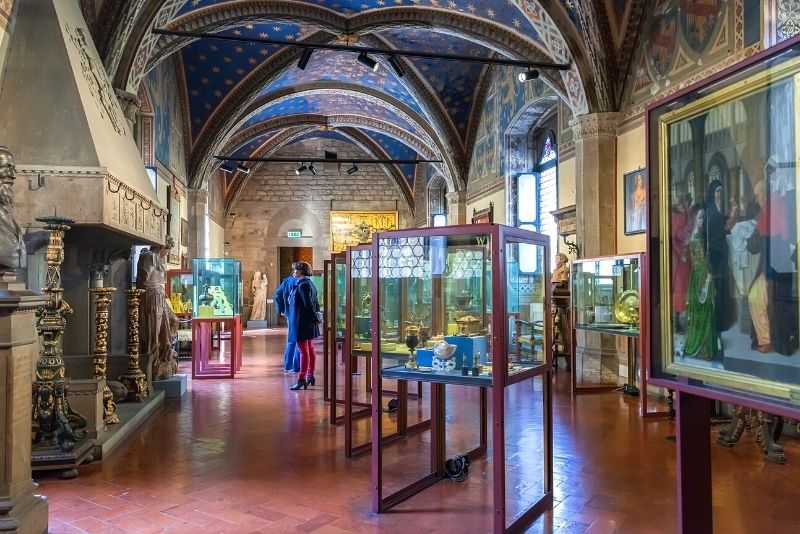 Tucked away inside the Palazzo del Bargello (sometimes called Palazza del Popolo – Palace of the People), a foreboding former fortress and prison turned art museum, the Bargello Museum is widely considered as Florence's most important collection of historical artwork, behind the Uffizi (see #1).
Identified from afar for its 54-meter-high clock tower, the museum, which is also called the National Museum or National Bargello Museum, is home to an impressive and eclectic mix of sculptures across its three floors, which include some of the very first examples of Renaissance art by the likes of Ghiberti, Brunelleschi, and Donatello (the latter two worked on Florence's Duomo – see #3), not to mention over 2500 paintings to complements complement the sculpture display.
The star of the show is without a doubt Michelangelo's Bacchus – a life-size marble sculpture of the Greek and Roman god of wine, standing over 200cm tall, that was completed when the artist was just 21 years old in 1497.
Other notable mentions go to a number of works by Pisano, Verrocchio, Luca della Robbia, Andrea Pisano – and that's just to name a few – as well as a small but significant collection of ivory artifacts, medieval art, arms and armor, ceramics, waxes, enamels, medals, jewelry and tapestries; and the Bust of Brutus, the only bust Michelangelo ever made. And make sure not to miss David, by Donatello.
One of the most visited rooms in the museum is the Salone del Camino – sitting on the second floor of the former fortress, it contains the smallest and most detailed bronze statues in Italy, painstakingly created by names like Giambologna and Cellini.
Given its size and cultural significance, it's no surprise that the Bargello Museum is a popular one, especially since it closes in the early afternoon (at 1.30 pm) before most other institutions. So, if you want to avoid long lines and swarms of tourists at Italy's first national museum, it's best to visit in the morning (it opens at 8.45 am).
Tickets cost 8 euros for adults, with free entry for kids under 17, and it's open every day bar Tuesday. There is also a handy audio guide available in English, French, German, Italian, and Spanish that will set you back an additional 6 euros.
11 – Stibbert Museum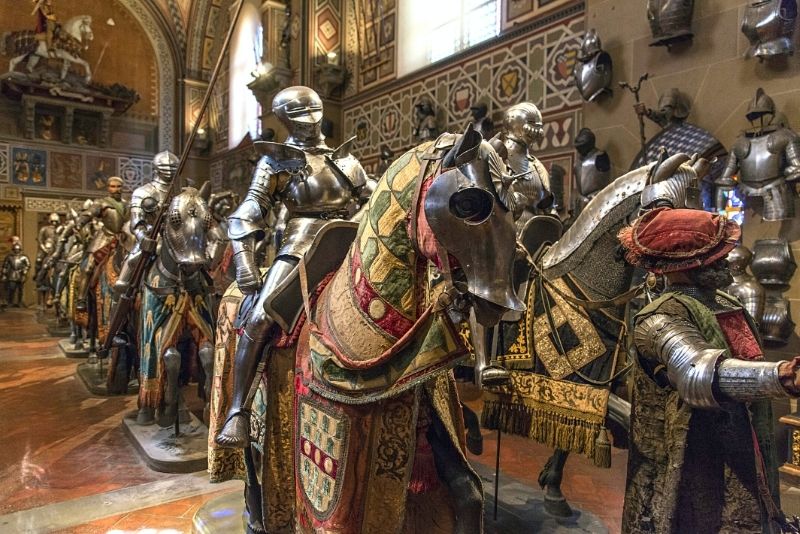 As if taking a step back in time to a Medieval era where lords and ladies roamed the land and knights rode around on horseback, the Stibbert Museum is the perfect place to get a sense of Florence's aristocratic past.
The brainchild of art collector Frederick Stibbert – an eccentric English ex-pat who inherited a large fortune and used it to amass an impressive collection of art and artifacts, which he housed in a grand 19th-century villa on the outskirts of Florence (now part of the city) – today, the museum is home to over 36,000 items that span from Egyptian antiquities and Etruscan treasures to Medieval armors, weapons, paintings, and tapestries.
Obsessed with weaponry, the collector amassed over 16,000 pieces of European, Oriental, Islamic, and Japanese arms and armor, with the diverse selection spanning all the way from the 15th century through the 19th century and highlighted by the magnificent Cavalcade Room – with over a dozen 16th-century knights on horseback, 14 armor-clad foot soldiers, hundreds of swords and no less than 80 samurai suits, it's quite the sight to behold.
In addition to all this, there are also several rooms dedicated specifically to Oriental Artifacts (Stibbert was fascinated equally by Far Eastern and Western cultures), as well as a charming garden containing over 600 plants, two ponds with aquatic plants, goldfish, and turtles; rock caves, a stable, a greenhouse and fountains; and both a Hellenistic temple with a stunning majolica dome and an Egyptian temple to boot.
If you're interested in visiting the Stibbert Museum, it is open Monday to Wednesday from 10 am to 2 pm, and Friday to Sunday from 10 am to 6 pm, and closed on Thursdays. Tickets cost 8 euros for adults with discounts for the little ones, and entry to the whimsical garden is free.
Keep in mind: to tour the Japanese section, a reservation and guide are mandatory – so call ahead to reserve your spot (or don't and simply enjoy the plethora of other artifacts on display!)
Location: this underrated museum sits away from the hustle and bustle atop a hill on the northern outskirts. Around the corner, you'll find the historic Villa Fabbricotti and the relaxing Giardini Baden Powell (garden/park) – combine the three for a wonderful day blending history and art with nature.
12 – Porcelain Museum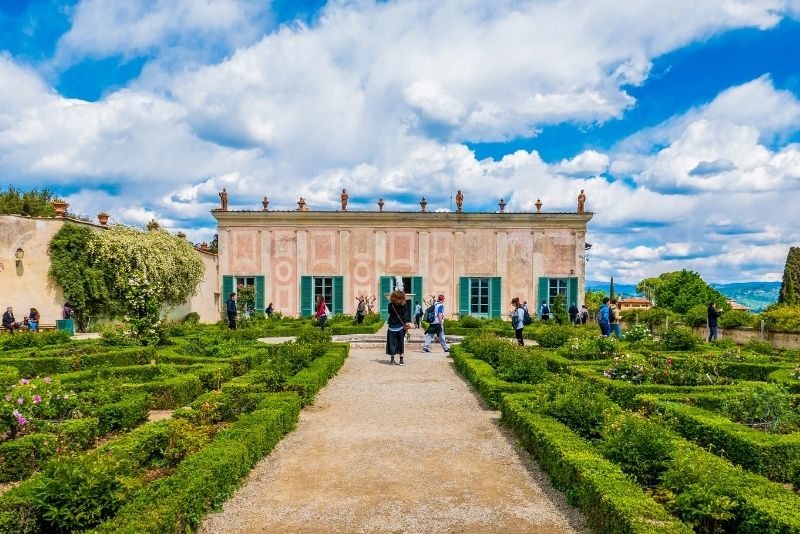 Housed out the back of the the beautiful Palazzo Pitti, one of the largest Renaissance palaces in Florence that was once home to the powerful Medici family (in the 18th-century Palazzina del Cavaliere section), this museum sits on one of the highest points of the lush Boboli Gardens (a wander around which is a must for the bucket list) and is dedicated to – yep, you guessed it – porcelain.
After it opened its doors as a tourist attraction in 1973, the museum has grown its collection to over 2,000 pieces – and while that number pales in comparison to any of the other institutions considered the best museums in Florence, the quality and detailing that goes into each and every item on display is as intricate and alluring as at any landmark citywide. Far from just a gallery, however, the collection is also somewhat of a history lesson, reflecting the evolution of Florentine rulers over a period of some 250 years, from the final Medici days through the eventual Unification of Italy – a 50-year battle and process in the mid-1800s.
Diving deeper into the masterpieces on display, the small museum is lined with art from the likes of Doccia Manufactory (founded by the Ginori family) to the porcelain of Sèvres and Meissen, all in a series of beautiful rooms surrounded by even more beautiful gardens.
From vases and dinner sets to sculptures and small trinkets, there is something for everyone at this unique museum – even if you're not particularly interested in porcelain! You'll find serving sets and sculptures that date back to the 1700s and 1800s, not only from Italy, but also from wider Europe – think Austria, Germany, and France.
It won't break the bank either; access to this little-known gem is included in the price of admission to the Boboli gardens – and beyond the myriad intricate artifacts on display, it's worth a visit for the stellar views of the countryside dished up from atop the hill. In peak season, the ticket for entrance to Boboli and Bardini gardens is 10 euros, however, if you plan on seeing a selection of Florentine museums (the Uffizi and Pitti Palace included), then a combination ticket will be your best bet.
If you are interested in visiting the Porcelain Museum, it is open every day from 8.15 to 6.30 – just remember to leave time to explore the lush gardens.
13 – Museum of the Medici Chapels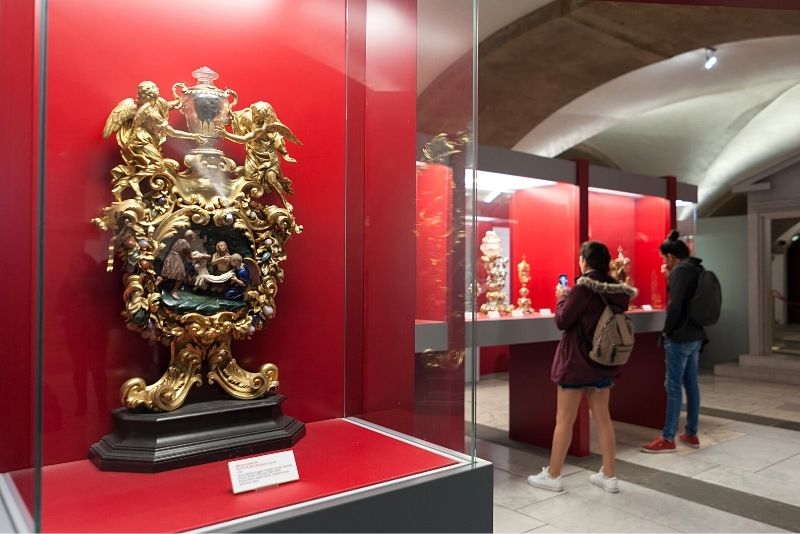 Full of beauty, history, and pieces of art to admire, the two Medici Chapels are part of the complex of San Lorenzo, a monumental church in the heart of Florence, not too far from the Duomo, that's considered one of the largest church complexes in Florence. Moreover, it's thought to be the oldest complex in the city too, with records showing it was consecrated in 393 by Saint Ambrose.
The basilica itself holds great importance to Florentines as it is where many members of the powerful Medici family – who were patrons of arts and dominated Florence for centuries – are buried.
One man, in particular, Cosimo de Medici, was responsible for much of what you see today at San Lorenzo – including commissioning Brunelleschi to design the magnificent Laurentian Library that sits adjacent (another must-see during your time in Florence). Browse the complex's grounds and you'll stumble upon Cannon's Cloister (a lush green courtyard), The St. Lawrence Treasure & the Cellar (where Donatello was buried), and the Medicea Laurenziana Library (an extraordinary example of Mannerist architecture by Michelangelo, in addition to being a spout of knowledge).
But back to the chapels; these beautiful spaces – The Sagrestia Nuova ("New Sacristy") and larger Cappella dei Principi ("Chapel of the Princes") are immaculately designed and house tombs of people significant to Florence's history. In the former sits sculptures called Day, Night, Dawn, and Dusk which flank the tombs of Lorenzo and Giuliano Medici; while the latter houses six of the Medici Grand Dukes' tombs and boasts a spectacular giant dome overhead that can't help but impress visitors.
While Sagrestia Nuova was designed by Michelangelo and dates back to the 1520s, Cappella dei Principi was a long effort that wasn't fully completed until the 20th century – two very different timelines yet two very significant and eerily beautiful crypts.
After you enter the Chapels through the back of the church, you'll come across a series of stunning frescoes that adorn the walls and ceilings, which were painted by some of the most revered artists in Florence, with no shortage of paintings and artifacts to complement the diverse collection.
While you could easily spend an entire day getting lost in this awe-inspiring Lorenzo complex if you only have time to explore one section, make sure it is the Museum of the Medici Chapels.
The museum ticket costs 18.5 euros and gives you access not only to see Michelangelo's stunning designs up close but also provides entry into the Laurentian Library (if you haven't been already) and the rest of San Lorenzo.
While you're in the area, make sure to also check out the Medici-Riccardi Palace – it's one of the finest examples of Renaissance architecture in Florence, and pop into one of the nearby trattorias for an authentic Italian meal with a glass of wine to boot; both Trattoria Zà Zà and Trattoria Dall'Oste come highly recommended.
14 – Gucci Garden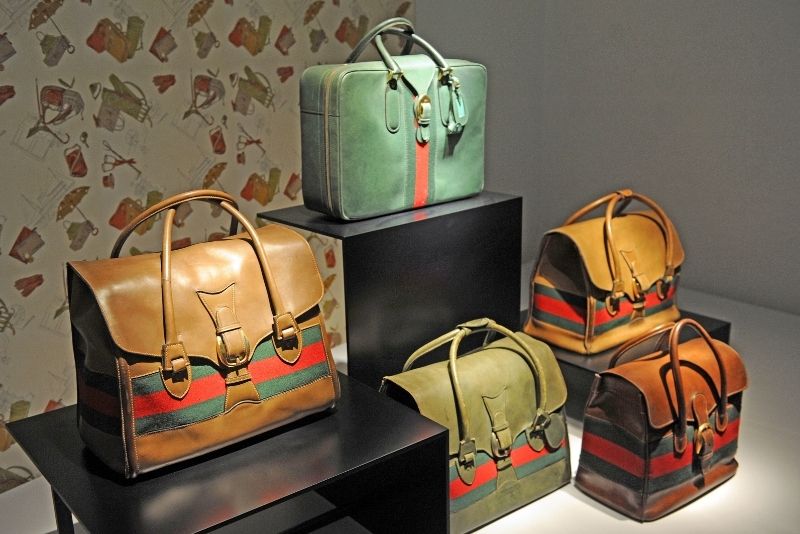 Fashionistas, listen up! You've heard of the 'House of Gucci' with Jared Leto and Lady Gaga – well, forget about Tinseltown, because this little-known museum is the REAL house of Gucci, and it's located right here in the middle of Florence's bustling, beautiful tourist district.
The Gucci Garden – an undeniable Gucci wonderland – is situated over three floors in the 13th-century Palazzo della Mercanzia, right in the center of town next to the Palazzo Vecchio, and chronicles the life and work of one of fashion's most iconic luxury brands.
From its humble beginnings as a small leather goods workshop in 1921 to its now global status as an haute couture powerhouse, this museum tells Gucci's story through a series of interactive exhibits that are fun for fashionistas and non-fashionistas alike.
One minute you're learning about how Gucci's famous 'GG' logo came to be, and the next you're ogling at some of the brand's most famous designs from the early 2000s, including dresses worn by Oscar winners and celebrities.
Besides the small yet eclectic gallery space that's constantly changing with new handbags, outfits, scarves, luggage, and memorabilia, the museum also has a lovely garden out back where you can enjoy a picnic lunch or an evening glass of wine – just make sure to stop by the gift shop on your way out and pick up some Gucci-branded goodies to take home with you!
Hot tip: in keeping with the high-class Gucci culture, one of the best museums in Florence also houses one of the best restaurants in Florence! The brainchild of three-Michelin-starred chef Massimo Bottura, the 50-seat Gucci Osteria restaurant offers high-end interpretations of American classics and does so in tantalizing style. If you come here just to eat, a free museum ticket will be included with your meal!
15 – Galileo Museum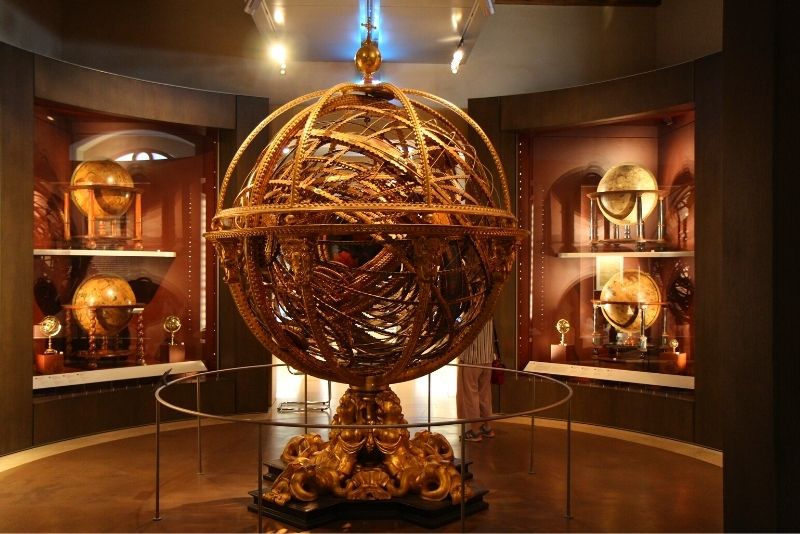 Ask any science nerd who's visited the Jewel of the Renaissance and they'll attest: The Galileo Museum – housed in the old Museo di Storia della Scienza (Museum of the History of Science) is one of the best museums in Florence, and not just because it's dedicated to one of the most famous scientists in history. This interactive museum is great for kids and adults alike and covers everything from Galileo's early life and inventions to his controversial battle with the church after discovering heliocentricity (the idea that Earth revolves around the sun).
You can learn about how Galileo discovered the laws and ways of the cosmos, see some of his original instruments and writings, as well as a slew of scientific tools (including barometers, globes, and microscopes) dating back to the 13th century, and even see parts of the great astronomer himself – that's right, peculiarly enough, his famous missing fingers are on display here too. There are also interactive exhibits where you can experiment with light and sound, and plenty of opportunities to test your knowledge of astronomy.
You'll find this slice of scientific history located smack-bang in the heart of Florence's stunning riverfront. Making it easy to spend half a day or so in the area, around the corner are equally notable attractions like the Uffizi Gallery, Ponte Vecchio, and the Giardino Bardini (Bardini Gardens) just across the river.
Perfect for history buffs and curious minds, the museum is open from 9.30 am to 6 pm every day except Tuesday (closes early at 1 pm). Tickets won't break the bank either, at 11 euros for adults and free for kids under six.
16 – Palazzo Medici Riccardi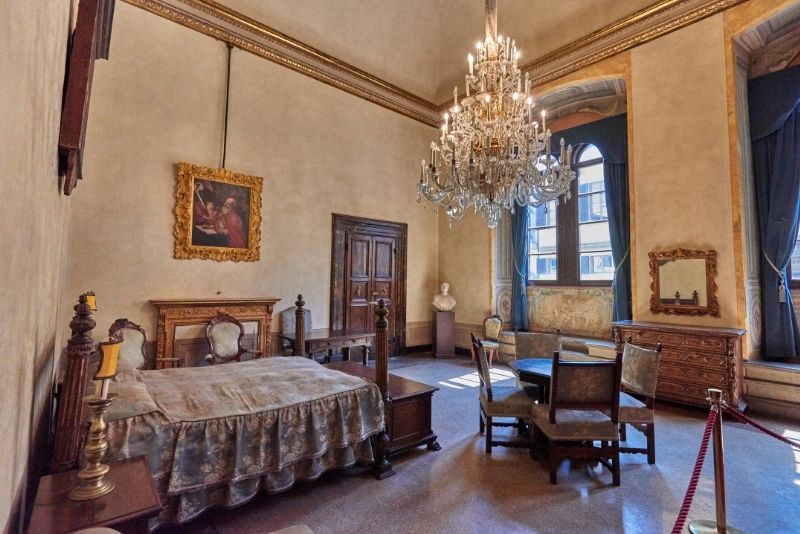 Ever wondered what it would be like to step into a real 15th-century palace, and to see the intricate details of a ruling family's private residence? From glistening chandeliers to priceless artwork, the Palazzo Medici Riccardi is one of Florence's best museums because it gives you a rare glimpse into how an aristocratic family once lived.
This imposing palace commenced construction in 1444 for the prominent Medici family, and today houses some of the most incredible artwork in Florence, including pieces by Donatello, Filippo Lippi, and Benozzo Gozzoli. You'll also find an extensive collection of ancient sculptures on display throughout the home-museum and its Walled garden, not to mention the stunning painted ceiling in the Gallery at the brush of Luca Giordano. Flanked by eight episodes of mythological scenes on its walls, you'd be forgiven for assuming you're staring up at the infamous beauty of the Vatican's painted Sistine Chapel.
To get the most out of your visit to this masterpiece of early Renaissance architecture, a guided tour is the way to go. Led by art and history-savvy locals, the tours operate Saturday and Sunday at 3 pm and take you through dozens of lavish rooms filled with artworks, furniture, tapestries, and more, all while your guide tells stories about the Medici family's fascinating history – from their humble beginnings as medieval bankers to their eventual rise to power as one of the most influential families in Europe.
A visit to the Palazzo Medici Riccardi is a must for anyone interested in Florence's rich history, and it's easy to spend a couple of hours here exploring all the different rooms and artworks. Plus, sitting a mere stone's throw from the Basilica of San Lorenzo and the Medici Chapels makes it an easy day of back-to-back activities.
The palace is open from Monday to Saturday from 9 am until 7 pm every day except Wednesday. Standard entry tickets will set you back 7 euros for the museums, 10 euros for the museum plus rotating exhibition, and an extra 4 euros for the guided tour.
17 – San Marco Museum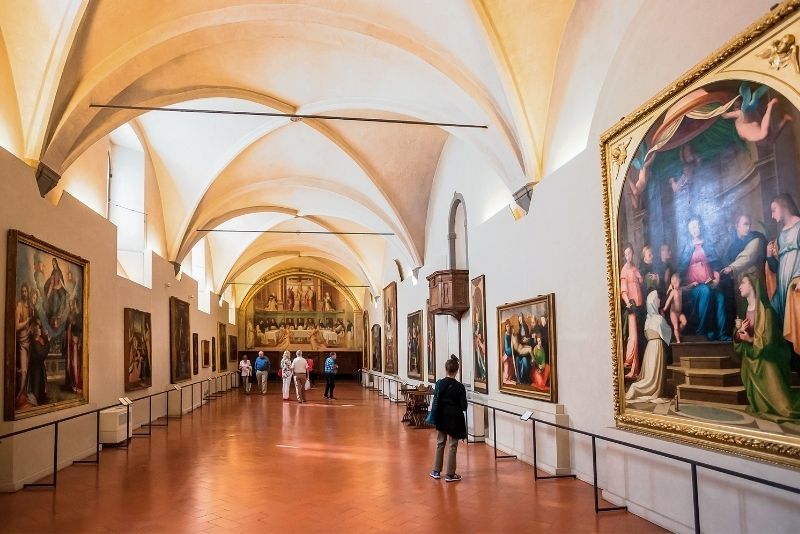 If you're interested in the life and work of one of Florence's most famous citizens – the painter, architect, sculptor, and all-around renaissance man Fra Angelico – then a visit to the San Marco Museum is a must. Housed in the former convent of San Marco (which was once home to Angelico himself as he lived and worked under the patronage of none other than Cosimo de' Medici), this beautiful monastery turned museum contains some of Angelico's famous works as well as those of other artists who lived and worked in the convent over the centuries (albeit non exclusively).
While you could browse the halls and the courtyard for hours, one of the highlights of the museum is undoubtedly Fra Angelico's "Annunciation", which is considered to be one of his finest works and one of the last San Marco frescoes to be completed. The painting depicts the moment when the angel Gabriel appears to Mary, and is considered a masterpiece of 15th-century Italian art
Other crowd favorites include the First Floor Dormitories and the spellbinding Chapter House – once a space where the monks met for the congregation, it's now filled from wall to wall with depictions of Crucifixion and Saints.
But it's not just about the art on display at this off-the-beaten-track museum; the venue itself is a piece of art – dating back to the 15th century (however, the space was actually occupied as early as the 12th century), the monastery's age is apparent in its beautiful medieval architecture. The frescoes in the cloister, exquisitely detailed by 16th-century Italian Mannerist painter Poccetti, show scenes from the daily life of San Marco, giving a glimpse into what life was like in the starkly different bygone era.
Tucked away in the north of Florence, about a 10 to 15-minute walk from the main historic haunts, the San Marco Museum is open from Monday to Friday from 8.15 am to 1.15 pm, and 8.15 am to 4.15 pm on the weekends. Guided tours come highly recommended and need to be booked in advance.
18 – Museo Novecento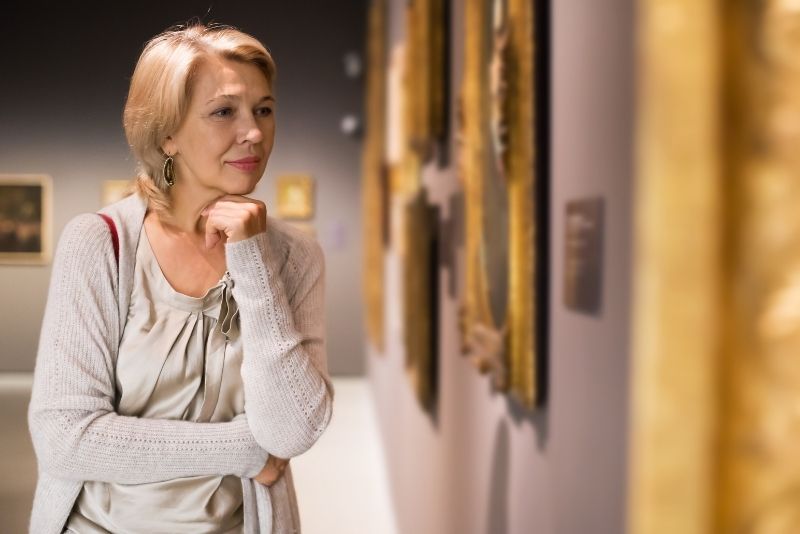 Need a change of pace from the Renaissance art and constant history deep dive that is Florence? Then the Museo Novecento is the place for you. As the name suggests (translating to the twentieth-century museum) this museum is dedicated to Italian art from the modern era, and contains some of the most important artistic works from this period with a focus on paintings graciously donated to the city after the catastrophic Florence flood of 1966.
Proving that there are far more sides to the so-called cradle of the Renaissance than meets the eye, the museum's collection spans three hundred works across fifteen exhibition rooms, including pieces by Futurist artists such as Giorgio Morandi, Mario Mafai, Renato Guttuso, Giorgio De Chirico, Filippo De Pisis, Gino Severini, and Felice Casorati, just to name a few. The Alberto Della Ragione collection is spoken of highly, likewise the range of interactive activities with artwork meditation, guided tours for adults and kids, one-man shows, and documentary exhibitions.
The Museo Novecento is located across from the Piazza Santa Maria Novella – one of the main squares in Florence and a common meeting point for walking tours of the city (highly recommended!). Its minimalist design is a breath of fresh air from the potentially overpowering layers of the other Florence museums, allowing you to take the time to really soak in and appreciate each piece.
Entry to the museum costs 9.50 euros for adults, with discounts available for students and seniors, and you'll find this thought-provoking museum open every day bar Thursday from 11 am to 8 pm.
19 – Museo di Palazzo Davanzati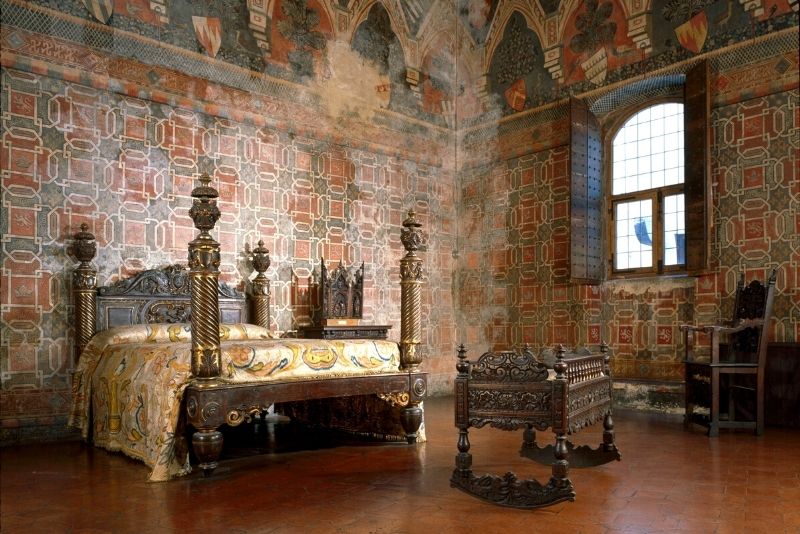 Dating back to the mid-14th century, the Palazzo Davanzati is one of the oldest buildings in Florence. Painstakingly detailed to reflect what life was like in the middle ages, it provides an intricate and valuable look into the home and lifestyle of a typical wealthy family. Having changed hands over the centuries, it has ties to both the Davizzi family (the builders) and the Davanzati family (the next buyers), with whom it stayed until the mid-1800s. Thereafter, the Museum of the Old Florentine House was created when antique dealer Elia Volpi bought and restored the place in 1904 – and it's been welcoming visitors ever since.
As you can see, with a timeline layered with fascinating and significant historical moments, these days, the Palazzo oozes aristocratic stories and provides visitors with an insight into how the other half lived during medieval times in Florence – the heyday of this artistic city.
Furnished with original pieces from the 14th and 15th centuries, as well as replicas of furnishings and tools (think woodworking, looms, warping machines, and spinning wheels), the three-floor tower houses are accessible by guided tours only. But, rest assured, with so much history within these walls, you wouldn't want to have it any other way.
Despite colored tiles and detailed frescoes around every corner, arguably the most aesthetic rooms are the Sala dei Pappagalli (The Parrots Room, with a large fireplace and… as you might have guessed… plenty of bird-themed artwork) and the Bedroom with scenes of the life of the Lady of Vergi – together, these rooms give an insight into the fashions, trends and everyday lives of haute couture so many centuries ago.
The Museo di Palazzo Davanzati is open from Monday to Sunday from 8.15 am to 1.50 pm and, at just 2 euros, is cheap as chips.
20 – Leonardo da Vinci Museum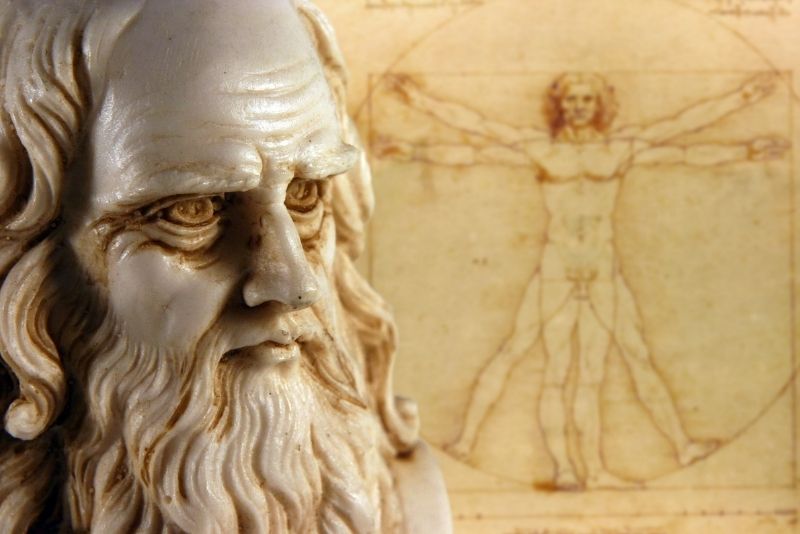 Beyond a shadow of a doubt, the Leonardo da Vinci Museum is one of, if not the, best museum in Florence for inventive minds and scientists-to-be, not to mention devout historians looking to step back in time into an age of unmatched ingenuity and innovation.
As the name suggests, this museum is dedicated to the one and only Leonardo da Vinci – the infamous painter, sculptor, architect, musician, and scientist who churned out invention after invention during his life between 1452 and 1519.
Many of his notebooks and manuscripts have been preserved and are on display in the museum for all to see, as is a copy of the famed Vitruvian Man plus various models of his inventions, most of which were way ahead of their time.
This exhibition is organized into five parts, four of which are based on da Vinci's study of the elements of nature – earth, wind, fire, and water – and the fifth focuses on his crafty and novel mechanisms.
During the summertime, the Leonardo da Vinci Museum is open daily from 9.30 am to 7.30 pm for 8 euros for adults. In the winter, things are a bit different; from November to March it's open Monday to Friday from 10.30 am to 6.30 pm, and 9.30 am to 7.30 pm on the weekends. Tickets cost 8 euros each, or 28 euros for a family ticket of two adults and two children.
Lasting less than an hour and available in Italian, English, and French, the museum's guided tours provide an excellent chance to dive a little deeper into the legendary inventor's life, works, and achievements – just keep in mind that these need to be booked in advance.
21 – Leonardo Interactive Museum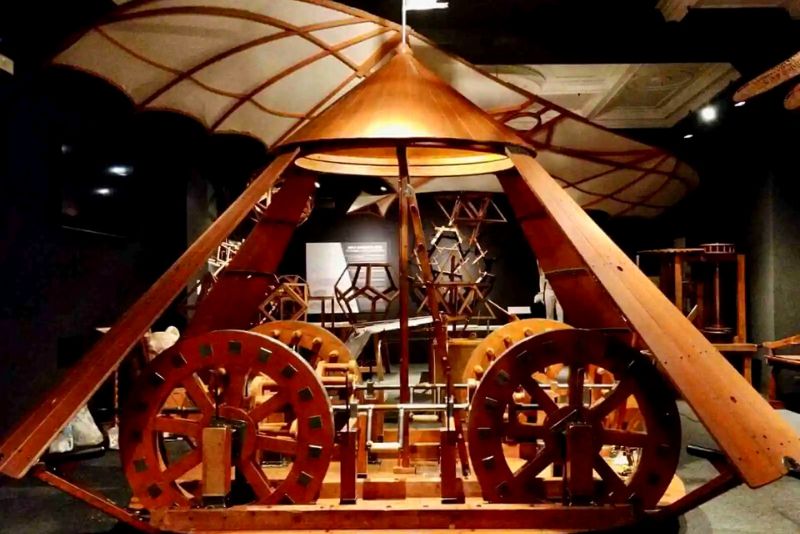 All about giving visitors a hands-on experience, this modern Da Vinci museum lets curious and playful guests try and test the actual working machines and mechanisms designed by the great man himself. You'll find this more family-focused Leonardo-themed museum just down the road from the bigger Leonardo da Vinci Museum, on Via de Servi on the northern side of Florence.
Featuring a slew of interactive machines designed and built by Leonardo (or in some cases, by engineers based on his designs and drawings), this place is an absolute goldmine for young and inquisitive minds. Spread across four different themed zones (earth, water, air, and fire; in classic da Vinci fashion), you'll discover everything from flying machines and robots to hydraulic pumps and siege engines – the budding inventor will be spoilt for choice with things to see and do at this fully hands-on institution.
But it's not all just child's play – there are also plenty of interesting exhibits on Leonardo's life and achievements as an artist, scientist, and thinker to keep adults entertained too. With original manuscripts on display as well as high-quality replicas and digital versions of some of his most famous paintings like The Last Supper, this is a must-see for all art lovers. Not to be underestimated is Leonardo's craft as a cartographer; with their own section in the 400-square-meter building sits 20 beautiful geographical drawings.
All in all, a small yet notable child-friendly museum (and affordable, at just 7 euros per adult with discounts for the youngsters) that dives into the very best work of the inventor, painter, and iconic historic figure – a delighting activity for any voyaging family looking for something quick yet enjoyable and educational indoors.
How to see Florence museums on a budget
Welcoming millions of art-seeking and history-savvy tourists every year, Florence has plenty of experience understanding what makes its visitors tick.
That's why, to make tourists' lives as easy as possible, they created the "Florence Pass" – an all-inclusive sightseeing pass that covers entry to the most famous tourist attractions in Florence such as the Uffizi Museum, Galleria dell'Accademia (with priority access), and a guided tour of the Duomo, as well as a 10% discount code for a host of excursions.
The Florence Pass is the best bang for your buck if you want to hit up the city's main haunts. If you have a much longer list of activities and are staying in the city for at least three days, then consider the FirenzeCard.
This flexible card costs 72 Euros, lasts 72 hours, and covers 72 of the city's most popular museums and attractions as well as providing access to a number of guided tours, making it the perfect way to see everything this incredible city has to offer without breaking the bank. However, you'll need to call ahead to reserve your spot at museums (no priority access), so a little more planning is required.
If you're looking for something a little less structured, never fear – Florence has plenty of other great budget-friendly options for you too. From free walking tours of the historic center to cheap (and delicious) food markets, there are plenty of ways to enjoy all that this city has to offer without spending a fortune.
So what are you waiting for? Start planning your trip to Florence today!
Best non-museum things to do in Florence
What are your thoughts on these best Florence museums? Do you have a favorite that didn't make the list? Let us know in the comments below!
While the cradle of the Renaissance is overflowing with art, history, and noteworthy museums, it's far from a one-dimensional tourist destination. Take a step away from the art and you'll quickly discover that Florence has plenty more to offer, from its world-famous cuisine to its stunningly picturesque streets, bustling markets, frequent festivals, and world-class theatre.
And, of course, as the beating heart of Tuscany – one of the most beautiful regions in Italy, known for its rolling hills and diverse wineries – Florence makes for the perfect base to explore all that this stunning part of the country has to offer.
So, if you're planning a trip to Florence and want to make the most of your time in the city, be sure to check out the comprehensive list of the other essential things to do in Florence. Looking to explore further? Check out our selection of things to do in Tuscany.
Till next time, ciao!