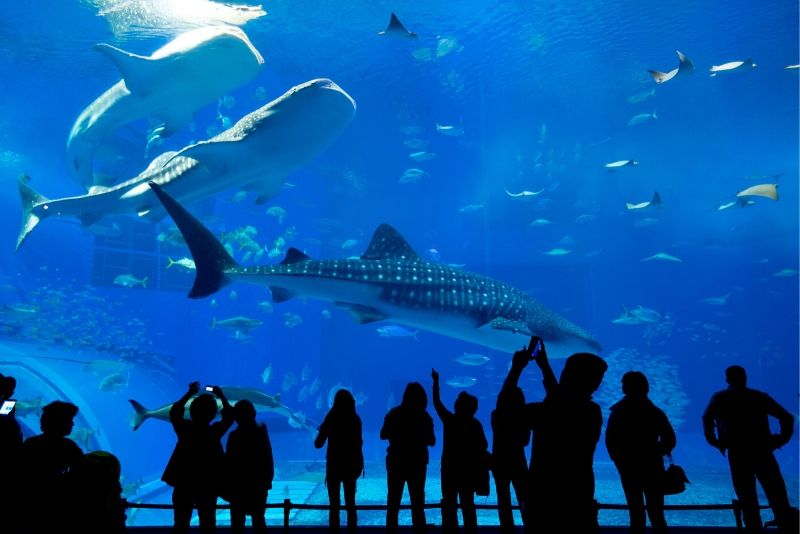 Looking for the best aquariums in the world? From Japan to the Americas, and from Europe to Australia, the world is brimming with unique and grandiose aquariums that display thousands of gorgeous and stunning sea animals.
Read on and discover the 50 best aquariums in the world to visit.
1 – Okinawa Churaumi Aquarium, Japan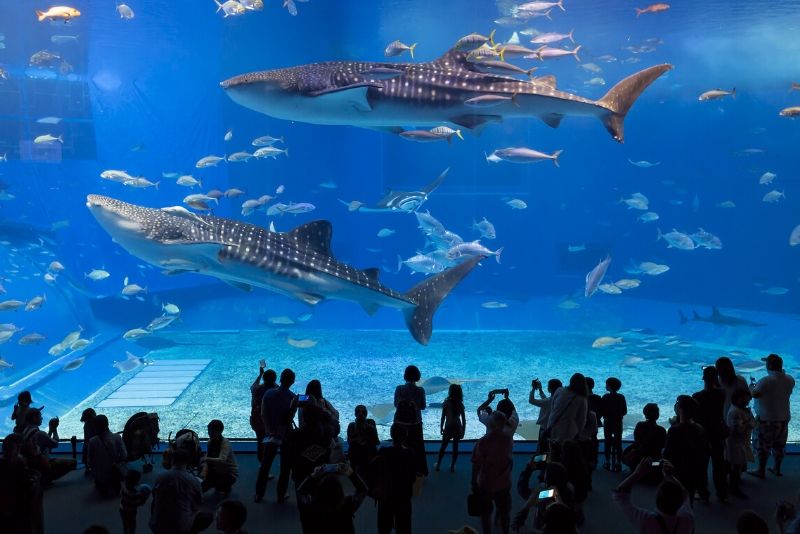 Get up-close encounters with some of the world's most fascinating underwater life as you pay a visit to this beautiful abode to marine life. Considered one of the biggest and best aquariums in the world, Okinawa Churaumi Aquarium houses 740 species including the gigantic whale shark.
2 – S.E.A. Aquarium, Singapore
More than 100,000 underwater animals can be observed at S.E.A. Aquarium which promises a marine life experience that won't soon be forgotten. With over 50 different habitats, each experience is different and more exciting than the next.
3 – Georgia Aquarium, United States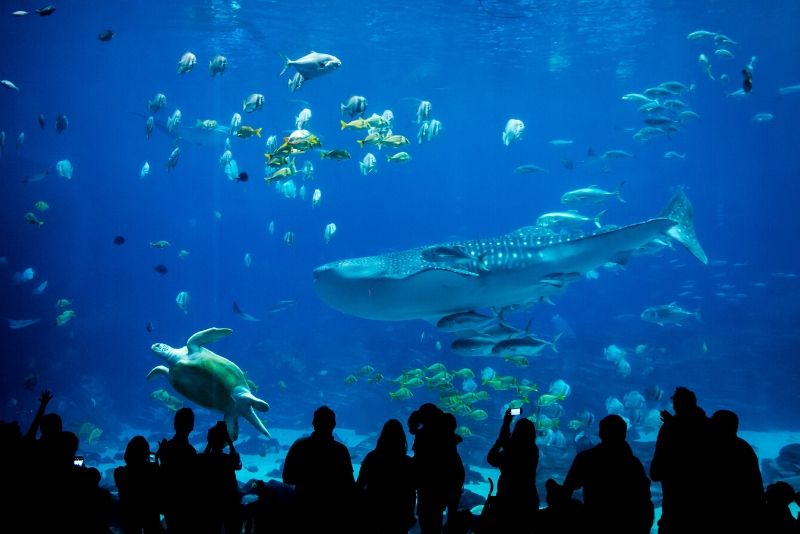 When Georgia Aquarium opened in 2005, it was the largest in the world and held that position until 2012. Built with the vision of education and economic growth, it is the only aquarium outside of Asia to house the colossal whale shark exhibit.
4 – Aquarium of Genoa, Italy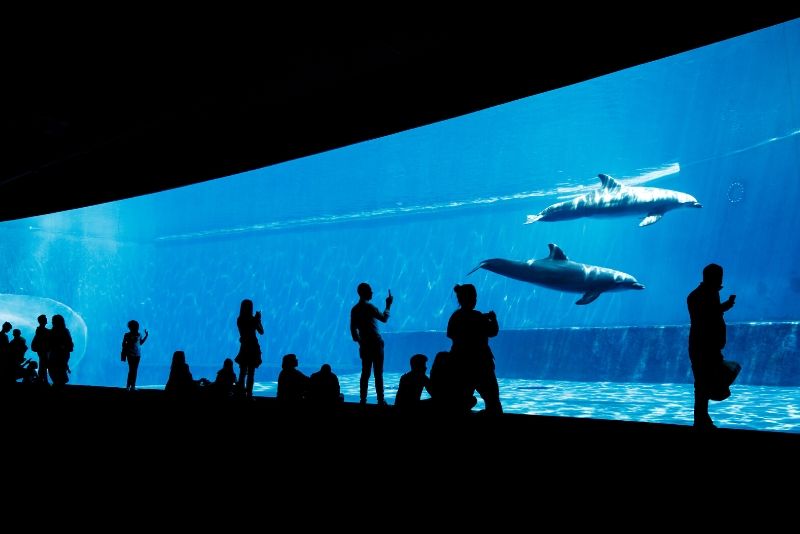 The Aquarium of Genoa is a 33,000 square foot exhibit with 12,000 animals and welcomes more than 1.2 million visitors a year. Enjoy underwater life from a collection of 70 tanks while traversing through this uniquely shaped building which is said to resemble a ship ready to sail the high seas!
5 – Dubai Aquarium & Underwater Zoo, United Arab Emirates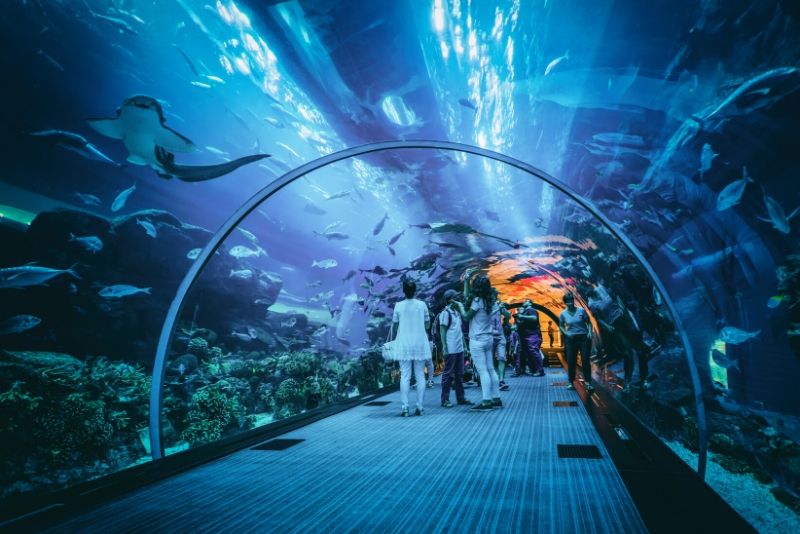 Not only is it home to the world's largest collection of sand sharks, but the Dubai Aquarium & Underwater Zoo houses the world's largest suspended aquarium. Enjoy this experience via behind the scenes access or through a glass-bottom boat tour with submersible simulator features. Take a look at the other 99 best things to do in Dubai!
6 – Oceanográfic, Spain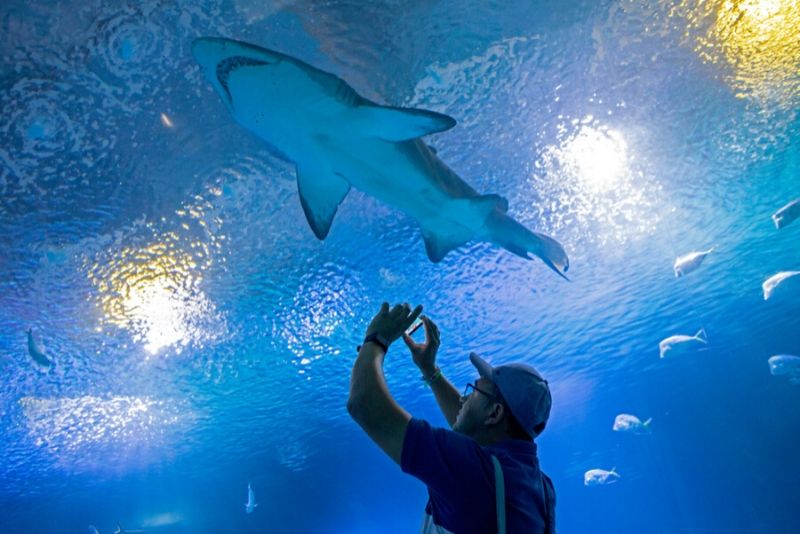 Spanning 110,000 square meters, the Oceanográphic is the largest complex of its kind in Europe. Visitors can expect an all-inclusive experience of training, leisure, and research across a mix of 10 magnificent areas containing habitats, swamps and marshland and a garden.
7 – Ripley's Aquarium of Canada, Canada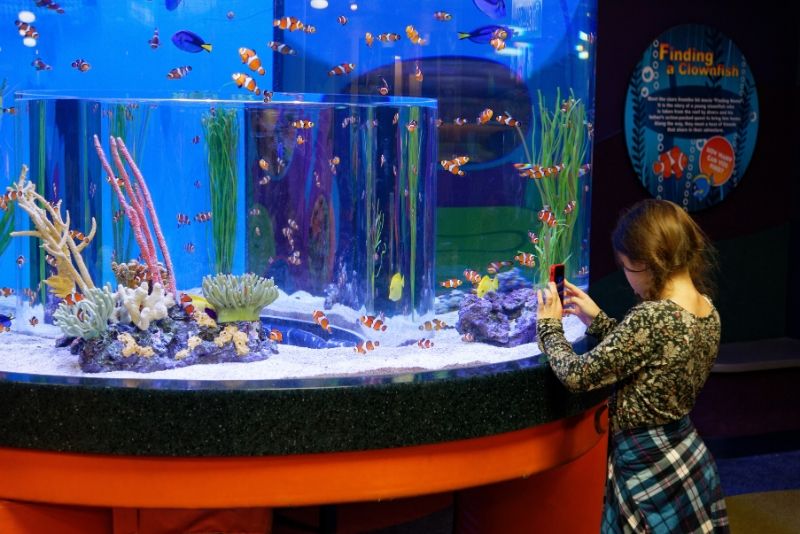 Enjoy the scenic wonders of over 16,000 exotic sea and freshwater specimens at Ripley's Aquarium of Canada. Opened in 2013, it is one of three aquariums owned by the renowned Ripley's Entertainment company and has more than 10 galleries showcasing wildlife from around the world.
8 – Osaka Aquarium Kaiyukan, Japan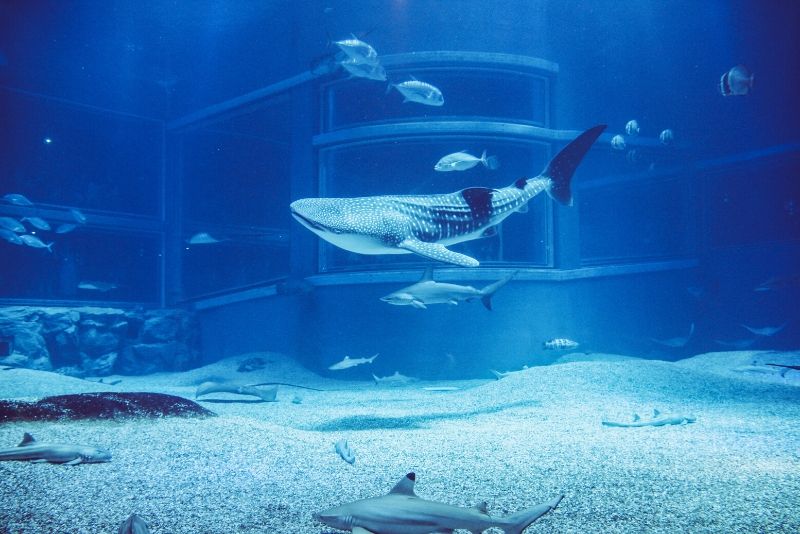 Opened in 1990, Osaka Aquarium Kaiyukan offers a rich collection of wildlife native to the Ring of Fire area of the Pacific Ocean showcasing underwater among 27 tanks and 16 main exhibits. Its New Interactive Area also allows visitors an up-close interface with the animals creating an unforgettable experience.
9 – Chimelong Ocean Kingdom, China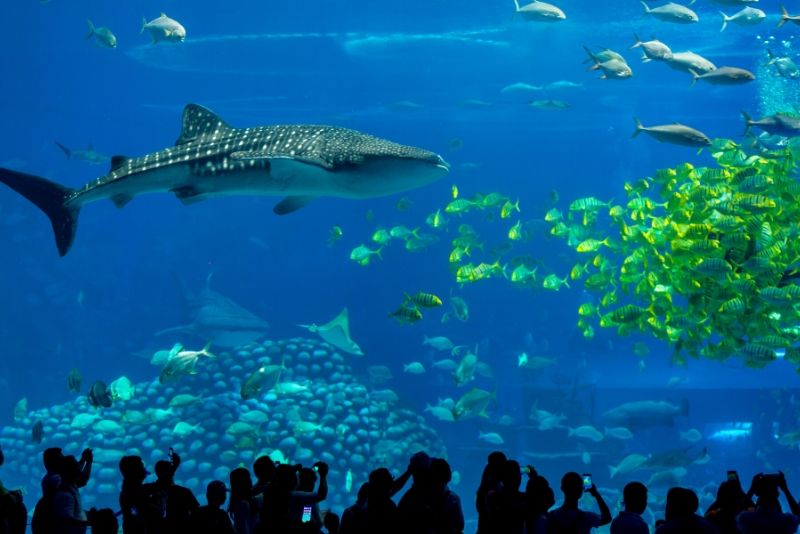 Looking for a combined aquarium and theme park experience? The Chimelong Ocean Kingdom brings you the best of both worlds with a dynamic mix of amusement rides, animal shows, and the world's largest oceanarium.
10 – Kenting National Museum of Biology and Aquarium, Taiwan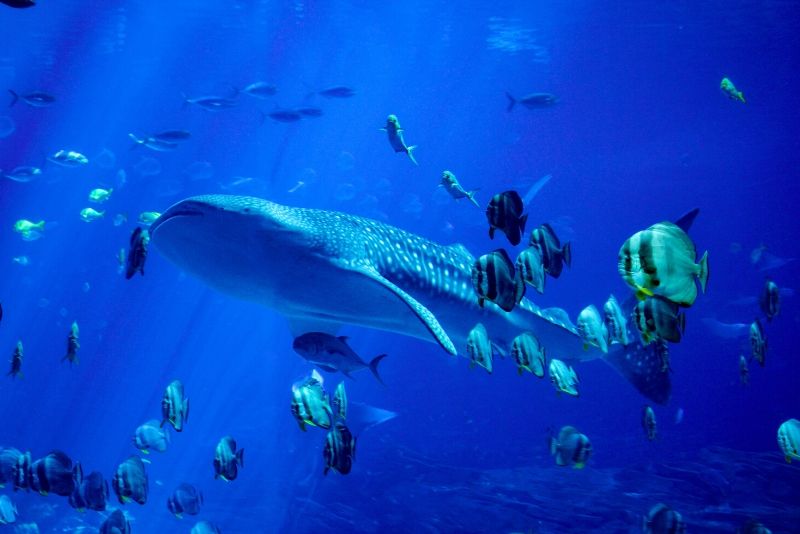 If you love learning and adventure, the Kenting National Museum of Biology and Aquarium is the place to be. Encounter underwater life in all its brilliance from a mix of three main exhibitions as you traverse the longest underwater tunnel in all of Asia.
11 – Aqua Planet Jeju, South Korea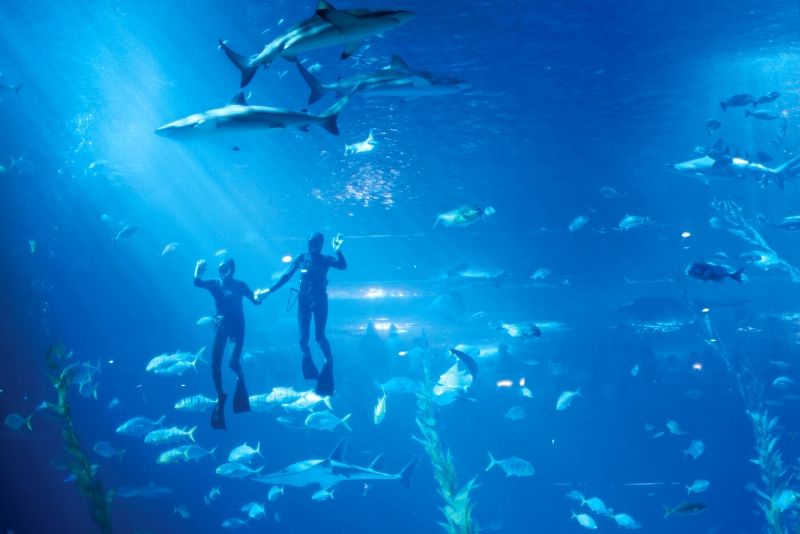 Here's a unique exhibit that proffers a marvelous sight of a full array of species from all five oceans in the world. Get a fully immersive experience of the marine life swimming all around you, or be entertained by the synchronized swimming show and a variety of educational presentations.
12 – Lisbon Oceanarium, Portugal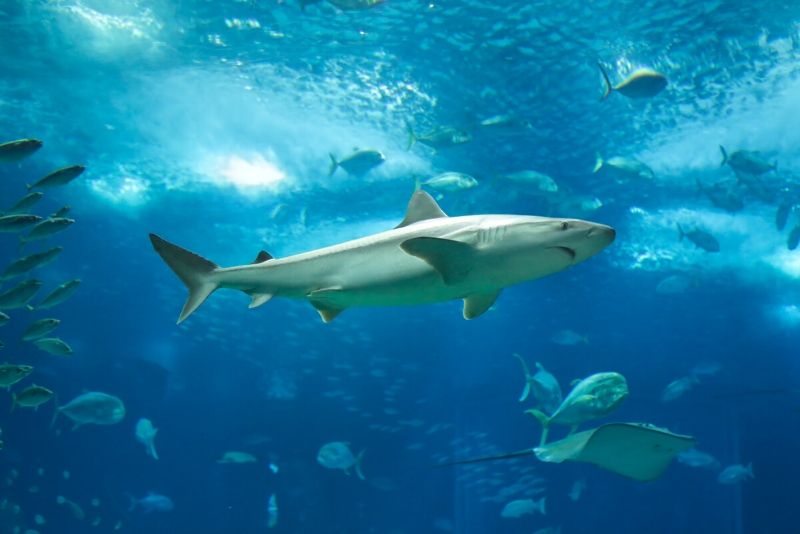 A unique and captivating experience is what you can expect as you pave your way to the beating heart of Portugal to capture the extraordinary spectacle of 16,000 ocean animals and 450 species. Shaped like an aircraft carrier, Lisbon Oceanarium is one of the few aquariums in the world to house a sunfish due to their unique care requirements and also has a variety of educational attractions in store.
13 – The Florida Aquarium, Tampa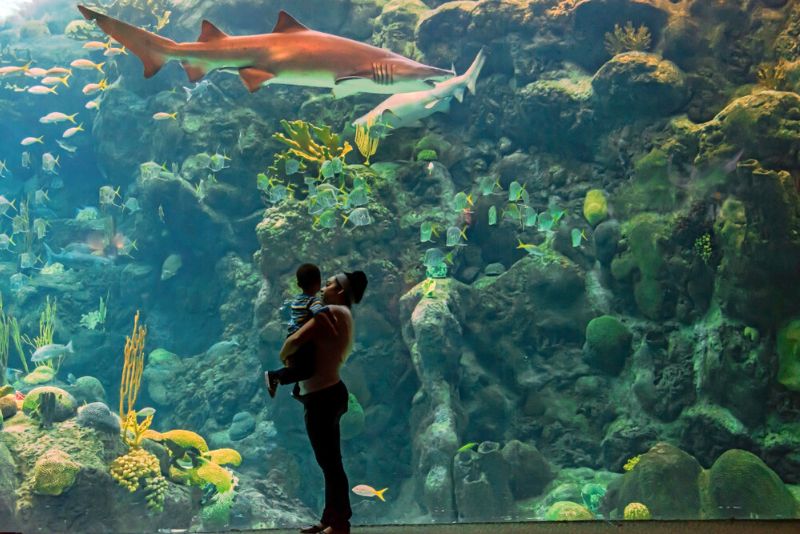 The Florida Aquarium in Tampa is home to more than 14,000 animals and plants, including sharks, sea turtles, and stingrays. The aquarium also offers interactive experiences such as swimming with the fishes, touch tanks, and behind-the-scenes tours. Visitors can learn about conservation efforts and watch live animal shows.
14 – Monterey Bay Aquarium, United States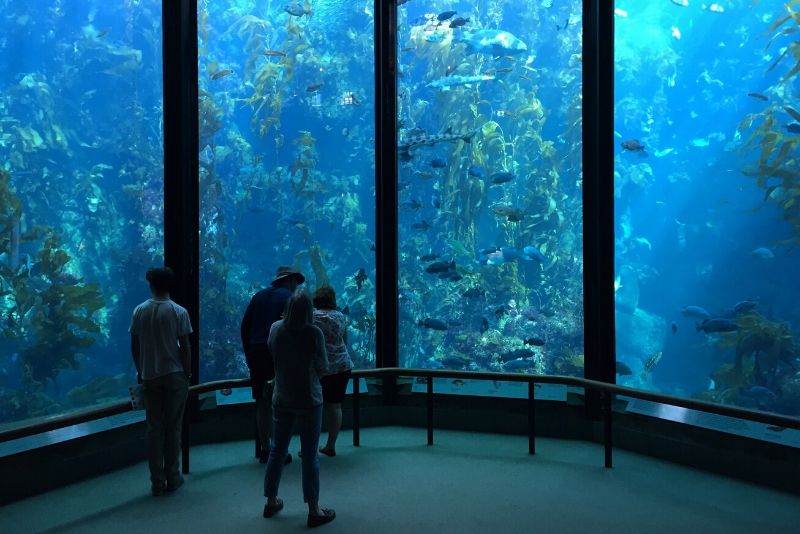 With an intriguing history that dates back to the 1900s, you'll receive an unparalleled underwater experience from a collection of over 550 species. The Monterey Bay Aquarium also holds the reputation as one of the most engaging parks for young children with its soft safe zone, family sleepover adventures, and underwater explorer attractions.
15 – Blue Planet Aquarium, United Kingdom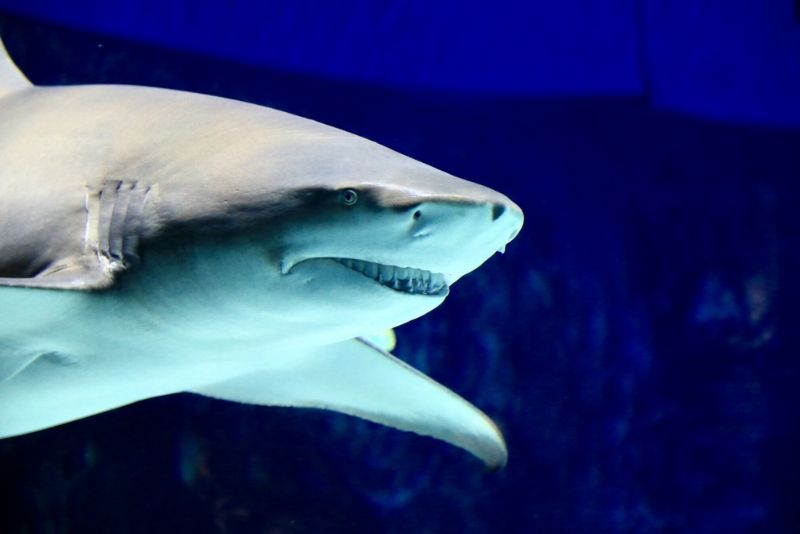 Blue Planet Aquarium is the largest aquarium in North West England and houses enormous tanks, pools, and submerged tunnels that take visitors on an immersive experience in the deep blue sea. Enjoy a variety of exhibitions, talks, and demonstrations or amp up your sense of adventure by swimming face to face with sharks!
16 – Cube Oceanarium, China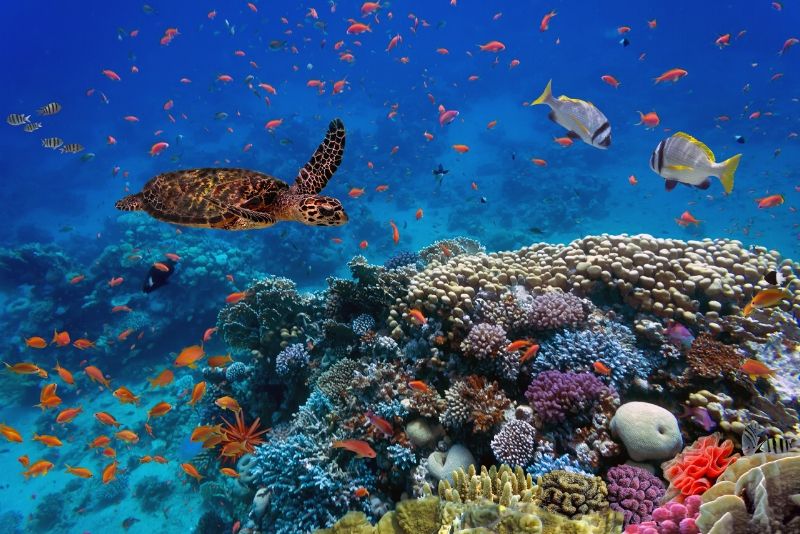 A vast variety of fish, amphibians, and corals of all colors await you at this must-see aquarium in Chengdu. Ramp up your sense of adventure by choosing one of the diving attractions or enjoy a quiet walk with family and friends while observing the vast marine life on display.
17 – The Lost Chambers Aquarium, United Arab Emirates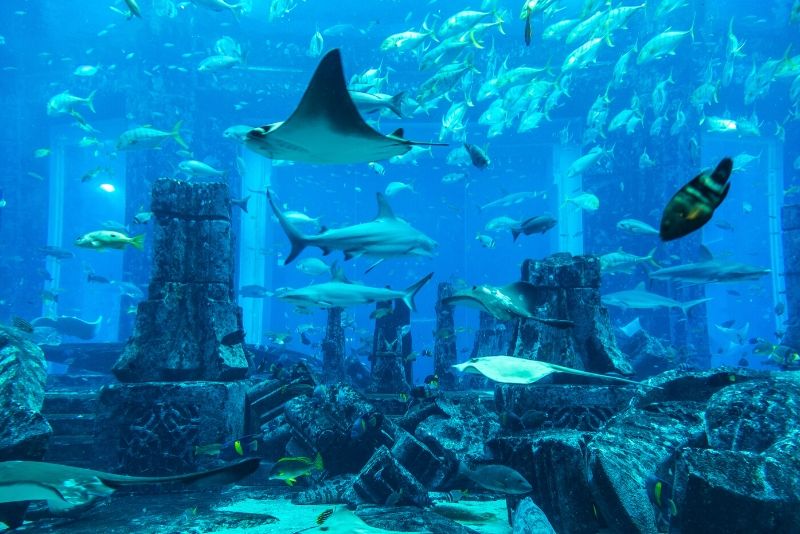 Go on an underwater adventure at the Atlantis-themed Lost Chambers Aquarium and uncover magical mysteries. Learn fascinating information about ocean life as you walk through the labyrinth of underwater halls while observing 65,000 marine animals including sharks, lobsters, jellyfish, seahorses in their natural habitat.
18 – uShaka Marine World, South Africa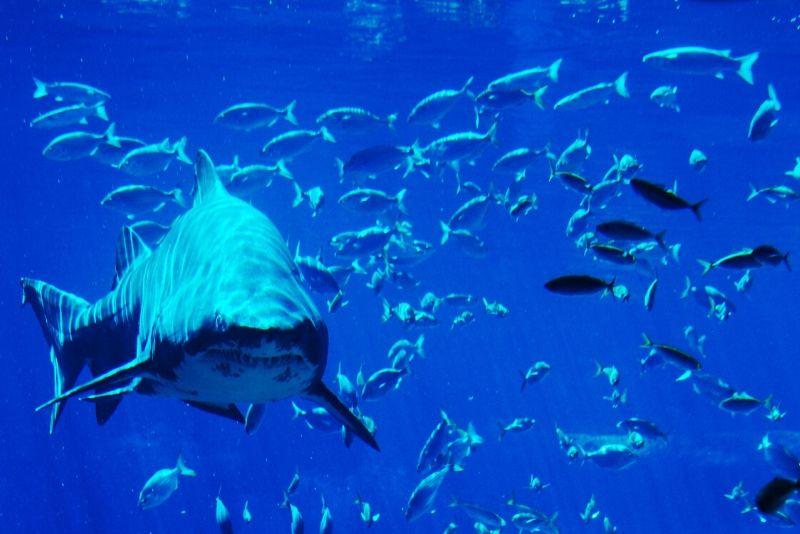 As the fifth-largest aquarium in the world, uShaka Marine World was bestowed the "Outstanding Achievement in thematic creative design" Award in 2005 for its unique design inspired by five shipwrecks. There is no shortage of entertainment at this park which features stunning dolphin and seal stadiums, a dive center, scenic beach, and gigantic water park.
19 – Aquarium of the Pacific, United States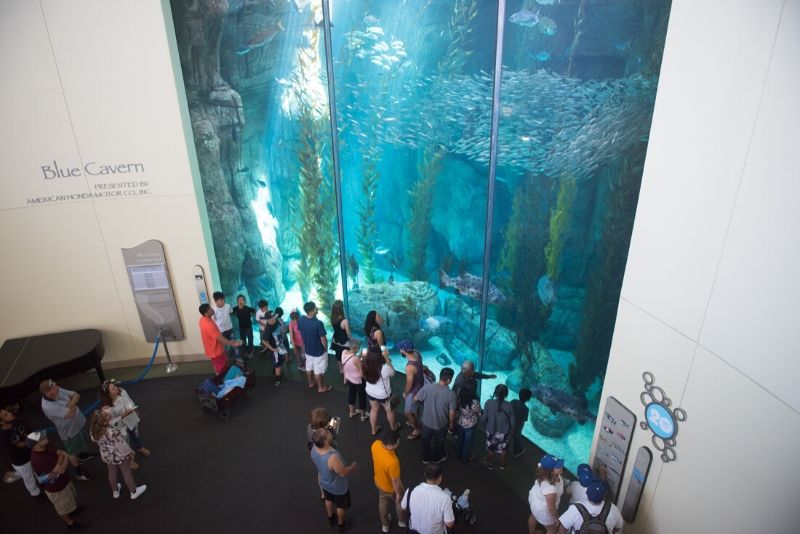 With a collection of over 500 different species housed in three permanent galleries, Aquarium of the Pacific witnesses over 1.5 million visitors a year. Coupled with its creative exhibition of Pacific sea life, it also features messages of conservation for public education.
20 – Vancouver Aquarium, Canada
This facility has 300 species of fish, 30,000 invertebrates, and 56 species of amphibians. Renowned for being a center for marine research, ocean literacy education, conservation, and marine animal rehabilitation, Vancouver Aquarium promises visitors an unmatched educational and adventurous experience.
21 – Shanghai Ocean Aquarium, China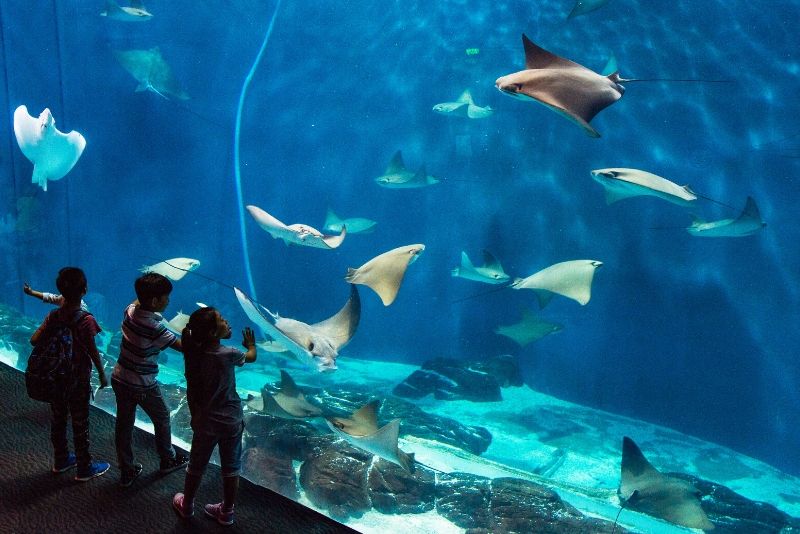 Home to the longest submarine viewing tunnel in the world, the Shanghai Ocean Aquarium takes visitors on a magical underwater experience. Its unique China Zone gives a rare look at some of China's endangered species while other parts of the exhibit bring native species from the five oceans of the world.
22 – Istanbul Aquarium, Turkey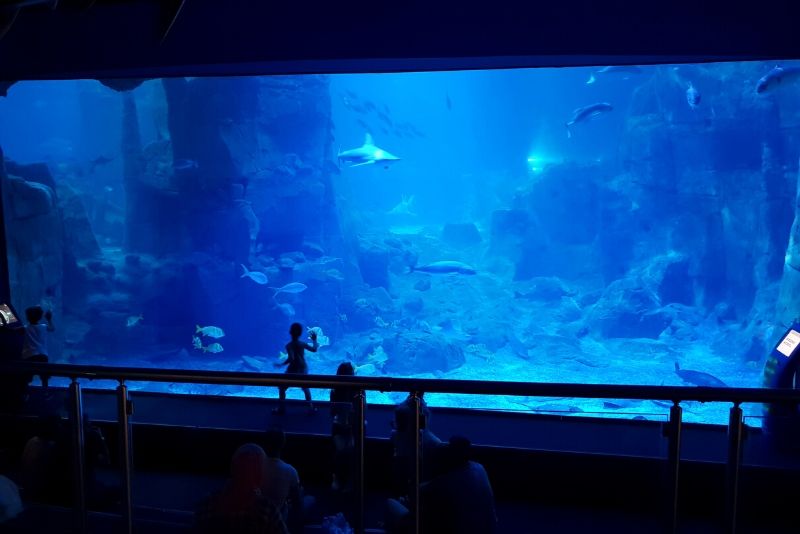 The Istanbul Aquarium holds high ranking on the list of the best aquariums in the world due to its capacity and its variety of over 1,500 land and sea species. Fun activities are in abundance as visitors travel along a route that takes them through 16 enthralling underwater themes, 64 massive tanks, and vast rainforest.
23 – Aquarium Barcelona, Spain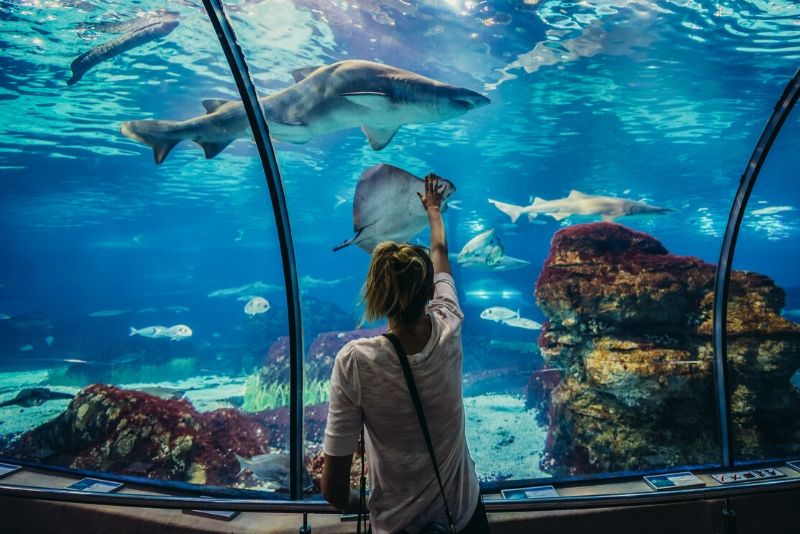 The Barcelona Aquarium is considered to be one of the world's most important leisure and education centers teaching visitors about the Mediterranean. Over 66 Mediterranean and tropical tanks create a realistic habitat for 11,000 animals from 450 species.
24 – Nausicaá, France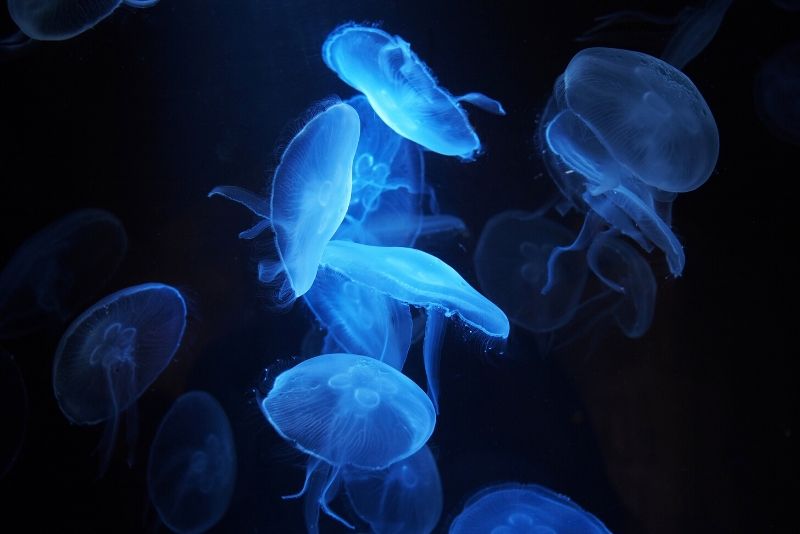 With its mission of bringing the ocean life to society, Nausicaá is one of the best aquariums in the world. Its 18 meter-long submarine tunnel gives you a panoramic and immersive view of the fascinating wildlife, whereas its renowned scientific programs focus on highlighting the relationship between humans and the sea.
25 – Moscow Oceanarium, Russia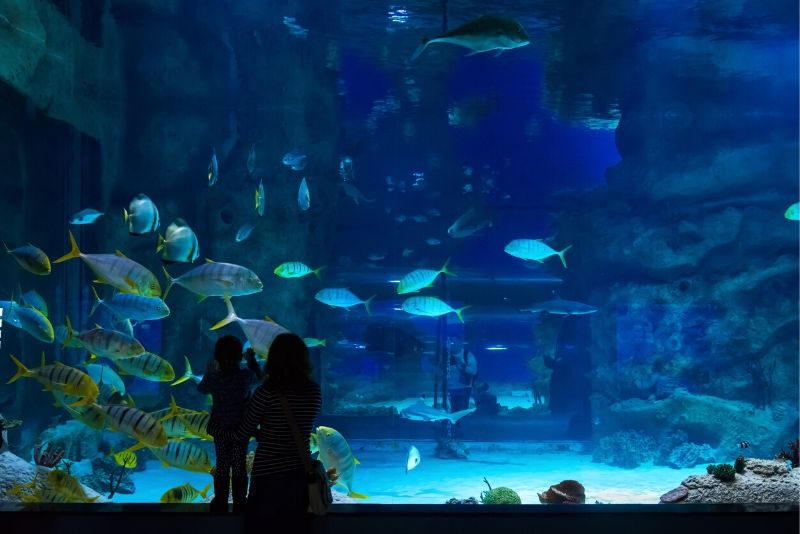 Visit Moscow Oceanarium – Europe's largest aquarium as you get one with more than 12,000 marine and freshwater animals. Get the unique chance to interact with killer whales, beluga whales, and dolphins all while taking in the breathtaking underwater habitats of these and many other inhabitants of the deep seas!
26 – The Deep Aquarium, United Kingdom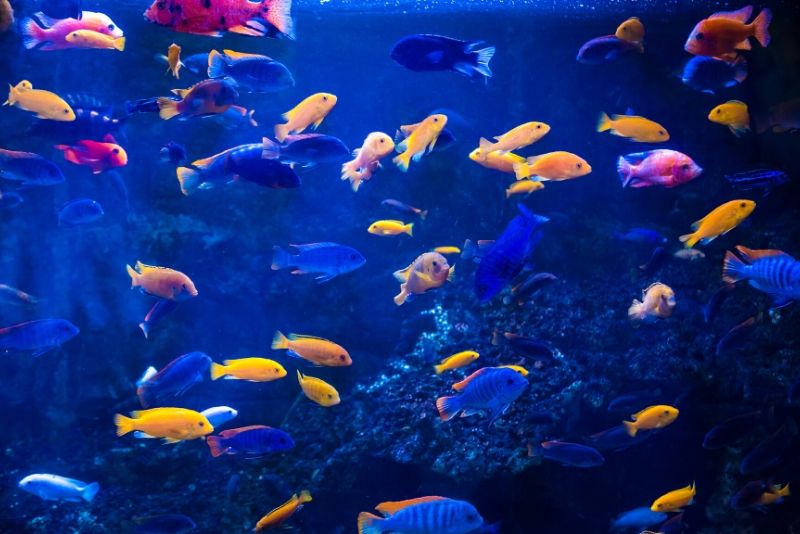 Dive deep into the splendid wonders of the sea at this deep aquarium facility also known as "the world's only submarium". With a collection of over 35,000 fishes, a variety of marine species, and endless activities, The Deep Aquarium has been voted one of the best family places to visit in Hull, UK.
27 – AquaRio, Brazil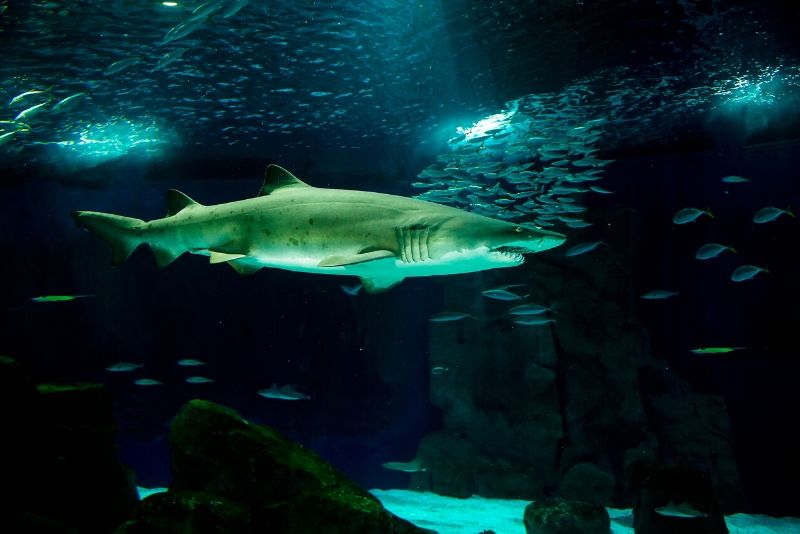 If you're in Rio de Janeiro, Brazil, a visit to the largest aquarium in South America is a must! AquaRio entices marine-life lovers with over 350 species across 28 tanks — to present the underwater wild in all its glory!
28 – SEA LIFE Bangkok Ocean World, Thailand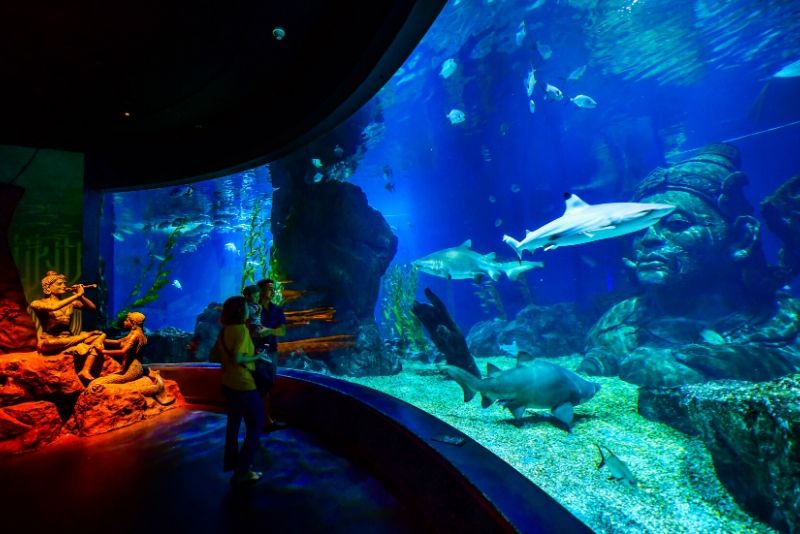 It's Edu-tainment all the way at this fantastic Bangkok attraction which features hundreds of species. Giant Spider Crabs, Giant Pacific Octopuses, Stingray Sharks, and Penguins are just a few of the exciting animals you will encounter at the SEA LIFE Bangkok Ocean Aquarium.
29 – The Blue Planet, Denmark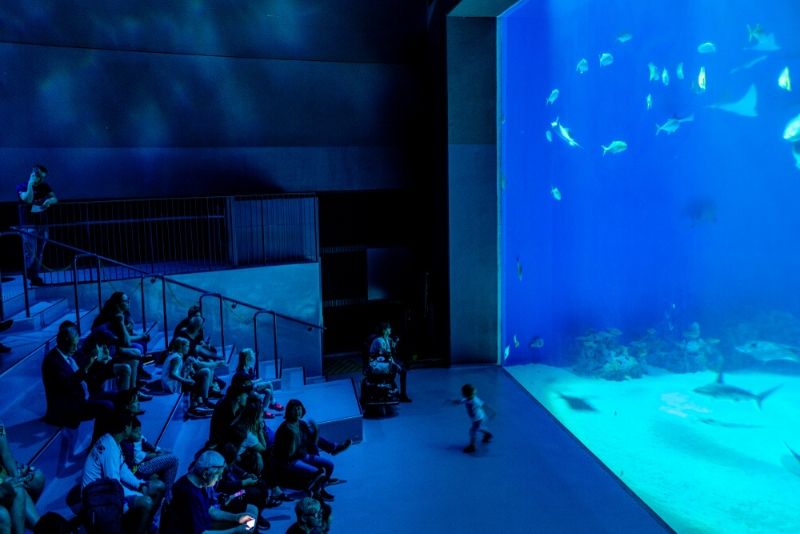 Located near the Copenhagen airport, The Blue Planet Aquarium is popular for catching the eye of incoming tourists for its hypnotizing whirlpool shape! With a whopping 450 species of marine life from among 53 displays, the aquarium welcomes more than 1.5 million people to unveil marine life from up close.
30 – Shedd Aquarium, United States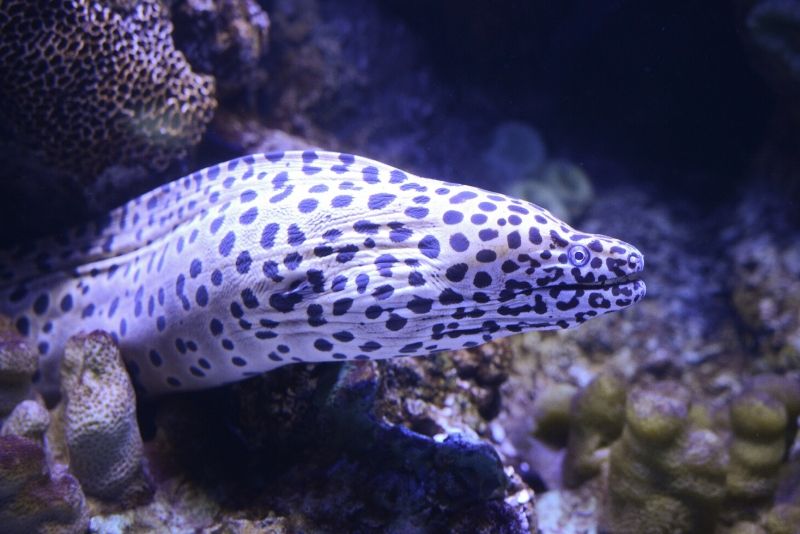 With over 320,000 animals housed in its colossal indoor facility, the Shedd Aquarium has racked up the reputation of being one of the most visited aquariums in the US for several years. In addition to numerous awards for its dynamic display of sea creatures and other accolades, it is also a designated historic US landmark.
31 – SEA LIFE Centre Istanbul Aquarium, Turkey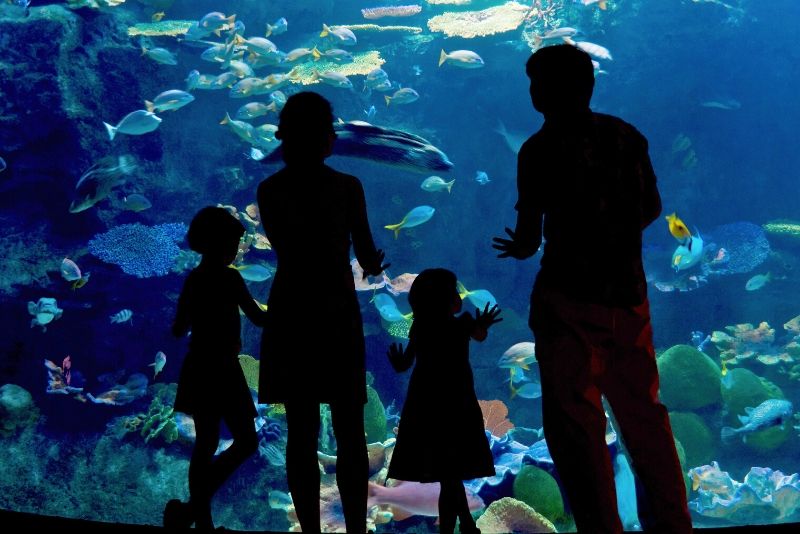 SEA LIFE Center Istanbul Aquarium is one of Istanbul's best tourist attractions to see exciting marine displays & underwater shows performed by professional divers. With its grand overhead display of some of the world's most exotic marine wildlife and its splendid interactive Rock Pool Experience, it's no wonder this aquarium is considered one of the best aquariums in the world.
32 – Yantai Haichang Whale Shark Aquarium, China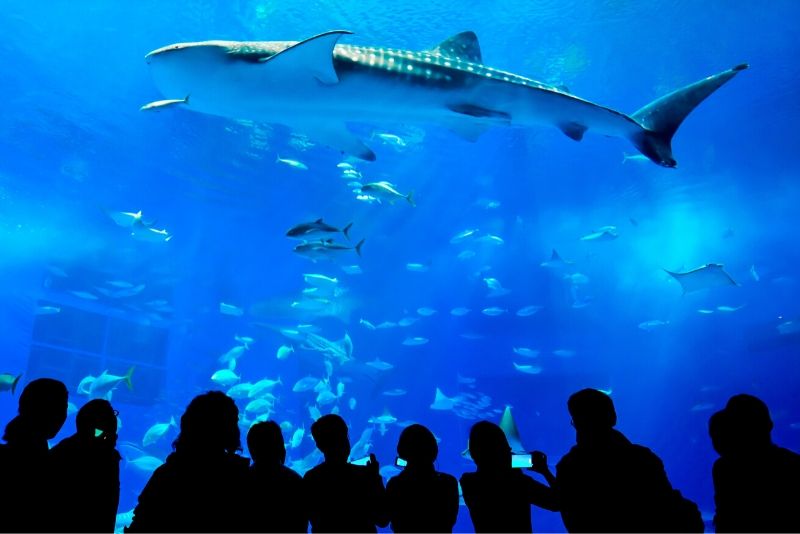 Shark lovers, this is the aquarium for you! As its name suggests, the whale shark and its habitat are on full display as you meet one of the world's oldest and most beautiful sea creatures. Tourists can also interact with other shark species and participate in interactive deep-sea exploration in other sections of this superb facility.
33 – Aquarium of Western Australia, Australia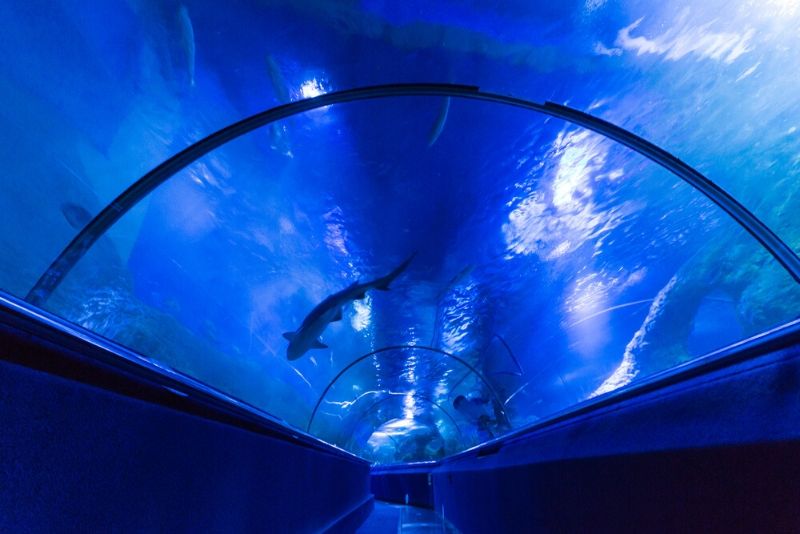 For more than 30 years, the Aquarium of Western Australia has been an iconic attraction in Perth, and is known for housing one of the largest coral reef exhibits in the world. Swim with the fishes by signing up for diving or snorkeling adventures or enjoy the close-up view of ocean life in its 100-meter underwater tunnel.
34 – Texas State Aquarium, United States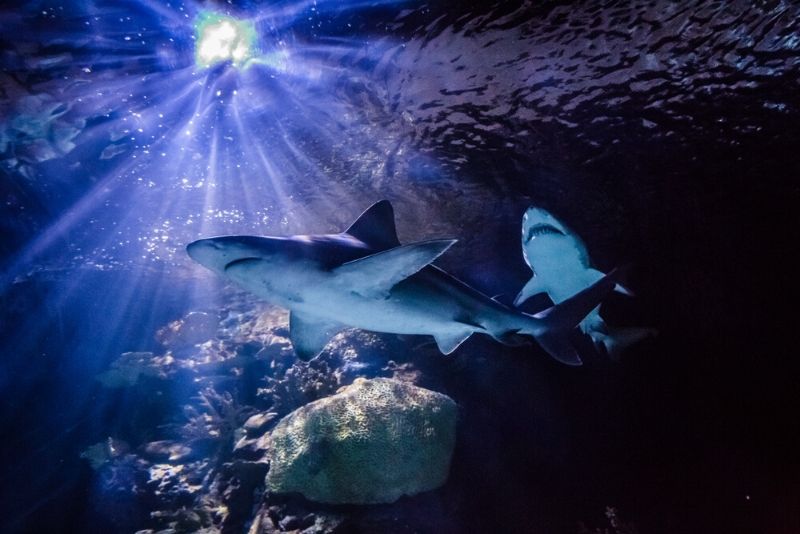 Education is at the heart of Texas State Aquarium's message as it promotes environmental conservation and rehabilitation of the wildlife of the Gulf of Mexico. In addition to its fun and interactive themes and displays, visitors can access a variety of educational tours and experiences that make it a memorable visit for a lifetime.
35 – SEA LIFE Centre Porto, Portugal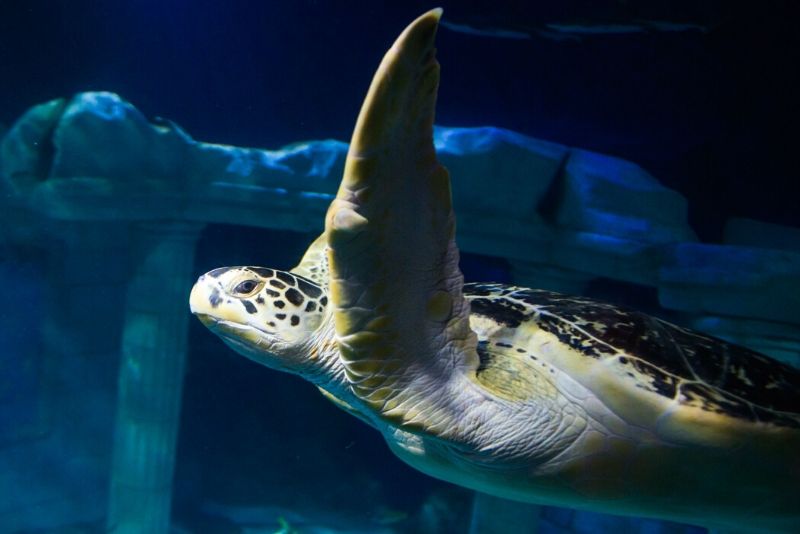 It's a family affair at the vibrant SEA LIFE Centre Porto Aquarium where activities are designed for every member of your household. Visit the Ocean Cave, Turtle Beach, or Turtle Centre to see ocean wildlife in all its splendor or participate in feeding sessions, get your hands wet in the Rock Pool, or just have some fun in the outdoor area filled with games!
36 – The North Sea Oceanarium, Denmark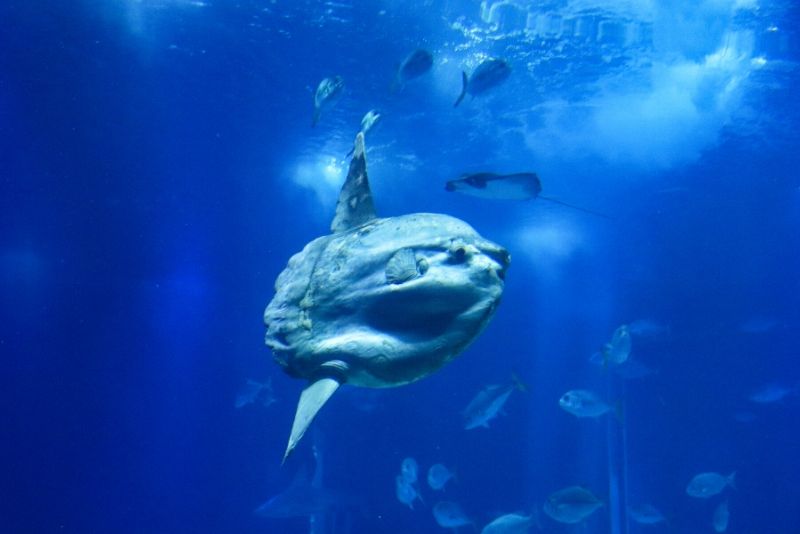 A trip to Denmark would be incomplete without visiting this below-the-surface paradise. Visit the North Sea Oceanarium and learn about the lives and habitats of a wide range of species native to Denmark while also indulging in up-close, fun, and thrilling encounters with seals, fishes, and other marine animals.
37 – Tennessee Aquarium, United States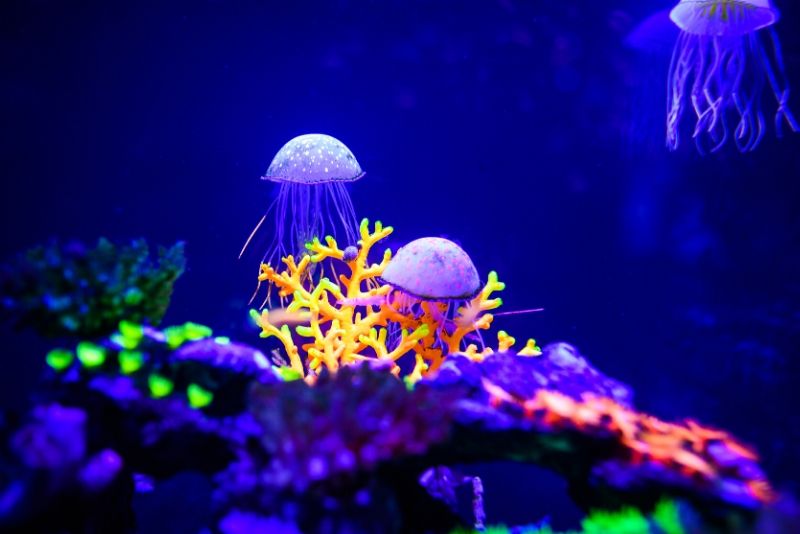 Over 21 million people have visited the Tennessee Aquarium since it opened in 1992 and have become engrossed in the wonder and majesty of its primary message of the protection of water and the life that inhabits it. Visitors can choose to embark on a River or an Ocean journey and learn all about the distinctive underwater wildlife from all parts of the world.
38 – SEA LIFE Centre London Aquarium, United Kingdom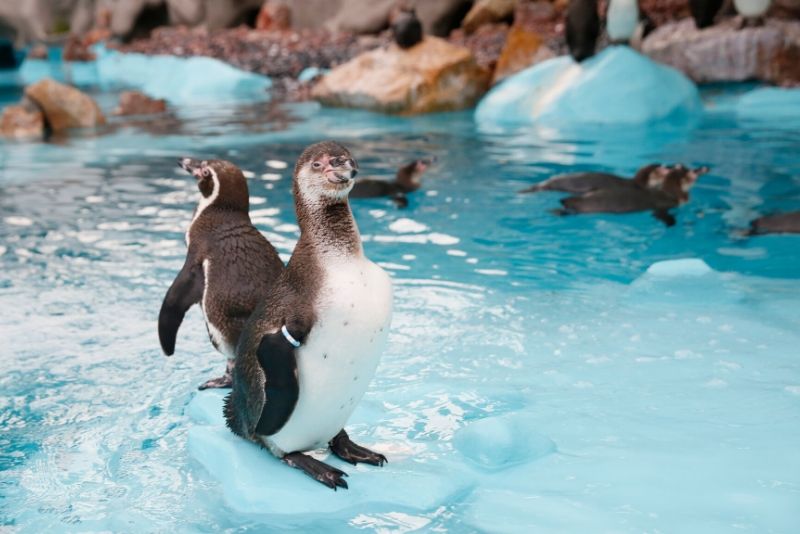 Every year, more than one million visitors flock to the SEA LIFE Centre London Aquarium. Boasting the UK's largest jellyfish experience, you're bound to be thrilled by the up-close interactions with these spectacular sea creatures. What's more; shake fins with baby Gentoo penguins or take a walk in its rich rainforest exhibit- entertainment abounds!
39 – Tropicarium, Hungary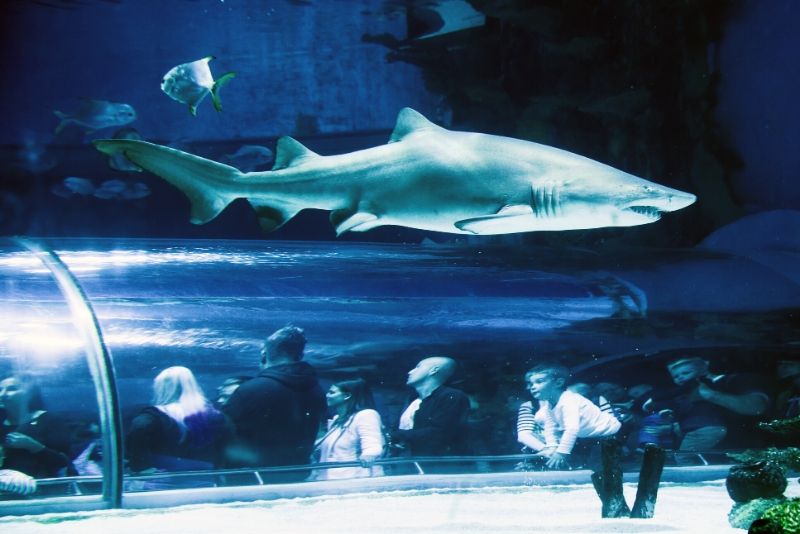 Sharks, sharks, and more sharks— from the large sand tiger to the intrusive grey reef, the oceanic black tip to the lazy nurse sharks, it is the wide variety of this marvelous creature that makes Tropicarium one of the best aquariums in the world! Other than its massive shark display, the facility also brings you up an close with many more marine animals that swim majestically overhead.
40 – SEA LIFE Sydney Aquarium, Australia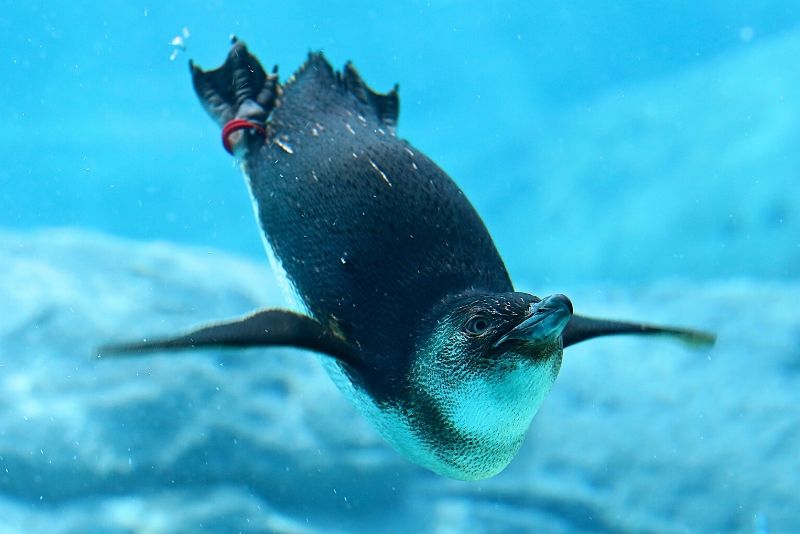 Embark on a colorful journey of the world-famous Great Barrier Reef at one of Sydney's most visited tourist attractions – the SEA LIFE Sydney Aquarium. Learn about Australian aquatic life by observing the life and habitats of over 700 species scattered across 14 themed zones.
41 – Aquarium de La Rochelle, France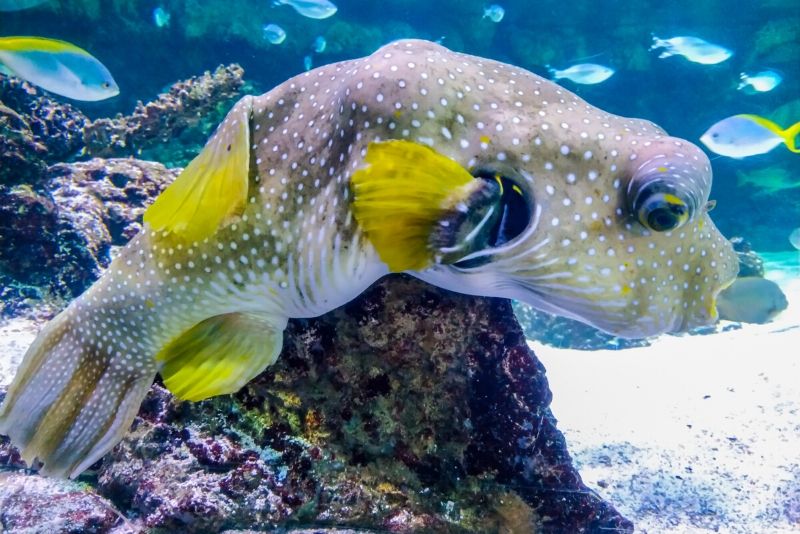 With more than 73 displays and 12,000 animals, Aquarium de La Rochelle sees almost 800,000 visitors per year. Visitors get the full works of sea-based entertainment, education, and thrills while experiencing the best of marine life that the world has to offer.
42 – Atlantic Sea Park, Norway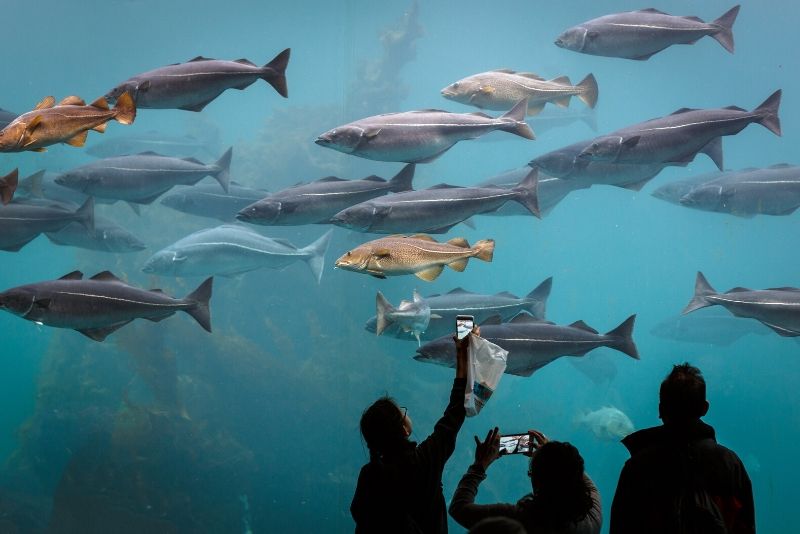 As one of the leading tourist attractions and the largest saltwater aquariums in Scandinavia, Atlantic Sea Park has earned its place as one of the best aquariums in the world. It has 11 large landscape aquariums including two open touch and two activity pools and they all combine to give its visitors a full-fledged aquatic experience of underwater life along the Norwegian coast and in the northern Atlantic Ocean.
43 – The Seas with Nemo & Friends, United States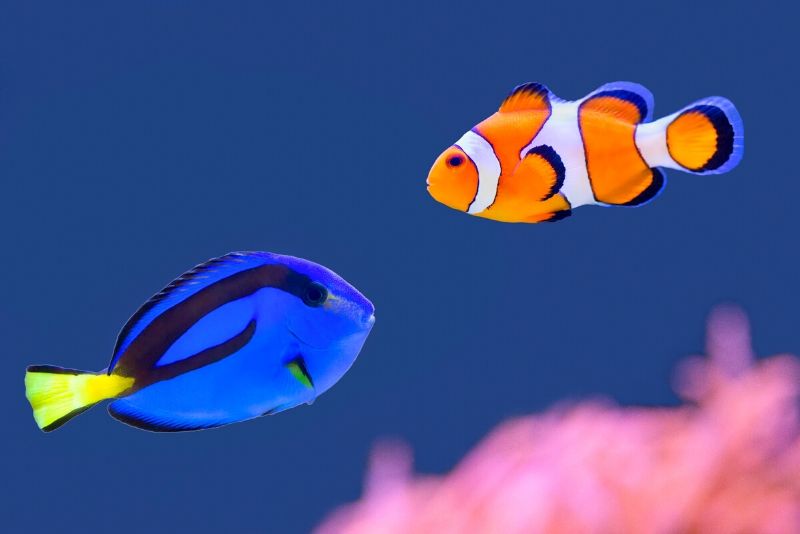 Fans of Finding Nemo come here to experience the full underwater adventure while interacting with clownfish, sharks, and many more animals at this activity-packed aquarium. The Seas with Nemo & Friends is a fin-tastic experience, as they say, and is perfect for the whole family!
44 – Maui Ocean Center, United States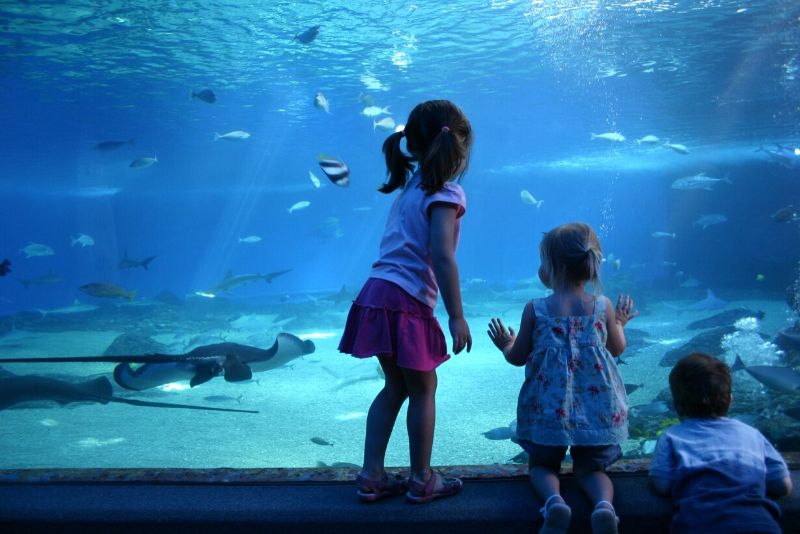 Featuring coral reef habitats, sea turtles, sharks, and humpback whales, Maui Ocean Center is the largest tropical reef aquarium in the Western Hemisphere and the largest public aquarium on Maui. It's most exciting feature is its Humpbacks of Hawaii Exhibit & 3D Sphere which is the world's first virtual encounter of its kind.
45 – SEA LIFE Melbourne Aquarium, Australia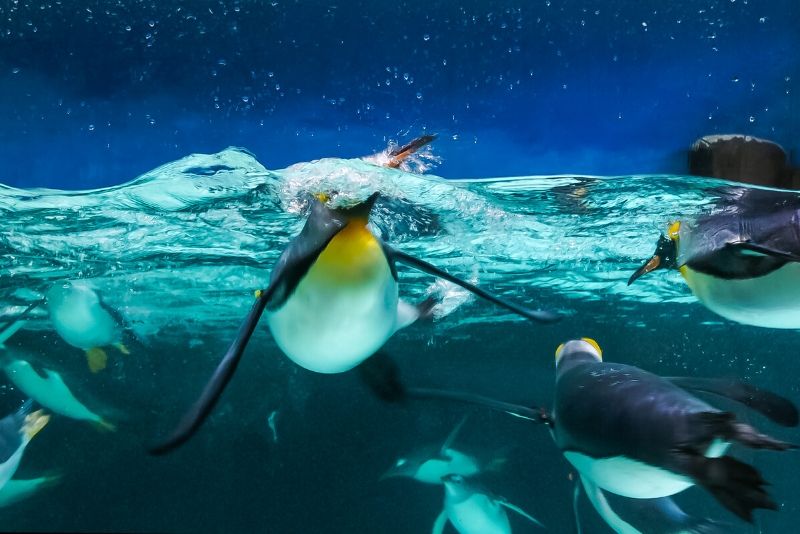 You're in for one of Melbourne's most unique experiences if you choose to visit the SEA LIFE Melbourne Aquarium with its four levels of endless aquatic attractions. Visitors traverse along a one-way self-guided tour while being treated to a range of attractions including a Crocodile Lair, Penguin playground, Coral Caves and Ocean Discovery display.
46 – Antalya Aquarium, Turkey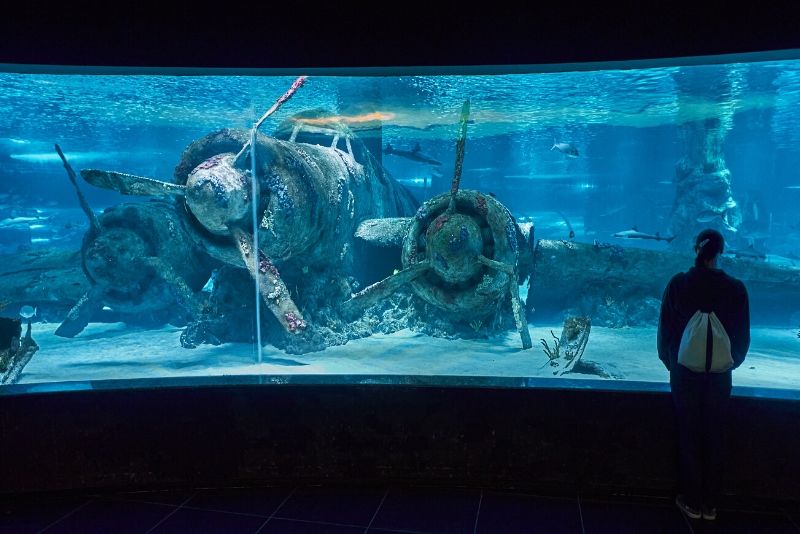 Combine entertainment, education, and leisure by visiting the Antalya Aquarium – a fantastic aquatic attraction that boasts the world's biggest tunnel aquarium. Have a memorable snowball fight in the Snow World and Ice Museum, dwell among the exotic reptiles or sail the seas of the world in its Oceanside XD Cinema; there is no shortage of marvelous attractions here.
47 – National Aquarium, United States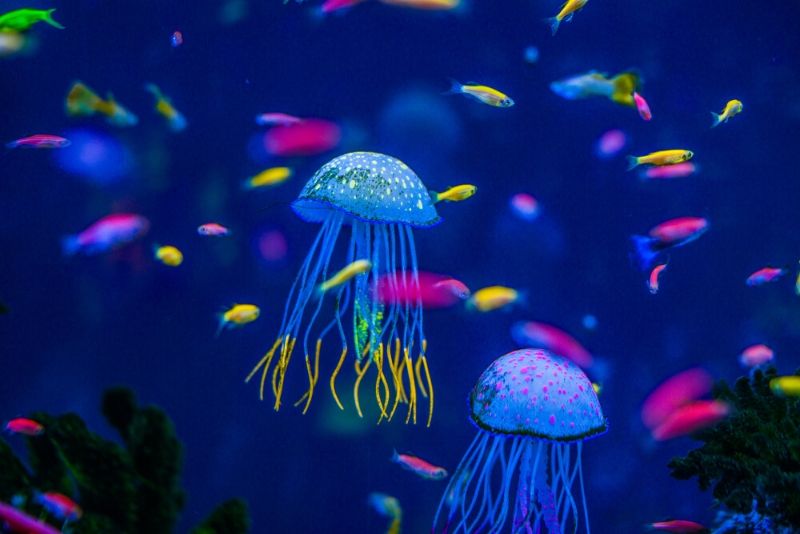 Dolphins, sharks, alligators, and much more await you at the National Aquarium that champions conservation of the world's aquatic life. Through educational and interactive activities, visitors observe and learn about more than 20,000 animals from around the world!
48 – SEA LIFE Busan Aquarium, South Korea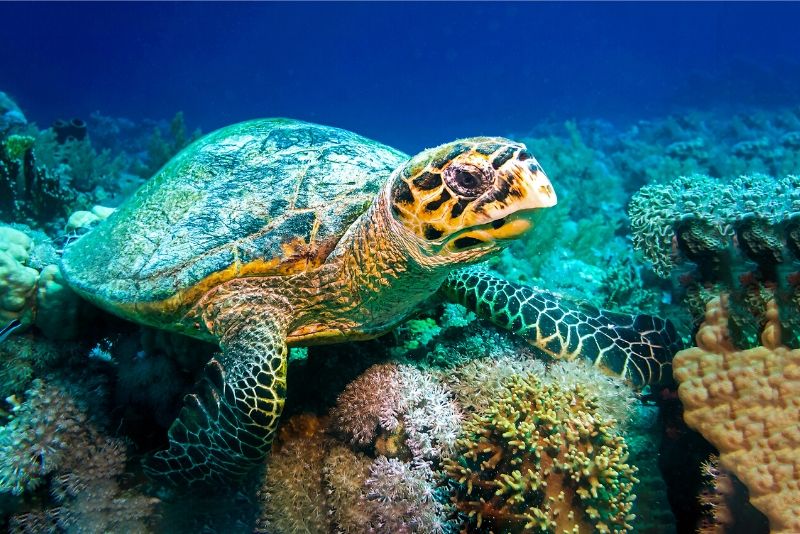 Explore the SEA LIFE Busan Aquarium and learn about the captivating world under the sea by visiting this marvelous aquarium committed to the preservation of marine life. You even get a chance to have face to face interactions with sharks, sea turtles, sea horses, and many more!
49 – National Marine Aquarium, United Kingdom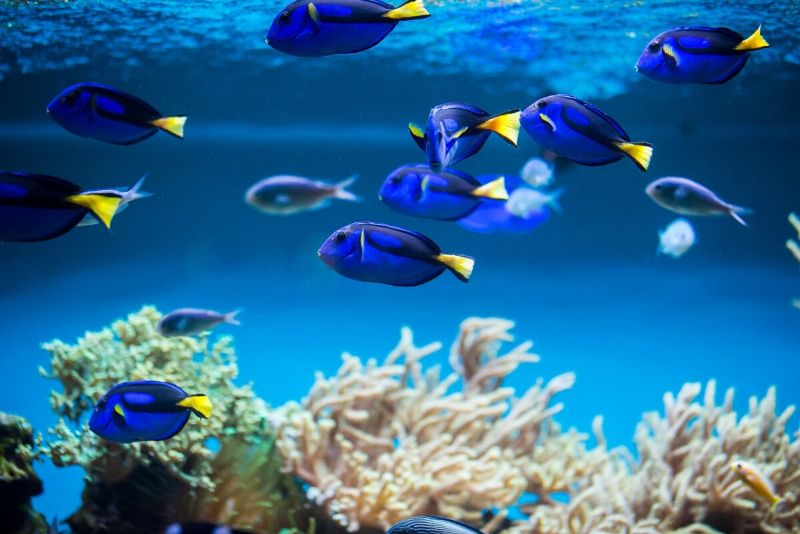 A visit to the largest aquarium in the United Kingdom is bound to be on your to-do list! Divided into four major sections, the National Marine Aquarium showcases underwater life from the five oceans of the world while also giving a glimpse of the work and research being put into conservation efforts by aquarium staff.
50 – National Geographic Encounter, United States
Experience your very own National Geographic adventure at this one-of-a-kind aquarium. Located in the heart of Times Square, National Geographic Encounter features immersive technology to bring you up, close and personal with life-sized sea creatures.
We hope you enjoyed our selection of the best aquariums in the world. Don't hesitate to tell us what are your favorite ones in the comments below.