Antalya Aquarium is one of the largest marine complexes in Europe, with 40 themed tanks showcasing species from around the world. See sharks being fed in the giant tunnel aquarium and meet poisonous critters in the tropical reptile house.
When you've had your fill of fish, head to the wax museum or snow center to finish the day on a high. Here's all you need to know about buying your Antalya Aquarium tickets.
How much do Antalya Aquarium tickets cost?
There are several different Antalya Aquarium rate options available, depending on the type of package you prefer. With a wide range of other onsite attractions, you can easily fill a day with fun activities without breaking the bank.
All tickets include a visit to the aquarium.
Standard aquarium entry
This Antalya Aquarium tickets price includes entry to the 40 main aquariums as well as the giant tunnel.
Adult: $33
Child (3 – 12 years): $24.75
Aquarium plus Snow World Ice Museum tickets
These tickets for Antalya Aquarium give you access to Snow World with its winter activities and ice museum.
Adults: $48
Child (3 – 12 years): $36.52
Aquarium and Wild Park tickets
To include a visit to the tropical reptile house at Antalya Aquarium, ticket prices are as follows.
Adult: $45
Child: (3 – 12 years): $32.44
Aquarium with Face2Face Wax Museum tickets
These Antalya Aquarium tickets also provide entry to the onsite wax museum.
Adult: $48
Child (3 – 12 years): $36
On purchasing your Antalya Aquarium tickets, a bar code will be sent to your phone which needs to be scanned on arrival.
Are there any combined tickets or tours including Antalya Aquarium and other attractions?
Buying combination Antalya Aquarium tickets is a great way to save time and money during your vacation. You can experience several attractions in a single day at a discounted rate.
Antalya Aquarium entry and Face2Face Wax Museum visit: Meet the creatures of the deep then take selfies with the stars at Turkey's best wax museum.
Antalya Aquarium tickets with Snow World, Wild Park, and Oceanride Cinema: combine sea life, winter activities, tropical reptiles, and multi-dimensional movies in one epic package.
Should you book Antalya Aquarium tickets in advance?
It's always a good idea to book your Antalya Aquarium tickets ahead of your visit, as the attraction is very popular, and places can sell out. Some tickets include skip the line entry, so you don't have to queue.
Booking ahead also means you can compare online prices for the best deals on your chosen dates.
What will you see inside the Antalya Aquarium?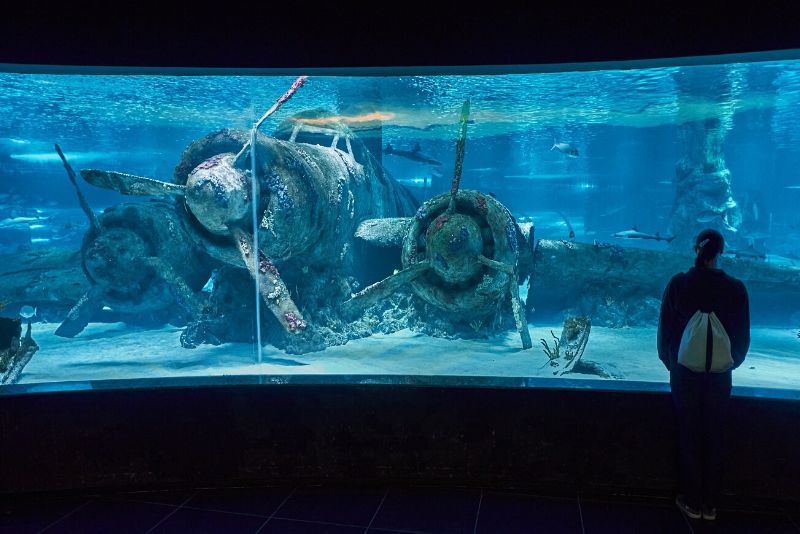 As well as the aquarium, you can enjoy other fun onsite attractions with a combination ticket.
Thematic aquariums
Your Antalya Aquarium entrance fee gives you access to the 40 tanks which are home to hundreds of exotic marine species. Be transported into the magical underwater world, where stingrays and reef fish roam.
Tunnel aquarium
Spanning 100 feet, this is the world's longest tunnel aquarium where you can watch sharks and koi carp being fed. Entry to the tunnel is included in all Antalya Aquarium tickets.
Wild Park
Come face to face with poisonous snakes, giant spiders, and lazy chameleons in the tropical reptile house at Antalya Aquarium. You will learn about their unique habitats and see mysterious species that few people have ever encountered in the wild.
Snow Center
The indoor snow center at Antalya Aquarium has an ice sculpture museum and winter activities like sledding and tubing. Check out the igloos then sit by the fire as you enjoy a cozy restaurant lunch.
Face2Face Wax Museum
Similar to Madame Tussauds in Las Vegas and London, this unusual wax museum features celebrities past and present. You can take selfies with your heroes as you wander around this life-like community of stars.
Where is the Antalya Aquarium located?
You will find Antalya Aquarium just off the Dumlupinar Bulvari state road in the heart of the city, 230 feet from the eastern side of Konyaalti Beach.
If you are traveling by bus, both the TK36 and the VF02 routes depart from the central station and stop near the aquarium. There is parking onsite if you have a rental car.
When is the best time to visit the Antalya Aquarium?
Try and time your Antalya Aquarium visit first thing in the morning, or during the early evening when it is less busy. Weekends can get crowded, so weekdays are a better option.
The aquarium is open from 9.30 AM during summer and 10 AM in winter. Aim to arrive when the doors open so you can make the most of your day.
Travel tips
Compare prices for your Antalya Aquarium ticket online so you can search for the cheapest deals. Booking ahead ensures you a choice of dates and times too.
There are several restaurants and cafes onsite so you can buy lunch when you are there.
The last entry to Antalya Aquarium is one hour before closing time, which is 11 PM in summer, and 8 PM during winter.
Shark feeding in the tunnel aquarium is at noon so try and include this in your schedule.