Vienna is one of the only metropolises in the world that produces wine within its city limits— making it a top destination for wine enthusiasts from around the globe. The city is known for its beautiful vineyards and its selection of locally-made red, white and sparkling wines.
Join a wine tour in Vienna with a professional tour guide and taste some of the region's most delicious wines. You'll also learn about one of the city's oldest traditions— winemaking.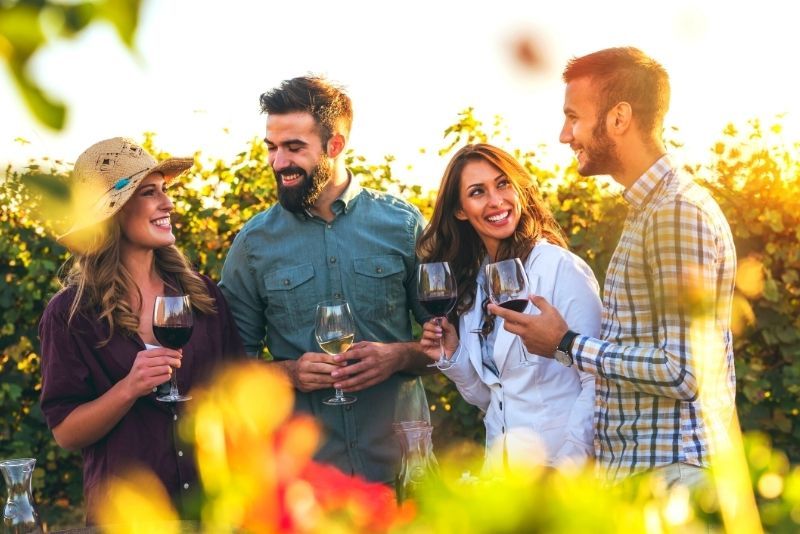 Here's all you need to know about wine tastings, one of the most delicious options for culinary experiences in Vienna.
What are the best wine tours in Vienna?
Wachau Valley wine-tasting bike tour
What better way to visit the local vineyards and wineries than by a state-of-the-art bicycle tour? You'll meet your guide at the Vienna Explorer tour office and from there you will take the train to Wachau Valley — an area known for its small villages, lush scenery and sprawling vineyards.
You'll start at Krems an der Donau, a village known for its long, rich history in winemaking. From here you'll cycle through the idyllic Austrian countryside, stopping at various wineries along the way to enjoy wine tastings.
Some of the other places that you'll visit before taking the train back to Vienna include the Danube River, Durnstein Abbey and Weissenkirchen.
Small group Wachau Valley tour and wine tasting
Travel to Wachau Valley by coach in this small group tour that provides the opportunity to get a true taste of the Austrian countryside. Your first stop is the medieval town of Durnstein, where you'll visit a local wine tavern and roam the town's charming streets.
From Durnstein, you'll head deeper into the valley, and if you book a tour between May and September you'll enjoy a cruise on the Danube River.
The best part of the tour is the wine sampling that you'll partake in at a small, local winery, where you'll also be offered local specialties before you head back to Vienna.
Local Wine Tasting in a Roman Wine Cellar in Vienna
Taste 3 classic Viennese wines in a comfortable atmosphere as you learn about local wine culture from an Austrian expert. All this takes place in a hidden, historic Roman wine cellar in the city's center.
This wine cellar is not open to the public so you'll enjoy a private wine tasting with just you and your tour group. The wine cellar's history goes back as far as 2000 years ago when the Romans occupied the city.
You'll also get to taste some local delicacies that have been expertly paired with various wines.
Which places are visited?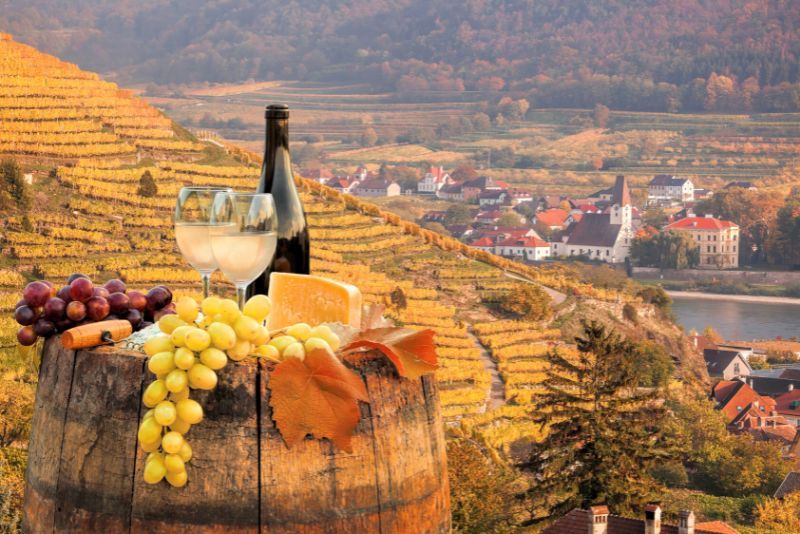 As Vienna has such a rich and diverse history when it comes to wine and winemaking, wine tours in the city tend to focus on different aspects of the industry— with each tour having a vastly different itinerary from the next.
That being said, on almost any wine tour you're likely to visit a combination of wine cellars, wineries and vineyards. Some of these establishments are within the city limits, but many vineyards and wineries are located just outside of the city, in the Wachau Valley.
Many wine tours in Vienna make stops at additional locations that may not have much to do with wine, but that will give you insight into Austrian history and culture.
Vienna is known for having some of the very best wineries in the world, and visiting these establishments makes for a truly unforgettable experience.
How much does it cost?
Wine tours in Vienna can cost anywhere between €20 and €200 per person. It all depends on the tour that you decide to take, and luckily there is something to suit every budget.
Private tours often cost more than group tours and another factor that can increase the cost of the tour is the length, as well as the itinerary.
For example, bike tours and coach tours to the Wachau Valley cost roughly US$150 per person. This is because they are full-day tours with long itineraries. In contrast, the Roman wine cellar experience costs just €30 per person, as this is a 40-minute tour.
What is included?
Professional guide
Wine tastings
Snacks
Any additional equipment needed, such as helmets for the bike tour
Transport to various destinations visited throughout the tour.
Where does it start?
While some tour operators will offer a hotel pickup service from your accommodation in Vienna, many wine tours begin from central locations, such as tour offices, city squares, etc.
How long does it last?
There is no typical duration of a wine tour in Vienna as tour lengths vary greatly. If you are looking for something short and affordable, many tours last between 40 minutes and 2 hours.
On the other hand, if you are interested in a full-day experience, there are many wine tours that last as long as 10 hours.
When is the best time for a wine tour in Vienna?
As most people don't enjoy drinking wine too early in the morning, the most popular wine tours in Vienna are the tours that begin in the afternoon or evening.
Vineyards can be visited throughout the year but the best season for visiting Vienna's vineyards is between September and November when harvesting season occurs.
Book a wine tour at the beginning of your stay in the city so that you can gain an understanding of the region's wines. This may help you know what to order when eating out during the rest of your trip.
Are there any combo tours available?
Horse-drawn carriage ride with food and sparkling wine tour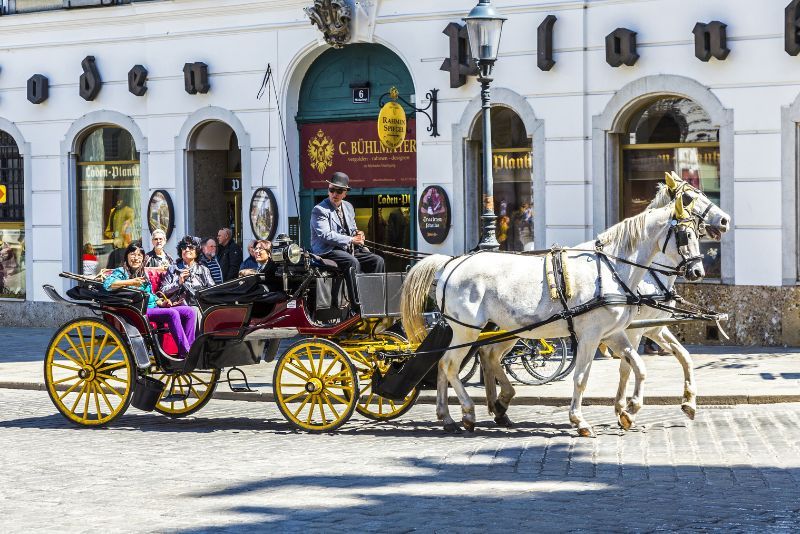 Ride through the streets of Vienna's city center in a private horse-drawn carriage as you're given the opportunity to sample local Viennese delicacies and sparkling wine along the way.
Private kayaking and wine tour
Enjoy the incredible views of the Wachau Valley from your kayak as you paddle to various wine-tasting destinations along the Danube River's edge.
Travel tips
Book your wine tour ahead of time to guarantee your spot on the tour and avoid disappointment.
Bring along some extra spending money for buying bottles of wine and other gifts and souvenirs.
Feel free to tip any waiters or bartenders that serve you wine during your wine tour.
Wear comfortable clothing if your tour includes biking or walking.