Theme parks in Tenerife are a fun way to let your hair down and have a blast with the family. Once you've ticked off the island sights and had your fill of the beach, why not up the thrills at one of these attraction parks?
There's everything from treetop ziplines and suspension bridges to water flumes and wildlife encounters to enjoy. Whether you want an action-packed adventure or a relaxing day in the sun, there's a Tenerife theme park here for everyone.
Siam Park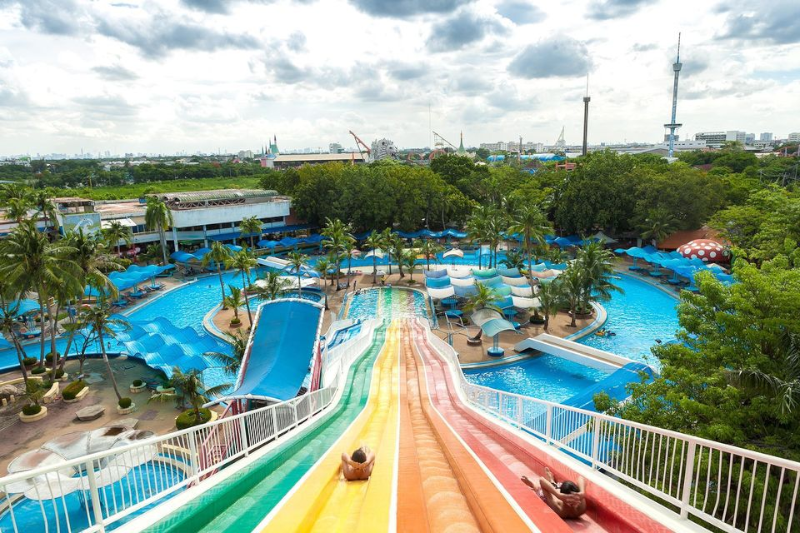 Siam Park is one of the most popular waterparks in Tenerife. Conveniently located near the southern beach resorts in Costa Adeje, Siam Park is a must for families looking for some serious fun in the water. You can drive or take the special park shuttle bus for seamless round-trip transfers.
The park is Thai-themed, with many of the attractions giving a delightful nod to the exotic Land of Smiles. As you explore the different sections, you could be forgiven for thinking you were in southeast Asia. Everything from the architecture to the ride names has a Siamese twist.
There are rides here for all ages and bravery thresholds. Budding surfers can take on the world's biggest artificial waves in the specially designed pool, while thrill-seekers will enjoy hurtling down the Tower of Power. You'll reach speeds of up to 80 kilometers an hour on the latter!
Fancy a taste of zero gravity? Then head to the Dragon and drop down the vertical tunnel on a float with your friends. Meanwhile, the Patong Rapids take you through twists and turns with bonus views of Tenerife's beautiful coastline.
Kids will love exploring the towers and bridges in the Lost City, while Siam Beach offers enough golden sand to keep everyone happy. Treat yourself to a slice of serenity with a relaxing float along the Mai Thai River. It'll be the perfect end to a perfect day.
Loro Park
For a change of scenery, let wildlife take center stage as you enjoy a visit to Loro Park. You'll have close encounters with everything from meerkats and alligators to lions and sloths as you explore the enclosures.
This is one of the most engaging Tenerife wildlife parks, with plenty of shows and exhibitions to wow even the most jaded travelers.
There are several different sections to check out inside Loro Park. Begin your adventure in AquaViva, where a host of ghostly jellyfish put on a mesmerizing underwater display. Keep an eye out for the stealthy blacktip reef sharks and shoals of tropical fish that glide by just a few feet away.
Children and adults alike will be eager to take their seats at the animal shows that are put on throughout the day. These are included in your Loro Park tickets so you won't have to pay extra. The main shows feature sea lions, dolphins, parrots and even orcas – prepare to get splashed if you sit at the front!
For something a bit different, pop over to the Zen Garden and get a glimpse of another world. This unique underwater garden is modeled on the mighty mountains in Asia and feels a lot like the lost city of Atlantis. It's a peaceful place, with lots of colorful fish darting around the display.
Jungle Park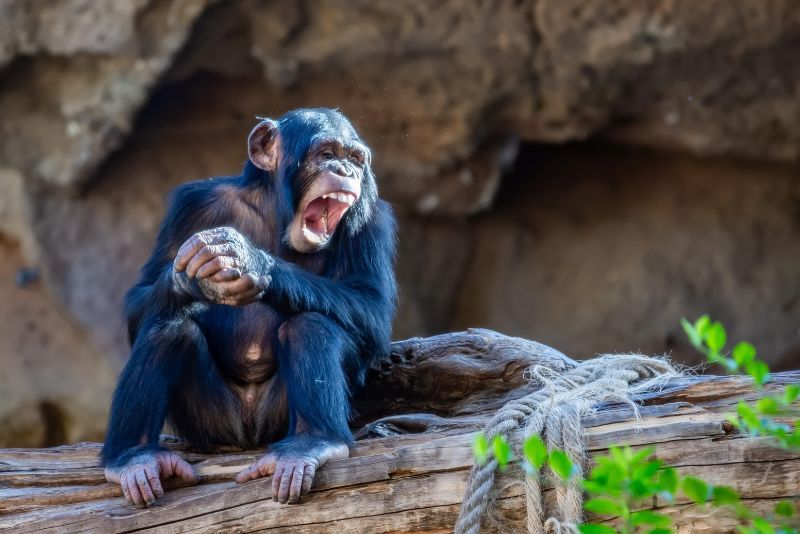 Jungle Park is another zoological offering, and you'll find it down near Los Cristianos Beach in southern Tenerife. More than 500 animals are waiting to greet you, spread out in enclosures across 7.5 hectares of jungle. Just follow the walking trails and see what you can find.
This is one of the wildest theme parks in Tenerife, with the residents hailing from all corners of the globe. Will your favorites be the cheeky gibbons or the secretive armadillos? Feeding sessions are available for those who want to get hands-on, and you can have your photo taken with an eagle if you dare.
As well as seeing the animals, you'll enjoy plenty of adventures as you make your way around the park. Slide through the jungle on the bobsled track, which takes you on an 800-meter journey surrounded by nature. For a bird's-eye view, make your way along the rope bridges at Jungle Raid, before tackling the spooky dark tunnels.
Don't forget to visit the bat cave, where you can learn about the behavior and habitat of these strange flying creatures. You might even see some of them snoozing in the midday heat. Finish your day at the exotic cactarium, which is dedicated to these prickly desert plants.
Aqualand Costa Adeje
Aqualand Costa Adeje is another contender for being one of the best waterparks in Tenerife. Spend the day sliding down flumes, relaxing on the lazy river or jumping for joy in the wave pool. This is a great family day out, and it's close to the main resort areas in the south of the island.
Feel the thrills as you race your travel companions down the multi-lane slide. Then take on the mighty Twister for the ultimate flume experience. Meanwhile, Gravity will have you screaming in delight as you plunge at a hair-raising pace.
Get your breath back with something a little more serene in the thematic spa. Here, you can luxuriate under the hydromassage showers and then soak up the sun on the perfectly positioned loungers. Relaxation doesn't get better than this!
For younger visitors, there are several family-friendly areas to explore. Swashbuckling exploits are on the cards at Pirate Port, while Adventure Island is all about slides, float races and rubber rings. There's also a kids' pool with mini slides that are perfect for little swimmers.
Combination tickets for Jungle Park and Aqualand Costa Adeje are often available. This is a popular option as these two Tenerife attraction parks aren't far apart.
Forestal Park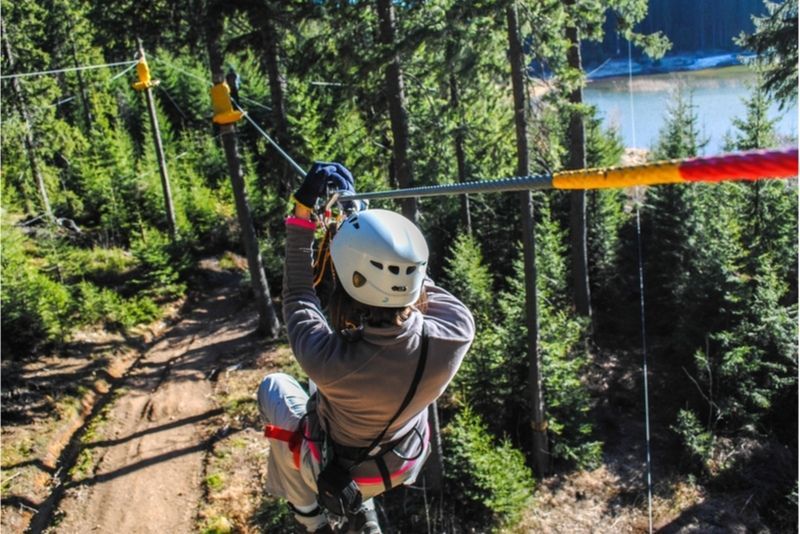 If you fancy being a modern-day Tarzan, Forestal Park tickets are the way to go. This is one of the most active theme parks in Tenerife, with multiple treetop obstacle courses to tackle. Located in the north of Teide National Park, this family-friendly attraction is hidden away in a fragrant pine forest.
There are a couple of different circuits to choose from – an easier Family Course and an adrenaline-pumping Sport Course. Each has several sections of increasing difficulty, so you'll need to keep your wits about you!
It takes between 2 and 3 hours to traverse the routes, which makes Forestal Park the perfect half-day excursion.
After your safety briefing and a short practice session, it's time to take to the trees for real. Hold your nerve as you wobble across suspension bridges, jump into hanging nets and shimmy up the climbing walls. No experience is needed, just a head for heights.
The stars of the show are the giant ziplines, including one that's over 200 meters in length. It's the longest in the Canary Islands! Don't miss the Tarzan swing if you're attempting the Sport Circuit – it's a leap of faith that you won't regret.
Of all the theme parks in Tenerife, this one takes the meaning of adventure to the next level. Suitable for anyone aged 5 years and over, it's a great day out for all intrepid family members.