Tenerife in Spain's Canary Islands is where nature and adventure combine. This spectacular island, with its mountainous landscapes and sapphire waters, provides the ideal destination for lovers of sports and the outdoors.
From hiking volcanic trails to surfing Atlantic waves, Tenerife offers an unparalleled blend of adrenaline-charged exploits and tranquil pursuits. Read on to find out about the exciting outdoor and sports activities available in Tenerife.
Boat Tours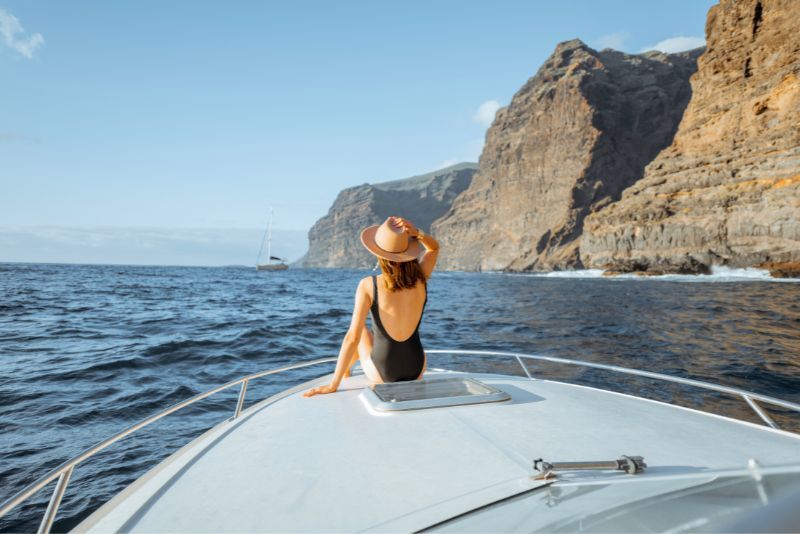 Immerse yourself in the Canary Islands nautical wonders on a boat tour in Tenerife. Experience the magic of gliding across the Atlantic waters, with the majestic Mount Teide as your backdrop.
From leisurely catamaran cruises to exhilarating speedboat adventures, Tenerife's boat tours offer you a unique perspective of the island's rich biodiversity. Whether you're basking under the warm sun or enjoying a romantic sunset cruise, boat tours are a quintessential Tenerife experience.
Whale Watching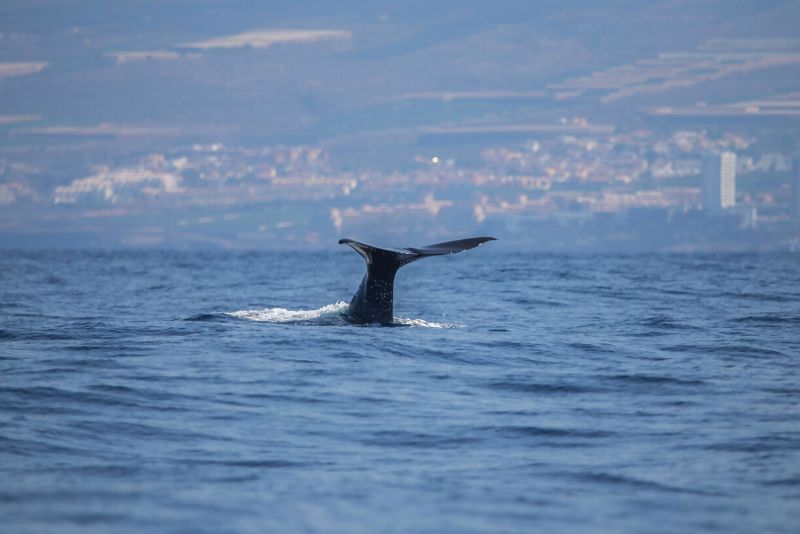 Set sail on the waters of Tenerife for an unforgettable whale watching experience. On a marine adventure, you may encounter the area's resident pilot whales. Tenerife's warm, nutrient-rich waters also attract migratory species such as the colossal blue whale.
Even outside of whale-watching season, you can opt for a dolphin watching experience where you can witness bottlenose dolphins leaping and playing in the warm coastal waters.
Guided by knowledgeable crews these environmentally-friendly tours blend education with awe-inspiring sightings, making for a truly remarkable journey.
Scuba diving and Snorkeling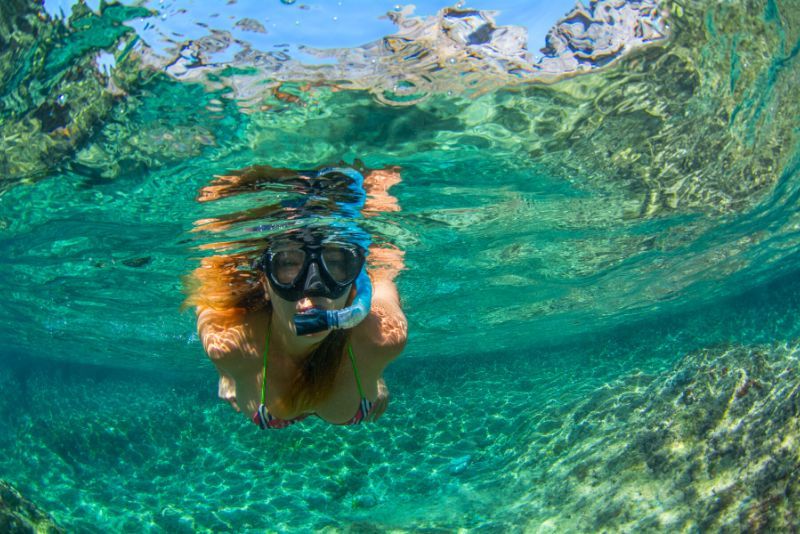 Tenerife's warm, clear waters are teeming with marine life, making it the ideal scuba diving and snorkeling destination.
Scuba divers can explore a variety of sites, including dramatic volcanic rock formations and sunken shipwrecks. If you prefer to remain closer to the surface, snorkelers can also enjoy the spectacle from the surface, marveling at the bustling aquatic life in the shallows.
With professional guides and top-notch equipment readily available, both novices and seasoned divers and snorkelers can experience the captivating beauty of Tenerife's underwater ecosystems.
Kayaking and canoeing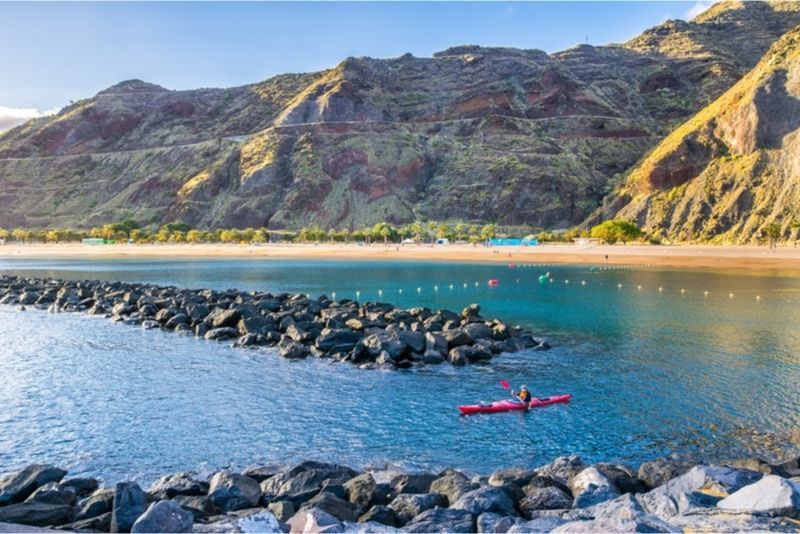 Kayaking and canoeing in Tenerife provide a fresh perspective of the island's captivating landscapes. Paddle along the dramatic coastline to see stunning cliff faces, hidden coves and pristine beaches accessible only by sea.
You may even have a chance encounter with dolphins or turtles, as you glide over the clear waters.
Whether you're a novice paddler or experienced on the water, Tenerife's diverse coastline and natural beauty promise an unforgettable excursion.
Stargazing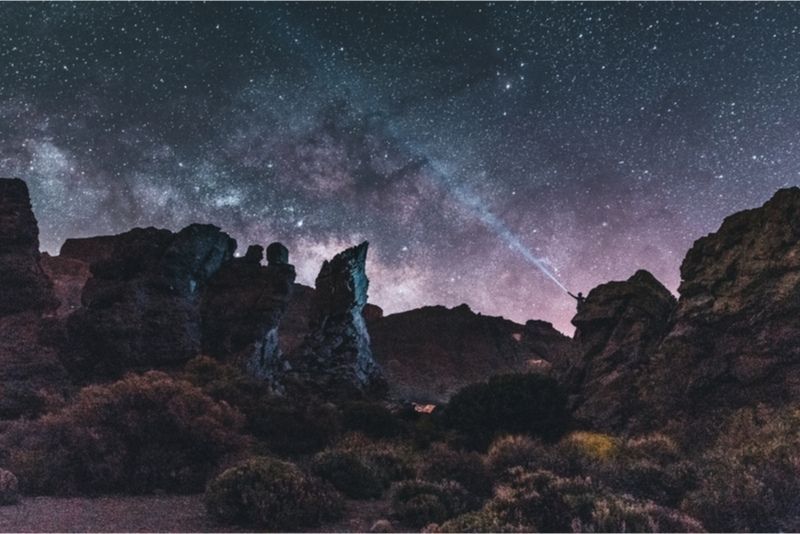 For an unparalleled experience, head out after dark for stargazing in Tenerife under the clear, unpolluted skies of Teide National Park. Expert guides share their knowledge and passion with you and you may pay a visit to the world-class Teide Observatory.
Whether you're an amateur astronomer or simply a starry-eyed dreamer, Tenerife offers an awe-inspiring view of the night skies.
Jet ski and jet boat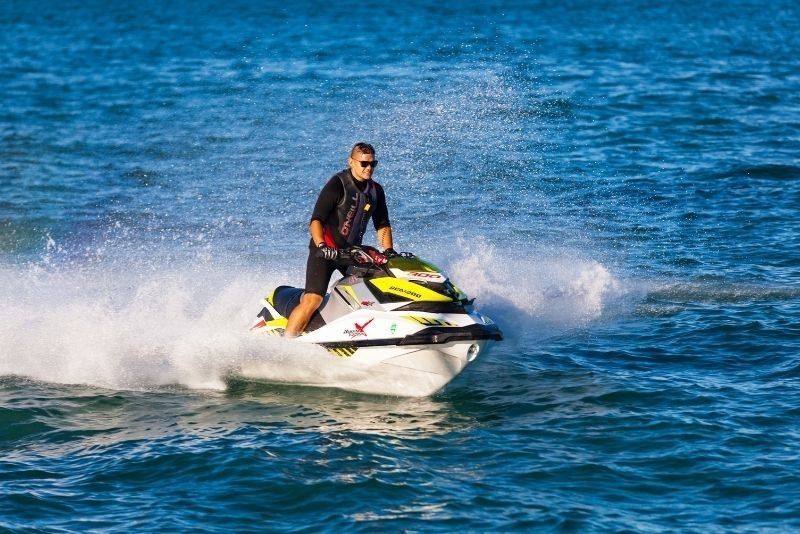 Experience the exhilarating thrill of riding a jet ski or zooming across the water in a jet boat in Tenerife. Perfect for adrenaline junkies, these high-speed water sports offer a unique way to explore the island's stunning coastline, from hidden coves to dramatic cliffs.
On one of these activities, you can navigate the Atlantic waves with professional instruction and top-notch equipment. Both beginners and experienced riders can enjoy this adrenaline rush.
Hiking and canyoning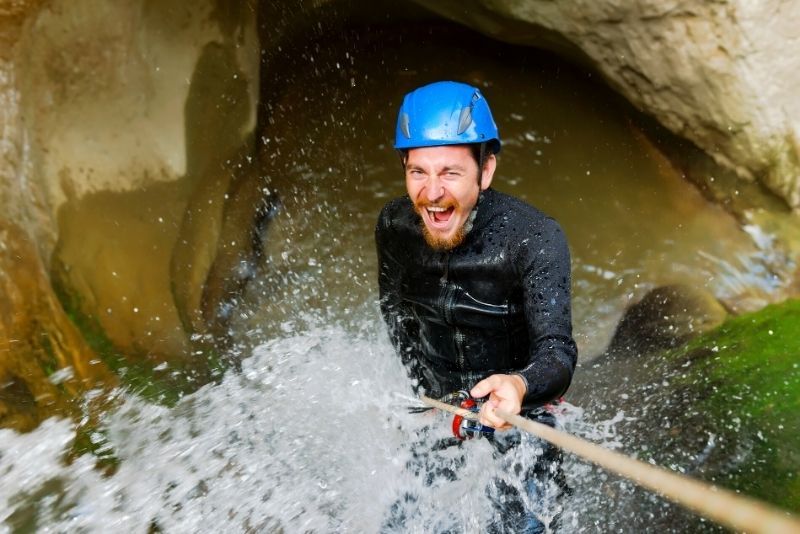 Discover Tenerife's wild beauty on invigorating hikes and thrilling canyoning adventures. The island's wild terrain offers a myriad of trails, from coastal paths to Mount Teide's volcanic slopes.
Hikers can immerse themselves in diverse landscapes while canyoning offers a unique adventure, combining climbing, rappelling, and swimming through Tenerife's dramatic gorges and waterfalls.
Guided by professional instructors, hiking and canyoning tours in Tenerife cater to participants of various fitness levels, ensuring a safe and unforgettable experience.
Paragliding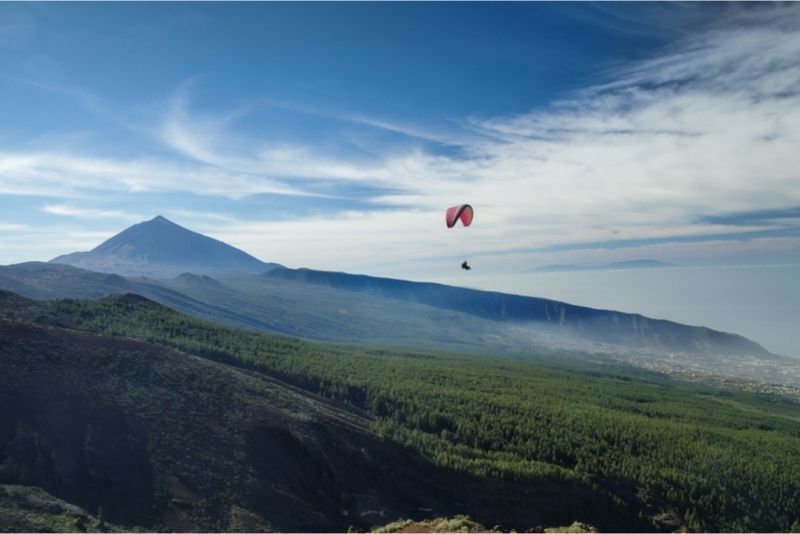 If you are feeling bold, you can soar above Tenerife's amazing landscapes with a thrilling paragliding experience. Launch from the highlands and catch thermal currents to gently glide over volcanic peaks, lush forests, and rugged coastline to a soft landing on the beach.
With stunning views of the Atlantic Ocean and the iconic Mount Teide from a unique vantage point, paragliding in Tenerife provides an unforgettable perspective of the island's beauty.
Quad bike and buggy tours
Kick up some dust and experience Tenerife's rugged beauty with high-octane quad bike and buggy tours. Navigate off-road trails, ascend volcanic slopes, and weave through lush forests, as you master these powerful machines.
These guided tours offer a unique way to explore parts of the island that are off the beaten track. Whether you're tackling challenging terrain in a robust quad bike or cruising along coastal paths in a breezy buggy, you'll feel a thrilling mix of adventure and freedom.
Designed for all skill levels, these tours provide an exciting way to discover Tenerife.
Surf lessons and kite surf lessons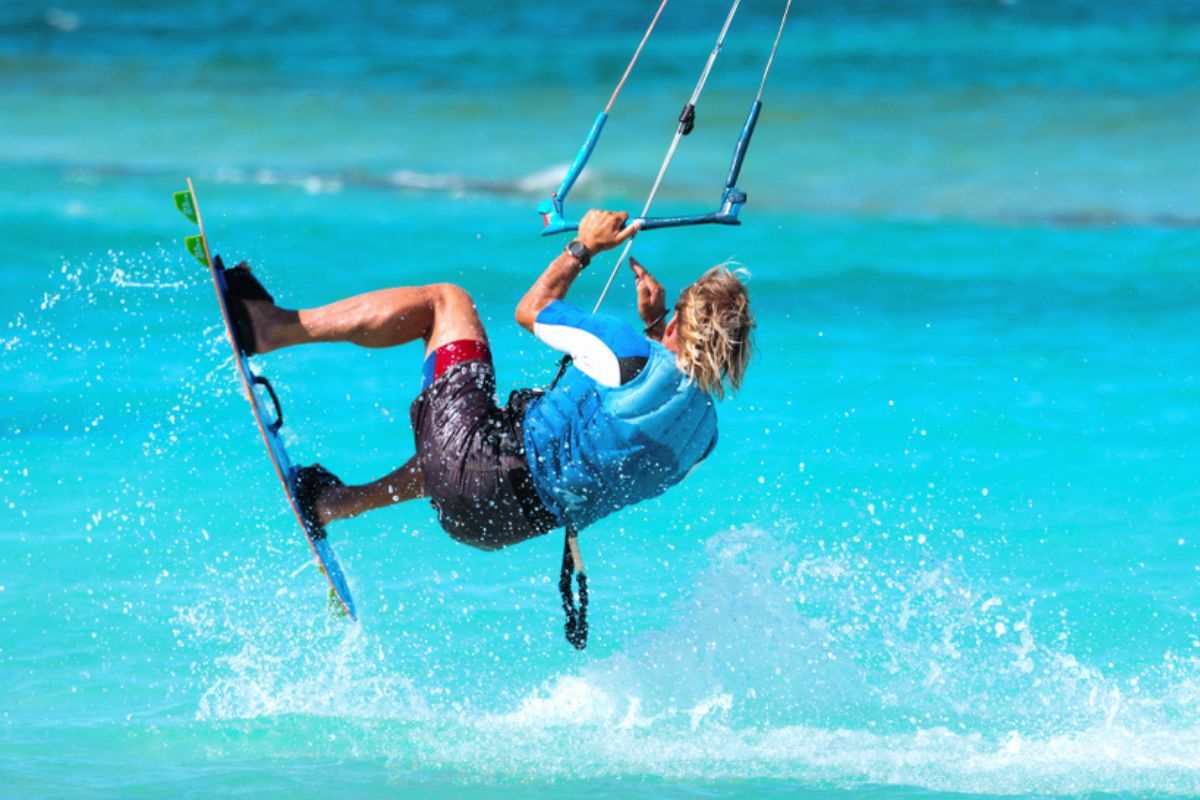 Ride the Atlantic ocean waves with exciting kitesurfing and surfing lessons in Tenerife. The island's consistent wind and wave conditions create a perfect environment for these exciting water sports.
Learn to harness the power of the wind in kite surfing, or grab a surfboard and learn to ride the waves, guided by experienced instructors who ensure safety and fun.
Both beginners and intermediates can enjoy these lessons, with the warm, inviting waters of Tenerife providing an ideal backdrop for your water sports journey.
Jeep Tours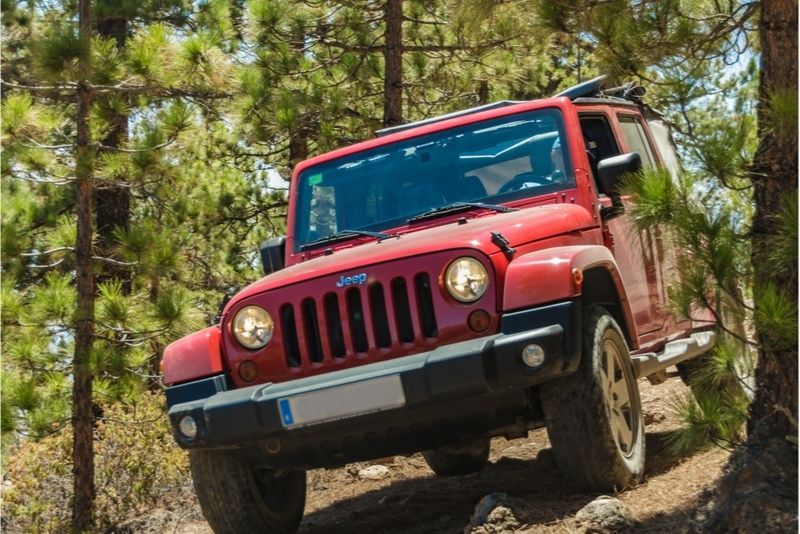 If you're looking for an exciting guided off-road activity, Jeep tours in Tenerife head off the beaten track, traverse rugged trails and navigate through the island's less accessible terrain.
Guided by knowledgeable locals, you'll gain insight into Tenerife's rich culture and natural history. Whether you're behind the wheel or enjoying the ride, Jeep tours are an adventurous way to explore this island gem.
Bike Tours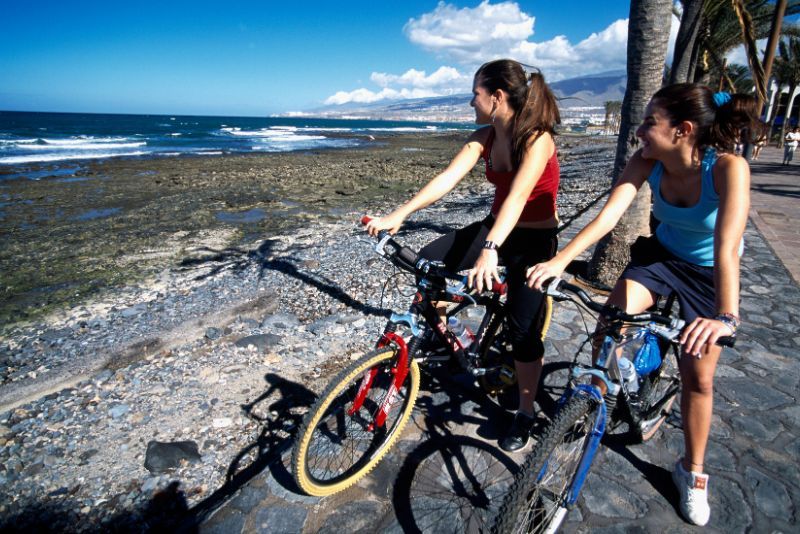 Feel the freedom of exploring quaint villages, lush vineyards, and dramatic volcanic terrain at your own pace, on a bike tour of Tenerife. Guided bike tours cater to all abilities, with routes ranging from leisurely coastal trails to challenging ascents up Mount Teide.
E-bike options are available for those wanting an extra boost on hilly trails.
With expert guides sharing local insights and ensuring your safety, Tenerife bike tours are a perfect blend of adventure, exercise, and cultural immersion.
Horse Riding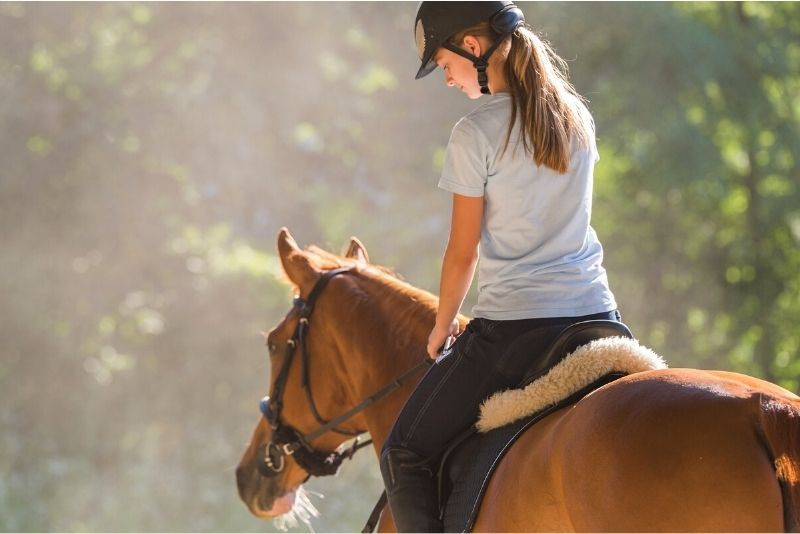 Experience Tenerife's picturesque landscapes on a serene horseback ride. Wander through lush forests, amble across volcanic trails, and explore the island's rural beauty on a horse riding tour catering to your skills level
Guided by experienced instructors, horse riding in Tenerife is a uniquely tranquil yet invigorating experience.
Camel Riding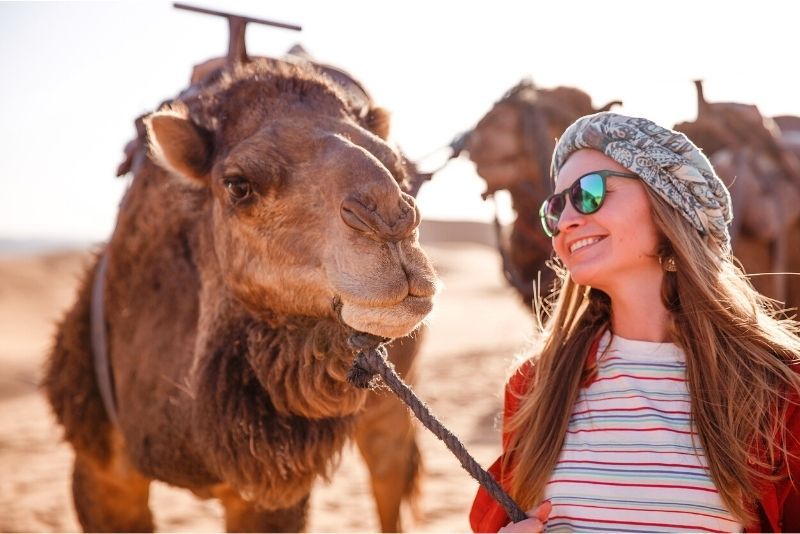 Experience the delight of a camel ride in Tenerife, adding an exotic twist to your island exploration. These tours offer a leisurely way to explore the island's scenery. Camel riding experiences are suitable for all ages, providing a fun and unusual adventure that's particularly popular with families.
With experienced guides leading the way, and the camels' calm and friendly nature, you'll enjoy a comfortable and safe journey.
Airplane and helicopter tours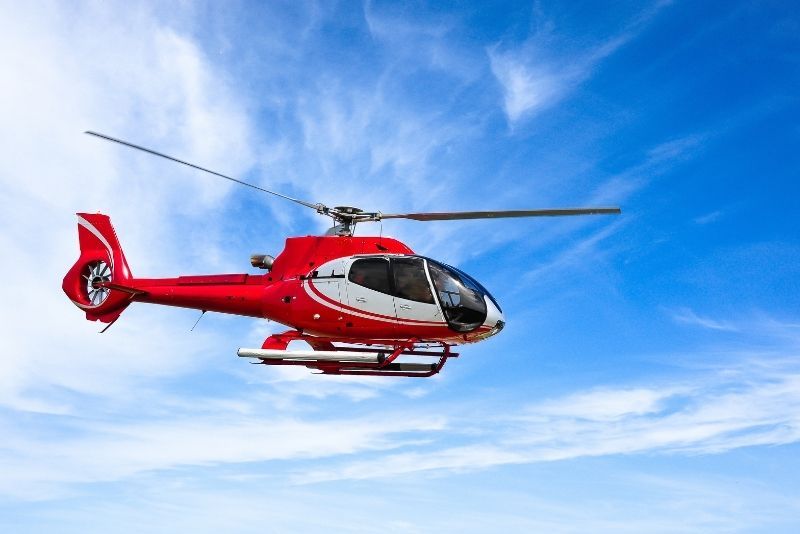 Elevate your adventure with a breath-taking airplane or helicopter tour in Tenerife. Soar over the island's diverse landscapes, from the craggy peaks of Mount Teide to the rugged coastline lapped by azure waves.
Airplane tours offer an expansive perspective of the island's beauty, while helicopter flights provide a more intimate view.
Guided by experienced pilots who narrate your journey, these tours are a thrilling way to appreciate Tenerife's natural grandeur.
Parasailing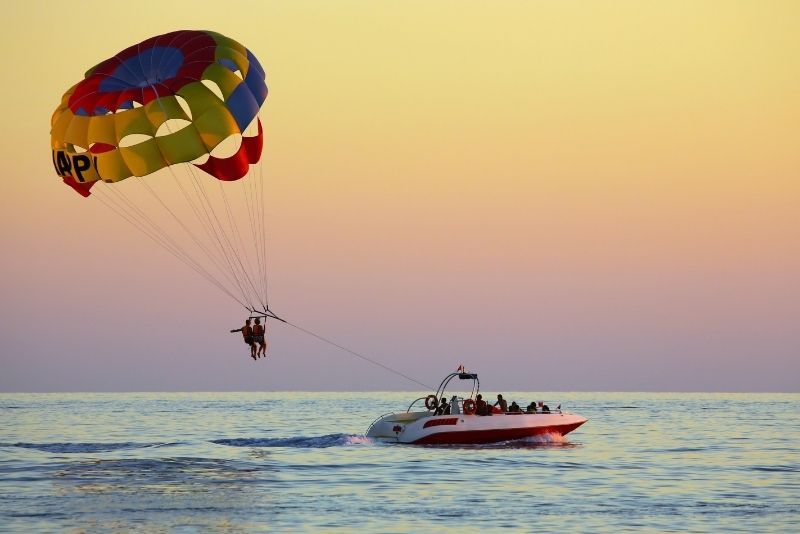 Soar through the sky, tethered to a speeding boat and experience the exhilaration of flight on a parasailing experience in Tenerife.
With safety as a priority, and experienced teams ensuring a smooth ride, parasailing is an exhilarating activity that combines the thrill of speed with the serenity of floating above the world.
Stand up paddleboarding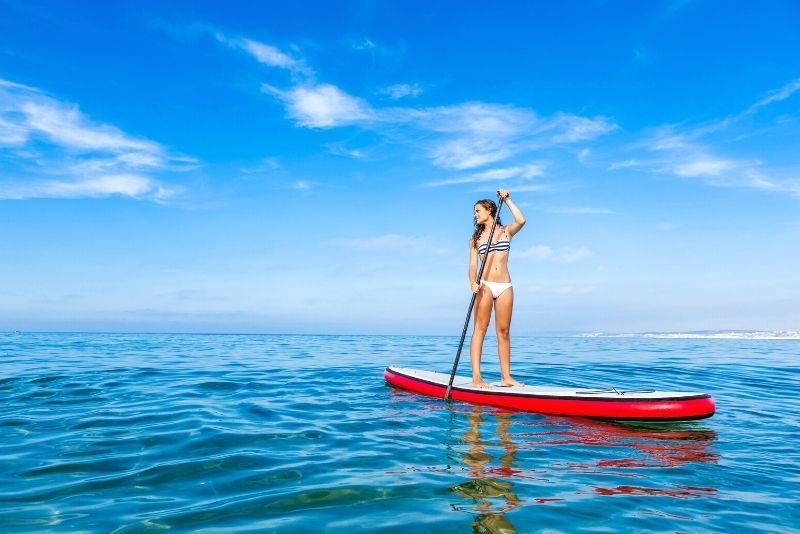 Glide across crystal-clear waters with a stand-up paddleboarding in Tenerife. This increasingly popular water sport offers a fun and relaxed way to explore the island's stunning coastline while providing a full-body workout.
Stand up paddleboarding lessons are available for beginners and with plenty of rental options, is an accessible and rewarding way to enjoy the Atlantic's gentle waves.
Wakeboarding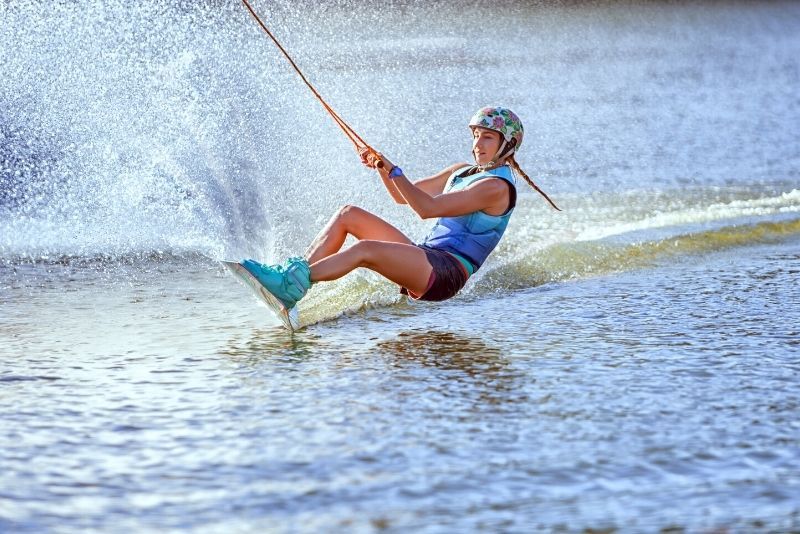 Wakeboarding in Tenerife offers an adrenaline-fueled adventure against the backdrop of the island's stunning coastline. Under the guidance of experienced instructors, you can learn to ride the wake, perform jumps and even master tricks, all while being towed by a speedboat.
With its warm, clear Atlantic waters and year-round sunshine, Tenerife is an ideal destination for both beginners and seasoned wakeboarders seeking an exhilarating water sports experience.
Abseiling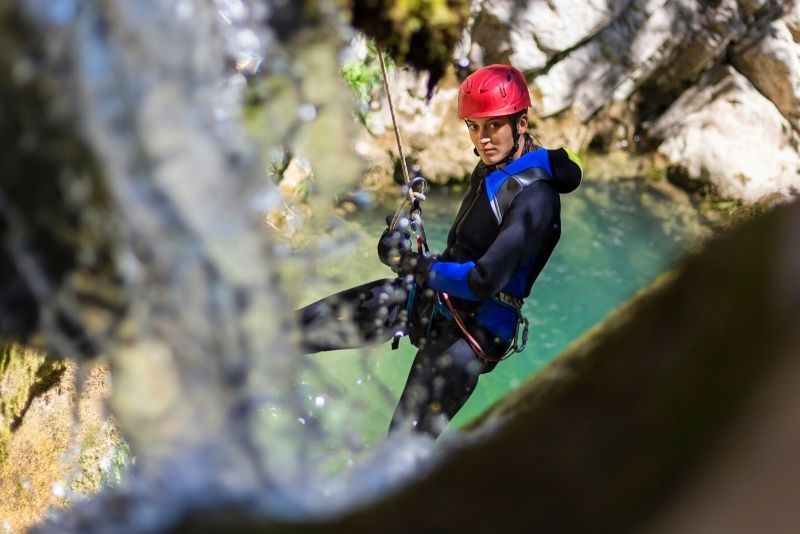 Abseiling in Tenerife is an exhilarating opportunity to explore the island's dramatic cliffs and gorges. This activity involves descending vertical terrain using controlled sliding down a rope, providing unmatched views and a heart-pounding experience.
Tenerife's diverse landscapes offer numerous abseiling spots for all skill levels, from beginners to seasoned adventurers. With safety equipment and expert guidance, you can push your limits and enjoy a unique perspective of Tenerife's natural beauty.
Windsurfing
Experience the thrill of windsurfing in Tenerife, a hotspot for this exhilarating water sport with its ideal wind and wave conditions. Harnessing the power of the Atlantic winds, you can glide, jump, and race across the ocean, testing your balance and agility.
Whether you're a beginner or a seasoned pro tackling the island's renowned windsurfing spots, Tenerife caters to all skill levels. With its year-round mild climate and stunning scenery, windsurfing in Tenerife is an unforgettable adventure.
Flyboard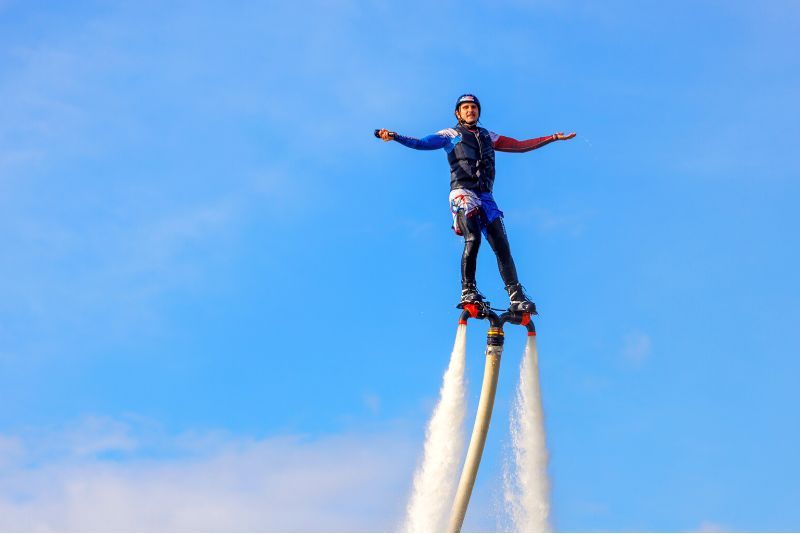 Defy gravity with a flyboarding adventure in Tenerife. This cutting-edge water sport allows you to soar above the ocean's surface, propelled by powerful jets of water. With professional instruction and safety equipment, beginners can learn to perform spectacular dives, spins, and even flips.
Offering both thrills and unforgettable views, flyboarding in Tenerife is a unique experience that is sure to satisfy any adrenaline junkie.
Motorbiking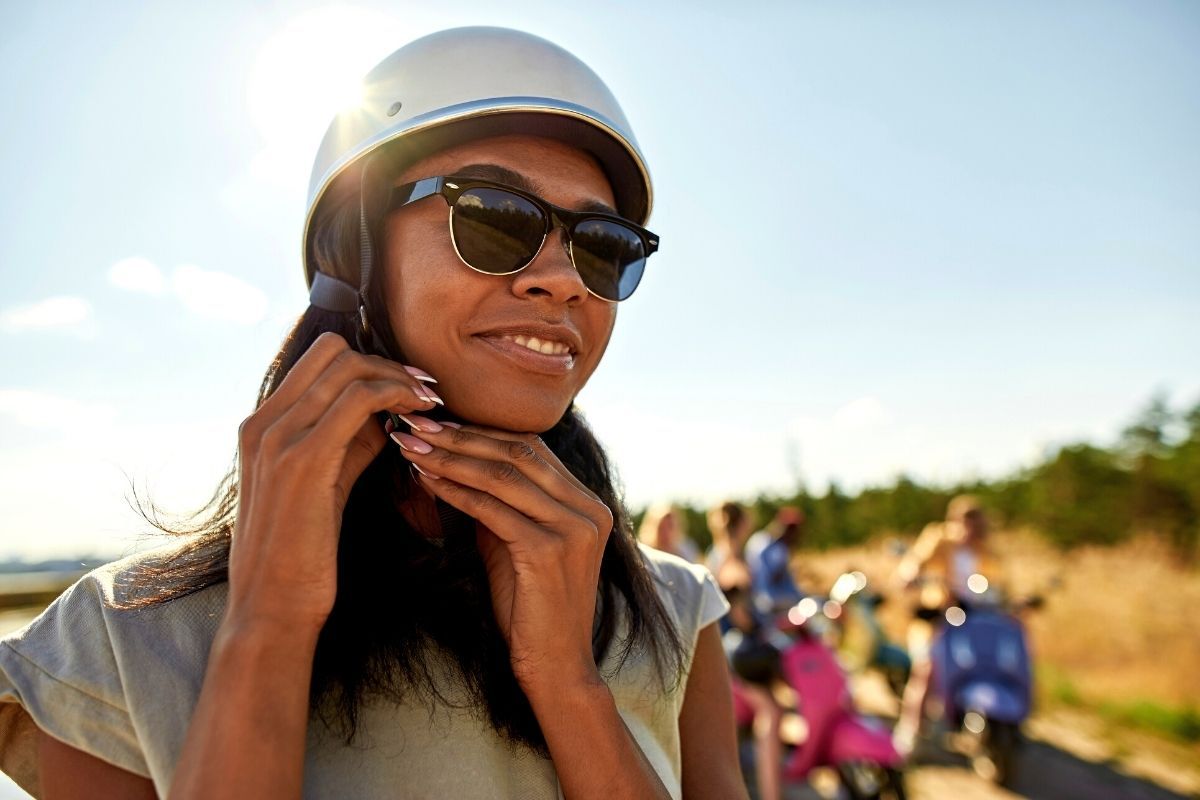 Hop onto a motocross bike for a motorbiking experience in Tenerife. Even a complete beginner can get some instruction before trying out the San Miguel de Abona Tenerife motocross circuit.
From high-end electric bikes to 350cc motocross bikes, there is a motorbiking activity to suit everyone.