The walled town of San Gimignano is one of the most popular places to visit in all of Tuscany. It has Medieval charm in abundance and a dramatic skyline of domineering brick towers which date from the 14th century.
Sample the local "Vernaccia" wine, eat the best gelato in town and pick up some traditional local delicacies. Discover the delights of Tuscany on a San Gimignano day trip from Siena.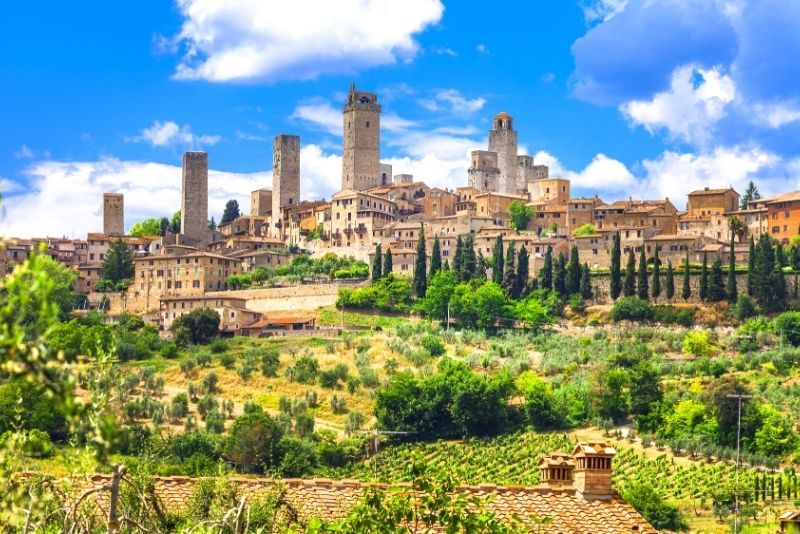 How to get to San Gimignano from Siena?
San Gimignano is located in the Tuscany region of west-central Italy. It is around 40 kilometers northwest of Siena and is easy to reach by car or public transport.
From Siena to San Gimignano by car
To reach San Gimignano from Siena by car simply take the SS674 from Siena followed by the Raccordo Autostradale Firenze - Siena to Poggibonsi. Take the SS68 off the Autostradale and then the SP44 towards Montelonti. From here take the SP1 all the way to San Gimignano.
The journey is around 44 kilometers and should take around 50 min by car.
From Siena to San Gimignano by bus/public transport
If you choose to travel by public transport from Siena to San Gimignano you have a couple of options. There is no direct transport between the towns so you will have to change at Poggibonsi.
You can take the bus from Siena Via Tozzi bus station which takes around 45 minutes or the train from Siena Station which takes around 25 minutes. You can then take the 130 bus from Poggibonsi all the way to San Gimignano which will take another 25 minutes.
Guided tour to San Gimignano from Siena
The most hassle-free way to visit San Gimignano is on a guided day trip from Siena. These tours include all transportation for your excursion and usually a guide to assist you on your travels.
What is the typical itinerary of a day tour to San Gimignano from Siena?
As San Gimignano is not very large most day tours will also visit other popular locations in Tuscany such as Pisa, Monteriggioni, Montalcino and Chianti.
A typical day tour will begin with pickup at your hotel or accommodation or at a convenient meeting point in central Siena. You will then make the short drive to San Gimignano through the Tuscan hills which are dotted with picturesque vineyards and villas.
On arriving at San Gimignano you will enter by Porta San Giovanni, the historic gateway to the town. From here you can walk down a section of the historic "Via Francigena" pilgrimage route which stretches over 3,000 kilometers to Canterbury in England.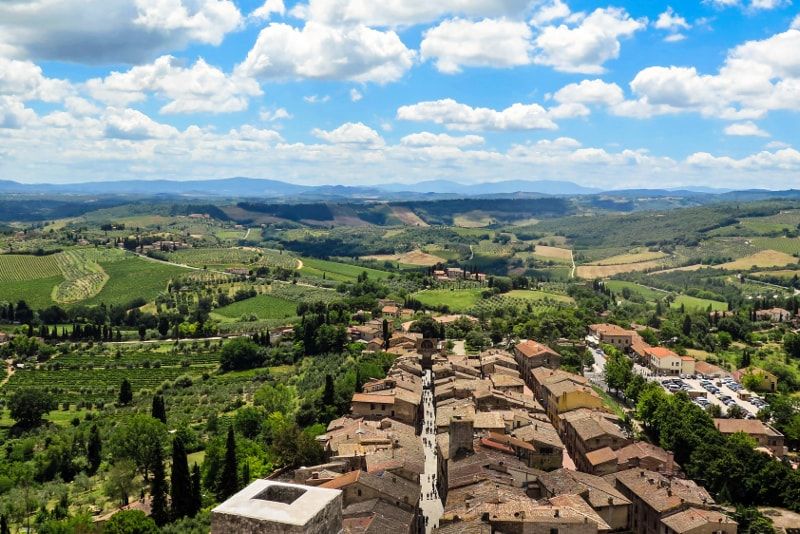 See the famous Medieval towers and walk through the cobblestone streets to the historic center. Grab lunch in a restaurant and sample some of the regional delicacies, including local prosciutto and cheese.
Take some free time to explore and visit one of the local museums such as San Gimignano 1300 and the Palazzo Comunale which show impressive art from the town's past and a scale model of the Medieval town. Those with a head for heights can climb up the Torre Grossa to see views of the Tuscan countryside.
What kinds of tours are available to go to San Gimignano?
There are a few different San Gimignano day tours available. There are small group guided tours for those who are looking for a budget-friendly travel experience, private guided tours and private transfers which include a driver but no guide.
Here are some of the most popular excursions going to San Gimignano from Siena.
Guided group tours to San Gimignano from Siena
These small group tours include a guide and transport to show you around Tuscany's most impressive hilltowns.
Visit San Gimignano and learn all about its history and culture. Discover other local gems like the walled town of Monteriggioni and visit a local farmhouse for a traditional lunch.
Private tour to San Gimignano from Siena
Tour San Gimignano with your own private guide and immerse yourself in the culture of this picturesque Italian hilltown.
See all the most important sights and attractions and learn about the history of the town. These tours are ideal for those who like to avoid the crowds.
Private transfer to San Gimignano from Siena
This service offers transportation and a driver but no guide. Take a day trip to the must-see Medieval town of San Gimignano on these self-guided tours. Have time to explore and discover the historic town of San Gimignano without the hassle of driving.
Guided wine tours to San Gimignano plus Montalcino and Chianti from Siena
Visit San Gimignano for a guided tour of the Medieval center before visiting other popular locations to sample the region's world-renowned wines.
Discover the town of Montalcino in the beautiful Val d'Orcia and the Chianti wine region famous for its Chianti Classico wines. This is sure to be a day you'll remember always.
How much does a tour to San Gimignano from Siena cost?
The price a of San Gimignano day trip can vary depending on the amount of participants and the activities included.
Private tours are generally the most expensive and start at around €100 per person.
A private transfer without a guide starts at around €70 per person.
Group tours of San Gimignano start at around €70 per person.
Guided wine tours start at around €100 per person.
What will you see and do in San Gimignano?
San Gimignano is not so big and can be thoroughly explored in just a couple of hours. Some of the most popular things to do here are to visit the Palazzo Comunale and the Torre Grossa.
The Palazzo Comunale has been the seat of government in the town since the 13th century and its tower, the Torre Grossa, is the largest in San Gimignano and stands at over 50 meters. The palazzo has a small museum which shows off frescoes representing the great history of Florentine and Sienese art.
Visitors can reach the Torre Grossa from the museum's Picture Gallery and climb the stairs to the top for magnificent views over San Gimignano and the Valdelsa countryside.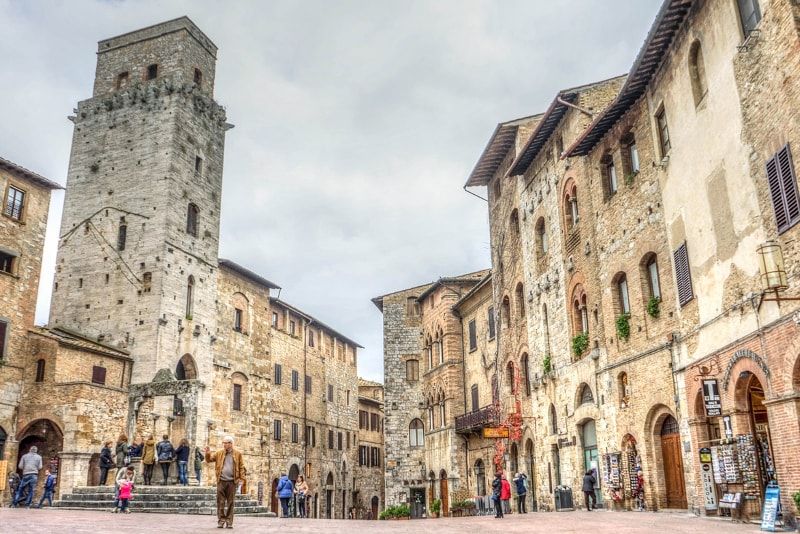 The historic Piazza del Duomo is a must-visit while in San Gimignano and is surrounded by small cafes and shops. From here you can visit the Duomo Cathedral, also called Collegiata di San Gimignano, the ruined fortress known as Rocca di Montestaffoli and the Church of Sant'Agostino.
For a unique look at the town you should check out the San Gimignano 1300 Museum which features a scale replica of the town as it would have appeared in the 14th century.
When is the best time to visit San Gimignano?
The best time to visit San Gimignano is from late spring to autumn. The months of July and August are the busiest months for tourists so if you like to explore without the crowds consider visiting in May, June or September
Are there any tours to San Gimignano from other cities in Italy?
Yes, there are other tours departing from several other cities in Italy:
Travel tips
Book your San Gimignano day trips from Siena in plenty of time to get the best deals and be sure you don't miss out.
Wear comfortable shoes as the there will be some walking involved on bumpy and uneven pavements.
Cover up if you plan to visit an Italian church or religious building as bare shoulders and knees are not allowed.
Bring cash to spend as some smaller vendors do not accept card.