If you're looking to explore a quintessential hilltop town in Tuscany, Montepulciano never fails to tug on the heartstrings. This medieval settlement surrounded by rolling vineyards is famed for its wine, its architecture and its breathtaking views.
Day trips to Montepulciano from Siena transport you into the heart of this rural Italian town where wine tasting and sightseeing are on the cards. Don't forget to pack your camera!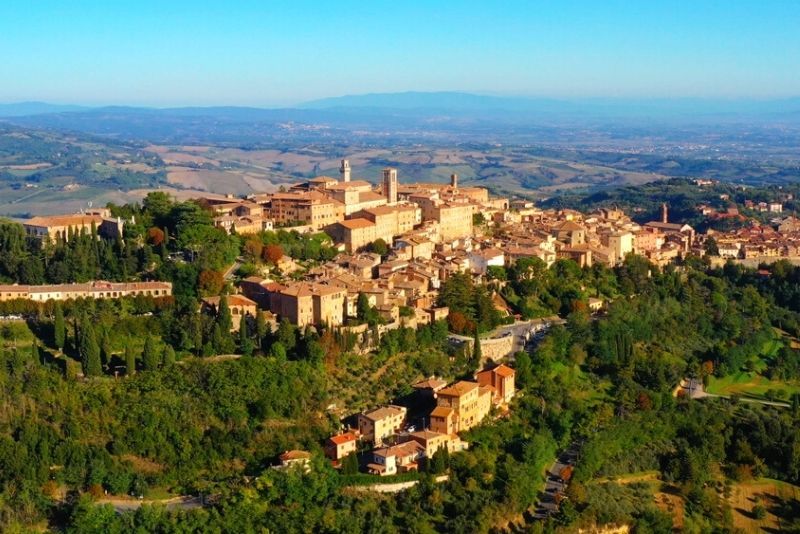 You will find below everything you need to know about Montepulciano, one of the most interesting destinations for day trips from Siena.
How to get to Montepulciano from Siena?
Montepulciano lies in southern Tuscany, about 70 kilometers southeast of Siena. The easiest way to visit is on a day tour to Montepulciano from Siena, but you can travel there by car too.
From Siena to Montepulciano by car
The journey from Siena to Montepulciano takes an hour by car. For the quickest route, head east on the SS715 before taking the SP135 and S17 to your destination. The scenic countryside drive is almost as good as Montepulciano itself.
Thanks to the narrow streets and steep gradients, the town is best explored on foot. There are several parking areas outside the walls – from here you can walk up into Montepulciano.
Guided tour to Montepulciano from Siena
If you want someone else to take care of all the transport logistics, then booking a guided tour is the way forward. Montepulciano day trips from Siena often include hotel pickups, giving you a smooth, door-to-door ride.
What is the typical itinerary of a day tour to Montepulciano from Siena?
Your excursion from Siena to Montepulciano begins with a pickup from your hotel after breakfast. Some operators ask instead that you meet at a central departure point, so do read your tour details carefully.
You'll then enjoy a drive through the beautiful Tuscan countryside, passing charming villages along the way. Most trips make a stop in the historic village of Pienza in the Val d'Orcia – a lush green valley that epitomizes Tuscany. Here you will explore the streets, indulge in some cheese tasting and enjoy lunch with a view.
In the afternoon you'll continue to Montepulciano for a winery visit that includes a wine tasting experience. There will be time for a guided walk to see the palaces and churches before returning to Siena in the evening.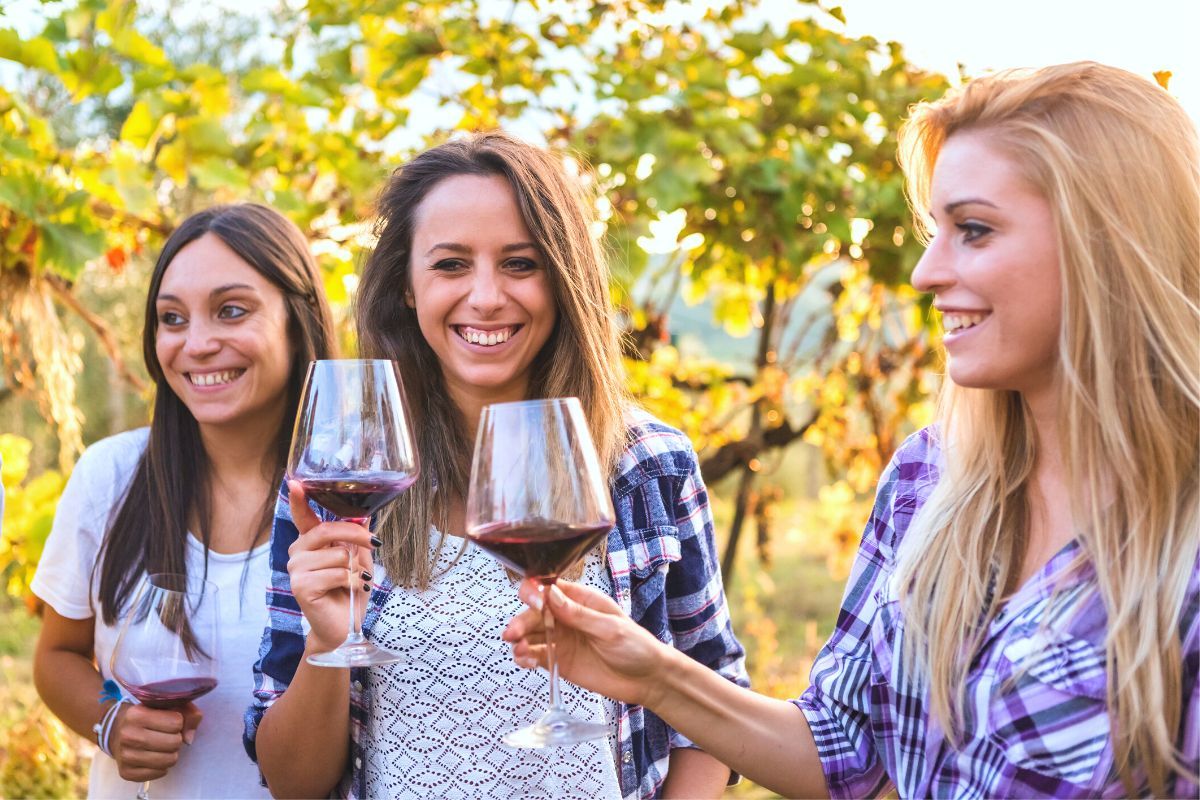 What kind of tours are available to go to Montepulciano?
Jaunts to Montepulciano are all fairly similar when it comes to the itinerary. You just need to decide whether you want to travel with a group or pay a bit extra for a private tour.
Guided group trips to Montepulciano plus Pienza from Siena
On these excursions, you'll be traveling by minivan in a group setting. Participant numbers are kept low to ensure the experience remains intimate. This is a great way to explore the wider region without breaking the bank. You'll meet some new friends too!
Your tour guide will show you the sights, and there will be plenty of free time to wander around by yourself too. Some of these trips offer hotel transfers while others require passengers to meet at a designated departure point in Siena.
Private tours to Montepulciano from Siena
Private day trips from Siena to Montepulciano are perfect for travelers who prefer a more exclusive experience. You'll have your own transport and guide, and there is often some flexibility with the schedule. Most tours also make a stop in Cortona.
Door-to-door transfers are included, ensuring the trip runs seamlessly. These tailored experiences do cost more but being treated like a VIP is worth every cent!
How much does a tour to Montepulciano from Siena cost?
For the small group day trips to Montepulciano, expect to pay between €90 and €230 per person. The more expensive options offer a full package which includes hotel pickups and drop-offs, guided tours, wine tastings and lunch. The cheaper excursions provide transport and wine tastings only.
Private day tours to Montepulciano from Siena cost €250 per person, with a stop in Cortona as a bit of a bonus along the way. Lunch and wine tastings are included in the rate, as well as private air-conditioned transportation and alcoholic drinks. Hotel pickups and drop-offs are also provided.
What will you see and do in Montepulciano?
Vineyards
The highlight of any day trip to Montepulciano is the vineyards, which sweep across the hillsides in an eye-catching green swathe. You'll be able to visit a couple of wineries and enjoy tours and tastings in atmospheric cellars.
Learn about the grape-to-glass process, and why Montepulciano wine is considered to be among the finest in Italy.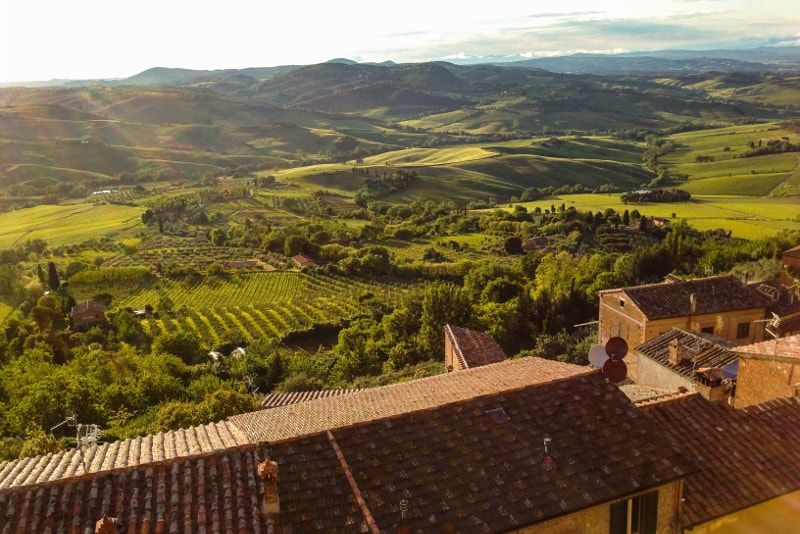 Palaces and piazzas
As you wander around the ancient streets of Montepulciano, admire the palaces that once belonged to the region's noble families. It's easy to imagine what life was like here back in the day as Renaissance architecture still reigns supreme. Look closely and you'll see overtones of both Siena and Florence in the ornate style.
The Piazza Grande is the star of the show, lined with majestic buildings that date to the Middle Ages. This monumental square is the highest point of the town and home to the cathedral as well as several quaint sidewalk cafés.
Pienza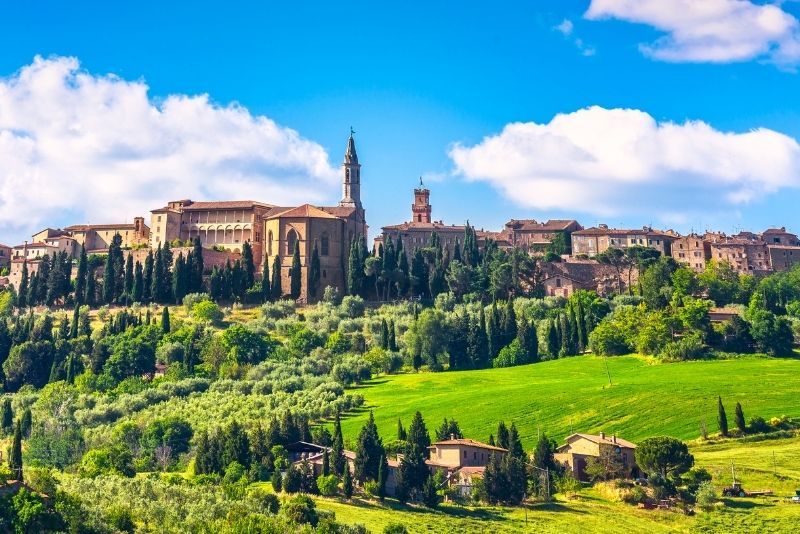 Most small group day tours from Siena to Montepulciano also make a stop in the traditional Tuscan village of Pienza. You can see the famous pecorino cheese being made at a local dairy farm and enjoy lunch on a panoramic terrace overlooking the Val d'Orcia. Food always tastes better when it's eaten outside!
Other highlights in Pienza include walking along the outer walls and seeing the cathedral in the main piazza. The whole settlement was redesigned by Pope Pius II as an example of the perfect Renaissance town.
When is the best time to visit Montepulciano?
You can enjoy a day tour to Montepulciano all year round, but to see this medieval town at its finest, go during summer. Want to steer clear of the peak season crowds? Then May, June, September and October are good times to visit.
The Mediterranean climate means that even in winter, the temperatures are mild. So, whenever you go, you won't be disappointed.
Are there any tours to Montepulciano from other cities in Italy?
Yes, there are other tours departing from other cities in Italy:
Travel tips
Book your day trip to Montepulciano from Siena online. This way you'll be able to compare deals and bag the best rates.
Bring comfortable shoes – you'll be walking up steep hills on cobbled streets so sensible footwear is recommended.
Make sure your camera batteries are fully charged as the views from the Montepulciano terraces are showstoppers!
Take some cash so you can tip your guide if you feel they have done a good job.