The best way to explore the historic center of Siena is on foot, so taking a walking tour is a no-brainer. This medieval Tuscan city is packed with piazzas, palaces, and quaint cobbled streets that just ooze charm.
Free walking tours in Siena give you the opportunity to learn about the city's history while taking in the top sights. Your guide will no doubt share a few insider secrets too.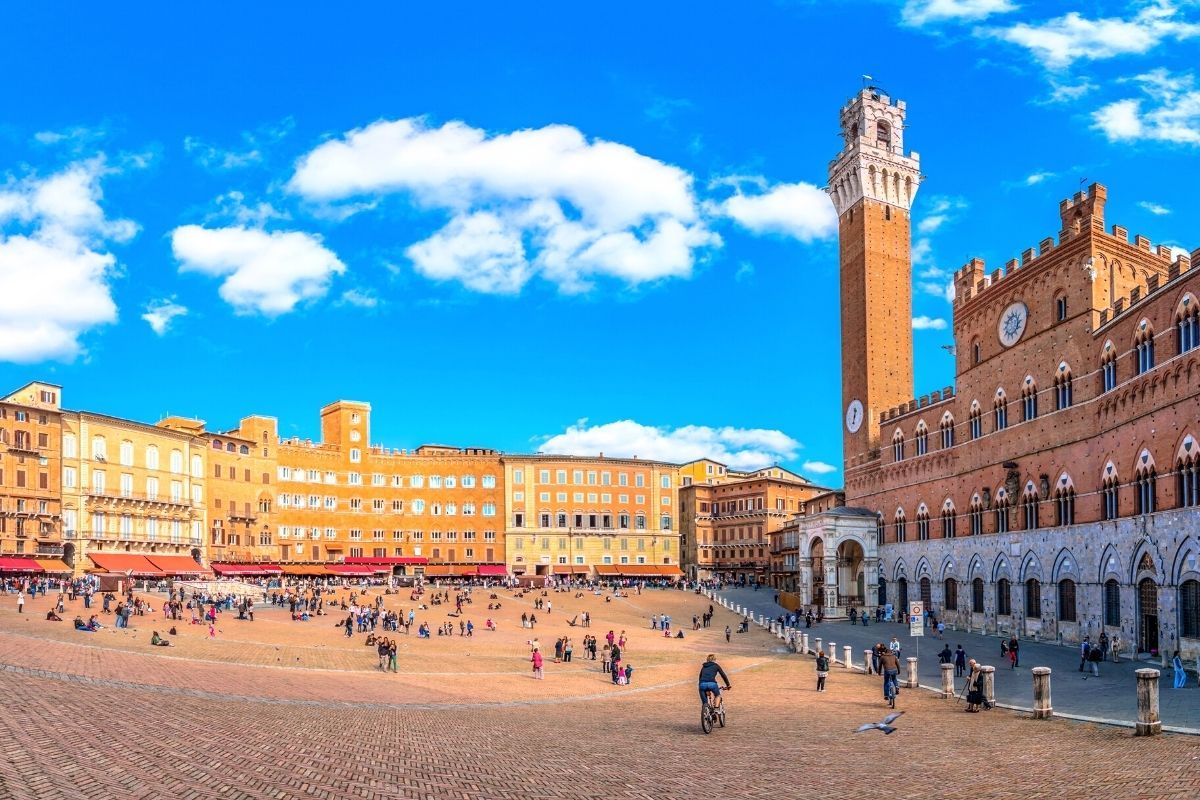 Here's all you need to know about free walking tours, some of the most worthwhile sightseeing tours in Siena.
How do free walking tours in Siena work?
Free walking tours have recently been introduced in Siena, and they're a great way of seeing places from a local perspective.
Prices for these excursions are not set upfront, leaving the participants to decide how much they think the tour was worth. It's a sort of "pay-as-you-wish" style experience.
Reservations are free of charge, so all you need to do is take some cash with you on the day to tip your guide.
How much should you tip for a free walking tour in Siena?
The joy of free walking tours in Siena is that there's no fixed price to pay. You simply tip the guide however much you think they deserve for their services.
Most people tip around €10 - €15 per person, while others are comfortable giving just €5. If you've really enjoyed the tour, do feel free to offer more – some happy customers have given €50 before!
What are the best free walking tours in Siena?
There are currently a couple of different themed walking tours in Siena, both of which give an insider insight into this famous city.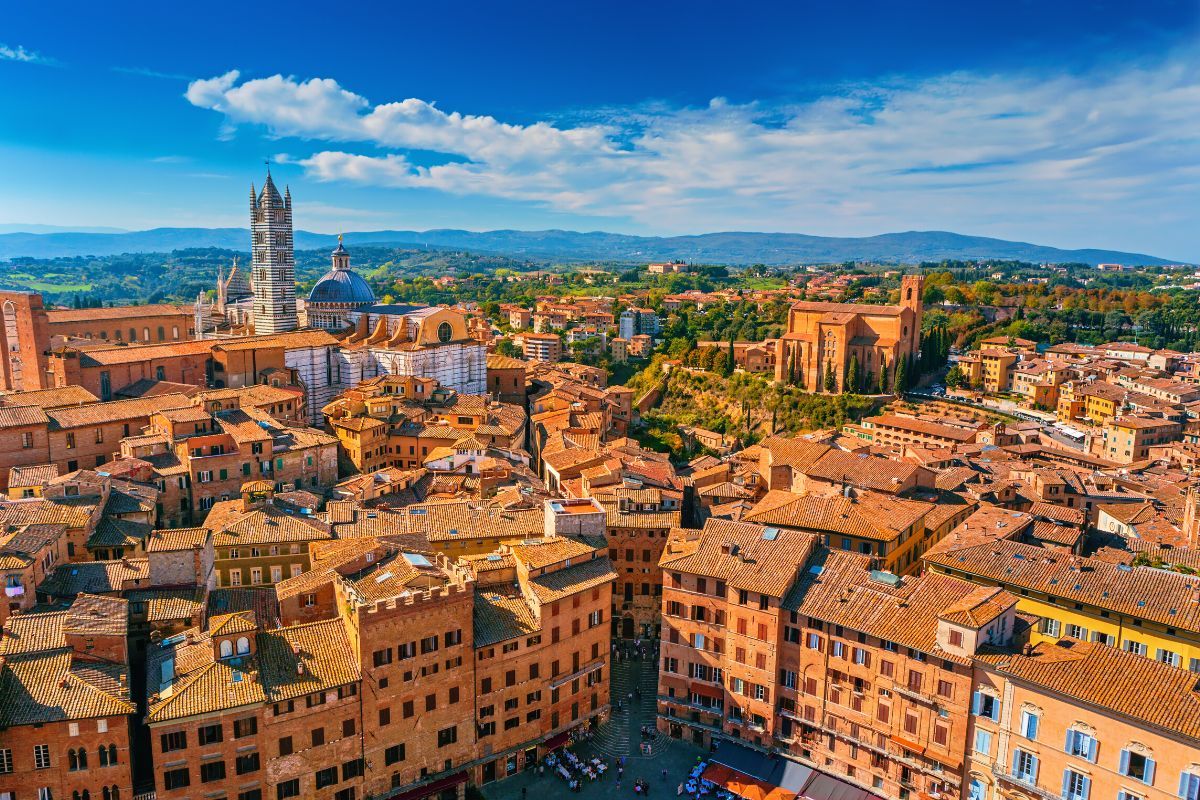 Historical center free walking tours
This is one of the most popular free walking tours in Siena. It takes you on an adventure through the ancient city streets, delving into hidden corners that most tourists never get to see.
You'll also be checking out some of the major landmarks in the old town, to give you a taste of life back in medieval times.
Itinerary
The tour starts outside the Hotel NH Siena on Via La Lizza. Here your guide will be waiting for you beside the underground steps. After a short introduction and explanation of how the morning will unfold, it's time to dive deep into the historic quarter.
The first stop is at the oldest bank in the world, which was founded in 1472 and is housed in a magnificent Gothic palace. It makes for great vacation photos!
Continue to the UNESCO World Heritage Site of Piazza del Campo which lies at the heart of the old town. It's here that the famous Palio horse race is held, and if you're visiting in July or August you might even get to see some of the action!
Another highlight of these free walking tours in Siena is the imposing 13th-century cathedral, with its striking white marble façade and lofty bell tower. It's worth returning in your own time to explore the interior, which is full of artwork by Michelangelo, Donatello, and Pinturicchio.
This is your chance to rub shoulders with locals as you wander through the terracotta streets, lingering in tiny squares where fountains tinkle.
Food walking tours of Siena
Combine historical sightseeing with a taste sensation on these fun Siena food tours. You'll be exploring off the beaten track in the old part of the city, popping into delis and restaurants to sample delicious Tuscan delicacies.
Groups are kept small (with a maximum of 10 participants) to ensure an intimate experience. Note that the cost of food is not included - you can just pay this at each different establishment.
Itinerary
Your adventure begins outside the NH Hotel, which is a handy jumping-off point for the historic center. There will be a quick briefing, then it's time to head off and eat your way around the city.
Listen as your guide explains the culinary traditions of Siena and introduces you to some of the favorite local treats. There will be several stops during your excursion, with something different to enjoy at each new eatery.
You'll love sinking your teeth into the sugar-dusted ricciarelli – traditional macaroon-style biscuits with an almond flavor. Leave room for some chewy panforte, which is like a thick florentine packed with fruit and nuts.
Walk off the sugar rush and soak up the old-world atmosphere of these ancient neighborhoods. This is where the locals hang out so you'll have a privileged glimpse into the city's authentic side.
Fancy something savory? Then get stuck into hearty tranches of pecorino cheese, and wash it all down with a glass of Colli Senesi, a famous Chianti red wine.
There aren't many free tours in Siena that taste this good!
In which languages are free walking tours in Siena operated?
At present, all free Siena walking tours are conducted in English. This type of excursion is fairly new to Siena so watch this space for more languages to be added in the future.
Where do free walking tours in Siena start?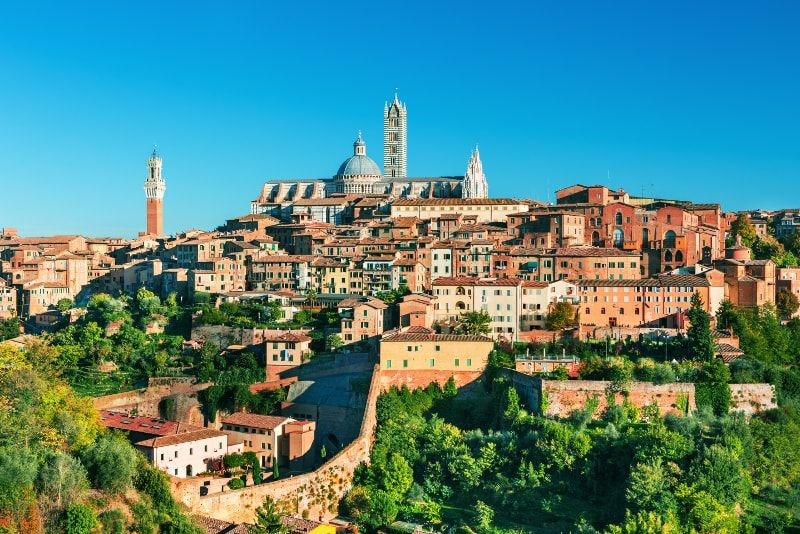 All free walking tours in Siena currently start in front of the NH Hotel on Piazza la Lizza in the historic center. This puts you immediately into the heart of the action and means you'll be well placed to continue your explorations after the tour.
How long do free walking tours in Siena last?
These free tours in Siena last 1 hour and 45 minutes, which is plenty of time to swing by the major landmarks in the old town. You'll be given a solid insight into what the city has to offer, so you can plan your subsequent sightseeing accordingly.
When is the best time to join a free walking tour in Siena?
The city is at its finest during the mornings when the streets are less crowded, and the sun is already hopefully shining. Luckily, all the free walking tours in Siena kick off mid-morning, giving you time to enjoy a leisurely breakfast as well as beating the hordes.
To get the most out of your excursion, book it for your first day in town. That way you'll have a great introduction to the city without the hassle of having to find your own way around.
Should Siena free walking tours be booked online?
Absolutely! These free tours in Siena are popular, particularly during the summer, so to avoid missing out make sure you bag your spot in advance. Places are limited, so the group size remains manageable in the narrow streets of Siena.
Another bonus of booking online is that you'll already have something planned before you even set foot in the city. Having to search for tours once you're on the ground can be stressful and takes up valuable time.
The booking process is easy and convenient.
No payment or credit card details are required
Cancelation is free
You'll have all the tour details in advance