Montalcino is a fairytale village south of Siena that overlooks rolling hills and picturesque vineyards. The quaint Italian paradise is known for its delicious Brunello wine, cypress trees and olive groves.
Embark on a day trip to Montalcino from Siena to enjoy a break from city life and discover a charming medieval town. Learn the history behind the imposing Rocca fortress and wander down the cobblestoned streets filled with cafés and wine bars.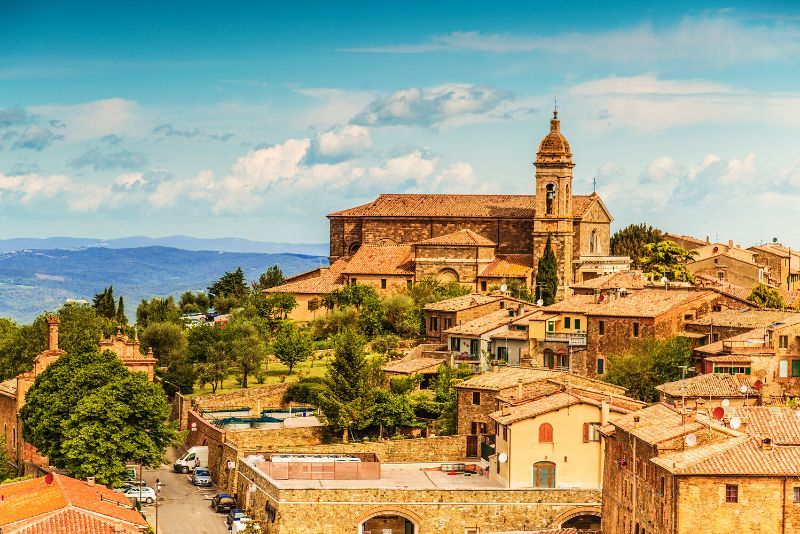 Here's all you need to know about Montalcino, one of the most fascinating destinations for day trips from Siena.
How to get to Montalcino from Siena?
From Siena to Montalcino by car
Montalcino is located in Italy's central Tuscany region about 1-hour south of Siena by car. Leave the city on the Via Esterna di Fontebranda, Str. di Pescaia and merge onto Str. Massetana Romana.
Follow this route for about 10 minutes until you reach the S.da Cassia Sud/SR2. Continue on the SR2 toward Strada Provinciale del Brunello in Buonconvento for about 40 more minutes until you reach Osservanza, where you'll exit onto Via Traversa dei Monti/SP14. Ride for about 5 more minutes on SP14 until you arrive in Montalcino.
From Siena to Montalcino by train
There is no direct train route to Montalcino from Siena, though the town can be reached in under 2 hours with a bus transfer. Board the regional train at the Grosseto stop in Siena and ride for 30 minutes or three stops until you reach Buonconvento.
From there, board the 114 bus and ride for another 30 minutes or 18 stops until you arrive at Montalcino Fortezza.
From Siena to Montalcino by bus
If you wish to ride the entire way to Montalcino by bus, walk about 10 minutes from the Siena city center to the Porta Ovile stop. Board the 57P for about 50 minutes or eight stops.
You'll need to transfer at the Centrale Elettrica stop to the 114 bus where you'll continue for another 15 minutes or nine stops before arriving in Montalcino.
Guided tour from Siena to Montalcino
Take a guided tour from Siena to Montalcino to get the most out of your medieval adventure. On a day trip with a professional guide, you'll have the option for hotel or meeting point pickup before the 1-hour drive south.
Once you arrive in the charming village, you'll embark on an itinerary that best fits your interests. Spend anywhere from 5 to 11 hours touring the town while indulging in the famous wine and delicious cuisine.
What is the typical itinerary of a day tour to Montalcino from Siena?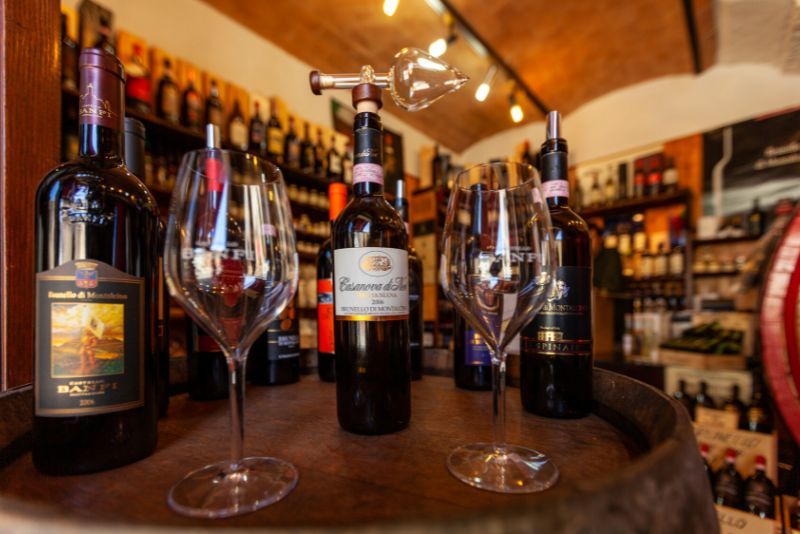 A guided tour to Montalcino from Siena will typically begin with a morning pickup by air-conditioned minivan either at your hotel or a designated meeting point.
After a 1-hour drive, you will arrive in the Tuscan hills and kick your day trip off with a visit to a local winery. You'll taste the famous Brunello and enjoy a tour of the vineyard cellars.
Continue on to the center of town where you'll typically have free time to explore the cobblestoned streets. Wander through the maze of Montalcino while peeking at adorable arts and crafts stores, quaint cafés, mouthwatering restaurants and wine bars. You'll enjoy stunning views of the rolling hills below.
Most tours include a stop at a family-owned winery, where you'll learn the process of fermentation from the winemakers firsthand before dining on a traditional Tuscan lunch of pasta and dessert.
From there, you'll have a chance to explore the medieval landmarks that still remain from the 16th century. Peruse the ancient Benedictine abbey of Sant'Antimo and listen while the monks chant Gregorian songs during your visit.
Tour the impressive Rocca fortress that was first constructed in 1361 with a 365-degree view of the hills of Maremma.
Some excursions include one final vineyard visit and a wine-tasting opportunity before returning back to your drop-off point in Siena.
What kinds of tours are available?
Guided tours to Montalcino from Siena
Choose a guided tour to Montalcino from Siena to learn about the flourishing wine region while stopping at the most popular attractions along the way.
On this excursion, you'll visit several wineries in the Tuscan hills to tour the cellars and learn the winemaking process. You'll explore the labyrinth of shops in the town center and have plenty of time to stop in one of the delicious local restaurants.
Your guide will take you through some of Montalcino's most important monuments, like the 16th-century Benedictine Abbey that is still in use today. This excursion will include pickup and drop-off back in Siena at the end of the day.
Day trip to Montalcino plus Castello Tricerchi from Siena
On this day trip, you'll combine flavorful wine tastings and the rich Tuscan history with a visit to  the 15th-century Castello Tricerchi Montalcino wine estate.
Your professional guide will lead you across the 600-year-old property as you marvel at the ancient chapel and rows of lush grape vines. Your tour will include a Brunello wine tasting held in the historical room of the castle.
Day trip to Montalcino plus San Gimignano and Monteriggioni from Siena
This tour is for those who would like to visit several of the charming Tuscan towns while on a day trip from Siena. After meeting your guide, you'll travel to San Gimignano, also known as the City of Fine Towers.
You'll have free time to peruse the quaint shops and try the local Vernaccia white wine before continuing on to Monteriggioni, a 13th-century fortress.
Explore the crown-shaped castle that Dante mentioned in his "Inferno" before stopping at a winery for a tasting. From there, you'll continue on to Montalcino to finish your tour.
Day trip to Montalcino plus Pienza and Val d'Orcia from Siena
This tour from Siena will include a stop in Pienza, the delightful Tuscan town that was once the summer home of Pope Pius II.
Afterward, you'll pass through breathtaking Val d'Orcia, the rich green valley recognized by UNESCO as a World Heritage site. Marvel at fields of cypress trees, olive trees, sunflowers and farmhouses before heading to Montalcino.
Private tour to Montalcino from Siena
For a more personalized experience, choose a private tour of Montalcino from the city of Siena. Your professional guide will pick you up from your desired location before traveling through the panoramic Val d'Orcia.
You'll stop for a visit at a local farm where you'll be able to try delicious organic cheeses and extra virgin olive oil. Enjoy some free time in Pienza before arriving in Montalcino, where your private guide will lead you through the town center.
Visit a local winery to try the famous Rosso and Brunello before boarding your air-conditioned ride back to Siena.
How much does it cost?
Guided tours from Siena to Montalcino can range from €100 to €250 per person, with the more expensive trips including a full meal and multiple wine tastings.
An excursion that visits only one vineyard plus the Castello Tricerchi will cost about €100 per person.
A day trip that includes stops in the towns of San Gimignano and Monteriggioni will cost between €50 and €100 per person, with at least one wine tasting.
For an excursion that stops in Pienza and for views of Val d'Orcia, expect to pay between €200 and €250 per person, with entry to all landmarks and exhibits included.
A private tour of Montalcino from Siena typically costs between €250 and €350 per person or between €400 and €700 for groups of up to six people.
What will you see and do on a Montalcino day trip from Siena?
Castello Tricerchi Montalcino
This 600-year-old castle is the home of one of the largest Brunello vineyards in the region. Visit the medieval cellars, the Chapel of the Virgin and the bridge of Baldassare for unbeatable views of the hilly landscape.
Val d'Orcia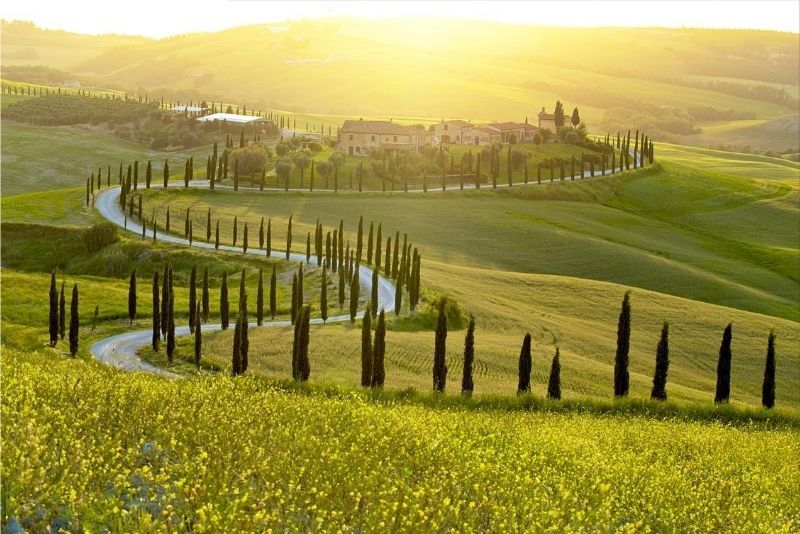 The Val d'Orcia is the region of Tuscany that is filled with rolling green hills, local farms, olive and cypress trees and quaint villages. This UNESCO World Heritage site has been recreated in countless artworks depicting the picturesque nature between the towns of Siena and Grosseto.
When is the best time to visit Montalcino?
The best time to visit Montalcino is between April and June when the weather is warm, the prices are lower and there are fewer crowds.
The most popular season for tourists is in summer when temperatures peak and the least popular months are between September and November when the area experiences the most rainfall.
Are there any tours to Montalcino from other cities in Italy?
Yes, there are tours departing from other cities in Italy:
Travel tips
The legal drinking age in Italy is 18, so make sure to bring your ID if you choose an excursion that includes wine tasting.
Most tours require walking through hilly landscapes and the town center so wear comfortable shoes.
Some excursions include only small snacks and no meals so make sure to bring money to purchase food separately.