The town of Ubud, located in central Bali, is surrounded by rainforests, rice terraces and ancient Hindu shrines— making for a serene and somewhat magical atmosphere.
An Ubud day trip in Bali allows you to explore this cultural epicenter and its dozens of local attractions in full. Most famous for the Monkey Forest and its shopping experiences, Ubud receives over 3 million visitors every year.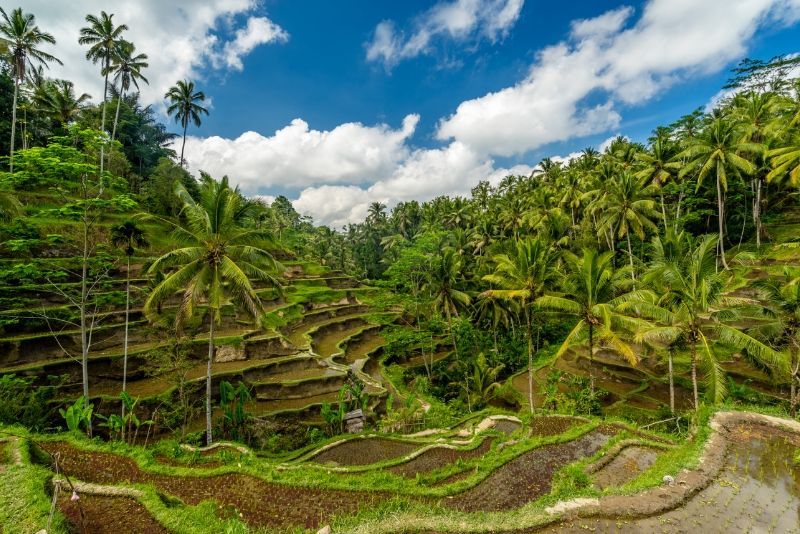 Here's all you need to know about Ubud, one of the most famous destinations for day trips in Bali.
How to get to Ubud?
Ubud is located in central Bali, in the Gianyar Regency, and is just 40 kilometers north of Ngurah Rai International Airport.
From Bali to Ubud by car or scooter
Wherever you are in Bali, there is bound to be an affordable car or scooter rental service just around the corner from you. Because Ubud is such a popular tourist destination, the roads leading toward the town are clearly marked. Driving from the airport to Ubud takes roughly 1 hour.
From Bali to Ubud by bus
There is a public bus that goes from Ngurah Rai International to Ubud, but you will need to first get off at Batu Bulan and then get onto a shuttle bus going into central Ubud. There is no definitive schedule, and the entire journey usually takes around 1.5 hours.
Guided tour to Ubud
A guided tour is undoubtedly the easiest and most convenient way to get to Ubud from your accommodation in Bali. Get picked up from your hotel and make your way to Ubud in an air-conditioned vehicle. Guided tours to Ubud from Bali are usually around 6 hours including travel time.
What is the typical itinerary of a day tour to Ubud?
While there are many different types of day tours to Ubud, most of the tours follow a somewhat similar itinerary.
You can expect to start the tour with a pickup from your Bali accommodation. You'll meet your guide and other tour participants, and make your way to Ubud in an air-conditioned vehicle— enjoying spectacular countryside views along the way.
Once in Ubud, you may take part in a wide variety of activities such as shopping, visiting the Monkey Forest, cycling through nearby rice paddies, sightseeing, eating at traditional restaurants and much more. It will all depend on what the focus of the tour is.
Before you head back to your Bali accommodation, some tours will make stops at additional nearby attractions, such as local temples and Mount Batur.
What kinds of tours are available?
As Ubud is such a popular tourist destination, there are a wide variety of day trips to the area— including group tours, private tours and tours that include additional locations.
Guided tours to Ubud
Guided group tours offer an affordable and convenient way to visit all the major sites in and around Ubud with a professional guide. You'll get to meet other tourists as you enjoy all of Ubud's cultural highlights and religious sites.
Many group tours focus on a particular activity in Ubud, such as cycling through the nearby rice terraces.
Shuttle transfer without guide to Ubud
If you want to explore Ubud on your own, without a guide, then a shuttle transfer may be the right option for you. Get picked up by your English-speaking driver and get driven to a location in Ubud of your choice.
You're can create your own itinerary for the day, and the service is valid for 10 hours before you incur any additional costs.
Private tour to Ubud
Private tours to Ubud offer the ideal way to make the most of your time in this cultural epicenter. Your guide will cater to the needs of your group, and you may even be able to customize your itinerary by requesting additional stops.
Enjoy all that Ubud has to offer with your private guide, and from the comfort of a private vehicle.
Ubud Tour with Jungle Swing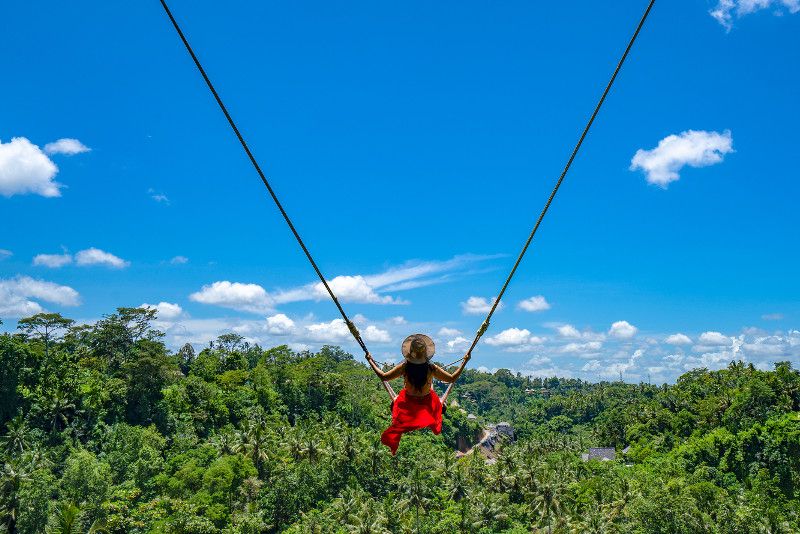 Visit the Ubud Monkey Forest, trek to the Tegalalang rice terraces, and tour a coffee plantation, then soar through the trees on a jungle swing and cool off with a swim at Tegenungan waterfall.
You'll have a full-day private tour only with your group.
Ubud Rice Terraces, Temples and Volcano Day Trip
See the gorgeous rice terraces surrounding the town of Ubud and visit the nearby volcano Mount Batur, the Ubud Monkey Forest and the Ubud Royal Palace— all in one day! In addition, you'll also get to see a handful of nearby temples and enjoy a traditional Balinese lunch.
Make the most of your time in central Bali by choosing a tour that visits multiple locations.
How much does it cost?
Guided tours to Ubud can cost as little as US$30 per person, but longer, more in-depth guided tours can cost up to US$50 per person. It all depends on the itinerary and the length of the tour.
The private tour that visits the volcano and rice terraces costs US$60 per person.
Shuttle transfers cost around US$30 per person, granted that the shuttle is full. If you are taking the shuttle on your own you can expect to pay more.
Ubud tour with Jungle Swing is a full-day private tour and costs around US$60 per person.
What will you see on an Ubud day trip?
There is a wide variety of interesting things to see and do in Ubud, and some of the most popular experiences and attractions include:
Ubud Monkey Forest
The Ubud Sacred Monkey Forest is by far the most popular attraction in Ubud, and makes for a memorable visit. Ubud Monkey Forest is a jungle sanctuary that is home to hundreds of Balinese long-tailed macaques. There is also a picturesque 14th-century Hindu temple within the sanctuary.
Ubud offers some of the best shopping opportunities in Bali as the town is home to many talented artists and craftsmen. This is the perfect place to purchase unique gifts and souvenirs to take home with you, and most day tours make some time for shopping in Ubud.
Rice Terraces
Ubud is surrounded by rice terraces that make for great walking and cycling tours. When exploring the rice terraces with a professional guide, you'll learn more about the local farmers' way of life.
Aloha Swing
The Aloha Swing is a popular day tour activity that allows you to swing over a beautiful valley in Ubud. The jungle backdrop makes for amazing photographs, and thousands of pictures on the Aloha Swing have been posted on social media platforms.
Hindu Temples
Ubud is surrounded and filled with Hindu temples and shrines, and a tour to Ubud would be incomplete without stopping at one or two of these ancient temples. Your guide will provide you with the history of the temple and its cultural significance.
When is the best time to visit Ubud?
Ubud can experience extreme amounts of rain during the wet season, so it is preferable to visit the town during Bali's dry season (April to October).
Travel tips
Book your Ubud day trip from Bali in advance to guarantee your spot.
Ensure that you cover your legs and shoulders should your tour itinerary include any temples.
Bring along some extra spending money for personal expenses such as souvenirs.
Dress comfortably and wear practical shoes as you may be doing a lot of walking during your day trip.