Once the glamorous capital of Japan, Nara is home to a tremendous collection of ancient monuments, as well as bountiful cherry blossoms and a surprisingly large deer population.
From the golden structure of Kasuga Taisha to the natural haven of Nara Park, the city is full of attractions for every type of traveler. Whether you're a history buff, animal lover or a budding photographer, you'll find that a day trip to Nara from Osaka ticks all the boxes.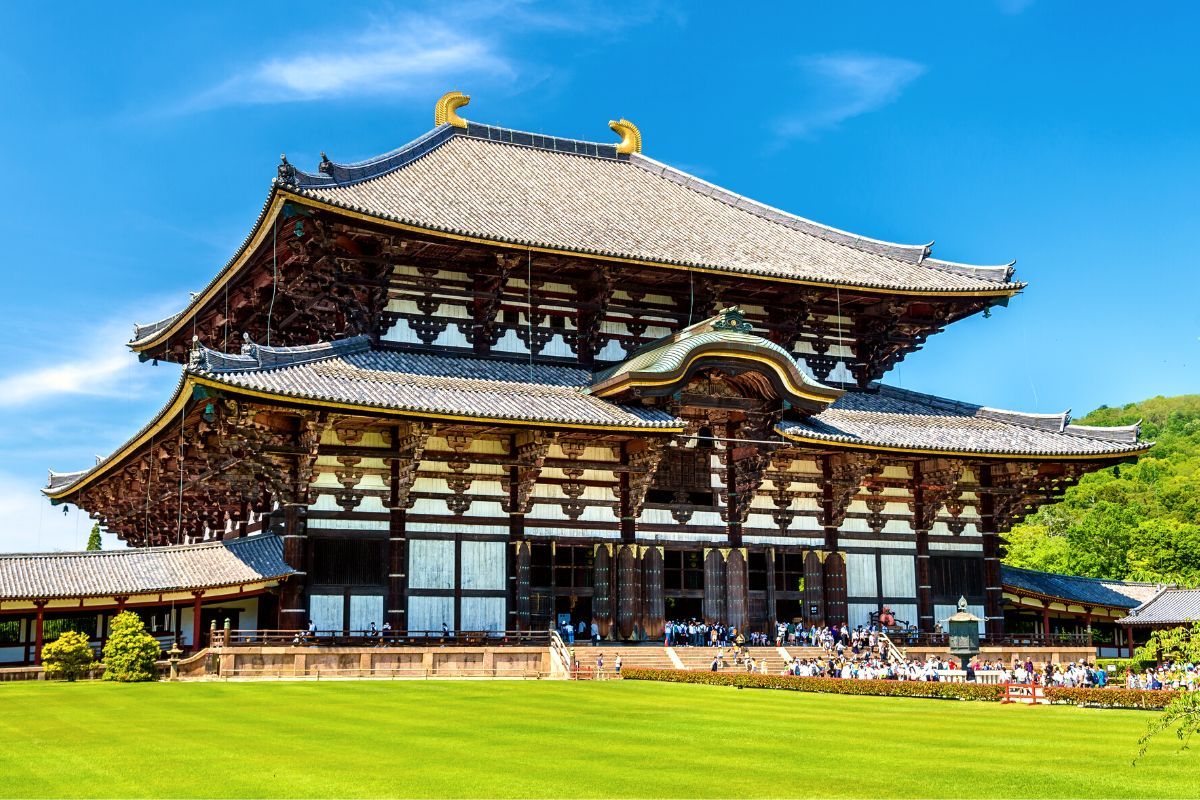 Here's all you need to know about Nara, one of the most exciting day trips from Osaka.
How to get to Nara from Osaka?
Nara is the capital city of the Nara Prefecture, located in the southern stretch of Japan. It is approximately 30 kilometers from Osaka.
From Osaka to Nara by car
The journey to Nara takes just over 40 minutes by car and follows the E92 heading east out of Osaka, all the way to the city.
From Osaka to Nara by public transport
If you wish to make the jaunt to Nara by public transport, you can take a direct train from Osaka's Kintetsunippombashi station to the city, which takes around 30 minutes and departs every 20 minutes throughout the day.
Guided tour to Nara from Osaka
Another option is to book a guided excursion to Nara. These last between 8 and 12 hours, and often visit a handful of other destinations en route. You'll usually meet at an easy-to-reach spot in Osaka around 9 AM, and travel to the city by bus.
What is the typical itinerary?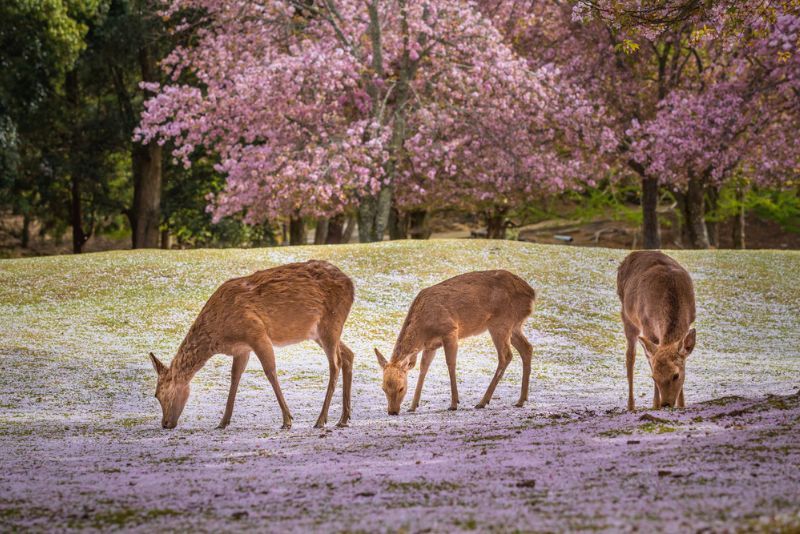 The majority of Nara day trips include a range of other sites in their itinerary, although it is possible to find one that spends the full excursion wandering the ancient city's streets. You may make your own way to Nara by train, or alternatively, enjoy the convenience of a tour bus to transport you to your destination.
Some tours travel straight to Nara, while others make their way to the Arashiyama Bamboo Forest, just outside of Kyoto. You'll often have lunch after ambling through this natural site, which tends to be a local affair. Journeying on, you may have the opportunity to see Kyoto and Kobe.
Alternatively, some Nara day tours head on to the main destination after lunch, where you'll admire its plethora of historic monuments, some of which date back over 1,300 years.
You'll also pay a visit to the city's most famous landmark — its park — known for its abundance of deer. These creatures are known for being especially friendly and visitors can feed them from their hands. After a day spent exploring, you'll board your bus or train and return to Osaka.
What kinds of tours are available to go to Nara?
There are several different Nara day tours to choose from, depending on the other sites you're interested in visiting.
Private tour to Nara from Osaka
Private Nara day trips enable you to see the city through the eyes of a local and enjoy the tidbits of information they provide. You'll use the convenient and easy-to-navigate train system to make your way to Nara from Osaka, where you'll participate in a fascinating walking tour.
Visit Kasuga Taisha, the most revered shrine in the city, which is dedicated to the deity who provides protection over Osaka. The Buddhist Todai-ji Temple and the tranquil Isuien Garden are also on the itinerary, providing a well-rounded view of Nara.
Day trip to Nara plus Arashiyama from Osaka
Travel through Japan's impressive landscape to the Arashiyama Bambo Forest, which is known for its serenity and features endless rows of perfectly-grown bamboo. Enjoy a leisurely stroll while soaking in the beauty of mother nature, before admiring your surroundings from the Togetsukyo Bridge.
Feast on a local lunch before journeying on to Nara, the ancient capital of Japan. Alongside many historic landmarks, you'll step inside Nara Park, which is known for its friendly deer population.
Day tour to Nara plus Kyoto and Kobe from Osaka
Begin your Nara day tour with a visit to Arashiyama's peaceful bamboo forest. From there, you'll make your way to Kyoto to see the impressive golden pavilion of Kinkaku-ji and learn about its history as the resting place of one of Japan's most notable dictators. Take a selfie surrounded by inquisitive deer at Nara Park before finally visiting Kobe to discover local Japanese products and foods.
How much does a day trip to Nara from Osaka cost?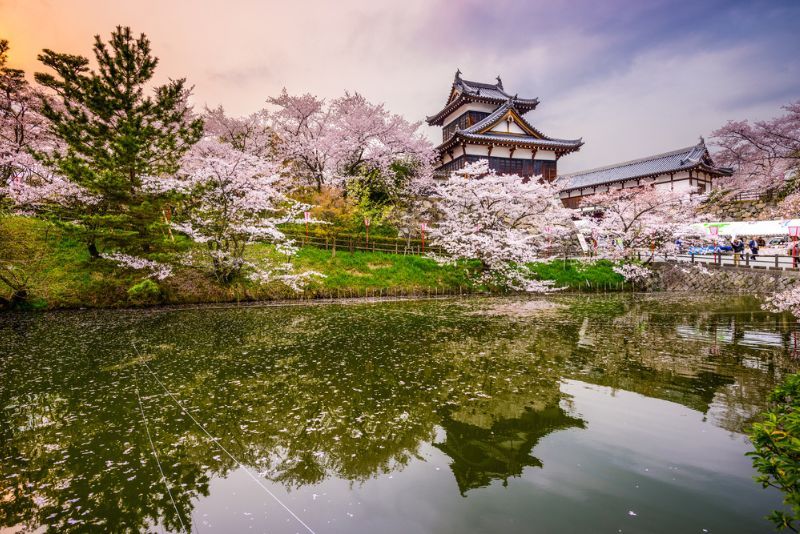 If you wish to take a day tour to Nara and Arashiyama, you can expect to pay around US$80 per person. This includes round-trip transportation, a tour guide and lunch.
A day trip that includes Kyoto and Kobe in its itinerary costs around US$90 each. However, you can choose to upgrade your meal for greater variety, which costs a little over US$20 per person.
You'll pay approximately US$290 per person for a private Nara day trip, which includes all entrance fees, as well as the services of an experienced guide. Transportation to the city will be at your own expense.
What will you see and do?
Nara Park
Nara Park is one of the oldest parks in Japan, originally established in 1880. It is located at the base of Mount Wakakusa and houses several of the city's most iconic monuments, including Todai-ji Temple, and Kasuga Taisha.
Over 1,300 deer roam the park's 1,240-acre grounds freely and are well-adapted to meeting tourists. Visitors can get up close in order to feed, pet and take a photo with the placid mammals.
Kasuga Taisha
Kasuga Taisha — also known as Kasuga Grand Shrine — is a shrine of the Fujiwara family that dates back to the 8th century, however, the building itself has seen several reconstructions over the last 1,300 years.
It is believed that a kami deity of the Shinto religion traveled here when it was newly built to provide protection over the city. Today, four of these spirits are enshrined in the temple.
When is the best time to visit Nara?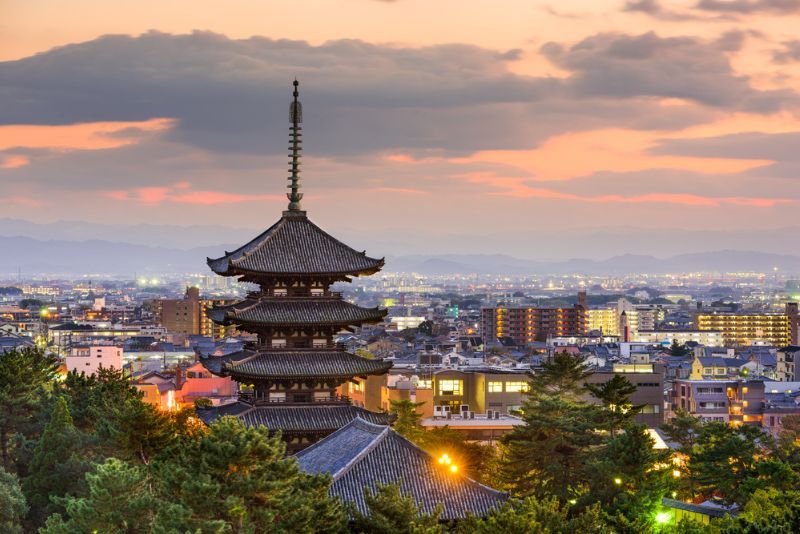 The summers in Nara tend to be extremely hot and humid, which is why it's better to visit in the spring or fall months. During these times, you can expect temperatures to range from a mild 16 to 24 degrees Celsius.
If you plan a day trip to Nara in the springtime, you can also see the famous Japanese cherry blossom trees covered in pink blooms. This is the busiest but also the most beautiful time to be in the city.
Are there any tours to Nara from other cities in Japan?
Yes, there are tours departing from other cities in Japan:
Travel tips
Most Nara day trips include a guided walk through the city. Ensure you're wearing comfortable footwear for this.
There is no particular dress code for visiting the shrines and temples of Japan. However, embracing modestly in smart-casual attire is considered the most appropriate form of dress.
Most excursions include lunch. If you have a dietary requirement, let your tour provider know upon booking to see if they can accommodate your needs.