The city of Kobe is still relatively unknown by international tourists, which makes this one of the best spots to soak up an authentic Japanese experience.
With its traditional shops selling local goods to its surrounding mountains and meandering hot springs that run through the town, a Kobe day trip from Osaka is a must for anyone in the Kansai region.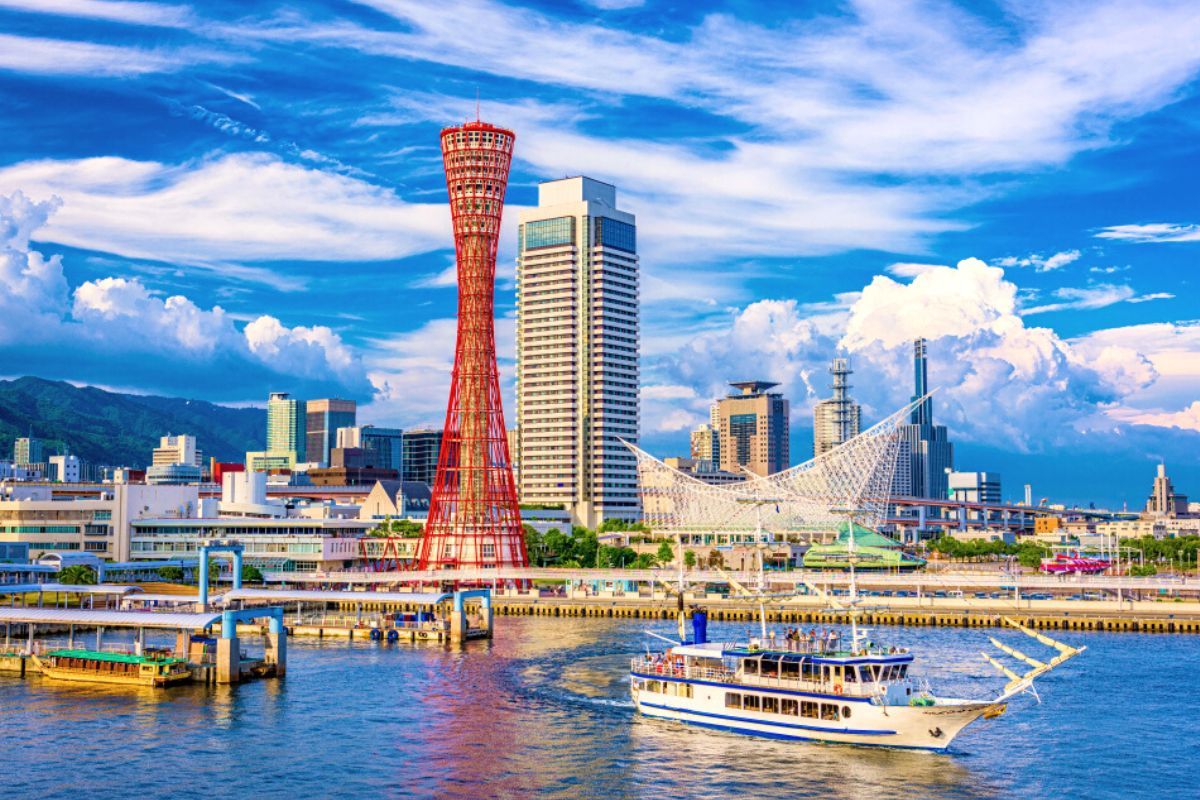 Here's all you need to know about Kobe, one of the most exciting day trips from Osaka.
How to get to Kobe from Osaka?
Kobe is located in the Kansai region of Honshū Island in Japan. It is a little over 30 kilometers west of Osaka.
From Osaka to Kobe by car
The journey to Kobe from Osaka by car takes just over half an hour and Route 3 connects the two cities for an easy drive.
From Osaka to Kobe by public transport
You can catch the JR Special Rapid Service train to make the jaunt to Kobe in just 17 minutes. This service runs every 10 minutes throughout the day and provides a direct line between the destinations.
Guided tour to Kobe from Osaka
Another option is to book a guided excursion to Kobe and let someone else organize your itinerary. You may benefit from a convenient hotel pickup service, although most tours meet in an easy-to-reach destination in Osaka. You'll leave the city between 8 AM and 9 AM, and return between 8 and 12 hours later.
What is the typical itinerary?
The itinerary of each Kobe day trip differs, depending on any additional sites that will be visited. After meeting your tour guide and boarding your vehicle, you may travel immediately to the city to cram its best attractions into a few hours.
You'll travel up its mountain range, admire the blooms of the city's arboretum and discover the hot springs that run right through town, which are a hidden gem among tourists.
Alternatively, some Kobe day tours incorporate the city as part of a wider itinerary. In this case, you may visit some of the most interesting destinations in the region, such as the oldest city in Japan — Kyoto — and Nara.
In these instances, you'll head to Kobe last on a fleeting visit to enjoy its traditional shops selling local goods, from anime cartoons to Japanese snacks. Once you've done enough exploring, you'll hop back on your vehicle to return to Osaka in the afternoon or evening.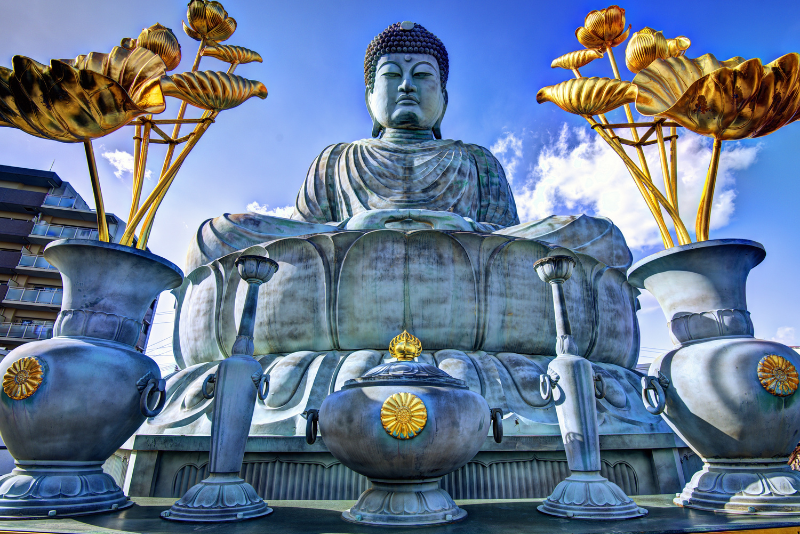 What kinds of tours are available to go to Kobe?
There are a couple of different options to consider when booking a day tour to Kobe. You can either enjoy a private excursion that transports you to all of the main highlights of Kobe or opt for a tour that includes several other Japanese destinations.
Private tour to Kobe from Osaka
If you want to enjoy the one-on-one attention of a personal guide, opt for a private tour that whisks you away from Osaka's noisy streets and into the tranquil mountains of Kobe.
Journey up the Rokkō mountain range, which stretches for over 50 kilometers, and gain a view over the rolling hills, and bustling city streets below you.
Travel to the Kobe Municipal Arboretum, where the official flower of Kobe city — the ajisai — grows, and take a stroll through its rows of fragrant blooms. Lastly, visit the Arima Onsen hot springs, where you can feel yourself becoming rejuvenated by the town's thermal waters.
Day trip to Kobe plus Kyoto and Nara from Osaka
Begin your Kobe day tour by traveling to Arashiyama to talk a walk through the region's peaceful bamboo forest, before feasting on a traditional Japanese lunch. From there, you'll make your way to the ancient city of Kyoto where you can admire the Kinkaku-ji shrine with its gold leaf detailing.
Get up close and personal with the friendly deer of Nara Park, who will enjoy munching on snacks directly from your hand before heading to Kobe. Here, you'll have the opportunity to shop for local goods and try Japanese delicacies before returning to Osaka.
How much does a day trip to Kobe from Osaka cost?
Kobe day tours that make stops at Kyoto and Nara cost between US$90, and US$120 per person, depending on the meal choice you make. Alongside lunch, this excursion includes a tour guide, as well as the entrance fee to Kinkaku-ji.
A private day trip to Kobe starts at US$500 for a group of up to six participants. Broken down, with the maximum number of people in your party, you'll each pay just over US$80.
What will you see and do?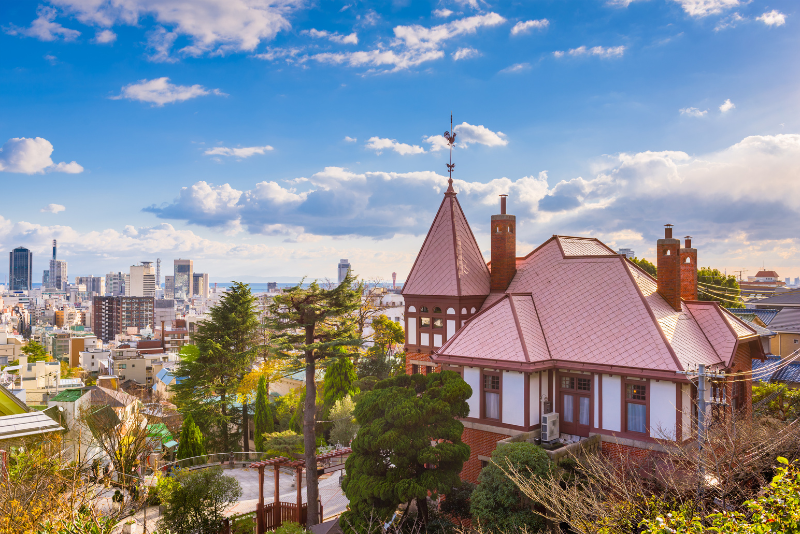 Rokkō Mountains
The Rokkō mountain range stretches across Sumaura Kōen Park, between the cities of Kobe and Takarazuka. Its highest peak reaches a height of over 930 meters, which seems small in comparison to Japan's largest mount — Fuji — towering over the country from almost 3,780 meters.
However, this fact doesn't stop the Rokkō Mountains from being an impressive sight to visitors in the Kansai region. From this vantage point, you can admire Kobe city from above and see all the way to the ocean.
Municipal Arboretum
The Kobe Municipal Arboretum was first established in 1940 and over 80 years later is still standing, now home to over 1,200 species of flora. While many of these trees and blossoms are Japanese, there are many species that originated in other parts of Asia, as well as Europe, America, and Australasia.
Spring is one of the best times to visit the garden when the blooms are starting to open up after a frosty winter and you can see an abundance of  hydrangeas thriving. Alternatively, travel to the site in the fall time, when 3,000 maple trees set the landscape alight with vibrant hues of orange and red.
Arima Onsen hot springs
The Arima Onsen hot springs date back over 1,000 years and are the oldest springs in the city of Kobe. There are two main hot springs here, named the "gold spring" and "silver spring" respectively.
The gold spring is rich in iron and salt, and is known for its skin-healing properties. The silver spring, on the other hand, contains radium and carbonate, necessary minerals for relieving joint, and muscle pain.
When is the best time to visit Kobe?
The most opportune time to plan a day trip to Kobe is during the mild spring (March to May) or fall (September to November). During these months, temperatures range from 17 to 23 degrees Celsius, making exploring perfectly comfortable and enjoyable.
The Kansai region of Japan experiences drastically hot and humid summers, alongside bitterly cold winters.
Travel tips
If your Kobe day trip includes the city's hot springs, remember your swimsuit and a towel.
Ensure you are respectful of local customs by dressing conservatively if your excursion visits any of Japan's numerous Shinto shrines.
If you wish to avoid the tourist crowds completely, head to Kobe during January when the chilly winter air keeps visitors at bay.