Anyone searching for a fun way to spend a day with their kids or reignite their own inner child should look no further than Universal Studios. This colossal theme park is the most famous in the country, and for good reason.
Full of adrenaline-spiking roller coasters, thrilling events and an assortment of other-worldly characters, it's impossible to have a bad time here.
Whether you're a Harry Potter enthusiast, Minions mad or a Mario super fan, you can explore it all with Universal Studios Japan tickets.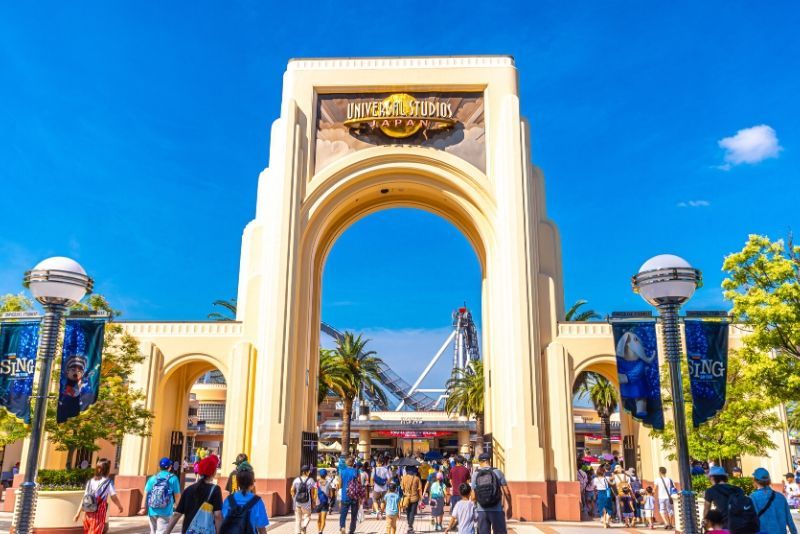 Here's all you need to know about Universal Studios Japan, one of the most fun options for theme parks in Japan.
How much do Universal Studios Japan tickets cost?
1-Day studio pass
This is the standard Universal Studios Japan ticket that enables individuals to explore the park at their leisure. However, it does not include entrance into ticketed events.
Adults aged 12 and over: ¥8,400 (US$65)
Children aged 4-11: ¥5,400 (US$42)
Children under 4: Free
1.5-Day studio pass
If 1 day doesn't seem like quite enough, you can purchase this 1.5-day Universal Studios Japan pass, which allows you access from 3 PM on the 1st day and is valid for 2 consecutive days.
Adults aged 12 and over: ¥13,100 (US$102)
Children aged 4-11: ¥8,600 (US$67)
Children under 4: Free
2-Day studio pass
With this ticket, you may enter Universal Studios Japan for 2 consecutive days. This is an ideal option for those who wish to see everything the theme park has to offer.
Adults aged 12 and over: ¥16,300 (US$126)
Children aged 4-11: ¥10,600 (US$82)
Children under 4: Free
Express pass
You can also purchase express passes that include several rides, in order to spend less time queueing for popular attractions.
These are bookable online in advance and allow the user on to 4 or 7 rides of their choosing. They have fluctuating price ranges depending on the popularity of the rides you book and prices are per person, regardless of their age.
Universal express pass 4 ¥5,800 (US$45) - ¥7,800 (US$61)
Universal express pass 7: ¥10,800 (US$84)
Who is eligible for discounts?
Senior citizens aged 65 and over qualify for a reduced Universal Studios Japan rate of  ¥7,600 (US$59) for a 1-day ticket.
What are the best Universal Studios Japan tours?
Shuttle transfer to Universal Studios plus ticket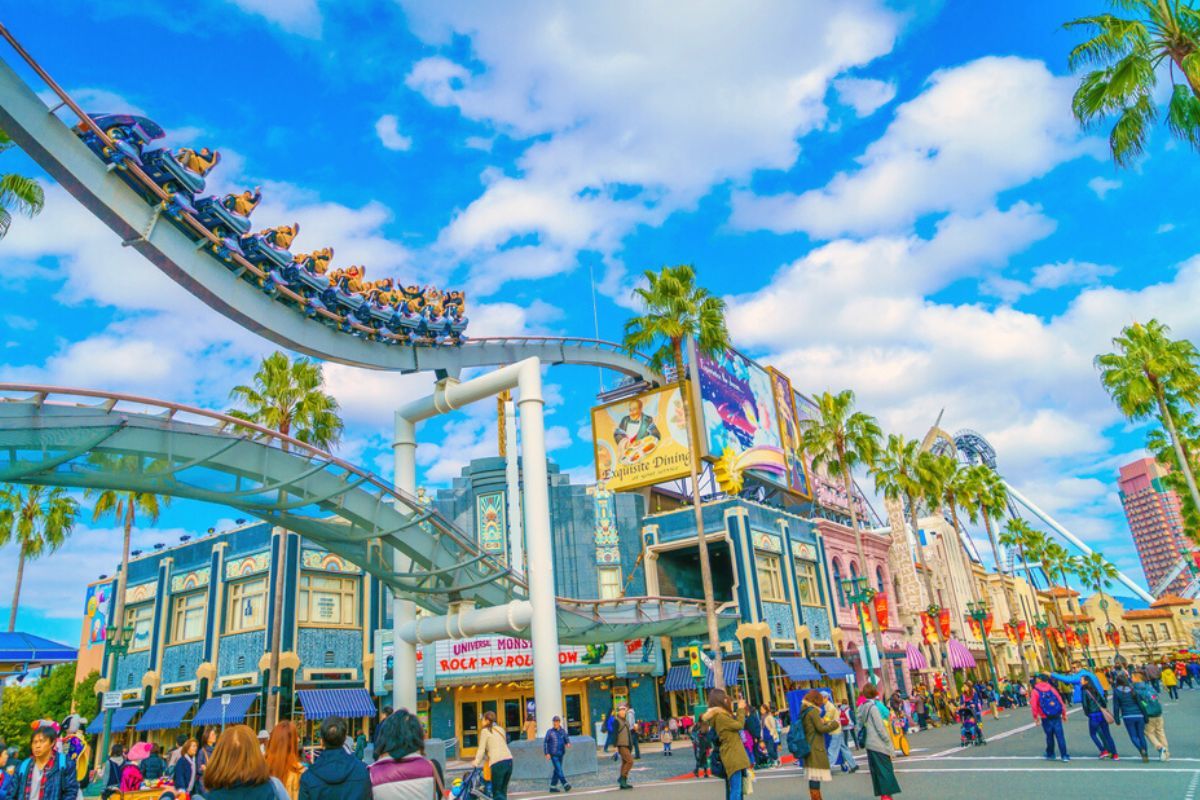 Leave the worry of organizing your journey behind by opting for a transfer service with your Universal Studios Japan tickets.
You'll have the option to choose between several pickup times and you'll simply wait to be collected in your hotel lobby by a friendly, and professional driver.
Relax as you make the short drive to Universal Studios Japan, where you'll be able to flash your pre-booked pass and forgo the queues at the ticket office.
Spend the day discovering the many worlds of Universal Studios, from the jungles of Jurassic Park to the magic of the Wizarding World of Harry Potter.
After a day of fun, you're bound to be exhausted, which is why a door-to-door transfer service back to your accommodation is so convenient.
Universal Studios Japan tickets plus Kansai Thru Pass
Make use of Japan's handy public transportation system as you navigate your way around the Kansai region to Universal Studios Japan.
This pass offers you a discount on 260 of the most exciting attractions in the region, saving you money on your Japanese vacation.
Explore Kansai's biggest city — Osaka — as well as some smaller Japanese gems, such as  Kyoto, Kobe and Nara with this combination pass.
Universal Studios Japan tickets plus Osaka Amazing Pass
Those who want to explore Osaka to the fullest should consider opting for this tour that enables you to see a whole host of attractions for less.
Discover the world's first Super Mario-themed park, get lost in "New York City" and feel your adrenaline spiking on a handful of exciting roller coasters.
Then, enjoy the freedom of the Osaka Amazing Pass, which gains you free admission to over 40 attractions, as well as Osaka's public transportation system.
Be awed by the Osaka Science Museum, explore the city from the water on a Nakanoshima River Cruise or take a dip at one of Osaka's thermal spas.
Are there any combined tickets or tours including Universal Studios Japan and other attractions?
By purchasing a combined Universal Studios Japan ticket, you will often save yourself money when compared to purchasing two or more passes individually.
●    Universal Studios Japan tickets plus Kansai Thru Pass: Make your Universal Studio Japan experience simpler by using the Kansai Thru Pass to navigate your way around Osaka and Kyoto.
●   Universal Studios Japan tickets plus Osaka Amazing Pass: Access the 40 finest attractions of Osaka in this all-inclusive city pass, on top of revisiting your childhood at Universal Studios Japan.
Should you book Universal Studios Japan tickets in advance?
You can purchase your Universal Studios Japan tickets at the gate, which opens an hour before the theme park each day. However, it's advisable to book your passes online in advance. This enables you to take your time selecting the ticket type that works best for you and your group, and helps you to avoid unnecessary queues once you arrive on site.
What will you see inside Universal Studios Japan?
Ranked as Japan's best theme park 4 years in a row, Universal Studios Japan is one of six Universal Studios located worldwide and attracts over 10 million guests annually.
The park is made up of 10 sections: Hollywood, New York, Super Nintendo World, Waterworld, Amity Village, Universal Wonderland, Minion Park, San Francisco, Jurassic Park and the Wizarding World of Harry Potter.
These are spread across a colossal 54-hectare space and the park's rides total over 60.
In each section, you'll feel as though you're stepping into a new world, perfectly themed to make your imagination go wild.
In the Wizarding World of Harry Potter, you'll find the nostalgic Hogwarts Castle, as well as the quaint village of Hogsmeade.
Over in Hollywood, you'll wander past drive-in cinemas and soaring palm trees, while the New York area features historic buildings, and iconic shopping streets.
Thrill seekers can get their adrenaline racing on a handful of coasters, including the Flying Dinosaur, which features the world's longest track, as well as the biggest initial drop.
You'll travel over 1,100 meters on the Flying Dinosaur as you drop, swoop and scream your way through the ride.
Other spine-tingling coasters include the Hollywood Dream ride, which zooms over the park at speeds of up to 90 kilometers per hour, as well as the Jurassic Park ride.
While there are several rip-roaring roller coasters in the park, it is also an ideal location for children of all ages with many rides centered around youngsters, such as Elmo's Bubble Bubble.
Several play areas are set up for kids to let off steam, including Big Bird's Big Nest, Bert and Ernie's Wonder: The Sea, and Abby's Magical Tree. Bumper cars, fairground rides and giant slides can also be found around Universal Studios.
Plenty of events and shows happen daily, which adds to the magic of the park. These include Moppy's Dance Party where little ones can let loose to some upbeat tunes and have the chance to meet the fluffy pink Sesame Street character herself.
Walking around the park, you may come across a myriad of exciting characters, including Mario and Luigi, and a handful of bumbling Minions.
There are also a selection of musical shows, which include the Frog Choir in the Wizarding World of Harry Potter, the Hello Kitty Happiness Brass Band and SING on Tour where you can join in with your favorite songs from the hit movie.
How to get to Universal Studios Japan?
Universal Studios Japan is located just outside of Osaka's city center and is easily reachable by train.
Take the Osaka Loop Line from Osaka Station City as far as Nishikujo Station. From there, you'll change on to the Sakurajima (Yumesaki) Line to Universal-City Station.
Universal Studios is just a short 5-minute walk from the station. While this journey may seem long-winded, in reality, it takes less than 15 minutes to complete, as trains run regularly and are easy to navigate.
If you wish to visit Universal Studios from Tokyo, you'll take the Tokaido Shinkansen Line to Shin-Osaka Station.
From there, you can hop on the JR Tokaido-Sanyo line to Osaka Station City. Once you arrive in Osaka, you can follow the above route to the theme park.
When is the best time to visit Universal Studios Japan?
The best times to plan your visit to Universal Studios Japan if you wish to avoid the crowds are on Wednesdays or Thursdays throughout January. However, you can expect the theme park to be relatively busy on any day of the year.
While holidays, such as Halloween, do attract more visitors, they can also be an extremely fun time to soak in the magic of Universal Studios. If you are worried about the crowds, it's advisable to avoid these holidays.
However, if you can stand a little pushing and shoving, you'll enjoy the themed events the park has to offer.
Whenever you choose to visit Universal Studios Japan, you should do so as soon as the park opens and plan to ride your favorite attractions first before long queueing times set in.
Which other theme parks can be visited in Osaka?
Travel tips
Loosely plan your Universal Studios Japan visit in advance, taking note of which rides are a must for you and your group. The park is large and can be overwhelming, so a little bit of planning goes a long way in ensuring you create the most memorable, and enjoyable day out.
Time your train journey to Universal Studios Japan well before the advertised opening time. This will enable you to be near the front of the crowd when the gates open, reducing your wait time on your first couple of rides.
While express passes are pricey, wait times of 5 hours are not uncommon in the park and can seriously impact your day. If you have the means, buy an express pass for the rides known to have the longest queues.
If you have you young children, prepare water and snacks for them ahead of time, as the food in the park can be costly, and often has long queues.