Kyoto is Japan's oldest city, formally founded in 794 A.D. This historic destination was both the largest city in Japan and its capital for over 1,000 years. Today, many visitors skip over Kyoto in favor of Tokyo, but doing so is a mistake.
From Shinto shrines to Buddhist temples, the city has no shortage of religiously significant monuments, which you can learn about on a Kyoto day trip from Osaka.
Here's all you need to know about Kyoto, one of the most exciting day trips from Osaka.
How to get to Kyoto from Osaka?
Kyoto is located in the Kansai region of Honshu Island, close to Lake Biwa. It is approximately 60 kilometers from the city of Osaka.
From Osaka to Kyoto by car
One of the easiest ways to make the journey to Kyoto from Osaka is to drive there. By car, it's an hour-long drive that follows Route 12 out of the city, followed by Route 1 for the rest of the journey.
From Osaka to Kyoto by public transport
Another way of making the jaunt to Kyoto is to take advantage of Japan's excellent public transportation system.
You can take a direct train from Osaka to the ancient city, which takes less than an hour. The train system is easy to navigate and tickets can be bought at the station.
Guided tour to Kyoto from Osaka
Alternatively, book a guided excursion to Kyoto and benefit from seeing a handful of Japan's best sites in the space of a few short hours.
Most of these day trips begin around 9 AM at a central location in Osaka, where you'll meet your guide and board a bus to transport you to Kyoto.
However, some tours offer a complimentary accommodation pickup service, making it even easier to visit Japan's main attractions.
You can expect an excursion of this nature to last between 7 and 9 hours, returning to Osaka in the late afternoon.
What is the typical itinerary?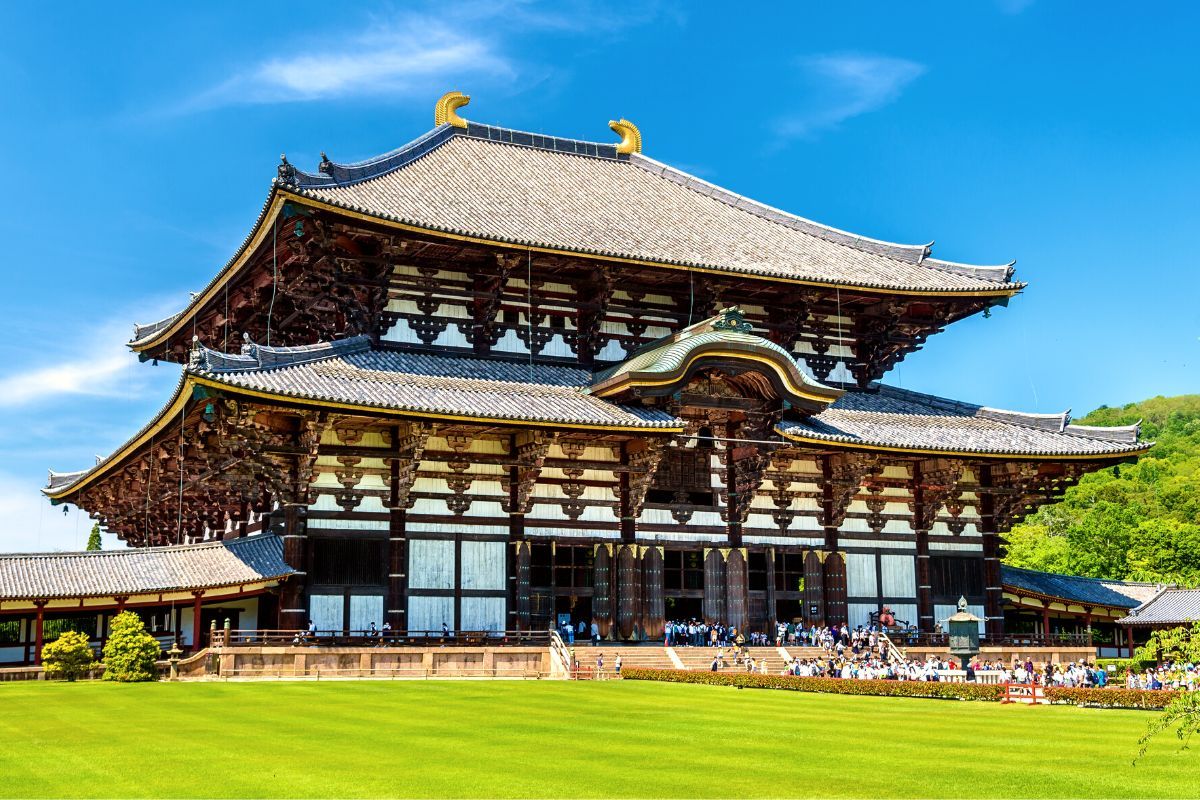 While all Kyoto day tours feature their own unique itinerary, they all have similarities. After meeting your guide, you'll make your way toward the city.
Some excursions travel directly to the main destination, while others stop at Kameoka where you'll board a train and take the scenic route to Arashiyama.
A walk through the bamboo forest is a must on every Japanese tourist's itinerary and you'll be surrounded by a sense of zen as you wander.
You'll often stop in Arashiyama for a buffet lunch, before continuing on to Kyoto. Once you arrive, you'll head to the city's most interesting religious monuments, which include the Fushimi Inari Shrine and Kinkaku-ji.
You can educate yourself on the Shinto religion as you gaze at the spectacular pavilions and temples here.
While many Kyoto day tours return to Osaka after visiting these impressive landmarks, others venture on to discover a traditional Maiko show or explore other destinations in the region, such as Nara.
This city was once the capital of Japan during ancient times and features its own array of symbolic landmarks.
What kinds of tours are available to go to Kyoto?
There are a plethora of Kyoto day tours to choose from, depending on your interests and the other destinations you're interested in seeing.
Guided tour to Kyoto from Osaka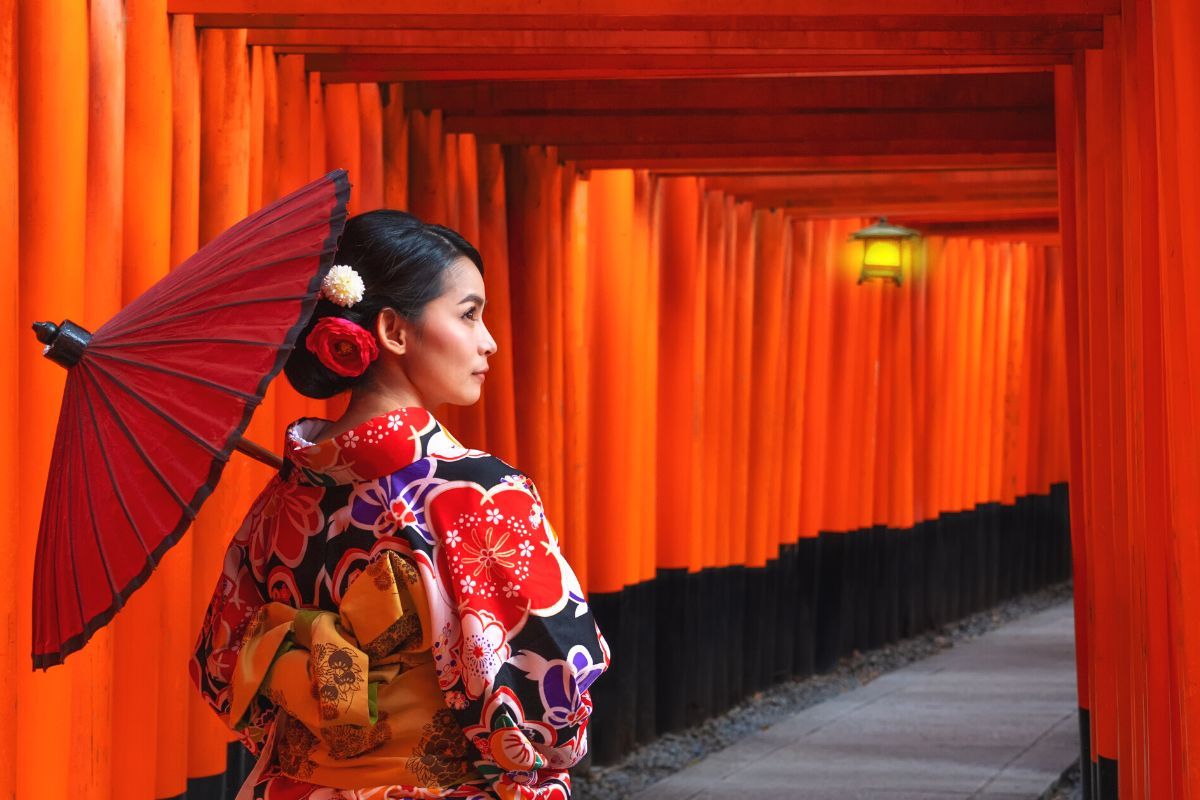 Begin your Kyoto day tour by traveling to the 8th-century city in comfort. Once you arrive, you'll discover the Fushimi Inari Shrine, built of thousands of vermilion torii gates.
The shrine is dedicated to the Shinto god of rice and features many fox statues around its grounds to symbolize the belief that foxes are messengers.
Move on to the Buddhist temple of Kiyomizu-dera, which holds many shrines including one dedicated to Ōkuninushi — the god of love.
Admire the golden exterior of Kinkaku-ji, as well as its garden — designed to be a tranquil spot to meditate. Before returning to Osaka, you'll stop at the Sagano Bamboo Forest in Arashiyama for a nature-filled stroll.
Private tour to Kyoto from Osaka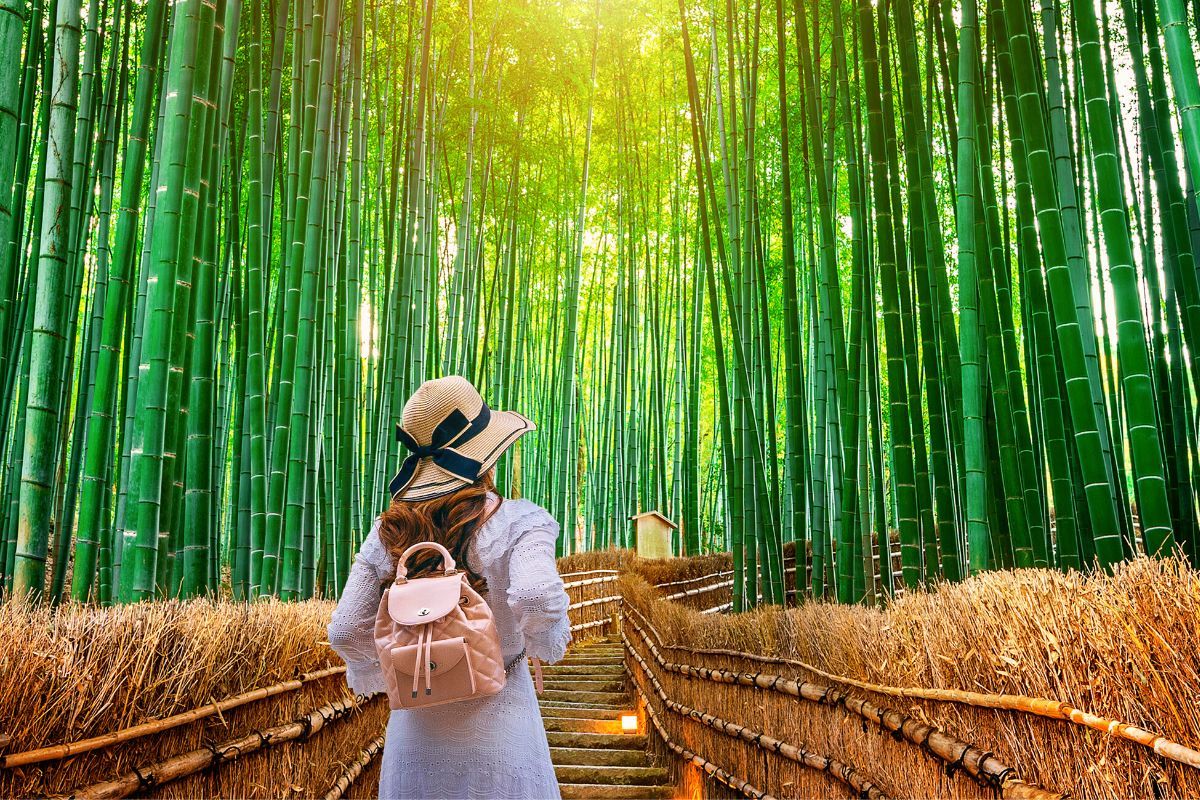 If you wish to experience a deeper level of understanding of the ancient city, consider choosing a private Kyoto day trip.
You'll tour the majestic temples and shrines alongside a knowledgeable guide who you can interact with in a one-to-one setting.
Wander through the bamboo forest of Arashiyama and sample a traditional Japanese beverage that has taken the world by storm — matcha.
After taking a quiet walk along the river, you'll have free time to discover the city on your own before reconnecting with your guide and meandering through the Goin neighborhood.
End your excursion at the famed Fushimi Inari Shrine, where you can learn all about Shinto customs.
Day trip to Kyoto plus train ride from Osaka
Travel in style on this Kyoto day trip that begins with a scenic train ride from Kameoka to Arashiyama.
On this short journey, you can admire the pink flowers of the iconic Japanese cherry blossoms (depending on the time of year you visit,) as well as the towering mountains that surround the area.
Enjoy a local lunch in Arashiyama before participating in an afternoon of sightseeing, which includes the UNESCO-listed Kiyomizudera Temple and Otowa Waterfall.
Here, it is believed that each of the three stream's waters has different benefits, including success at school, a fortunate love life and longevity.
Amble leisurely through the torii gates of Fushimi Inari Shrine and discover their symbolism before returning to Osaka.
Day tour to Kyoto with Maiko show from Osaka
Those who wish to learn more about the geisha culture in Japan should consider opting for this Kyoto day tour that focuses heavily on this eastern practice. You'll visit the city's main shrine before sitting back to be dazzled by a Maiko show.
Through these traditionally-clad women, you'll learn all about the grueling training practice that apprentices go through to become true geishas. You'll also watch a traditional geisha dance before tucking into a local buffet.
Hop aboard a train and enjoy the scenery as you speed toward Arashiyama, and its bamboo forest for a calming walk to end your excursion on a high.
Day trip to Kyoto plus Nara and Kobe from Osaka
Spend your morning exploring the endless bamboo trees of Arashiyama before moving on to Japan's cultural hub — Kyoto.
See the sun shine off the dazzling gold leaf that covers every inch of this beloved temple and learn about the destruction of the original pavilion in 1950.
Journey on to Nara and meet its friendliest residents — 1,300 deer — at the park that lies in the heart of the city, before shopping for traditional Japanese goods to purchase as souvenirs for your loved ones back home.
How much does a day trip to Kyoto from Osaka cost?
A basic day trip to Kyoto costs around US$90 per person and includes entry fees, lunch, and a professional tour guide. You'll pay the same amount for an excursion that includes a 25-minute train ride.
A day trip to Kyoto, Nara and Kobe costs between US$90, and US$120 per person, depending on the lunch option you select.
If you opt for a Kyoto day tour that includes a Maiko show, you'll each pay around US$110.
If you wish to enjoy the personalization of a private tour, you'll pay US$260 per person, which includes round-trip transportation and a guide. Entrance fees to Kyoto's main attractions are at your own expense.
What will you see and do?
Fushimi Inari Shrine
Fushimi Inari Shrine is located at the base of Mount Inari and its first temples were constructed as early as 711 A.D.
The main shrine that draws visitors in today was built at the end of the 15th century and the site now features thousands of torii gates. All of these torii gates have been donated to the complex by both businesses and individuals over the years.
The shrine is mainly dedicated to the Shinto god of rice, Inari, however, some also worship this deity as the god of business. Like many other Inari shrines, Fushimi Inari features a myriad of fox sculptures, each with rice granary in its mouth.
This is because foxes are traditionally viewed as messengers in the Shinto religion. Shrines are dotted along mountain trails, providing a peaceful setting and dramatic views.
Kiyomizu-dera
The Buddhist temple of Kiyomizu-dera was founded in the Heian period, which ran from the 8th to the 12th century, and forms part of Kyoto's UNESCO World Heritage site.
Its name translates to the "Pure Water Monastery" in reference to the nearby waterfall that trickles down the surrounding hills.
During the Endo period, a tradition arose at this religious site, where daredevils would jump off  Kiyomizu-dera's stage, plunging 13 meters through the air. It was believed that if the individual survived, they would be granted one wish.
Over 200 people took part in this practice, which was later prohibited, the majority of whom did survive.
Kinkaku-ji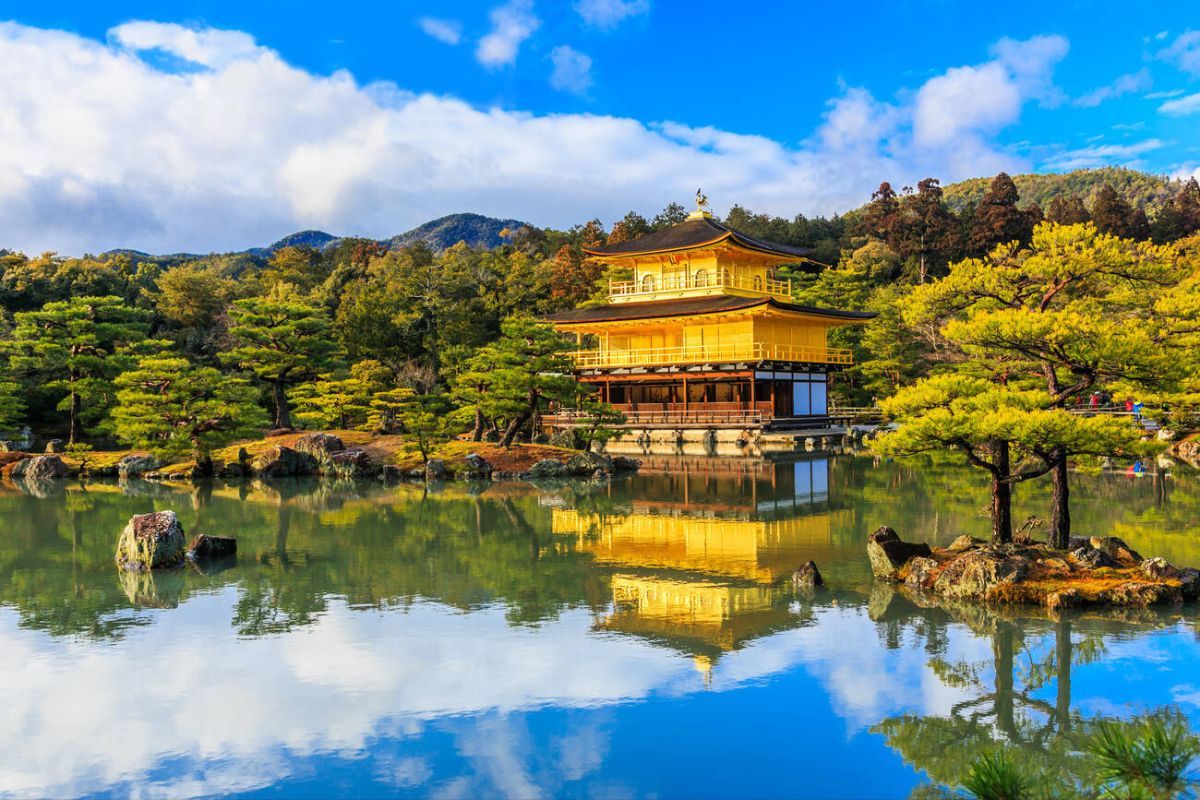 Kinkaku-ji — also referred to as the Golden Pavilion — is a villa-turned-Buddhist temple that was originally converted in the 14th century by the shōgun, Ashikaga Yoshimitsu.
This military dictator was laid to rest in this grand building, which was transformed into a Zen temple according to his wishes. Miraculously, the pavilion avoided destruction during the Ōnin war of the 15th century, when countless others were burnt.
However, the site was set alight by a mentally-ill monk in the 20th century. Just 5 years later, Kinkaku-ji was restored to its former glory and visitors can now marvel at its gold-leaf exterior.
The pavilion is surrounded by pristine gardens featuring an idyllic pond and traditional Japanese bridges.
When is the best time to visit Kyoto?
Kyoto experiences humid summers and chilly winters, making the best time to plan your trip during the spring or fall months.
These seasons experience mild temperatures that range from 14 to 25 degrees Celsius and the humidity is a lot lower than during the heights of summer.
If you choose to book your Kyoto day trip during the spring, you'll bear witness to the cherry blossoms that cover the city in a pink cotton candy cloud.
These trees blossom at slightly different times each year but usually begin flowering between the end of March and the middle of April. This is the busiest time of year to take a trip to Kyoto, but arguably the most beautiful.
If vibrant colors and fewer crowds are what attract you to a destination, head to Kyoto during the fall when the lush greenery transforms into a sea of oranges, and reds.
Are there any tours to Kyoto from other cities in Japan?
Yes, there are tours departing from other cities in Japan:
Travel tips
Dress conservatively on your Kyoto day trip as the majority of these excursions visit temples and shrines.
If your aim is to avoid the crowds when visiting Kyoto, plan your trip for January or February when the cooler weather repels tourists from traveling to the city.
Take a camera with you on your day trip, as there are an abundance of cultural and religious monuments to capture.
It is respectful to leave a small monetary contribution when visiting any Shinto shrine, as well as bowing upon entry and clapping twice after doing so.