A day trip to Nara from Kyoto offers a journey into Japan's first permanent capital, renowned for its cultural heritage. This historic city boasts eight UNESCO World Heritage Sites, including the impressive Todai-ji Temple with its colossal bronze Buddha.
Enjoy the serene atmosphere, traditional architecture, and interaction with over 1,000 friendly deer at Nara Park, considered sacred messengers of the gods. Immerse yourself in ancient Japan during your visit.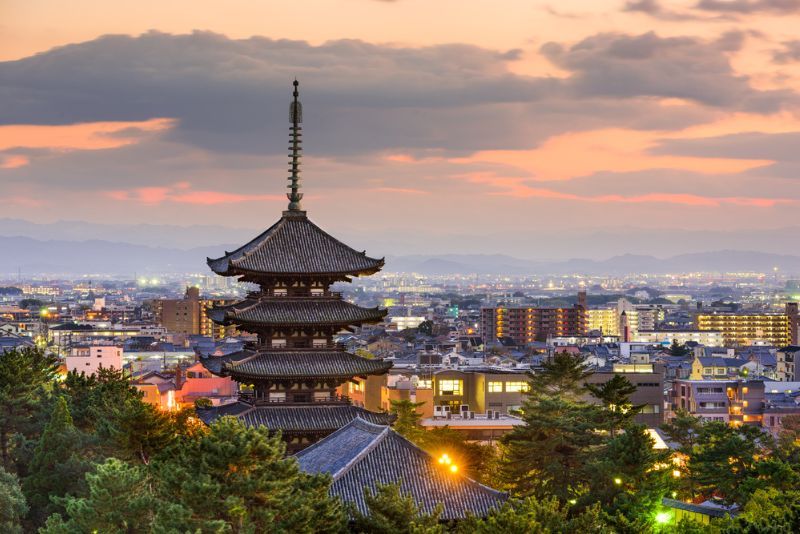 Here's all you need to know about Nara, one of the most exciting day trips from Kyoto.
How to get to Nara from Kyoto?
Nara is located about a 45 kilometer-drive southeast of Kyoto in the Kansai region of Japan. The two cities share a rich historical connection, with Nara being the former capital before Kyoto.
From Kyoto to Nara by car
To reach Nara from Kyoto by car, travel out of the city via the E89 and enter Nara along the E24. The drive typically takes around 50 minutes to 1 hour, depending on traffic.
From Kyoto to Nara by public transport
The easiest and most popular way to reach Nara from Kyoto is by train. Two options are available: the Nara Line and the Kintetsu Kyoto Line.
The Nara Line departs from Kyoto Station and takes approximately 1 hour, while the Kintetsu Kyoto Line, which is faster, departs from Kintetsu Kyoto Station and takes about 35 minutes.
Both options drop you off within walking distance of Nara's main attractions.
Guided tours from Kyoto to Nara
For a hassle-free experience, consider joining a guided tour from Kyoto to Nara. These tours often include transportation, English-speaking guides, and visits to key attractions like Todai-ji Temple, Nara Park, and Kasuga Taisha Shrine.
What is the typical itinerary?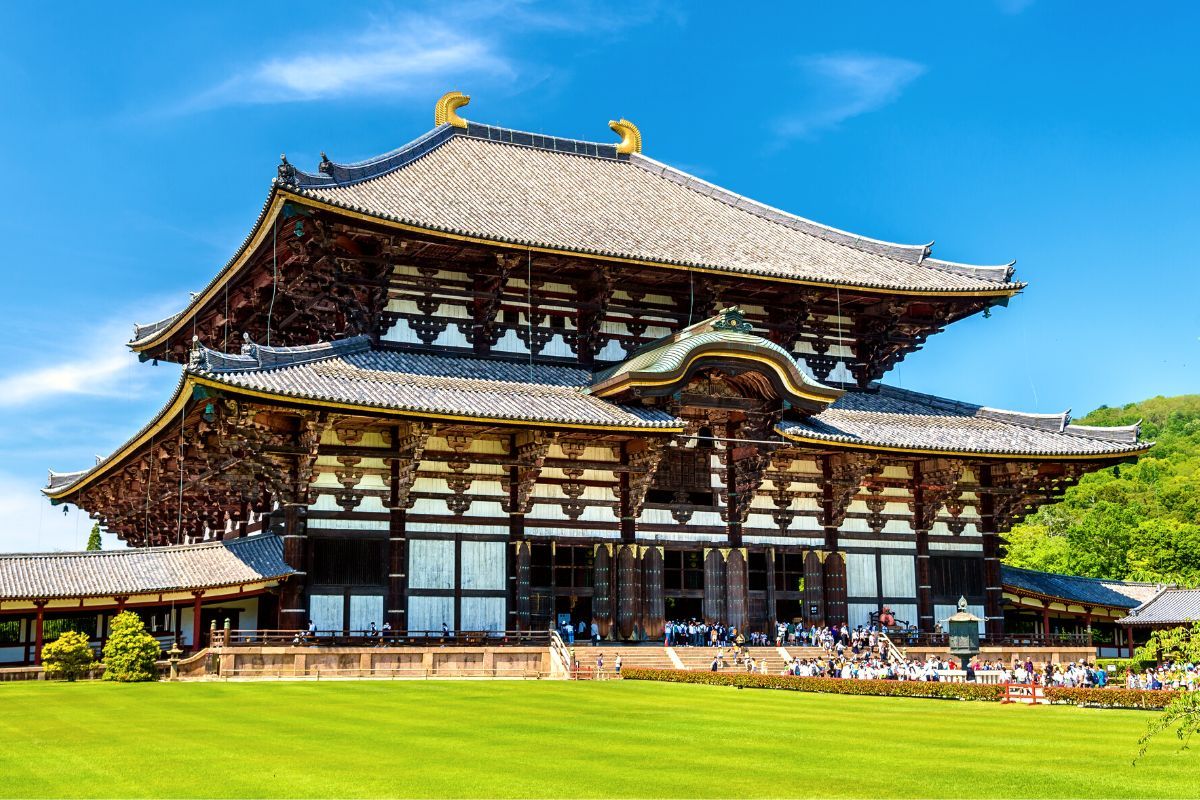 A typical guided day trip to Nara from Kyoto often starts with meeting your guide at a predetermined location or with the convenience of hotel pickup. The tour group then boards a bus or air-conditioned vehicle to Nara, accompanied by an English-speaking guide who provides insight into the history and culture of the region during the journey.
Before departing Kyoto, some tours may include a visit to iconic locations within the city, such as Kinkaku-ji (the Golden Pavilion), Fushimi Inari Shrine and Arashiyama Bamboo Forest. These stops allow visitors to appreciate Kyoto's rich history and stunning architecture before heading to Nara.
Upon arrival in Nara, the first stop is usually the Todai-ji Temple, a UNESCO World Heritage Site and home to the world's largest bronze Buddha statue. Visitors are guided through the temple complex, learning about its history, architecture, and religious significance.
Next, the tour moves to Nara Park, a sprawling green space where over 1,000 friendly deer roam freely. As the deer are considered sacred messengers of the gods, visitors are encouraged to feed them with special crackers sold on-site, enjoying a unique interaction with these gentle creatures.
After Nara Park, you'll visit Kasuga Taisha Shrine, another UNESCO World Heritage Site, famous for its hundreds of stone and bronze lanterns. Your guide may share the shrine's history and its connection to the Fujiwara family, a powerful clan in ancient Japan.
Finally, the group returns to Kyoto in the late afternoon or early evening, concluding the trip with drop-offs at hotels or designated locations after a fascinating excursion into Japan's former capitals.
What kinds of tours are available to go to Nara?
Guided day tour to Nara from Kyoto
A guided day trip to Nara offers a convenient and informative experience for tourists, with a knowledgeable and helpful guide leading the tour.
Guided tours to Nara typically include transportation either via bus or an air-conditioned vehicle from Kyoto for a small group. You'll visit major attractions like Todai-ji Temple, Nara Park and Kasuga Taisha Shrine, and the experience will be illuminated by your guide's insights.
Hotel pickup or drop-off may be included, ensuring a stress-free day of exploring Nara's rich history and culture.
Day trip to Nara plus Kyoto attractions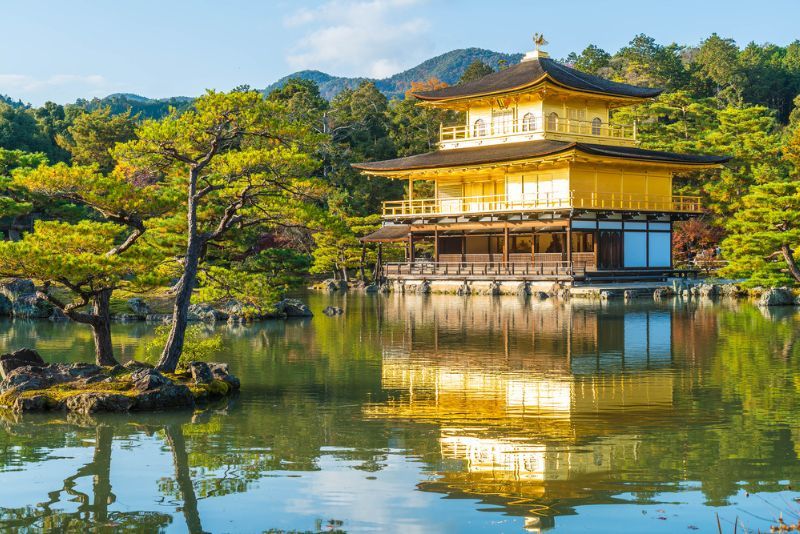 This day trip option combines the best of both Nara and Kyoto, offering guided visits to iconic sites in both cities.
On your journey out of Kyoto, you may stop at the famous Kinkaku-ji (the Golden Pavilion) or Fushimi Inari Shrine. Some tours also include visits to the Arashiyama Bamboo Forest for a lunch stop, or visits to Nijo Castle and Kyoto Imperial Palace.
You'll continue on to Nara to explore its deer-filled park and admire its own notable temples and shrines. With roundtrip transportation, this tour allows you to experience the highlights of two of Japan's most historic cities in one day.
Private car to Nara from Kyoto
Hiring a private car to Nara provides a more personalized and flexible experience, allowing you to set your own itinerary and pace. You can visit the attractions that interest you most, without adhering to a strict tour schedule.
Although this option may not include a guide, it grants you the freedom to explore Nara's major sites at your leisure. Your driver may also take you to some of the city's lesser-known, but equally stunning attractions.
How much does a day trip to Nara from Kyoto cost?
The cost of a day trip to Nara from Kyoto can vary depending on the type of tour chosen.
For a guided day trip to Nara that lasts around 6 hours and includes transport, you can expect to pay from US$70 per person.
If you opt for a day trip to Nara that combines visits to Kyoto, you'll pay from upwards of US$70 per person.
Hiring a private car is the most expensive option, costing approximately US$300 for a 10-hour charter.
When booking your tour options, make sure to check what is included in the price. Some tours may offer lunch and entrance fees to shrines as part of the cost, but this is not applicable to all tours.
What will you see and do?
Todai-ji Temple
At Todai-ji Temple, you'll be immersed in a historical and spiritual atmosphere as you explore one of Japan's most famous temples, dating back to the 8th century.
This UNESCO World Heritage Site is home to the Great Buddha Hall (Daibutsuden), which houses the world's largest bronze Buddha statue, known as Daibutsu, at 15 meters tall.
The temple complex also includes other structures, such as the Nandaimon Gate, guarded by two fierce wooden statues, and the Hokke-do Hall, featuring exquisite sculptures and artwork.
Nara Park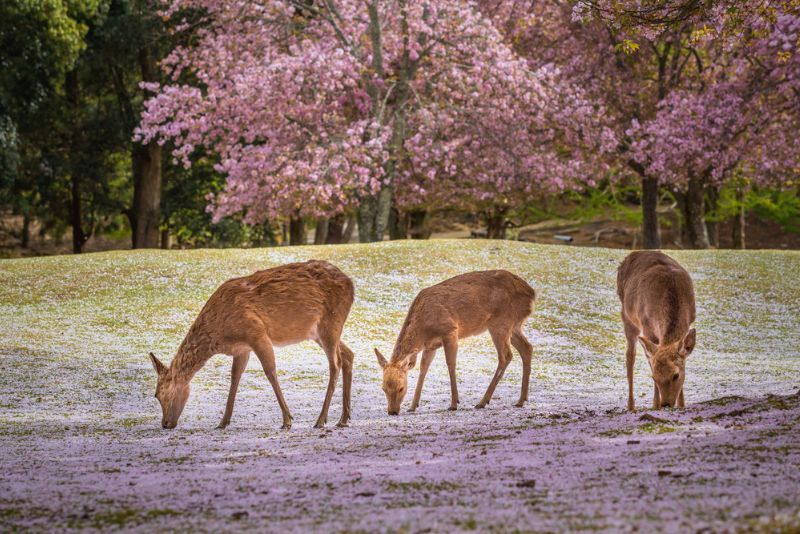 In Nara Park, you'll be surrounded by picturesque natural beauty, as the park spans over 1,240 acres of lush greenery, tranquil ponds and winding pathways.
Dating back to 1880, Nara Park is in fact one of Japan's oldest parks. The park's main attraction is its population of over 1,000 wild sika deer that roam freely and are regarded as messengers of the Shinto gods.
These deer are considered a protected natural monument, and visitors can feed them with special crackers, known as "shika senbei," sold at throughout the park.
It also hosts several temples and shrines, including Todai-ji Temple and Kasuga Taisha Shrine, making it a perfect place to enjoy both nature and culture.
Kasuga Taisha Shrine
At Kasuga Taisha Shrine, you'll discover an enchanting site filled with ancient history and unique architectural features.
This UNESCO World Heritage Site is famous for its hundreds of bronze and stone lanterns, which are illuminated during special events, creating a magical atmosphere.
As you wander through the stone paths and towering trees, you'll learn about the shrine's connection to the powerful Fujiwara clan, who established Kasuga Taisha in the 8th century.
Don't miss the vibrant vermilion-colored main hall and the surrounding shrines, each with its own distinctive character and charm.
When is the best time to visit Nara?
The best time of year to visit Nara are during spring and autumn.
Spring (March to May) sees the cherry blossoms in full bloom, creating a picturesque and enchanting atmosphere. The mild temperatures and sunny weather make it comfortable for sightseeing and exploring the parks, temple, and shrines. The cherry blossom season usually peaks in early April, but this can vary slightly each year.
Autumn (October to November) is another popular time to visit Nara, as the vibrant fall foliage adorns the city and its surrounding areas. The colorful leaves create a stunning backdrop for temples and shrines, making it an ideal time for photography enthusiasts. The weather during this period is typically mild and dry, with comfortable temperatures for outdoor activities.
Summer (June to August) can be hot and humid, but it's also the season for various traditional festivals and events. Winter (December to February) is the least crowded time and offers a serene atmosphere, with occasional snowfall creating a beautiful, tranquil landscape. However, temperatures can be quite cold during this season, so appropriate clothing is essential.
Are there any tours to Nara from other cities in Japan?
Yes, there are day trips to Nara from another city in Japan:
Travel tips
Dress modestly and wear comfortable shoes: Nara is home to numerous temples and shrines, so dressing modestly is a sign of respect. Additionally, you'll likely do a lot of walking, so comfortable, sturdy shoes are essential for navigating the city's pathways, parks and temple grounds.
Interact with deer responsibly: When feeding deer in Nara Park, remember to purchase the special crackers, "shika senbei," available at various stalls around the park. Avoid feeding them human food or non-approved snacks, as it can harm their health. Be gentle and cautious when approaching the deer, and remember that they are wild animals.
Explore lesser-known attractions: While Nara's major sites like Todai-ji Temple and Kasuga Taisha Shrine are must-sees, consider visiting lesser-known attractions for a unique experience. The charming Naramachi district, the tranquil Isuien Garden, and smaller temples like Yakushi-ji and Toshodai-ji are all worth exploring. These sites allow you to appreciate Nara's rich history and culture more intimately.
Sample local cuisine: Nara offers a variety of delicious local dishes that you should try during your visit. Some popular options include kakinoha-zushi (sushi wrapped in persimmon leaves), narazuke (vegetables pickled in sake lees) and mehari-zushi (rice balls wrapped in pickled mustard leaves). Don't miss out on trying these unique regional specialties at local restaurants and food stalls.
Respect local customs and traditions: When visiting temples and shrines, follow proper etiquette, such as purifying yourself at the entrance with water, bowing before entering and not taking pictures in restricted areas. Additionally, be mindful of your noise level, as these are sacred spaces for worship and reflection. Adhering to local customs and traditions will help ensure a more respectful and enjoyable experience for both you and the local community.