Hiroshima is a well-known Japanese city that was largely destroyed in 1945 by the world's first atomic bomb. Since then, Hiroshima has made an incredible recovery and today the city is a thriving urban center that is home to well over 1 million people.
Hiroshima day trips from Kyoto prove to be a popular activity, especially for those interested in Hiroshima's fascinating history. See far more than just the devastation caused by World War II as you explore some of the city's top attractions.
Here's all you need to know about Hiroshima, one of the most thought-provoking day trips from Kyoto.
How to get to Hiroshima from Kyoto?
Hiroshima is located on Japan's Honshu Island, roughly 360 kilometers west of Kyoto.
From Kyoto to Hiroshima by car
While it is quite straightforward to reach Hiroshima from Kyoto by car, you should keep in mind that the journey takes around 5 hours one way. You'll also need to consider where you'll park the car when visiting various attractions.
From Kyoto to Hiroshima by train
Traveling from Kyoto to Hiroshima by train is probably the fastest and easiest way to reach your destination as there are several Shinkansen lines to choose from. Most trains run every 30 minutes and it should take roughly 2 hours to get from Kyoto to Hiroshima.
Guided tour to Kyoto from Hiroshima
Alternatively, you could book a guided tour from Kyoto to Hiroshima with a professional tour operator and allow them to handle the finer details. Most guided tours to Hiroshima from Kyoto are full-day experiences, lasting at least 11 hours.
What is the typical itinerary?
While each Hiroshima day trip is slightly different, most tours begin in the morning at around 8 AM. You'll be asked to meet at a tourism office or local landmark in Kyoto, where you'll meet your guide and make your way to the train station.
Tour operators make use of the lightning-fast Shinkansen lines to get to Hiroshima from Kyoto. Once in Hiroshima, you'll visit some of the city's major landmarks, including the Peace Memorial Museum, Genbaku Dome and Miyajima Island.
Your guide will provide information about each of the attractions you visit, and you are more than welcome to ask questions. At the end of the day, you'll make your way back to Kyoto via train.
What kinds of tours are available to go to Hiroshima?
Guided tours to Hiroshima from Kyoto
Guided tours provide a fun and exciting way for you to visit Hiroshima from Kyoto, alongside like-minded travelers. Meet new people as you travel to Hiroshima via train, and visit all of the city's most iconic sites, with your tour guide leading the way!
Private tour to Hiroshima from Kyoto
Private tours to Hiroshima allow you to explore the city with only your tour guide and your travel companions. While these tours can be more costly, you'll enjoy a personalized experience with plenty of opportunities for asking questions.
Day trip to Hiroshima plus Miyajima Island from Kyoto
Almost all Hiroshima day trips include a visit to Miyajima Island, which is just a 45-minute ferry ride away. Miyajima Island is steeped in both ancient and recent history and is well worth the visit.
How much does a day trip to Hiroshima from Kyoto cost?
Guided day trips to Hiroshima from Tokyo cost anywhere between US$300 and US$600 per person for a group experience. This price is inclusive of all train and ferry tickets, but you may need to pay for your own lunch.
Private tours, which can accommodate as many as 6 people, typically cost around US$1,200 for the tour, although the price can fluctuate depending on the number of participants.
What will you see and do?
While each Hiroshima day trip is slightly different, most tour guides take you to visit Hiroshima Peace Memorial Park, Genbaku Dome and Miyajima Island.
Hiroshima Peace Memorial Park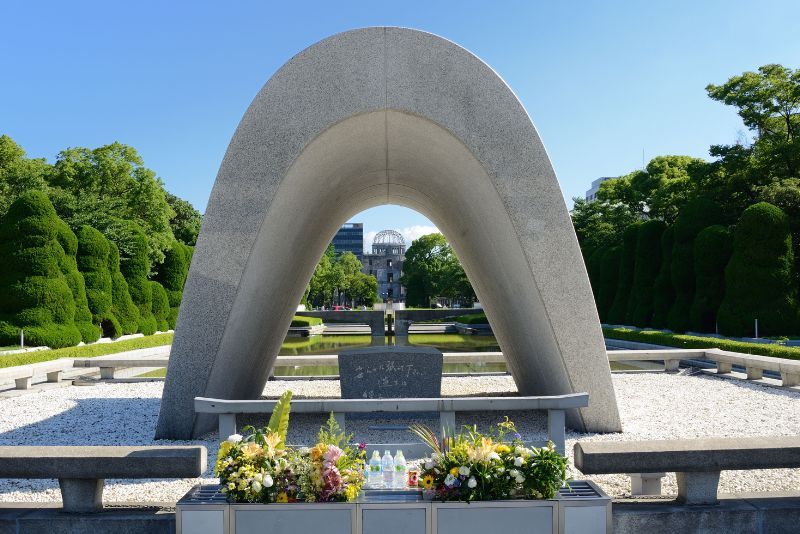 The Hiroshima Peace Memorial Park is located in the center of Hiroshima, and it is dedicated to the over 140,000 people who were killed by the 1945 atomic bomb. The park is home to a very interesting museum as well as beautiful gardens and various art installations.
Genbaku Dome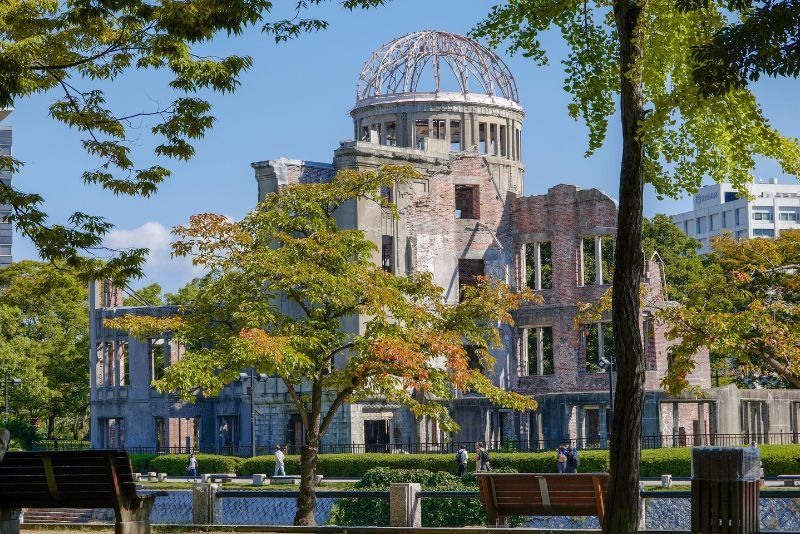 The Genbaku Dome was one of the only structures that was left standing after the devastating 1945 bombing of the city. The dome has been preserved so that it is still in the exact same condition as it was directly after the atomic bomb.
Miyajima Island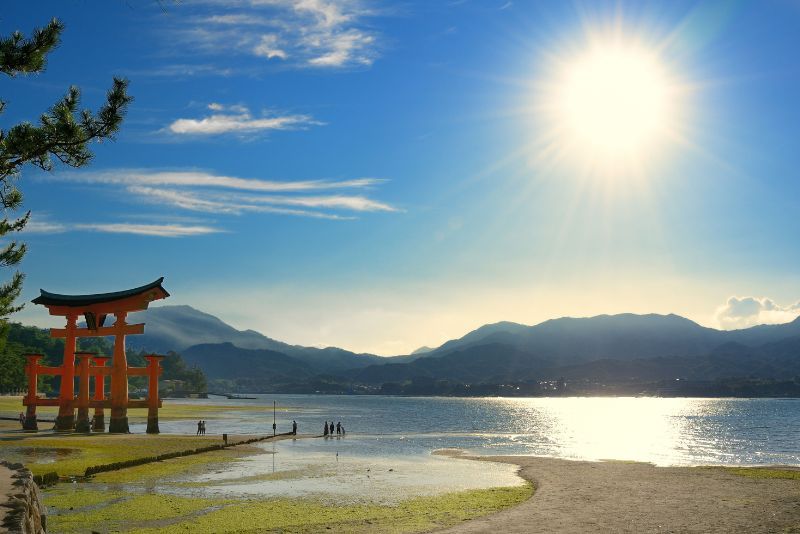 Board the local ferry and enjoy the 45-minute journey to Miyajima Island, which is home to the Itsukushima Shrine, a UNESCO World Heritage Site. Visit the shrine and the torii gate, all the while taking in the magnificent views of the island.
When is the best time to visit Hiroshima?
The best time to visit Hiroshima is either in the fall (October/November) or spring (April/May), when the weather is mild and temperatures are neither too hot nor too cold.
Are there any tours from Kyoto to other cities in Japan?
Yes, there are tours from Kyoto to other cities in Japan:
Travel tips
Book your Hiroshima day trip from Tokyo ahead of time to secure your spot on your chosen excursion.
Wear comfortable shoes for walking around Hiroshima and exploring the sites.
Check tour itineraries carefully to ensure you pick a tour that aligns with your interest.
Bring snacks and a bottle of water along with you.