Originally built in the 14th century as a retirement villa for the shogun, the Golden Pavilion, or Kinkaku-ji Temple, has since become an iconic symbol of Kyoto's rich cultural history. Experience for yourself the serene beauty of the temple and its gardens.
Golden Pavilion tours offer visitors an unparalleled experience of this breathtaking architectural marvel, set amidst tranquil gardens and reflective waters.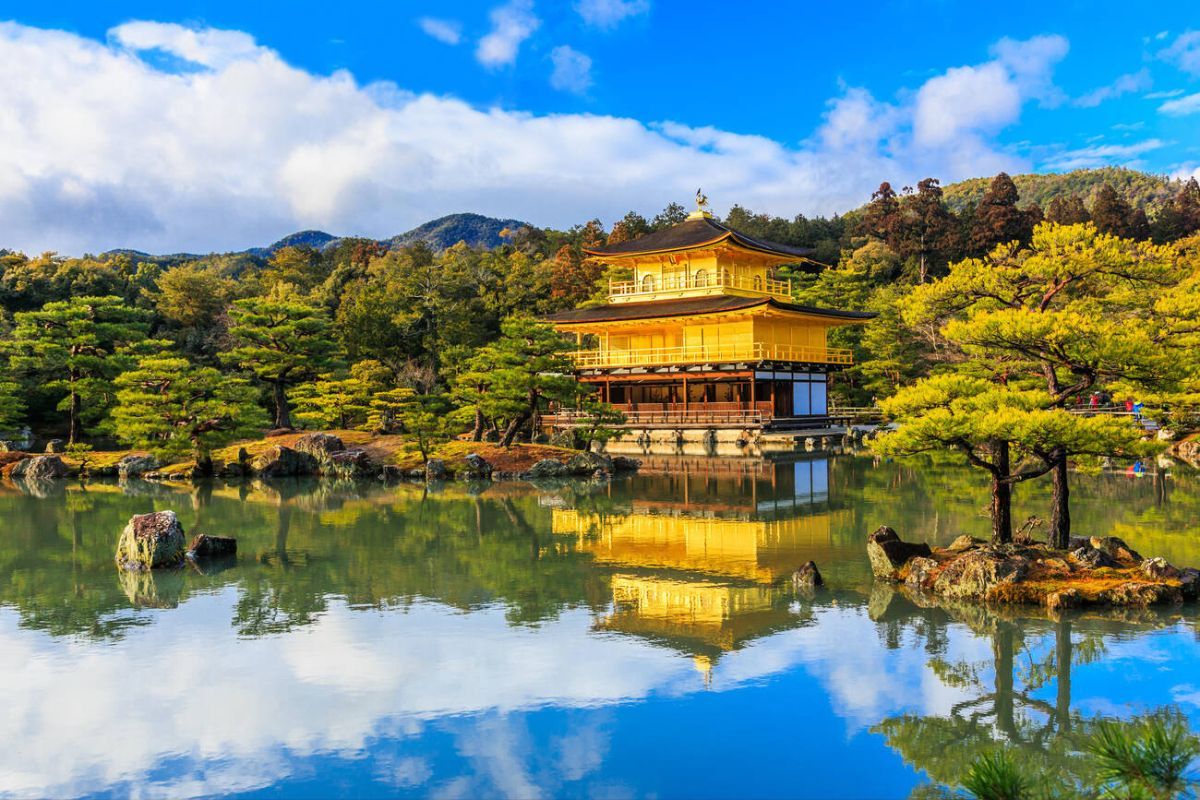 Here's all you need to know about Golden Pavilion tours, one of the most iconic attractions in Kyoto.
How much do Golden Pavilion tickets cost?
Golden Pavilion tickets are reasonably priced, and they're cheaper or even free for kids. You can buy Golden Pavilion tickets on-site at the following prices.
Adults: ¥500 (about US$4)
Children (7-15 years old): ¥300 (about US$2)
Children (ages 6 and under): Free
Please note that interior access to the Golden Pavilion itself is restricted, and not included with your ticket. However, you'll have access to the Sekka-tei Tea House, where you can enjoy a cup of traditional Japanese tea and a sweet treat (at an additional cost).
Who is eligible for discounts?
While the Golden Pavilion offers affordable ticket prices for the general public, only children from 7 to 15 years old can benefit from discounted Golden Pavilion tickets, as listed above.
Is it possible to visit for free?
Yes. People with disabilities and children 6 and under can visit the Golden Pavilion for free. Make sure to bring proof of disability on the day of your visit. You can also mail a copy of it in advance if you prefer.
Should you book in advance?
Booking Golden Pavilion tickets in advance is not strictly necessary, as the temple typically has a steady flow of visitors and the capacity to accommodate them.
However, if you're interested in a guided tour of the Golden Pavilion, booking in advance is a good idea to reserve your preferred date and time slot, as tours may have limited availability, especially during busy tourist seasons.
Are there any combined tours including Golden Pavilion and other attractions?
Yes, there are combined tours available that include the Golden Pavilion along with other notable attractions in Kyoto and nearby cities. These options allow you to explore multiple sites in a single day or over the course of a few days, offering both convenience and value.
Golden Pavilion and Nijo Castle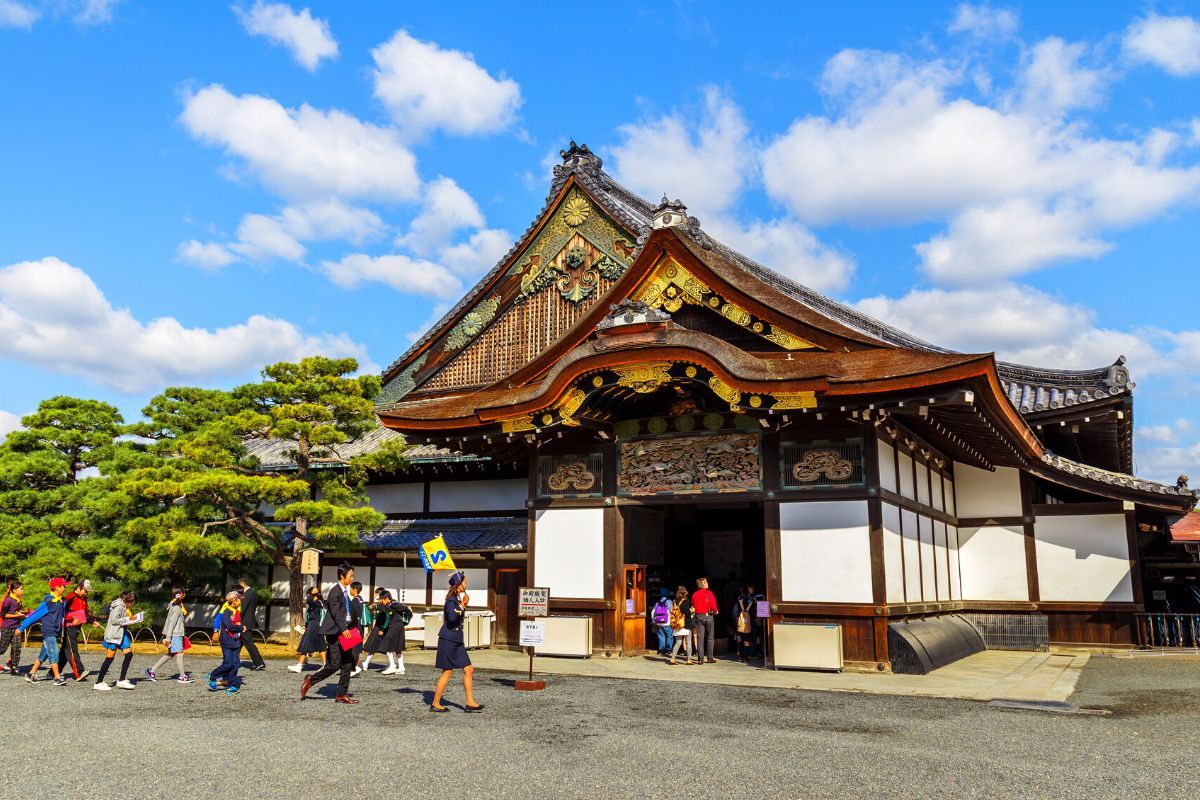 Discover the splendor of Kyoto's two UNESCO World Heritage sites, Nijo Castle and the Golden Pavilion, on a 4-hour guided tour. Step back in time as you explore the 17th-century Nijo Castle, once the domain of the Japanese shoguns, and learn about the castle's historical significance.
Continue your journey to Kinkaku-ji Temple, the renowned Golden Pavilion, a 14th-century masterpiece built by the Ashikaga clan. This half-day tour offers a perfect blend of history, culture, and architectural beauty, providing an unforgettable experience in the heart of Kyoto.
The tour package includes a professional guide, hotel pickup and drop-off, as well as admission fees to both Nijo Castle and the Golden Pavilion. Spend an hour and a half at Nijo Castle, delving into its fascinating past, before heading to the mesmerizing Kinkakuji Temple to appreciate the Zen Buddhist influences and the temple's gilded beauty.
This well-rounded excursion is an excellent way to sample Kyoto's historic sights and immerse yourself in the city's unique heritage.
Golden Pavilion and Arashiyama Bamboo Forest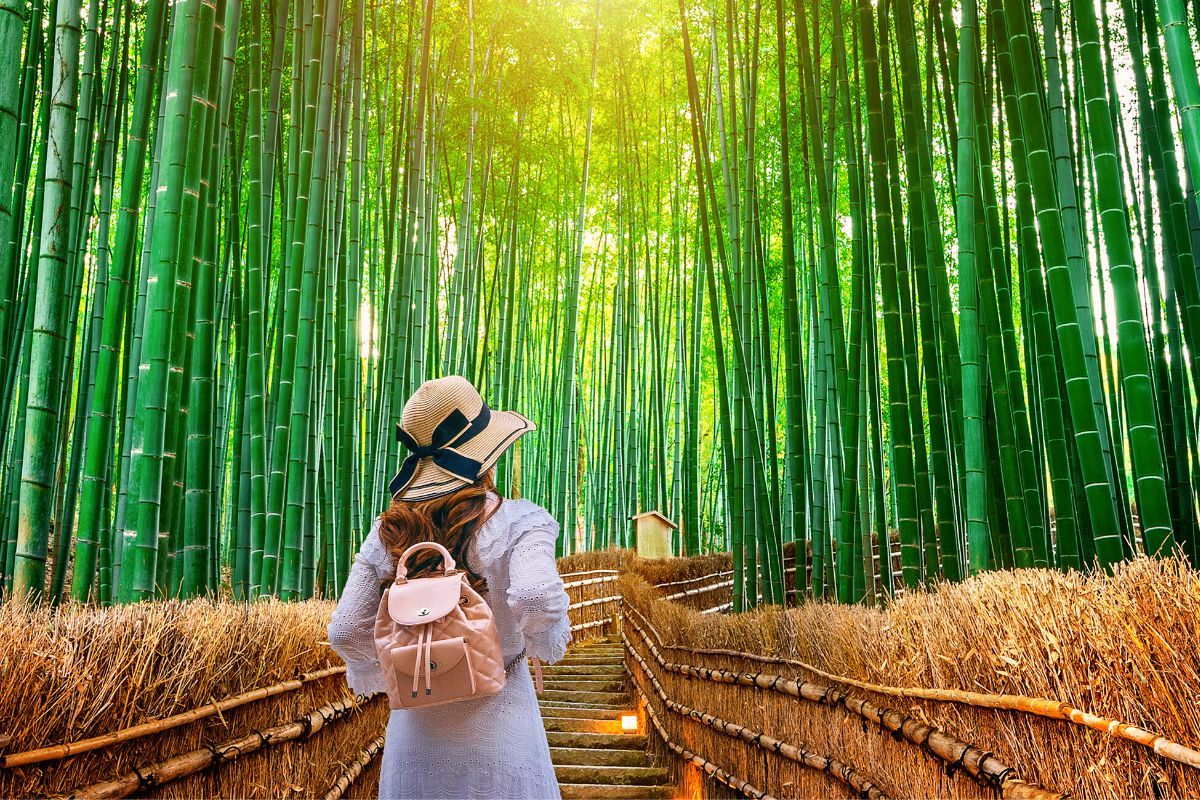 Embark on a captivating journey through some of Kyoto's most iconic sites and hidden gems. Begin with a visit to Monkey Park Iwatayama, where you can encounter friendly wild Japanese macaques and enjoy panoramic views of Kyoto from 190 meters above sea level.
Next, marvel at the Togetsukyo Bridge, an elegant structure once cherished by aristocrats for its beauty, and explore Kameyama Park, a nature-rich oasis offering stunning views of the surrounding cliffs and valley. Stroll through the enchanting Bamboo Forest Street, where towering bamboo pillars create an awe-inspiring and serene atmosphere.
Continue your adventure at Tenryuji Temple, a UNESCO World Cultural Heritage Site built in 1339, and admire its world-famous Japanese garden set against the backdrop of Arashiyama.
Conclude your journey at the renowned Kinkakuji Temple, also known as the Golden Pavilion, and witness the breathtaking reflections of the golden temple in the pond, surrounded by meticulously pruned pine trees and precious rocks.
Note that admission to Tenryuji Temple and Kinkakuji Temple is not included in the package and each costs 500 yen. This tour offers an unforgettable experience, immersing you in the rich history and culture of Kyoto's most mesmerizing sites.
Golden Pavilion plus Kyoto Imperial Palace and Kiyomizu-dera Temple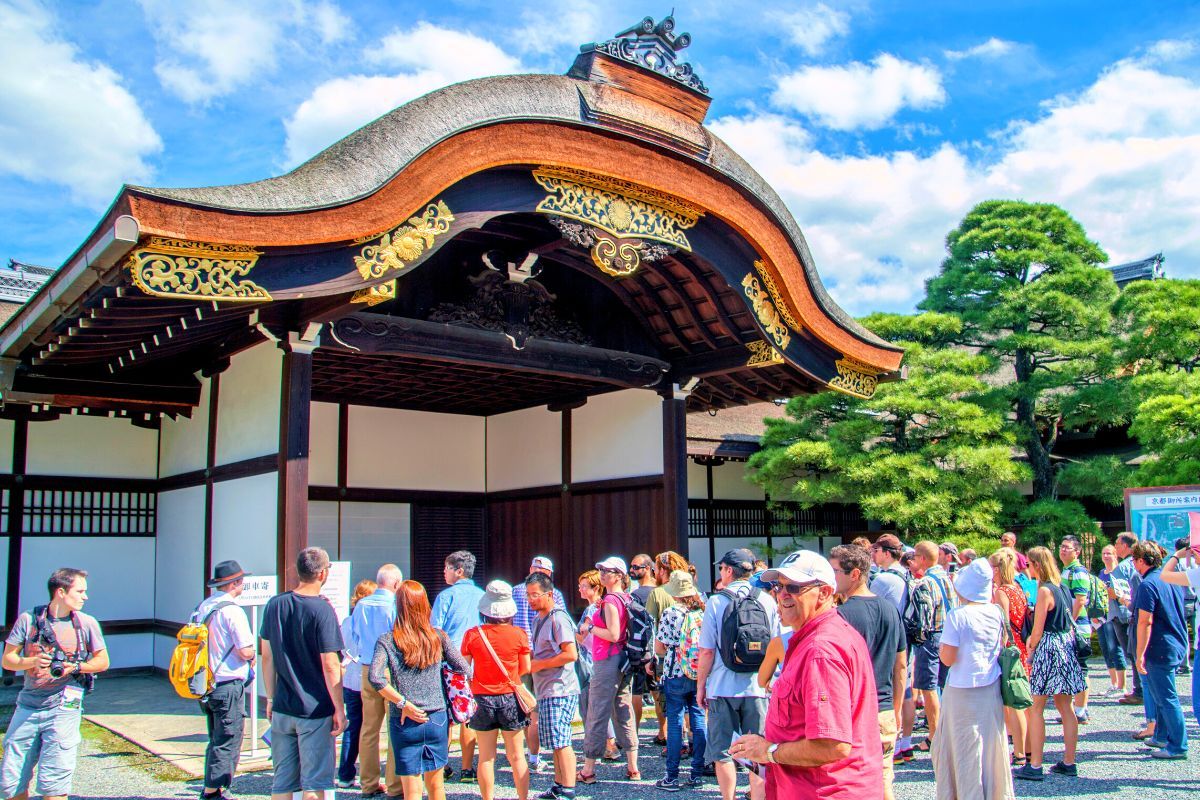 Take a journey through Kyoto's rich cultural heritage with a comfortable, climate-controlled vehicle and a knowledgeable guide. Begin your exploration at Nijo Castle, where you can admire the lavish interiors adorned with gold leaf while learning about the castle's history.
Next, visit the serene Kinkaku-ji Temple, Kyoto's most popular temple, and stroll through the exquisite Japanese garden and the iconic Golden Pavilion. Continue to the regal Kyoto Imperial Palace, immersing yourself in the elegant Japanese style and discovering ancient ceremonies still practiced within its walls.
Experience quiet reflection at the vibrant Fushimi Inari Taisha Shrine before heading to Sanju-Sangendo Hall, marveling at the 1,000 life-size statues housed within the grand hall.
Conclude your tour with a walk down a charming pottery-lined lane leading to Kiyomizu-dera Temple, where you can enjoy panoramic city views from a lofty terrace. Afterward, relax as you journey back in your comfortable vehicle, enriched by the captivating history and spiritual atmosphere of Kyoto's most celebrated sites.
Kyoto and Nara Day Trip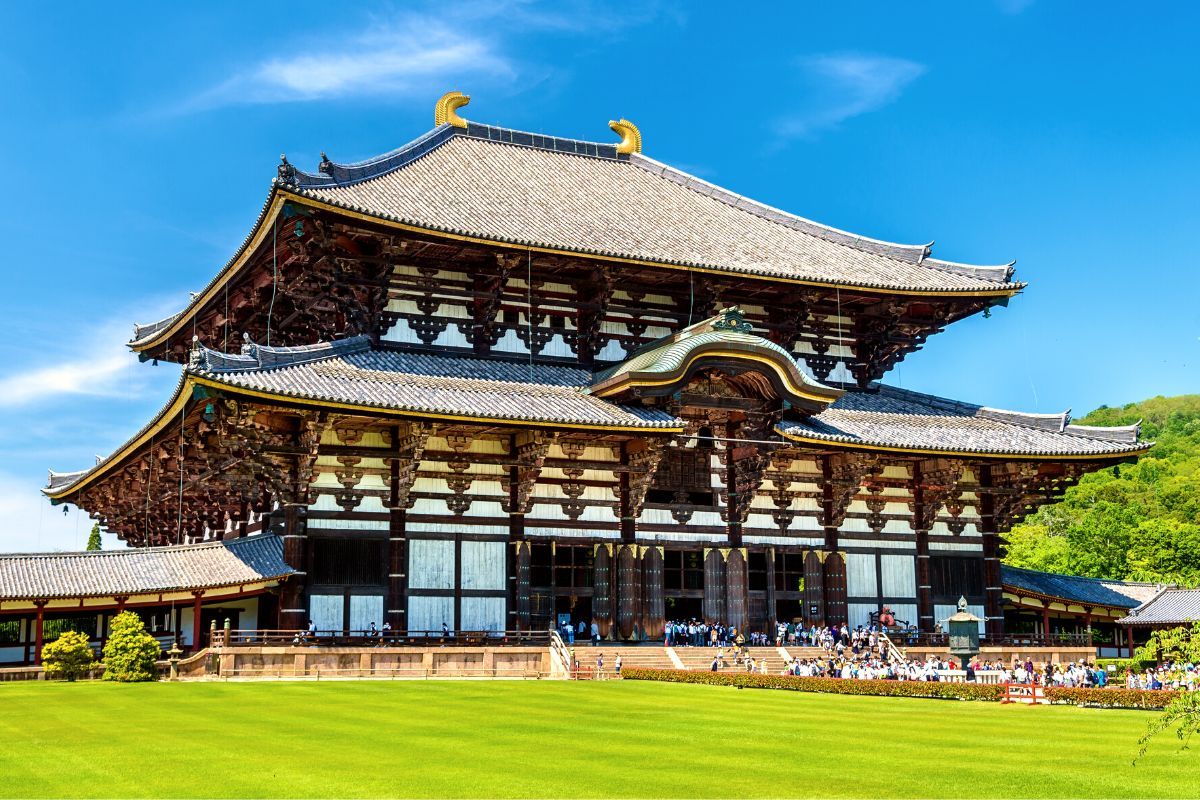 Experience the best of historic Kyoto and Nara on a full-day tour exploring the cities' top temples and sights, offering an immersive introduction to ancient Japan's culture and traditions.
Begin your journey in Kyoto, the former capital and home to the Japanese emperor between AD 794 and 1868. Explore the "Historic Monuments of Ancient Kyoto UNESCO World Heritage Site" with your guide, visiting Nijo Castle, a residence of the Tokugawa Shogun, and Kinkaku-ji, the city's most popular religious site with one of the world's most elaborate Japanese gardens.
Admire the Golden Pavilion and its picturesque surroundings before heading to Kyoto's Imperial Palace, where you can wander through the beautiful grounds and witness the Shishin-den, a significant site for state ceremonies.
After an included lunch, continue south to Nara and explore two of the temples and shrines that form the city's UNESCO World Heritage Site. Visit Todai-ji, home to one of the world's largest Buddha statues, and Nara Park before moving on to the lantern-lined Kasuga Shrine.
Conclude your excursion at Nara's Deer Park, where you can hand-feed tame deer roaming freely in the park. Depending on time and traffic, you might also have the opportunity to visit a souvenir stand before returning to Kyoto.
This comprehensive tour offers a unique glimpse into the ancient history and spiritual heritage of two of Japan's most iconic cities.
What will you see inside the Golden Pavilion?
The Golden Pavilion's resplendent gold-leaf exterior mirrors its idyllic surroundings, creating a mesmerizing sight that has captivated travelers for centuries.
As you stroll through the meticulously landscaped grounds, prepare to be enchanted by this harmonious blend of nature, history, and art – a true testament to Japanese craftsmanship and aesthetics.
Golden Pavilion
Exterior of the pavilion: Admire the stunning gold-leaf covered top two floors of the pavilion, set against the backdrop of a beautiful pond.
Architectural styles: Observe the unique design of each floor, representing different styles from Japanese history.
Kinkaku-ji Temple Grounds
Mirror Pond: Stroll around the pond and enjoy the reflection of the Golden Pavilion on the water's surface.
Japanese gardens: Explore the meticulously maintained gardens surrounding the pavilion, featuring carefully arranged rocks, plants, and trees.
Anmintaku Pond: Discover the pond believed to never dry up, featuring the small Hakuja-no-tsuka (White Snake Mound) that is said to enshrine a Buddhist relic.
Sekkatei Teahouse: Visit the historic teahouse, where you can appreciate its simple, traditional architecture and enjoy a cup of green tea with Japanese sweets (extra cost).
Fudo Hall: Explore this small temple hall dedicated to Fudo Myoo, a fierce Buddhist deity, which houses a statue of the deity believed to be carved by the famous Japanese monk Kobo Daishi.
How to get there?
The Golden Pavilion, or Kinkaku-ji, is located in the northwest part of Kyoto, Japan. It is not in the city center and is situated in a more serene and peaceful area. The best ways to get there are by bus, tram or taxi.
From Kyoto to the Golden Pavilion by bus
The most common way to reach the Golden Pavilion is by city bus. From Kyoto Station, you can take buses 101 or 205 directly to the Kinkaku-ji Michi bus stop, which is a short walk from the temple entrance. The bus ride takes about 40 minutes and costs 230 yen.
From Kyoto to the Golden Pavilion by tram
You can use the Randen tramline to get closer to the temple. Take the Randen Kitano Line from Shijo-Omiya Station to Katabiranotsuji Station, then transfer to the Randen Katabira Line and get off at Omuro-Ninnaji Station. From there, it's about a 30-minute walk or a short bus ride to Kinkaku-ji.
From Kyoto to the Golden Pavilion by car
Driving to the Golden Pavilion is possible, but parking in the area can be limited, especially during peak tourist seasons. There is a small paid parking lot at the temple, but it can fill up quickly.
If you choose to drive, be prepared for the possibility of searching for parking in the surrounding area. It is recommended to use public transport or taxis if you are not familiar with driving in Kyoto.
What are the opening times?
The Golden Pavilion is open every day from 9 AM to 5 PM. Get there early if you want to beat the crowds!
When is the best time to visit?
It's less crowded to visit the Golden Pavilion on weekdays and in the early morning. The best time of year to visit the Golden Pavilion really depends on what you're looking for. Each season offers something unique.
Spring (March to May): This is a popular time to visit Kyoto, as the cherry blossoms are in full bloom. The Golden Pavilion is particularly stunning with cherry blossoms in the background, but be prepared for larger crowds.
Summer (June to August): Summers in Kyoto can be hot and humid, with occasional rain. The lush greenery surrounding the Golden Pavilion is beautiful during this time, but the heat and humidity can be uncomfortable for some visitors.
Autumn (September to November): The fall foliage in Kyoto is breathtaking, with vibrant colors surrounding the Golden Pavilion. This is another peak season for tourists, so expect larger crowds.
Winter (December to February): Winters in Kyoto are relatively mild and less crowded. The Golden Pavilion can be especially picturesque with a dusting of snow, but snowfall is not guaranteed.
Travel tips
Dress appropriately: While there is no strict dress code at the Golden Pavilion, it is always respectful to dress modestly when visiting religious sites. This means avoiding revealing clothing and dressing comfortably for the weather.
Bring cash: The entrance fee for the Golden Pavilion is paid in cash. Additionally, small shops and food vendors in the area may not accept credit cards, so it is a good idea to have enough cash on hand for your visit.
Respect the environment: As a popular tourist destination, it is important to be respectful of the temple grounds and the surrounding environment. Refrain from littering, speak quietly, and follow any posted rules or guidelines to help preserve the beauty and serenity of the Golden Pavilion.